There was a time, not too long ago, when a wedding cake was a completely standard part of every wedding reception. And, in fact, when it would have been pretty much unheard of for that cake not to be a traditional fruit cake. (As a lifelong raisin hater, let me tell you, I was at the front of the queue cheering when that tradition gave way to all sorts of new and yummy cake options.) Then came the cupcake revolution, which felt very cutting edge at the time. And let's be honest, who doesn't love a cupcake? I still think they're a great option. But recently, couples have been getting more and more creative and personalised in choosing their 'cake' (which usually doubles as their dessert). It's just one more way to show your personality or extend your wedding theme, and can provide a charming talking point for your guests.
Probably my favourite cake alternative (for those without a sweet tooth) is the cheese cake – literally, rounds of cake stacked up to look like a cheese. We featured a fab one as part of Kira & Jason's wedding, and here are some of my favourites (especially LOVE the goat's cheese one!)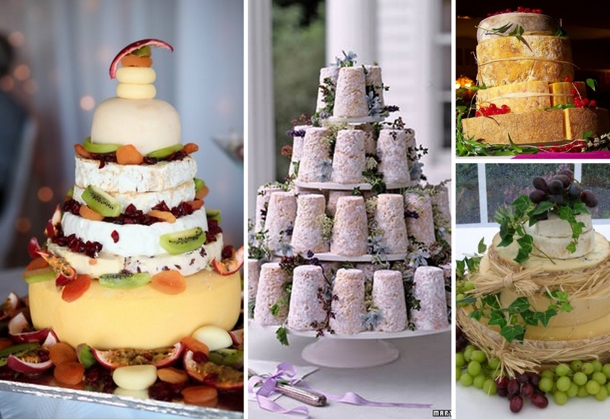 Credits: Left – Image by Just Judy Photography from Kira & Jason's wedding; Centre – Martha Stewart; Top right – Fuoco Photography; Bottom right – Norbiton Fine Cheese Co.
A second trend gaining ground is the candy (or dessert) bar, where guests have the chance to help themselves to a pick and mix display (usually in your wedding colours). A new variation on this is the ice cream sundae bar, which is super fun for summer and especially beach weddings.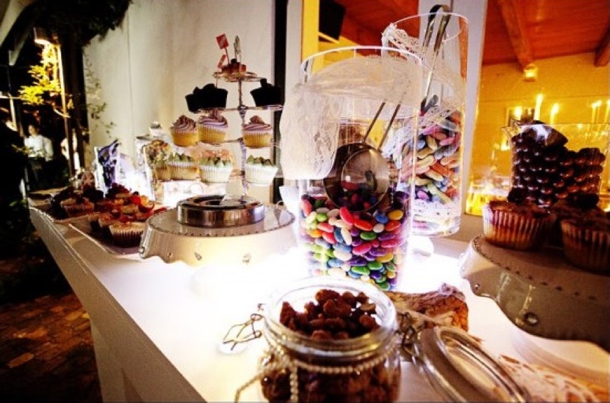 Credits: Image by Adene Photography from Sarah & Simon's wedding
Yet another variation on this that seems to be coming through is the pie bar, where guests are served one (or a variety of different) flavour pie – and it doesn't have to be sweet! Don't you just love the pork pie wedding cake (and lego topper) wedding cake below?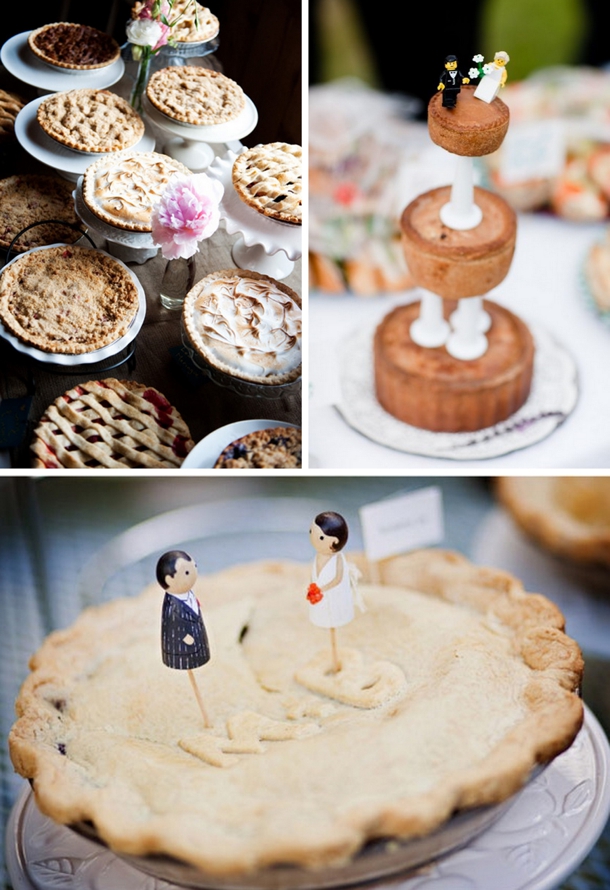 Credits: Top left – Teacup Bakery via Style Me Pretty; Top right – via Rock 'n Roll Bride; Bottom: via Ruffled
But the creativity doesn't stop there. All kinds of cakes and desserts can be made to work. Cheesecake (mmmm, cheesecake)…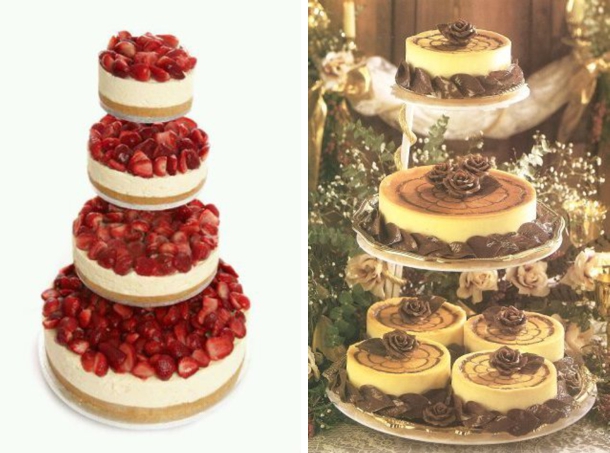 Credits: Left – English Cheesecake Company;Right – via My Inspired Wedding
Profiteroles… Chocolate brownies…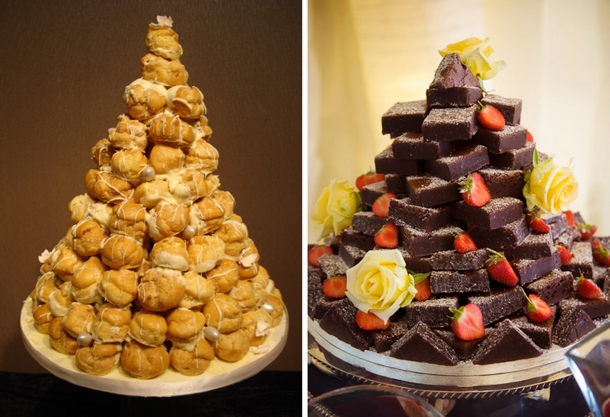 Credits: Left – Truly Scrumptious; Right – via Capture It Photography
Meringues… Chocolate boxes…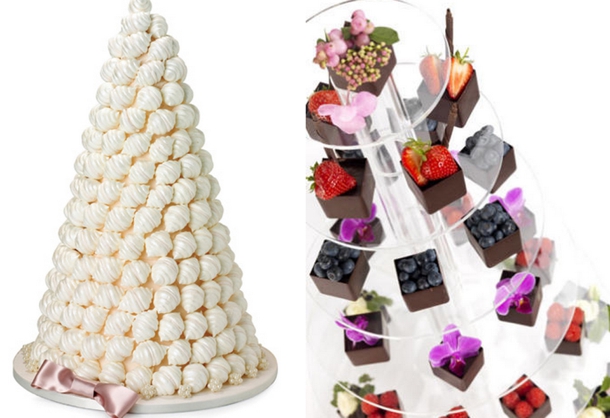 Credits: Left – Linda Fripp Designs via WeddingMagazine.co.uk; Right – Purita Hyam via WeddingMagazine.co.uk
Chocolate truffles (one couple I knew who had a modern-styled wedding laid these out on a clear perspex stand with a small cake at the top to cut – looked very slick and minimalist!)… Ferrero Rocher (Oh Ambassador!)…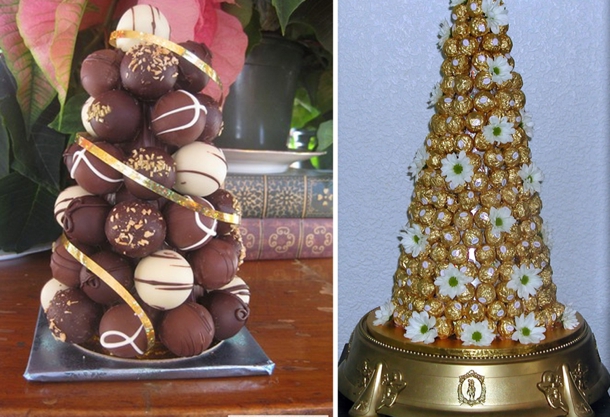 Credits: Left – Emmas Delights and Crikey Bites; Right – Sweetart Cake Designs
Macaroons… Oreos (love that these were served with glasses of milk)…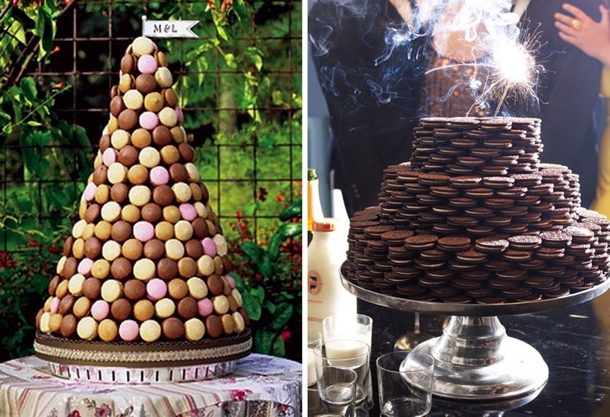 Credits: Left – via Wedding By Color; Right – via Luna and Chloe Weddings
Er, pizza… Rice crispies??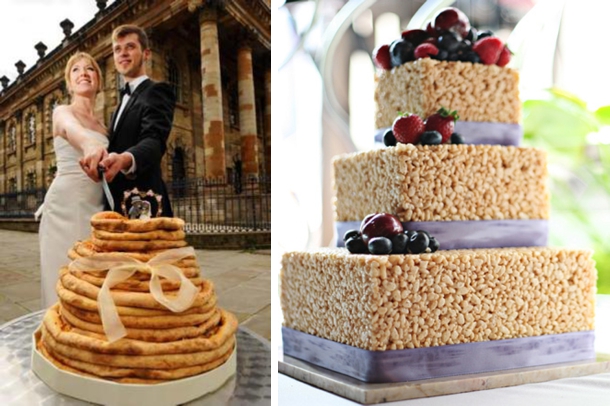 Image left via Wedding Bee; Right image via The Knot
JELLY SHOTS?!?! Ok, so maybe it's possible to get a liiiiittle carried away with this creativity thing. But I do really like the idea of taking a dessert that means something to you, and turning it into a cute feature. Just keep it classy, people. Speaking of which, I have no idea why anyone would want a wedding cake made of ice, but you have to admit it looks kinda pretty in the photo. And, after all, where else would you put your Jagermeisters?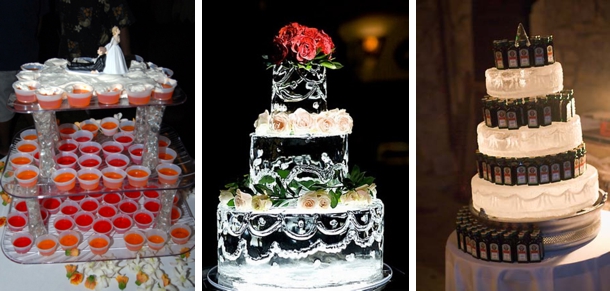 Images: 1: Source unknown; 2: Image via Before the Big Day; 3: Subzero Ice Art