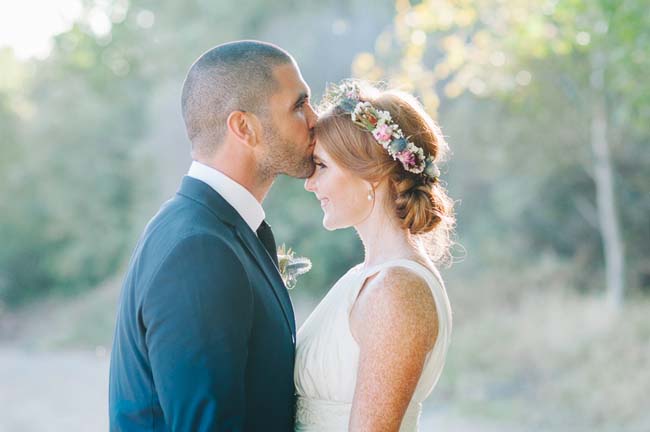 Candice and Wesley's big day is the stuff that South African rustic wedding dreams are made of. We're talking proteas everywhere (including the seriously pretty watercolour stationery), wood cuts at each place setting, gold painted safari animals, heart cookie favours, a menu that included burgers and craft beer on tap, a bride in a gorgeous gown and flower crown, and a cake table positively groaning with treats. Relaxed, whimsical, elegant. And with details like these, plus a sunny day, and the fabulous Maree of Natural Light Photography capturing these images, it's all kinds of wonderful!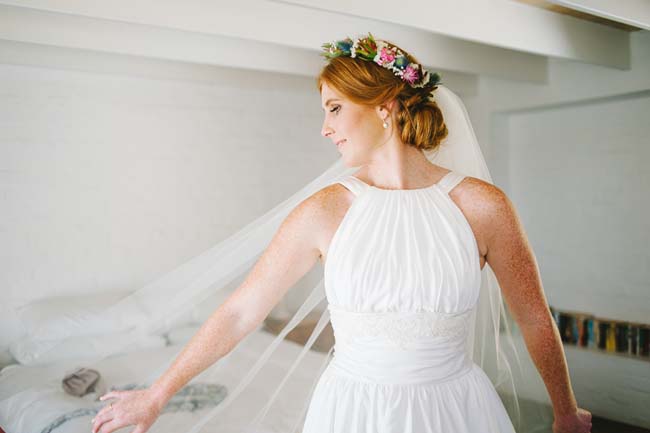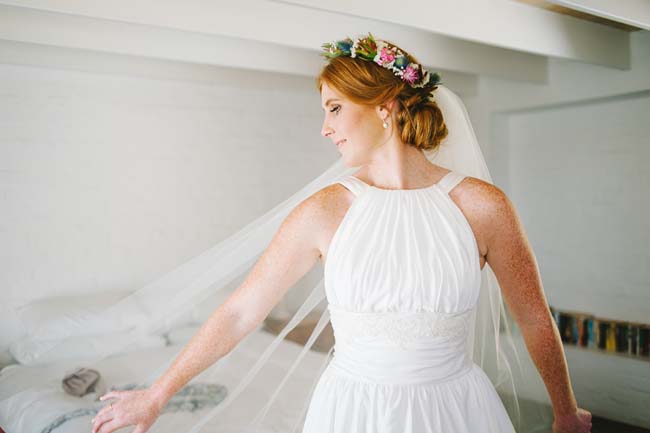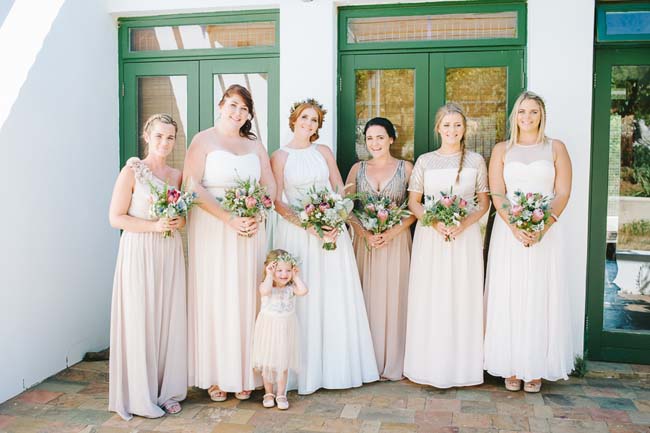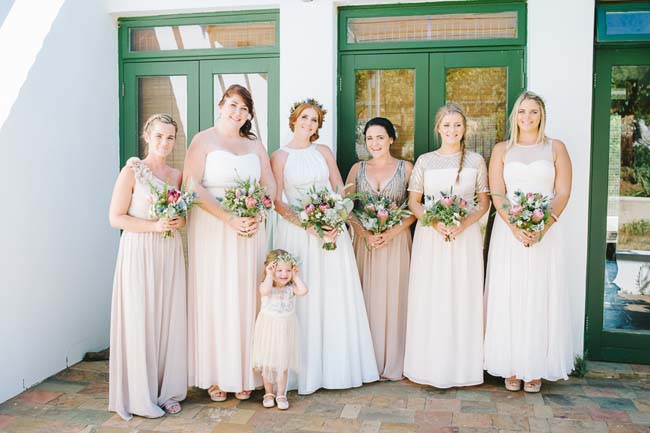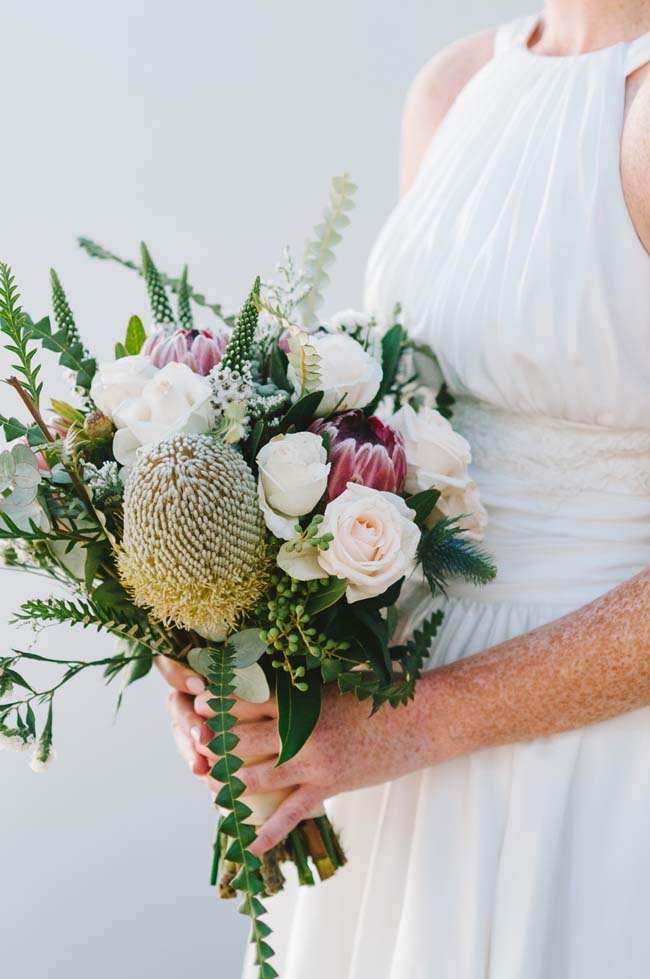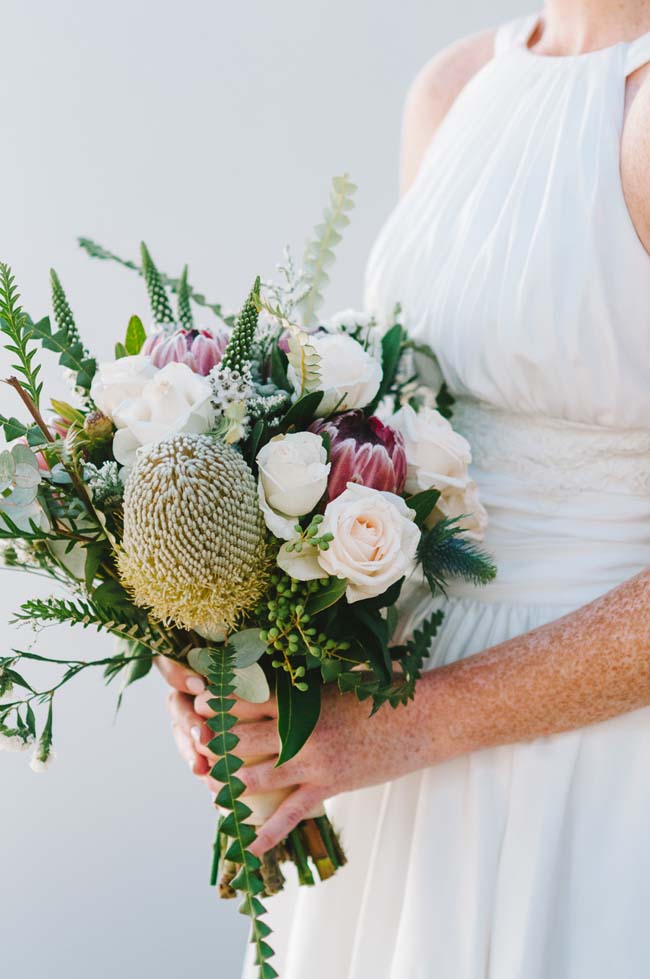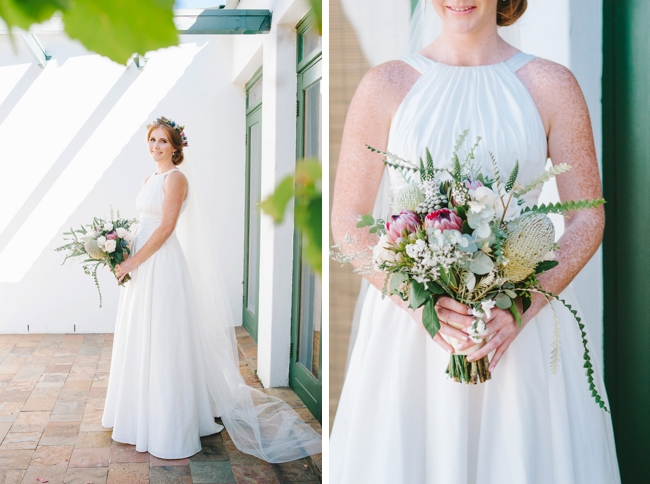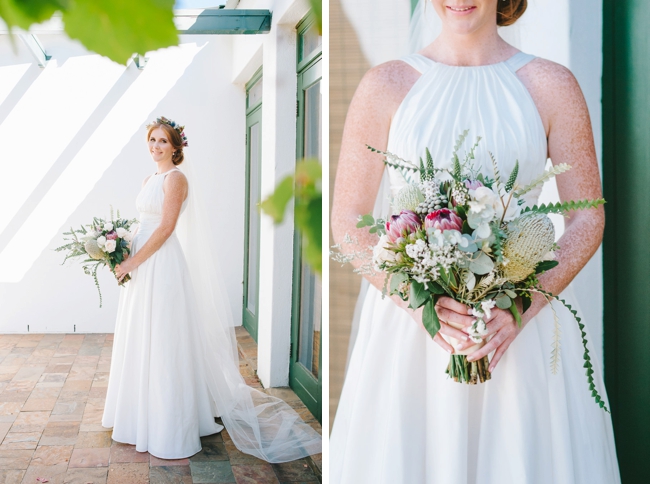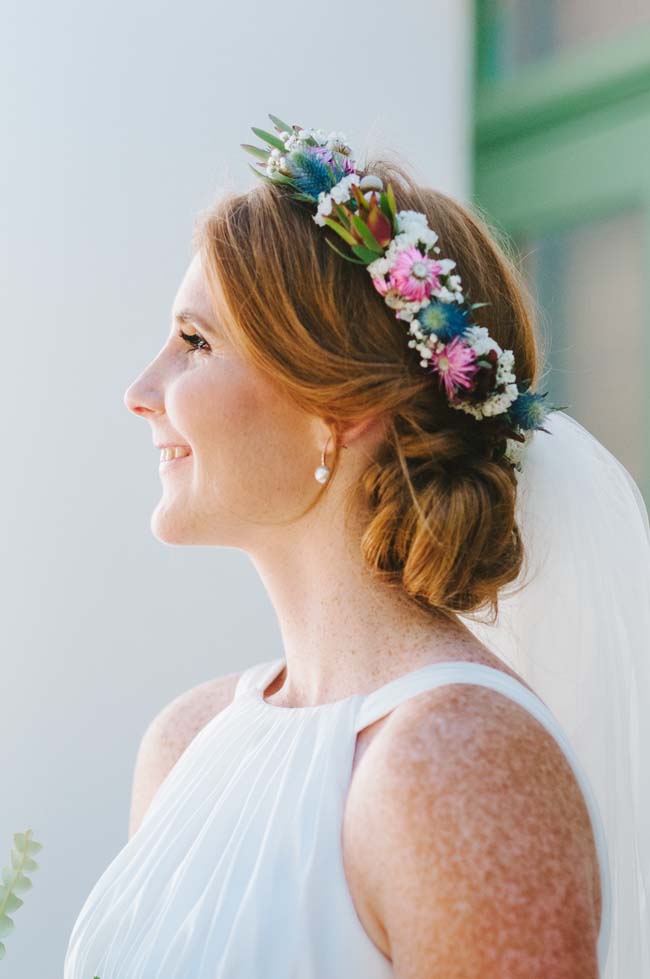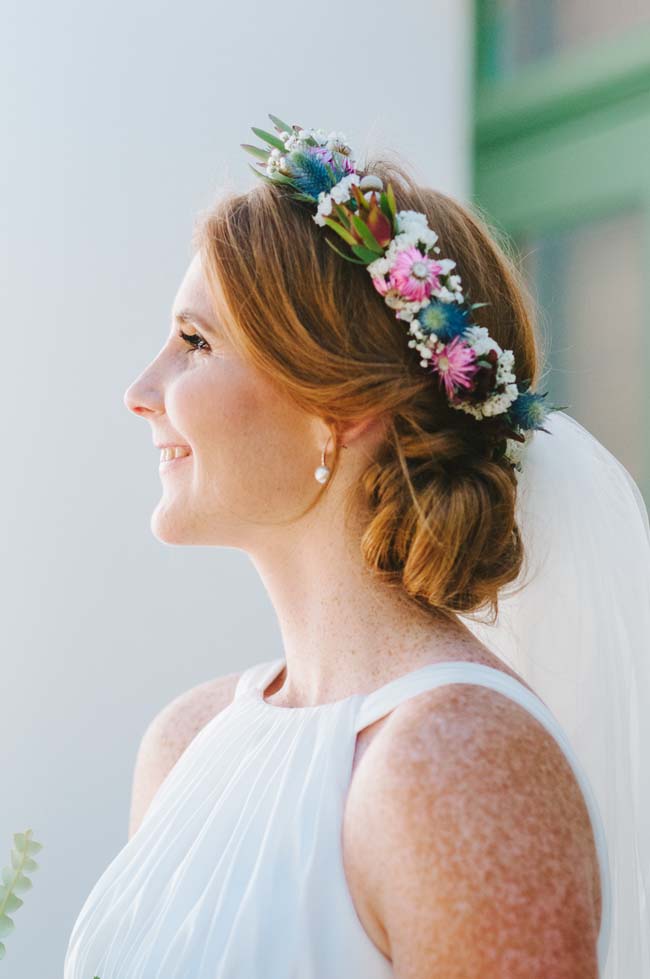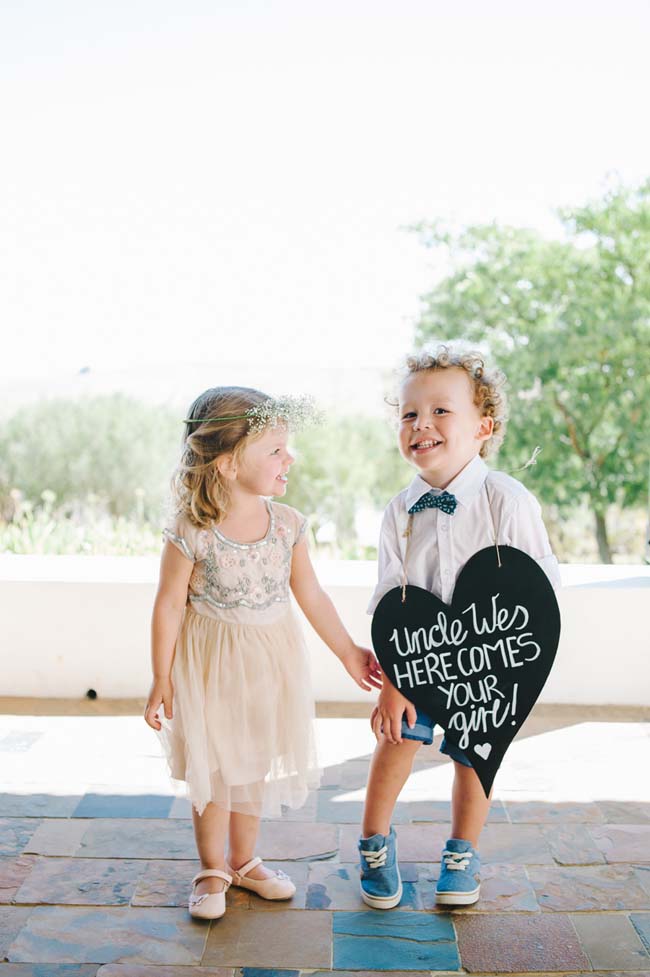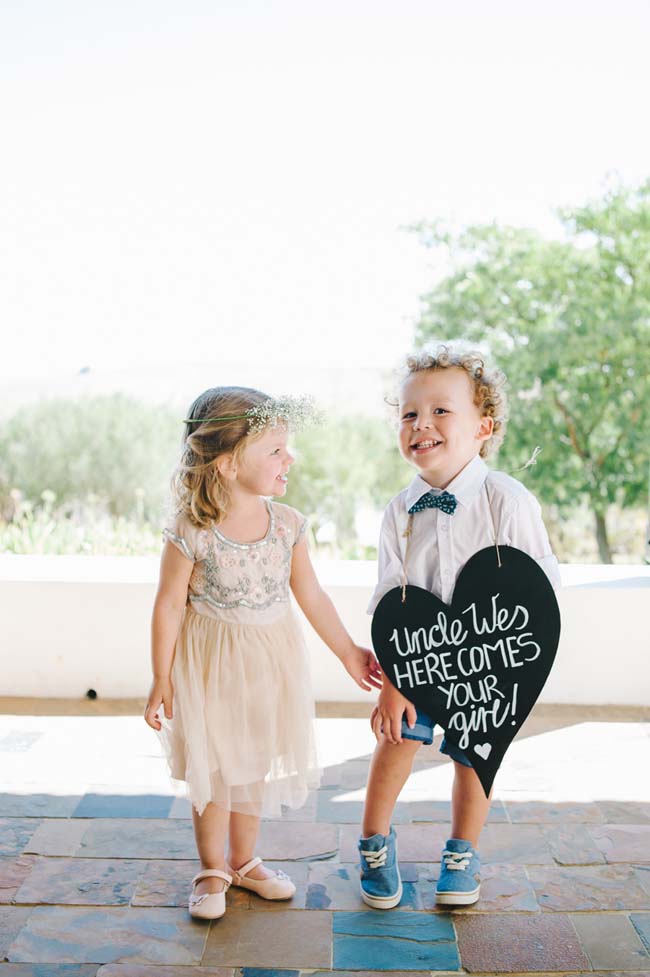 Love Story
The pursuit began in Stellenbosch, where we met through mutual friends during our varsity days. Nothing much changed, we would only ever see each other socially but after a year of persistence from Wesley's side we decided to make it more serious. He was a Joburg guy full of confidence in a cheeky way and i was a Cape Town girl, down to earth and humble but we really brought the best out of each other and formed a bond so strong.
The Proposal
Wesley and I share many similarities, one being we both love the outdoors and a good adventure. Our first trip away together was to the Kruger National Park and has it become our tradition every year since we've been together. In 2014, instead of just us going together, we did a family trip with his family, as his parents were relocating to the UK. We stayed at one of the camps that we'd previously stayed at together, Mopani. On the second evening of the trip Wesley suggested we go for a walk to the beautiful deck that had magnificent views of the Pioneer Dam. We walked over from our thatch rondavel to the deck and chatted while the sun started to set. I sat looking through my binoculars and as I turned to look at Wesley he was down on one knee. I remember him saying amazing things but all i could respond with were tears of joy and a nod of the head. After taking it all in for awhile we went back to join the rest where they had champagne waiting for us and lots of congratulatory kisses. It was such a special trip, one that I will definitely never forget.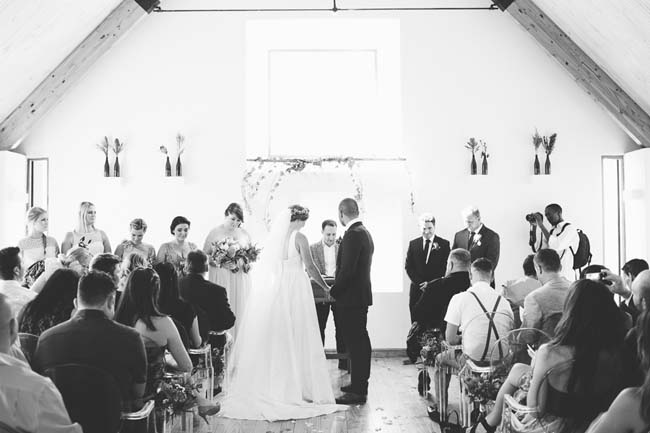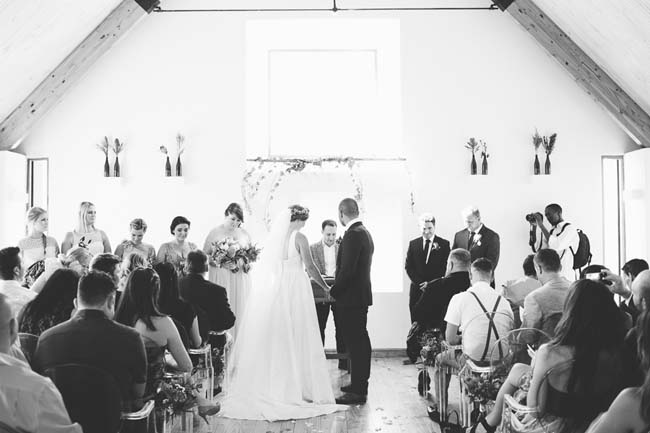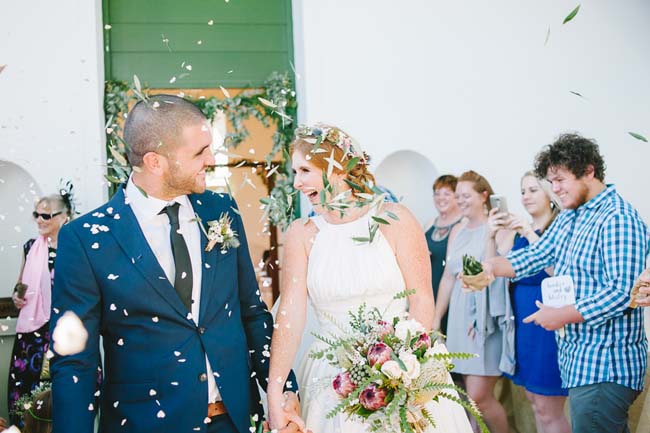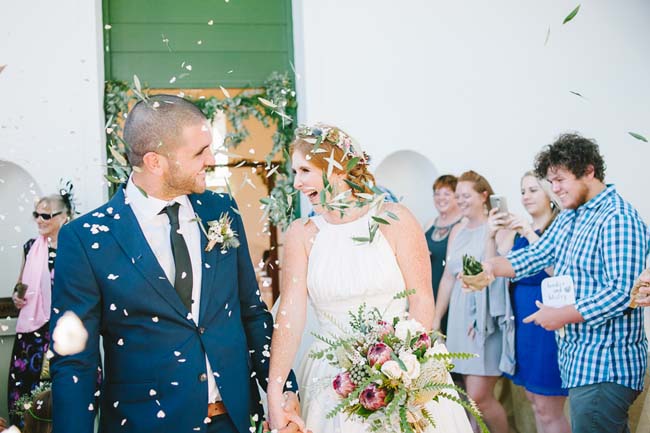 The Venue
Wesley moved to Riebeek Wes after his studies in Stellenbosch. We spent most weekends together there and really enjoyed the stillness of being out in the farmlands, and so it soon became one of our favourite places in South Africa. There is something about the quaint Riebeek Valley that is so special, and the memories we have of our time spent there makes it even more significant to us. After looking at a few venues around Cape Town, I came across Goedgedacht Farm just outside of Riebeek Kasteel. Not only was it situated so close to such a special town, it was a venue available for the whole weekend. The idea of having our closest friends and family together for the whole weekend was perfect! The venue has so many beautiful settings, the olive groves are spectacular, and the views of the Swartland were unbelievable.
Wedding Style
I've always loved a more rustic style but I wanted to bring a touch of elegance to the day too. I drew my colour inspiration from my flowers, Proteas, incorporating shades of blush and a lot of greenery, and tried to keep it looking very natural.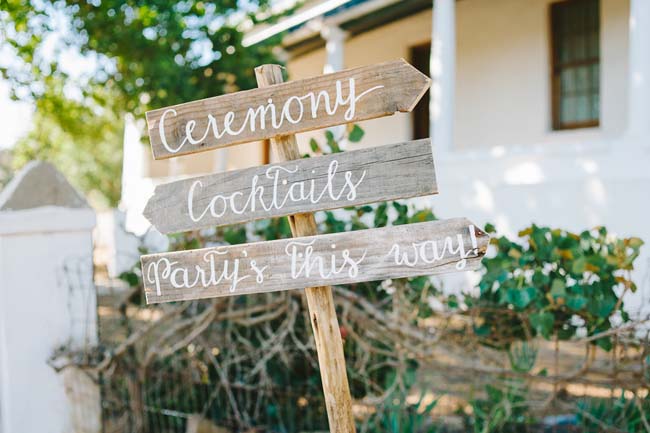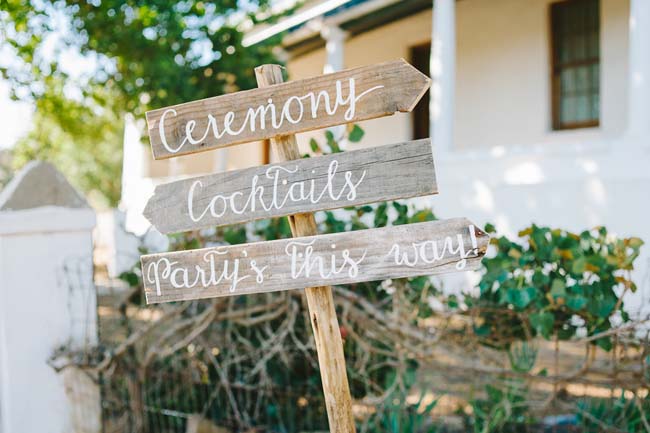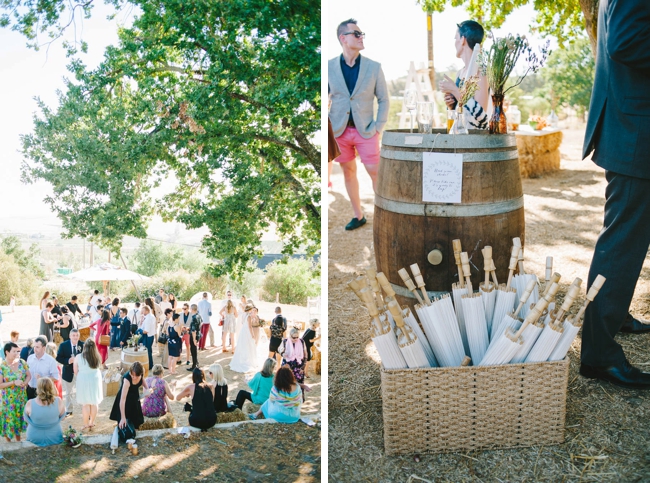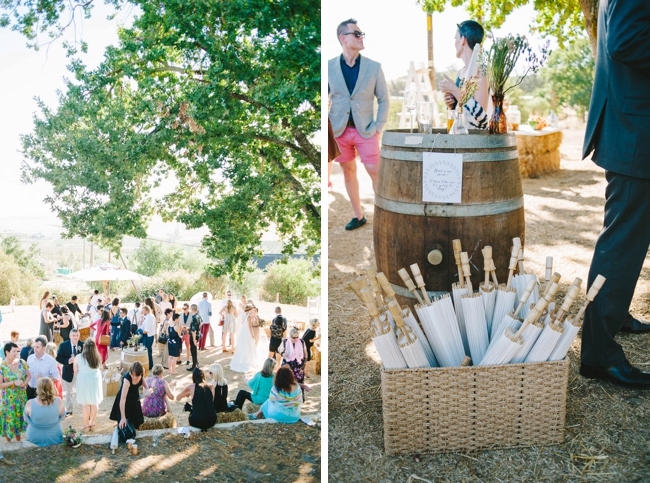 Wedding Details
Another wedding detail I love was our gold and bronze wild animal figurines that I spray-painted; we used them as part of our table decor. They reminded me of our love for adventure and the outdoors, and our times spent in the Kruger. Another favourite would be the place name biscuits we had on our tables, that were also wedding favours. This is a special one because my mom made each heart biscuit, so it's personal to us, and the heart symbolised our love for each guest. Lastly, the beer kegs that we had (this one's for Wesley!). It was one of the few things he wanted for the day and we spent a few weekends testing out different beers. We ended up going with beers from Flagship Brew in Riebeek Kasteel.
DIY Elements
We had lots! I always love a fun Pinterest project and for our big day I had plenty. I started off by collecting crate-loads of craft beer bottles for the table centrepieces, and spent what felt like a lifetime cleaning all the labels off. I collected tin cans which i sprayed bronze, which we used to serve canapes. As mentioned earlier, I spray-painted wild animal figurines to mix in with my flowers and bottles on the tables; these were a great way to add a fun element to our decor. I also designed our wedding burger menus, which was a checklist for guests to build their own burgers. I had so much help from my bridesmaids, who made my table numbers, confetti and the bunting I had hanging around the venue. One of my friends illustrated our wedding programs for us which were also used as fans. My mom was amazing throughout the whole planning phase; she did so much for us from making the wedding signs, pre-drinks decor, our wedding ceremony arch, the watercolour heart biscuits, to making all the beautiful desserts and sweets for our dessert buffet. To top that she made all three wedding cakes we had on the day as well. Yes, three cakes! When the mother of the bride is a professional baker you have to make the most of it! We decided not to have a wedding planner or on-the-day co-ordinator and opted to do all the setup besides the flowers ourselves, with the help of the venue staff. Even hubby was up on a ladder hanging lights and decor for the reception. Although it was a lot of work it made the day so much more personal, some friends and family that arrived on the Friday joined in and helped to perfect every detail.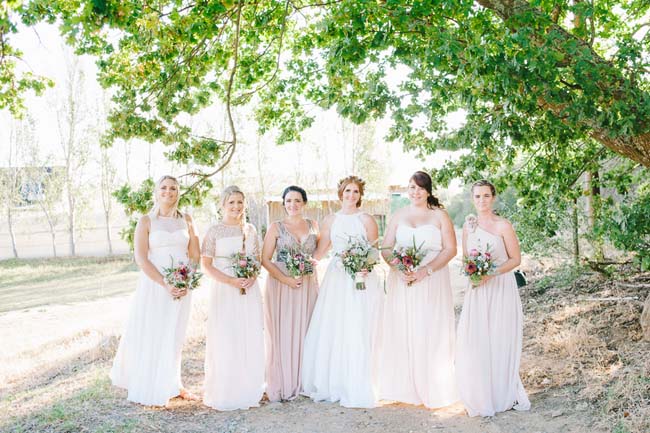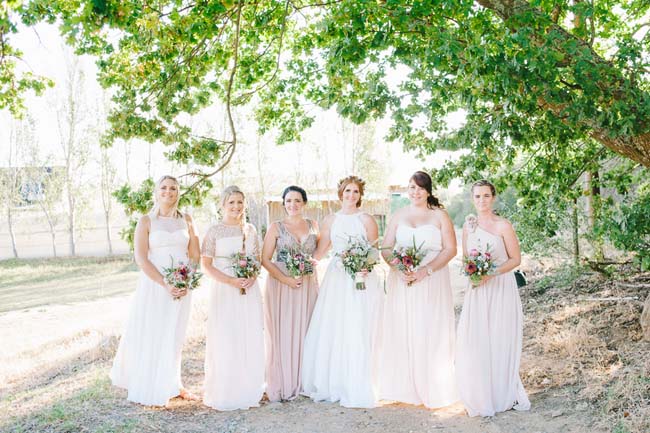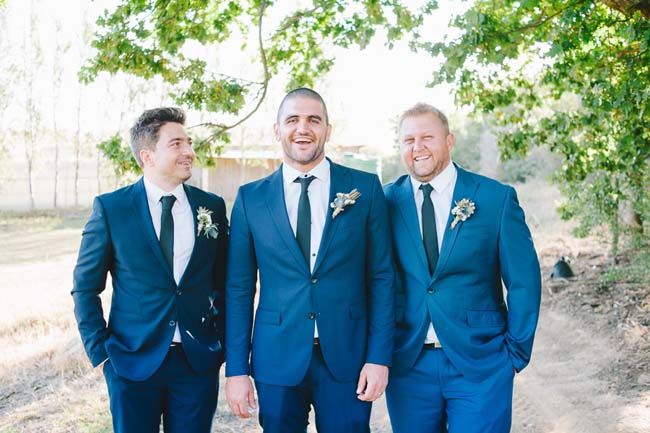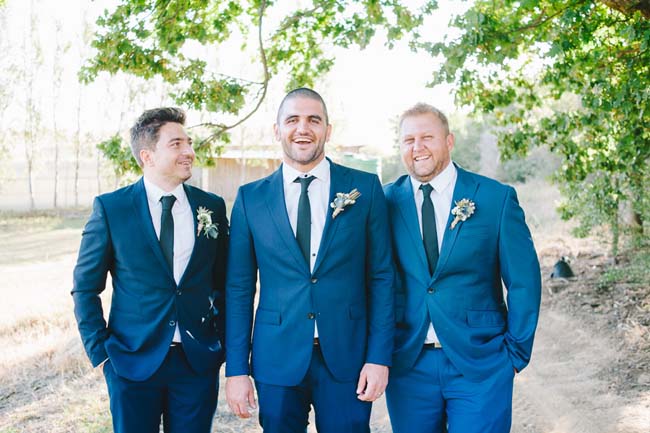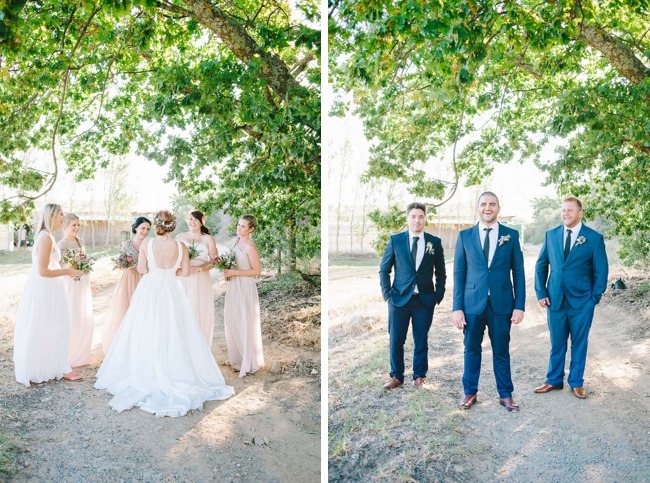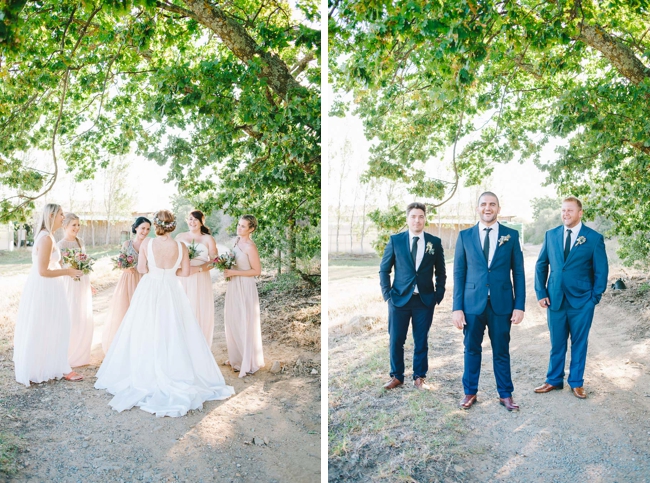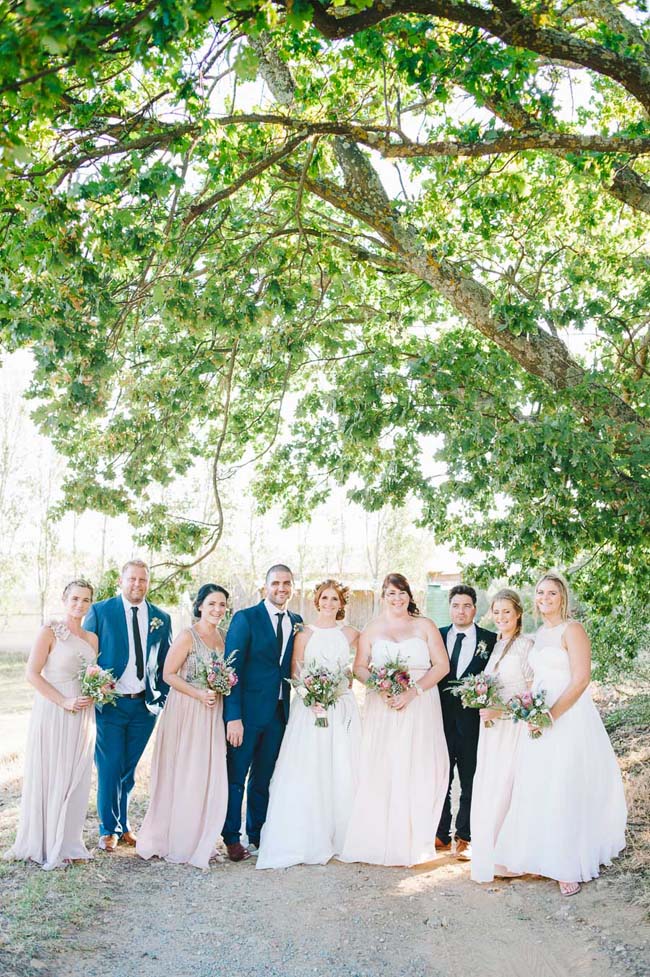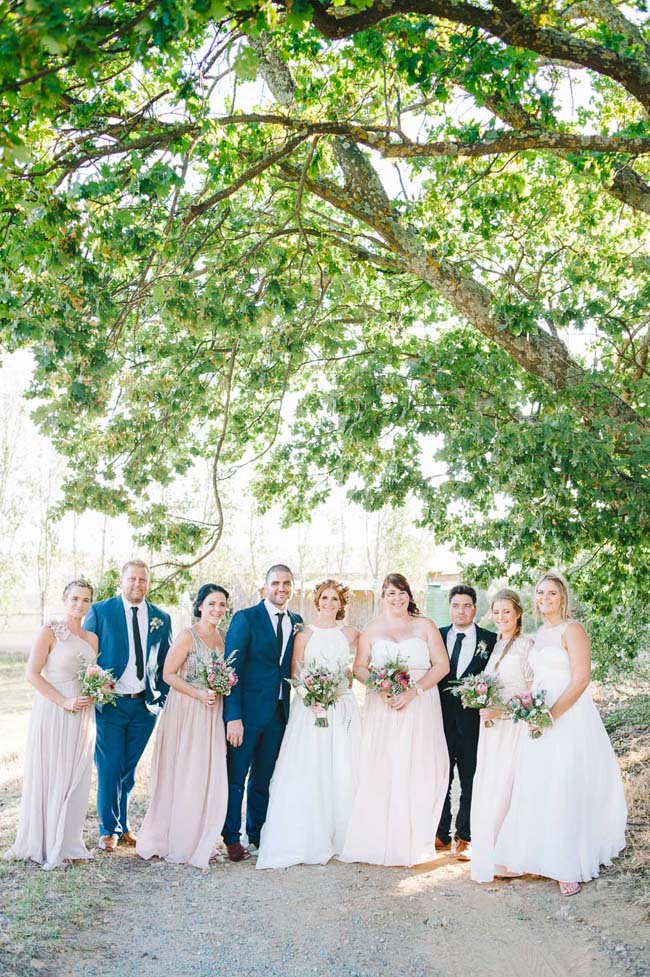 The Dress
I started off with having something quite specific in mind, not something I would recommend to other brides!! I tried on dresses which i thought would be exactly what i wanted but ended up hating them all. My mom found a dress which was the total opposite to what I initially had in mind but when i tried it on i ended up loving the style of it. There still was something putting me off so I decided to keep on looking. I became a bit despondent as I was back at square one. I studied fashion design so I thought this was a sign for me to design my own dress – before I could decide, my mom found a small bridal boutique in Fish Hoek and suggested we have a look there. One Saturday morning, she and I popped in. There was a dress displayed in the window and straight away I knew that was the dress I was going to wear. It was a mix of both my old ideas of a high neck and open back. and the style that I had grown to love. It was perfect. And to top that, it had pockets!! I ended up finding a piece of beautiful lace that i had added onto the bodice to give it my personal touch. Sasha from Southern Brides was so warm and reassuring and took so much care when helping me. I am so thankful for finding this little gem!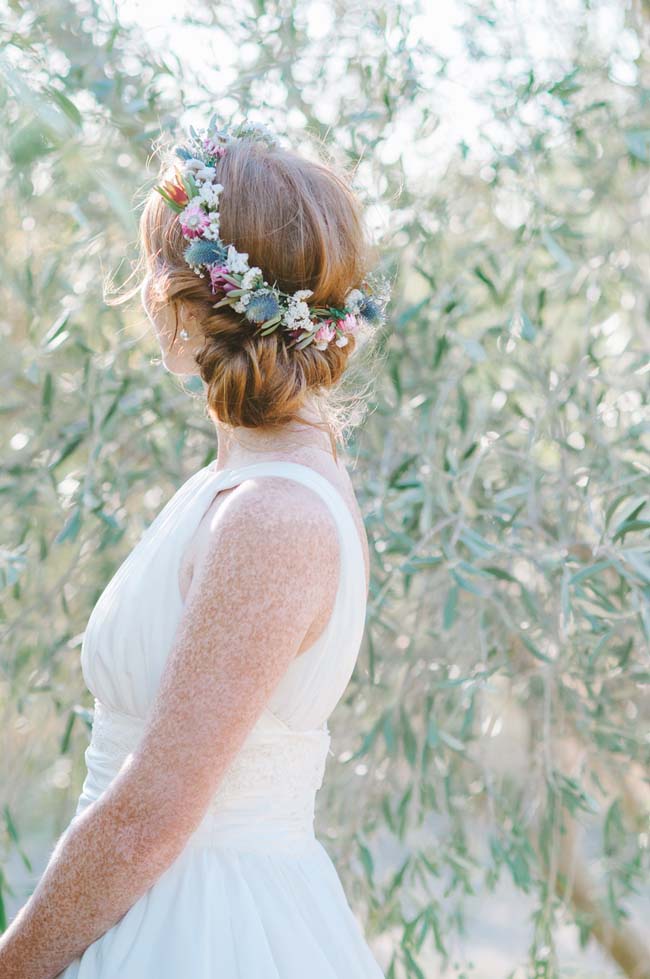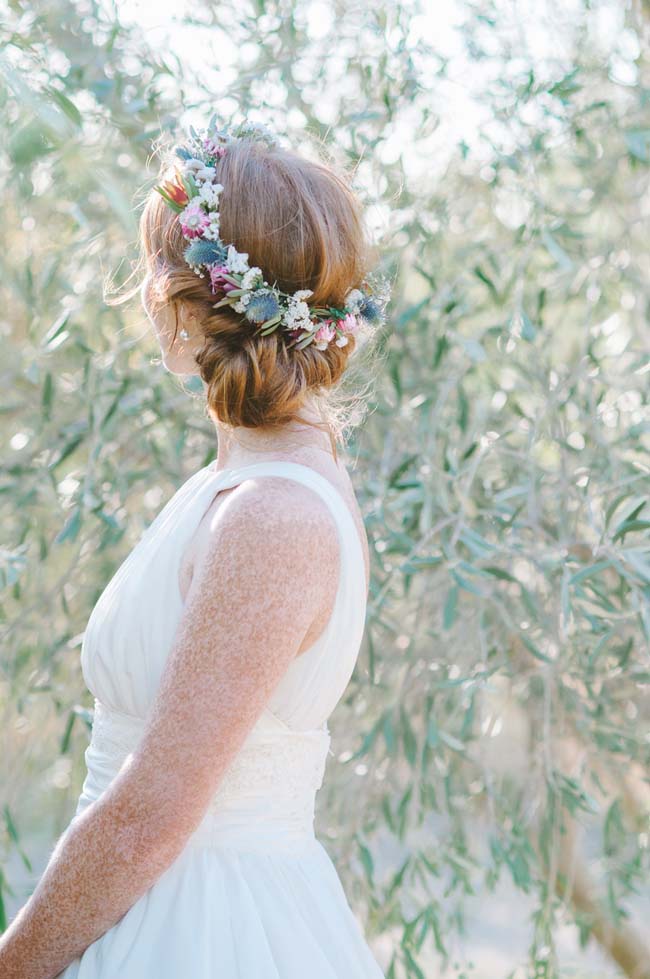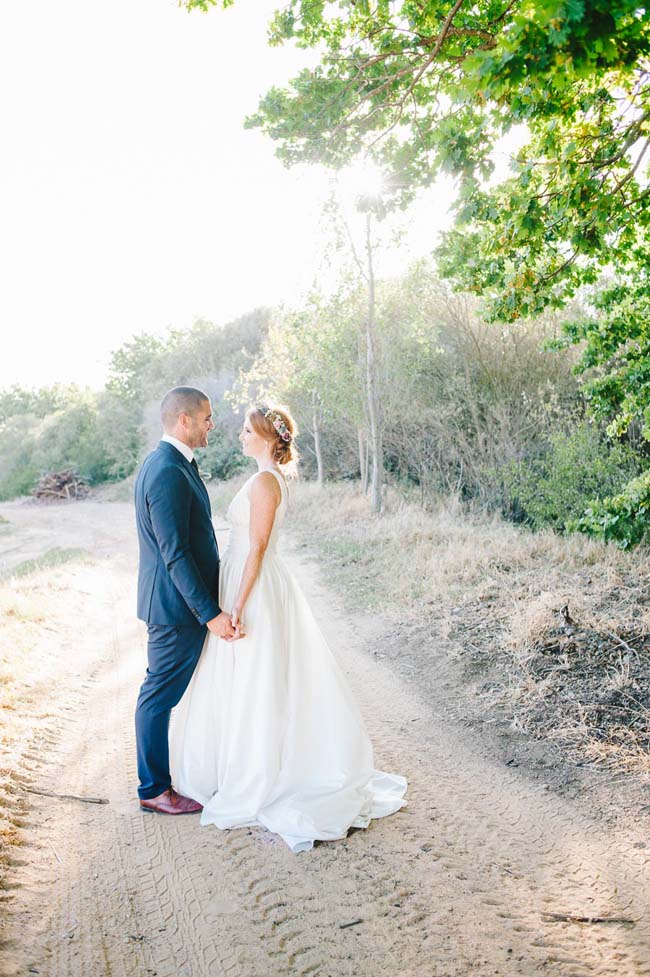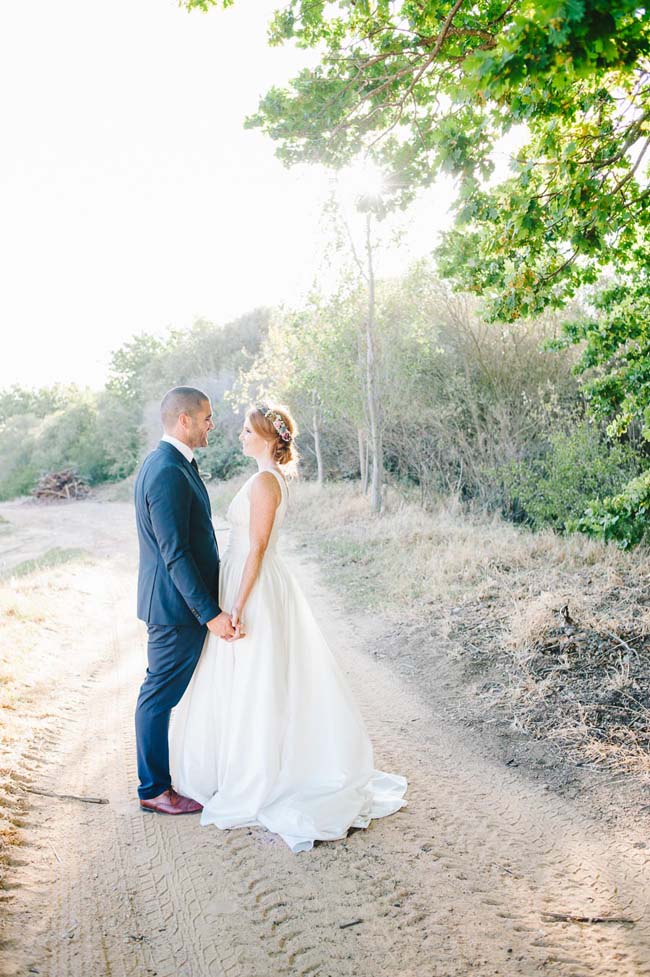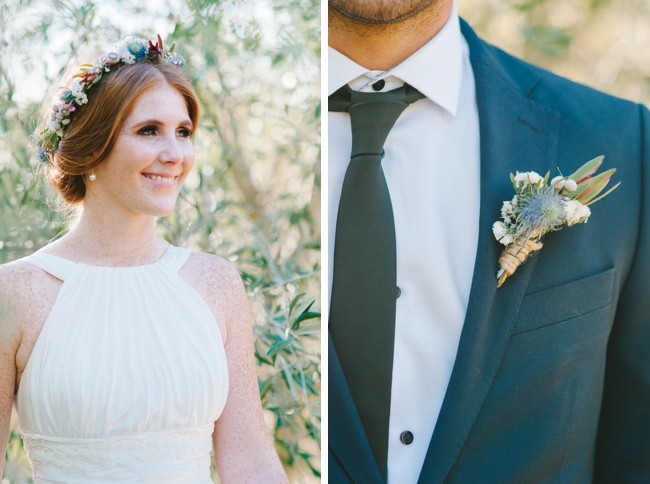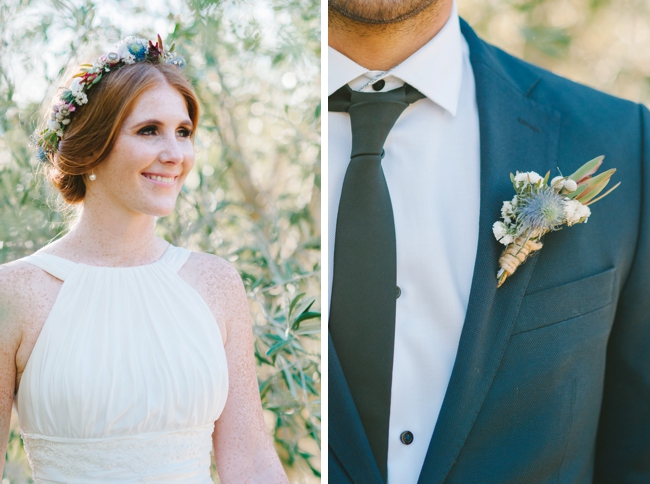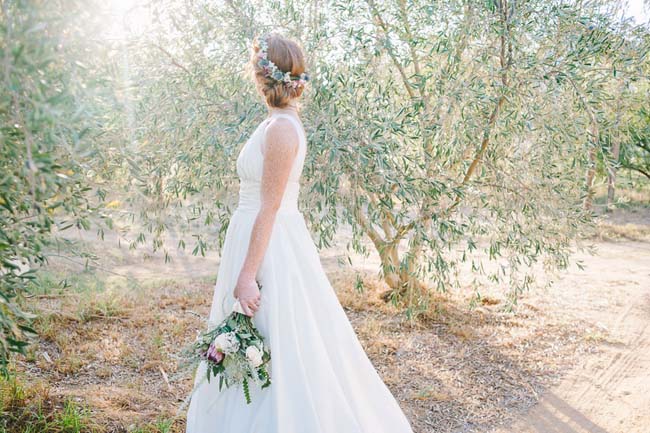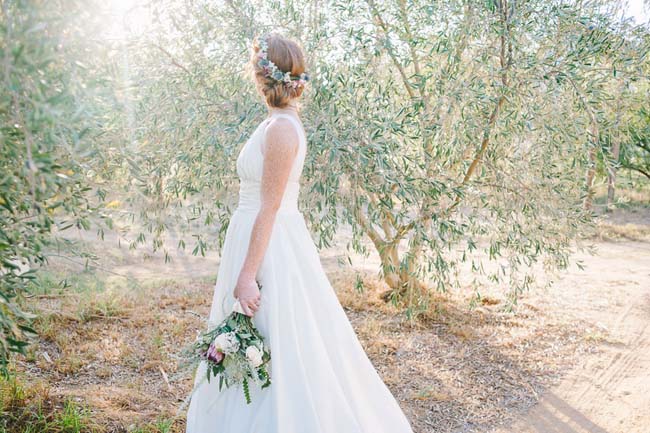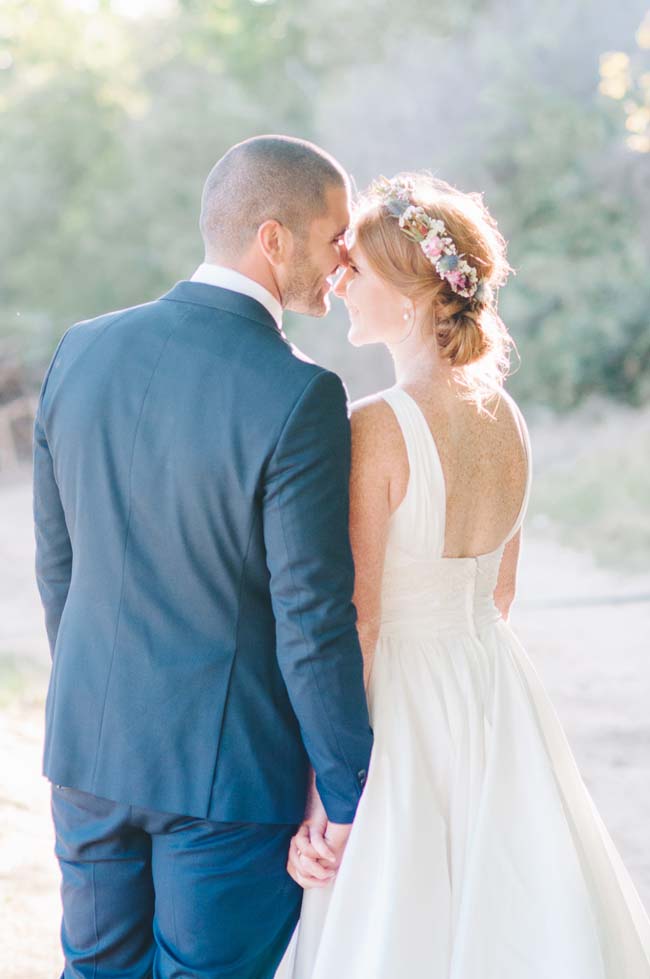 The Bridesmaids
I had five beautiful bridesmaids. They were my sister, Wesley's two sisters and my two best friends. I wanted them to choose a dress that they loved and felt comfortable in and that they could wear again. The idea was to have mismatched dresses in neutral shades and it turned out perfectly. Each dress was unique and special. I decided to do the same for their hair, so some had their hair up and some down. Again, I wanted to keep to more natural styling to stay true to myself. They each have a special place in my heart and are all so different, so each of them having different looks really complemented our special day!
The Flowers
My flowers were everything that i had imagined. I didn't allocate a huge budget for the flower arrangements but Lorraine did the most amazing job and I am so grateful. For my bouquet I decided on Proteas as my main flower, complemented with different types of fynbos, cream and blush coloured roses, eucalyptus leaves, and greenery. This combination flowed into the ceremony and reception and mirrored those of my bouquet. I love the organic and simple look and my flowers really brought that across.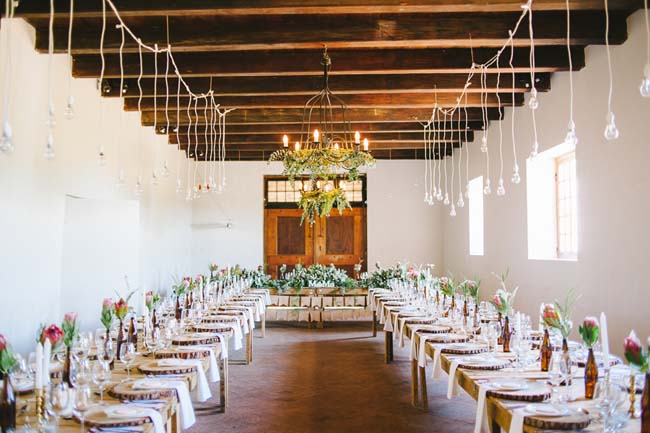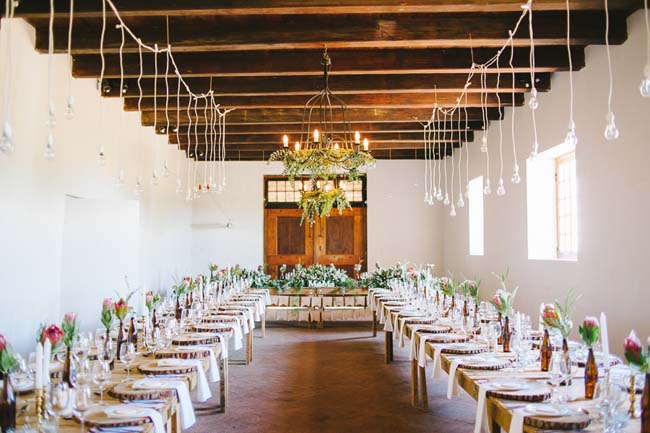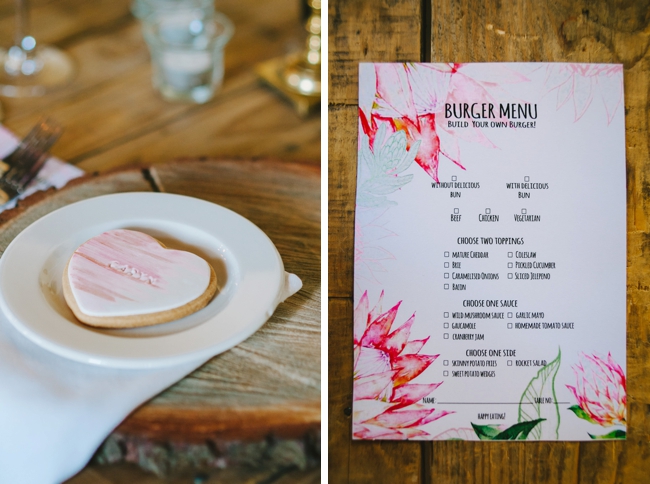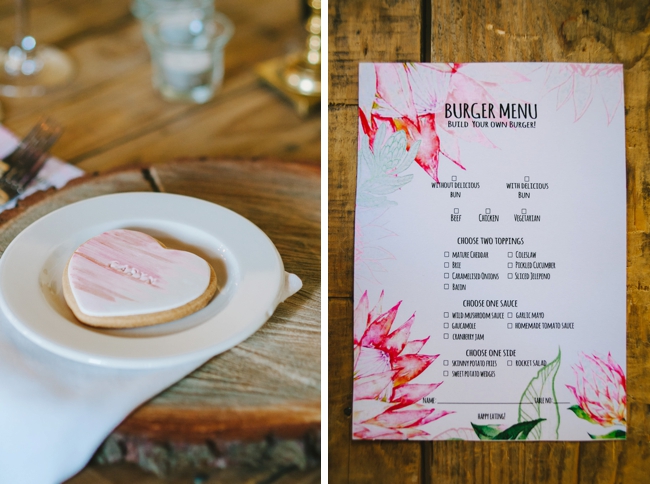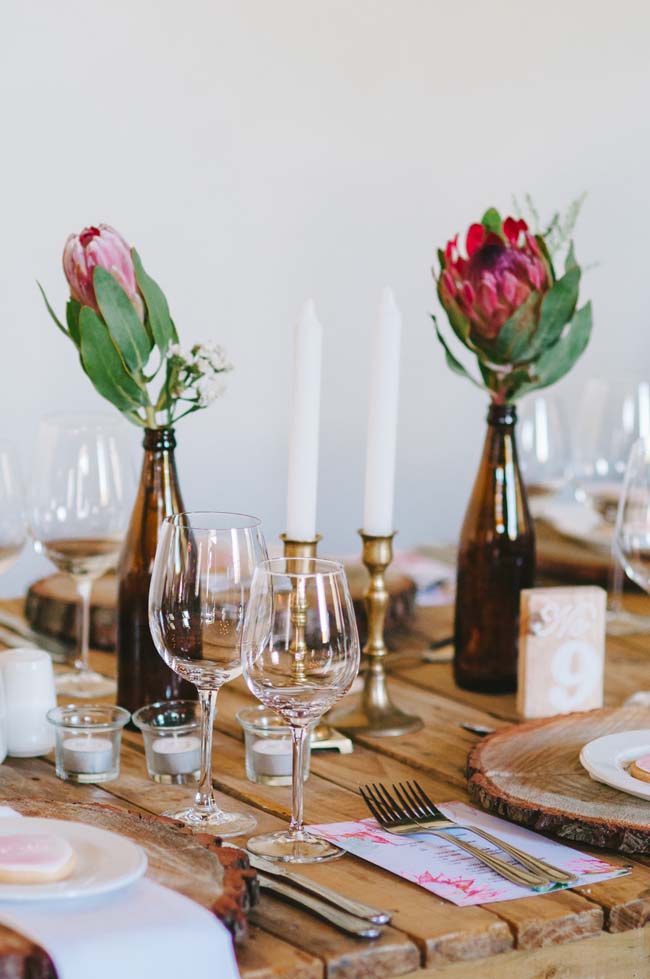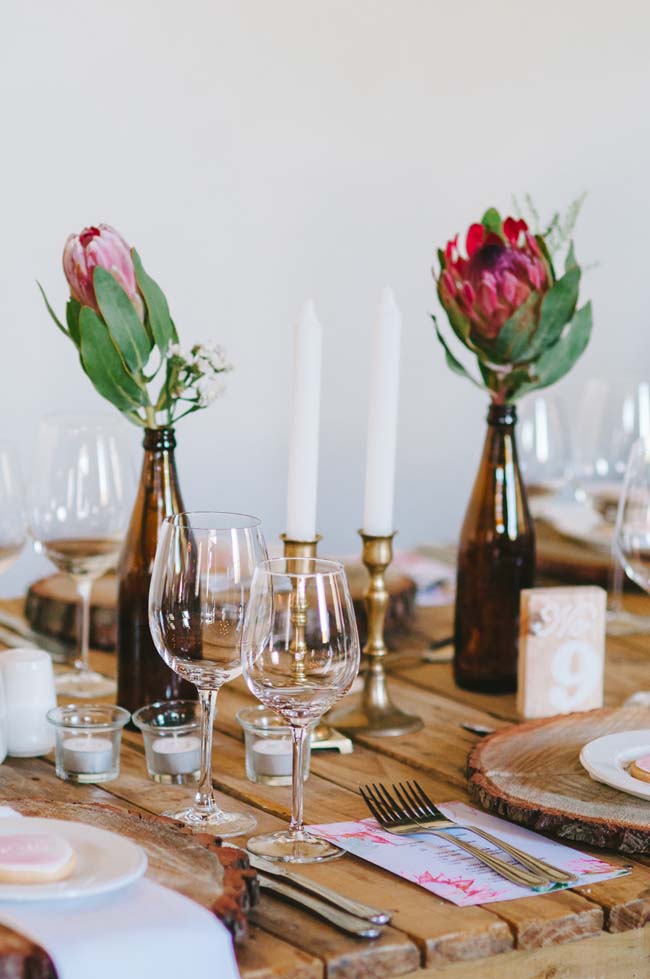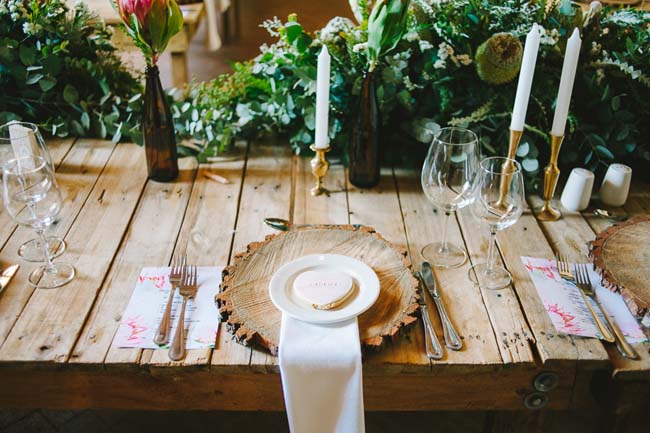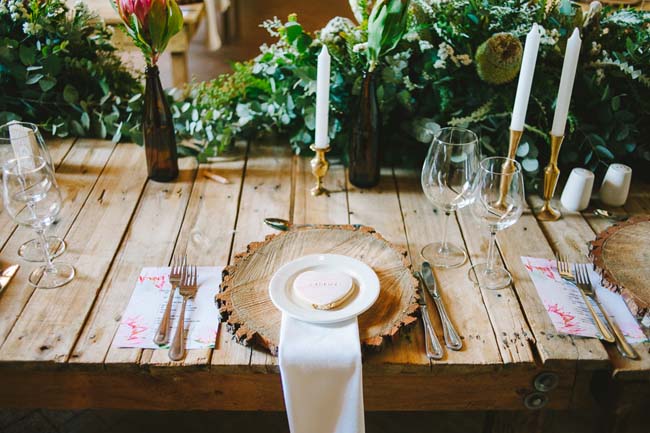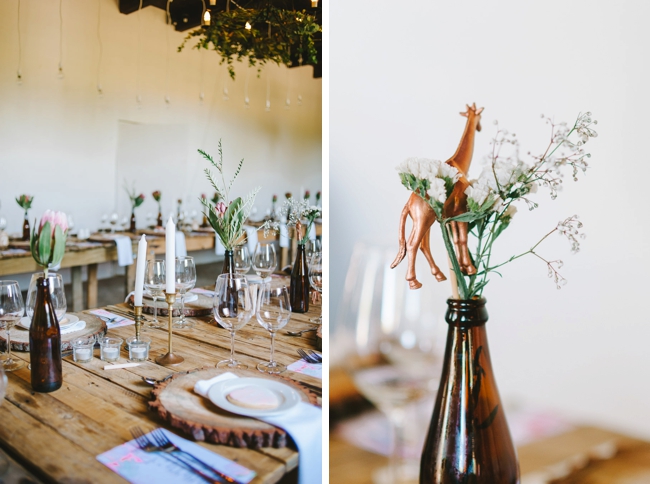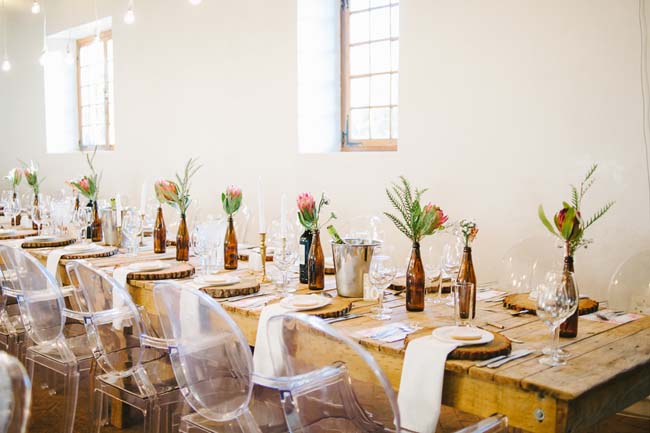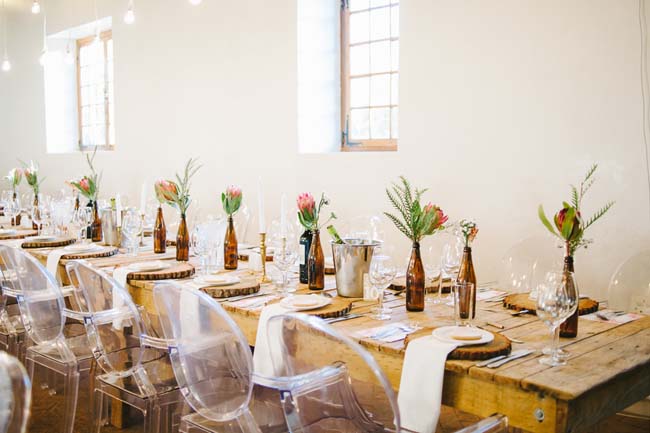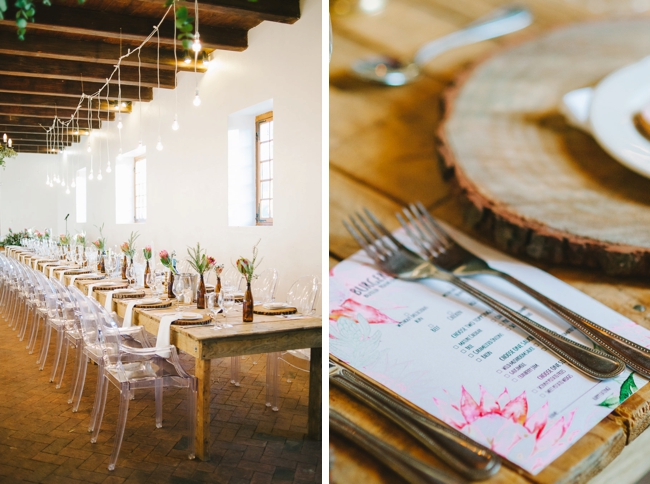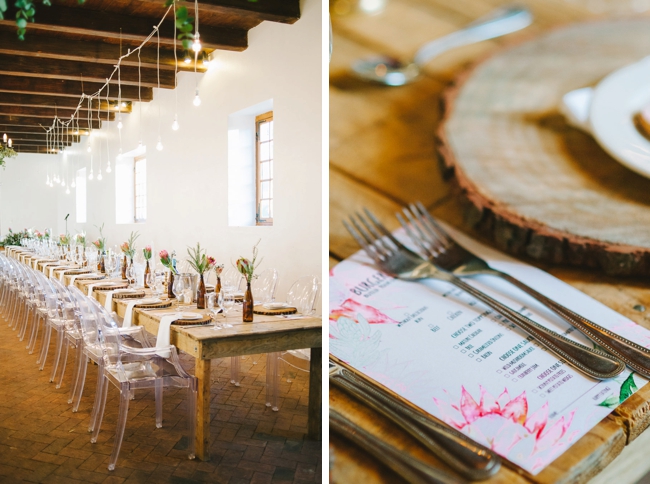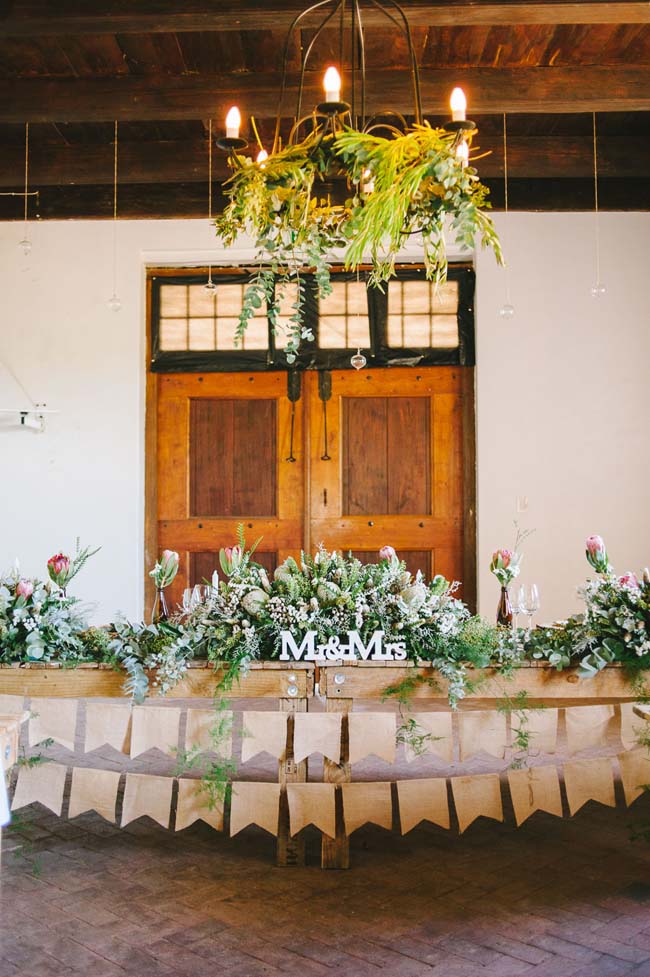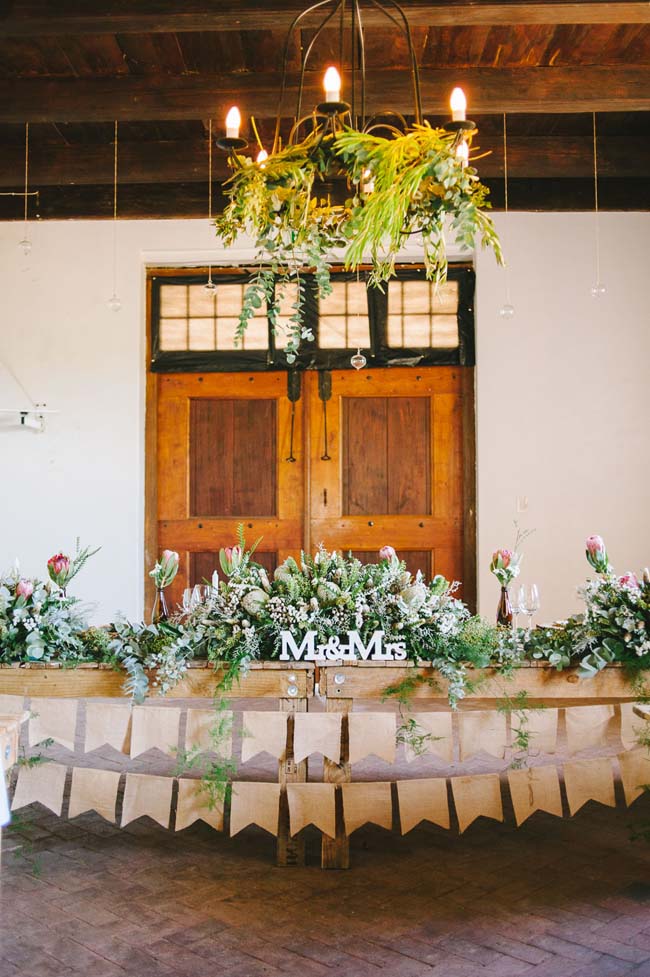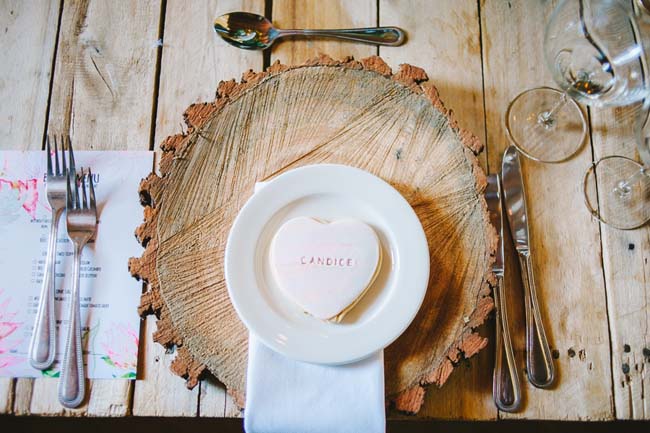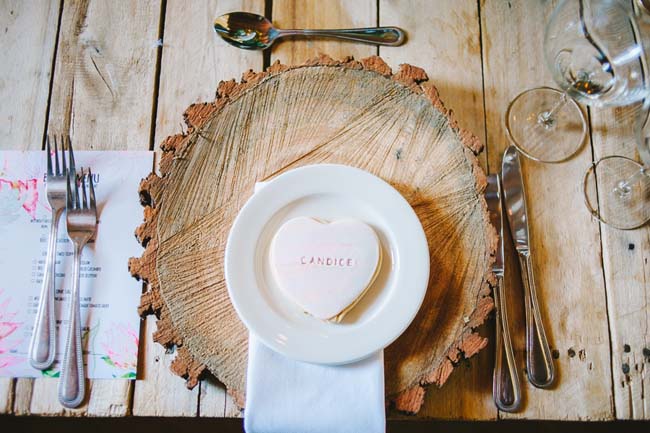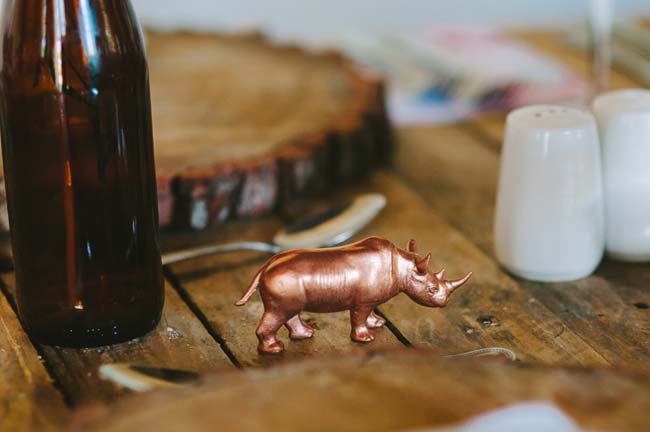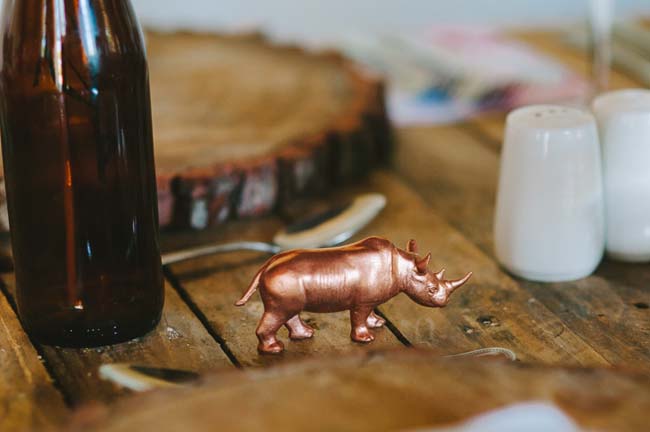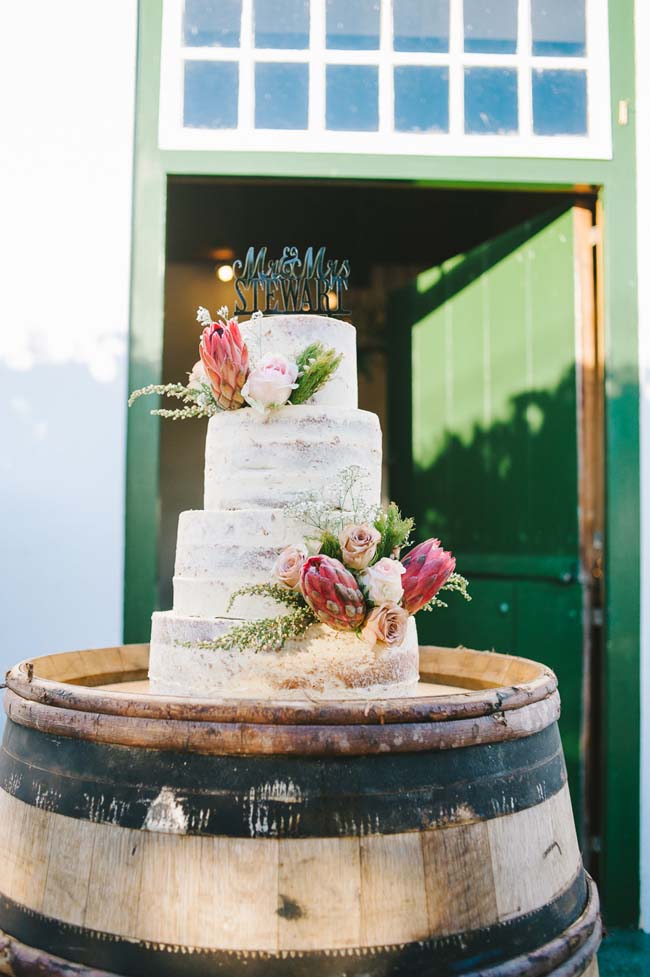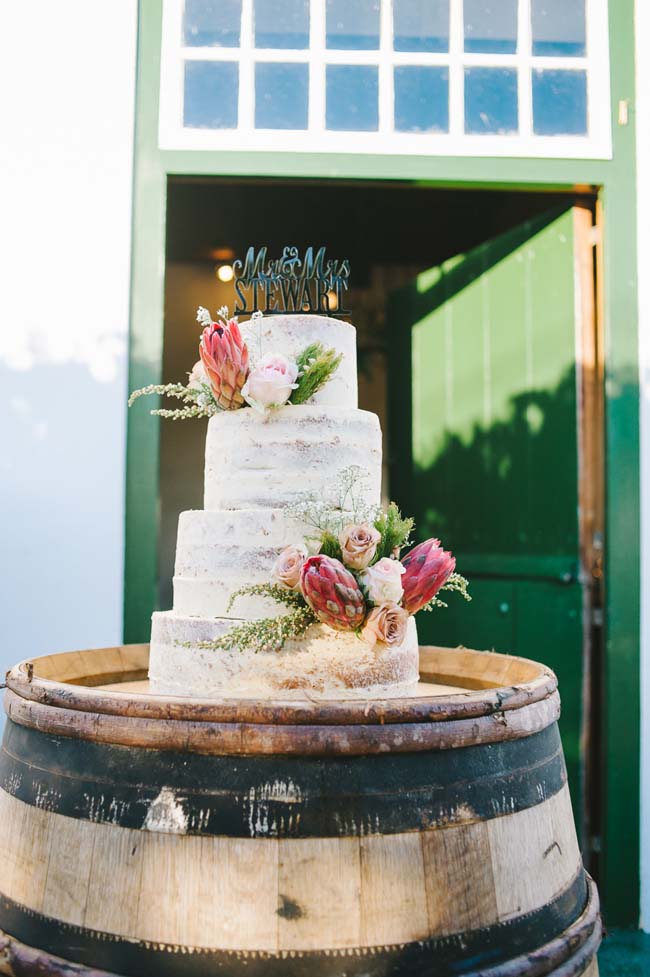 Memorable Moments
The days leading up to our wedding day were many things, exciting being one, but stressful and draining may describe them better. But when I woke up on Saturday morning, the day of our wedding, I was strangely calm, as if a wave of serenity had come over me. I knew it was going to be a memorable day. It's so hard to choose one moment because it truly was such a beautiful and emotional day. We tried to take in everything and really relish each moment as best as we could. I would say everything about our ceremony was my most favourite part of the day, walking up to the chapel with my father and my bridesmaids, walking down the aisle, seeing him with tears in his eyes; our eyes were fixed on each other every single second. Followed by having one of our dear friends officiate the ceremony, which was intensely special, and then the advice from his father to us as we stood side by side was so moving. Another favourite was our MC at our reception. We asked our brother in-law to do us the honour and he was amazing, he was hilarious and genuine, and really set the tone for the evening. But probably the most memorable moment was sitting at our table, taking a moment to look around at all of the our friends and family and really appreciate each and every one of them. They had all traveled far to celebrate with us, including his mother and father and my two best friends from the UK, and most of our friends and family from Johannesburg. I remember thinking how lucky we are to have such amazing people in our lives.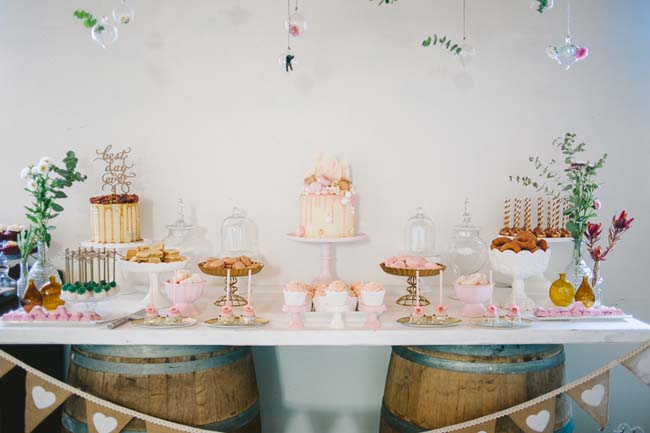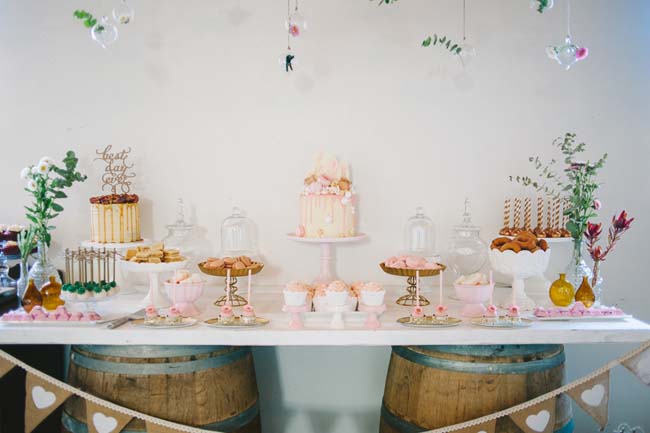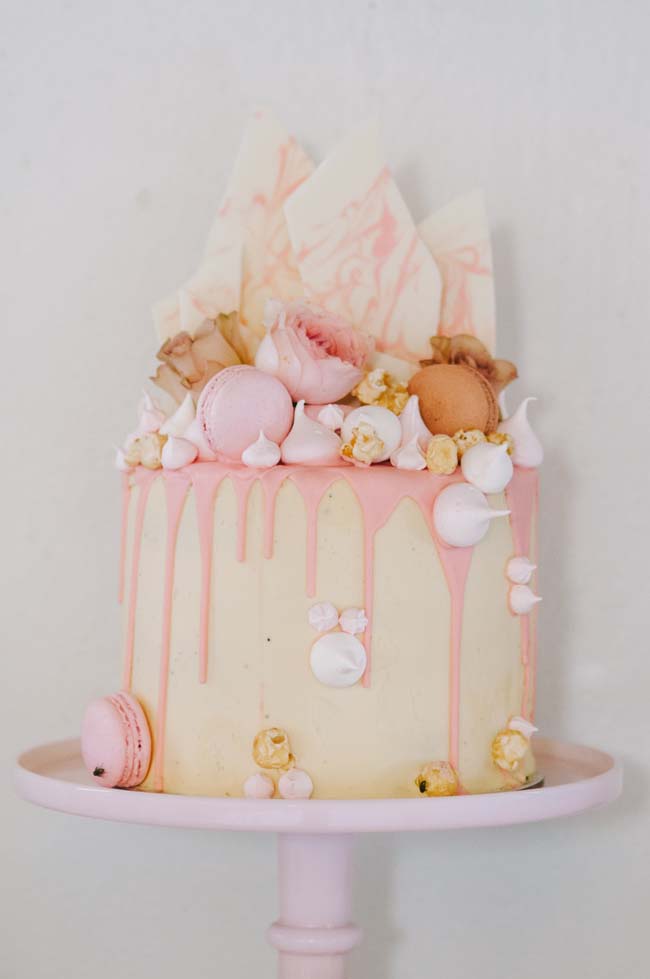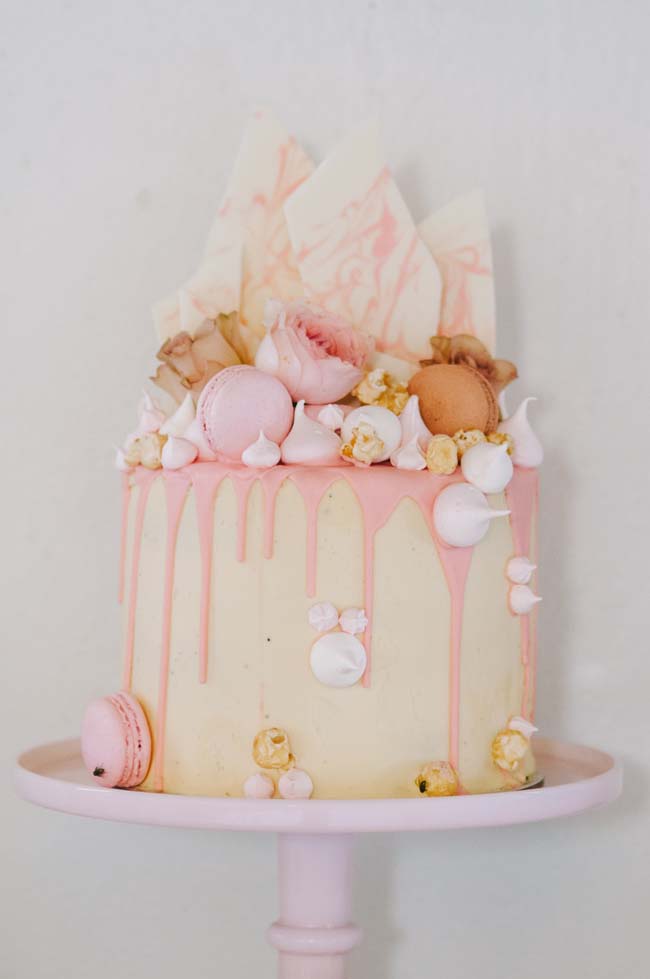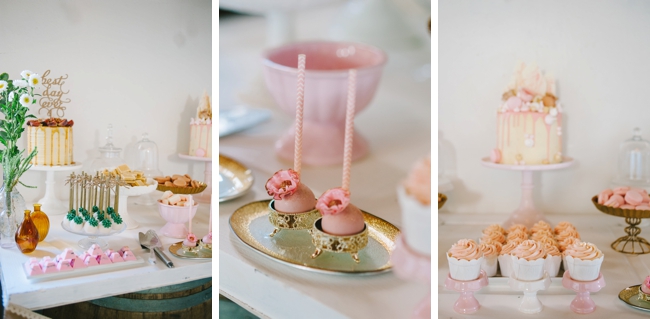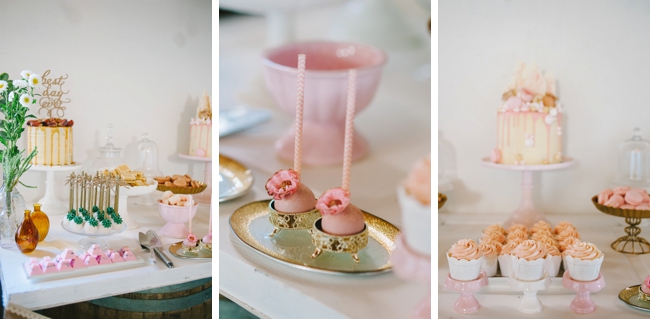 Best Decision
Our decision to have a weekend wedding was by far the best. We started the weekend off with a sunset spit braai on the Friday evening by the dam. We feasted on the most amazing food! One of my favourite moments was watching the sunset and just having all our family and friends together. It was such a great way for guests to mingle and for us to to socialise. His family organised the whole evening and it was truly something special. Guests spent Saturday morning exploring Riebeek Kasteel, (we suggested a few of our favourite places on our wedding website) and then on Sunday morning we all enjoyed brunch together.
Advice for Future Brides & Grooms
Budget is always something to think about when planning a wedding – you can get so carried away and things start to add up. Decide what is important to you and spend the most money where you see fit, then try save on your less important things. Time management is really important; things may seem overwhelming at times but don't let that stop you from ticking off the things on your to do list, as early as possible. It is really important to book your main service providers first, that way you do not have to stress about their availability. Choosing your photographer should be one of the most important things on your list. Finding a photographer the suits your style as a couple can be difficult but when you do you won't regret it! We did not have a planner, so we tried to delegate tasks to family and friends. That can be difficult, as you know what you want… but be open and communicate well and most of all trust them, they are there for you, . Throughout the whole process of planning for our big day i never would have imagined how one day can bring you so much closer to the ones you love. Things may get stressful but don't let the stress take over. Do what YOU want, not what you think people will like. Have all the things you love. It is your day! Just know your guests are there to celebrate your love and marriage and that is the most important of it all. Good Luck and enjoy every moment!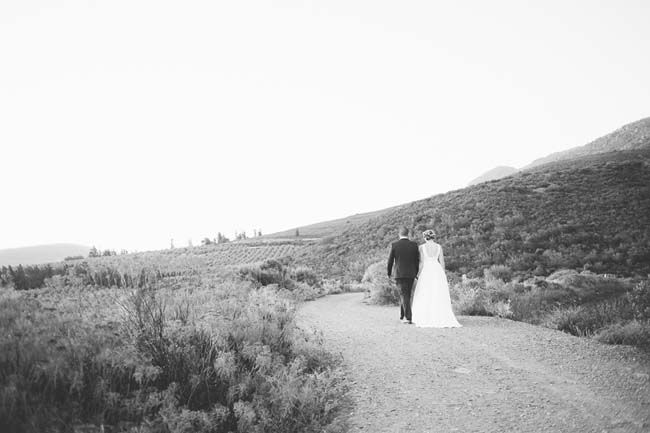 You can see more from this wedding on the Natural Light blog.
SERVICE PROVIDERS
Venue & catering: Goedgedacht Farm | Photography: Natural Light Photography | Flowers & décor: Lol's Flowers & Functions | Video: Sam Kanyama | Cakes: Creative Cakepops | Bride's dress: Southern Brides | Bride's shoes: Forever New | Hair & makeup: Martie Olivier Makeup & Hair | Groom's attire: Zara (suit); Studio W (tie) | Hiring: My Pretty Vintage; Goeters (tables & chairs) | Beer on tap: Flagship Brew | DJ: Jonathan Bradshaw


Save
Save