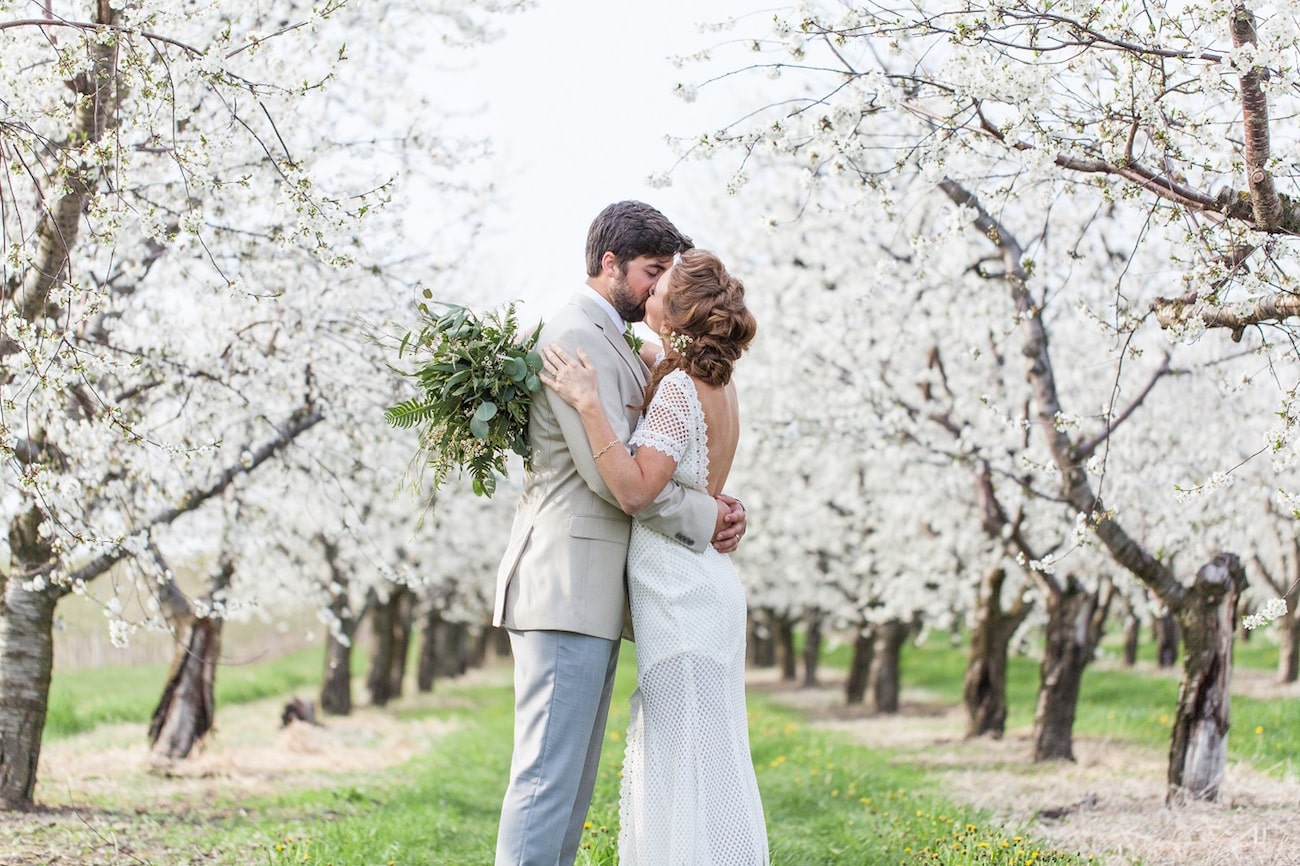 I'm dreaming of springtime blossoms and cool breezes thanks to this gorgeous inspiration! I love the fusion of styles in this shoot – a little bit woodsy and bohemian, but at the same time, clean and contemporary. The editorial (created by a talented team led by Wren Photography and Juniper & Lace Events) includes includes a beautiful array of textures: wood, macrame, copper, greenery, watercolour. So romantic! The palette keeps things fresh – a stunning combo of deep greens, bright white, and warm copper, that perfectly shows off the natural scenery of Michigan, US, where it takes place. There's so many details, but no surprise, my fave is the donut wall – these treats are as pretty and on-theme as the flavours are mouth-watering! I also love the idea of a clear marquee and draping to go with the rest of the decor, as it adds an elegant contrast to the more earthy rustic styling of the tablescape. From ceremony styling to florals to food, there's so much here to inspire a SouthBound bride!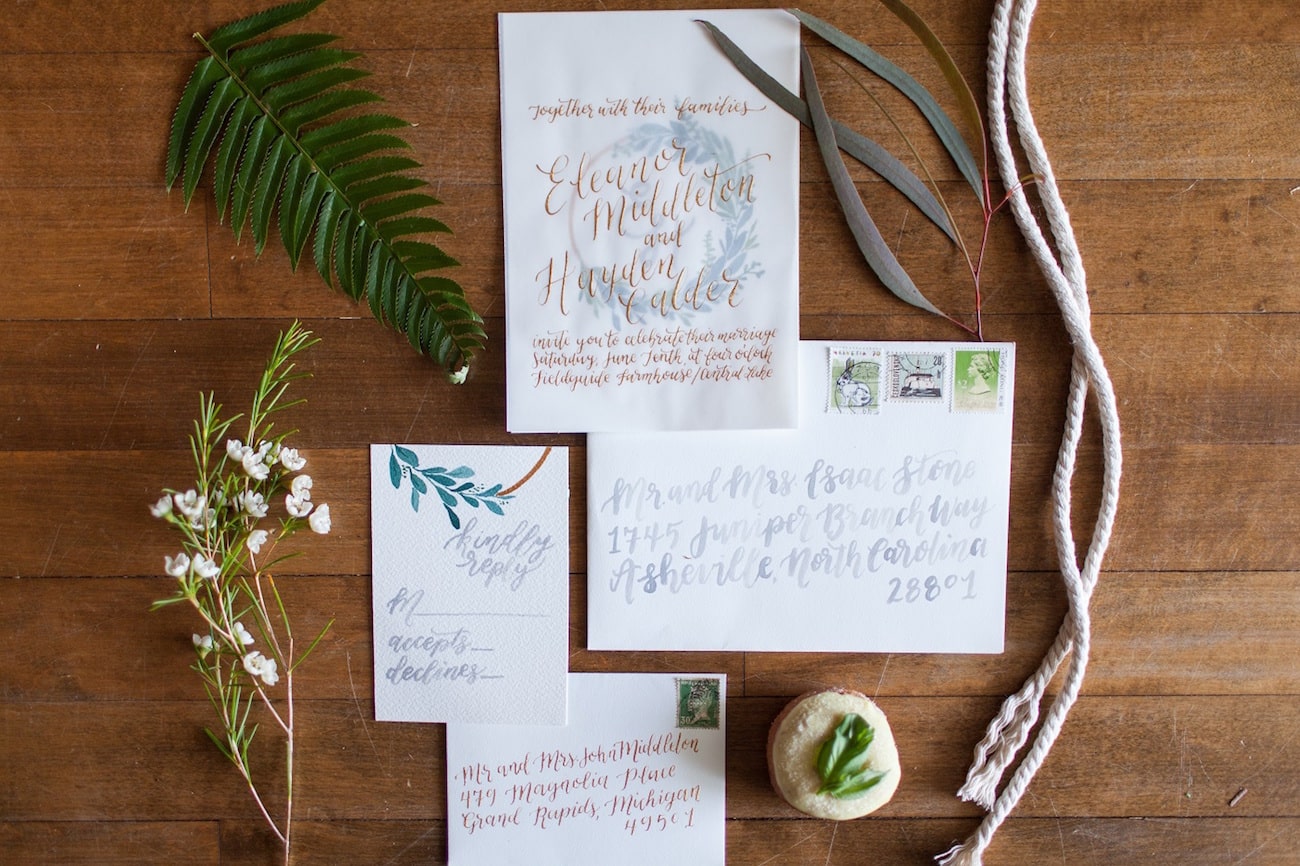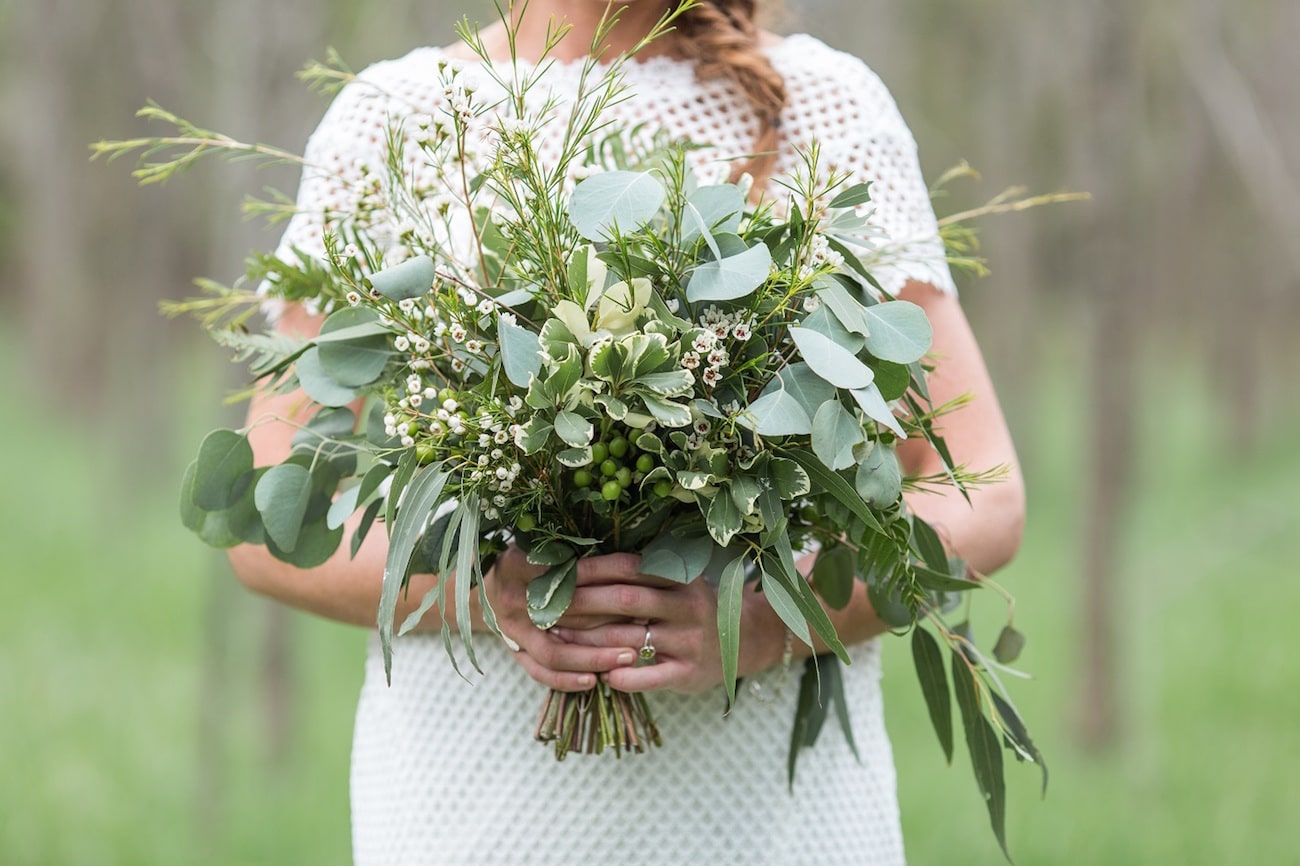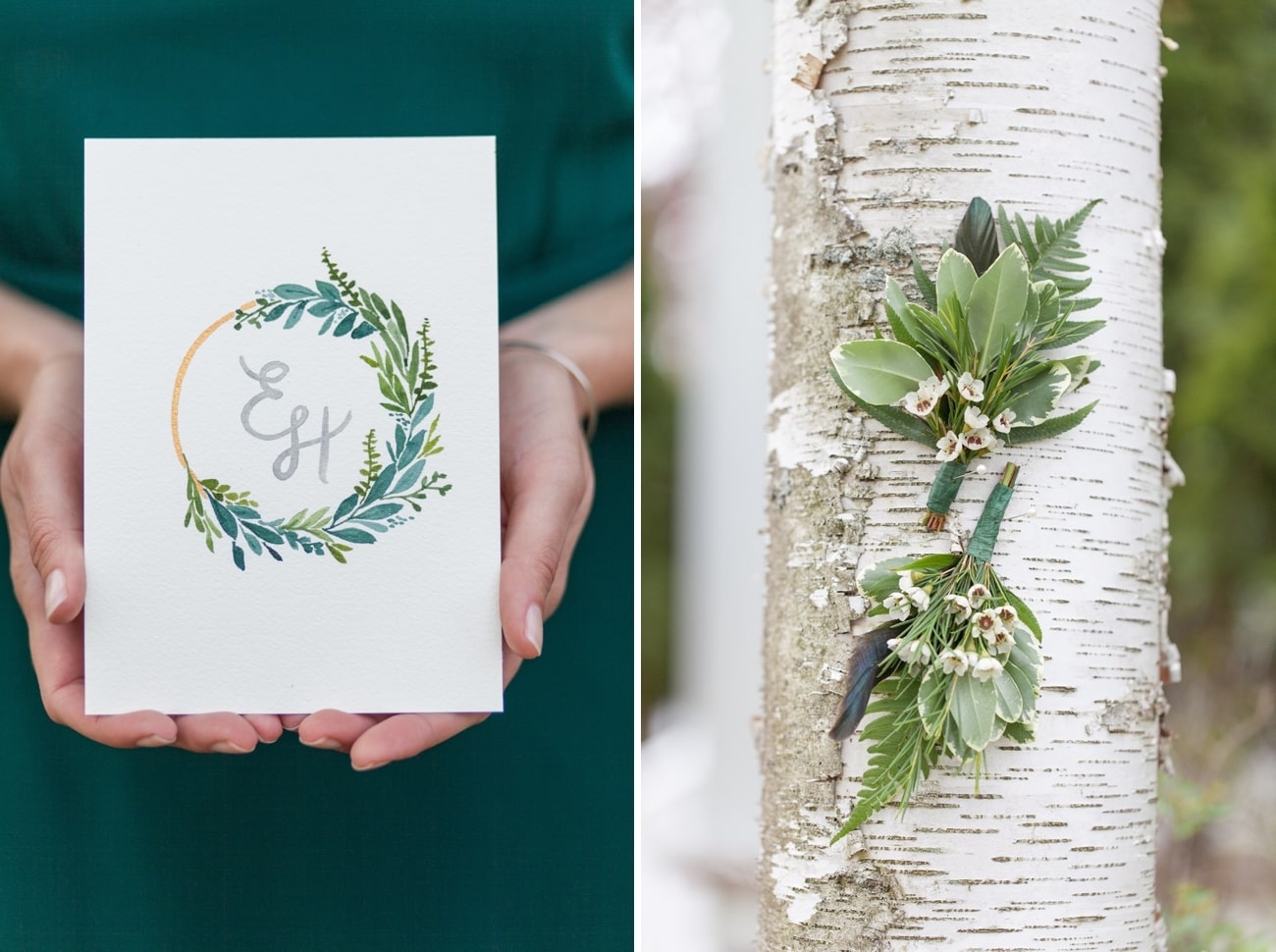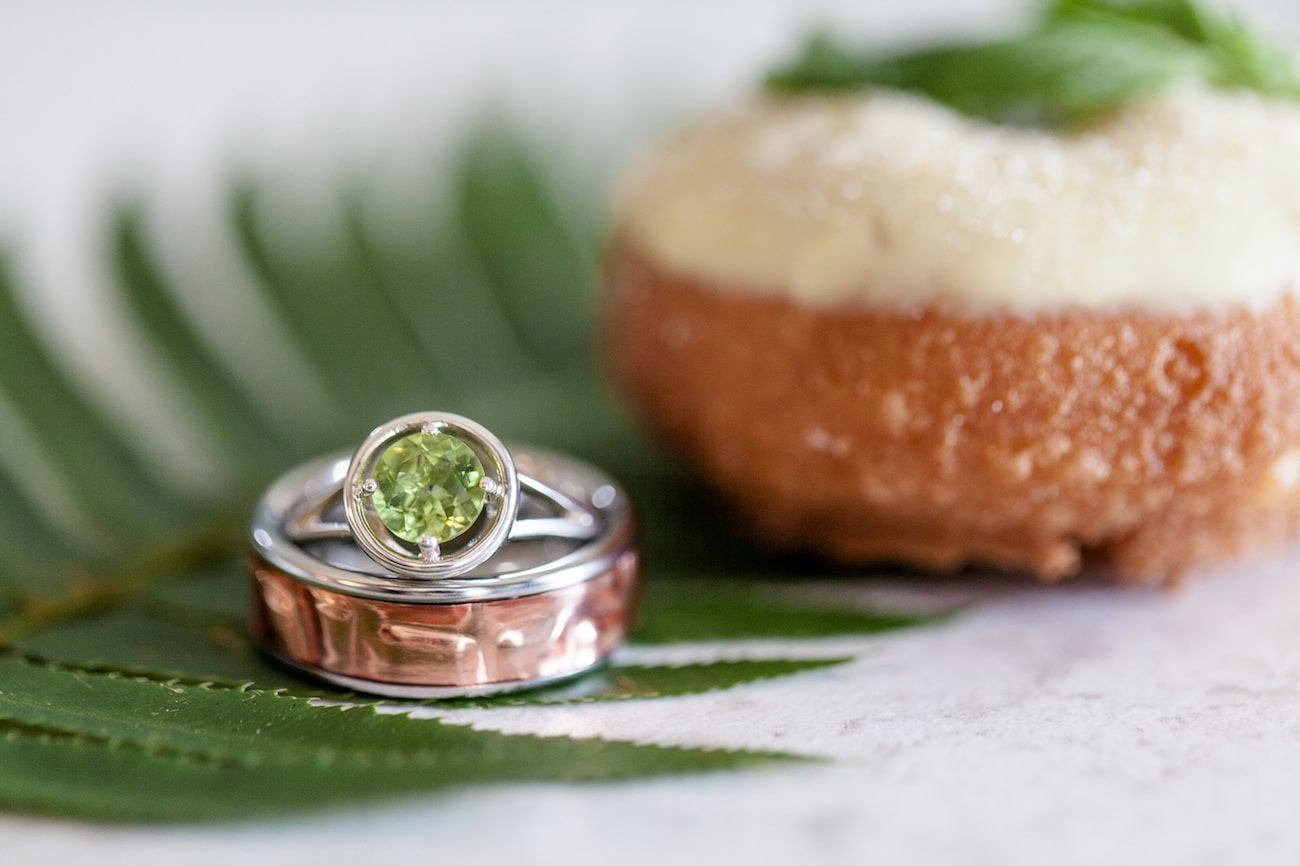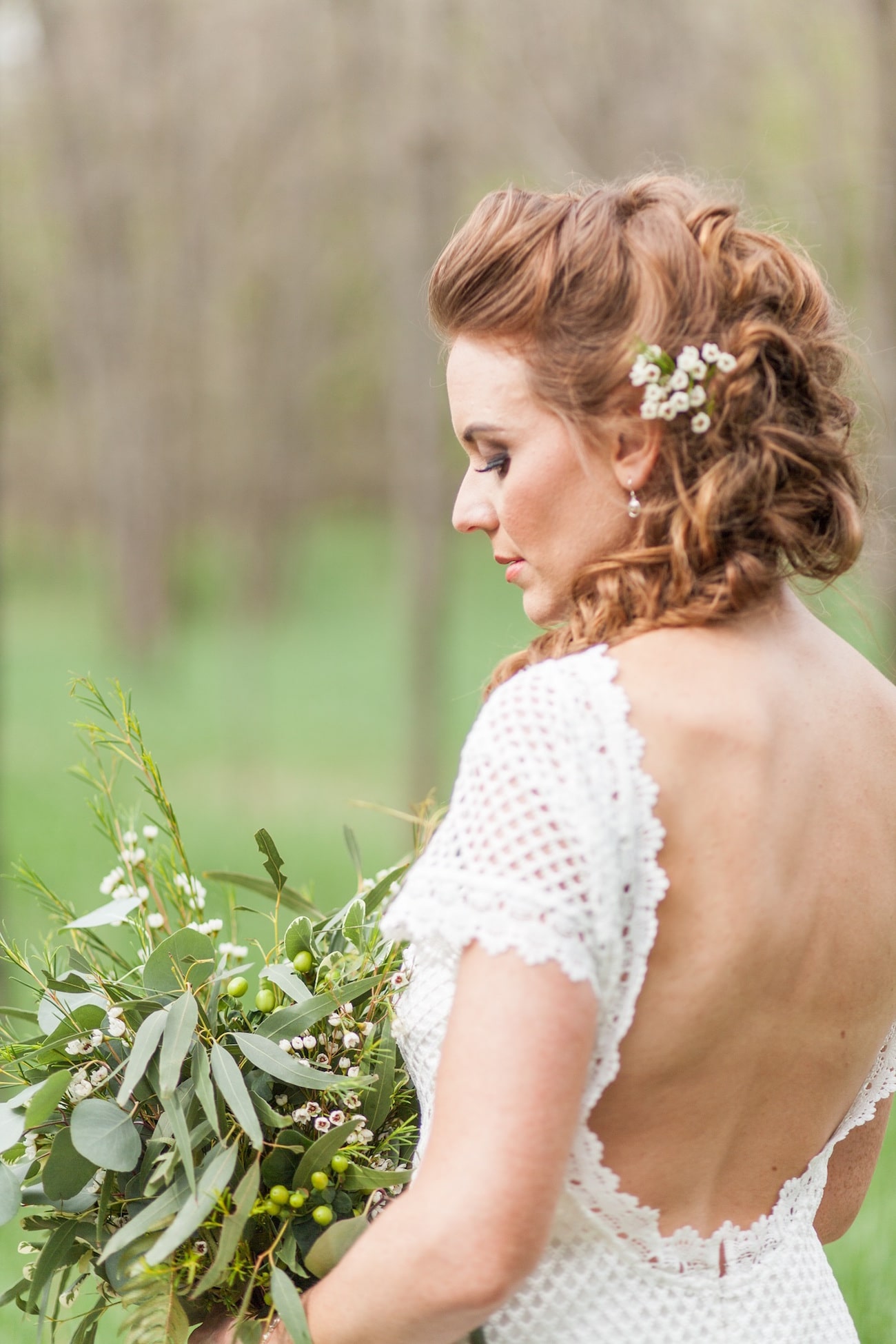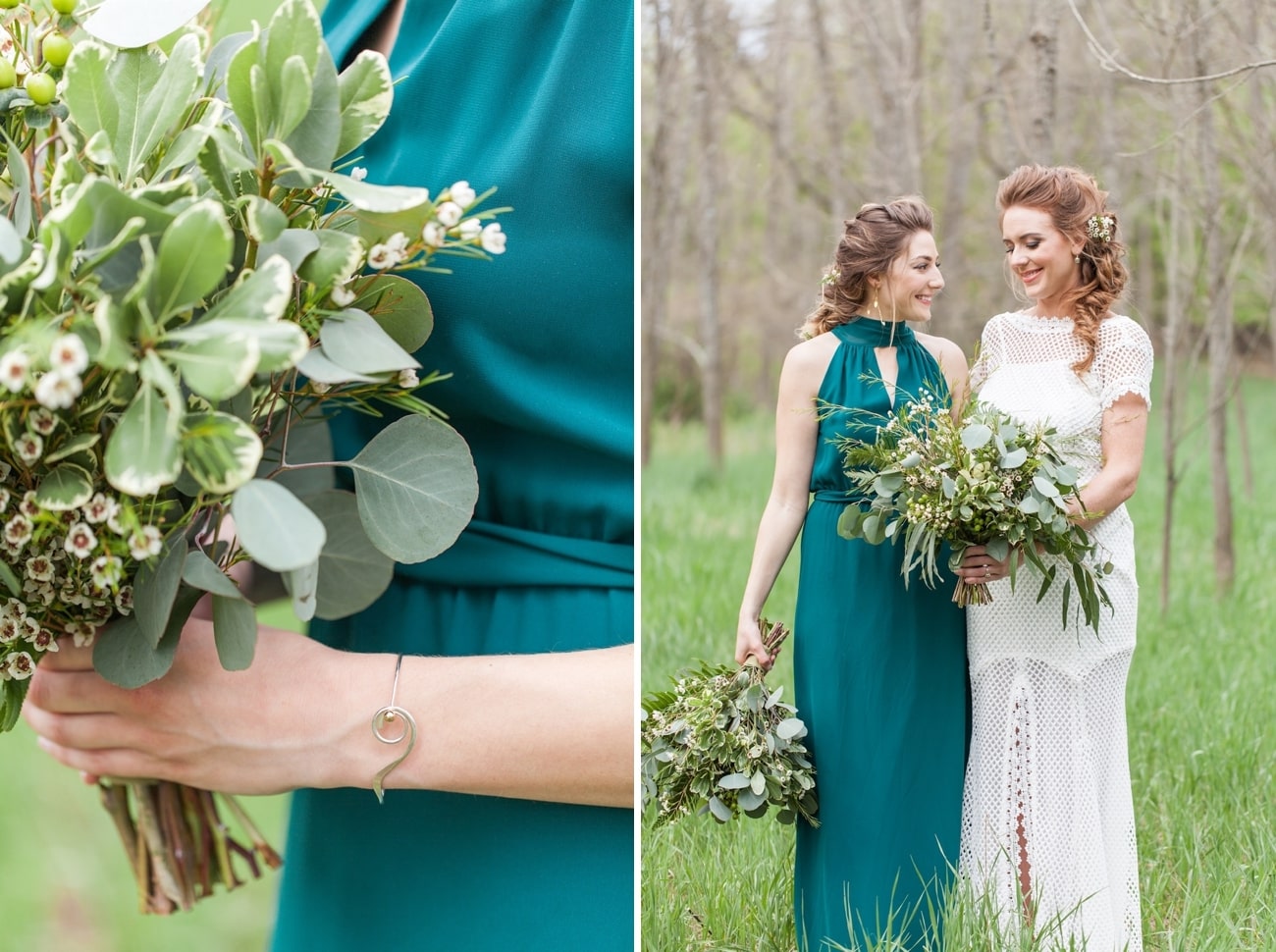 There was so much thought put into every detail of this shoot! Here's some background from the team:
This styled shoot captures the local Northwoods vibe in fresh modern style. It features the best of northern Michigan's natural beauty, with its locust grove ceremony decked out in layers of copper-accented macrame, its farm table dinner under a glorious five-wreath greenery installation by an idyllic inland lake, an adjacent historic stone farmhouse for bridal party preparations, and a jaunt to neighboring cherry orchards in glorious full bloom. Using a color palette of natural woodland greens, stone greys, and earthy coppers and golds, it features organic textures of wood, feathers, greenery, and macrame. A timeless circle motif is creatively woven into the design elements.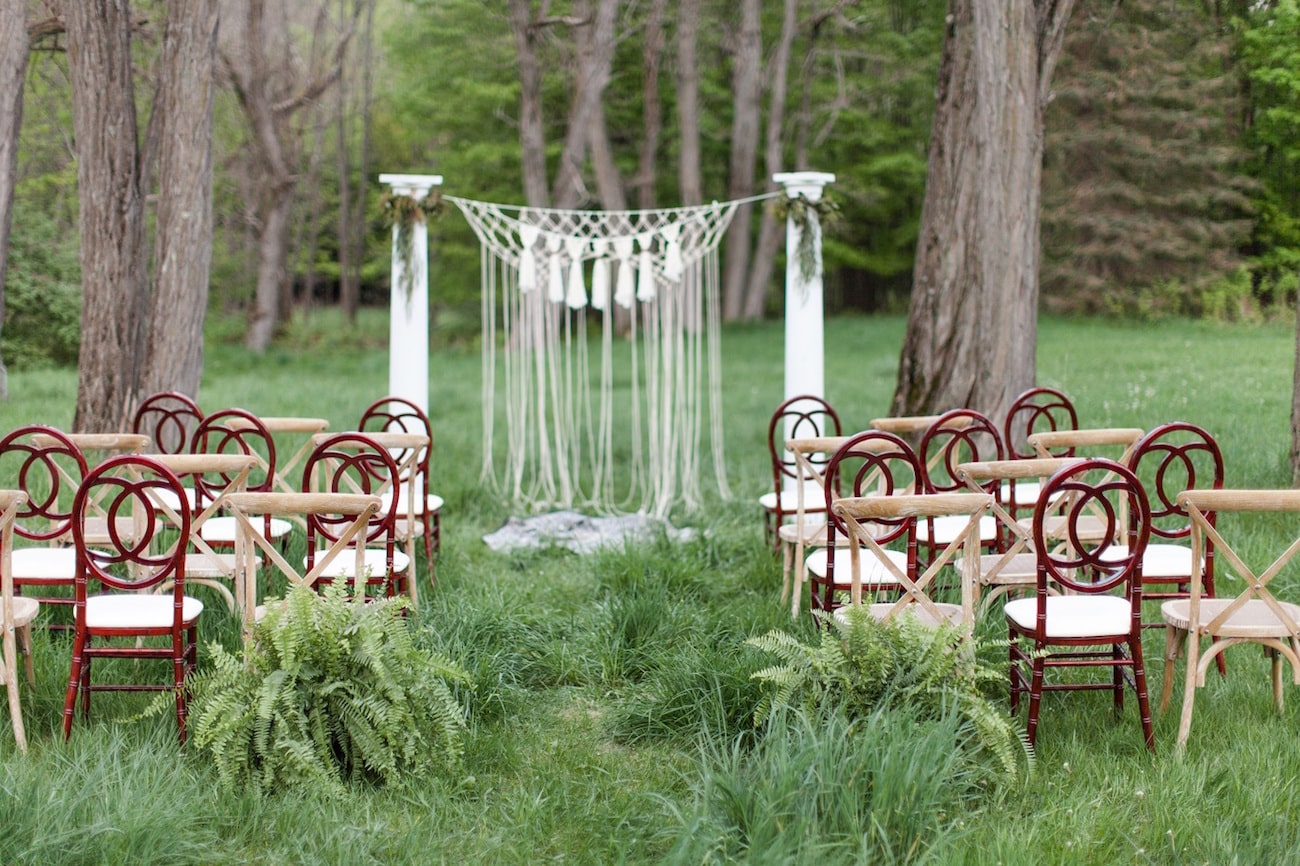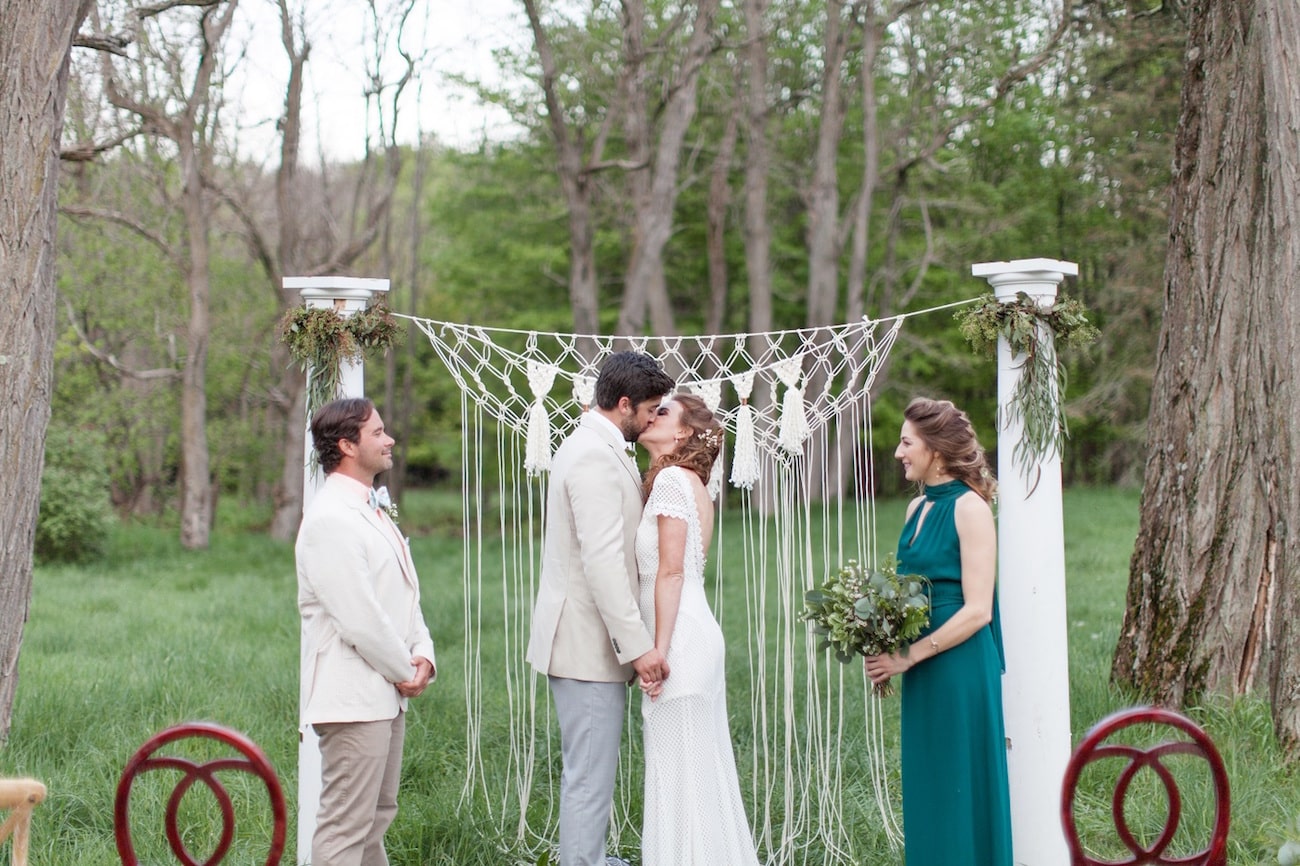 Highlights include a custom watercolor invitation suite, in which elegant metallic copper calligraphy on parchment paper is laid over a monogrammed watercolor wreath of greenery on copper, and accompanied by coordinating RSVP cards and envelopes. The suite foreshadowed our featured reception design element and incorporated the colors and boho-mod vibe in exquisite style with its varied paper textures and use of natural earthy colors.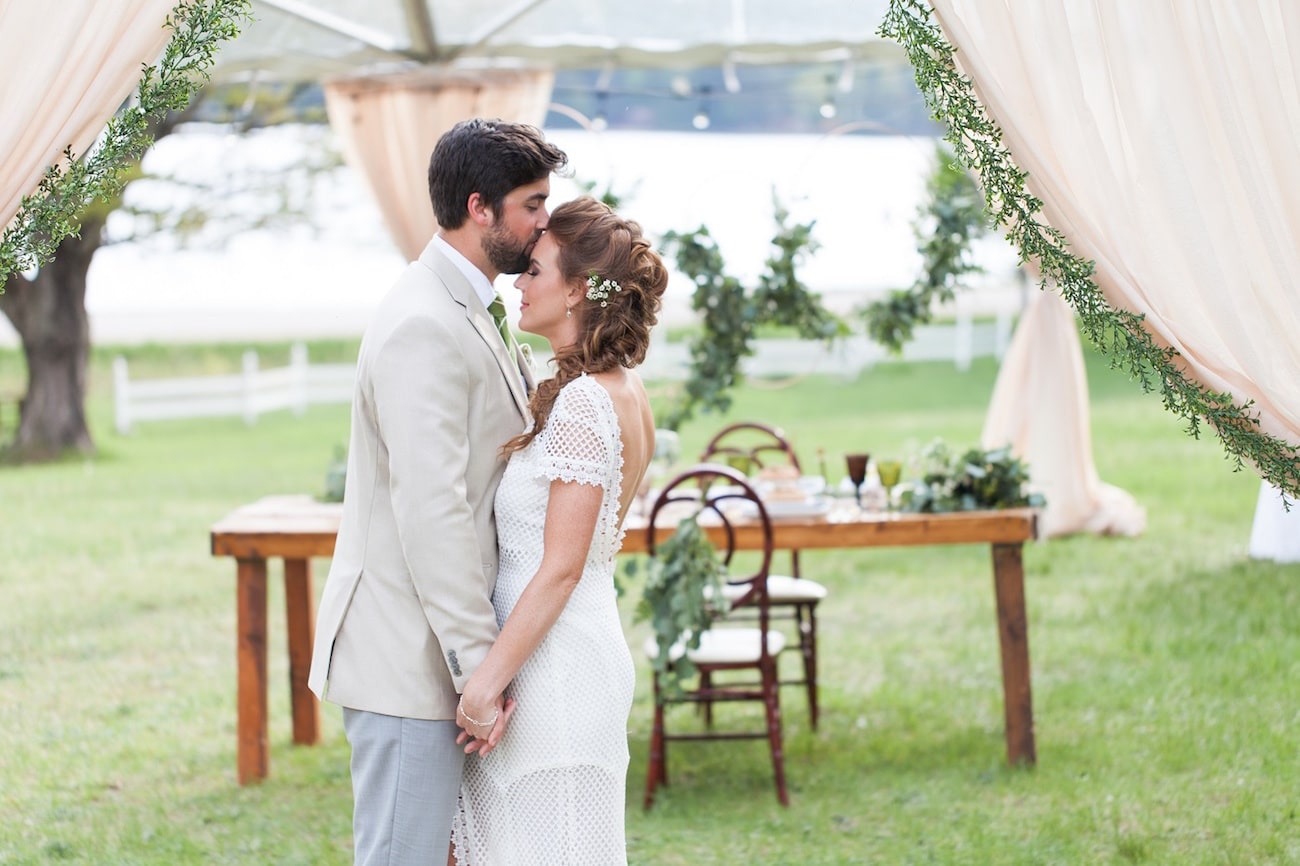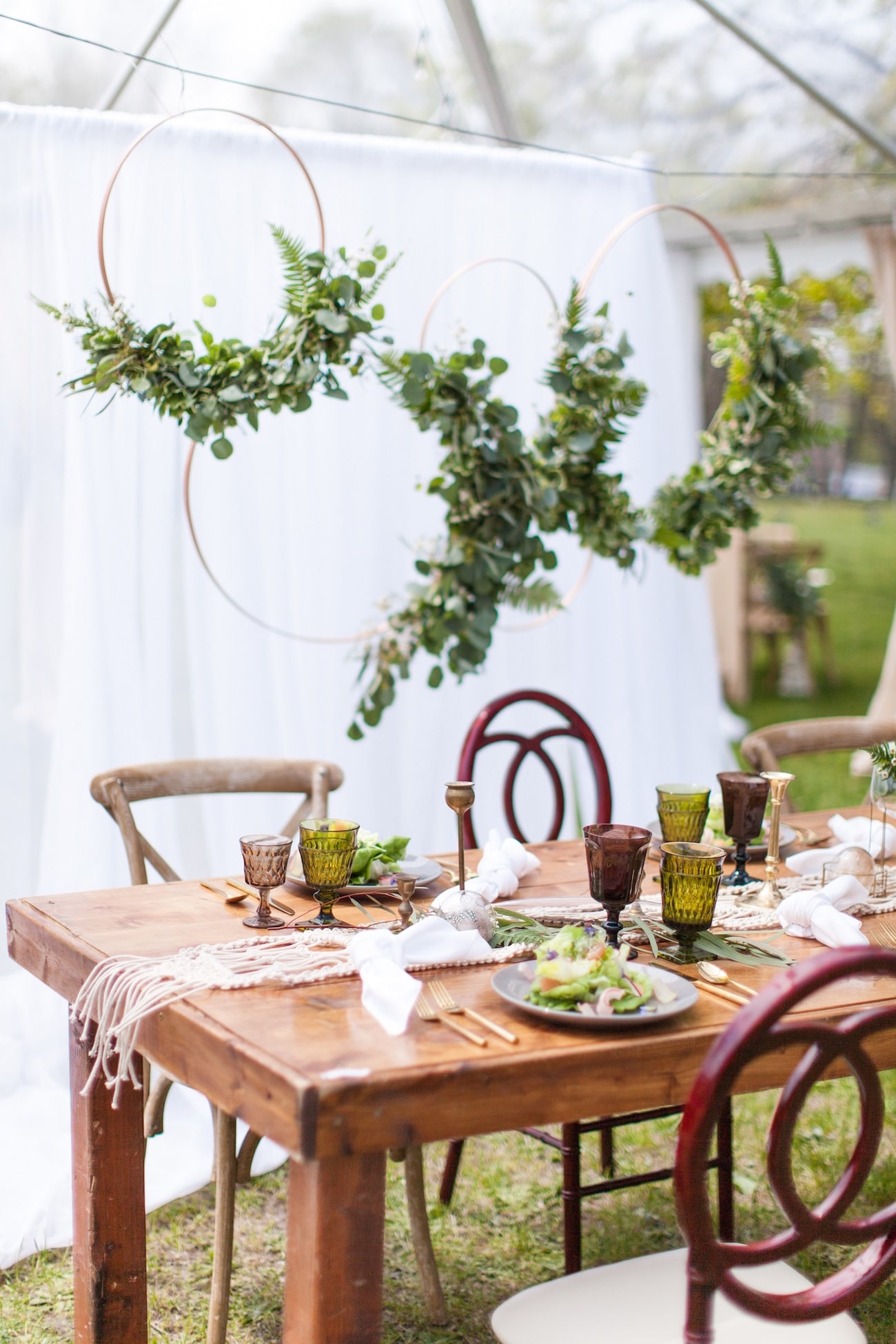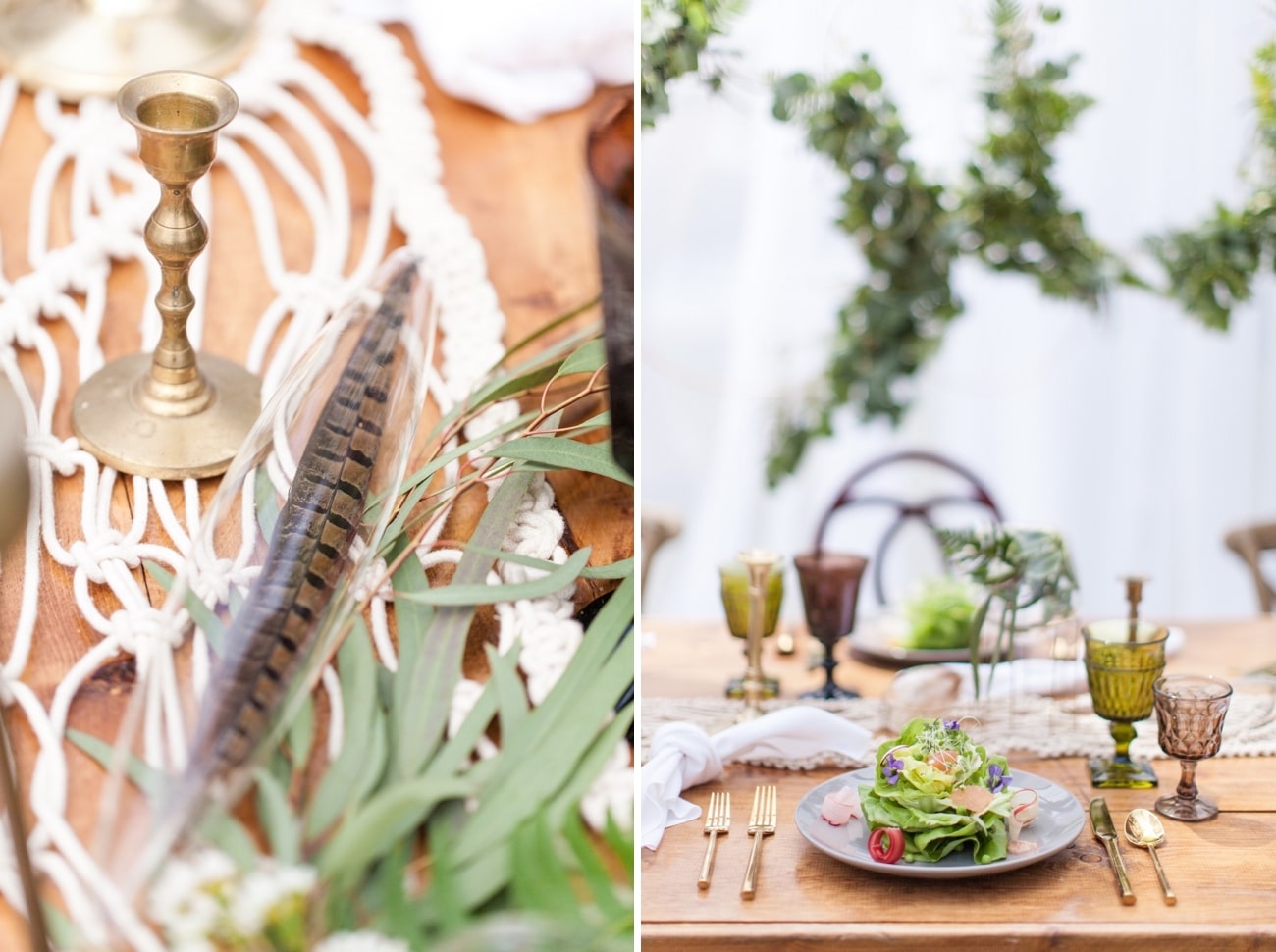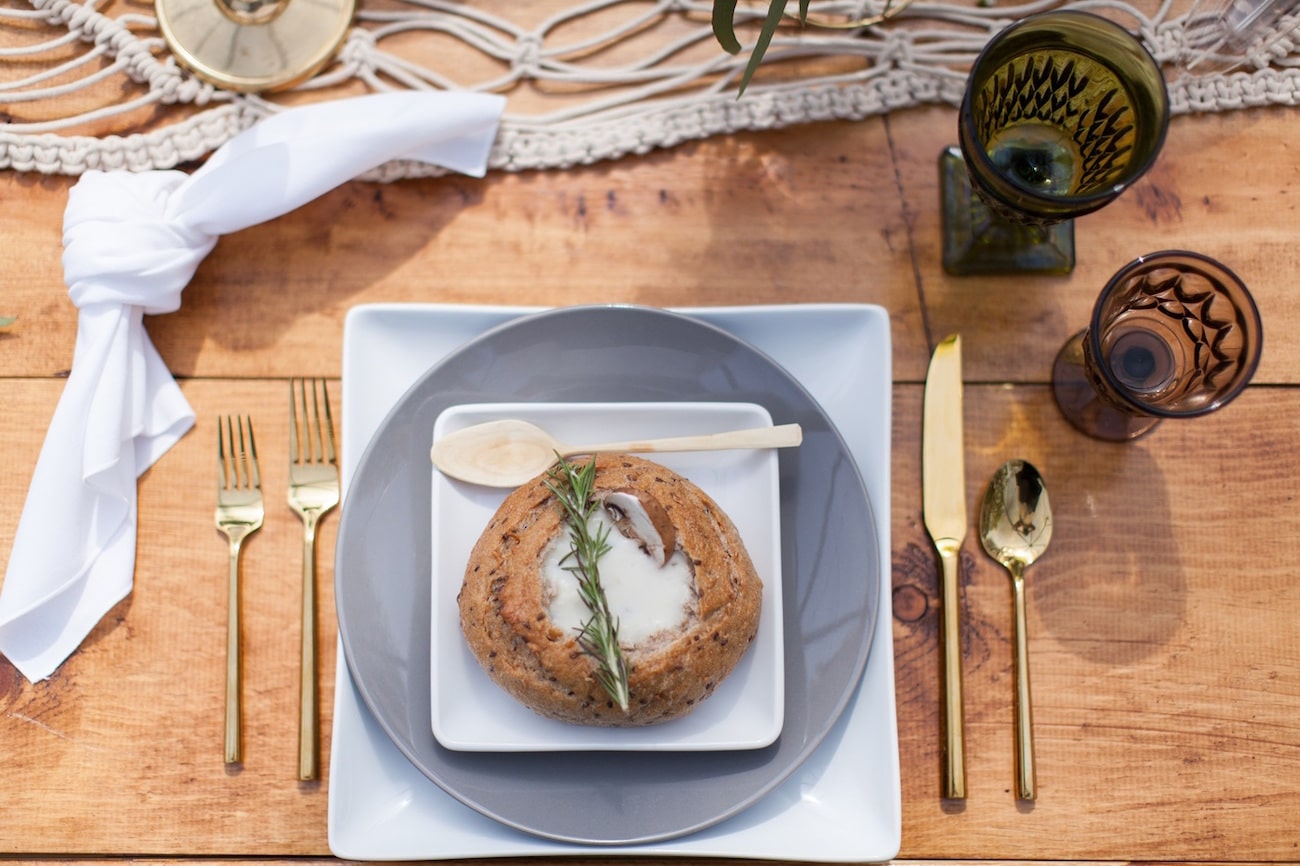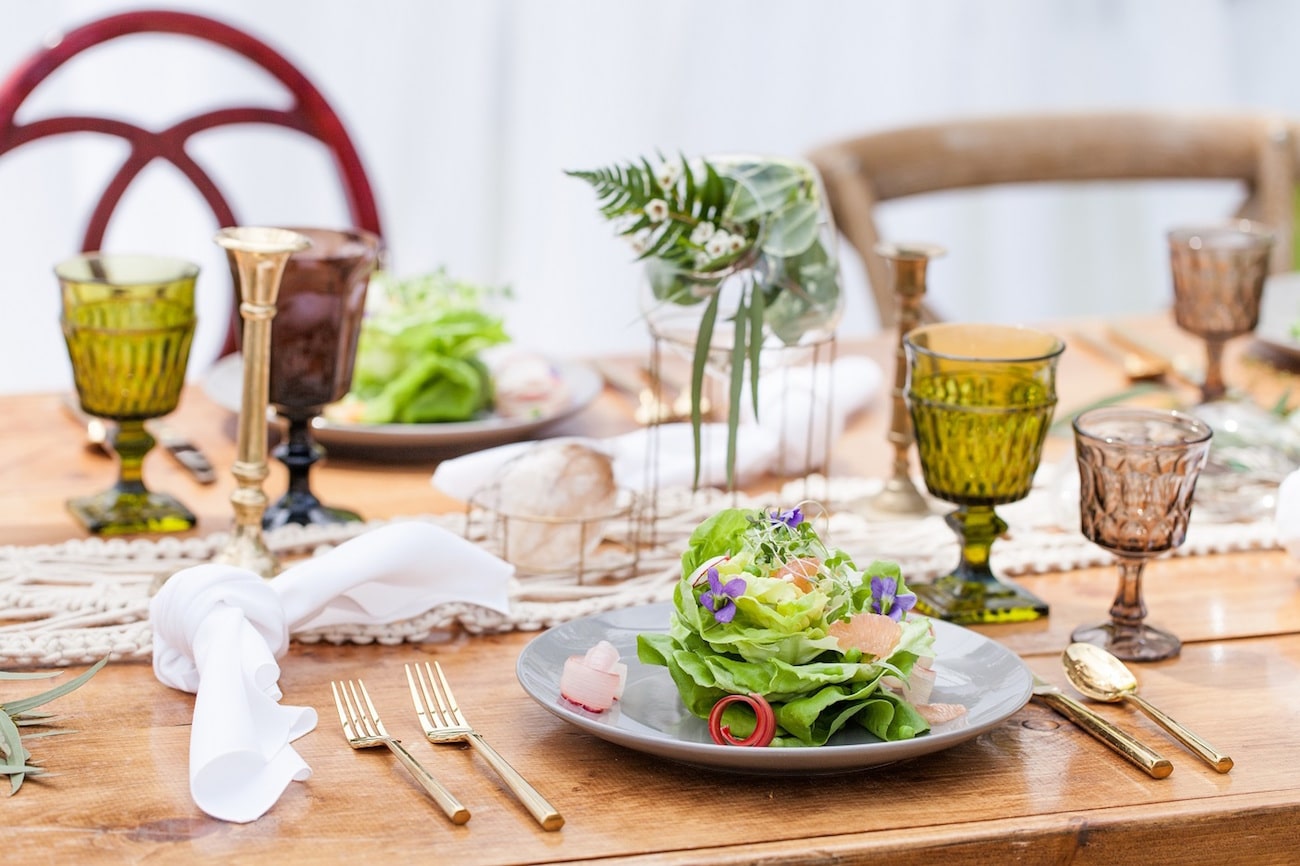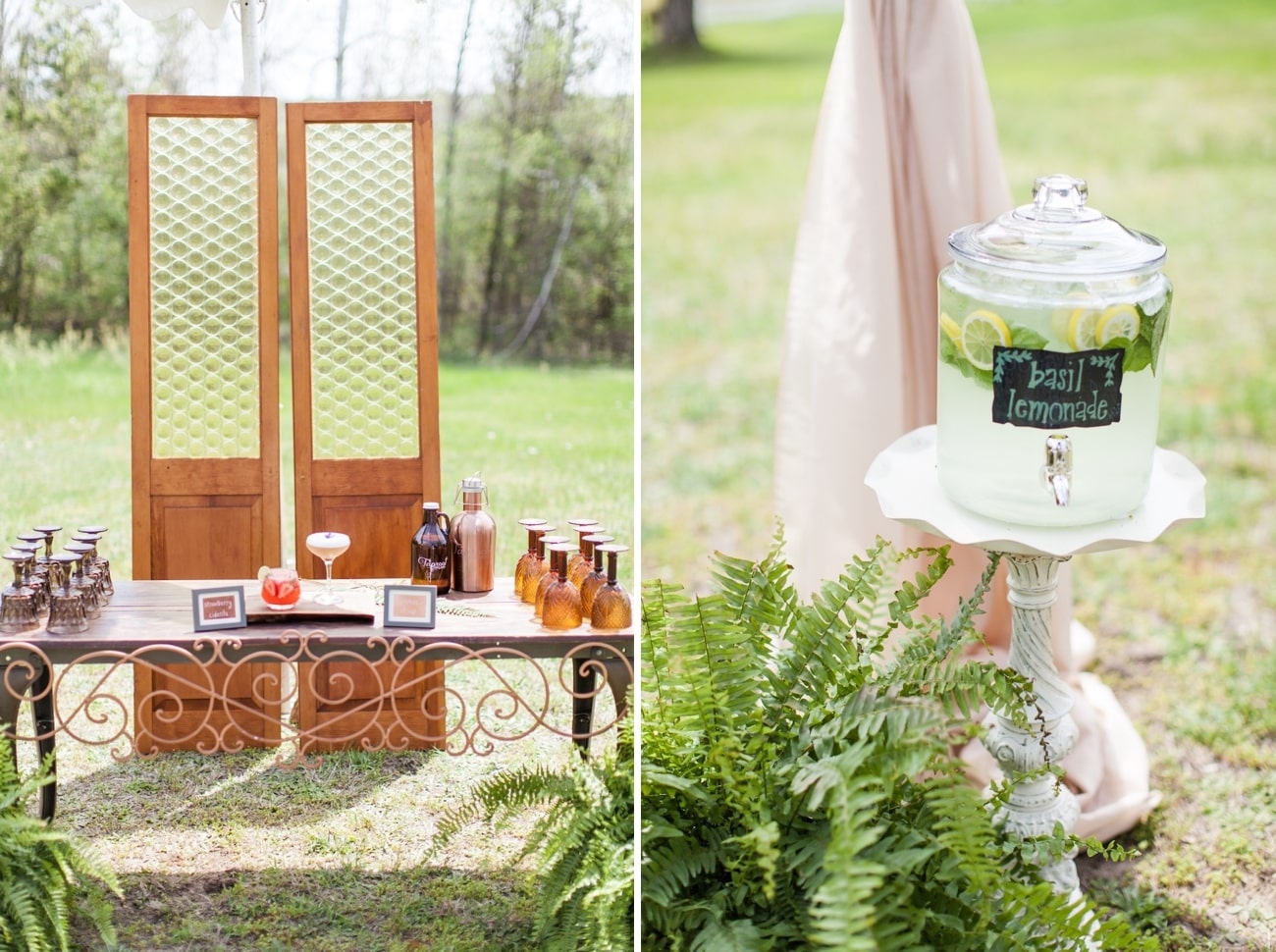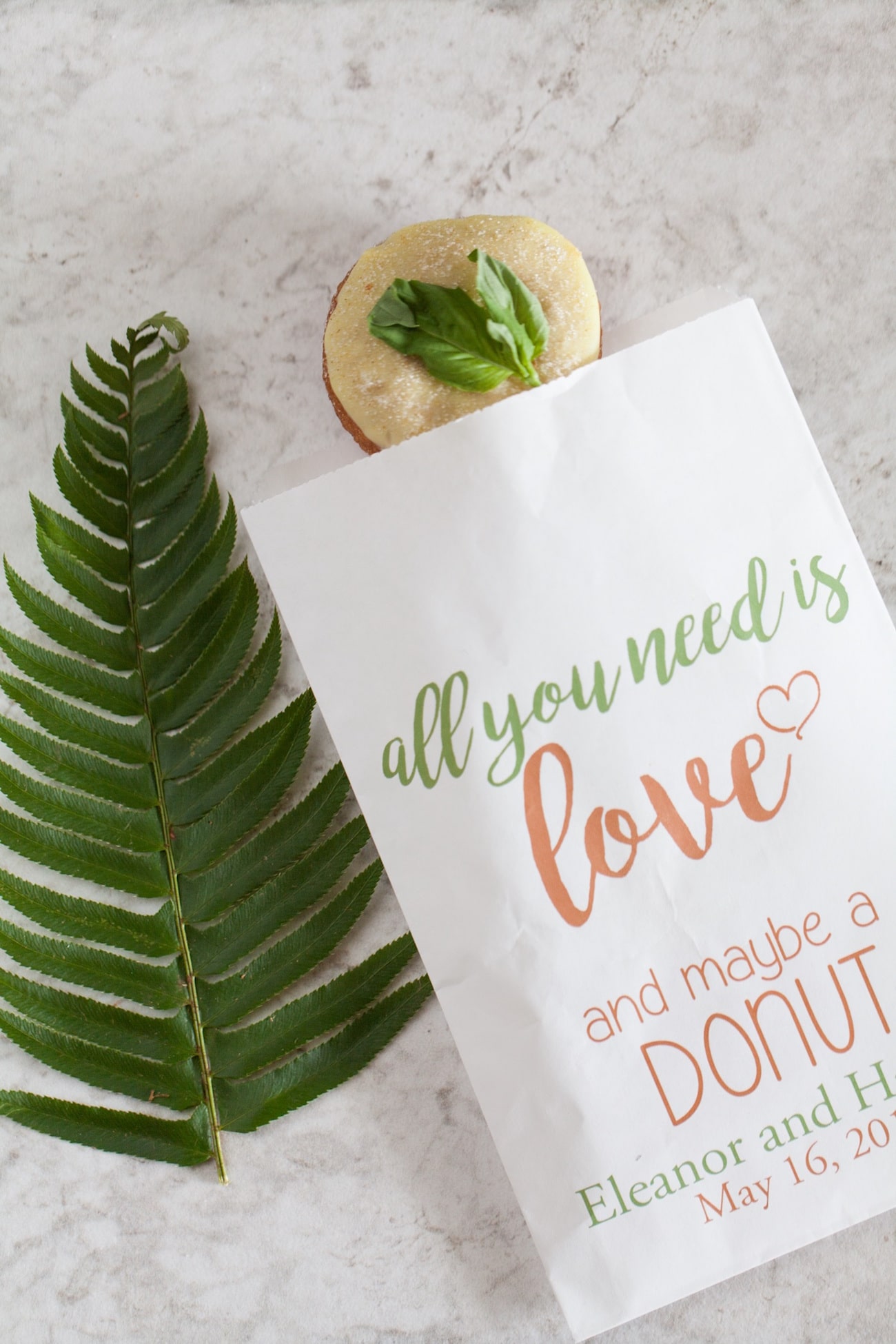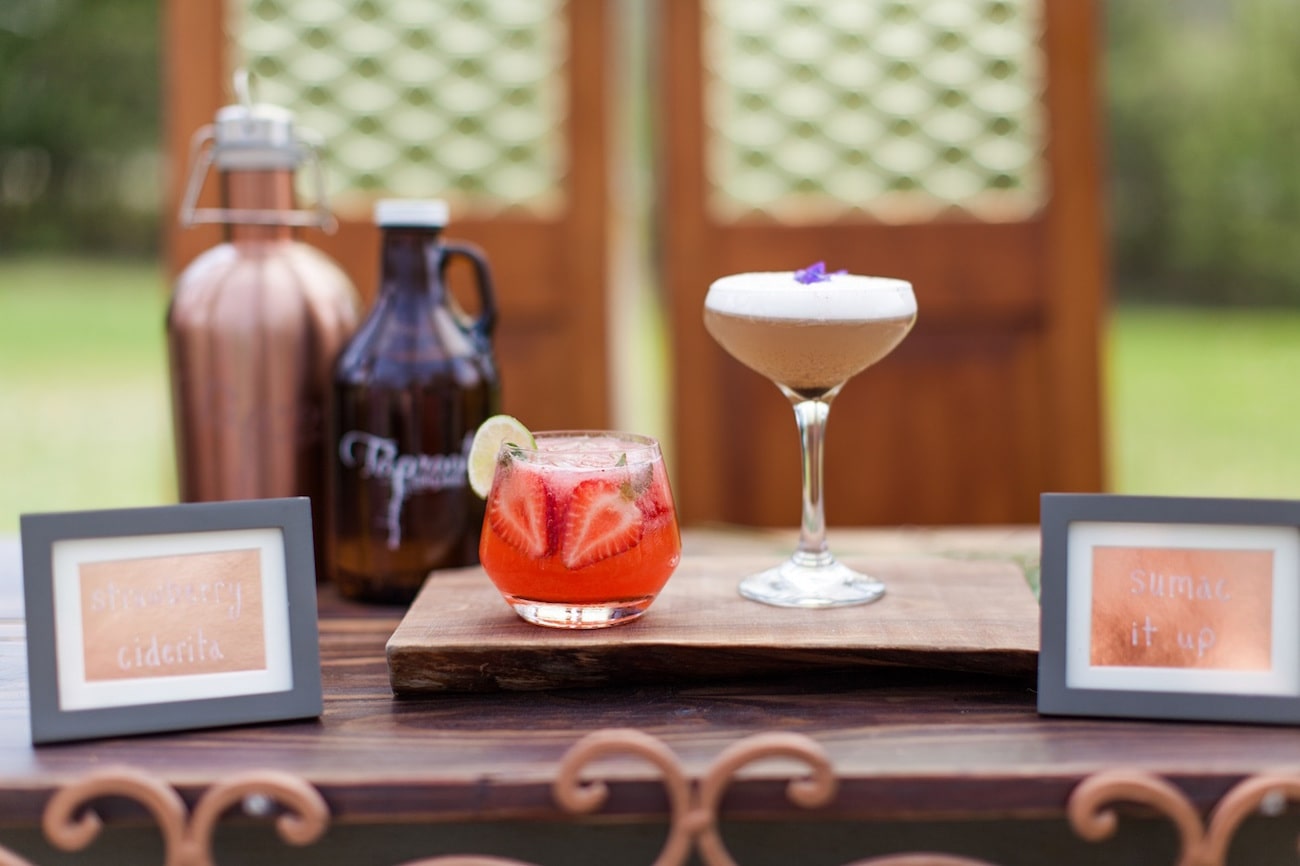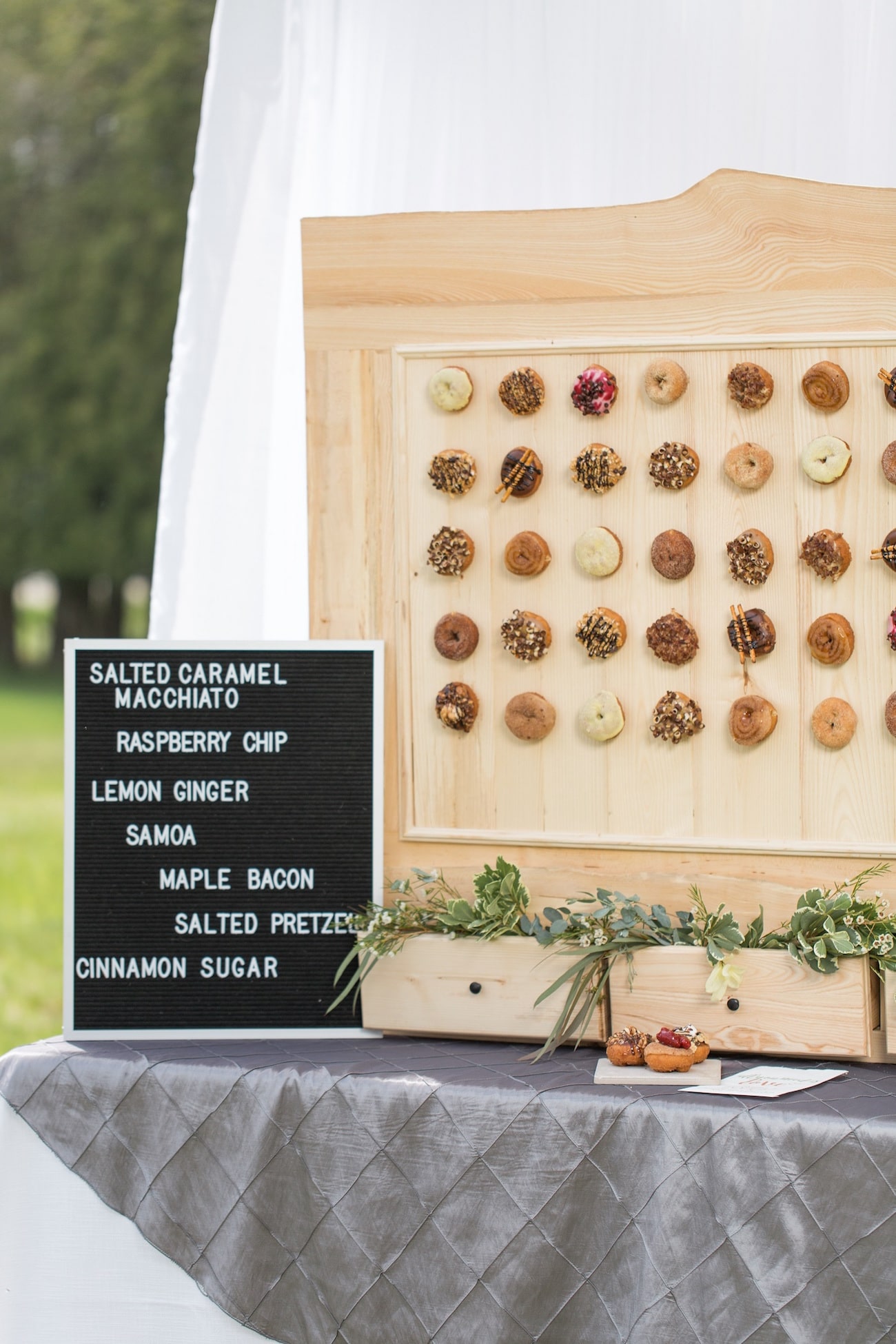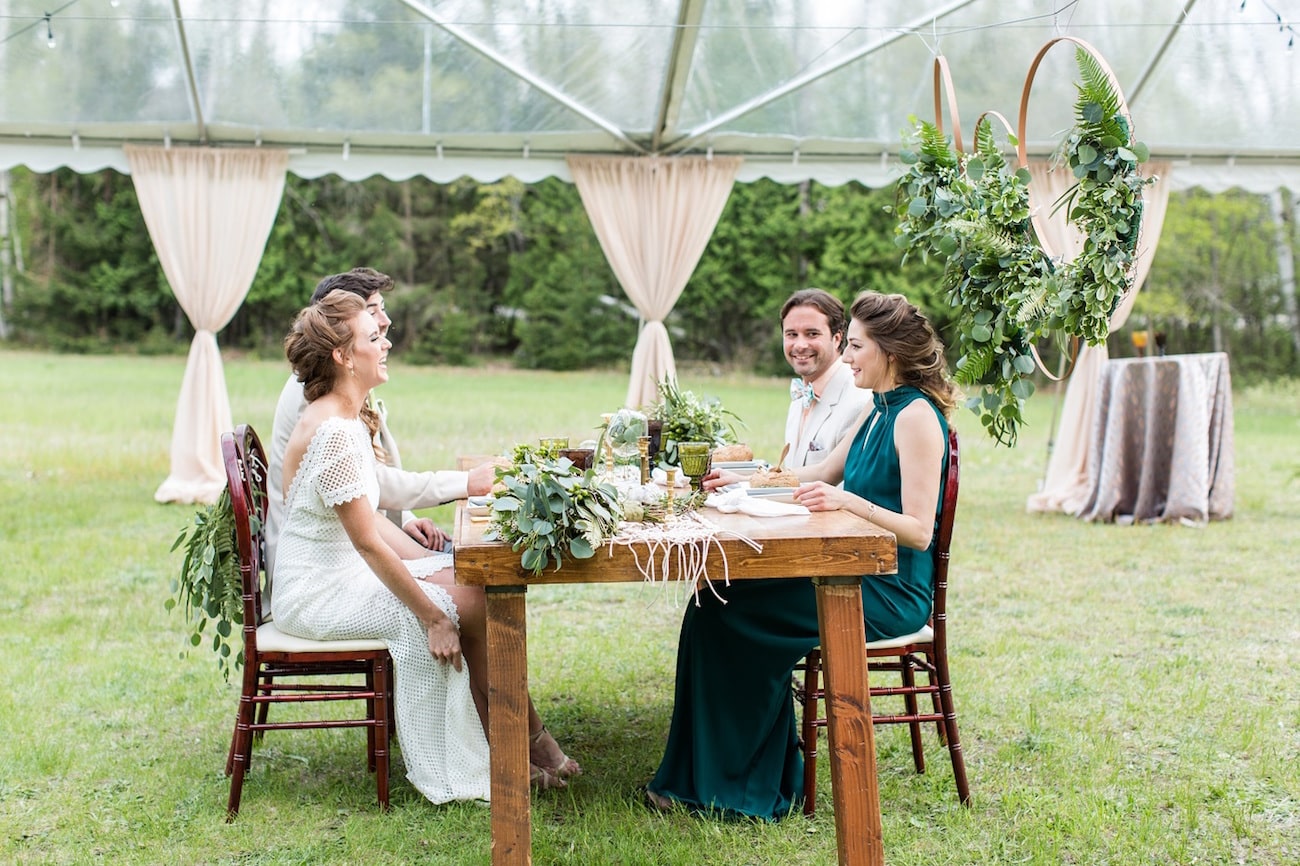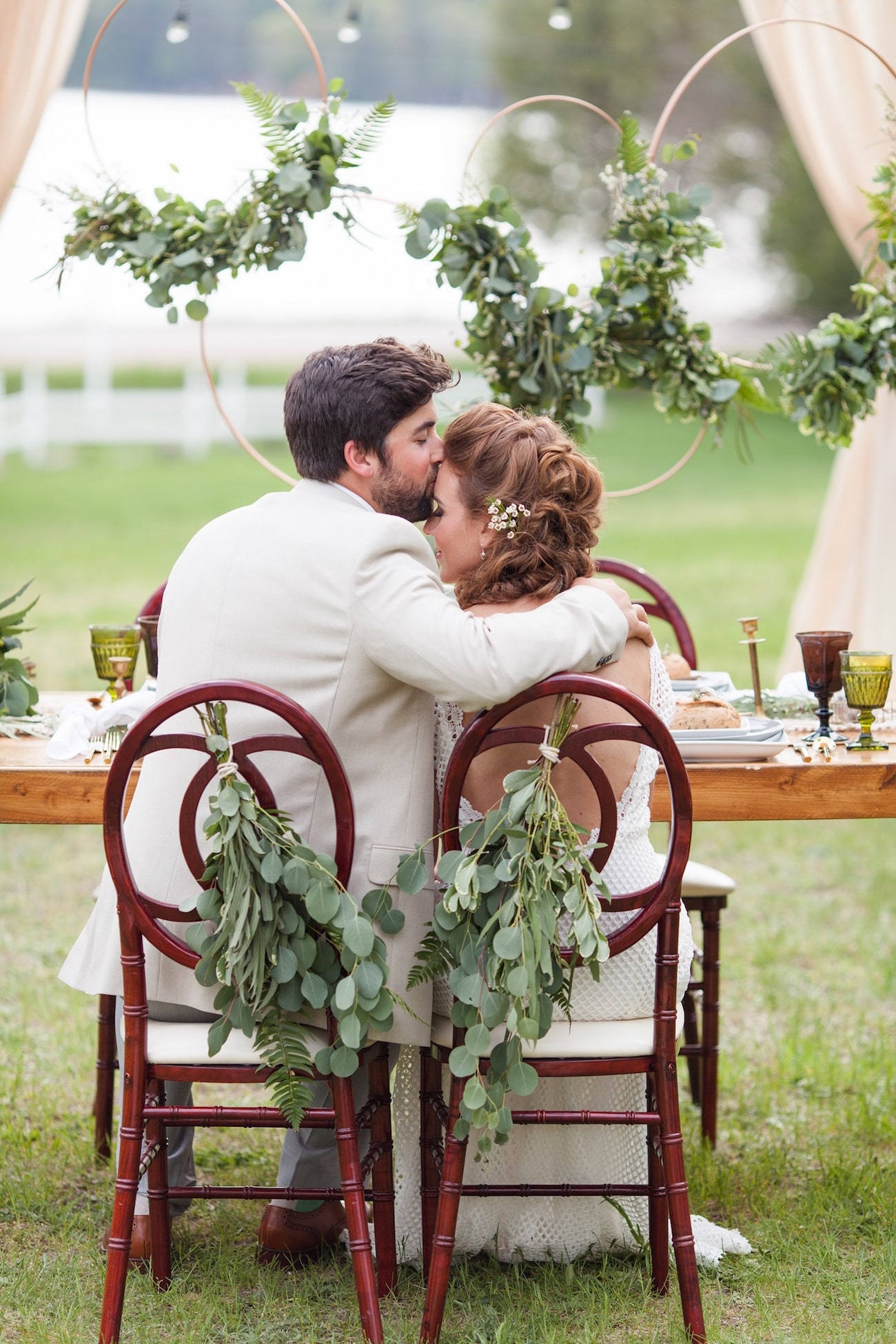 Our decor included a cocktail bar with locally-inspired signature drinks: a 'sumac it up' and a 'strawberry ciderita'. Basil lemonade on an antique stand and a cocktail table decked out in a charcoal linen with copper embroidery flanked the bar. Cider and donuts were also reimagined in our dessert bar featuring local hard cider served from a contemporary white pitcher placed opposite a trendy letterboard sign which depicted the flavours of mini-donuts. The decadent donuts were topped with earthy textures reminiscent of woodland elements using pretzels, chocolate chips, bacon, and ginger crystals. Natural wood edges of boards custom cut from northern Michigan trees framed a bespoke donut board complete with drawers for personalized to-go bags. Grey and white marbled tile on a charcoal pintuck linen displayed more donuts, including a s'mores flavor as a nod to summer bonfires. For the dinner reception, the modern lines of a clear-top tent were softened with champagne draping along the edges and strung with romantic bistro lights. The intertwined circles of mahogany chanel chairs, the loops of a macrame table runner, and glass orbs of feathers and greenery set in round gold stands all complemented the greenery wreaths as a focal point.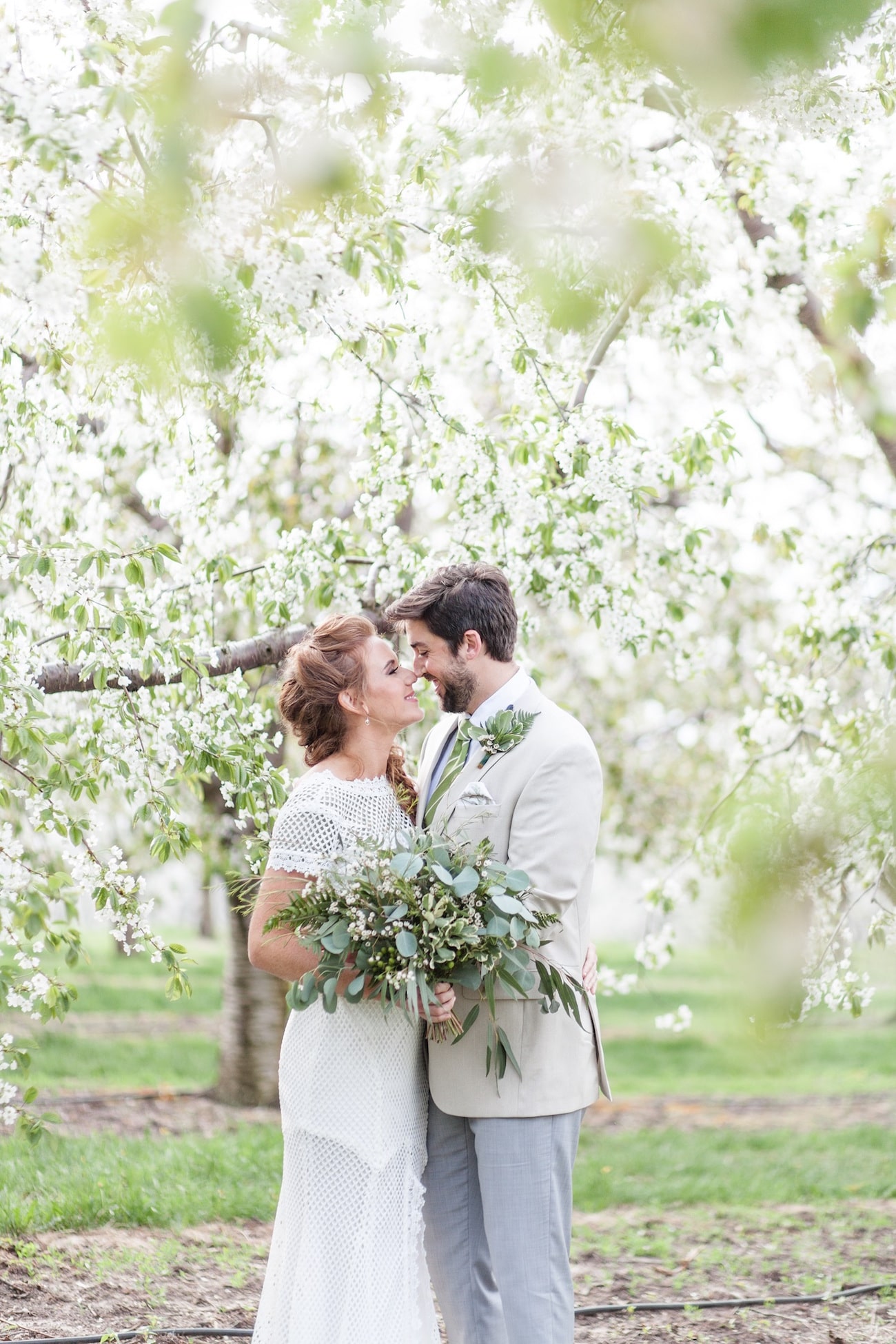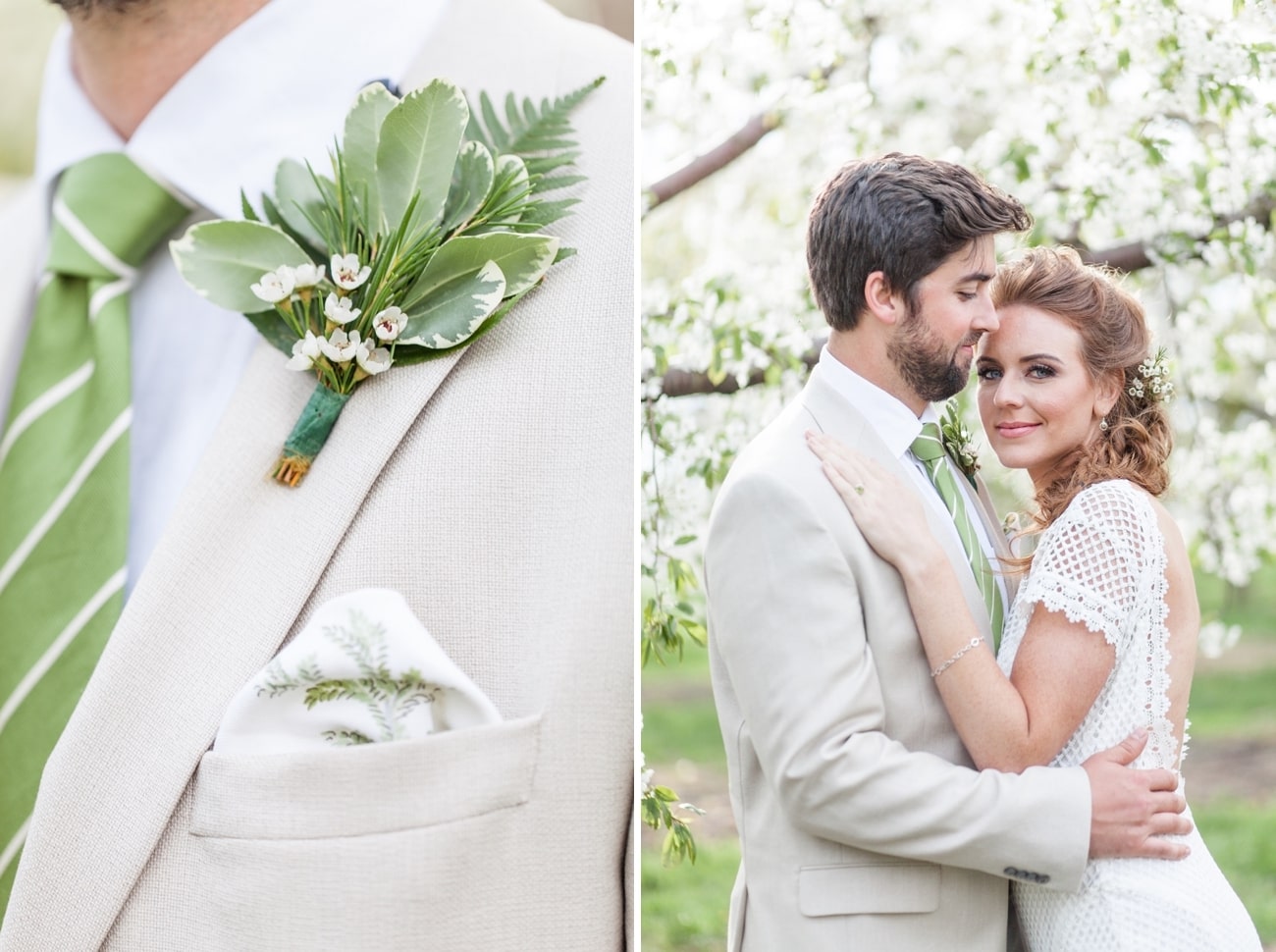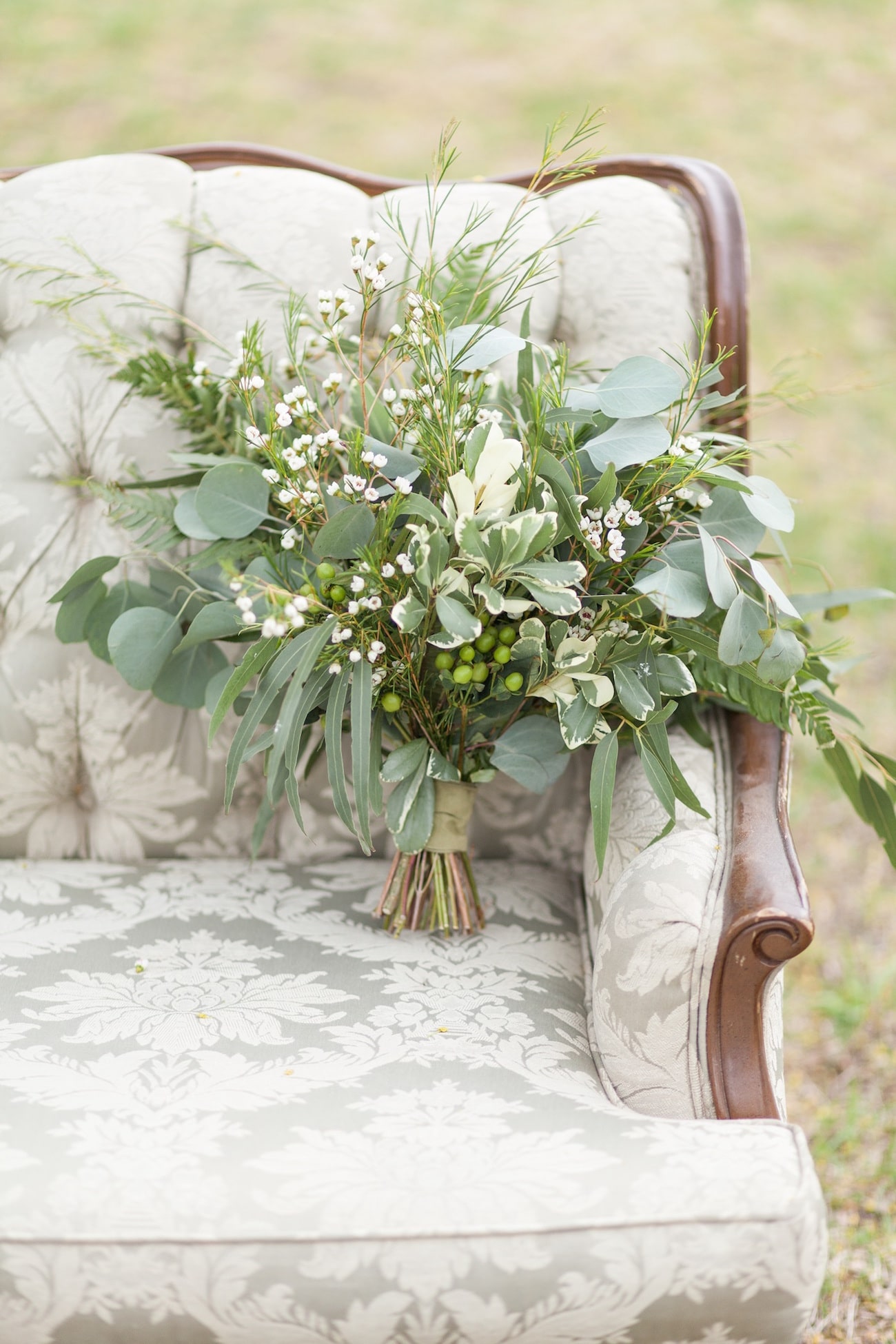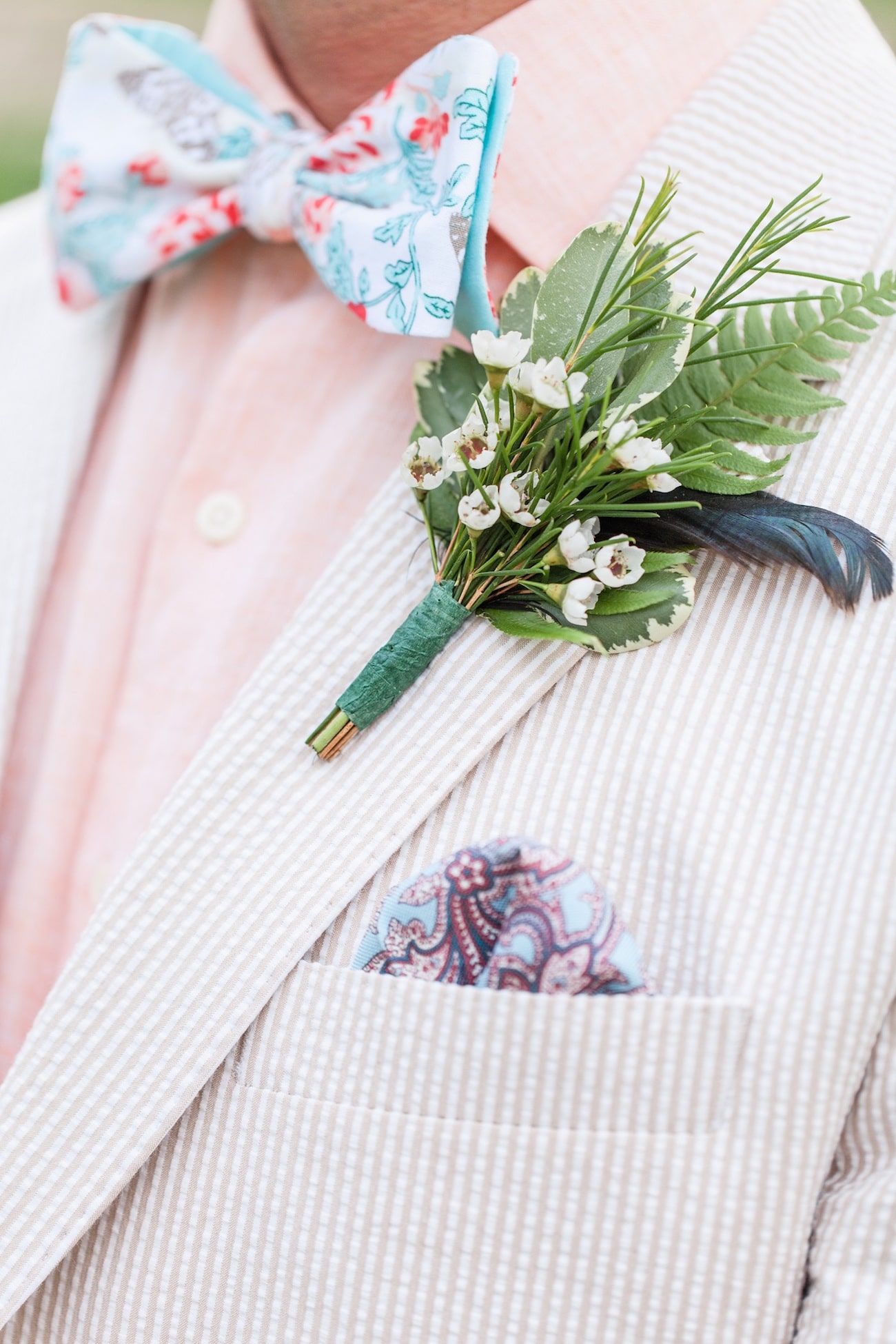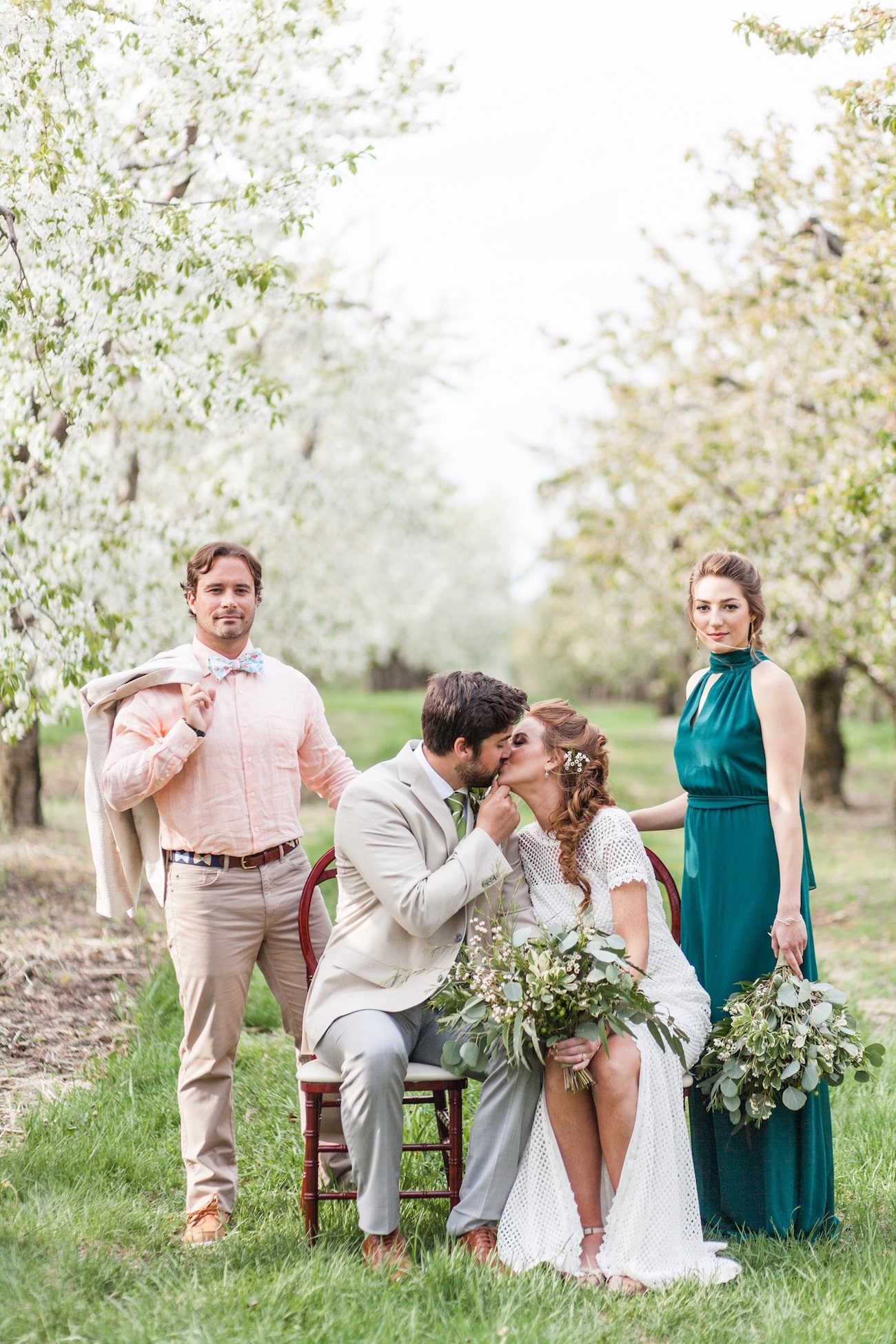 CREDITS
Photography: Wren Photography | Ceremony Venue: Fieldguide Farmhouse | Reception Venue: Fieldguide Farmhouse | Event Planning: Juniper & Lace Events | Floral: Stems & Sprigs | Stationery: Sable & Gray | Rentals: Monstrey Macdonald | Linens: Special Occasions West | Hair: Onsite Bridal | Makeup: Onsite Bridal | Decor Items: Serradella | Draping: sensational events | Chair Rentals: Sensational Events | Desserts: Peace, Love, & Little Donuts | Venue: King Orchards | Decor Items: Emma | Decor Items: Scott Mills (wooden spoons) | Decor Items: Kernan's Korner | Model: Meaghan & Dan Swan (bride & groom) | Model: Natalie | Model: Nate | Catering: Taproot Ciders | Bar: Taproot Ciders | Photography Assistance: Ashley Bassett Photogaphy | Wedding Dress: One Oak Bride | Groom's Attire: Craig Ryan | Bridesmaid Dresses: One Oak Bride | Jewelry: Miner's North | Submitted via: Matchology