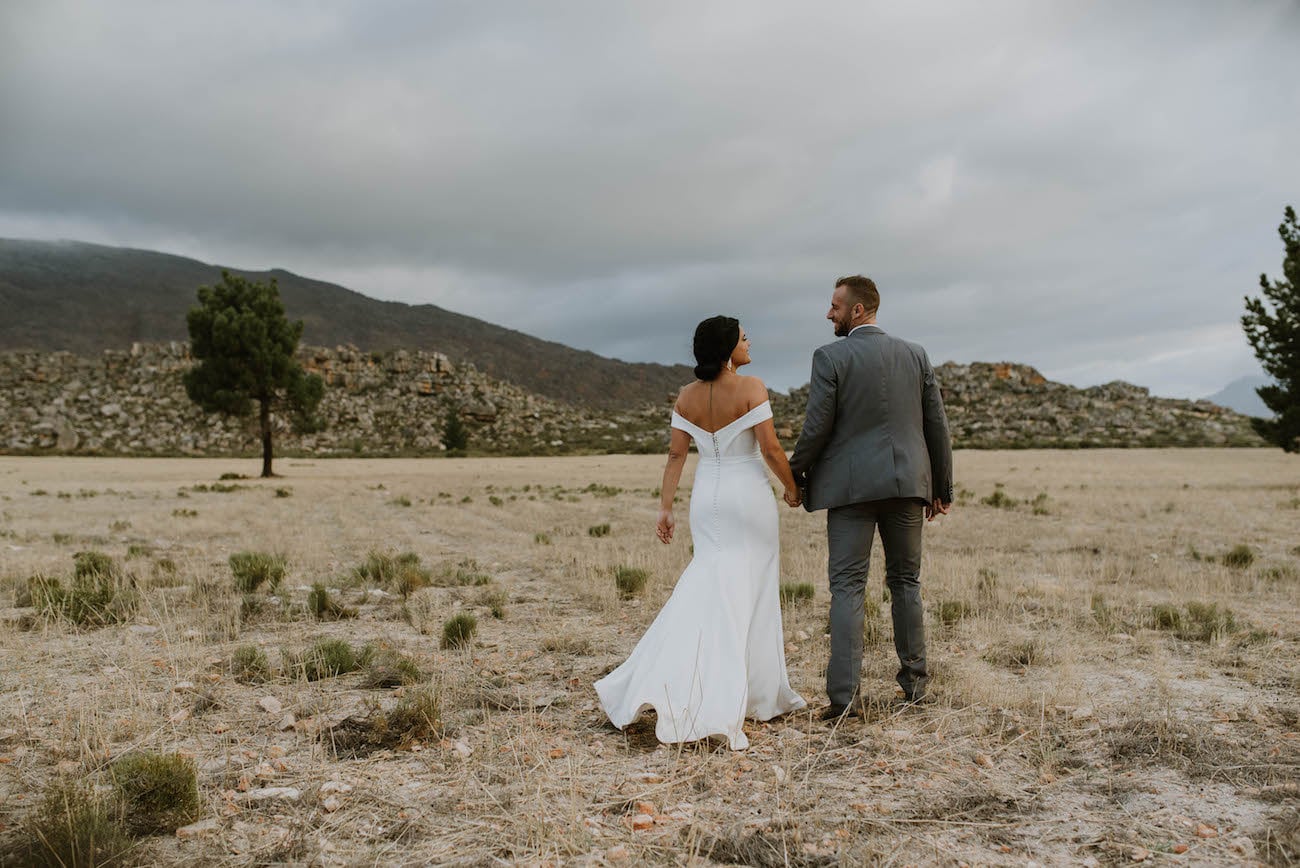 When Claire Thomson sends us something pretty, we know we're going to love it, and this gorgeous forest wedding is no exception! Carla and Kenné's forest fete took place in the beautiful Matroosberg Nature Reserve – the perfect choice for a pair who got engaged on a hiking trail! The decor was simple and elegant, a pairing of deep emerald green foliage with touches of gold, soft linens, and patterned glass that was perfectly complemented by the bride's ultra chic off-shoulder gown and birdcage veil, and the groom's dapper suit. A designer herself, the bride created all the stationery – in fact the whole day was a DIY collaboration between the bride and groom, their family, and friends. Maybe it's this element of community, maybe it's the gorgeous backdrop, and maybe it's just the love and laughter between the couple that make it all so special – I'm going to guess it's all three, with a little help from Claire's gorgeous pics!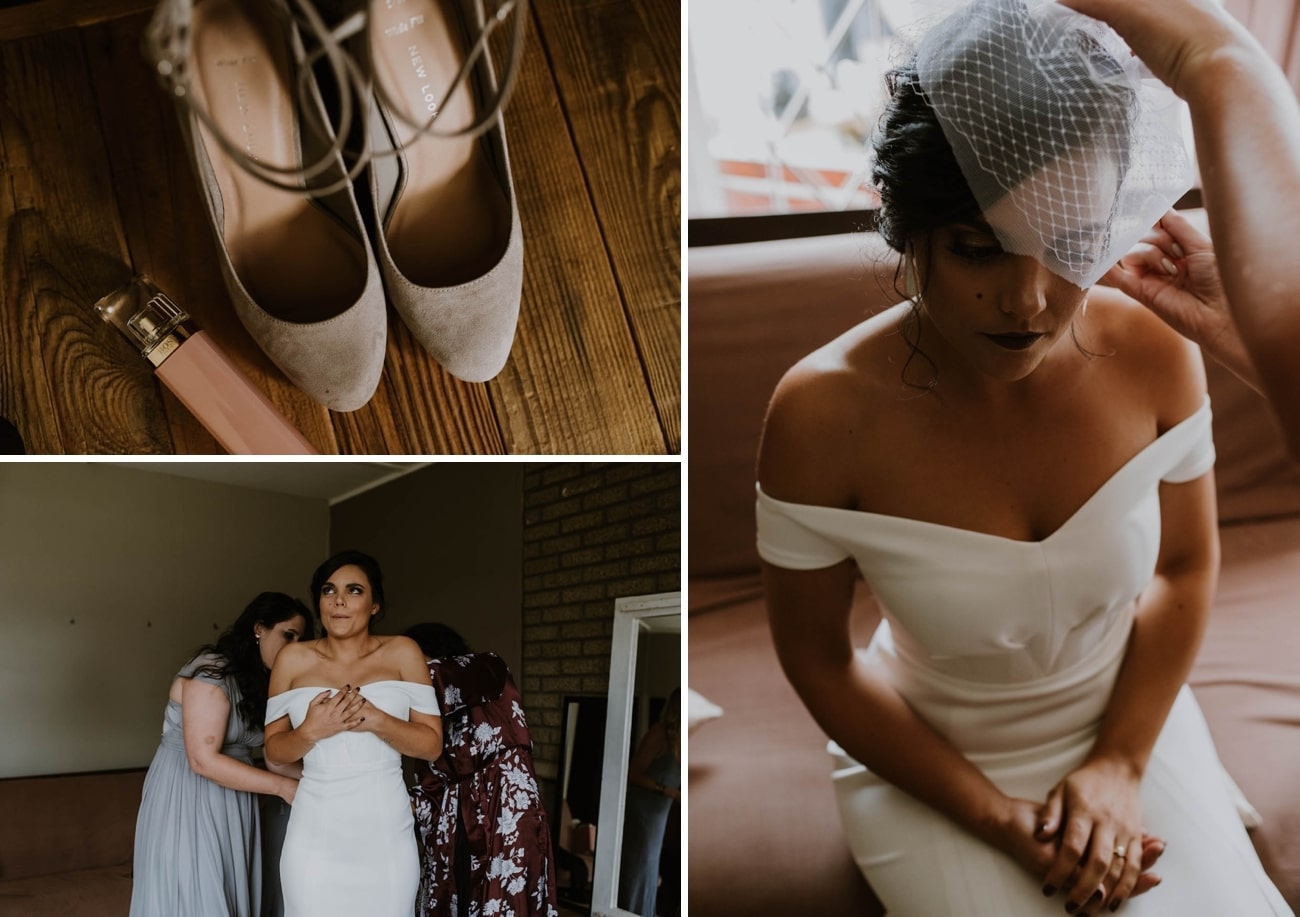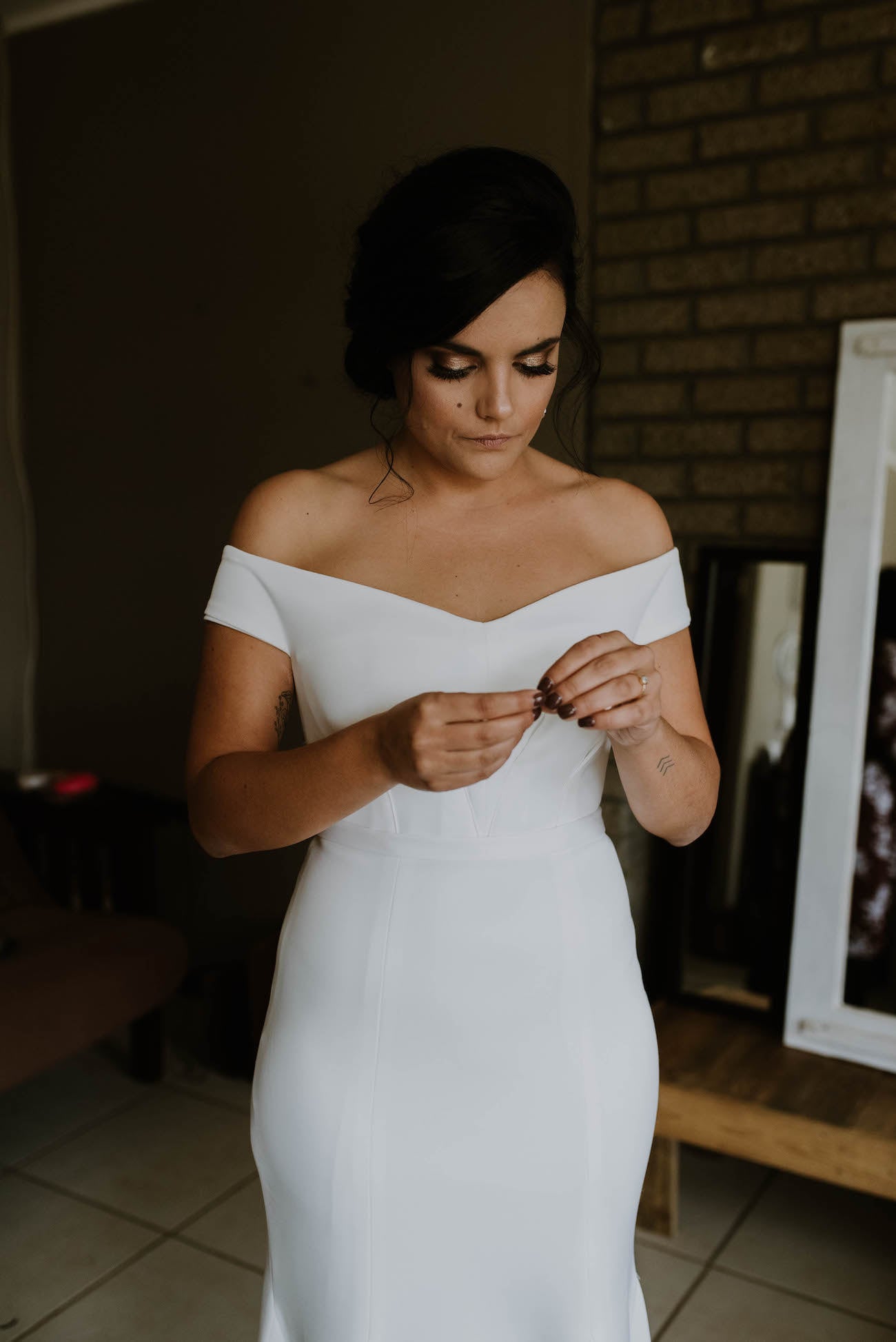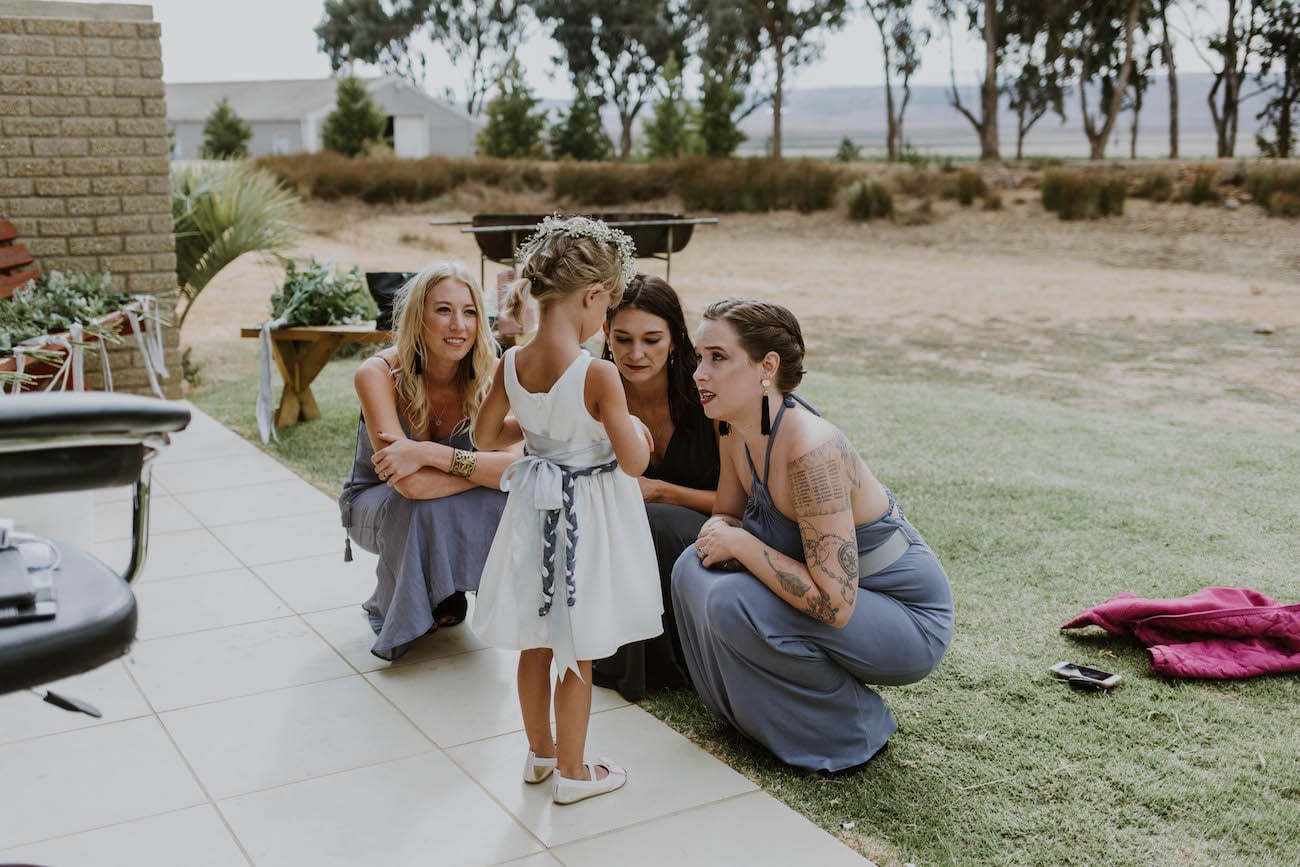 Love Story
We met six years ago, on a very cold night in Stellenbosch. I was not a student there, but most of my friends were, so I always went that side on weekends to see them. For a few weeks I had spotted this tall guy that worked in our local spot (he was a student there) and I always tried to get served by this mysterious tall guy, but never got the chance. I was not sure who he was, but I needed to know more. Then a few weeks went by and the guy disappeared. I always went in to see if he would be there, but for a few weeks I did not see him so I kind of gave up on 'love at first sight'. Then one night, in said local spot, I noticed said tall guy, not working there, but rather enjoying a cold one with his friends. He immediately made my heart race when I saw him (cheesy, I know). I looked at my friend and said, I'm probably going to marry that guy one day. A long night of losing each other in one place and moving on to another place in hopes that the other one would be there, a few drinks and lots of laughs later, we experienced our 'love at first sight' moment. Kenné will probably tell you a slightly different story (as I apparently "live in a rom-com") and yes, he did work really hard to find me that night with some help of a good friend (shout-out to Gerrit), but to both our surprise, he was in fact the tall guy that used to work at our local spot. Who's to say rom-coms aren't real? (Cue cheesy rom-com montage.) Don't worry Kenné, you totally saw me first ;)
The Proposal
We have this hiking spot on Devil's Peak (one of the lesser famous ones) that we went to almost every Saturday for a nice hike with our two dogs. A few months prior to another Saturday morning in the mountains, our dog lost his name tag. That Saturday, just like every other, we went for a hike. Kenné was not weird or anything that morning, so I did not know a single thing. We reached the top at this broken down house/structure and I was filming some clips of the hike for my very average YouTube channel. He disappeared for a second and I thought he went around the corner to go get one of the dogs, as their leashes were off at this point. Not too bothered I carried on taking clips and minding my own business, just to hear him say "oh by the way I got a new tag for Dane" (the dog who lost his tag). Slightly confused and wondering how I did not see it, I bent down to look at it and one side had phone numbers and then the other read "Marry Me?" I looked up to see him down on one knee, thinking that if this is a joke then he committed hard to the joke getting it engraved and all! Then he popped the question and I was blown away by tears and happiness. After our amazing little moment of pure joy we heard people cheering. We looked up to see that a few people looking down from the Woodstock cave (also hikers) saw the whole thing play out. He pulled out a very warm and slightly sweaty small Champagne bottle from his pants (I have no idea how I missed that) and we celebrated our new life together at our favourite spot on Devil's Peak.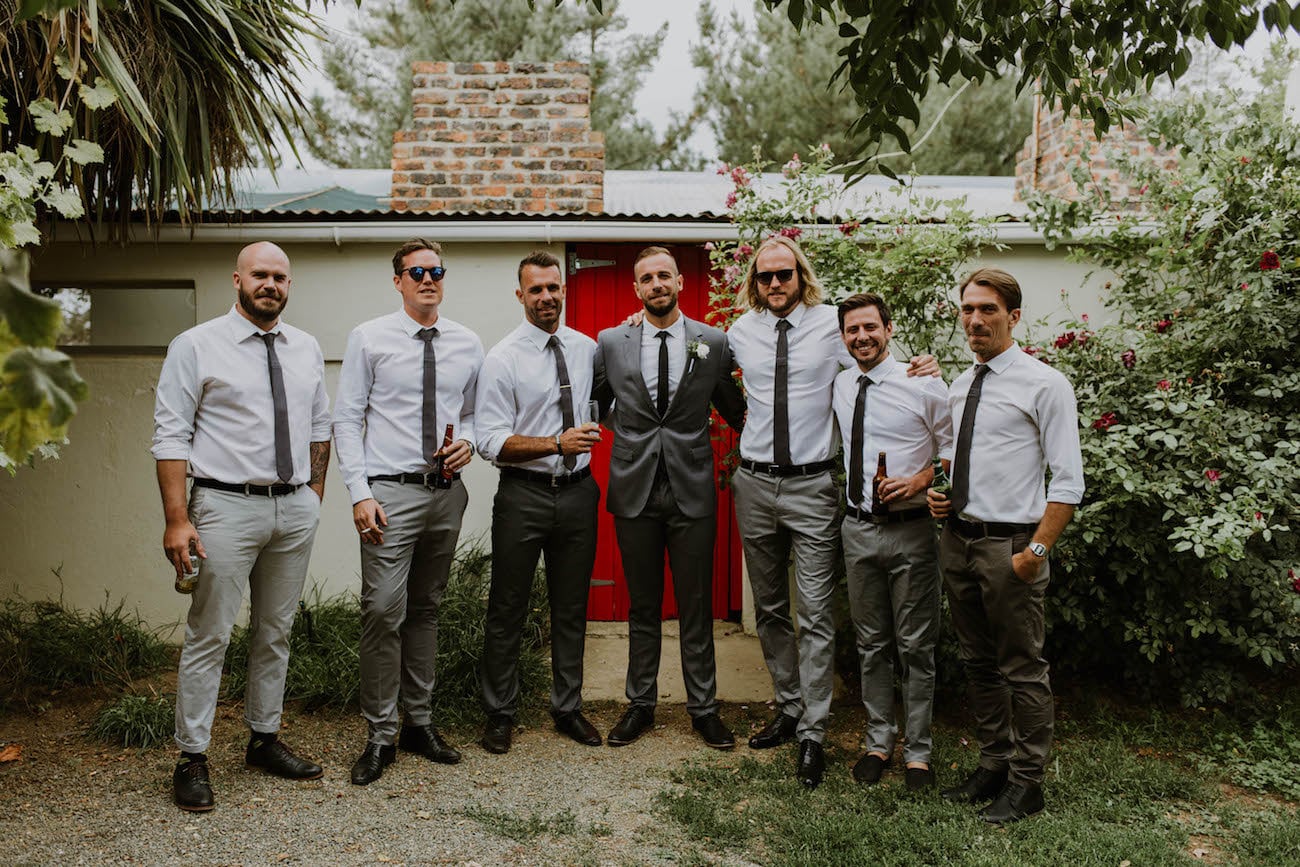 The Venue
We got married at Matroosberg Nature Reserve. We went camping there one year and totally fell in love with the place and the people who run it.
Wedding Style
The venue was a complete blank canvas, so my the whole family jumped in to make it look amazing. The idea I had in mind was basically like a grey, green and gold Pinterest vision with no flowers, just leaves, grey candles, lots of fairy lights and glass. Minimalistic I think would be the category that I could place it in. We got married in the pine forest on some Persian rugs (of course… I mean, hello Pinterest!) The reception was in a barn/shed. I wanted simple, elegant and something that would not date too much so that when I look at my photos in twenty years time, I won't cringe. Hopefully.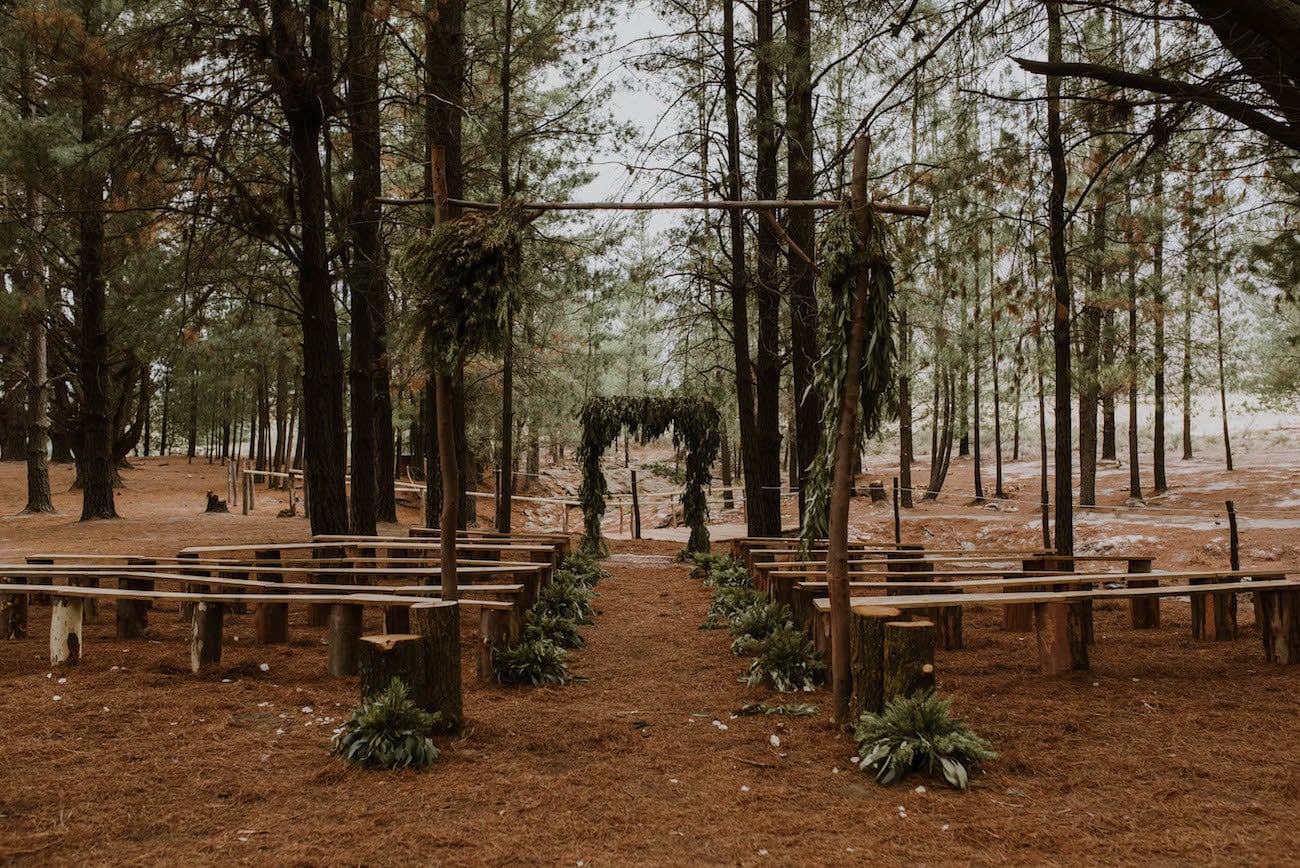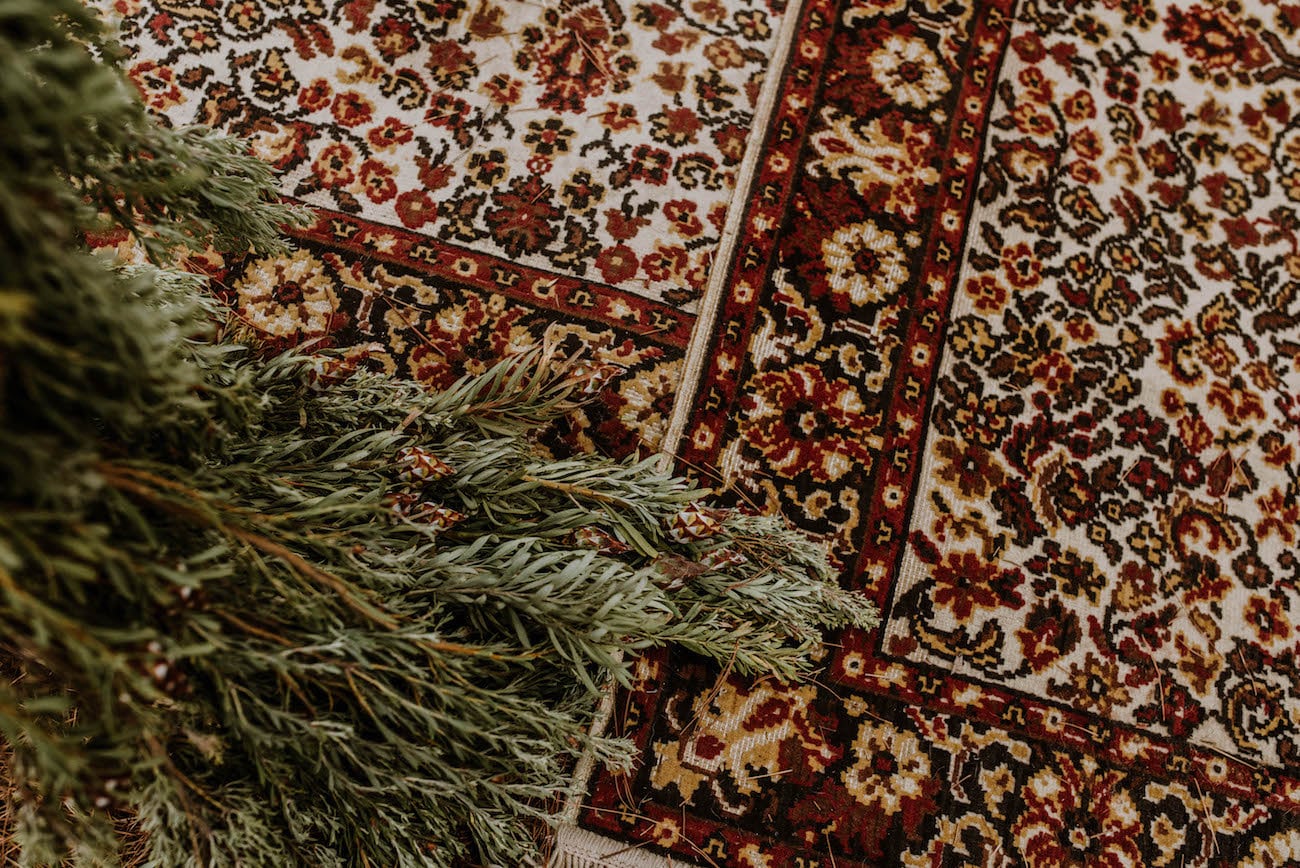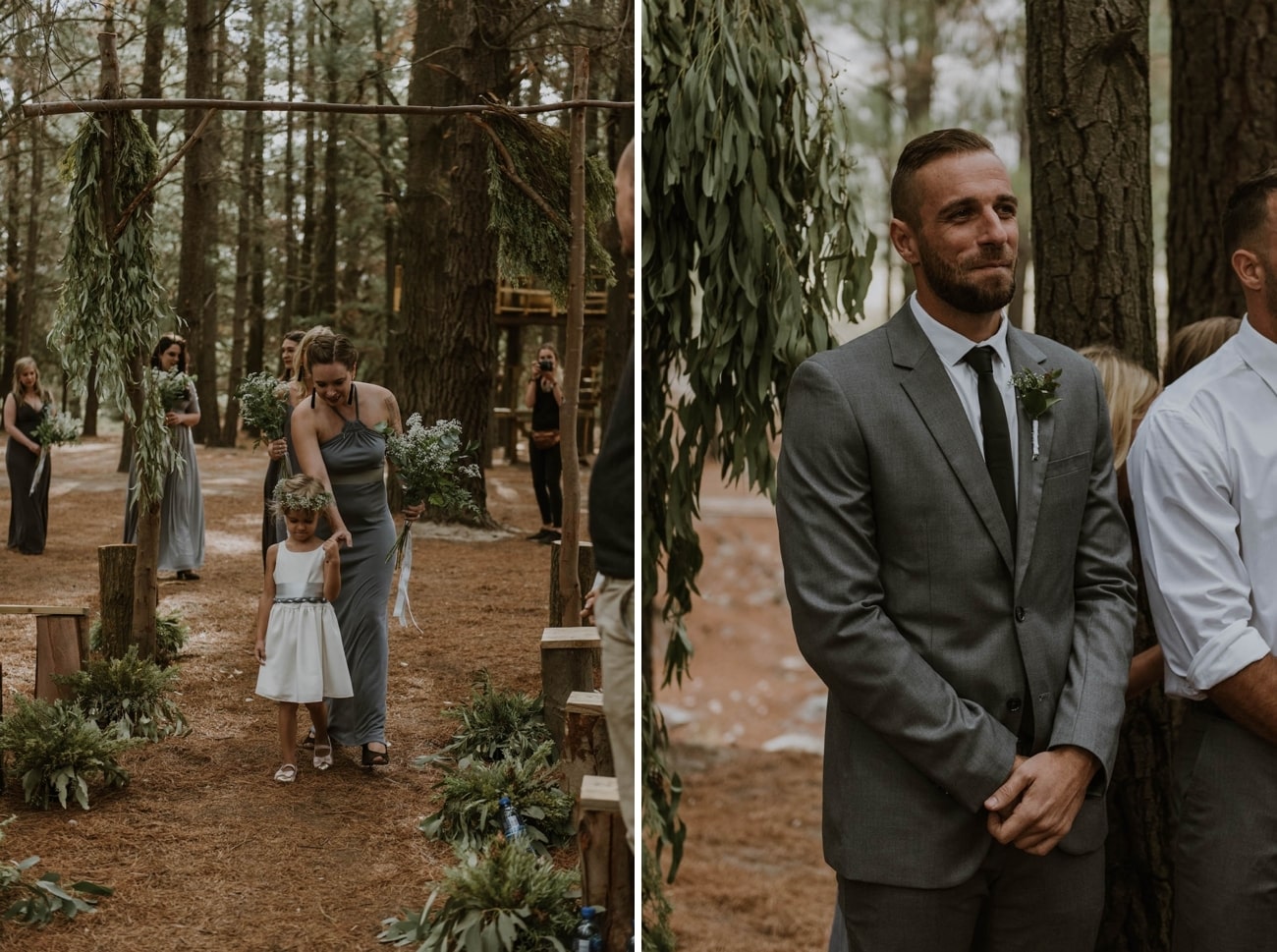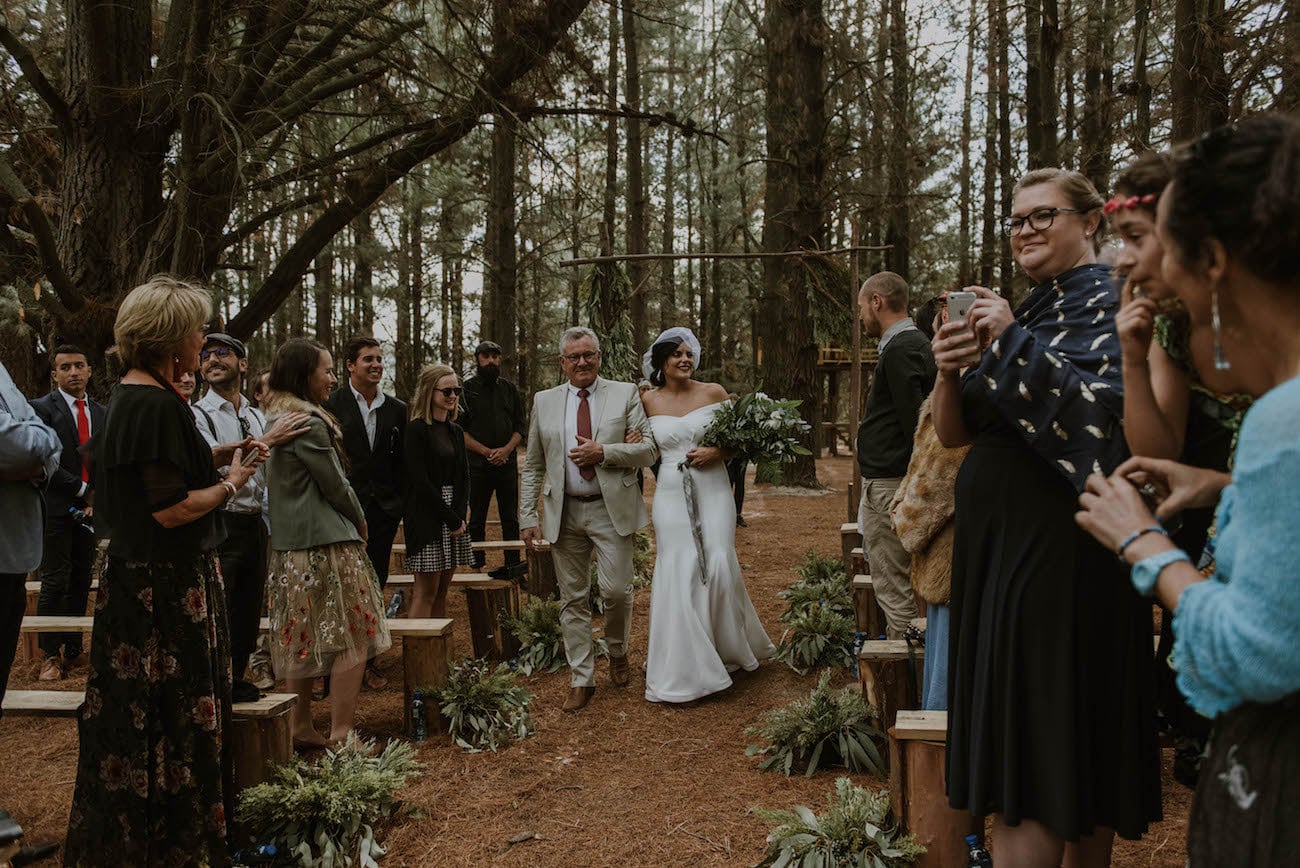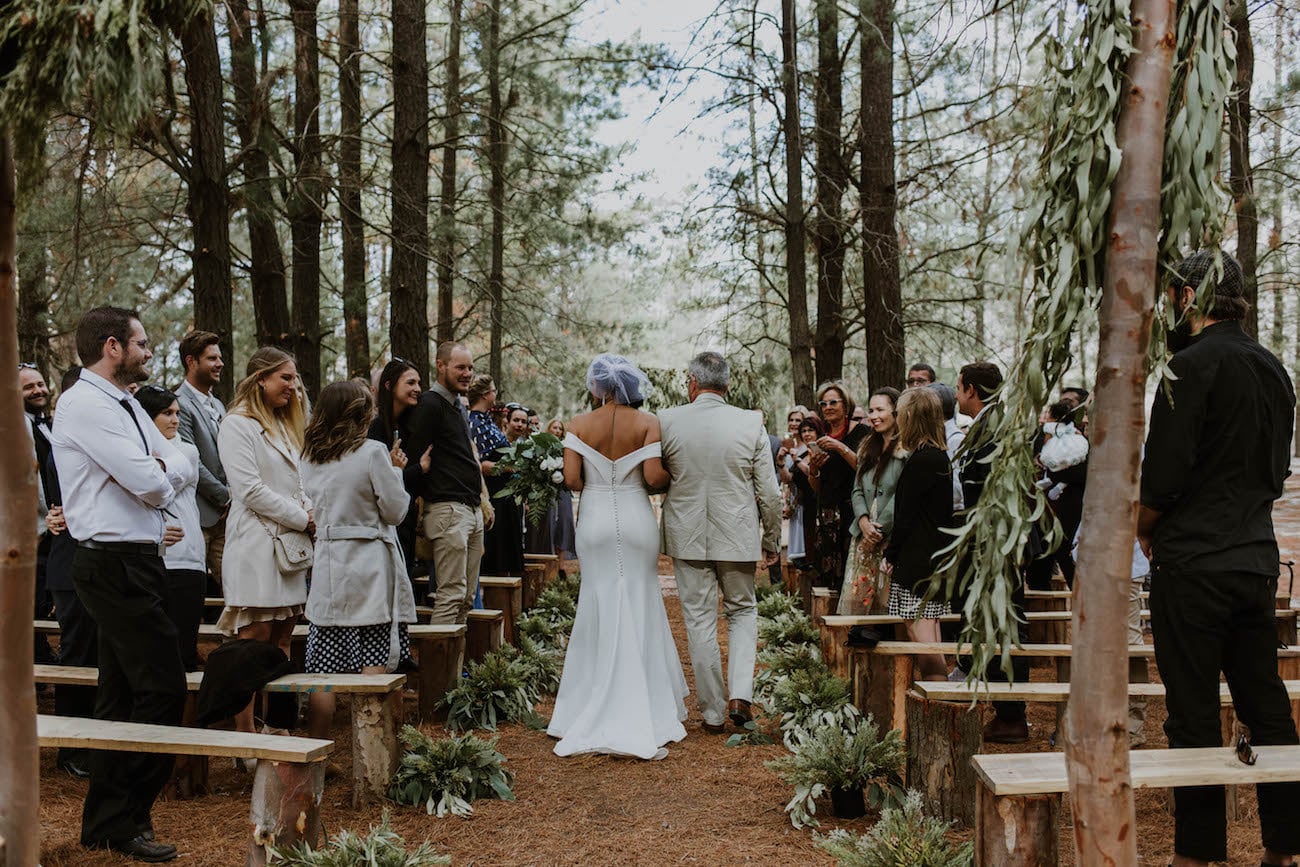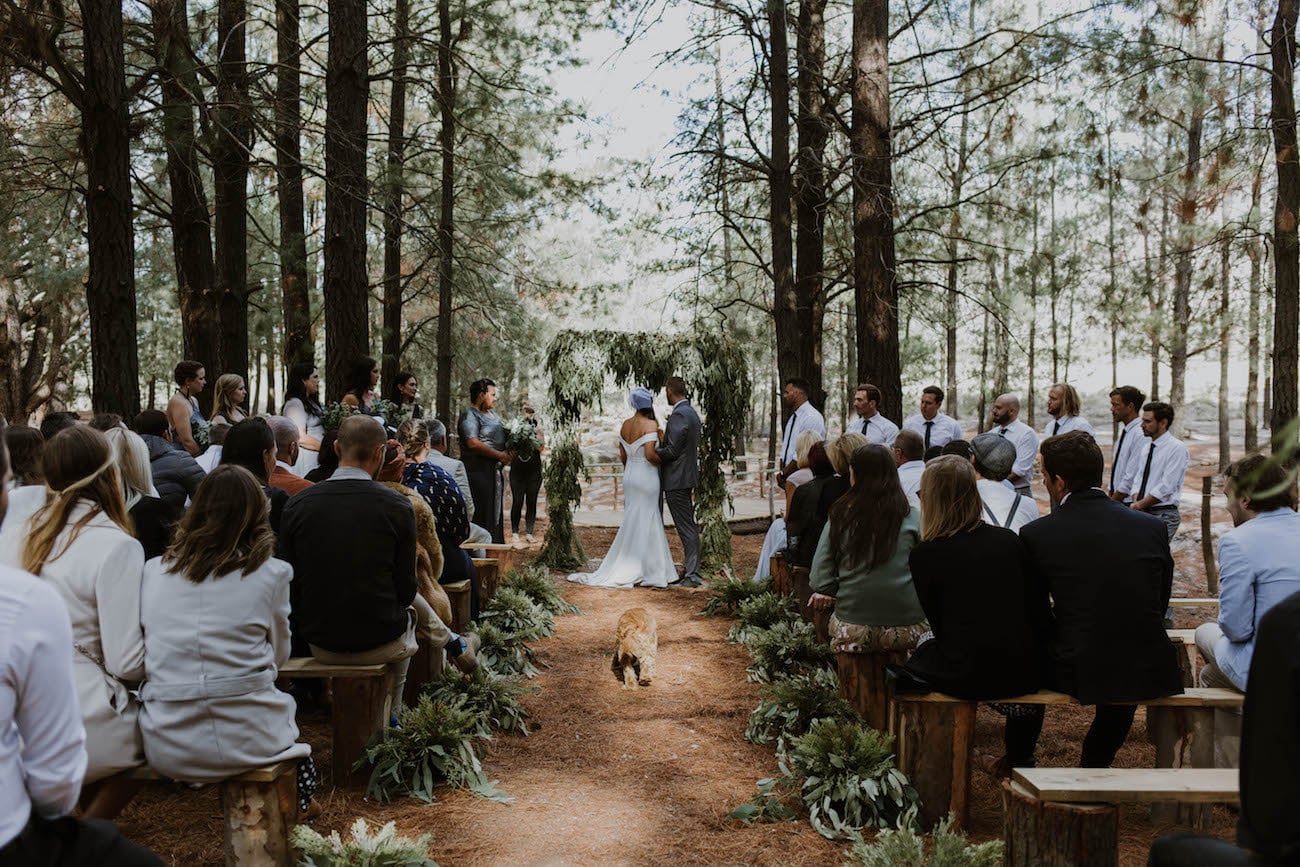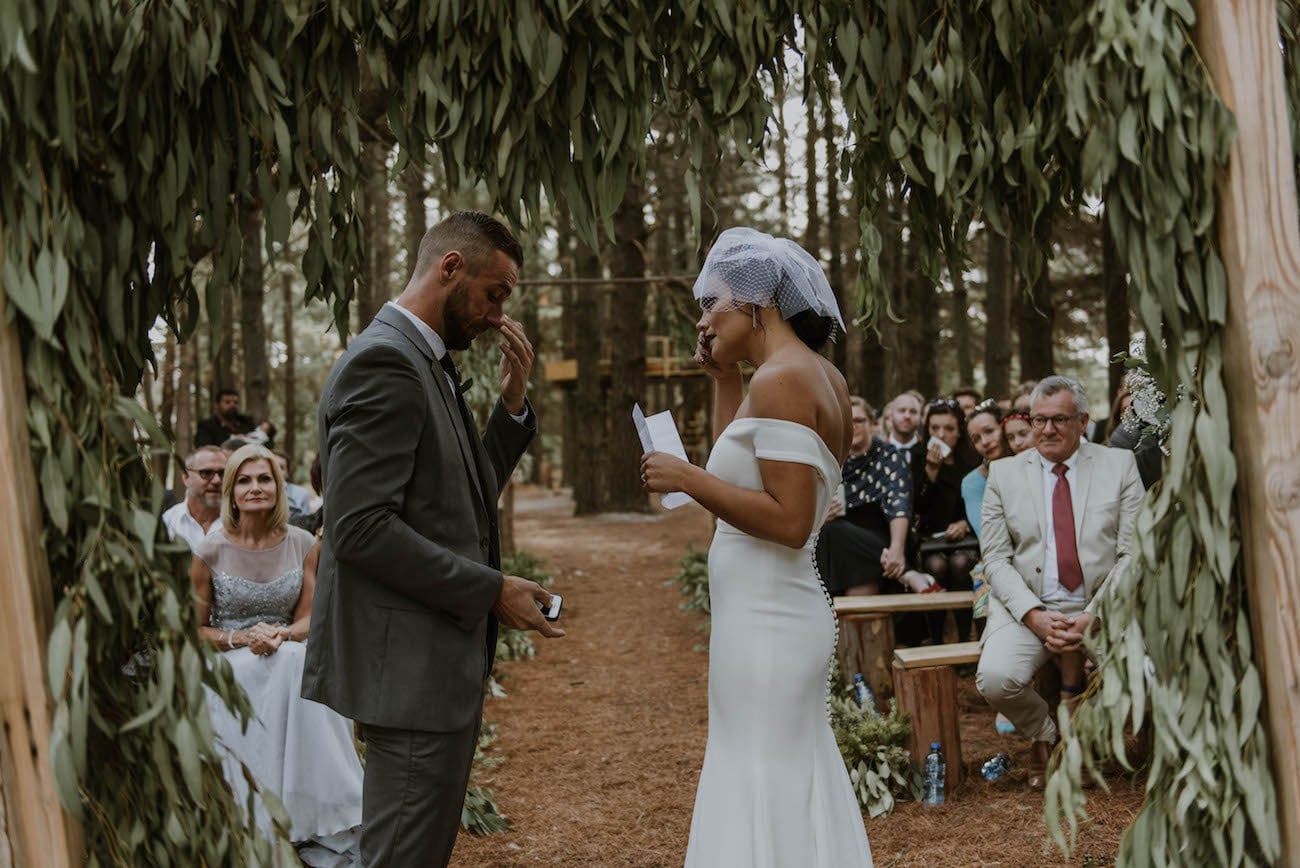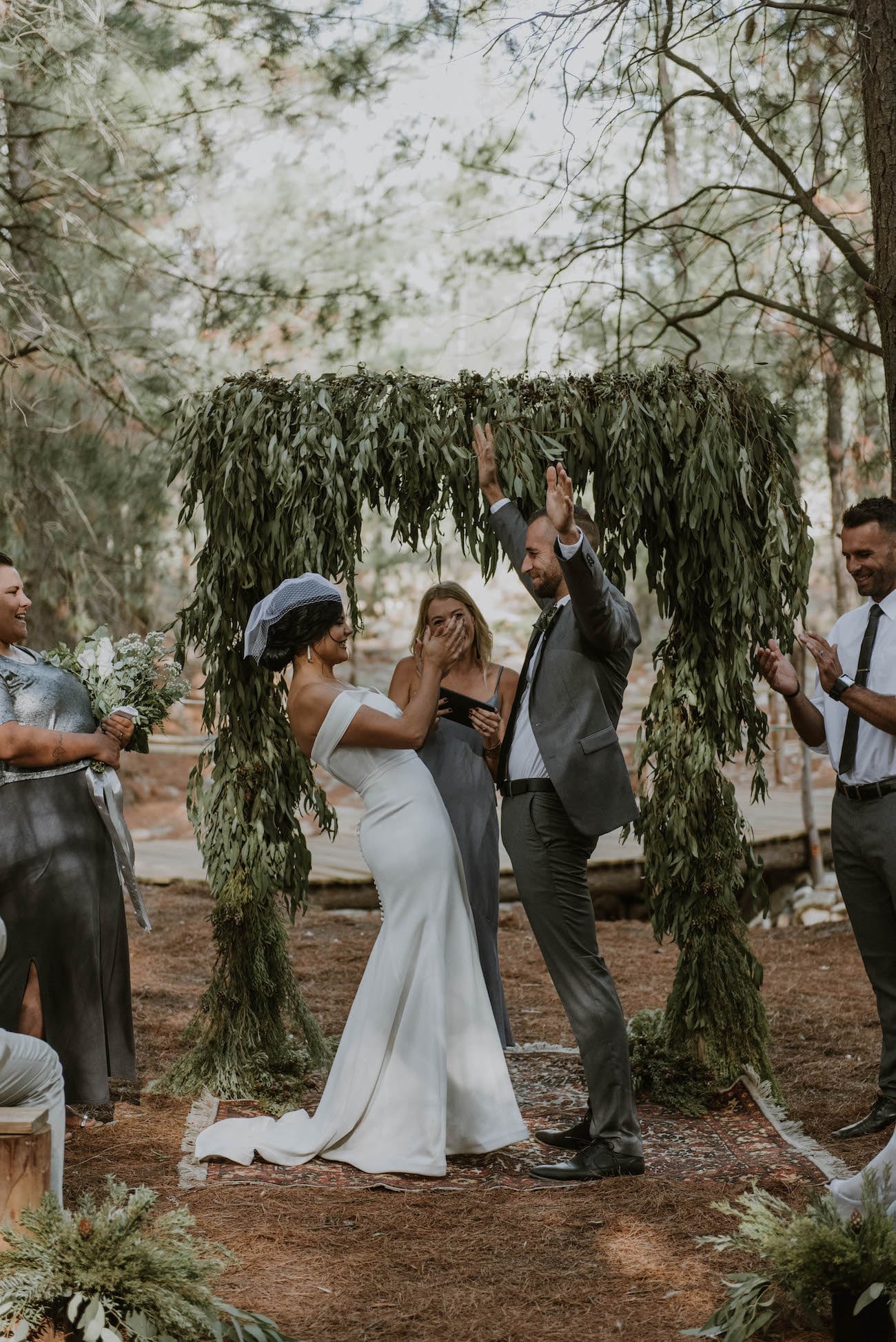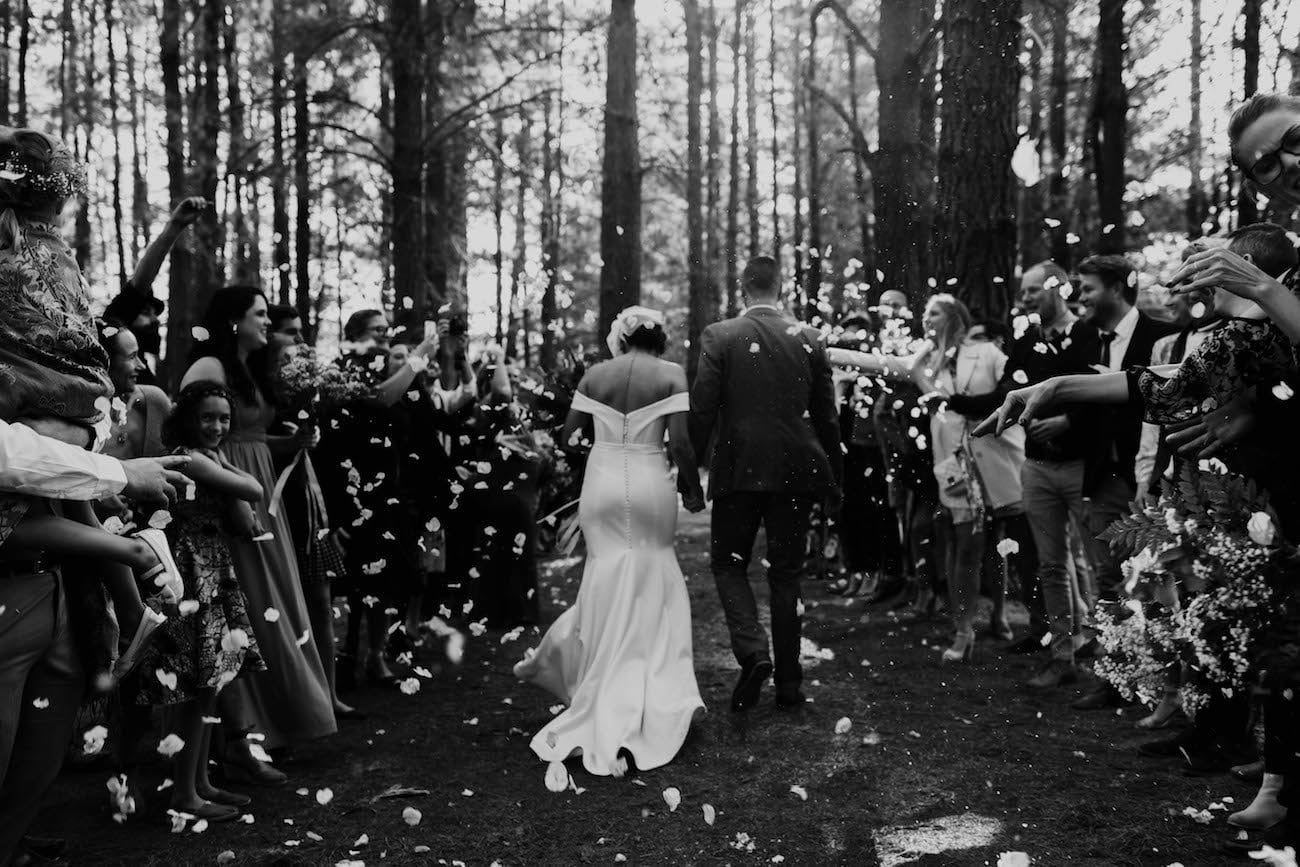 Wedding Details
Every single thing at my wedding was my favourite detail. The farm dogs were chilling in the reception hall – I mean as a dog lover, that's everything! I designed all the elements at the wedding. All the stationery, invites, name tags, signs, etc. You name it, I designed it. As a designer myself, I think it was so nice to see my designs at my own wedding. It's a nice feeling and I really liked the personal touch of it.
DIY Elements
We DIY'd everything. EVERY-THING. You can look at the photos. Everything was DIYed. I can't really explain it better than how they show it really. It was hard work, but so much fun and the owner of the venue was so amazing in letting us take over completely. The whole family jumped in and the bridal party also helped a lot. It was a great team effort and I would not have wanted it any other way. So thank you once again to everyone who helped. You know who you are :)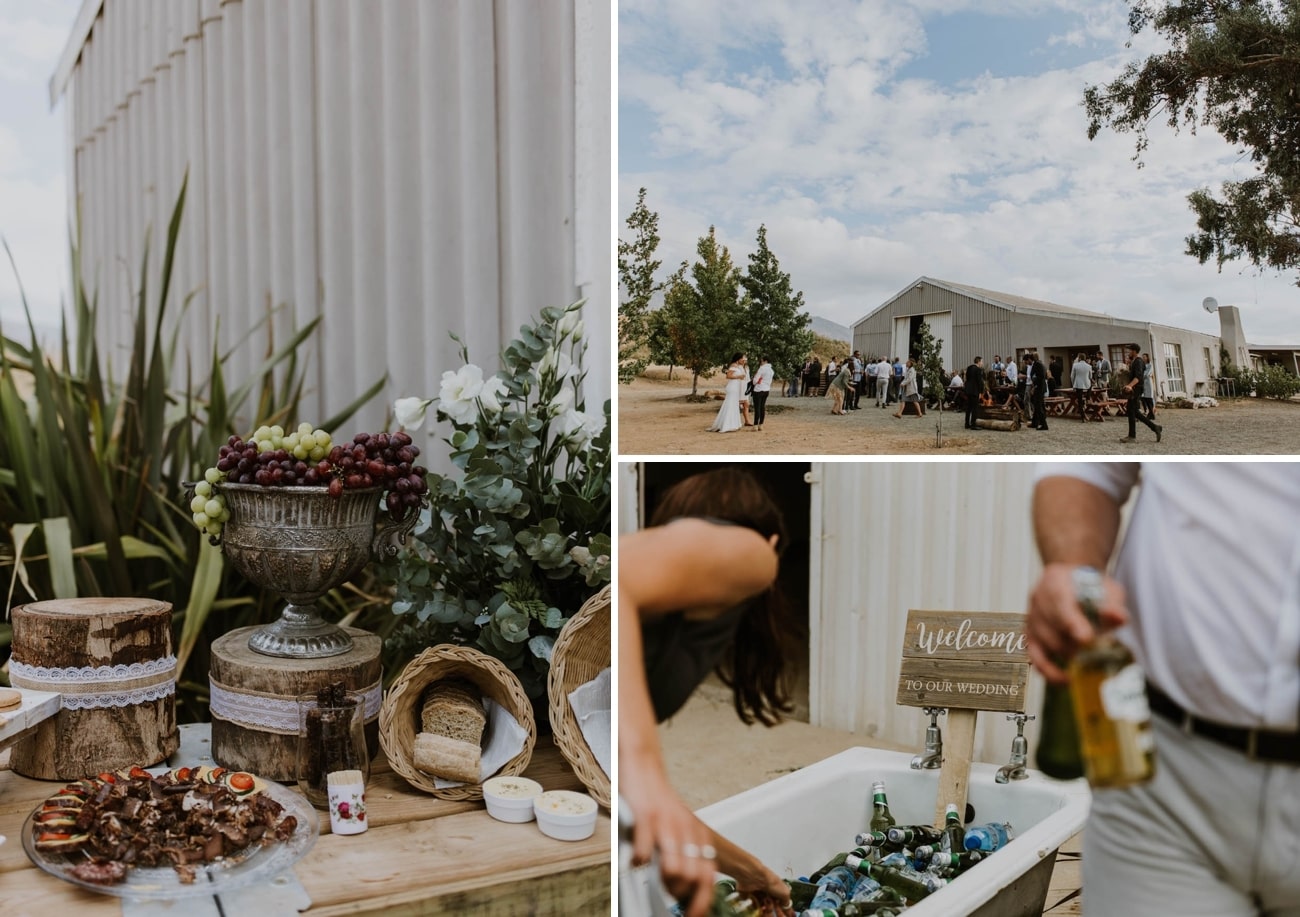 The Dress
My wedding gown. My goodness, what a gown it was indeed! I always had this image of a Vogue style dress, and when I went to Charlotte Pretorius and told her my vision, she just made it ten times better. I wanted no lace, sleek, stylish and comfortable 'cause I wanted to dance in that dress all night long and yes, I did and it lived up to its name!
I did not have a veil as my budget ran out and also my dress did not really ask for one. My mother brought along white netting and the Saturday morning before the wedding handmade a small birdcage veil to cover my one eye and it completed the Vogue style like I could not have imagined. So thanks, Mom. You're the best!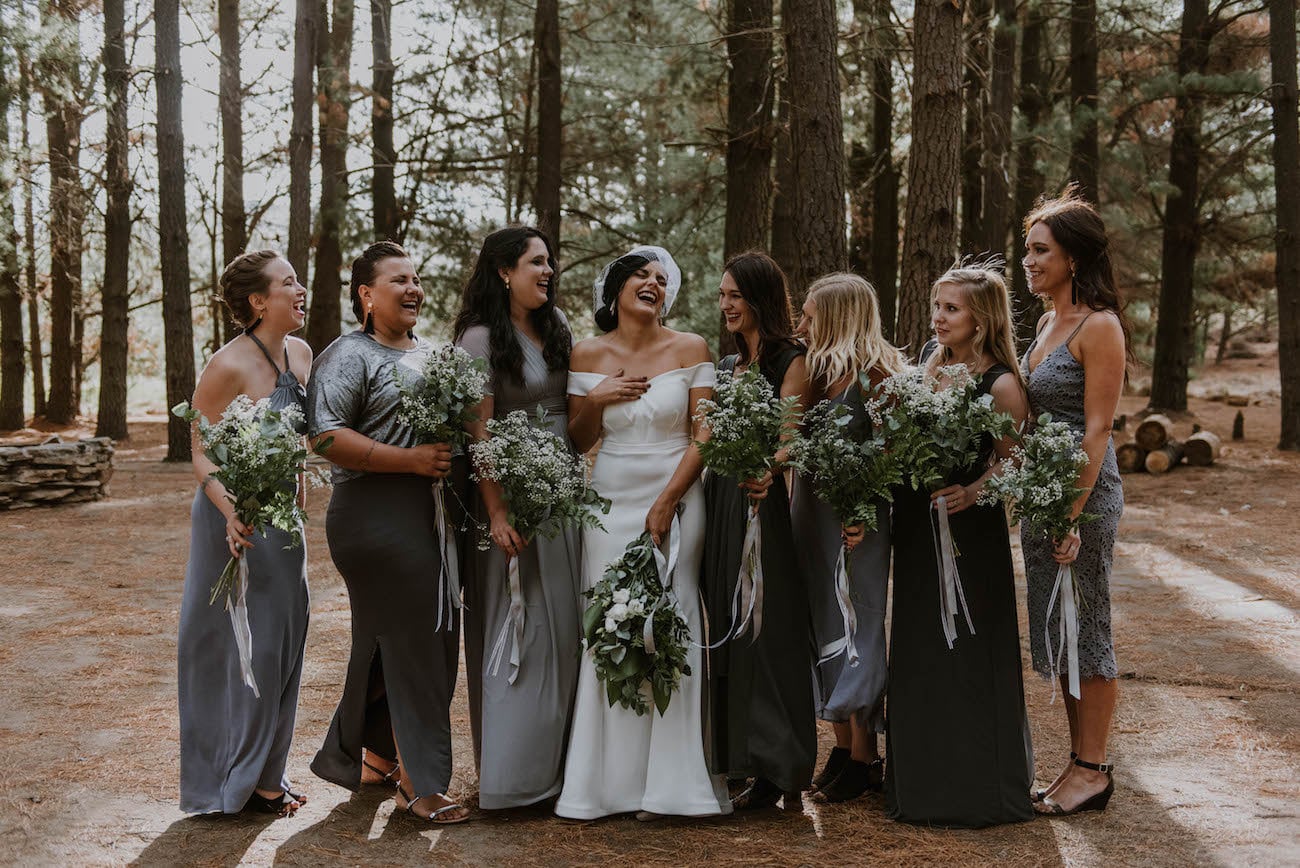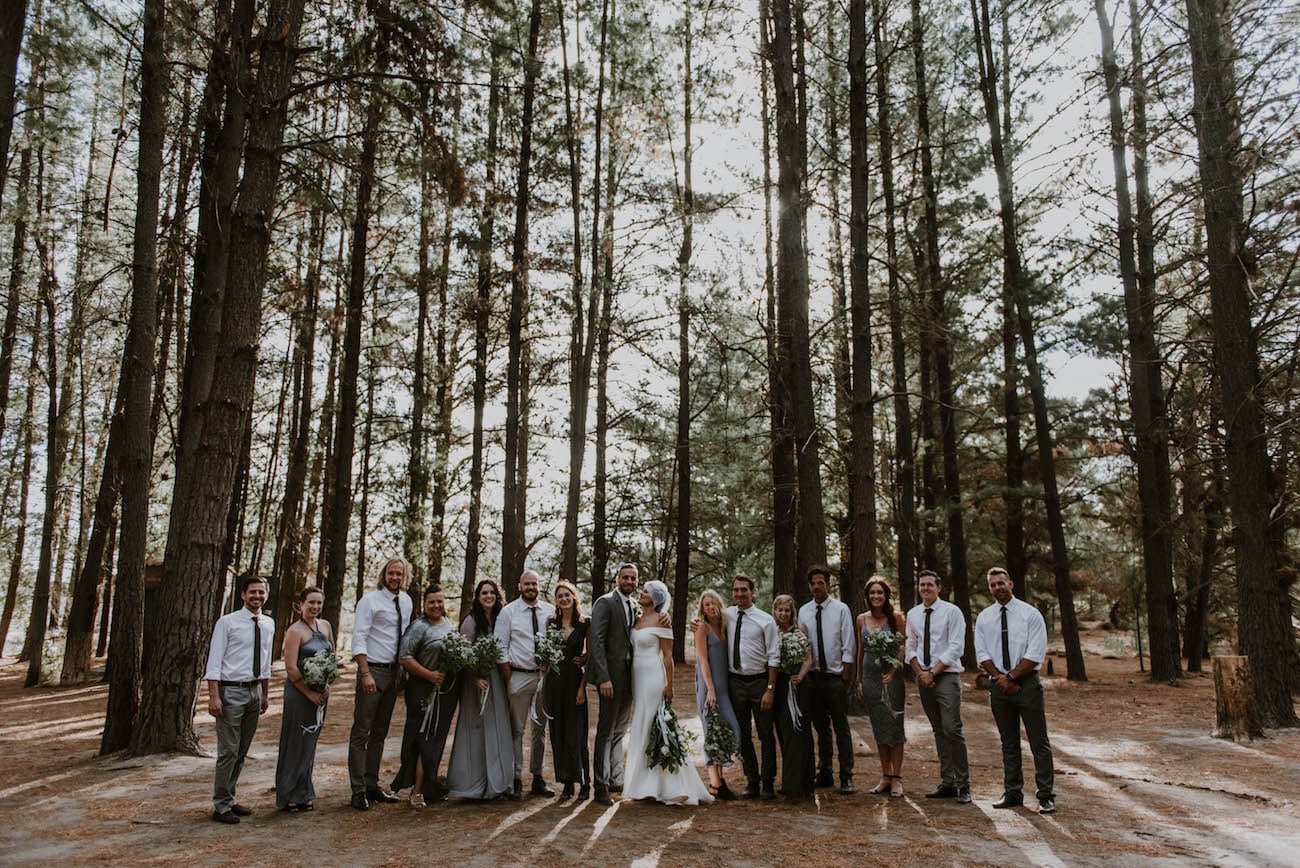 The Bridesmaids
I had seven bridesmaids who are all so close to my heart. All I said to them was to get any shade of grey or charcoal dress that they felt pretty in. Sounds easy, but who knew that finding a grey dress would be so difficult? I just wanted them all to feel beautiful, comfortable and confident with me on the day and I didn't want to put them in something that I designed and then it didn't fit their body or style. So they could choose their own dresses.
The Flowers
Chantal from Naak Kaapstad arranged my wedding bouquet as a wedding gift. I had a few white flowers in there and then loads of greenery. A big bunch of green and white goodness with some grey ribbon done by a good friend sounds like the perfect bouquet to me :)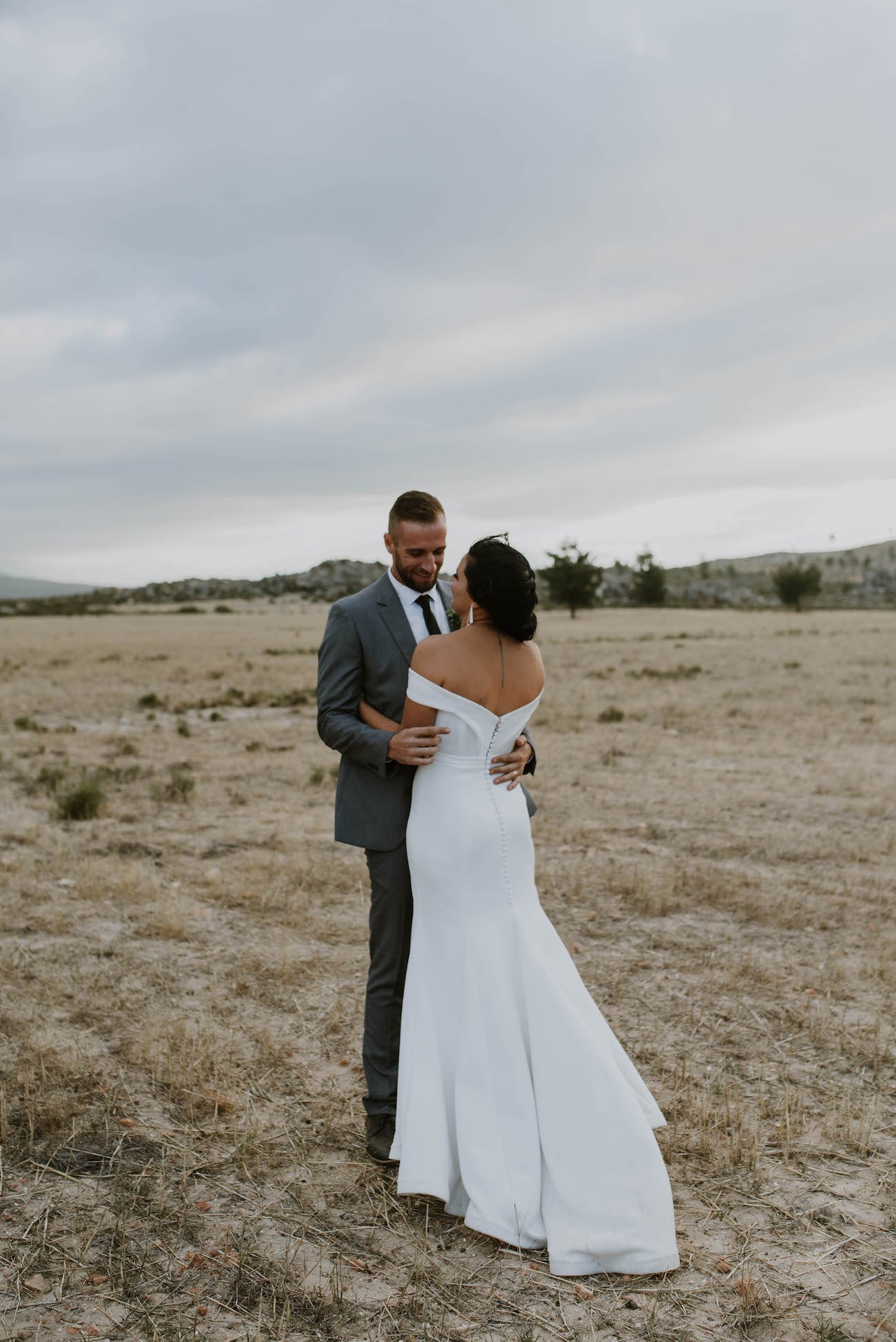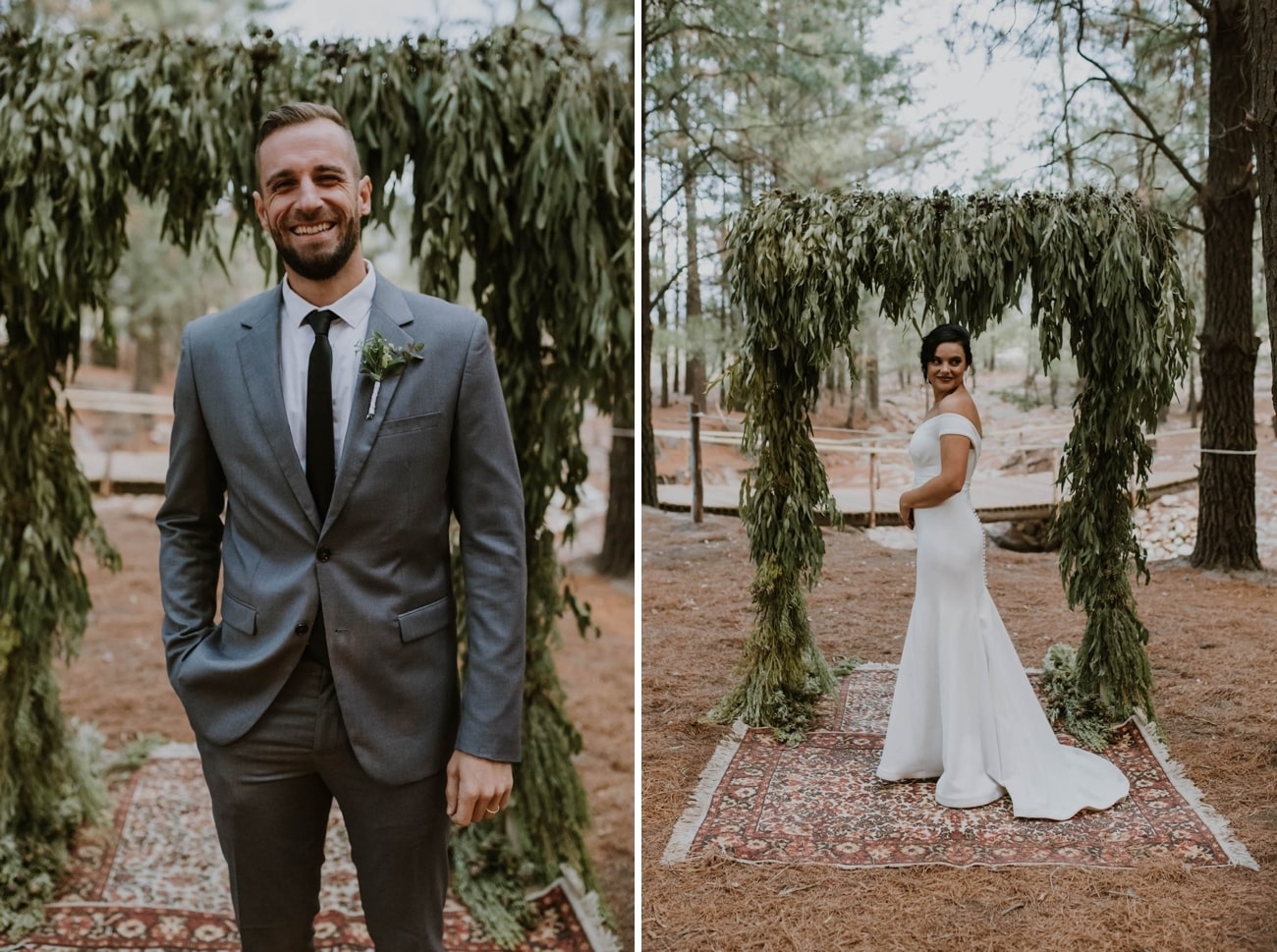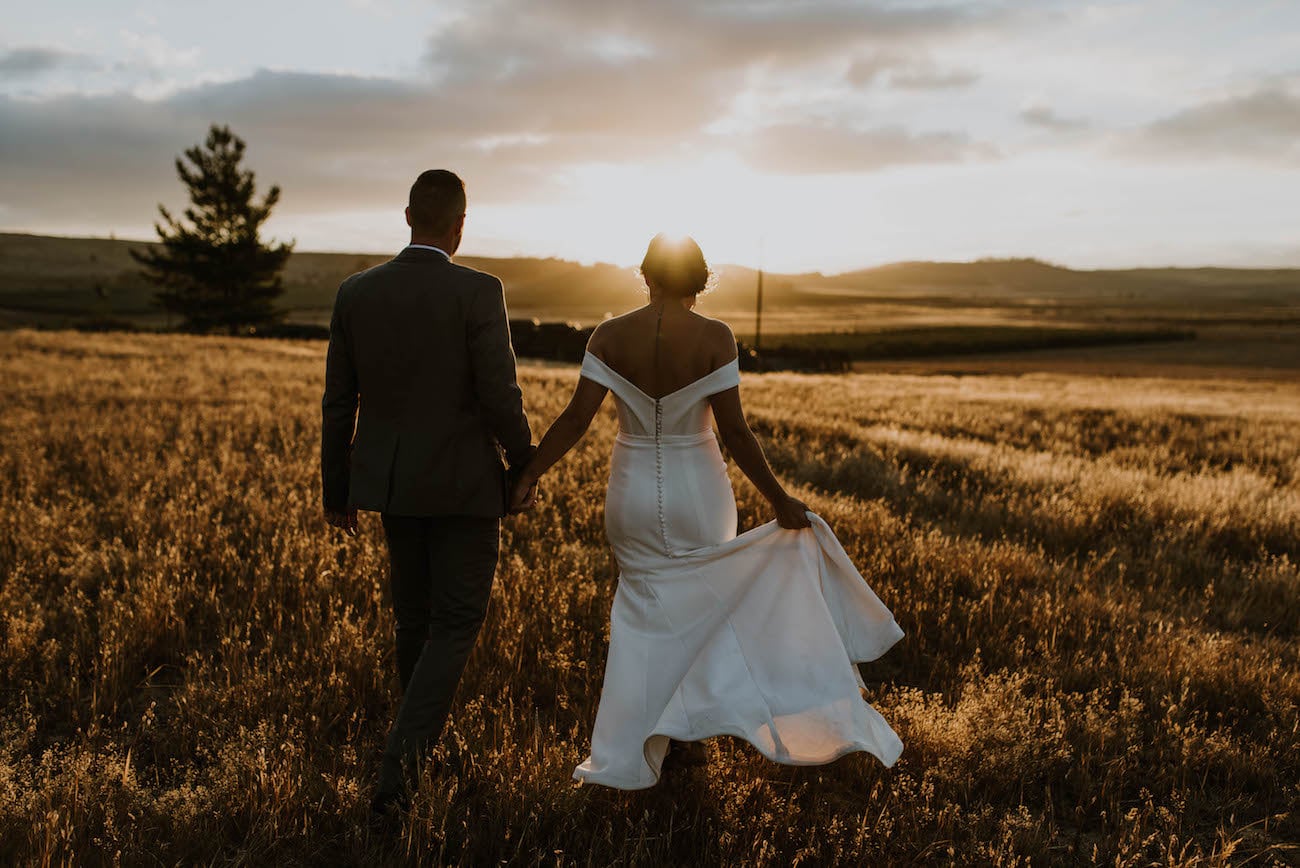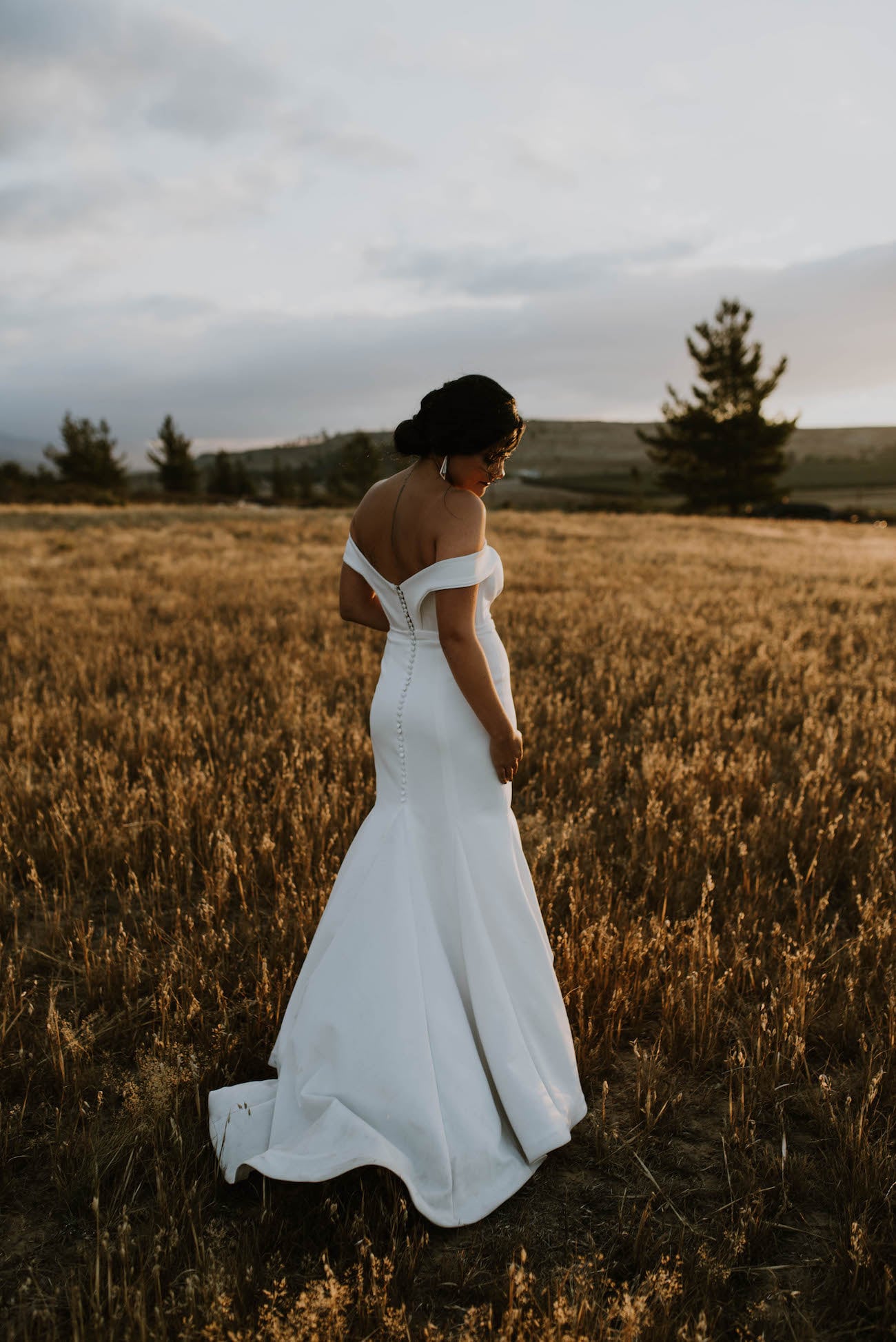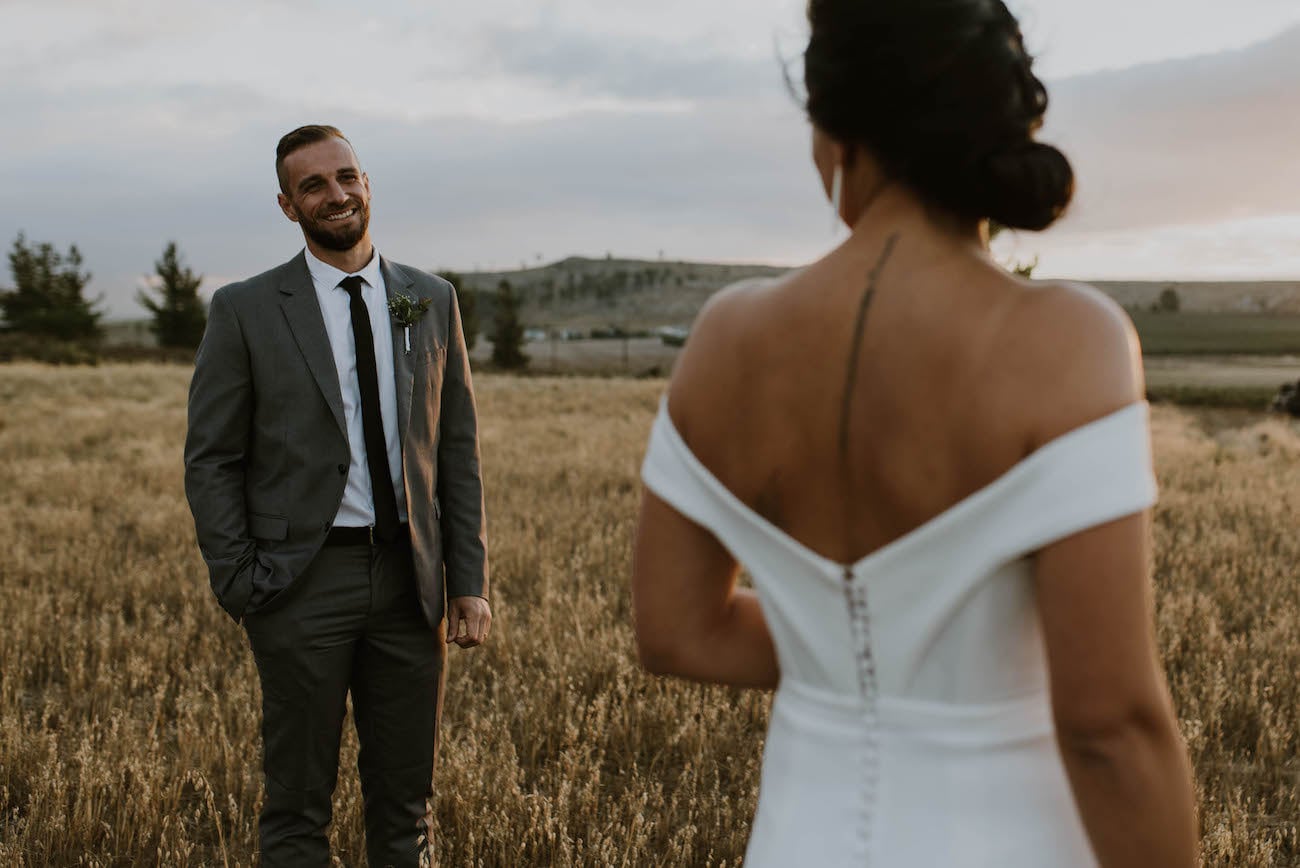 Memorable Moment
I think out of everything that happened over the weekend my most memorable moment, and probably my favourite, was on the wedding morning, after the set-up and before we started to get ready, Kenné came over to the little house that I got ready in and we just relaxed on the bed together before the storm. We are by no means traditional people and we really wanted to spend our last minutes before marriage just unwinding together. It was just for ±20mins, but I must say that memory stuck with me.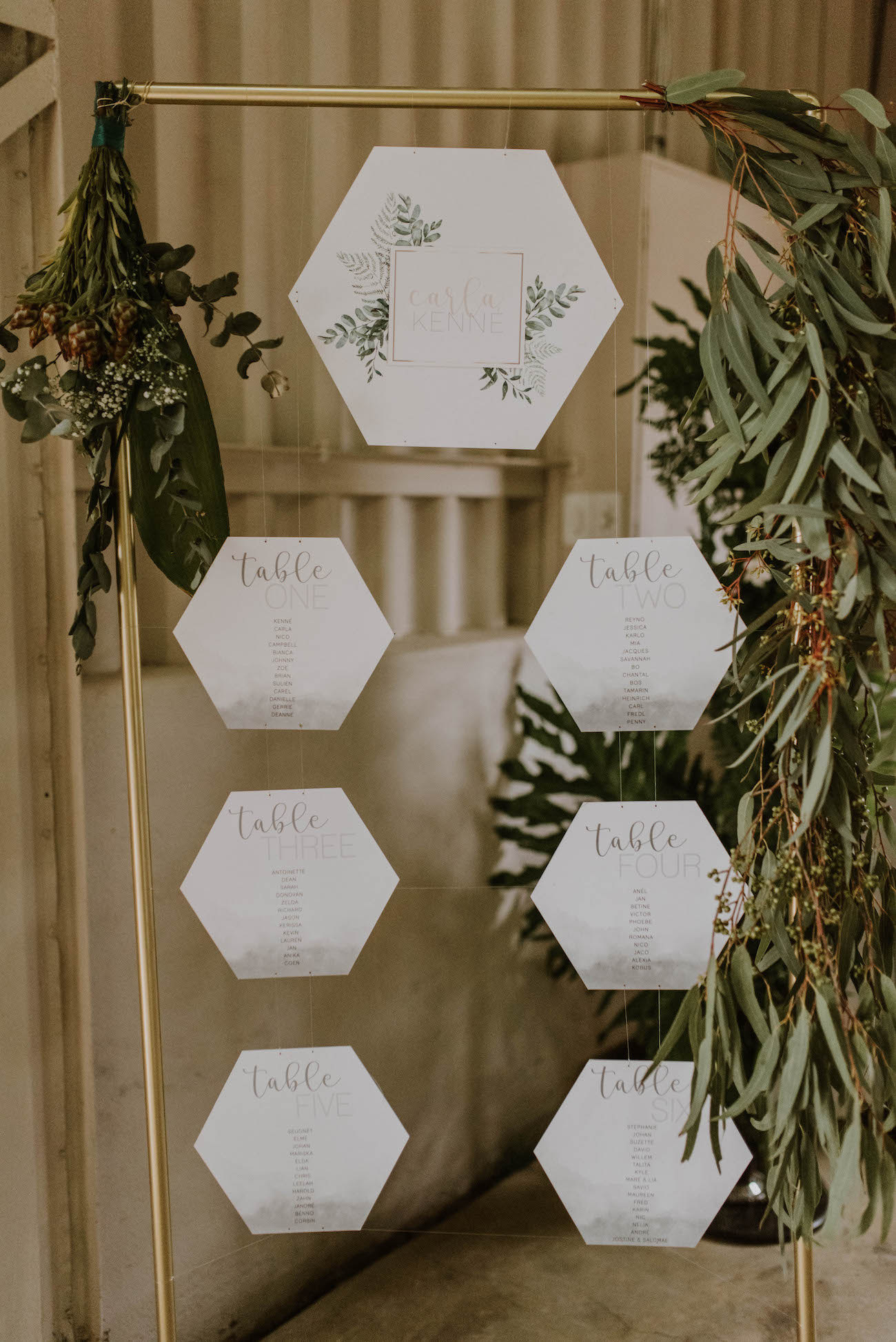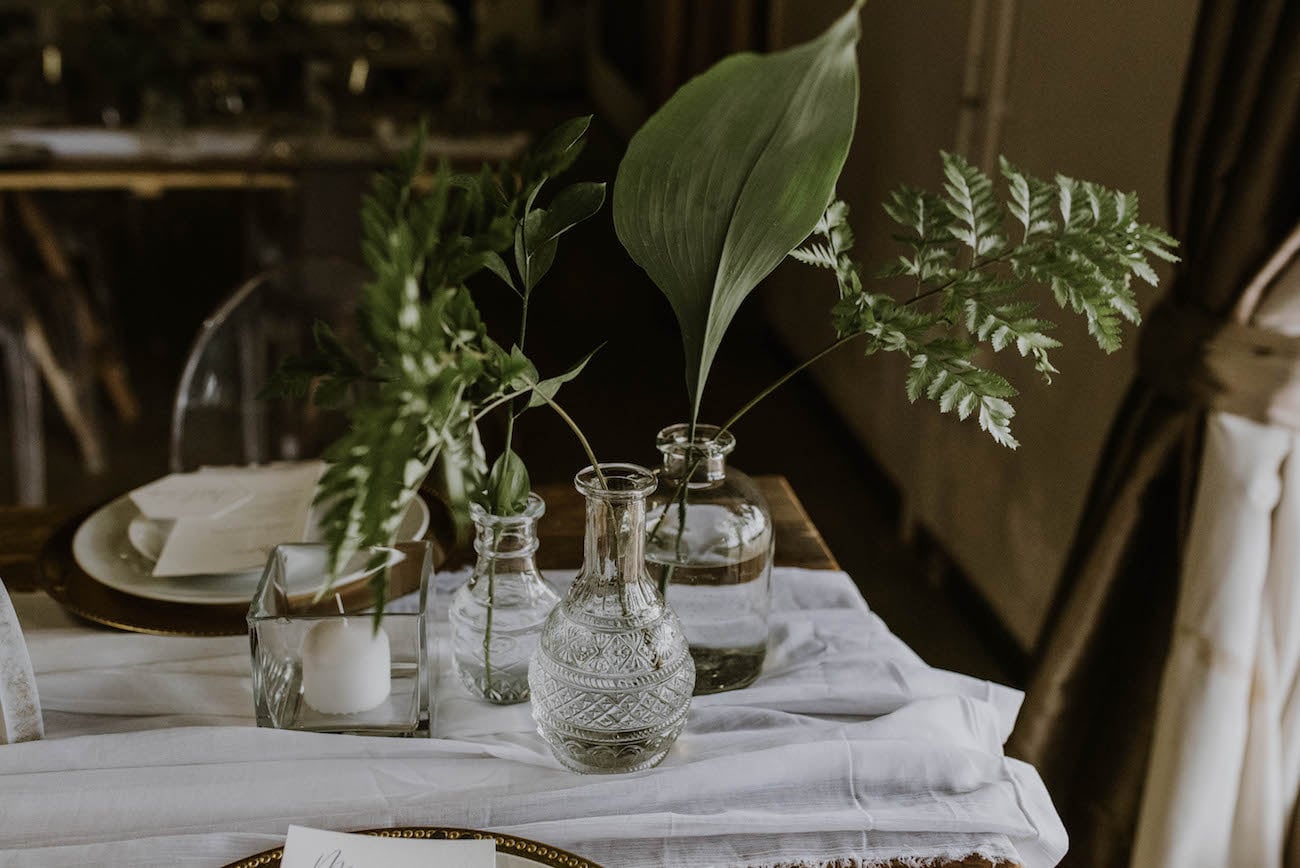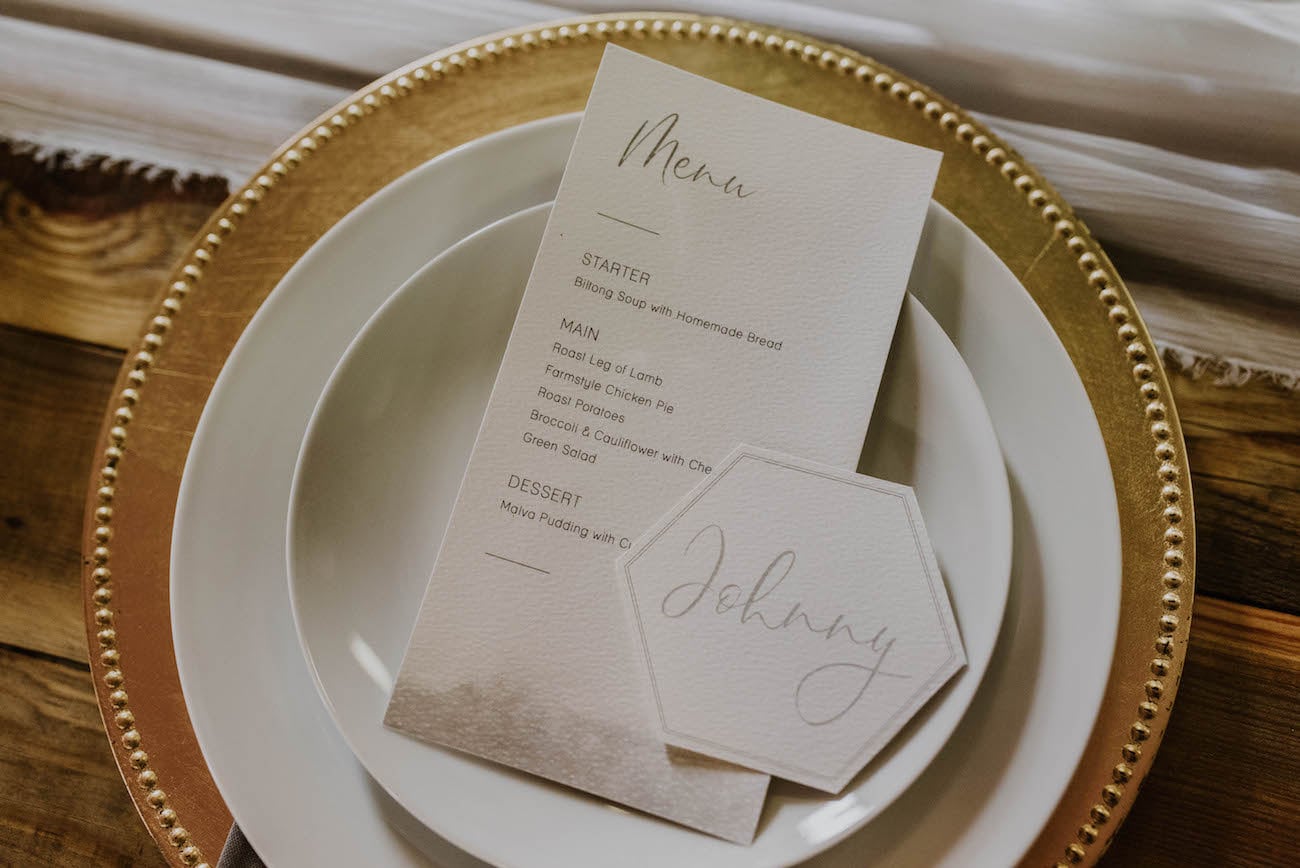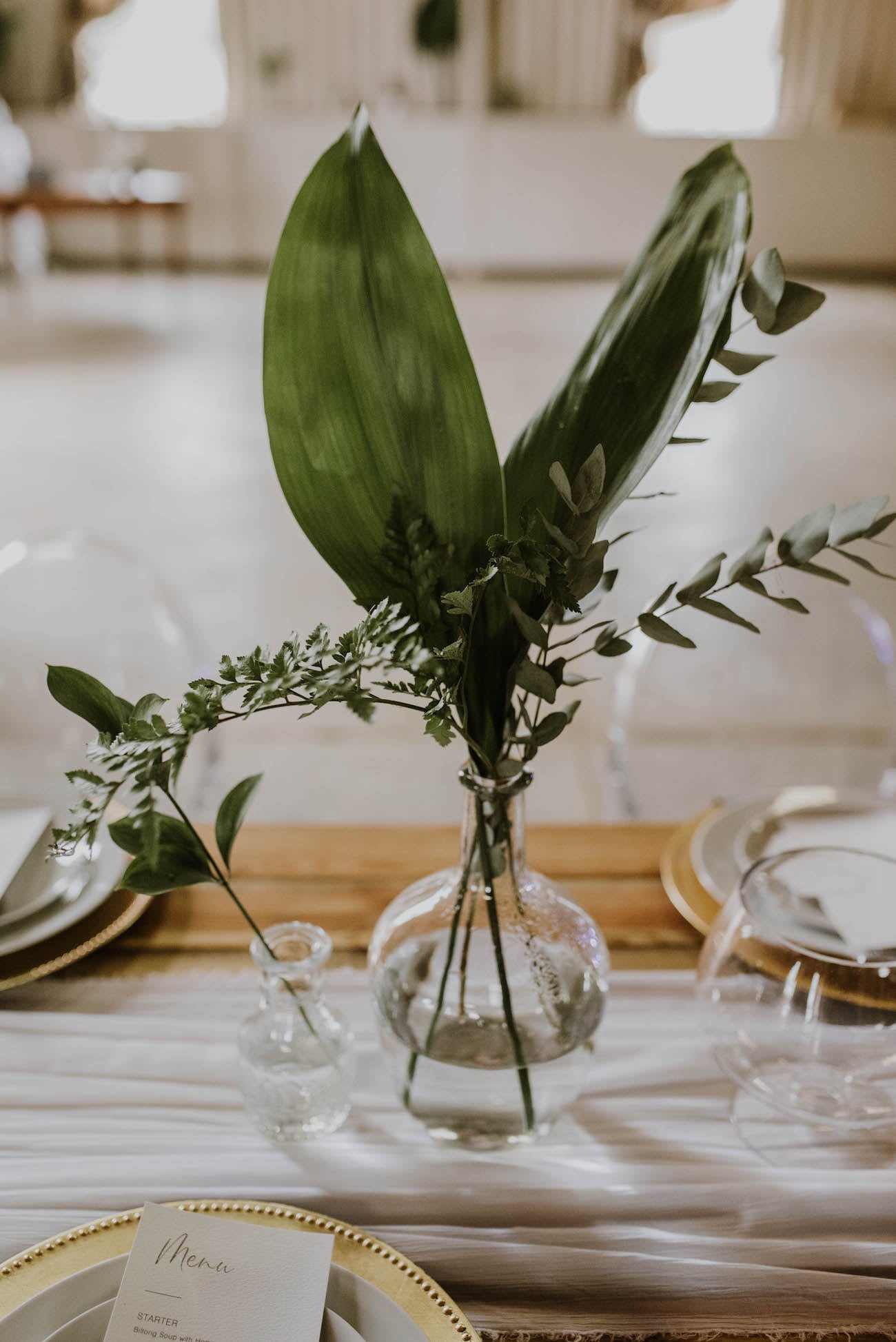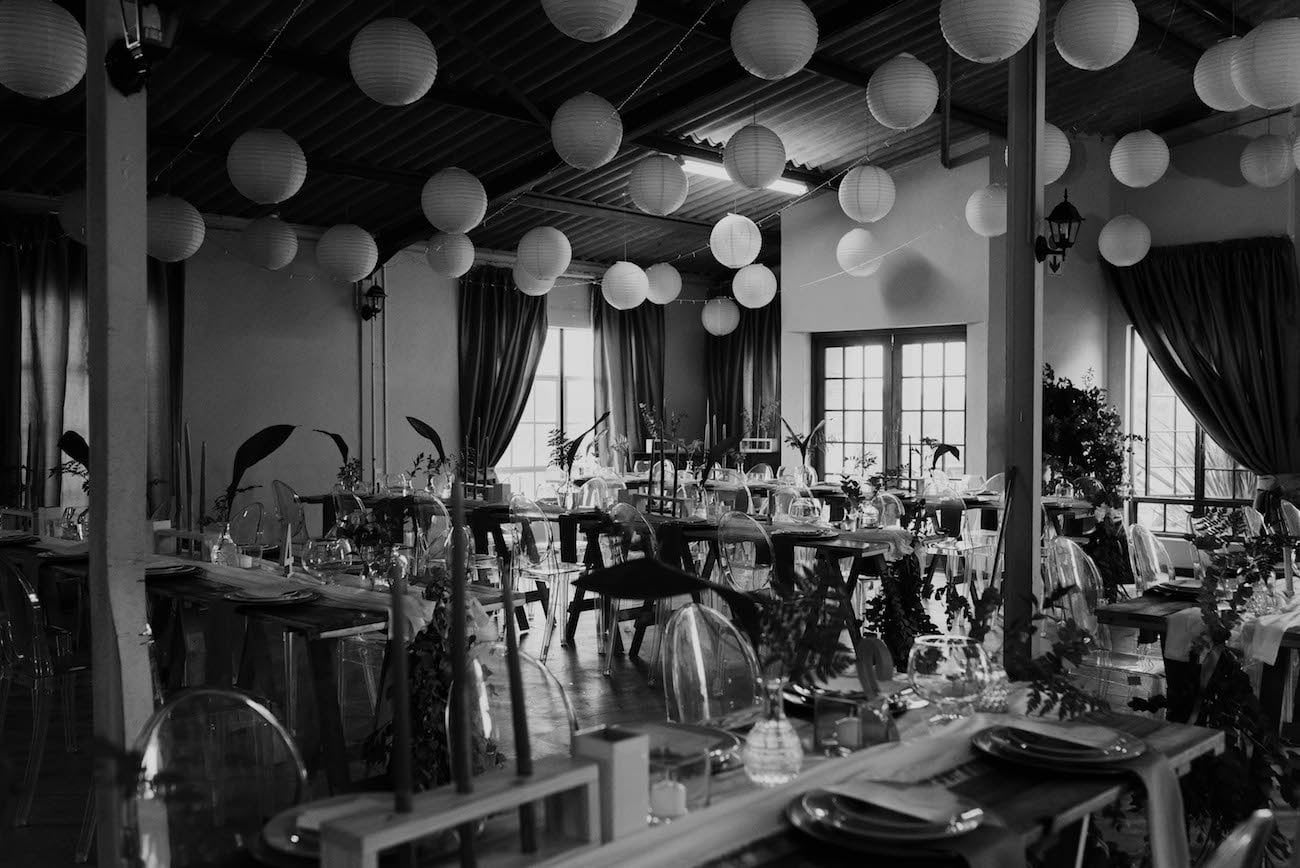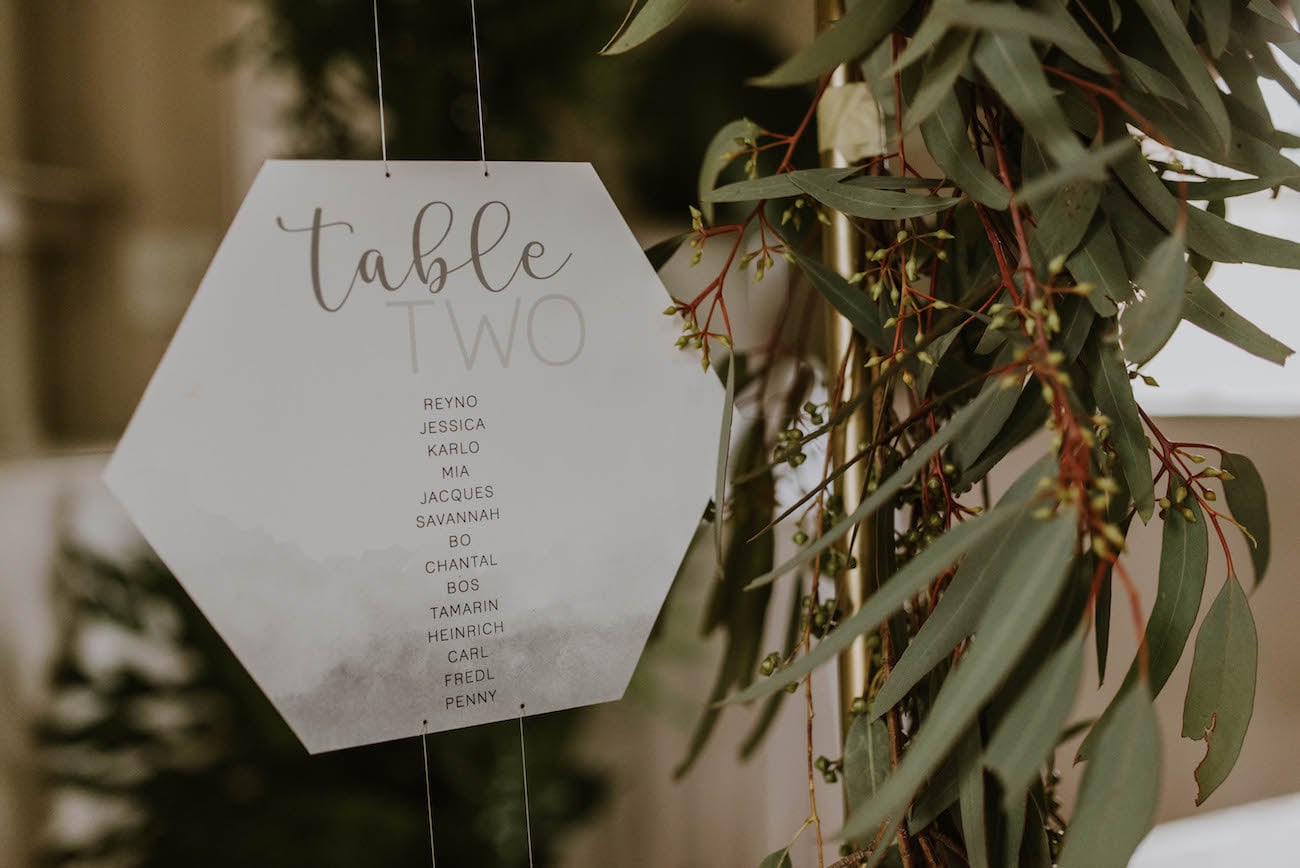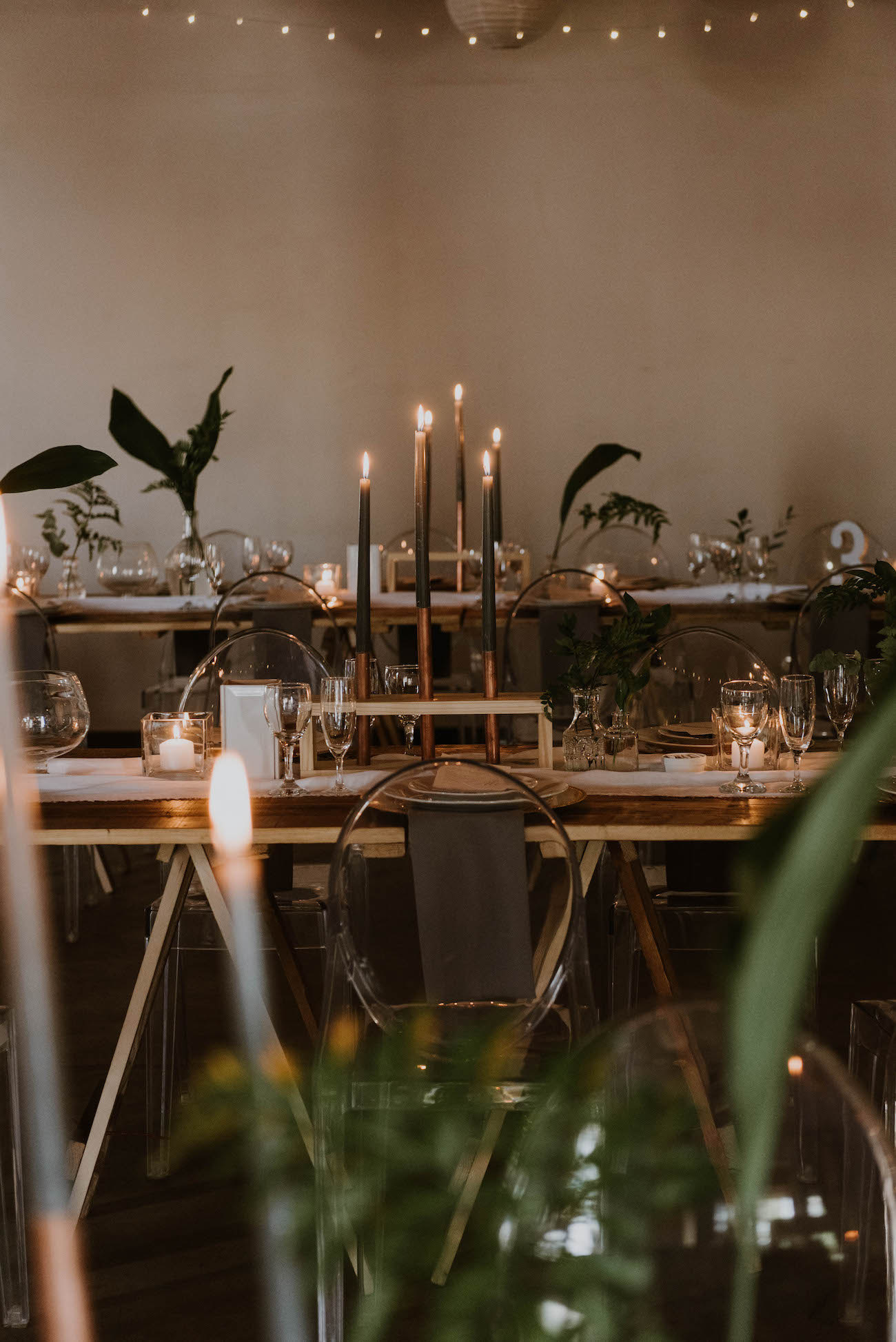 Best Decision
Give yourself enough time to plan. We were engaged for a little under a year and a half, so that helped to take some of the pressure off.
Advice for Future Brides & Grooms
My advice would be, try to not stress too much. I know, easier said than done. In hindsight, I really wish I was less stressed before the wedding. Everything will work out perfectly, and for the things that don't, they make for a great story.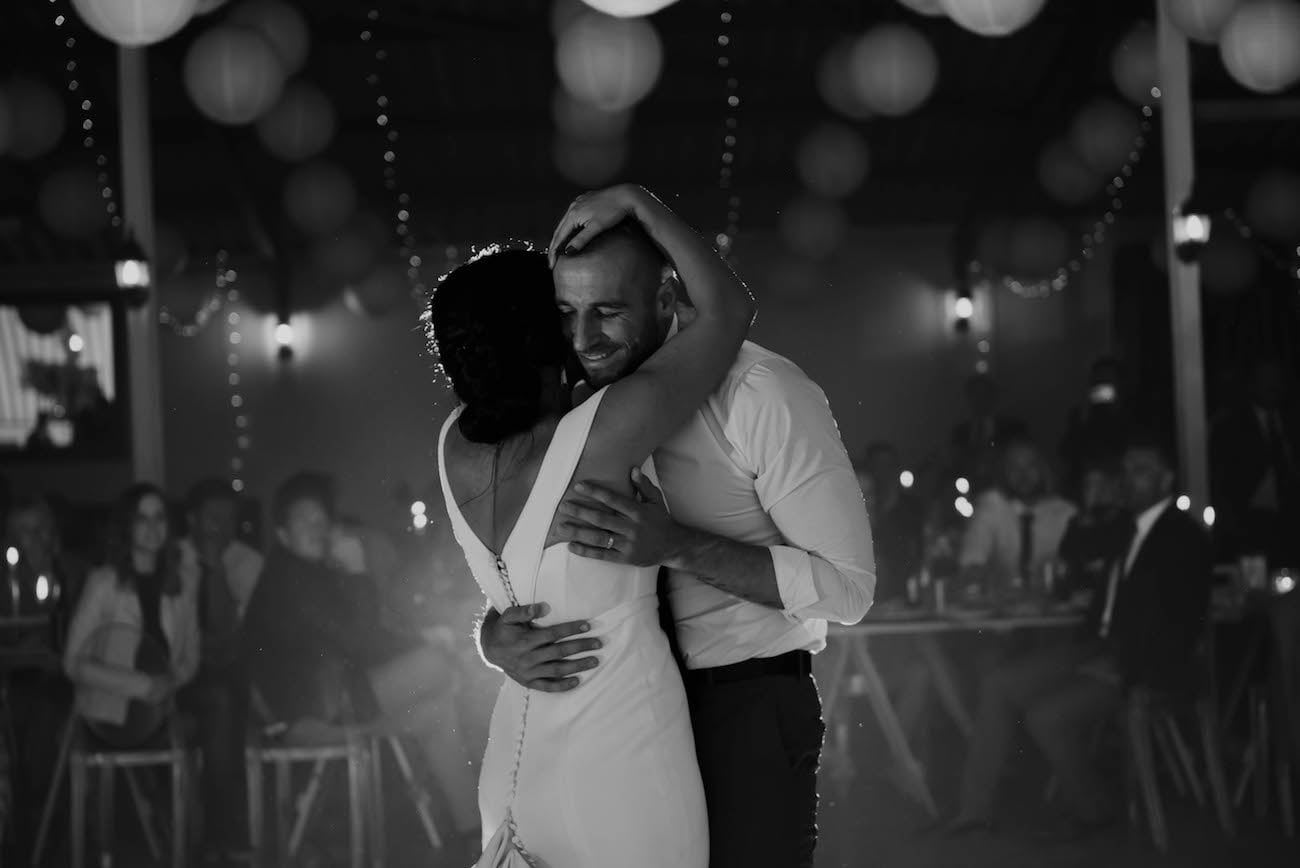 You can see more from this wedding on Claire Thomson's blog.
SERVICE PROVIDERS
Venue & catering: Matroosberg Nature Reserve | Photography: Claire Thomson Photography | Floral: Bunches for Africa | Bride's bouquet: Naak Kaapstad | Bride's dress: Charlotte Francina | Bride's accessories: Lovisa | Hair & makeup: Maryna Kirsten |Hiring: Happinest + Blooming Wonderful | DJ: Morné Nel