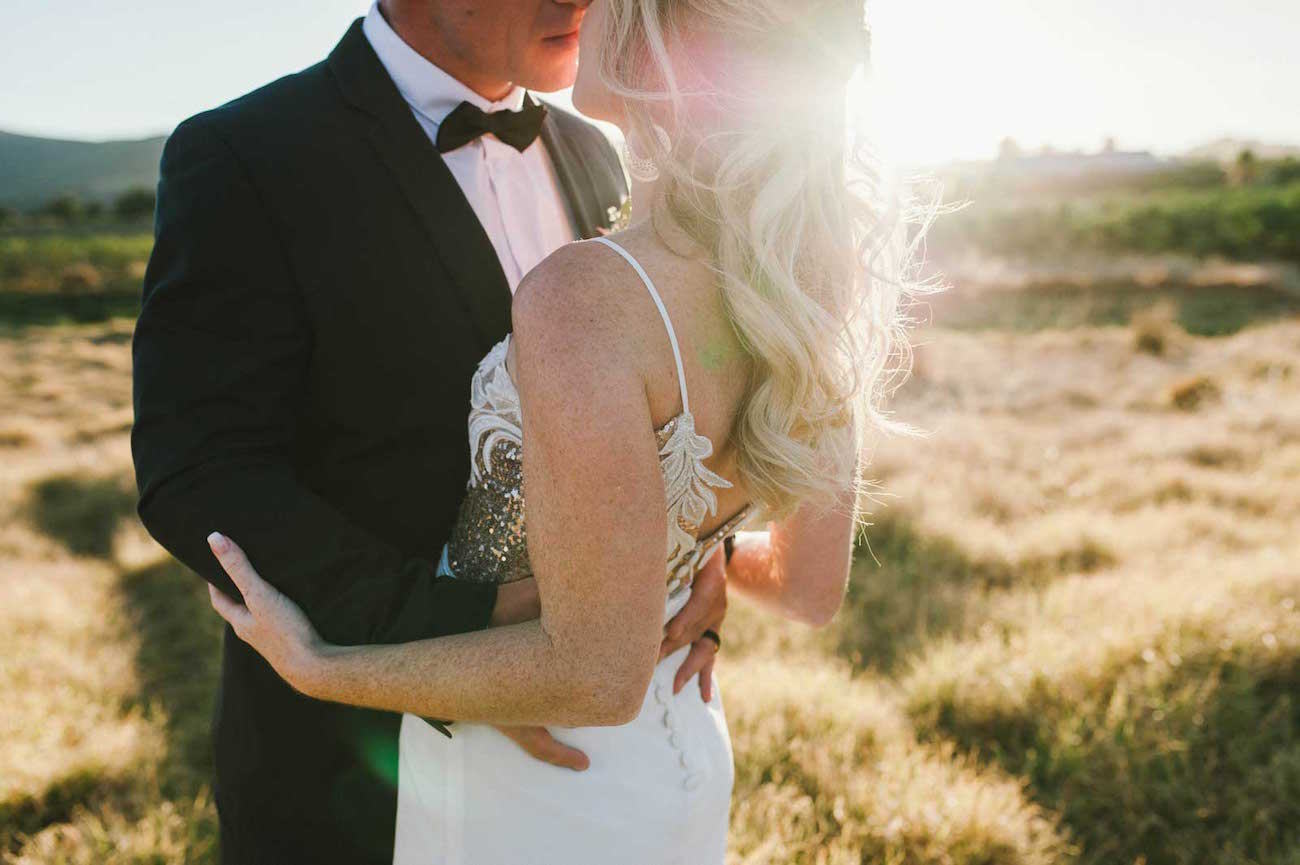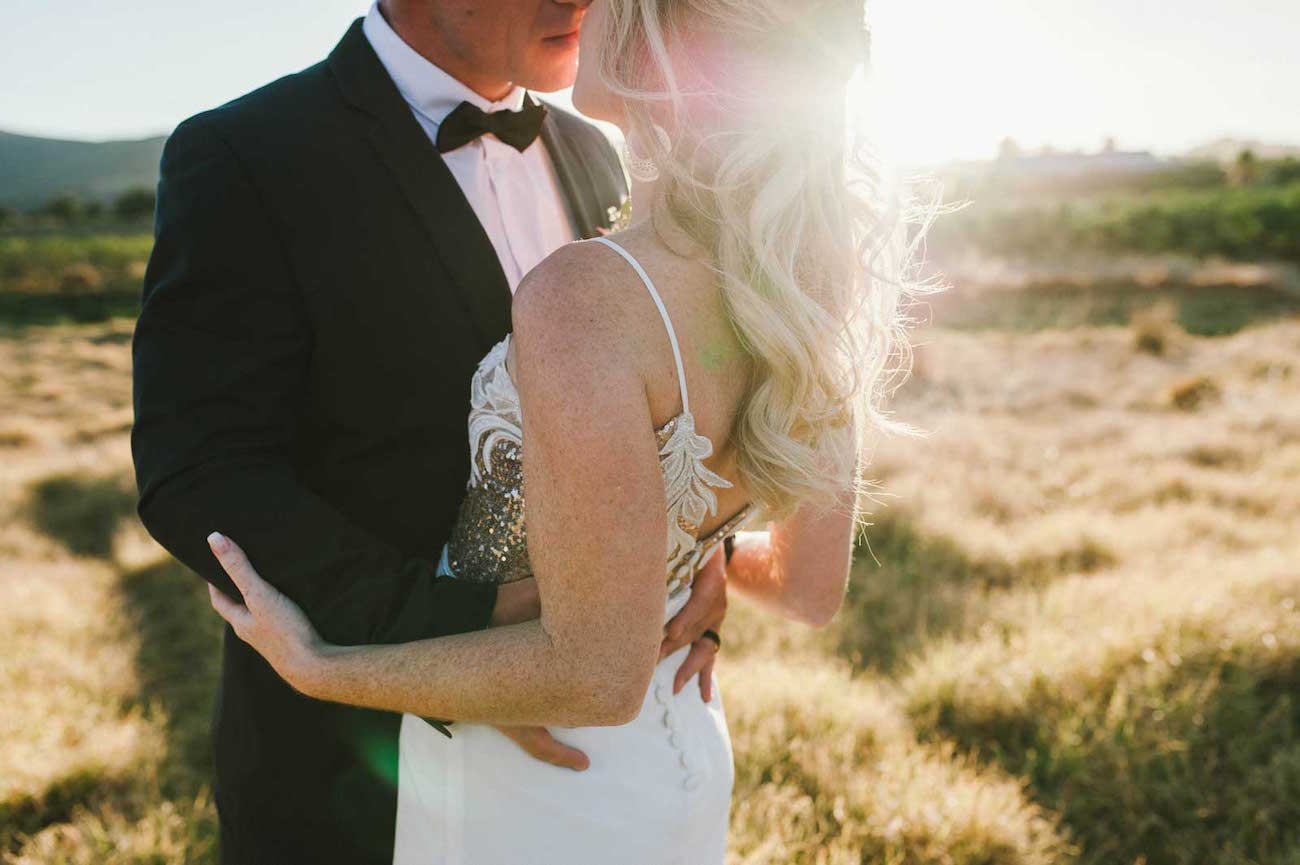 I'm sure when you see today's wedding, it won't surprise you that what first caught my breath when I saw it was Danielle's incredible rose gold sequin gown. I mean, wowsers. But besides the fact that the bride slayed it, there's another thing about Danielle & Bobby's country chic wedding that's completely jawdropping – the fact that it was planned in a month! One. Month. Yep, no kidding, and it's as lovely as any wedding that takes ten times as long to put together! From the sweet ceremony to the reception filled with sweet details like edison bulbs, watercolour stationery and greenery everywhere, you'll be pinning every one of Claire Thomson's beautiful pics!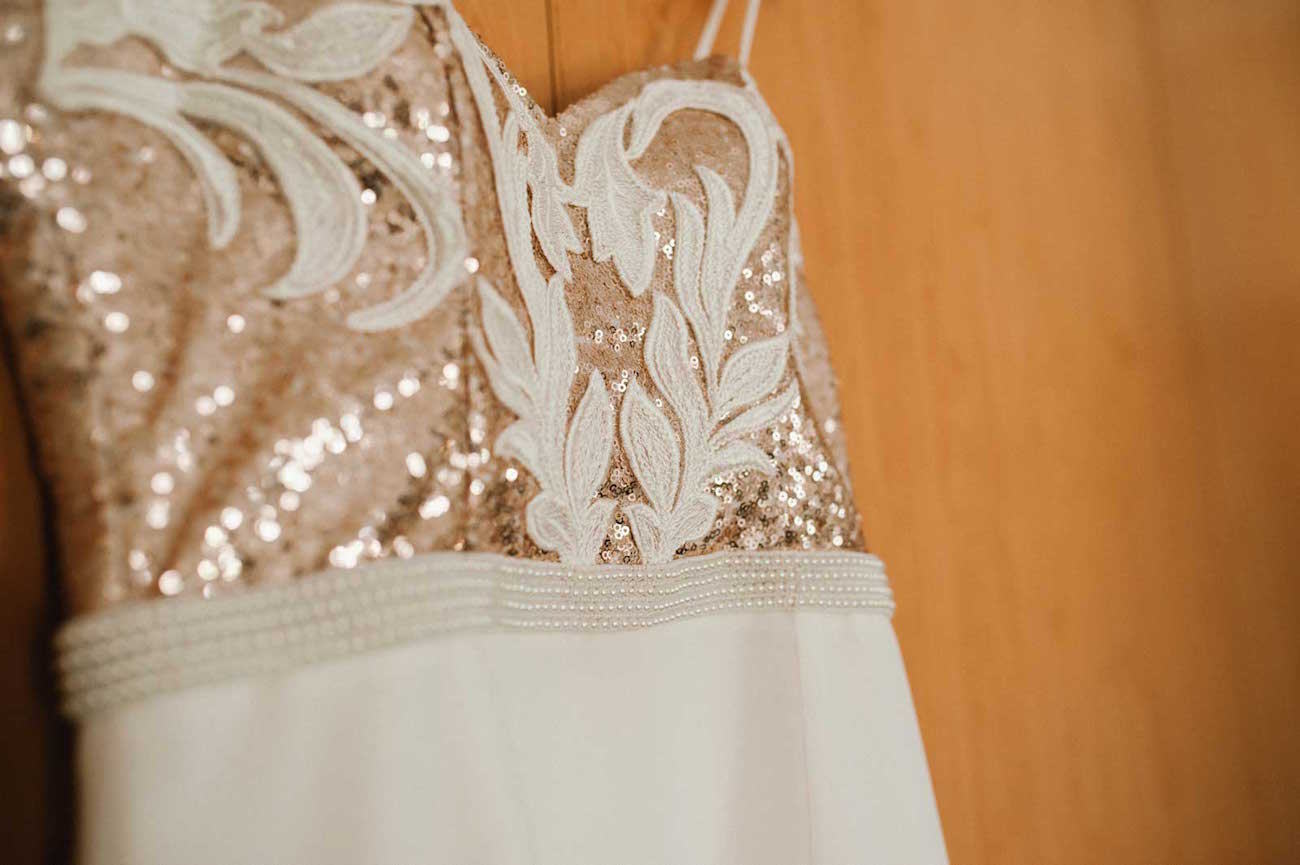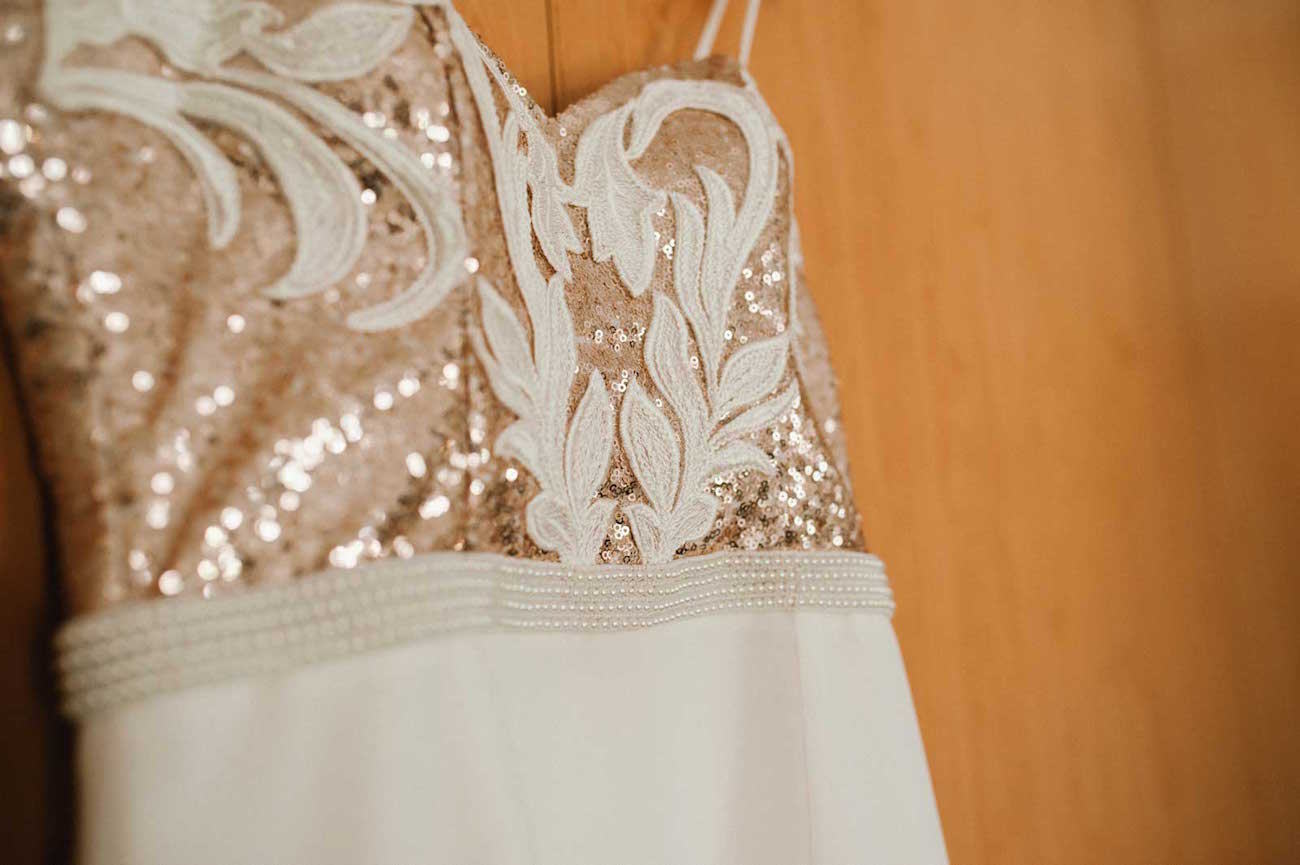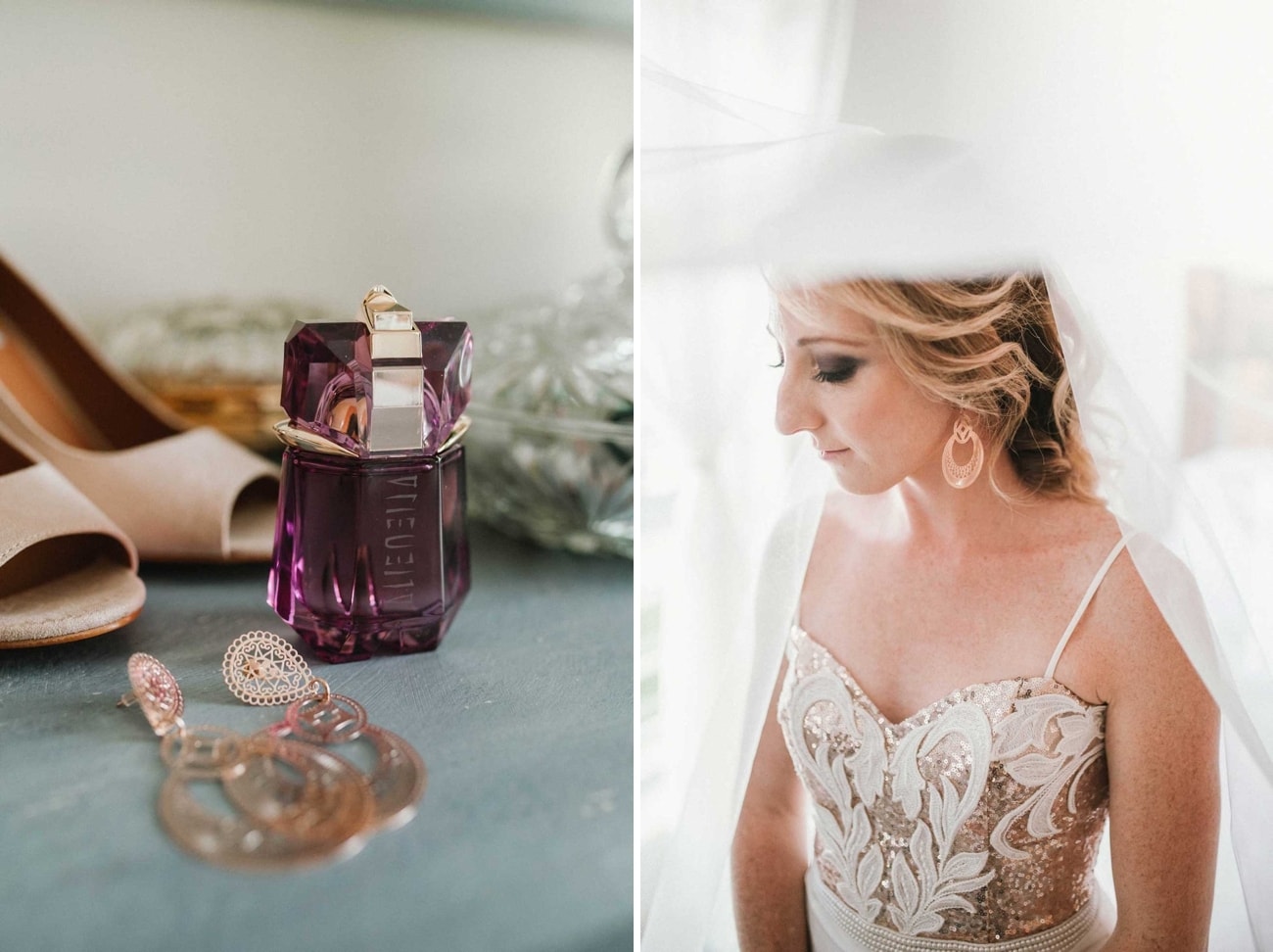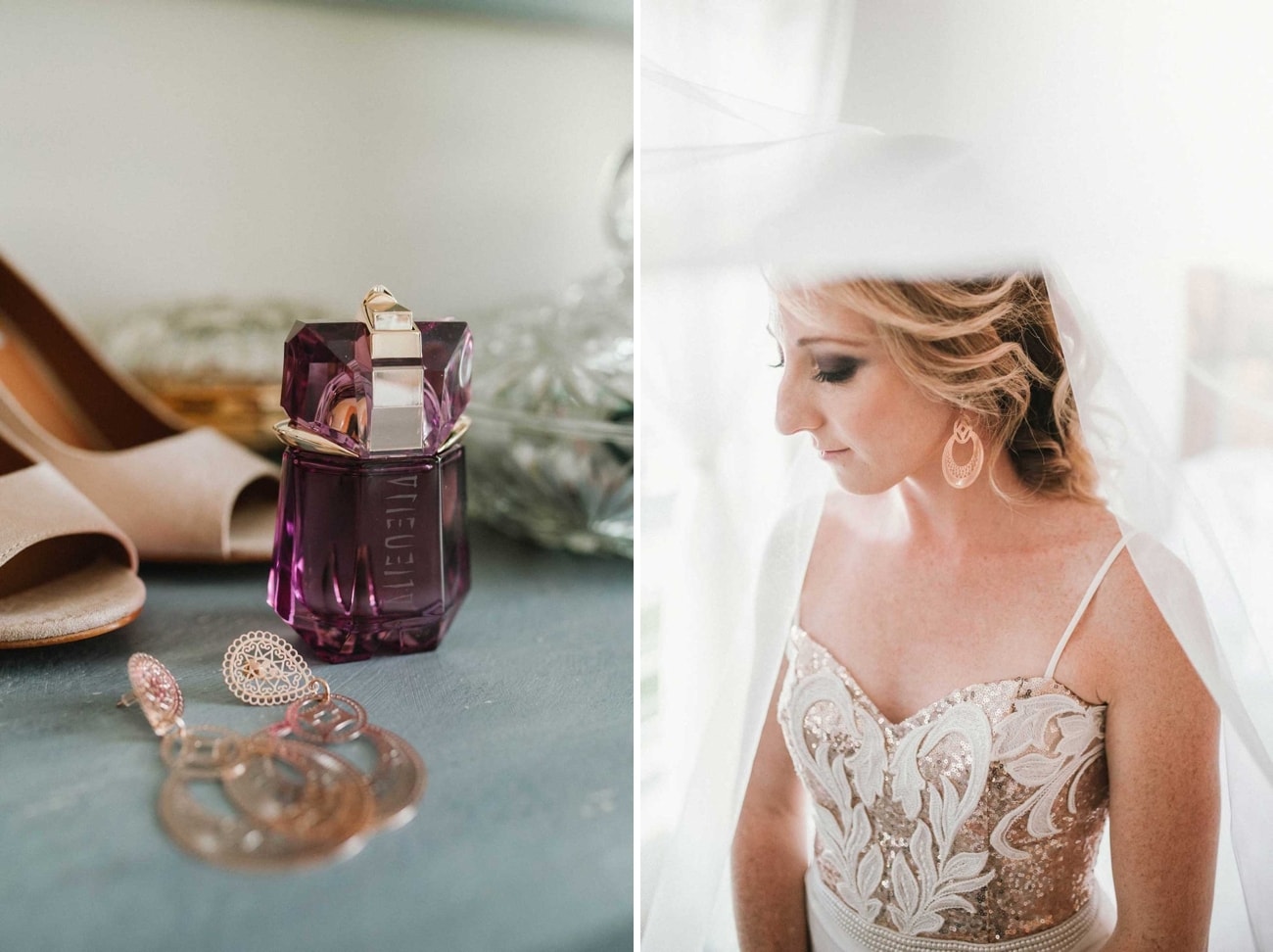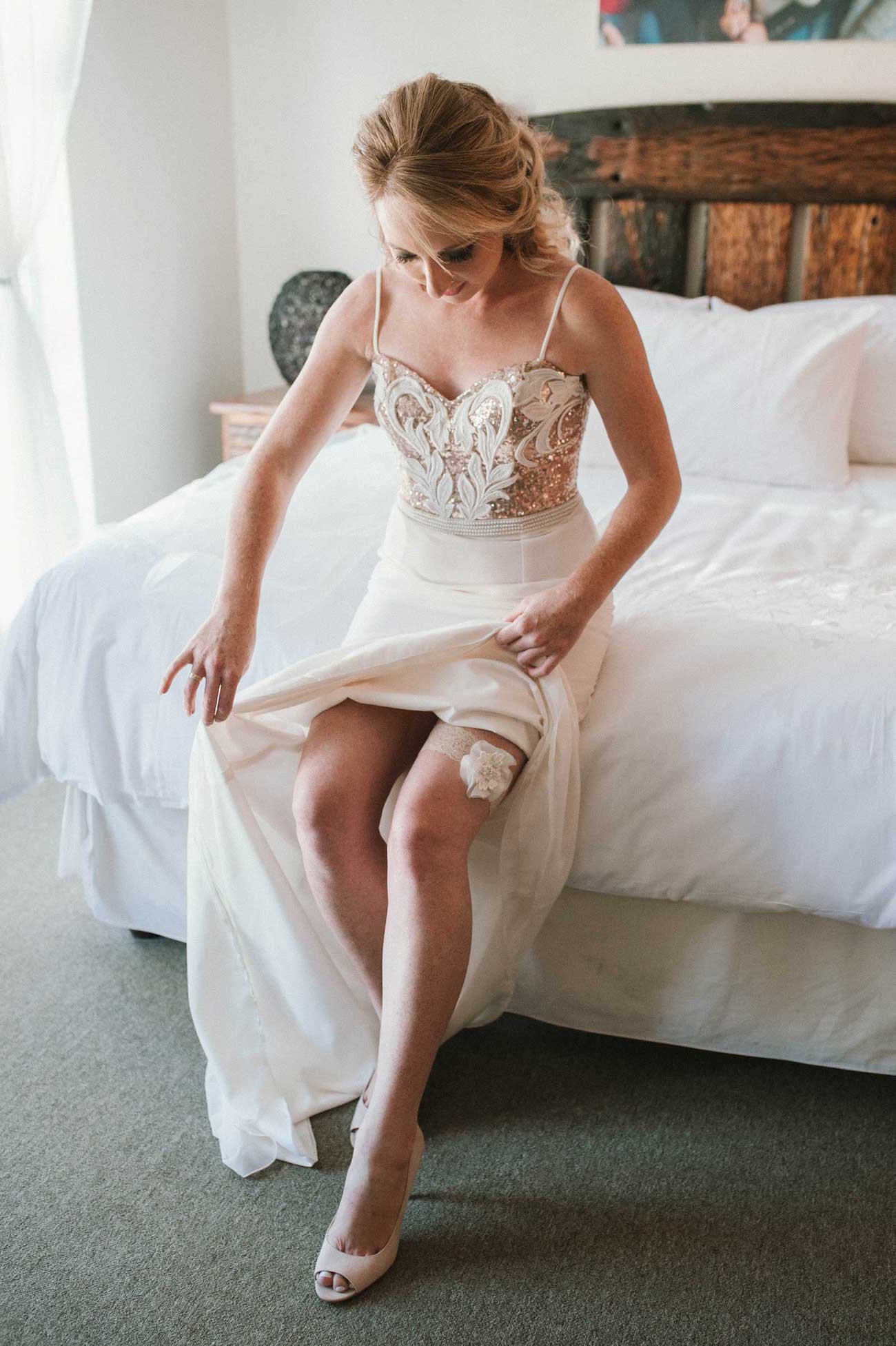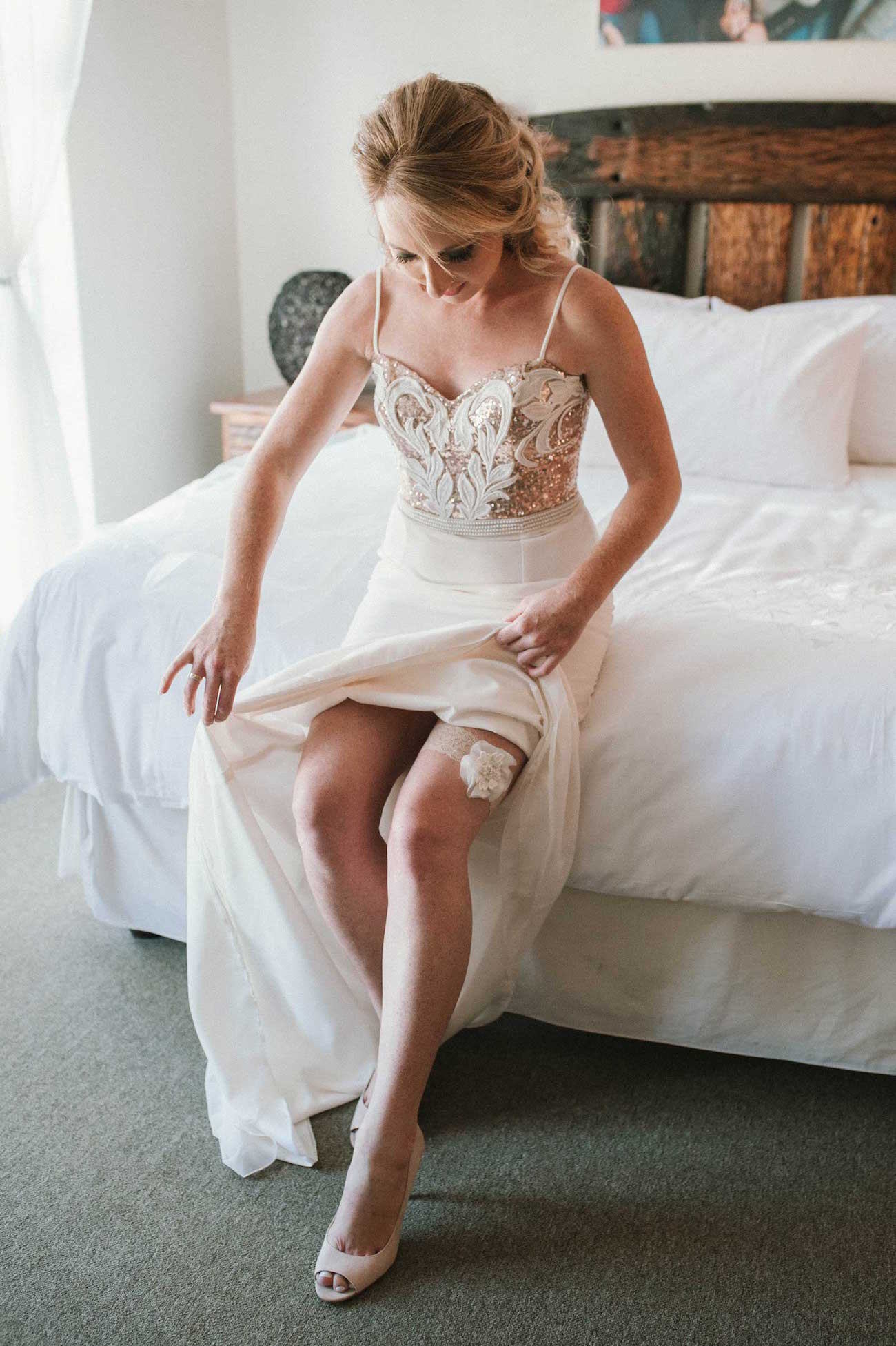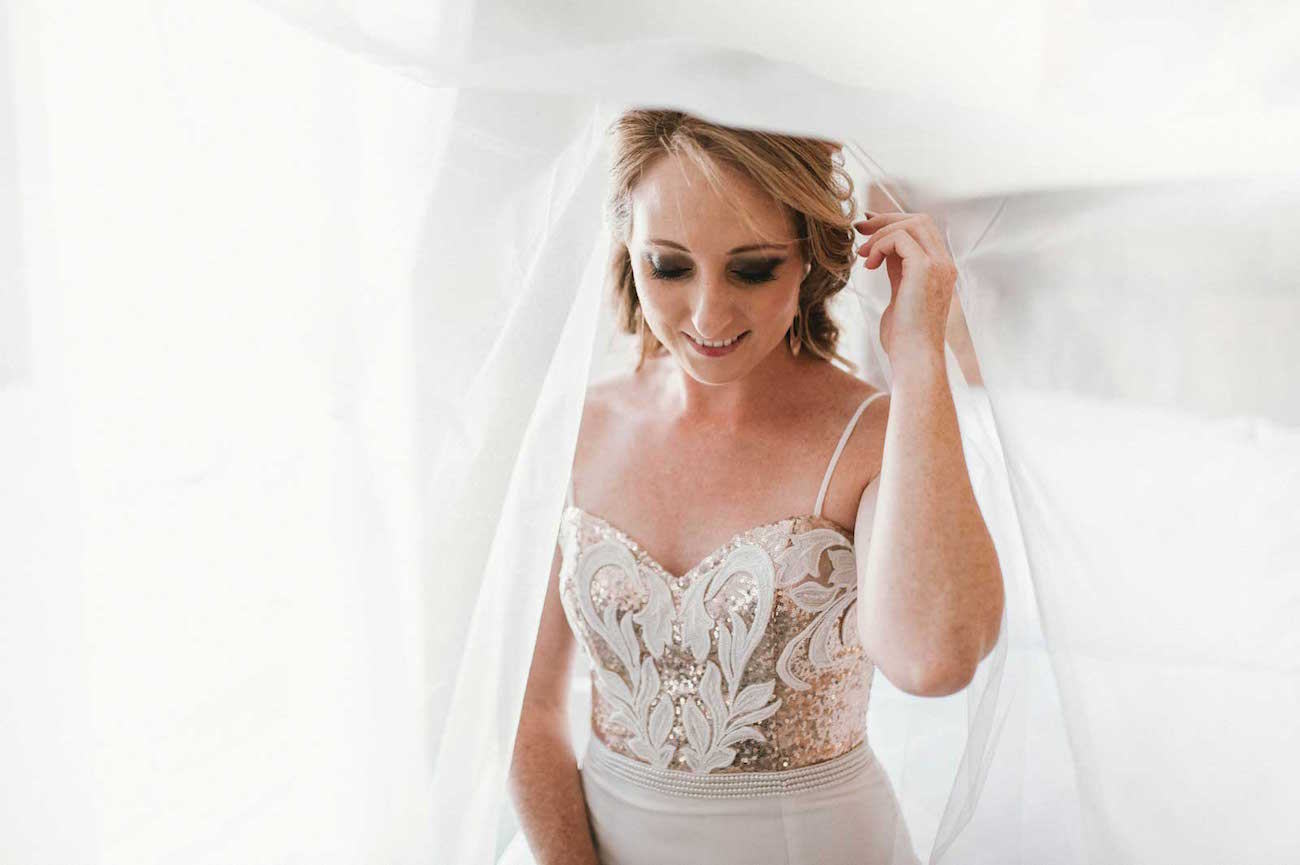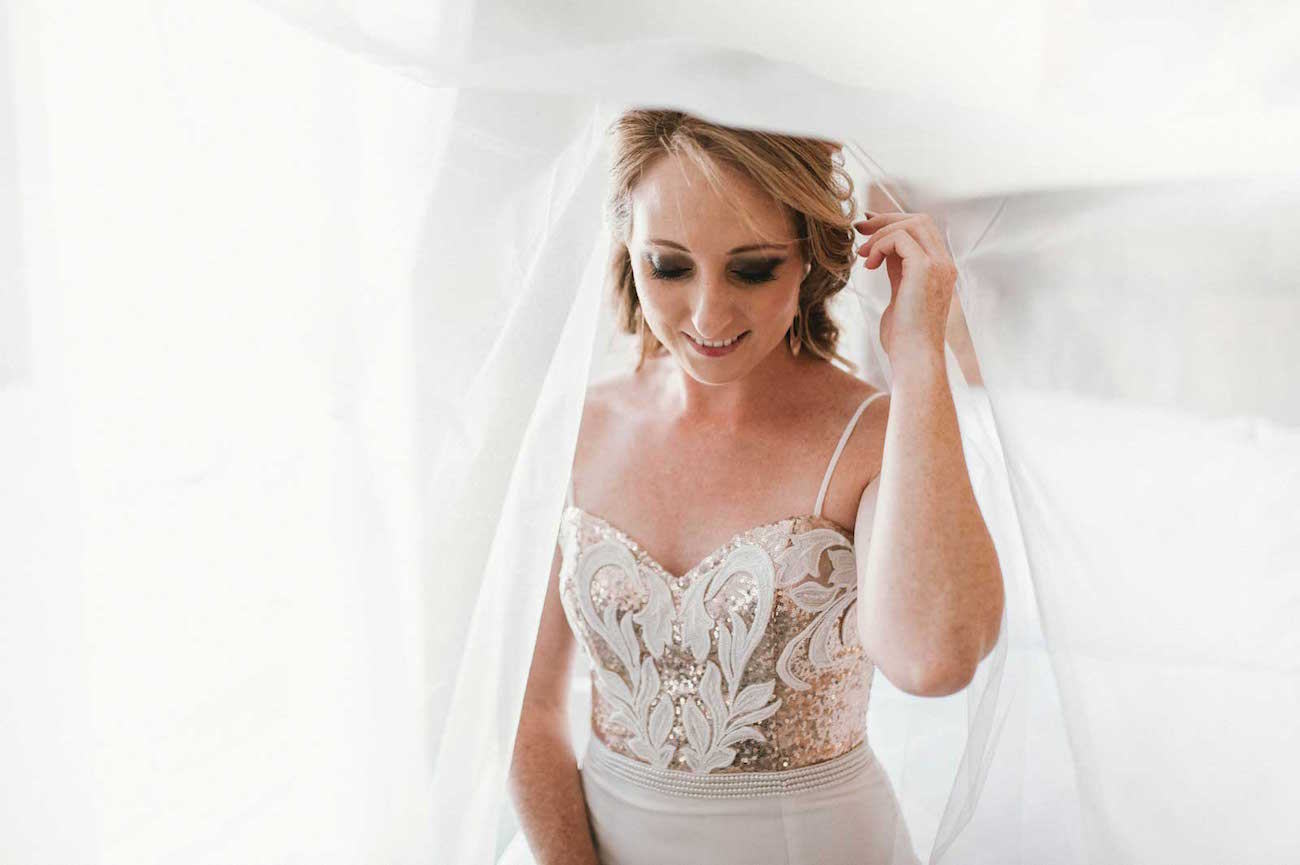 Love Story
About eight years ago, I worked as a personal trainer in a local gym where Bobby also happened to be a member. I didn't know about him and had never seen him there before but apparently he had been watching me for about a year and eventually worked up the guts to ask a friend of mine for my number. My friend suggested he ask me personally, but told me that some guy had asked for my number. I thought he was a potential client, but my friend assured me that was not the case and that this guy was interested in meeting me. Time went by, and I kind of forgot about it until one night when my friends and I were out dancing. The same friend suddenly pulled this guy onto the dancefloor and introduced me to Bobby. I didn't know what was going on right away, but then realised that this was the guy who had asked for my number at gym. I'll never forget the look on his face and how excited he was to finally meet me! We connected right away and the rest, as they say, is history!
The Proposal
Our relationship came with many challenges and we went through rough patches and broke up and got back together a few times, but we could never be without each other and managed to find our way back to each other every time. We had been engaged before so decided that this time we were not going to do the whole proposal thing again and to just get married, which was so much more exciting! We decided in December 2016 to get married in January 2017. Yes, within one month! We received so much love and support from family and friends who just literally jumped on board and started helping out with everything that had to get done to plan our big day!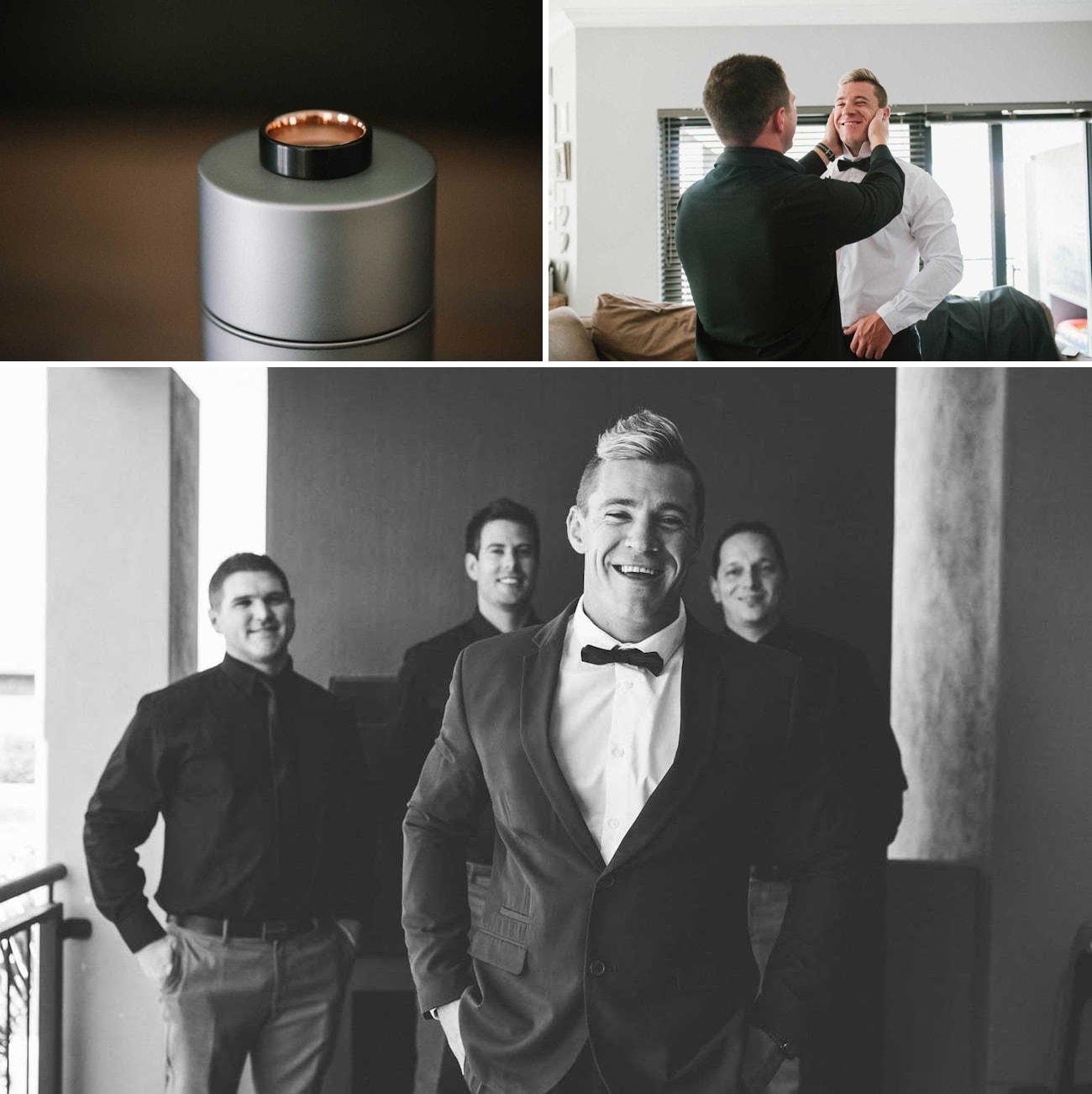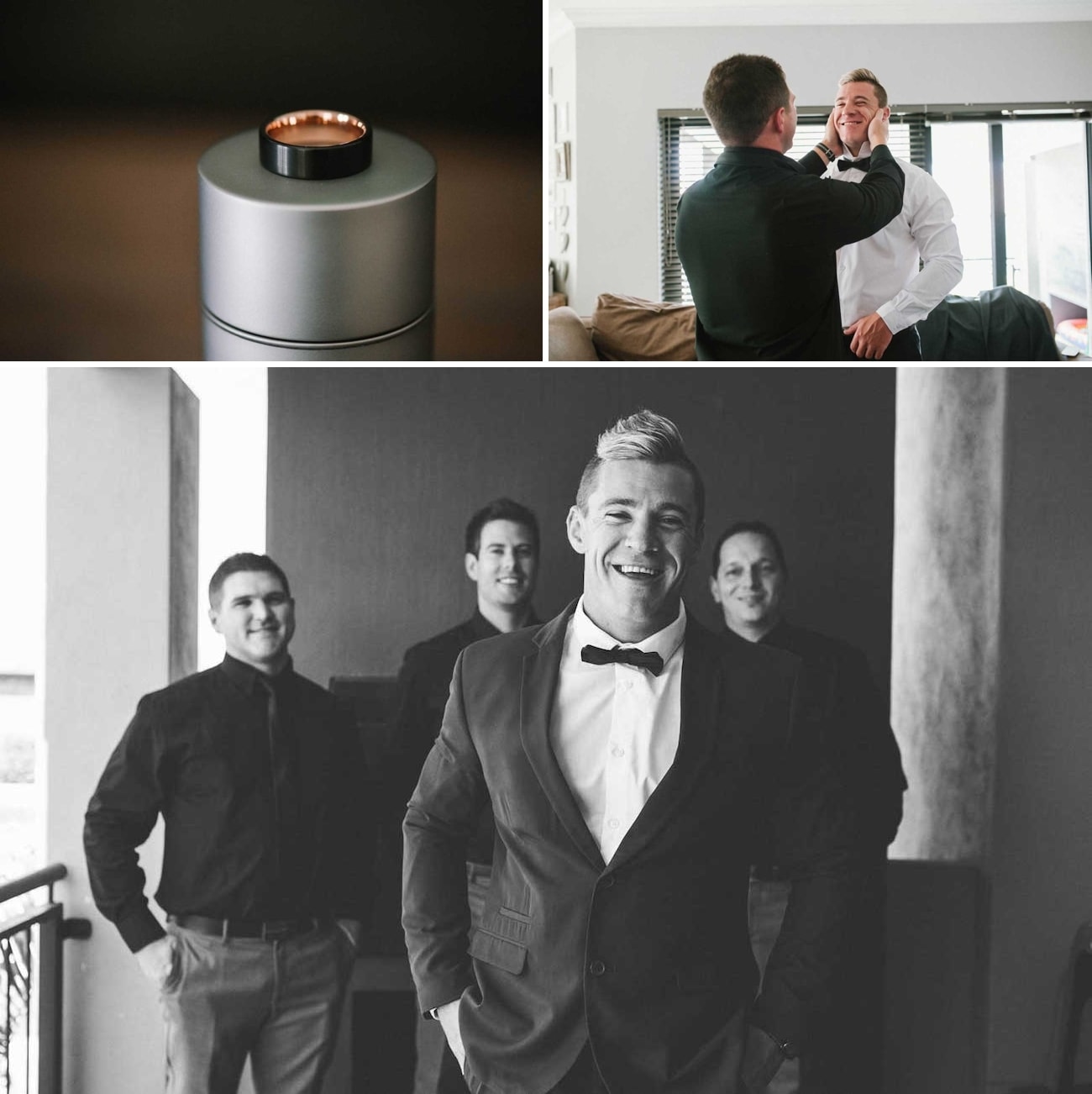 The Venue
We loved Kronenburg from the first time we went there for my best friend's wedding and always knew that this would be the venue for our wedding. We loved the big open hall, with enough space to move and dance and the beautiful white and clean environment it presented.
Wedding Style
My cousin actually took the role of wedding coordinator and made all our dreams come true with what we had in mind. Lots of greenery and white flowers were basically the idea for the wedding to create a fresh and simple minimalist feel.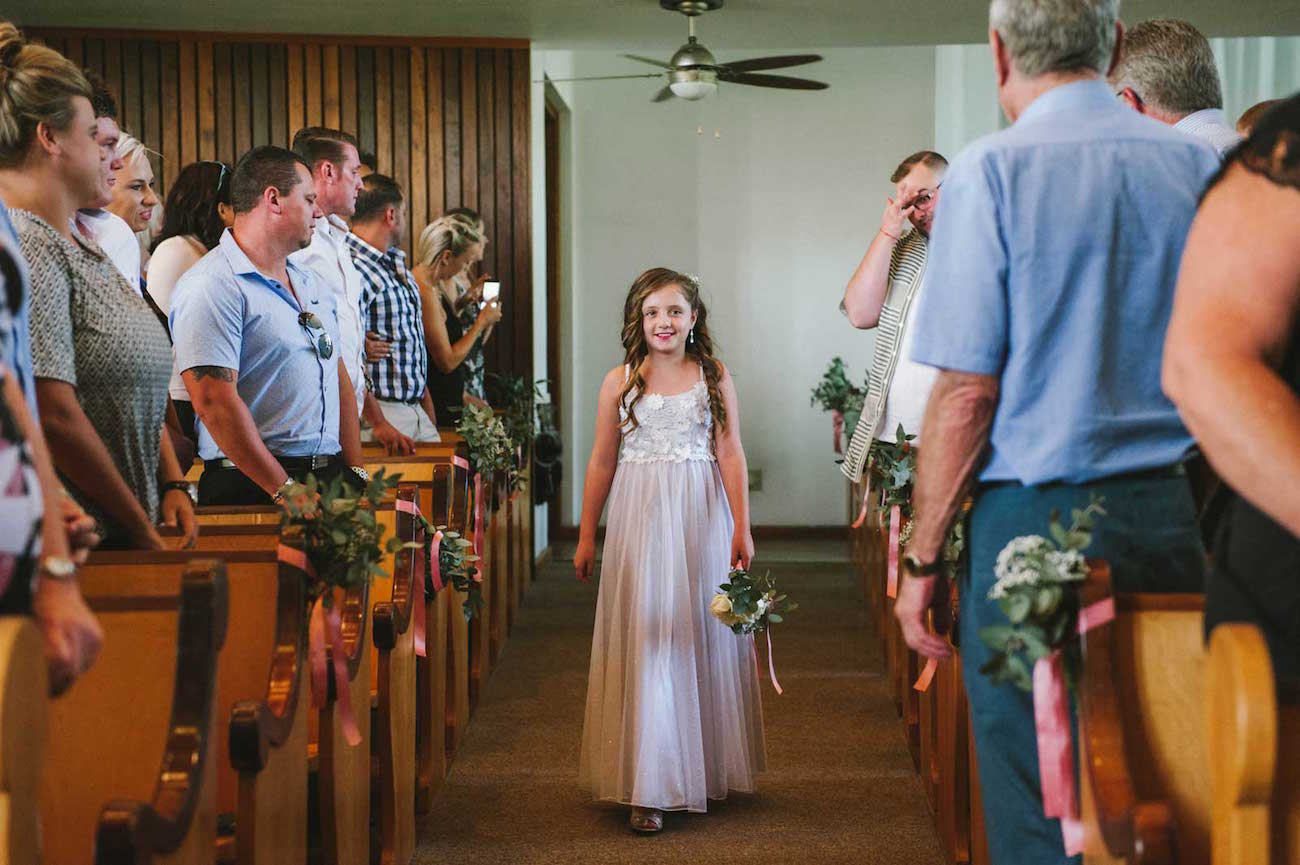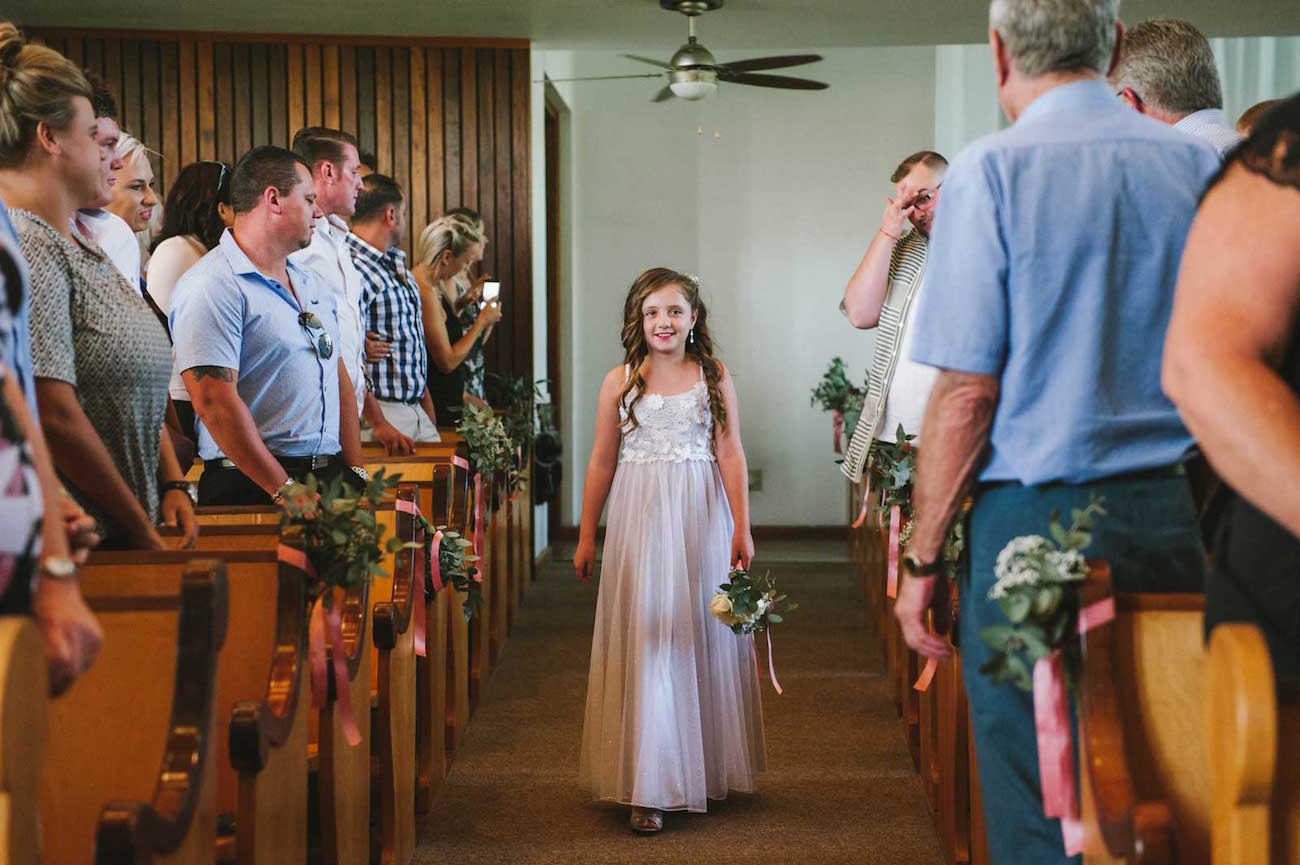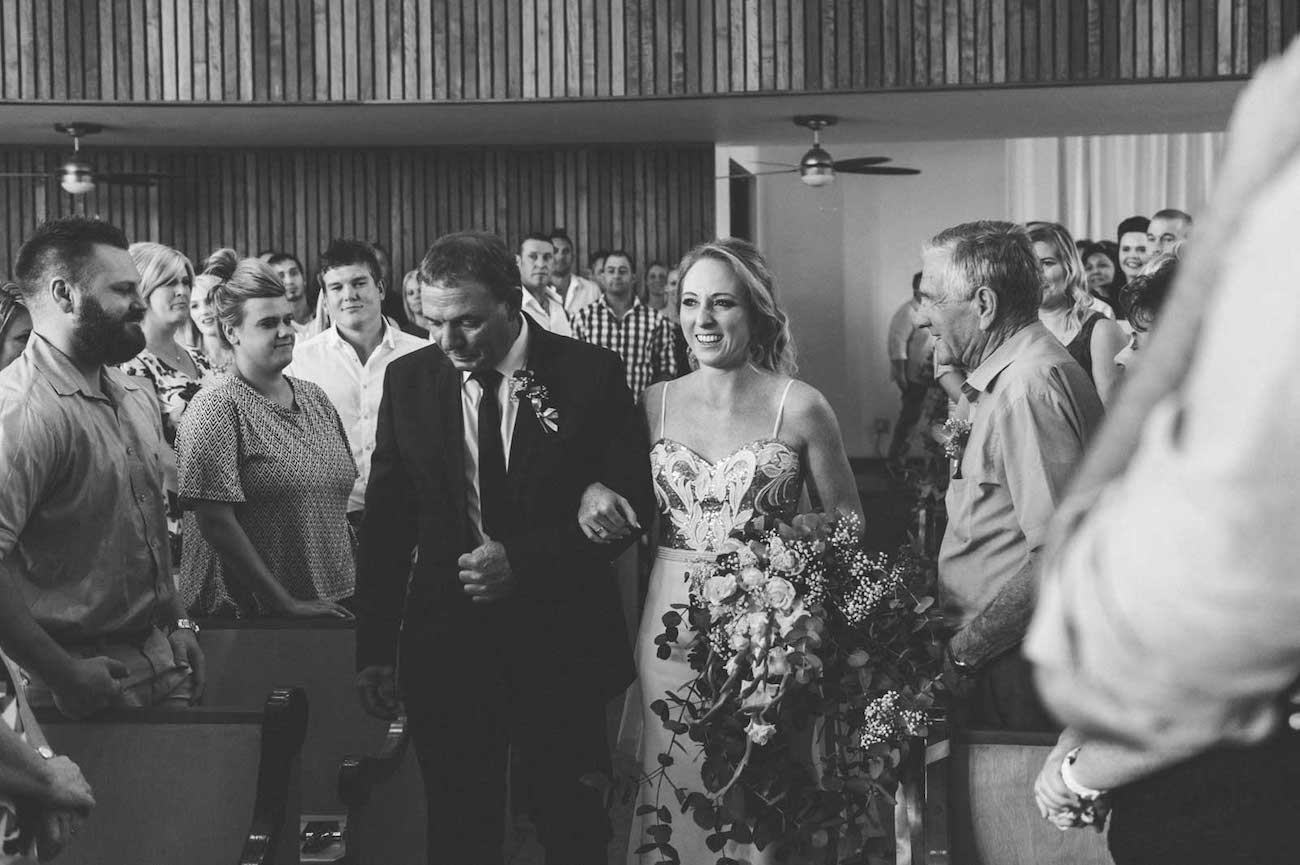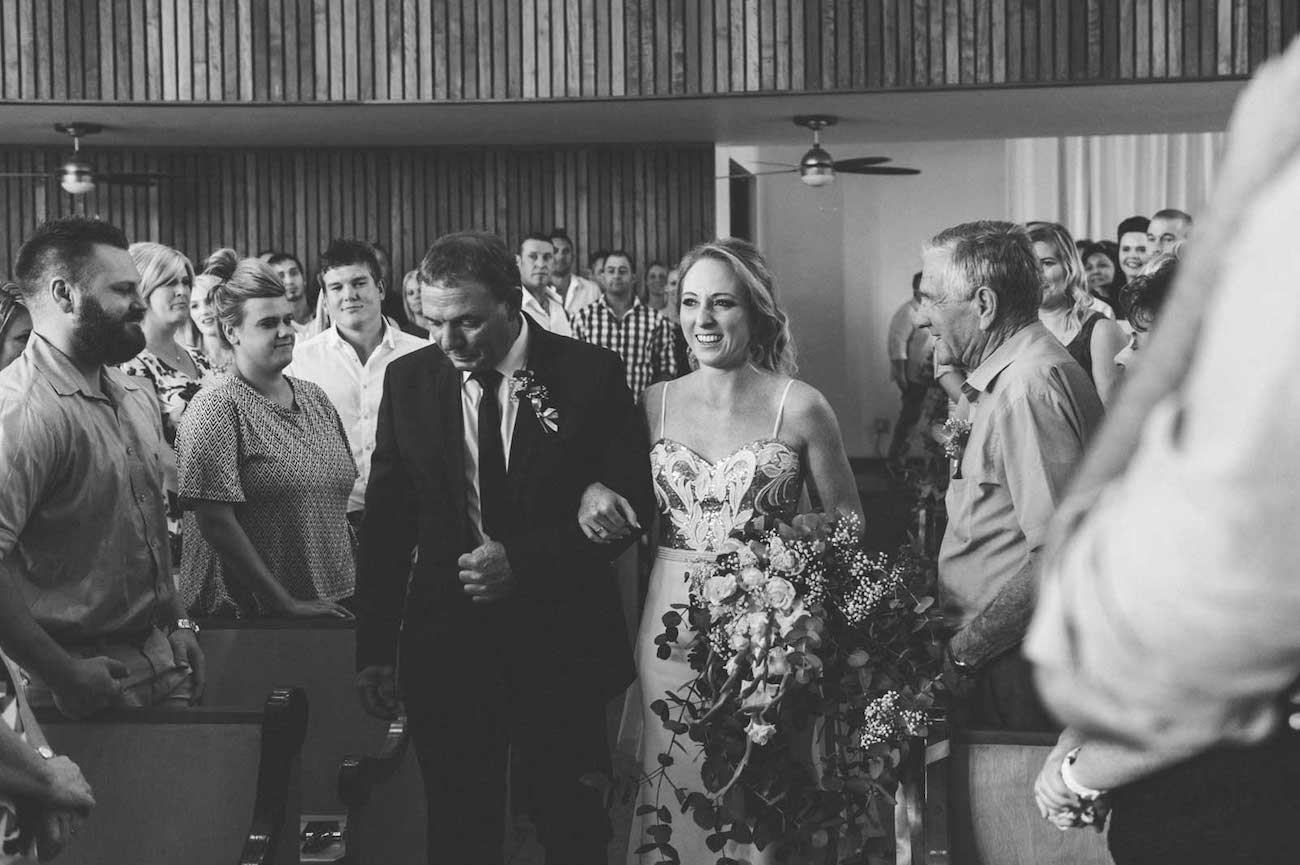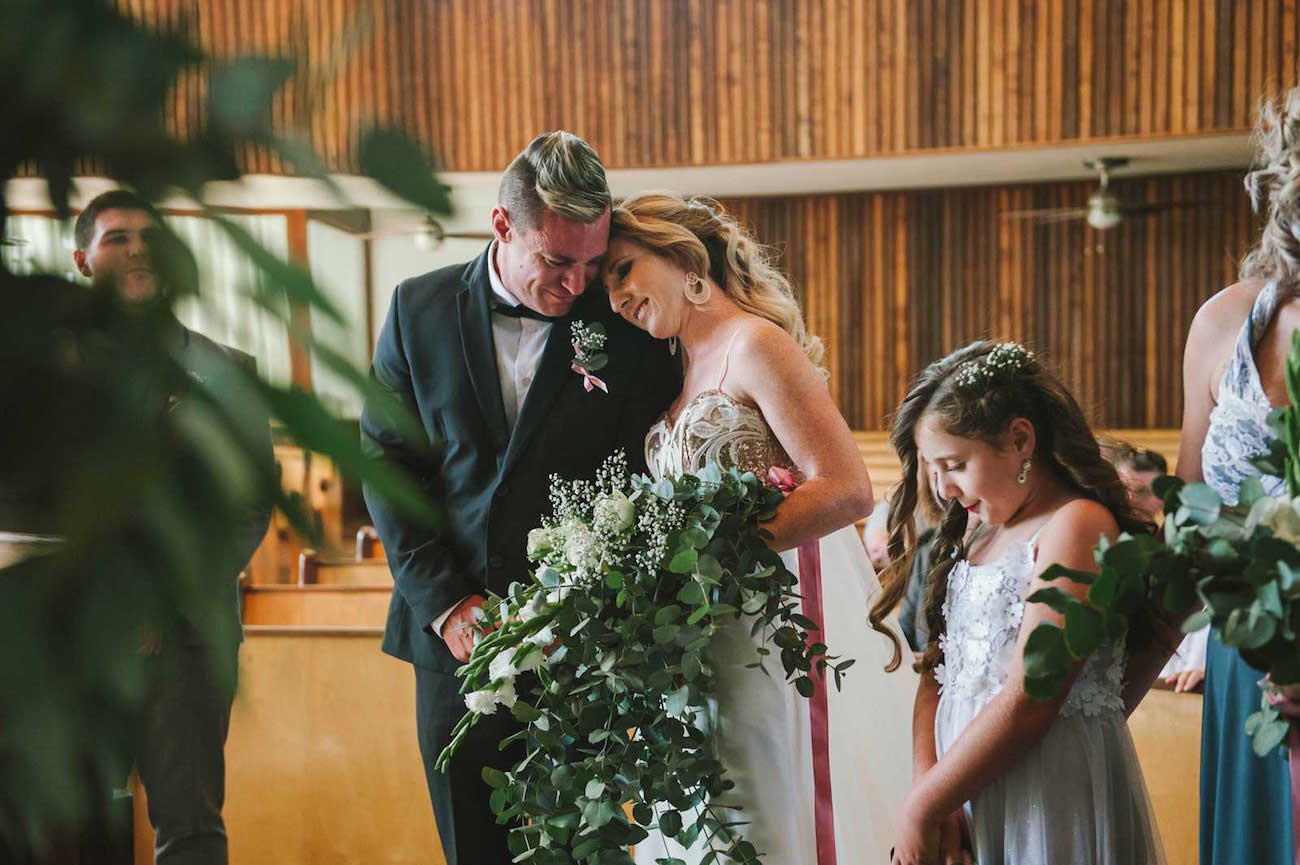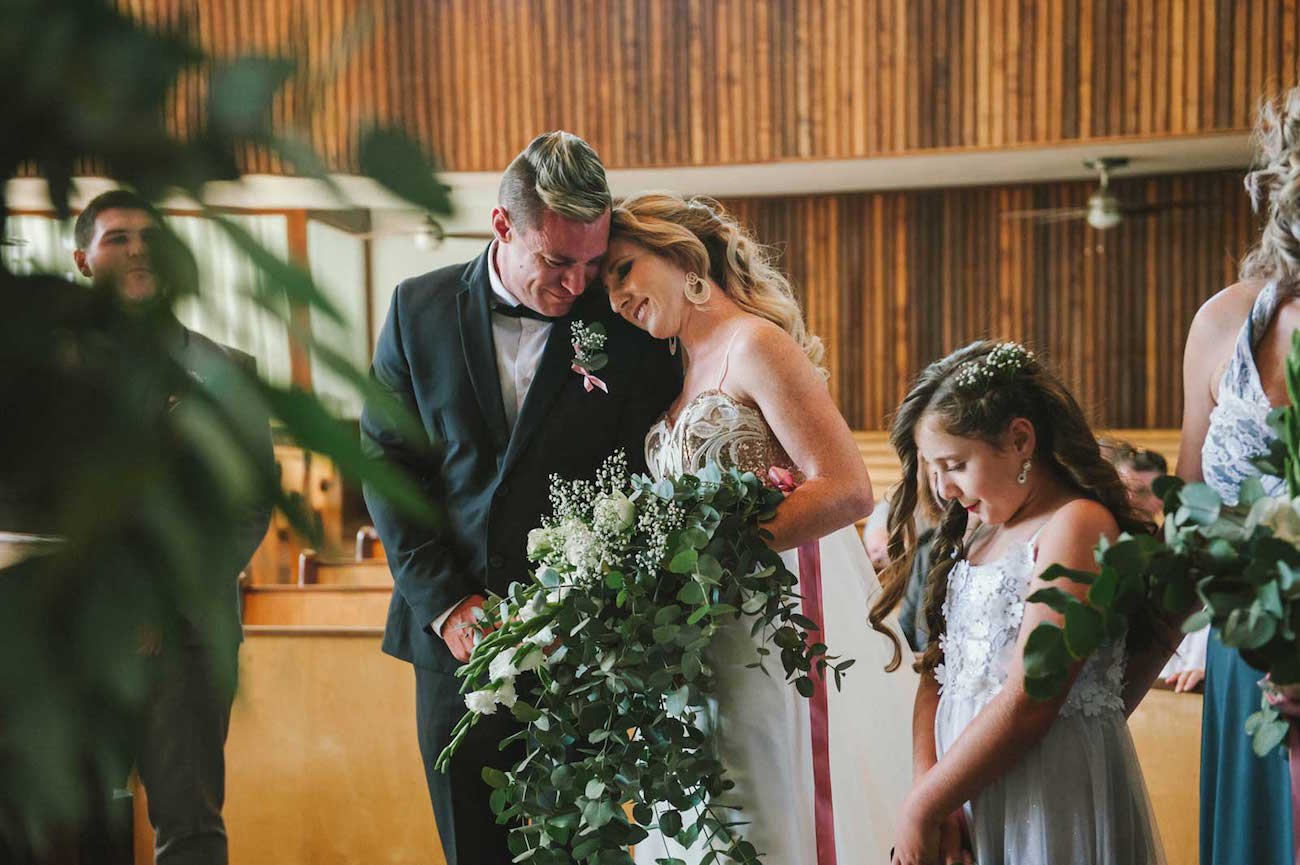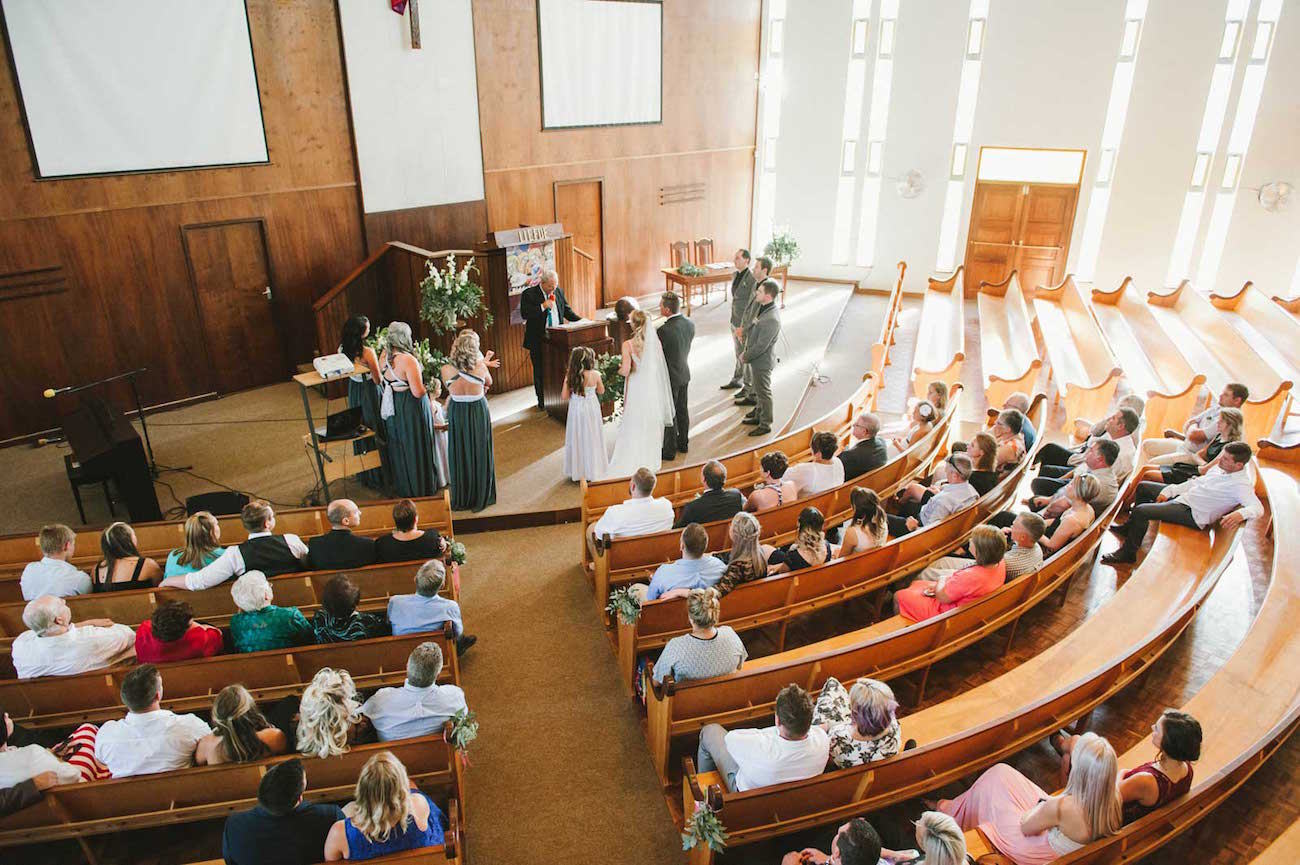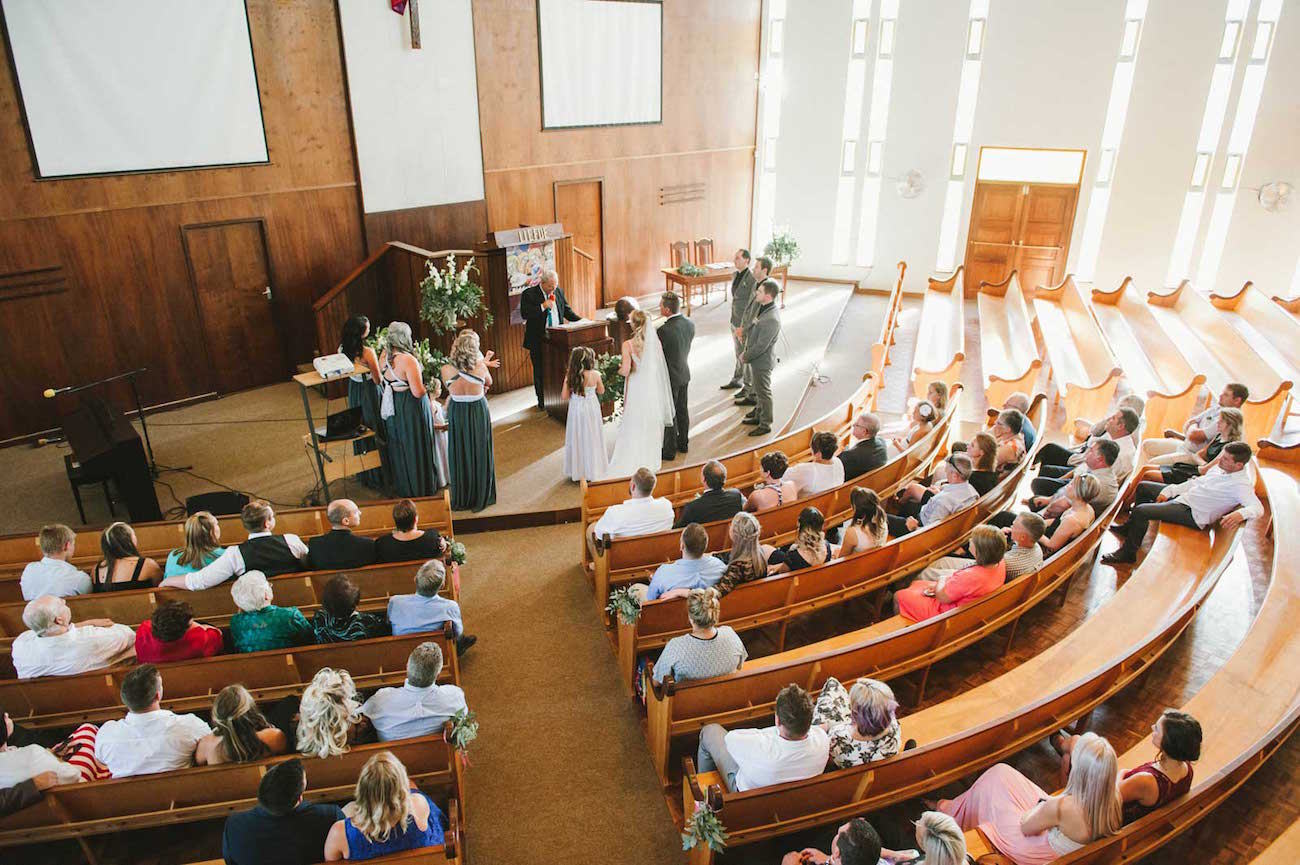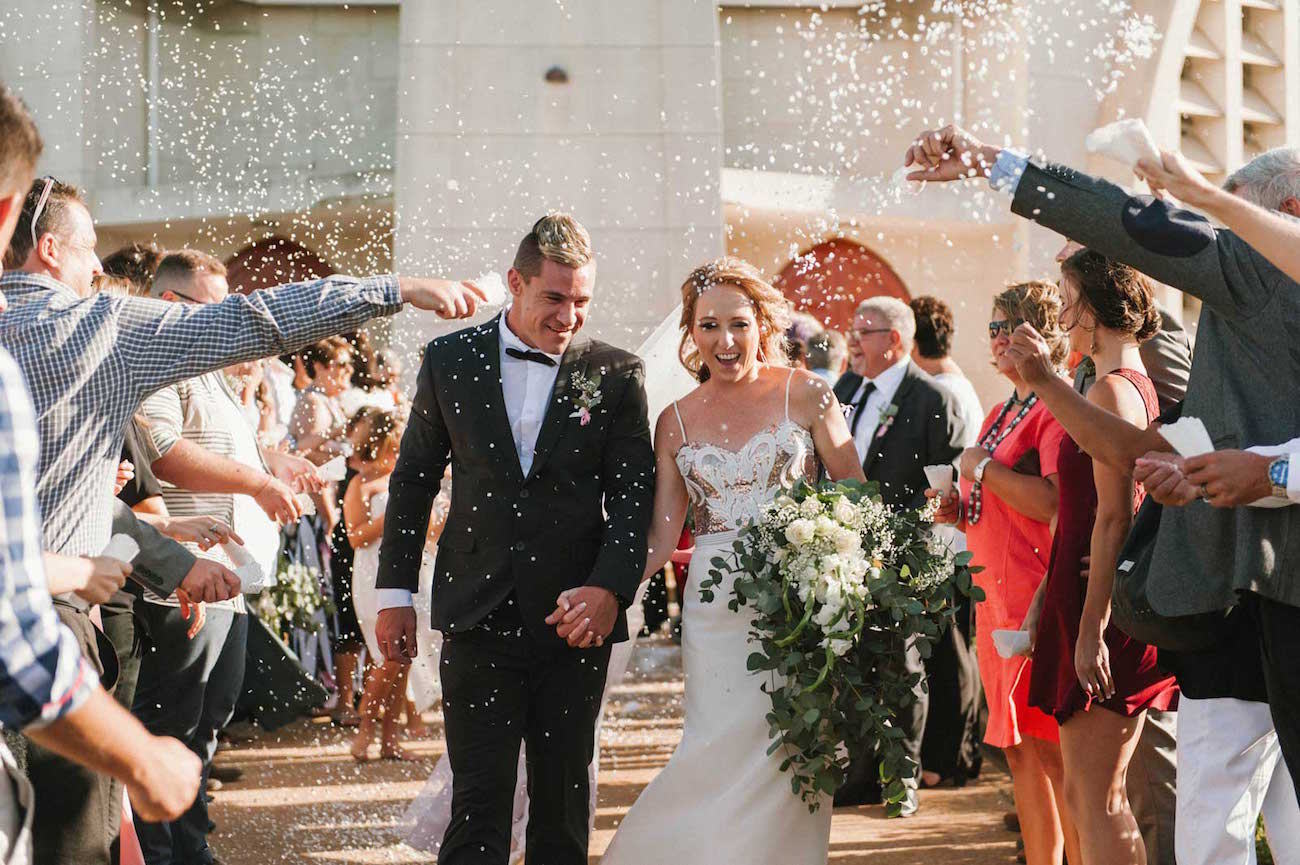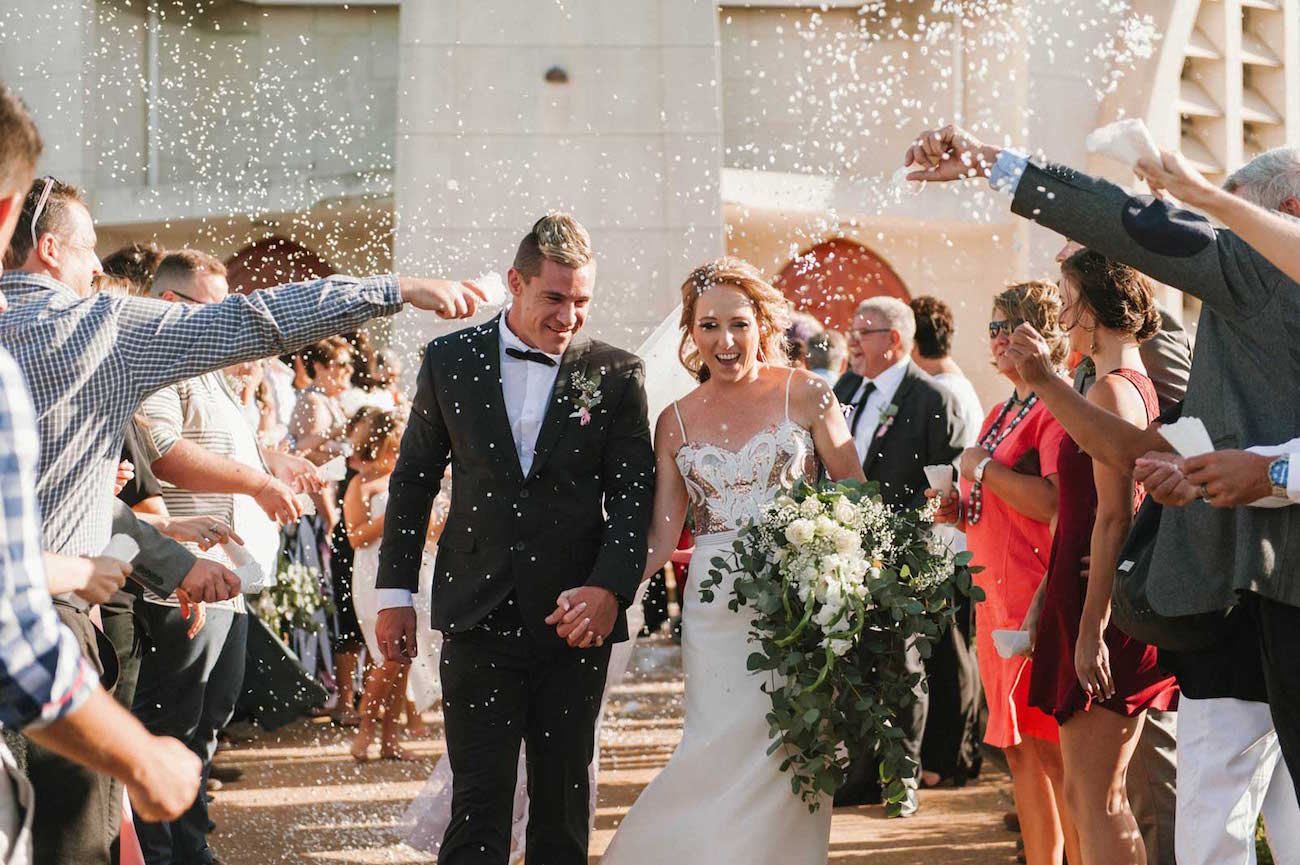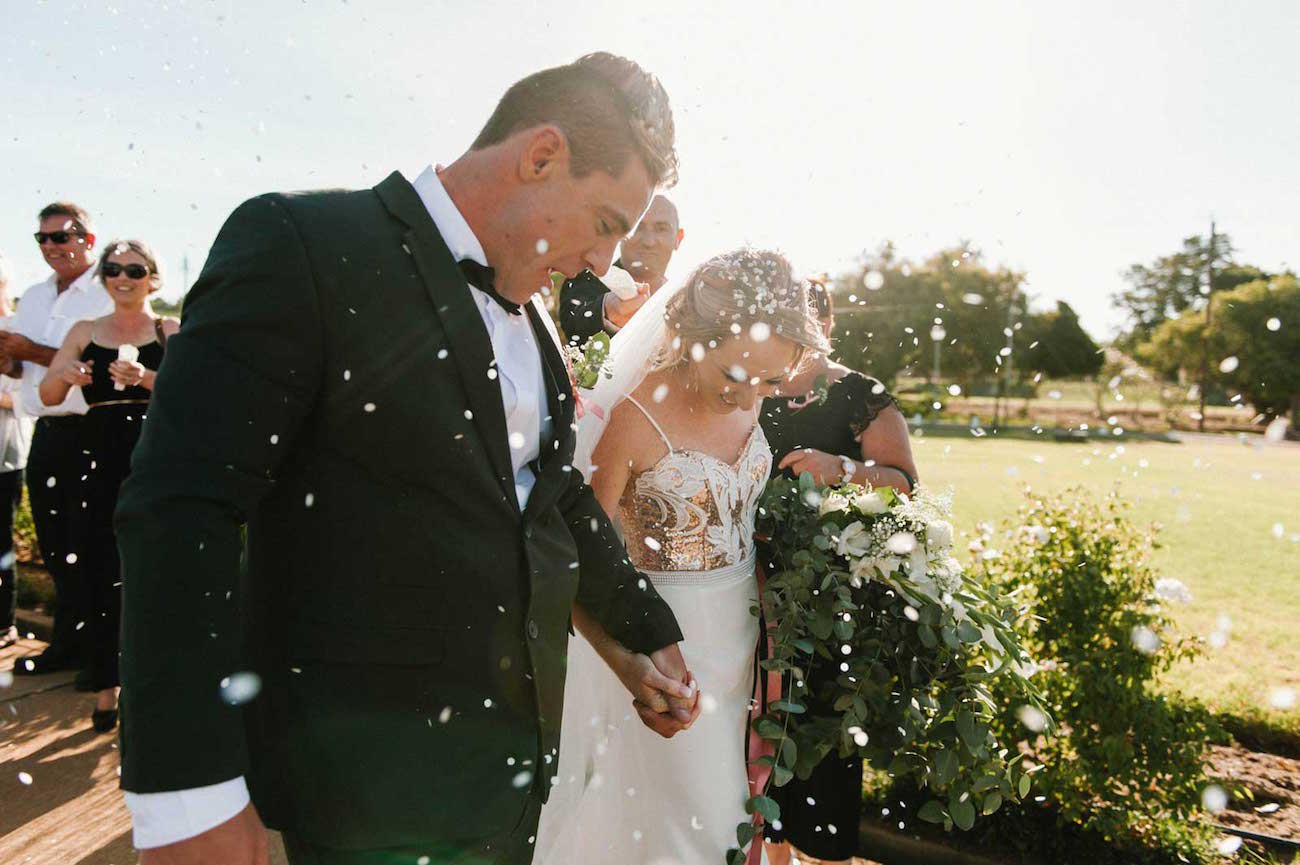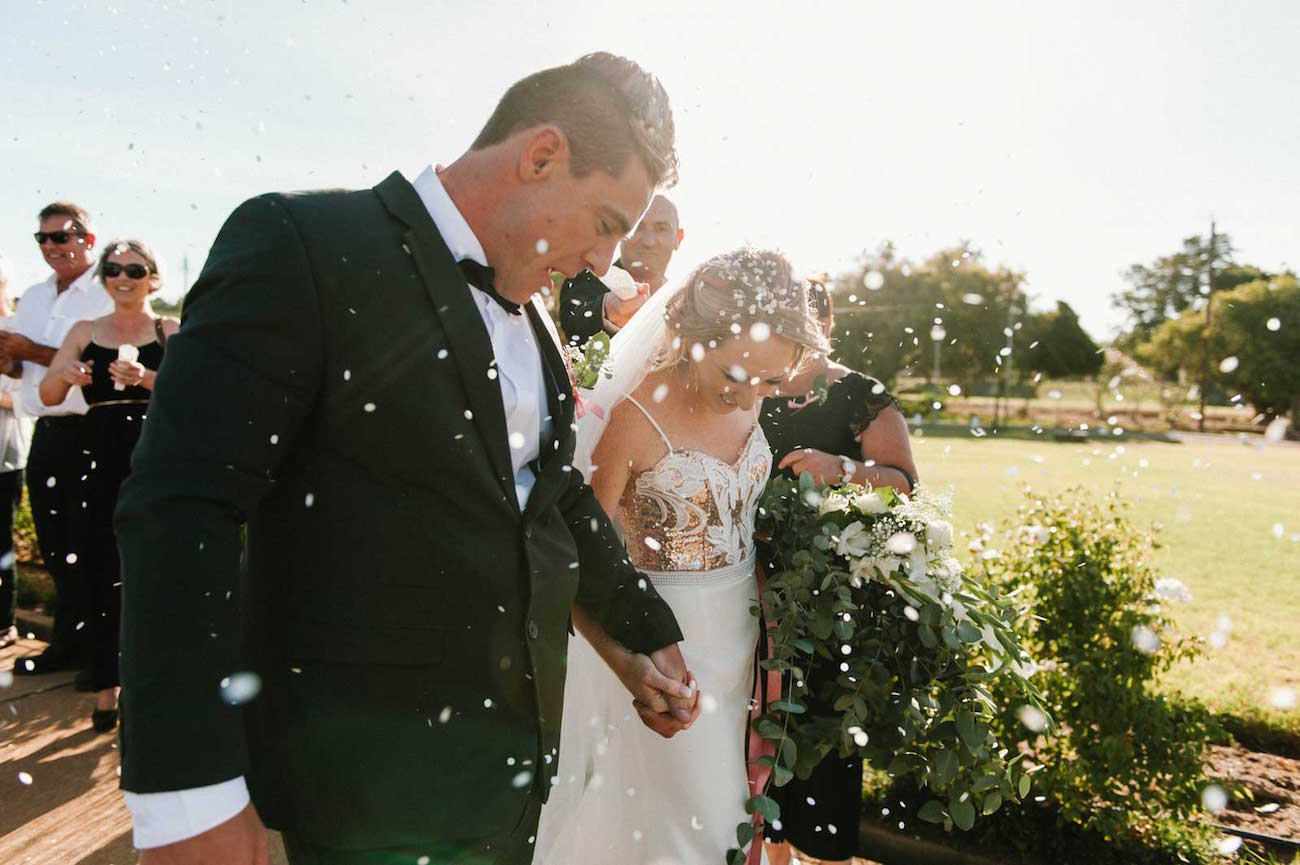 DIY Elements
My bouquet and bridesmaids' bouquets and the boutonnieres were all handmade at home. The beautiful wooden arch behind our table with the naked bulbs and the wooden seating plan box were both handmade by my uncle. All the greenery was harvested and flower arrangements were done personally by friends and family members who all came to help. We also handmade the confetti cups from doilies.
The Flowers
Greenery was the look we were going for with a touch of white flowers here and there. We used roses, big and small chrysanthemums, baby's breath and gladiolus.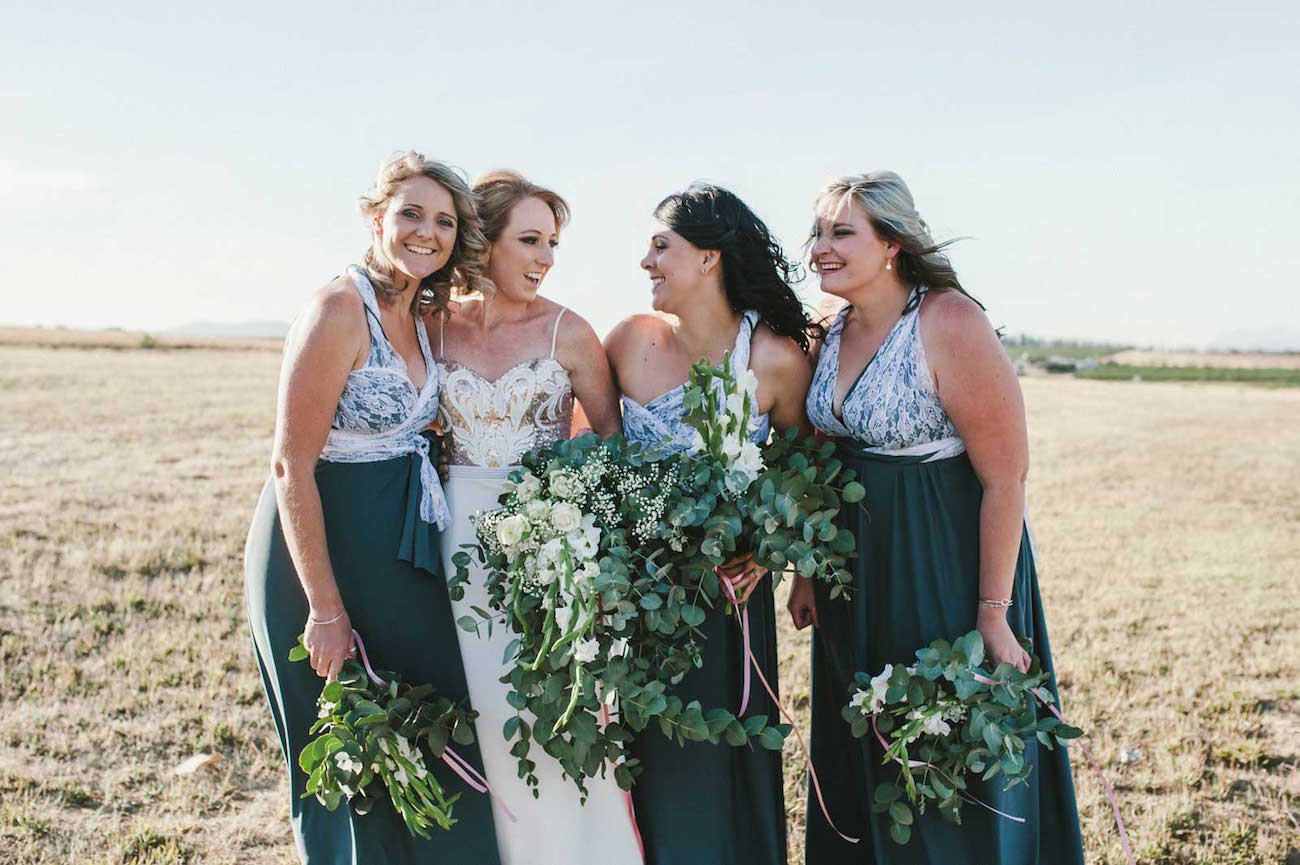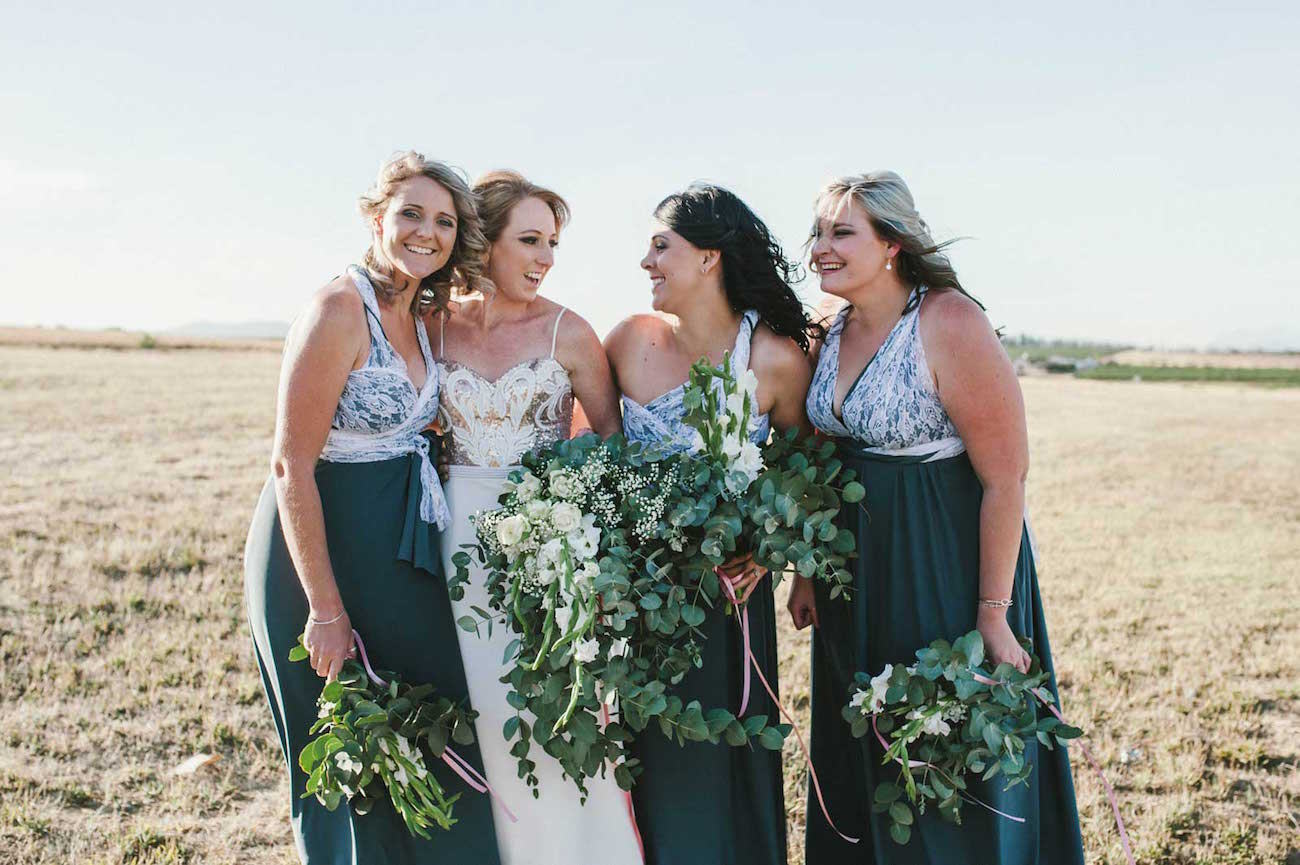 The Dress
My wedding gown was designed and made by my designer friend, Braam, from CJA Haute Couture. I met him at another friend's wedding, where he had also designed the bride's gown. My mermaid-style dress was made from scratch with beautiful rose gold sequinned bodice, covered with lace details and then plain down to the floor.
The Bridesmaids
I had three bridesmaids and I told them they could decide what they would feel pretty and comfortable in. They chose infinity dresses which looked beautiful! Dark grey dresses with lace covering the top part of the dresses.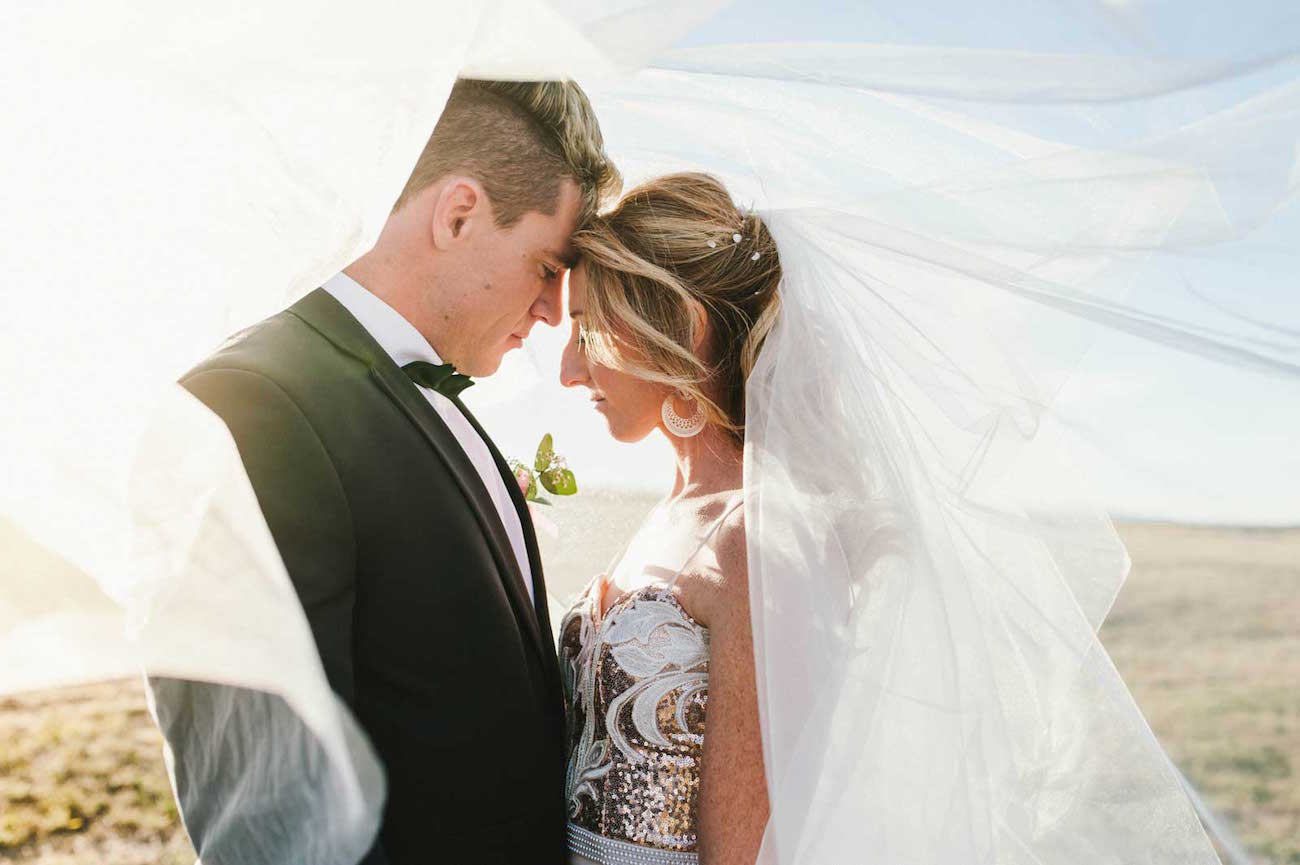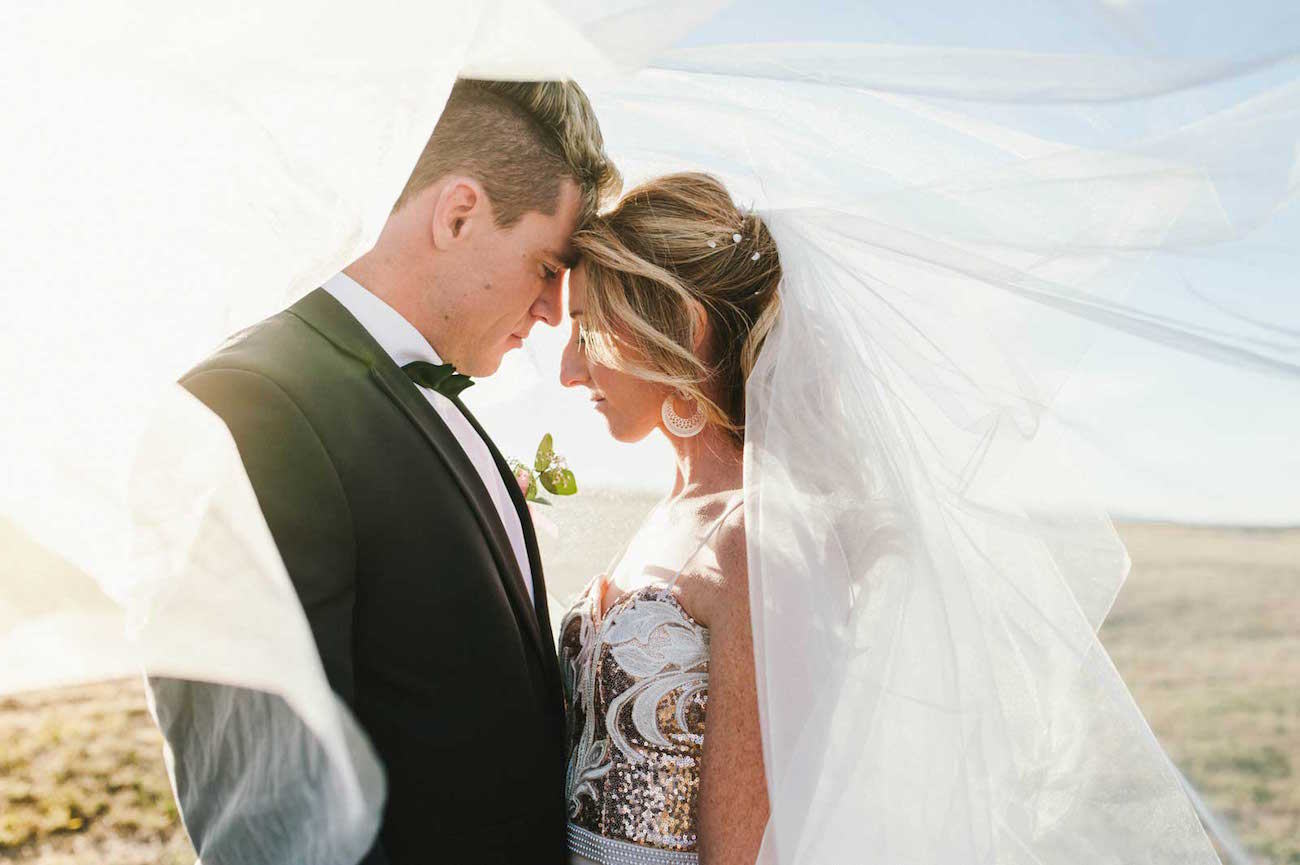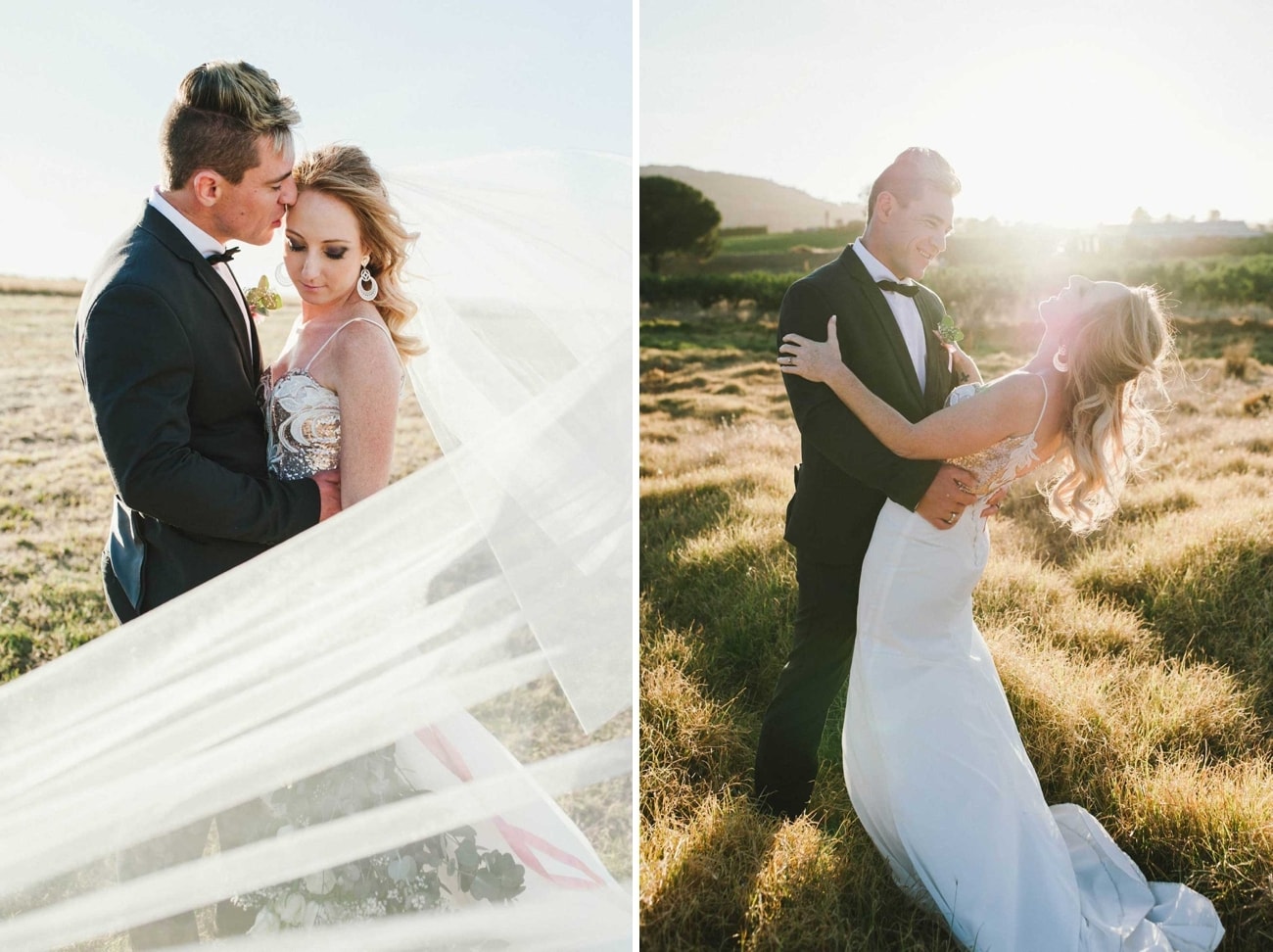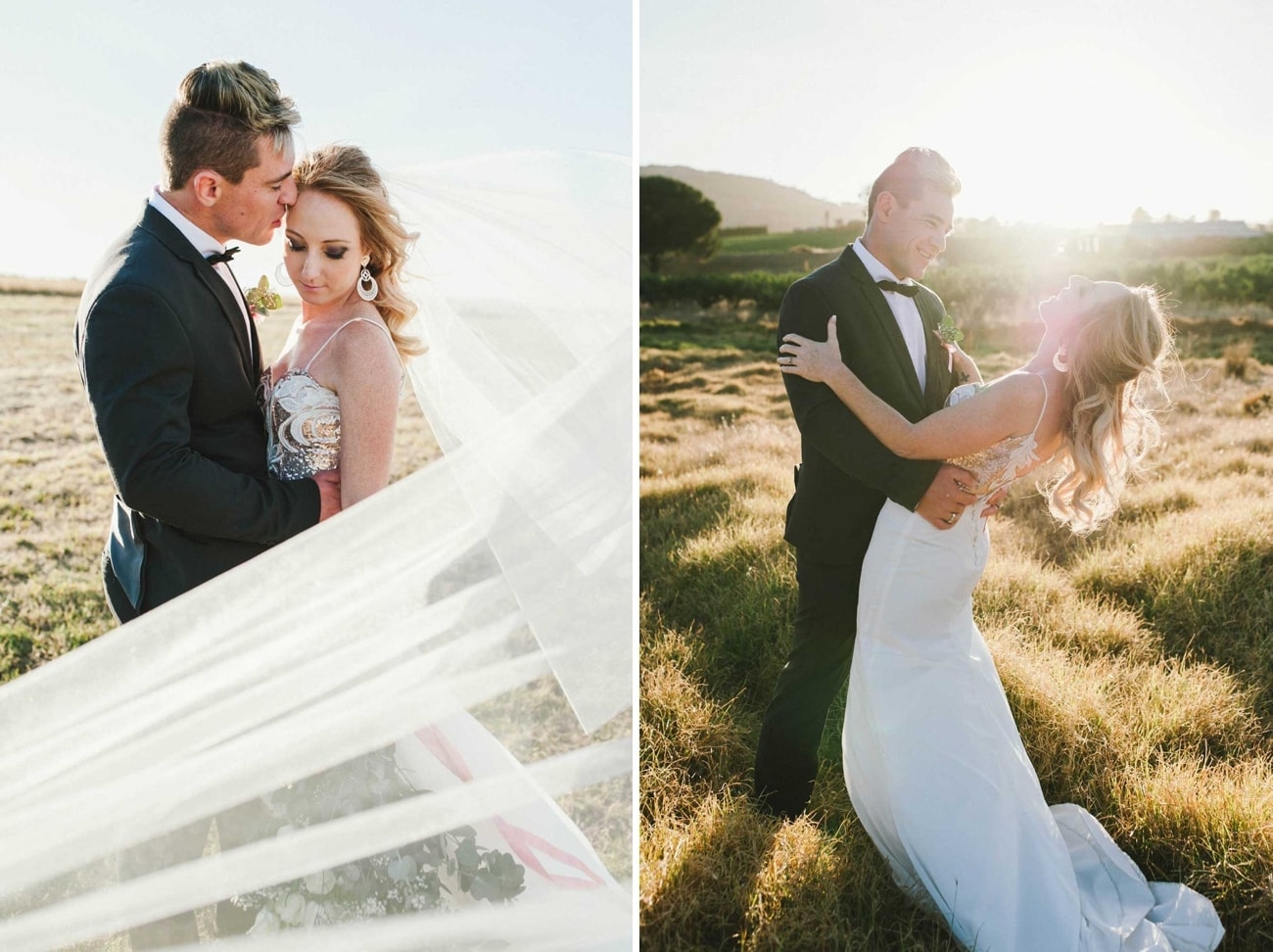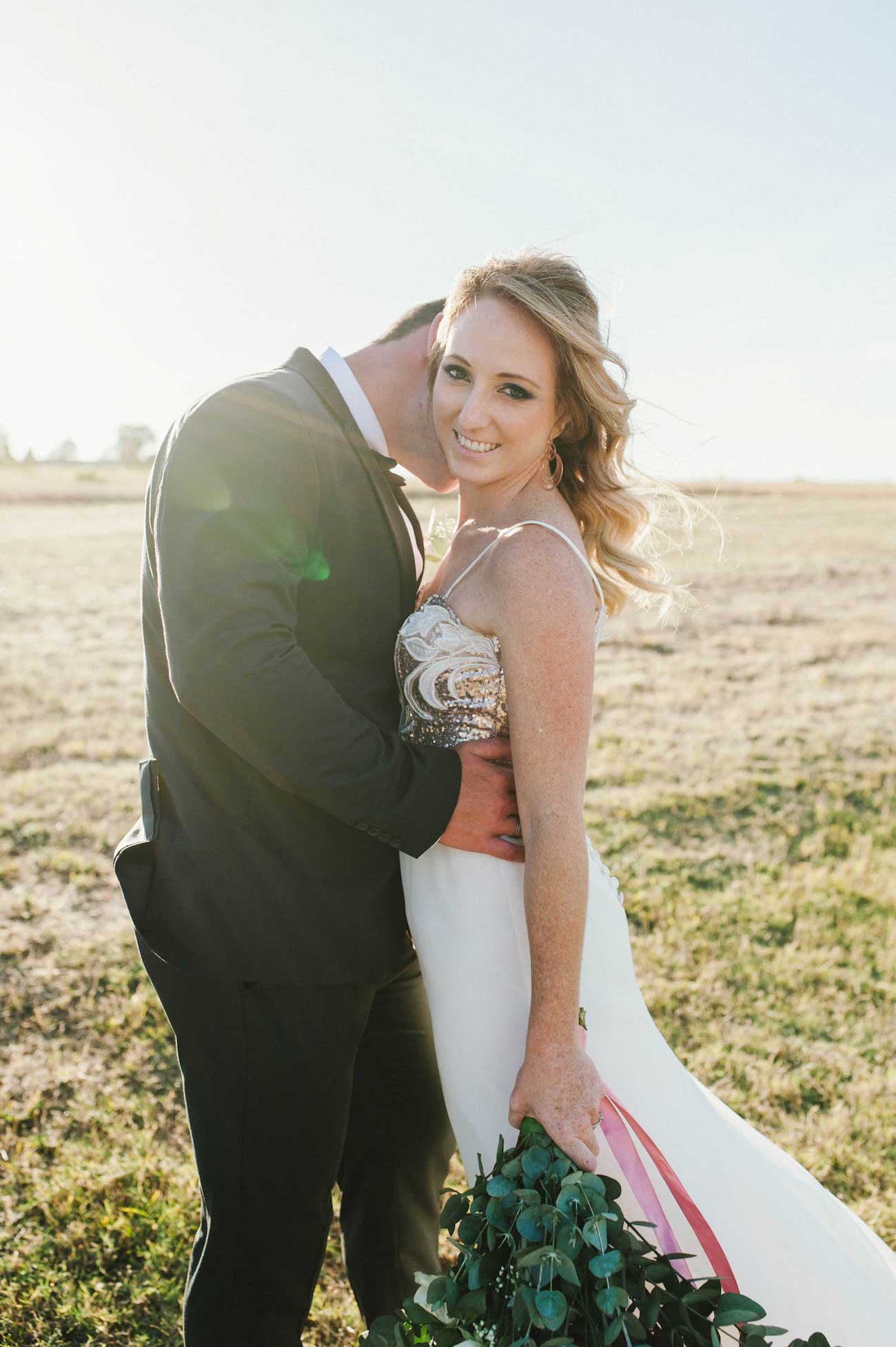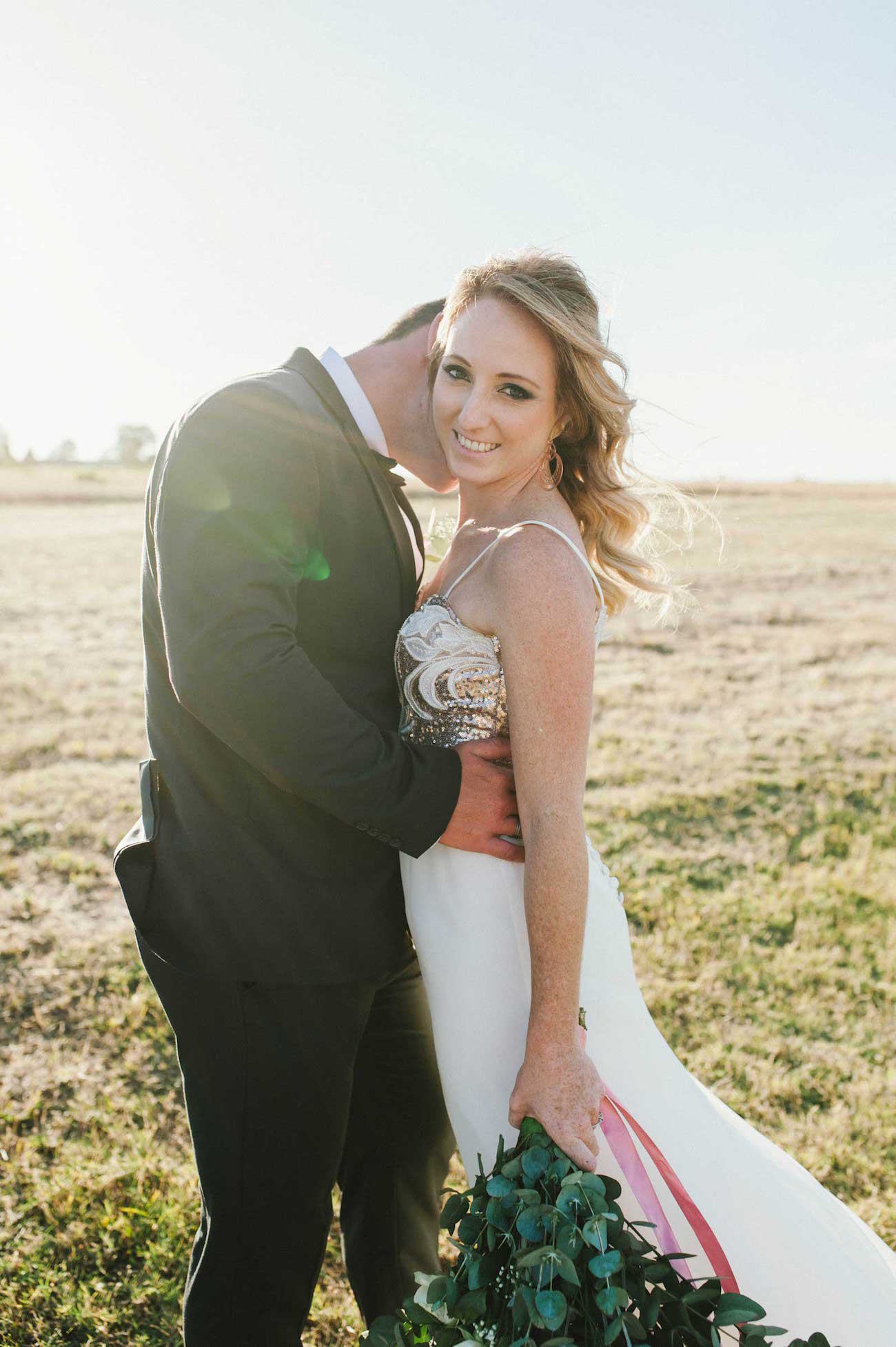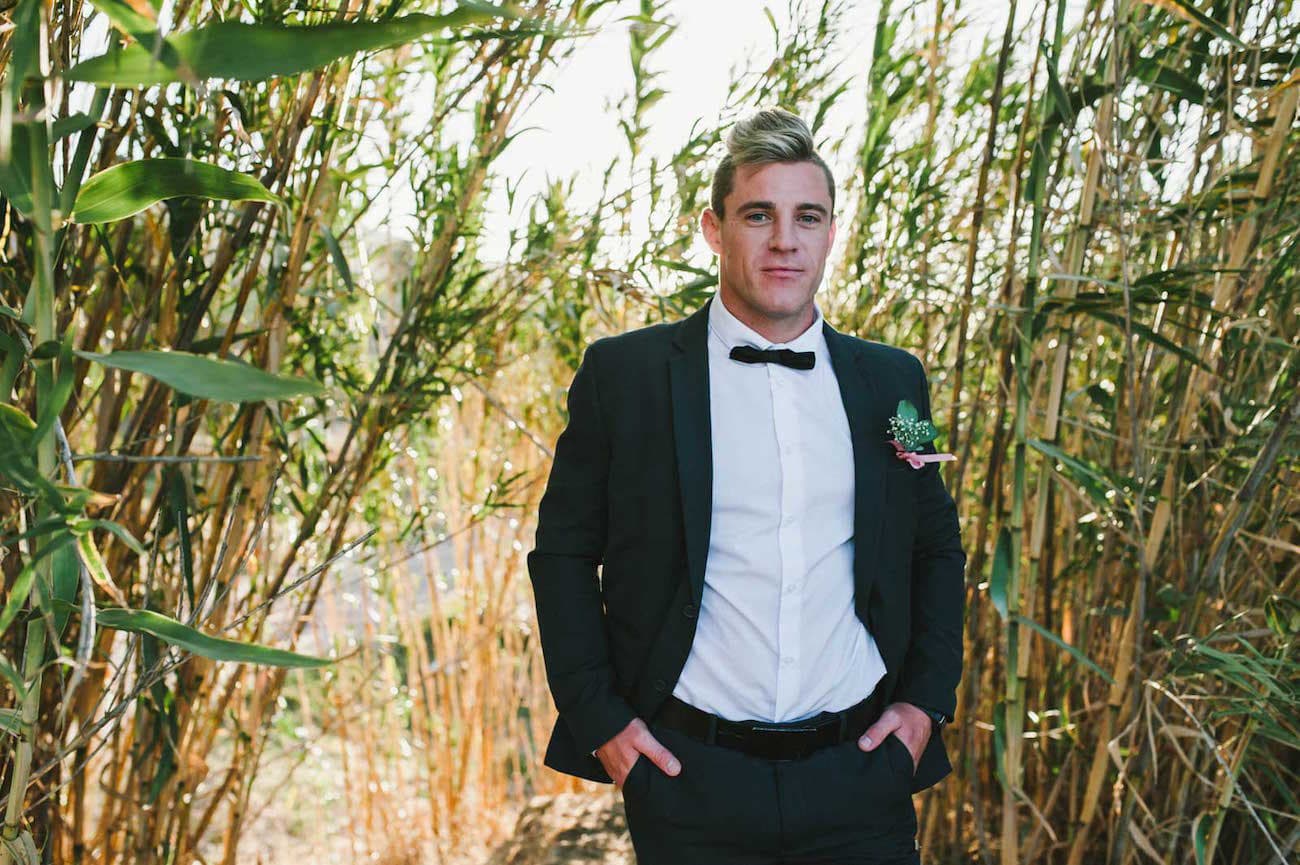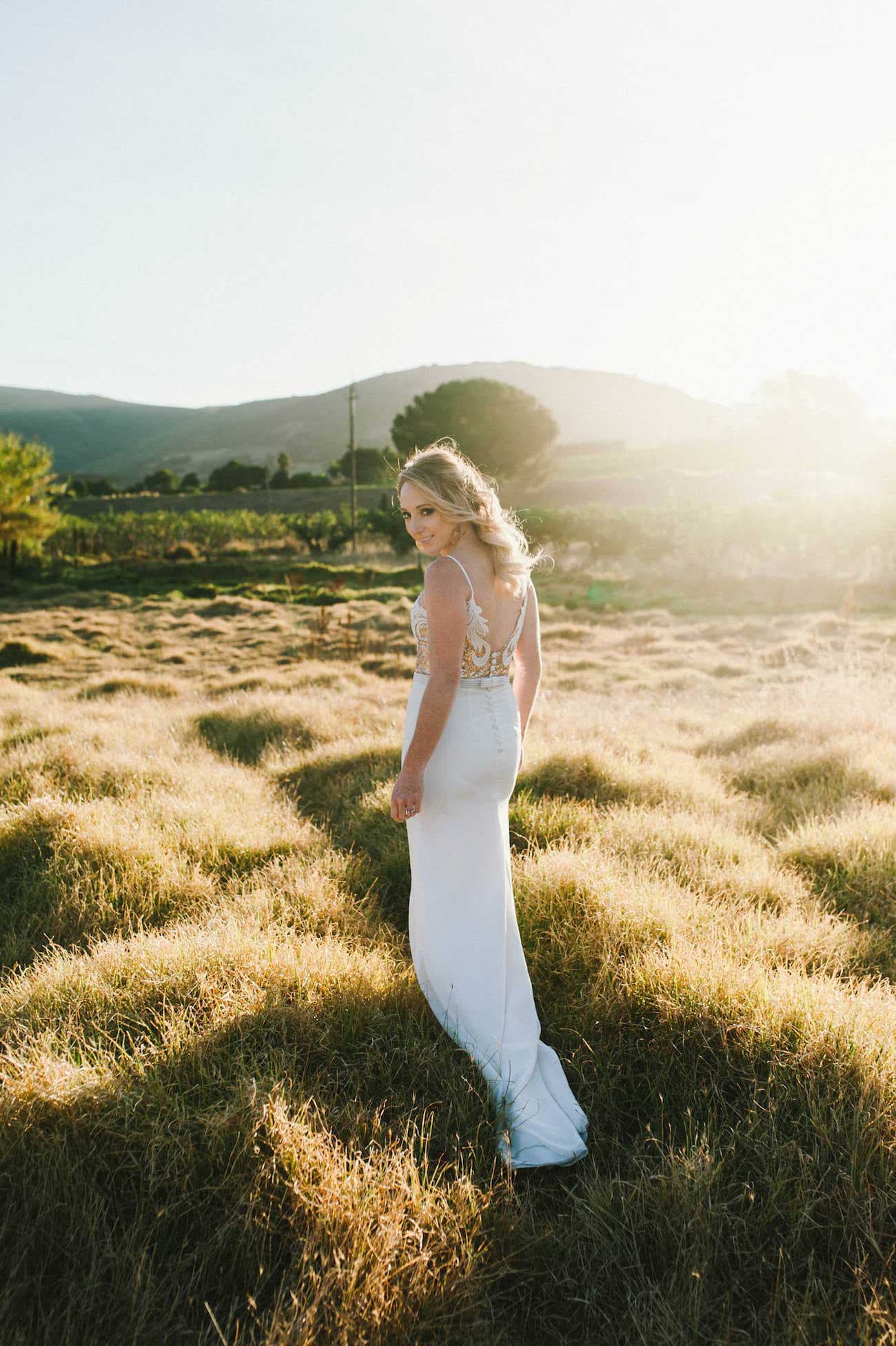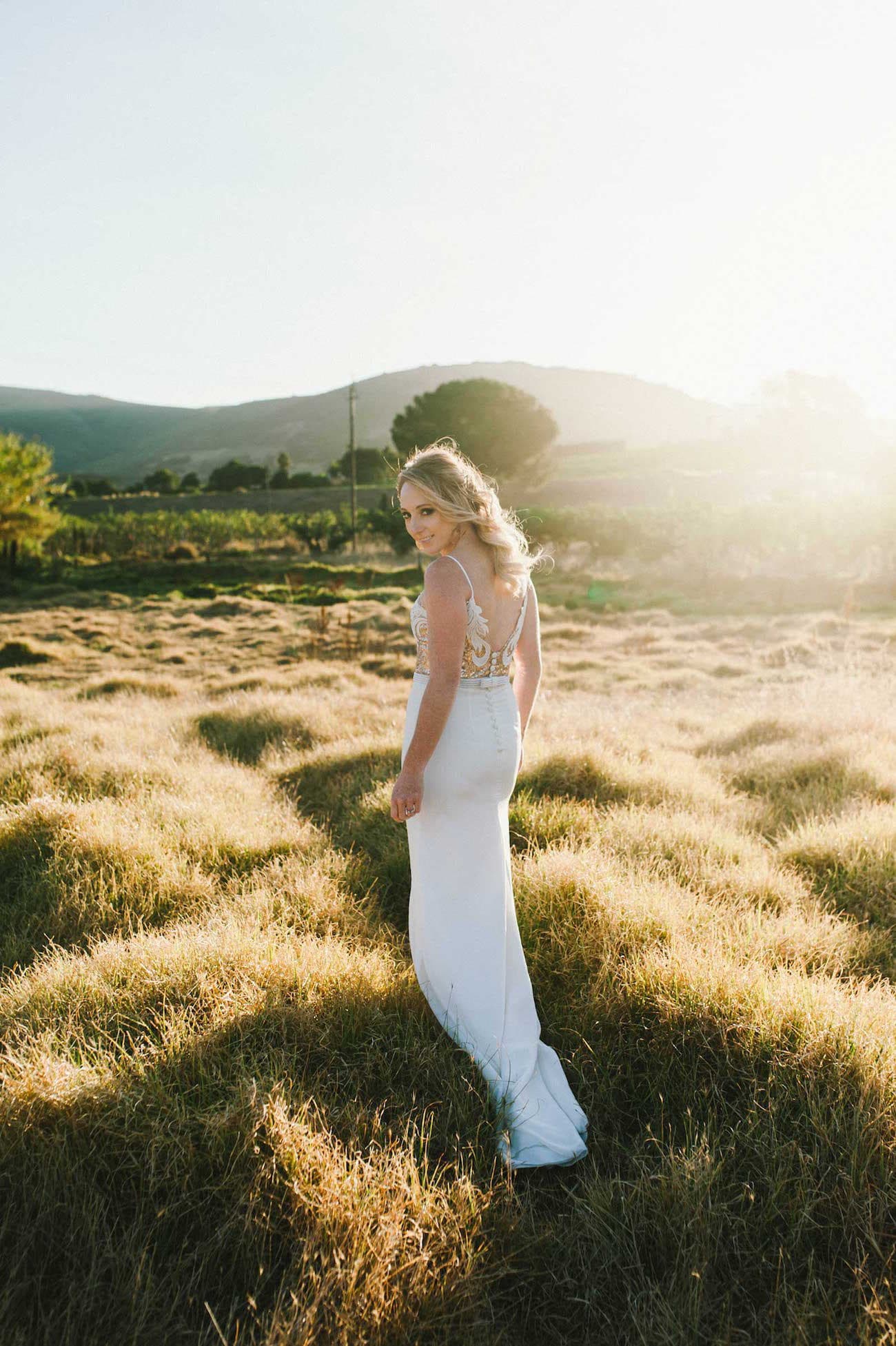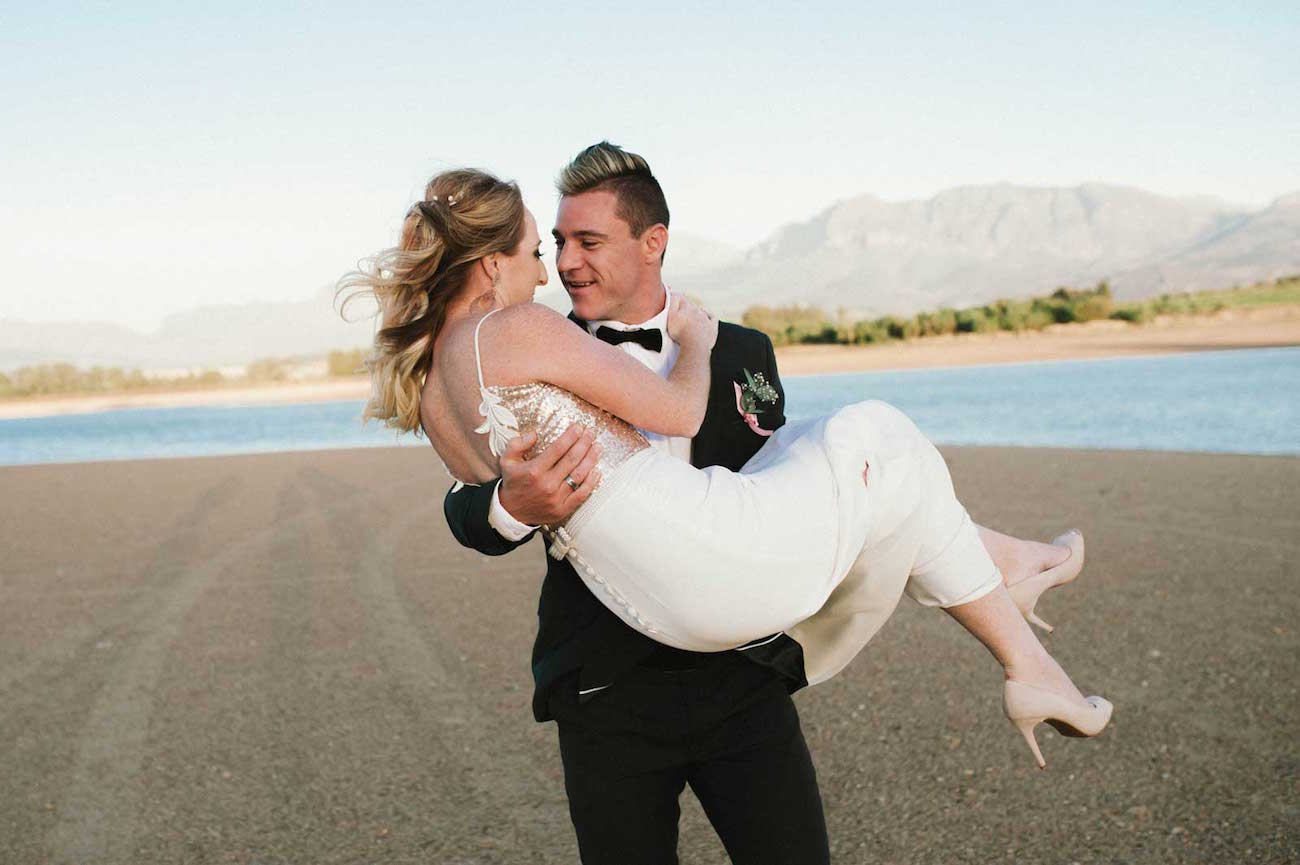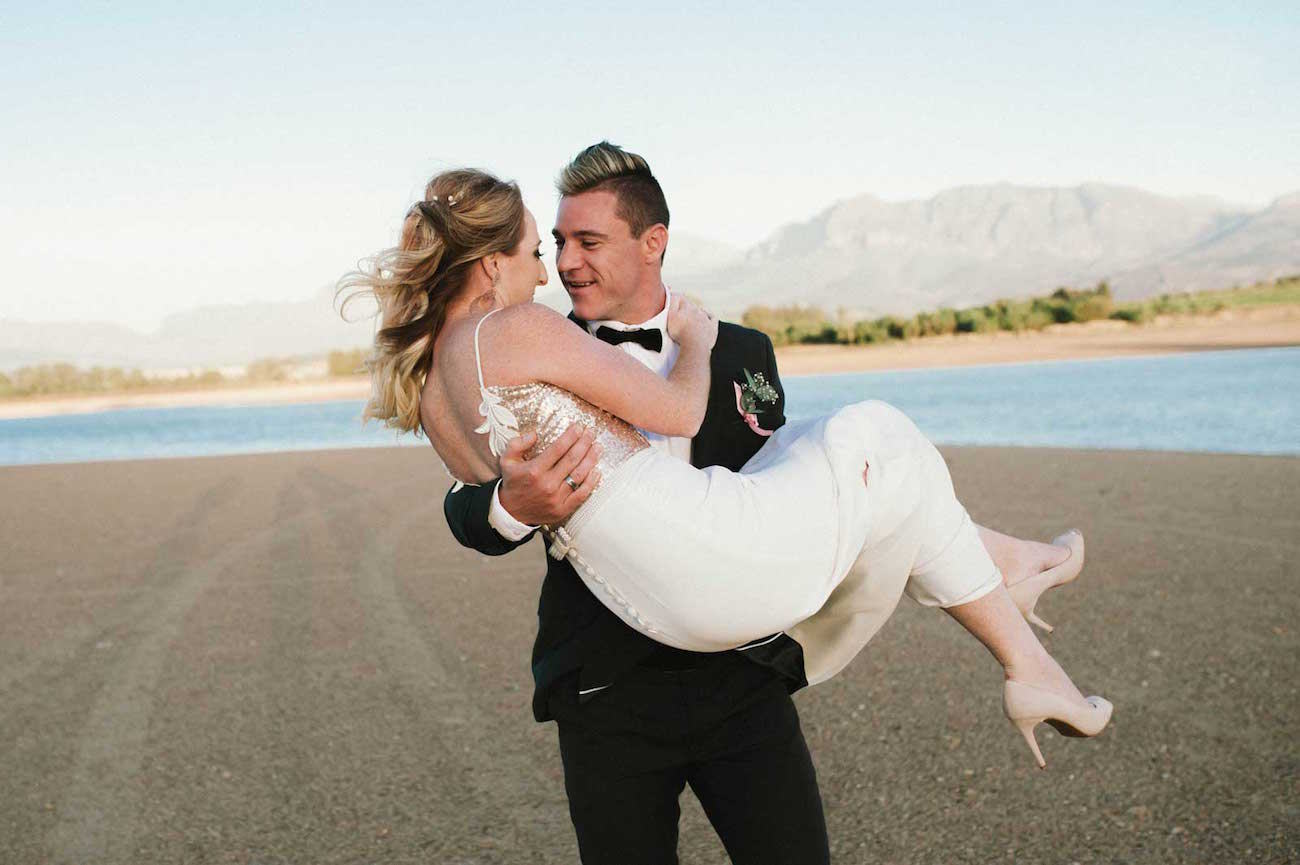 Memorable Moments
The whole day went by so fast and every moment was so special, but I remember walking down the aisle with my dad and holding onto his arm, and then seeing Bob looking at me with tears in his eyes. It was such a beautiful moment and I will always keep it in my heart.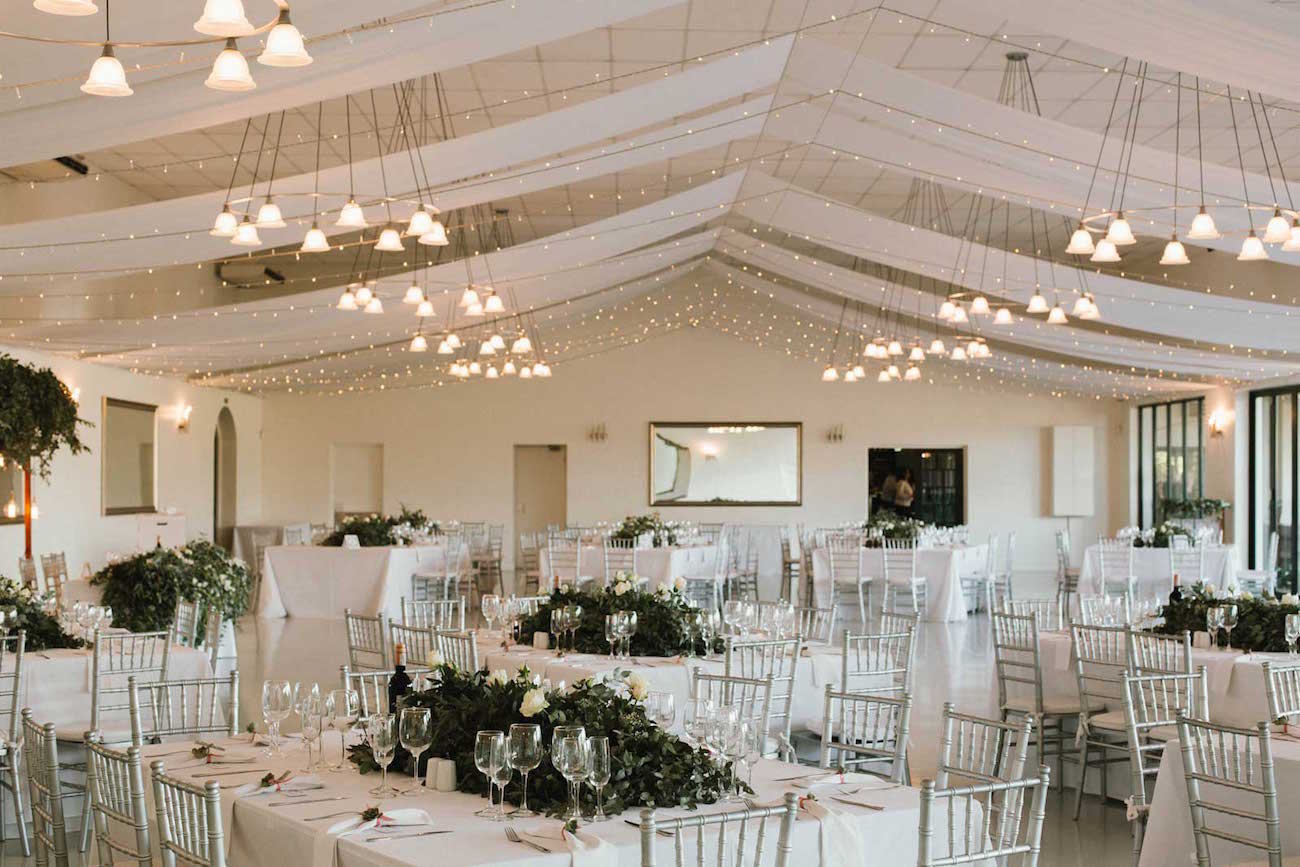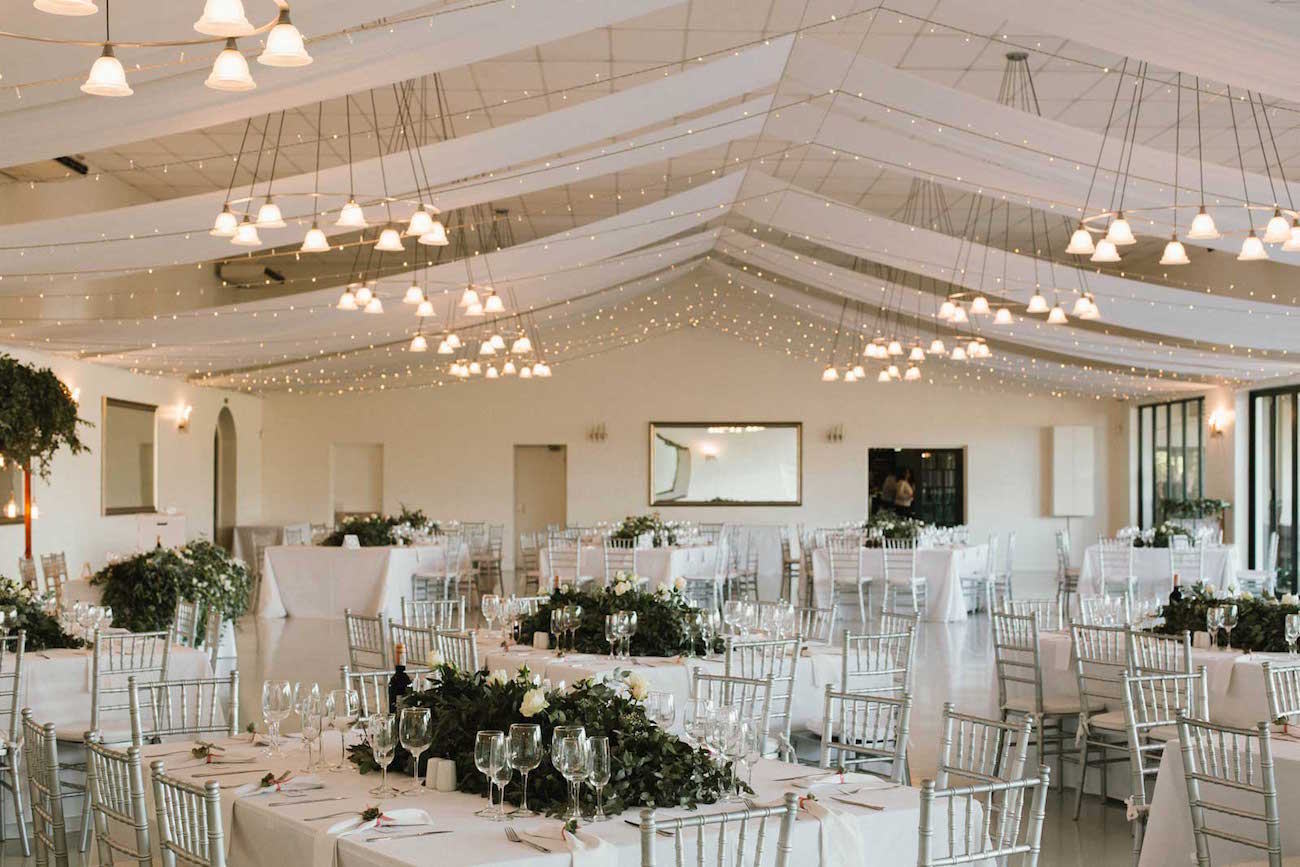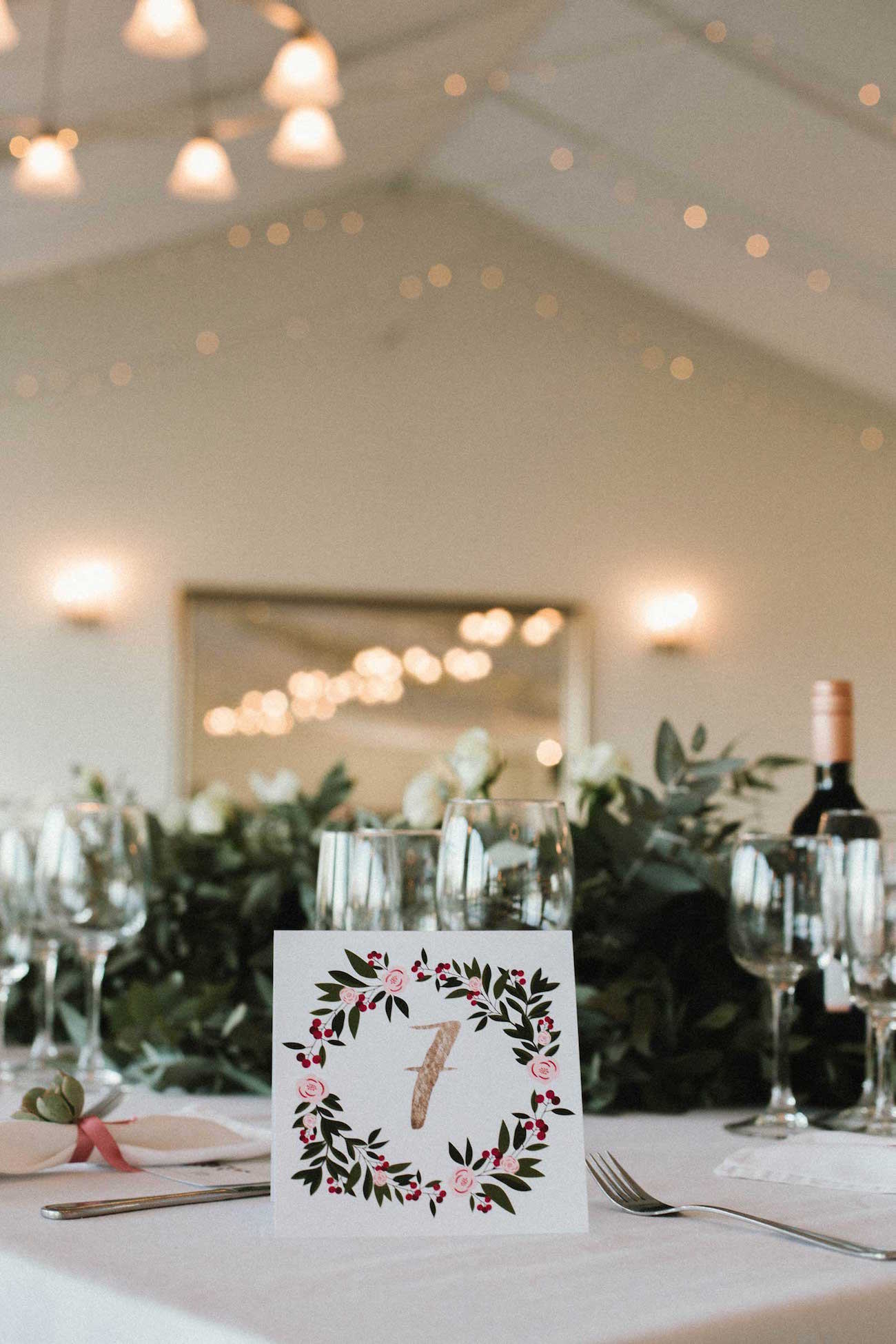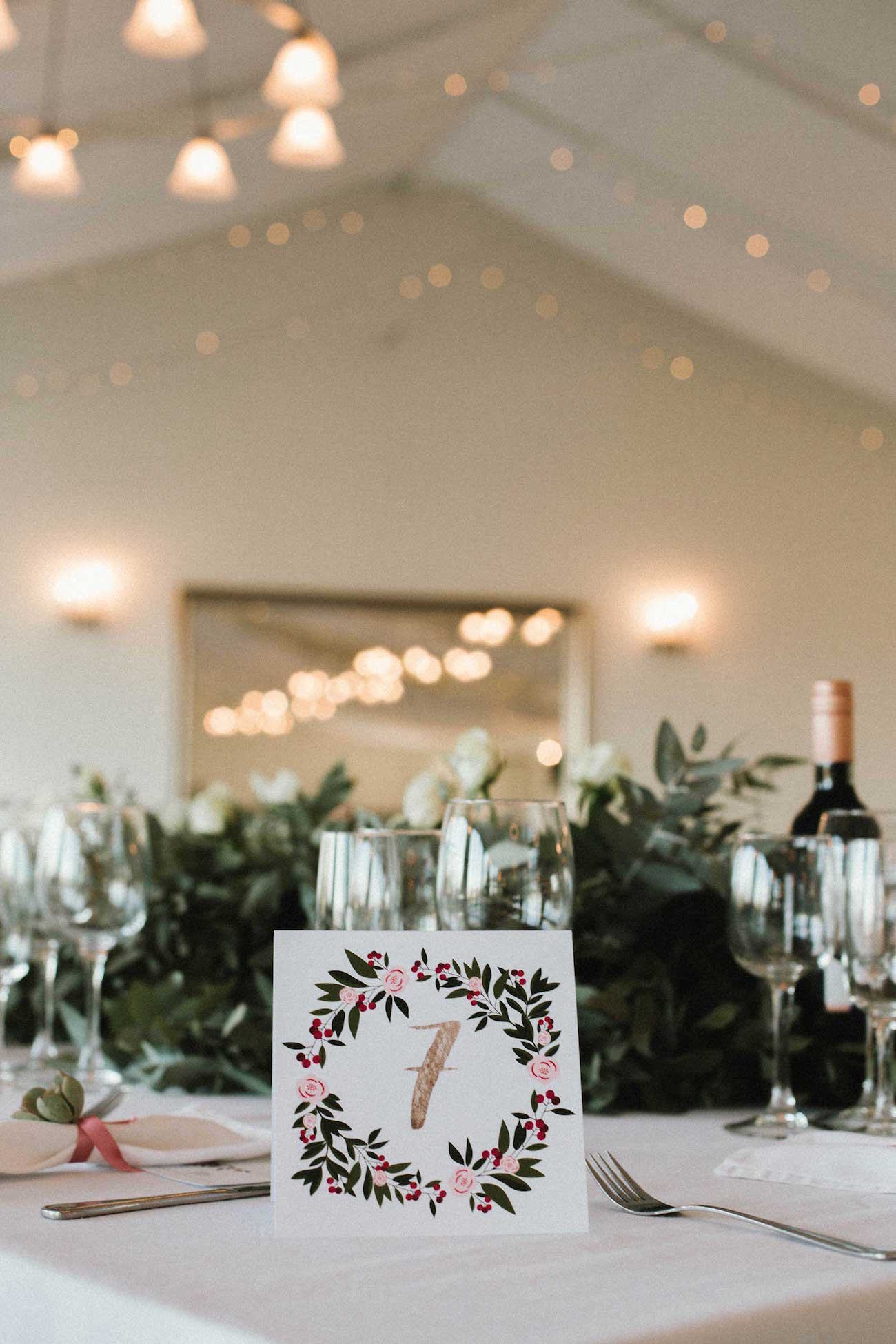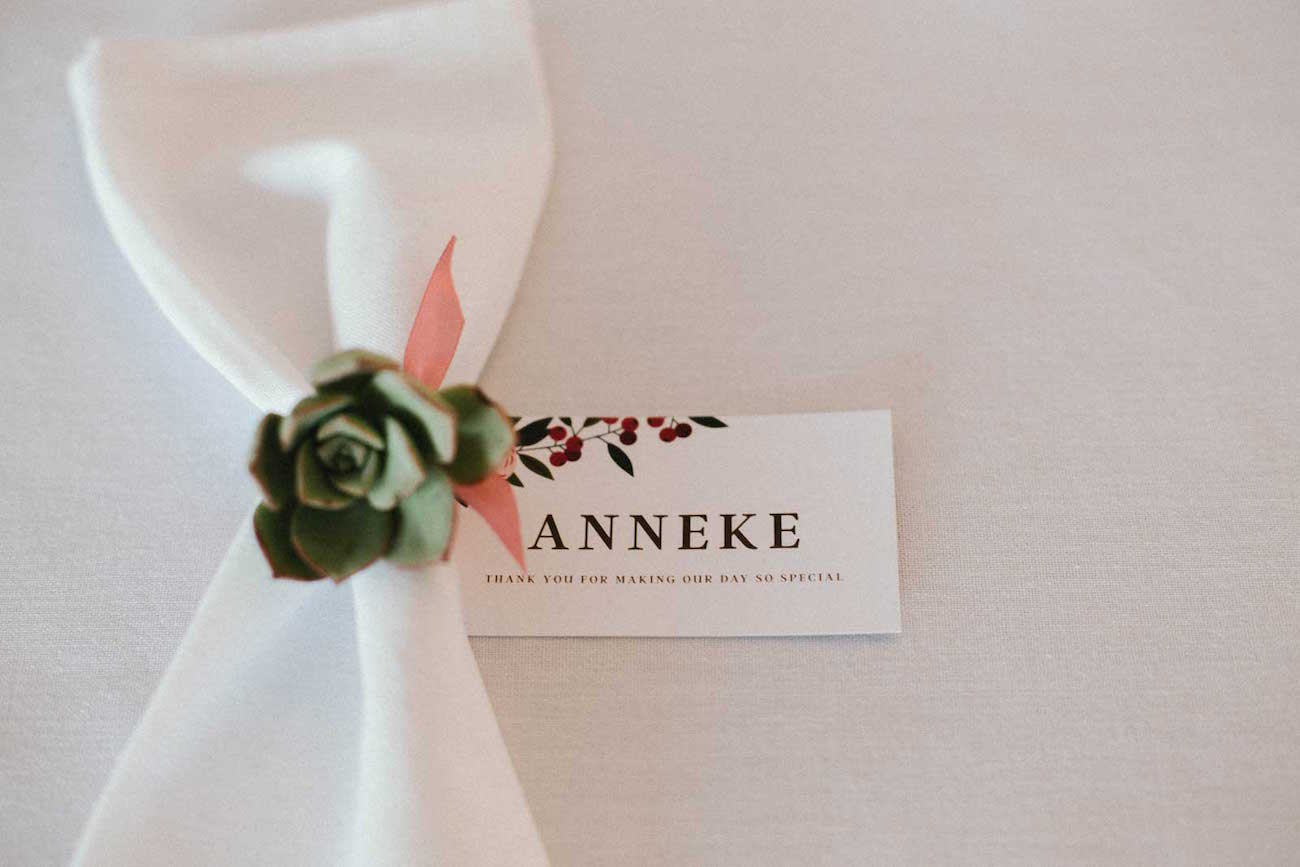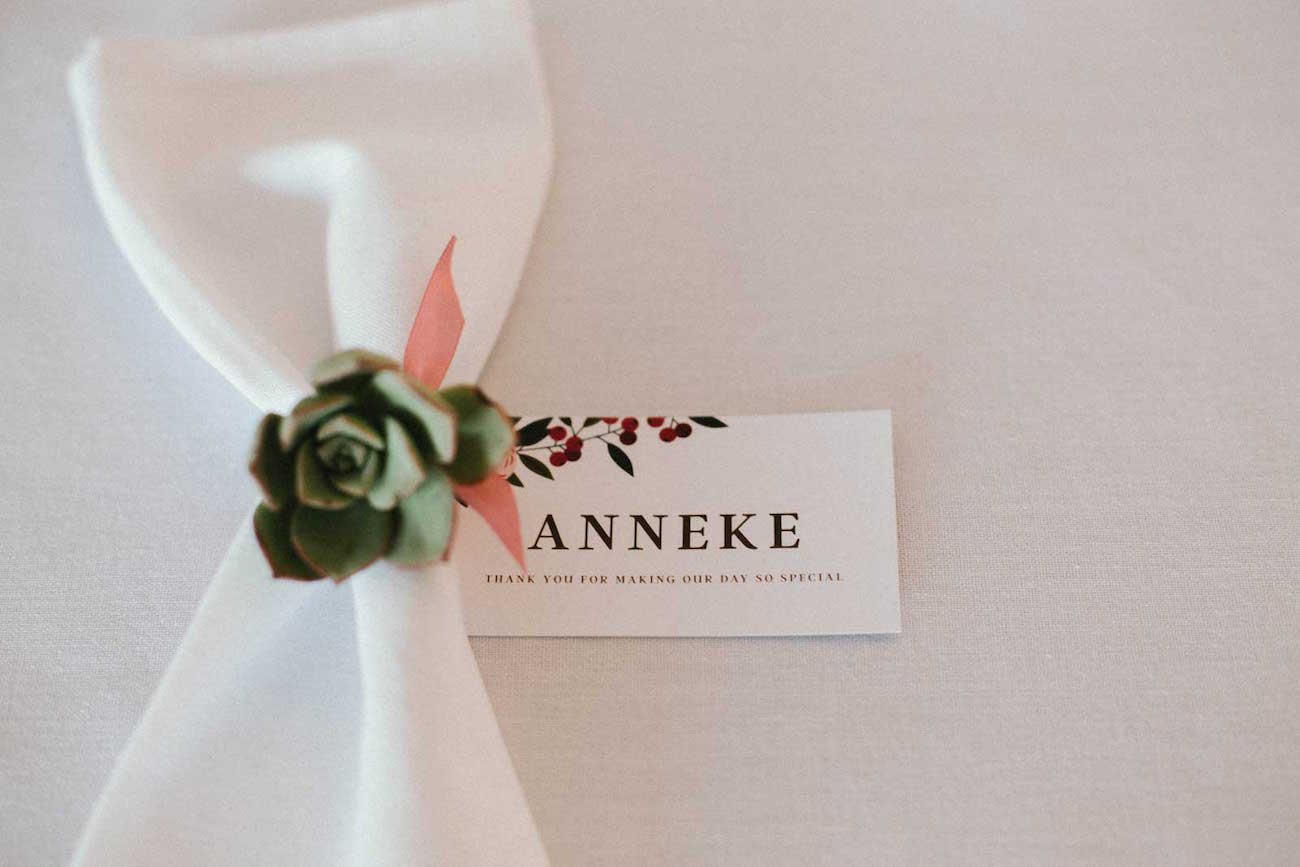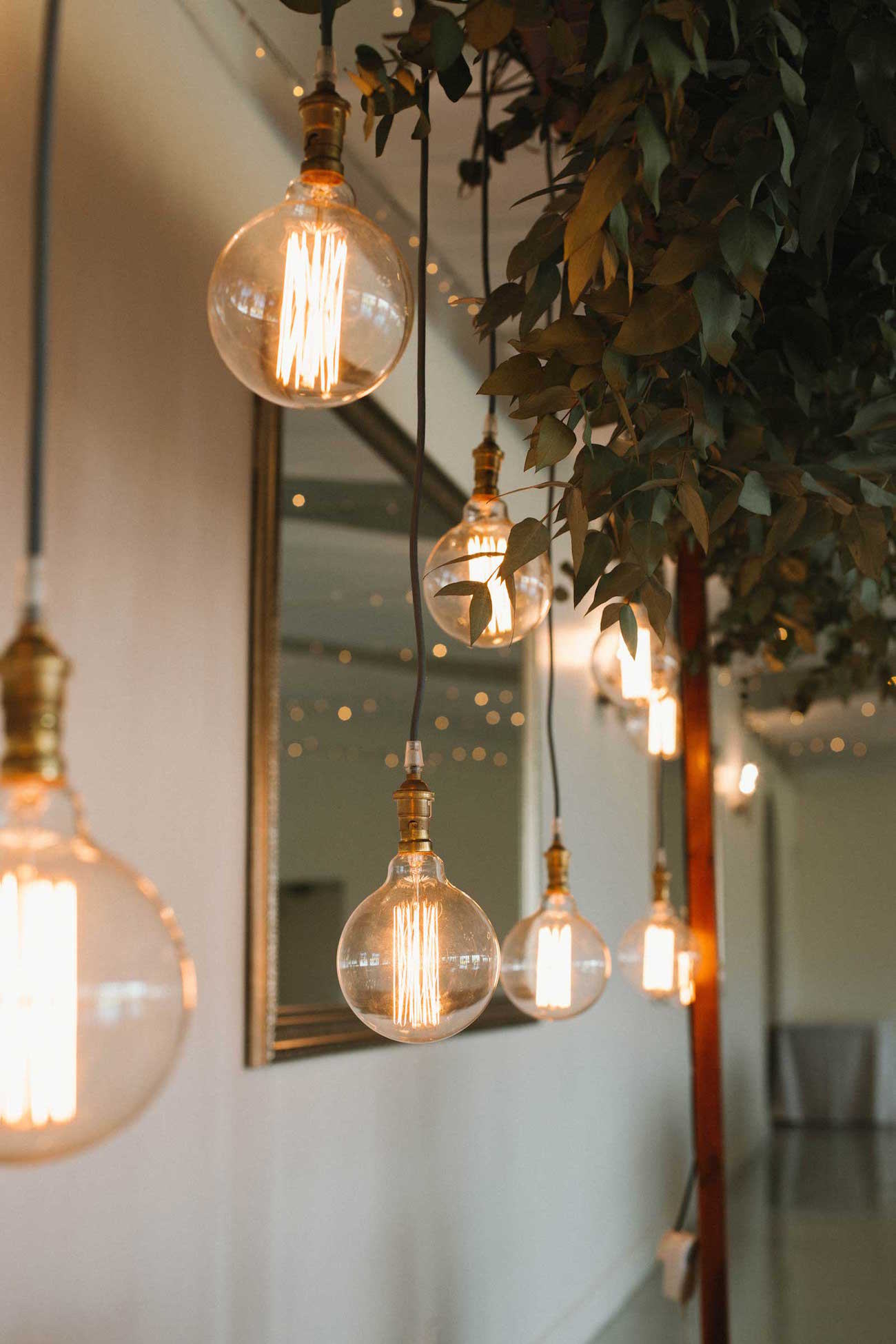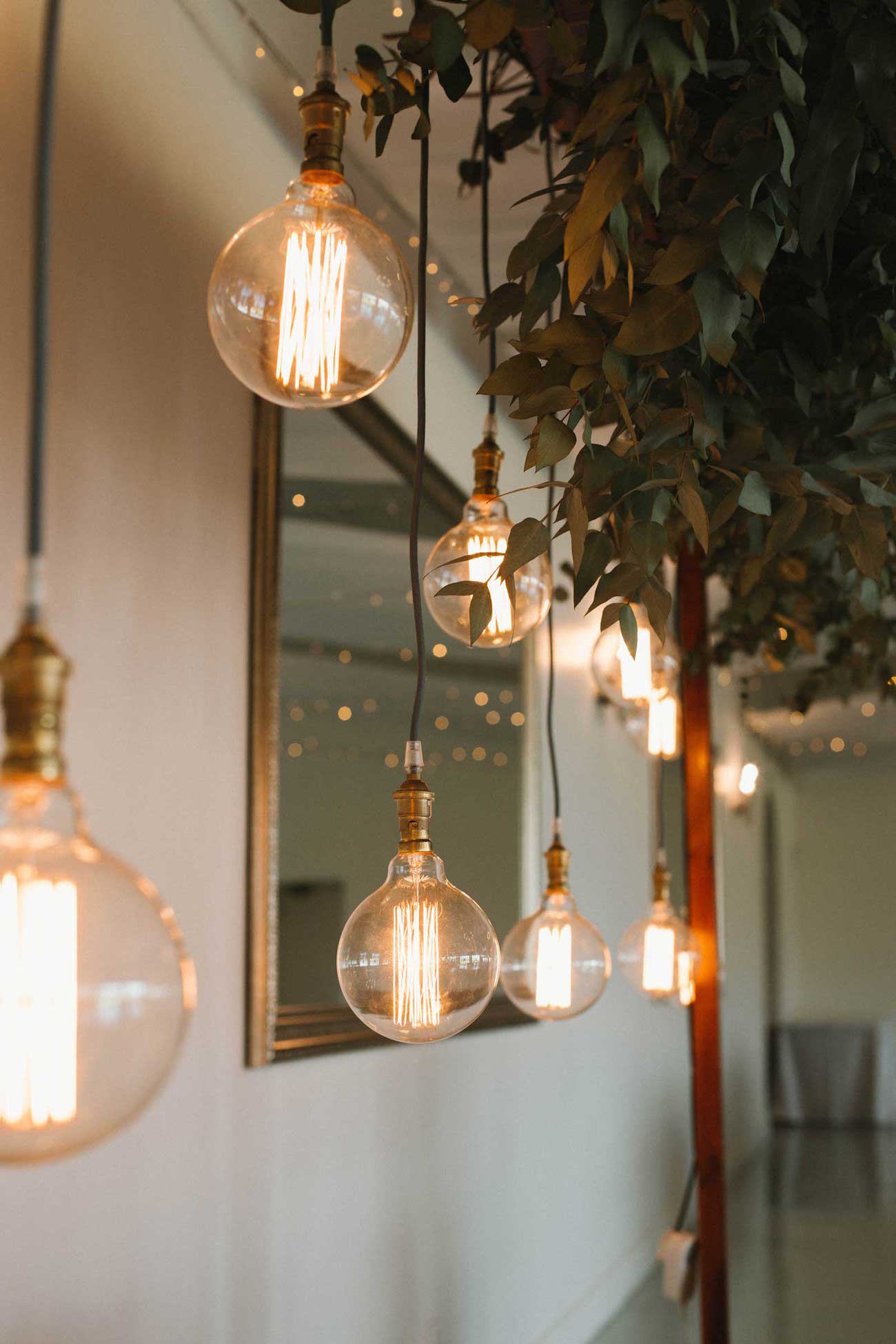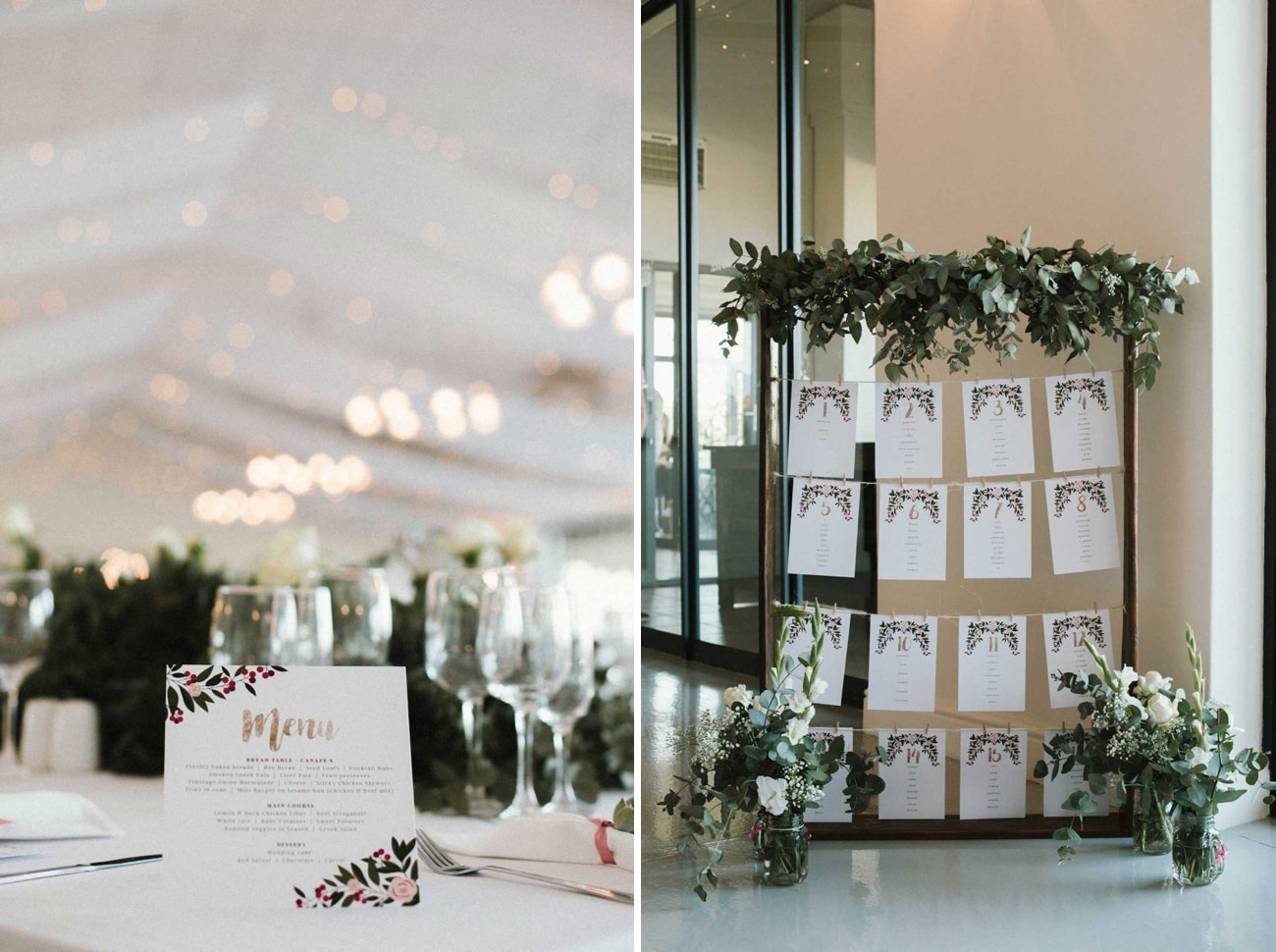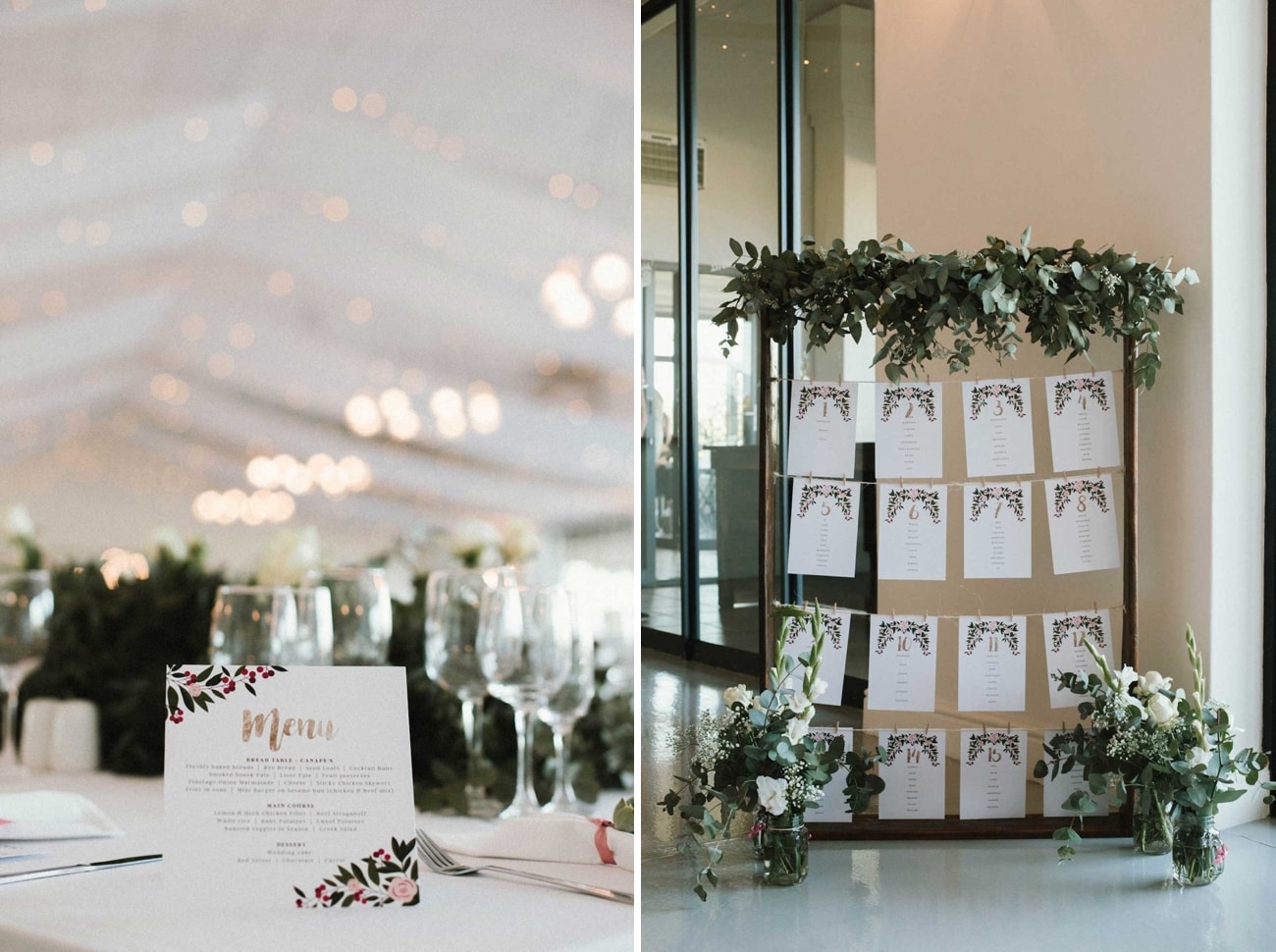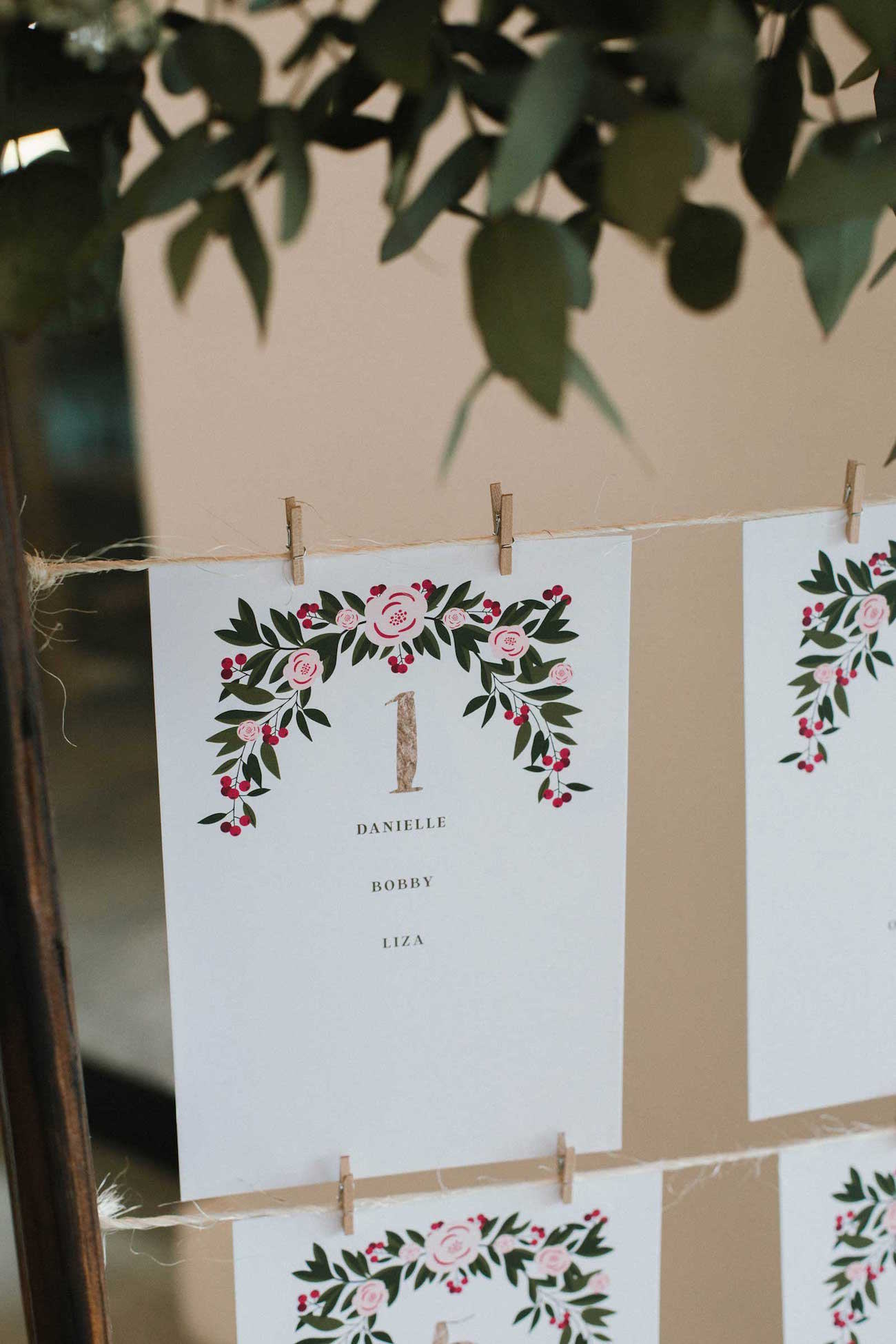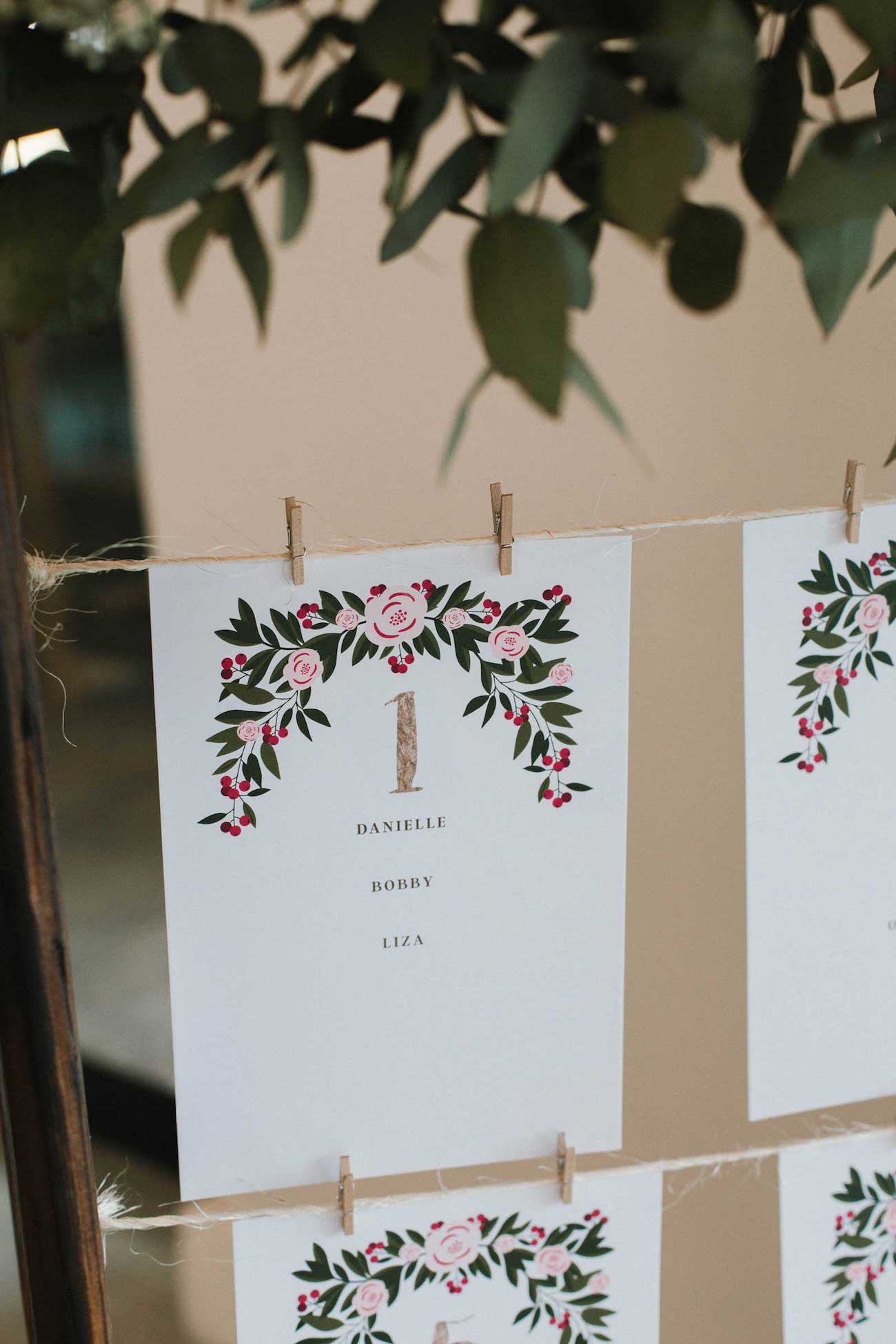 Best Decision
I think the best decision was to get married within one month and not having to wait months and months for it to happen. This created a lot of excitement and stress, but it was such an amazing time filled with loads of happy and everlasting memories!
Advice for Future Brides & Grooms
Don't wait too long, get it done! Enjoy and take in as much as you can on the day as it really goes by so fast!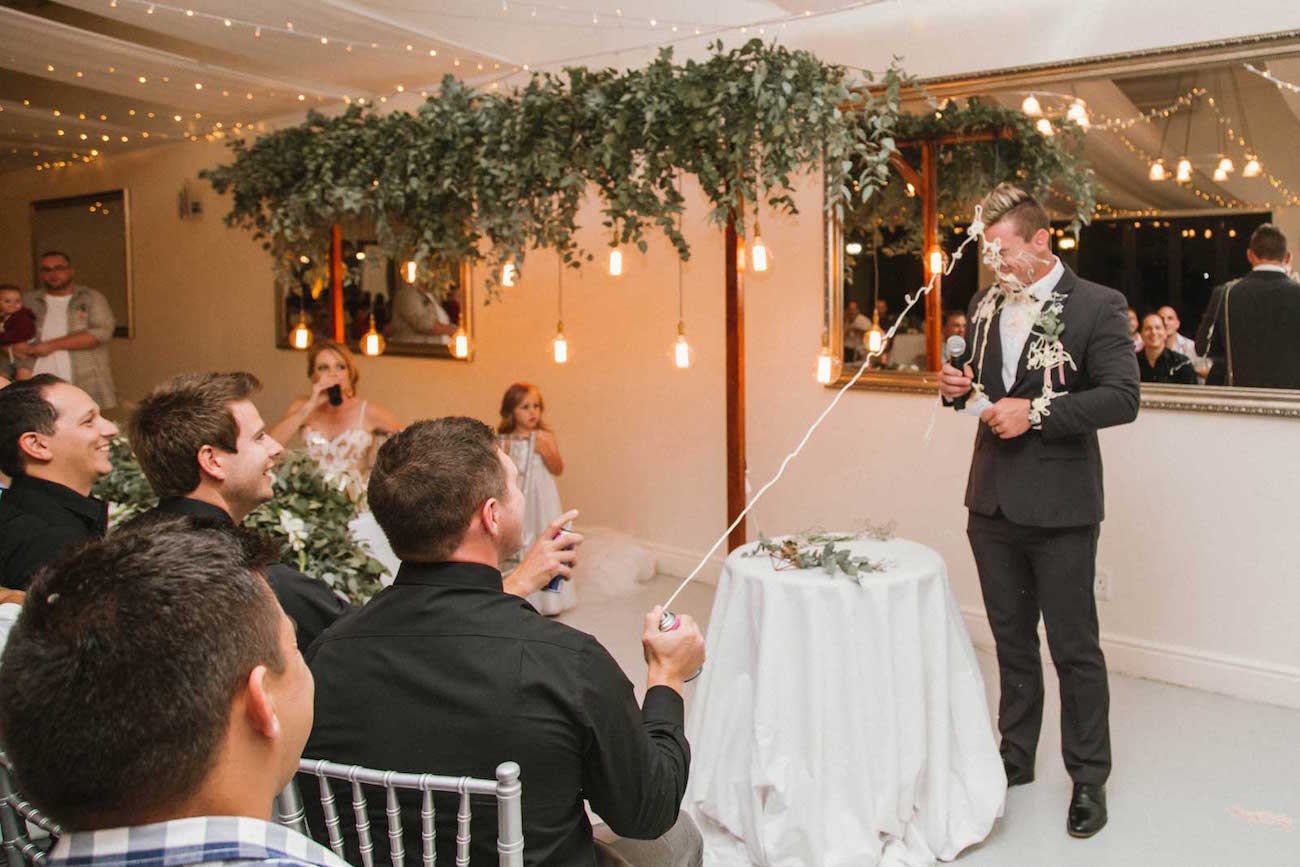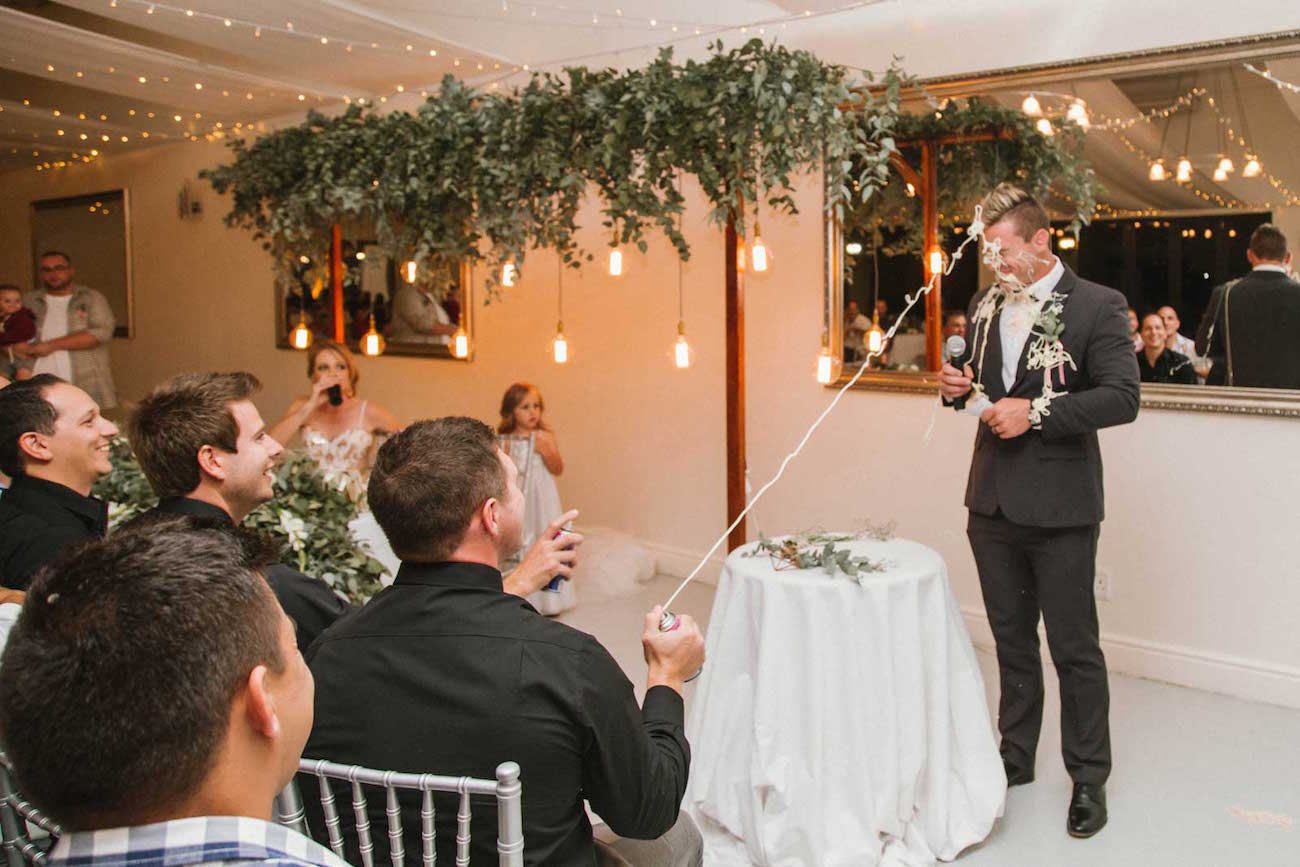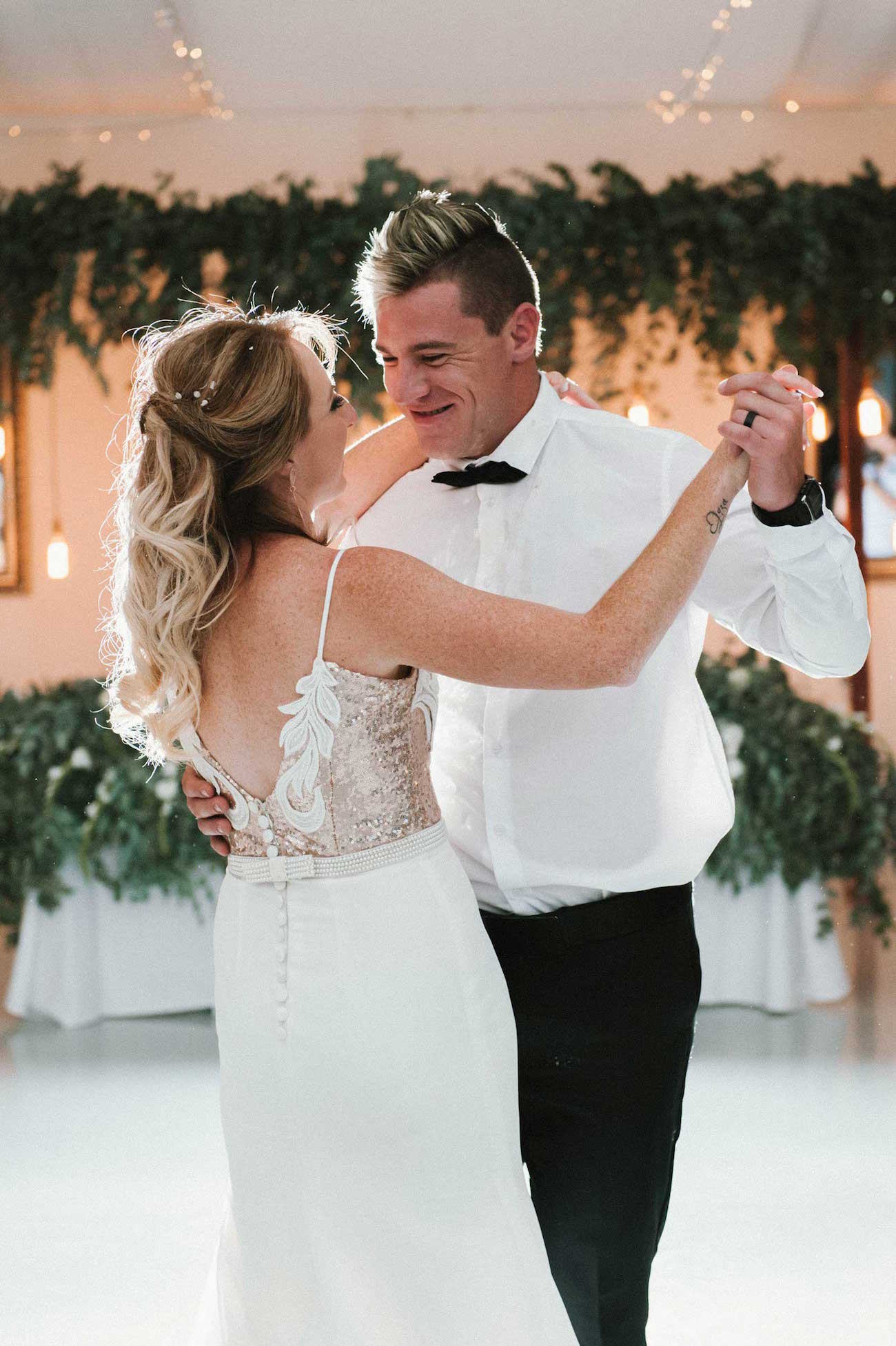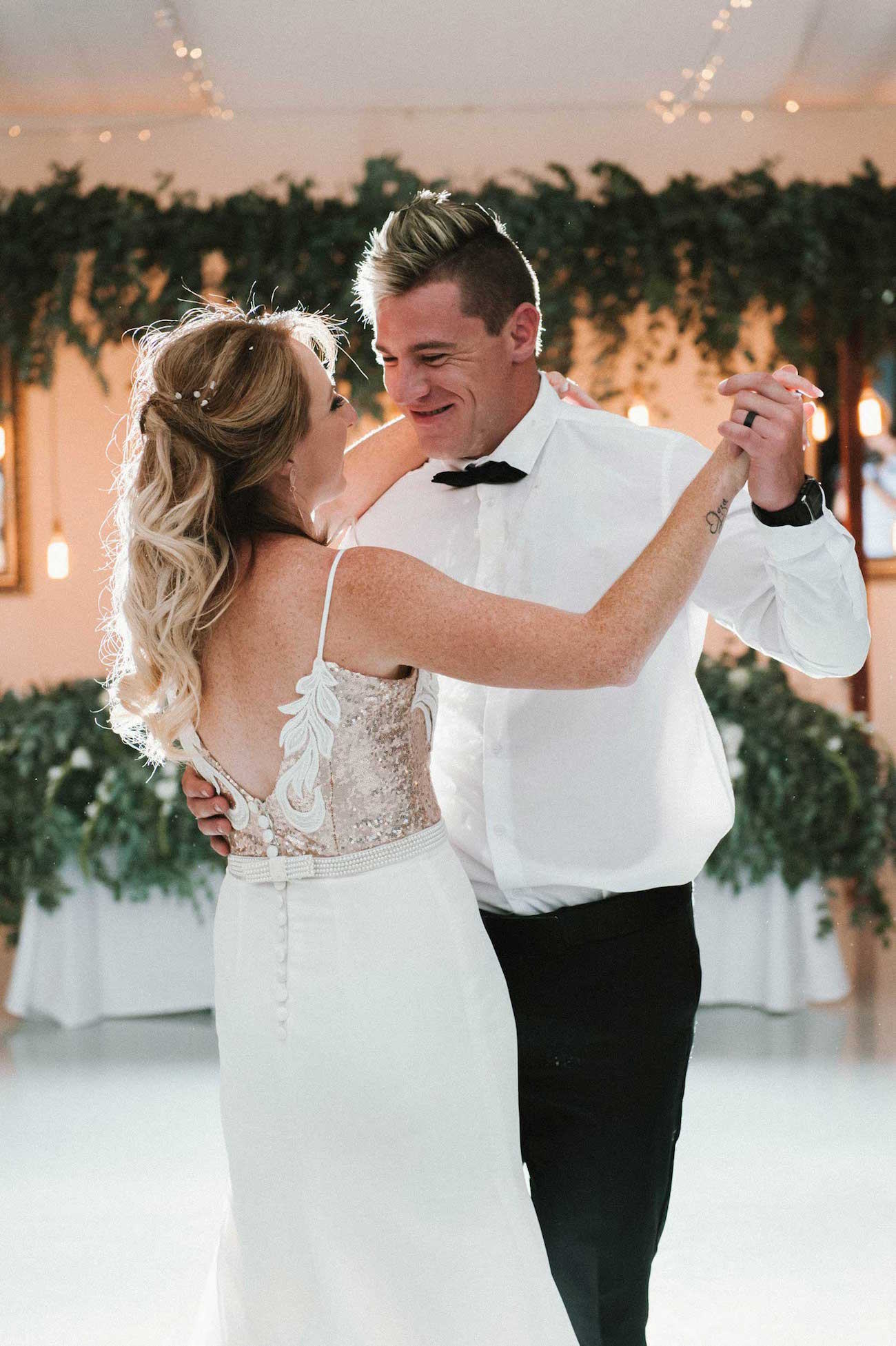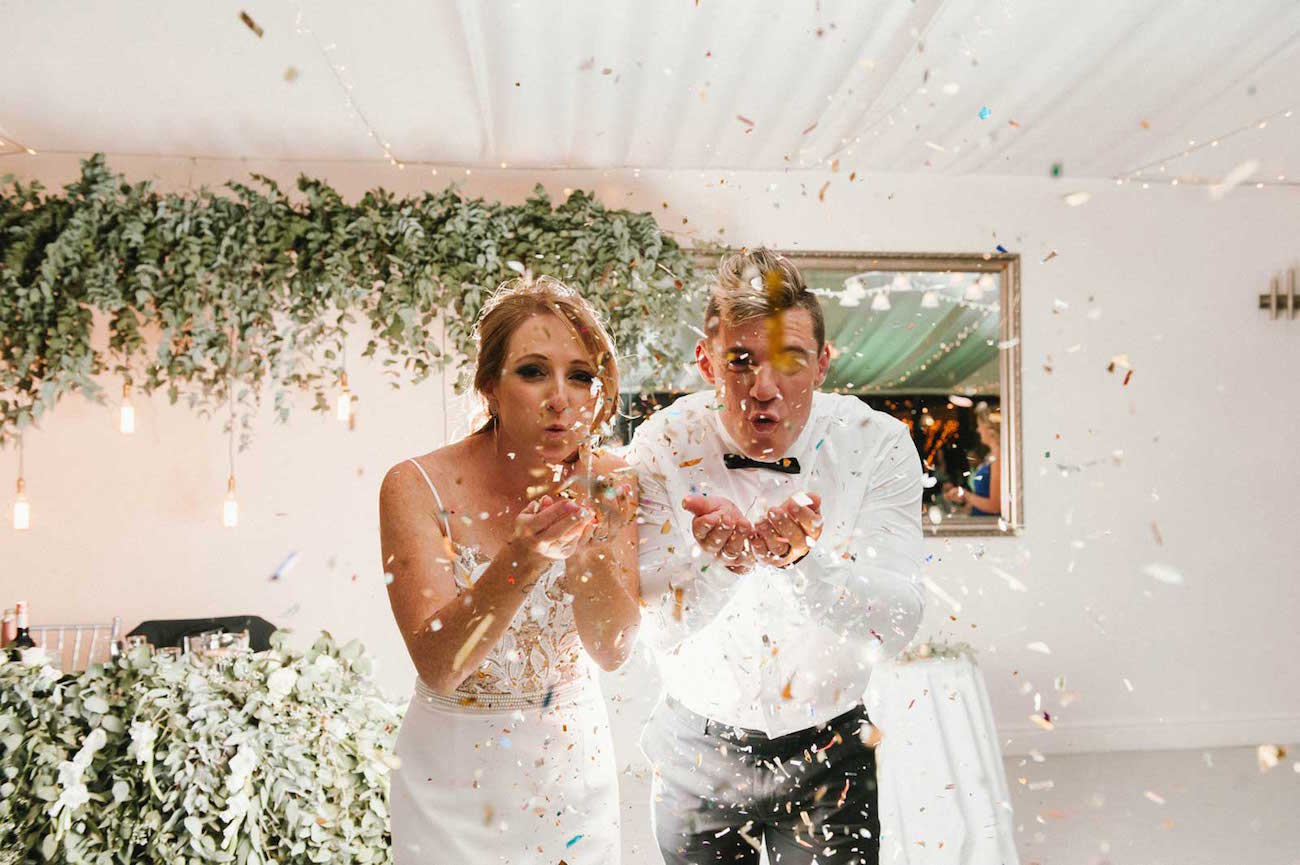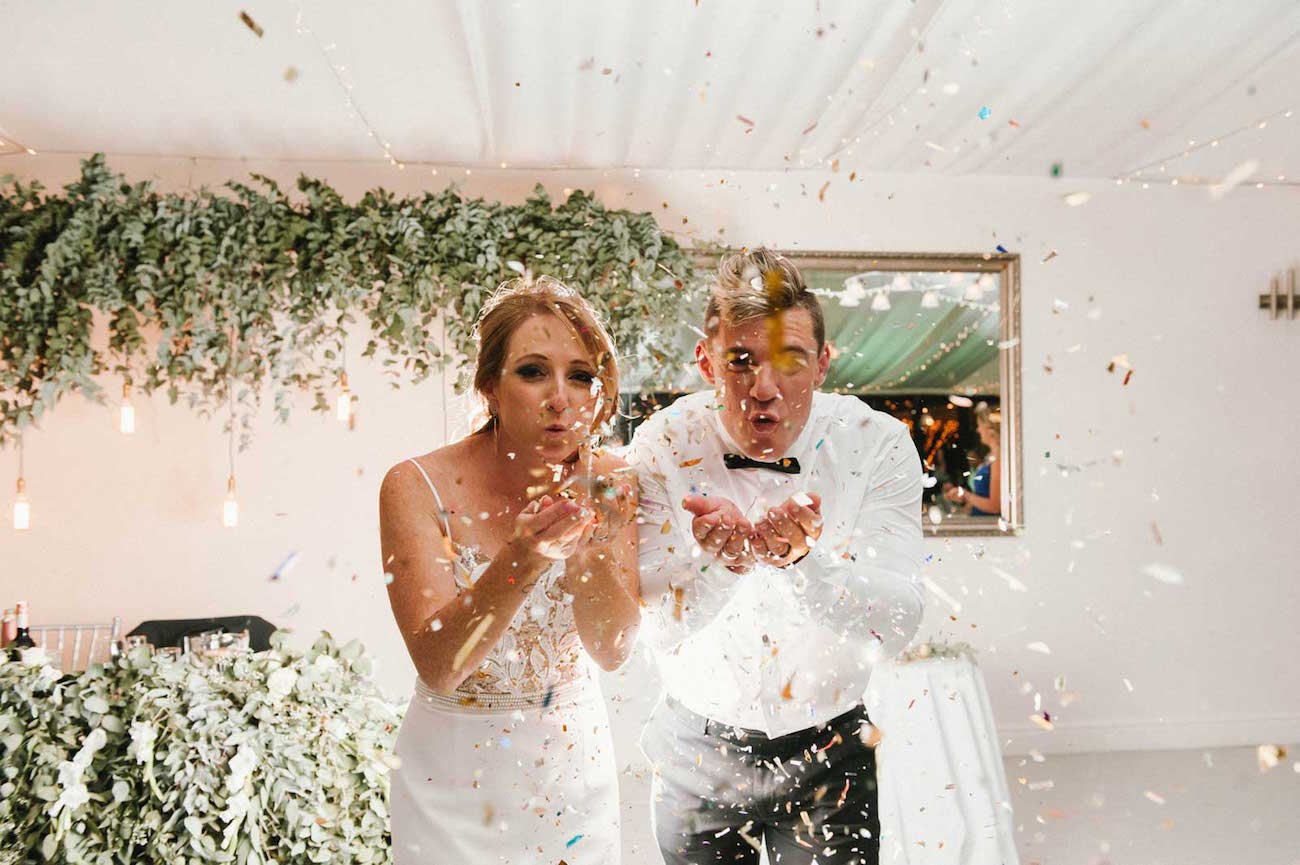 You can see more from this wedding on Claire Thomson's blog.
SERVICE PROVIDERS
Reception venue & catering: Kronenburg Estate | Ceremony venue: Slot van die Paarl Church | Photography: Claire Thomson Photography | Co-ordination, flowers & decor: Edó Moster (bride's cousin) | Stationery: Pretty in Stains | Video: White Jasmin Films | Bride's dress: CJA Haute Couture | Hair: Charles Junior Louw | Makeup: Roxanne van Riet | Bridesmaids' dresses: Lindi Kriel | Groom's attire: Mr. Suit Hire, Bellville | DJ: Wim van Wyk | Music: Edó & Hesmarie (bride's cousin & friend)
Save