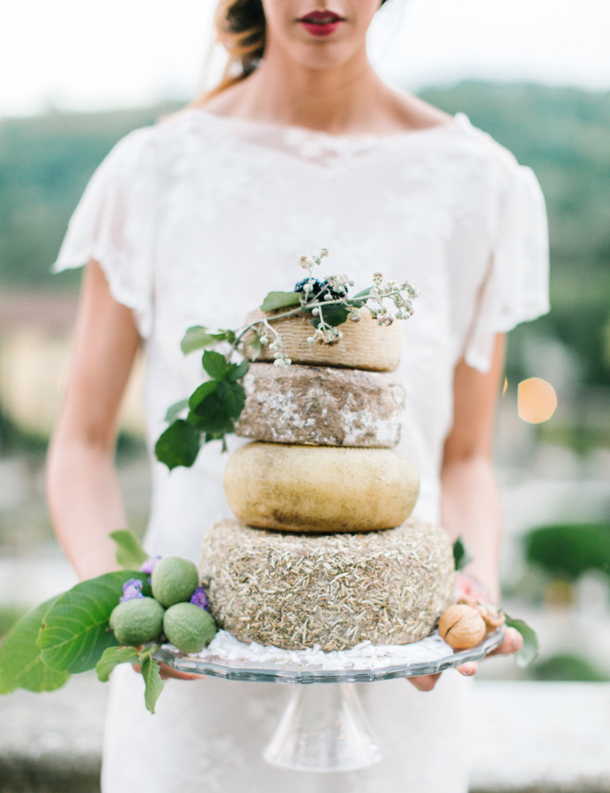 Wine farm brides and grooms, rejoice! This October on SBB, our theme is Vineyard Weddings, so we'll be looking back at some of our favourites from SA's wealth of wine farm venues, as well as rounding up lots of little details and lovelies that you can include to bring your location to life (or just bring a bit of the vineyard into whichever venue you choose!). When I think about wine (which is a lot), I also think about cheese – the two go together like love and marriage. So an obvious option for a vineyard wedding cake is to go for a cheese wheel tower instead of (or as well as) a traditional sweet cake. It may no longer be a new idea, but it's always a crowd-pleaser! Because cheese, duh. And sure, you could just plonk a bunch of cheese on a tray or pile a few rounds up and call it a cake, but it's much more fun to create something pretty with just as much panache as a classic cake. Depending on how you style your cake, it can fit in perfectly with a rustic wedding, a contemporary one – even a romantic or glamorous one! And the best part is that you (or a friend or family member) can do it yourselves, following our handy tips. And, of course, we've rounded up lots more gorgeous cheese wedding cakes (many from our own SBB weddings) to inspire you!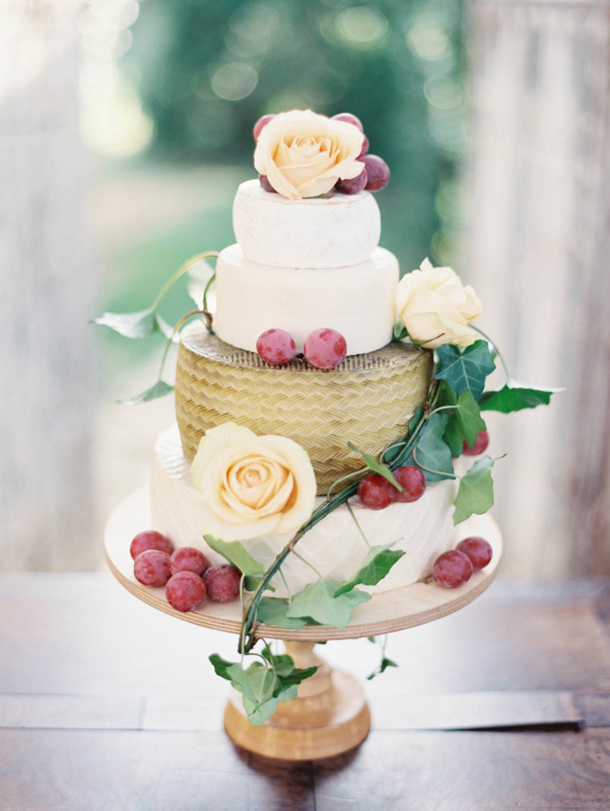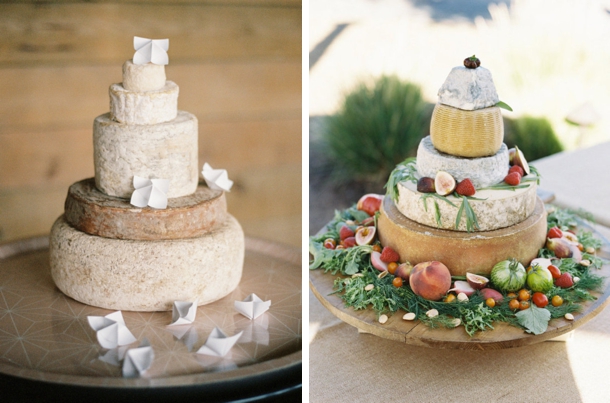 Step 1: Source your cheese
To get the best quality cheese cake, you'll want to find a good (reliable!) supplier – supporting cheesemakers local to your wedding venue is ideal since it will give your guests a taste of the region (quite literally!). Taste is the first factor to consider – you don't want every layer to taste the same, after all. Source a variety of cheeses in the same way that you might put together a good cheese board; a hard cheese, a soft cheese and a blue are a good place to start, and consider adding in a goat's cheese and something crumbly too, for a good balance. It's important that you taste the cheese before you buy it, just like you would for a baked cake.
The look of the cheese is the second important factor. To get the traditional wedding cake look, you'll want to allow three to five layers of cheese and for these to graduate from large to small (ideally with around 2cm difference between layers). For the lower layers, you'll need cheeses that come in wheels or can be cut into circles by your supplier. Harder cheeses are good bets for these layers as they're easier to stack than wet or fruit flavoured cheeses. Small cheeses are great between layers to add height, and cute little heart-shaped ones can double as a topper. And size isn't all – as you'll see from the examples throughout this post, unique textures, shapes and colours can also really add to the overall effect.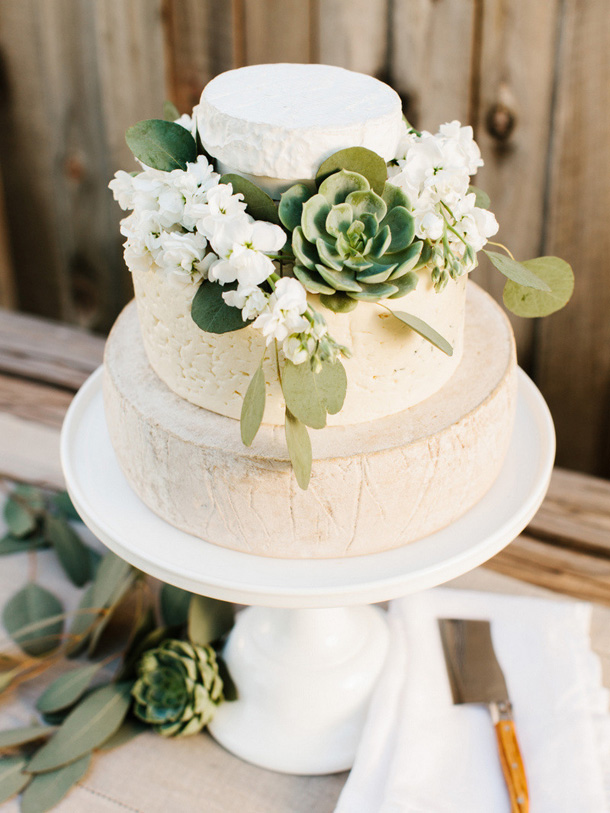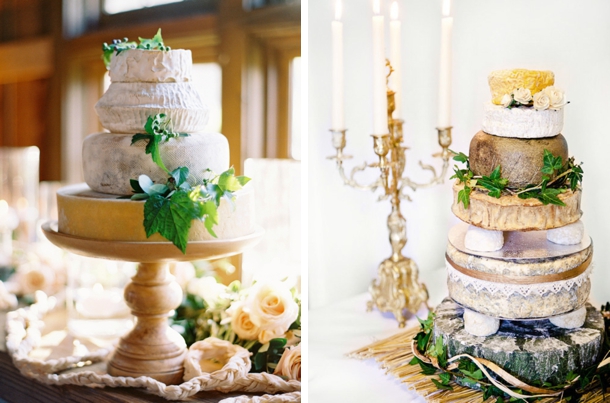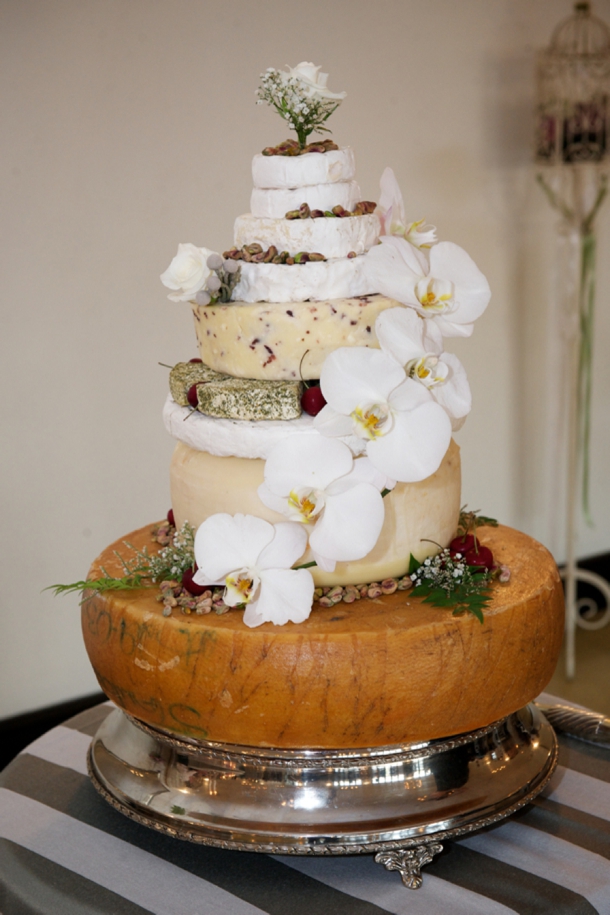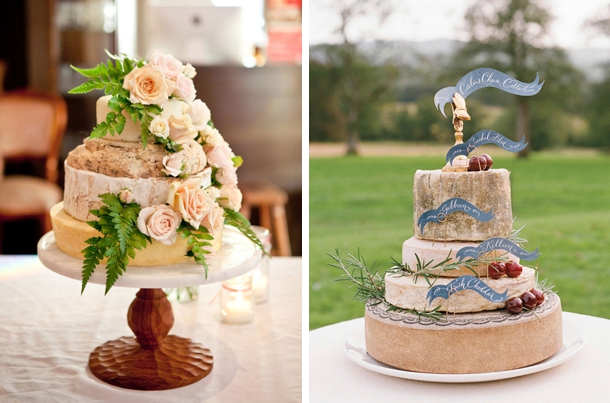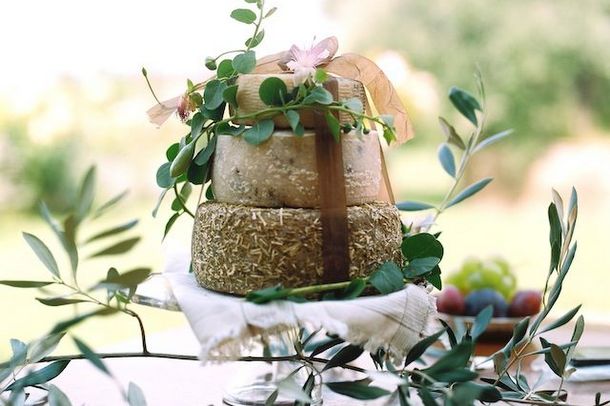 Step 2: Order your cheese
Experts advise that you order your cheese a good few months in advance to make sure that the ones you choose will be ripe on the day. And make sure you schedule delivery for a few days before the wedding – tracking down your 'cake' is the last thing you want to be thinking about. When ordering, allow around 100g of cheese per guest or a minimum of 4kg per 50 guests. Hard cheeses are often most popular (which works out well if they're in the bottom layers, since you'll naturally have more of them available) but you may also want to order a few extras of the small cheeses up top to be brought out when the cake is served so more of your guests have a chance to taste them too.
Step 3: Plan your extras
You'll see from the examples in this post that there are loads of styling options (see also our previous roundup of 20 gorgeous cheese cakes). Flowers, fresh fruit, dried fruit, herbs, mini bunting, cake toppers, greenery, nuts, dripping honey, pretty labels (or chalkboard backdrops) naming the cheeses, ribbons… the list goes on, so get creative, and make sure you have everything you need ready on the day. Make sure you buy, hire or make a great cake stand too, whether it's a rustic round of wood, or a traditional glass or ceramic piece. You'll also want a selection of breads and crackers to serve your cheese with – and don't forget the knives!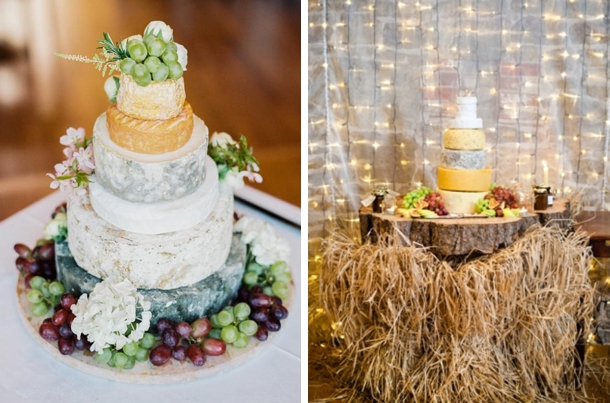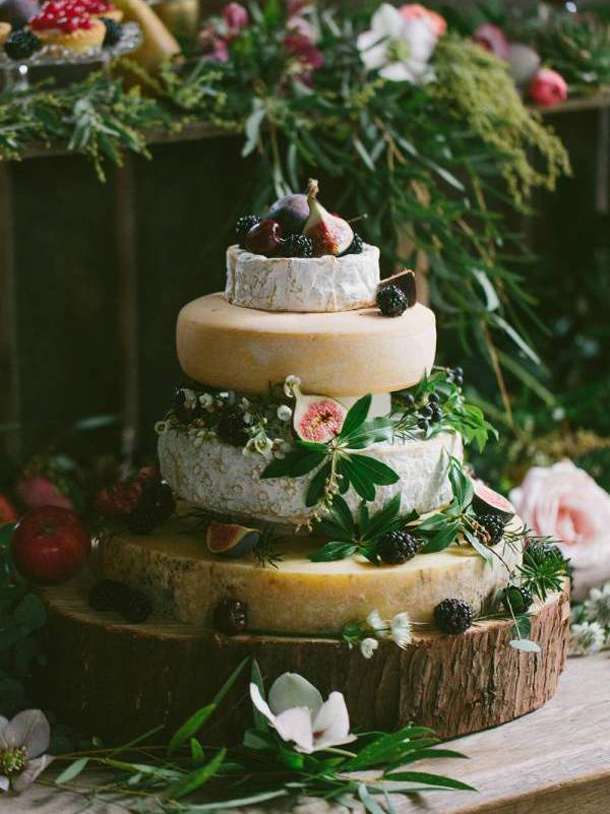 Step 4: Stack and style!
When the time comes to stack your cheeses, you can stack them directly on one another or you could put greasepaper cut to size between layers. If you've had your heart set on soft cheeses for the lower layers, don't worry – there are a couple of tricks you can use to make sure that these wheels don't buckle under the weight of the upper layers (without help, they definitely will – falling wedding cake, ahoy!) You could, for example, keep cheese like camembert in its box, especially if you're having a rustic wedding, when it can add to the texture of the overall look. Or cut a hole in the centre of a wheel of softer cheese and place a stand (or even something like a votive holder or egg cup) into the gap so that the layer above balances on the stand rather than on the cheese (obviously you'll need to have harder layers above and below the soft one to make this work). You want to serve cheese at room temperature, so if you're assembling the cake a while before, make sure you have refrigeration space to keep it in place. Then, when everything is stacked and ready, add your fruits, flowers and toppers. And you're ready to go!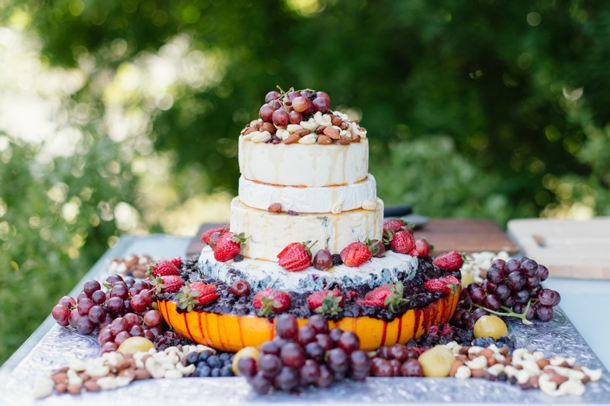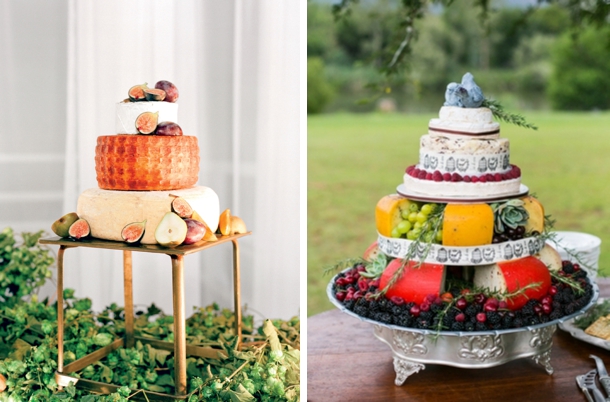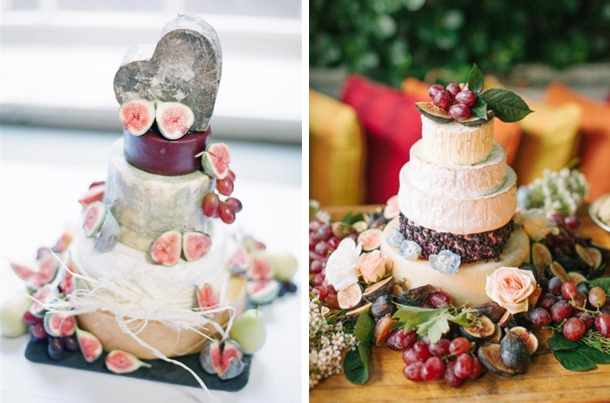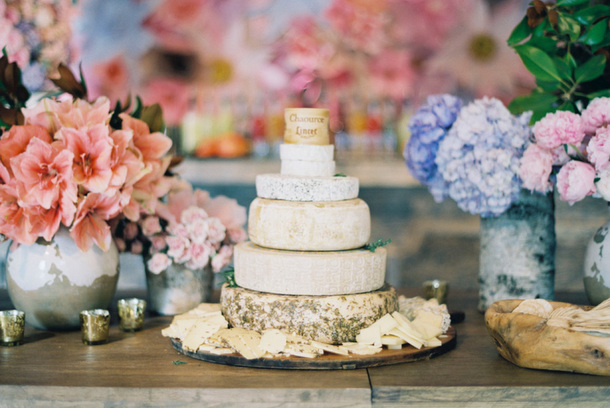 Image sources: 1- Maria Lamb/Jade Rose/Anthem Photography/Salvia E Ramerino via Style Me Pretty; 2- Joseba Sandoval/Rachel Rose Weddings via Style Me Pretty; 3- Sophie Delaveau via La Mariee aux Pieds Nus; 4- Cooper Carras/Kelly & Company Events/Cheese School of San Francisco via Style Me Pretty; 5- Ten22 Studio/The TomKat Studio/Baked by Joanna via The Tomkat Studio; 6- Jose Villa/Flowerwild  via Style Me Pretty ; 7- Shell de Mar Photography/Teddington Cheese via Rock n Roll Bride; 8- Michelle Joubert-Martin on SBB; 9- Samantha Macabulos via Hello May; 10- Elizabeth Messina via 100 Layer Cake; 11- Igloo Photo/Weddings in Tuscany via Burnett's Boards; 12- Ann Kathrin Koch/Hamish Johnson ; 13- Sarah Legge Photography/J F Temple & Son Ltd via Bridal Musings; 14- Paula O'Hara Photography/Alise Taggart/Sheridan's Cheesemongers via Confetti; 15- Yolandé Marx/Wendy Simpson on SBB; 16-Lacie Hansen Photography  via The Knot ; 17- Anneli Marinovich via SouthBound Bride; 18- Taylor & Porter, Fine Art Film Photography/Cheeses, Muswell Hill on Chic Vintage Brides; 19- KT Merry via Simply Peachy; 20- Sarah Kate/Emily Clarke Events via Style Me Pretty
Save