Ah, tulips. Hearty heart heart heart heart them. I mean, what's not to love? They're beautiful and elegant, they come in every colour imaginable, most are unscented, and they're affordable. And for me, they really mark the start to spring, when I see them appearing on flower shop pavement displays all over London. Unlucky for me, those days are gone here on Mud Island, but with spring very definitely in the air in South Africa, I thought it was a good time to cheer myself up with a focus on one of my all-time favourite flowers.
Tulips come in three varieties (from least to most expensive): Dutch (the ones with the shorter stems); French (the ones with the longer stems); and parrot (the striped ones with the ruffled edges). When I started this wedding business, I used to get a little thrill whenever I saw them in a wedding because it was so rare, but tulips have really been picking up speed since then, and now I get to squeal over them almost on a daily basis. (It's true, I still squeal.) Bouquets, centrepieces, you name it. It's their versatility that really makes them work – they can work just as well for a formal ballroom wedding or a casual backyard affair, and the sheer range of colours they come in means that there's something for every bride. They look gorgeous on their own, or as part of the current trend for lots of different flowers all grouped by variety, or happily mixed in to a multi-flower bouquet or arrangement. The only thing that you can't really do with tulips is to DIY them, unless you have a friend or family member to do it for you on the day, since tulips can be temperature sensitive and need to be kept cold for as long as possible. Don't let that put you off – in the hands of a good florist, these make the perfect (and meaningful – they represent consuming love and happy years) wedding flower.
Here are some of my favourite recent tulip inspirations!
BOUQUETS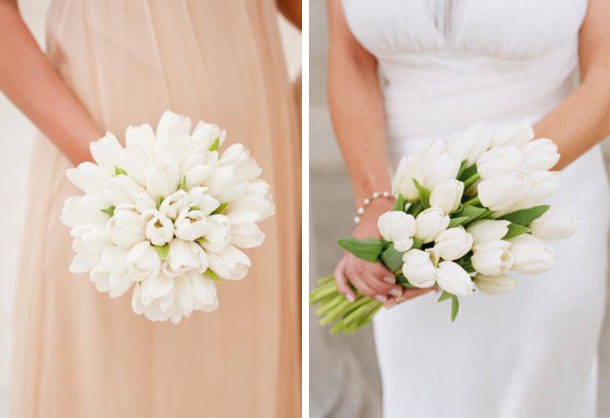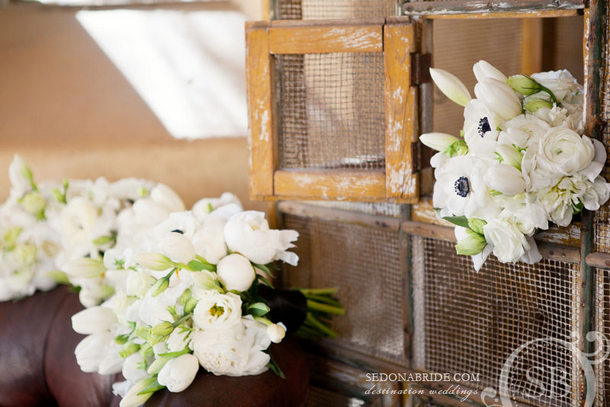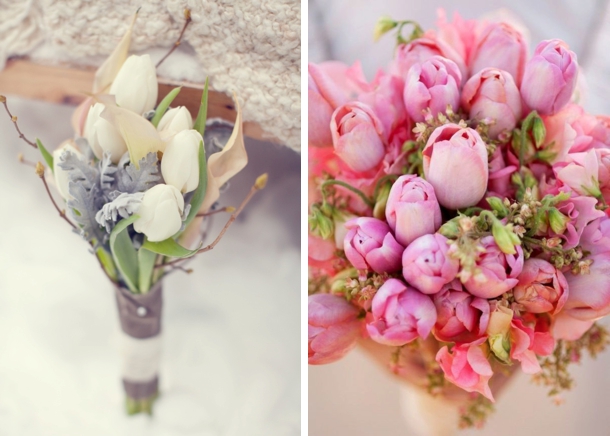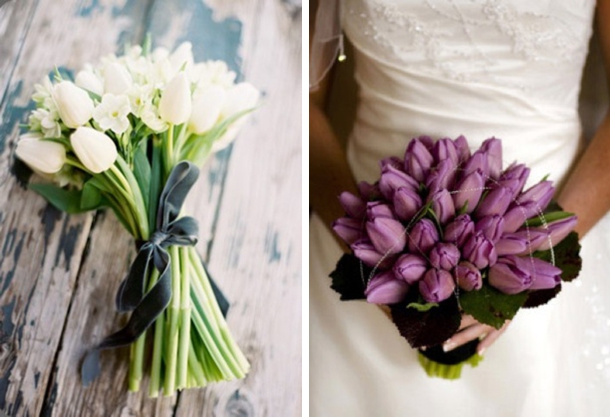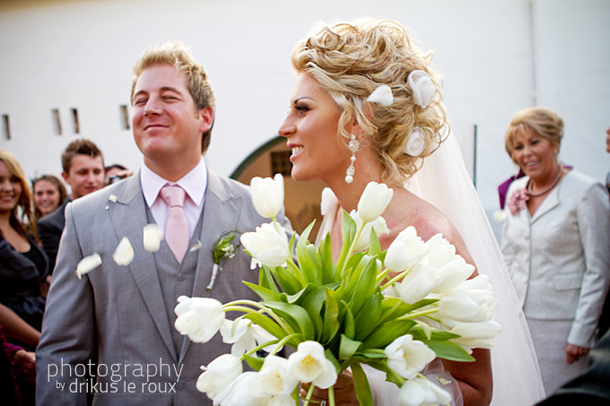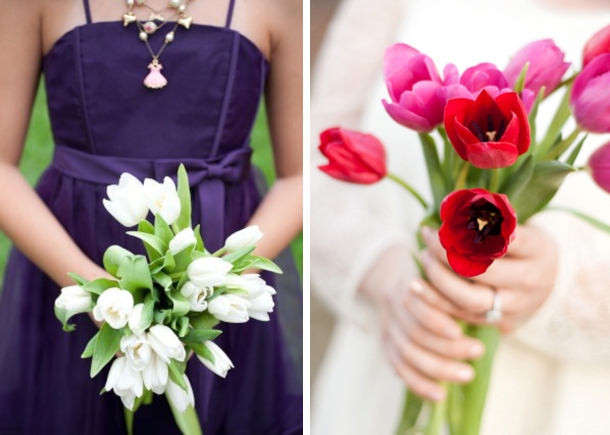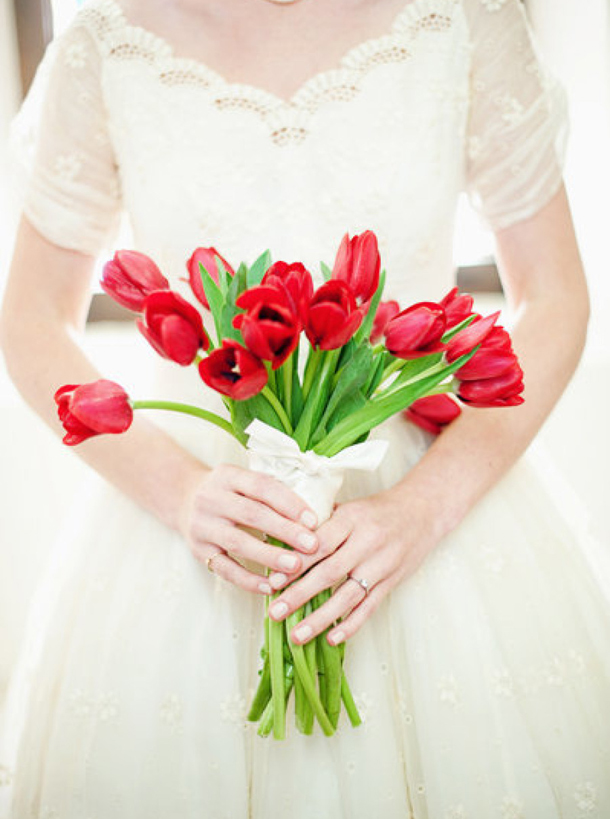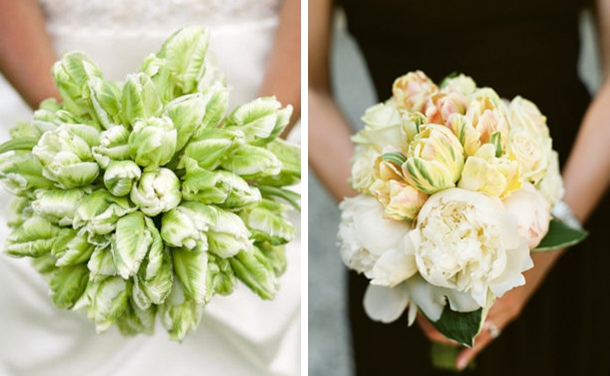 DYING over these parrot tulip bouquets, seriously.
Bouquet image sources (top to bottom, left to right): 1- Heaven & Earth Floral/13:13 Photography via Style Me Pretty; 2- Martha Stewart; 3- Project Wedding via Wedding House; 4- The Garage by Ivy/Tres Chic Events/Sedona Bride Photographers via Style Me Pretty; 5- Deborah Zoe Photography via The Knotty Bride; 6- Locally Grown Weddings via The Knotty Bride; 7- Jose Villa via 100 Layer Cake; 8- House of Elliott Flowers via You and Your Wedding; 9- Lee Roche Floral & Decor/Drikus Le Roux via Bride with a Blog; 10- Simply Flowers/Captured Photography by Jenny via Style Me Pretty; 11- Robyn Michelle-Lee via Glamour & Grace; 12- Hy-Vee/Dixie Pixel via Style Me Pretty; 13- James Abel Events via Bouquet Wedding Flower; 14- Martha Stewart
TABLE ARRANGEMENTS
Sources (clockwise from top left): 1 – Scarlet Petal/Amanda Hein via Style Me Pretty; 2 – Floral Elements/Events by Emma/Moore Photography via Style Me Pretty; 3 – Pat's Floral Design/Elisa B. Photography via Elizabeth Anne Designs; 4 – The Garage by Ivy/Tres Chic Events/Sedona Bride Photographers via Style Me Pretty; 5 – Peony Room/Corinna V. Photography via Bridal Musings
Sources (l-r): 1 – JL Designs/Joyful Weddings and Events/Meg Perotti via Inspired By This; 2 – ARTISAN Events/Duke Khodaverdin via Style Me Pretty; 3 (top) – Fabulous Functions/White Room Events/Jennifer Sando via Style Me Pretty; 4 (bottom left): Petal Pushers/BZ Events/Q Weddings via Elizabeth Anne Designs ; 5 (bottom right) – Flower Talk/Cathrin D'Entremont/NK Photography via Style Me Pretty
SOMETHING DIFFERENT…
Sources (l-r): 1 – Fabulous Functions/White Room Events/Jennifer Sando via Style Me Pretty; 2 – Petal Pushers/BZ Events/Q Weddings via Elizabeth Anne Designs