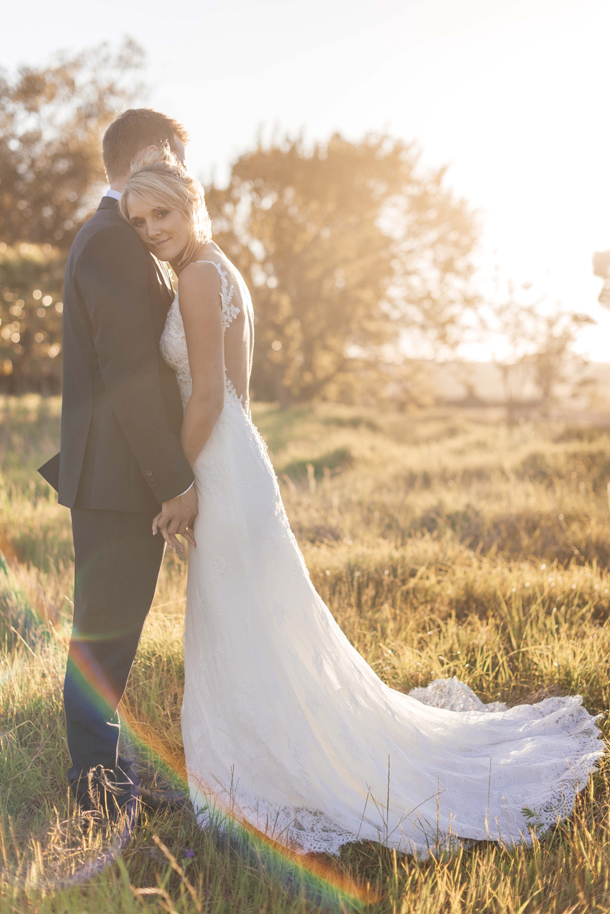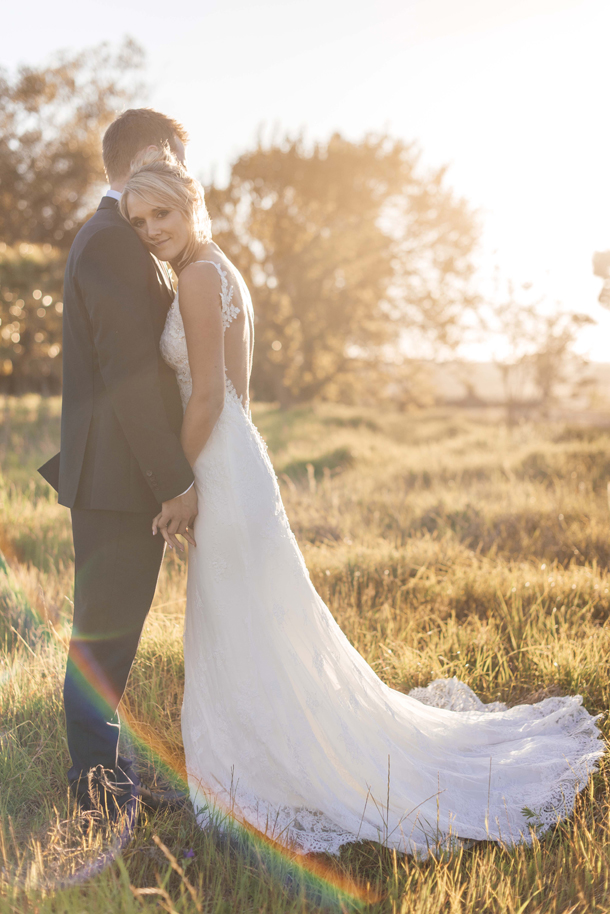 Okay, choosing my favourite flower would be like asking me to pick a favourite book or film. Too many I love. But tulips are definitely right up there. There's just something about these blooms that's so… elegant. Crisp, modern. Architectural, almost. But at the same time, they're soft and romantic. Which basically describes today's wedding to a tee – so it's no wonder that tulips played a big role in Suzanne and Simon's wedding design. I absolutely ADORE their clean, sophisticated wedding style in white and soft neutrals, with twinkle lights and naked bulbs for warmth, and a few raw, rustic elements for charm. I especially love the bower created for their main table, and OMG Suzanne's dress is amazing! You all are going to looooove this one! Talented photographer Claire Thomson took these gorgeous images.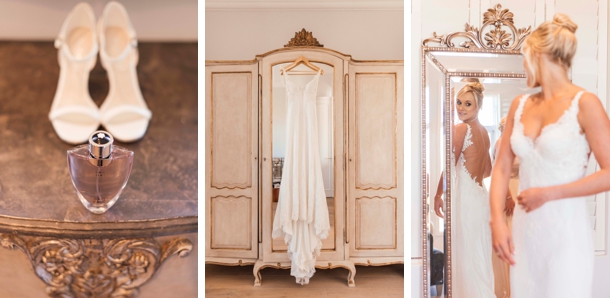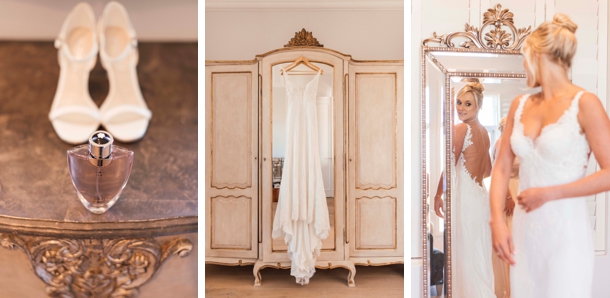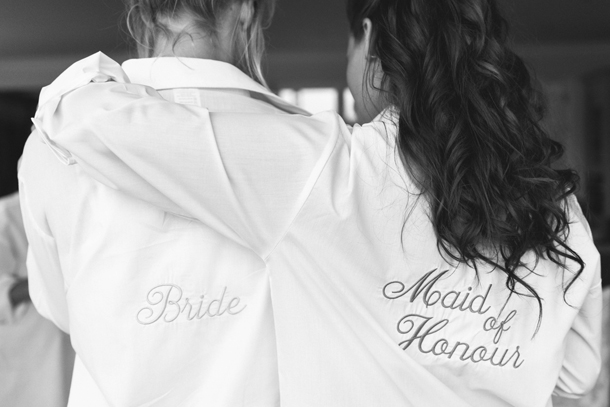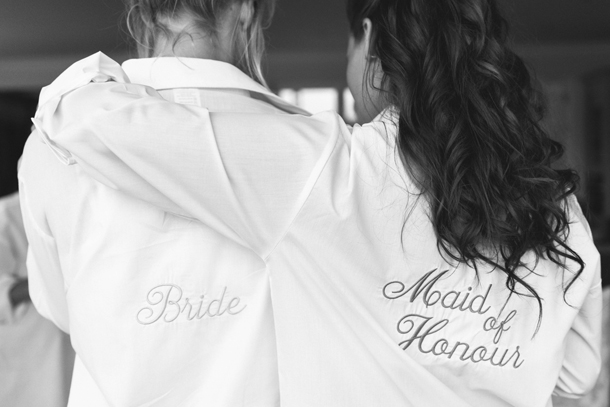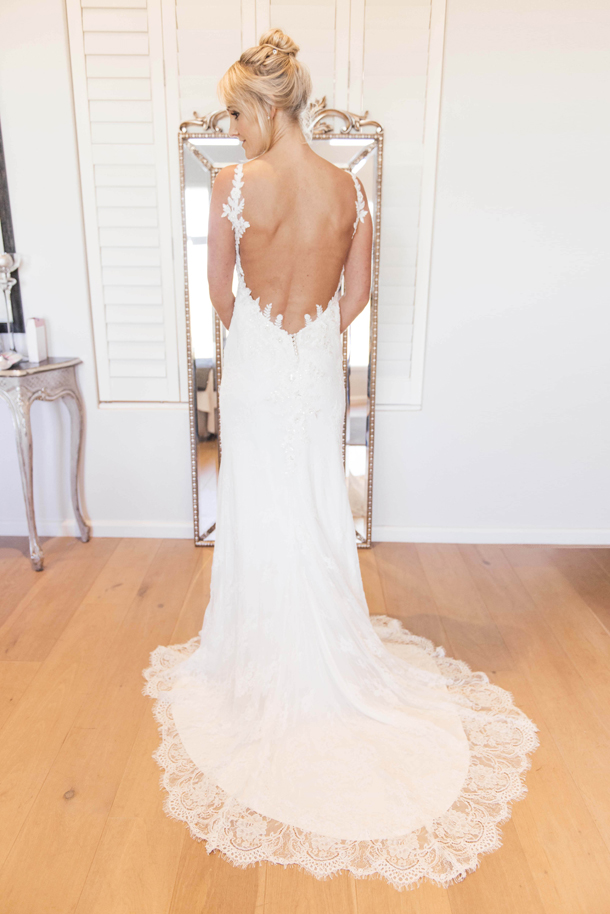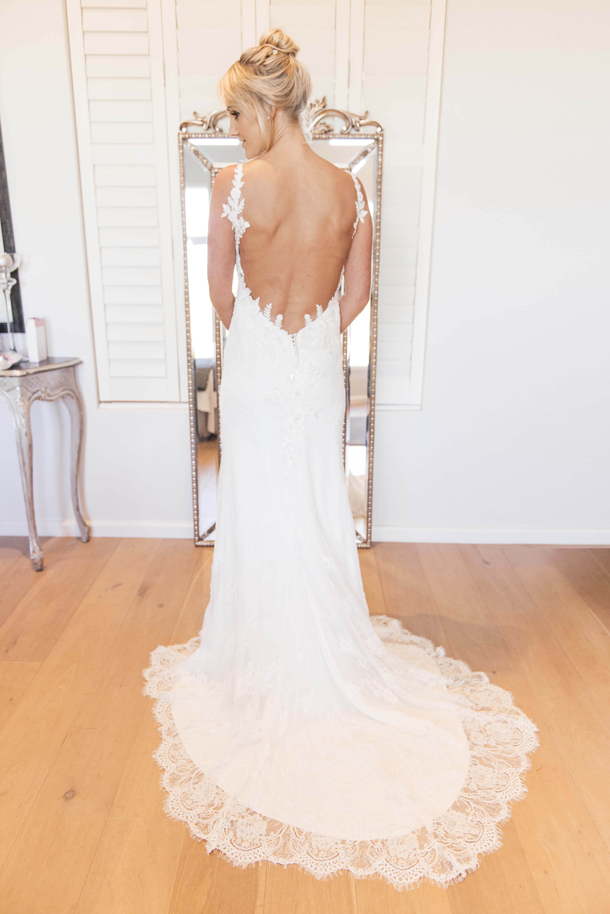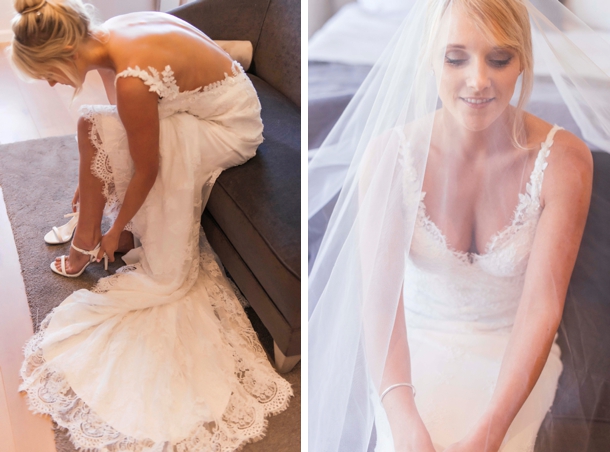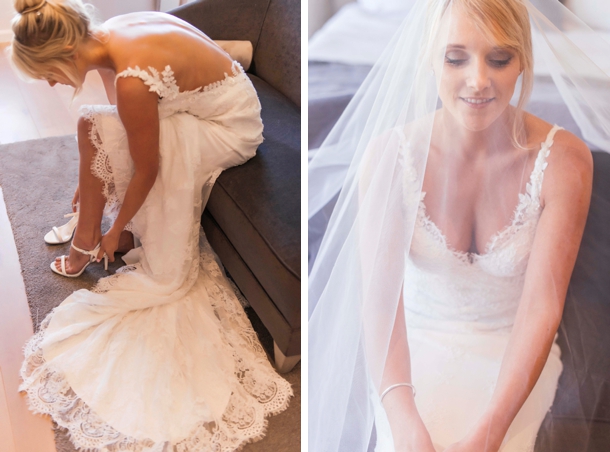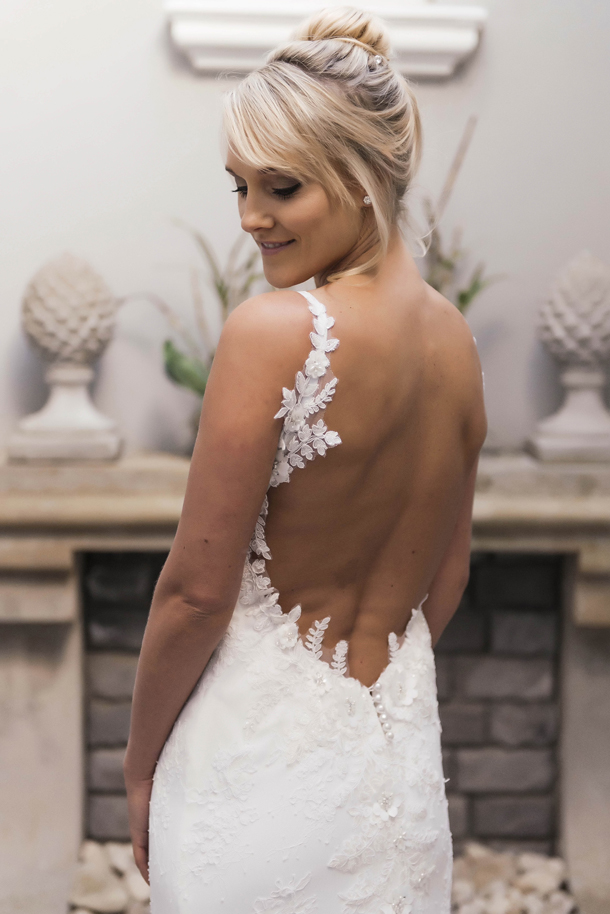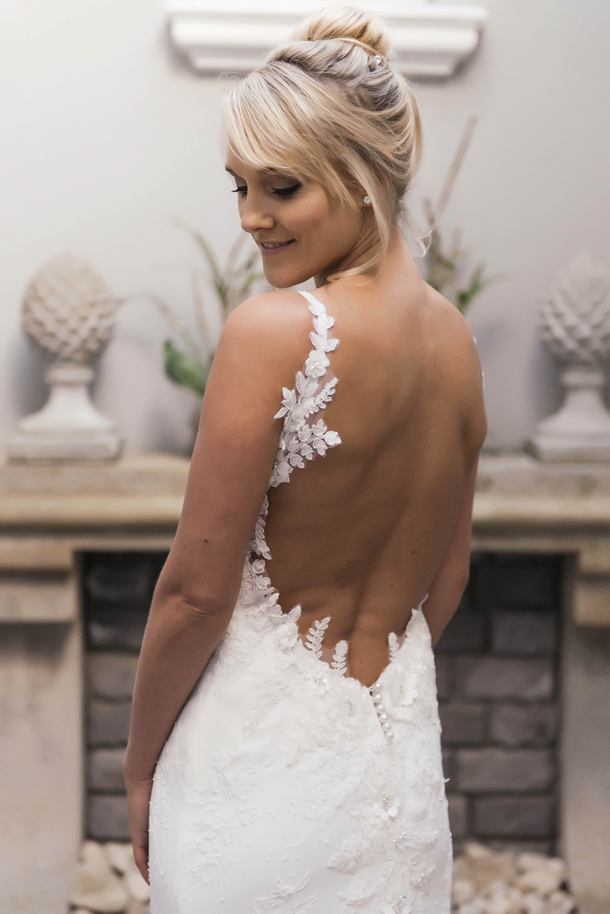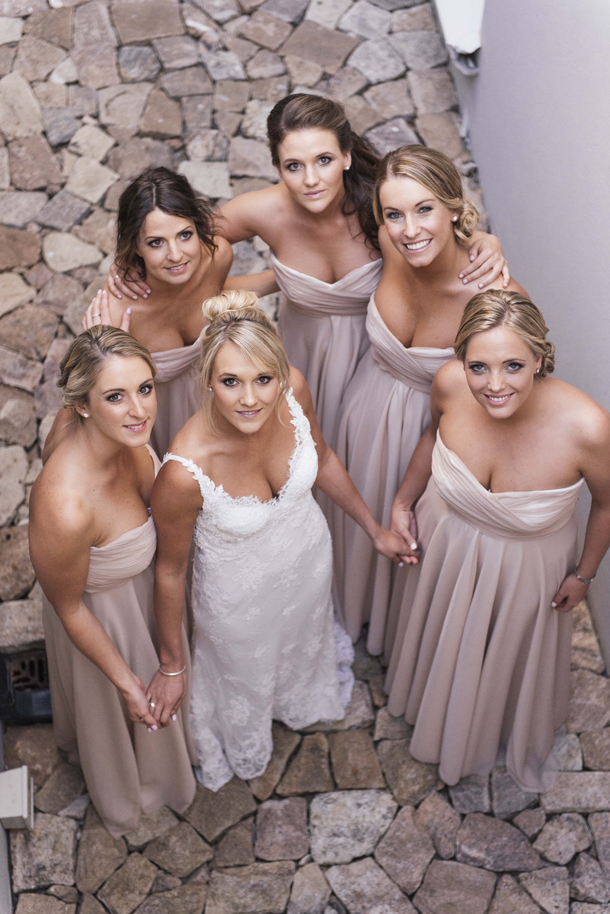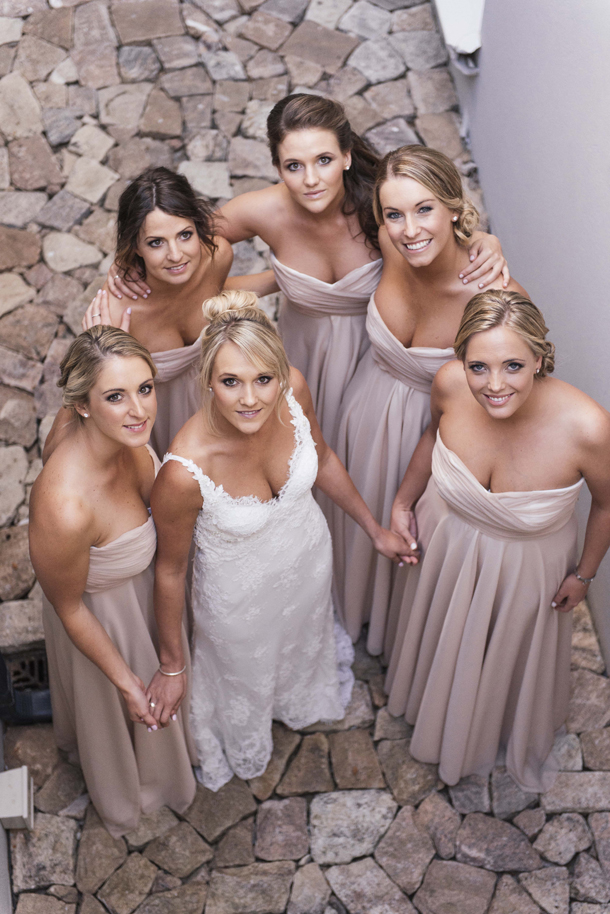 Love Story
We met in Grade 10, on a school camp in the Eastern Cape. We became very good friends and spent the December holiday seeing plenty of one another as we both went to Kenton. We kissed for the first time then and without either one thinking that it would go any further than that, Simon persevered to try and get me to go out with him. Upon return to school in January, he carried on with his pursuit and asked me to his Grade 11 house dance. Not much longer after that, he officially asked me out and we became a couple. We completed two years of school together and then followed each other to the University of Stellenbosch. We finished varsity and embraced the big city life in Cape Town. In June 2013, we decided to move in together leading up to our new beginning…
The Proposal
After six months of sharing a home, we had chatted briefly about the future, but I had absolutely no idea when things would materialise. With limited holiday time over the festive season, we went up to Knysna with the family. Simon had promised me we would have a very active holiday, and mentioned a hike in Nature's Valley. Little did I know how well planned this particular hike actually was! (Simon had mapped out the route and even included a special spot to get down on one knee.) However, the weather had other ideas and when we woke up on the day of this planned hike, with weather raining and overcast as predicted, Simon had to put his Plan B into action. He made a very realistic (yet fake) call, where he made an arrangement to enjoy lunch at a restaurant, Emily Moon, which is usually fully booked over this period. To my surprise he miraculously got a booking and we made our way to Plett. I thought we were going for one of our usual wine and dines, however this would be a very different lunch. Simon had prearranged with one of the ladies that on arrival, the plan would be put in place. We were fifteen minutes early for our 14:00 lunch booking, however lunch was apparently never the plan. Simon asked the lady if we could kill some time and have a look at one of their villas , which I was so uninterested in as the weather was terrible and I just wanted to have a drink at the bar. The lady then told Simon "We are fully booked and have a couple checking in in the next 10-15 minutes so it would have to be a very quick look at the room." We made our way to the villa and as we got there the lady left us with a smile as well as the key and told Simon to bring the key back ASAP as we make our way to lunch. We walked in and saw that the bed was strewn with roses and rose petals and the room was filled with dancing candles. As I turned the corner to view the full room, I saw champagne on ice, a gorgeous view onto the river and before I could process what was happening, Simon was in front of me on one knee with a little black box in his hand. After battling to get through his words, he asked me to marry him.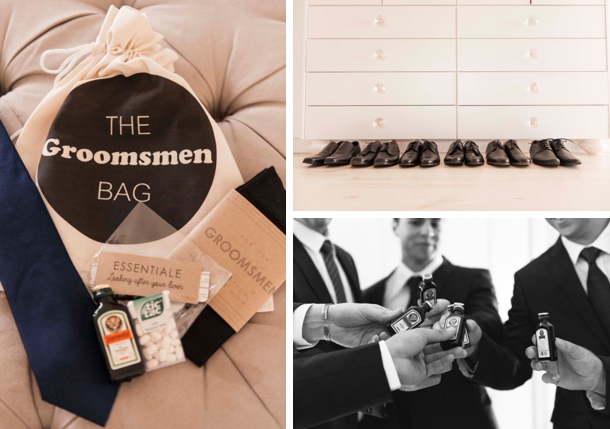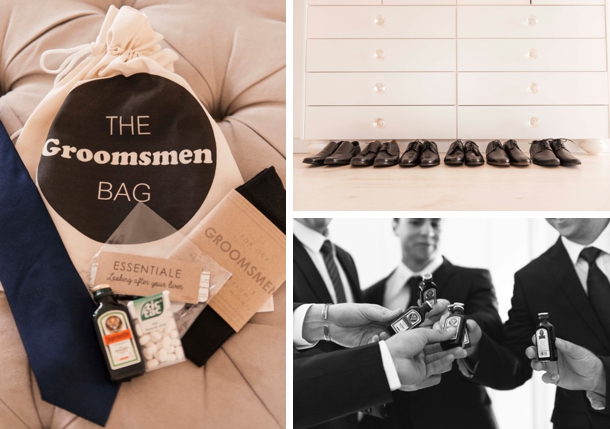 The Venue
Our ceremony and reception was held at the same venue. We looked for a place that could accommodate our guest list, had gorgeous views and natural beauty. We had been to Val de Vie numerous times and each time we went back, it just stood out more and more. The freedom of animals, the mountain ranges, wide open spaces, the winery and polo fields drew us in and we knew we had to celebrate our big day here.
Wedding Style
I grew up in the Eastern Cape and my family have a farm there. The simplicity and power of nature has always been a huge part of my life. Simon's dad also grew up in the Eastern Cape, a couple of farms away from ours, so the love of nature is a shared one for us. Our theme was 'rustic chic'. We mixed rustic and natural elements with a few slightly more formal and modern decor items to warm it up. Our colours were pastels such as mint green, cream, white and baby pink.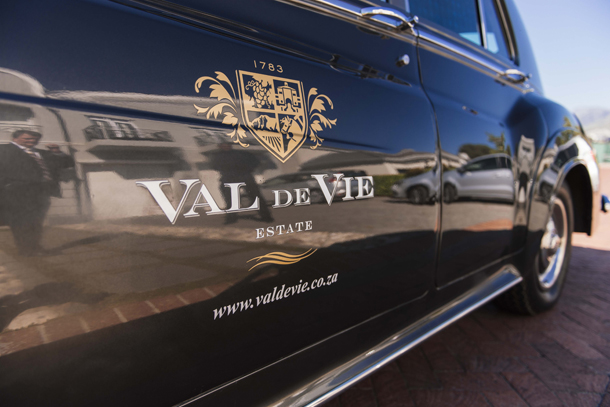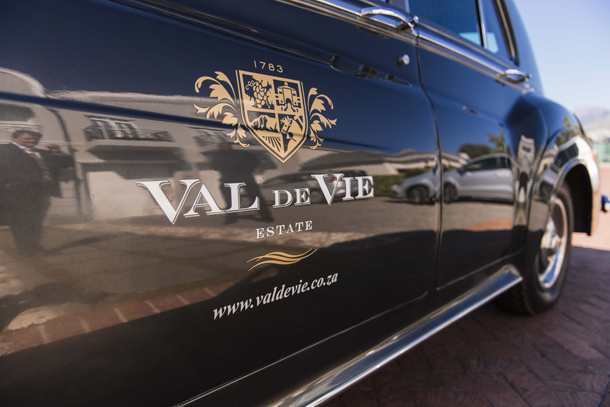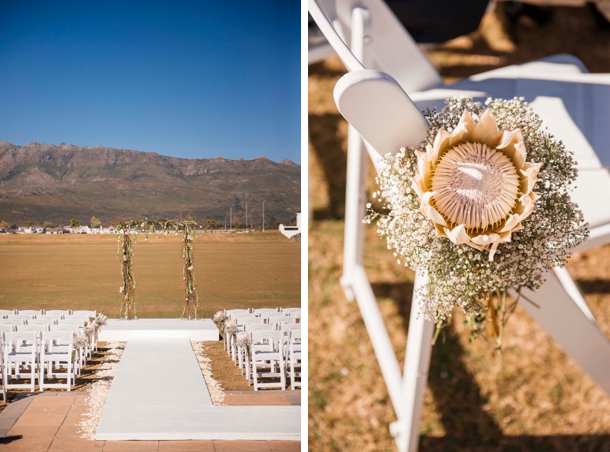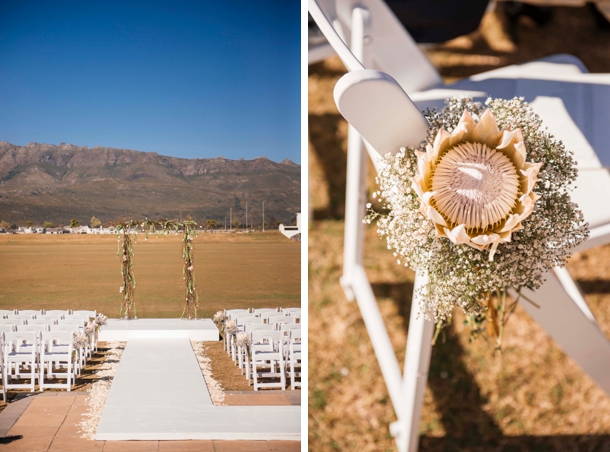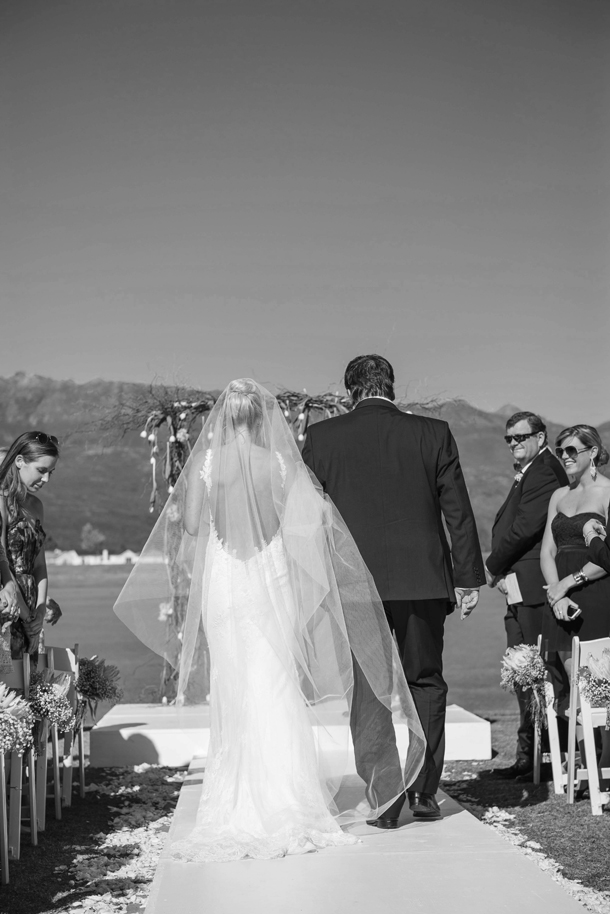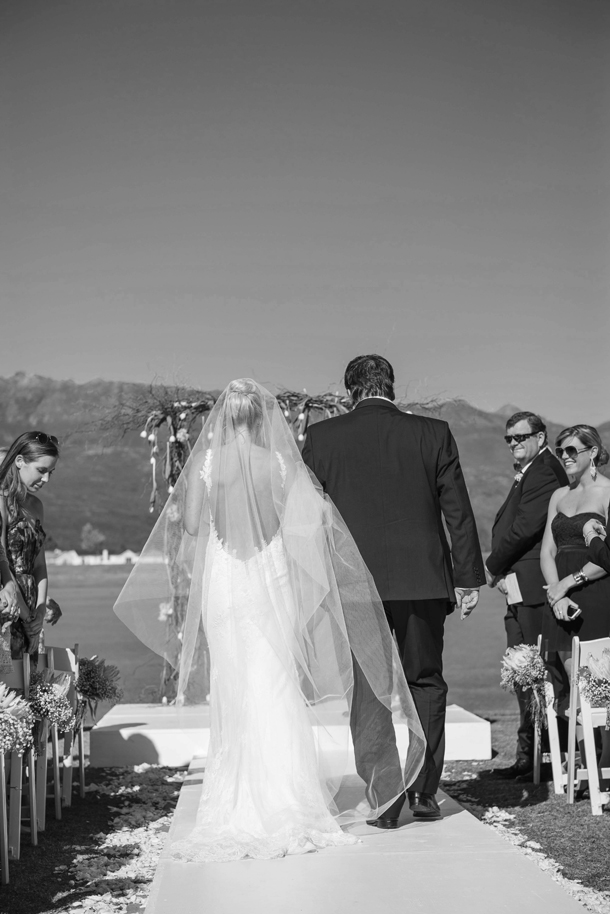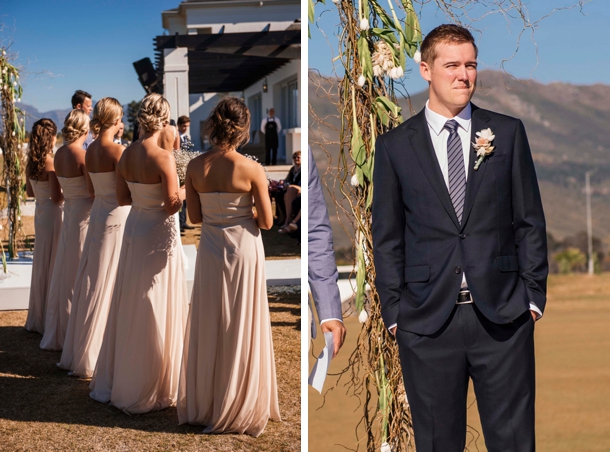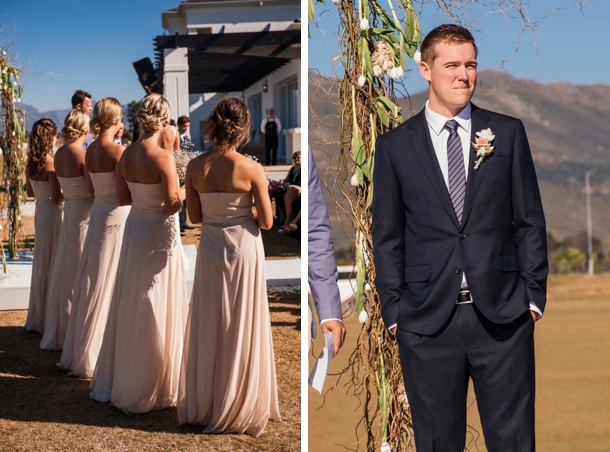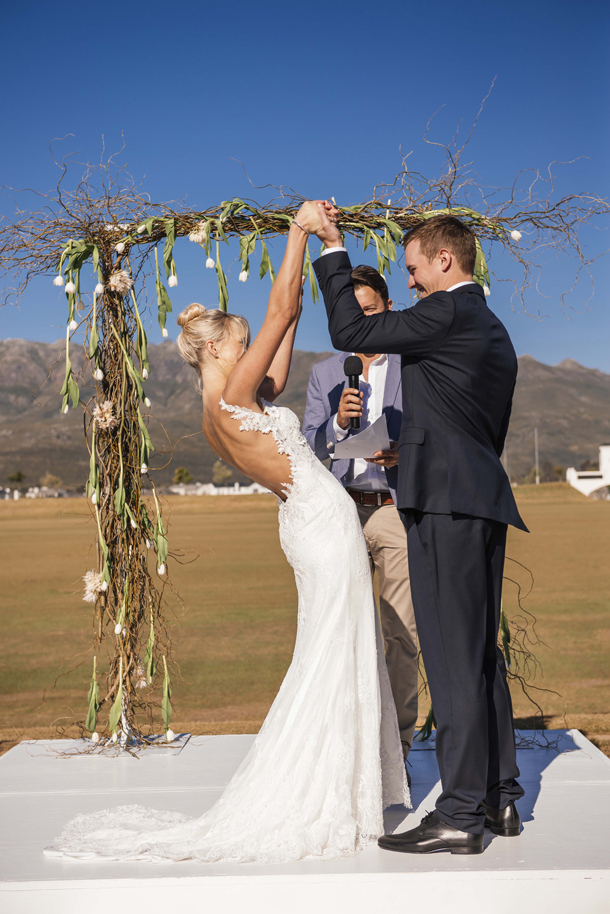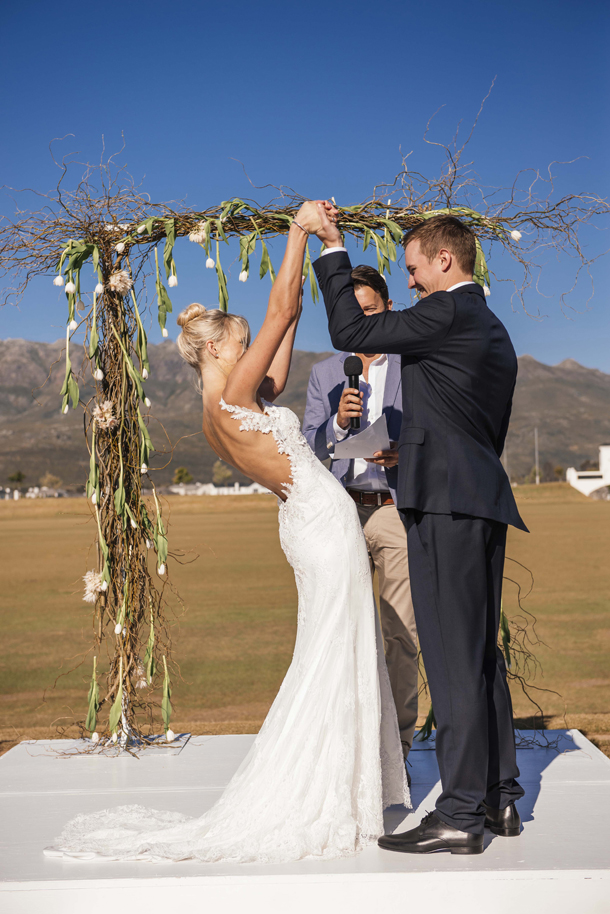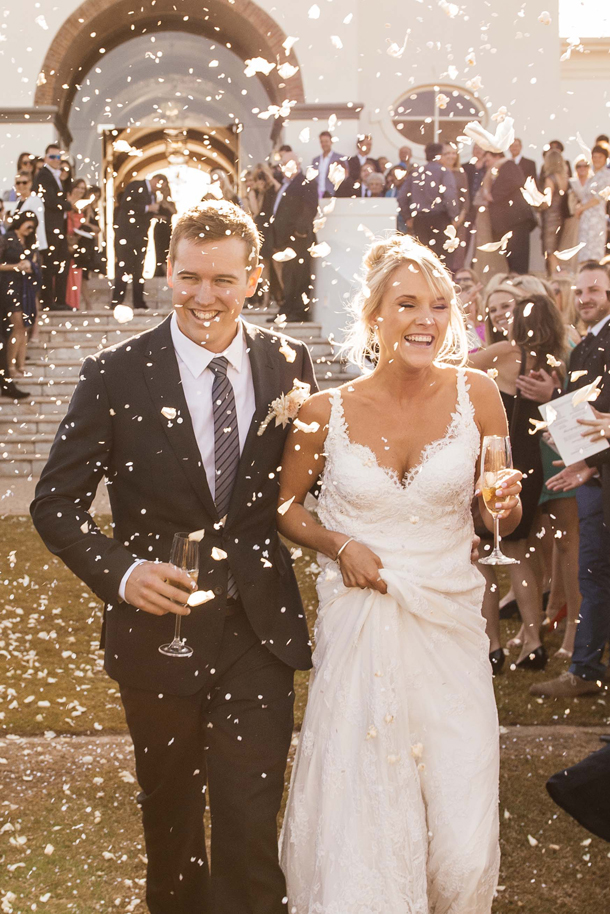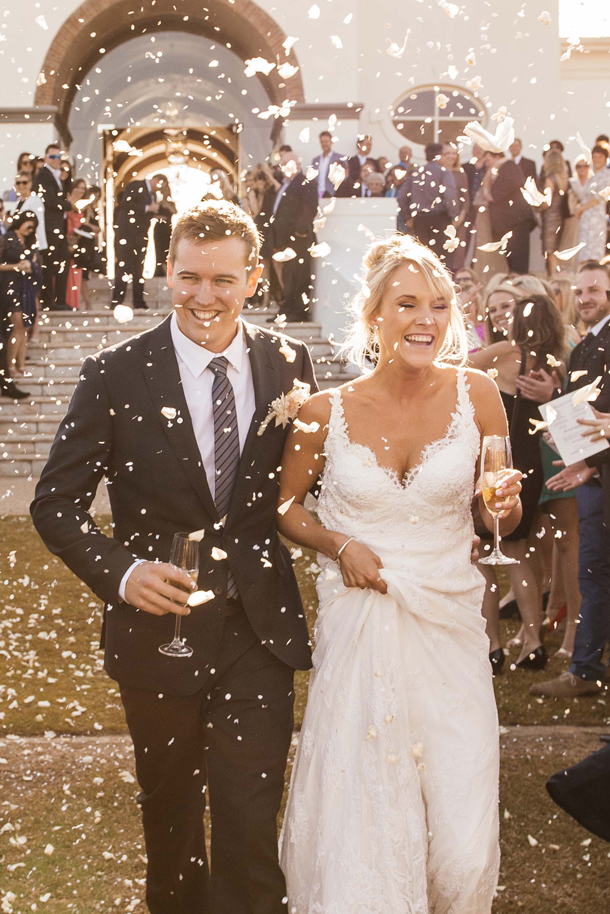 Wedding Details
The details of the wedding, from the outside ceremony, decor etc. spelt out SIMON AND SUZANNE – so many of our guests commented on this, which made it that much more special!
DIY Elements
Our altar was a wooden frame which had blushing brides, tulips and roses entwined into and around it, which took many hours to create.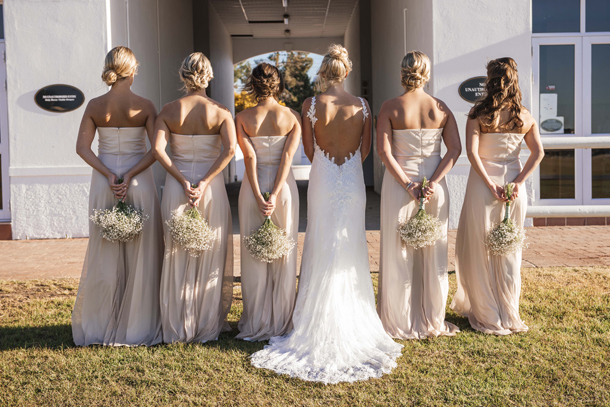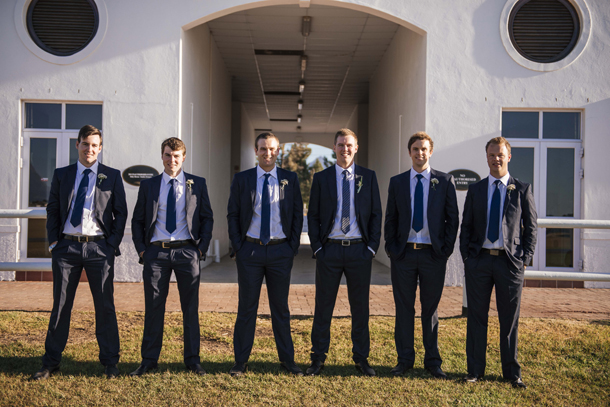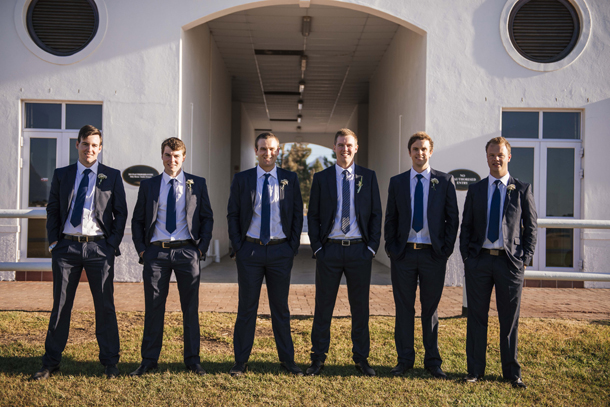 The Flowers
My bouquet was made up of tulips, the bridesmaids had baby's breath and our parents had the same. Simon and his groomsmen had a blushing bride on top of a green leaf as a boutonnierre. There were giant proteas tied onto the Wimbledon chairs down the aisle, with white and pink rose petals scattered along the walkway to the altar. Inside we had an array of pink, cream and white roses, baby's breath, light pink proteas, tulips and snapdragon flowers.
The Dress
My wedding gown…. I still get goosebumps. I just absolutely loved it. Initially I thought I knew exactly what I wanted. Upon arrival at the first designer, I told him that I wanted a strapless dress. I took one of my bridesmaids, Leigh, along with me and she and the designer, Kobus Dippenaar, looked at me and frowned. The process had begun! I tried on the first dress they handed me and I knew that wasn't it. Kobus brought out the most magnificent dress shortly after he figured I wasn't settling for number one. It took me about five minutes with the help of my bridesmaid, mom and Kobus, to figure it all out. I decided on a custom designed, tight fitting, low back, detailed lace dress. And it turned out to be quite a simple process!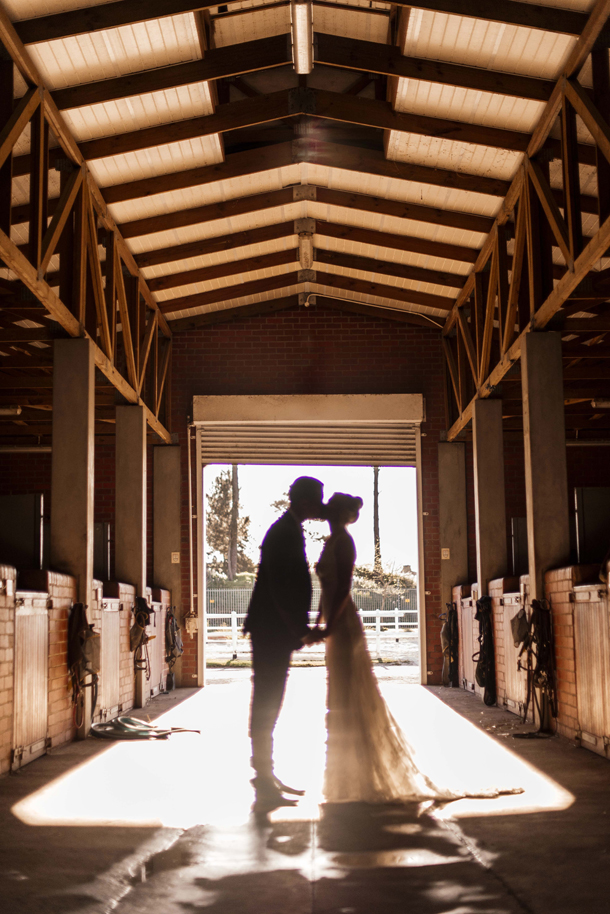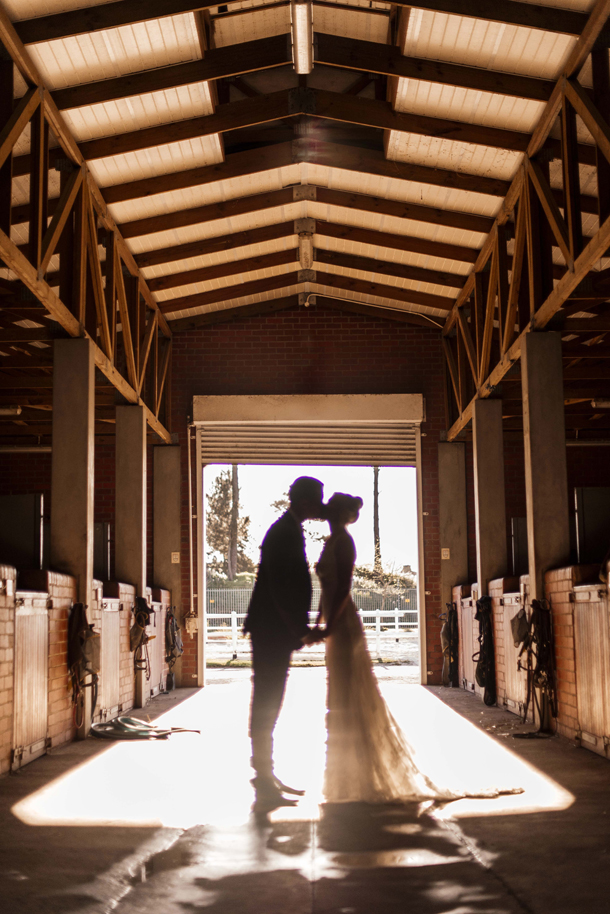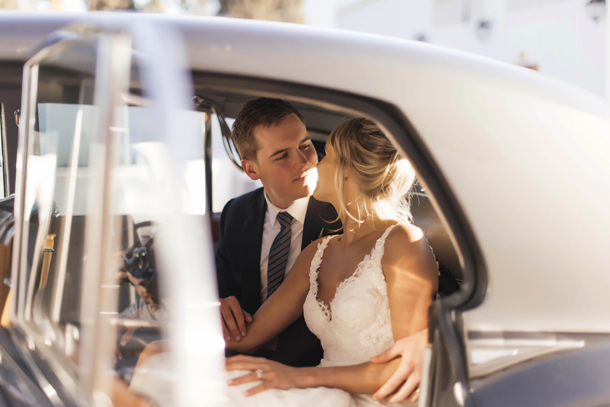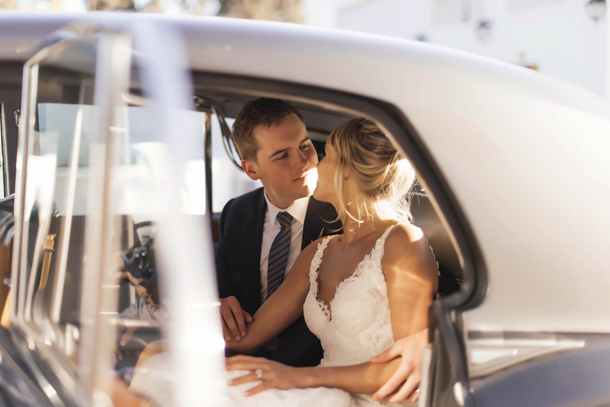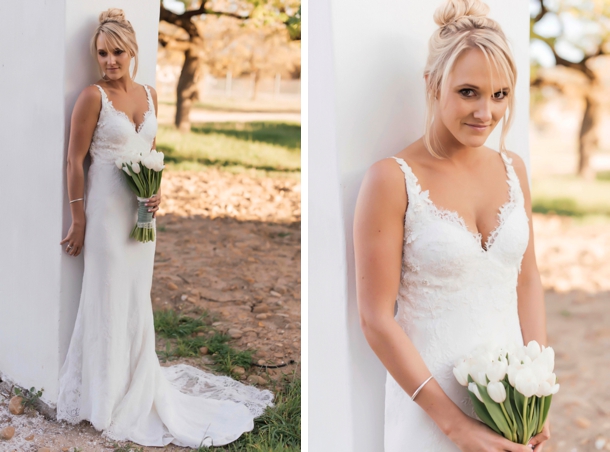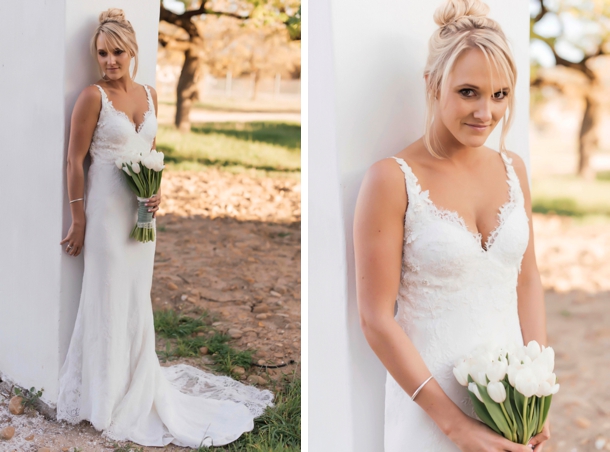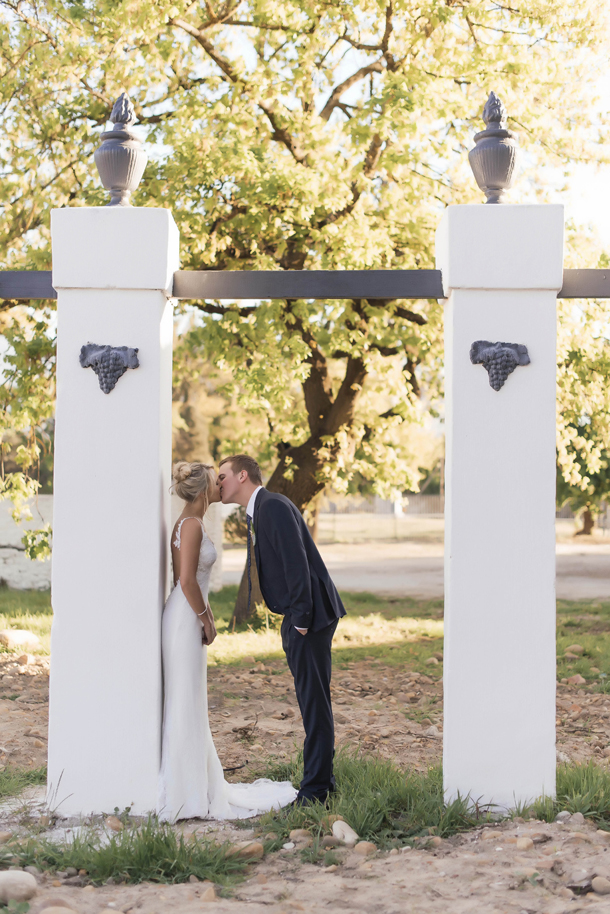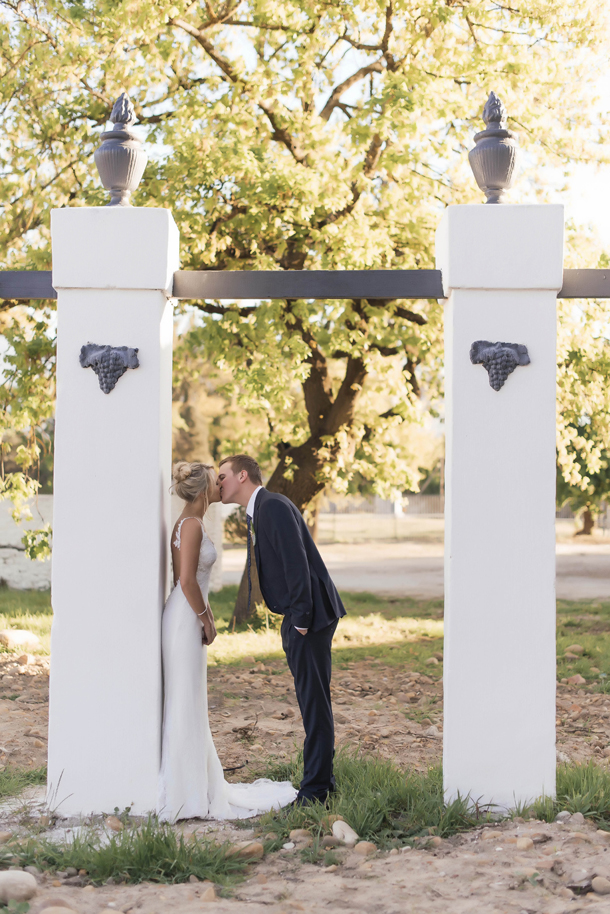 Favourite Detail
My favorite detail was the entwined branches that were designed to hang above the main table. This was something I envisioned, but never imagined it to come out as beautifully as it did. It hung above us and had fairy lights, tulips and roses pleated through it with big naked bulbs hanging down from the top.
The Honeymoon
We went to Mauritius on honeymoon, but it wasn't a surprise. It's hard to keep secrets from me, and that's why I'm still so amazed that Simon pulled off the engagement without me knowing!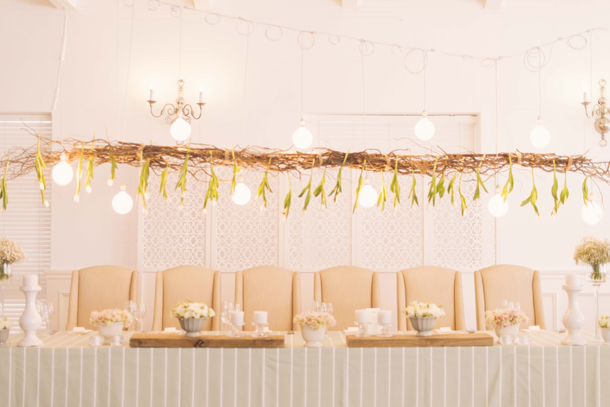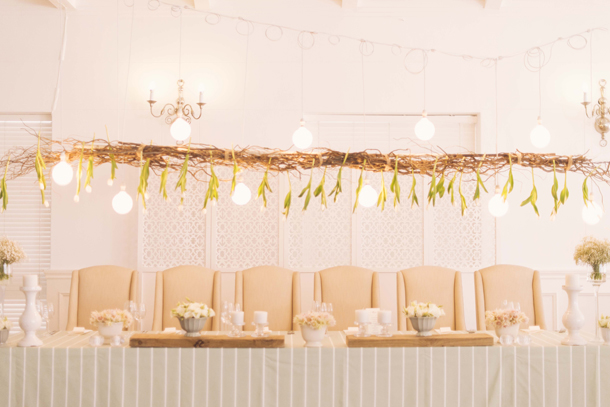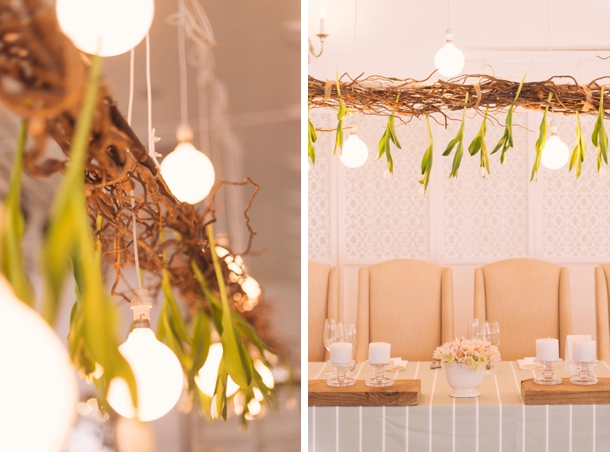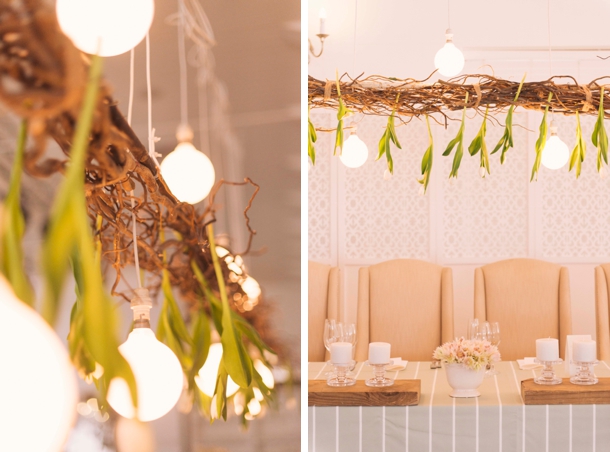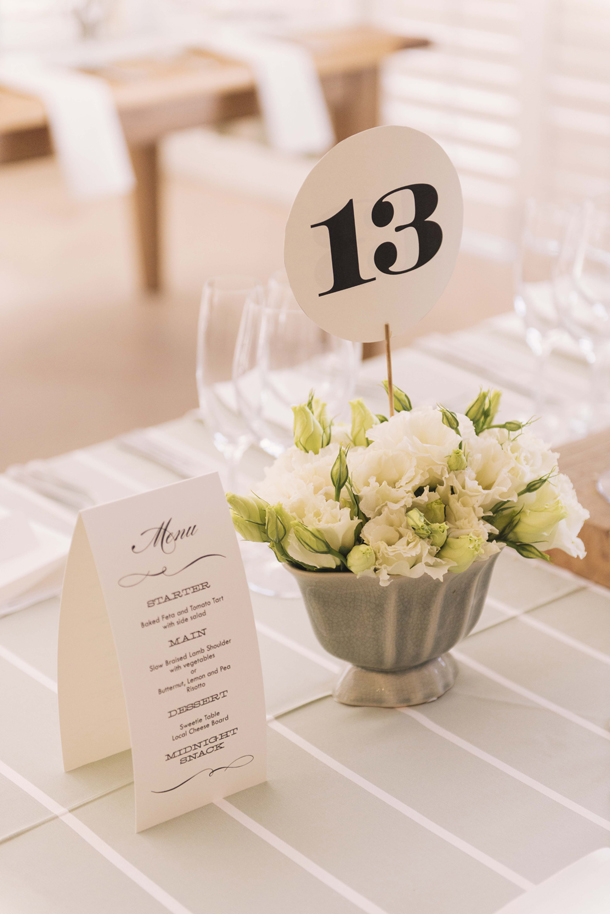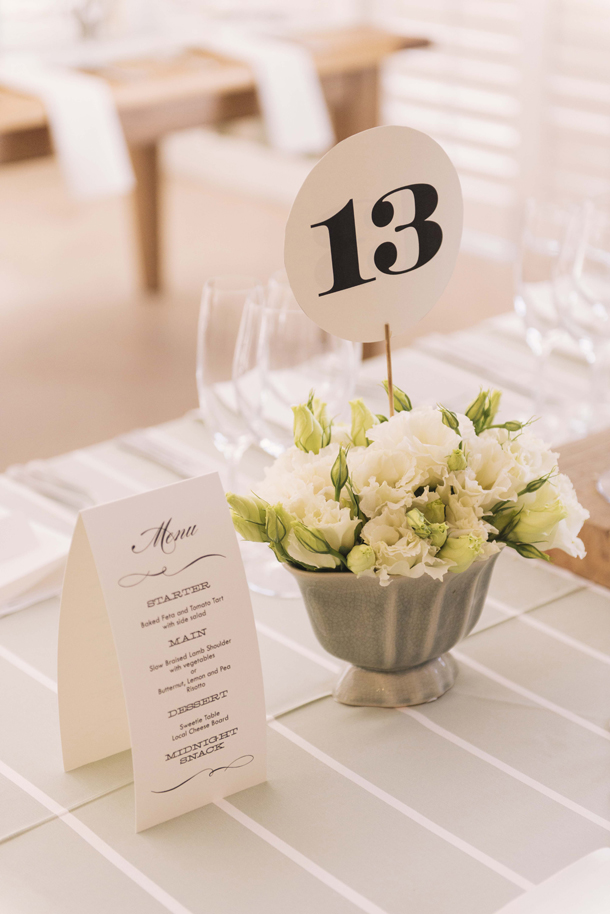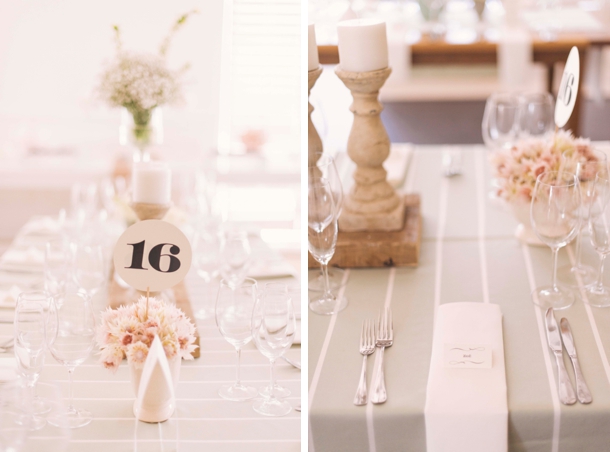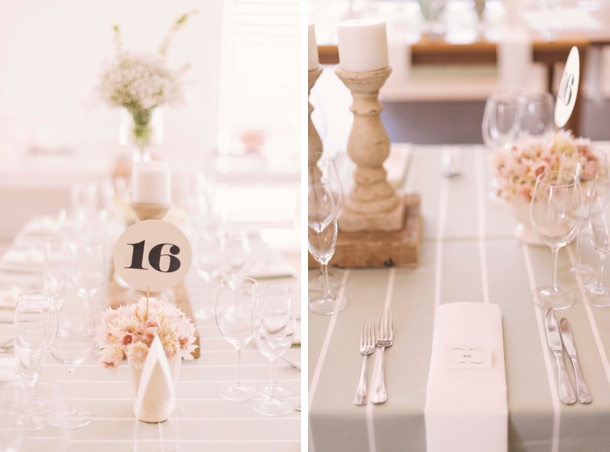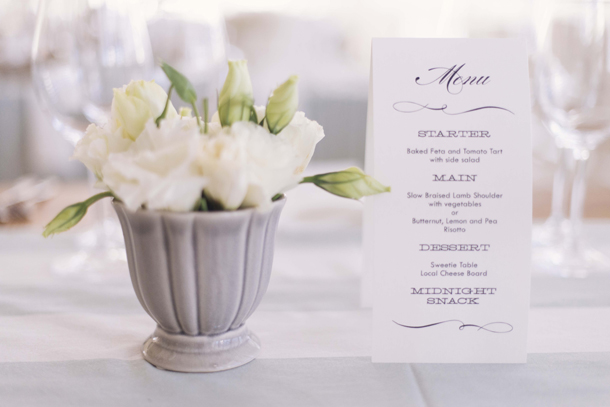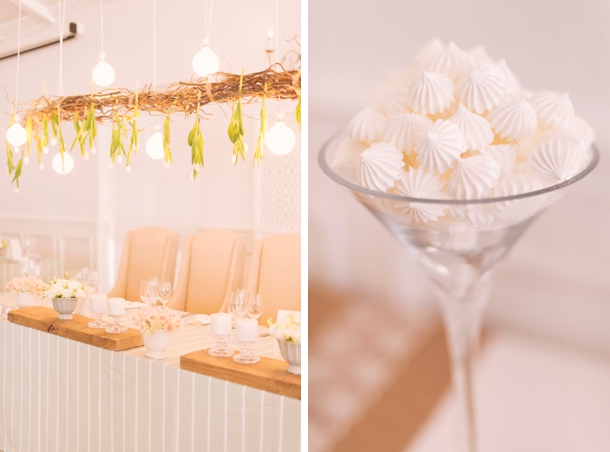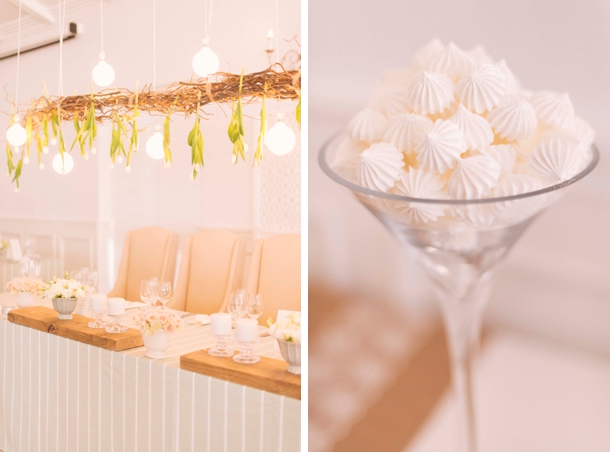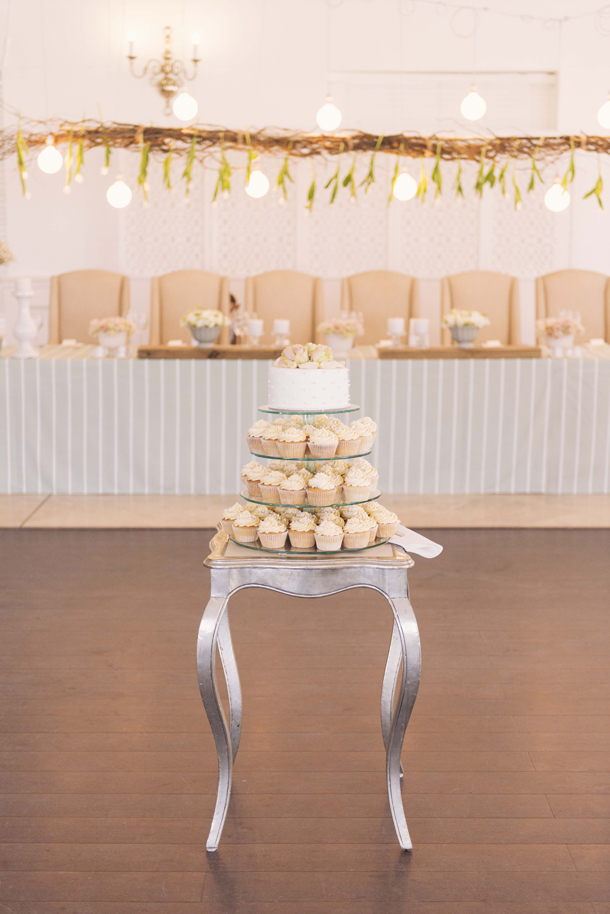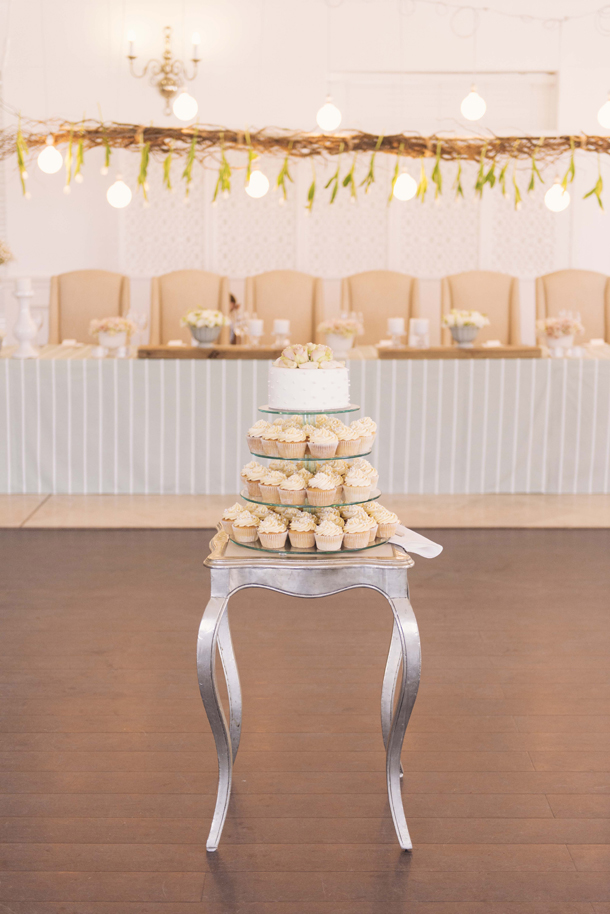 Advice for Future Brides & Grooms
To anyone planning a wedding – relax AND TAKE IT ALL IN. Take it step by step and build the puzzle slowly because each piece is special and important. Savour every bit of the planning process and especially the big day. I never allowed small things to get to me because I truly wanted to absorb every single moment and make sure I didn't have a single regret about the process. Just have fun! It's an amazing journey. Let the wedding tell your story and let your love and personality shine through, from the decor right through to food, drinks and music.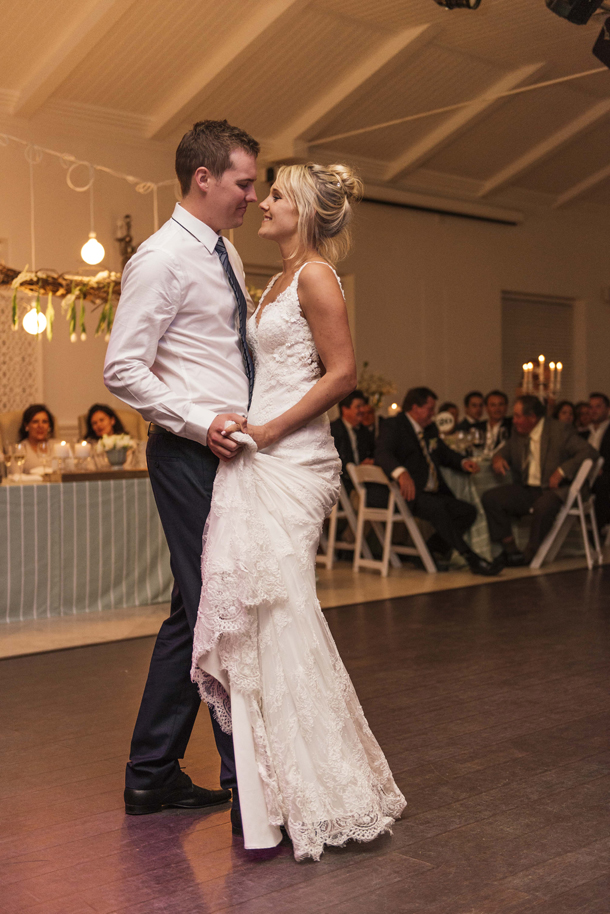 You can see more from this wedding on Claire Thomson's blog.
SERVICE PROVIDERS
Venue: Val de Vie | Catering: Dish Foods | Photographer : Claire Thomson | Co-ordinator: Nadia Valentyn at Val de Vie | Videographer: Deon van Zyl and Jared Paisley | Cake: Helene Nicholay : Creative cakes | Flowers & Decor: Nico Launcher | Stationery: Nikky Dowding  | Bride's dress: Kobus Dippenaar Atelier | Bride's accessories: Swarovski, Prins & Prins | Hair : Kirsty van Zyl | Make-up: Gemma Eyre | Bridesmaids' dresses: Leah Franchesca | Groom's Attire: Country Road | DJ: Tom Kenmuir | Bagpipe player: Andrew de Blocq