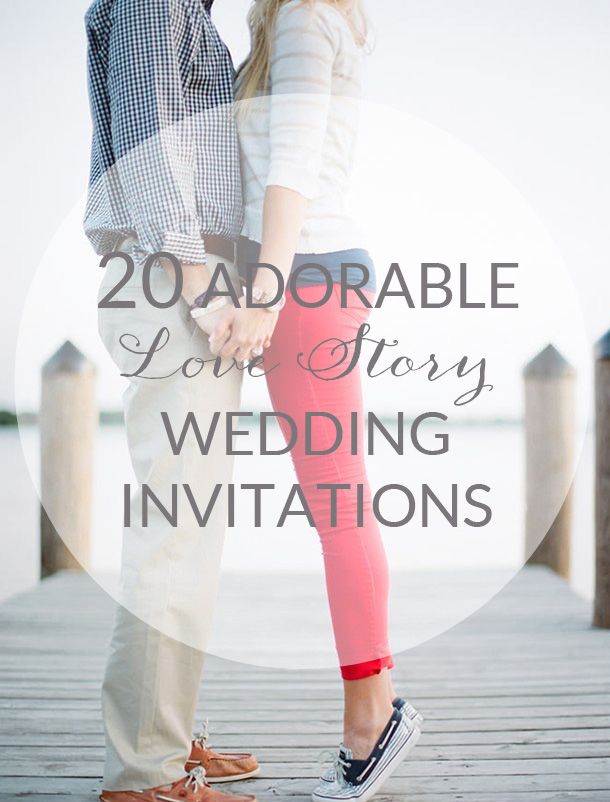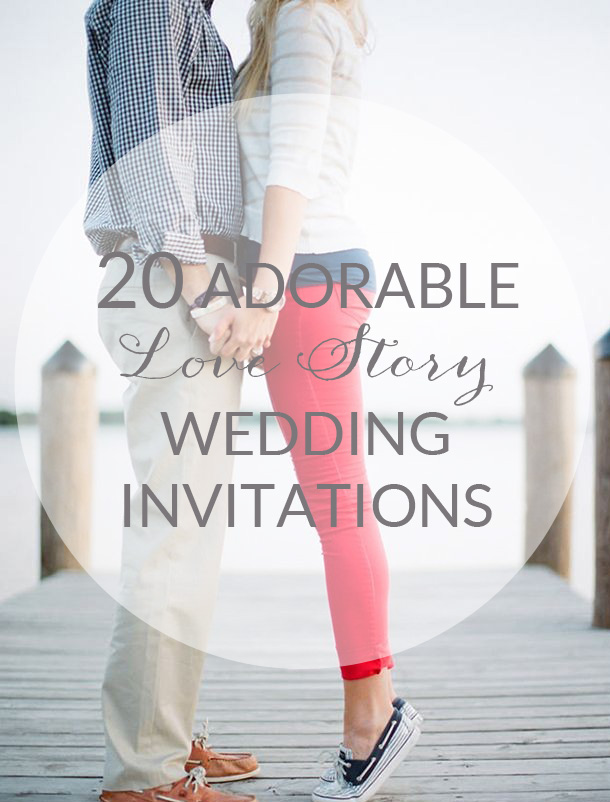 I am definitely not what you'd call an early adopter. I'm not the person queuing up to get a new iPhone, and it would scare you to know how long it took me to get a flat screen. It's a policy that actually works really well for me, because usually I miss out on all the early tech problems and bugs, and by the time I get round to buying something, there's a shinier version for the first adopters, so I get a better price. (I'm sounding like an old woman now, aren't I? Oh well.) Sometimes, with wedding trends, it's the same. There's something new and hot and awesome, and then over the following couple of years, the trend doesn't die away, it just stops being hot news on wedding blogs. But the good news is, meanwhile more people get involved in becoming suppliers of that thing, which gives you a lot more choice (and more options for your budget). A couple of years ago, love story infographic invitations were HUGE news – I wrote this post about them, which has remained one of the most popular on SBB (and that shows how many of you all still love this sweet idea). I also still think they're completely adorable and a very personal way of celebrating your history together (setting a great tone for your wedding day), but I was glad to see when revisiting them recently that now there are loads of options when it comes to designs, designers – and price points, based on how much of the story and design is customised, and whether you buy a printable PDF or fully printed invites. So, why not consider one of these suites for your big day? As Taylor Swift would say: It's a love story… baby, just say yes.
COMPLETELY CUSTOM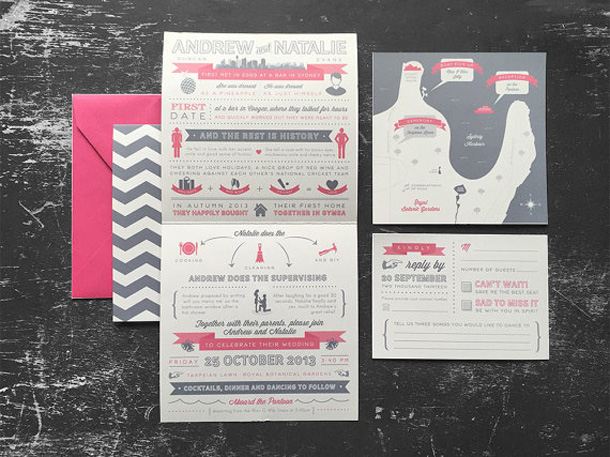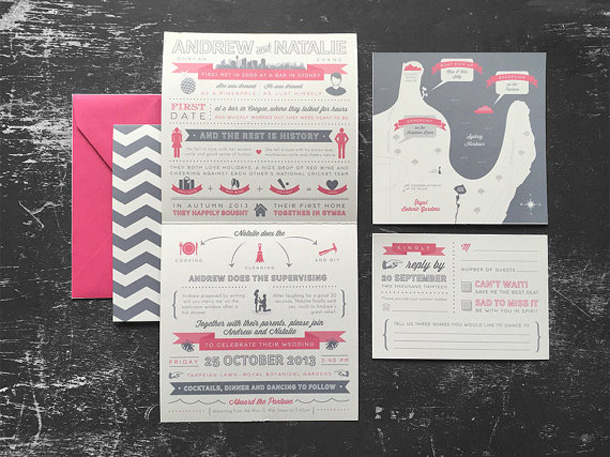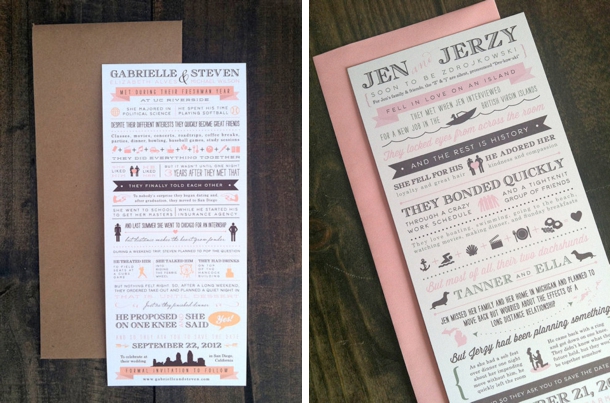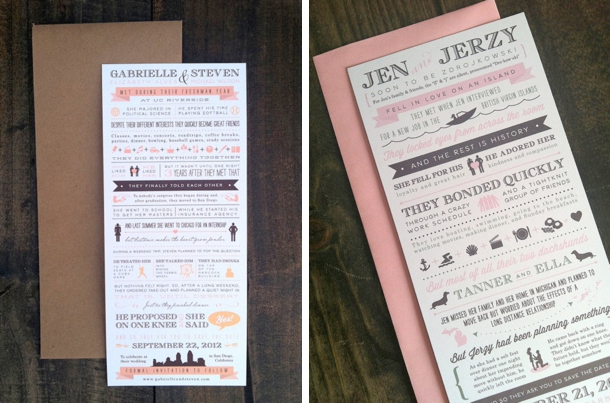 Custom Love Story Wedding Invitations or Save the Dates by Anthologie Press
The first option is to go for a design and story style that's 100% your own, created from scratch and written by you or in collaboration with your designer. This is obviously going to be the most expensive option, but it's also very special. Most designers will work with you on this, but a great option I found online is Anthologie Press on Etsy. After paying the design fee, you answer a questionnaire about your relationship and wedding colours/style and a bespoke invite is created. You then have loads of options for print inserts to round out your suite.
Another custom option I love is these invites by Written in Detail, which are charmingly illustrated especially for you using photographs, as well as having your story. So cute!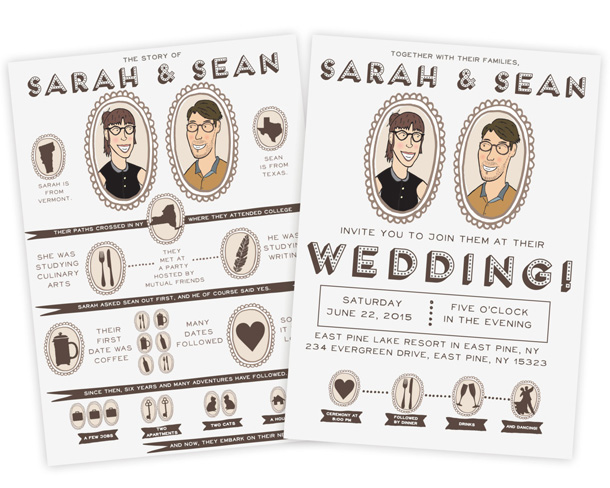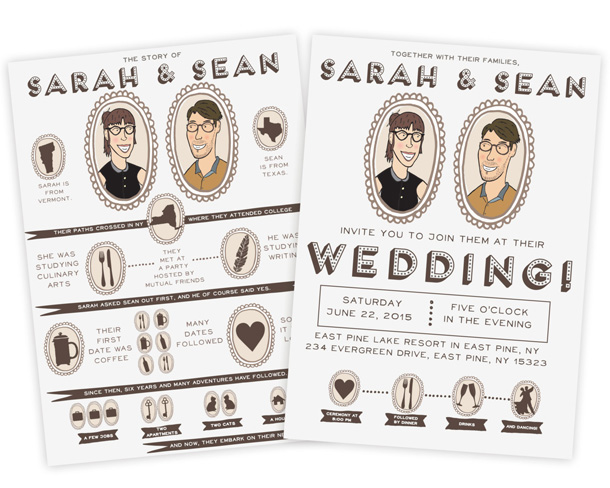 If you need help writing up your story, be sure to check the top tips in this post!
PRETTY PERSONALISED
Almost the same as above, some designers have done all the hard work of coming up with a beautiful basic design, but will customise it with your own story and often with images to go along with it too – this is a lovely option as it gives you a lot of flexibility with text but a clear idea of what you're getting.
These gorgeous designs are customised with your story and printed up for you: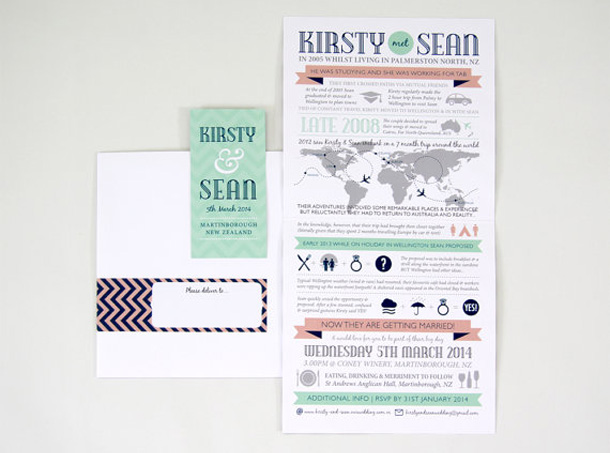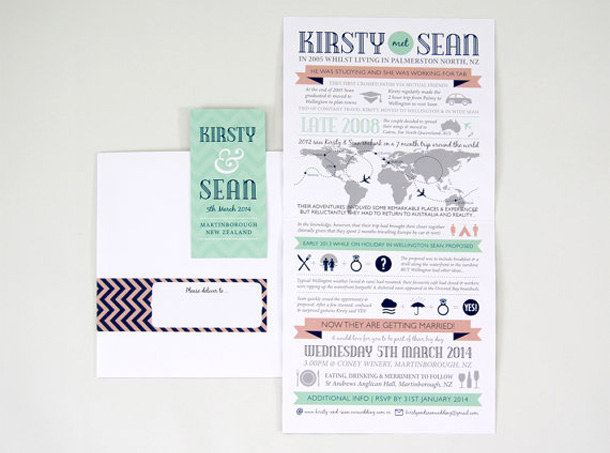 Love Story Wedding Invitation Suite by Duke and Darling
Wedding Story Card by Boring Sunday (left) | Cream & Black Infograph by Kitty Meow Boutique (right)
Our Love Story Save the Date by MaKenzie Noelle (left) | Love Story Wedding Invitation by The Little Posy Print Co. (right)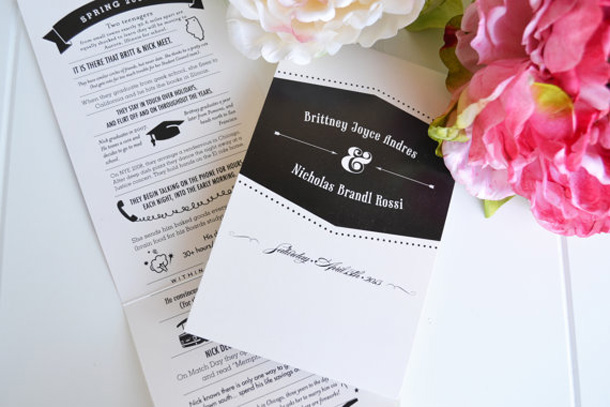 Your Story Wedding Invitations by JPress Designs
You can also get some designs sent to you as a PDF, for you to print yourself:
A Personalised Love Story by Poppy Wynter (left) | Wedding Love Story Timeline by The Inked Leaf (right)
Our Story Subway Sign Save the Date by The Inked Leaf (left) | Our Love Story Wedding Invitation by McKenzie Sue Makes (right)
TRUE LOVE TEMPLATES
Some designers have created more simple love story designs – these include the highlights of your story, but require a lot less customisation and bespoke design. Most of the cuteness, but for a lower price.
Custom Chalkboard Wedding Love Story by Aurora Graphics Studio (left) | A Love Story Save the Date Wedding Cards by Pure Joy Paperie (right)
Our Love Story Printable Wedding Invitation by Picadilly Line (left) | Wedding by Numbers Invitation by Ana Gonzalez on Minted (right)
Emerald Green Wedding Infographic Invitation by Scribbled Napkin (left) | Infographic Hipster Save the Date Postcard by Simple Simon Design (right)
Wedding Save the Date Invitation by A Taste of Everything (left) | Printable Long Story Short Save the Date by The Day Of (right)
Top image: Laura Ivanova Photography via Mod Wedding
This is not a sponsored post but contains some affiliate links.