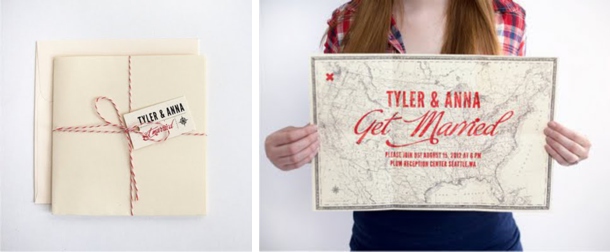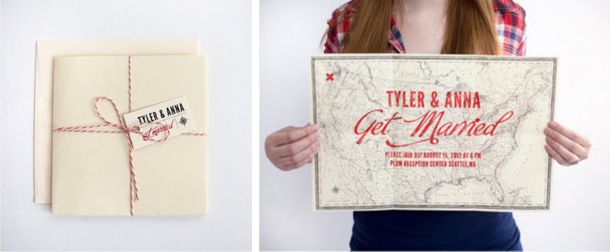 Fold out map Save the Date tied with baker's twine by Ello There Design via Elsje Designs blog.

Get ready, paperlovers and stationistas, because we are about to have a gorgeous invitation FEST. We've spoken before about travel themed weddings, and how it's one of the big themes that brides and grooms are loving (and personalising) at the moment. We've even had a few fun colour schemes for different travel wedding styles. While I was researching that post, I was struck by just how many gorgeous travel-style invitation suites there were out there, and I promised myself I would do a post on it to follow up. Now here's what I especially love about this collection – each designer (amateur or professional) has combined a series of recognisable, stylish travel elements (mainly maps, postage stamps and cancellers, airmail stripes, postcards, luggage tags, and suitcase stickers) into a unique look with different invitation styles, colours, elements and textures. My favourites are the suites that use a few of these elements, and some unexpected ones too, so that all the different pieces come together in one gorgeous, jet set-style look. Whether you're looking to DIY your invites or, better yet, working with a pro to come up with a suite that's uniquely yours, you should find plenty of inspiration here. Even if you're not having a travel theme as such, but planning a destination wedding or have a love for seeing the world together, you may like to include just one of these ideas in your stationery as a personal element.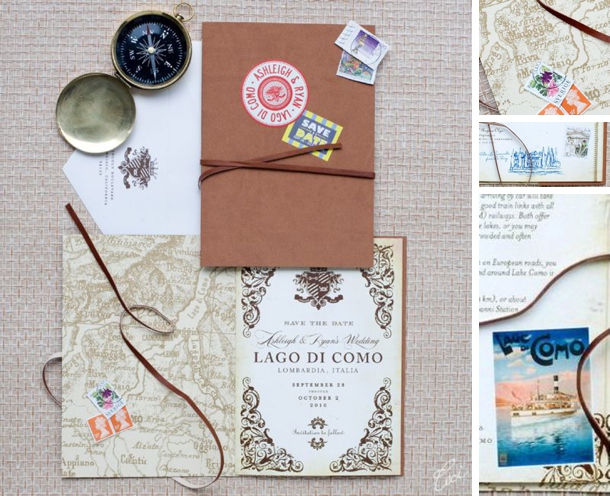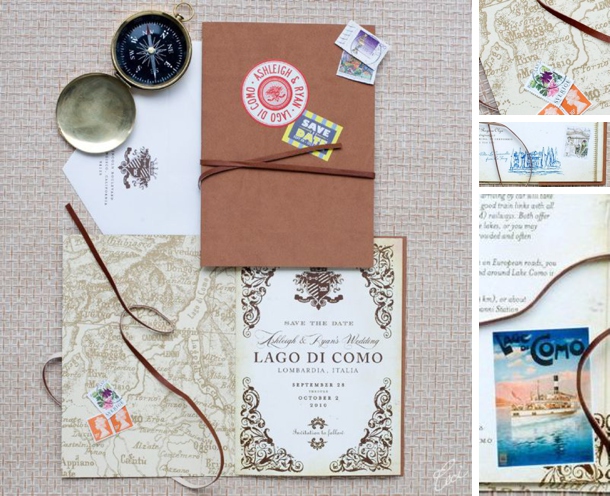 One of my favourite suites EVER. This was created for a destination wedding in Lake Como, Italy, and included map and postcard detailing and a gorgeous artist's travel journal with hand-drawn depictions of local sights, as well as Renaissance-style decorations. Wow! By Ceci New York.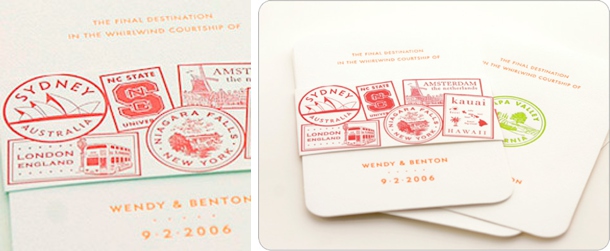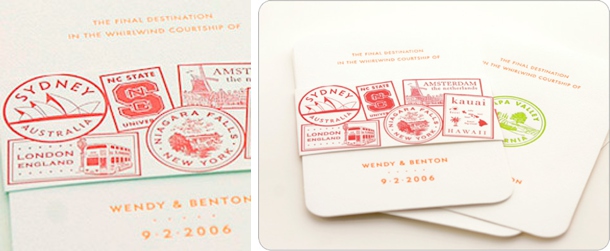 Lovely letterpress! This classic but colourful design gets a special travel element with a band featuring suitcase stickers from all the couple's favourite places, and the words "The final destination in the whirlwind courtship of…". By A Day in May Design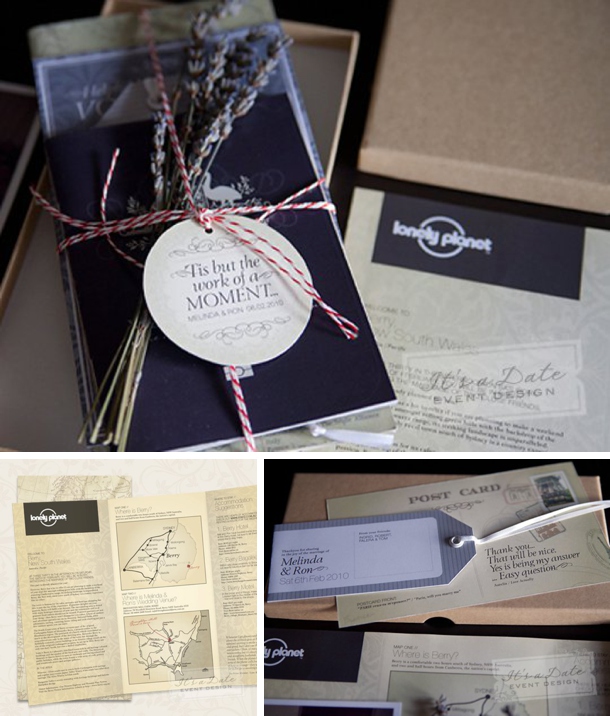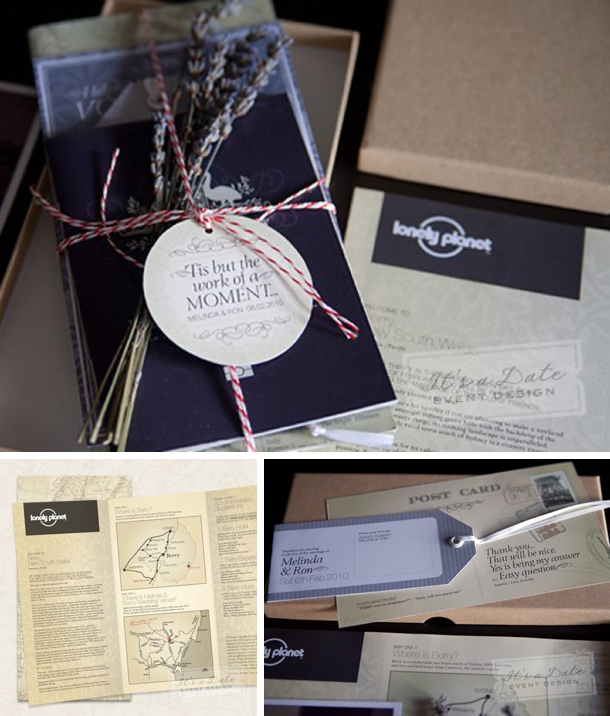 There's so much going on here – it's like a little package of wonders! The couple included a passport for their guests, as well as a 'lonely planet'-style guide to the local area, accommodation, etc. I also LOVE their vintage-style reply postcards that had the cutest quotes on them from Love Actually – personal, fun elements like that are something guests will always remember. By It's a Date Event Design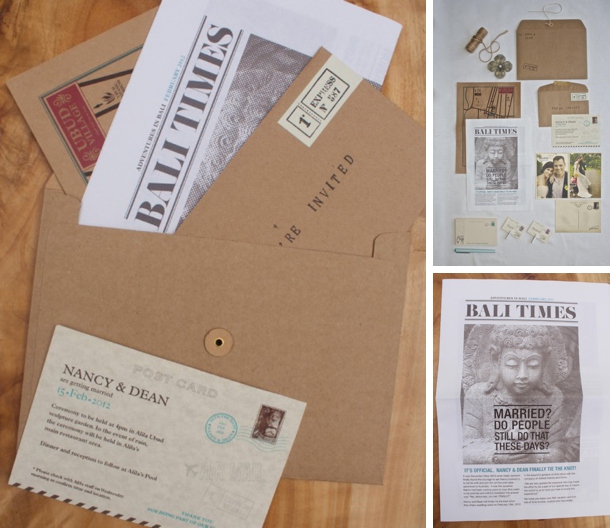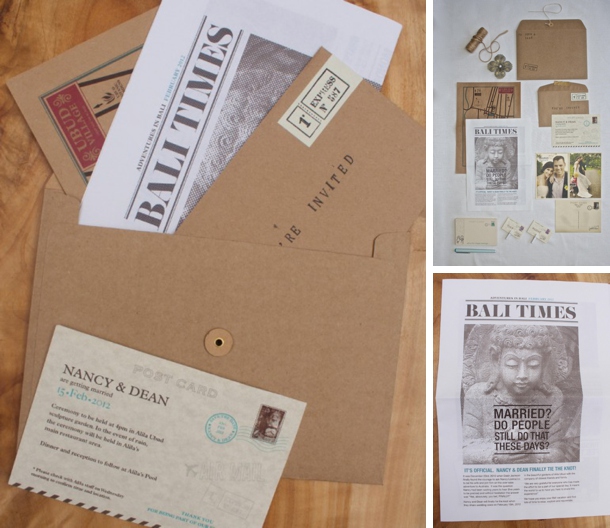 A newspaper is another unexpected element, and makes this package extra exciting (plus, it's a great chance to use one or more of your favourite travel snaps) – ideal for a destination wedding. This suite also had an eco element, as it was all printed on recycled or sustainable papers. By Nancy Lostracco via Lovely Stationery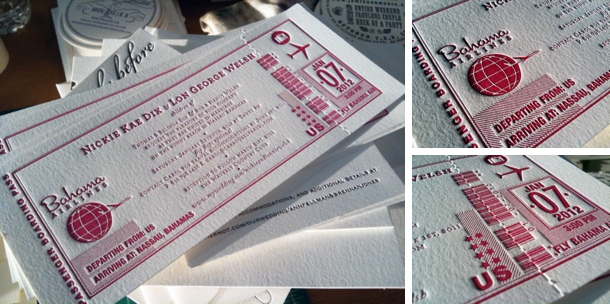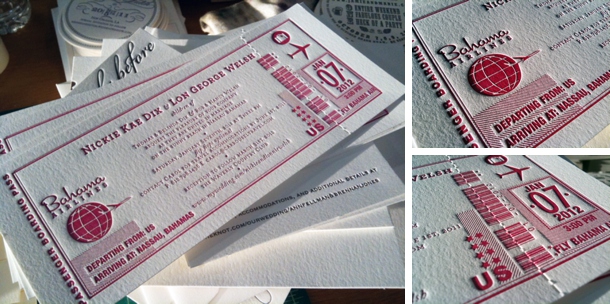 I've seen quite a few airplane ticket invites and they're fun, but letterpress them and they're in a whole different class! By Dick & Jane Letterpress Co.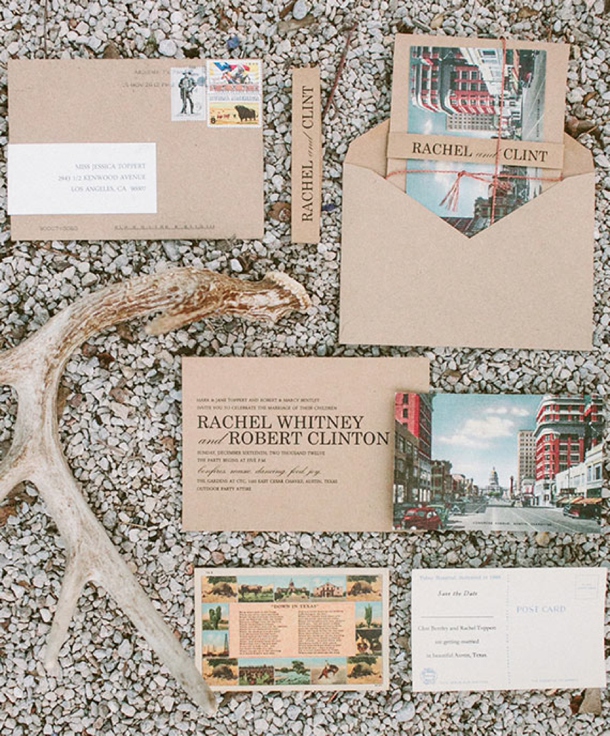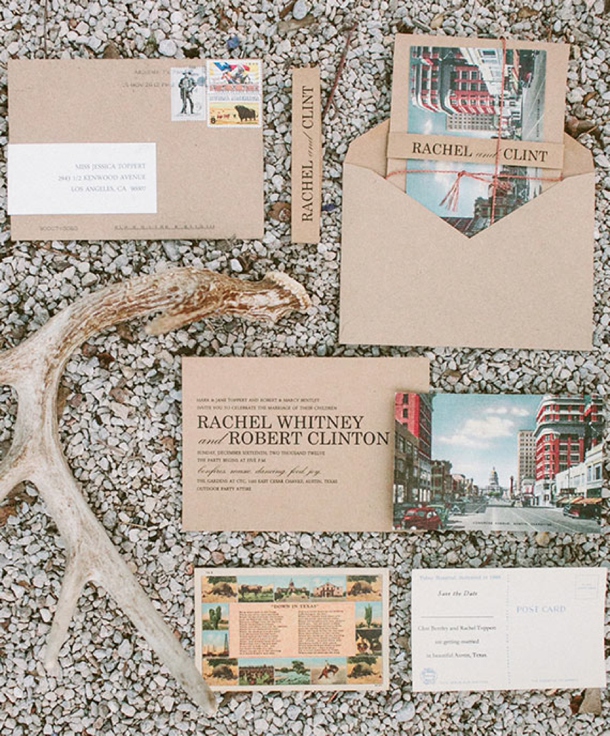 Couples having a vintage travel theme couldn't do better than this stunning suite. I love the mix of vintage postcards with elegant Kraft paper and that tiny touch of baker's twine. Via 100 Layer Cake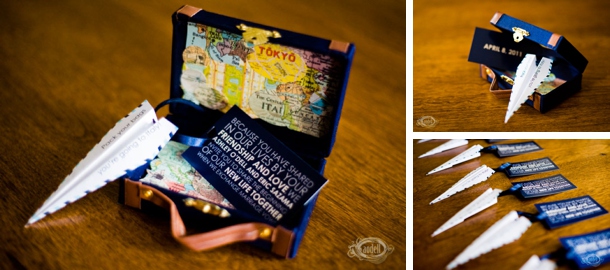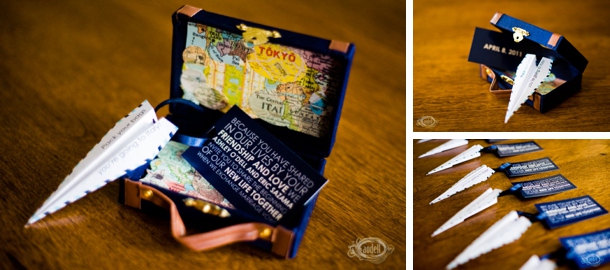 If you're having a small wedding, you can take interactive invitations beyond a packed envelope with 3D/sculptural invites. This bride used doll suitcases and filled them with tiny paper planes tied to business cards that had been printed up with the invite, as well as adding map detailing. Can you imagine receiving this? There'd be squealing round my house! By Ashley O'Dell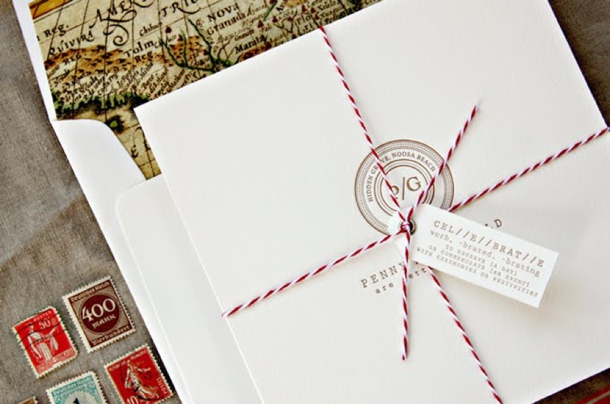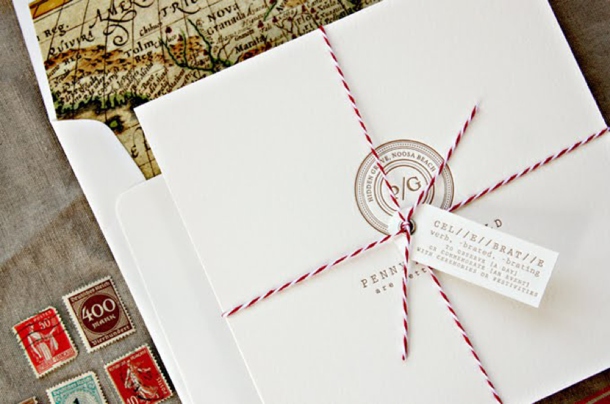 Yes, I'm a Letterpress fundi. But it makes everything look so SPECIAL. This simple combo of a logo reminiscent of a postal cancellation, a luggage tag and a map envelope liner, as well as some twine gets the travel theme across beautifully. By Bespoke Letterpress


And speaking of gorgeous letterpress – how amazing is this topographical map letterpress invite? Such a clever spin on the map idea, and so pretty. By Parrott Design Studio via Oh So Beautiful Paper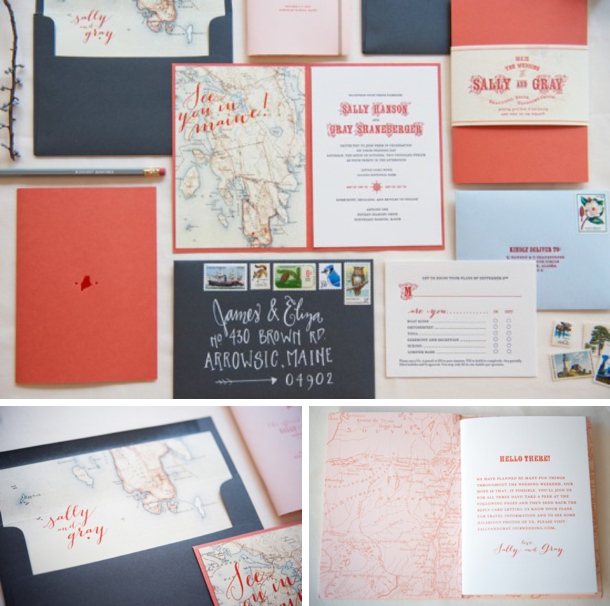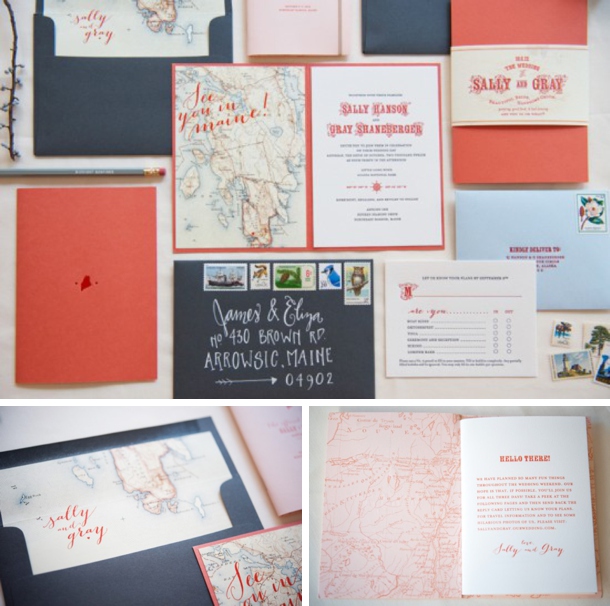 It's the mix of maps and beautiful calligraphy that gets me with this one – I absolutely LOVE how the red ink looks written directly onto the map. There's also a fun passport element to the inserts. By Gus & Ruby Letterpress via Oh So Beautiful Paper, photographs by Brea McDonald Photography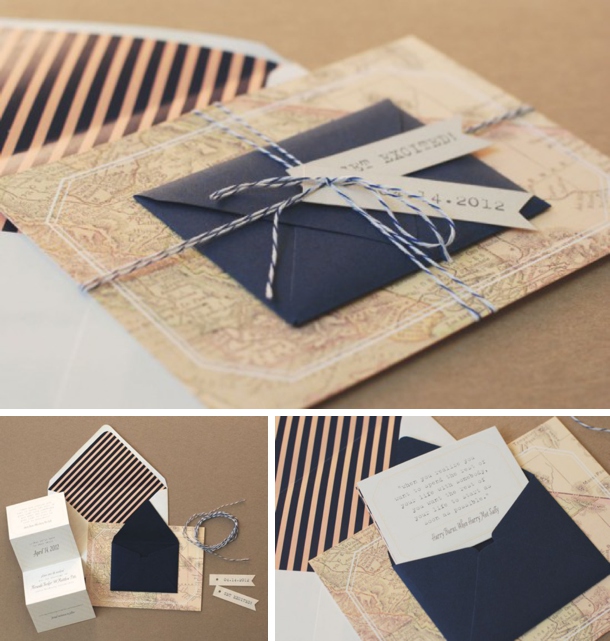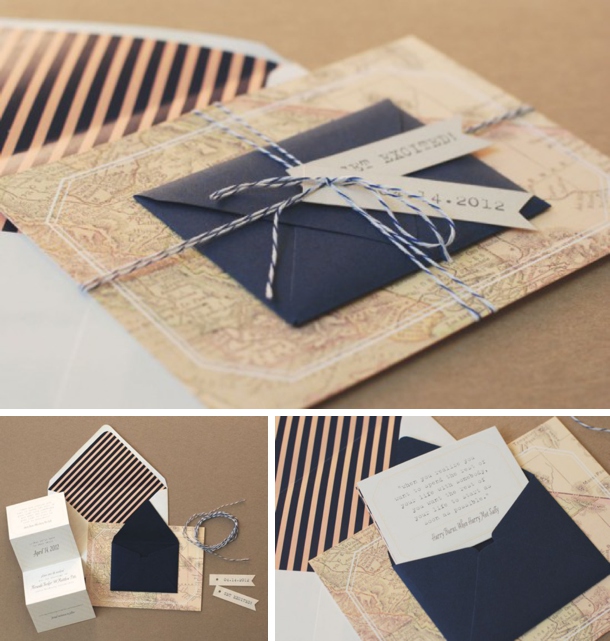 The perfect mix of vintage and modern, with an old map card and a striped graphic envelope liner. I also love how unusual this one is – a card with a little envelope stuck to it and then tied up in twine. Inside the envelope, there's a quote (from When Harry Met Sally, yay) that folds out into the invitation inself. Nice, isn't it? By Lilly & Louise via Oh So Beautiful Paper


Here's another modern/graphic take, using maps. And you KNOW that sparkly band is going to be the best part for me! By Love vs. Design via 100 Layer Cake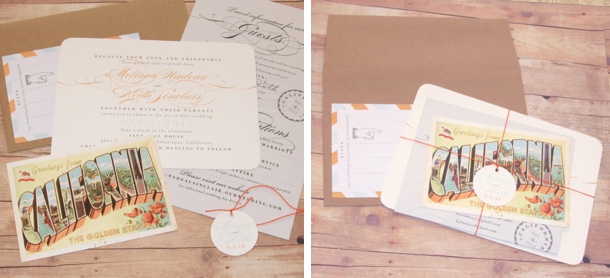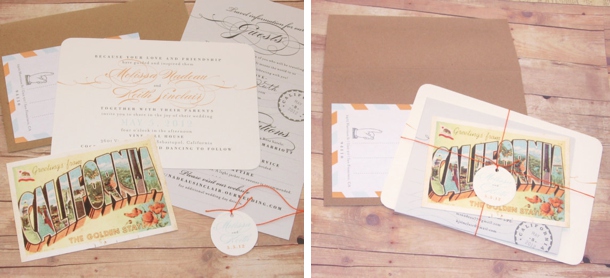 Postcards are an awesome item to include in a package invite. Ideally for guests to RSVP with. You could even ask them a fun travel question like: 'What's your top honeymoon suggestion?' By Letter Box Ink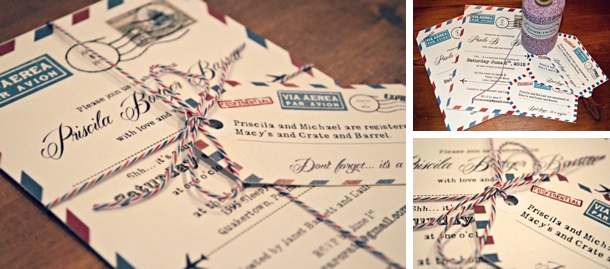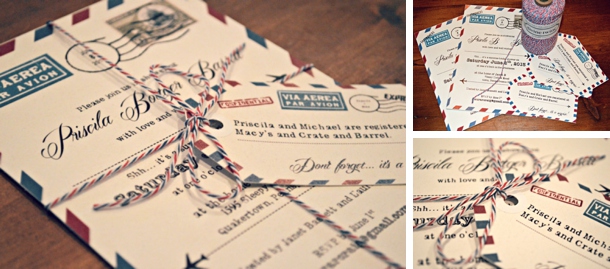 And of course, a roundup wouldn't be complete without an airmail invite! We do love them, don't we? I like how this one also uses stamps and luggage tags, and the colours are absolutely perfect for a vintage wedding theme, even if this is the only time you use red and blue. By Some Kind of Lovely Ride
Looking for a stationery designer in South Africa? See our directory listings.