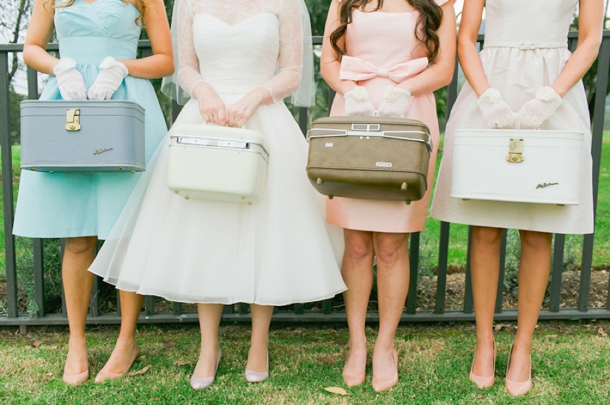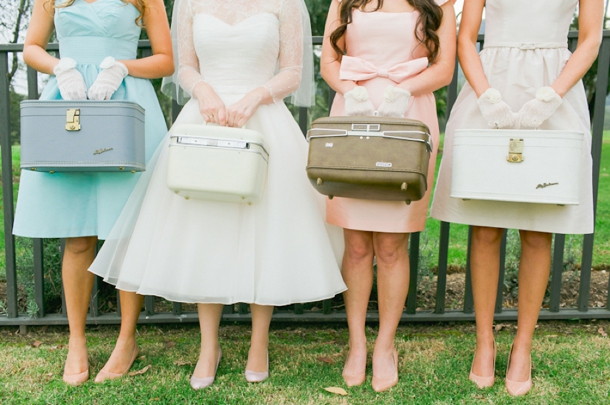 Credit: Julian Beattie

So I've been doing this blog thing for over three years now, and although some posts and ideas disappear into the archives, some keep getting hits again and again. But lately, instead of just feeling pleased (thanks for the love!) I've been feeling a tiny bit embarrassed. I started wondering if the posts had got a little outdated. I'm happy to say that having read them again, I still think they'd be useful, but it also got me thinking about all the new ideas that have popped up in that time (and still do so). These trends would have died out by now if that hadn't happened. And while I am the last person to tell you not to use something you love (if it resonates with you, I don't care how many times you've seen it on Pinterest, do it), I thought it was about time I revisited the SBB archive and brought you some updated inspiration. So here I am! Wedding trends 2.0.
Today we're looking at travel themed weddings – I find it quite funny that I called it a 'mini-trend' in my original post (still one of our Top 20 most read articles!) when clearly it's a theme that has run and run – just recently a planner told me it's by far her most requested theme. Some of that has to do with the vintage decor movement, but with so many couples either meeting abroad, coming from different places, or just enjoying travelling together, I can see why it's so popular. And just like everyone's journeys are personal experiences, you can make your travel themed wedding personal too. In the original post, I covered all the basic motifs: maps, luggage, airmail, postcards, etc. and there's still lots there for you to start with, but here I'm going to be looking at recent ideas or looks or fresh twists that made me stop and take notice. Like those bridesmaids with vintage vanity cases above – love that! Although to be fair, they didn't actually carry them down the aisle – maybe a bit much, I don't know.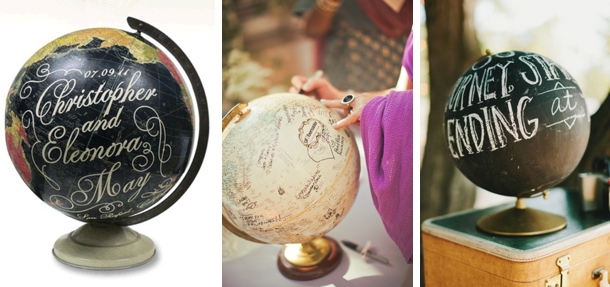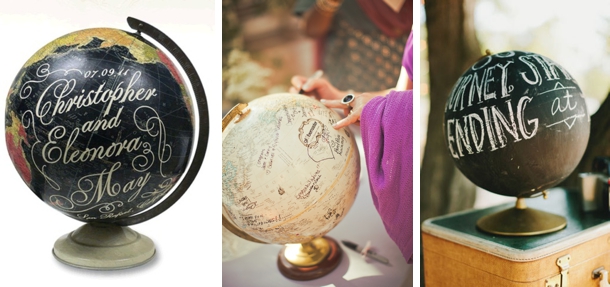 Credits: Art on Globes (left); via Elizabeth Anne Designs (centre); Hugh Forte via Green Wedding Shoes (right)
Or how about these new ideas for using globes? Art on Globes has some gorgeous work, which would make a lovely feature piece and something to keep in your home (or even a wedding gift). I also like the idea of an old globe for a guest book, and I LOVE the chalkboard globe used as a sign!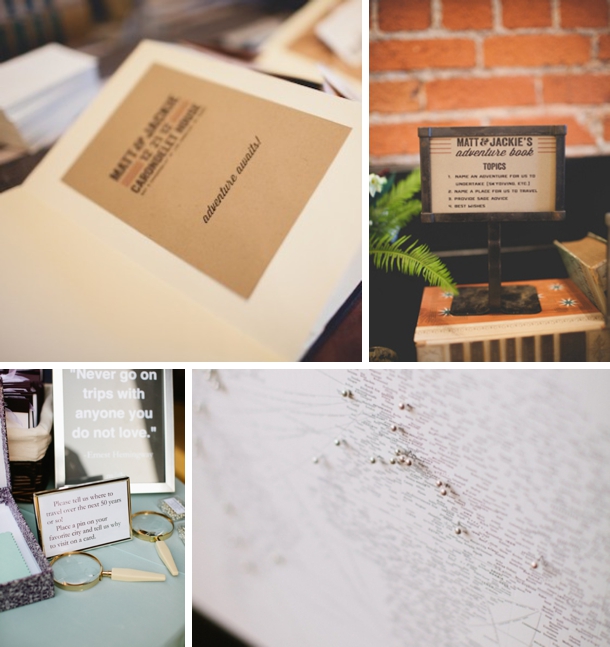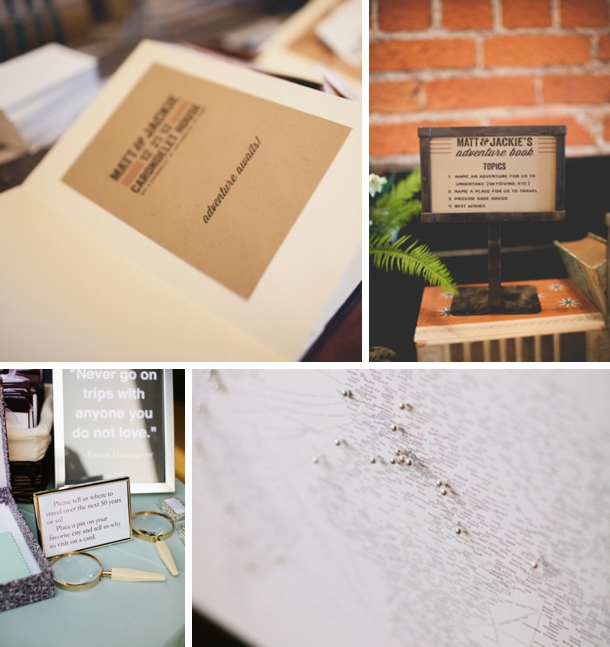 Credits: Top – Floataway Studios/Lovely Jubilee/Found Rentals; bottom – Daniel Usenko/A Dream Wedding via Every Last Detail
Speaking of guest books, here are a couple of variations on the travel guest book, where guests usually either just pin a map with the place they are from, or else write on a  postcard. In the weddings above, guests were asked to suggest an adventure for the couple to go on, and either write it in a book (above) or pin their favourite place on a map (below) and then write the details on a card for the couple to keep. I really like this idea – I never know what to say in a guest book, but EVERYONE has a favourite place in the world that they can say a few words about!
If you like the idea of a travel theme, bear in mind that your decor doesn't have to follow the same path that many have before. I have nothing against a muted vintage palette, and I love the red and blue of airmail envelopes, but here are some very different alternatives, all with a bit of a travel theme to them.
RUSTIC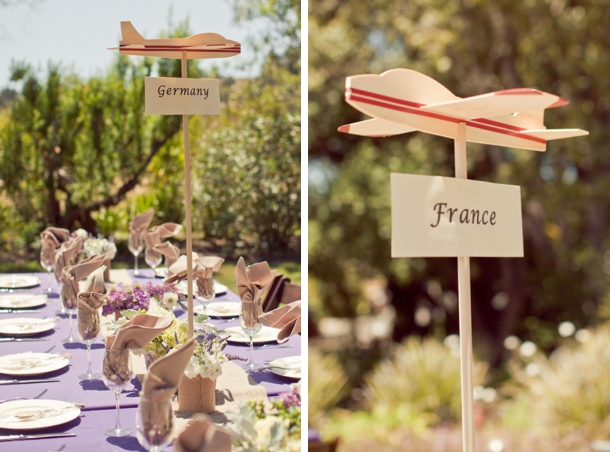 Credit: Carlie Statsky Photography via DIY Bride
URBAN


Credits: Wedding – Floataway Studios/Lovely Jubilee/Found Rentals; bus blinds print from NOTHS
PASTELS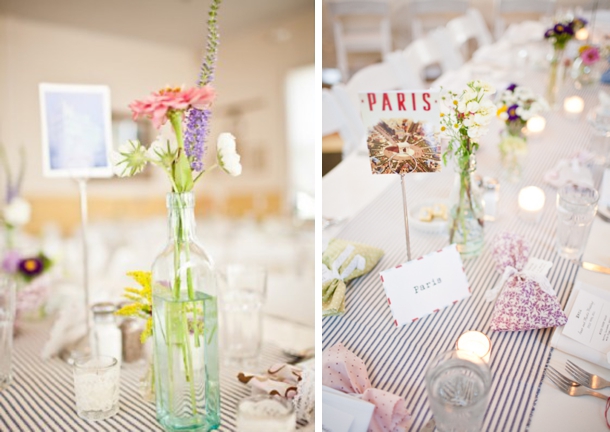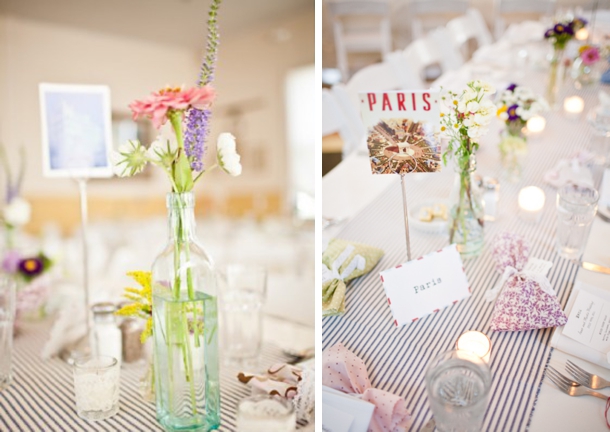 Credit: Christina Kiffney Photography/Talia Events via Couture Colorado
ELEGANT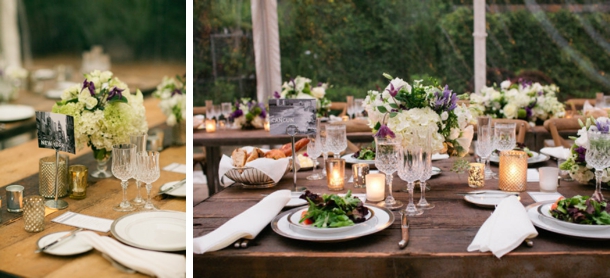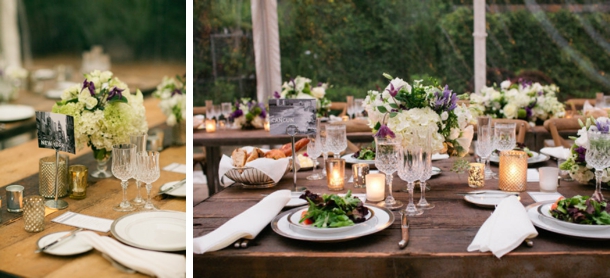 Credit: Shannen Natasha Photography via Style Me Pretty
COLOURFUL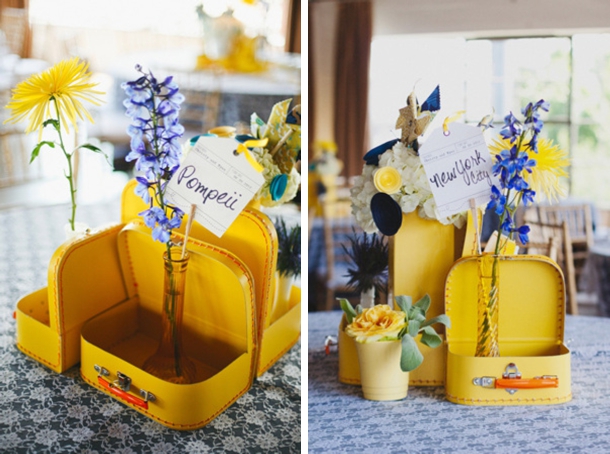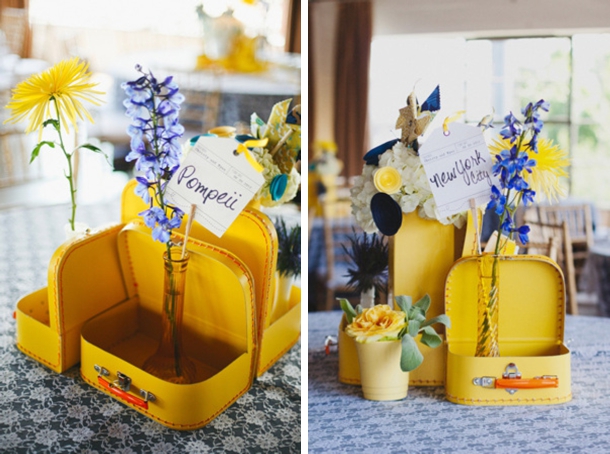 Credit: Apryl Ann Photography via Ruffled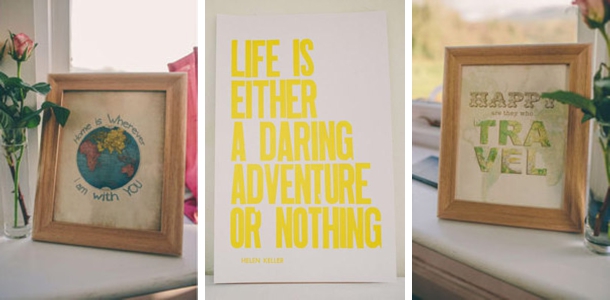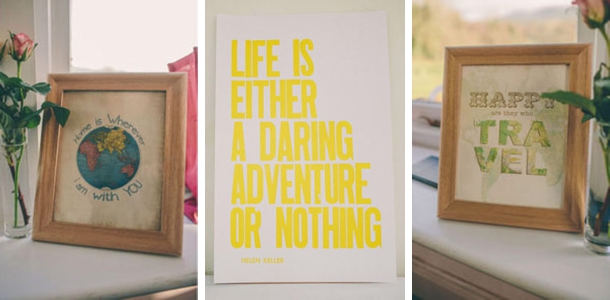 Credit: Rubistyle Photography via One Fab Day
Another decor idea I came across which works perfectly with the words as decor trend that's big at the moment is framed quotes about travel, journeys and adventures used around your venue, as this couple had. Very cute! You could do a lot of other things with those quotes too – have them on napkins or printed runners, for example.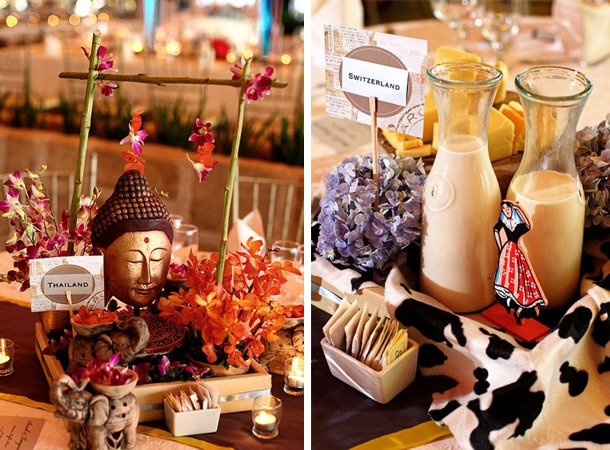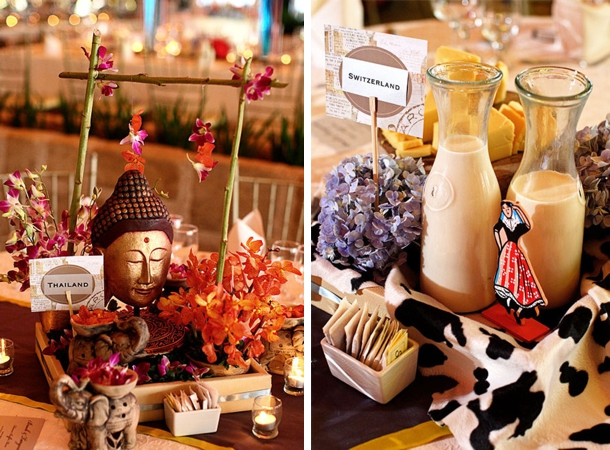 Credit: Nelwin Uy
If you want to go all out on the travel theme, you could follow this couple's example – every table had different decor, depending on the country it was named for! I've also seen this different tables idea work before without being too themey, and you could do it with vintage objects or even florals and prints, or go full scale kitsch with old school trinkets and souvenirs. Maybe not for everyone, but definitely a fun talking point for guests!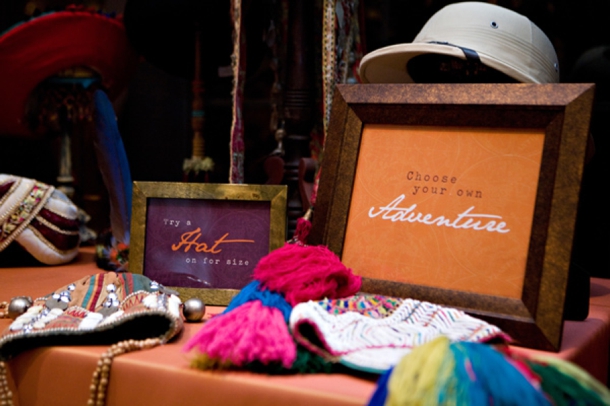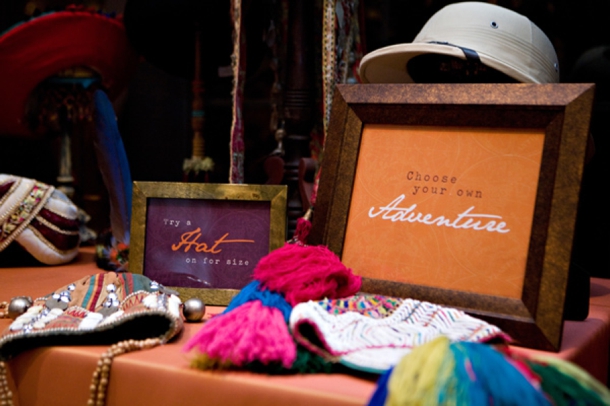 Credit: Rachel Thurston/Amorology via Ruffled
Another fun idea for guests: travel-themed hats for them to 'choose their own adventure'! Now that's a photobooth I'd like to have a go at!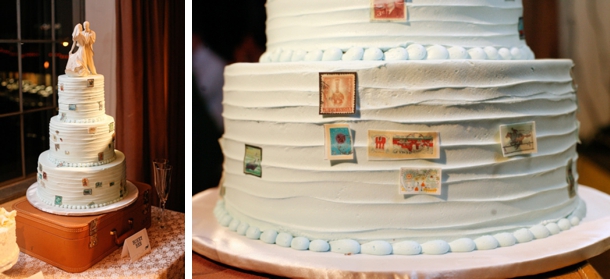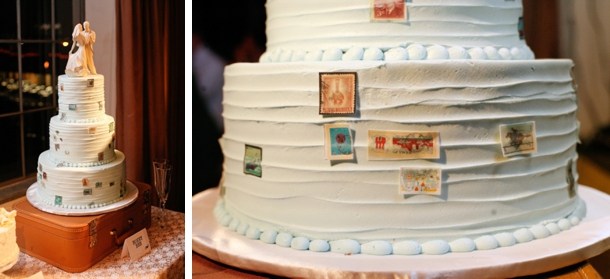 Credit: Apryl Ann Photography via Ruffled
Vintage travel themed decor for your cake doesn't need to be overboard. How about a suitcase cake stand, and some edible stamps?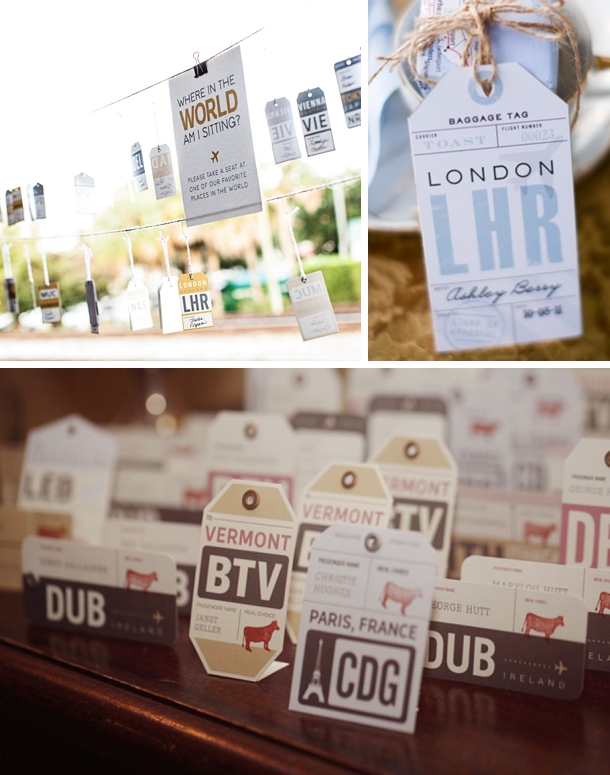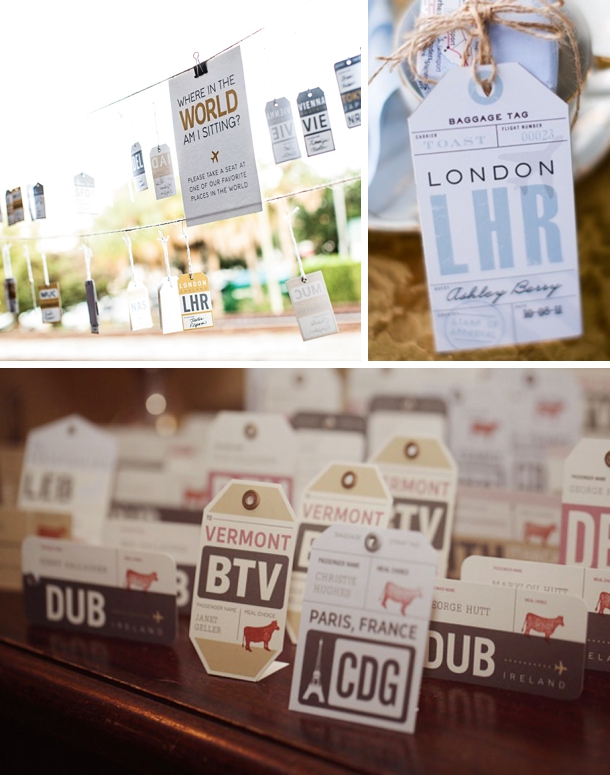 Credits: Katie Meehan Photography/At Last Wedding + Event Design via Savvy Deets Bridal (top left); Cat Mayer Studio/Toast! Event Planning & Design via Wedding Chicks (top right); Etsy (bottom)
If you do decide to name your tables after favourite places, I still think that airport codes are a cool way to go. Just look at the examples above – you can really have fun with the graphics on these, and they all turn out differently!
Or why not try something completely different for your table names: famous explorers?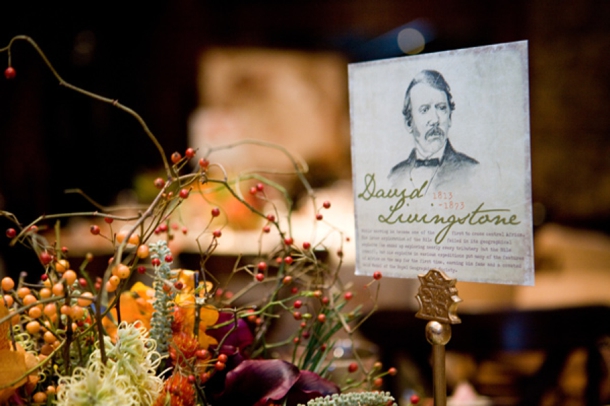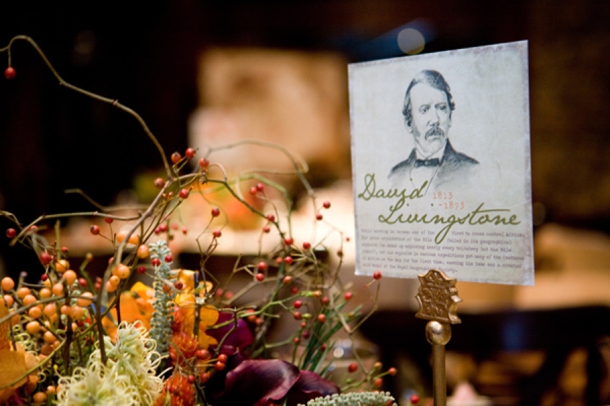 Credit: Rachel Thurston/Amorology via Ruffled
Hope you liked this little reload! And don't forget, you can read the original post about travel themed wedding inspiration here.