**UPDATE: Looking for fresh travel themed wedding ideas? Read our latest roundup here.**
One of the mini-trends I've noticed popping up in quite a few weddings lately is the use of travel-inspired details. As a keen traveller myself, I love this, especially the way so many couples are using it to bring more of their histories and personalities to the wedding. It might be something as simple as naming tables after places they've been, but there are also lots of very cute and creative ideas coming through for making travel even more of a central motif, especially when combined with a vintage vibe. Here are some of my favourites. I've grouped them by the different wedding elements, but many of the ideas can be adapted to other parts of the wedding, so there's plenty of opportunity to make this trend your own if wanderlust is something you and your partner have in common. And while you're at it, why not have your guests contribute to your honeymoon as an alternative to the gift list? The Wedding Gift List Registry can do this for you in South Africa.
Save the Dates & Invitations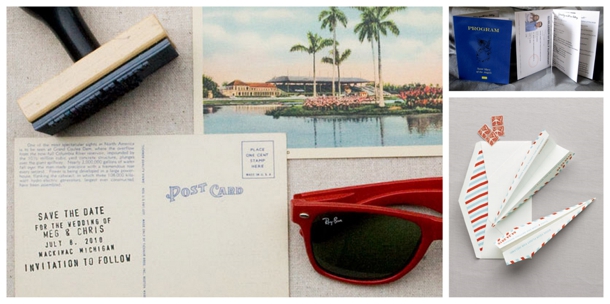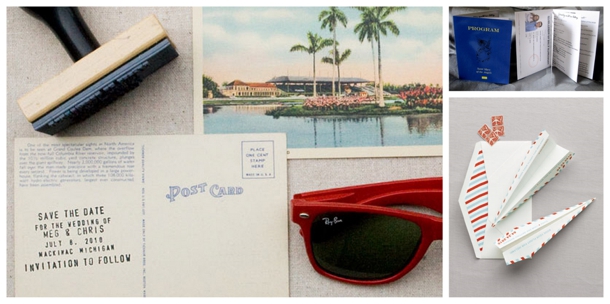 Sources: Postcards via Brides.com; Passports from Elizabeth Anne Designs; Paper aeroplane from Martha Stewart.
Vintage postcards are everywhere, and no wonder – they're just so gosh darn purdy. Among other things, they make great save the dates – try this DIY tutorial for blank postcards or this one if you need to remove existing writing from old cards. Or you could download these pretty examples.
Another idea I love is to use paper aeroplanes for your save the dates – even better if you design them using air mail stripes. Or you could create passport or ticket replicas, especially if you're having a destination wedding.
Escort Cards & Table Numbers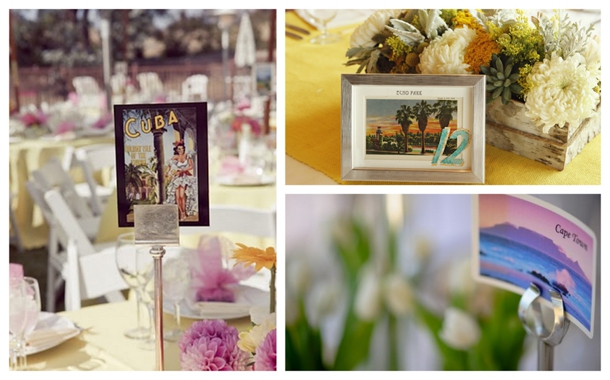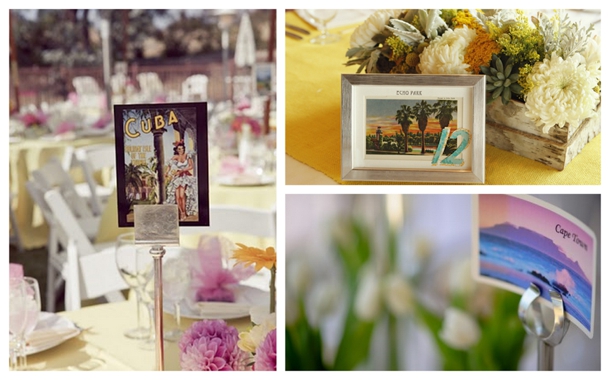 Sources: Cuba postcard via The Loveliest Day; Framed postcard via Wedding Chicks; Cape Town postcard by Ruth Berchowitz.
Postcards also make great table markers and allow you to tie travel-themed table names into your decor, be that modern or vintage. One of our brides based all her stationery on this idea – still one of my personal favourites! Either place them in simple card holders or frame them for a slightly more formal effect.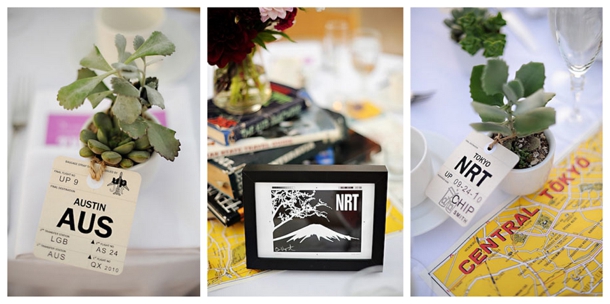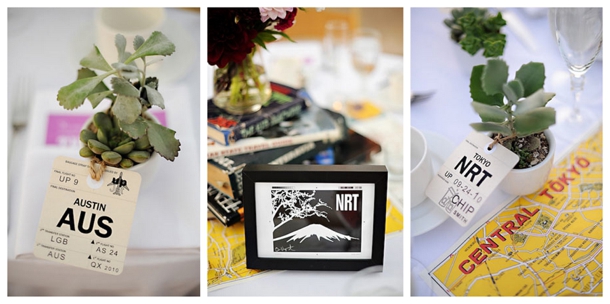 Images via Before the Big Day
I also love the idea of using airport codes as table "numbers" – this couple attached baggage tag replicas to plant favours and then matched them to framed black and white images. Super stylish! (See also the use of matching maps on the table.)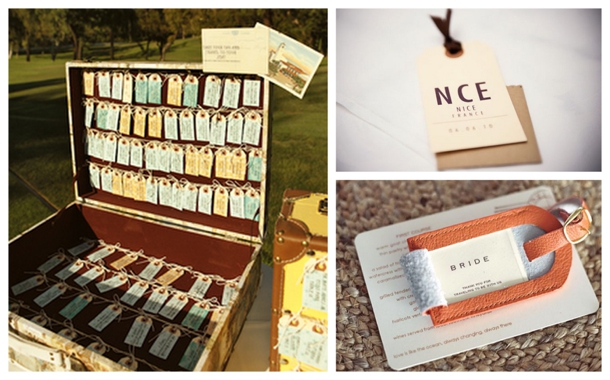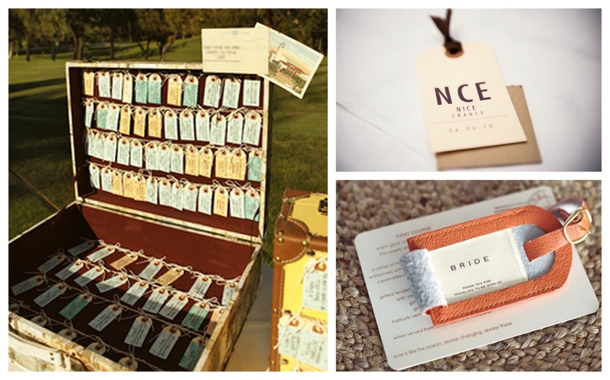 Sources: Suitcase via Wedding Chicks; Airport code tag via Style Me Pretty; Leather luggage tags via Style Me Pretty.
Luggage tags are another great element. Either use the paper ones as a budget-friendly solution to escort cards or gift guests with pretty leather ones (which double as favours).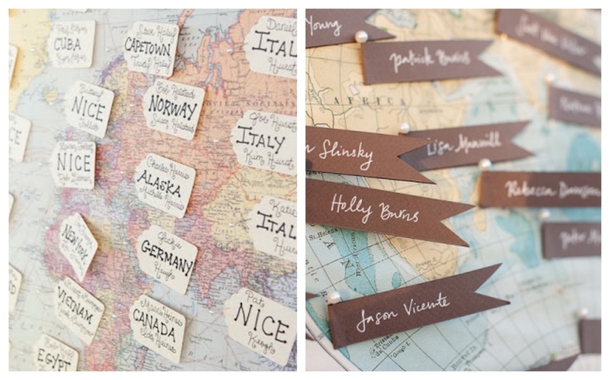 Sources: (Left) via The Loveliest Day; (Right) via Style Me Pretty.
For an even simpler solution, pin up a world map and attach flags with guests' names and table assignments to it.
Programmes, Menus & Other Stationery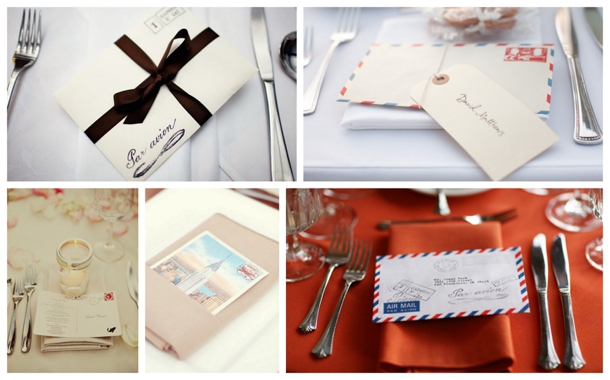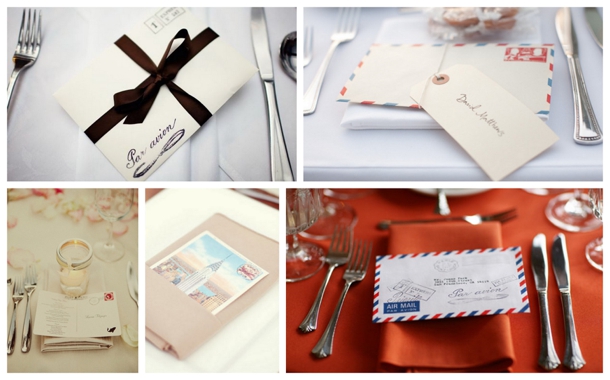 Sources: Par avion stamp envelope via Style Me Pretty; Airmail envelope (top) via Style Me Pretty; Airmail envelope (bottom) via Style Unveiled; Vintage postcard in napkin via Before the Big Day; Postcard menu via Wedding Chicks.
Travel details make for great wedding stationery. I'm particularly partial to airmail envelopes (especially combined with a bit of twine and a luggage tag) but I also adore the "Par avion" stamp used here too. Fill envelopes either with the menu or with personal letters for guests. Once again, vintage postcards make great menu cards. However you do it, these details evoke the romance of letter writing and mail ships – love letters from a time gone by.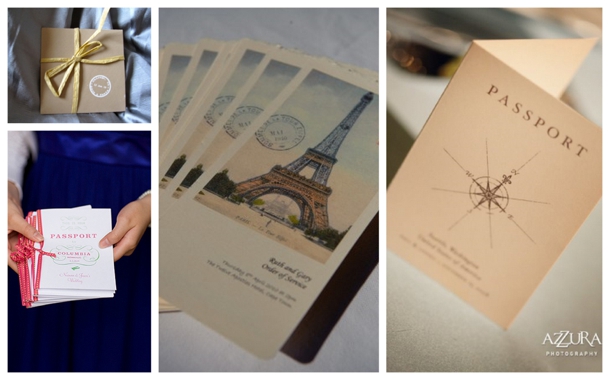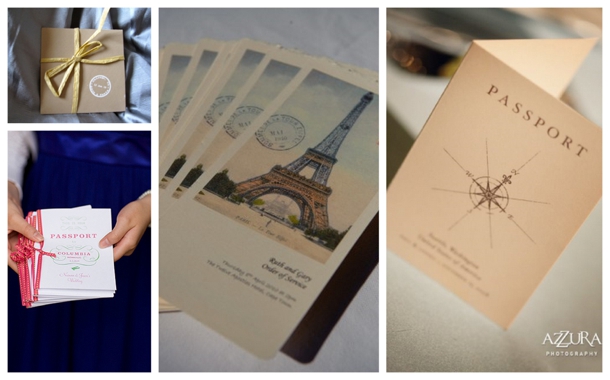 Sources: CD favours from Elizabeth Anne Designs; Red and white passports via Style Me Pretty; Vintage postcard-style programmes by Ruth Berchowitz; Antique passport programmes via Style Me Pretty.
Postcards and 'passports' also make for great ceremony programmes. And I'm a huge fan of the favours top left, which used a custom-made "postage stamp" on CDs of African music (since this was where the couple met).
Decor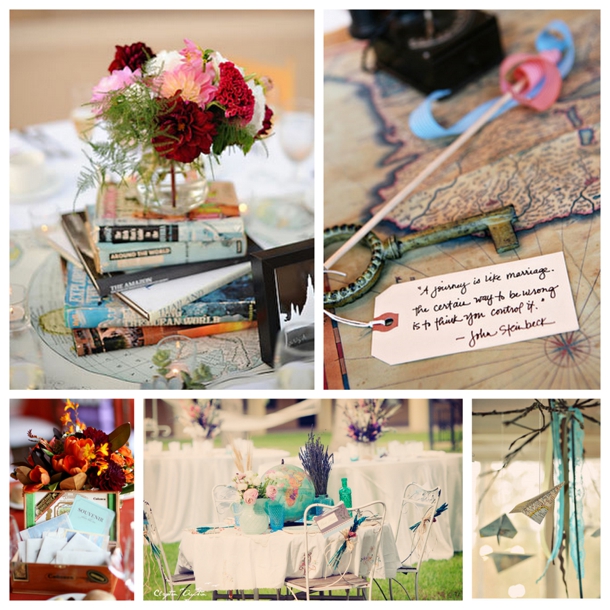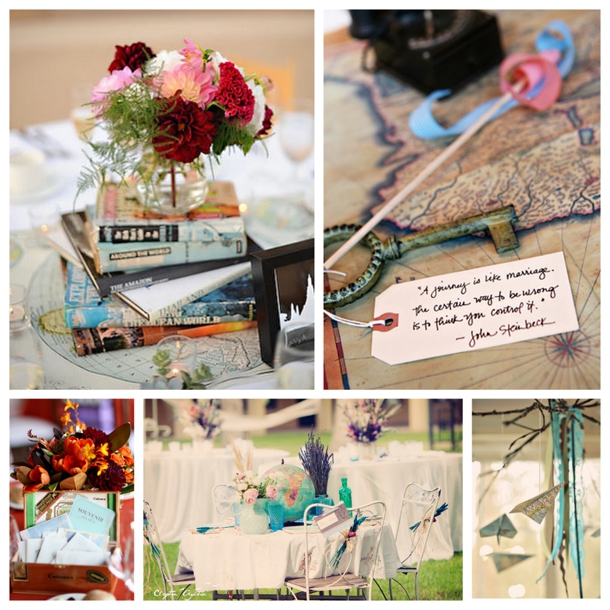 Sources: Book table centrepiece via Before the Big Day; Luggage tag with quote via Style Unveiled; Paper aeroplane mobile DIY tutorial from Ruffled; Table with globe from Clayton Austin; Suitcase centrepiece via Style Unveiled.
We've already covered most of the elements commonly used in travel themed wedding decor: luggage tags, postcards, maps, suitcases. But there are a number of ways you can combine these to add to your look. In the examples above, one couple used a selection of travel books and atlases on each table (a nice twist on the book table decor we're seeing a lot of at the moment). Another used small suitcases as centrepieces, and yet another incorporated globes. I'm digging the use of luggage tags with inspirational quotes on them, and this paper aeroplane mobile just makes me want to squeal. HOW cute is that? Love.
Guest Book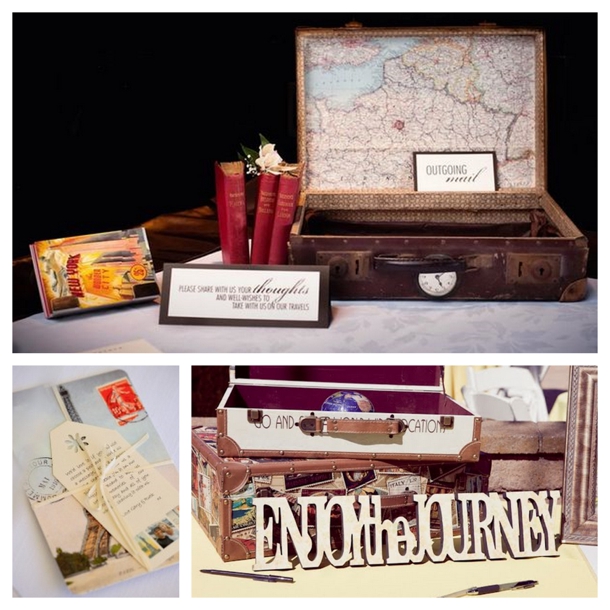 Sources: Suitcase with map lining via Style Me Pretty; 'Enjoy the journey' guest book table via The Loveliest Day; postcards by Ruth Berchowitz
Needless to say, the elements above also combine brilliantly for an alternative to a guest book (although if you prefer the traditional, I like the idea of having guests write into an atlas or a book of travel photographs). Provide your friends and family with postcards and ask them to send you a note either via traditional mail or by placing their notes into a suitcase. Pretty up an old suitcase by lining it with a map (you should be able to easily pick up an old atlas cheaply). You could also use compasses, telescopes and other ephemera on the table to add interest.
And finally, I can't finish off this roundup without including this travel-inspired dessert table from Sweets Indeed. It has loads of stealable ideas: the little hot air balloons, pinwheels made from old maps, stands made of suitcases.. Doesn't get much sweeter than this!