Hello lovelies! Hope you're having a fab afternoon. As you read this, I'll almost be at the end of my month off, and heading to SA – can't wait, as always! So, since travel is the order of the day for me, I thought it was time to touch on travel-themed weddings again. The great thing about this theme is that it really doesn't have to be a single look or style – it can really be incorporated into any wedding style or venue. To prove my point, I've put together three lovely palettes using three of my favourite travel-themed invitation suites. The looks are very different, from vintage to contemporary elegance to bright, fun pops of colour. Which is your favourite?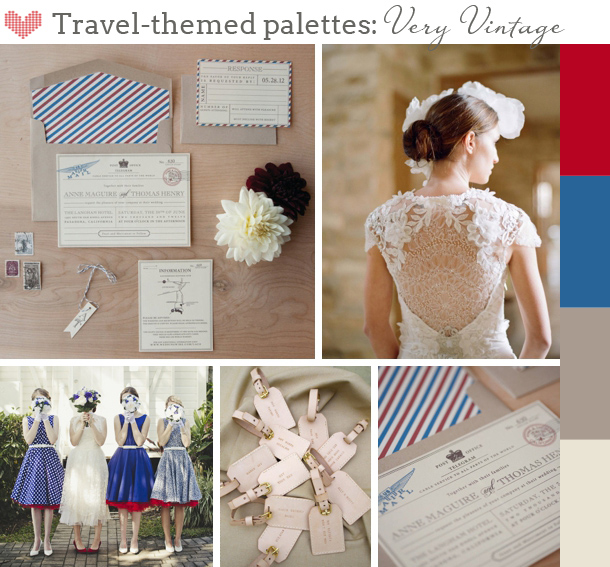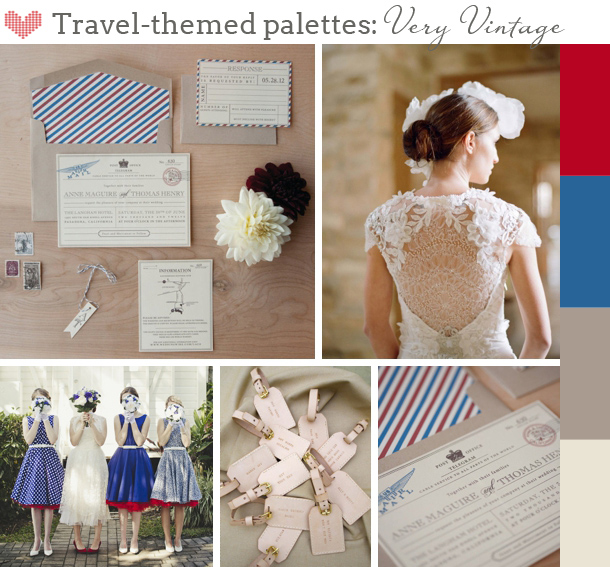 Sources (clockwise from top left): 1 & 3- Vintage travel wedding invitation by Jen Simpson Design on Etsy; 2-  Elizabeth Messina via Wedding Chicks; 4- HarLex via Brides; 5- Dan O'Day via Ruffled
Vintage travel weddings are the most popular, and I especially love those that have an airmail motif, with its love letter connotations. The matte blue and red also go perfectly with a neutral palette (although be sure to use them in pops rather than going matchy matchy with such strong shades, which may also look very nautical). This vintage inspired invitation suite from is perfect, paired with a gorgeous lace wedding dress, mismatched vintage bridesmaid dresses, and luggage tag favours. Keep flowers simple and mostly white, and use baker's twine and lace for those extra little touches.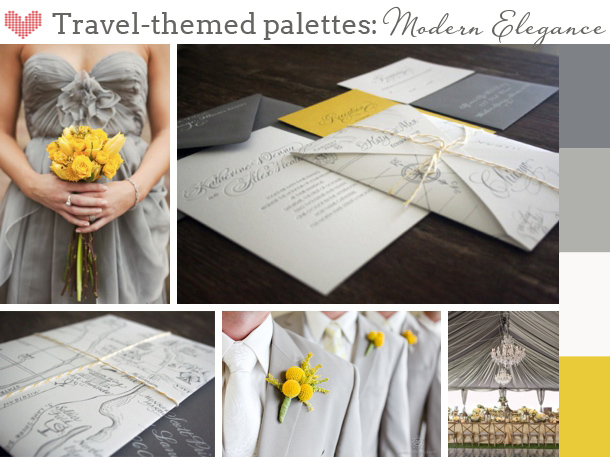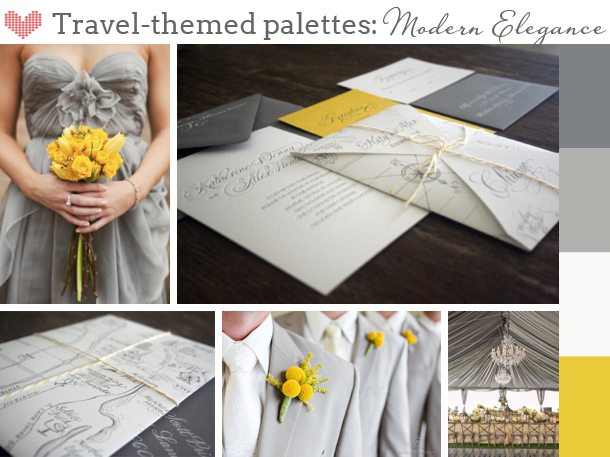 Sources (clockwise from top left): 1- Stephanie Williams via Sitting in a Tree; 2 & 5- Atheneum Creative via Oh So Beautiful Paper; 3- Aaron Delesie via Style Me Pretty; 4- Rowell Photography via Exquisite Weddings
If you're planning something more contemporary and sophisticated, like an elegant wine farm wedding, then you can still use a travel motif in your colours. I just adore this invitation suite from Atheneum Creative, with its letterpress and map detailing, in shades of grey with a pop of yellow. A grand marquee, soft chiffon bridesmaid dresses, and fun bright flowers including billy ball boutonnieres complement the look perfectly. Here the travel details are kept subtle, but you can still bring the theme together with, for example, a logo that is used throughout, with travel-themed table names, and with a travel-inspired menu. You could even create cocktails that are named after your favourite destinations, or contain relevant ingredients (e.g. tequila for Mexico, whisky for Scotland, etc.)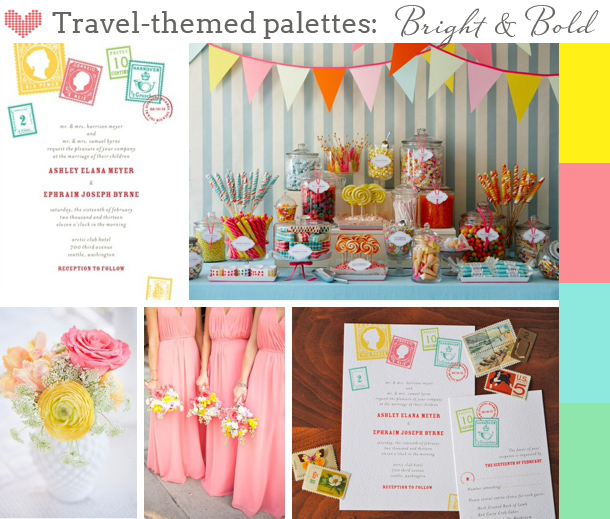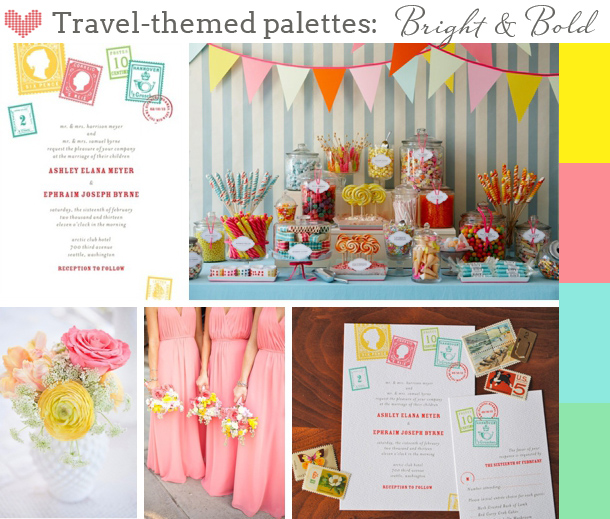 Sources (clockwise from top left): 1- Wedding Paper Divas; 2- Amy Atlas Events; 3- Oh Joy/Wedding Paper Divas via 100 Layer Cake; 4- Ali Harper Photography via Landlocked Bride; 5-Mirelle Carmichael Photography via Style Me Pretty

How about if you'd like something more relaxed, maybe even with a beachy vibe? This invitation suite is just gorgeous, with an ice cream palette of coral, yellow, aqua and mint. The stamps make for a subtle travel reference, and I'd carry on with the same design on the rest of your wedding stationery, as well as some sweet mini bunting. Dress your girls in flowy coral dresses carrying lush bouquets, and give your guests a sweet treat with a candy or ice cream buffet – how about using sweets from various countries? Make sure you stock your photobooth with tons of fun travel-styled props, like old cameras, French berets and baguettes, inflatable palm trees, Australian hat with corks, pilot cap, sombrero, etc.