Hideyho, lovelies – we're taking ourselves off into the  long weekend with the latest in our series of beautiful tablescapes broken down into their easy-to-replicate components. So far, we've looked at both rustic and beach tables, but today is a little more themey, as we tackle some of the prettiest travel-themed weddings in town. Now I know I talk about travel themes a lot, but it's such a popular way of expressing a love story – whether you're a couple who have wanderlust, or you're from different places, or you're having a destination wedding, or have travelled a lot as part of a long-distance relationship. So I know you guys are always looking for fresh ideas in this department (see all our travel wedding posts here), whether it's a full-on theme for you, or just a little touch. I started to notice that most of the ideas I saw (and featured) were one-offs, like escort cards and table plans, or favours. So I got to wondering, what's a great way of decorating a travel-themed wedding table? Better yet, what are my top 10? A LOT of the tables I looked at were vintagey, but I've tried to bring together a mix of styles and ideas that you can mix and match or adapt to suit your own particular style. As always, you'll find lots of tips, including DIYs wherever possible. Happy landings!
*Links in bold denote affiliate links. SBB may receive a commission for any sales made.
Table #1: Bon Voyage Brights
SUGGESTED FLOWERS: Tulips, pincushion proteas, cotton, baby's breath, peonies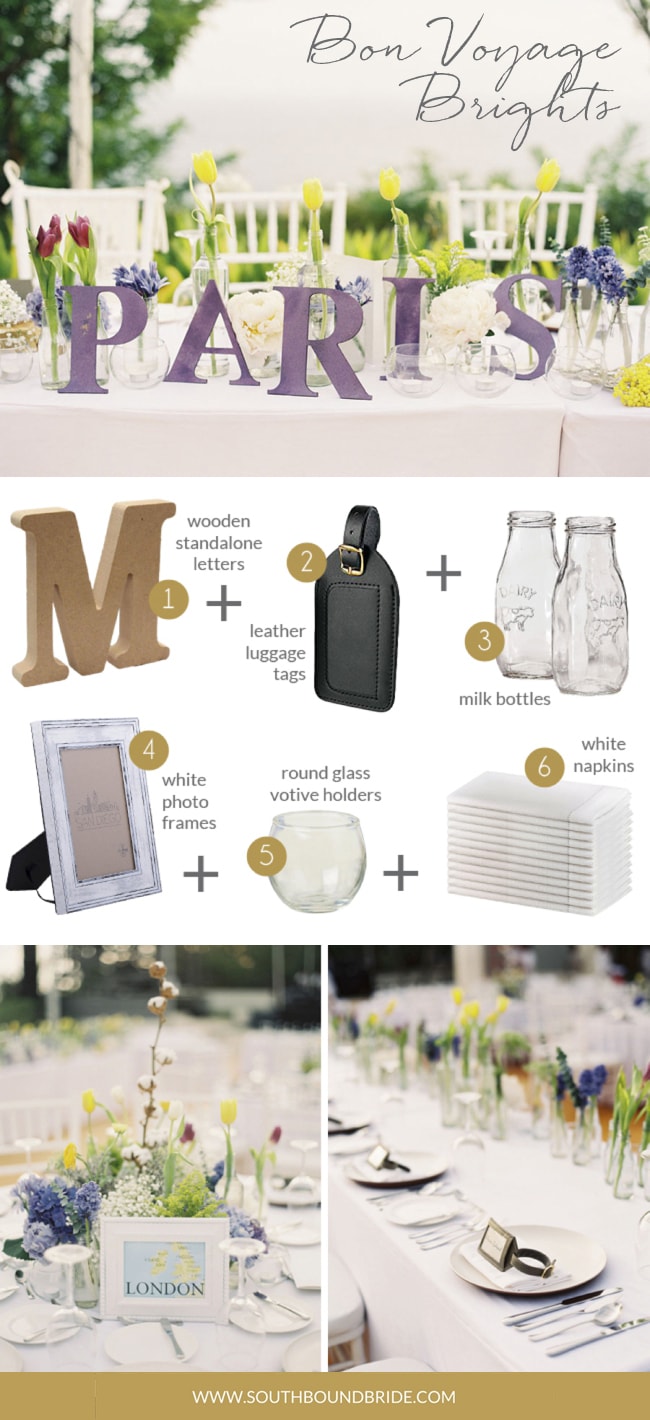 Tablescape: Caroline Tran/Gusri via Style Me Pretty
Goodness but I love this wedding design! Flashes of primary colour against a crisp background of white – white Tiffany chairs, white linens, white crockery, clear glassware. Not only is it fresh and modern, but it makes the brights of the flowers pop beautifully. It has such a lovely spring feel to it, with the tulips and proteas in wine bottles and medicine/milk bottles standing above the lower centrepiece elements, plus votives in little round glass vases. Each table is named for a place, but I love how the couple took some creative license with this – putting a map in a white frame on one table, and spelling out the location in oversized wooden letters on another. It's a clever way to add visual interest. Of course, the other travel touch I adore is the inclusion of leather luggage tags at each place setting, which doubles as both a place card and a favour (one your guests will actually use!). And again, it looks modern and very stylish, but also gets that feeling of a destination wedding across.
DIY DETAIL: Wooden letters are readily available, but to cut your own, follow this tutorial. You can just paint them in a bright colour as in the image above, or why not add some extra interest with scrapbook paper? Modpodge instuctions are here.



Table #2: Jet Fete
SUGGESTED FLOWERS: Roses, ranunculus, viburnum, lilac, stock, campanula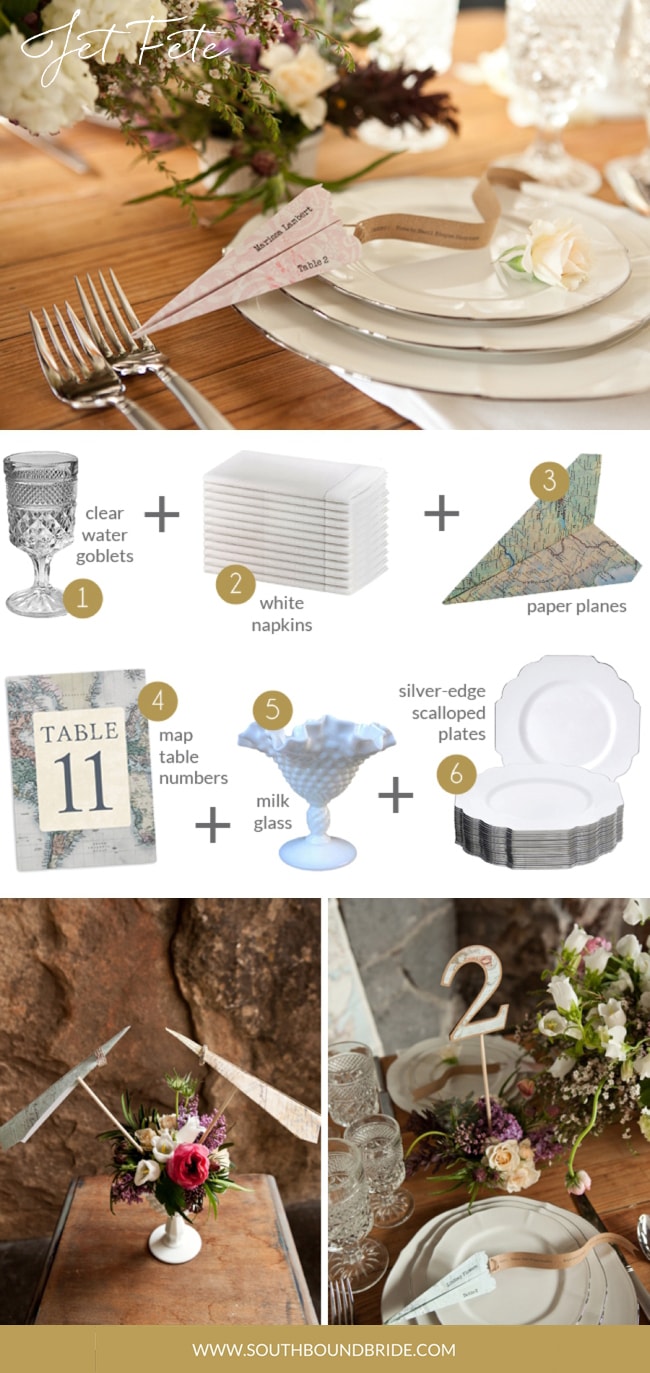 Tablescape: Tracie Howe Photography/Blush Celebrations/Lola Floral and Design via Wedding Chicks
This tablescape is so inspiring for a rustic or a vintage style wedding! It has a pretty handmade aspect, but in fact the DIYs are super simple to replicate. You'll want to start with raw wood tables – many venues won't have tables that you can use bare, so you may need to hire. Of course, you could just use a plain white tablecloth, or how about a lace one, if you're working with a (shabby) wood table? The next step is the building blocks of crockery and cutlery – use the best vintage tableware you can afford. Cut glass goblets work beautifully in terms of texture with the scalloped plates and the white milk glass vases. Add lovely, varied floral centrepieces, and pop a little rose at each place setting (a sprig of lilac or baby's breath would work just as well for less). For the table numbers, cut out stiff cardboard in the shape of the number and use spray adhesive to add map paper to decorate (or use the modpodge tutorial mentioned with Table #1 above to decorate wooden letters). Finally, fold paper planes for each place setting and add a little swirl of kraft paper behind each one with a message of thanks.
DIY DETAIL: Apart from the easy paper plane and table number DIYs I've already detailed, you can also create your own faux milk glass on a budget. Just pick up some charity shop glassware, a can of spraypaint, and follow this tutorial.


Table #3: Airmail Al Fresco
SUGGESTED FLOWERS: Roses, daffodils, billy balls, dahlias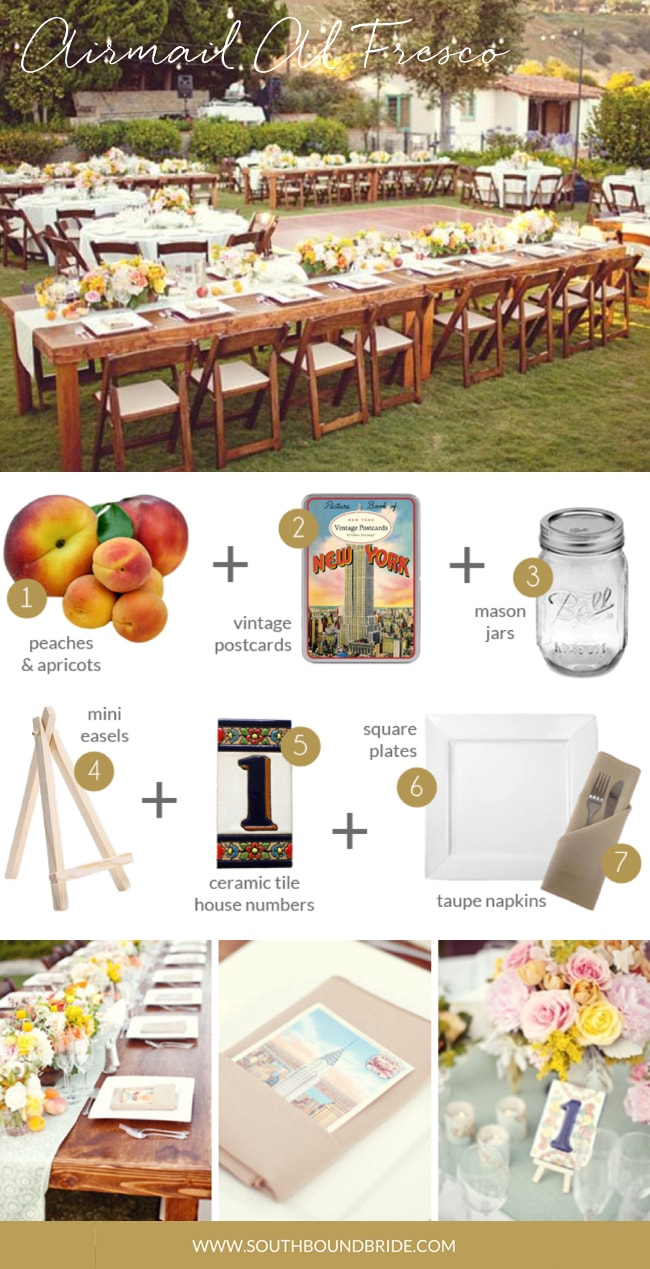 Tablescape: Sarah Yates/My Bride Story/Kristine Shin Designs via 100 Layer Cake
This table has a real Mediterranean feel about it, and what I love is that it can be adapted depending on the travel locations that you'd like to celebrate. It starts with pretty mint tablecloths and runners, topped with simple wood and glass jars with a lush arrangement of summery flowers in shades of peach, yellow, pink and white. I especially love the inclusion of peaches and apricots – this is one thing that can be adapted depending on your location. Square white plates provide the perfect base for napkins folded around postcards – again, this is something you can customise. I love the idea of buying a postcard back and then either using a stamp to print a beautiful message to your guests, or taking the time to write all of them a personal note. But my absolute favourite detail is the little Spanish/Mexican tile house numbers placed on little easels and repurposed as table numbers. Look out for details like this if you're spotlighting a particular destination, for ways to incorporate a bit of the spirit of the place into something as simple as a table number.
DIY DETAIL: Adapt this Save the Date DIY for your postcards, especially for a fun retro feel.



Table #4: Vintage Voyager
SUGGESTED FLOWERS: Roses, spray roses, larkspur, aster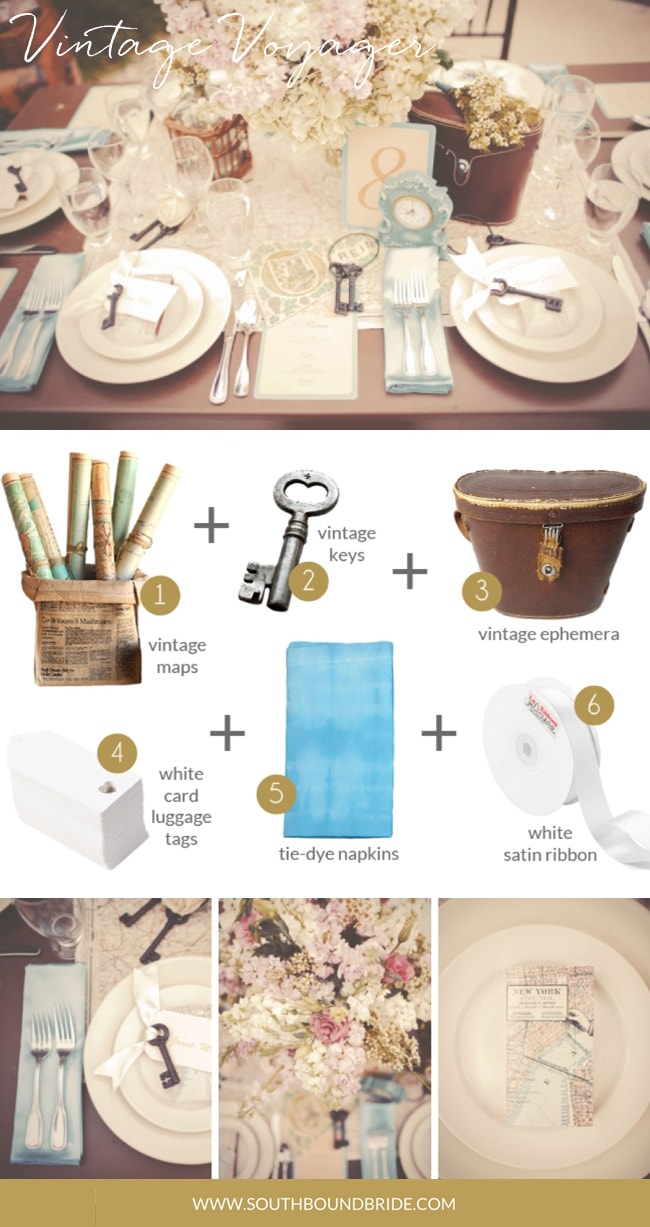 Tablescape: Gideon Photography/Forevermore Events/My Favorite Flowers via Ruffled
This little table design is great for you vintage-loving brides and grooms, and could easily be combined with some of the other vintage elements you may be planning. I love how a faded map is used as a table runner, topped both with soft flowers in muted colours and vintage ephemera like clocks, binocular cases and wooden birdcages. Keys are a lovely motif here, and they're scattered across the tabletop as well as being tied with white satin ribbon and placed at each setting together with a white card luggage tag as a place marker. Maps are also used at each setting – wouldn't it be fun if you could customise these depending on the guest's hometown or history? Or theme the maps at each table according to a location that doubles as the table name.
DIY DETAILS: Tie dye napkins are a pretty and unexpected touch – make your own using this tutorial. You can also find tips for turning a map into a table runner here.


Table #5: Gypsy Caravan
SUGGESTED FLOWERS: Parrot tulips, roses, pincushion proteas, dusty miller, delphinium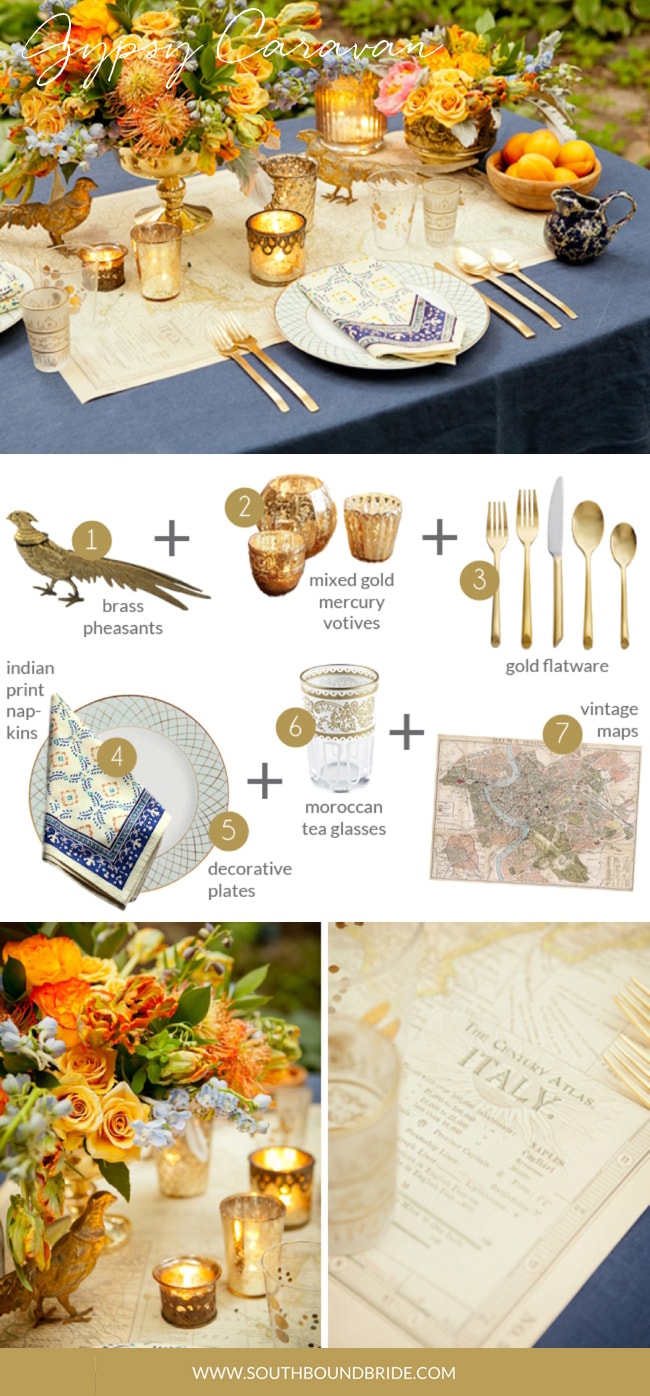 Tablescape: Tory Williams Photography/Brita Olsen Creative/Rachel Mercier Flowers via 100 Layer Cake
This is a different sort of travel-themed table, in that instead of taking a jet-set or vintage traveller feel, it captures the bohemian gypsy spirit. And isn't it just so pretty? Again, a map is used as a runner on top of a blue tablecloth (is that denim? LOVE the idea of denim) and gold mercury glass votives and Moroccan tea glasses add light and interest. The idea of using brass pheasants is just adorable, but you can use many vintage pieces that you'll find in your family or friends' homes to keep things interesting. Mixed patterns on plates and napkins clash beautifully, set off with gold flatware (does this ever NOT look awesome?). The flowers too are a bright, exotic mix – parrot tulips, pincushion proteas… So lovely. And the cherry on top? A wooden bowl of apricots.
TOP TIPS: Mixing and matching your patterns, prints and details is the key to this look, and adds a real bohemian flair. Again, I'd love to see this sort of table customised to reflect the places you've travelled, such as the tea glasses from Morocco, or Indian-print cotton napkins.