Pack your bags! It's time for us to take another trip to the magical land of lovely wedding tables, with the second part of our Ten Tables special on travel-themed wedding tablescapes. Love it! As always, I've broken down some of my favourite tables from real weddings and styled shoots into their easy-to-make-your-own components. Along with DIYs and top tips. Because that's just how we roll. If you'd like to see all the pretty tables from Part 1, you can find it right here.
Table #1: Gorgeous Globetrotter
SUGGESTED FLOWERS: Baby's breath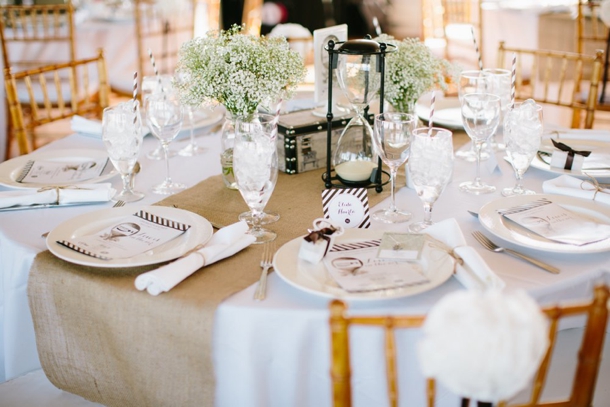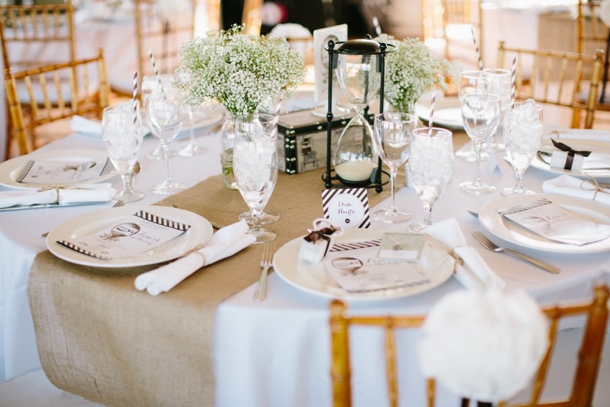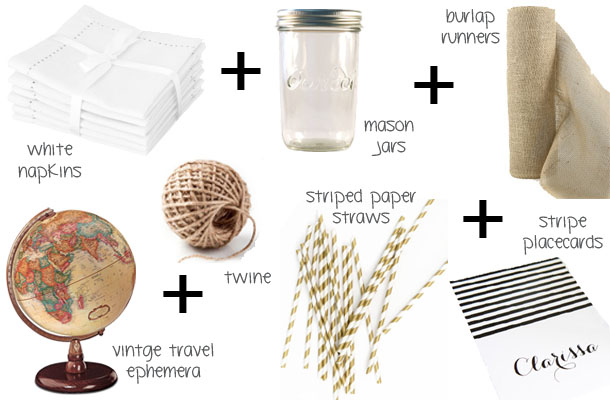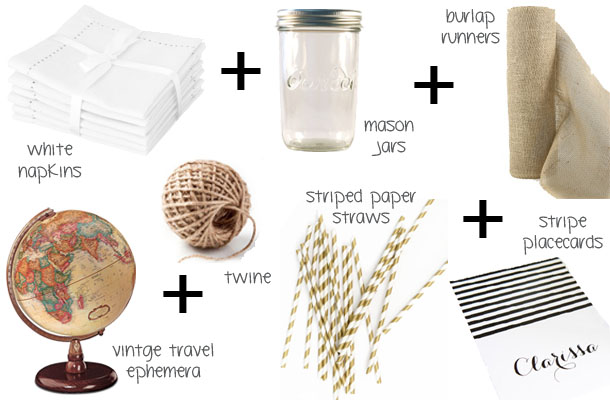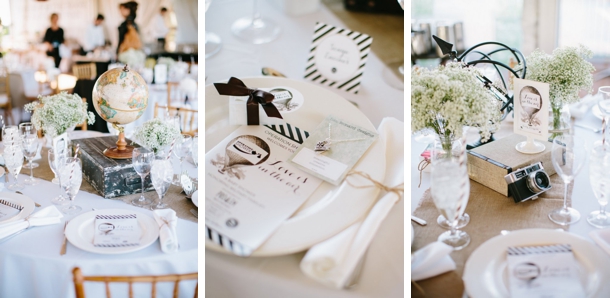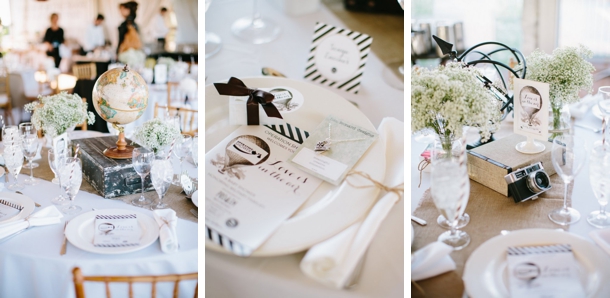 I love the combination of rustic, modern and vintage that makes this table such a uniquely attractive combination. Burlap, baby's breath and twine-tied napkins and mason jars provide the rustic, bold stripes and a pared down palette make for the modern and vintage travel stationery as well as found items on the tables provide that little old world touch. Just gorgeous! It shows that you can pick and choose your favourite elements from all three styles, combining them so they look just right.
DIY DETAIL: Make your own burlap runners using this tutorial.
Sources: Tablescape by The Tomkat Studio/Jessica Downey Photography; straws from Not on the High Street, placecards from Tableau Party on Etsy

Table #2: Wish You Were Here
SUGGESTED FLOWERS: Roses & hydrangea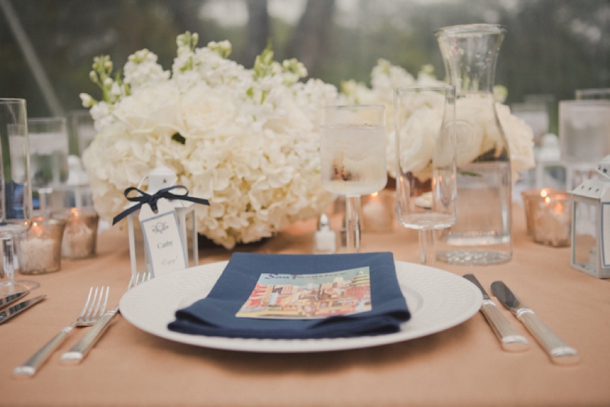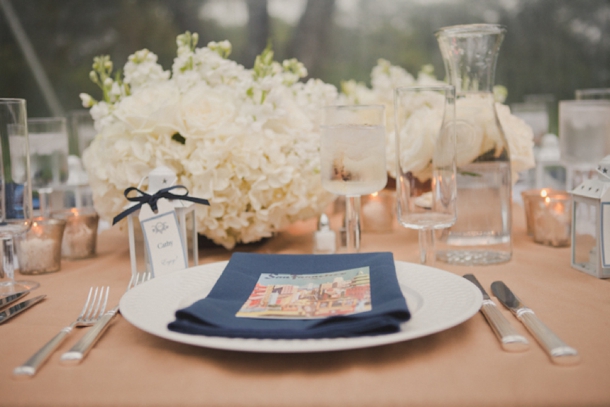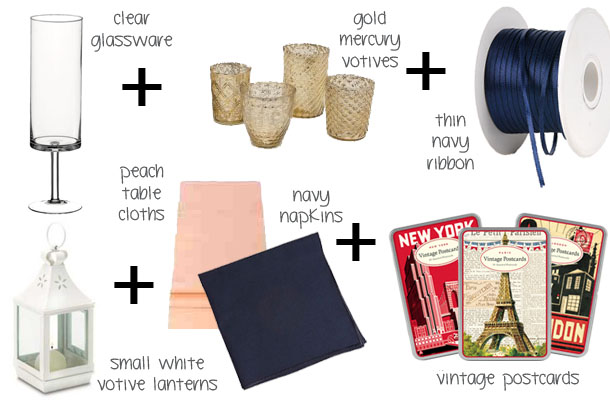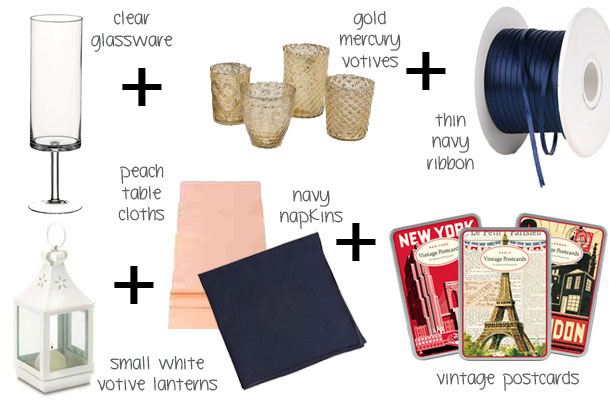 I love that this table isn't too themey. First off, we're using an unusual (and very pretty) colour scheme of peach against navy blue, which already adds interest and sophistication to the table before you've even started. Add soft white blooms and clear glassware (with a little twist – love those tall cylinder water glasses), a few mercury glass votives and little white lanterns at each place setting tied with navy ribbon, and you have a pretty table that could work whatever your theme. Then you add the vintage postcards, and suddenly, hey presto, you have a theme! If you click through and look at the rest of this wedding you'll also see some oversize monogram map letters that the couple had hanging from their seats, which is another lovely (and low-key) travel touch.
TOP TIP: A fun idea with this place setting would be to ask your guests to write their guest book messages to you on the back of their postcards and "post" them into a postbox you have waiting. You could even have a friend post them for real, so that when you get back from honeymoon, your post box is full of loving surprise messages from your nearest and dearest. Mind you, with the SA post office being what it is, scratch that. They'll never turn up.
Sources: Tablescape by Stone Crandall Photography/Kelly Oshiro via Love & Lavender; vintage postcard packs by Cavallini & Co.
Table #3: Sunshine Safari
SUGGESTED FLOWERS: Roses, hydrangea, dahlias, sea holly, delphinium, lamb's ear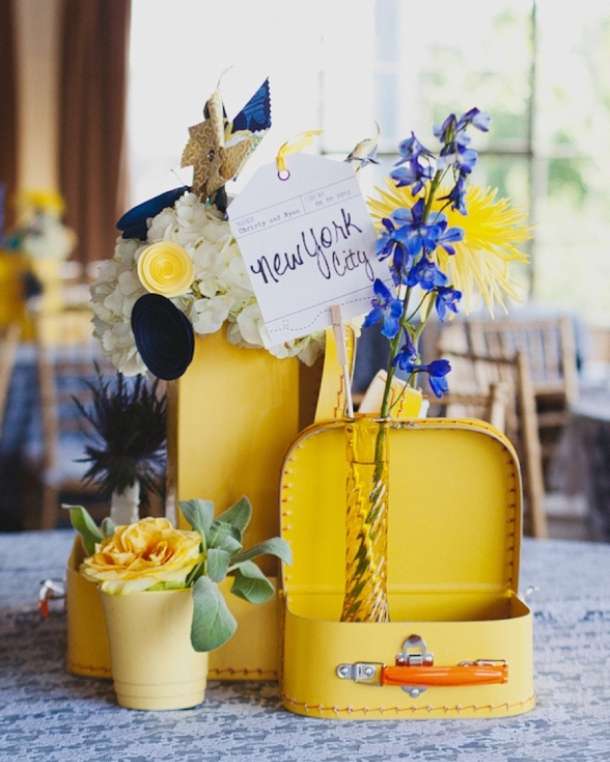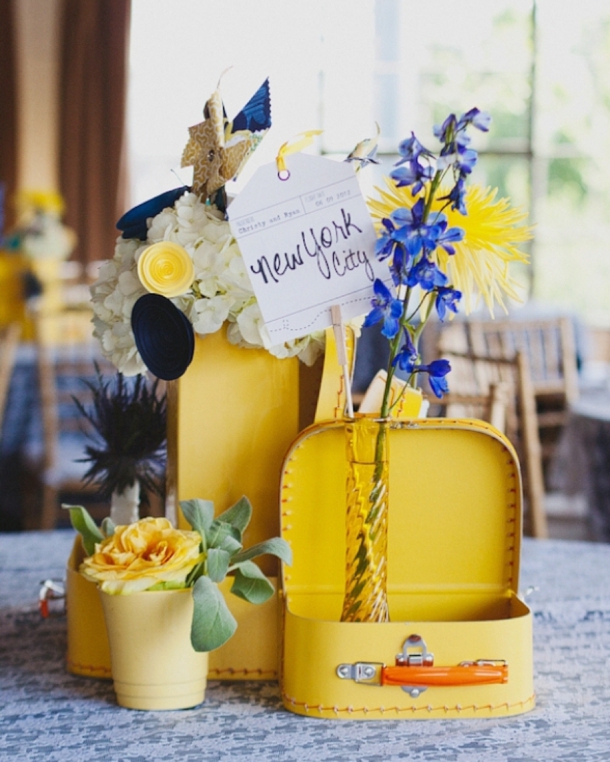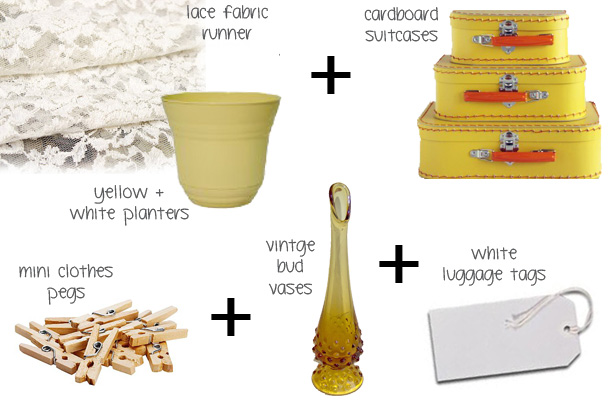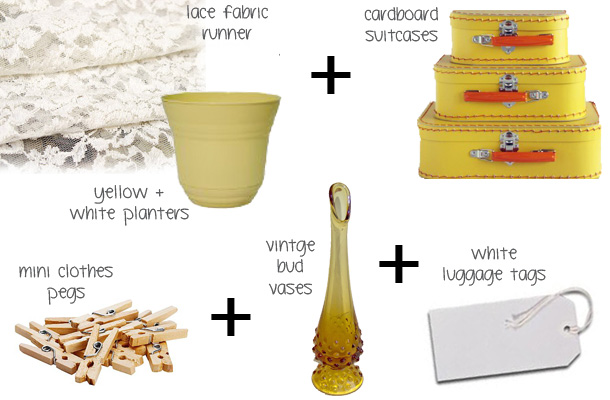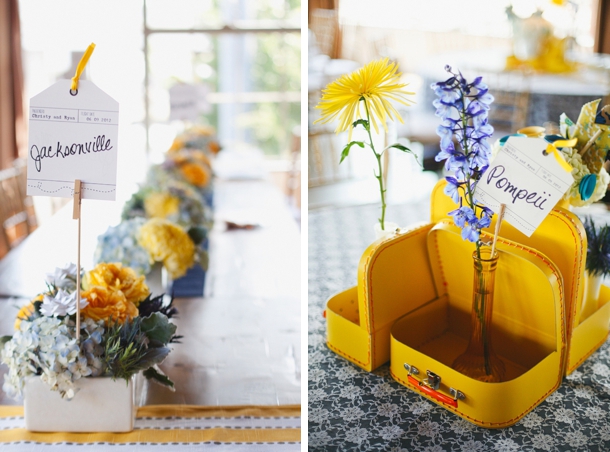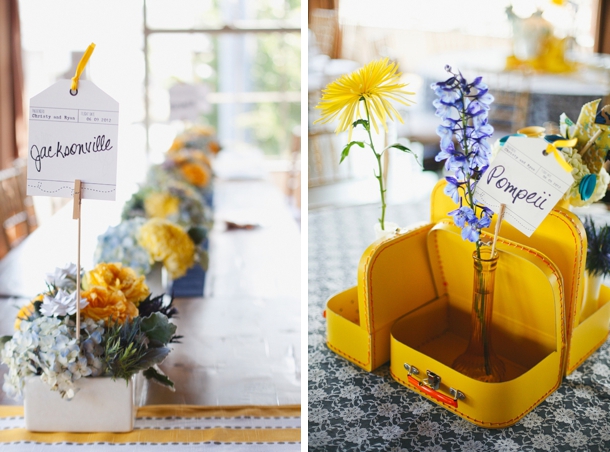 This table is a real punch of fun and colour, isn't it? It remains one of the most memorable designs for a travel wedding I have seen. Using cardboard suitcases as centrepieces is genius, alternated with long tables that have square planters down the middle. There's a variety of flower types at different heights, from low planters to taller bud vases. Table names (travel destinations, of course) are written on wide luggage tags and attached to dowels with mini pegs. I also love the unexpected element – the lace tablecloth – but of course this would also look great with a simple white linen. You can't see it here, but the tables were set with basic crockery, cutlery and white napkins, leaving the unusual centrepieces as the focus of attention.
DIY DETAIL: Another playful element to these centrepieces is the addition of paper flowers to the real ones. Try this tutorial for similar blooms.
Sources: Tablescape by Apryl Ann Photography via Ruffled; yellow Euro suitcases from Bickiboo

Table #4: Hip Holiday
SUGGESTED FLOWERS: Baby's breath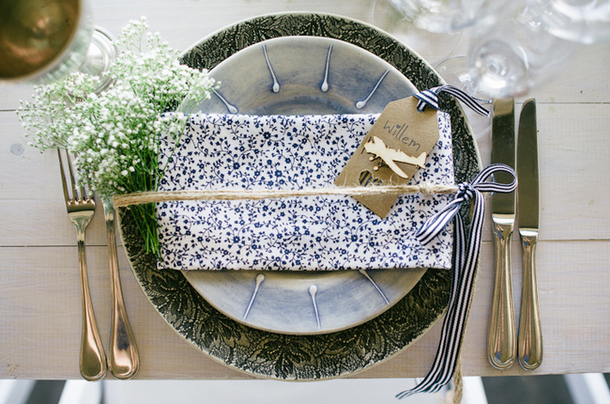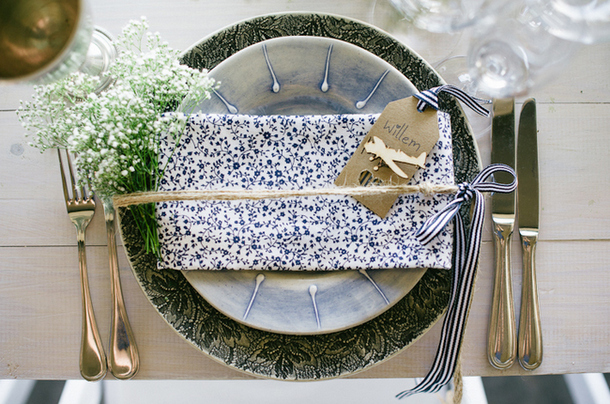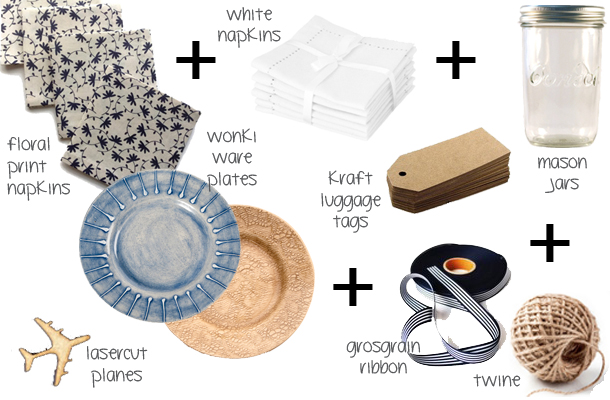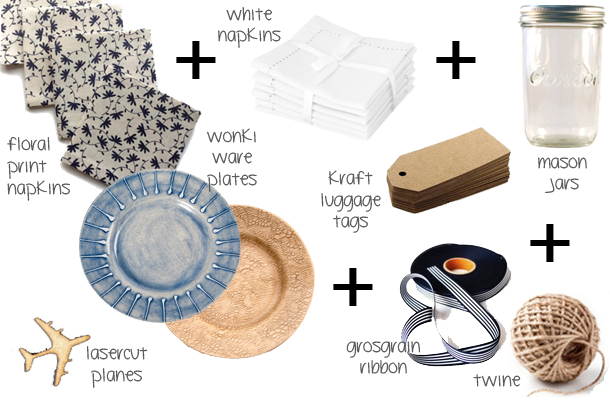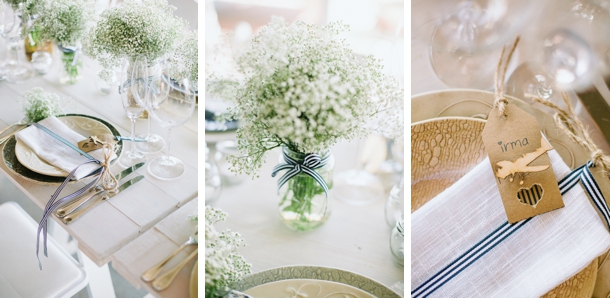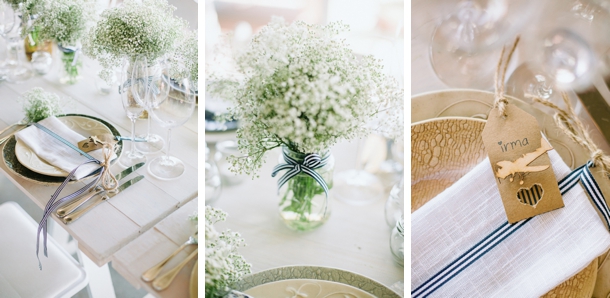 This fresh little tablescape might be my absolute favourite – small details combine to make it just perfect! This wedding was a small, intimate one held at a seaside home, and this is the kind of situation where you can really splash out on items like the crockery (LOVE the mismatched Wonki Ware plates!) and where you also have the luxury of a polished white wood table (although again, white linen works too). The plates and napkins (alternate plain linen and printed) are 'wrapped' into a sort of pretty package with a combination of navy grosgrain ribbon and twine, and then topped off with kraft luggage tags and little lasercut planes. The flowers are simple and crisp – baby's breath (also tucked in at each place setting) in ribbon-wrapped mason jars, and small clear jars with votive candles.
TOP TIP: This setting can be adapted for just about any theme – really, all you need to do is to swap out the planes for something else. A good lasercut company will be able to produce whatever motif is meaningful to you – travel-themed or otherwise. Turn them into badges by hot gluing jewellery pins on the back and you have an instant favour.
Source: Tablescape images by welovepictures via Love and Lavender; plates from Wonki Ware; napkins from Studio YTE, plane shapes by Taylor's Handmade Craft
Table #5: Round the World Rustic
SUGGESTED FLOWERS: Delphinium, grape hyacinth, stock, hydrangea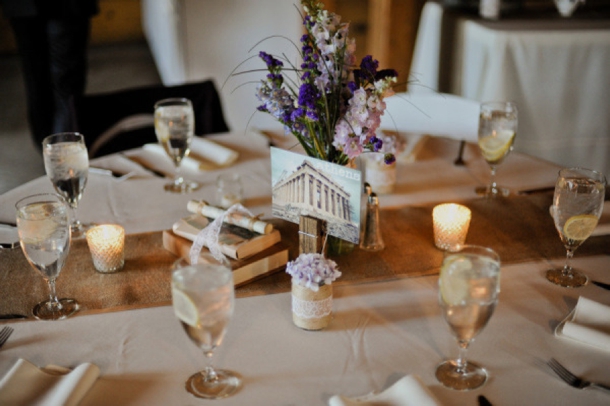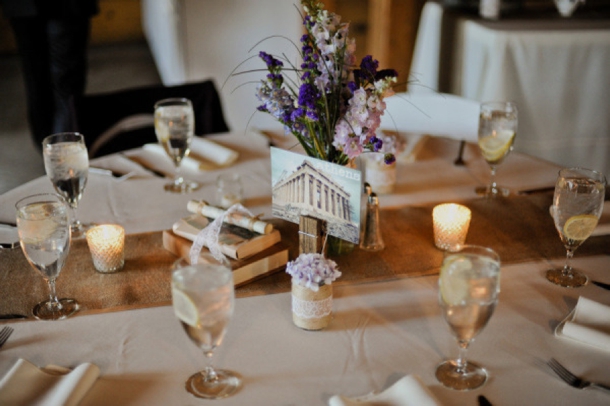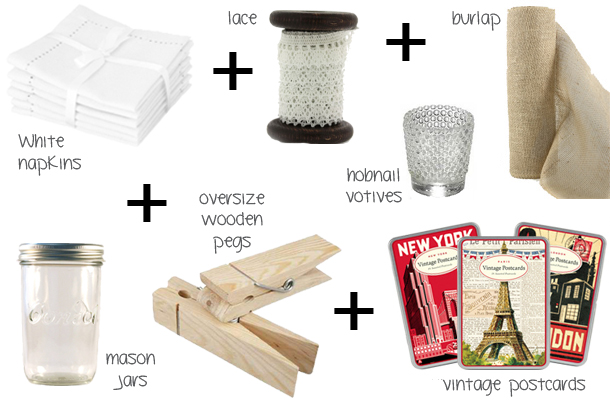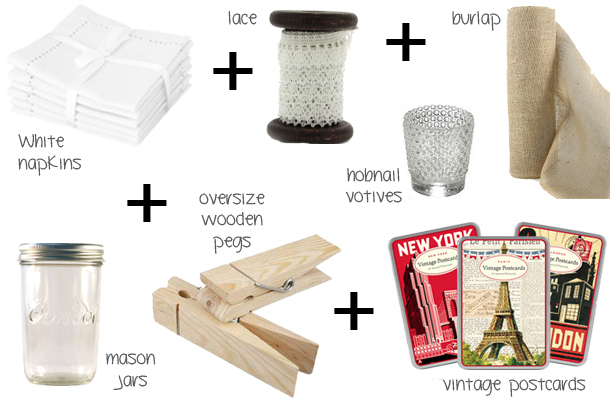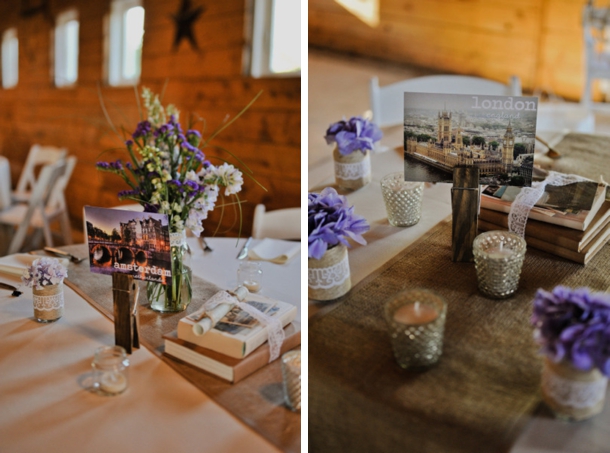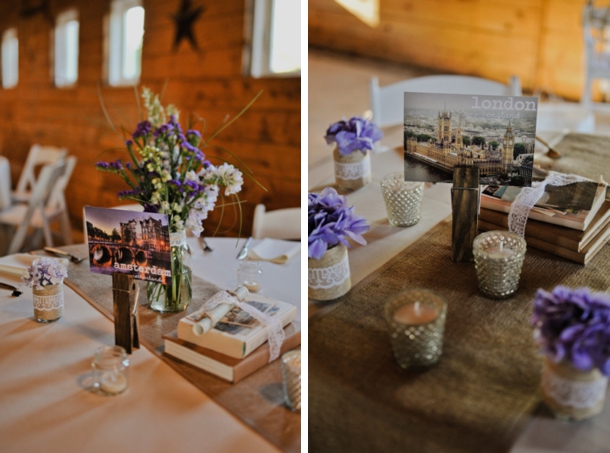 A fusion of rustic and vintage that will please many farm wedding brides-to-be, this table has the added aspect of travel thanks to the giant wooden pegs holding vintage postcards used as table numbers. There are also vintage books on each table (make them travel titles, ideally), and touches of burlap and lace, including jam jar vases tied with both to add a bit of height difference and visual interest. Hobnail votives are easy to find but also have a bit of elegant vintage flair, and of course it wouldn't be a rustic vintage wedding without mason jars! All in all, this is a simple to do look, but one that works really well.
DIY DETAIL: Make your own burlap and lace-wrapped mason or jam jars by following this tutorial.
Sources: Tablescape by Manchik Photography via Style Me Pretty; similar pegs by NOTHS