We're doing something new this afternoon, and it is all about tablescapes. As much as I love designing the overall look and feel of a wedding via inspiration board, one of the key questions whenever I've helped a friend plan her wedding has been "okay, but what exactly do we put on the tables?" You can see fantastic details and ideas in styled shoots and real weddings, but one of the things that I know brides always want to see in the pictures is how it all looks together, how you combine things, what that combination looks like. This new series sets out to help – not just by inspiring you with some of the most beautiful tables I have found, but in breaking these tablescapes down into their elements so you can start getting an idea of what those elements are and how they work together. Take one of these designs as it is and treat the breakdown as a shopping list, mix and match different bits of a few tables, or adapt to make them your own. You'll be surprised as you go how many inexpensive elements you can include, or DIYs that can be done (I've given advice on both wherever possible). We're kicking things off with the first five of my ten favourite rustic tables for all you brides dreaming of a farm or a barn or a forest wedding.
UPDATE: You can find Part 2 here.
Table #1: Country Colourful
FLOWERS: Chrysanthemums, dahlias, delphiniums, roses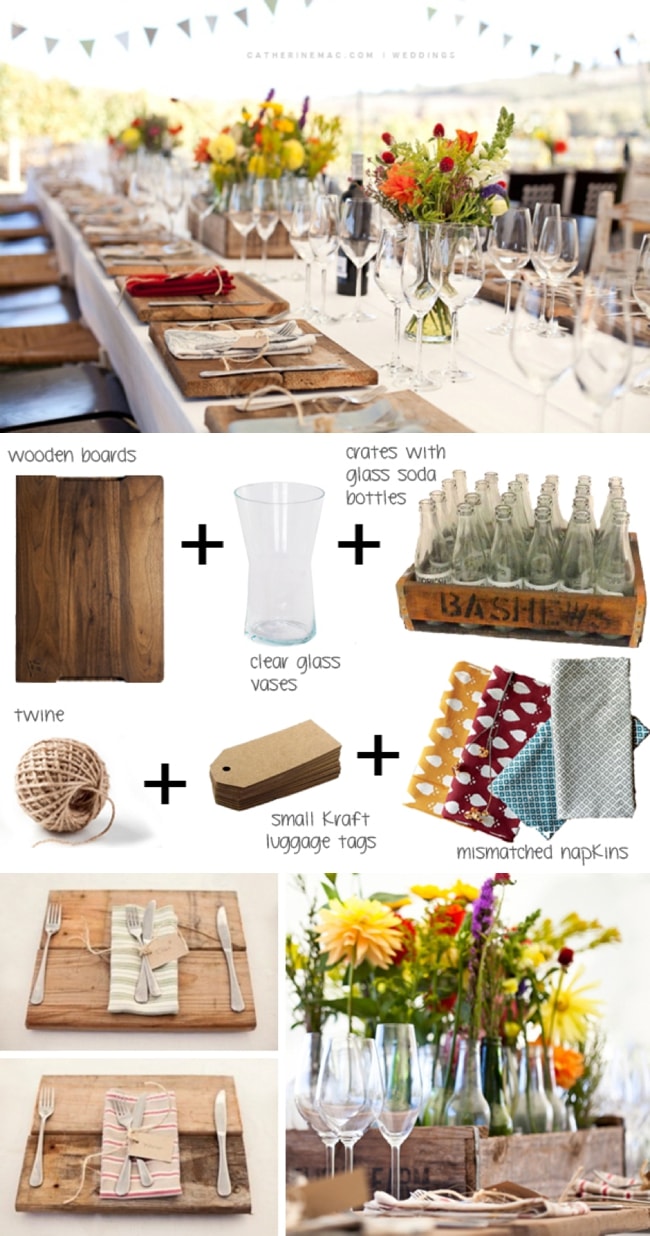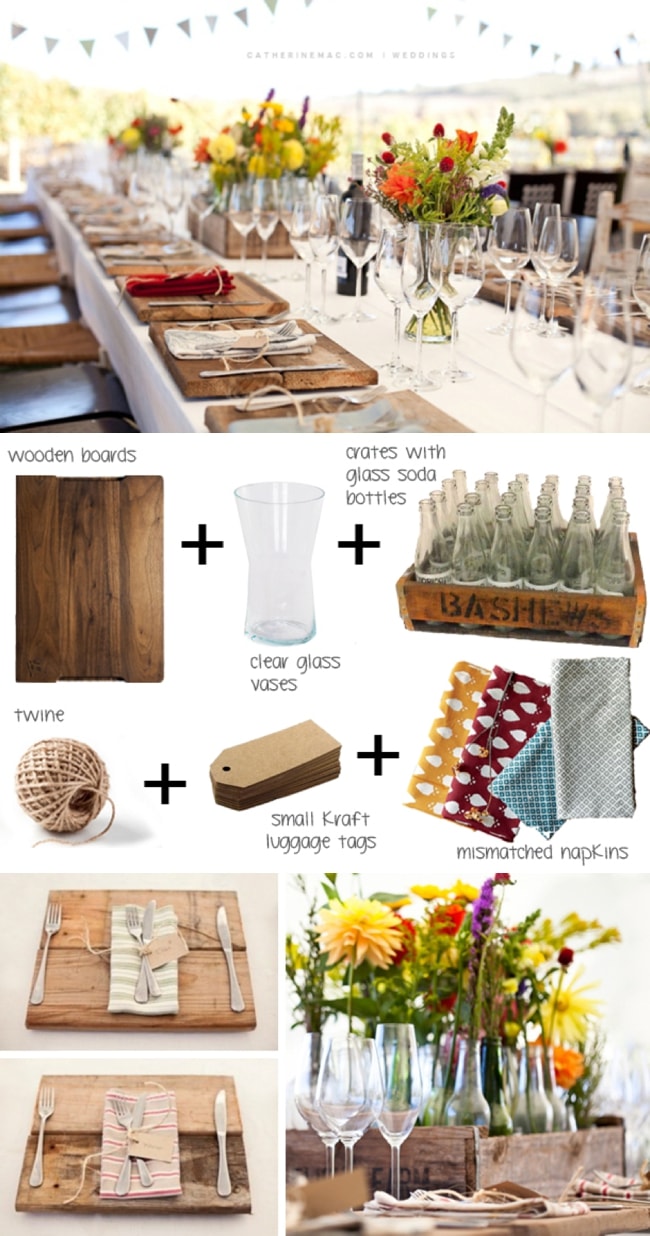 A lot of rustic wedding designs work with neutral colours, but there's no reason why you can't have a dash or even a parade of colour. The tables at this wedding were one of my all-time favourites – the wooden boards at each place, the flowers placed in clear bottles inside crates, the mismatched print napkins. It's fun, but oh so pretty. I love the way that the two sets of knives and forks have been placed – one on the outside, the other tied criss cross with twine and attached to a brown paper luggage tag, then placed on a napkin at the centre of each board. Clear vases alternate with the crate arrangements, and it's all placed on top of simple white tablecloths using basic clear glassware.
DIY DETAIL: You can hire vintage crates, or age new ones using this DIY.
Sources: Tablescape by Catherine Mac/4 Every Event on SBB; crate and Bashews bottles from That Little Shop; mismatched napkins from West Elm

Table #2: Burlap & Blush
FLOWERS: Peonies, garden roses, spray roses, astilbe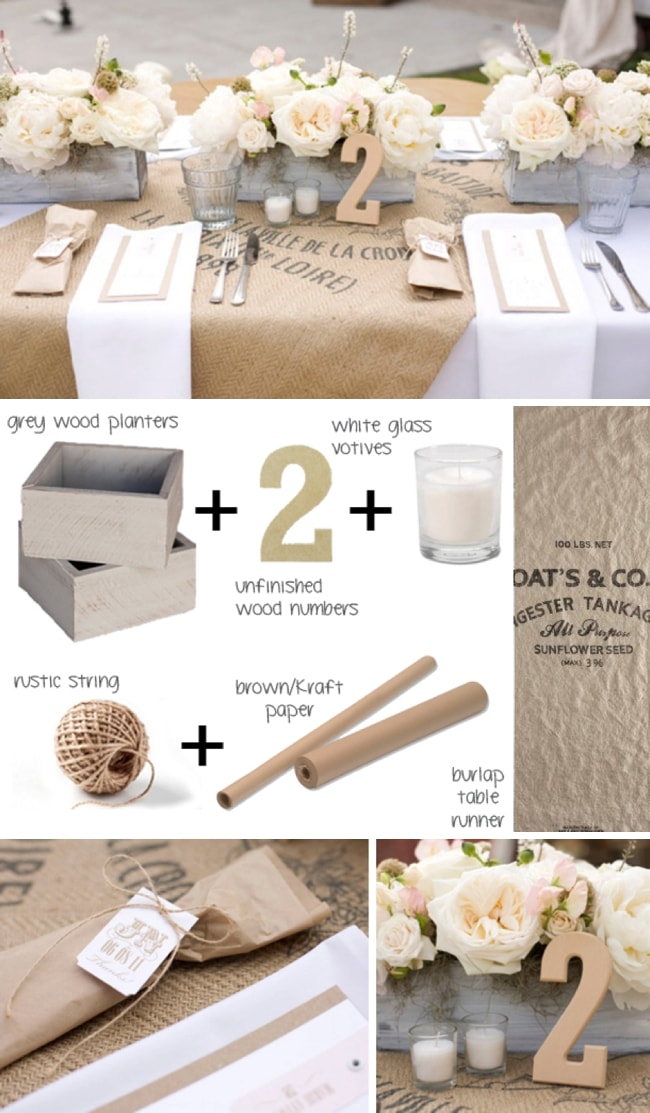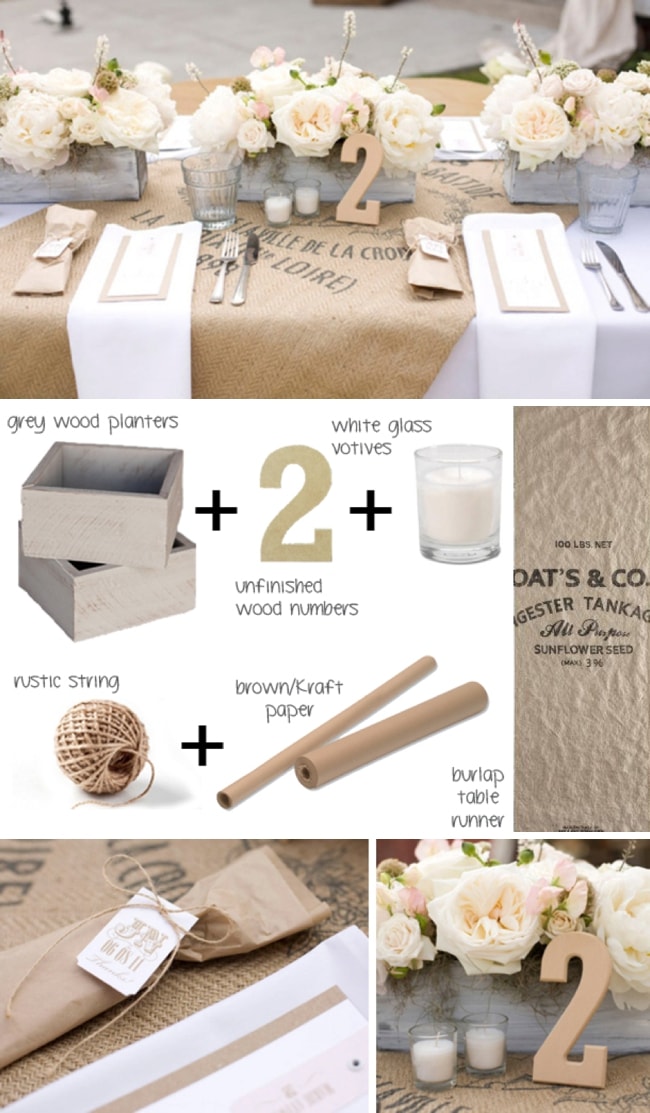 I love this classic, romantic rustic tablescape – even though it's really elegant, it's easy to put together (and better yet, to replicate across all your tables). Use the white linens (usually supplied by your venue) for tablecloth and napkins and top with a printed burlap runner (love the way that it was done at an angle in this shoot). It doesn't have to be a French print, although that of course adds that little bit of a French country vibe, which we love. Place distressed grey wooden planters at regular intervals along long tables or in the centre of round ones. Buy unfinished wooden numbers (or even inexpensive cardboard ones, usually used for decoupage) for table numbers and prop them against the centrepieces (which are filled with soft, blousy blush and white flowers). Little inexpensive filled glass votives finish off the set. For this shoot, the stylist chose gourmet toffees as favours and wrapped them in brown paper tied up with twine and using a little tag. Then it's just a case of placing menus at each setting, as well as basic clear glassware and silvery cutlery, and you're done. Looks lovely though, doesn't it?
DIY DETAIL: Can't find a suitable burlap runner? You can silkscreen your own, like this blogger did. Follow this tutorial to build and weather your own planters/crates.
Sources: Tablescape by Tonya Peterson Photography /Hey Gorgeous Events via Style Unveiled; wood planters from Bragging Bags on Etsy; table runner from H&M
Table #3: Barn Elegance
FLOWERS: Astilbe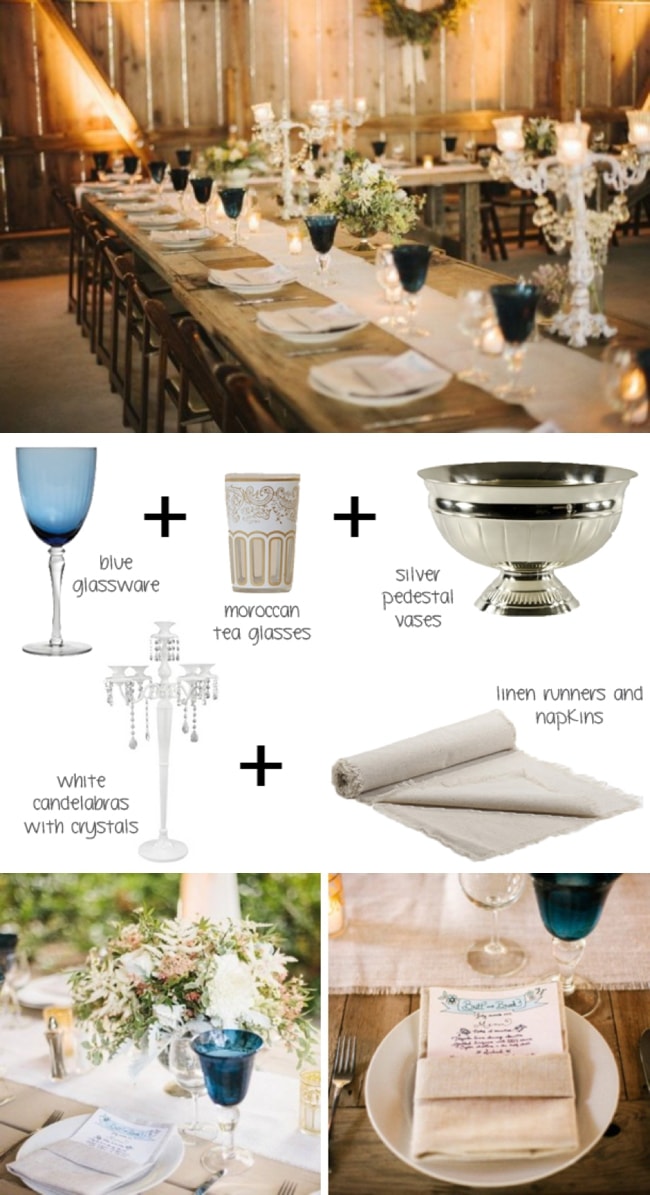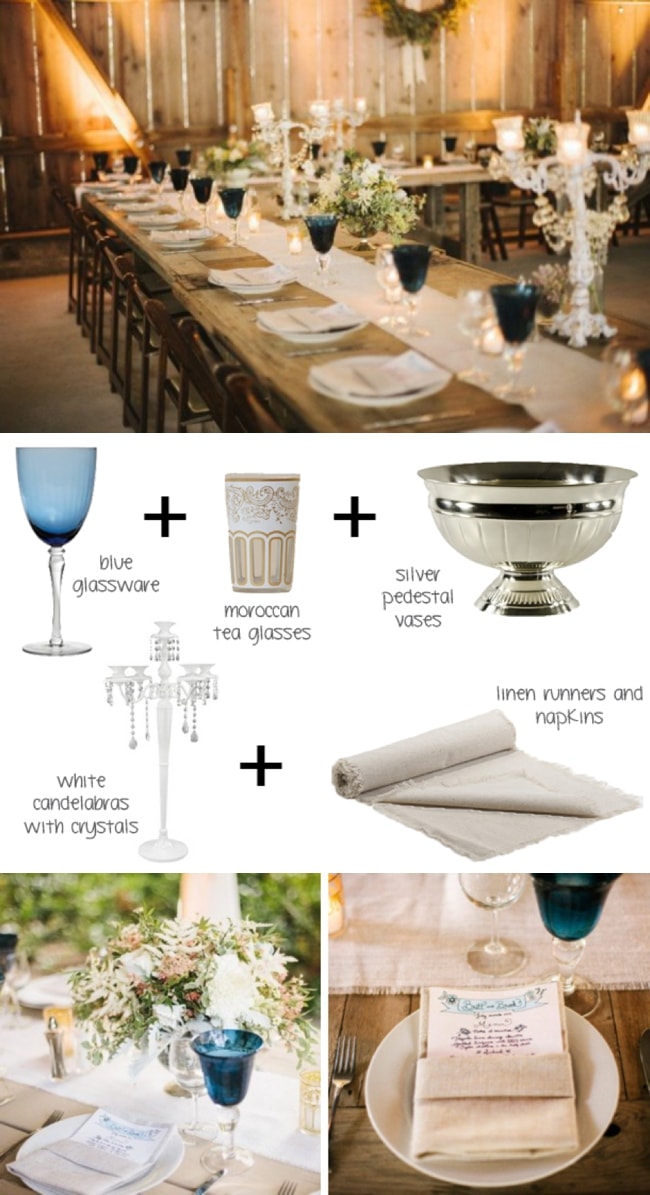 This one's a real favourite of mine, but as a table setting it could have come straight from an elegant vineyard or ballroom except for the exposed wood and fringed linen runner. But maybe that's what makes a barn setting so special and beautiful – the contrast. Rustic glam at its very best! The blue glass is the dash of colour that sets off the whole look, while the rest of the settings (hand illustrated menus tucked into neat linen napkins, astilbe arrangements in silver pedestal vases and votives in gold Moroccan tea glasses) is kept pretty but neutral. For an extra touch of luxe, add white candelabras with sparkly crystals.
TOP TIPS: Coloured glass isn't unusual at weddings now, so you can often hire what you need for a lot less than buying it. Moroccan tea glasses are also relatively cheap, and they can be re-used in your home or as gifts afterwards.
Sources: Tablescape by Josh Elliott/Joy de Vivre Events via Style Me Pretty; glasses from Oneida; linen runner from Factory Direct Craft

Table #4: Woodsy Whites
FLOWERS: Paperwhites, tulips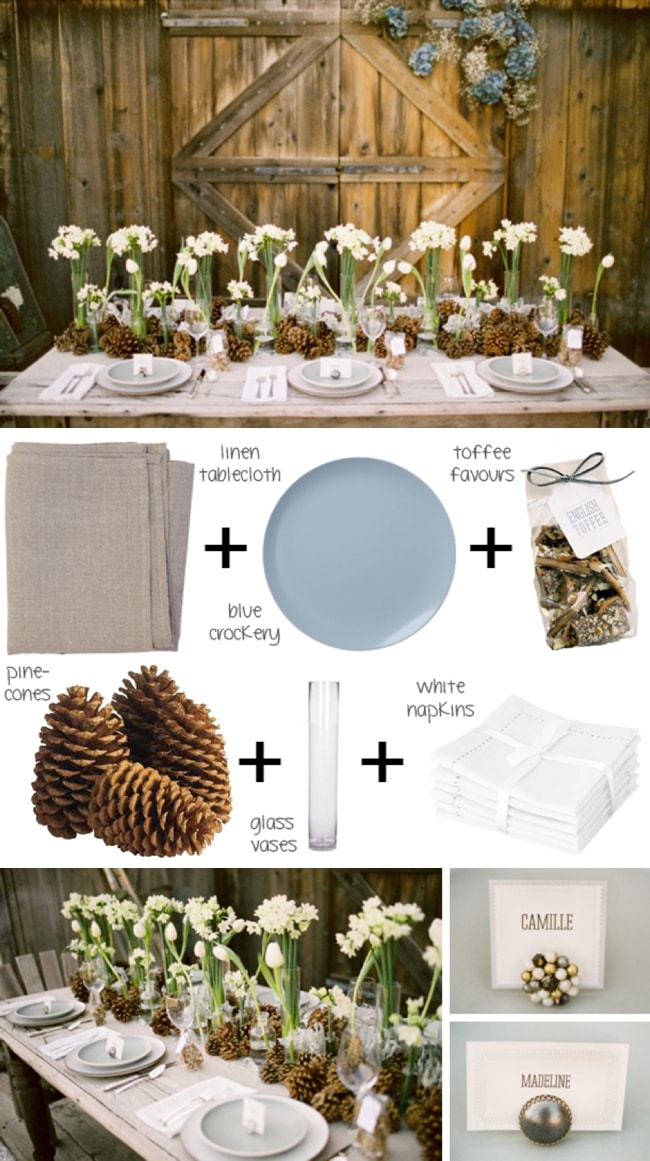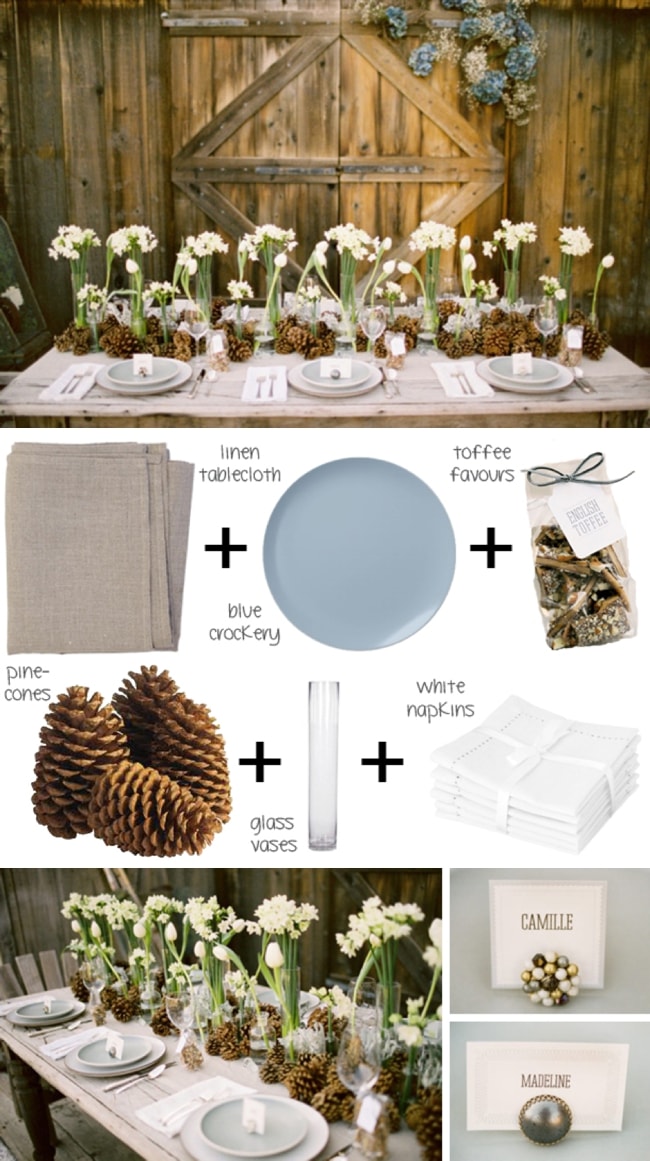 This gorgeous table was designed to have a late-winter theme, and it hits the nail on the head, but in fact it could work as a rustic table at any time of year (you could warm up the florals a bit for summer). It looks really interesting in terms of texture, but in fact it's such a do-able look. Long, thin vases hold tall paperwhites, with medicine bottles holding single tulips. The whole lot is surrounded by pinecones – love that idea! You could do this with a white tablecloth, but here it's a naked table and a natural linen runner. Similarly, you could still have a lovely table with white plates, but the pale duck egg blue plates here make a gorgeous addition. White napkins could be straightforward cotton, or you could source vintage lace fabric. My absolute favourite detail, though, is the place card holders, which are made from vintage sourced clip on earrings. How fun is that?
DIY DETAIL: To make those delightful place card holders, see the tutorial here. You can also replicate the favours (English toffee wrapped in cellophane bags) with this tutorial.
Sources: Tablescape by Jose Villa/Brown Paper Design via 100 Layer Cake. 
Table #5: Cherry Baby
FLOWERS: Loose-picked wildflowers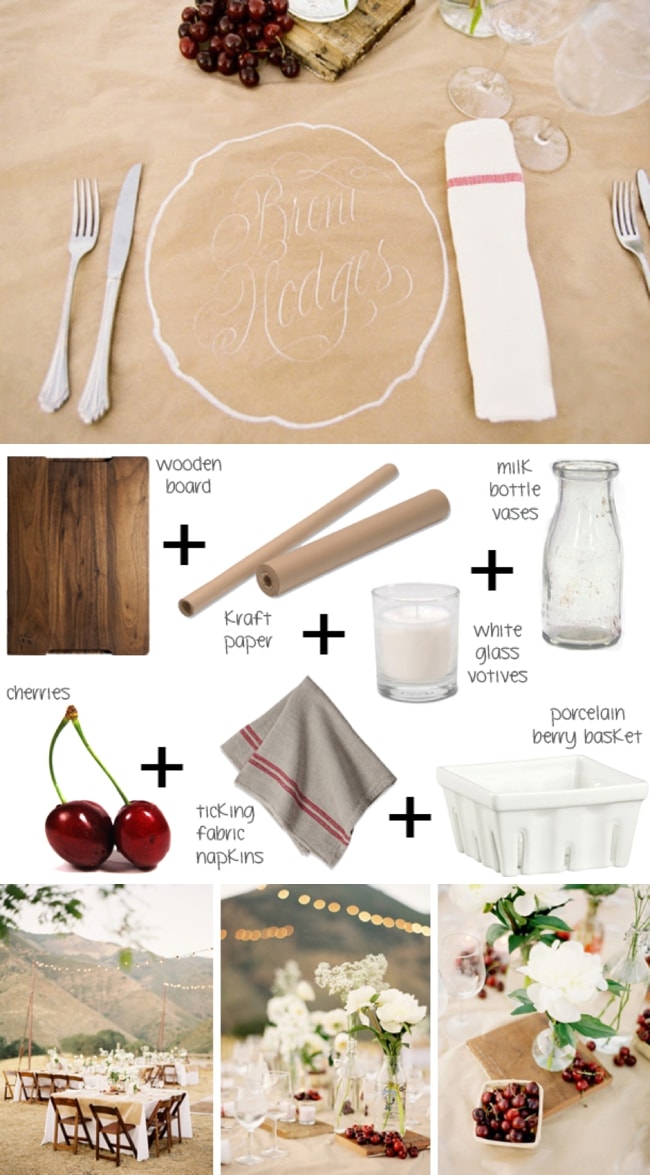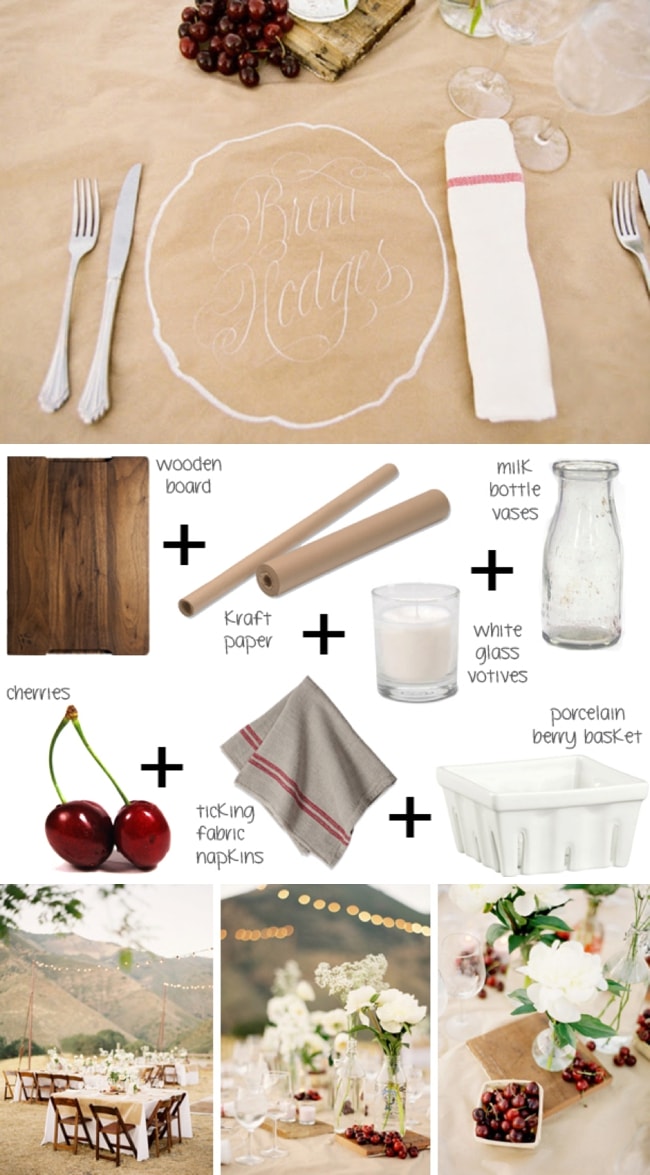 This is an oldie but a goodie. When I think about rustic weddings, this classic from Jose Villa still stands out as an all-time-fave. Maybe it's the whimsy of combining cherries with lush wild white flowers. Or of having kraft paper tablecloths with guests' names calligraphed directly on to them within outlines of plates. The sweet French ticking fabric, wooden boards and milk bottle vases. Or maybe it's how it all combines in that beautiful outdoor setting. Either way, it's completely gorgeous.
TOP TIPS: Hire a talented calligrapher to pull this one off properly – it's such an important touch that it's not a place to skimp. Or you could get your guests' names lasercut and use them at each place with just the plate outline drawn on to the kraft paper tablecloth, which would also look very pretty.
Sources: Tablescape by Jose Villa/Duet Weddings via Before the Big Day