Our Ten Tables series is back, hooray! For those of you who didn't catch the rustic tables (Part 1 & Part 2) last year, the idea of the series is to break down different tables along a specific theme into their components so that you can see what EXACTLY goes into creating a look. You can pick your favourite and treat it as a shopping list, or mix and match elements you like and add your own touches. You'll also be amazed at how many of the details can be DIYed or included on a budget, and I've detailed those as well wherever possible. This time, we're all about beach weddings. Now, let me be clear – I don't necessarily think that if you are having a beach wedding or a wedding at a beach venue, you need to have a beach themed table. You don't need to have shells, or driftwood, or boats. You don't even have to have a nautical colour scheme. So if you don't like those things, you go ahead and create a table that would work at any venue. But if you want to add a song of the sea to your decor, each of these tables is a classy and pretty way to do it.
UPDATE: You can find Part 2 here.
Table #1: Beach Ombre
FLOWERS: Air plants, succulents, hyacinth, thistle, lisianthus, scabiosa pods, privet berries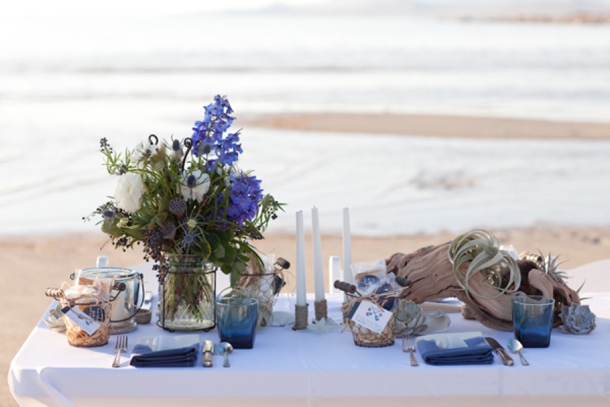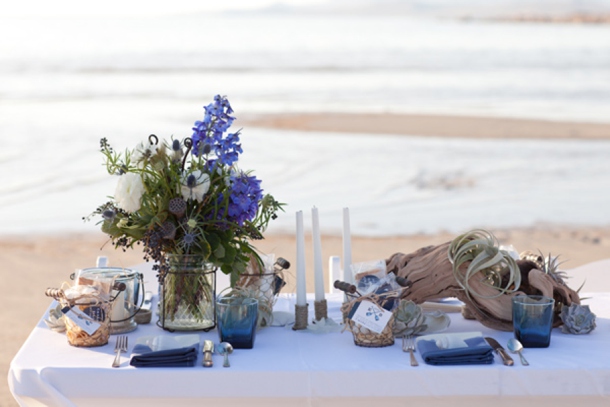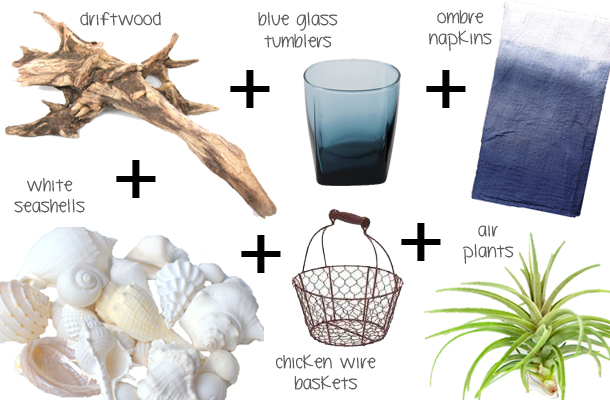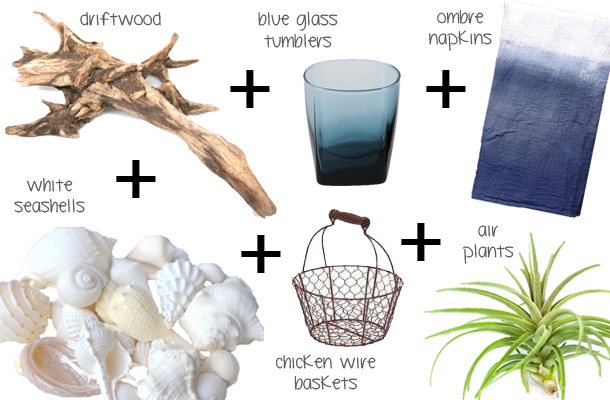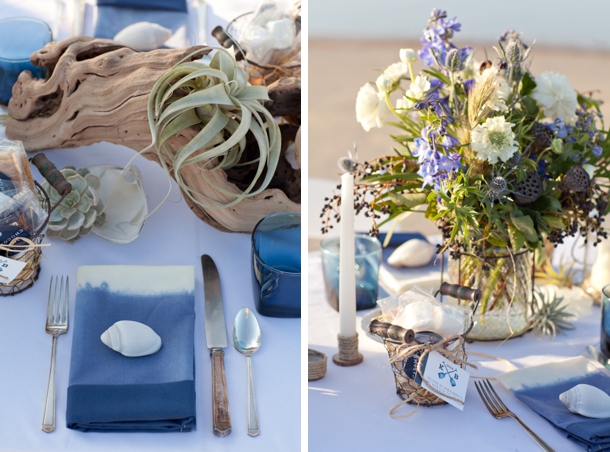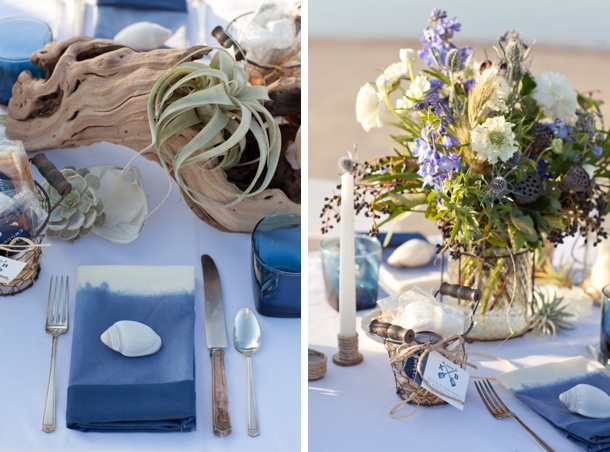 I love this look – it reminds me of a relaxed bonfire on the beach, O.C. style, but at the same time I think the ombre napkin place settings can be used in a more formal coastal wedding. Start with crisp white lines as a base, and then place a pocket-folded ombre napkin at each place setting with a simple white shell on top as a beach accent. Simple silver cutlery sets off blue tumblers (or any blue glassware, a fantastic way to bring colour consistency to your table, and quite easy to hire now). For the centrepiece, I love the driftwood branch, inlaid with votive candles, succulents and air plants (the great thing about these is that they don't need watering, so stay fresh all day). Other sweet table details here include twine wrapped candles (see below) and little wire baskets filled with American-style s'mores kits – such a delicious idea if you're having a relaxed beach braai! Finally, finish off the table with vases of blue and white wildflowers.
DIY DETAILS: Make your own ombre napkins using this tutorial (but with blue dye, obvs). It should also be quite easy to create the twine wrapped candles – use the same technique described in this tutorial and apply it to plain white taper candles, adding a small circular base.
Sources: Tablescape by Erin Kate Photography/Petal Pixie via Ruffled; napkins by Tea and Sugar on Etsy; shells by Beachy Chic Decor on Etsy; wire baskets from Save On Crafts.
Table #2: West Coast Casual
FLOWERS: Tropical greenery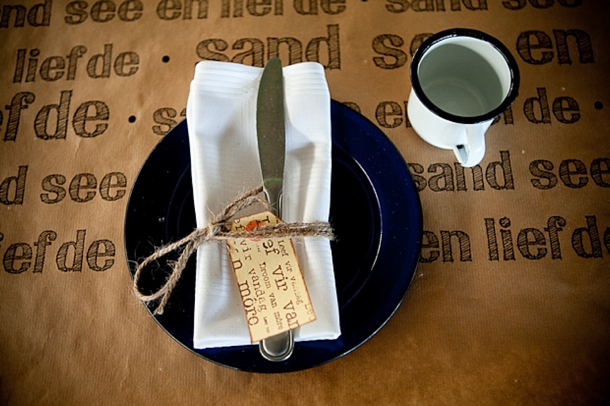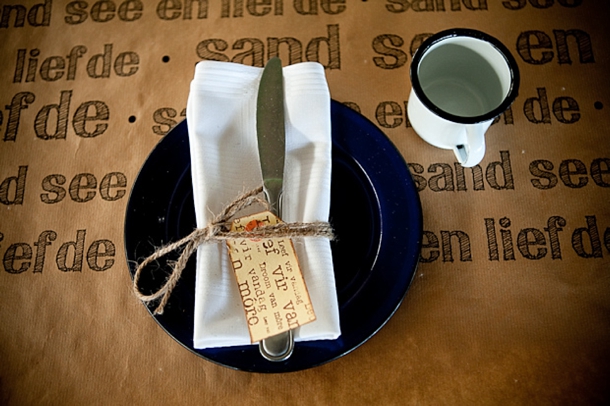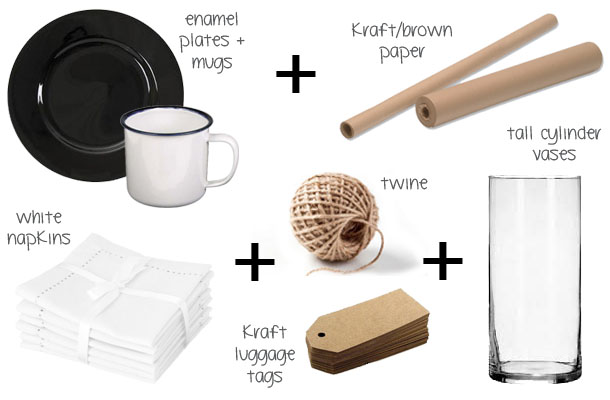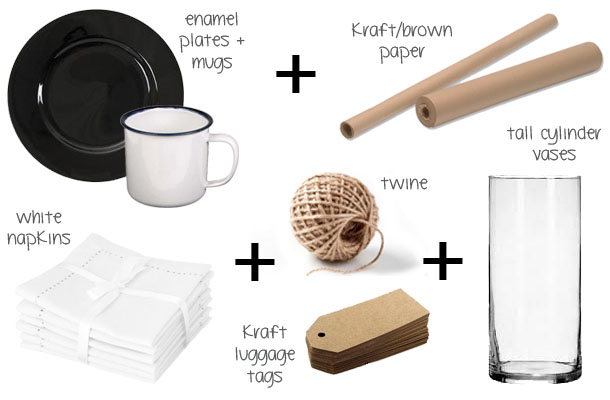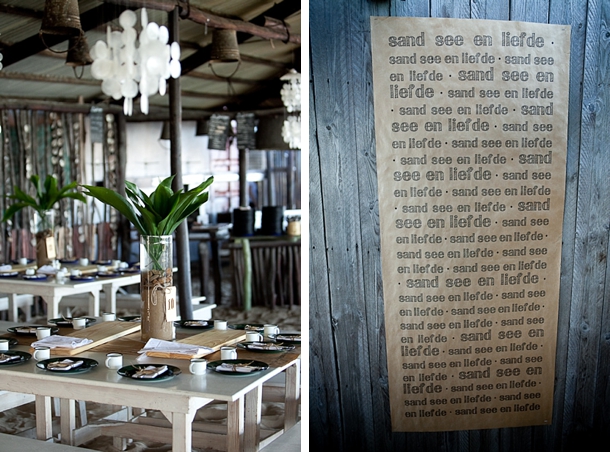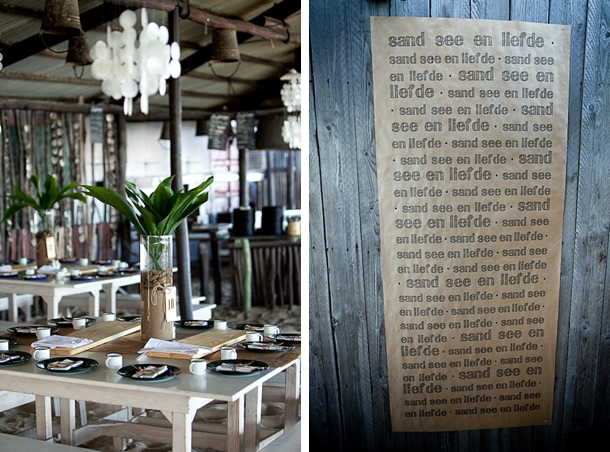 This is the ultimate table for a relaxed, West Coast-style rustic wedding, but I absolutely loved how a few clever details elevanted Carmen and Evert's decor from casual to chic. Hands down, my favourite is the printed brown paper (doubling up as a wall hanging and table runner) printed with a beach wedding-appropriate slogan ("sand, sea and love") and it's paired with matching luggage tags (use a stamp if you don't want to have these printed). Each guest is given an enamel plate and mug, and the table centrepieces are huge glass cylinder vases filled with sand, pebbles and tropical greens. Budget friendly, and sweet on the eye too!
DIY DETAIL: This couple made their own capiz shell lanterns to hang above their tables – I found some amazing DIY tutorials, many of which use wax paper as the ultimate budget/DIY alternative! Try this one  or this one for yourself.
Sources: Tablescape by Monica Dart on SBB

Table #3: Beach House Chic
FLOWERS: Peonies, anemones, dahlias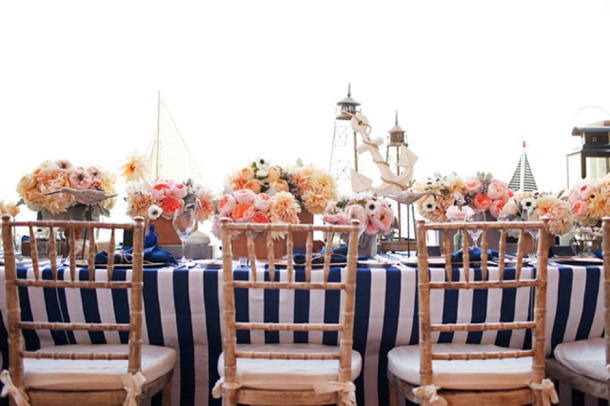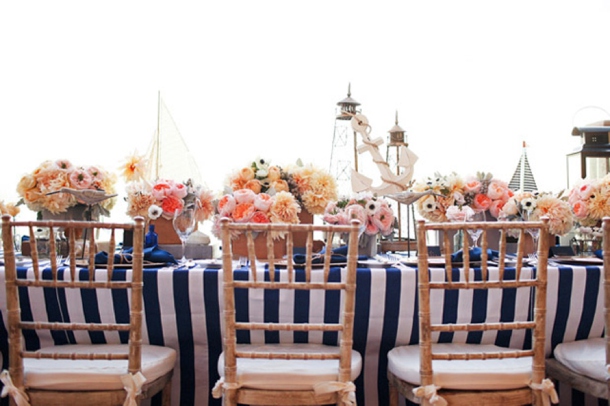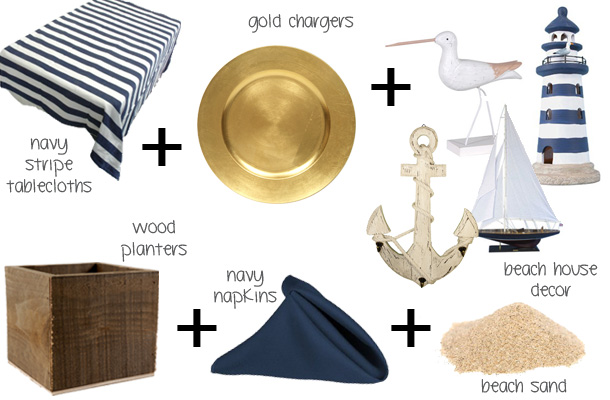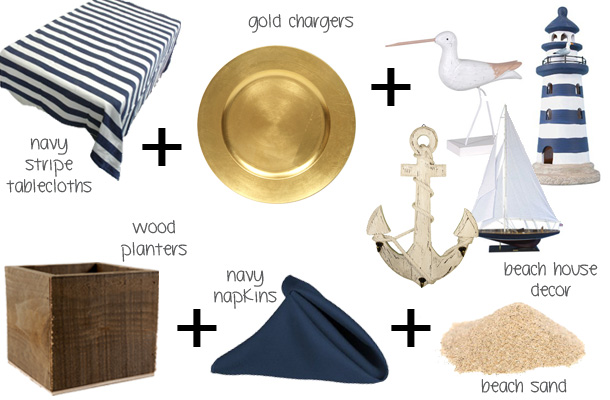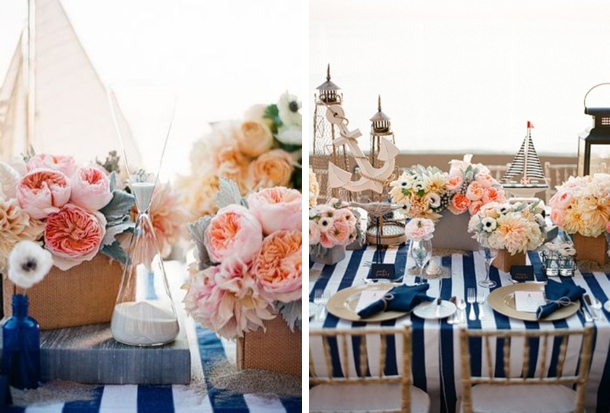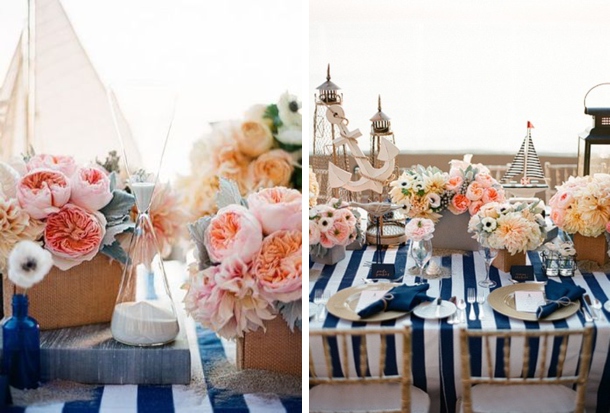 This glamorous nautical look combines the most irresistable shades of navy, peach, blush and gold and utilises the kind of decor bits and pieces that you might expect in a lovely beach home. I love the idea of using home decor as wedding decor, either borrowed from family and friends, or bought with your home after the wedding in mind. Start with some classic basics – crisp navy and white stripe tablecloths and Chiavari chairs, then add lush floral arrangements in square planters and a few individual blooms in little medicine bottles. Gold chargers glam up each place setting, complete with navy napkins tied with gold cord. For a rustic beachy touch, add tiny drifts of sand to the corners of the planters, and then space out hurricane lanterns and beach house accessories along the tables (or at the centre if you're having round ones).
TOP TIPS: A great way to create height and visual interest as shown here is to place planters and decor on a range of little stands. These are easy to DIY – just cover wood pieces (you can have these cut at a hardware store) with wallpaper or thick wrapping paper in neutral or complementary shades.
Sources: Tablescape by Troy and Aimee Grover/Bloom Box Designs via Grey Likes Weddings & Troy Grover Photography blog
Table #4: Sea Breeze
FLOWERS: Roses, carnations, lisianthus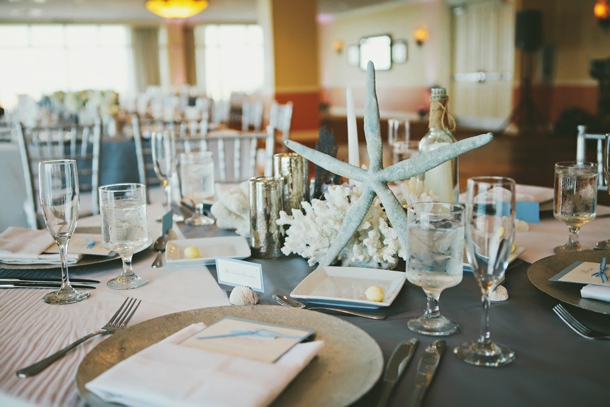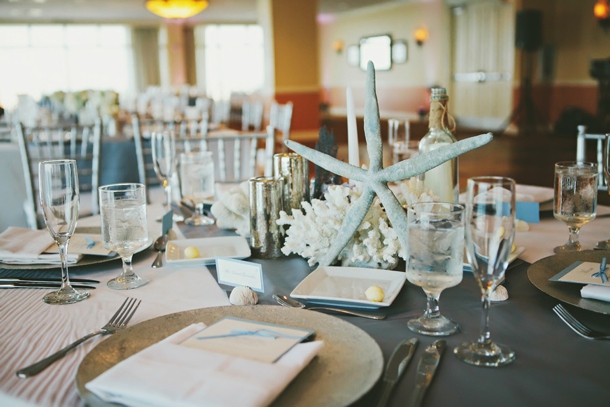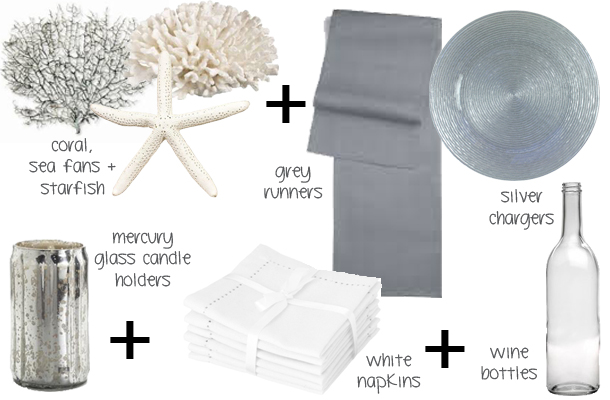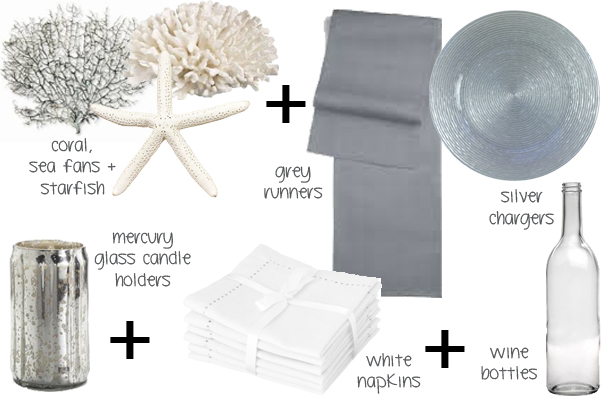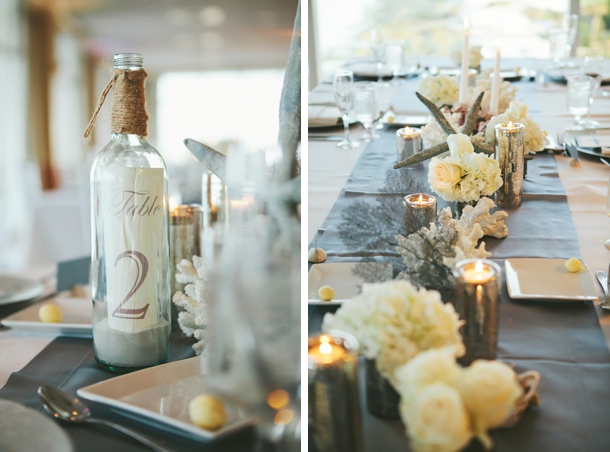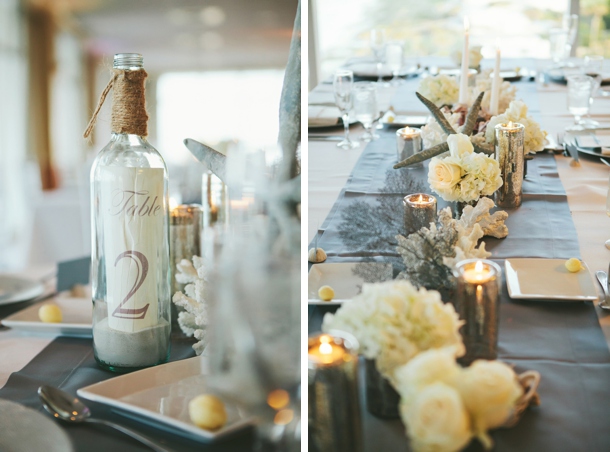 You've probably noticed by now, but I'm a HUGE fan of mercury glass, and I think it makes a beautiful accent for a beach wedding (okay, any wedding). This table uses the 'typical' beach wedding palette of blue and white, but makes it look really contemporary and romantic. Start with a white tablecloth base and add runners in a soft bluey grey fabric. Add beach details: sea fans, starfish and white coral, and a number of votives in mercury glass holders as well as white blooms in mercury glass containers. Textured silver chargers and white pocketfold napkins complete the tablescape.
DIY DETAILS: One of my favourite details on the table is the message in a bottle table numbers, and they're easy to make yourself. Just collect clear wine bottles and add a bit of sand in the bottom and a rolled up printed number. Cover the top with twine (see Table #1 above for a link to this technique). You can also create DIY mercury glass on a low budget – here's how.
Sources: Tablescape by Monika Gauthier/Rachael Kasie Designs via Style Me Pretty
Table #5: Coastal Luxe
FLOWERS: Air plants, succulents, hydrangea, carnations, tuberose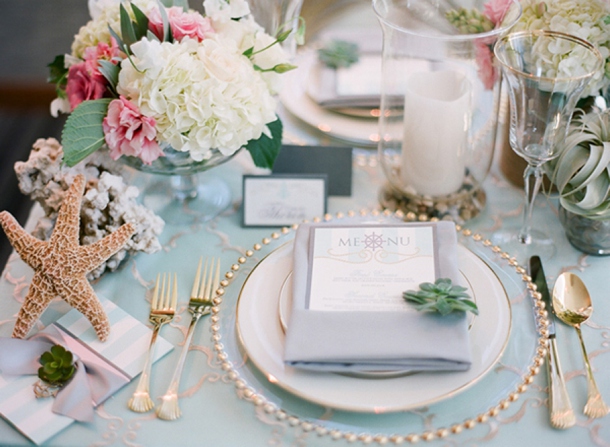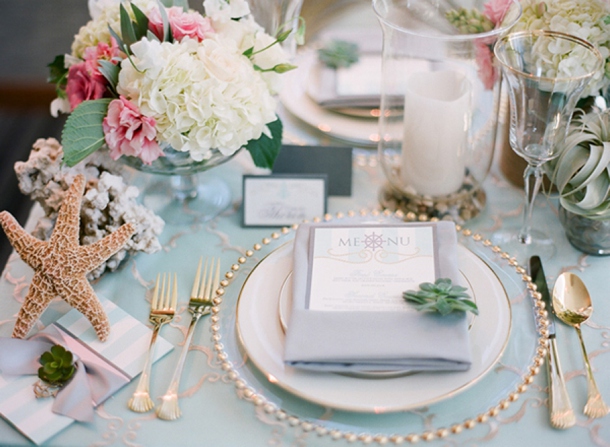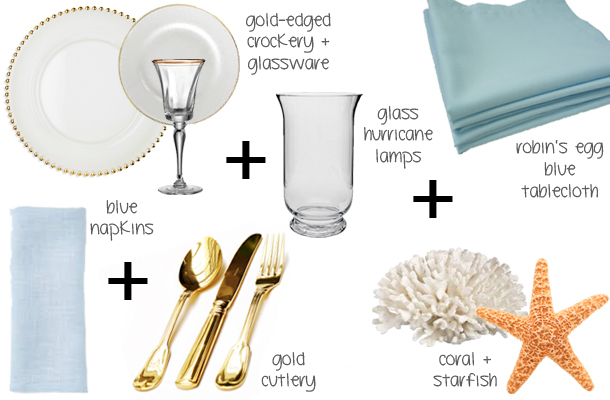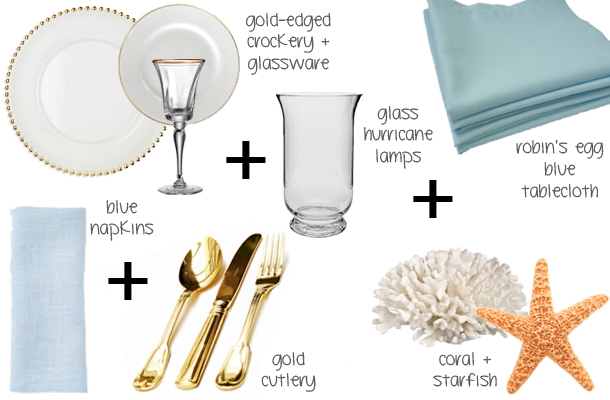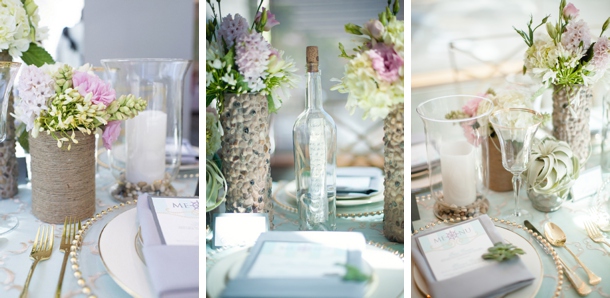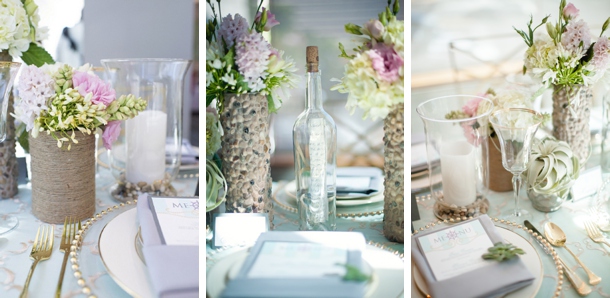 There's so much going on in this table – it's total seaside romance. I love the mix of beach textures and motifs with glamorous and romantic ones – air plants and succulents on one side, with lush pink flowers and gold crockery on the other. This gold-embroidered tablecloth adds extra prettiness, but you'd also be fine with a plain one in robin's egg blue. The table setting is pure luxury – clear glass chargers with gold beading detail, gilt-edged plates and wine goblets, and the aforementioned cutlery. Top each plate with a dusky blue napkin and a single succulent. At the centre of each table you have the more rustic elements – glass hurricane lamps with pebbles and pillar candles, message in a bottle decorations, coral, starfish, and flowers in twine-wrapped vases and faux rock vases.
DIY DETAIL: The rock vases are such a cute DIY detail – they were made out of Pringles containers! See the tutorial here.
Sources: Tablescape by Fab You Bliss, Images by Justin DeMutiis Photography/Jacki Miller Photo & Design/Lyndah Wells PhotographyJoPhoto;