Hello lovelies! How did you enjoy Part 1 of our beach wedding tables series last week? Which was your favourite? Today we're back with five more, and I hope you love them as much as I do! As before, I have broken each one down into its key components and shared my suggestions for recreating the look, including tips for budget and DIY brides. Each of these tables is different and would of course suit a different kind of beach reception (or can be adapted for a non-beach reception, if you take out some of the seaside elements like shells), but the main thing to notice is how they are built up layer by layer. That way, you can go out in search of your own lovely finds and bargains, and create your own perfect wedding table.
Table #1: Beach Blush
FLOWERS: Roses, dahlias, succulents, hare's tail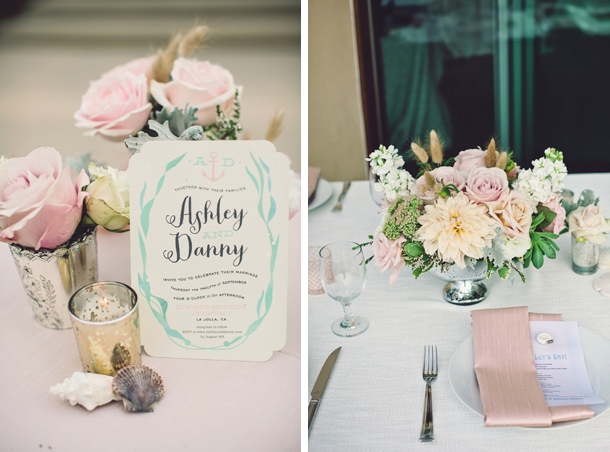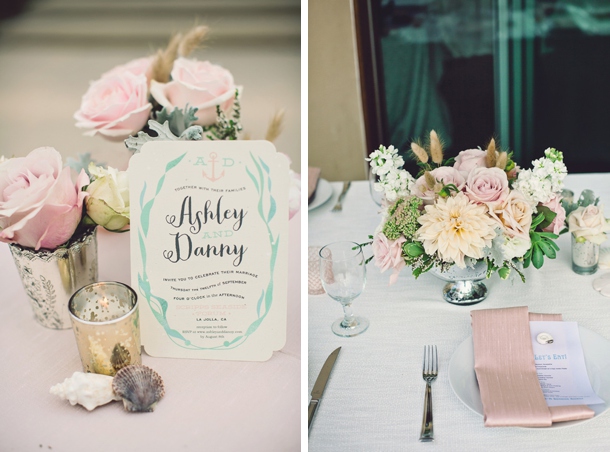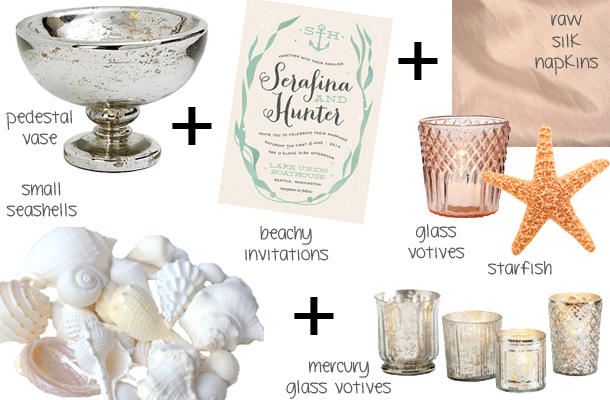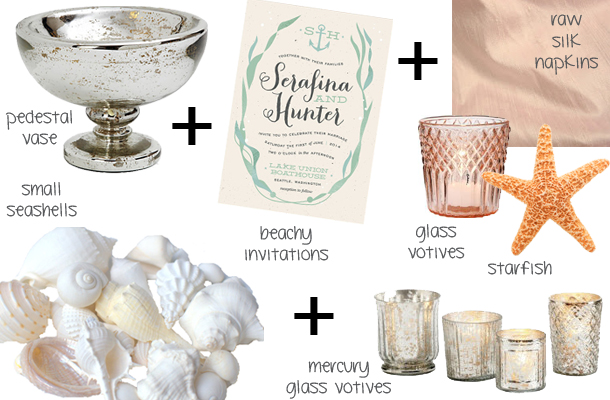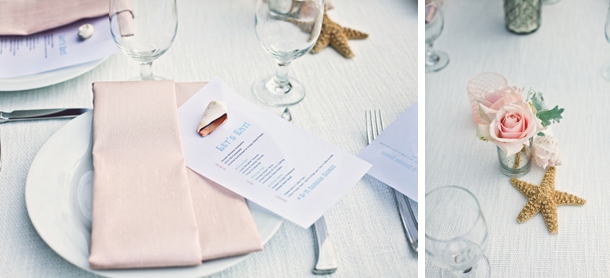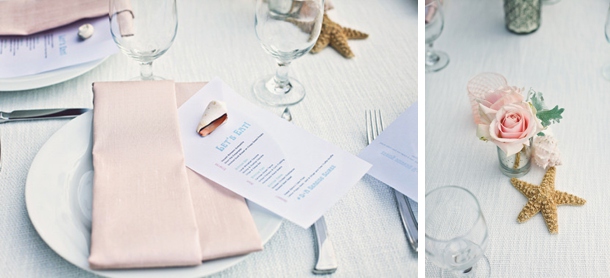 This table was a late substitution, but after I saw it on 100 Layer Cake last week, I couldn't resist! It's just so PRETTY! (And you can't even see the rest of the wedding here, including the dessert table topped with gold sequins…) As with so many tables, begin with a good crisp linen in white (or even blush, if you prefer). Basic tableware is complemented with luxe raw silk (dupion) napkins in the softest blush – the same colour reflected in the roses and glass votive holders. Mercury glass makes another gorgeous addition here, not just on the votive holders (some used to hold tiny sprays of roses, so pretty) but also in the silver pedestal vase. Finally, the beach theme is brought in through the placement of seashells (love the tiny ones on each plate), starfish, and gorgeous beachy stationery.
TOP TIPS: For a uniform look, either go scavenging for your own shells or buy in bulk from craft suppliers and spraypaint them white – an easy DIY that would look great on this table (and saves having to search for white shells). Be sure to use matte paint though.
Sources: Tablescape by Beau & Arrow Events/Amy Lynn Photography via 100 Layer Cake; invitations from Minted.
Table #2: Shipwrecked
FLOWERS: Air plants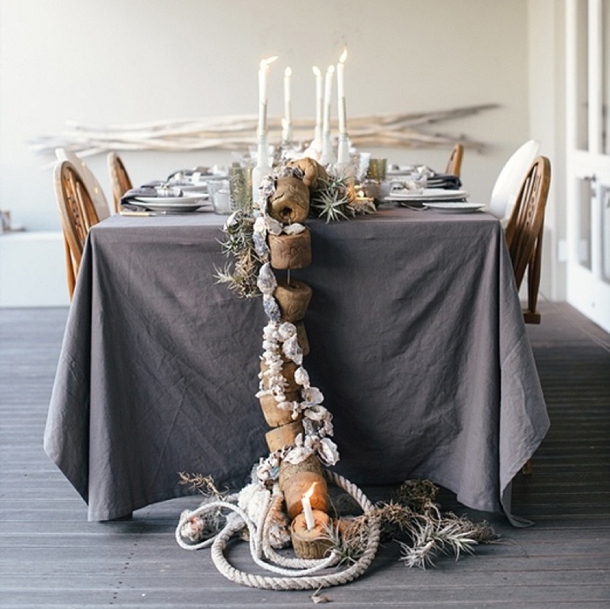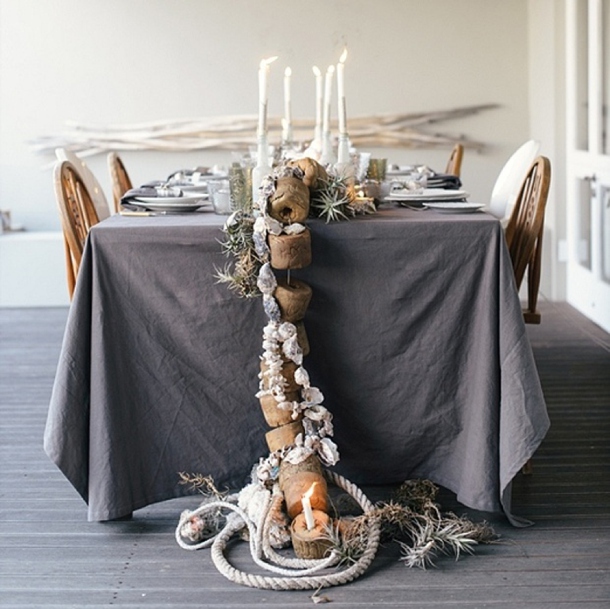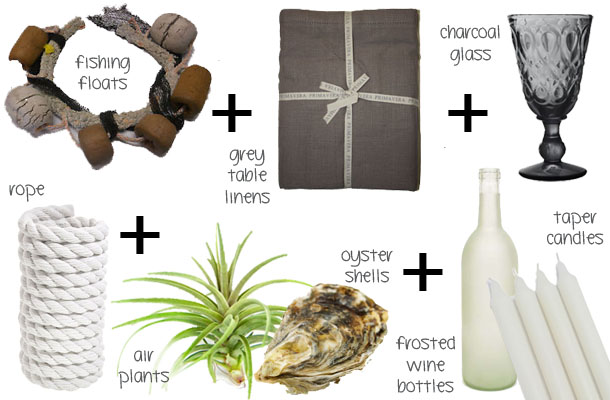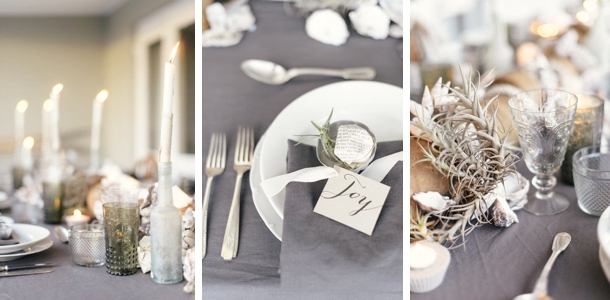 This was actually a Christmas table put together by the lovely ladies at The Pretty Blog, but I think it would be great for a rustic wedding too. The idea was to use the kind of materials you might pick up on the beach, and that's a look you can recreate on a budget. Natural textures like driftwood, air plants and a garland of oyster shells combine beautifully with the rustic textures of rope, fishing nets and floats, and frosted glass bottles with tapered candles. As a soft touch name  tags are written in pretty calligraphy, and the whole thing is given a modern hue with grey table linens.
DIY DETAILS: Look carefully and you'll see little concrete votives – see the tutorial for this and other details on this table here.
Sources: Tablescape by Christine Meintjes, Anneke Roux & Nicola Pretorius from The Pretty Blog via The Pretty Blog; charcoal wine glass from Amazon; table cloth from Curtain Trader
Table #3: Pincushions & Peonies
FLOWERS: Pincushion proteas, air plants, coral peonies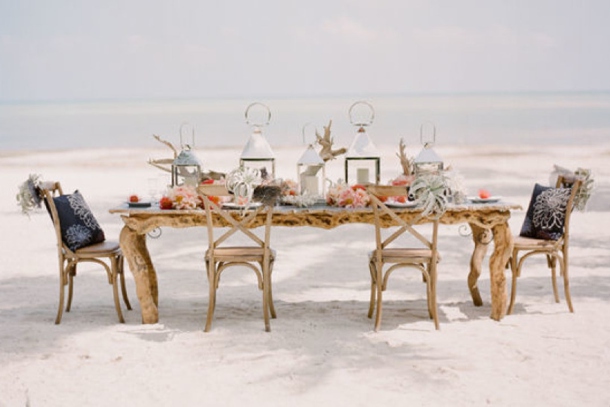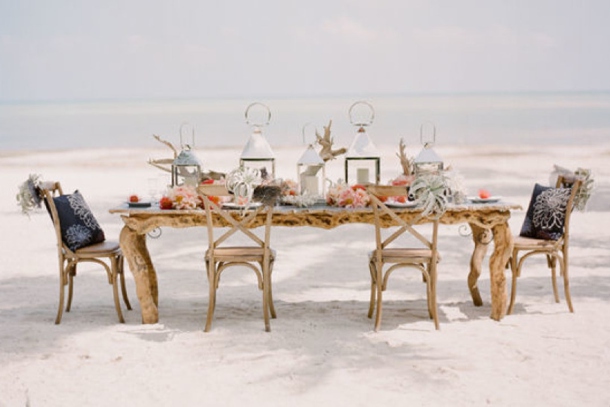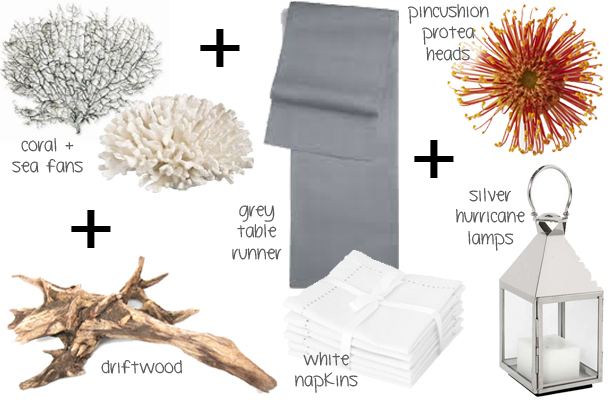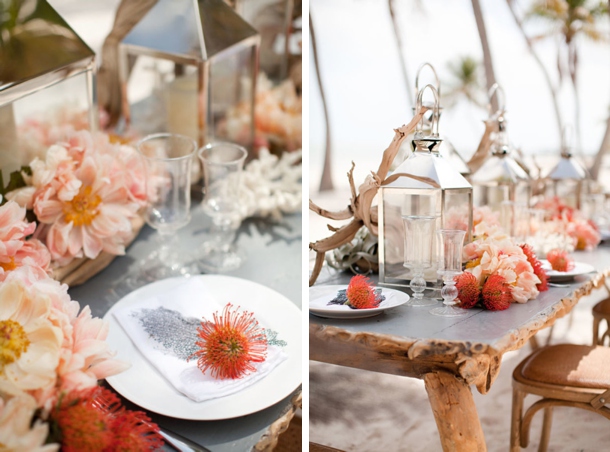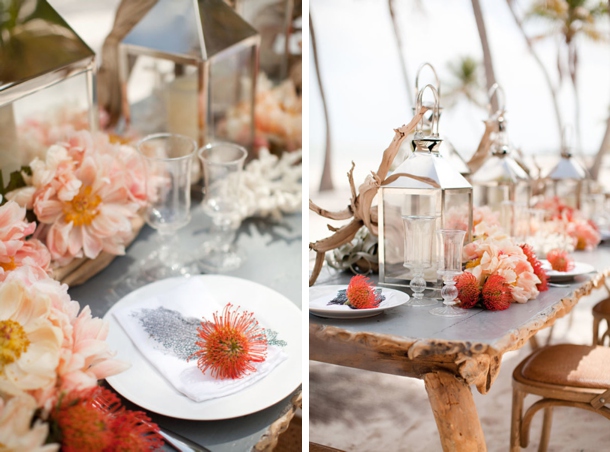 For us protea-lovin' South Africans, this might be the ultimate. And not just pincushion proteas all over this incredible table, but soft, open coral peonies too. So, so gorgeous! I like the way it pairs with a grey tabletop, and the central 'runner' of driftwood, air plants and large silver hurricane lanterns filled with sand and candles. So very chic! As a final pretty beach detail, add sea fans to simple white napkins at each setting. It's the perfect combination of masculine meets feminine, beach rustic meets wedding formal.
TOP TIPS: The abundance of this table makes it particularly gorgeous for a styled shoot, but that doesn't mean you can't recreate the look for less. Use half the peonies and pincushions and you'll still get a gorgeous effect, especially if you add in other soft flowers that complement the overall look.
Sources: Tablescape by KT Merry/David Fittin via Style Me Pretty.
Table #4: Message in a Bottle
FLOWERS: Air plants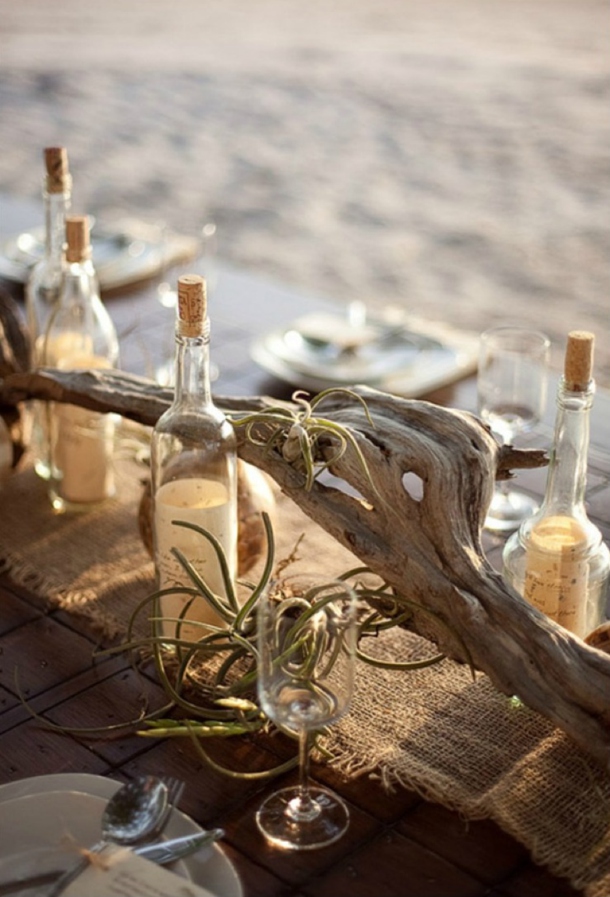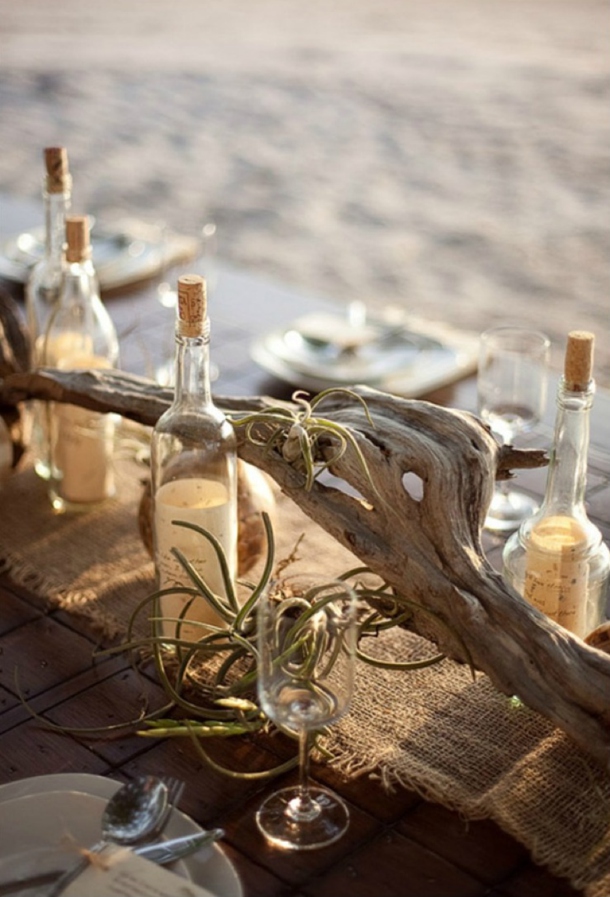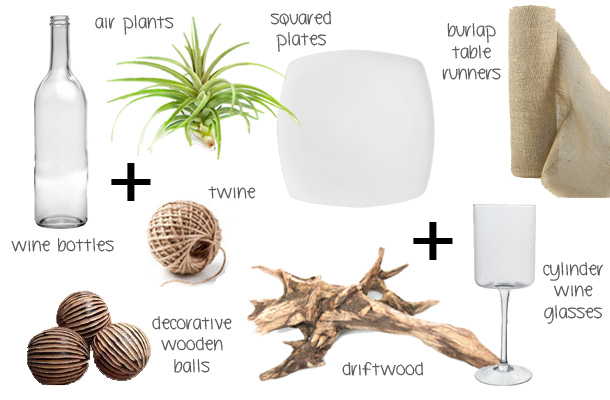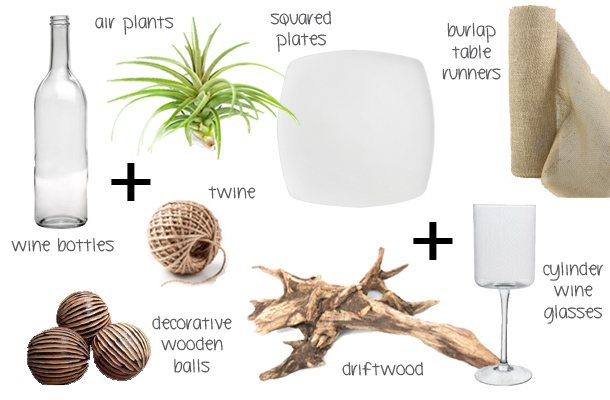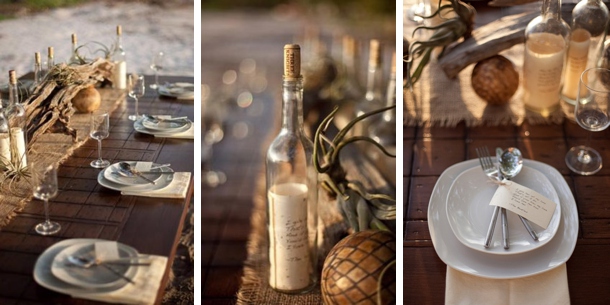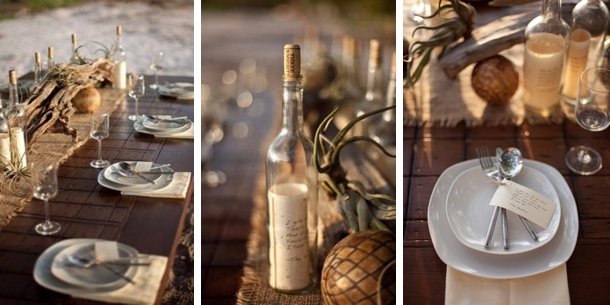 By now you're probably cottoning on that air plants, succulents and driftwood are basic building blocks for a beach rustic look, and this one is all naturals, which I love. Those simple elements combine with a burlap runner and a message in a wine bottle at each place setting, as well as some ornamental wooden balls, for a pared back but very stylish table. Square plates with rounded corners add an extra bit of visual interest, paired with cylinder wine glasses and basic cutlery tied together with twine and plain white napkins. If you added a white tablecloth under this table, it would smarten it up just that little too (as plain wood tables won't always be available).
TOP TIPS & DIYs: This might be the most budget-friendly table of our entire selection, since you can use the basic tableware provided by your venue, supplementing it with only the runner and the decor items shown above. Messages in a bottle are the easiest DIY ever – either print a single message for all your guests, or make them feel extra special with individual notes. Be sure to either tie the note so it can be pulled out, or size the paper so the whole thing can be read when it unfurls inside the bottle.
Sources: Tablescape by Comfort Studio/Four Winds Weddings & Events via 100 Layer Cake

Table #5: Tropical Sunset
FLOWERS: Roses, baby's breath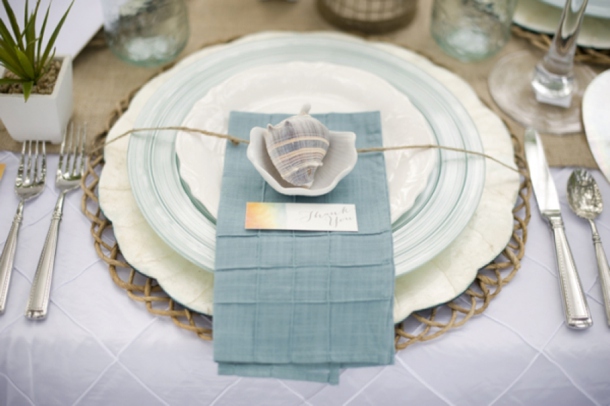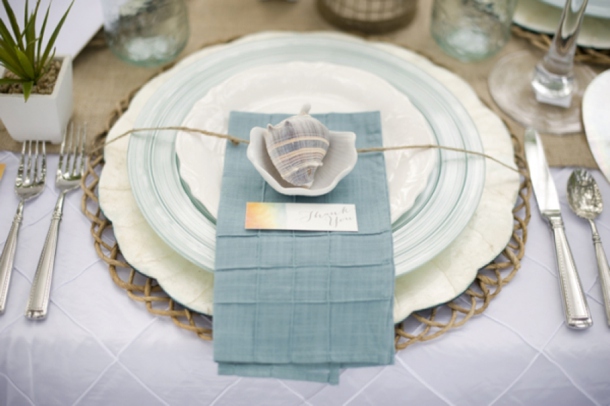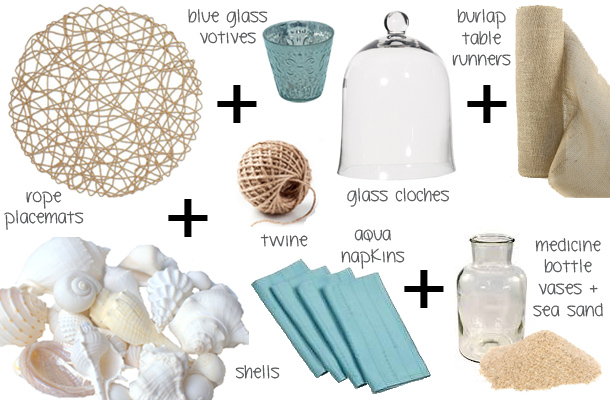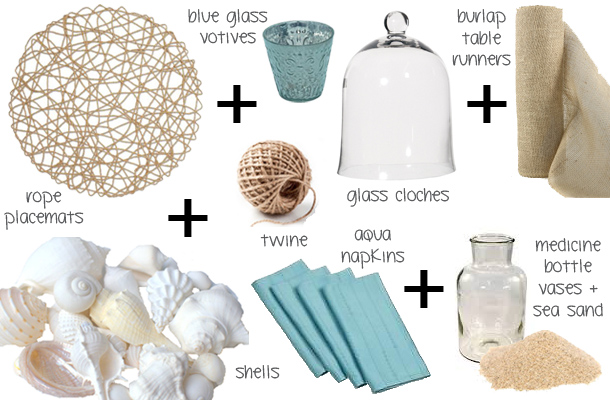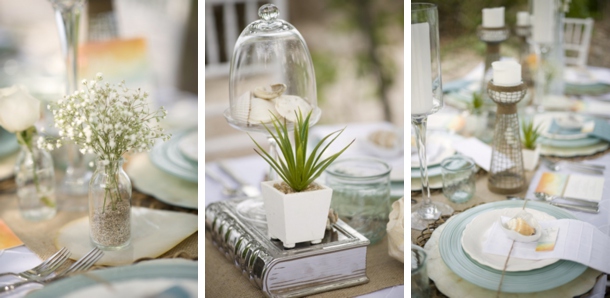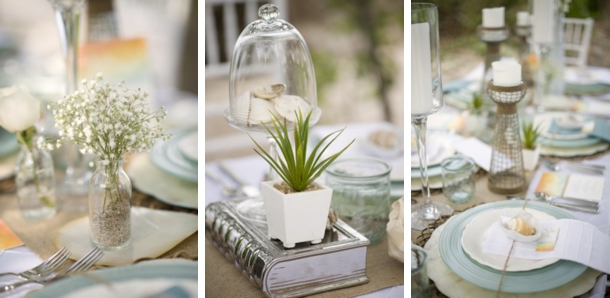 The colour scheme of this table is so perfect for a beach wedding! Picture a beach sunset – neutral sand, corals and oranges and peaches in the sky, soft blues and aquas of the sea. Admittedly, it's a palette that could be too much, but when combined with the watercolour motif, it gets an elegant washed out quality, that is elegant and soft and very romantic. There's a lot of gorgeous layering to this look – a textured linen tablecloth, burlap runner, ornamental plates at each setting (love how they're delicately 'wrapped' with twine that goes under the shell within a shell, the lovely watercolour stationery, the aqua votive holders, little glass medicine bottles filled with sea sand and baby's breath, little potted ferns and ornamental raffia placemats and candle holders. Shells are used not only to reinforce the beach theme but to create texture and visual interest – placed under the vases like little platters, arranged under glass cloches. There's a lot going on here, but it comes together perfectly.
DIY DETAILS: To create aqua glass votives or vases, you don't have to search for the perfect shade (and pay extra for it) – simply buy plain clear glass vessels and dye them, using this tutorial.
Sources: Tablescape by Blynda DaCosta Photography/eph*ra event design via Ruffled