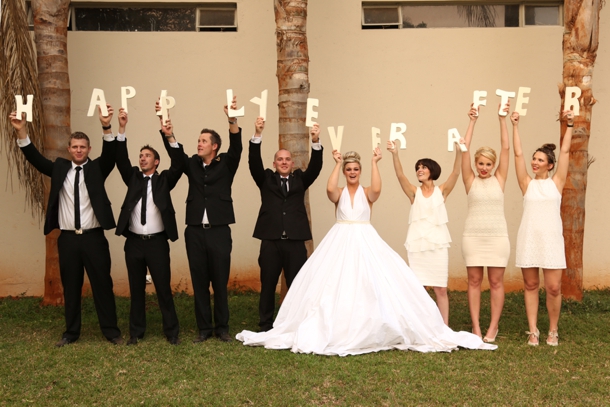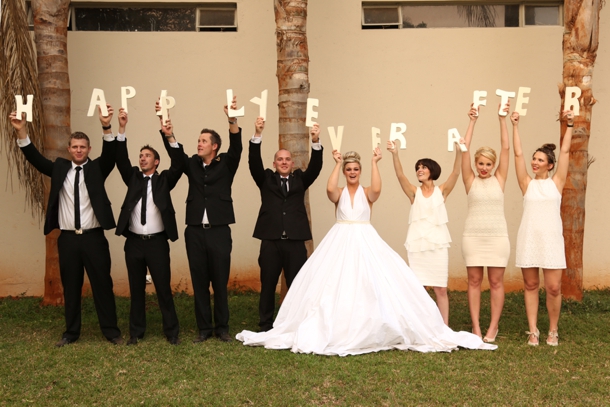 Morning brideys, how was your weekend? This morning we're shaking things up a little – instead of starting off the week with an inspiration board (although I do have a lovely board for you this afternoon) we're launching straight into our first real wedding of the week, and this one was hand made with so much love by SBB reader, Karleyne and her husband. Karley is a chef working in Zim, and married her partner in food and life, HD, on their very own tennis court! Now that's a venue I haven't come across before… The couple DIYed every single sweet detail, from hundreds and hundreds of paper cranes to centrepieces made of folded books, linen napkins, stationery, signage, etc etc etc. If the work ethic that they demonstrated in putting it all together in their limited spare time is anything to go by, they'll have taken over the culinary world in no time. The menu was obviously a big part of the day, with a gourmet take on laid-back comfort food, but Karley's look was 100% glam in her dress made by Sunday Times fashion editor in chief, Tiaan Nagel. From their vows beneath a mosquito net canopy to eating steak and chips under the African stars, this is one wedding that really reflects the personalities who dreamed it up and made every corner of it from scratch.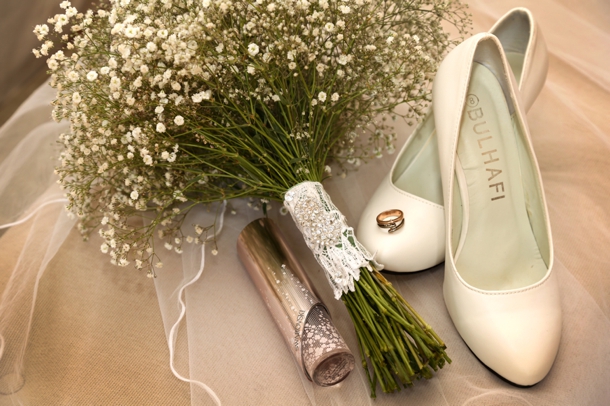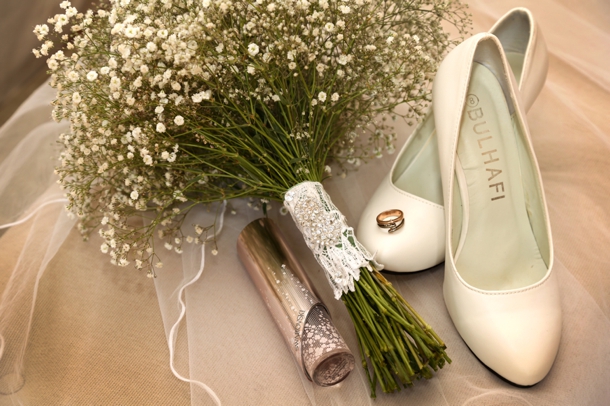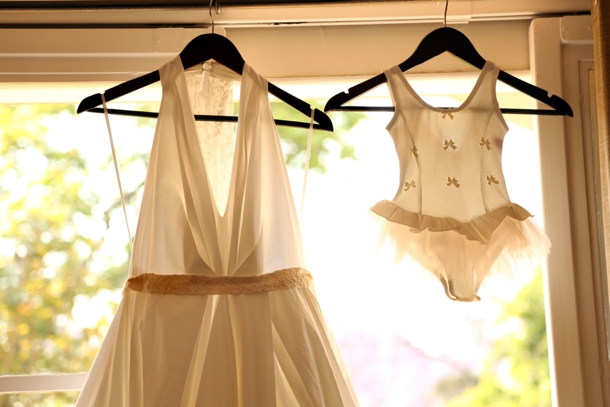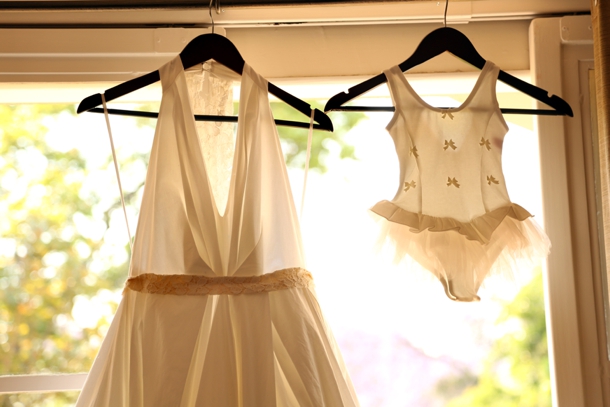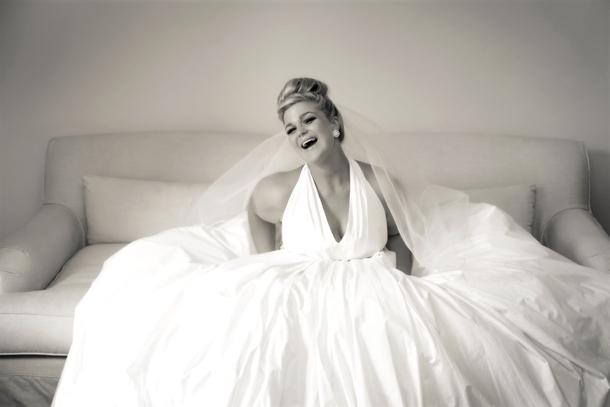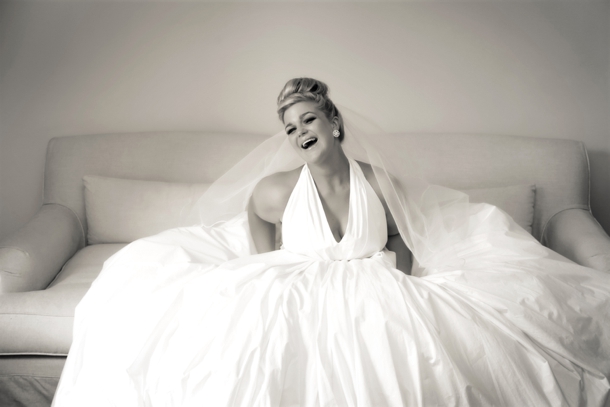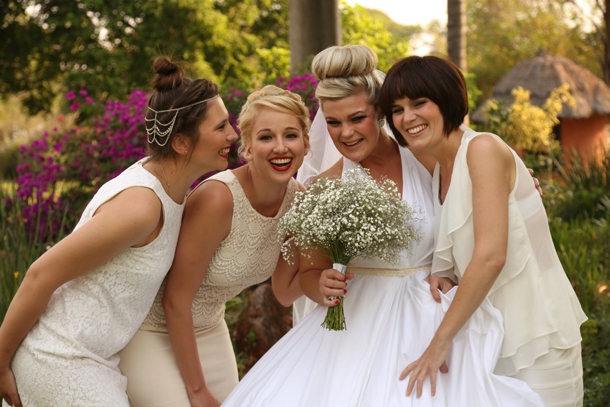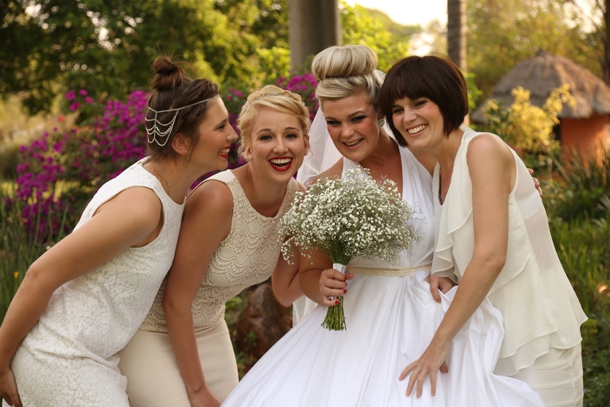 Love Story
He was the guy I hated loving – my executive sous chef at the Royal Elephant Hotel in Pretoria and an all-round Gorden Ramsey. I can't say it was love at first sight, but rather love at first bite! The first proposal took place in my little pastry kitchen behind the oven, it seems food really is the way to a man's heart! My chorizo, roast garlic and goats cheese beer bread had earned me a tin foil ring fit for, er… well a packaging queen ! The rest, as they say, is 16 hour a day shift history!
The Proposal
Within three months of "dating", we started living together (which encompasses breathing, eating, working and loving) – fast forward two years, a Saturday morning, the first weekend off in months… bliss. I am awoken by a very impatient boyfriend at 5am – told to get dressed, he'll be back to fetch me in an hour. Obediently I oblige and am whisked away for champagne, croissants, a glorious selection of fruits and yoghurts and a very hyper active hubby to be. The Waterkloof game reserve is where it happened, in true gentlemen style, on one knee, in the dust, on a mountain and tears running down his face… best friends for keeps. My wonderful day ended with a huge surprise party with all our family and friends and a much calmer man!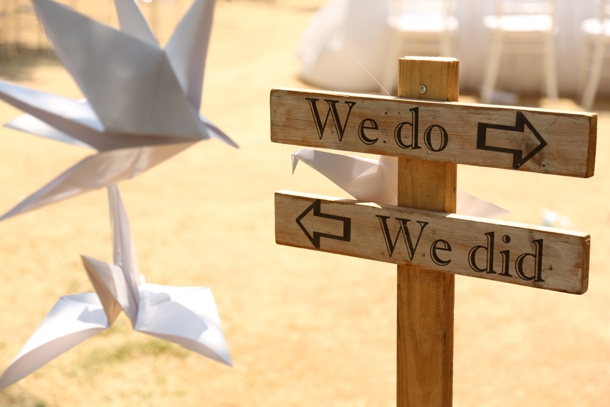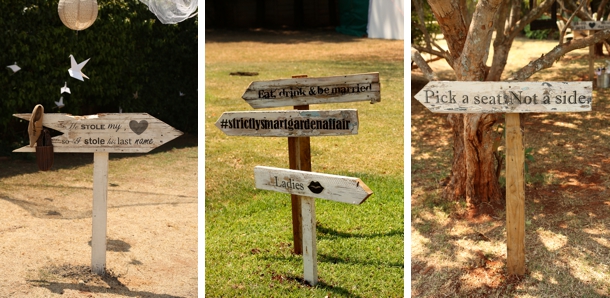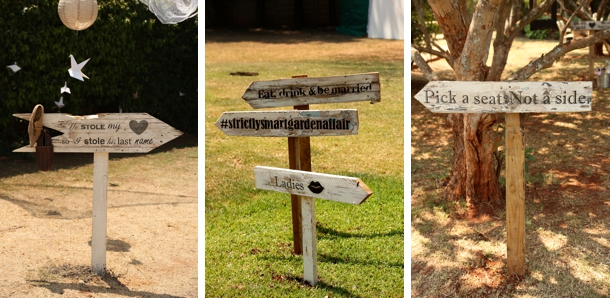 The Venue
By 2013 we were living in beautiful Zimbabwe. The wedding of my dreams took place in the tennis court at our gorgeous home in the suburbs of Borrowdale – "love all" was the theme. The venue decision was partly to do with budget, but in the end, what better place to share the most spectacular day of your life than where you live – my heart belongs at home, to him, and I get to relive it every single day! (We keep finding origami bird casualties hidden in the bushes – this makes us happy)
Wedding Style
We chose an all white palette, with touches of cream and natural wood, paper and light. Everything was done by the two of us – with 823 origami birds, 76 folded books, hand made pure linen napkins, 300 artisan hand made candles, and 60 mosquito nets as our "marquee" (which poor old hubby hung two days prior to the event – sun burnt feet was the result). I was very inspired by Africa, and with that, the amazing sense of craft and innovation that exists around us! I wanted it to feel like my dreams – and dreamy it was!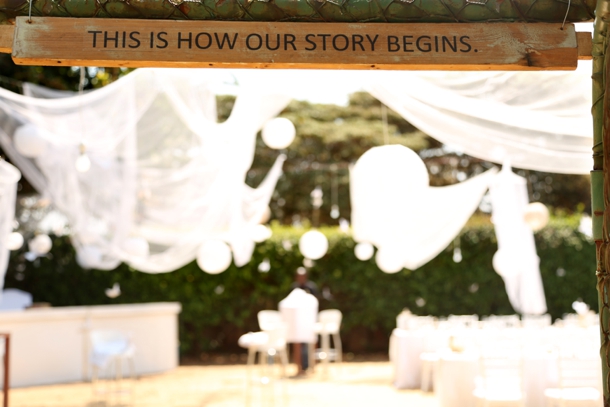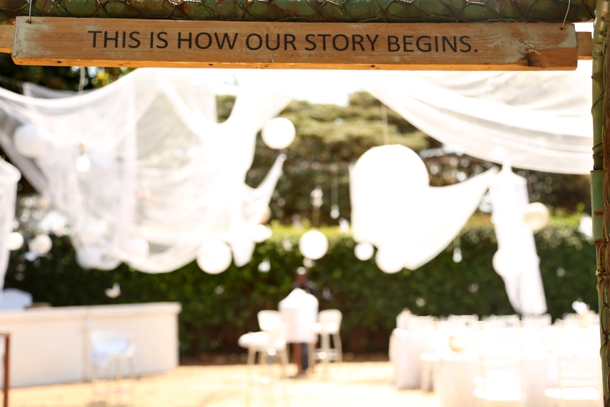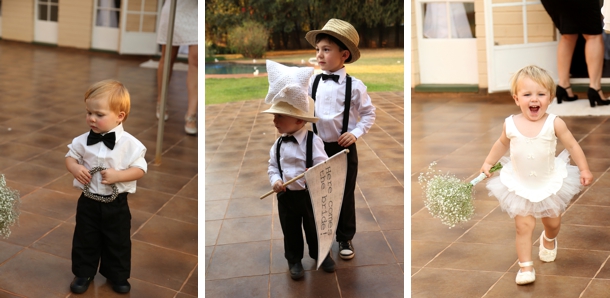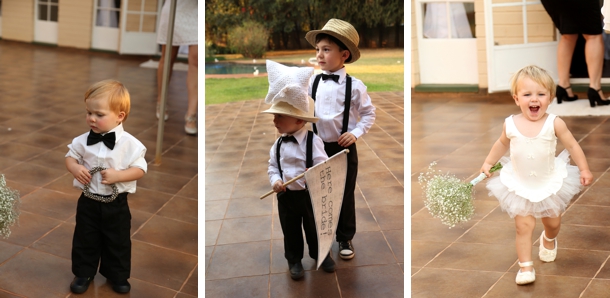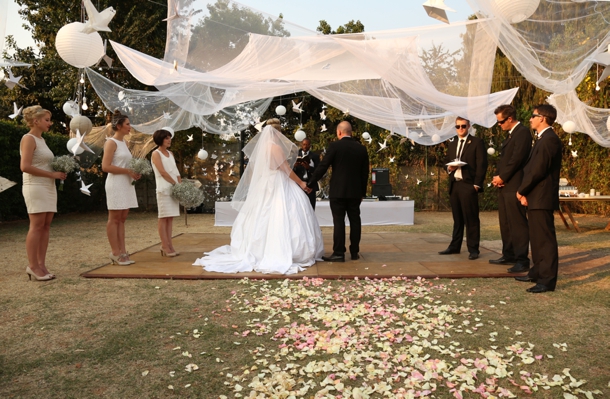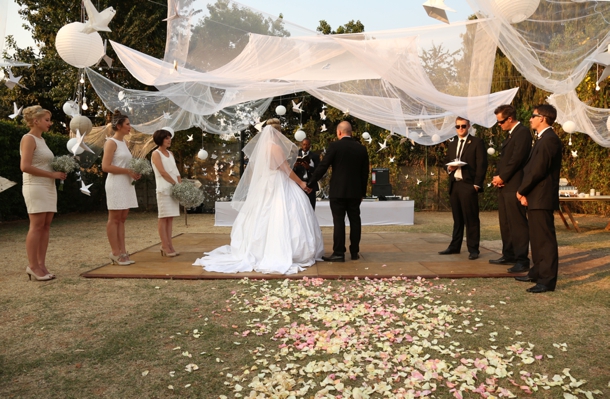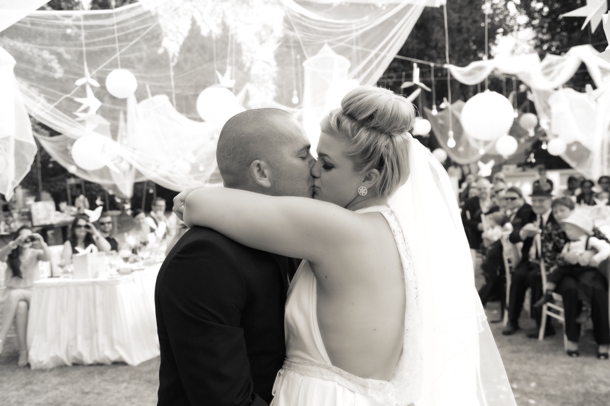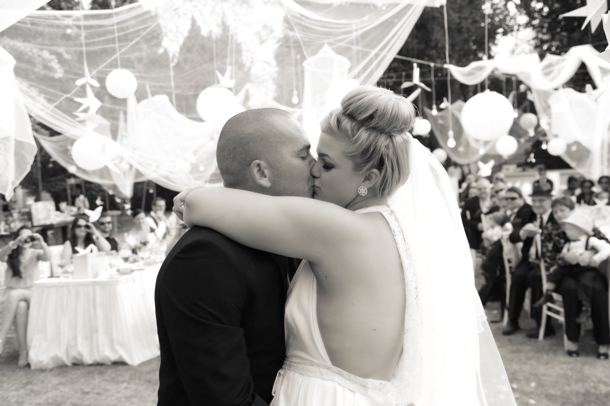 The Menu
As chefs, and having been in the hospitality industry for a combined 15 years (and an unmentionable number of hours), we felt huge pressure to do things right! The food was very reflective of "us" – cheese, wine, bread and dine boards (which my poor mum smuggled across the border – 14kgs of it from our favourite craft cheese maker) for starters, and then hubby's all time favourite meal for mains – steak, egg and chips! This was presented in stations – our guests got to choose their cuts of beef, from rib-eye to grain fed fillet, their eggs – poached or fried, and all the fancy French words we could come up with to describe the humble chip! Being a pastry chef I had to make the cake – this was in the form of vanilla bean cheesecake , topped with 24 carat gold leaf (my gift from hubby when he competed in the Culinary Olympics the year before in Luxembourg, Germany) served with a selection of toppings presented in mini console jars – from home made salted caramel to 85% dark chocolate ganache – we had it all!
DIY Elements
All of it was DIY… the origami birds took us a good six months to finish, all 823 of them! We also made the entire structure that would hold the "hanging table decor", the hanging of the birds, lanterns, mosquito nets and light bulbs. The food, the cake, the stationary, the invites, the list is endless! We would never have managed if it wasn't for the help and support of our friends and beautiful families – we really loved being so entwined in the creative process.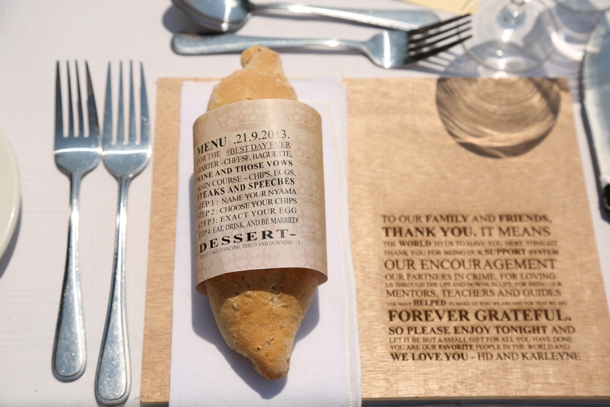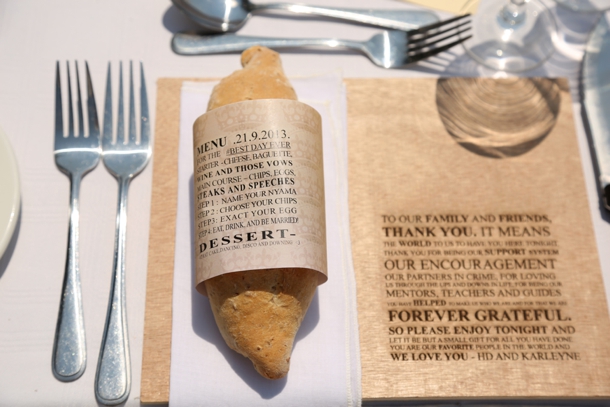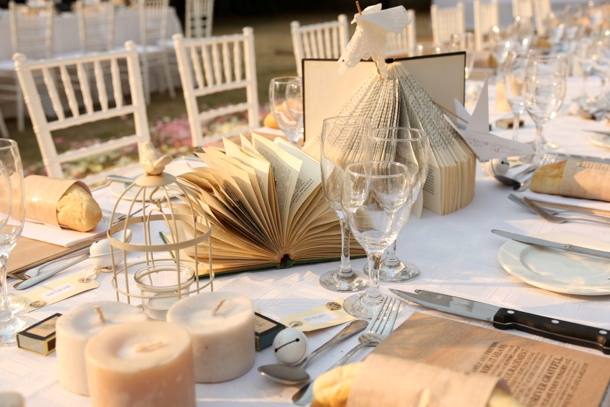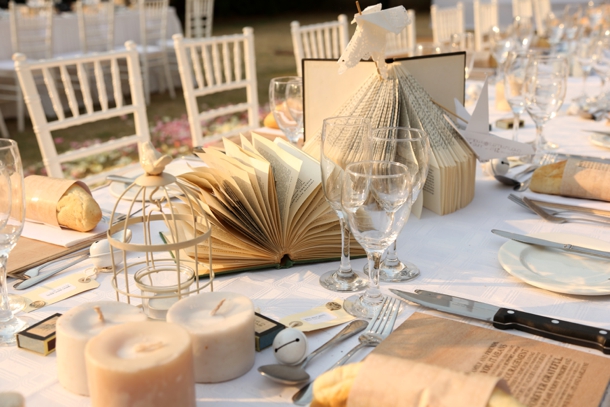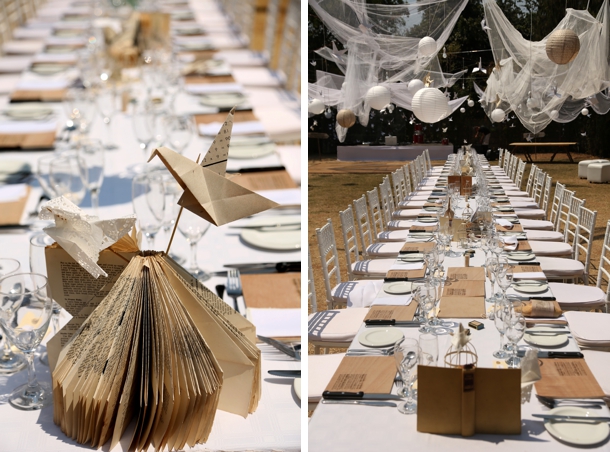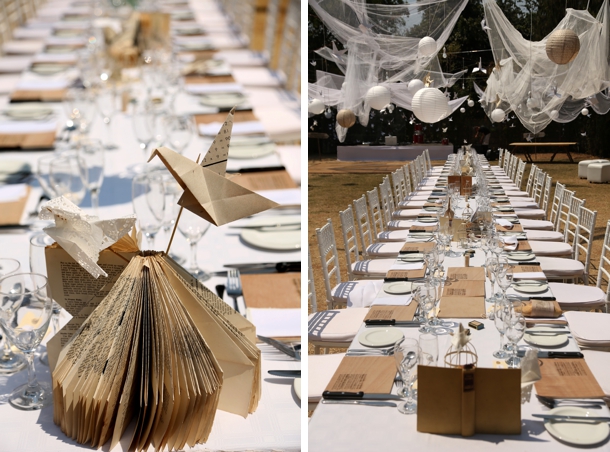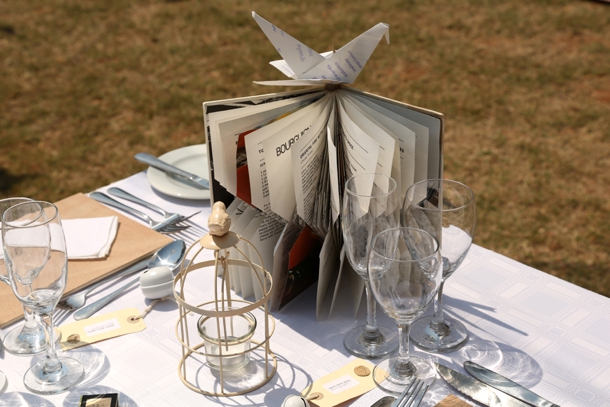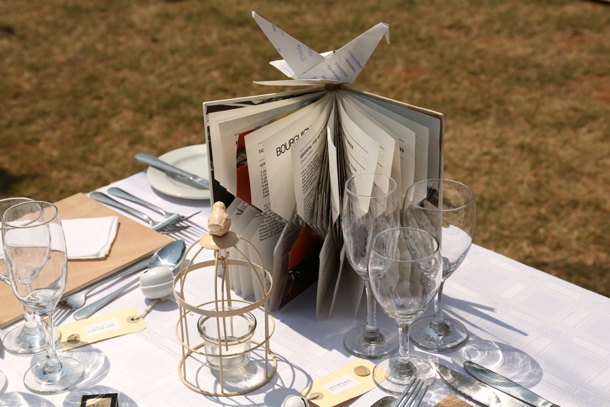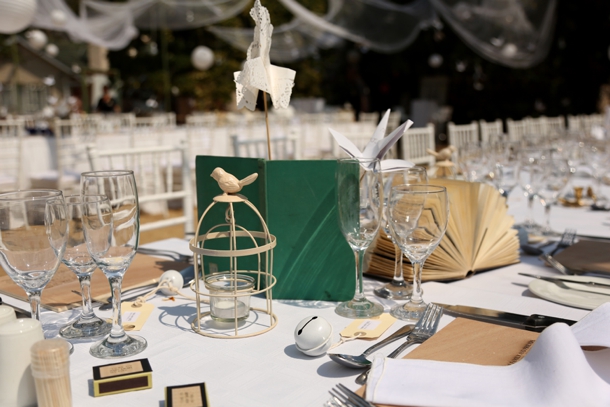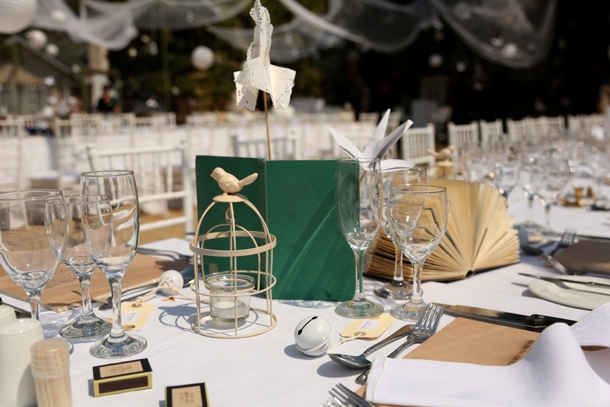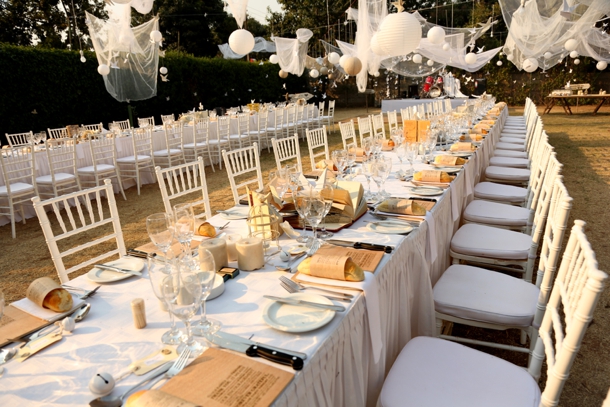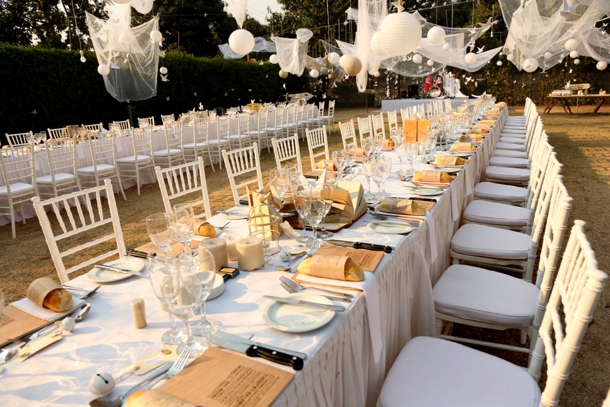 The Flowers
As paper was our concept, we only had bouquets – these came in the form of baby's breath wrapped in lace – simple and pretty!
The Dress
Tiaan Nagel is a magician! He had done my sister's dress a few years back and was the natural choice. As the theme was somewhat of a glamorous African one, I had to have Cotton – and cotton he gave me! 300 thread count French cotton, crisp white and dreamy and just so me.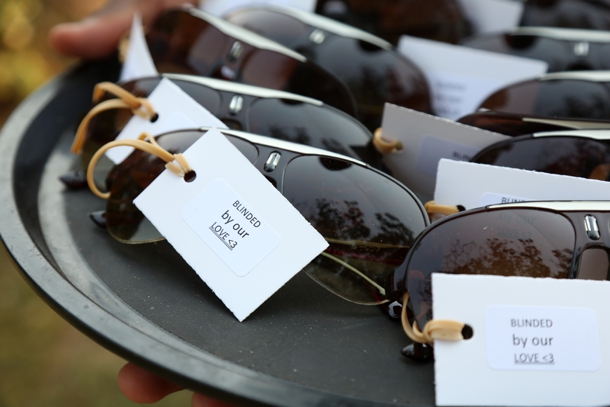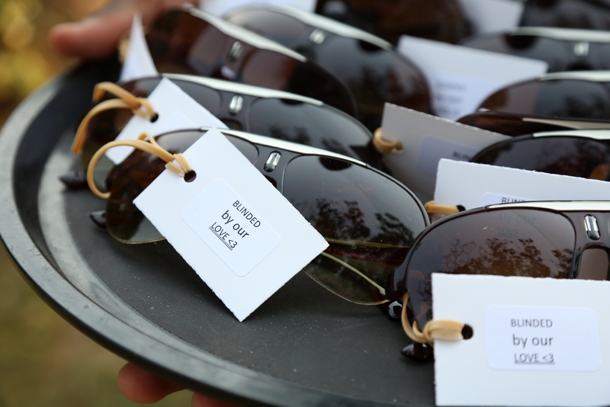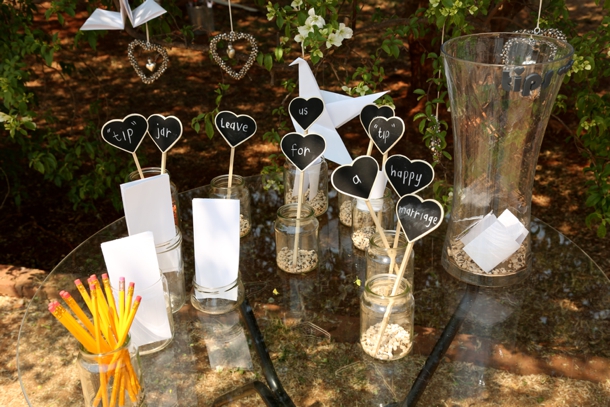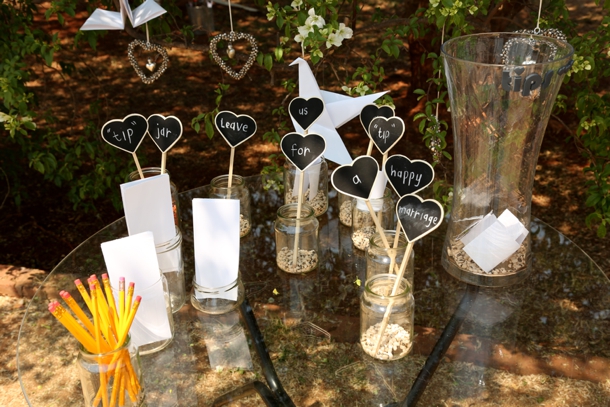 Memorable Moment
Crazy as this may sound, I can't seem to forget sitting on the stoep of our hotel room at 3am the morning after – in our PJs, tea in hand, and the biggest goofiest smiles on both of our faces! That feeling of being loved, "owned" for all the right reasons and 100% content with our existence. It had worked, we'd done it, we'd danced our buts off, laughed, cried and felt so amazing that our love created the amazing thing that was our wedding!
Proudly South African Details
If the groomsmen sitting with their feet in the pool and Castle Lights in hand half an hour before the ceremony began counts – then yes! Boerewors rolls and buddy cokes completed the four course meal at midnight. We also tried to use all locally made and manufactured products.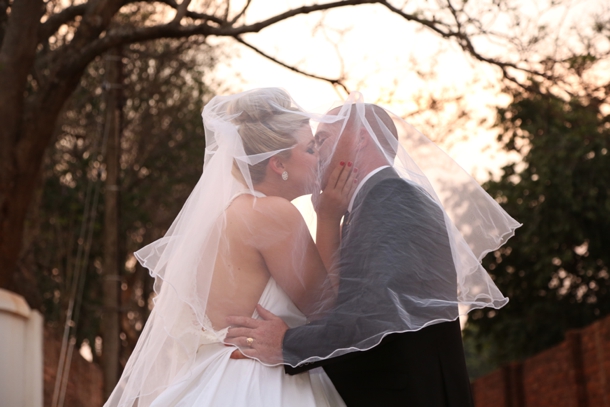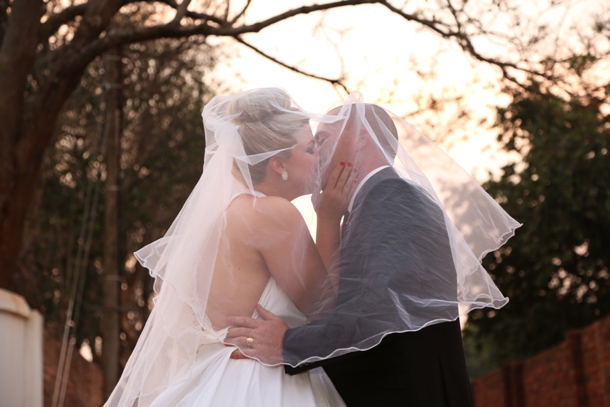 The Honeymoon
We went to the beautiful Trout Beck hotel in Nyanga in Zim – its a mere three hours away but felt as though we were in another universe! The climate is 100% different, and because our wedding was truly a spring wedding (21st of September being the spring solstice) the chilly, wet, rainy weather was a welcomed change! We spent our days trout fishing and exploring the gorgeous little town, and our evenings snuggled up with red wine, good food and a blazing fire. It was amazing!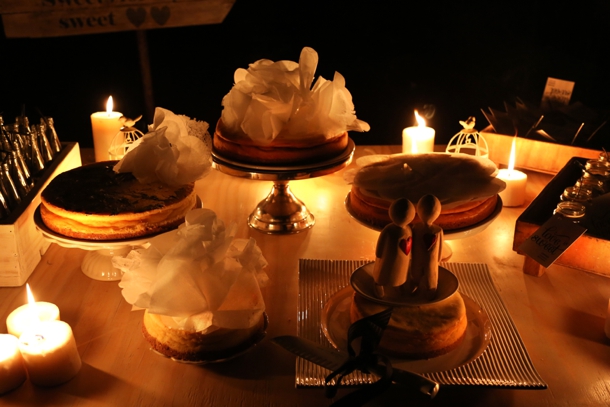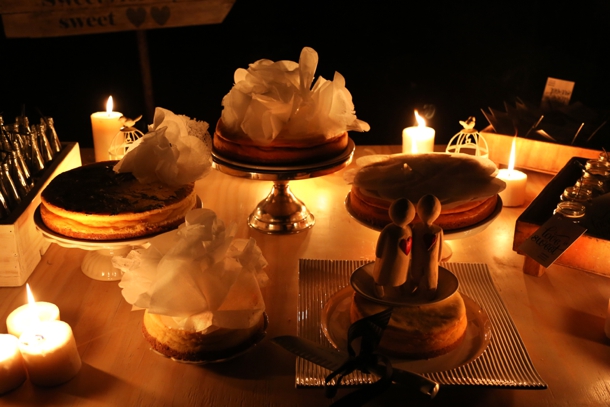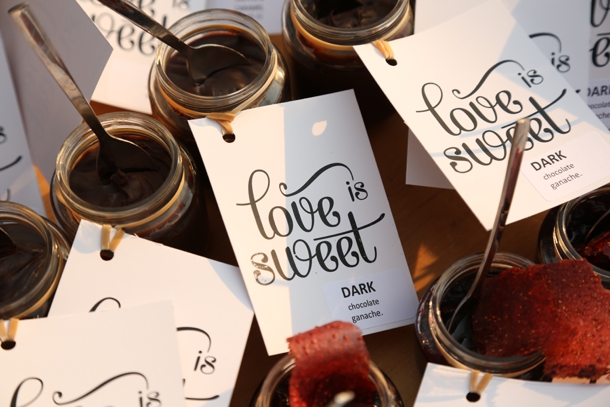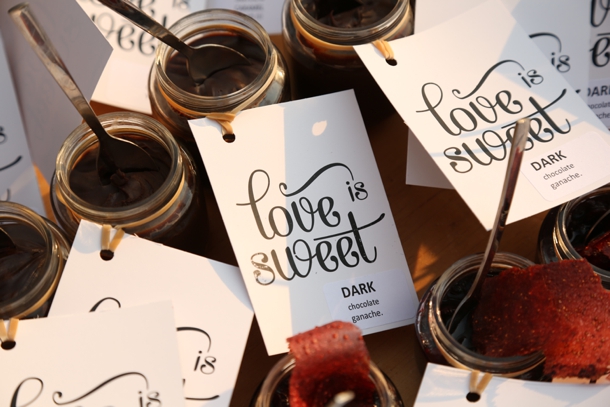 Advice for Future Brides & Grooms
Do everything you want to do! If it's a DIY theme – let your families help you. Don't think that you have to spend all the money in the world for it to be beautiful. Nothing is more enchanting than hand crafted, unique, totally "you" details. Get the dress of your dreams – don't regret anything! Most importantly, don't get so wrapped up in the running order and table set ups that you forget to see the little things – be absorbed in the look your husband gives you when you walk down the aisle, appreciate your sister's patience with you, cry when your dad dances his dance with you.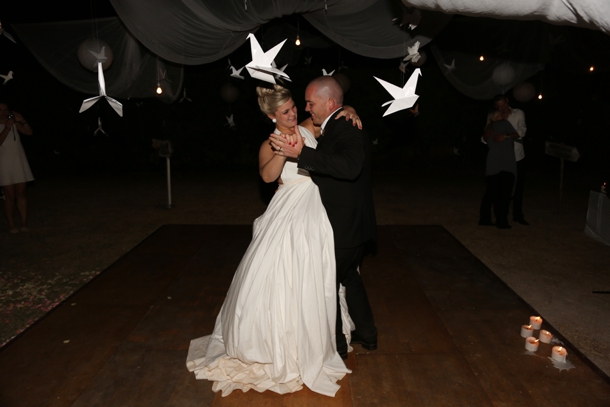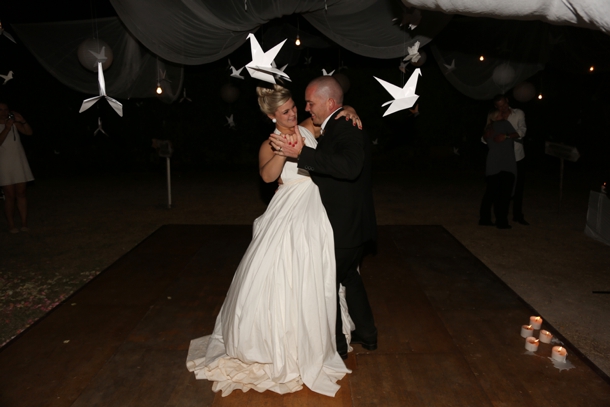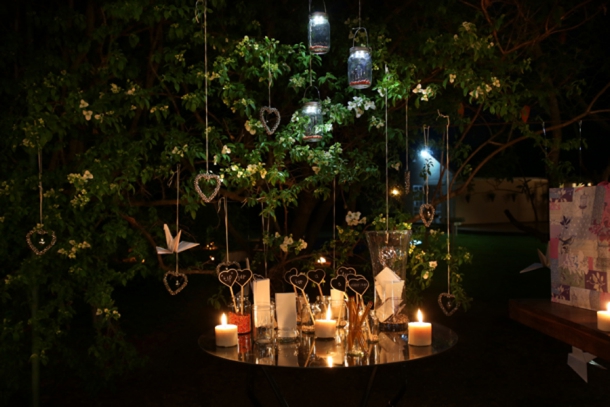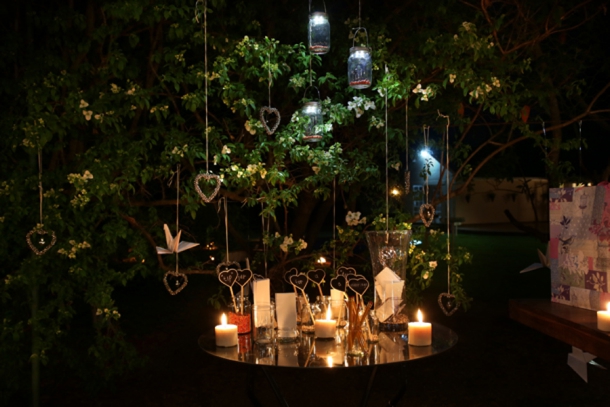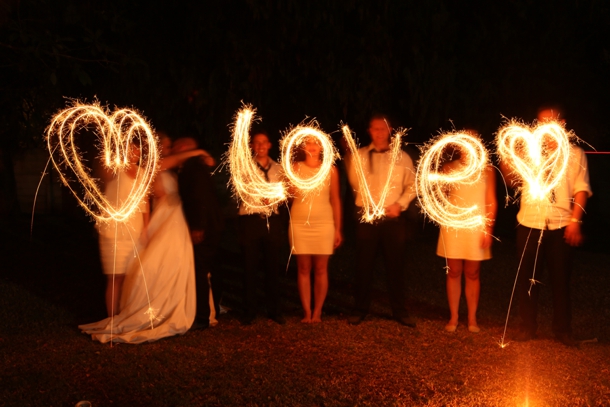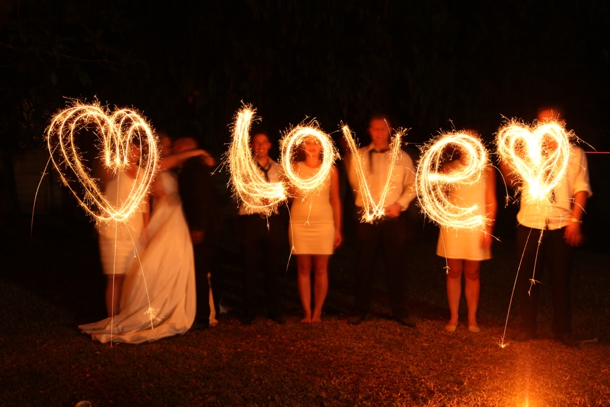 SERVICE PROVIDERS
Photography: Nicole du Preez Photography | Stationery: Future Communications | Bride's dress: Tiaan Nagel | Hiring: Apex Events; Rooneys | Entertainment: Finding Burt