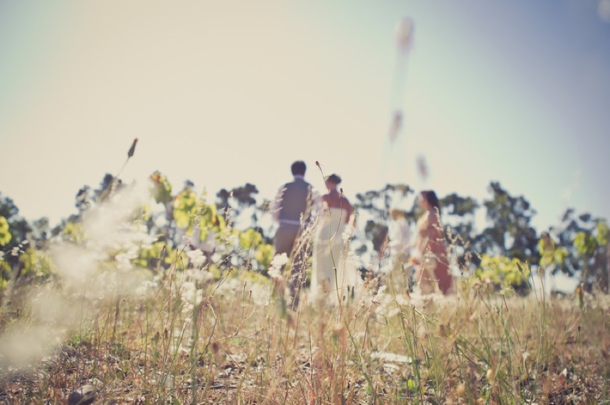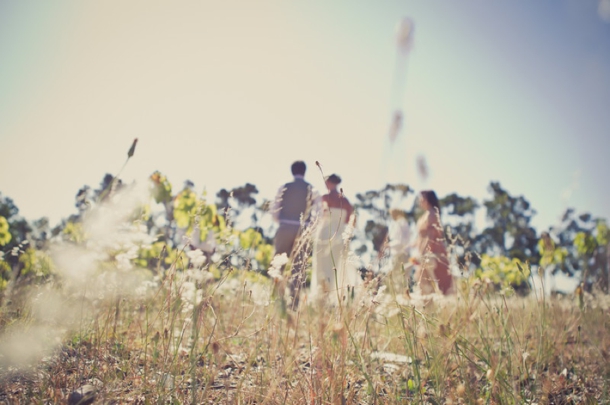 Hello my lovelies! Today's wedding is a breath of fresh air, or more like a summer breeze on a perfect afternoon (Gaby looks out of the window at a winter London garden and despairs). Lindsay and Gareth wanted an unpretentious wedding focused on their nearest and dearest, so they set aside the usual hunt for a venue and married in an uncle's garden with a woodfire oven churning out fresh pizza and a live blues band and jukebox. Sounds like heaven, no? If ever a wedding captured the lazy, hazy spirit of summer (as well as the theme of 'eat, drink and be married'), then this is it, and although we're usually all about the details, I couldn't help but delight in Kelland Photography's captures of this spirit among the guests as well. Which is just one more SouthBound wedding that goes to prove that doing your wedding your way – whatever that means to you – is also the best way.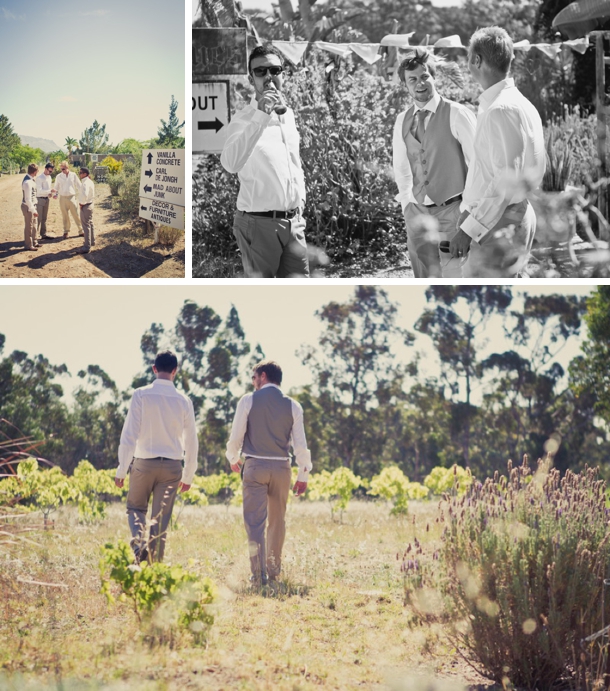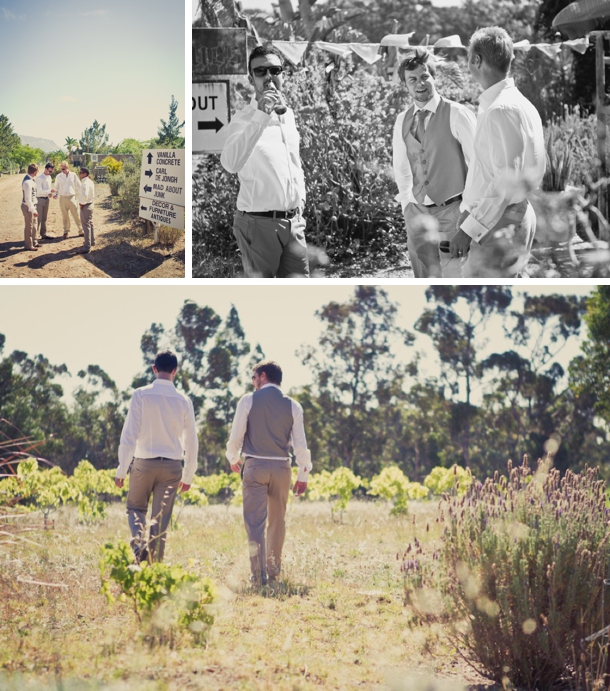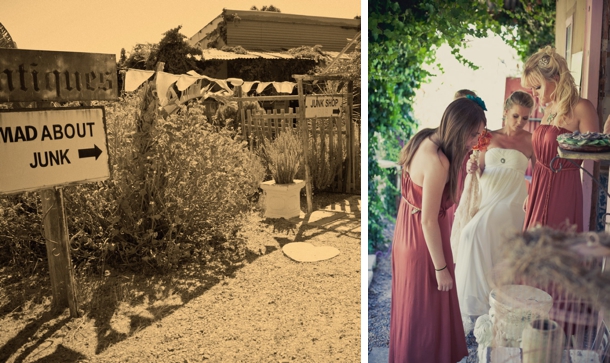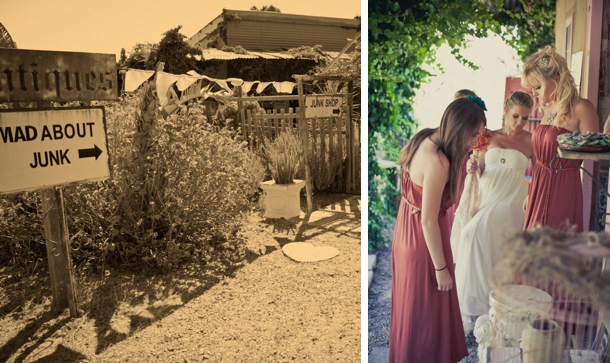 From our bride, Lindsay:
Gareth and I met in our high school years and dated on and off – we were pretty much madly in love at first sight! We continued a relationship after leaving school and have been inseparable ever since. Fifteen years later, we decided to make it official and tie the knot.
As I am a jeweller, I was able to design and oversee manufacture of my own engagement ring (very exciting!). Although I was not allowed to try it on until Gareth had proposed, which he did one evening at home, on bended knee with candles lit all around the house! It was a very special moment, even though I knew it was coming … and knew EXACTLY what the ring would look like!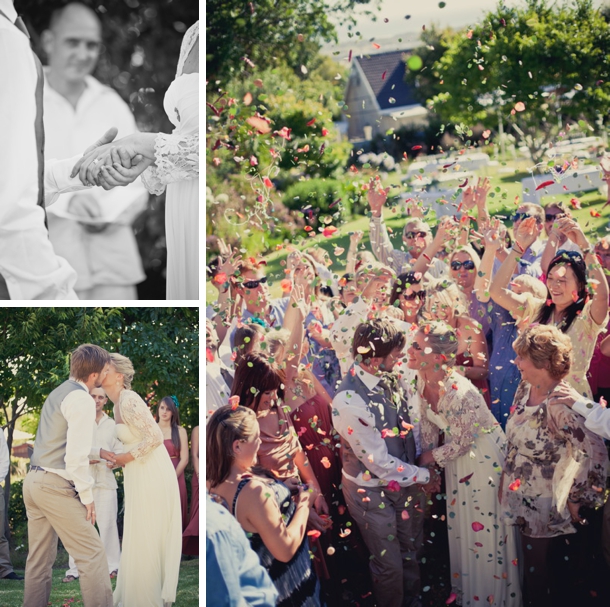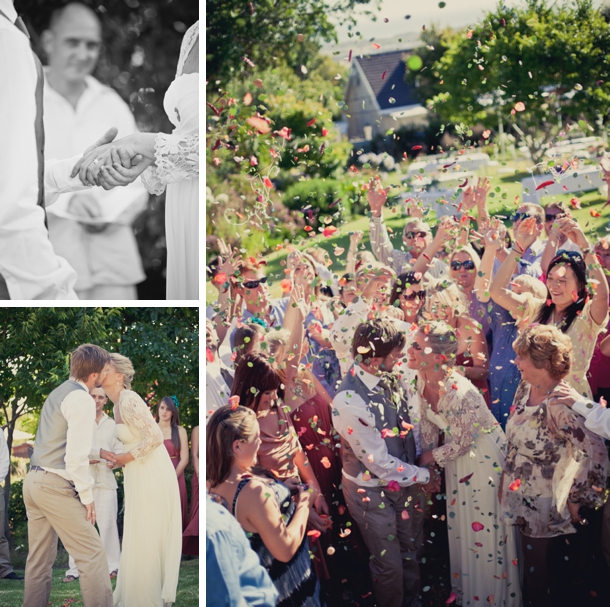 We were married in my uncle's home garden, a beautiful property that overlooks Somerset West. Our family and friends are very important to us and we wanted a homely and unpretentious wedding which was very interactive and comfortable. Our wedding invites were printed on thick brown card with a quirky font and our colours were inspired by a rustic garden feel: rust, oranges, pinks, creams, sage greens, naturals.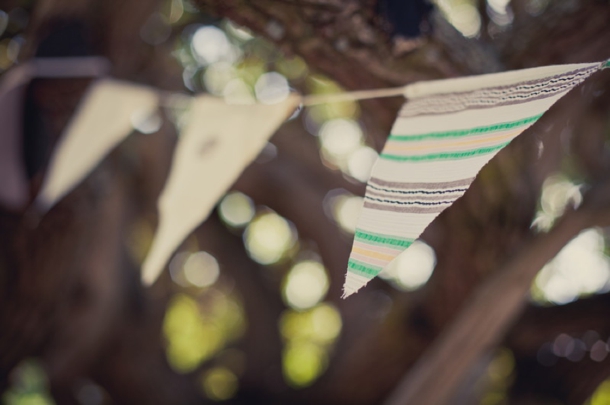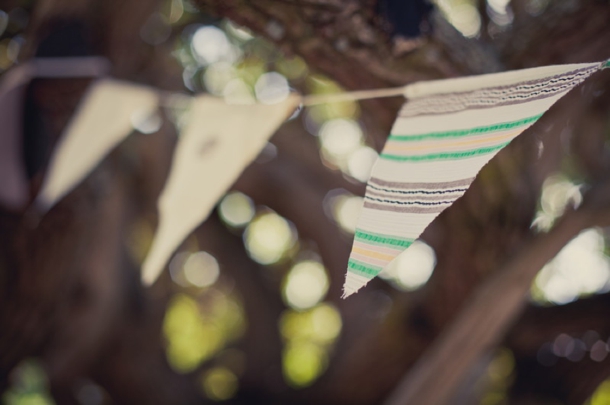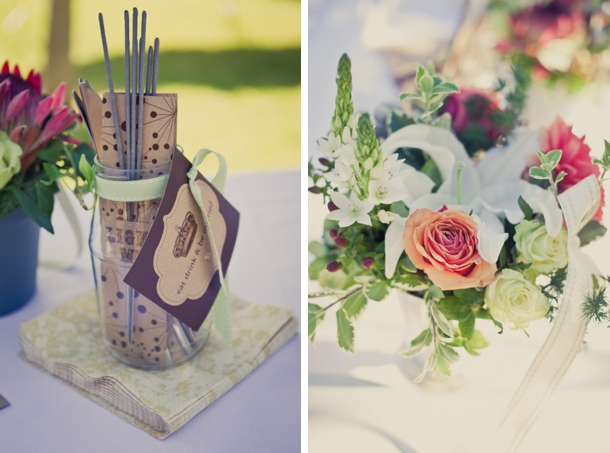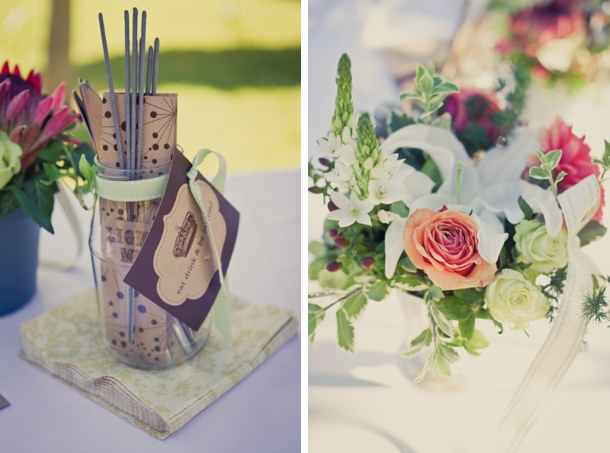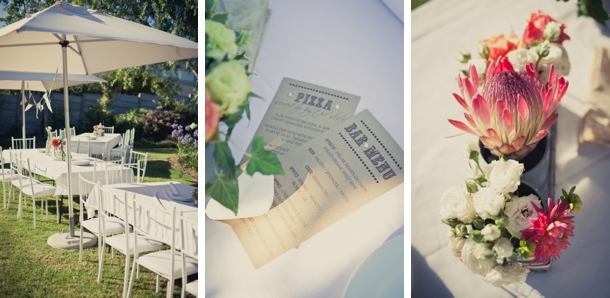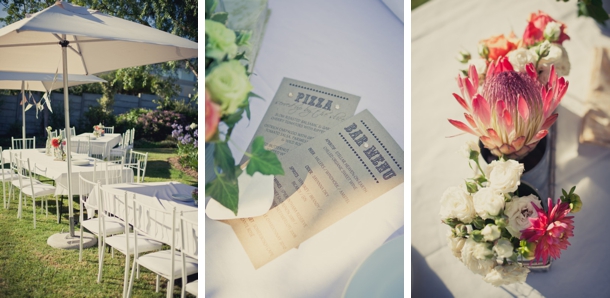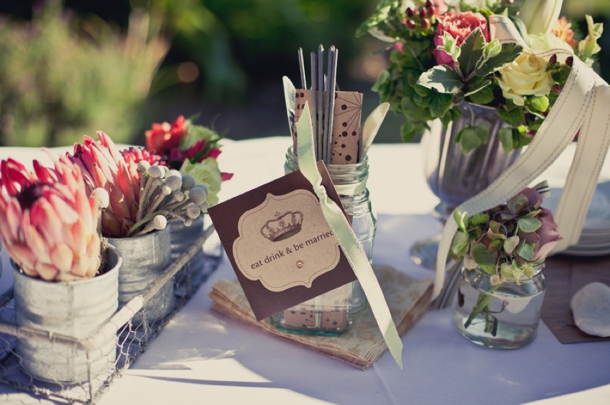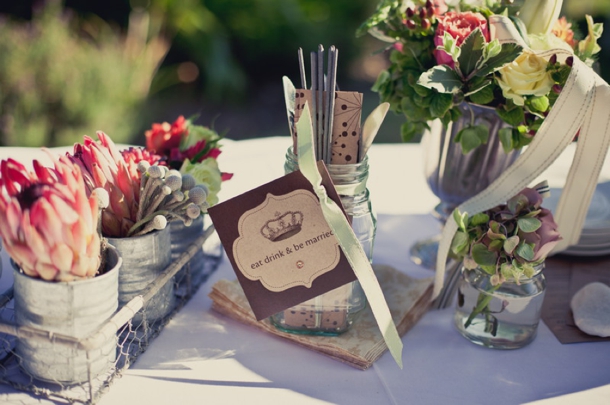 The ceremony was held  under the trees, circled by our friends and family. We involved our guests by ending with a blessing which required the throwing of confetti – made up of a mix of our favourite things: rose petals for romance, leaves for our love of nature, dried chilli for spicy foods and cut up cork for love of the vine, and little stars and confetti poppers for our fun loving social lifestyle. I loved my comfortable and easy-to wear dress, made by Jacoba, a South African dress designer. My two sisters were my bridesmaids – it was so special to spend the day getting ready with them!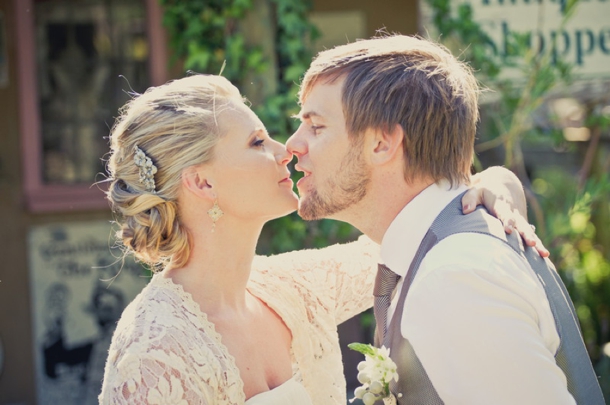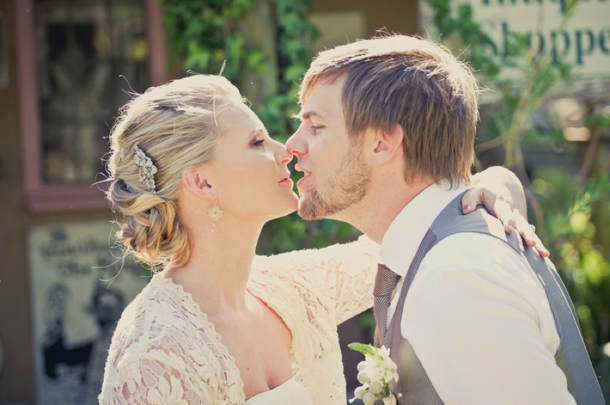 We wanted a very comfortable and homey feel to the reception – we had little EAT, DRINK & BE MARRIED theme to set this tone. We had white linen draped on the tables, decorated by Elmarie Bredell, with orange roses and garden sprigs and vintage silver. I spent a year collecting glass jars, which we hung together with homemade bunting from the trees and also filled with candles and sand and placed around the garden. There was no formal seating plan and we served a variety of gourmet woodfired pizza (Gareth's favourite comfort food) all night and had a candy bar for dessert. Everyone loved the relaxed dining and many sat picnic style on the grass: chatting, eating and drinking and listening to the speeches. We also had my cousin's blues band, Ann Jangle, play live music at the bottom of the garden. At the bar and dance floor area which was poolside, we had a jukebox to play music guests could select themselves.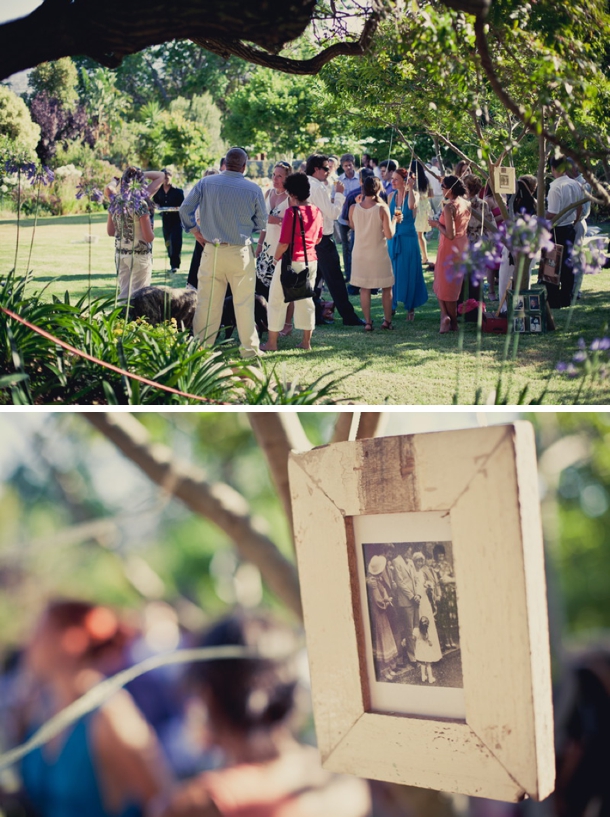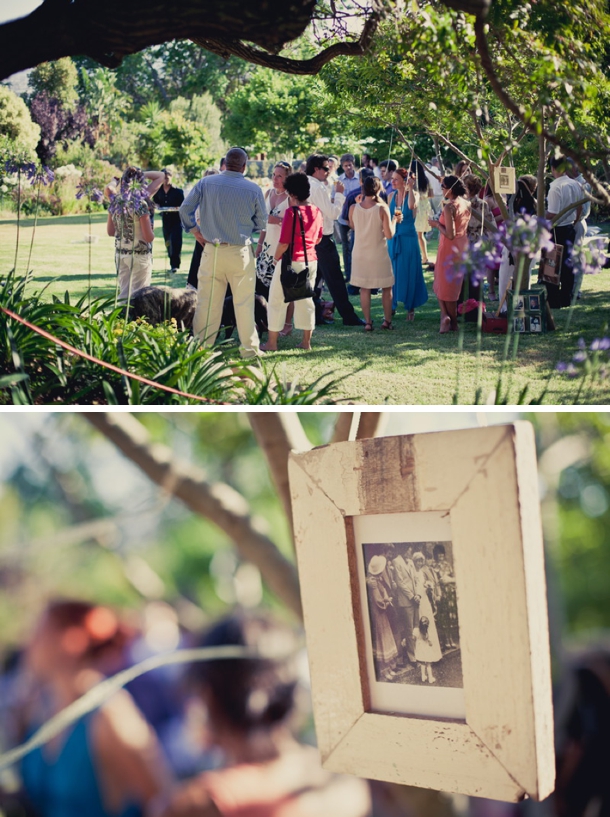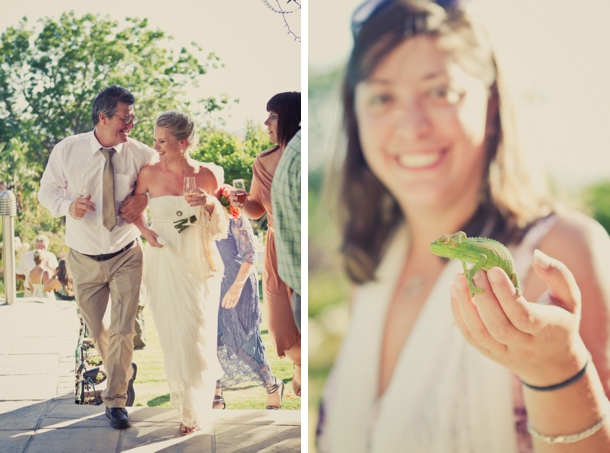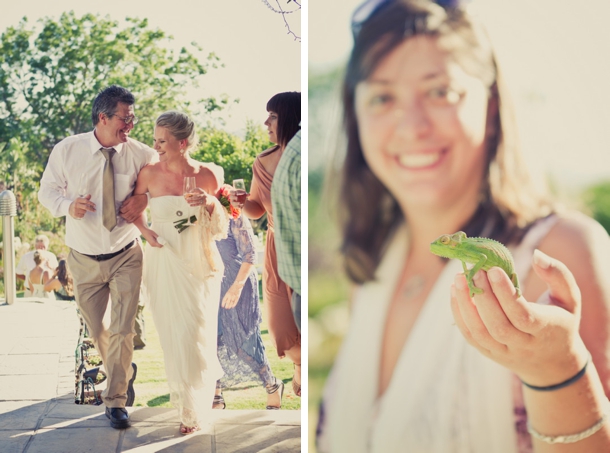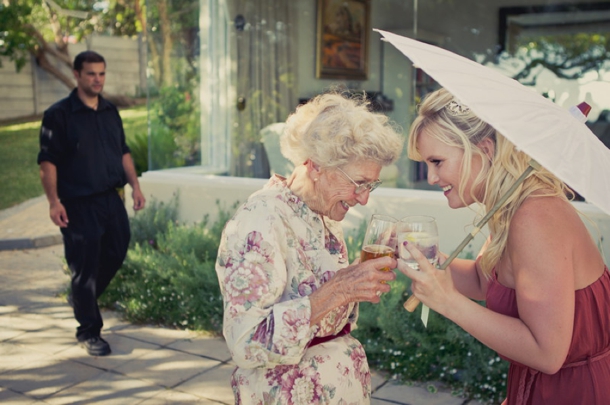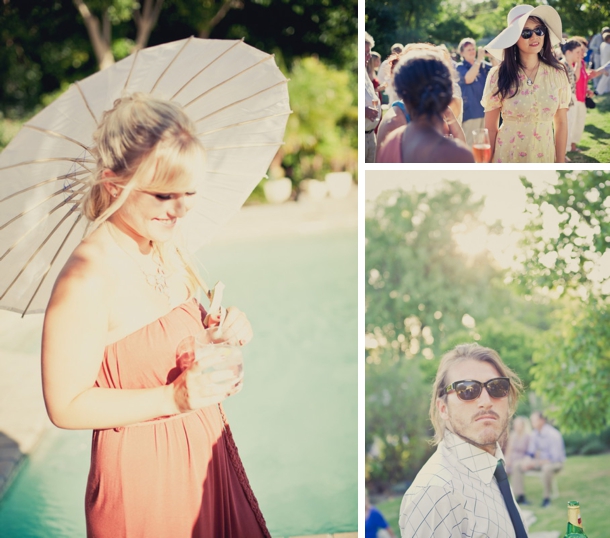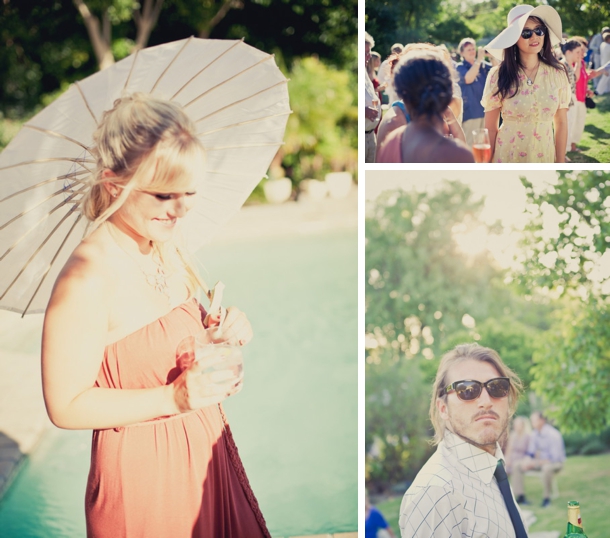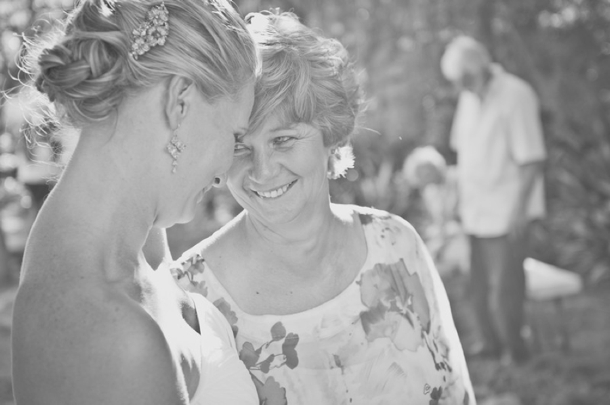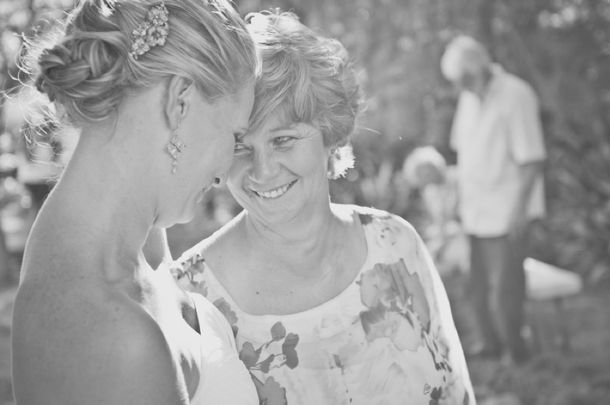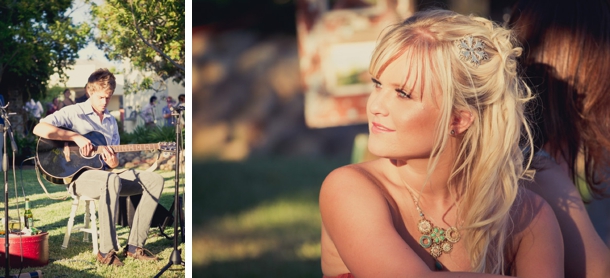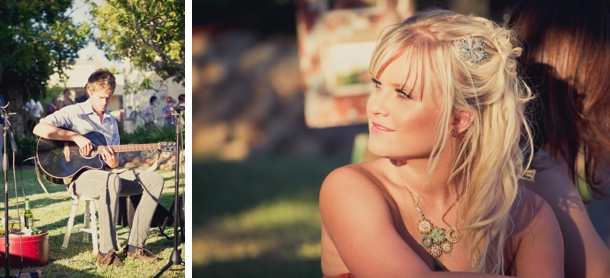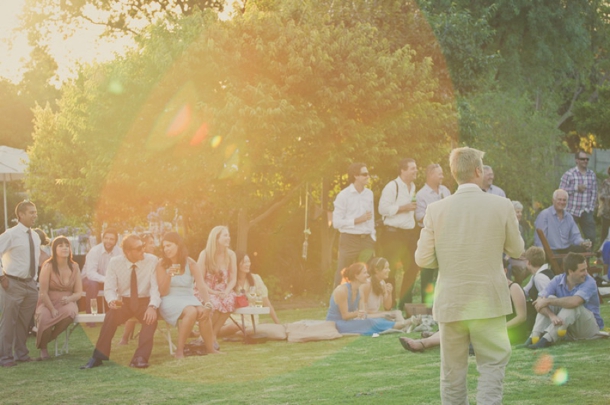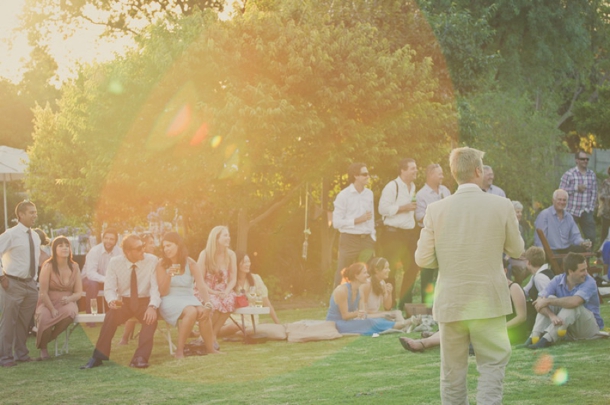 For future brides, Pinterest is great for ideas but can become over whelming! Also, we went to the hardware store and selected printed paint samples to help us choose wedding colours (a tip from our florist) – this really came in handy when seeing other vendors and matching ribbon, décor and flowers etc.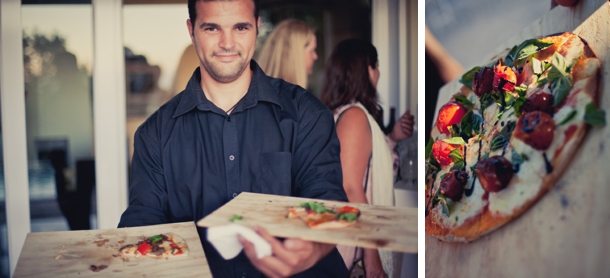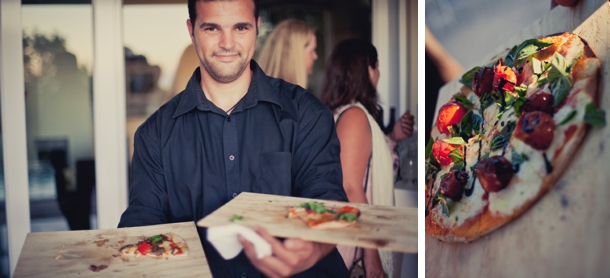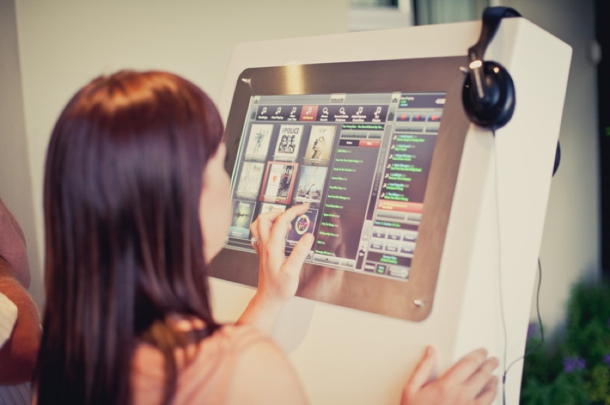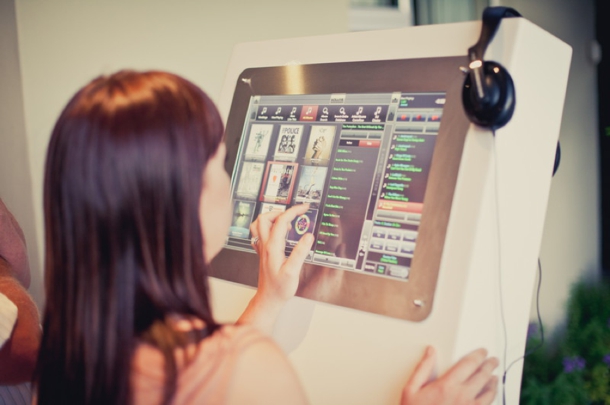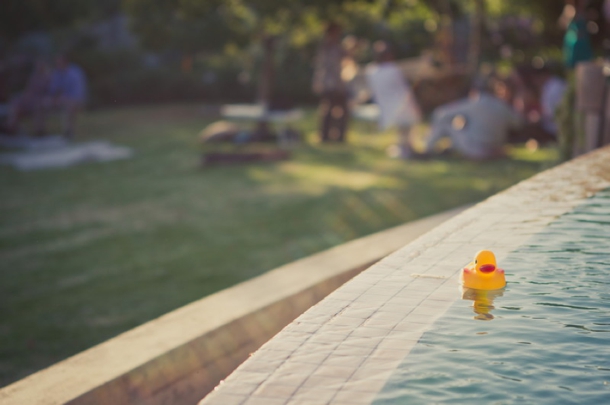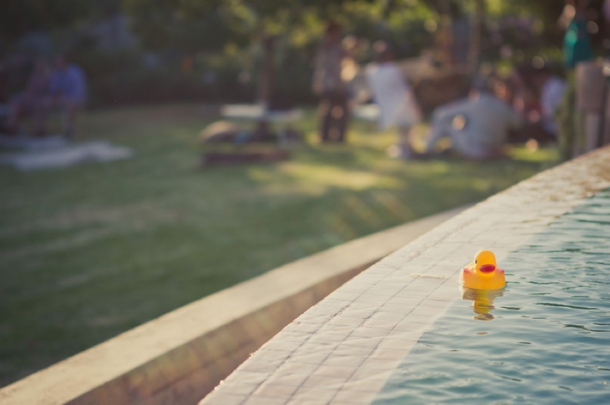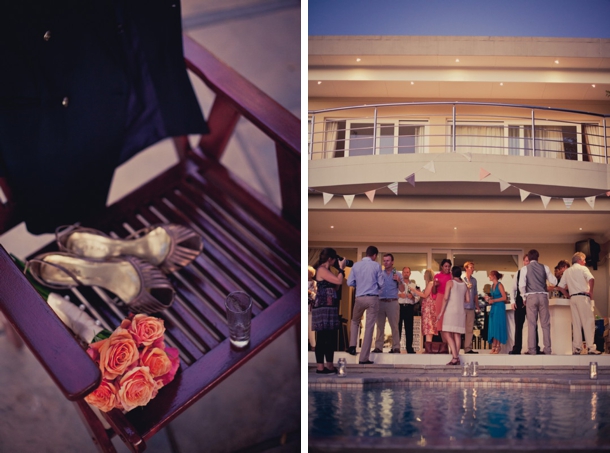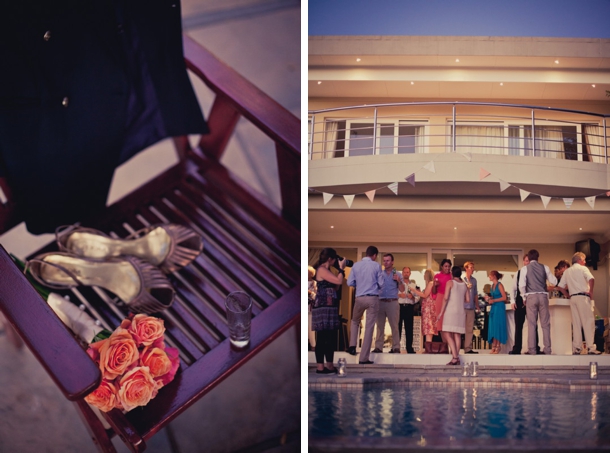 Thanks so much, Lindsay and Gareth – and congrats again to you both! Show the love to their photographer Kelland Photography by heading over to their blog to see more.
SERVICE PROVIDERS
Photography: Kelland Photography | Catering & bar staff: Dish Food & Social | Flowers: eL Le Fleur | Cake: LOVE at First Sight | Bride's dress: Jacoba Clothing | Bridesmaids' dresses: YDE | Makeup: Rose Bruins | Hair: Adri Hugo | Hiring: All Events Hire | Jukebox hire: Hire a Jukebox | Jewellery: Lindsay Cummins Jewellery