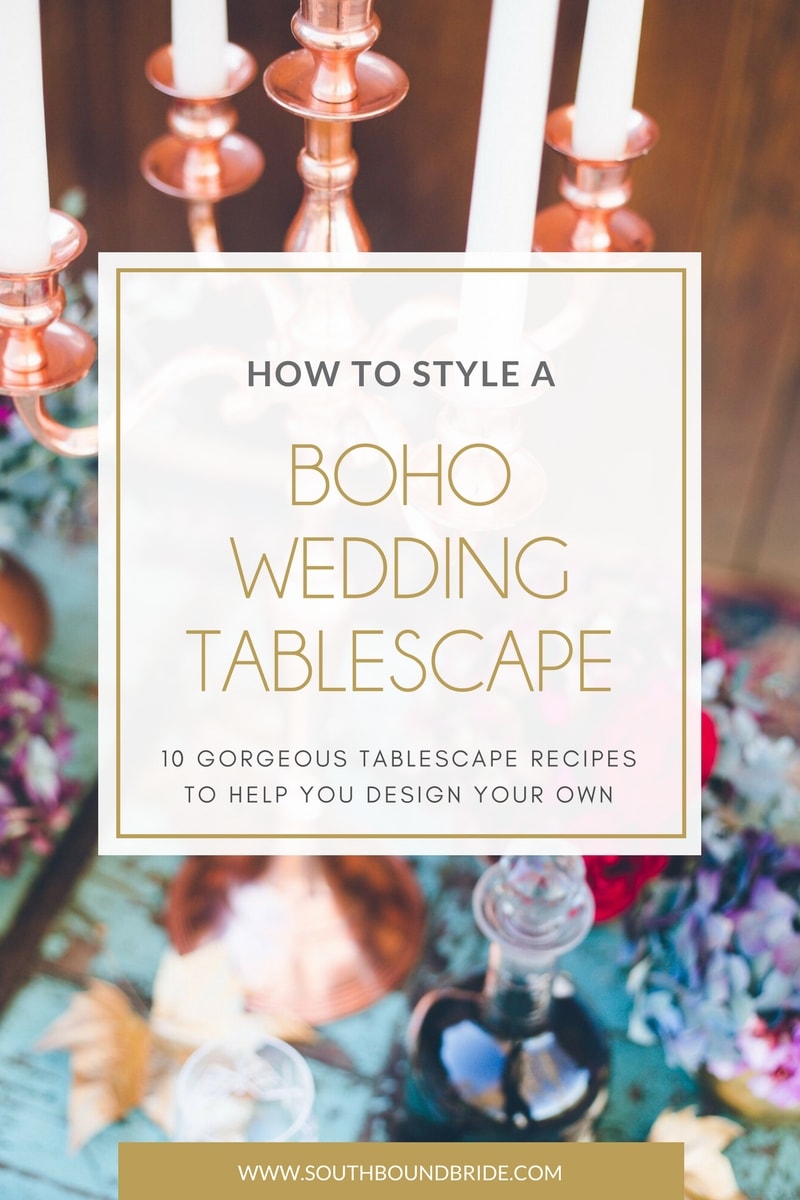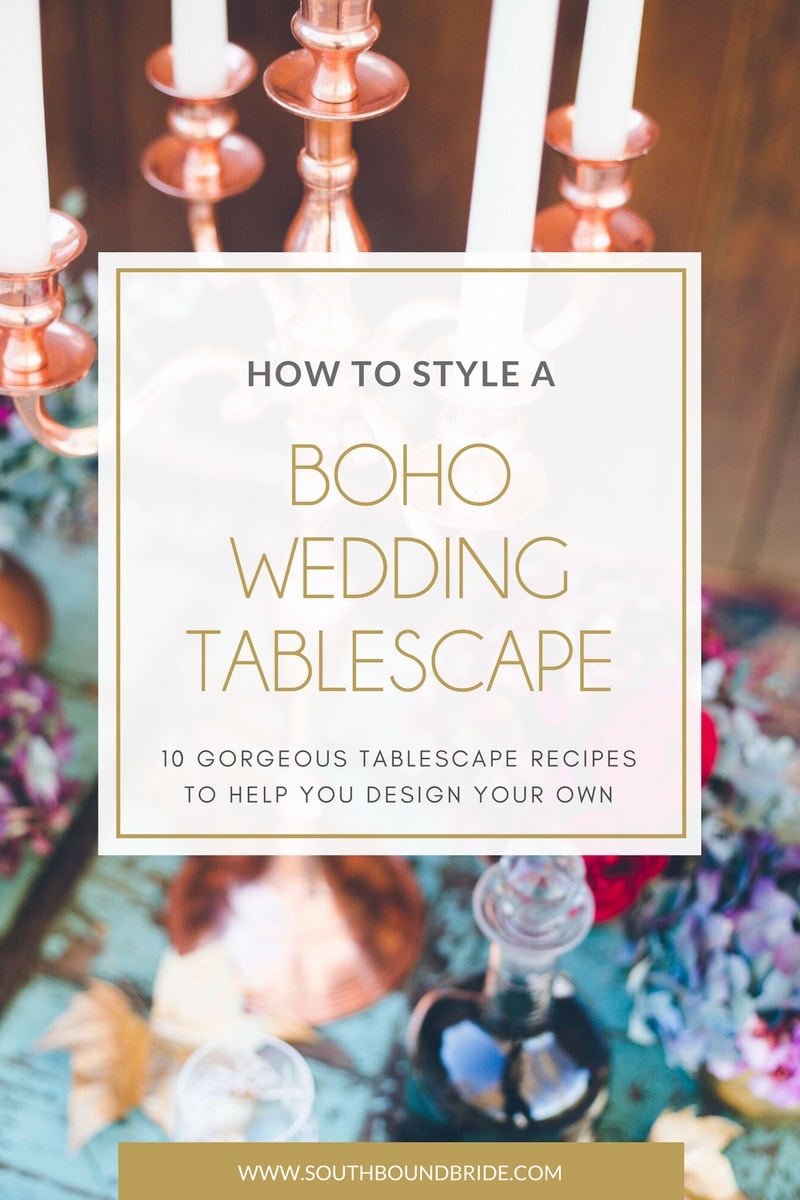 Image credit: Summertown Pictures/Oh Happy Day on SouthBound Bride
With March being our self-declared boho month, I thought it was time I break out our ten tables series once again, where I choose ten gorgeous tablescapes along a specific theme or look, and break them down into their individual components to help you mix and match your way to your own perfect tablescape. As with all boho styling, the great news is that anything pretty much goes, but choosing ten tables does give me a chance to highlight all the little boho 'substyles', such as boho luxe, woodland, beach, etc. and in that sense there's loads of inspiration here for all kinds of brides and grooms. In each case, there's a set of links so you can shop the look, as well as a DIY detail or top tip to help you get your table styling firmly on track. *Links in bold denote affiliate links. SBB may receive a commission for any sales made.
Table #1: Farmhouse Boho
SUGGESTED FLOWERS: Roses, wildflowers, pincushion proteas, mixed greenery



Tablescape: Steve Steinhardt via Style Me Pretty
I absolutely love this table design, which comes from an intimate rustic wedding with an elegantly laid-back vibe. Brown glass bottles have a beautiful vintage look, but you don't need to round up loads of antique glass – amber beer bottles and empty medicine bottles can easily be bought online. Fill them with a mixture of flowers and foliage for a pretty, just-picked look. I love how this styling looks on a dark wood table, but you could also create a pretty effect with a white tablecloth – in both cases, use a soft grey runner (and matching napkins) to offset the amber and emerald of the bottles and leaves. Another pretty touch at this wedding was the beer growlers on each table – they were local (always a lovely touch!) but if you like the look you can get them custom designed with your logo or monogram. At each setting, little kraft/brown paper bags hide bright yellow lemons, and there's a sprig of fresh rosemary at every setting for that extra lovely touch. This is such an easy look to pull off, but as I'm sure you'll agree, it looks amazing!
TOP TIP: If you love the look of the little paper bags with white calligraphy but can't scribe it yourself, then invest in a custom stamp and simpy DIY them with white ink. Simple and adorable!


Table #2: Shipwrecked Beach Boho
SUGGESTED FLOWERS: Hibiscus, air plants, peach spider mums, kale, tulips, dahlias, amaryllis, fern, ranunculus, freesia & mixed grasses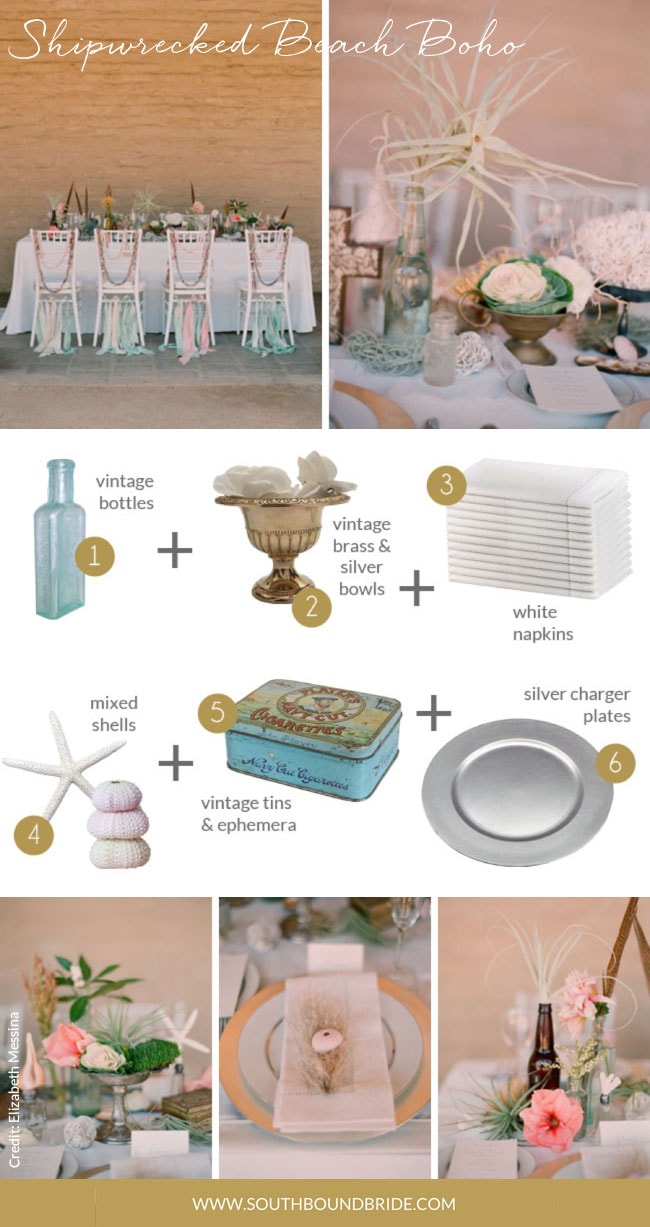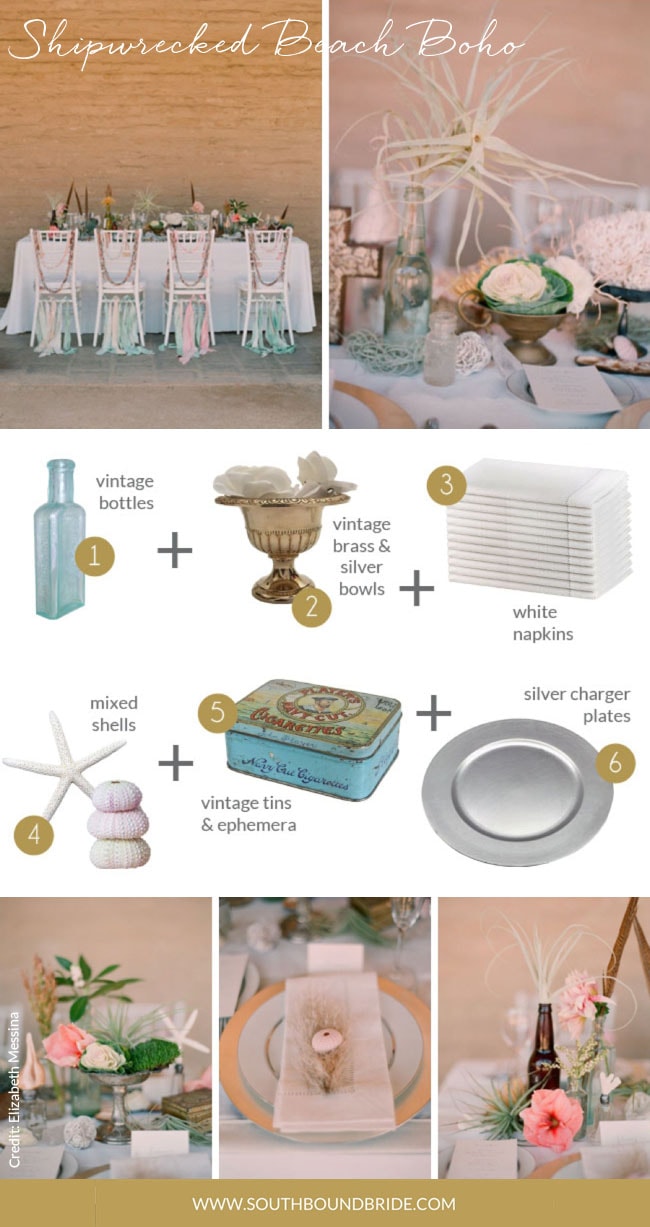 Tablescape: Elizabeth Messina/Canvas and Canopy Events/La Partie Events via Green Wedding Shoes
The key to boho styling is to mix a variety of elements in a way that looks accidental and organic, so for a beach boho wedding, there's no better concept than a romantic shipwreck theme, as in this classic styled shoot. Imagine a collection of little vintage treasures from all around the world, washed up on a distant shore along with natural elements like grasses, feathers, flowers and shells. Again, you can use amber beer bottles as well as clear wine bottles as vases, mixed with vintage containers big and small – brass and silverware, little glass bottles, even salt cellars. Fill vintage tins with airplants and strings of pearls, and add other vintagey found objects from your home or family collection, then finish off with a silver charger, silver-edged plates, crisp white napkins and a delicate urchin shell at each place setting.
DIY DETAIL: Another detail to love in this shoot is the garlands on each chair back – including both floaty ribbons on the bottom of each chair and braided swags tied across the chair backs. These are easy to recreate with ribbons or shredded fabric.


Table #3: Woodland Bohemian
SUGGESTED FLOWERS: Parrot tulips, ferns, sweetpea, grape hyacinth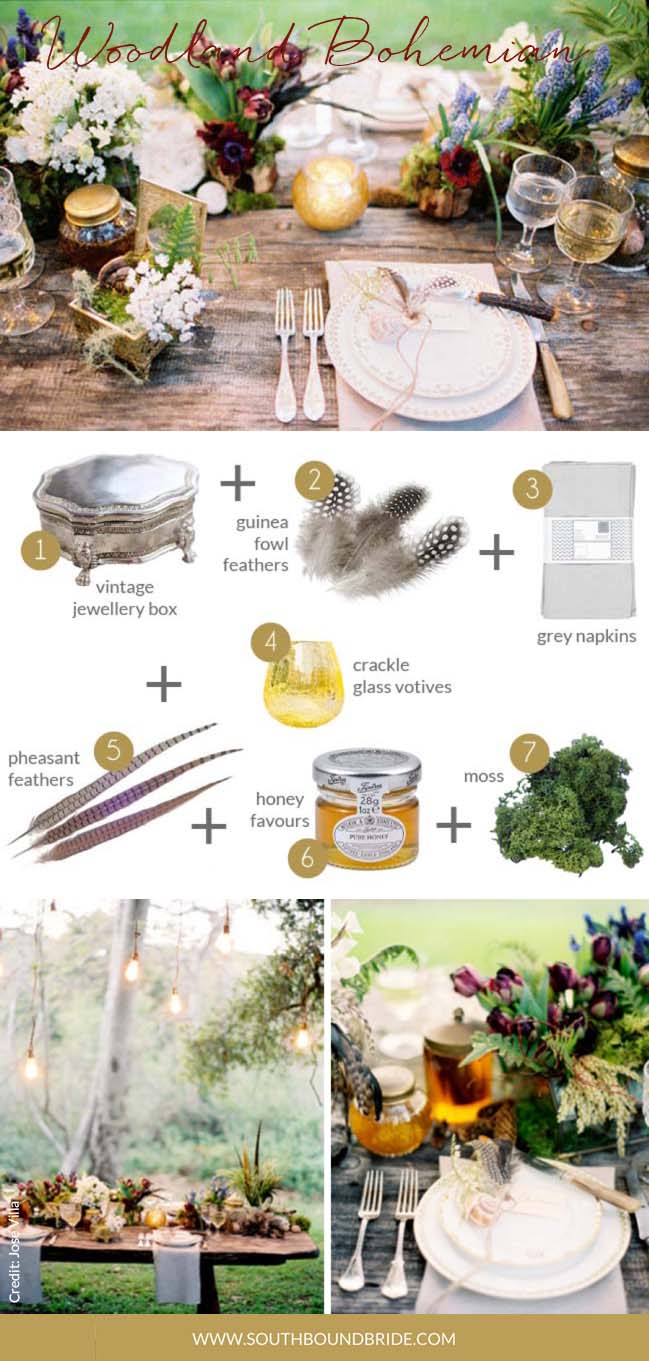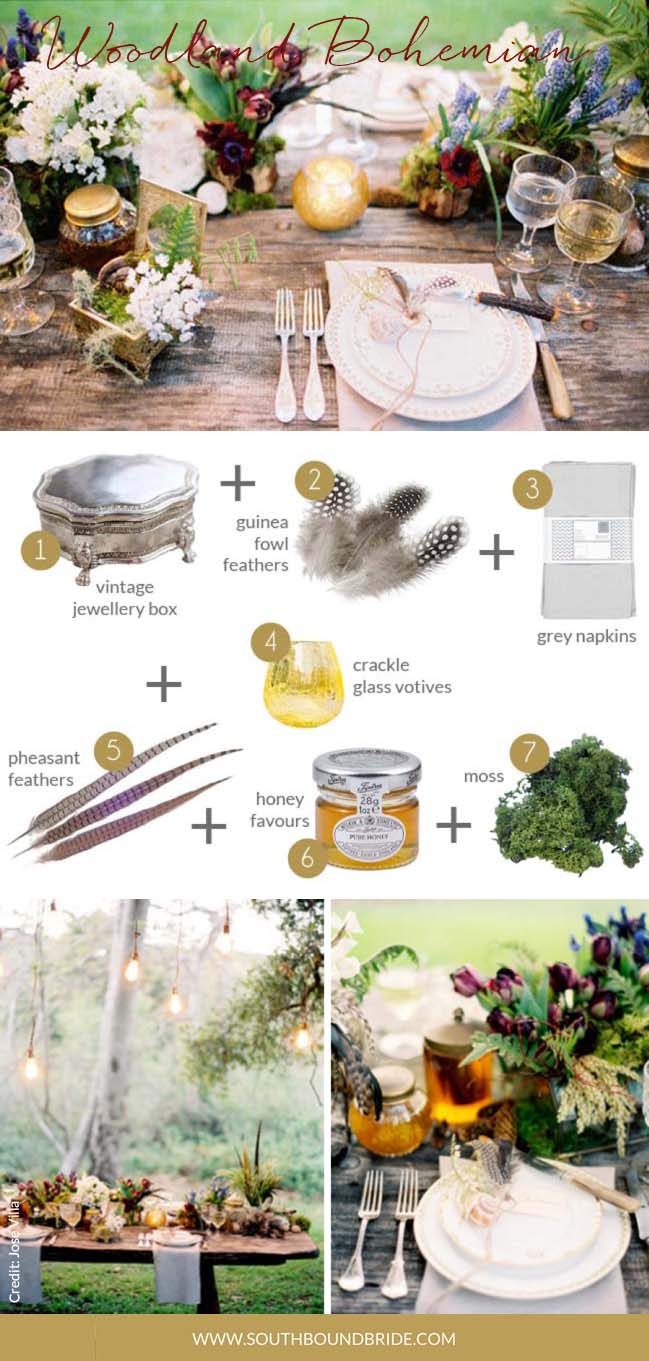 Tablescape: Jose Villa/Kate Holt/Duet Weddings via Once Wed
I love love this boho take on a woodland wedding tablescape – as with the shipwreck table above, it's full of little trinkets and textures both natural and man-made which makes it a joy to put together (and for your guests to discover). A moss runner on a natural wood table with pieces of bark is the starting point, complemented by cut glass and silverware vases with berry coloured blooms, grasses and tall pheasant feathers. Mason jars contain treasures like shells, moss and tiny eggs, while at each place setting, wild turkey and guinea fowl feathers are wrapped with twine and placed with the name card and a single shell. My favourite touch is the little metal jewellery boxes, overflowing with moss and flowers, as well as the amber colour of the honey used as a favour and the gold from crackle glass votives. White napkins are fine here, but I do love the soft grey linens. And let's not forget those gorgeous café lights hanging above the table!
DIY DETAIL: Instead of buying honey favours, pick jars you like and then create your own using this DIY tutorial.



Footed Jewelry Box from Meanglean on Etsy

Guinea Fowl Feathers from Craft Factory Boutique on Etsy

Light Grey Napkins
Pheasant Feathers
Wilkin & Sons of Tiptree Clear Honey 24 Pack
Reindeer Moss
Table #4: Gypsy Boho
SUGGESTED FLOWERS: Tulips, hibiscus, ranunculus, fern, succulents, astilbe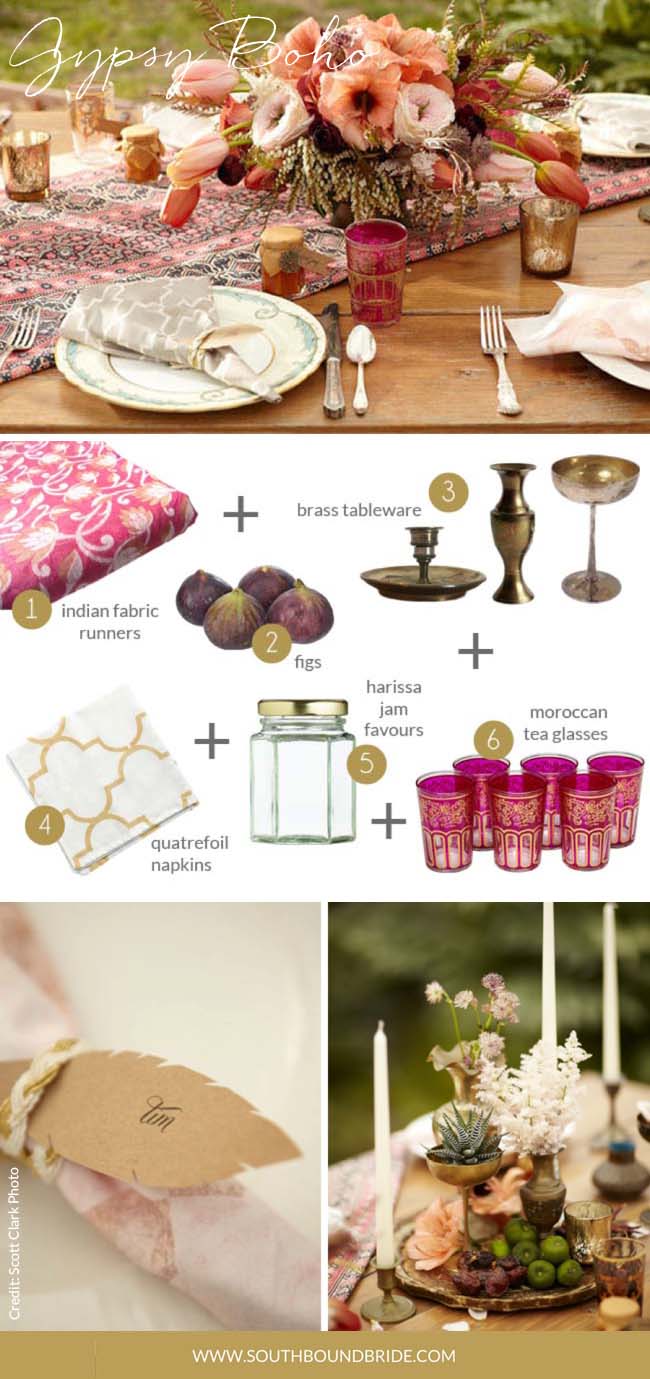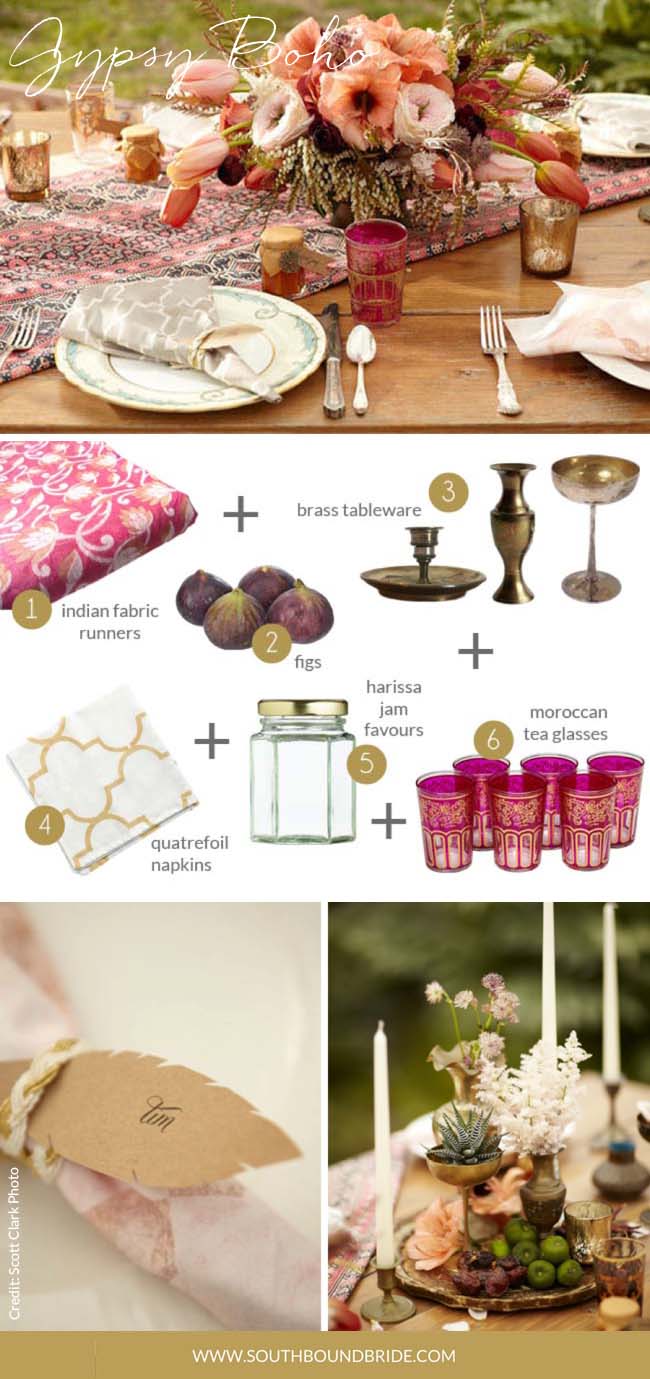 Source: Scott Clark Photo via 100 Layer Cake
This tablescape is just so pretty – a little bit Morocco, a little bit India, a little bit tropical. Start with some gorgeous fabric – Indian textiles are especially gorgeous and versatile – and use it as a runner. Note how this runner has been set at an angle, and it looks amazing! Then you'll want to buy, beg or borrow a huge variety of brass tableware – candlesticks, goblets, trays, dishes, vases, and fill them with a mix of flowers as well as green and dried figs. You can also scatter some loose petals on the table. Place candles in gold mercury glass votives, and have Moroccan tea glasses at each setting. These can double up as favours, but another great Moroccan-inspired favour idea is the harissa jam in this tablescape (I'm a huge fan of edible favours and this is so different and delicious!). Make up the jam yourself using this recipe, and fill empty jars with your produce. Finally, tie quatrefoil napkins (another Moroccan nod) with twine or pretty braided ribbon and feather name cards.
DIY DETAIL: To create the feather name cards, follow this tutorial for paper feathers and simply add the names.


Varanasi Cotton Silk Fabric from SilksByUmf on Etsy

Figs
French Vintage Brass Candlestick Holder from Beau Objet Vintage & Vintage Two Small Etched Brass Vases from Best Vintage Highlands & Set of 2 Vintage Goblets from Lockhead, all on Etsy
Gold & White Quatrefoil Cloth Napkins from Forever Sweethearts on Etsy
Hexagonal Glass Jam Jars
Moroccan Tea Glasses
Table #5: Backyard Bohemian
SUGGESTED FLOWERS: Roses


Source: Brooke Schwab/The Byrd Collective via 100 Layer Cake
There's a reason why this particular tablescape has been pinned hundreds of times! It's mismatched perfection – amazing for a backyard boho bash (be sure to check out the mismatched chairs too!). This really is a case of anything goes in terms of the crockery, as well as the flower vases, which include vintage tins, blue and clear mason jars. Coloured glassware is the key to the look – splurge on renting jewel-coloured goblets for all your guests and then complement them with roses in pink, white and ruby red. Be sure to keep the roses to same coloured bunches, which really makes them stand out! At each setting, a ticking napkin and a beautifully presented jar of jam or preserve with a sweet gold heart makes the perfect gift. The final touch? White pillar candles of different sizes, scattered down the long tables. And the best part? This table is easy peasy to pull off – and so laid back that just looking at it makes me feel relaxed!
DIY DETAIL: I love the original American Ball mason jars in heritage blue, but for South African brides, you can turn a plain glass Consol jar into an aqua one using this tutorial.


Table #6: Boho Luxe
SUGGESTED FLOWERS: Roses, anemones, ferns & hypericum berries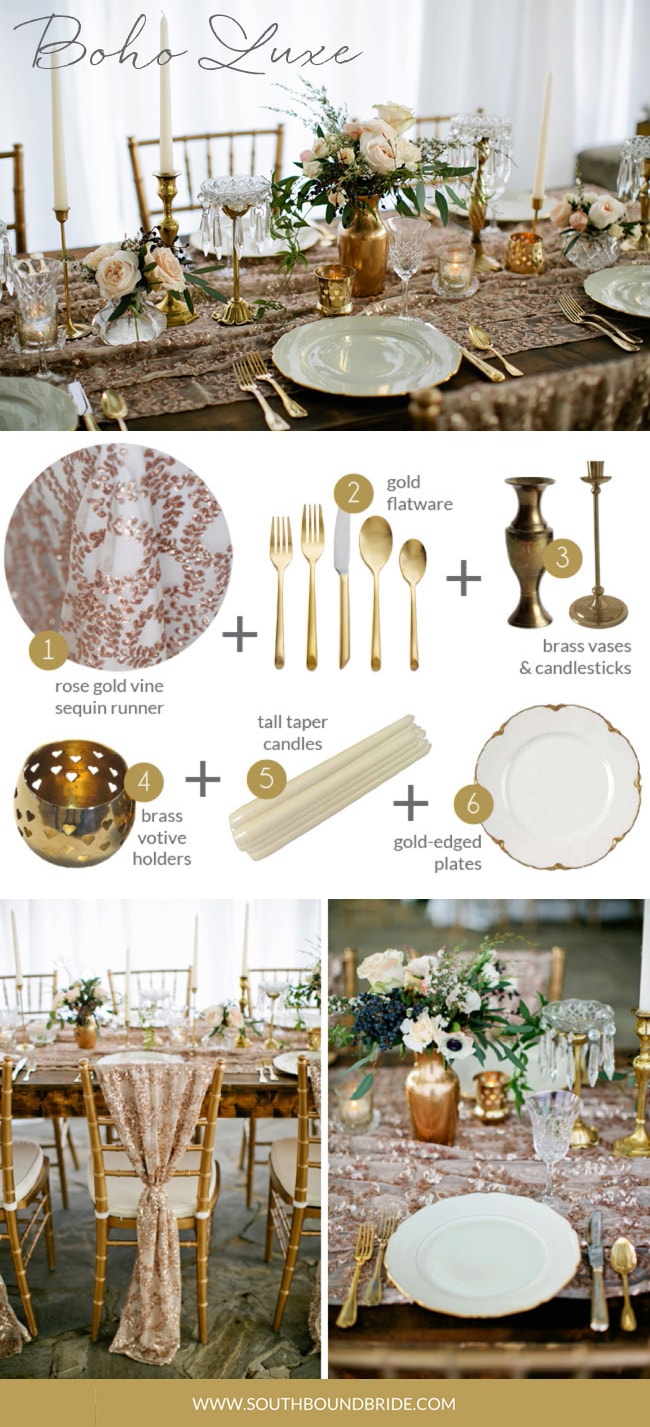 Source: Kristyn Hogan/Cedarwood Wedding via Elizabeth Anne Designs
Just because you're going boho, doesn't mean you have to abandon luxe! In fact, I love the mixture of these two styles, in the form of lush florals, rich fabrics, and a collection of metallics, crystals, ceramics and antiques. The tablescape above is just too gleaming gorgeous,  but it's actually relatively simple to put together with some quality hiring. Pretty sequin fabric used as a runner, gold-edged crockery, gold cutlery, brass vases, candlesticks and candleholders, as well as crystal glasses and vases, and tall white taper candles.
TOP TIP: Using the same fabric for your runners and as chair swags is a great way of bringing everything together – if costs prohibit you doing this on all the chairs, then simply keep the bride and grooms' chairs as the decorative focus.


Table #7: Budget Boho
SUGGESTED FLOWERS: Poppies, ranunculus, daisies and garden roses

Source: The Nichols/La Fleur Vintage via Style Me Pretty
This is the perfect table for a laid-back rustic wedding on a budget. Everything is simple, but so pretty! Start with a basic white tablecloth and napkins, add a burlap runner and pillar candles in glass vases, place pretty colourful blooms loosely in mason jars and mismatched bottles of different heights and sizes… It really is as simple as that! Add some café lights strung above, and you have the perfect look for a backyard wedding and a night under the stars. Plus, this is the kind of look where doing your own flowers is no problem – another budget friendly choice.
DIY DETAIL: Use twine and a little hot glue to add an extra pretty rustic touch to wine bottles and vases.


Table #8: Woodstock Bohemian
SUGGESTED FLOWERS: Poppies & (banksia) proteas

Source: White Loft Studio/Style Me Pretty/Forêt Design via Style Me Pretty
For a bit of a 1960s hippie-style boho vibe, think colour! This tablescape gets it just right, with a bright runner, coloured glassware, pretty Moroccan-influenced candles and votive holders, watercolour/tie dye napkins, and a trule spectacular centrepiece arrangement. Look around to see what's available before deciding on a colour scheme so you don't drive yourself mad – but don't be too matchy matchy, since 'bohemian' is after all the key word!
DIY DETAIL: We especially love the little glitter-dipped feathers at each place setting. Make your own using this tutorial.


Table #9: Midsummer Boho
SUGGESTED FLOWERS: Roses, wildflowers & foliage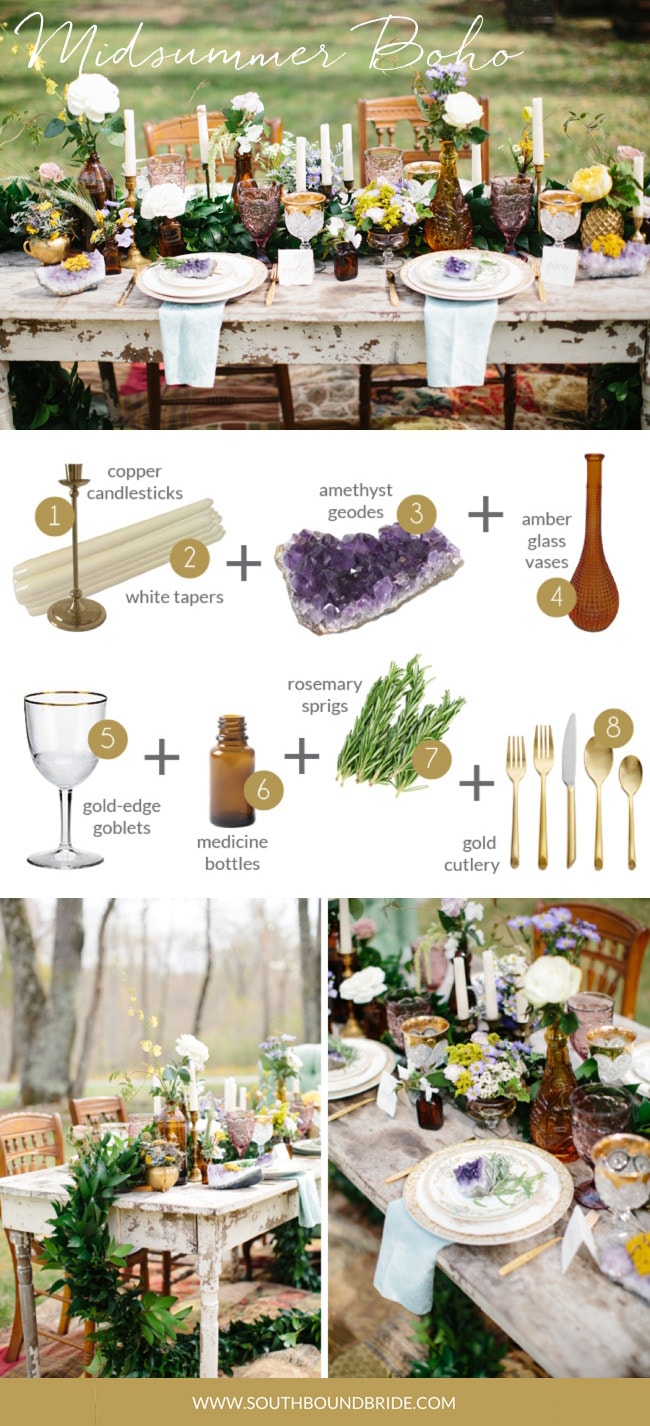 Source: Michelle Lyerly/Studio Flora Diva via Style Me Pretty
How seriously gorgeous is this tablescape! There's a lot going on (often the case with styled shoots), but that doesn't mean you can't steal the key elements for your own wedding look. First off, that foliage runner is amazing (and flower free, bringing costs down a little). Then there are some boho-ish elements we've seen before – coloured glassware, medicine bottles, brass vases and candlesticks, white taper candles, gold cutlery. Amber glass also makes an appearance here – I love the use of vintage bottle finds. The gold-dipped glassware is a touch of serious luxe, and then – my favourite element – little amethyst geodes as favours, sitting pretty on each plate along with a sprig of rosemary. So lovely!
DIY DETAIL: Want to create your own table swags? Martha Stewart tells you how to do it here!


Table #10: Moroccan Boho
SUGGESTED FLOWERS: Paper flowers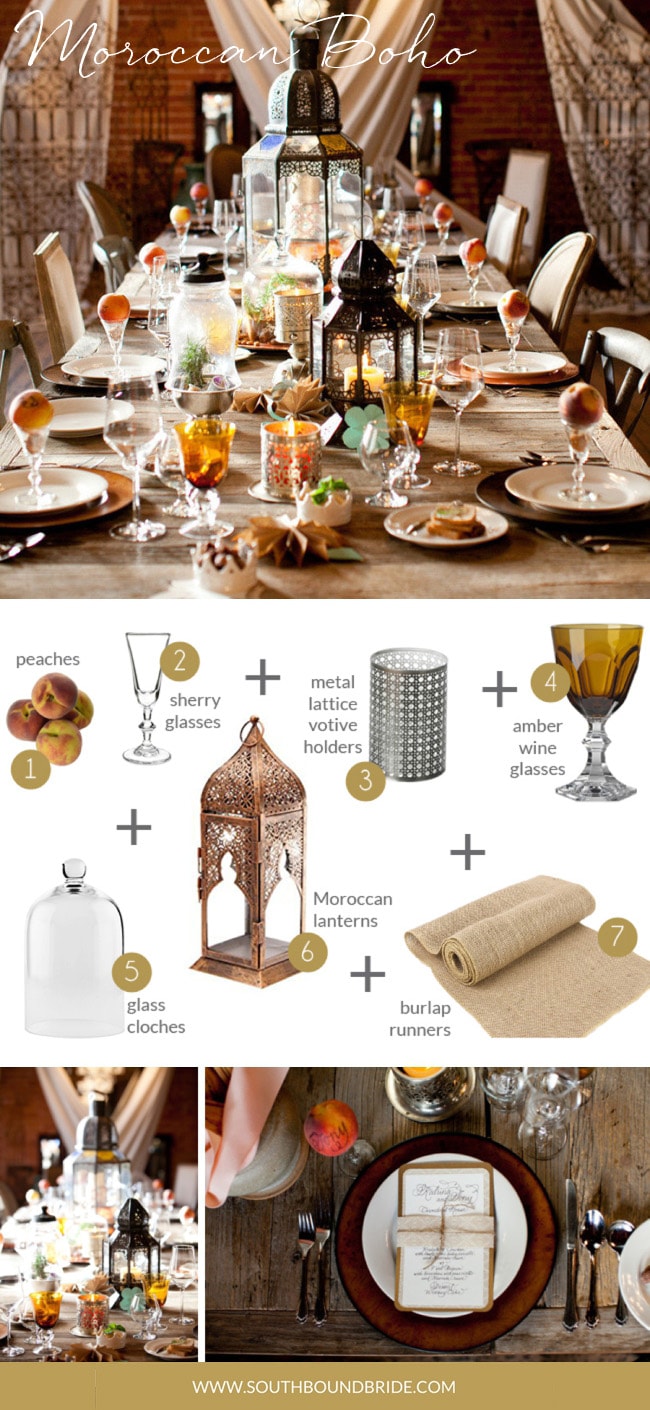 Source: Picotte Weddings/Fri Forjindam + Glenn Sturgis via Style Me Pretty
There's such a link between Morocco and bohemian style that there's no way we couldn't include a pretty Moroccan-influenced table. This one is chic as a Parisian souk, mixing gorgeous Moroccan elements like lanterns and candleholders (all easy to hire, and always a style win). Instead of real flowers, paper flowers are interspersed with cloches and candles, with amber coloured glassware and – my favourite touch! – a schnapps glass balancing a peach that doubles for a place card at each setting. To be fair, the original setting doesn't have a burlap runner, but I think it would work really well if a pretty rustic wooden table isn't available.
DIY DETAIL: Go wild with the paper flowers! There are tons of good tutorials online – here's a link to some of them.