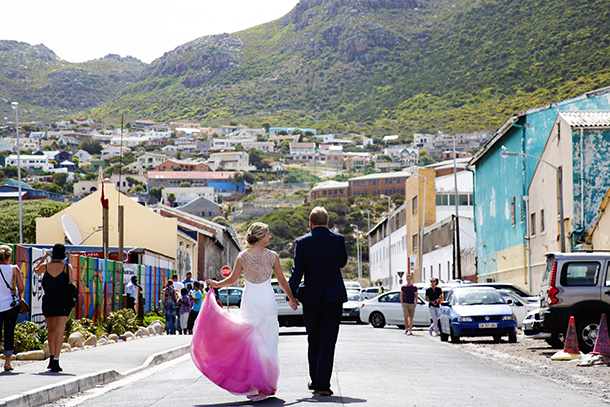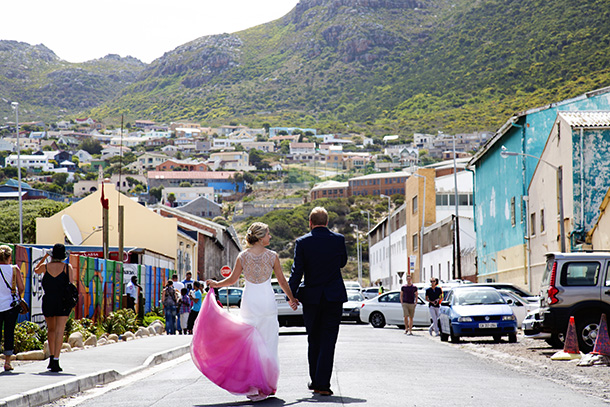 And now – as the Monty Python boys would say – for something completely different. Just when I think I've seen it all, this little beauty landed in my inbox from the lovely Bianca Asher. I was completely intrigued by the pictures of Tanya and Trevor wandering around Hout Bay market in their wedding outfits (including the most gorgeous fuschia ombre wedding dress for the bride, with a beaded statement back – wow!), and when I read their story, I loved it even more. This, you guys, is not only how you create a wedding on your own terms, but use creative thinking to turn budget challenges into something completely unique and completely personal. Not only did this fun bride and groom pop into the market for their photo session, they brought the market with them to their reception, feeding guests at a variety of stations from spring rolls to burgers to decadent desserts to ice cream, and exchanging vows with a backdrop of brightly coloured ribbons and happy faces. This is one of those weddings that looks like it would be SO FUN to be at, which really, is the ultimate recommendation.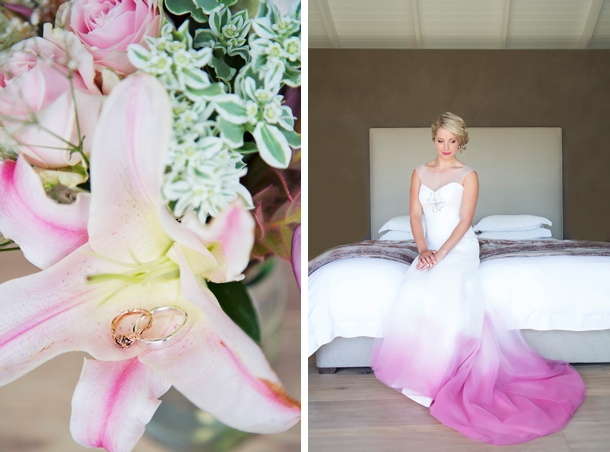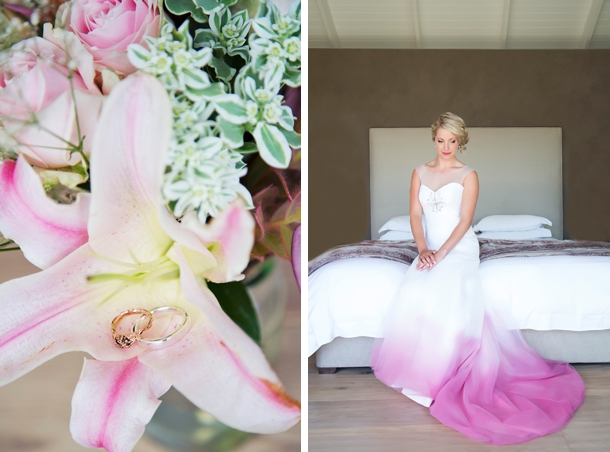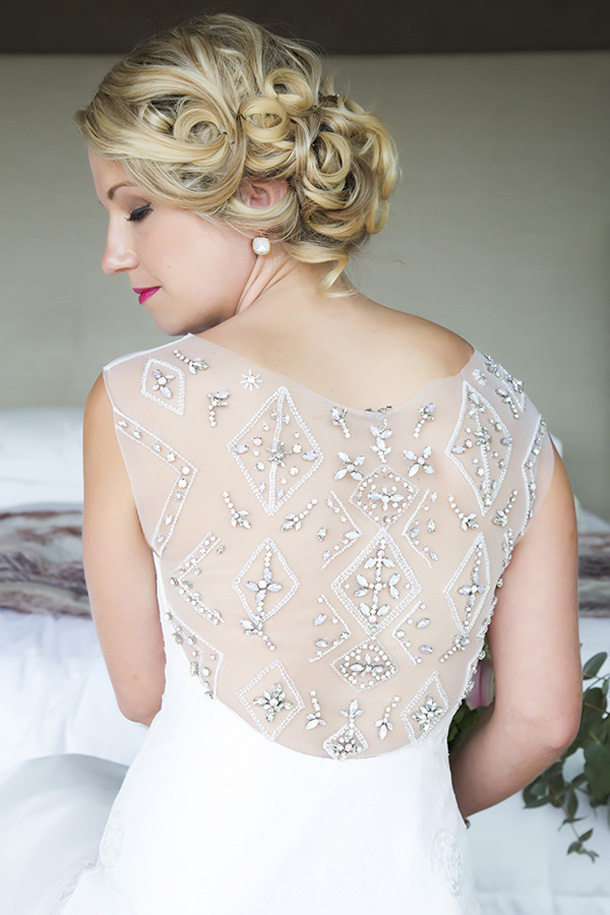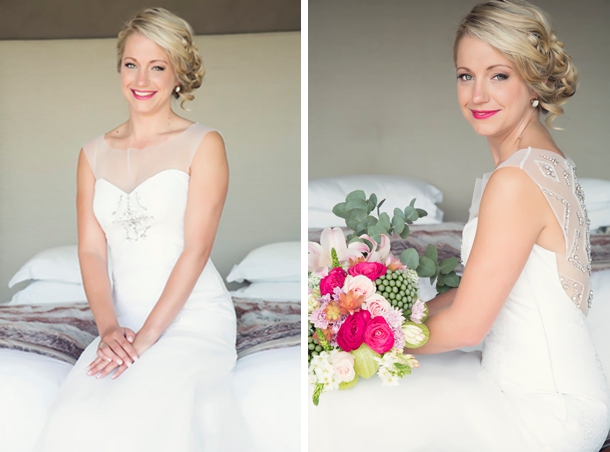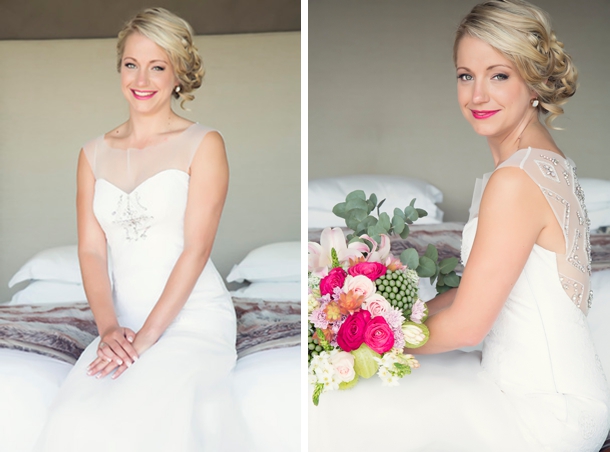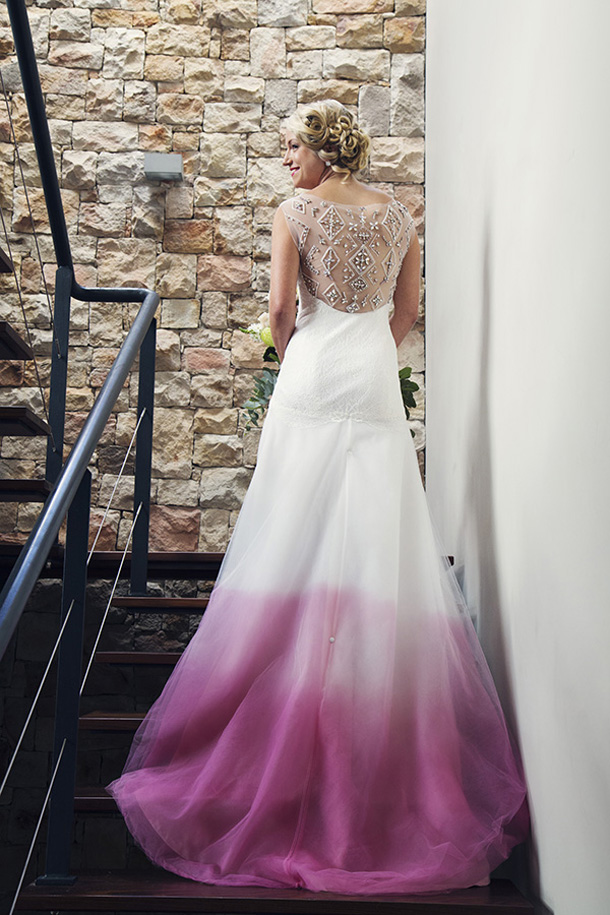 Love Story
Trevor: It all started on a sunny Saturday afternoon at the Cable Ski. They were having a Wake Skating competition and I got roped into judging the events. Let's just say more beer was drunk than scorecards filled in. After the competition, I went a join my friends on the steps watching the sun set over the lake. To my surprise a beautiful girl with looooong blonde hair sat next to me, with her group of friends. In my infinite wisdom, I decided that I need to talk to this girl. We laughed and had an out and out good time, until she had to leave. I managed to get her number and the next morning, I called, very excited to speak to her but, let's just say the rejection was as kind as it could have been. I then proceeded to never call her again. Fast forward two years, and I was out celebrating a friend's wife's birthday at a pub I really don't like. There I meet a lovely girl with really short bleach blonde hair. I tried all the moves in the book to get her attention away from dancing. Eventually I managed to do so with consistent badgering and promises of tequila- we spoke, we danced, we had loads of fun and drank loads of tequila. Only half way through the evening did we realise that we had previously met. Seemed that fate had it in for us, as Tanya also really dislikes that pub. At the end of the evening, I managed to get her number again and this time I wasn't leaving without a kiss. It happened, and the phone call the next morning with an invite for dinner was met with a far more positive response. The rest, as they say, is history.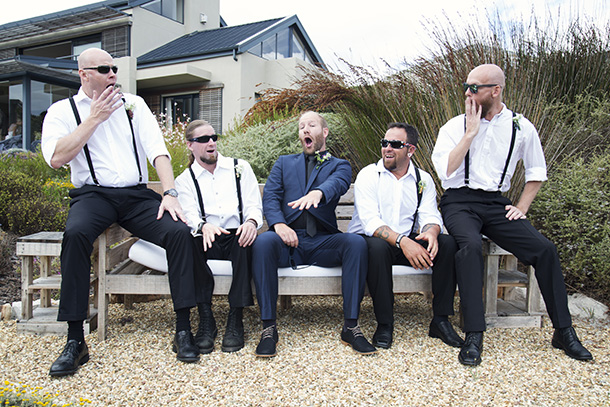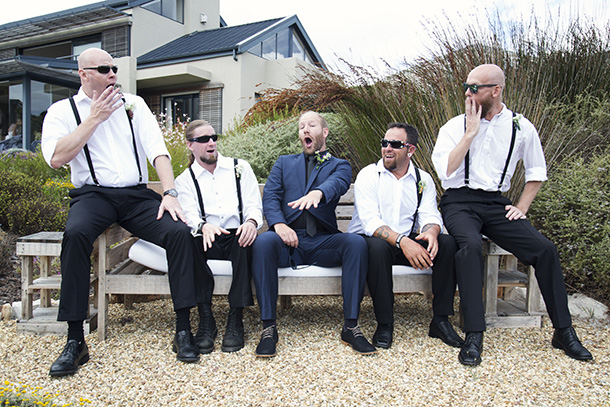 The Proposal
Trevor: Well, I always knew that we were never going to get married in the snow – Tanya puts a jersey on when it drops below 25 degrees. So I figured I might as well propose there. We went on a trip to Tiffendell resort, that had just been reopened under new management with a group of friends. I had rented a tuxedo and had the ring stashed in my friend's house to avoid Tanya from accidentally finding anything. I also had a banner made saying "will you marry me?" which my friends would roll out at the right time. With everyone briefed and Tanya none the wiser (except for interrogating me on why I was wearing my black snowboard pants, which I never do), we snowboarded the whole day and just before the sun was setting, I suited up, literally, then put my bulky snow jacket over the tuxedo. I then managed to convince Tanya to go for one more run as the sun was setting. With everyone in place we clipped in and started riding down the hill. Everyone knew their roles and was acting completely natural which was a feat. There were lots of nervious giggles from guys. Luckily Tanya was still learning to snowboard so she was concentrating on her turns and not bruising her bum. I then unzipped my jacket, revealing my tux, the banner was rolled out. I unclipped and got on to one knee with ring in hand. Not as gracefully as I would have liked, it felt like I shattered my knee cap in the ice. Proposing and snowboard don't mix. When Tanya saw me, she promptly sat down, about 15 metres away from me, holding her hands to her mouth. I had to call her closer, and she inched her way to me with tears and smile getting bigger and bigger. I asked her to marry me, she said YES! The whole resort cheered as we kissed, and we were met with hundreds of hugs and kisses from guests, staff and friends, plus champagne and tequila for everyone. I still remember seeing Tanya share a moment with a cleaning lady who also had gotten engaged that year and on the same mountain. They could not have been happier for one another.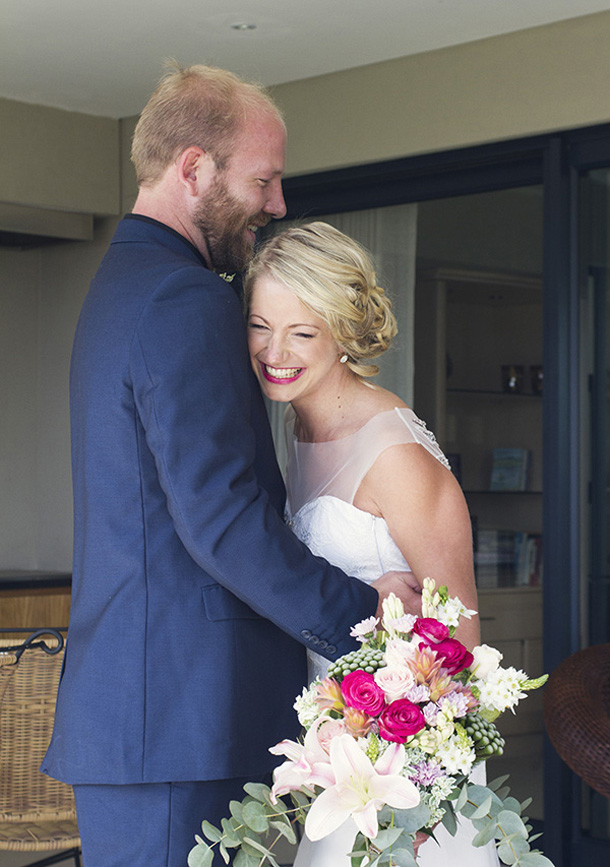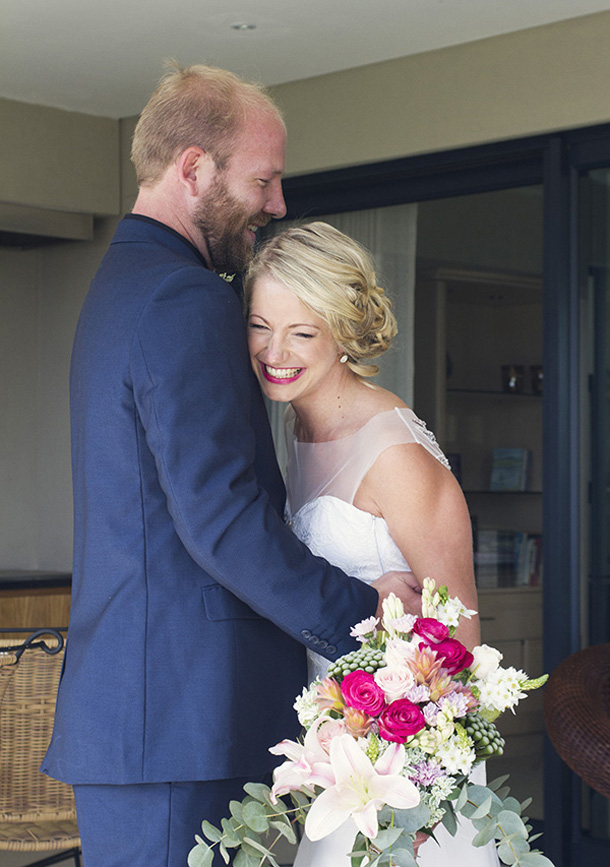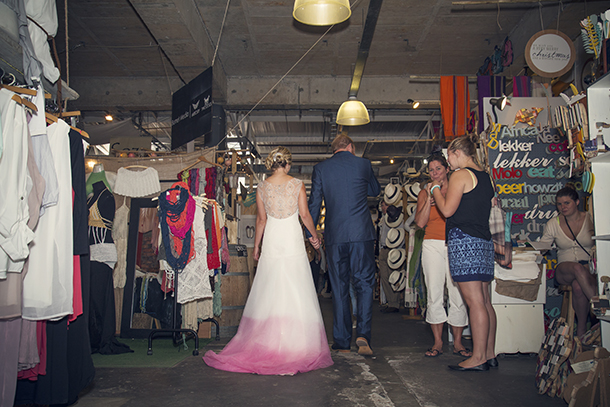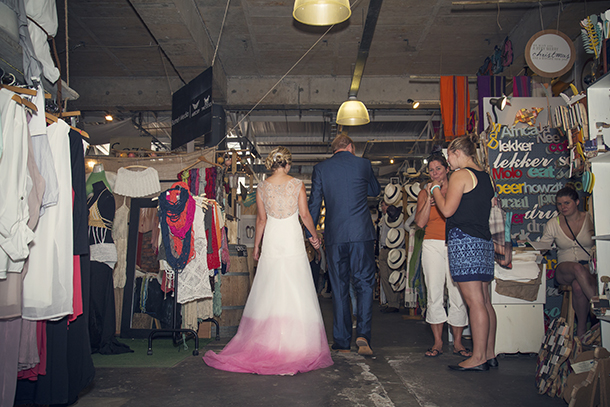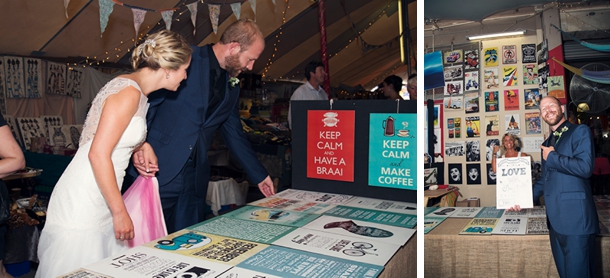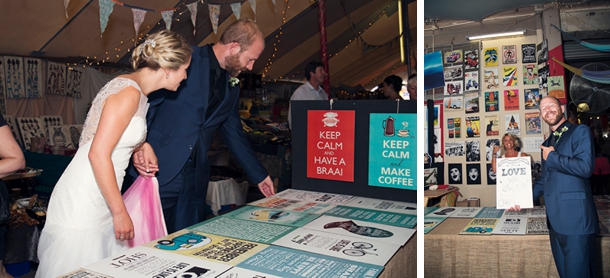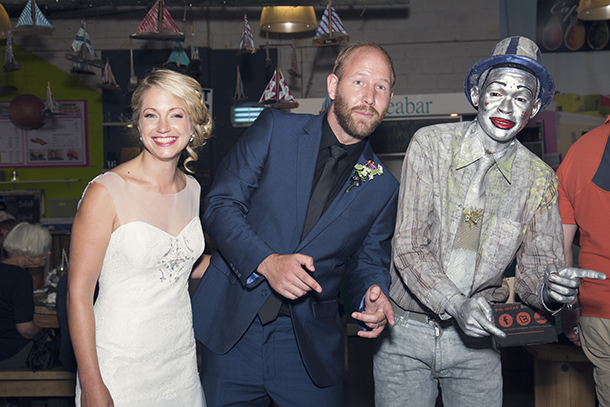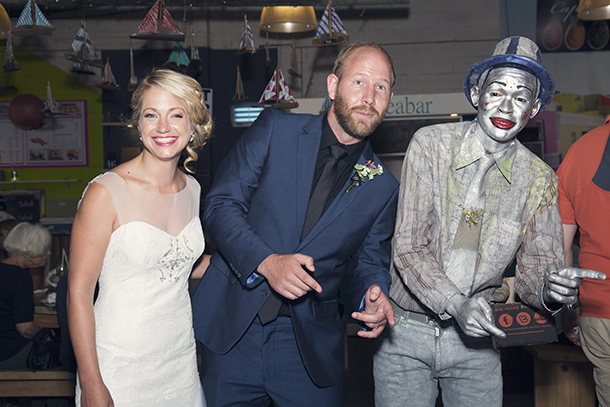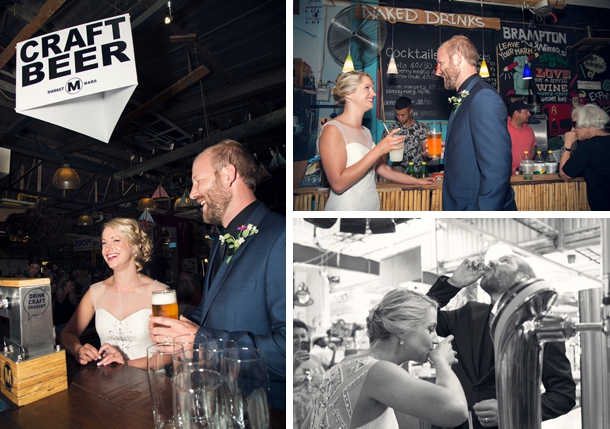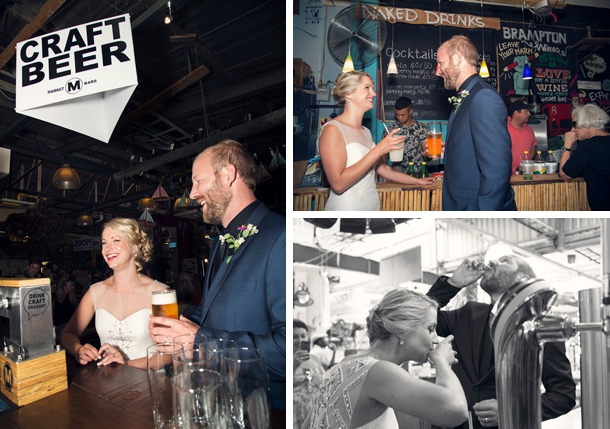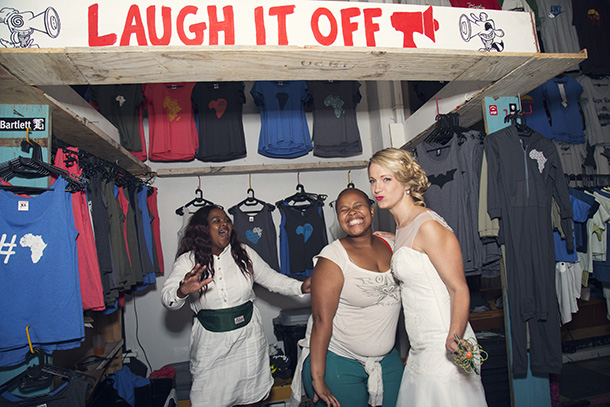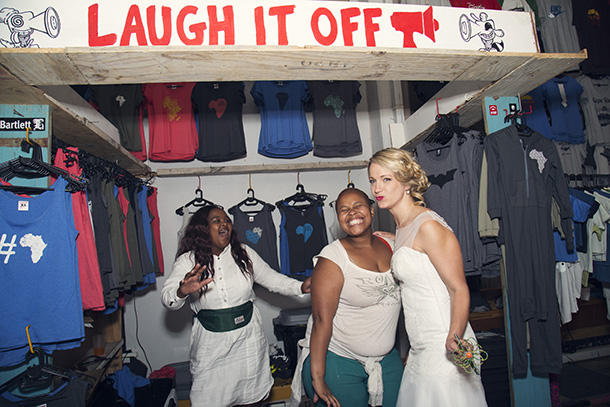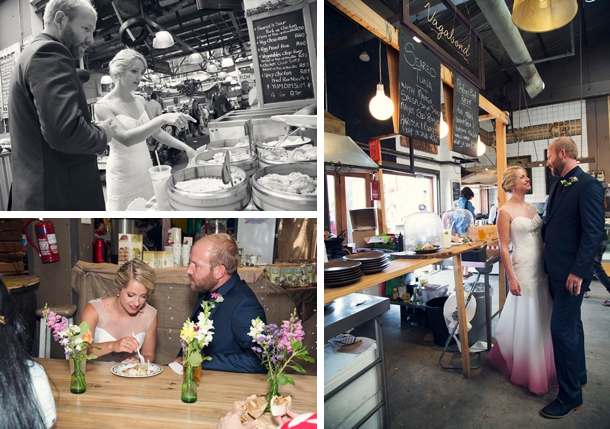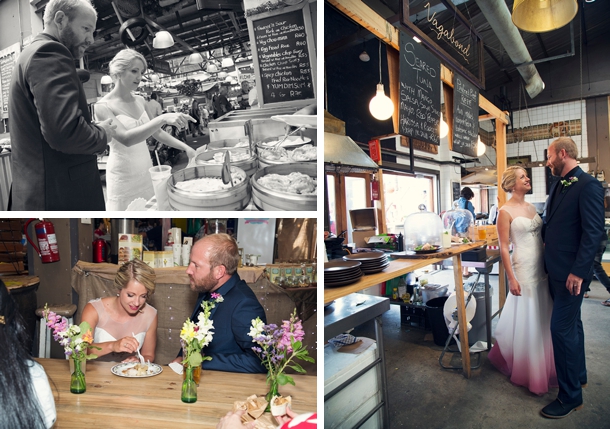 Wedding Style
We decided to do a farmer's market themed wedding. The idea came to us one Saturday morning when we were at Hout Bay market. We decided then and there that we wanted to do market style food at the reception and thought it would be really interesting to do our photos at Hout Bay market.
The colour palette was a mixture of brights (pink, coral and yellow) and pastel (lilac, peach and mint). Coming from a fashion background, I have always had a love for colours, especially bright and eye-catching colours. I am always dressed in something colourful or wearing a bright piece of statement jewellery, so I really wanted the wedding to reflect my personality.
The Venue
Tanya: I had e-mailed about 50 different venues and had mostly been put off by the price, but when I did find a venue that was reasonable, they were very inflexible when it came to the menu. They generally had about three options they offered and that's all that we could have, never mind doing a market with food stalls. So I was stuck with a dilemma and with our small budget my vision of this wedding was looking nearly impossible. I then read somewhere that one of the best ways to save costs is not to use the traditional venues, but to rather have the wedding at your favourite restaurant as they don't generally charge venue hire. So, I then contacted Café Roux, in the Noordehoek farm village, which is one of our favourite restaurants. They were more than happy to accommodate our market idea, in fact, Chantal said, "I don't know why we have never thought of this before."
Trevor: Great food, awesome vibe, plus they could accommodate all our requests. The fact that it was a crawling distance away from the hotel where all our guests where staying was just gravy.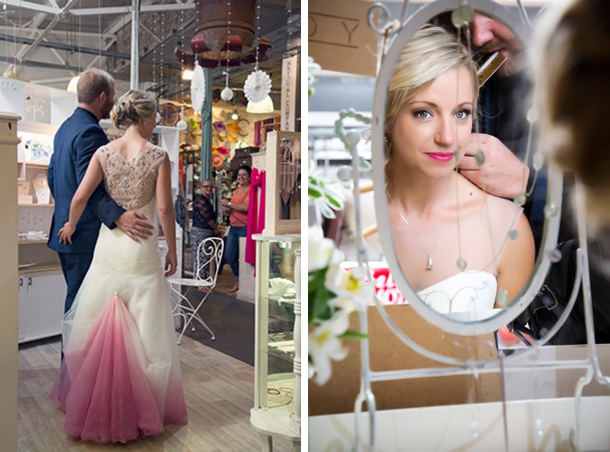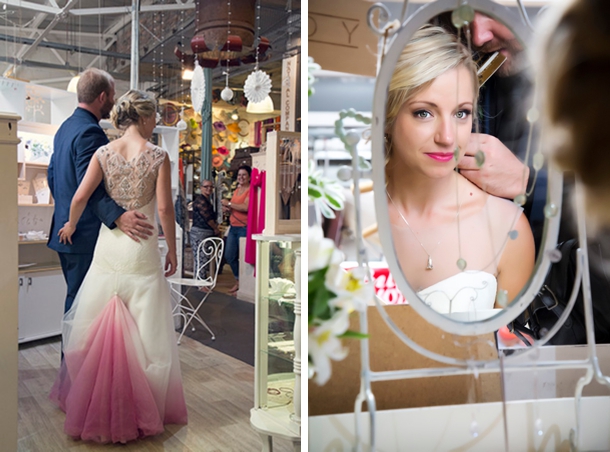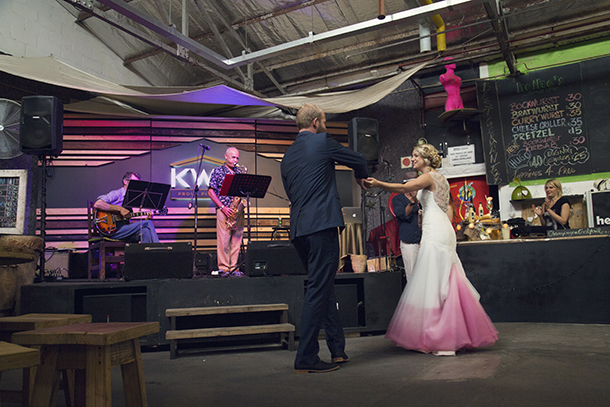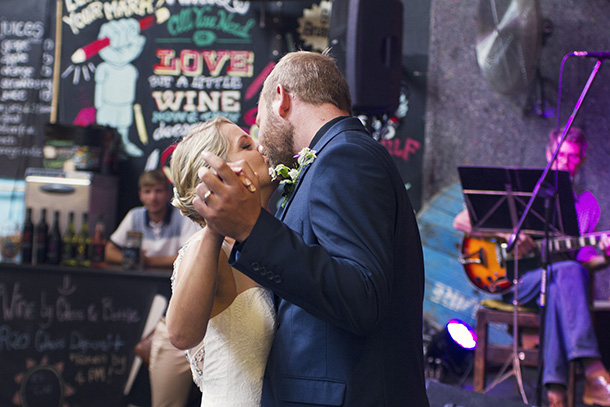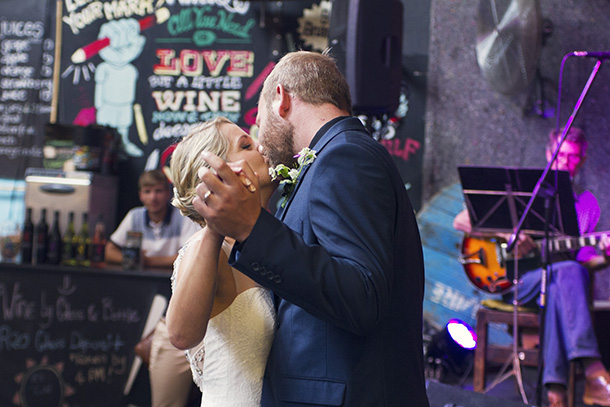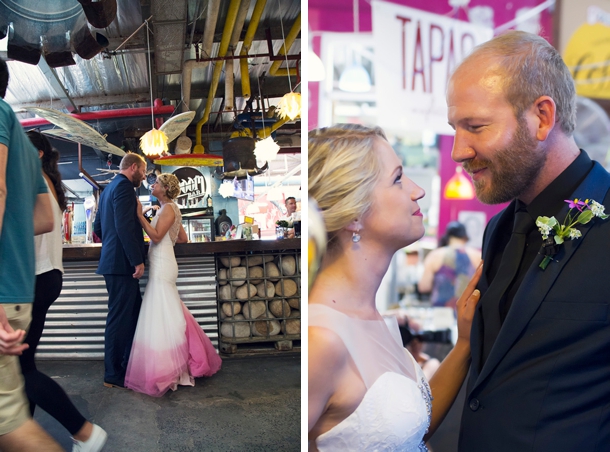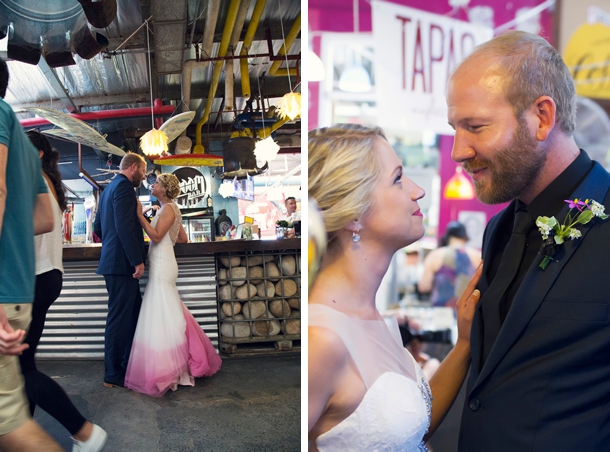 Wedding Details
One of the things most people said about our wedding afterwards was that it was a very Tanya and Trevor wedding. I think most of the elements of our wedding reflected our personalities. It was casual, fun and full of laughter. We had a lot of interactive elements for the guests, such as the polaroid guest book, stamps and pens to write on our brown paper tablecloth and a poker table. The wedding was very untraditional just like us – I don't think there was anything traditional about it, other than writing our own vows and exchanging rings. Guests sat where they liked, there was no tossing of the bouquet or garter (in fact, no garter) and we did a reveal, signing of the registry and photos before the ceremony. After the ceremony we just wanted to spend time with our friends and family and enjoy the day.

DIY Elements
Tanya: Almost every element was DIY as I was working on a very tight budget. I also wanted the wedding to have a lot of personal elements and I felt quite proud on the day that I had done most of the décor myself (with the help of my bridesmaids of course). I sewed about 60 metres of bunting, Trevor made all of the wooden signs, of which one I painted and the other Trevor soldered the writing into the boards. We handmade and created all of the food signs as well as the polaroid guest book.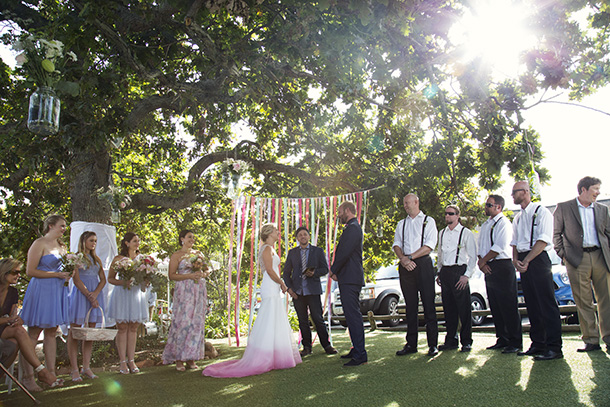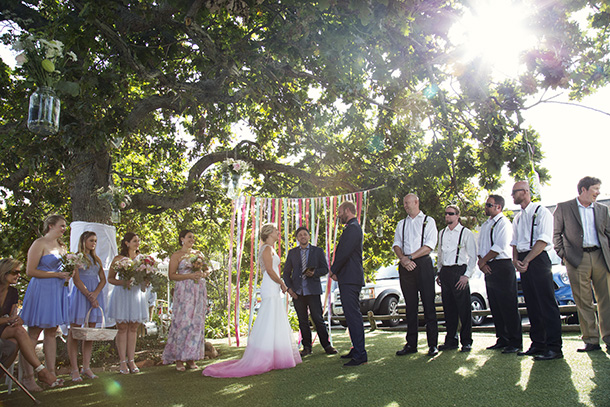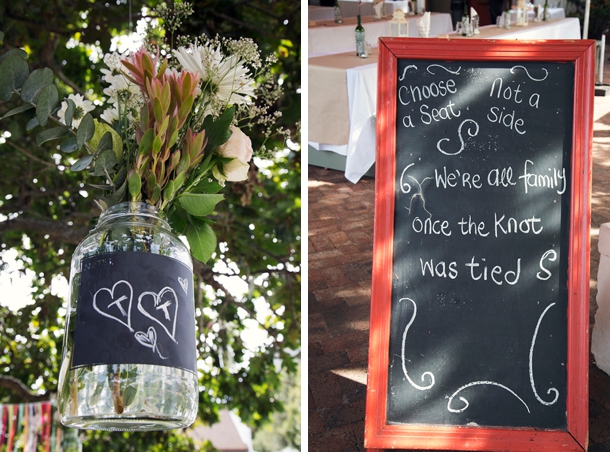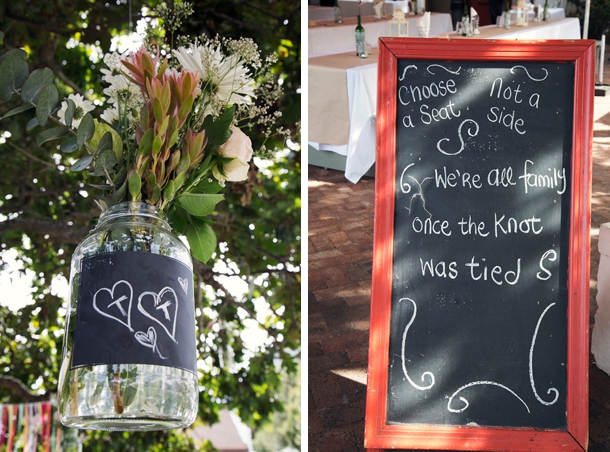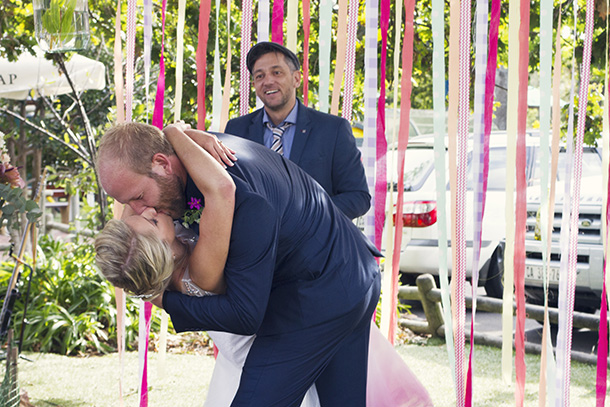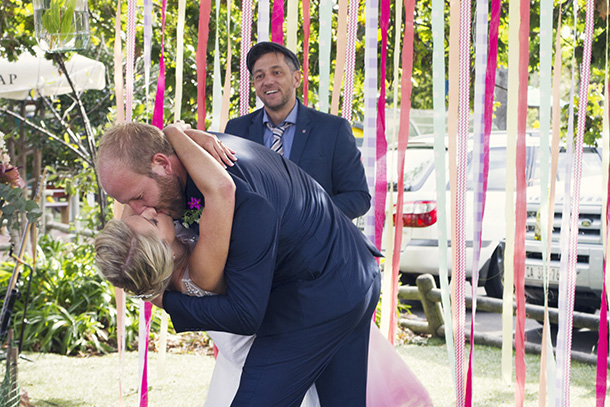 The Flowers
Tanya: The bridesmaids and I went to Adderley street market the day before the wedding and bought all the flowers. We then spent the day drinking champagne and creating all the bouquets and flower arrangements. It was actually all a lot of fun. I especially loved my bouquet. It was colourful and bright and unique.
The Dress
Tanya: Most girls dream about their wedding day. I dreamed about my wedding dress. I knew I was always going to have something made and it wasn't going to be traditional. My first inspiration came from my favourite singer, Gwen Stefani. She wore an ombre pink dress on her wedding day. My second inspiration was a picture I found on Pinterest of a beautifully beaded back of a wedding dress. The pink and white opal stones that we used on the beadwork, were an inspiration from a dress I saw in Forever New. These weren't available in South Africa, so I used my connections with the East to source them. The rest I left to my dressmaker, Elbeth Gillis. I was sold on using her the first time I met her. She is so professional and her attention to detail of her dresses is immaculate. I knew she was going to create the dress I had always dreamed about.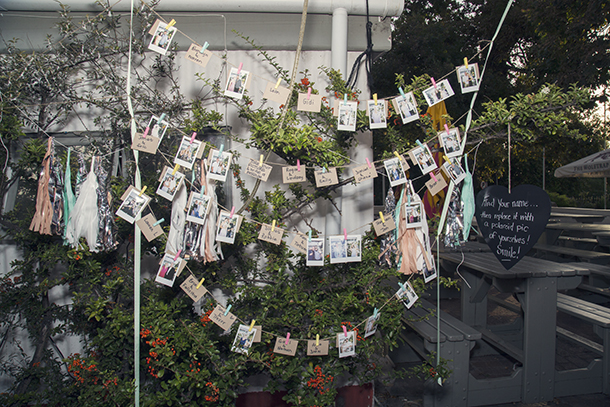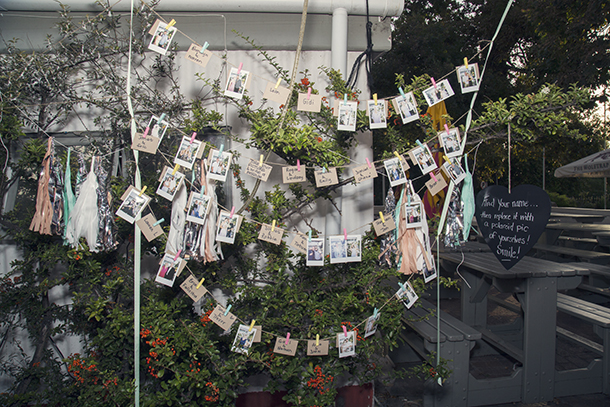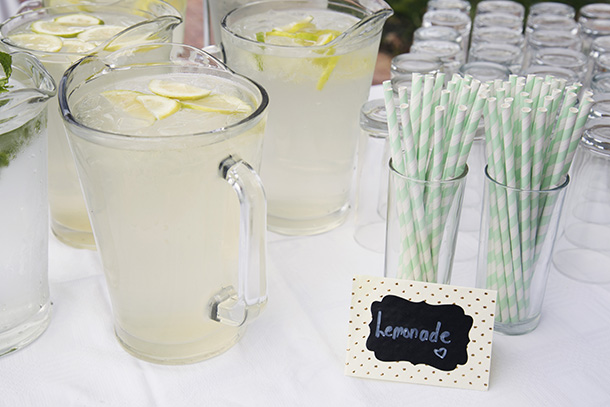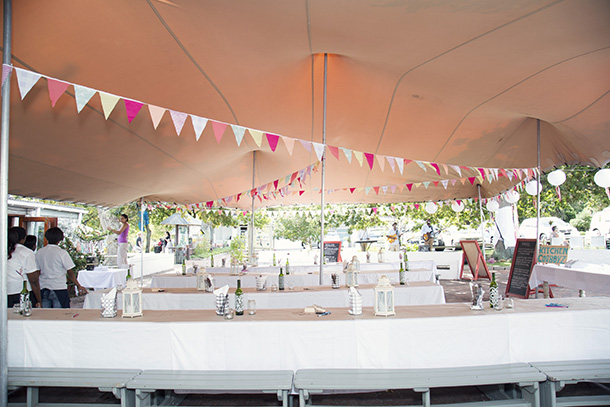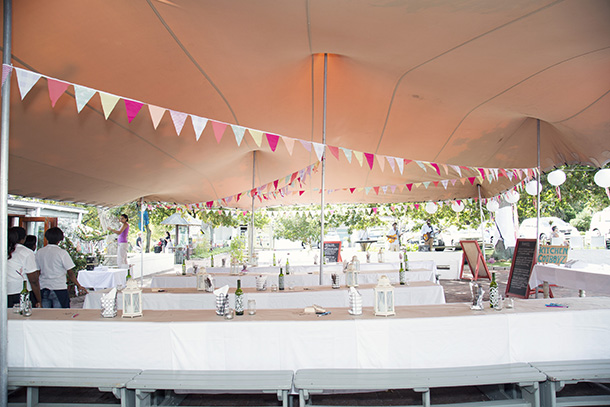 Memorable Moment
Trevor: My bride. Seeing her for the first time brought me to tears and so did the second! She was amazing!
Tanya: When Trevor saw me for the first time at the reveal, he had tears in his eyes. I have never seen him cry. That was my favourite moment
The Honeymoon
The Philippines for two weeks: Siargao for the surfing and Coron for the diving.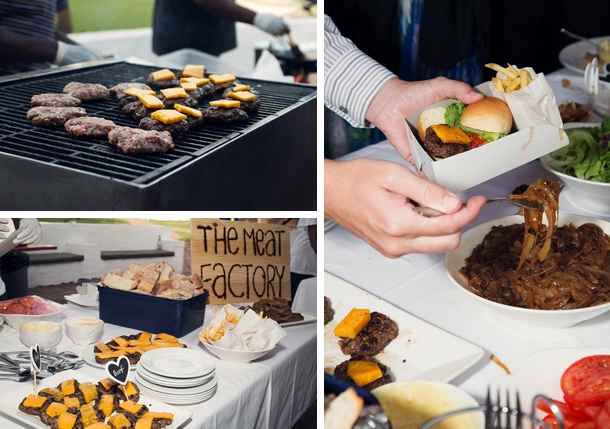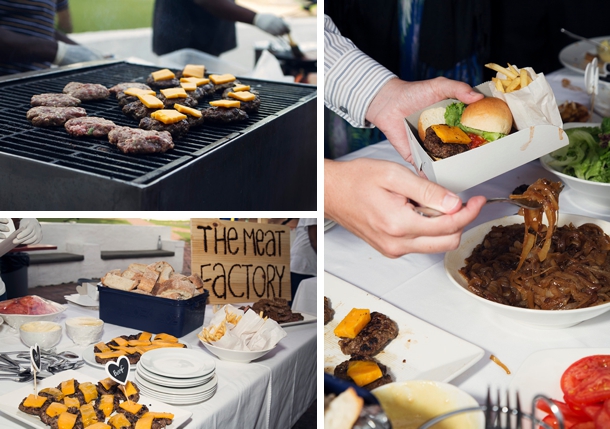 Advice for Future Brides & Grooms
Trevor: You don't have to be a bridezilla to get things done – Tanya wasn't and everything was awesome. Have a kick ass Emcee, we had family friends, professional speaker and Comedian Rich Mulholland and Don Packett, and they went a long way to make the day even better. Then finally: it's your wedding day, have a jol. If something's wrong no one notices, and if they do they don't care, as they're just there to be with you.
Tanya: a wedding doesn't have to cost a lot for it to be awesome. I wanted to rather spend money on an amazing honeymoon. Make sure that you have time to enjoy the day and to spend time with friends and family. Also we wanted to keep our wedding relatively small, so our rule was that if either Trevor or I had never met the family member or friend, they weren't invited (with the exception of oversees friends or family that we had contact with). It did create some awkward moments, but don't invite people just because you don't want it to be awkward. Invite people that you would want there to witness your wedding and celebrate afterwards with you.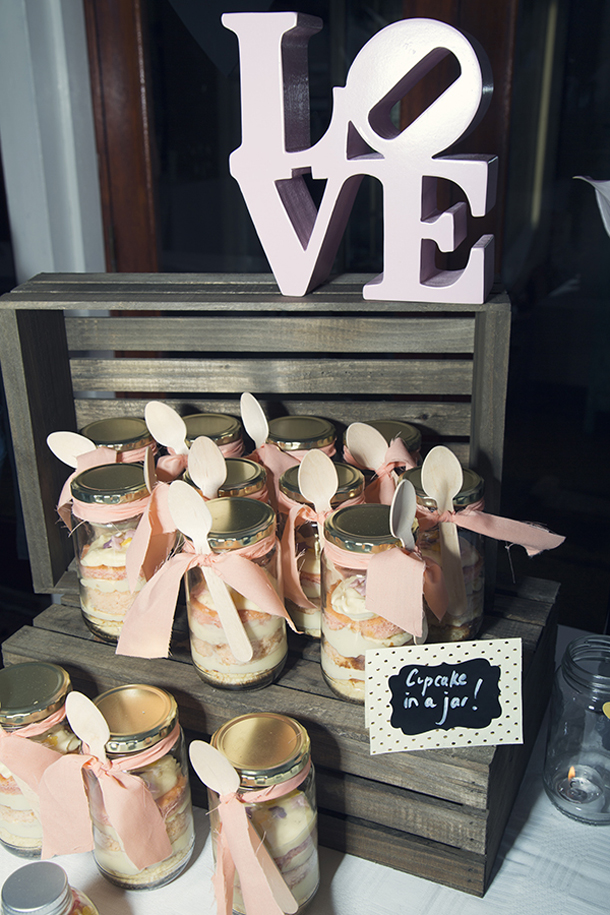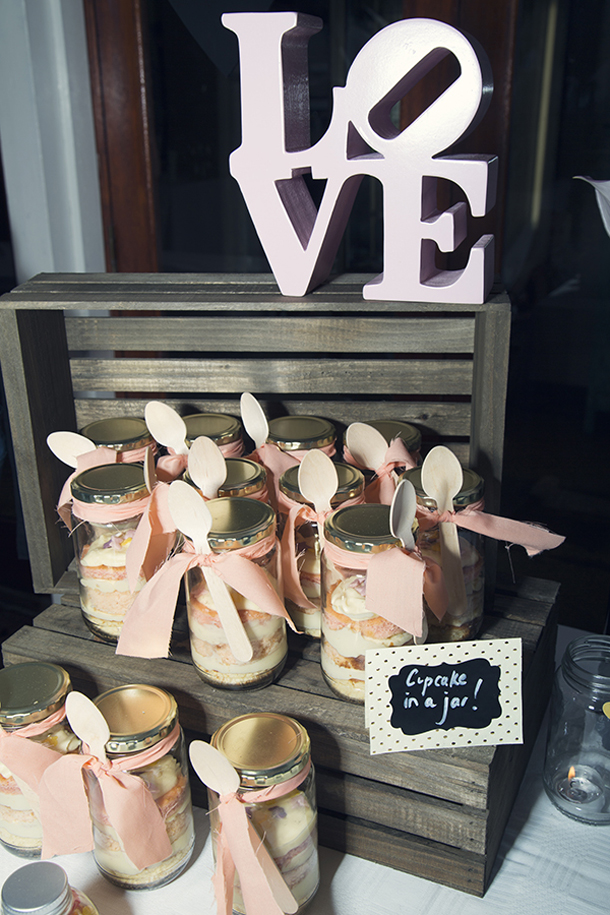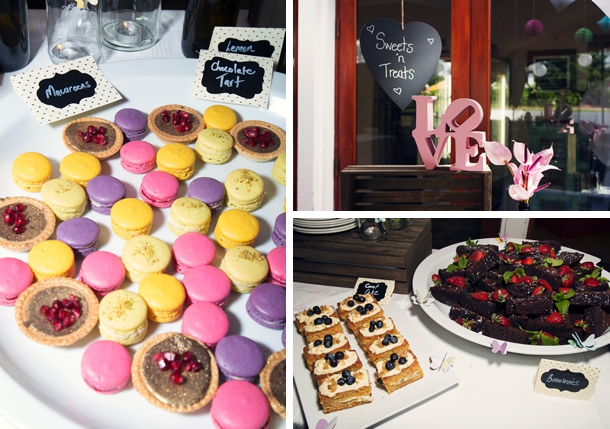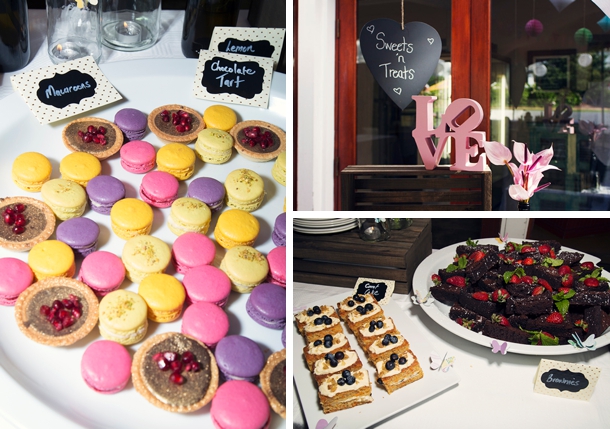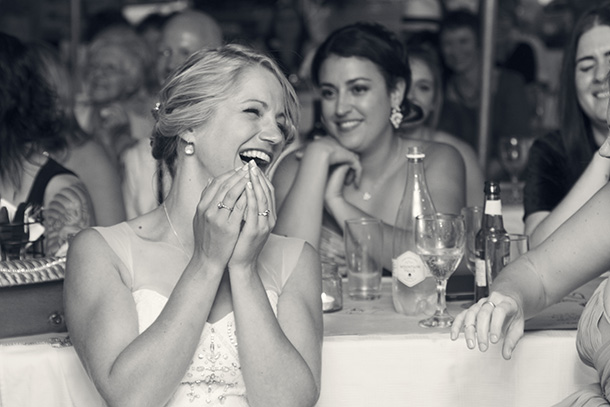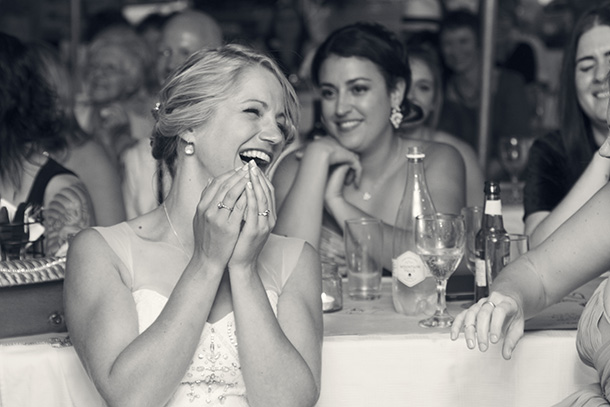 You can see more from this wedding on Bianca Asher's blog.
SERVICE PROVIDERS
Venue & catering: Café Roux, Noordhoek | Photography: Bianca Asher and Lee Whitham | Co-ordinator: Sian Atterbury for Simply Style Sorted | Bride's dress: Elbeth Gillis | Bride's accessories: Steve Madden (shoes); Woolworths (earrings); Topshop (hair clip) | Hair & makeup: Genevieve Eyre | Bridesmaids' dresses: Forever New | Groom's attire: Woolworths Collection, Call it Spring (shoes) | Sound: Brand Events | Band: The Rivertones | MC: Don Packett