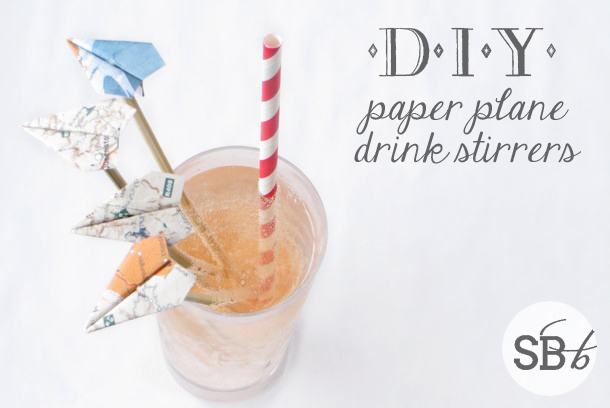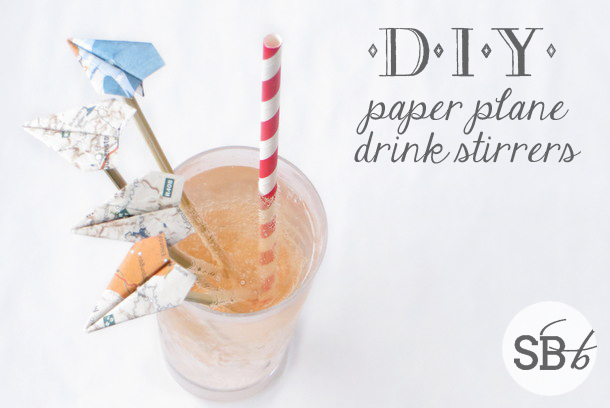 Morning lovelies! We have a busy day here on SBB, as Telkom and Eskom put paid to some of my well-laid plans this week, but all the better to fill up your Friday with pretty. We're kicking things off with a little bit of DIY goodness. BY FAR the most popular theme in weddings (if you could call it that, since it isn't necessarily all themey) is travel. Every time I write about it on SBB, it gets a ton of hits and frankly, I love writing about it since travel theme design often includes some of my favourite things – air mail stripes, vintage stamps and postcards, maps, globes, hot air balloons… and paper planes. I've been wanting to do a couple of travel theme DIYs for a while, and I thought I would kick things off with a little something for cocktail hour. This DIY is super, super easy. If you can fold paper and use glue, you can make these. They make an adorable little detail for your pre-drinks, and you can just as easily use the same DIY (with toothpicks instead of full size skewers) as cupcake or even cake toppers.
You will need:
Old maps or atlas pages
Wooden skewers
Clear glue
Ruler & scissors/craft knife


1.  Cut your map into rectangles (mine measured 60mm x 43mm for paper planes measuring around 40mm in length). Be sure to avoid creases in the maps as these will cause problems when folding your paper.
2. Fold in half lengthways (if, like me, you are using maps that are one-sided, always fold away from the side you want to show. Unfold.
3. Fold down the top corners to the centre line.


4. Fold the top down (the point should go a little above the bottom edge).
5. Now fold the new top corners down to the centre line. You would usually fold up the flap at this point of making a paper plane, but to allow the hole to be made later, you'll want to leave it as it is or (if the paper is quite thick) cut it off.
6. Fold over the central line.


7. Fold down the wing on each side.
8. You should have a miniature paper lane that looks like this one.
9. Use the point of a wooden skewer to make a hole down through the centre of the plane. Be sure to do this carefully to avoid any tearing.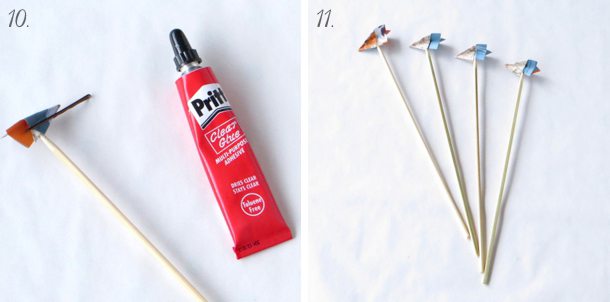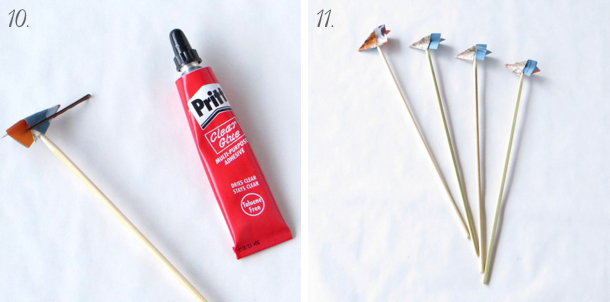 10. Turn the skewer around and push the pointed tip through the hole you have just made. (Be sure it doesn't push above the top of the plane.) Using clear glue, stick it in place and hold until it sets (2-5 minutes). Then stick the bottom parts of the plane together (you can use a hair pin to hold these in place while it dries).
11. Allow the glue time to dry properly before using. You may also want to trim the skewers so they are just a little higher than the height of a straw.
And that's it! Simple as you like. Of course, there are lots of ways to customise this using different kinds of paper or skewer, or as I said, use toothpicks for cupcake toppers. A pair of little planes would also make an adorable (and easy) wedding cake topper for a travel-loving couple.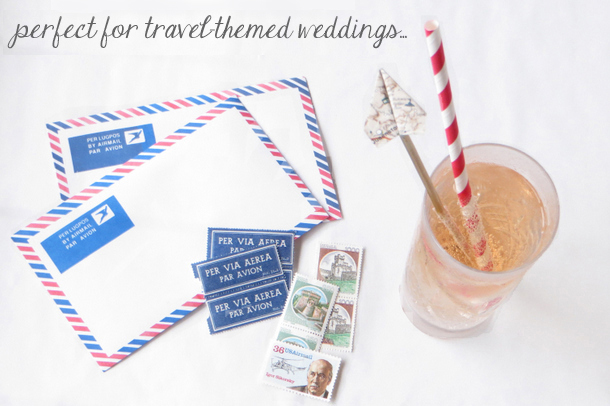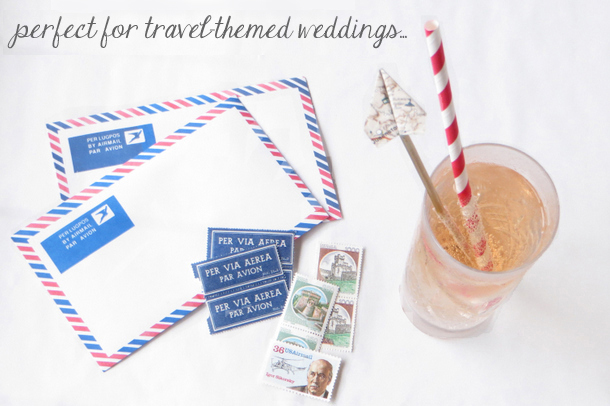 DIY tutorial and images copyright SouthBound Bride, 2014.