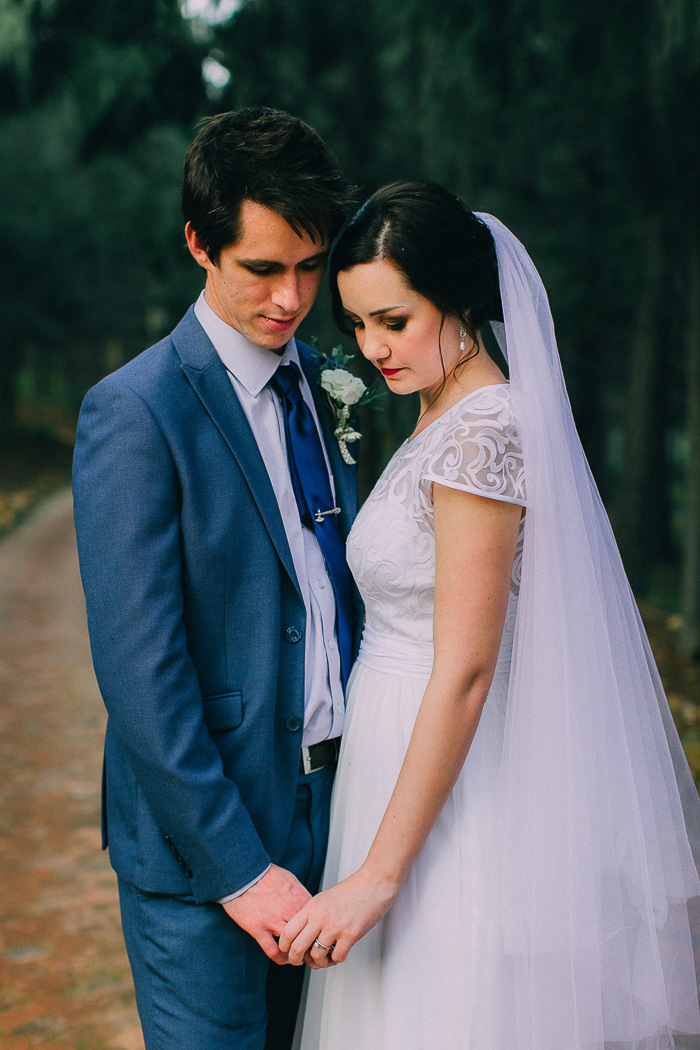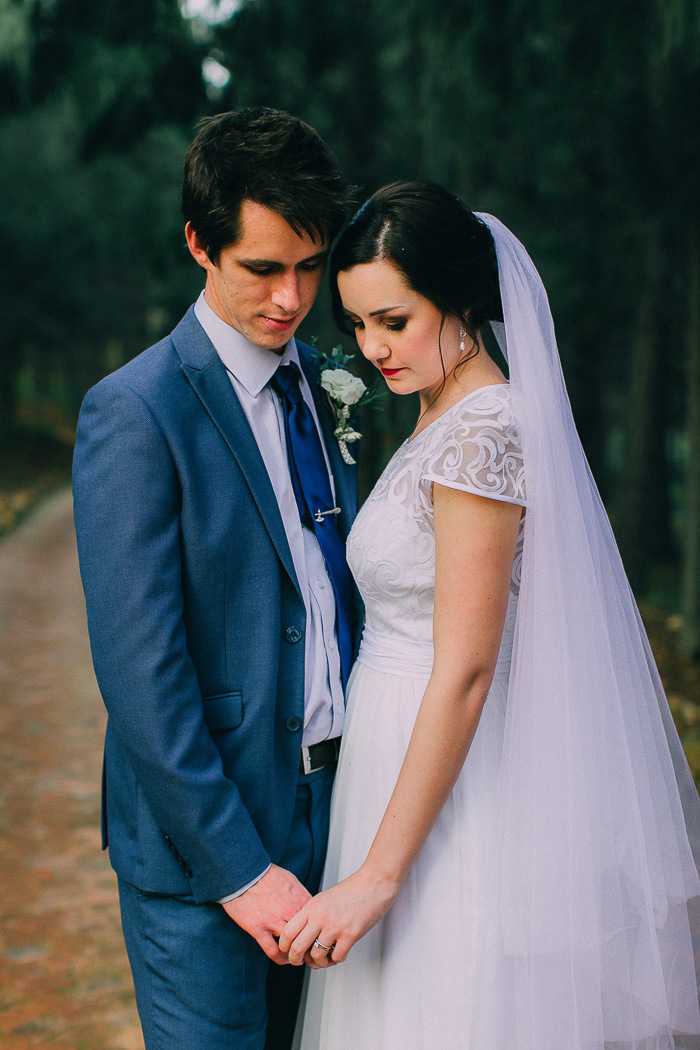 There's an expression I always remember from one of my favourite films, that goes: Simple may not always be best, but the best is always simple. That's what I think about when I come across weddings like Carla & Bruce's, that take an idea (in this case, greenery with a touch of gold) and make it incredibly elegant. Add in a romantic forest ceremony in the most beautiful surroundings, natural elements like glass and wood, and little personal touches like olive oil favours and a tribute to their missing loved ones, and you have something really special. You won't be surprised to know that I'm in love with Carla's wild, organic style bouquet, which worked so beautifully with her Robyn Roberts gown, or that I think Michelle du Toit's swoony photography is the final, perfect touch! Simple just became extraordinary.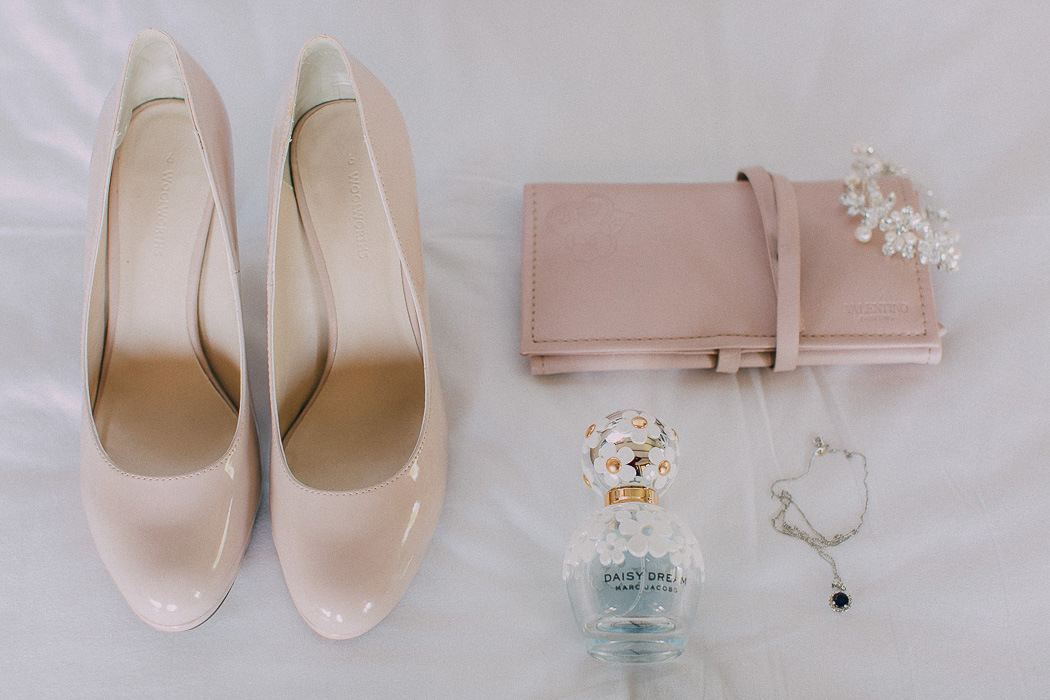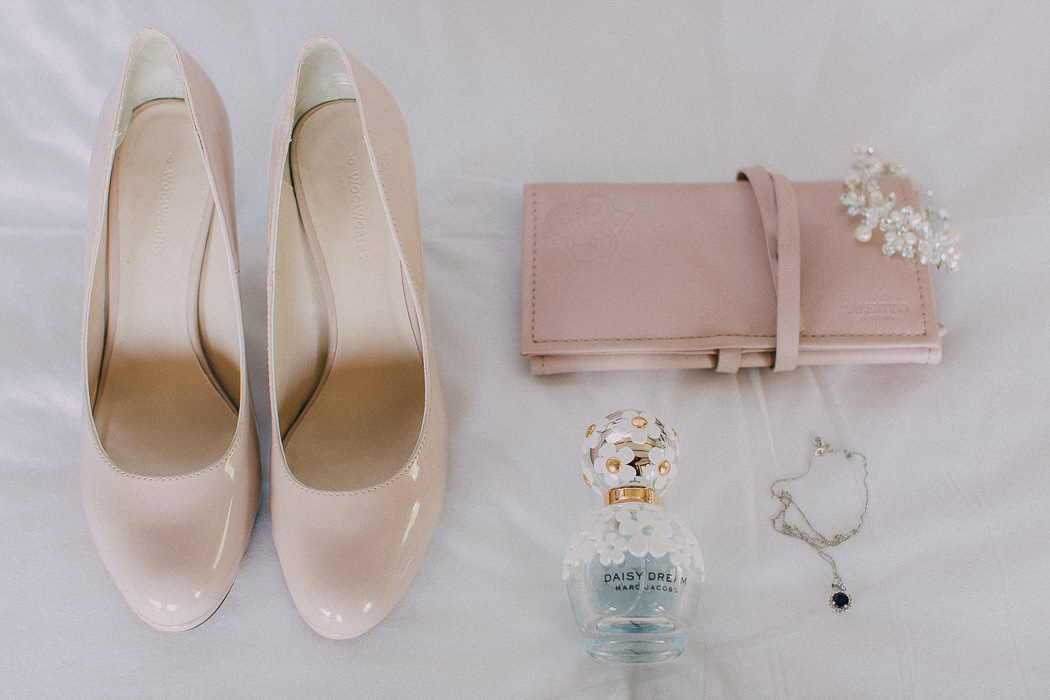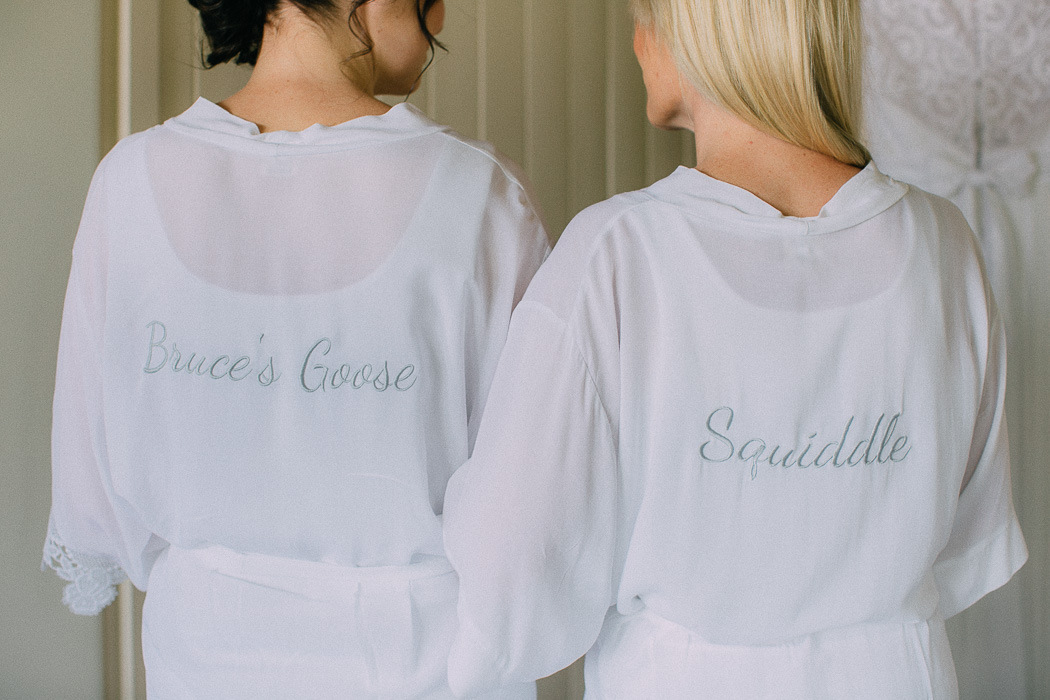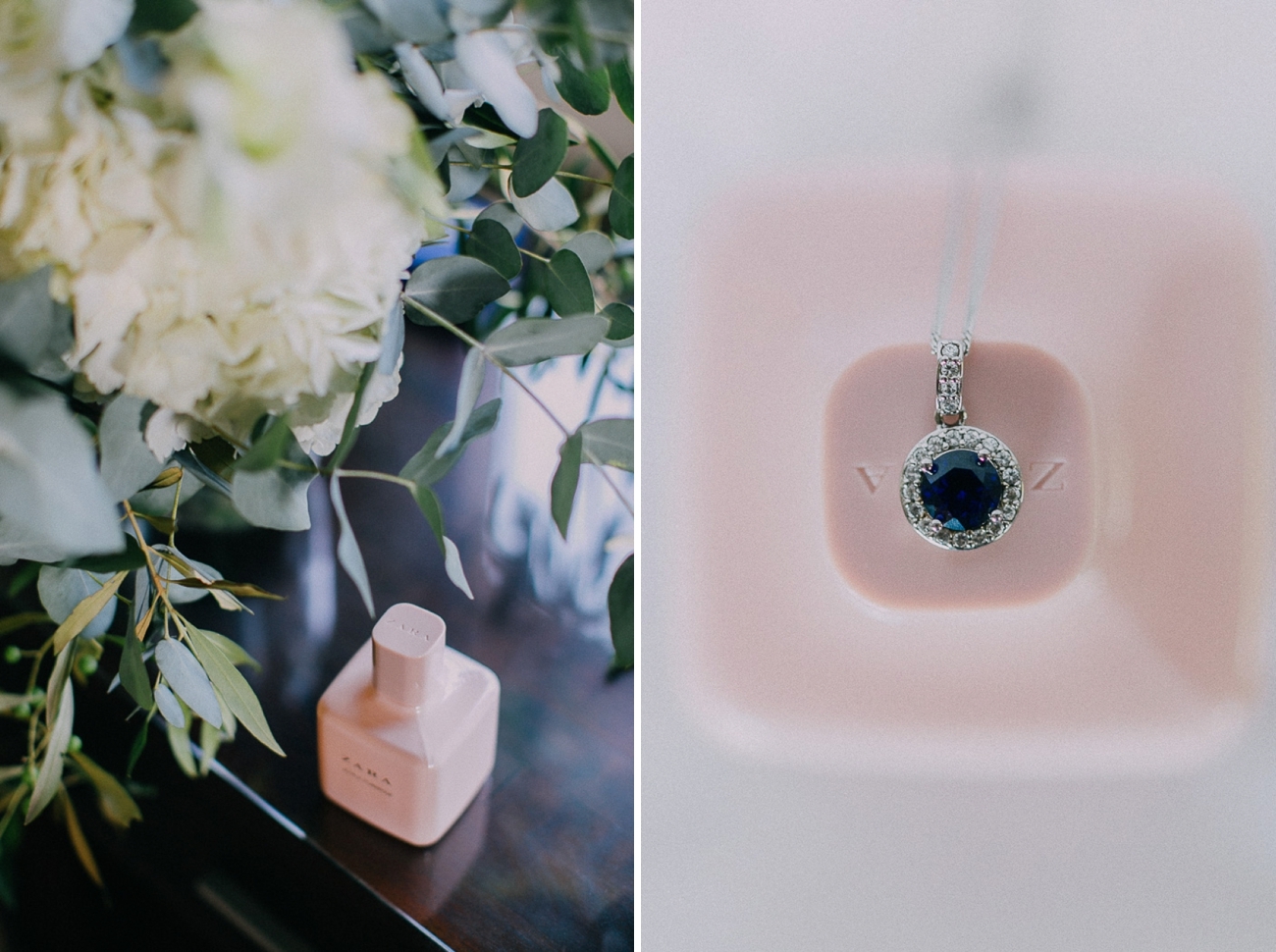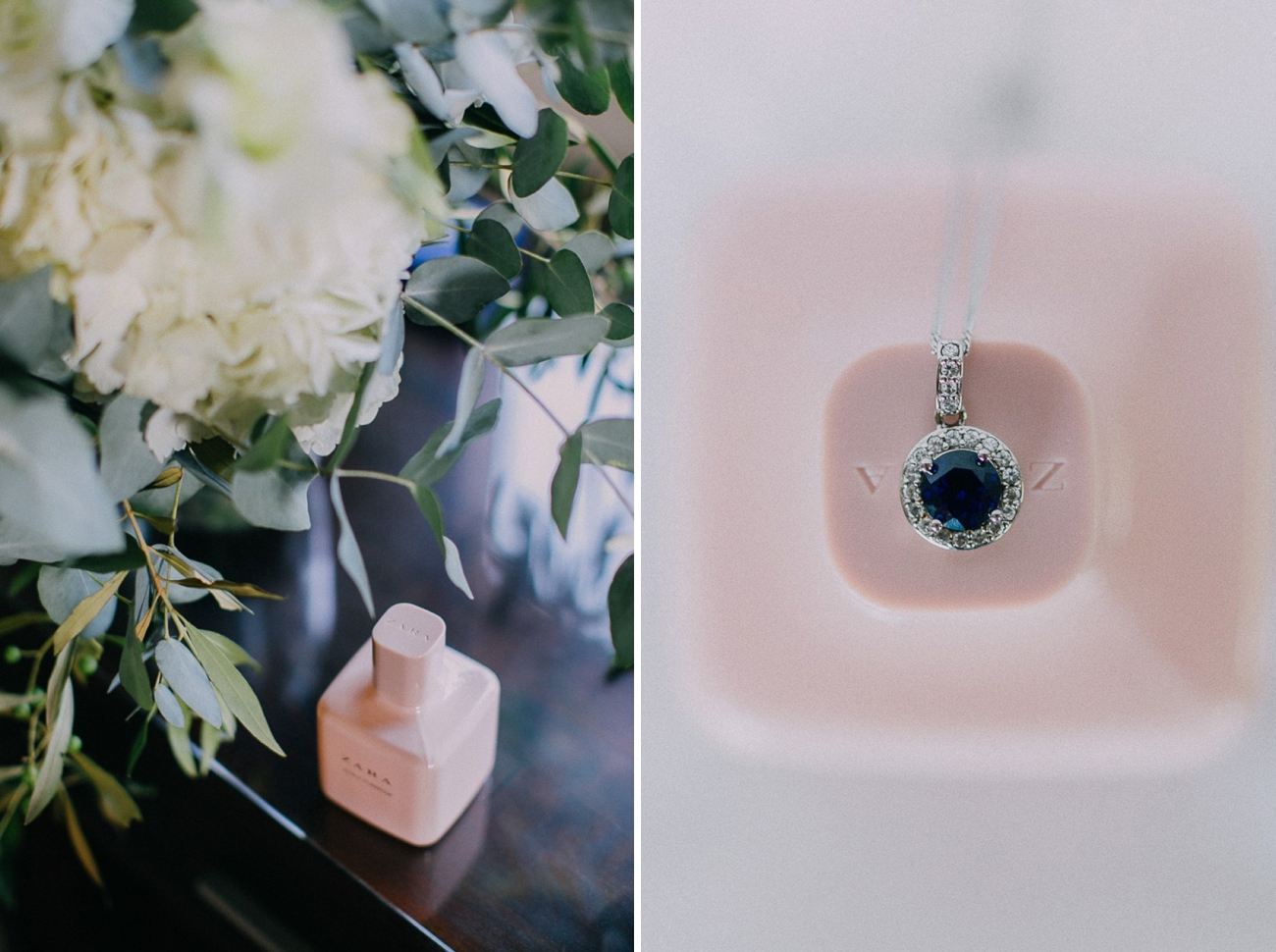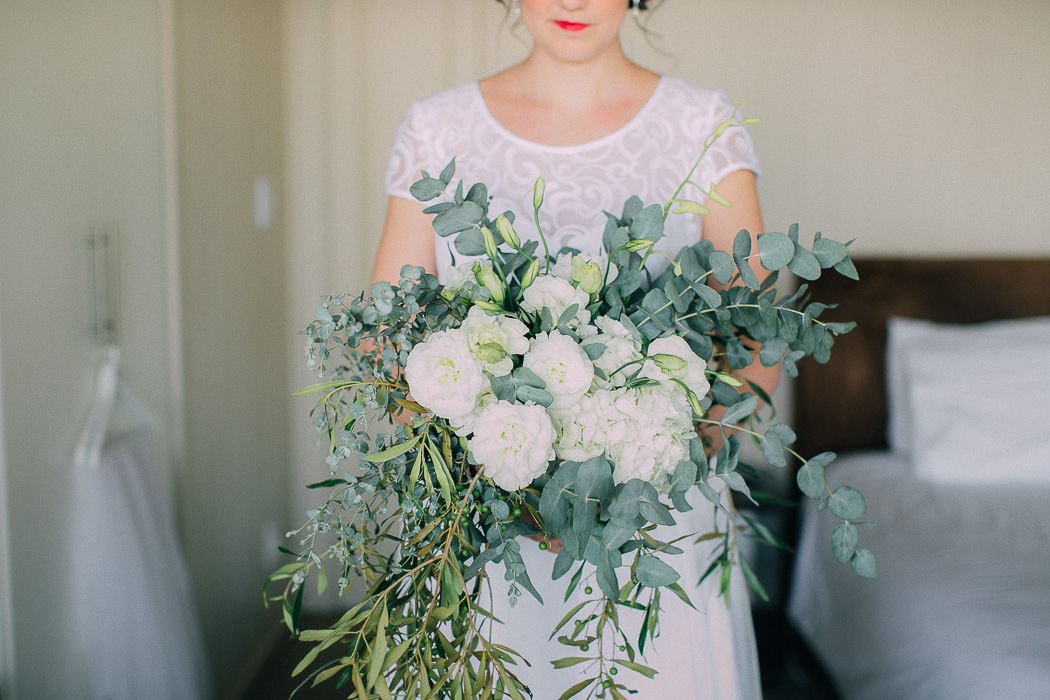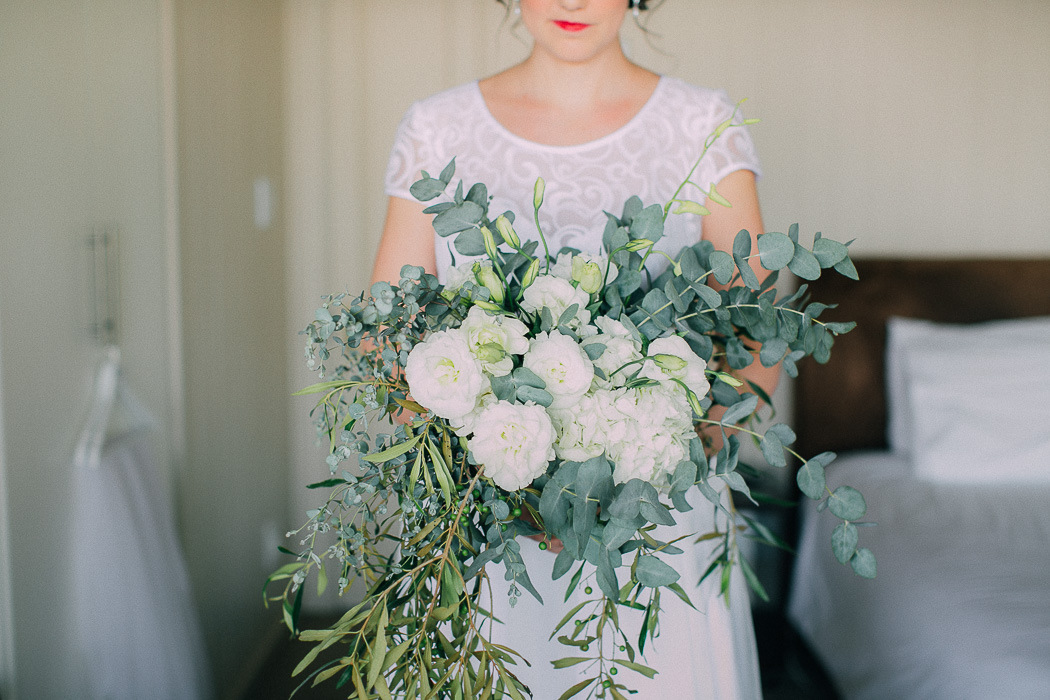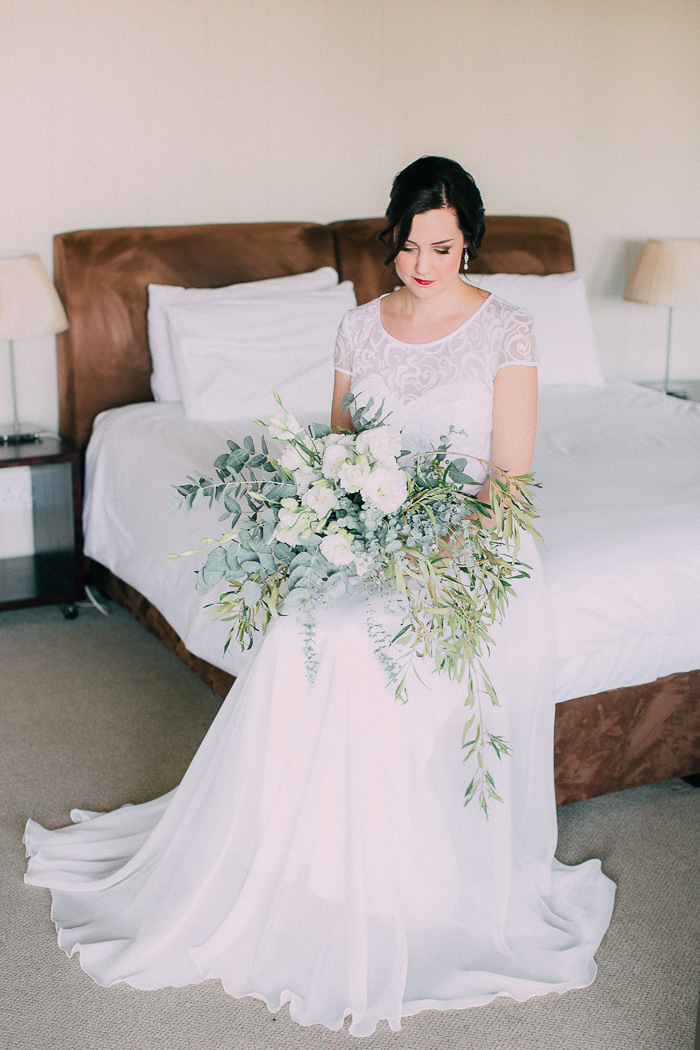 Love Story
We 'officially' met through a mutual friend at a bar in Pretoria in 2010. This was still in the days of Blackberry and BBM. Bruce stole my phone and added himself to my BBM contacts. Cheeky and endearing! I wasn't looking for a relationship at the time but after a few weeks of persistence, I agreed to drinks with him. And then a date. Our generation doesn't really do the whole 'dating' thing. Not the way our parents did it. So, I was impressed by this 'new' approach. We spent the whole evening getting to know each other – enough to know that my 'no relationships' rule would have to be broken.
The Proposal
After a year and a bit of long distance (Bruce was in Scotland and I was in Dubai), we both decided to move back to South Africa. I got back in May and Bruce in September. A lot had happened during that time – a lot of 'figuring stuff out'. But by September, we had it figured out. Just a few weeks after Bruce had moved back, we went away for a weekend at Lalapanzi Lodge near Somerset West. We'd stayed there before and had had such a memorable time. Bruce had organised a picnic basket with the lodge but hadn't quite thought about where this picnic would happen. His nervousness had already given him away so I just went with it. We ended up having an uncomfortable picnic on the rocks at the side of a dam. Not really fitting for a proposal it seemed, because we eventually packed up. We decided to walk to the jetty to watch the sunset and take some pictures. I had taken a seat and Bruce surprised me with a photo album with all our best adventures and moments. When I'd finished going through the album, he pulled me up onto my feet, began his speech and then went down on one knee. I said yes before he could even open the ring box. It was heartfelt and the setting was just beautiful – everything I could have hoped for.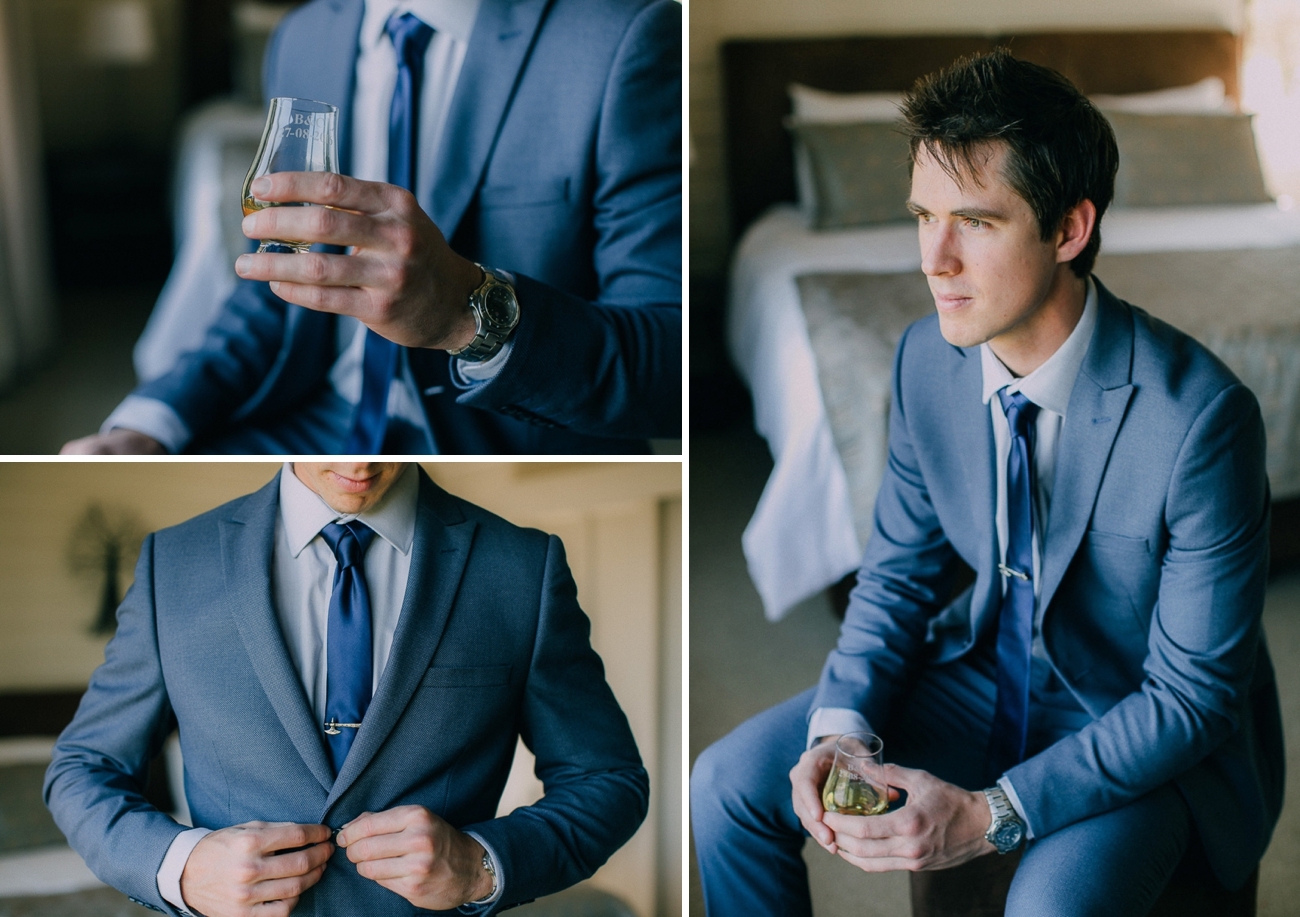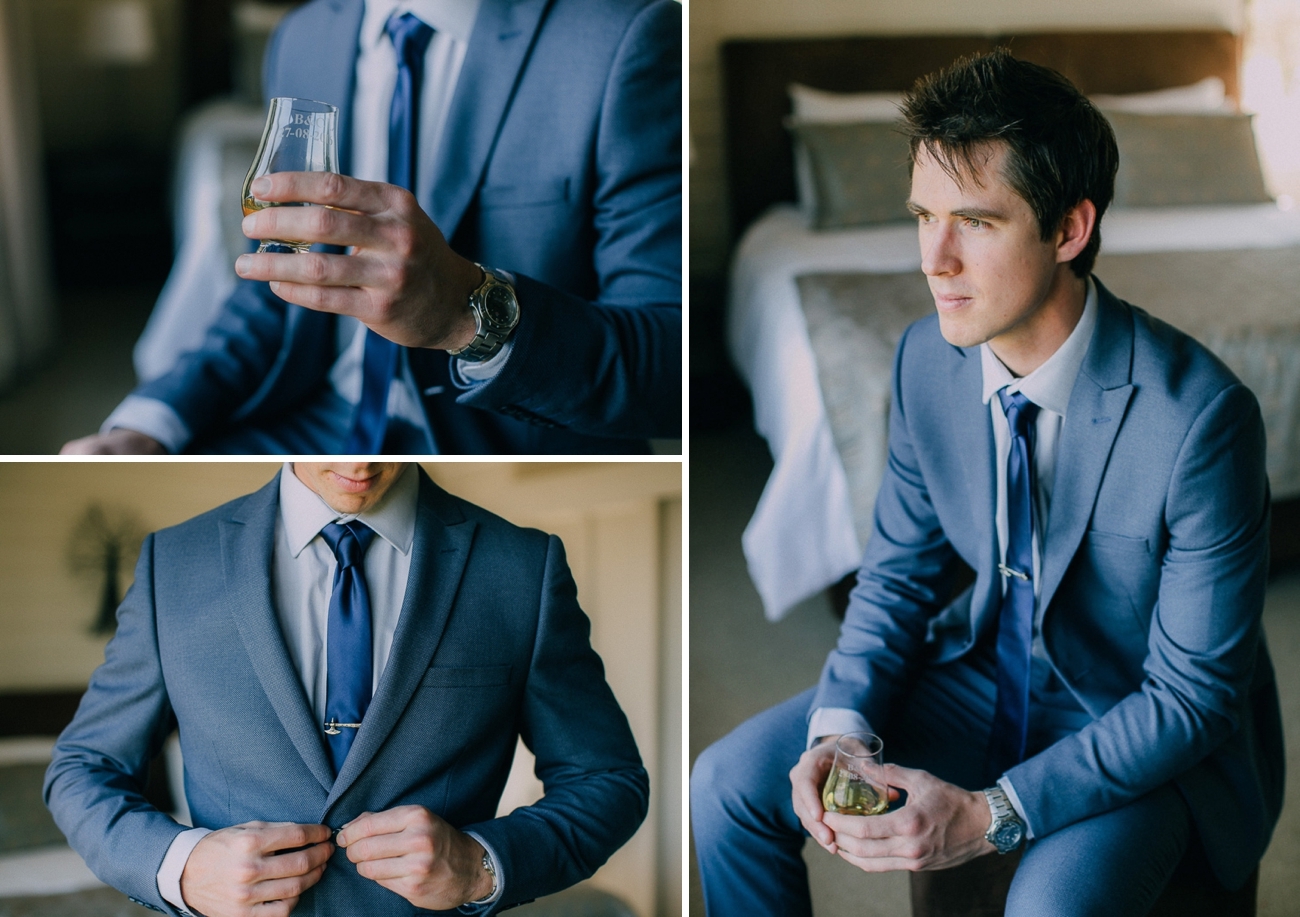 The Venue
When we started planning, we were set on a big wedding. We looked at many venues and none of them seemed right. It caused a lot of stress and it was clear, we needed to regroup and really think about what we wanted to do. So, we took a break from the wedding talk. About a year after we got engaged we started discussing the possibility of a small wedding. It was a tough decision but we both knew it was the right one for us. We had both wanted to get married at Lalapanzi Lodge but they only catered for small weddings. Now that we'd made the decision to keep it small and intimate, it felt like the natural choice. It is home to many special memories and the setting is just exquisite. So, we booked it! The staff were so helpful and accommodating, and were a massive contributer to the success of our wedding.

Wedding Style
Because we were having an intimate wedding and dinner in a small venue, I wanted to keep it as simple as possible. I wanted to create something that was natural yet elegant. I'd seen plenty of weddings that featured wood, glass and greenery and I loved every single one. So that's the brief I took to Blooming Wonderful. I also asked them to work my love of candlelight, and a few gold accents, into the picture. What they put together was exactly what I'd hoped for. For the ceremony, I wanted to use the natural beauty of the venue as the background. I ordered some pennygum runners, two mass arrangements and had an arch made to complete the picture. Thank goodness the weather played along!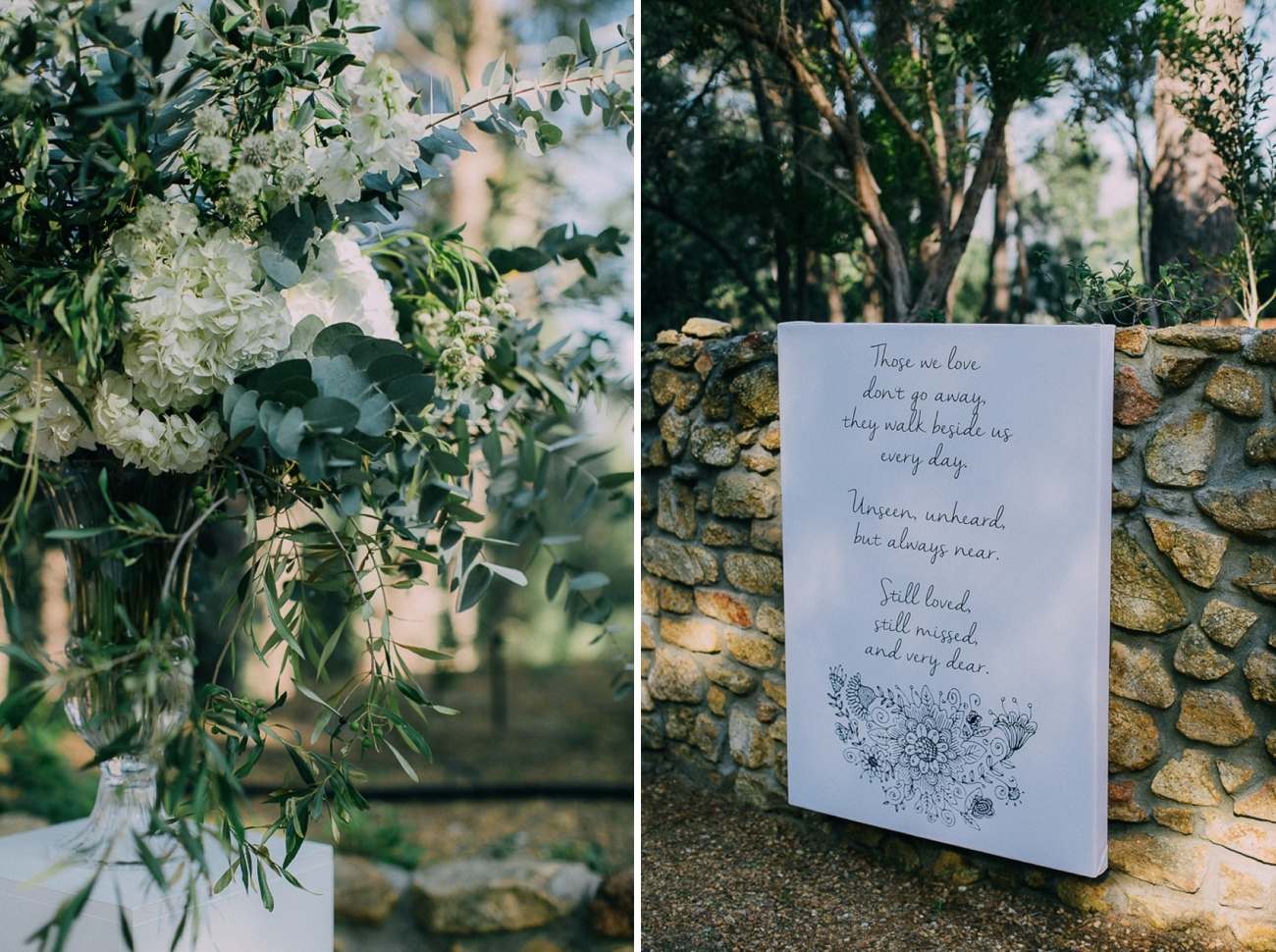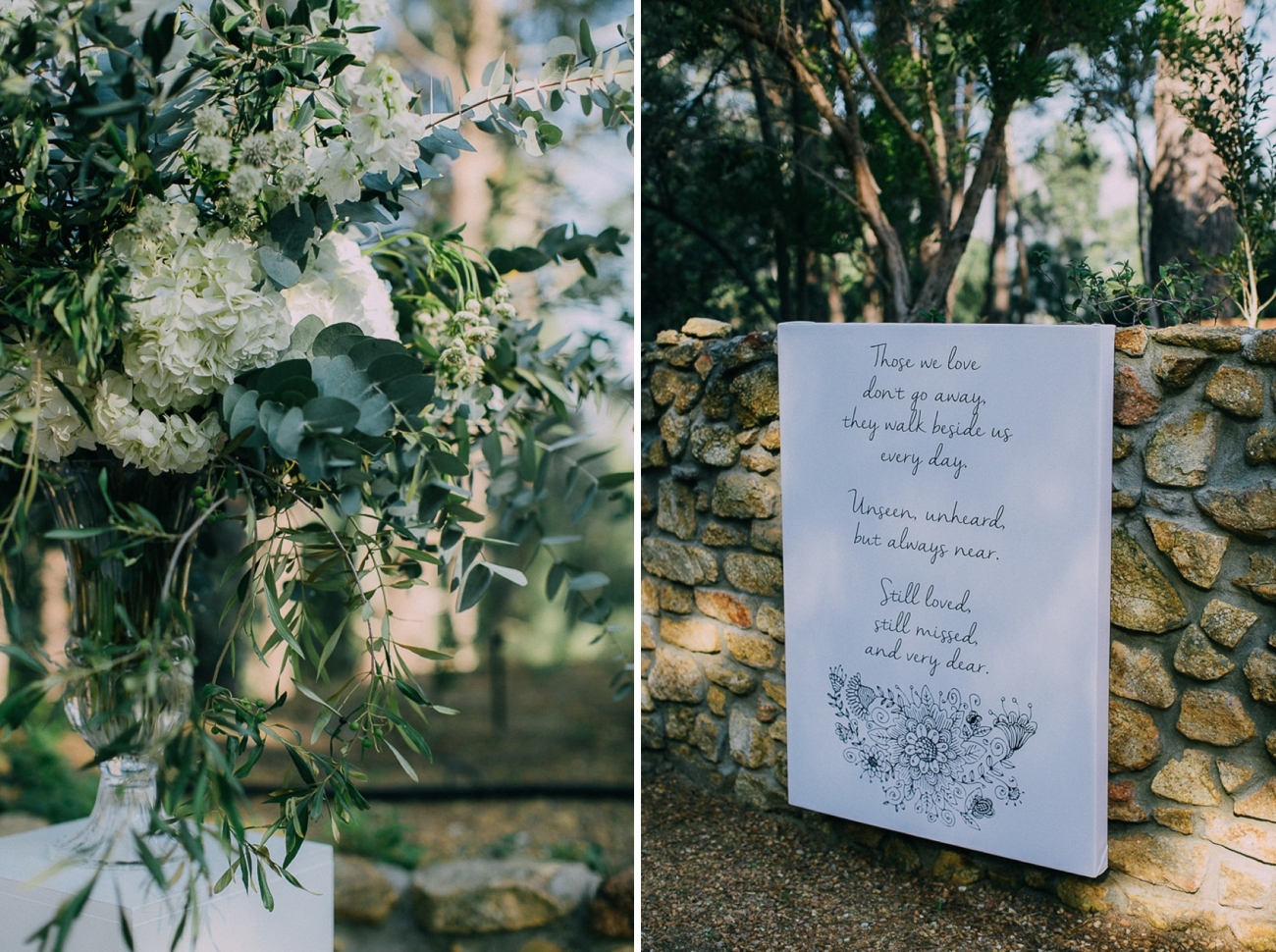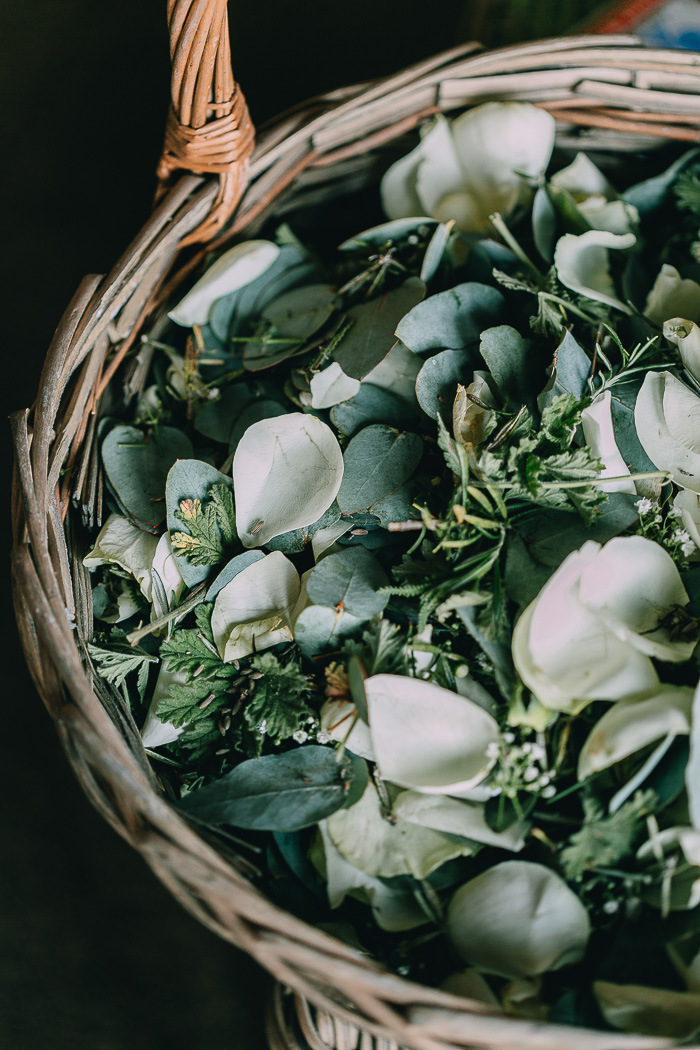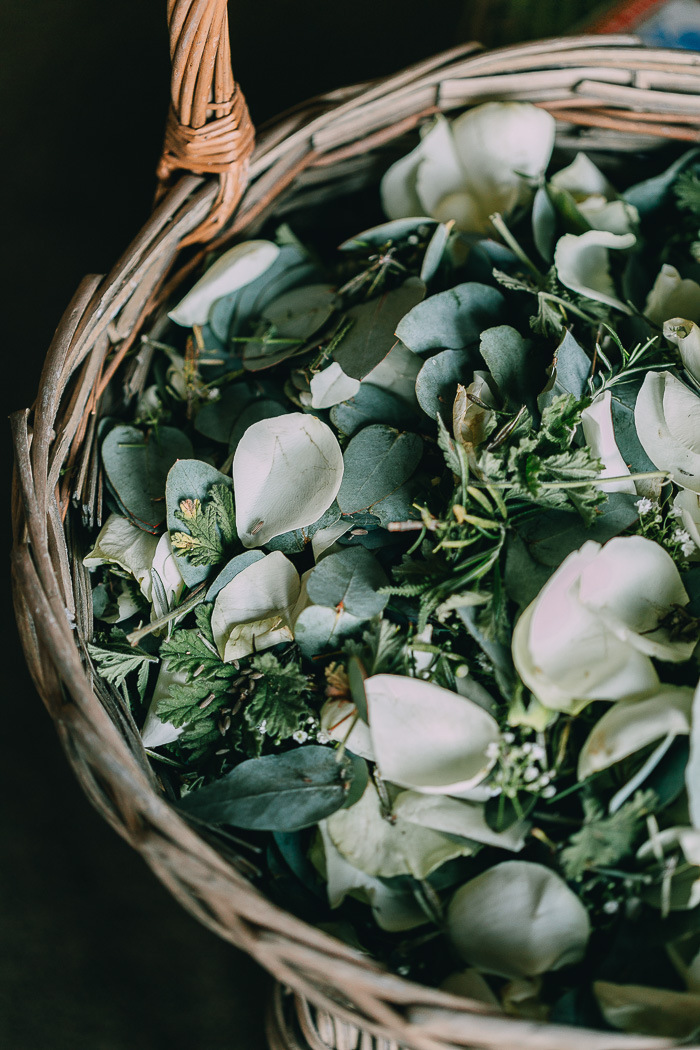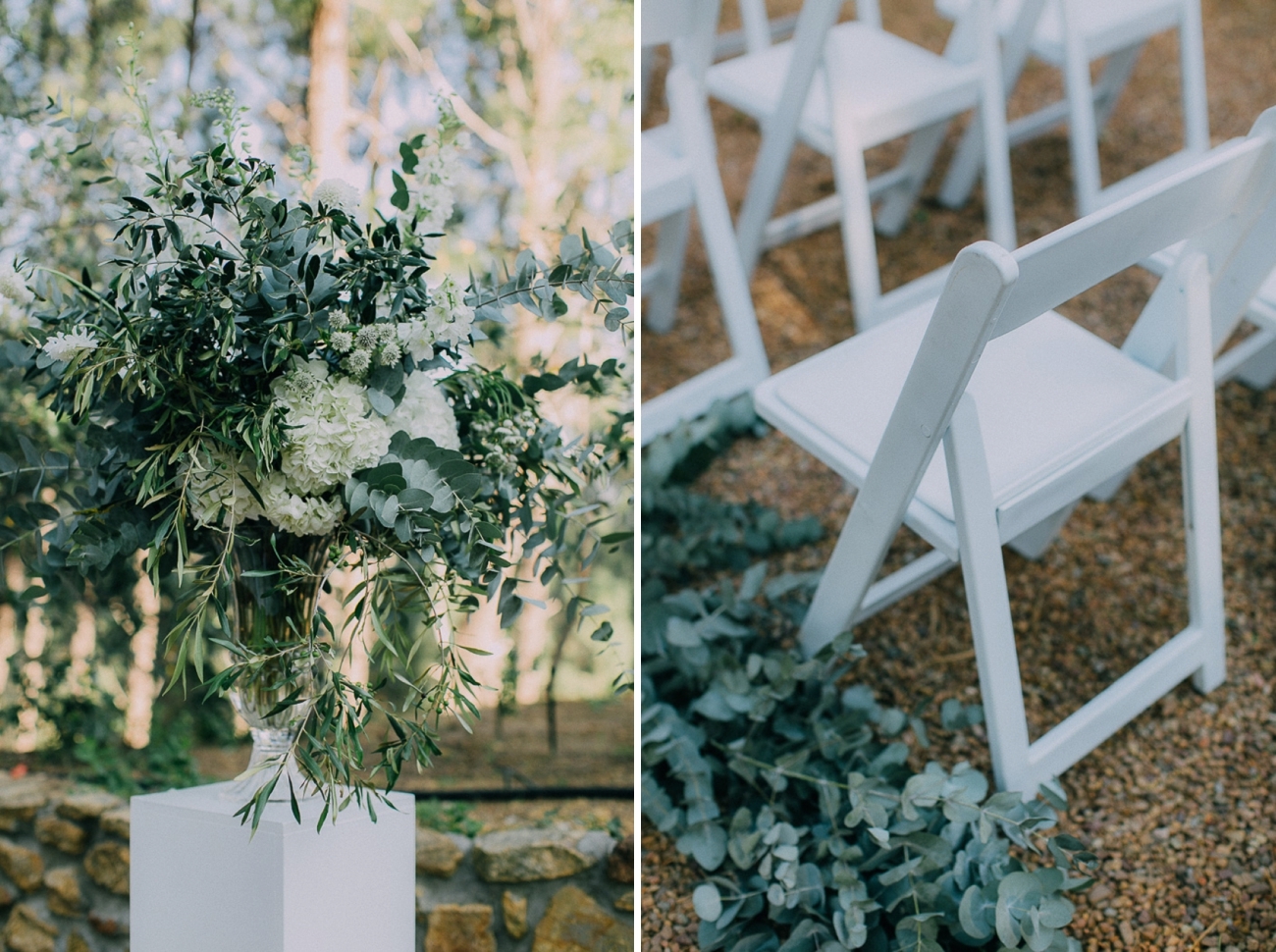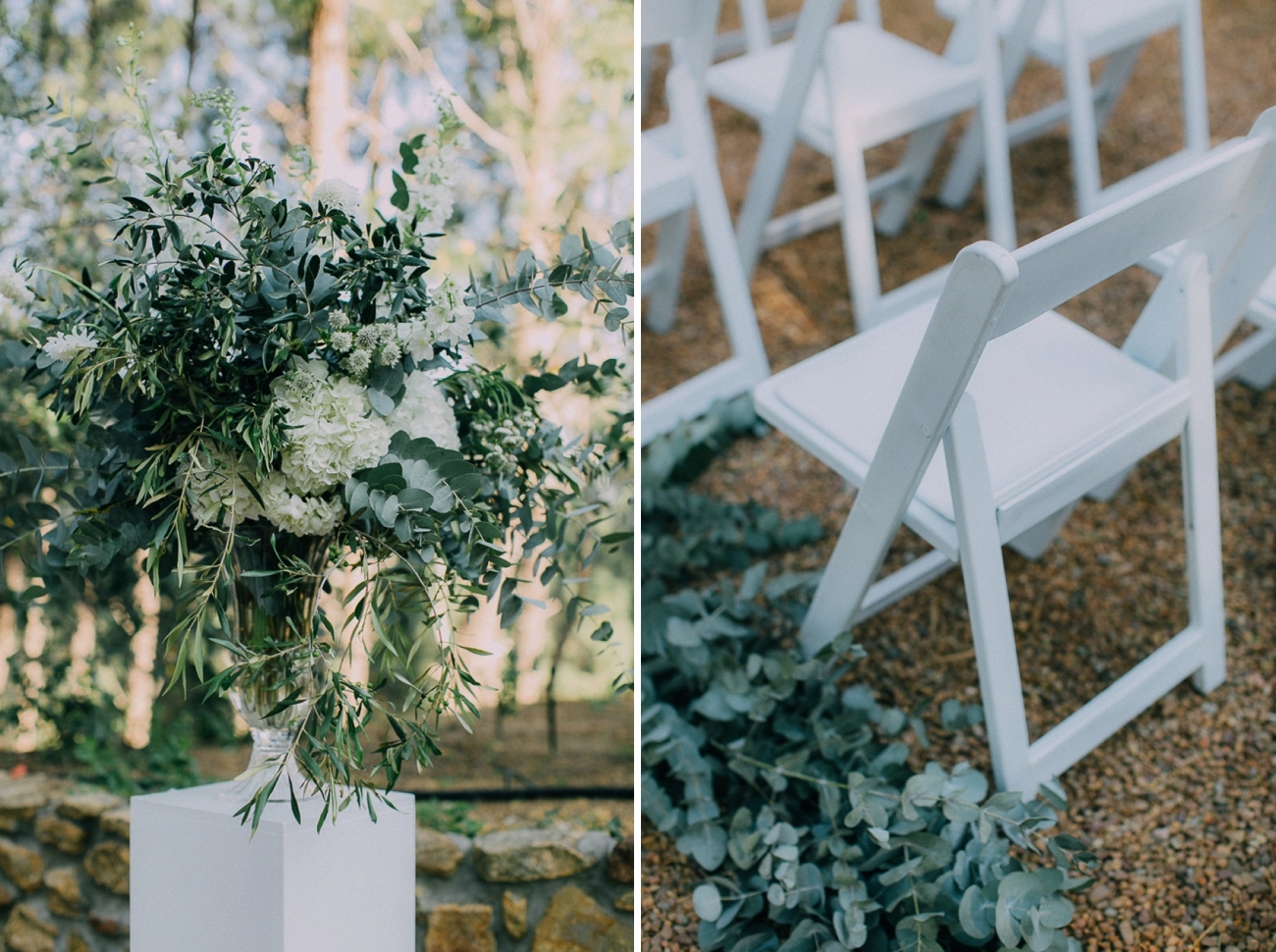 Wedding Details
One of my favourites was the canvas we'd made to honour those who weren't with us on the day. Because of the possibility of rain, we might have needed to use the conference room for the ceremony. We had the canvas there for the purpose of covering up some of the whiteboards and as our way of honouring loved ones. When the ceremony was held outside, I knew that canvas needed to have pride of place because it ended up holding such a special reminder. It's now hanging at the top of our stairs in our home. Another favourite was the Polaroid guest cards. I love taking photos so I knew I wanted a photo-based guest book. We made cards for all the guests where they could attach a Polaroid pic of themselves and write a message.
DIY Elements
Many! My mom made all the wooden underplates. We packed and labelled welcome bags for our guests ourselves. We also did all the tags for the favours, the place cards, the signs and the guest cards ourselves. The cupcake boxes were even folded and tied by my obliging parents the evening before! I wanted to work in as many of these DIY elements, not only to save costs, but as a way to feel like the wedding was our own. It was tough – we work long days and finding time to tie ribbon isn't the easiest but we made it happen. None of it would have been possible without my mom though – she was an absolute superstar.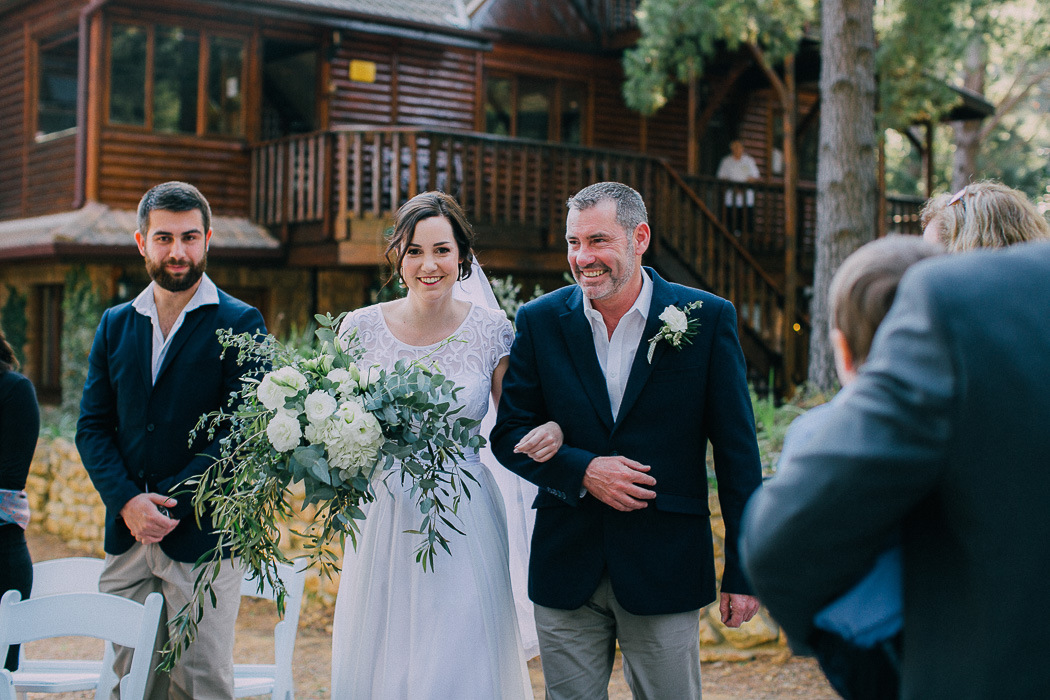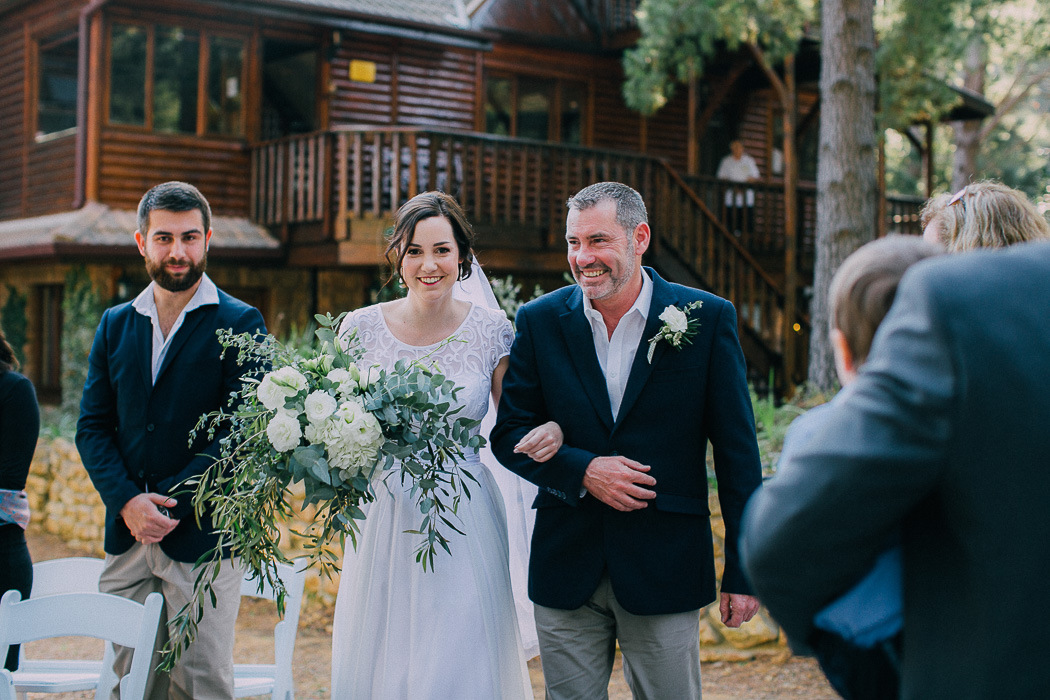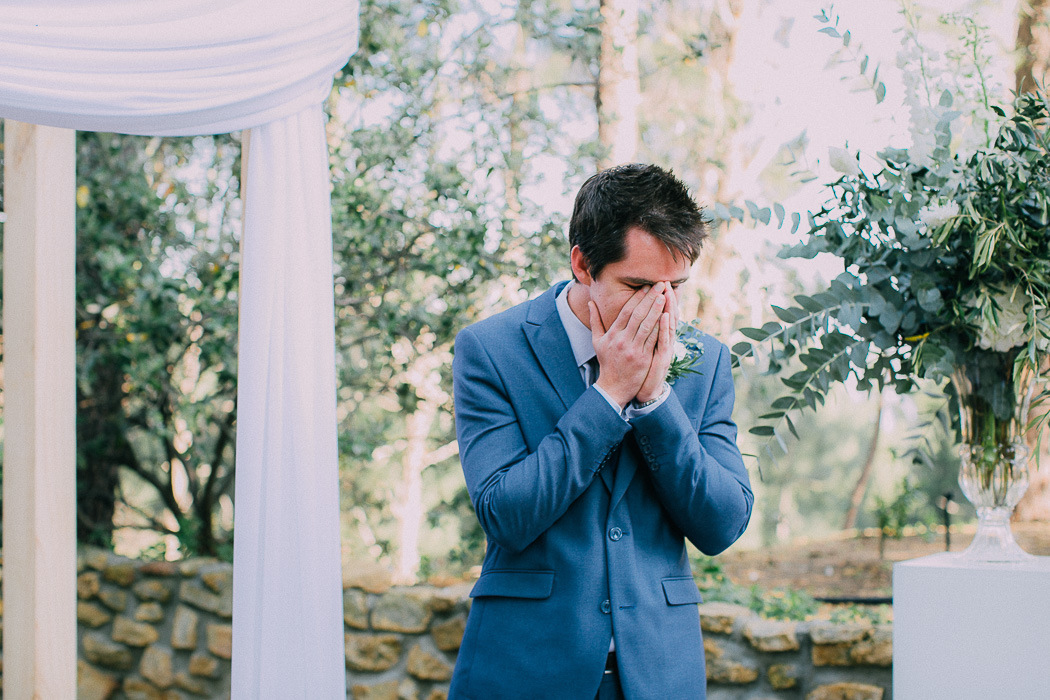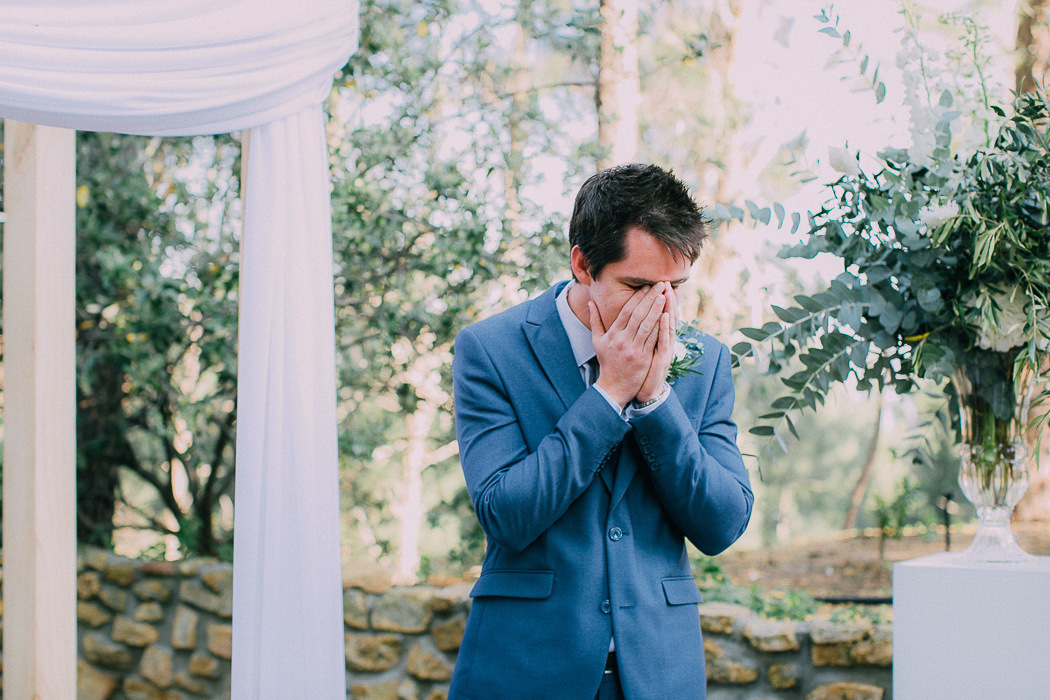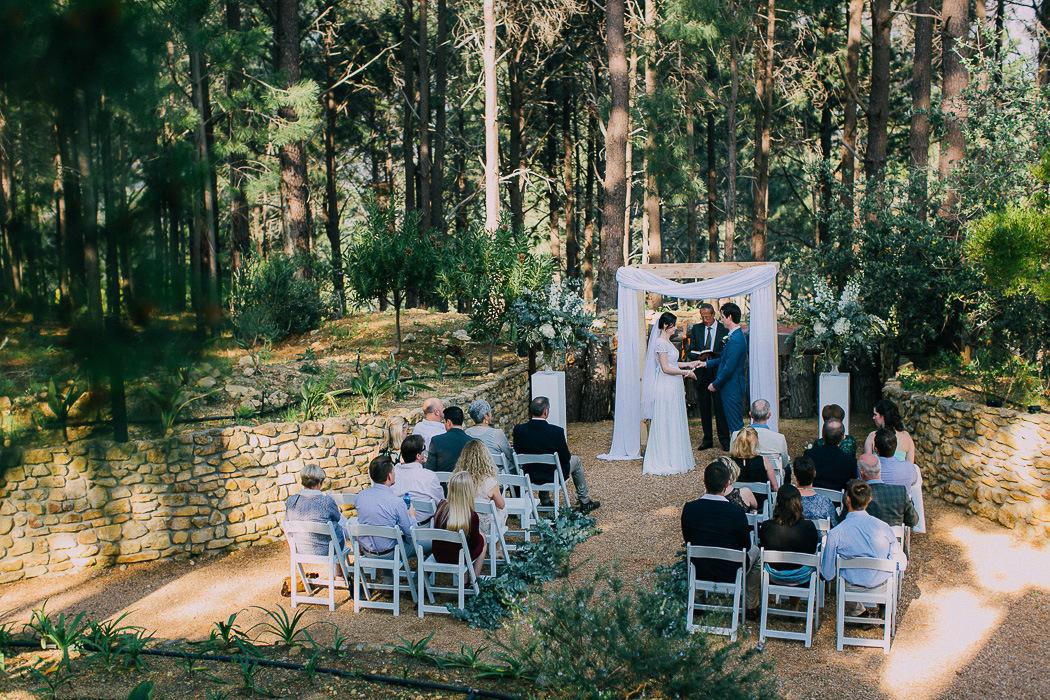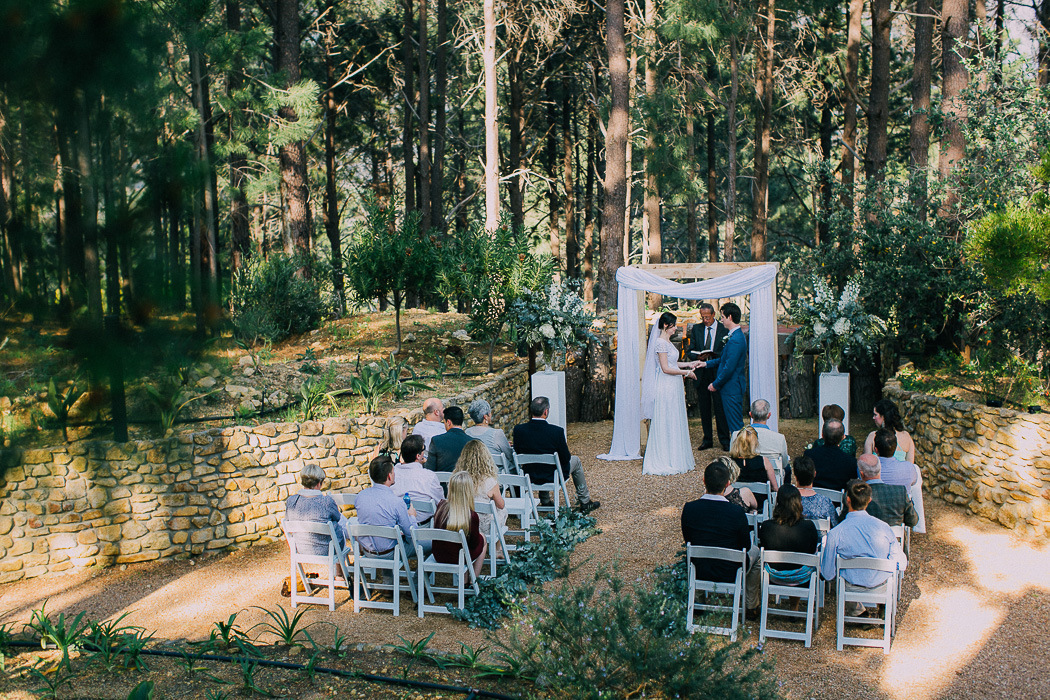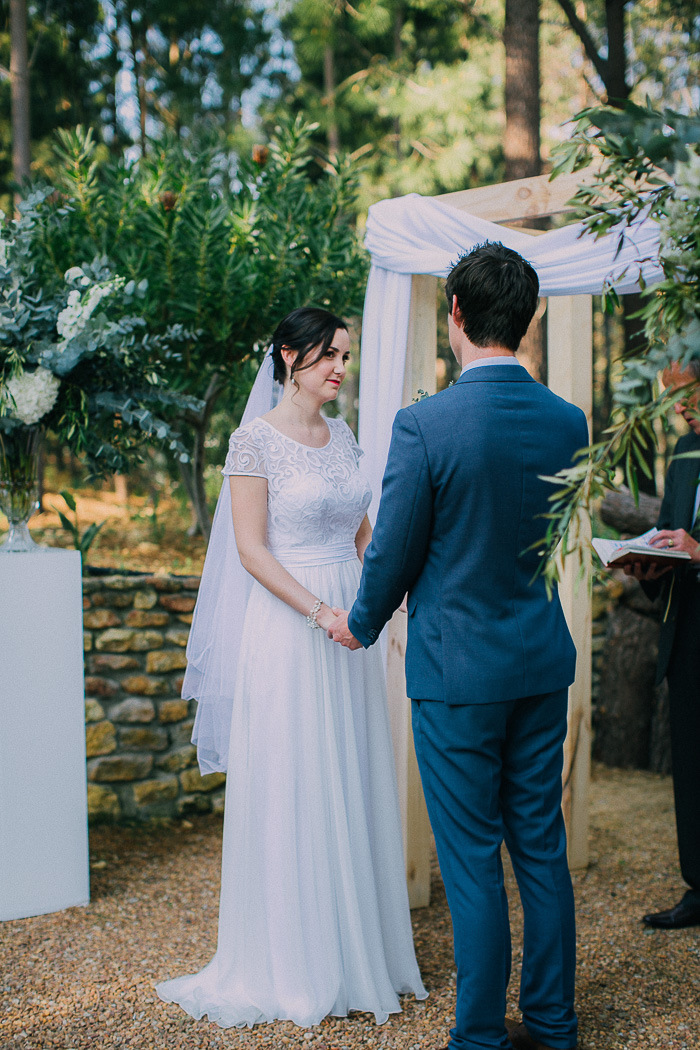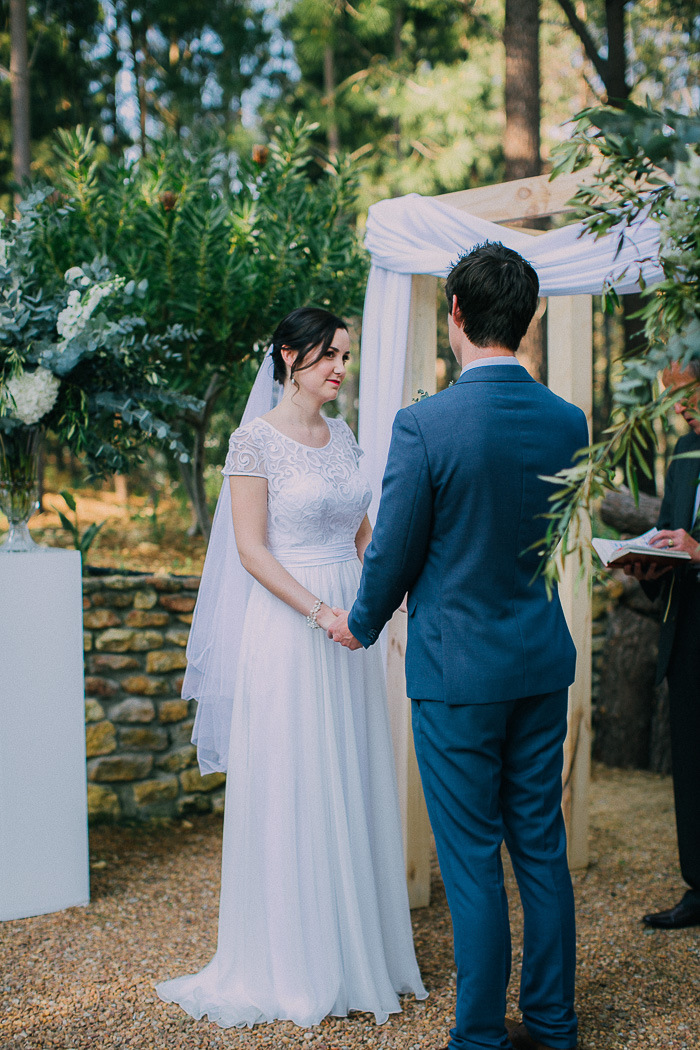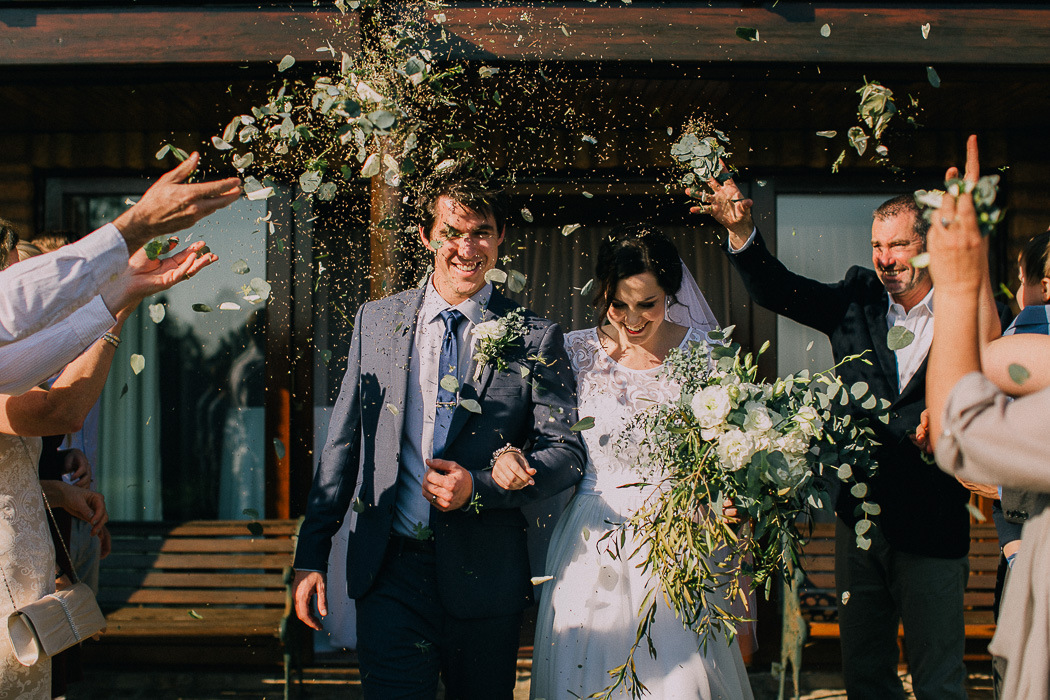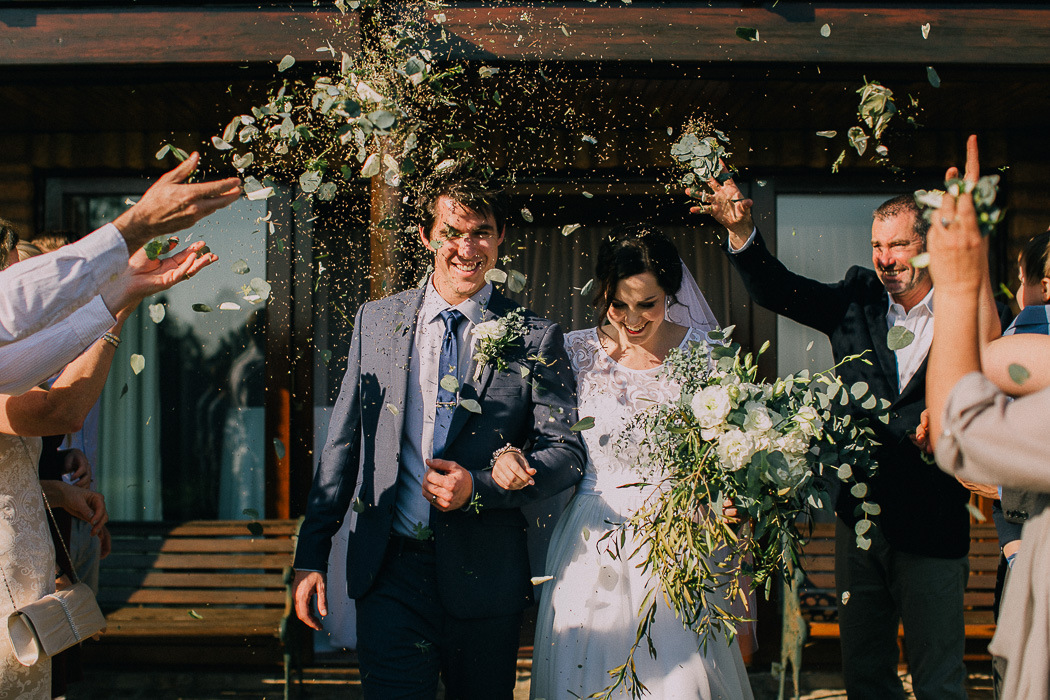 The Dress
I had my dress made by the talented Robyn Roberts and her team. I'd seen a picture of a dress on Pinterest (where else?) that I'd absolutely loved and asked her to recreate it. I was hesitant about having a dress made but she was so wonderful to work with. She understood my hangups and my vision and nothing was too much trouble for her.
The Flowers
Lots of greenery and lots of variety! I didn't have any particular demands about flowers – as long as they all tied in with my vision of a relaxed, natural wedding.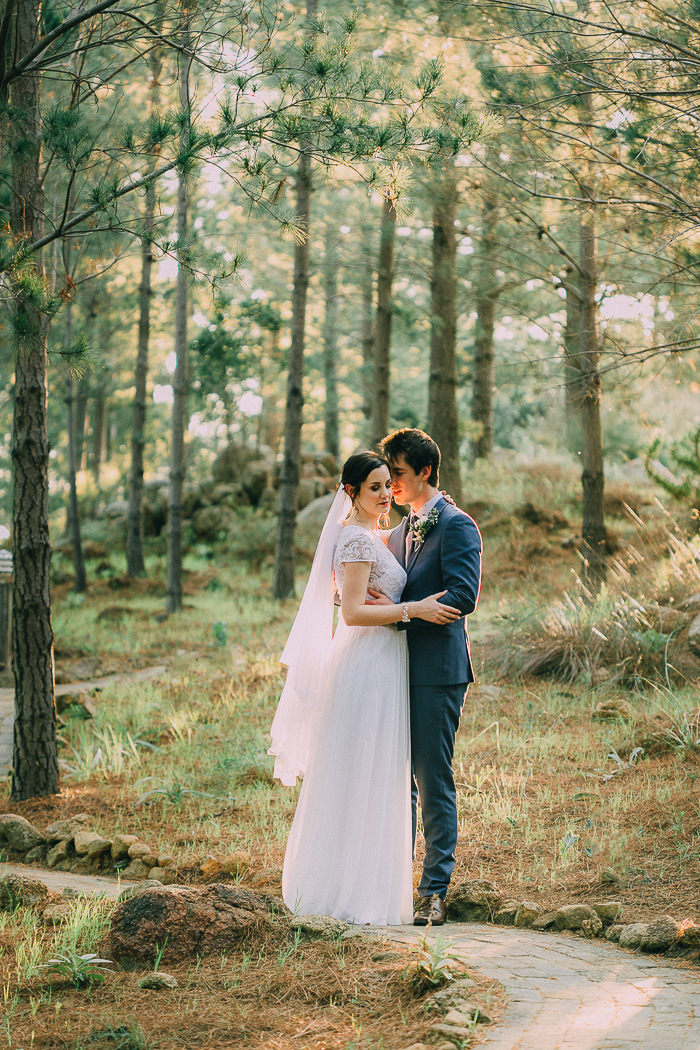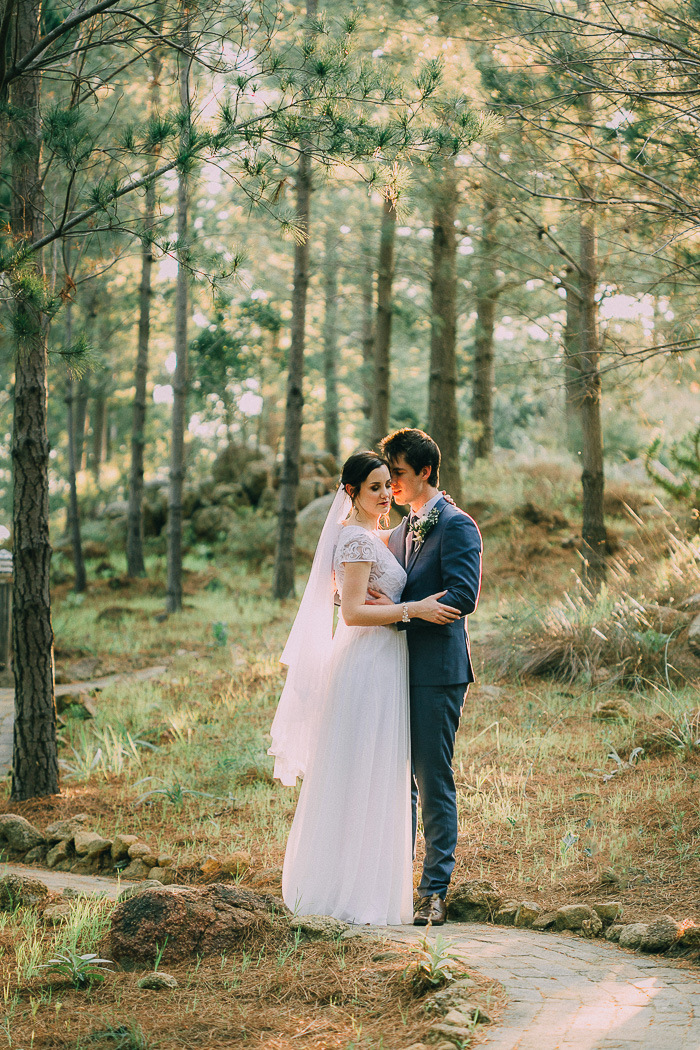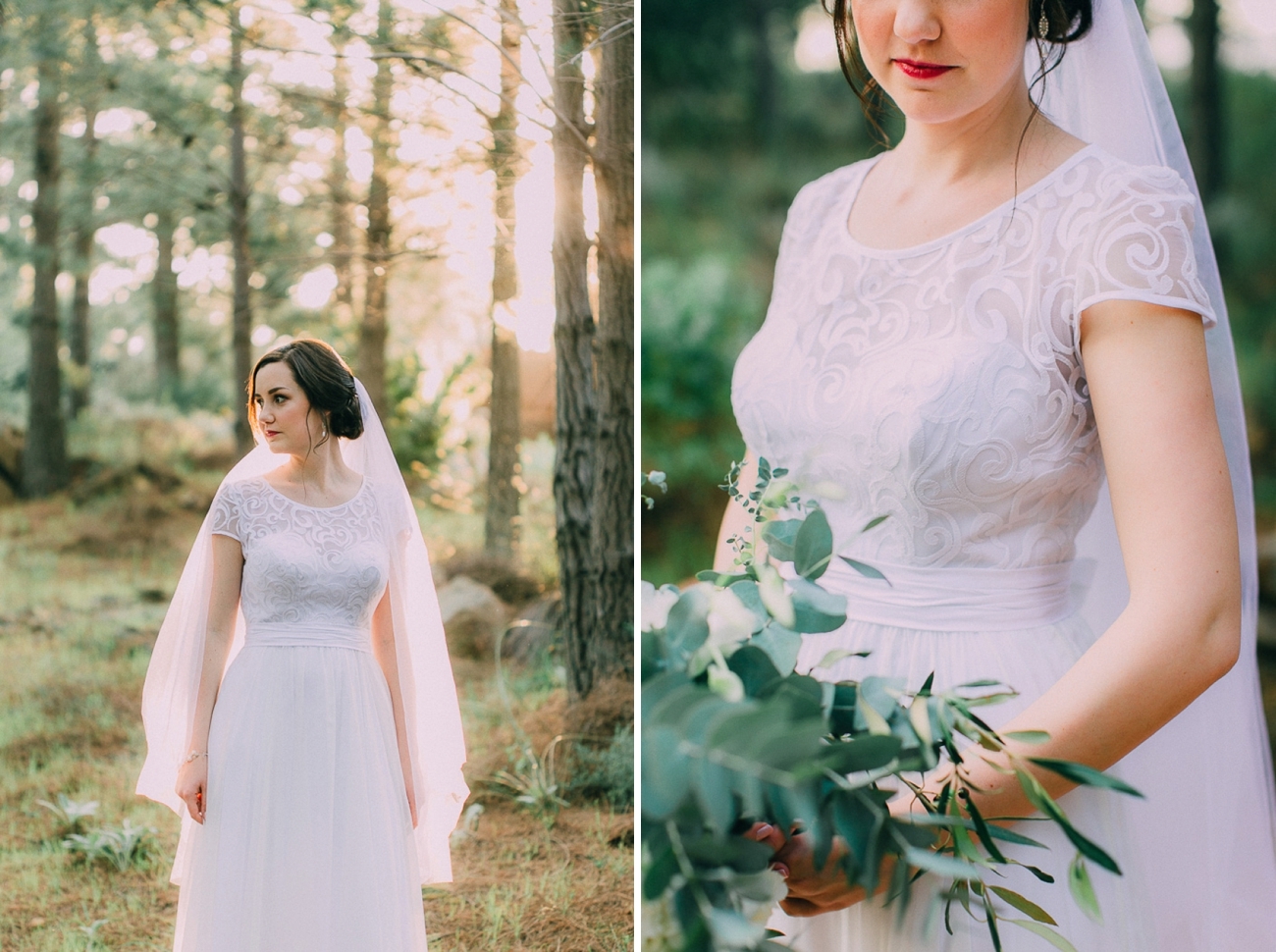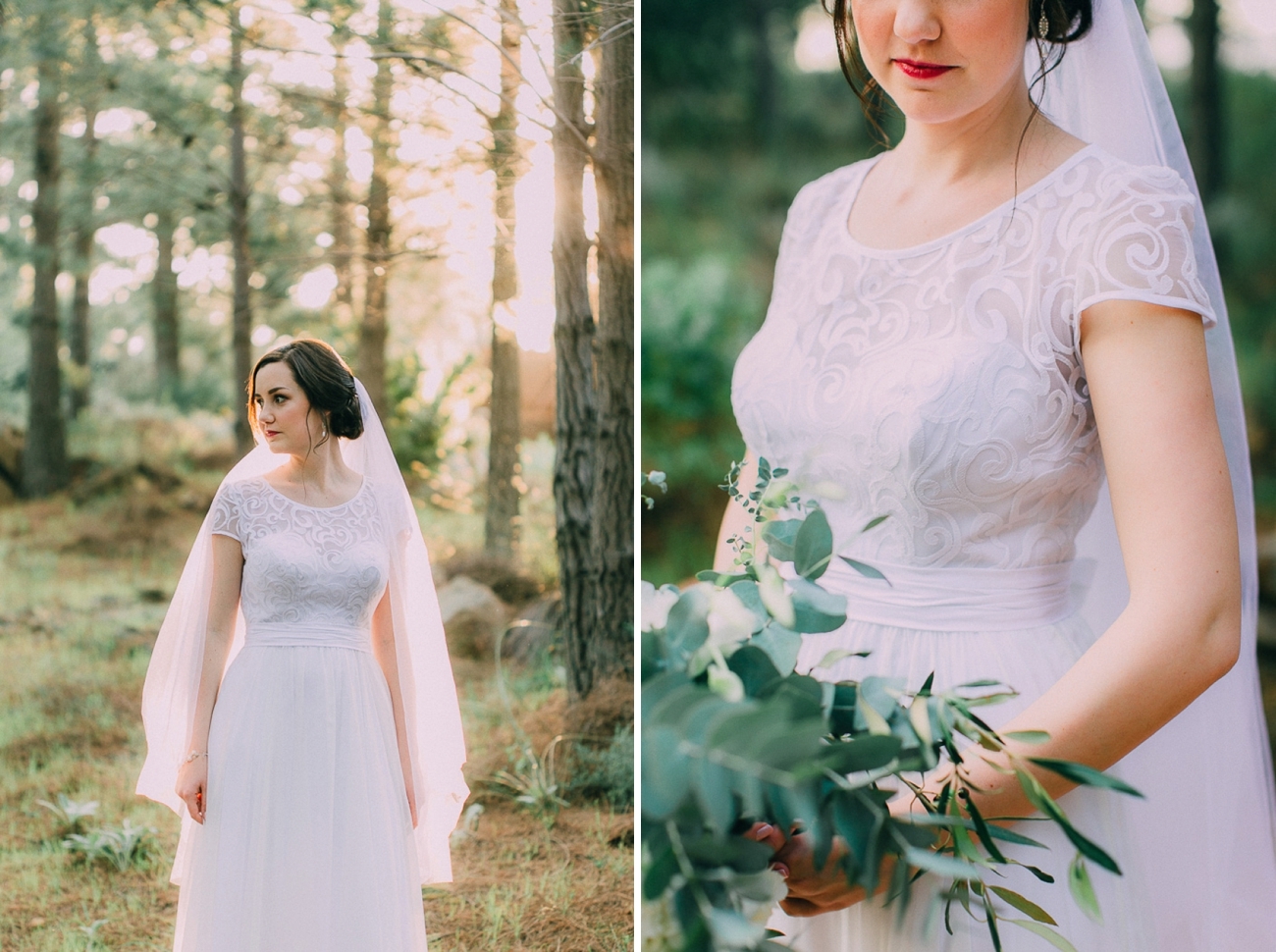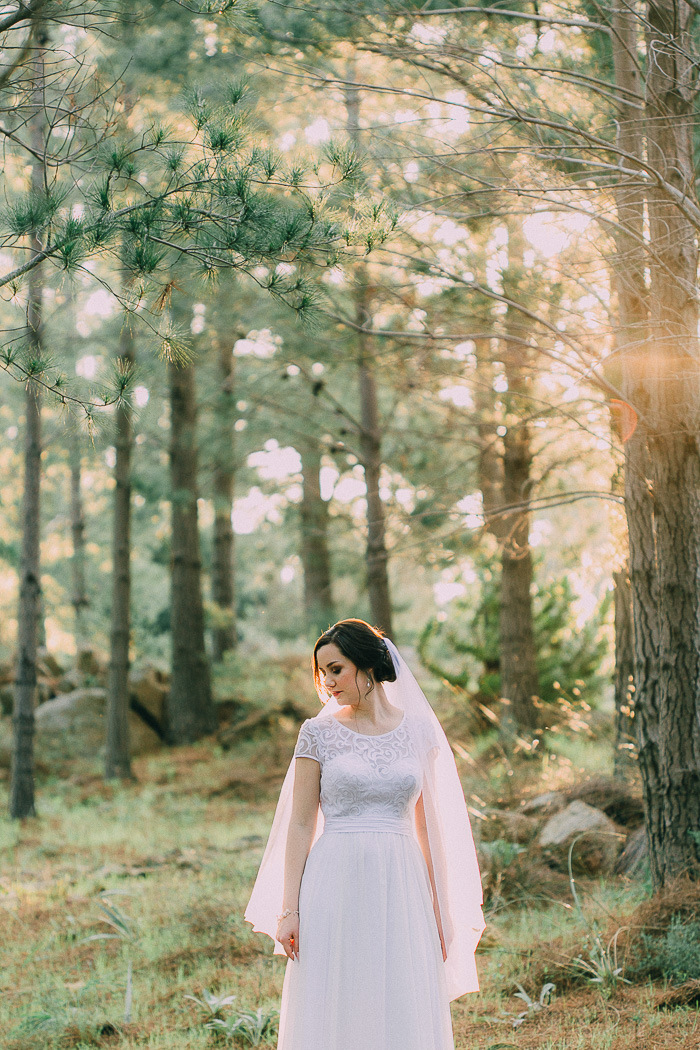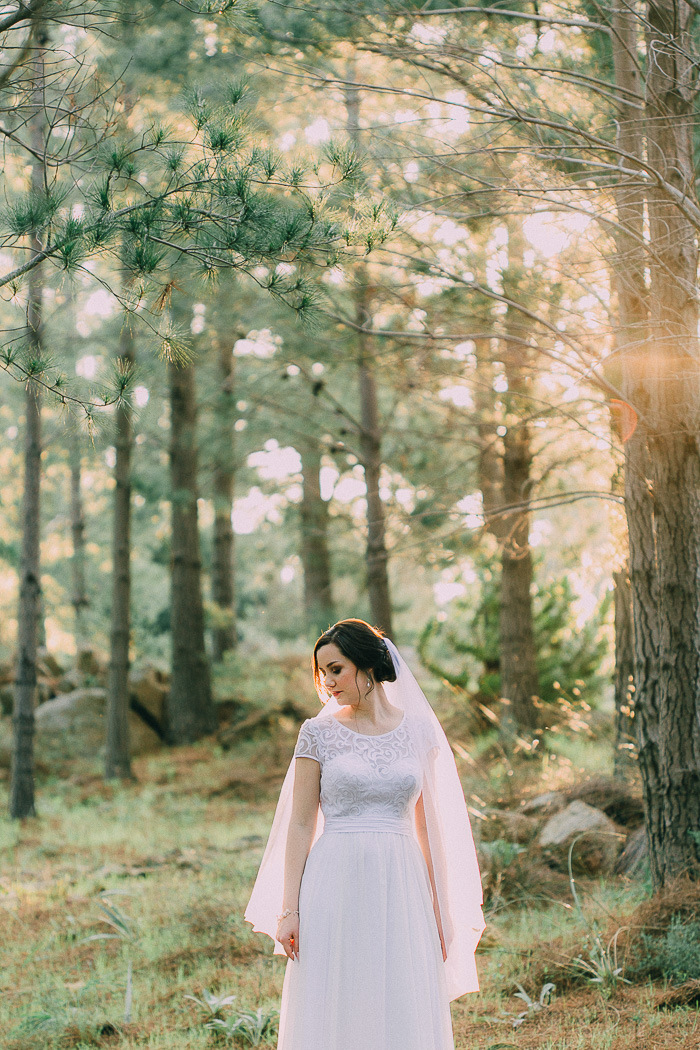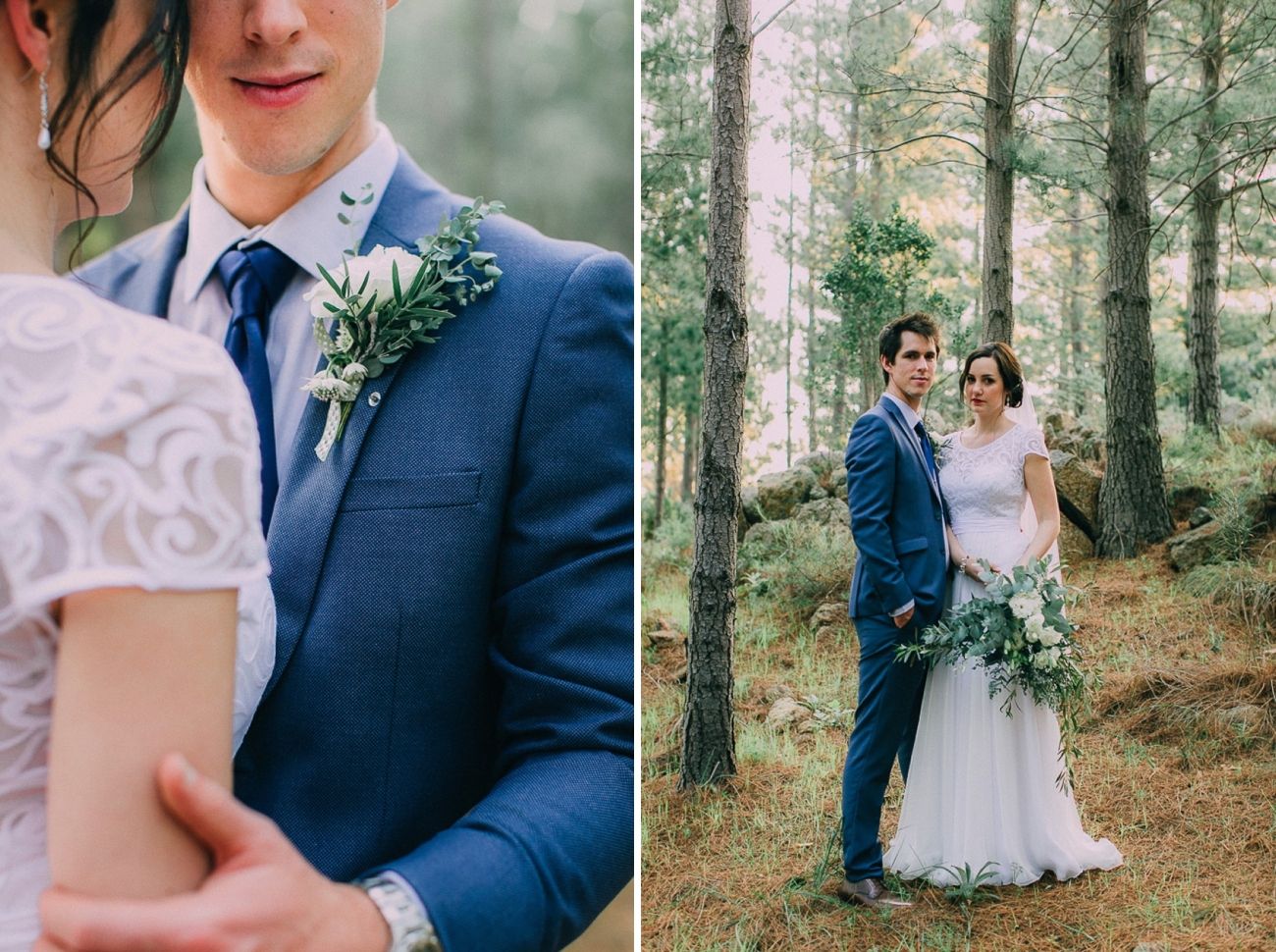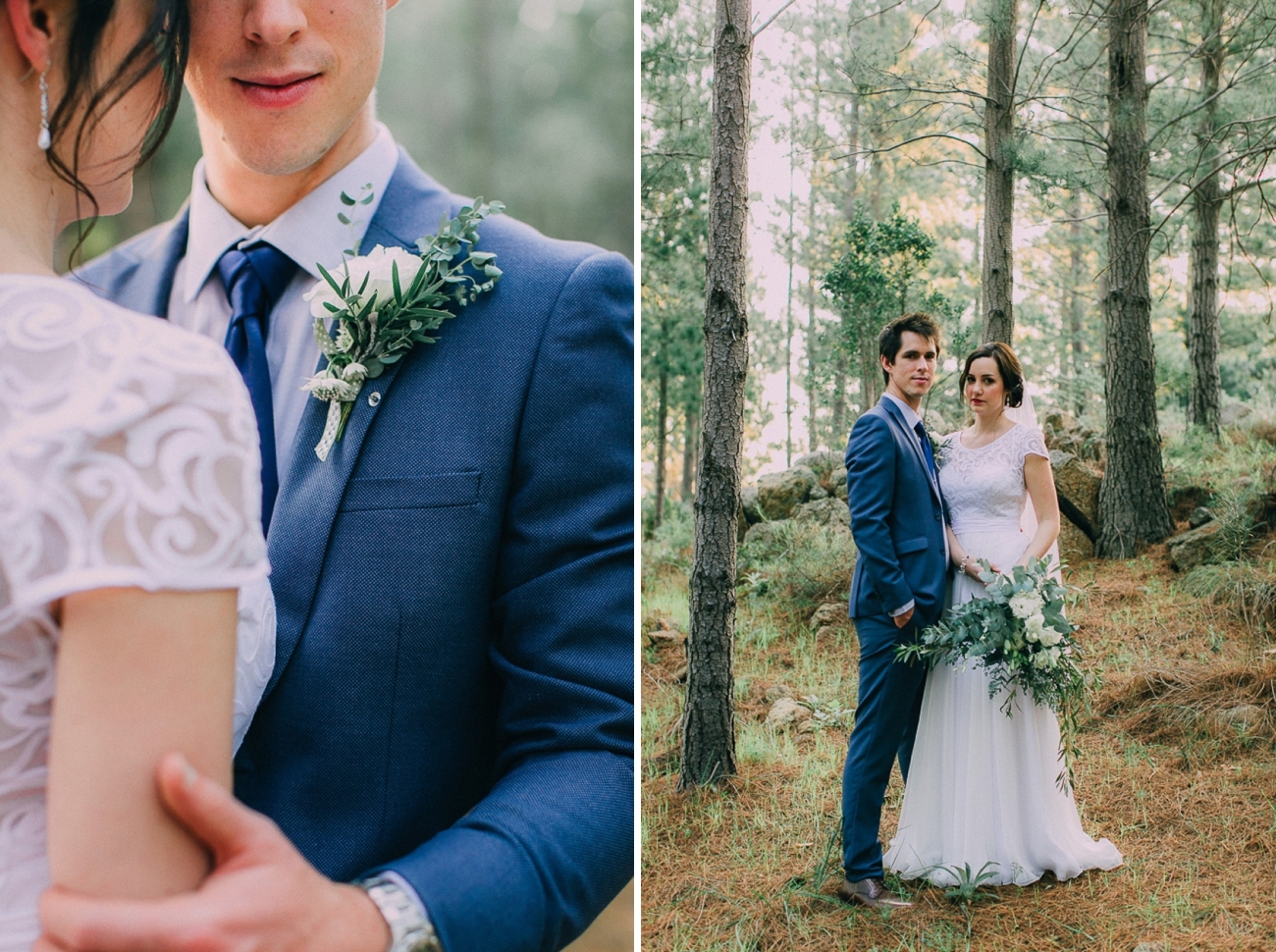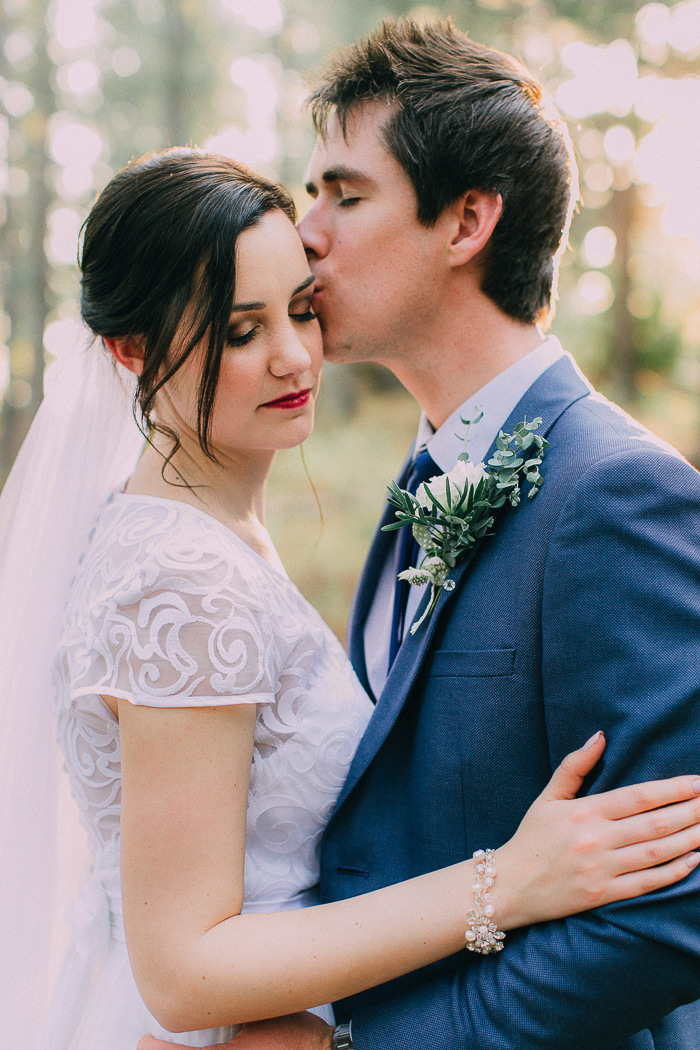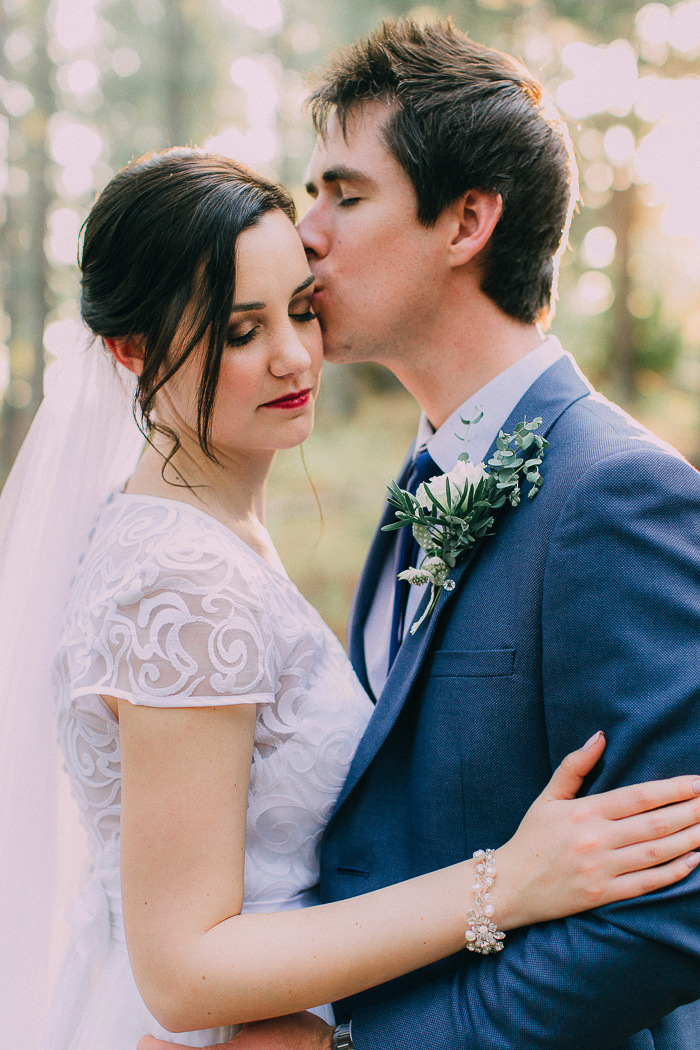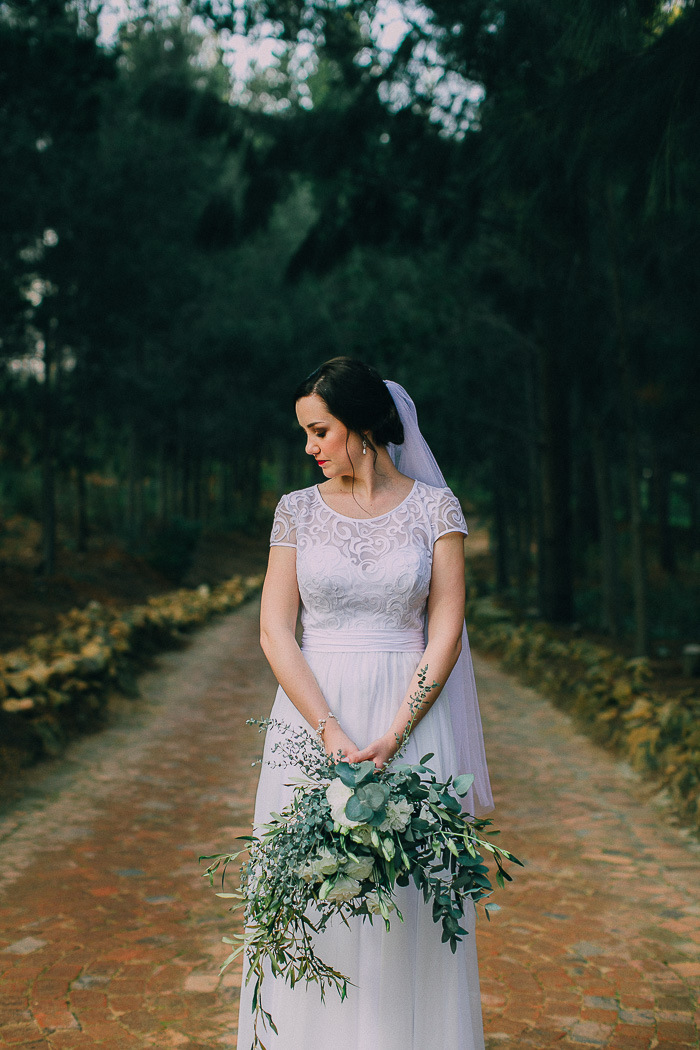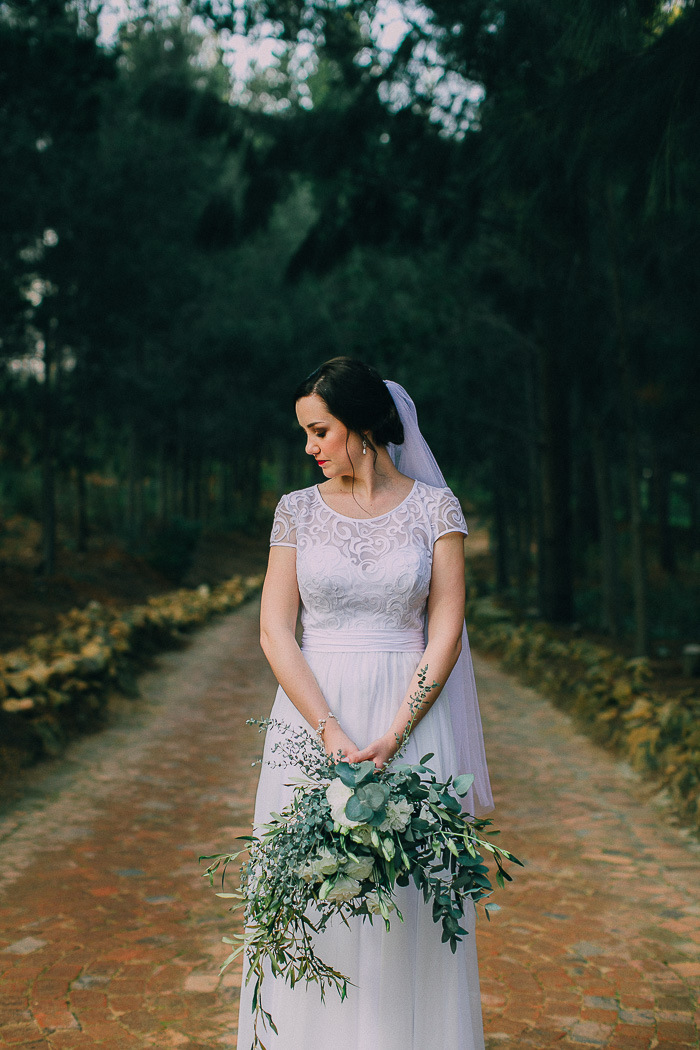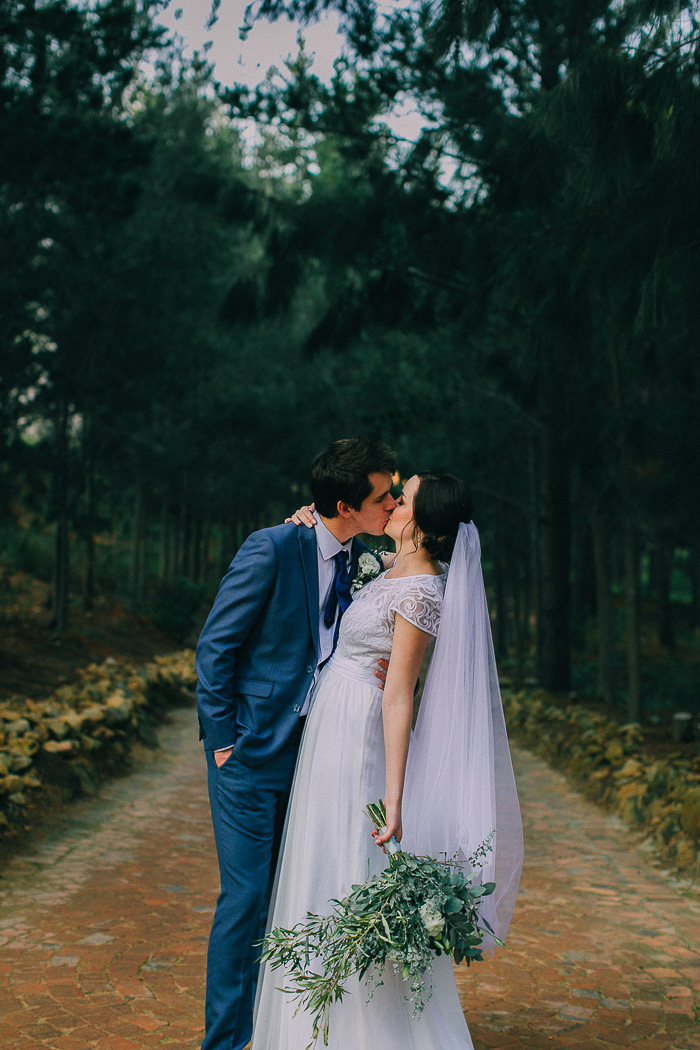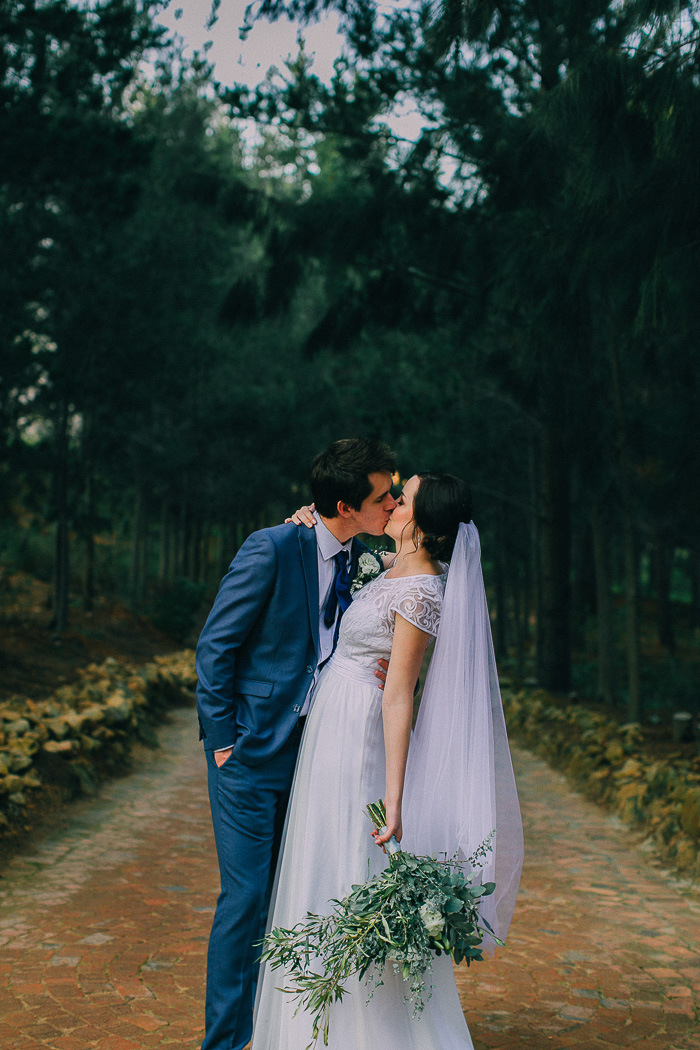 Memorable Moments
Wow – how do I choose?! The walk with my dad was a memory I'll treasure forever. I'm so lucky to have had him with me on the day. I'll also treasure the moment I saw how emotional Bruce was seeing me for the first time as his bride. I think we were both overwhelmed in that moment. We had been through a lot in our six years together and that moment brought it all home for us. Another favourite was Bruce's speech. It was both humiliating and heartfelt – summing up our relationship perfectly!
Proudly South African Details
We gave our guests olive oil from Goedgedacht – a farm outside Cape Town that does a lot of work with rural children. This small gift also held a particularly special meaning for me. My grandad had paid to have a few olive trees planted on the farm in honour of my late gran. Our family had gone to Goedgedacht a month or so before our wedding for the dedication ceremony and that's when we bought all the favours.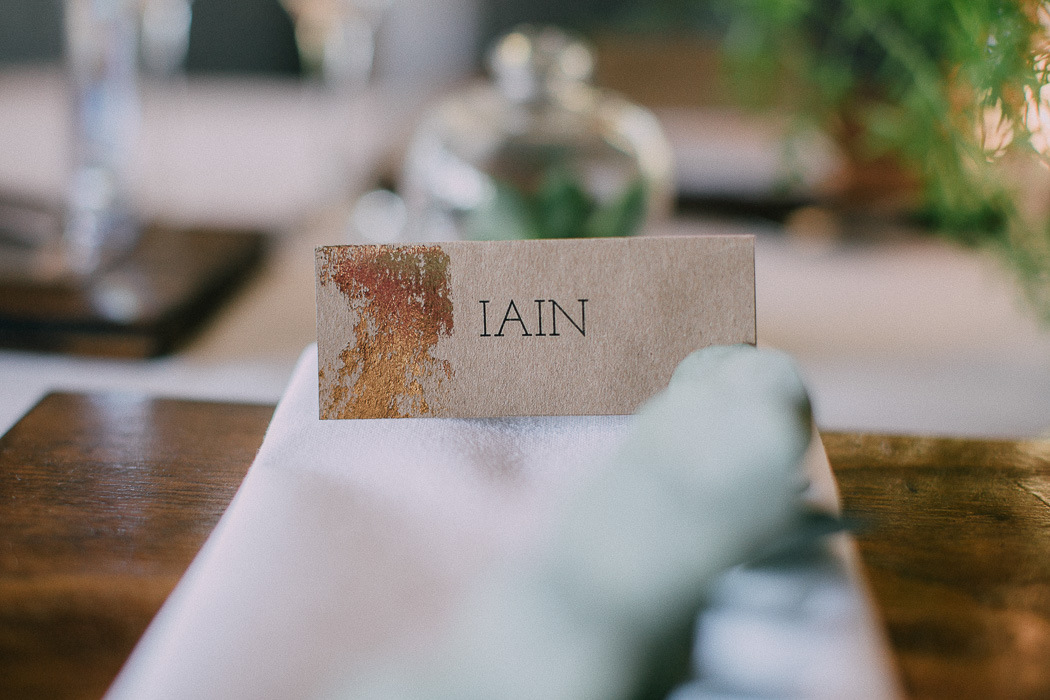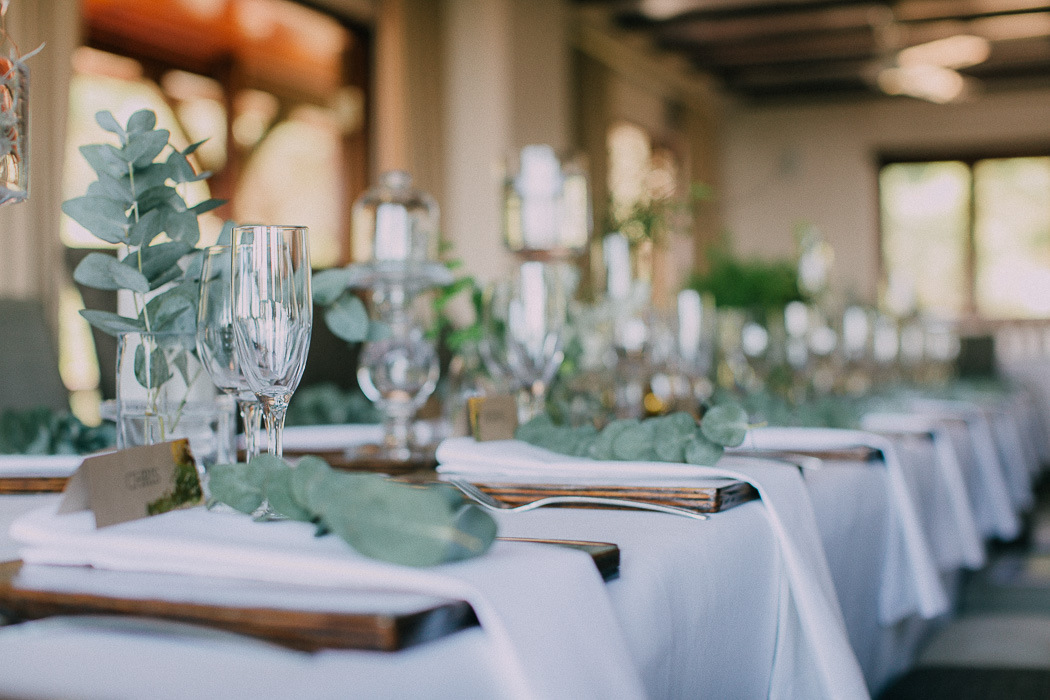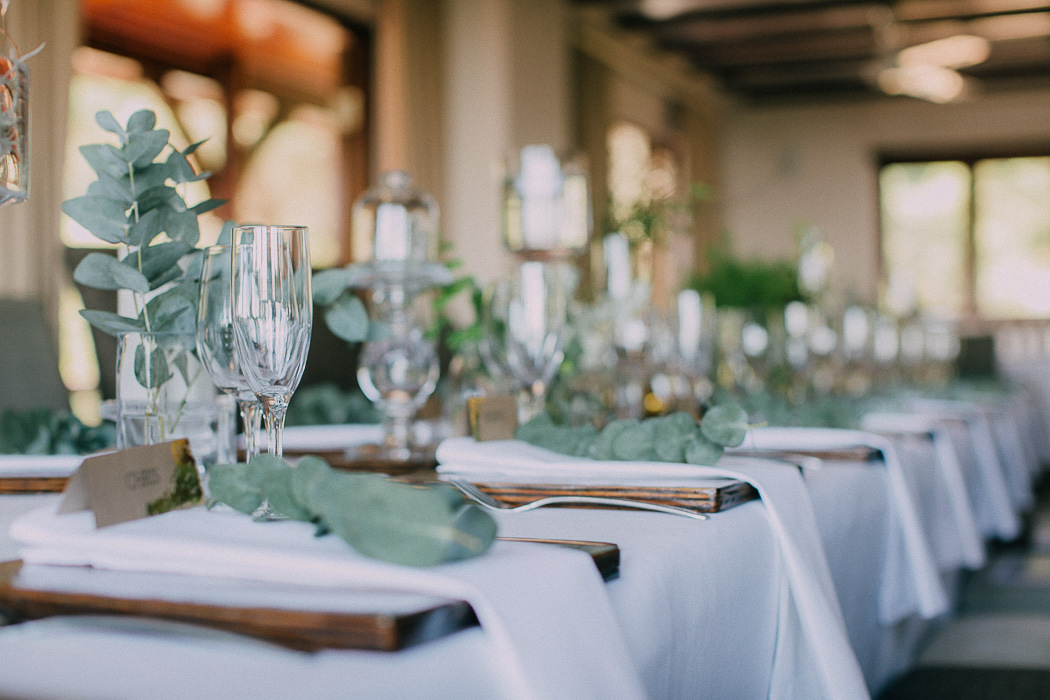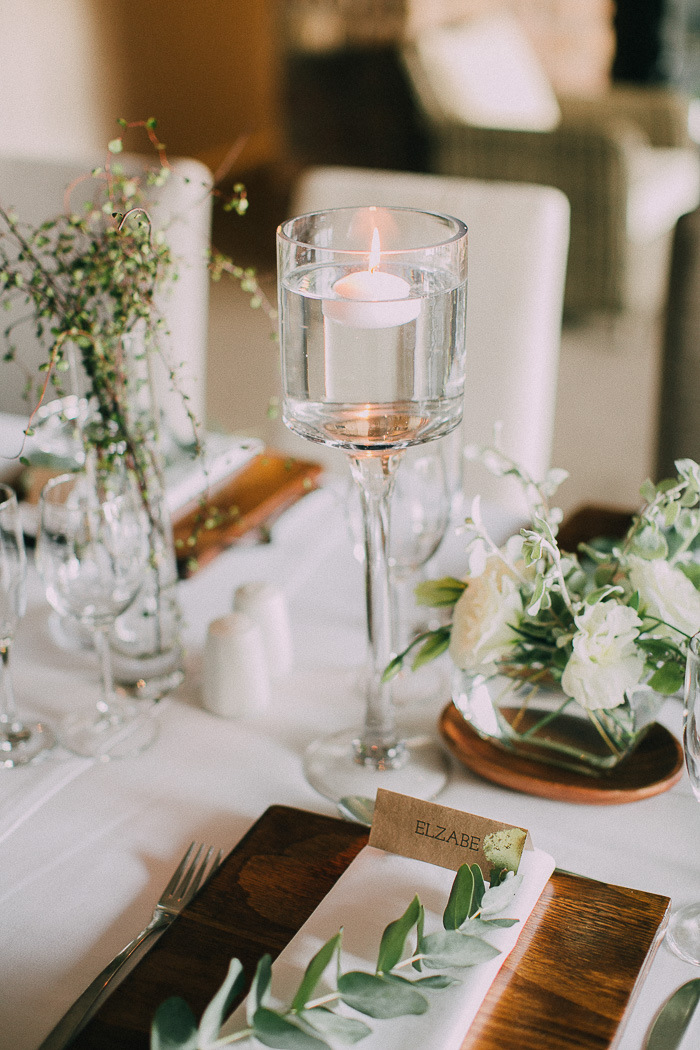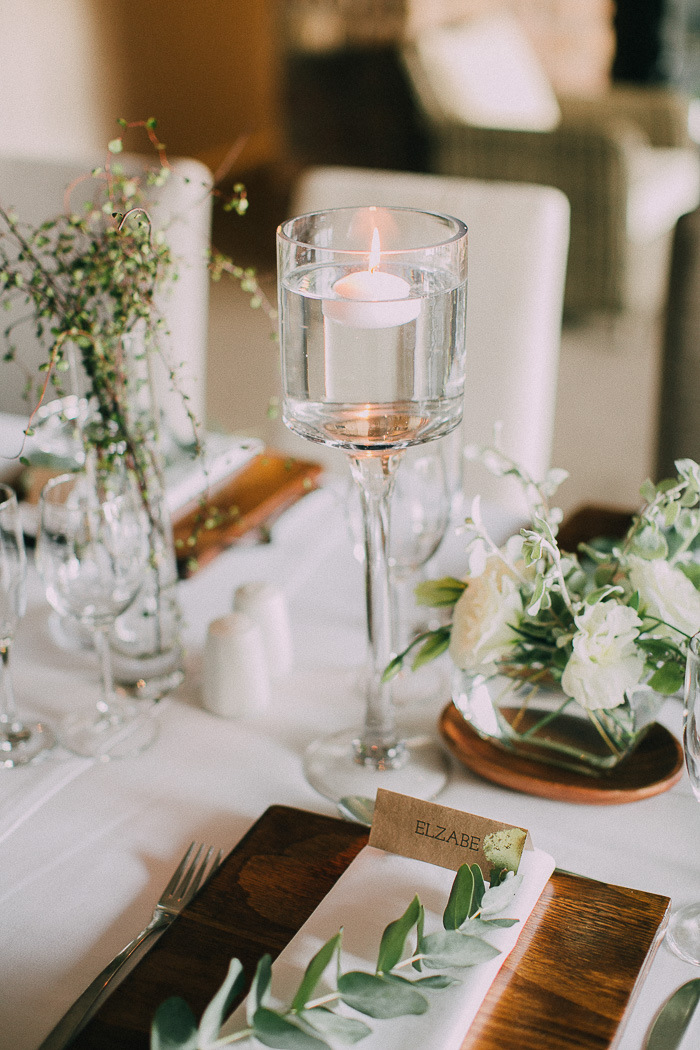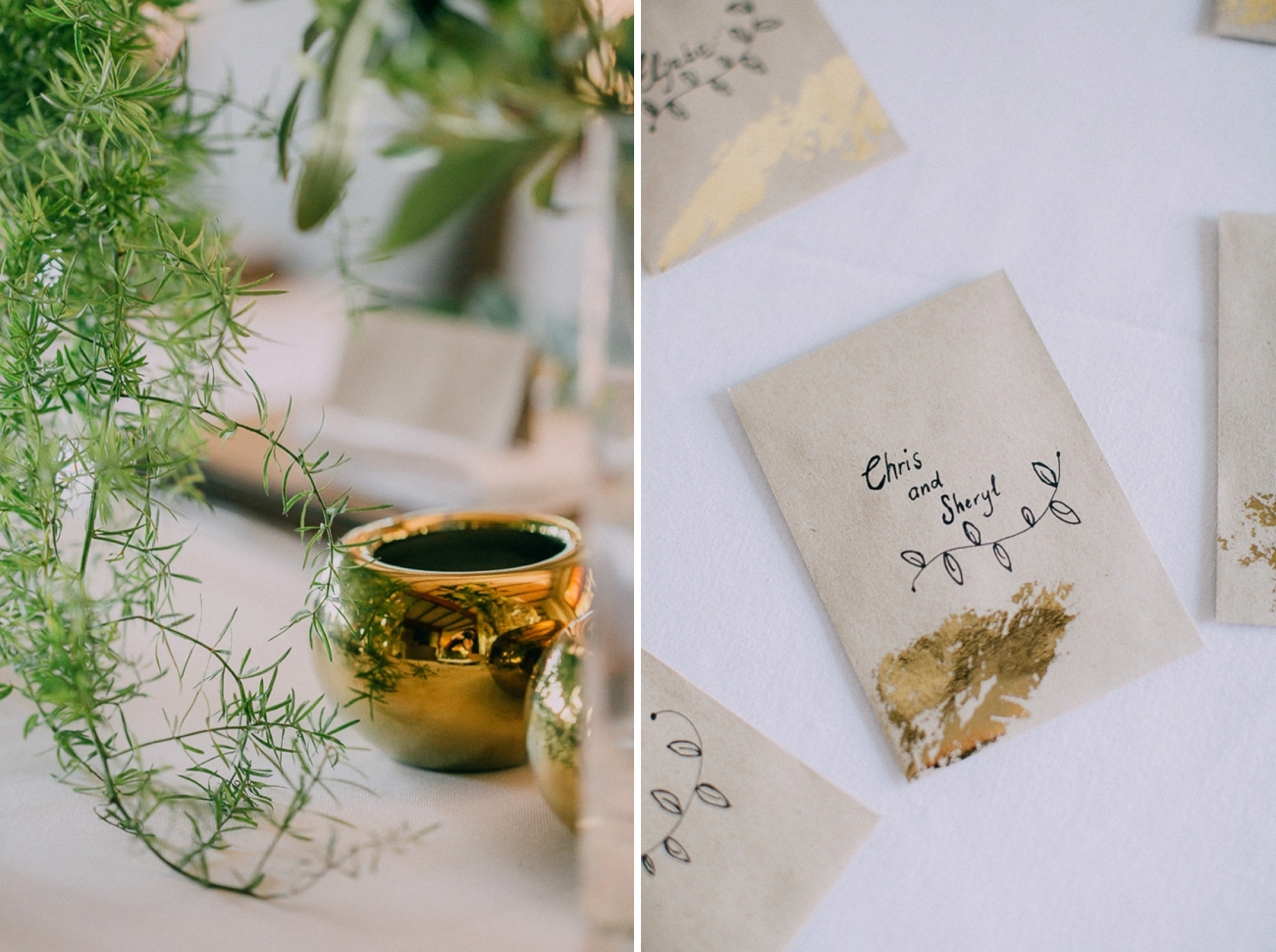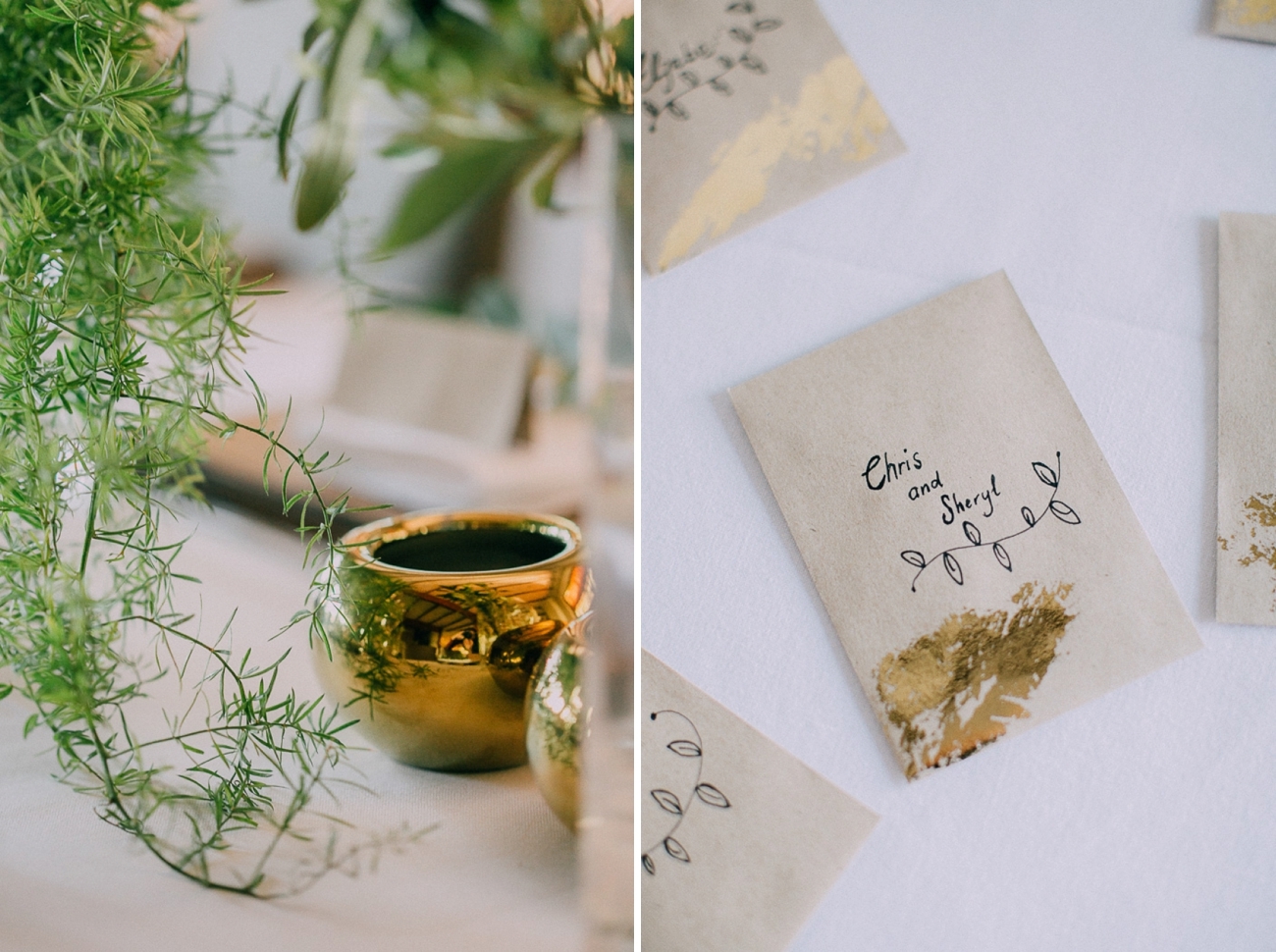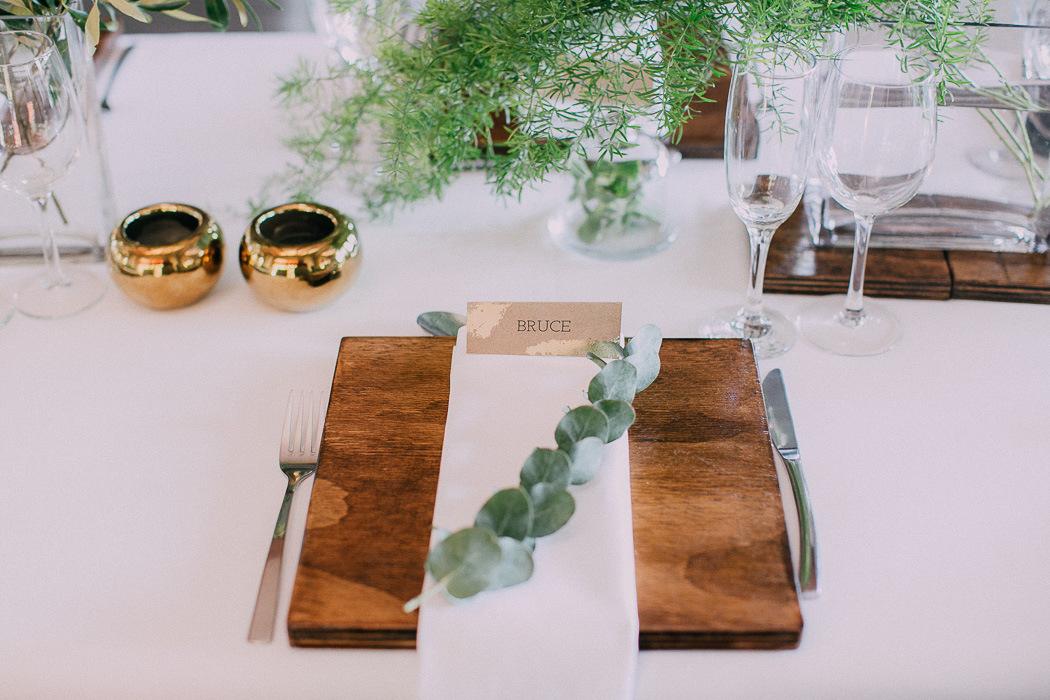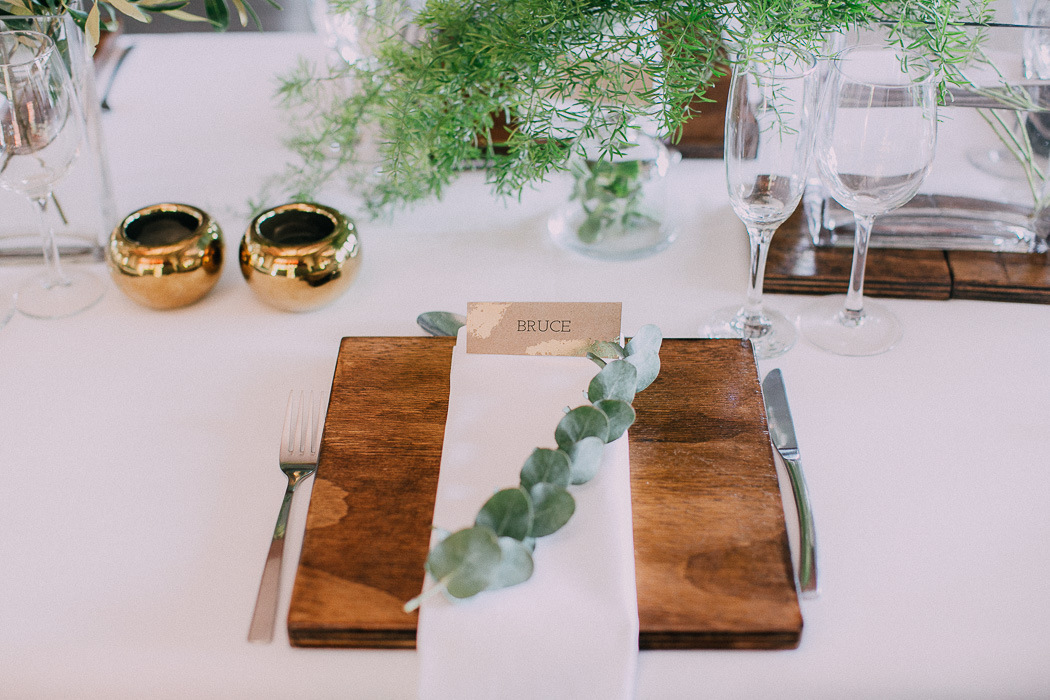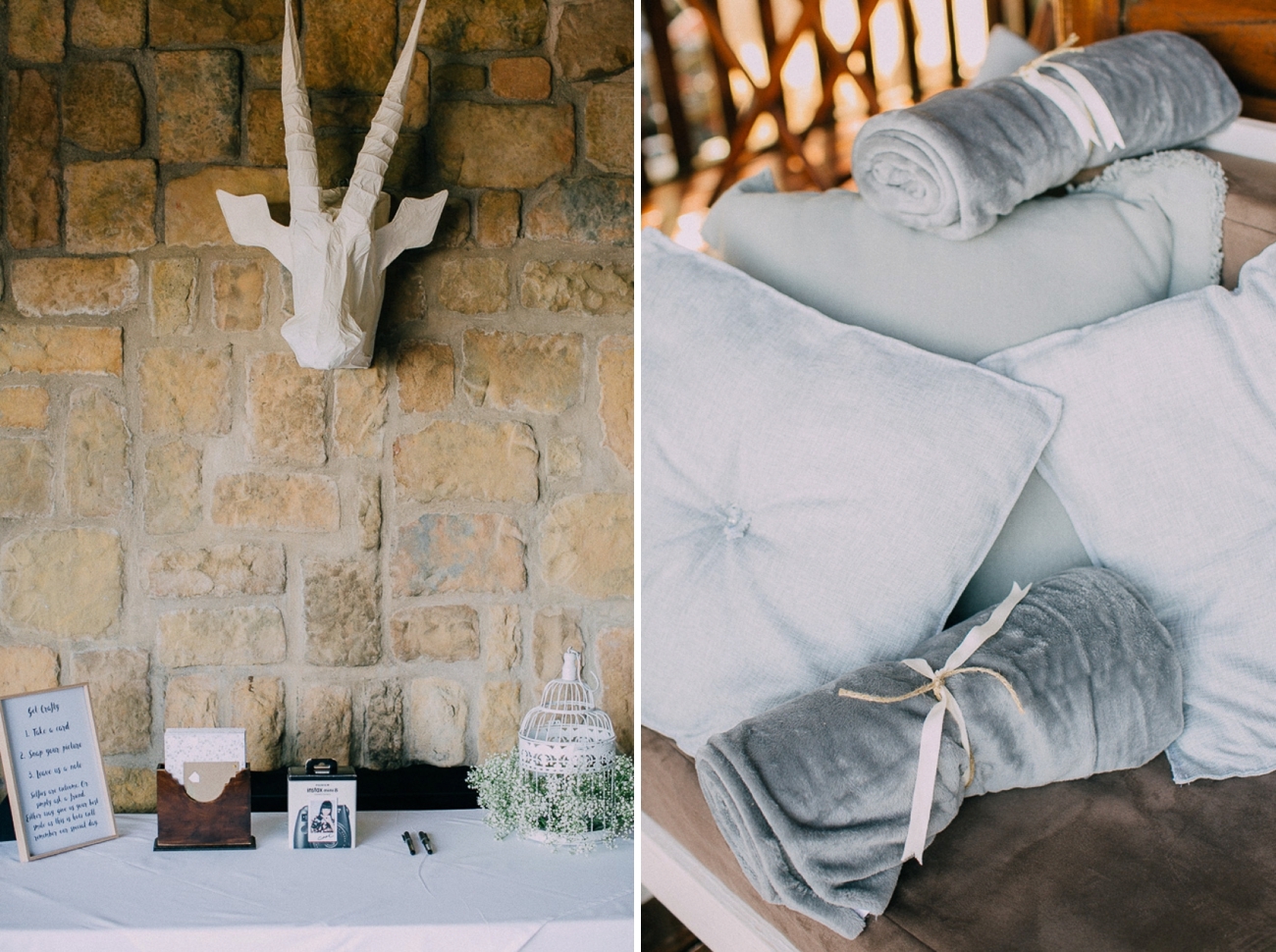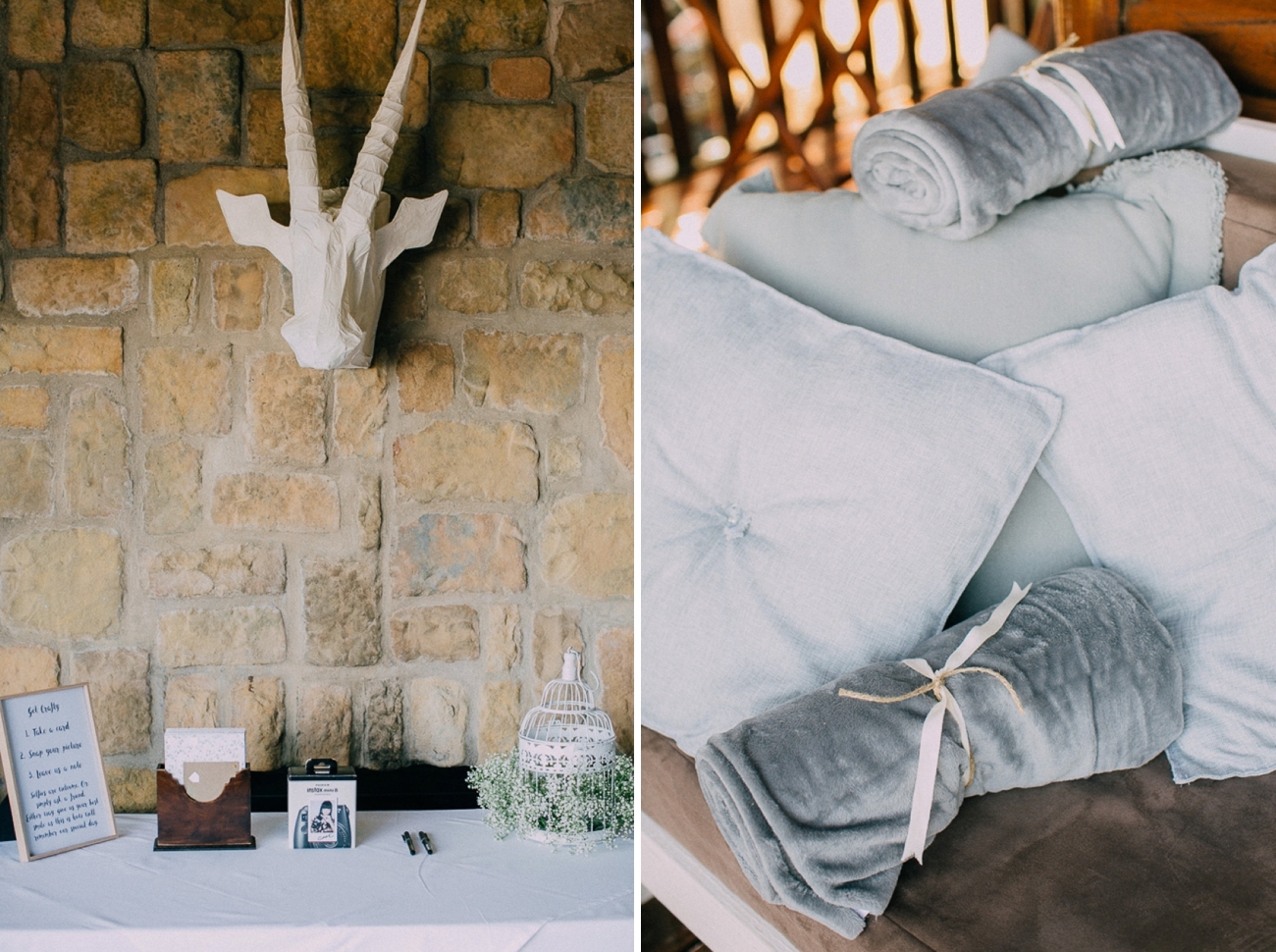 Best Decision
Sticking to the plan! It's easy to get distracted by trends and other weddings. I kept reminding myself why we'd chosen to have a small wedding. We ended up putting a lot of time and effort into small details, which in the end, made our guests feel very special – which is exactly what we wanted. Another big thing: investing in Michelle (our photographer). She captured our day so beautifully and unobtrusively. Her and her assistant, Anel, made us feel so comfortable. They pretty much became part of the wedding and the family that day.
Advice for Future Brides & Grooms
Make time for non-wedding talk. It can get overwhelming and stressful but don't let that affect your relationship. After all, your relationship is the real reason for the wedding. And you'll hear this one a lot: enjoy your day. It goes so quickly and you'll find yourself missing that feeling of being surrounded by love.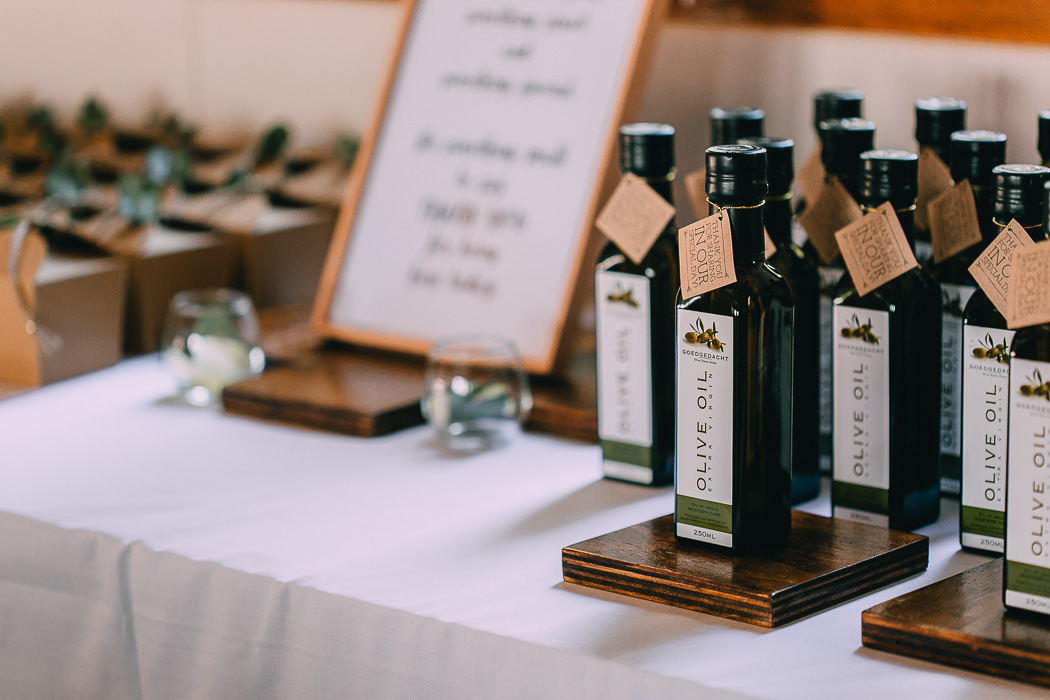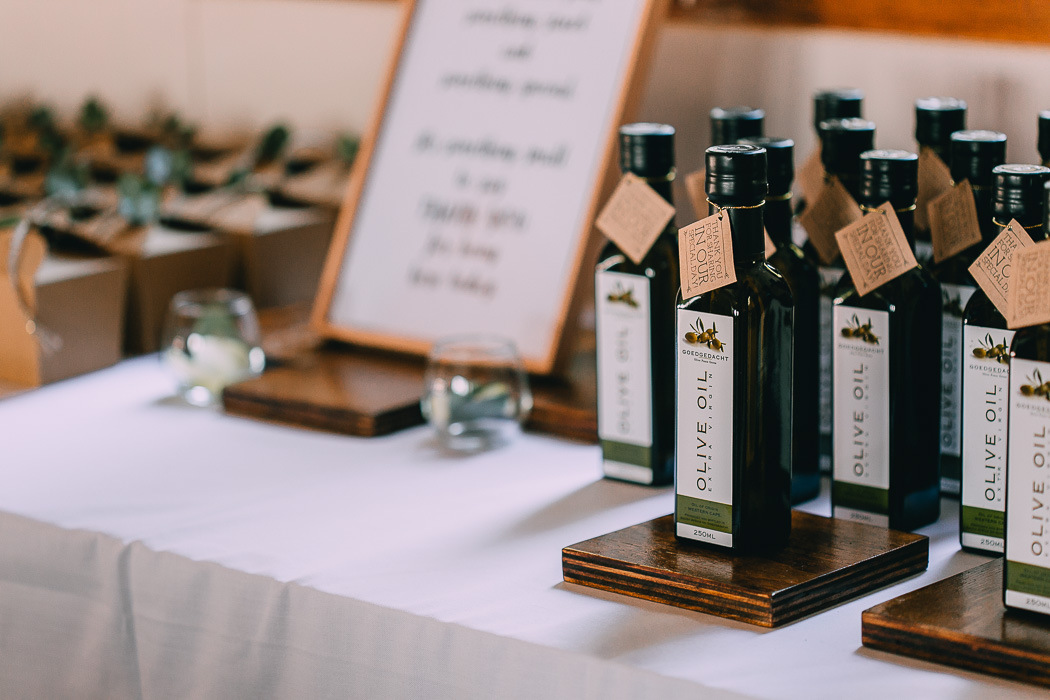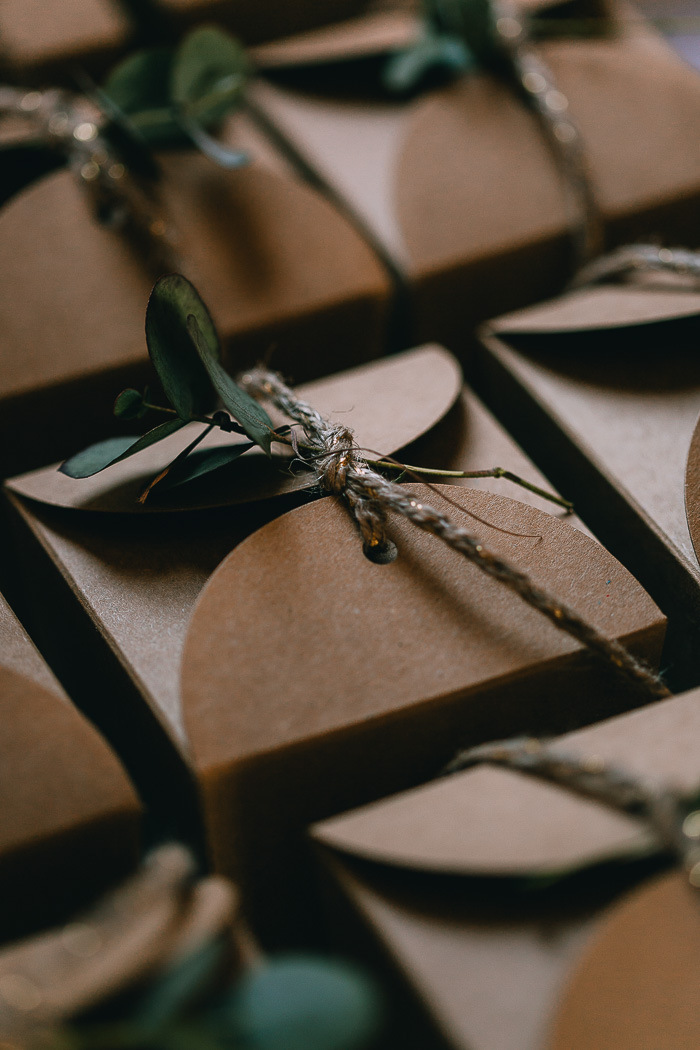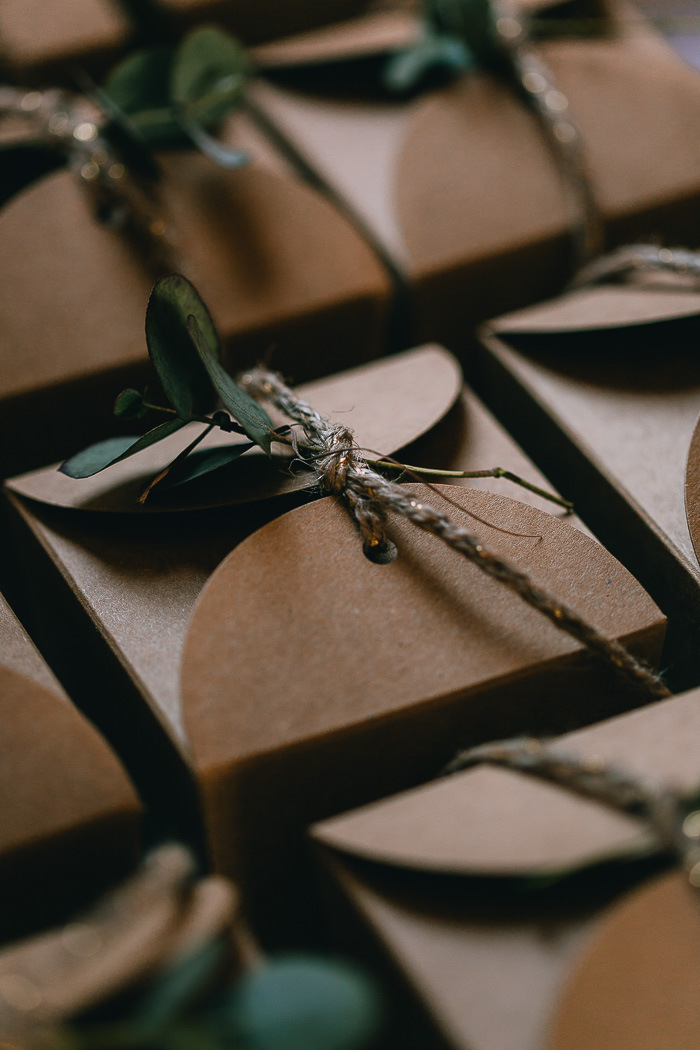 You can see more from this wedding on Michelle du Toit's blog.
SERVICE PROVIDERS
Venue & catering: Lalapanzi Lodge | Photography: Michelle du Toit | Flowers & décor: Blooming Wonderful | Bride's dress: Robyn Roberts | Bride's accessories: Accessorize; Lovisa | Hair & makeup: Adri Hugo | Groom's attire: Woolworths | Hiring: Downings