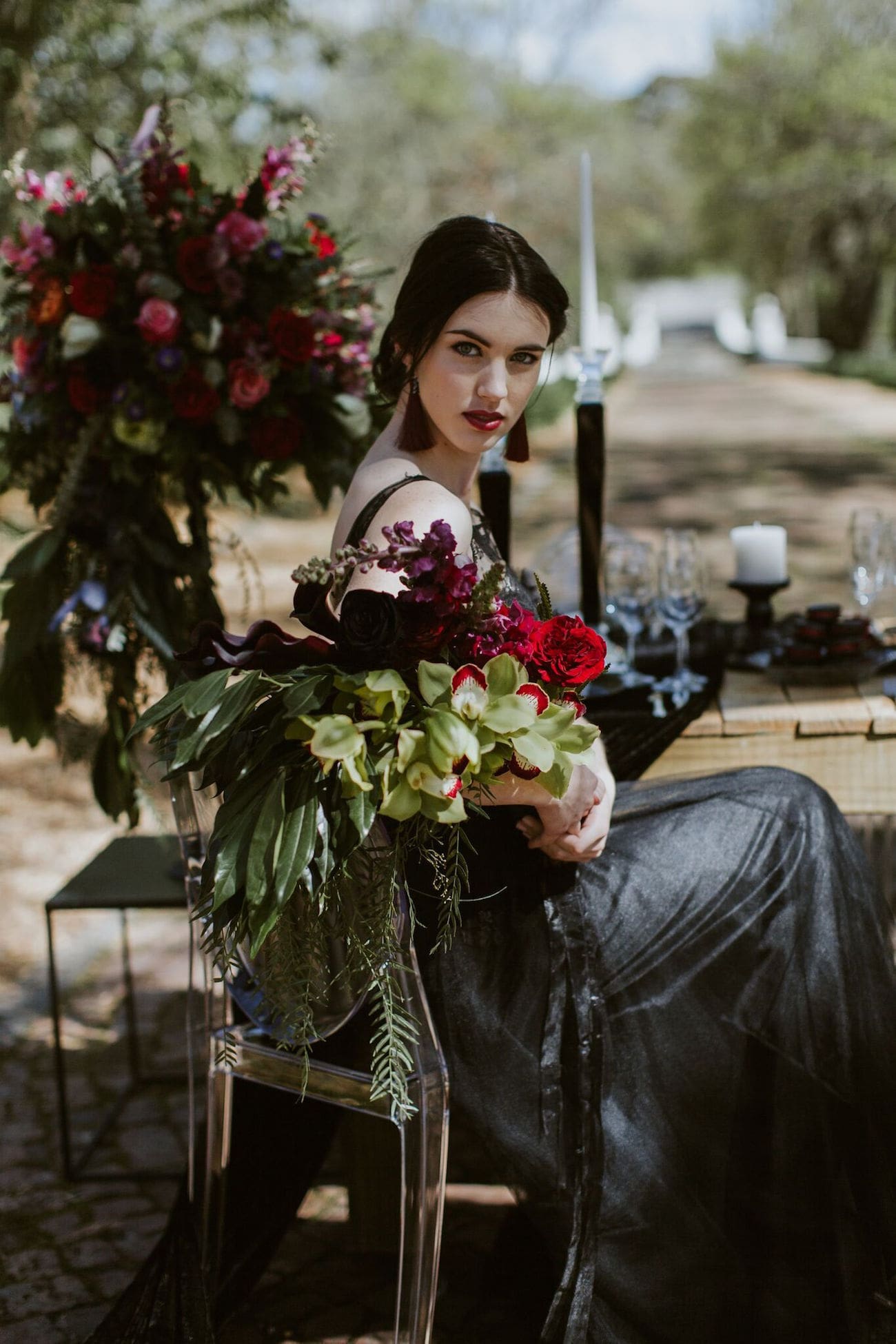 Happy Halloween! You know, every year at this time, I choose to feature at least one shoot that's darker than my usual fare – a little bit kookier and spookier, although most haven't actually been Halloween themed as such. But I don't think there's ever been a time where this kind of dark and moody inspiration is also super on-trend. Bold florals popping against black backgrounds and rich jewel toned palettes are definitely the look du jour as we head into the new season, and while this bold, glamorous look isn't every bride's cup of tea, it really makes for a stylish and refreshing visual change that is sure to get your guests talking! So while this might be the feast of All Hallows Eve, I think this gorgeous black wedding inspiration from a local team including A Dream Come True Events, Blue Olive Events, and  Anna Pepper Photography will be inspiring you SouthBound brides long past the holiday. Let's get moody!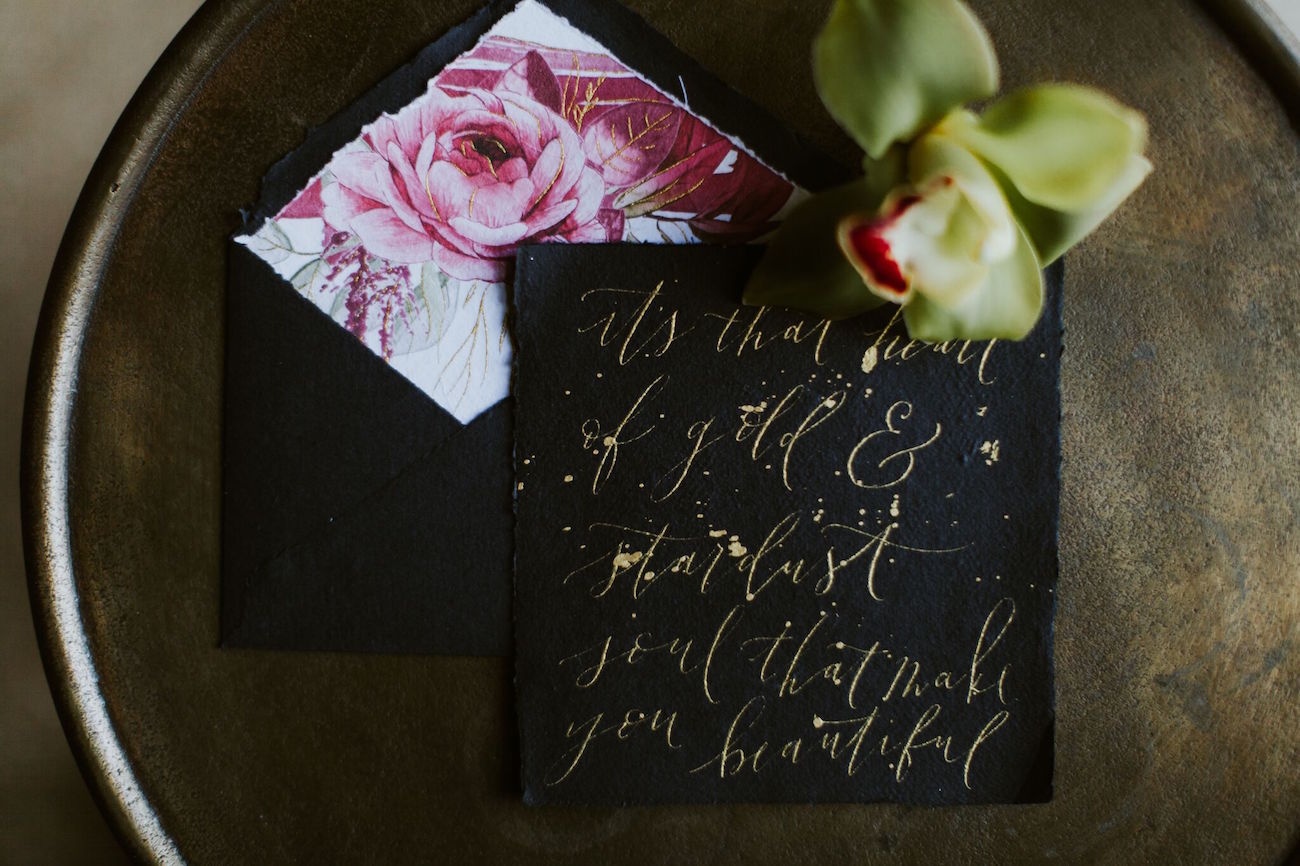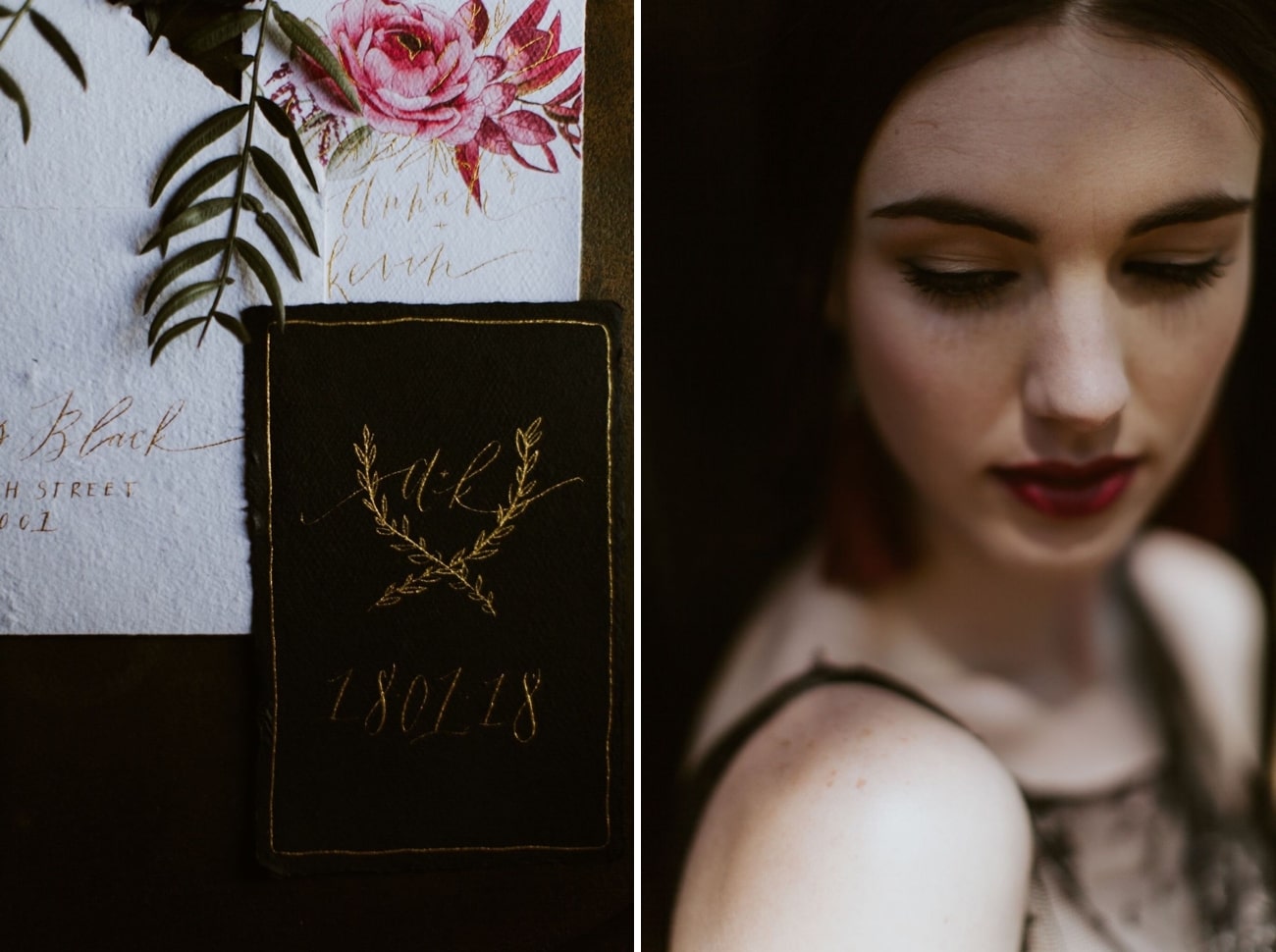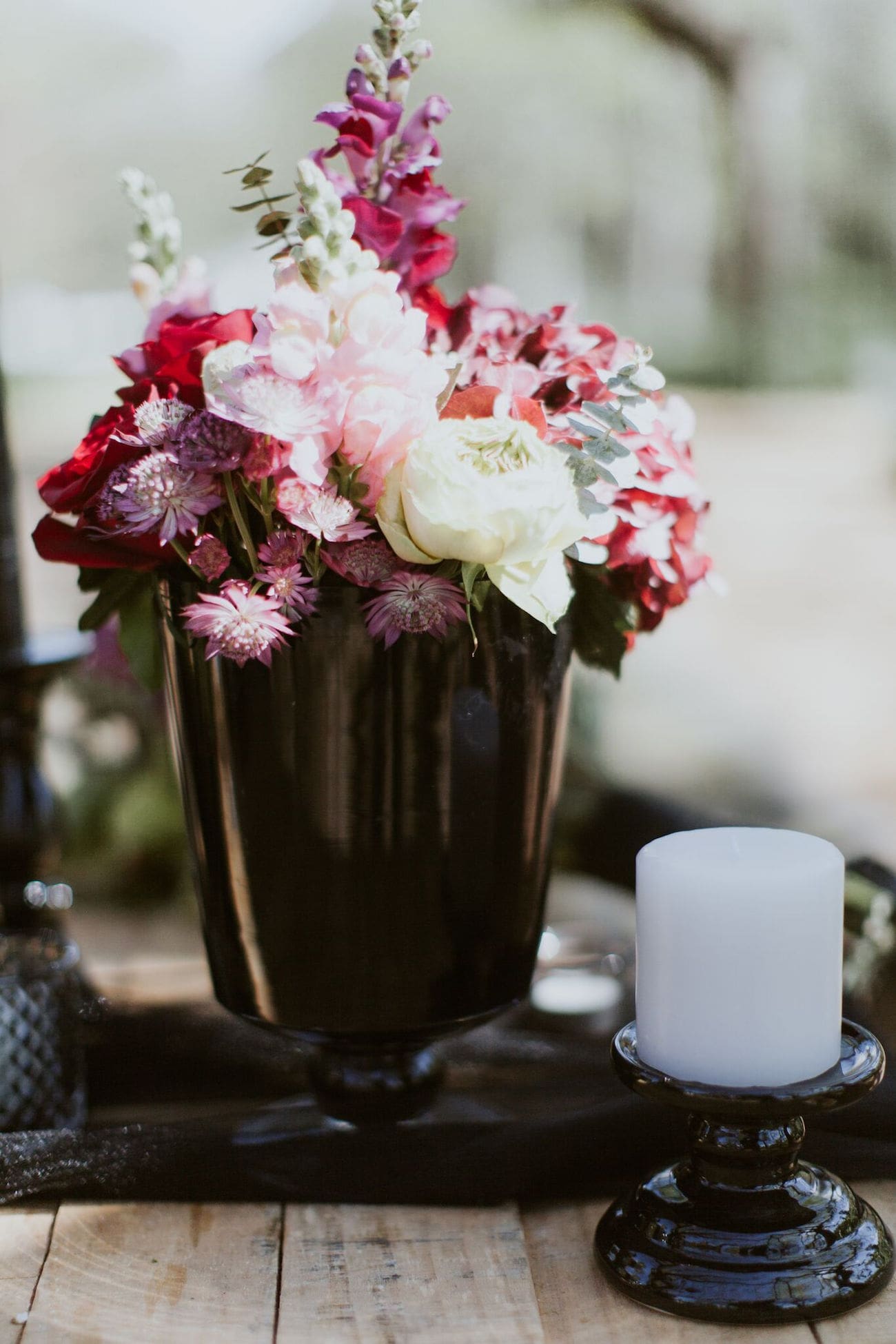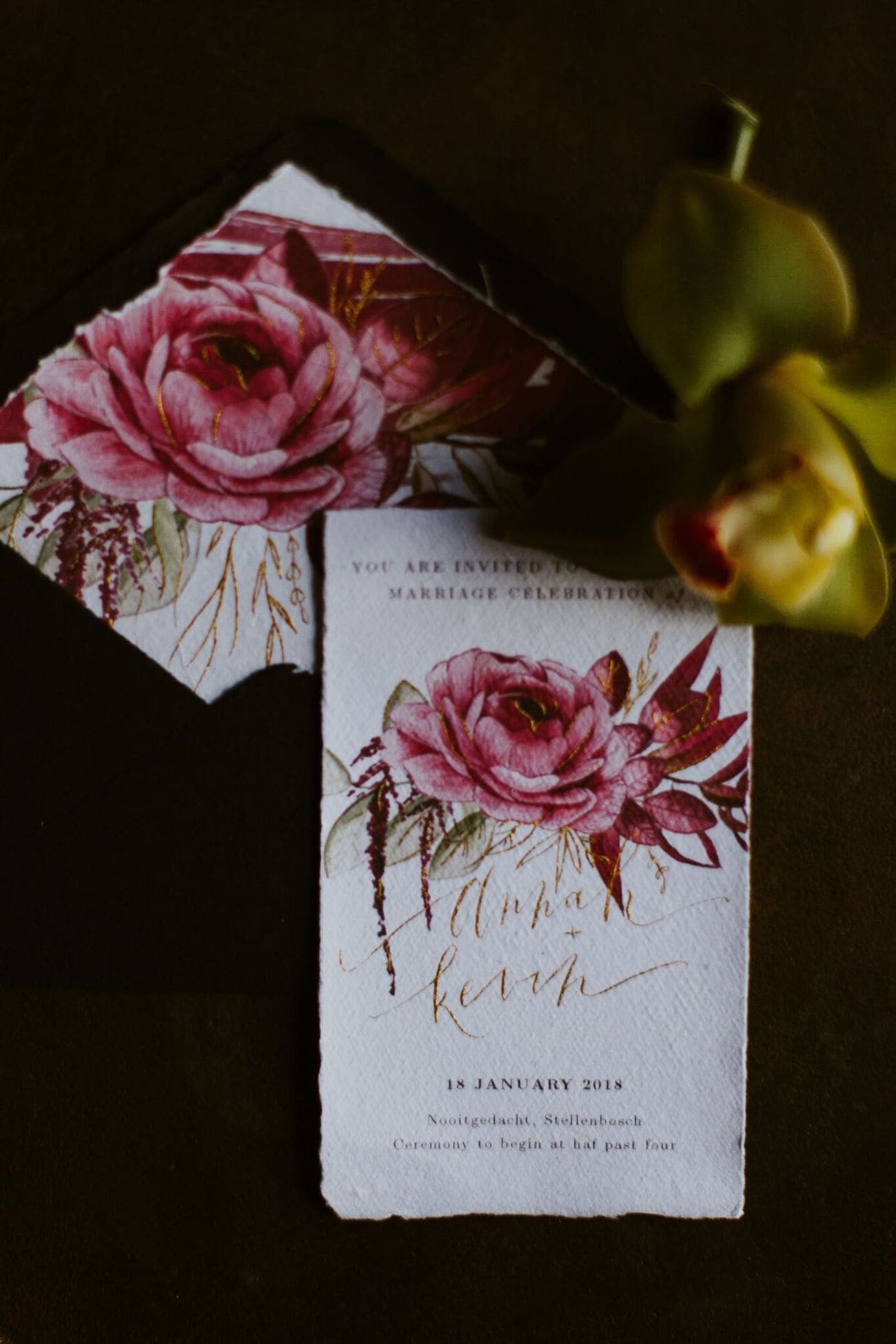 Here's some background from Simone of A Dream Come True Events:
While black certainly isn't a traditional colour you would normally associate with a wedding, more and more brides are stepping out of their comfort zones and daring to reflect their personalities in their wedding style. We wanted to create a timeless, luxurious, elegant winter wedding look that conventional brides could still relate to and could use as inspiration for their own big day. After all… black is beautiful! Oozing luxuriousness, richness, warmth, elegance, and moodiness, we showcase why this colour should not only be a staple in your wardrobe but a staple in your wedding colour palette.
We went all out with the flowers for this shoot. Top-end varietals and imports, including black roses all the way from Holland! Purple anthiriums, black calla lillies, red tulips, purple alliums, banksias, green orchids, blue hydrangeas, a range of exotic roses including red flash-eye and the green grasshopper and a host of other flowers. We got in touch with Sylvia Bösinger from Yes! Exclusive Flowers, browsed through their extensive list of blooms and used their fabulous online ordering system to place our order well in advance for the shoot. We also used Cape Town flower suppliers Alsmeer, for local flowers in season.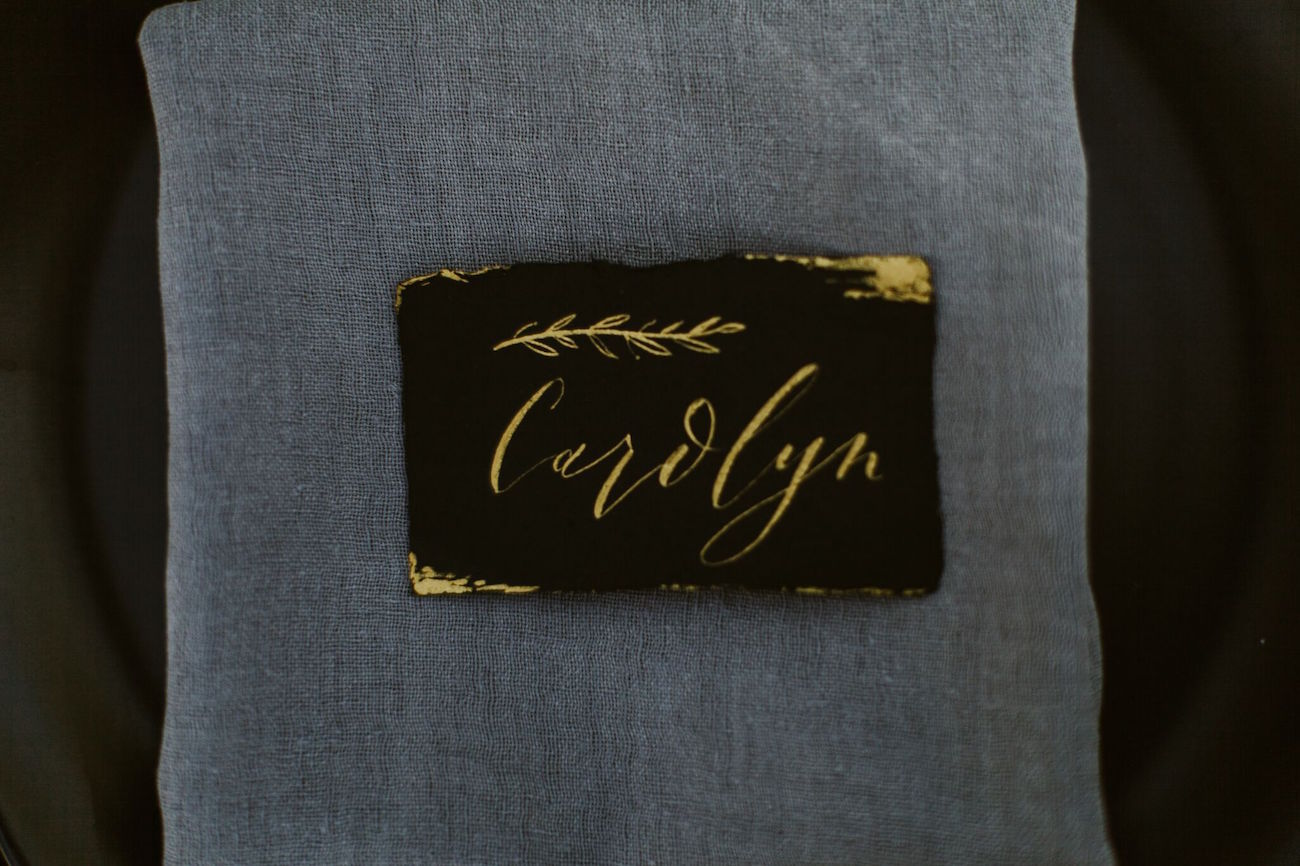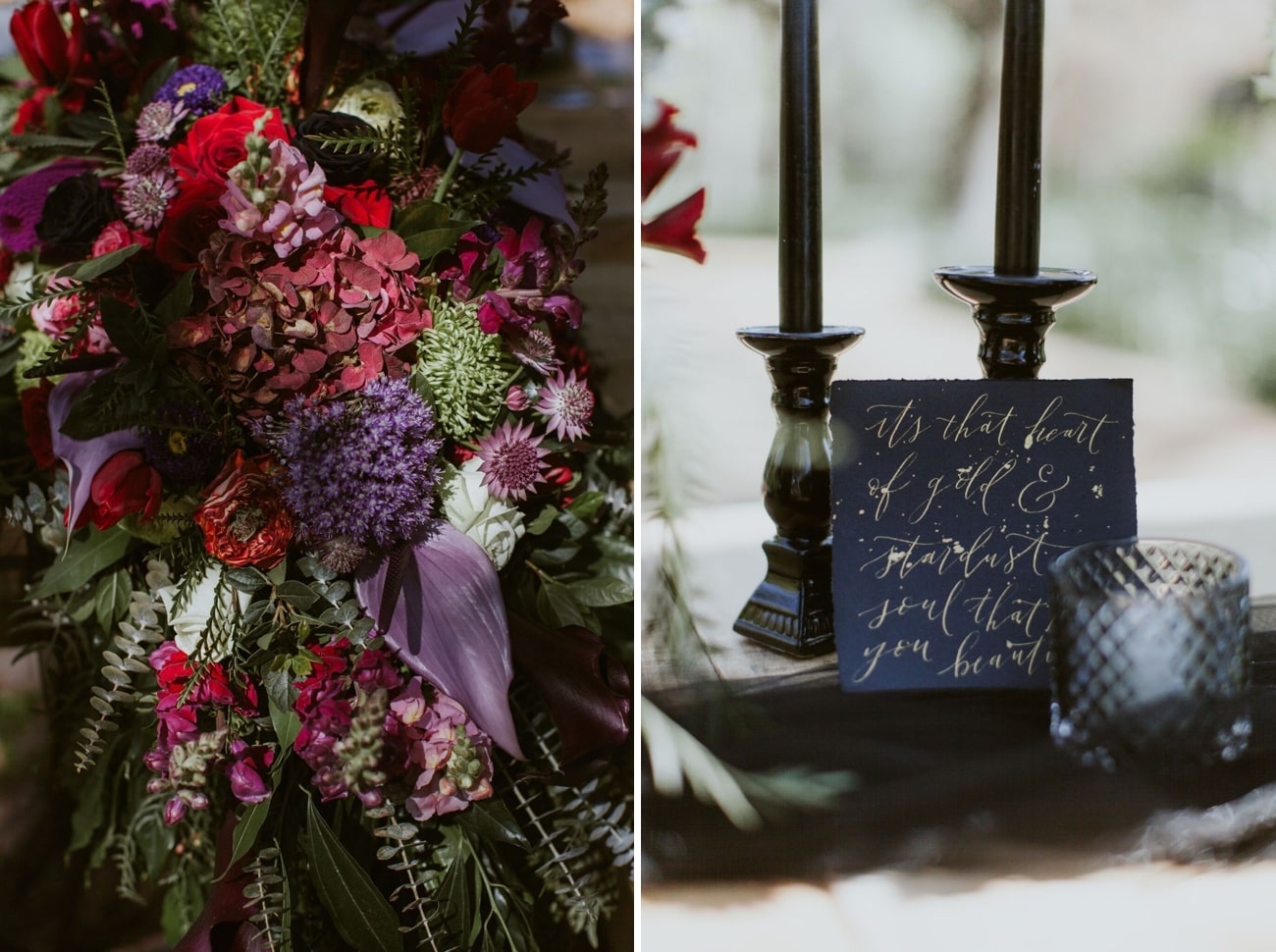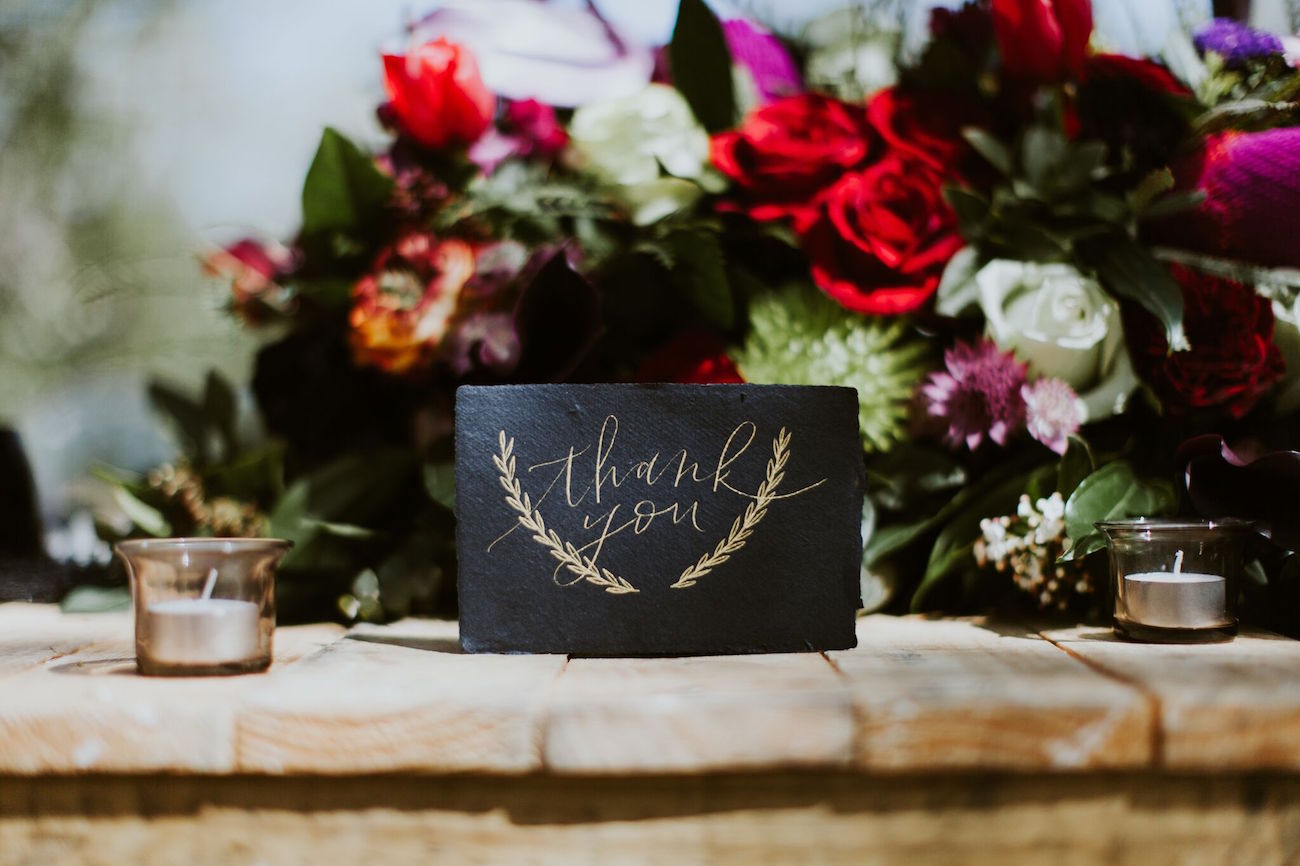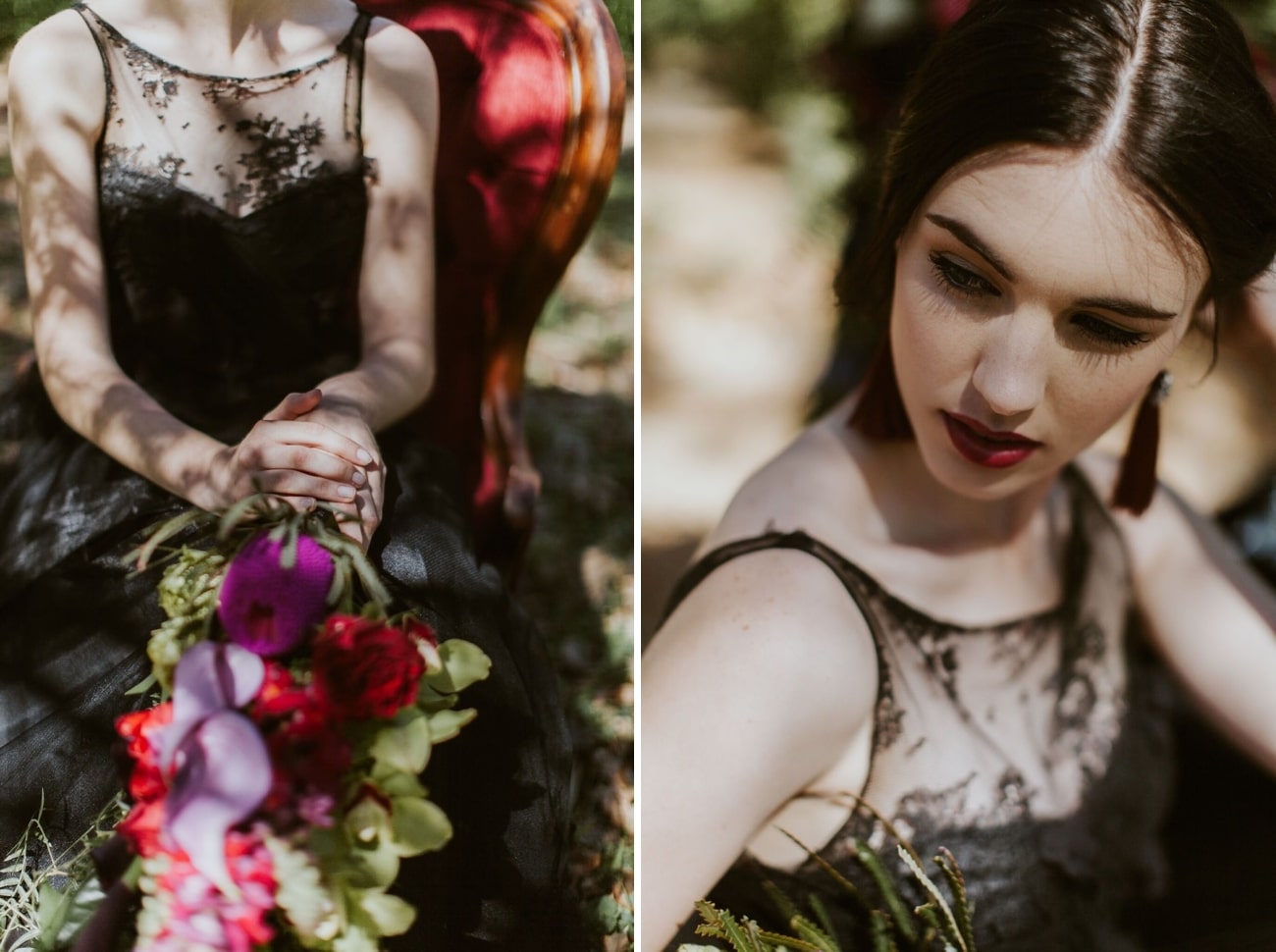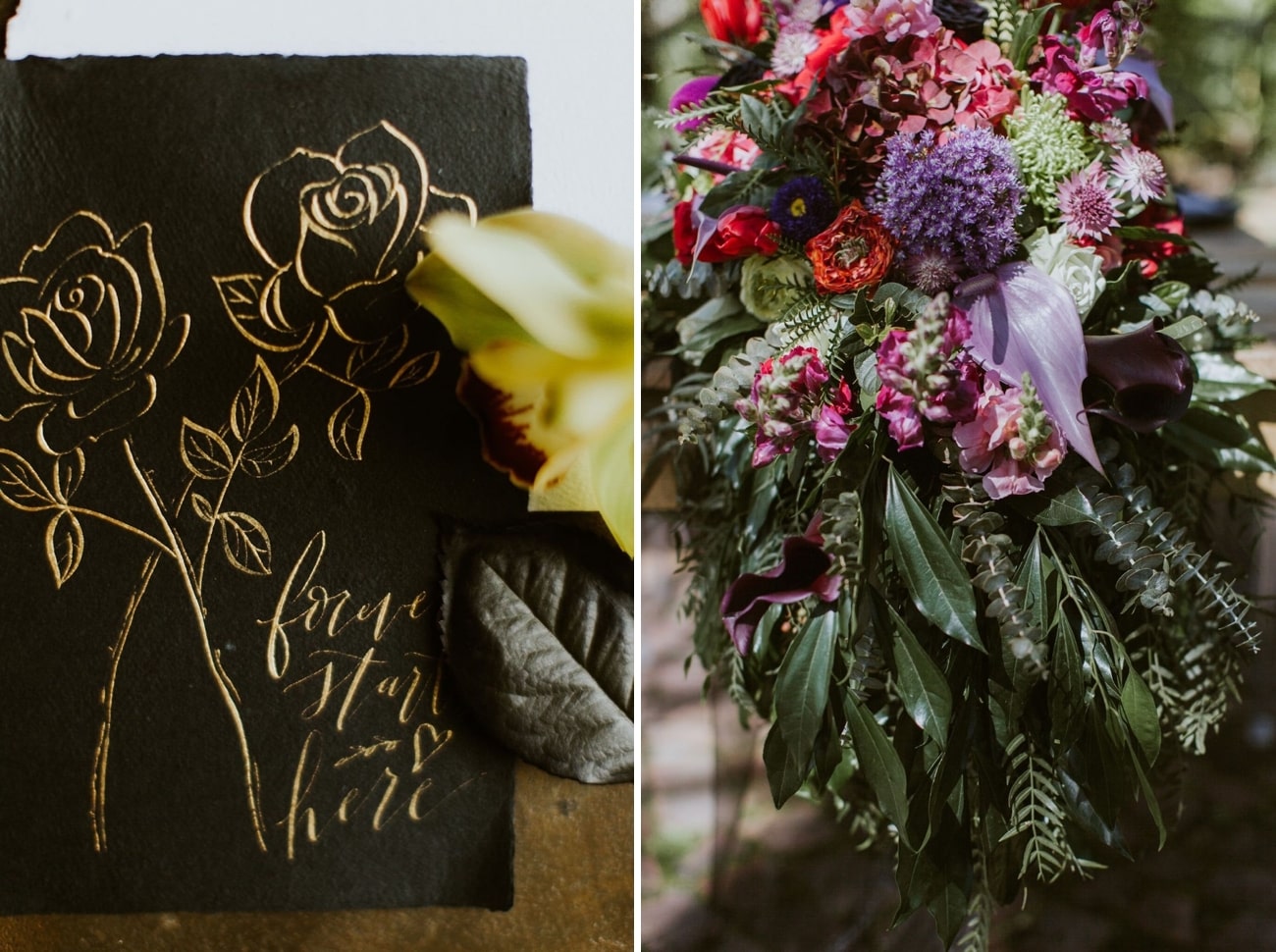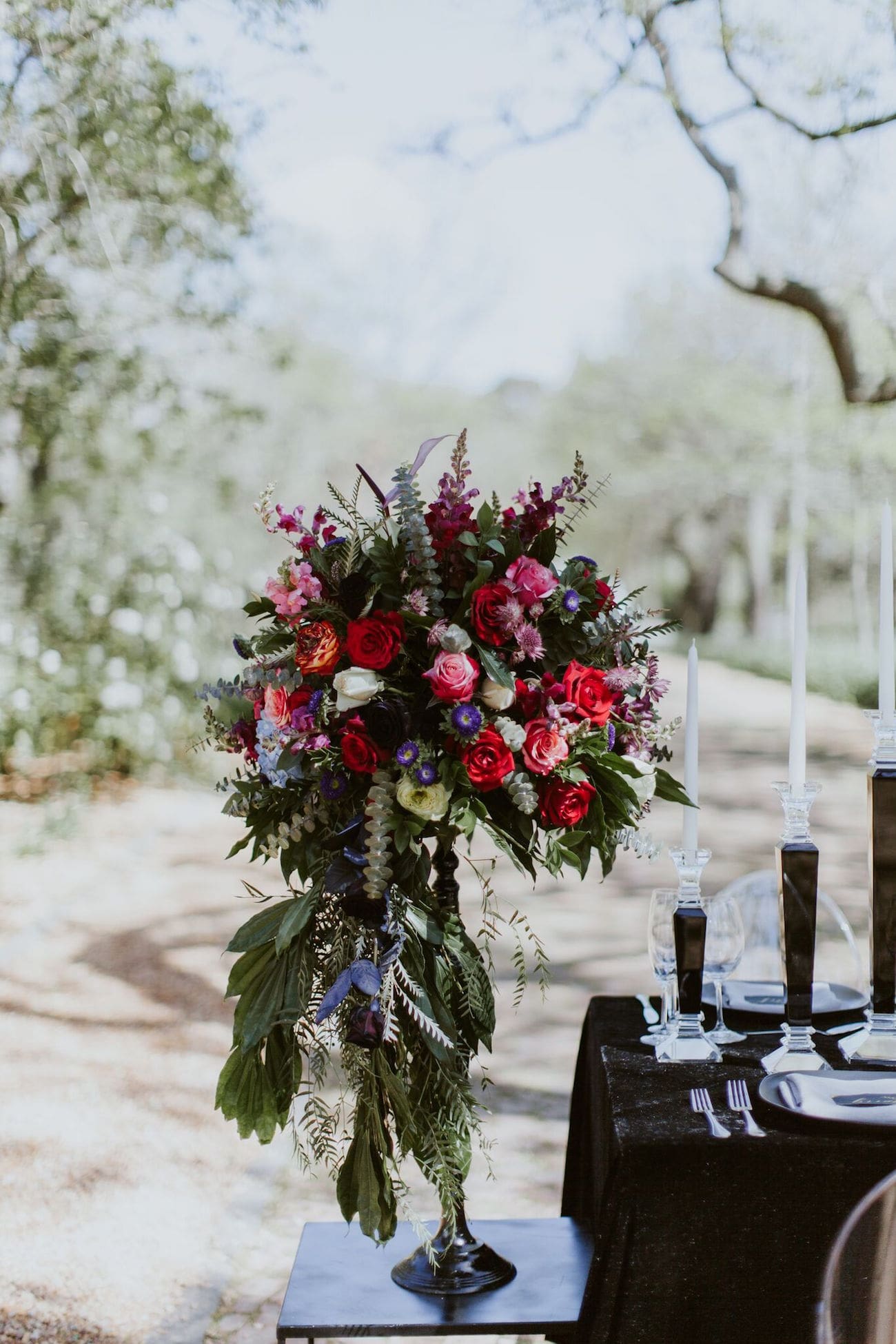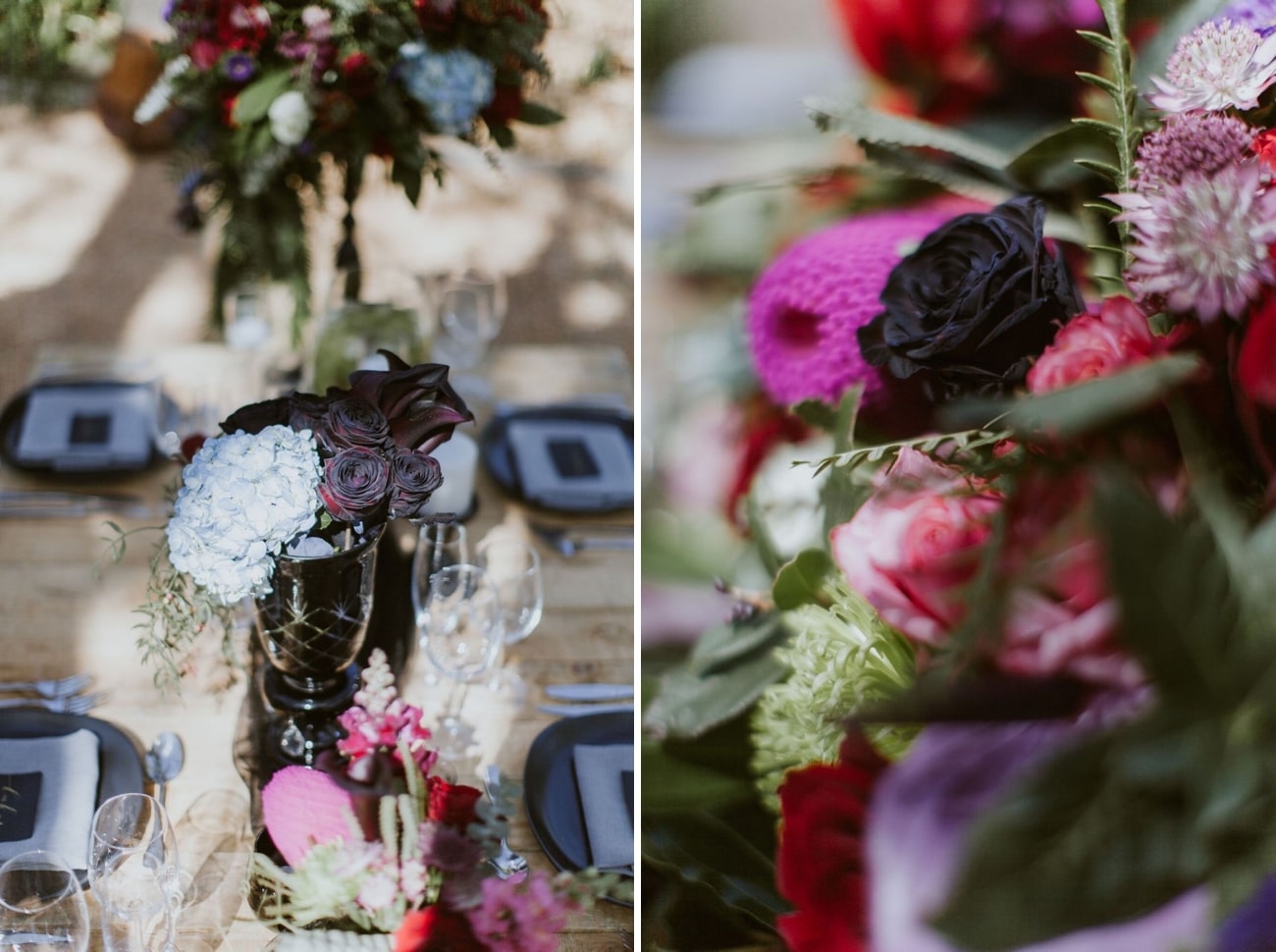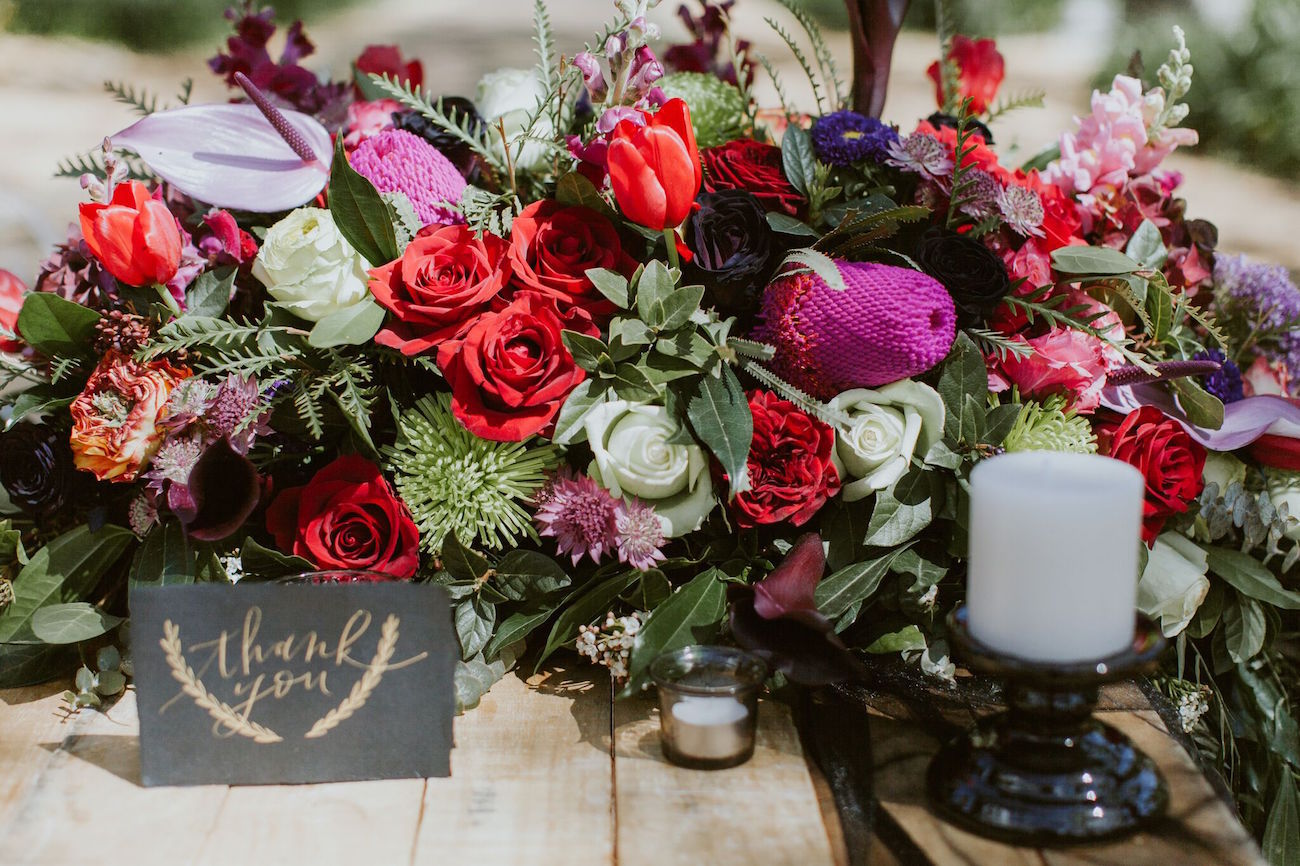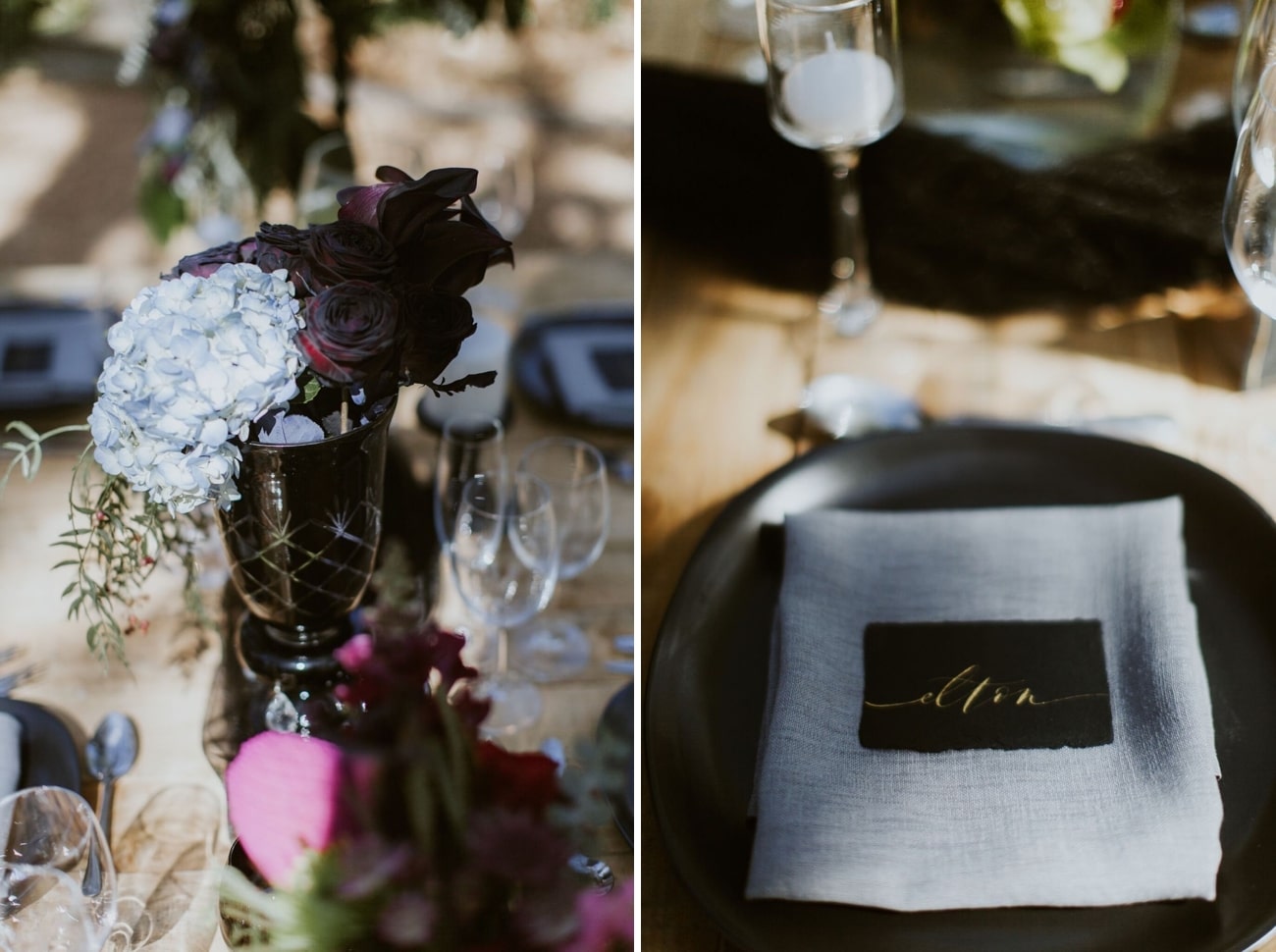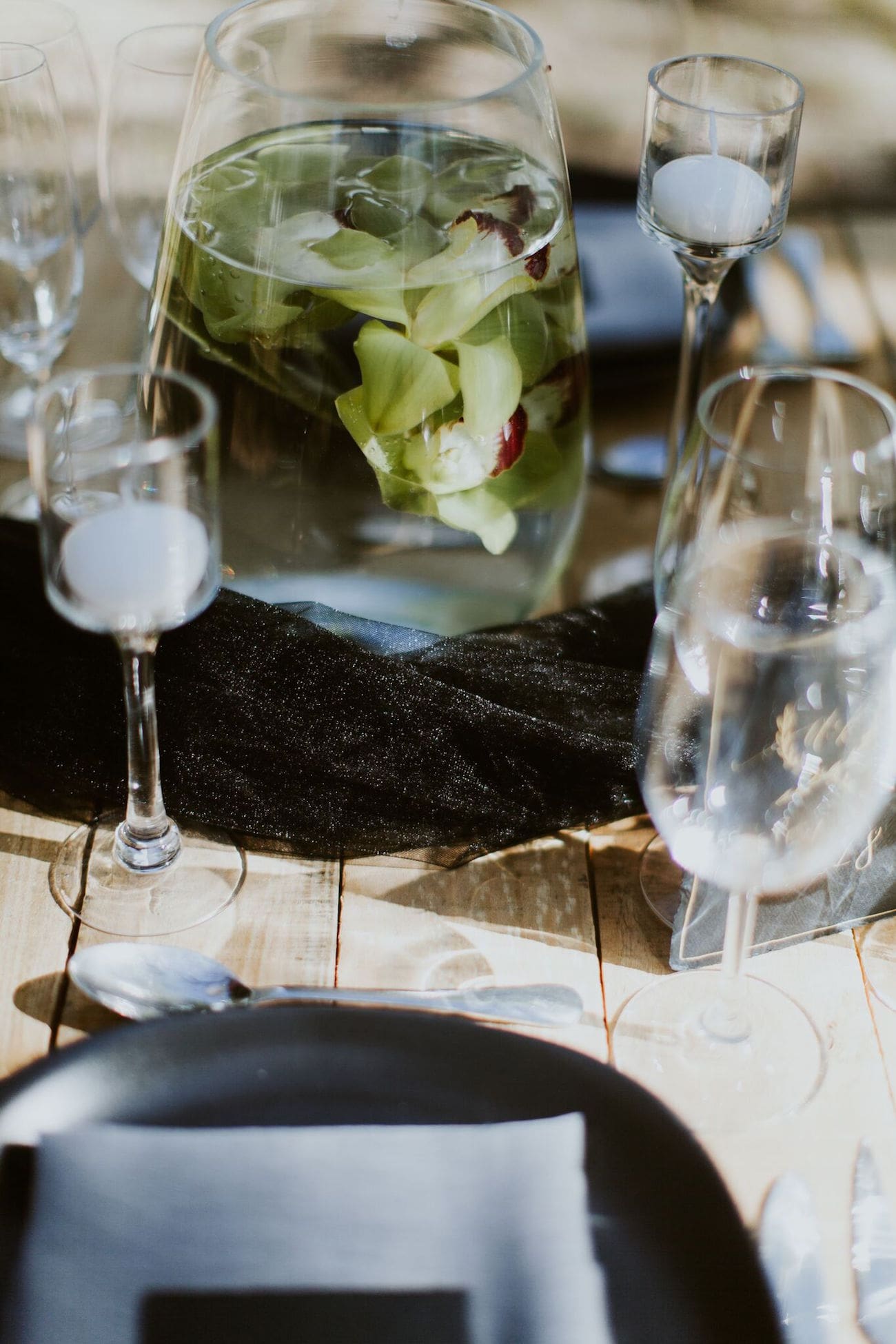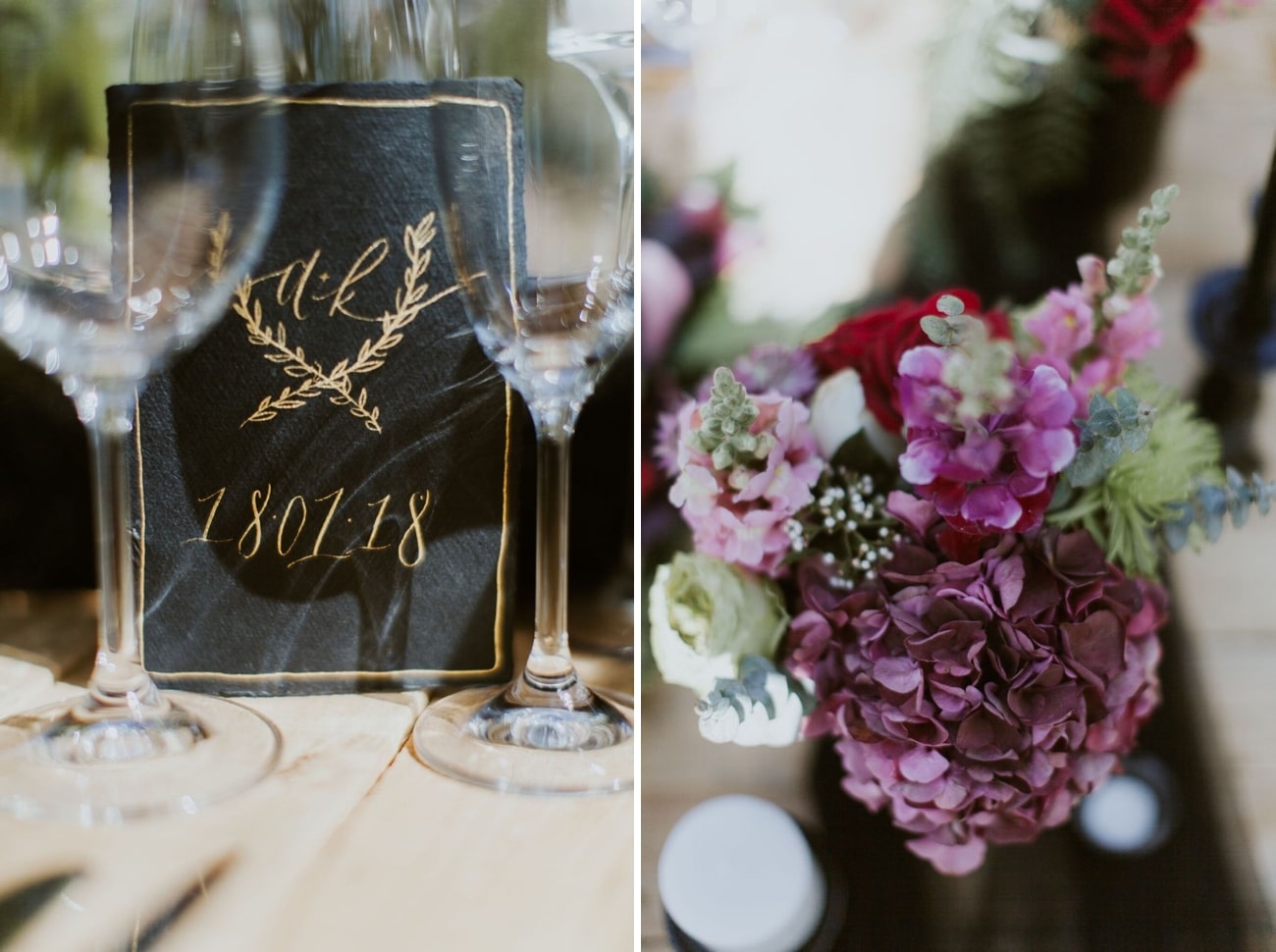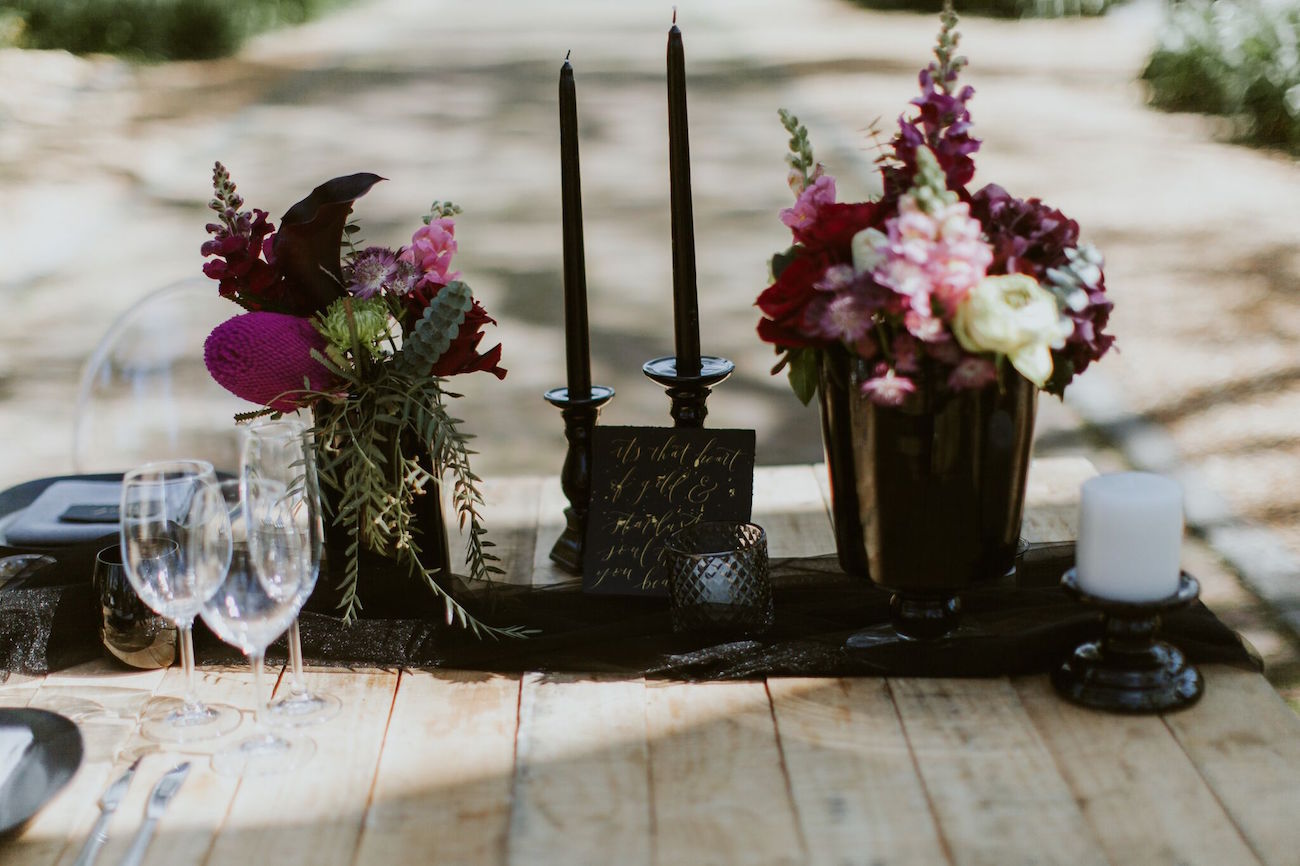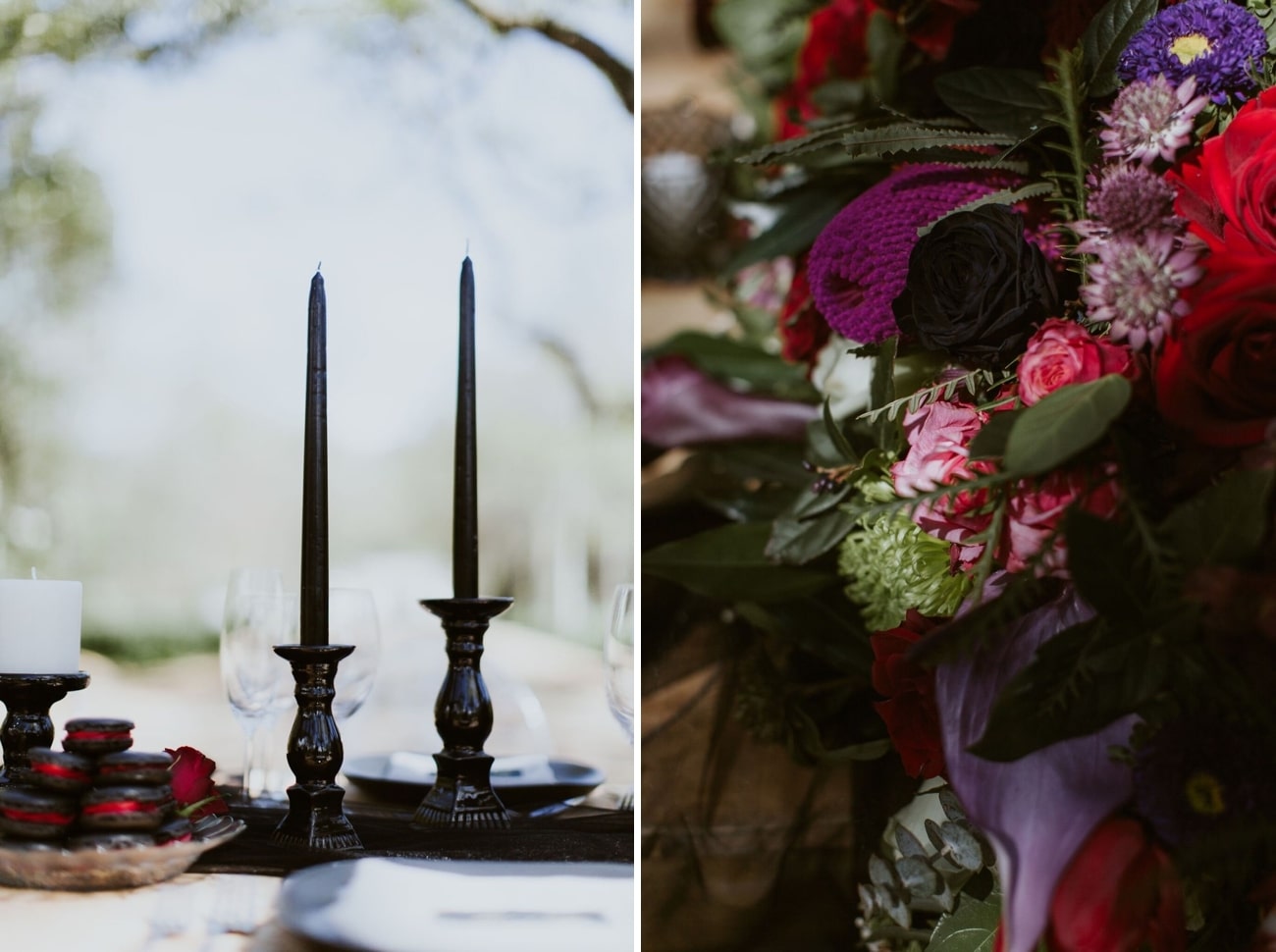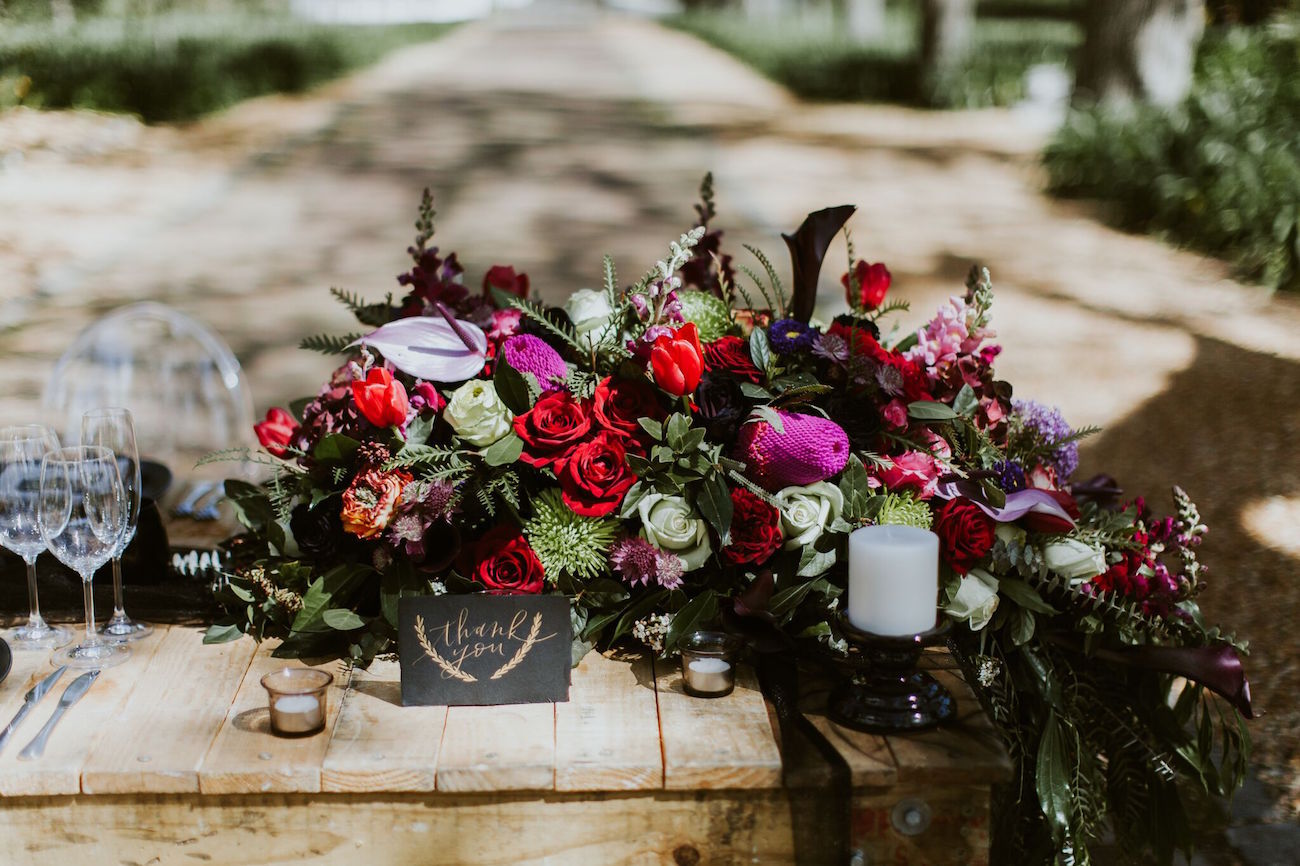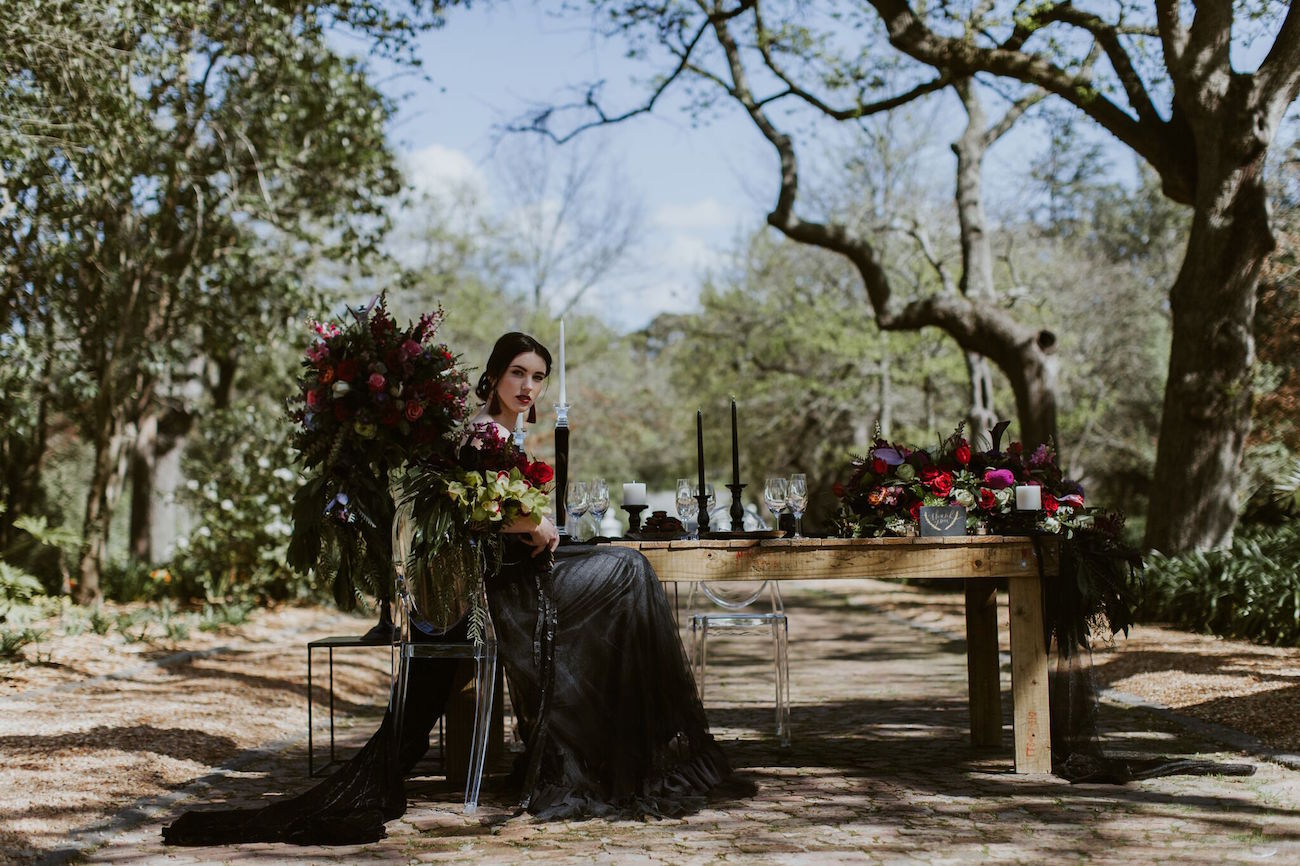 The cake simply had to be black too! We loved the cake that Bronwen from Bronnie's Cakes in Plumstead, Cape Town made for the shoot. She is super talented. It was a simple, yet elegant, black fondant cake with some fresh flowers as decoration. We paired it with a crystal cake stand from Function Hiring 4U which was simply stunning. Zanne Couture had the perfect black dress with beautiful lace and mesh detail to match the mood of the shoot – such an elegant and delicate design in contrast to the bold colour. Tammy Hardy, from The Makeup Touch SA, made sure our model's makeup was bold but practical enough for any bride to pull off, and we added in some wine coloured tassel earrings, also from Zanne Couture.
With an insane love for DIY floral projects we decided to make a shoulder piece covered in greenery, green orchids and some maroon astrantia to carry through the colours and flowers of the shoot. It made for some stellar photographs in the beautiful gardens of Nooitgedacht Estate. The colours popped off the black of the dress, the red of the chaise lounge from Goeters and Hestie's snow white skin. We used a raw wood table and ghost chairs provided by Carol Roux from All Things Wedding SA. Function Hiring 4 U has a great range of black decor elements and we jumped at the chance to use them. We combined them with some crystal elements, a black tulle runner and grey linen napkins from Tablecloth Hiring Company. Papier Handmade provided the ever talented Susan Brand with stunning paper for the stationery for the shoot. The stationery was a mix of gold foil, floral detail and calligraphy that really stood out on the black paper.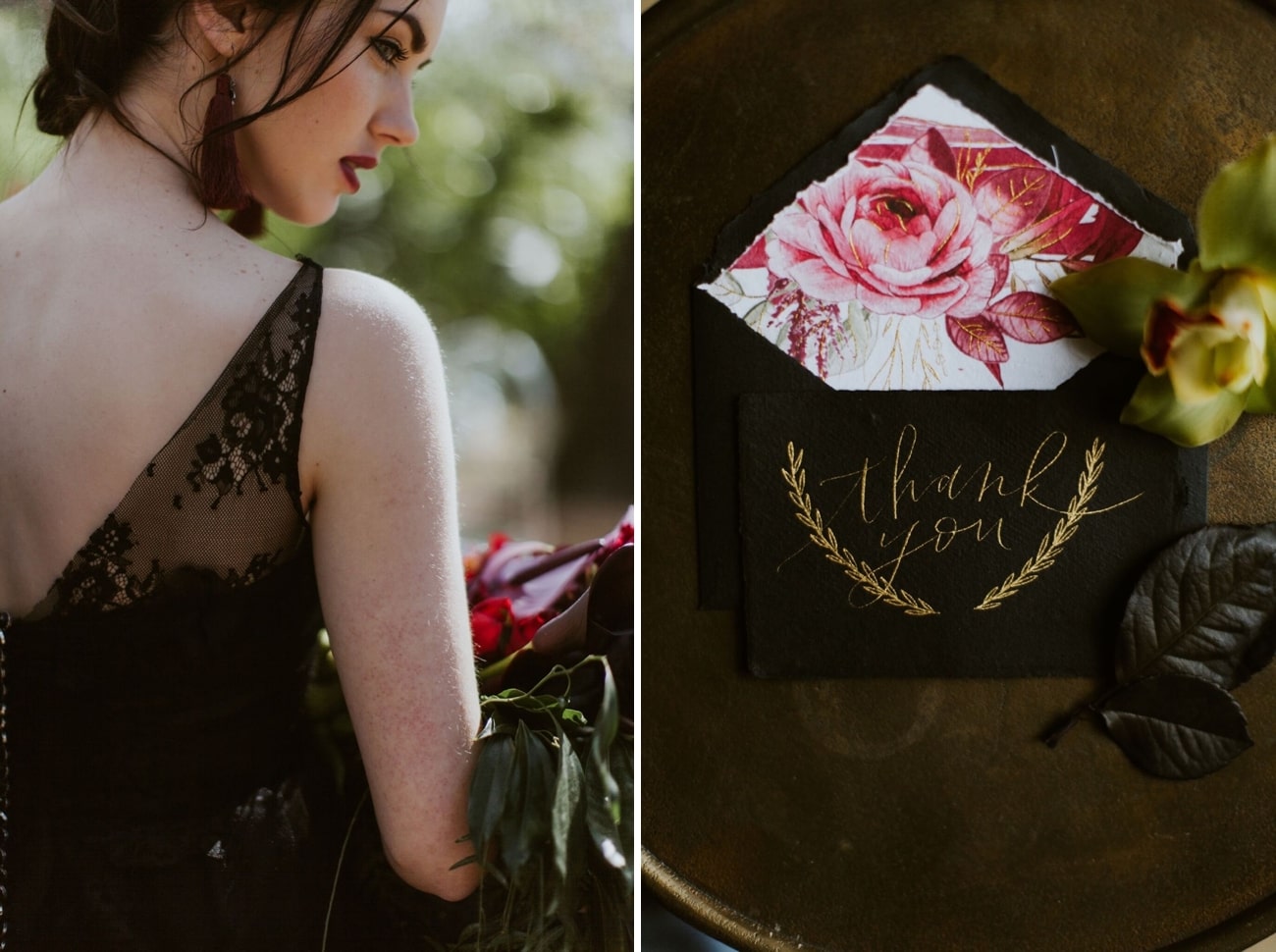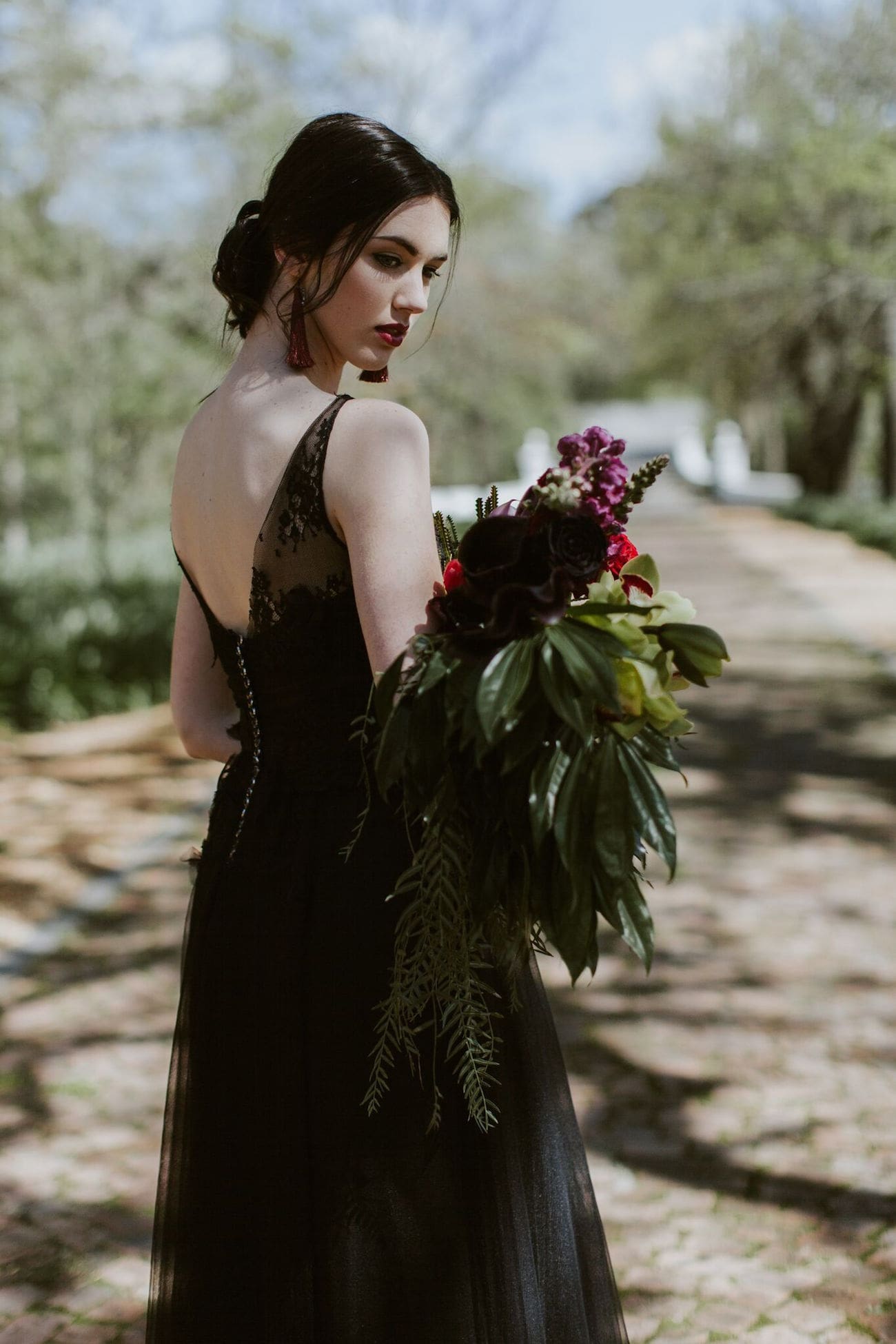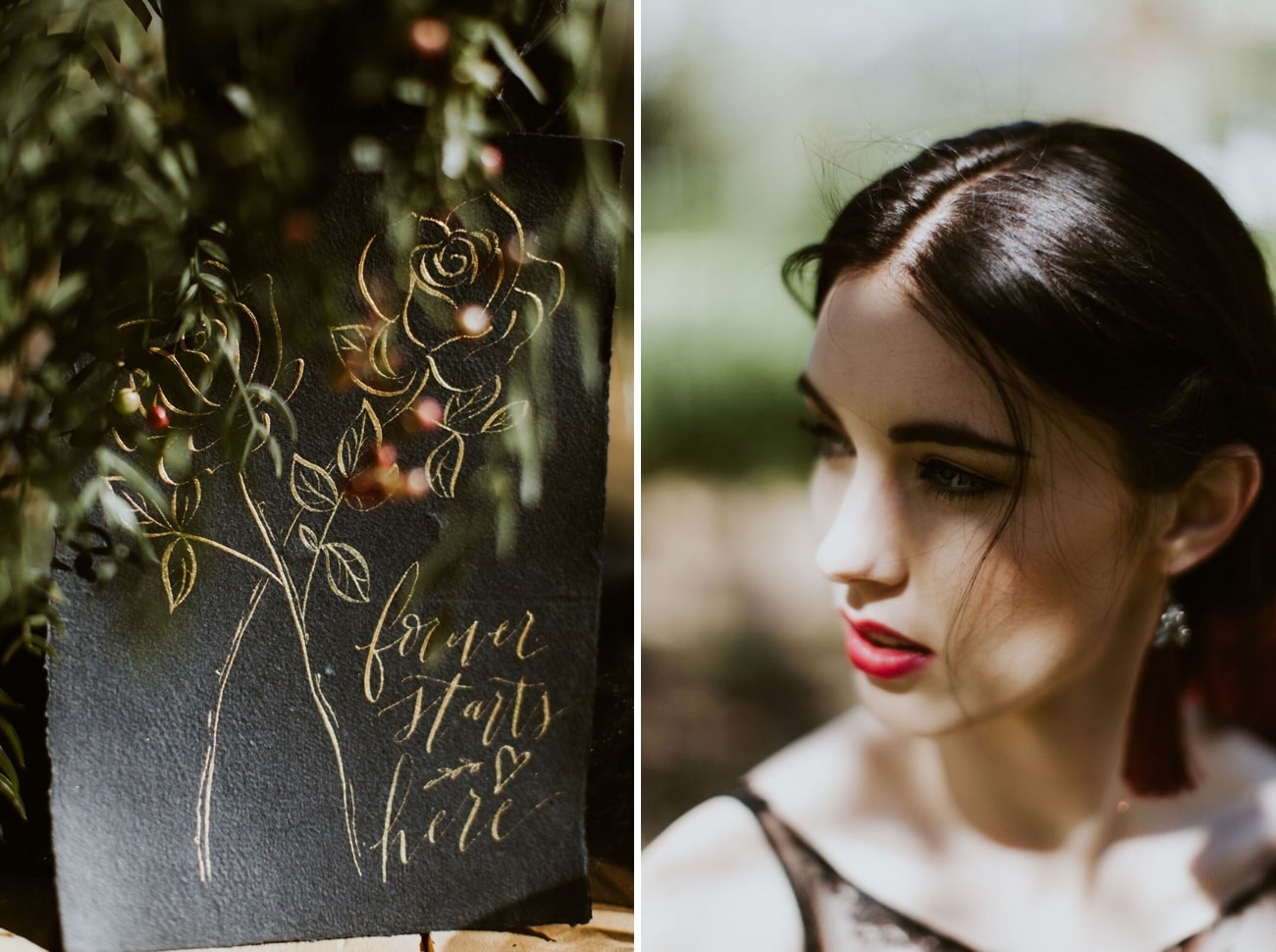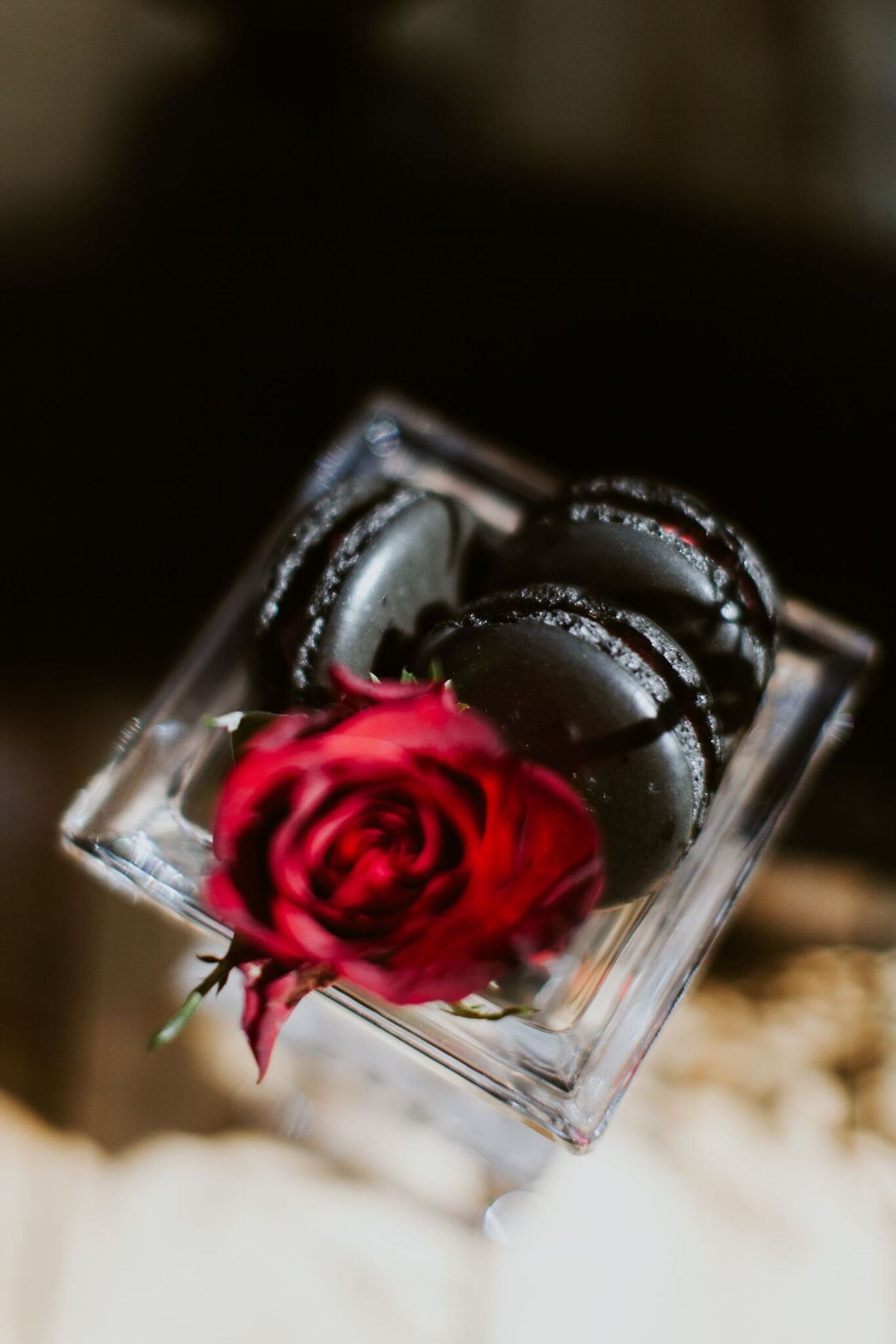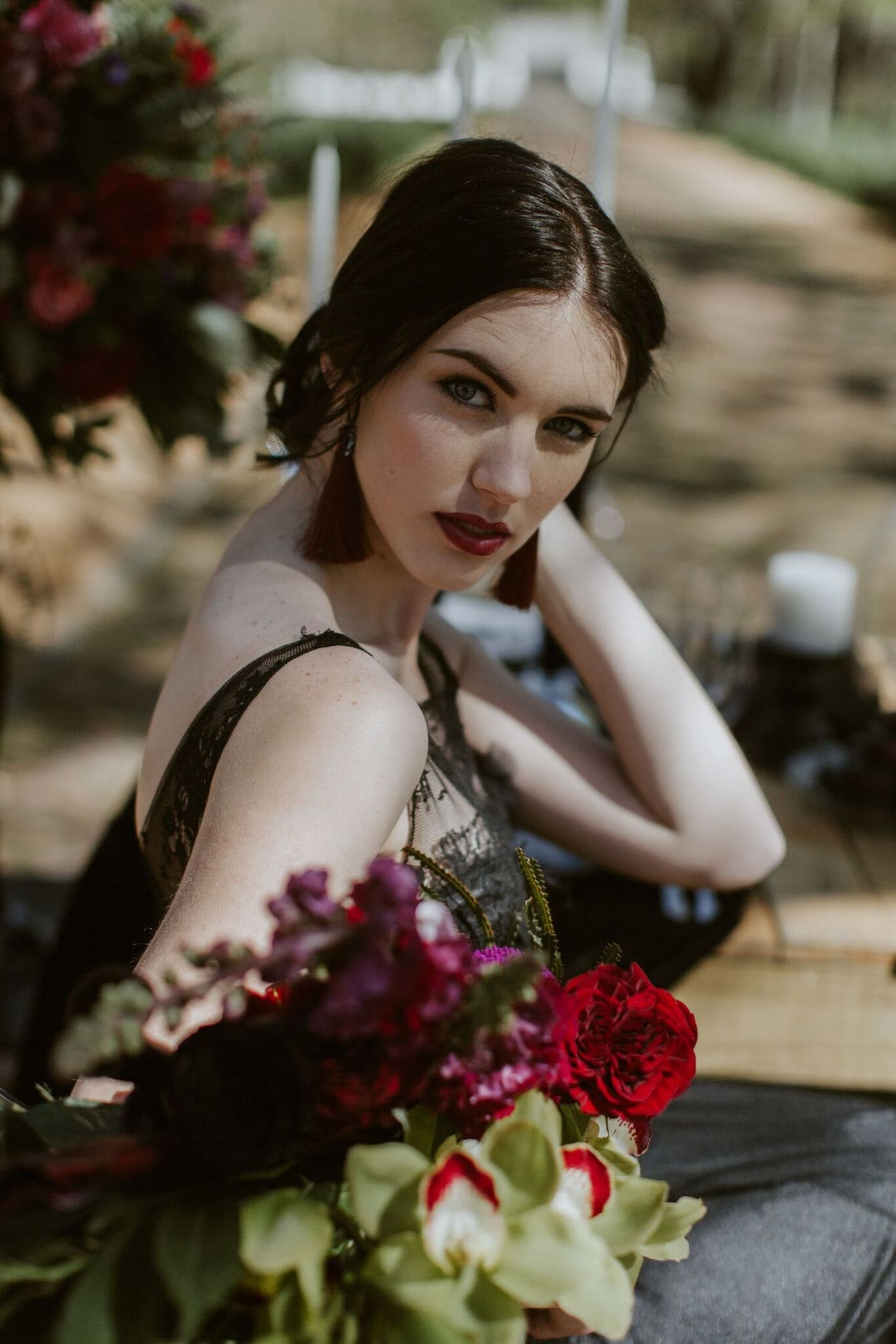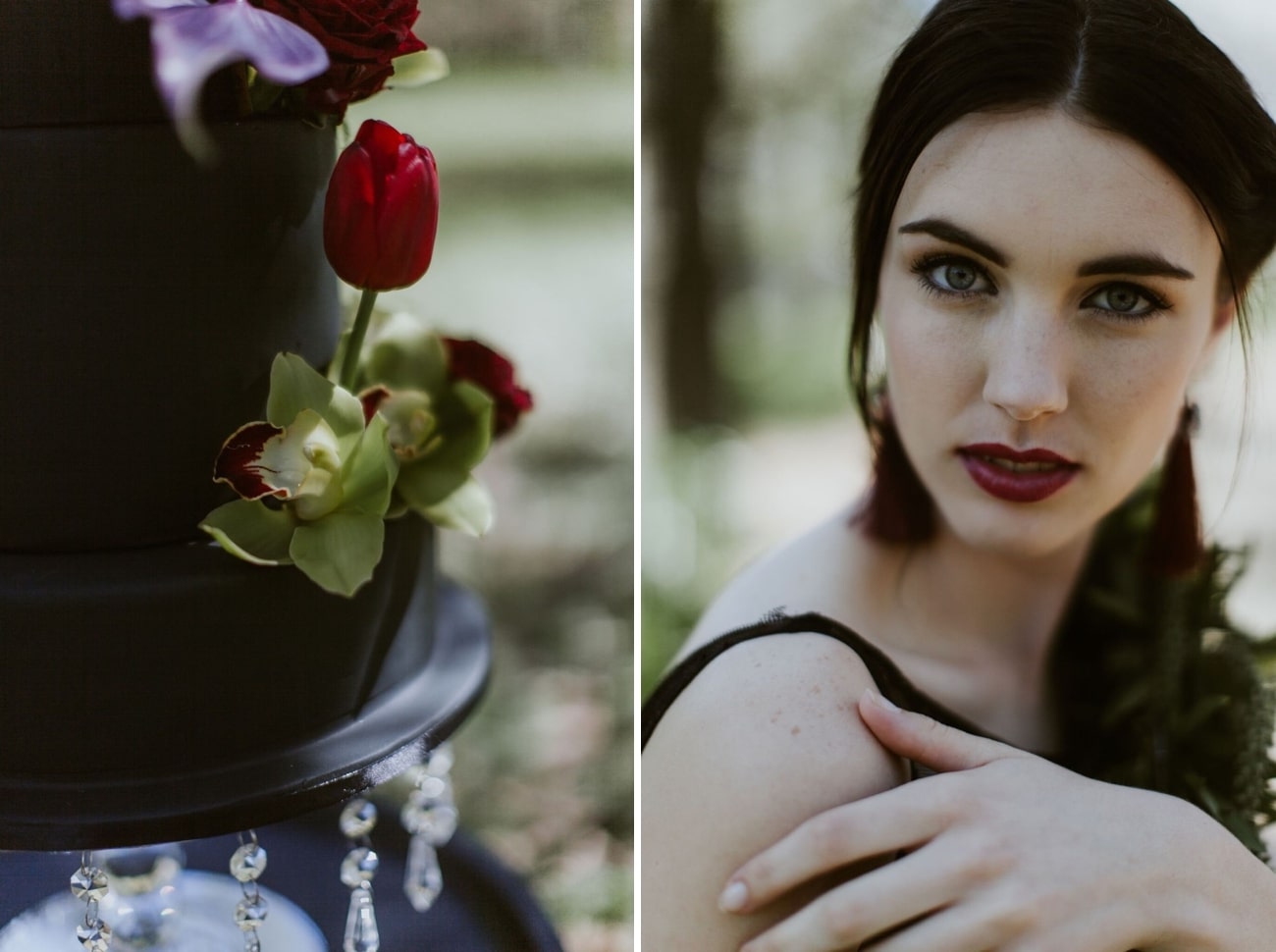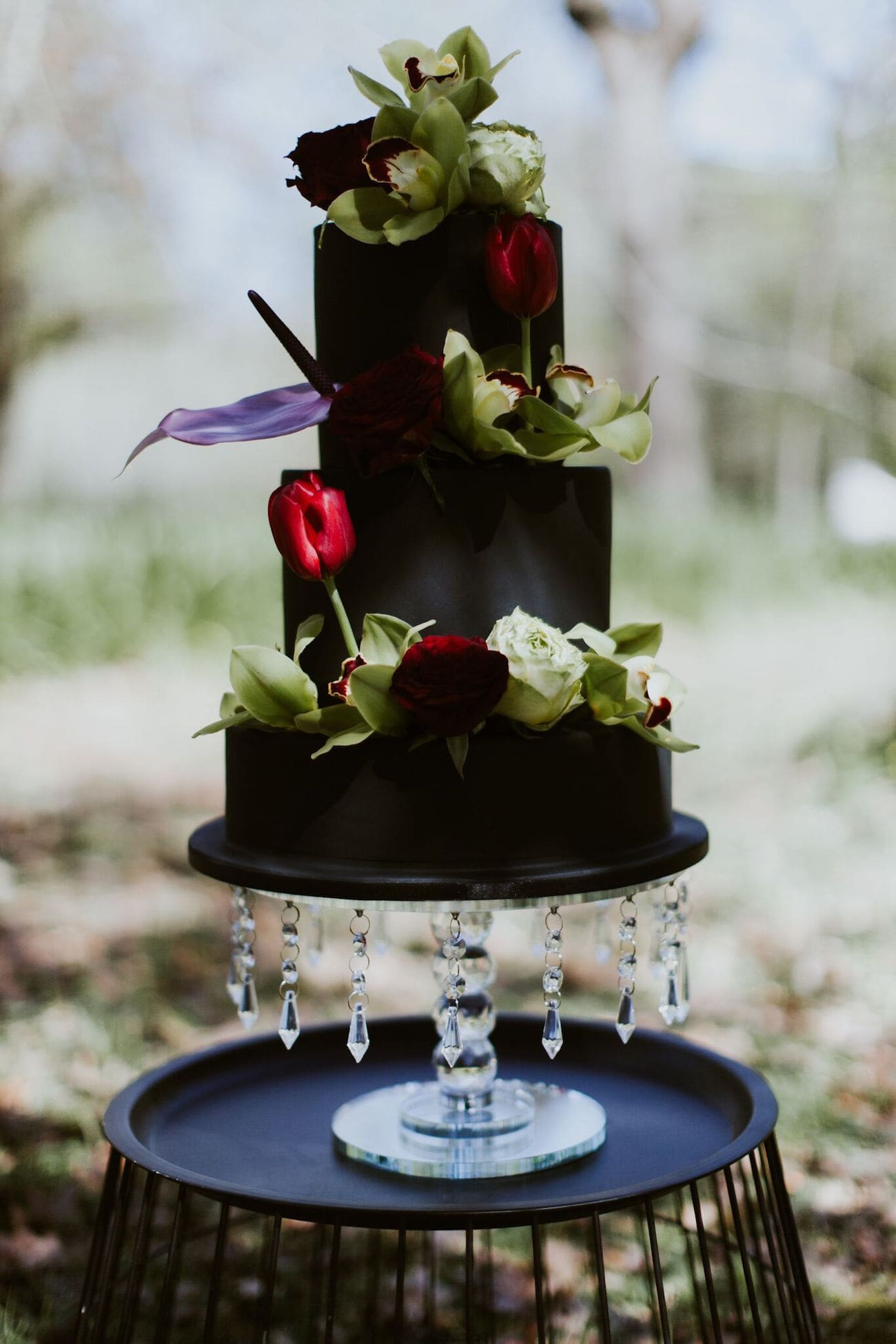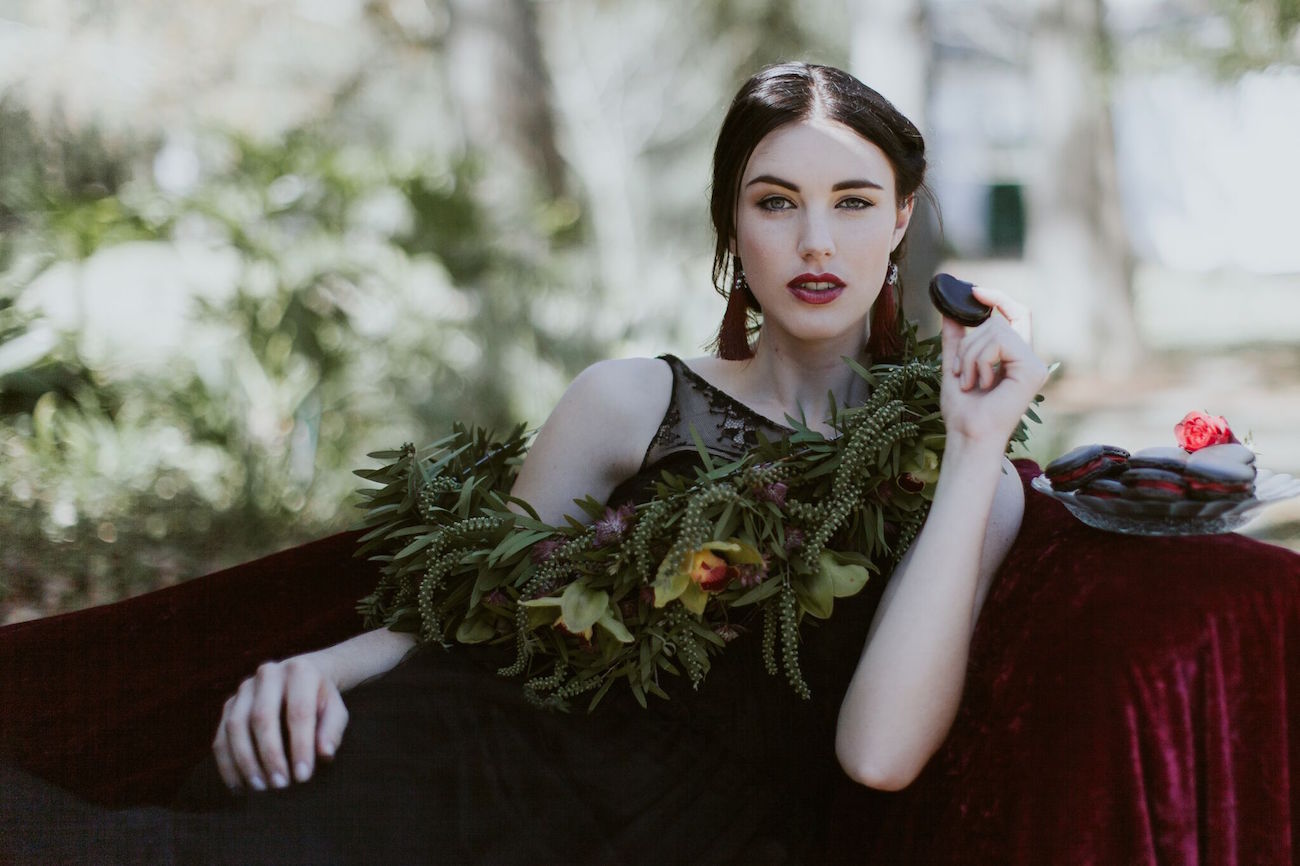 CREDITS
Venue: Nooitgedacht Estate | Event Design: A Dream Come True Events | Styling: Blue Olive Events | Floral: A Dream Come True Events | Stationery: Susan Brand | Decor Items: Function Hiring 4U | Decor Items: Goeters | Decor Items: all things wedding | Linens: Table Cloth Hiring Co. | Makeup: the makeup touch | Hair: the makeup touch | Wedding Cake: Bronnie's Cakes | Other Services: papier handmade | Photography: Anna Pepper Photography | Wedding Dress: Zanne Couture | Bride's Shoes: Model's own | Submitted via: Matchology