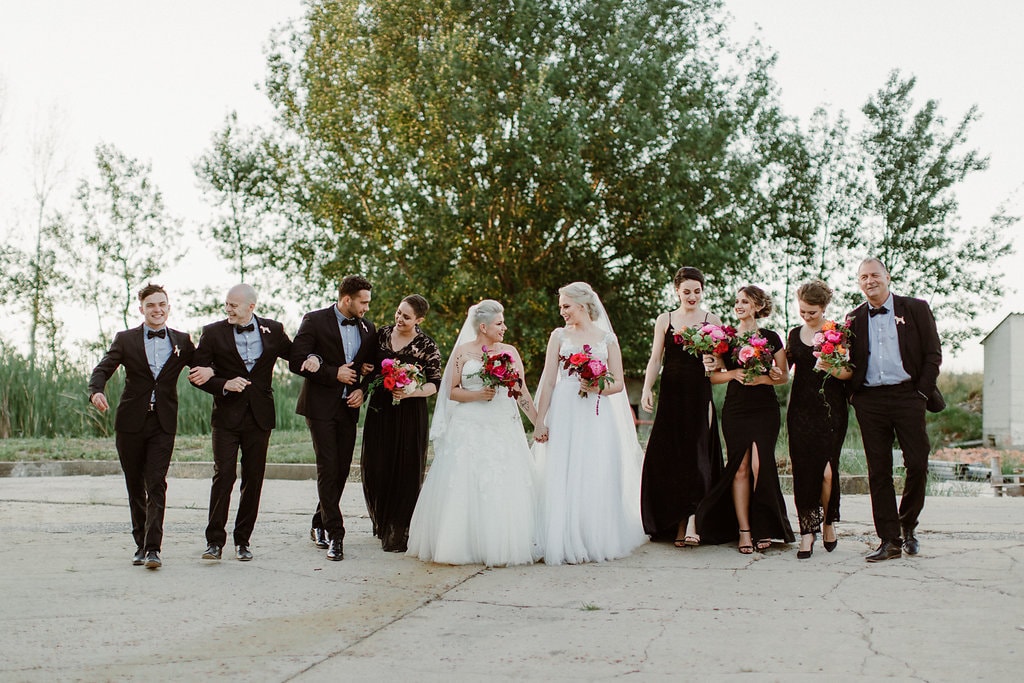 You guys, THIS WEDDING. I first came across Mitzi and Klara's big day on Insta, since Mitzi is one of SA's top DJs (and has been featured multiple times on SBB) as DJ Chopper. I was instantly in love. An outdoor ceremony and reception in an unpolished, industrial setting, filled with bright blooms and tropical greenery, a tangible feeling of love and celebration, and two beautiful brides who clearly couldn't keep their eyes off one another. I adore the bold palette of black and metallics underpinning pops of gorgeous colour, and the way that even though the couple chose an open, non-weddingy space (in the traditional sense), it has such a feeling of warmth and intimacy thanks to that palette, combined with clever lighting and reflective, transparent elements. Best of all, it looks like it was an absolute blast! The super talented Jenni Elizabeth was behind the camera, and was gracious enough to share these lovely images with us today. (PS Be sure to read the proposal story – so adorable!)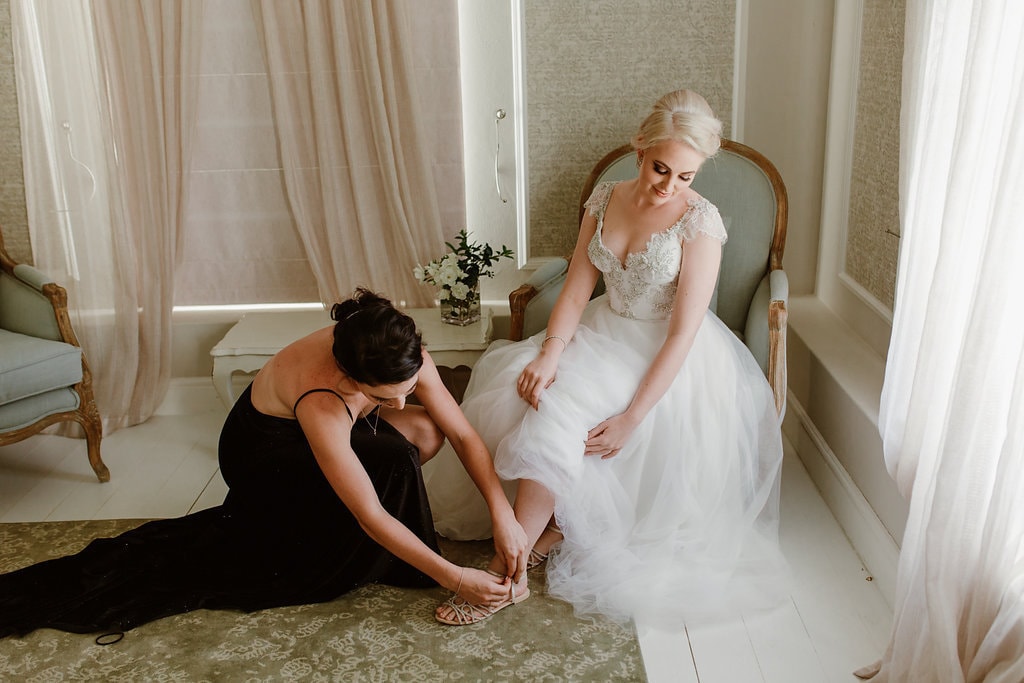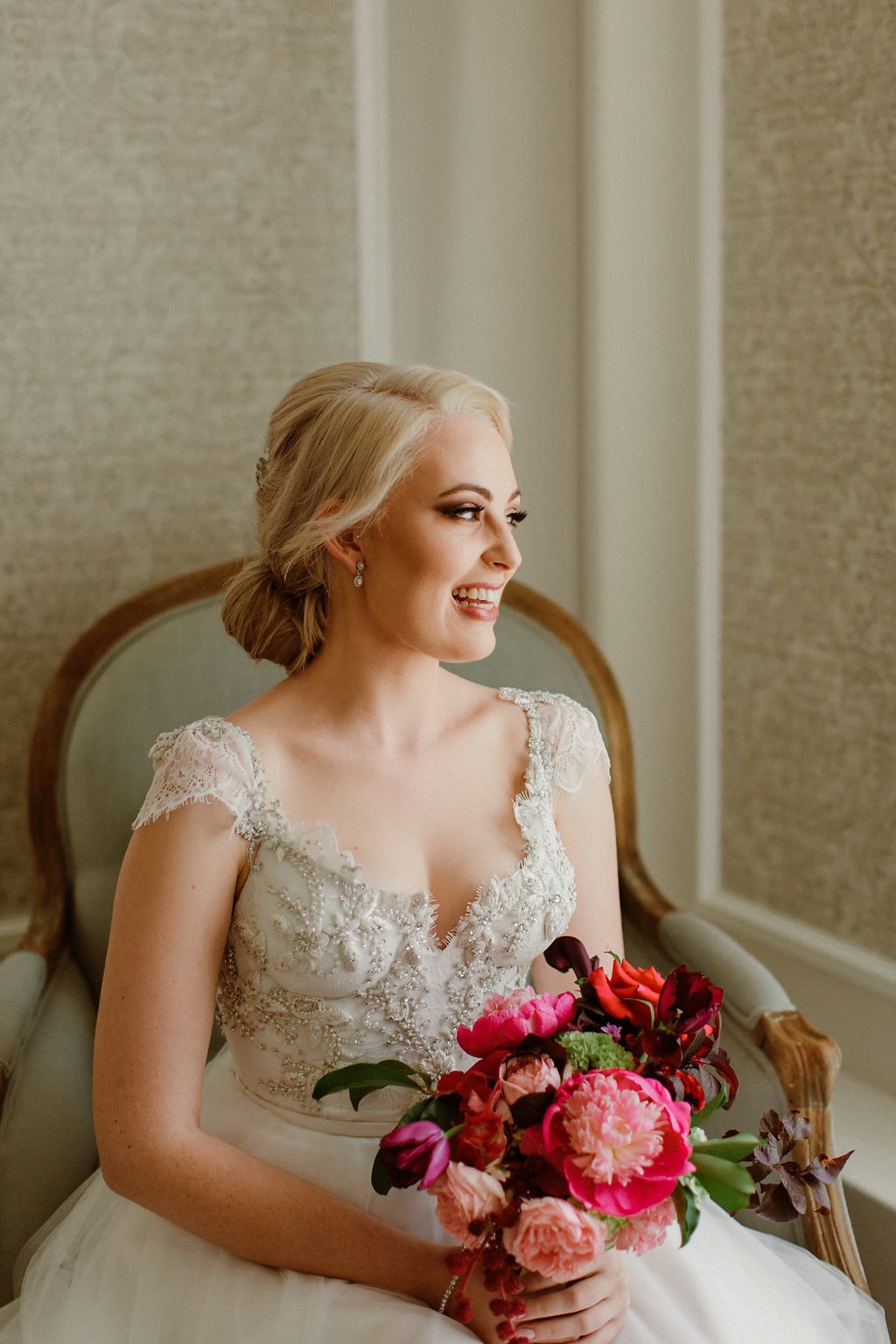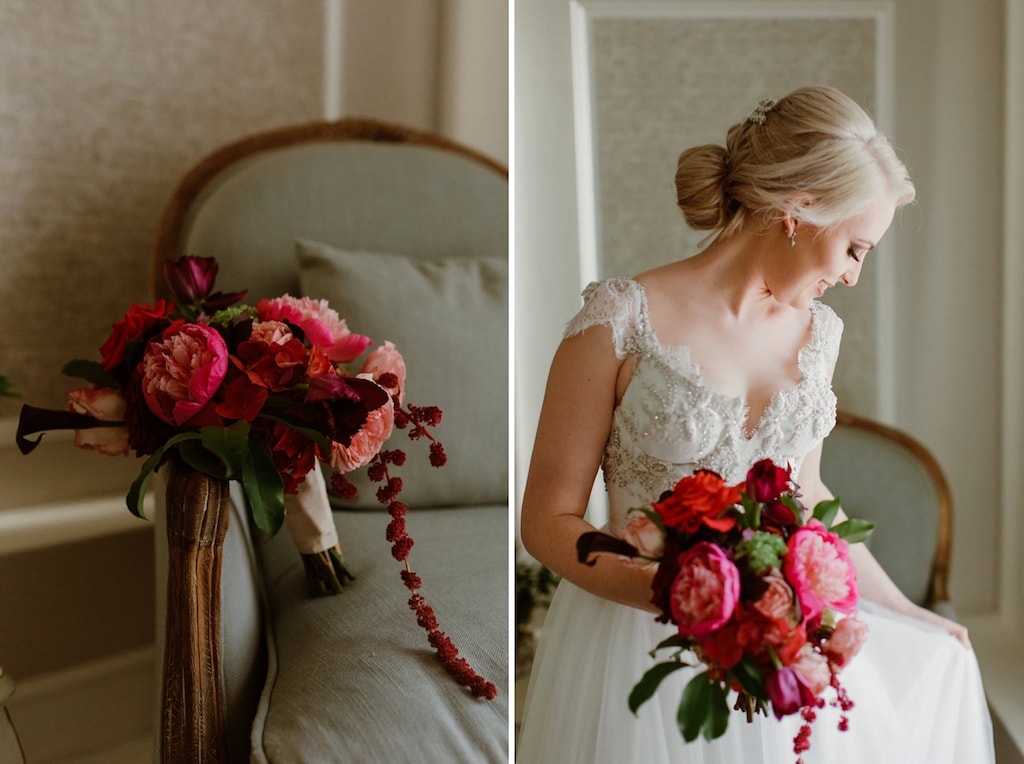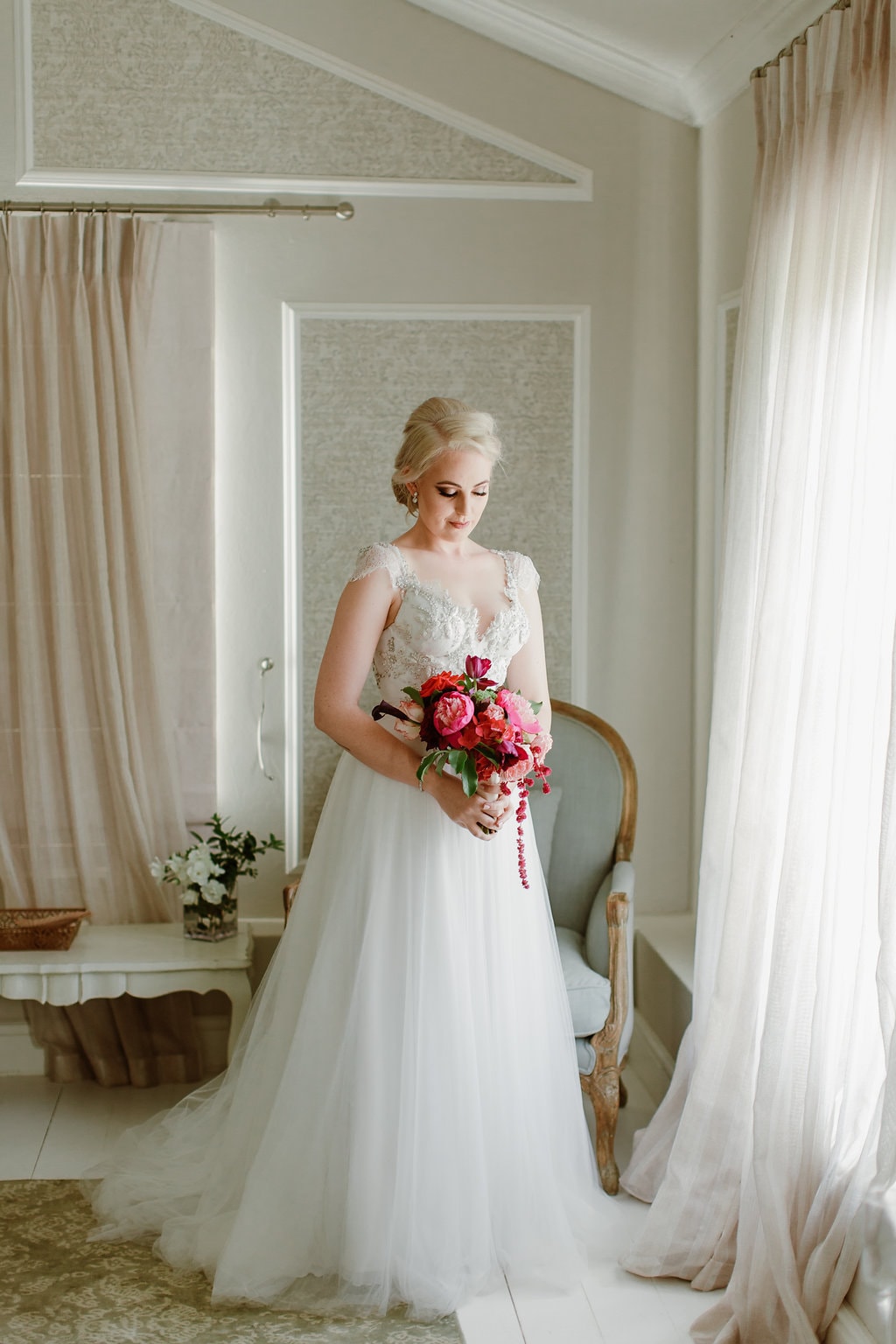 Love Story
Technically we met in 2011, but we never knew each other. I was waitressing at Mitzi's local hangout and so I remember her as a regular customer. But nothing more exciting than serving her coffee happened back then and our paths split soon after that anyway. Fast forward to November of 2014 where we met 'for real' through mutual friends. Neither one of us was very interested in a relationship at first, and so we decided to just get to know each other and see what happened. Soon we both realised we might want more than friendship and in an epic, movie-like act of romanticism, Mitzi drove eight hours through the night to where I was on holiday to ask me to be her girlfriend in person. I, of course, said yes!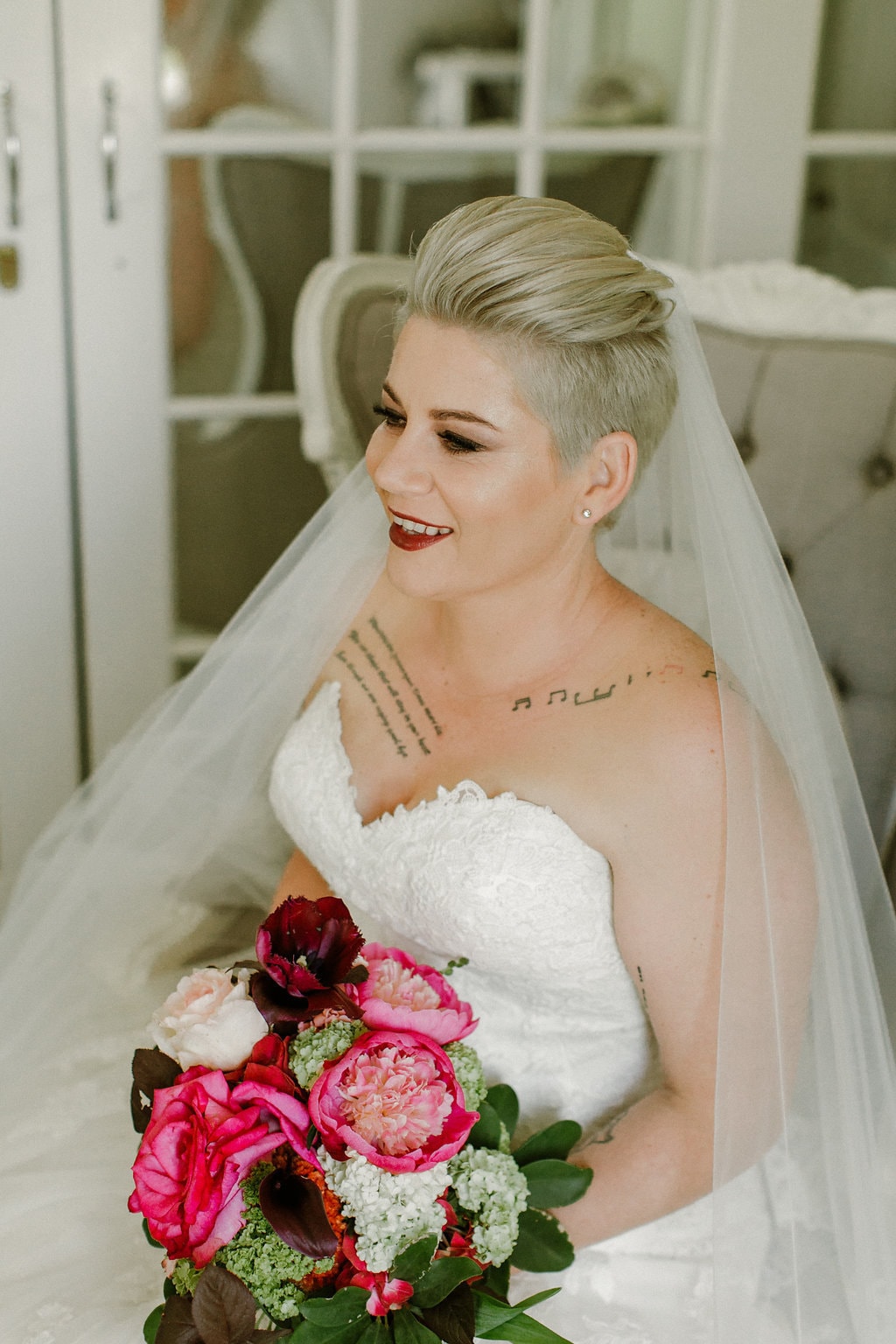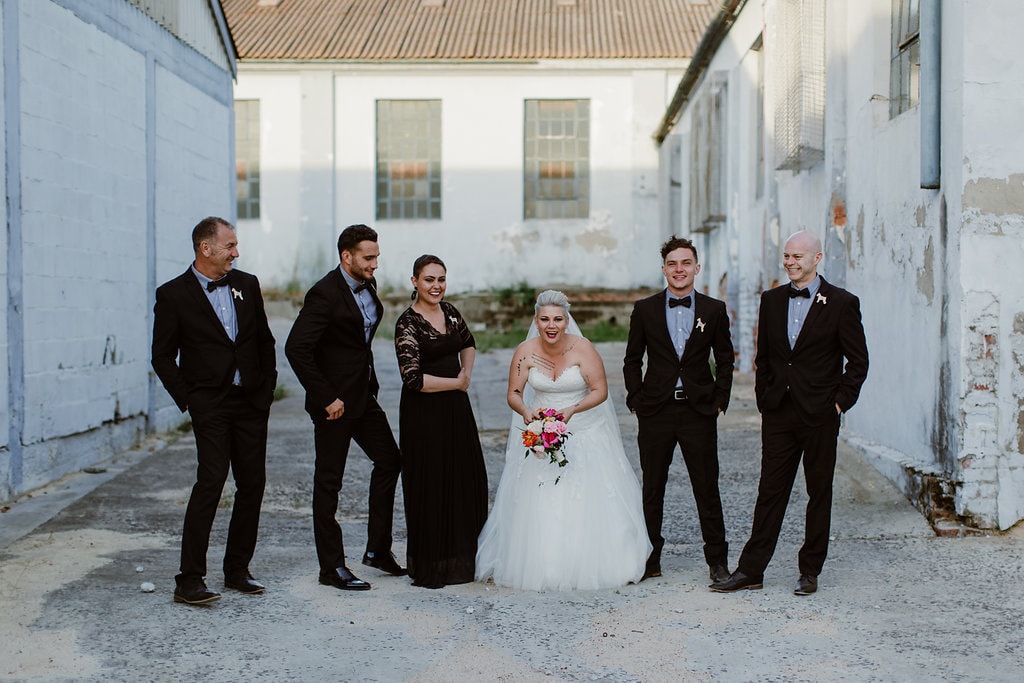 The Proposal
Mitzi planned this whole surprise engagement party for me where she was going to propose with all of our friends and family there to celebrate. But anyone who knows Mitzi knows that she's not very good at keeping secrets and really sucks at lying to me. So the day she fetched the ring from the jeweller, she drove straight to my parents to ask for their blessing and proposed the moment we got home that night, in front of the dresser in our room! I of course then found out about the engagement party and saw my opportunity. I bought her ring and decided I was going to hijack the engagement party and propose to her as well! Every girl wants to be proposed to and she deserved nothing less. She was totally surprised! It was a beautiful moment with our friends and family.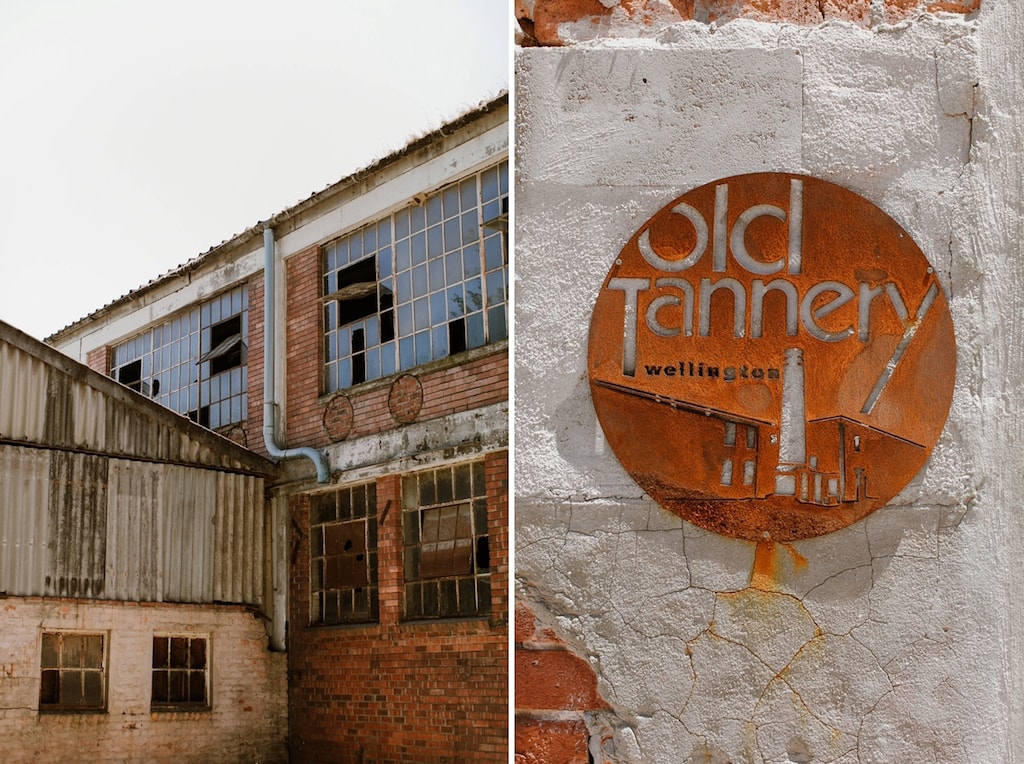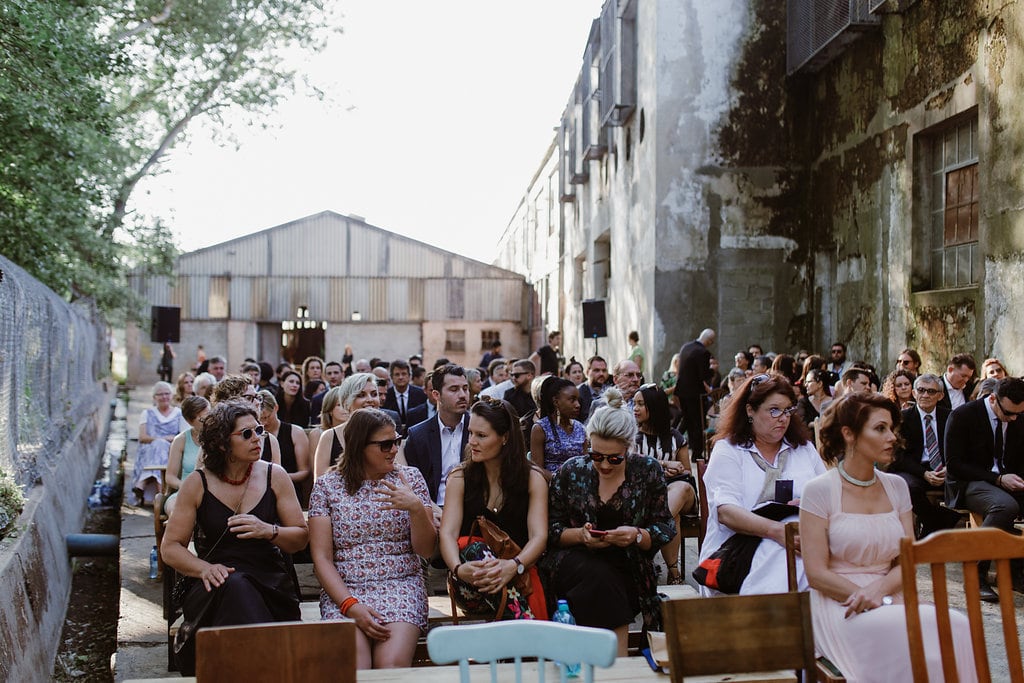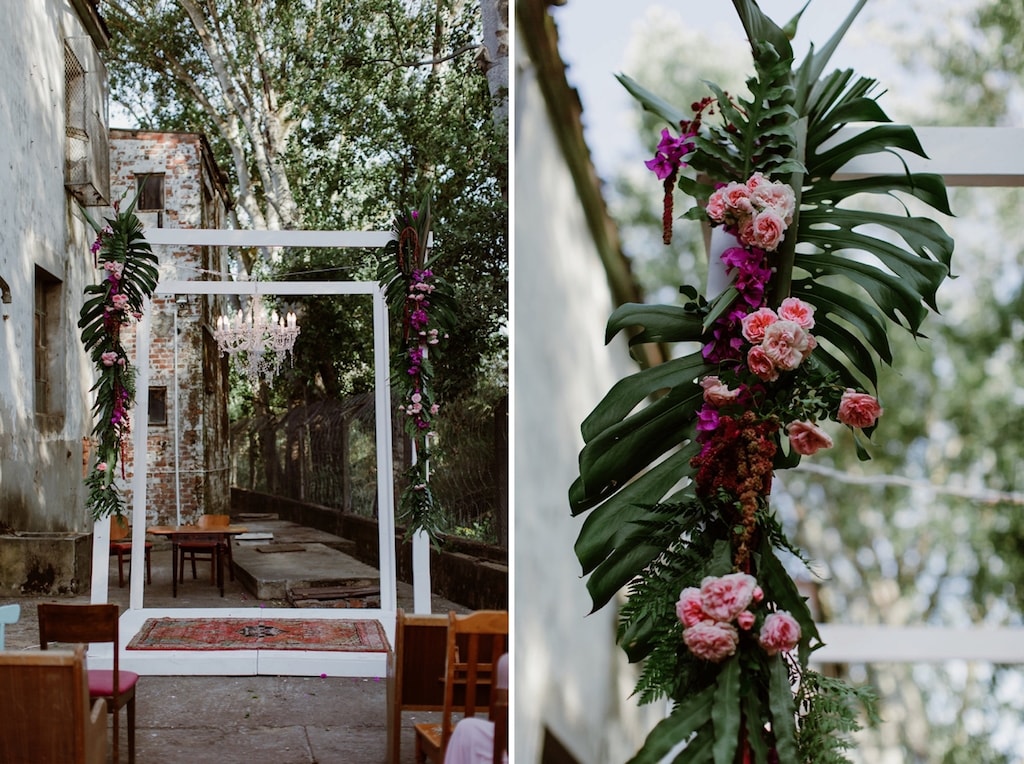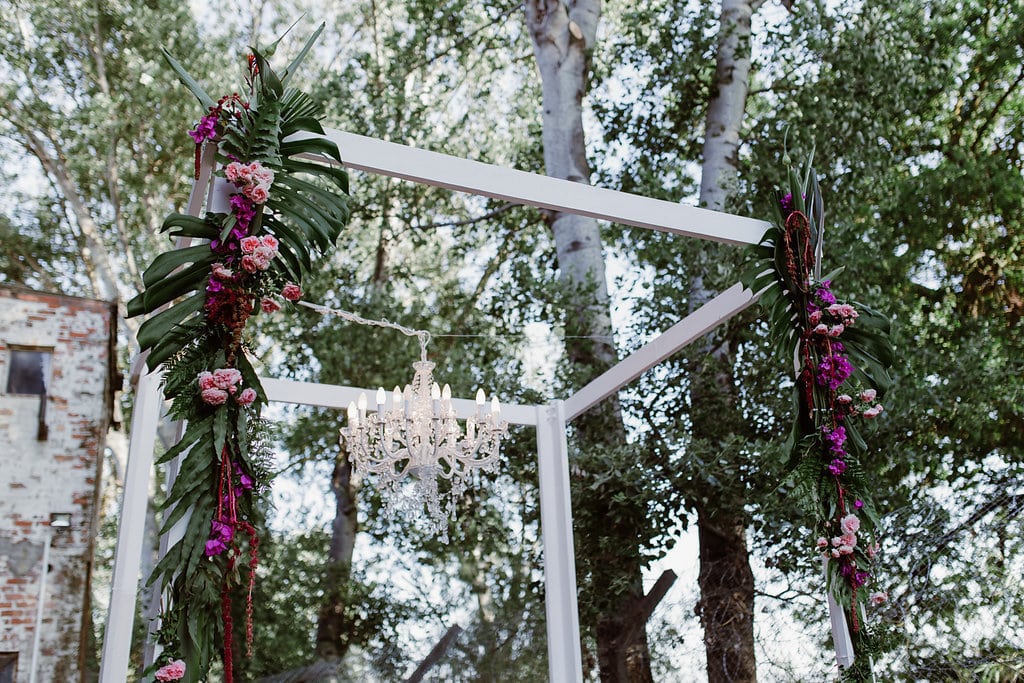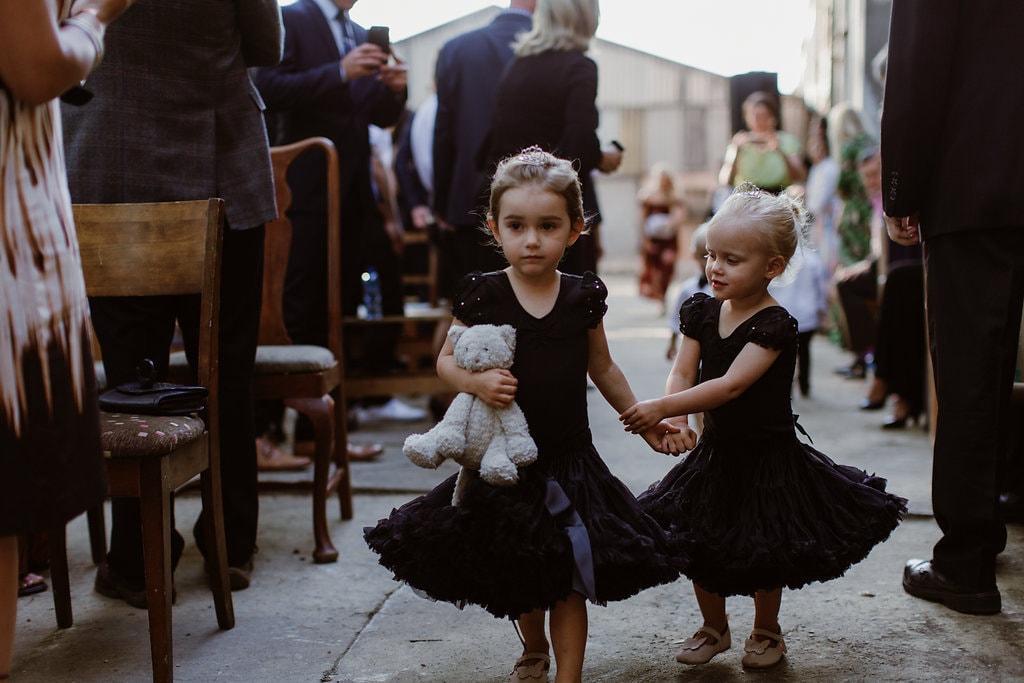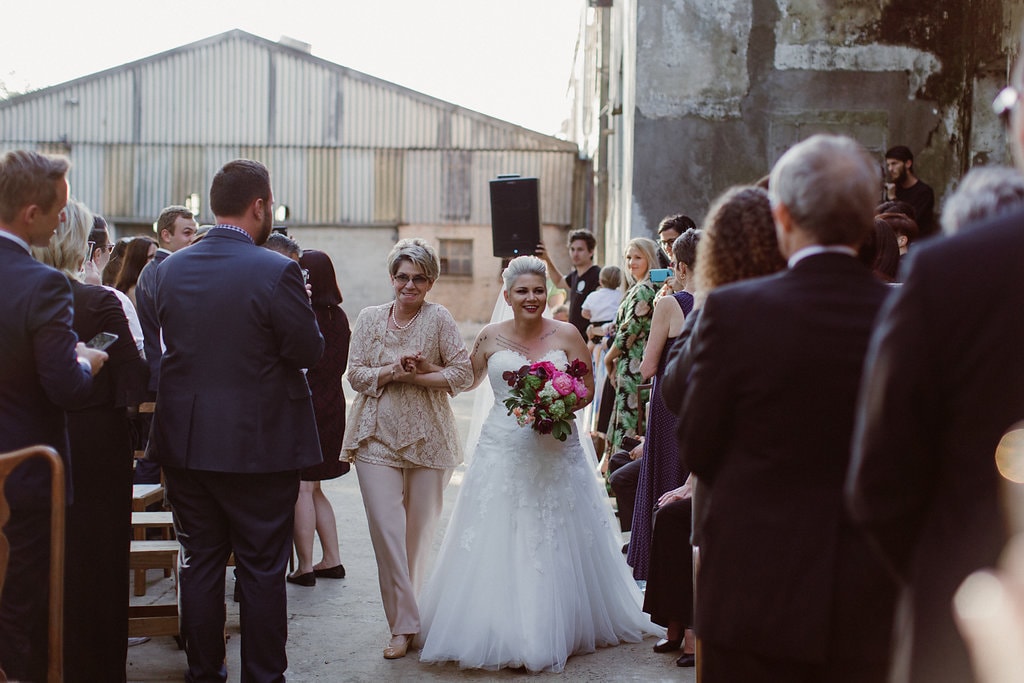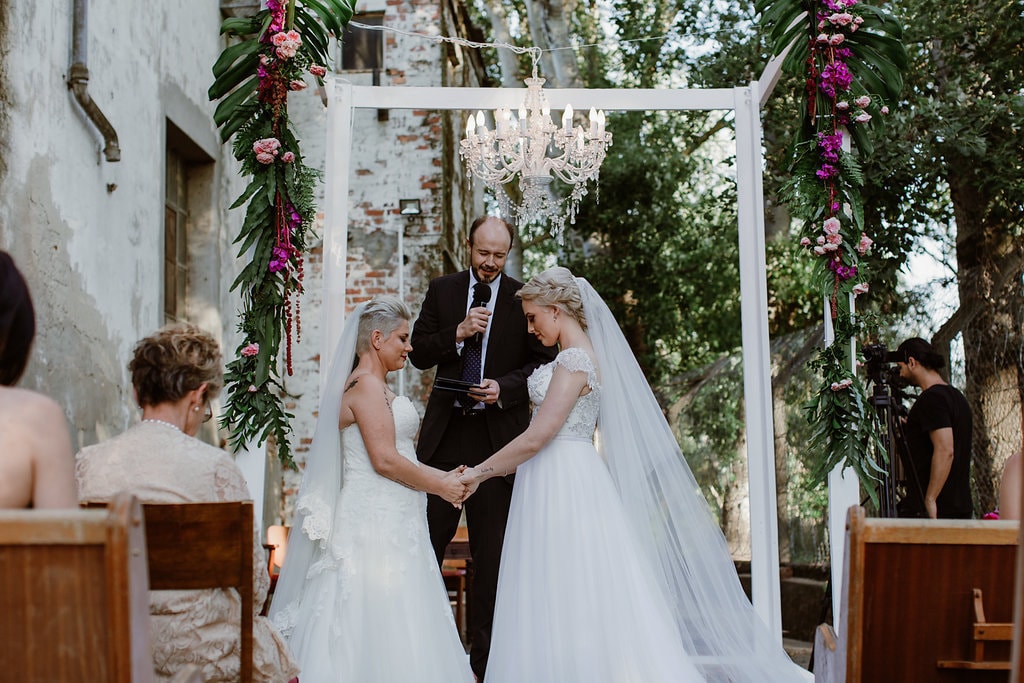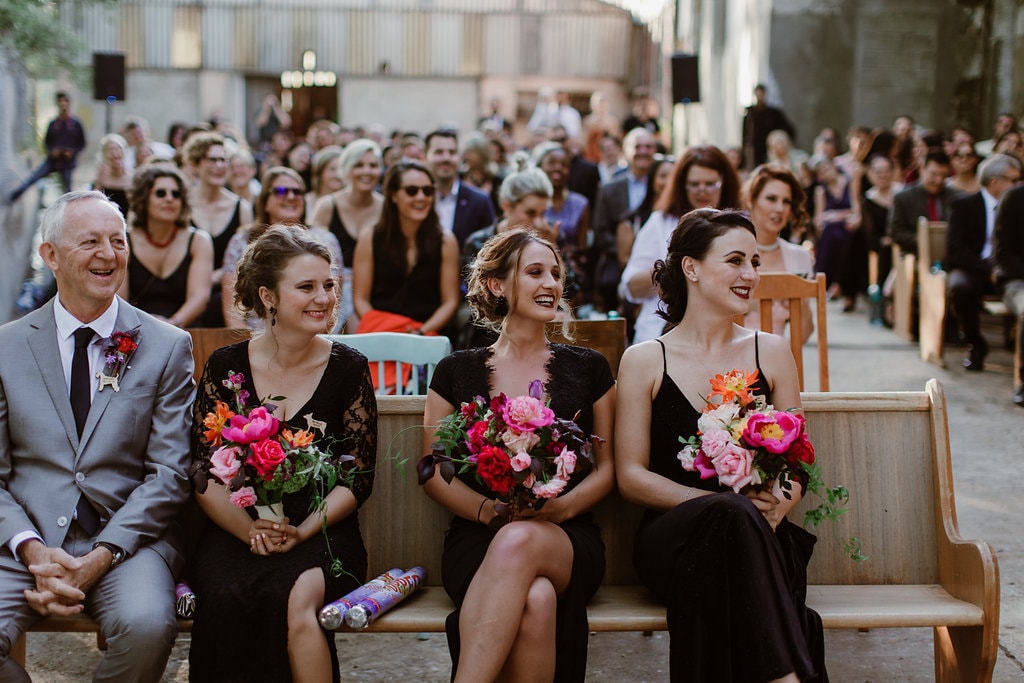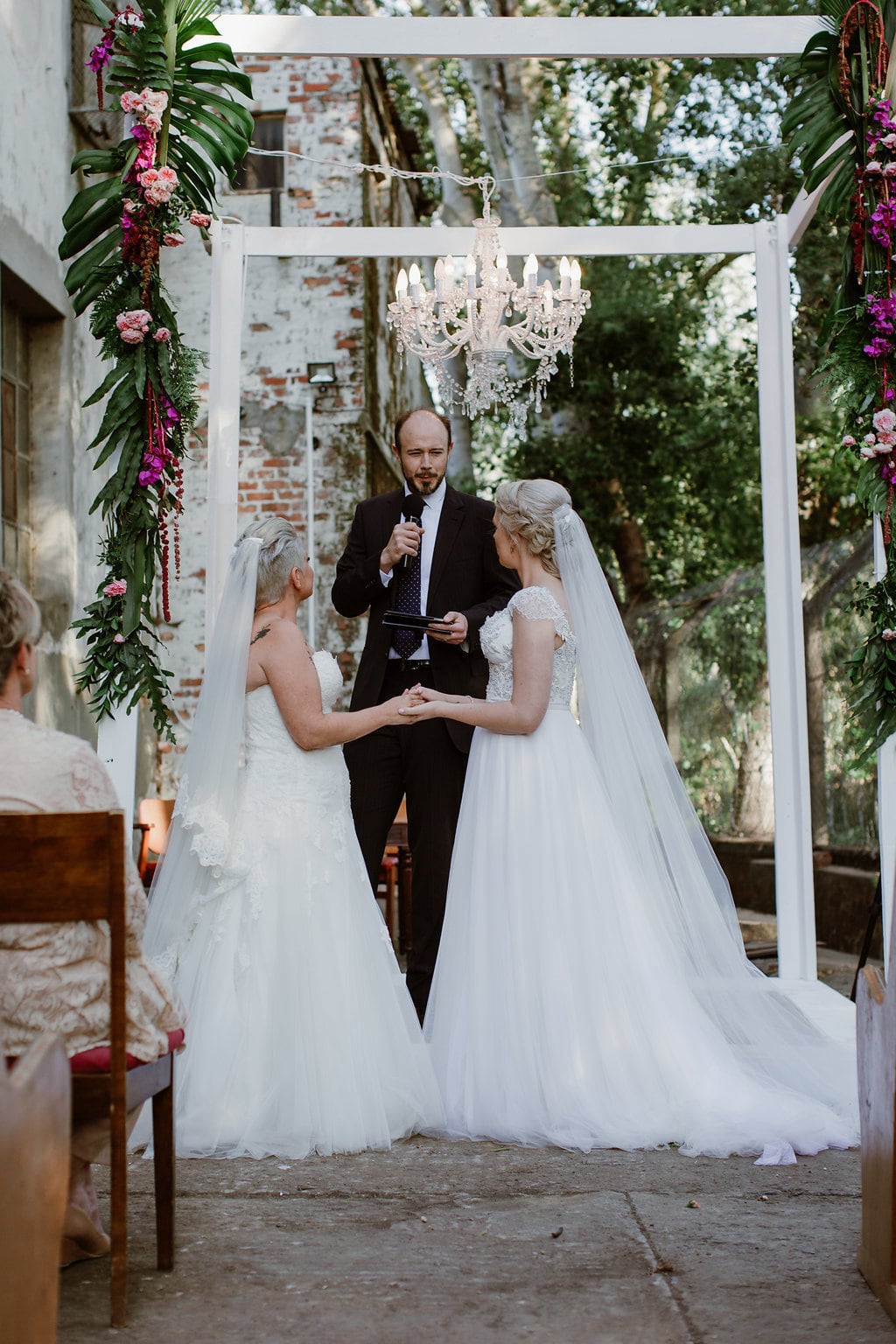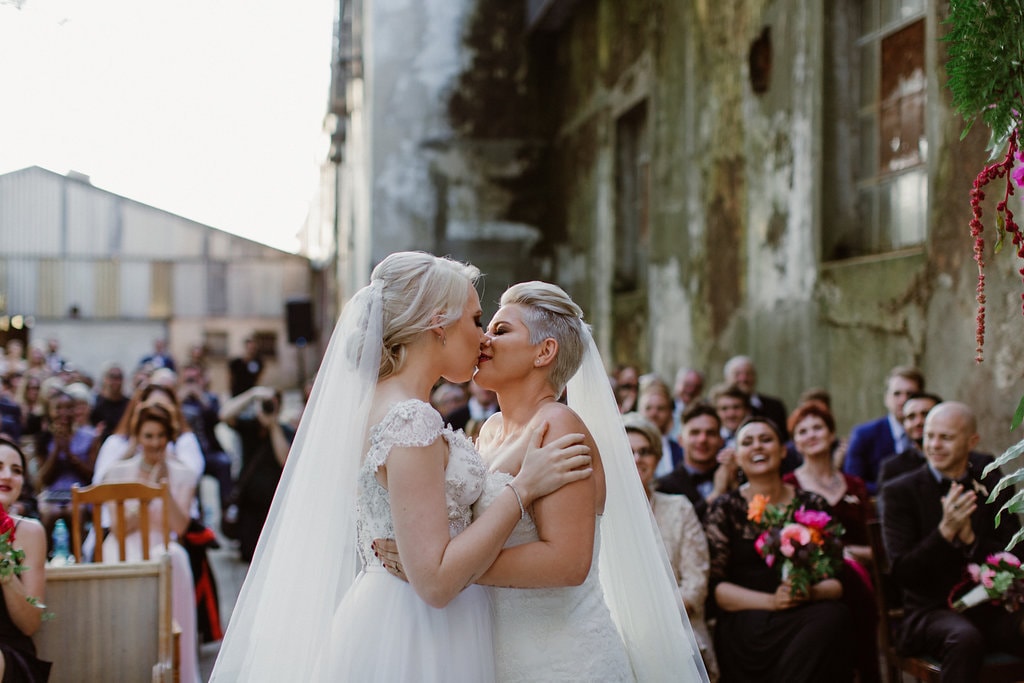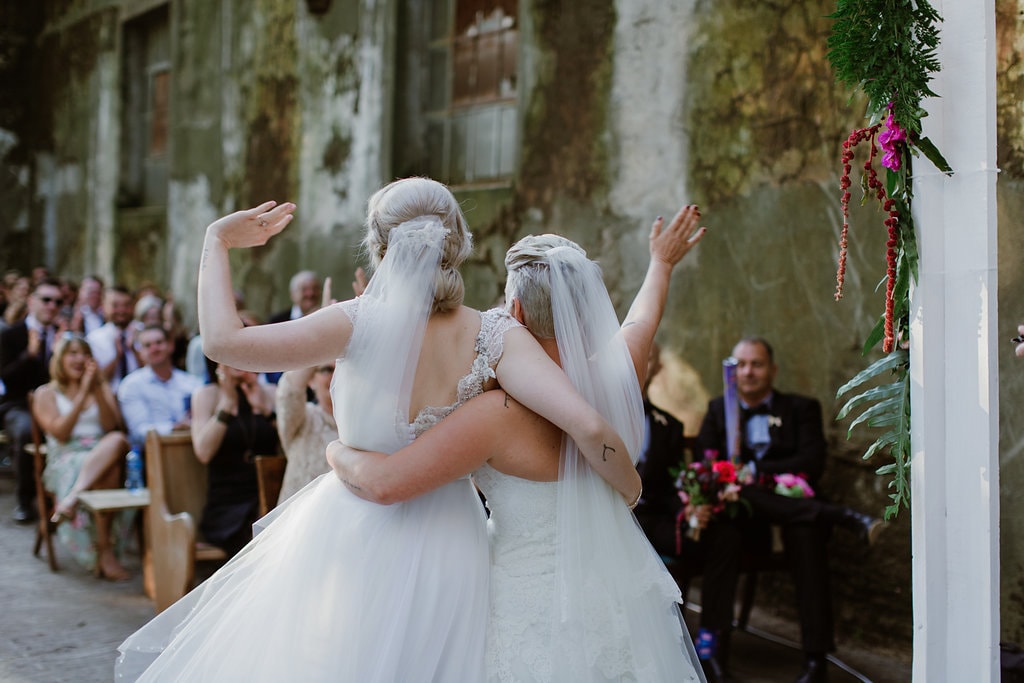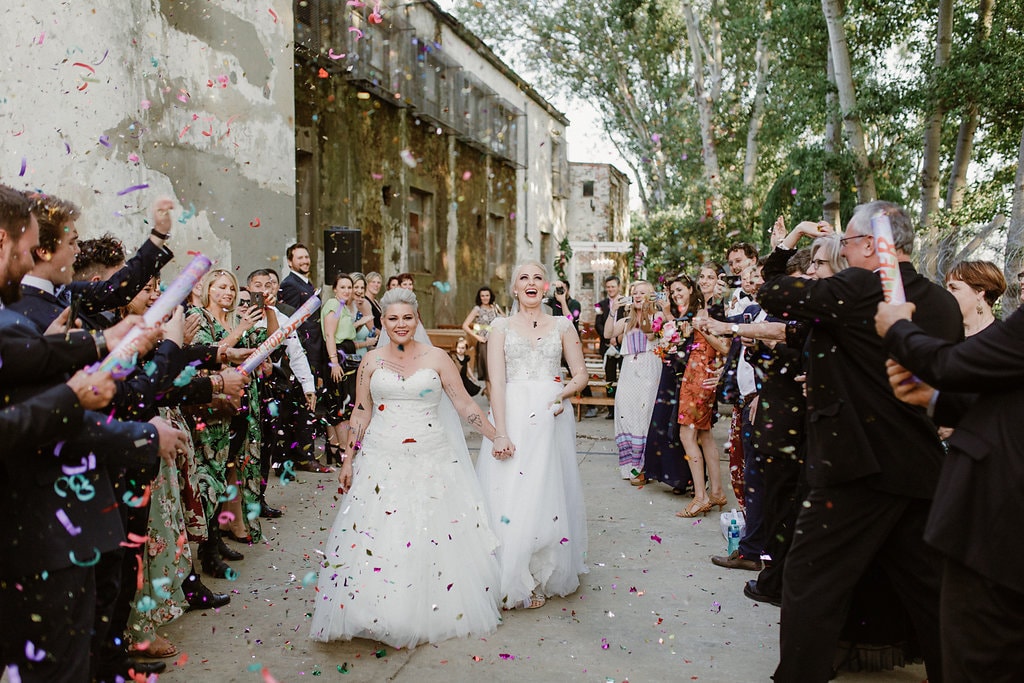 The Venue
We were looking for something unique and most importantly, a venue Mitzi has never DJed at! We didn't want her to feel like she was going to the office. The moment we first laid eyes on The Old Tannery we were absolutely in love with the place. We had such an exciting vision for what we wanted to do and that venue just brought our vision to life perfectly.
Wedding Style
We liked the idea of combining the worn-down, stark and industrial look of the venue with a lots of beautiful lights and feminine touches to create a nice contrast. Our colour palette was not at all summery and that's exactly what we wanted. Bold, strong, feminine, stylish, different. Our colours were black, burgundy, emerald green and metallics (gold, rose gold, and silver). Lighting was probably one of our most important features and definitely a key part of our vision.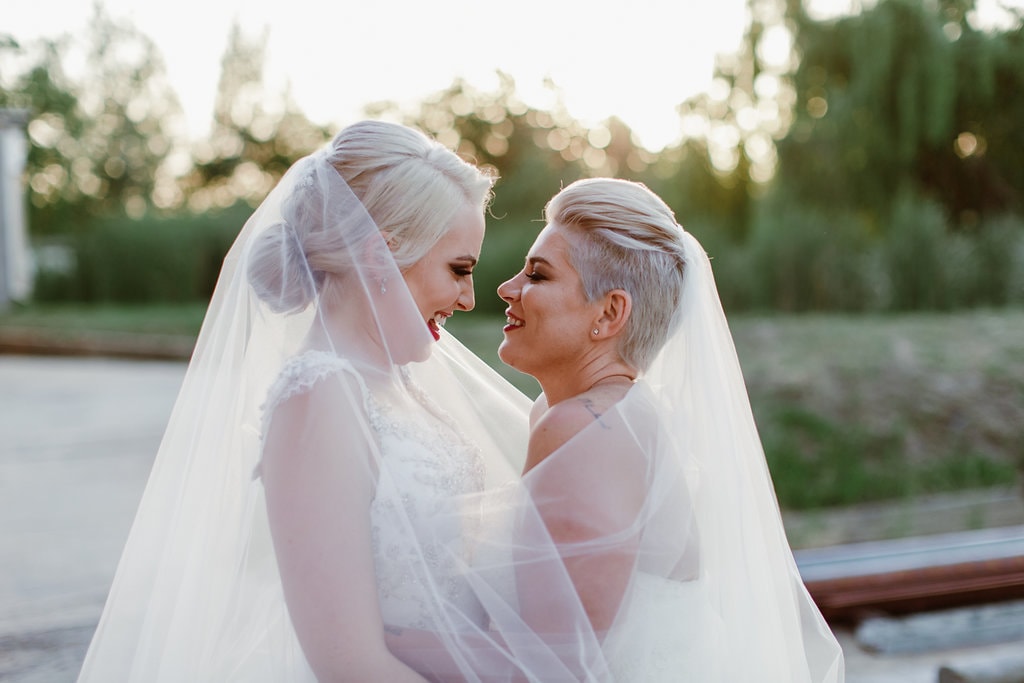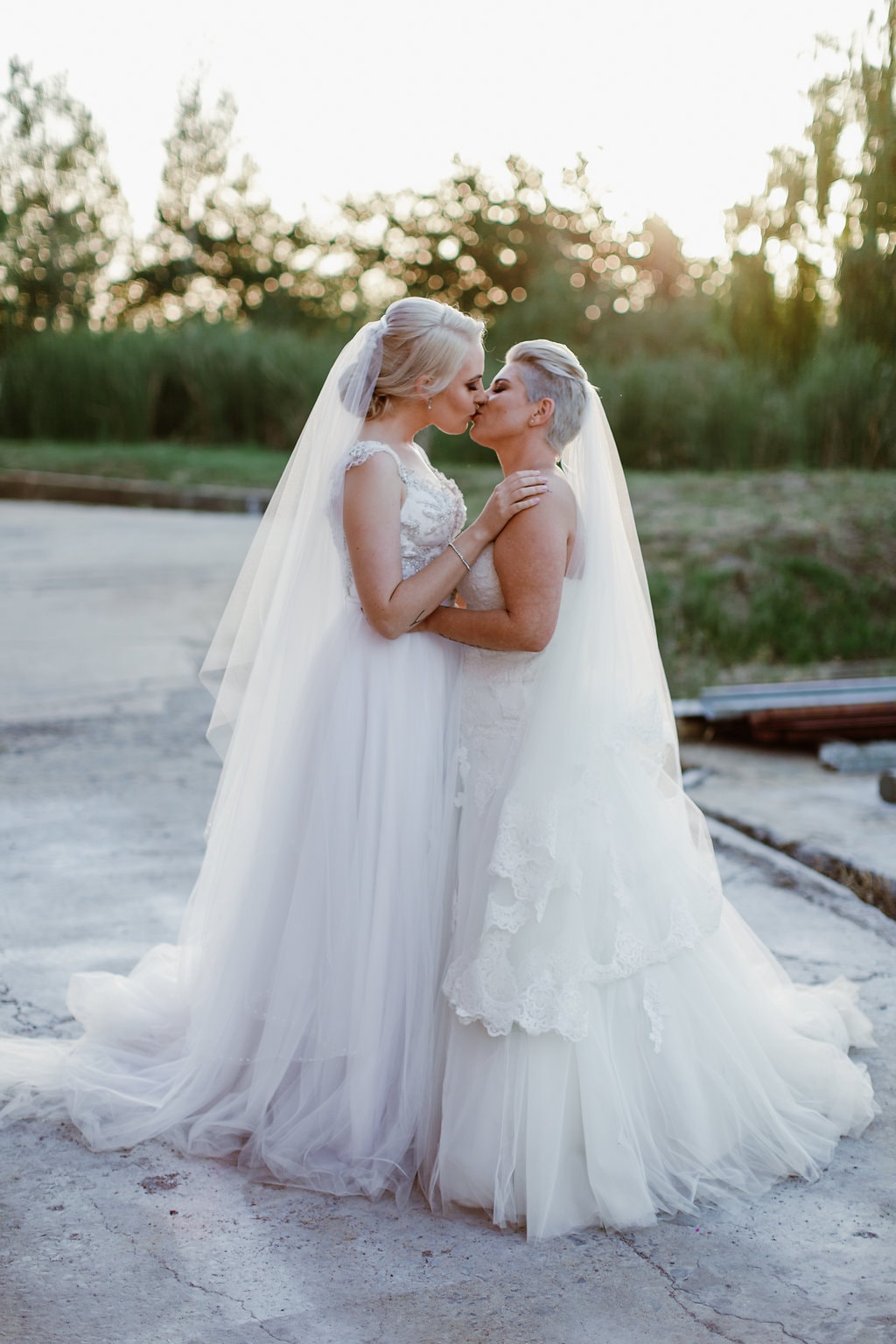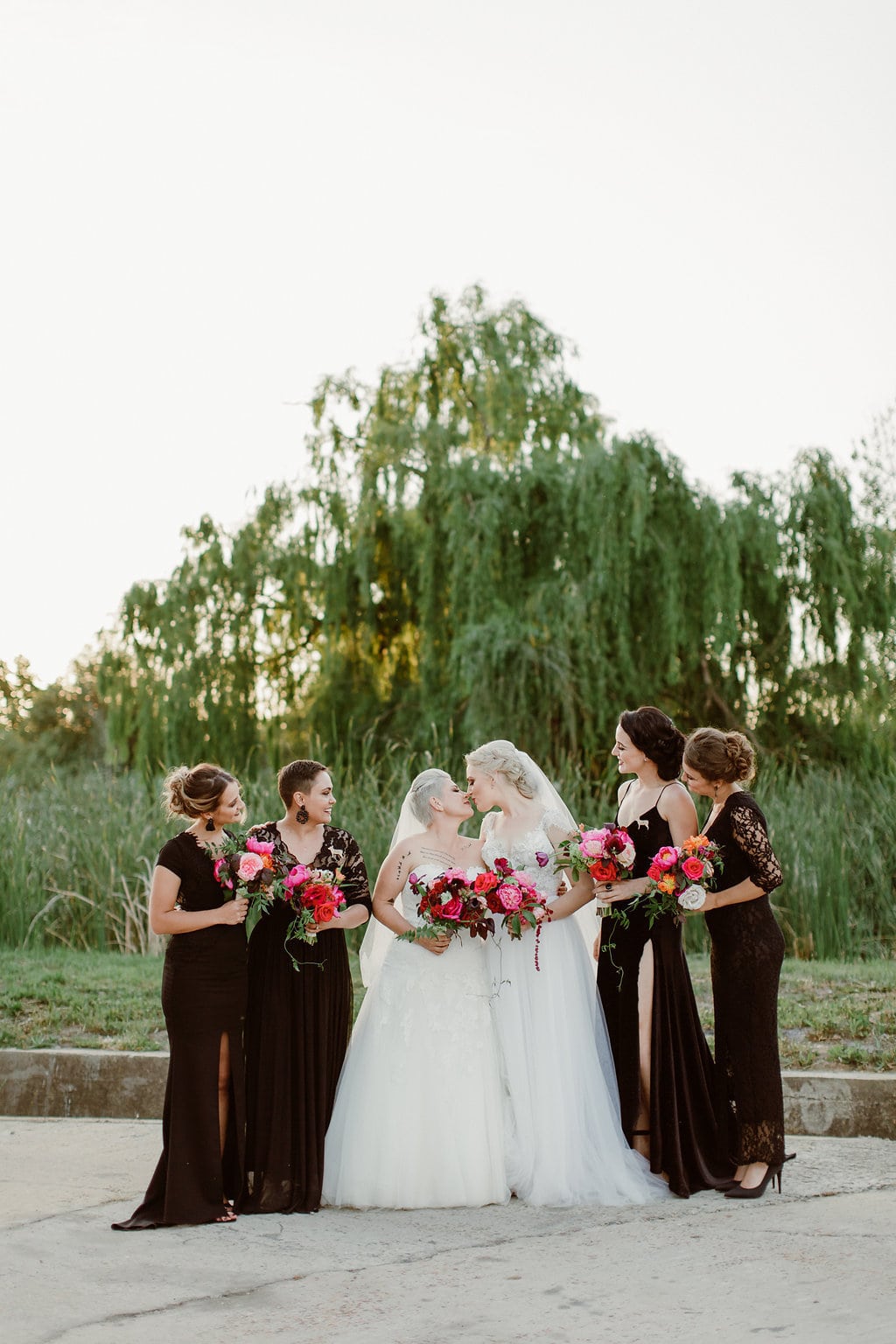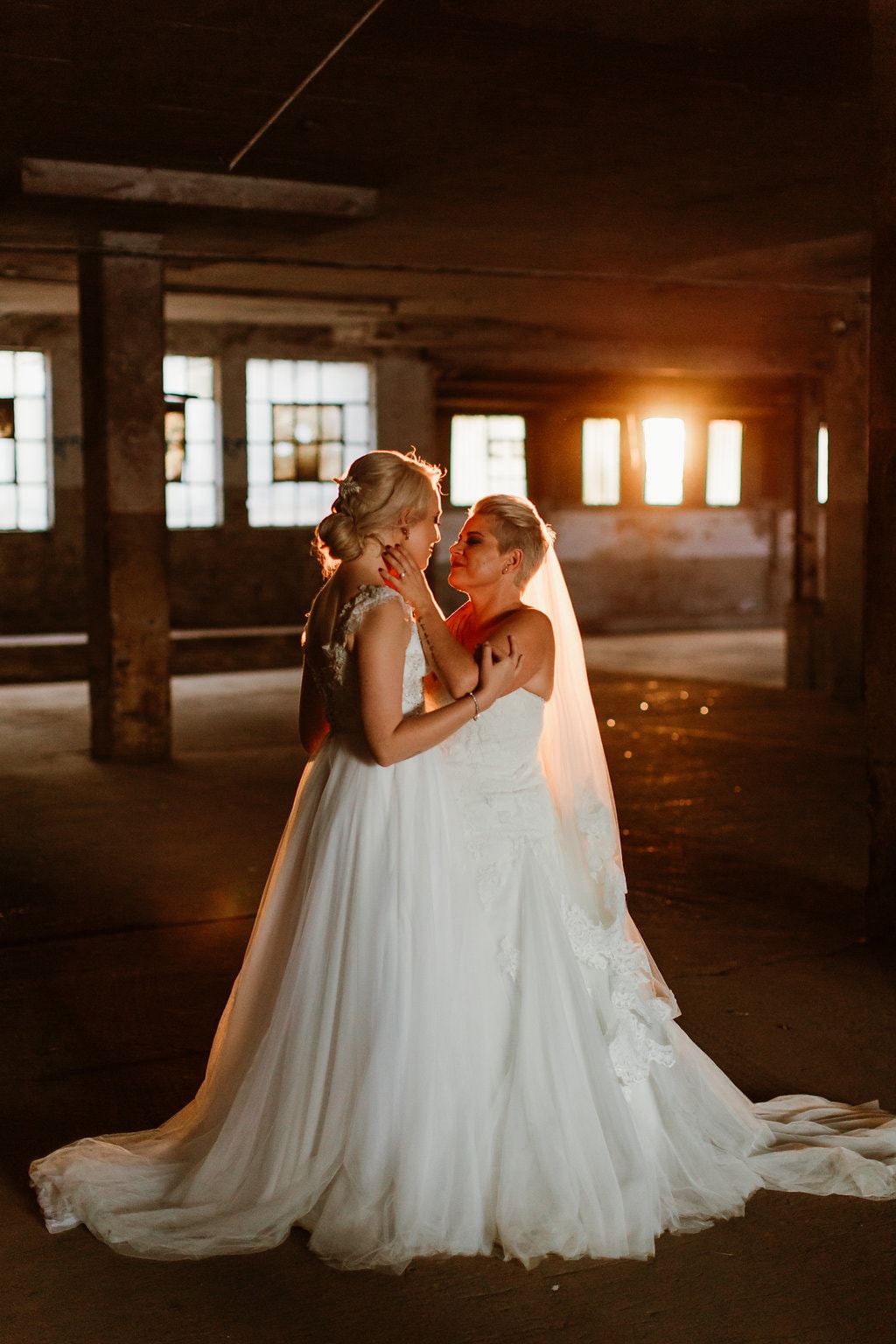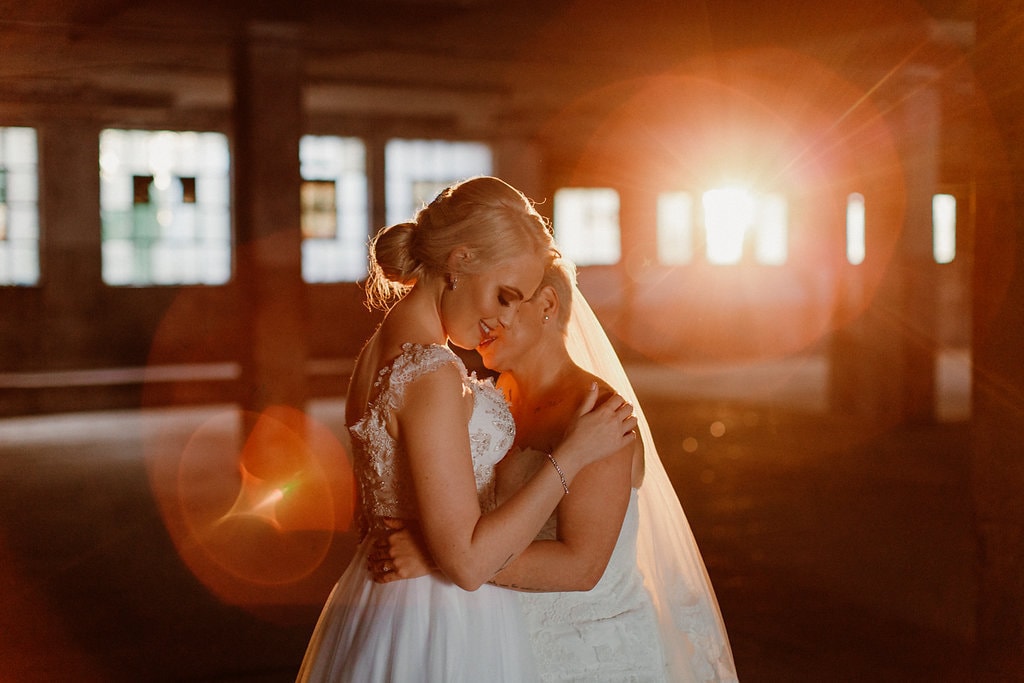 Wedding Details
Our cake toppers were little wooden cut-outs of our two dogs. We used the same wooden cut-outs of our two doggies to engrave each guest's name onto a name badge. Our dogs are our little family and we knew we had to find a way to bring them to the wedding without actually bringing them to the wedding (because that would be chaos!). Our other special wedding detail was how we opened our dancefloor. We decided we didn't want to do the first dance ourselves because A) Two women doing a 'vas-dans' (slow dancing) just looks strange and because B) slow-dancing (vas dans) is really not us and we would hate it. So we decided to ask two ballerinas to open the dancefloor for us with a choreographed perfomance to a song that was very special to us.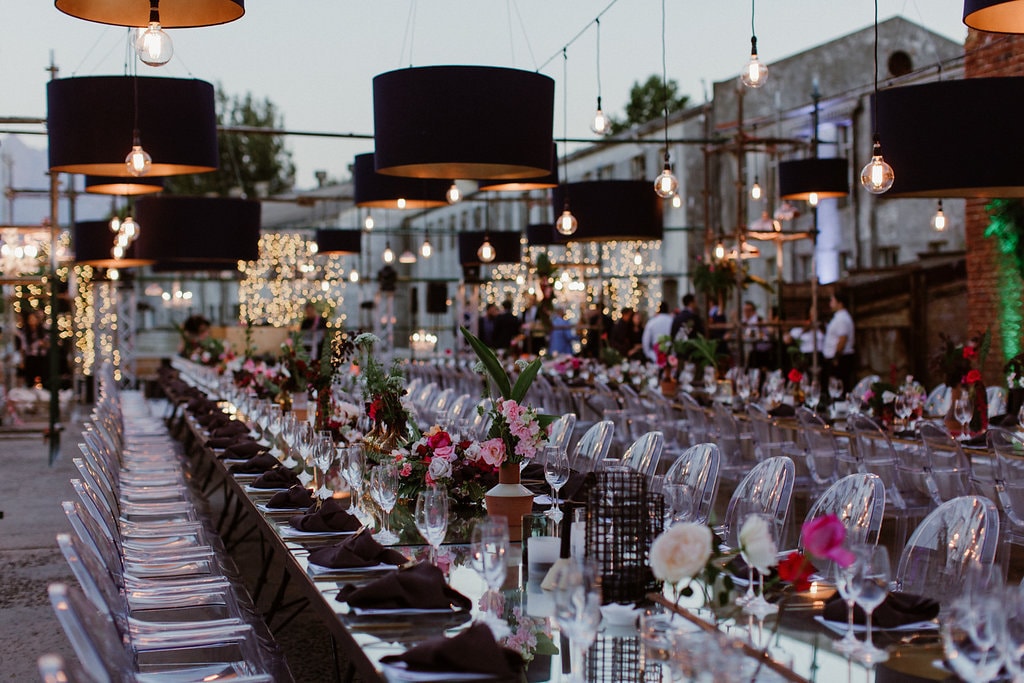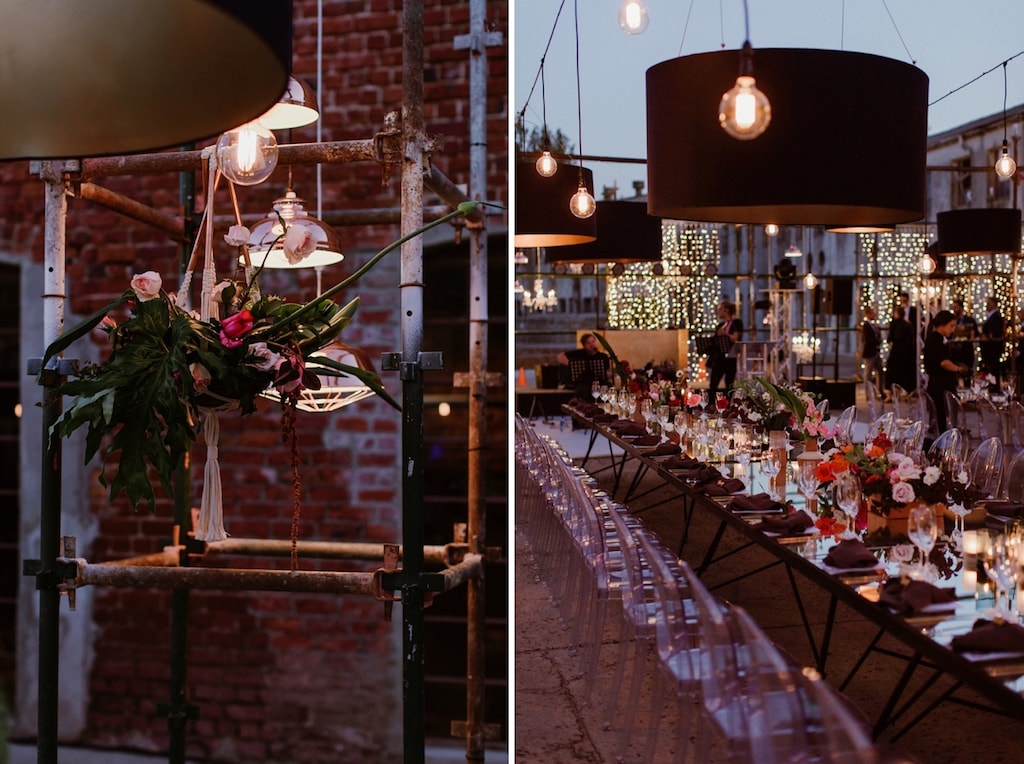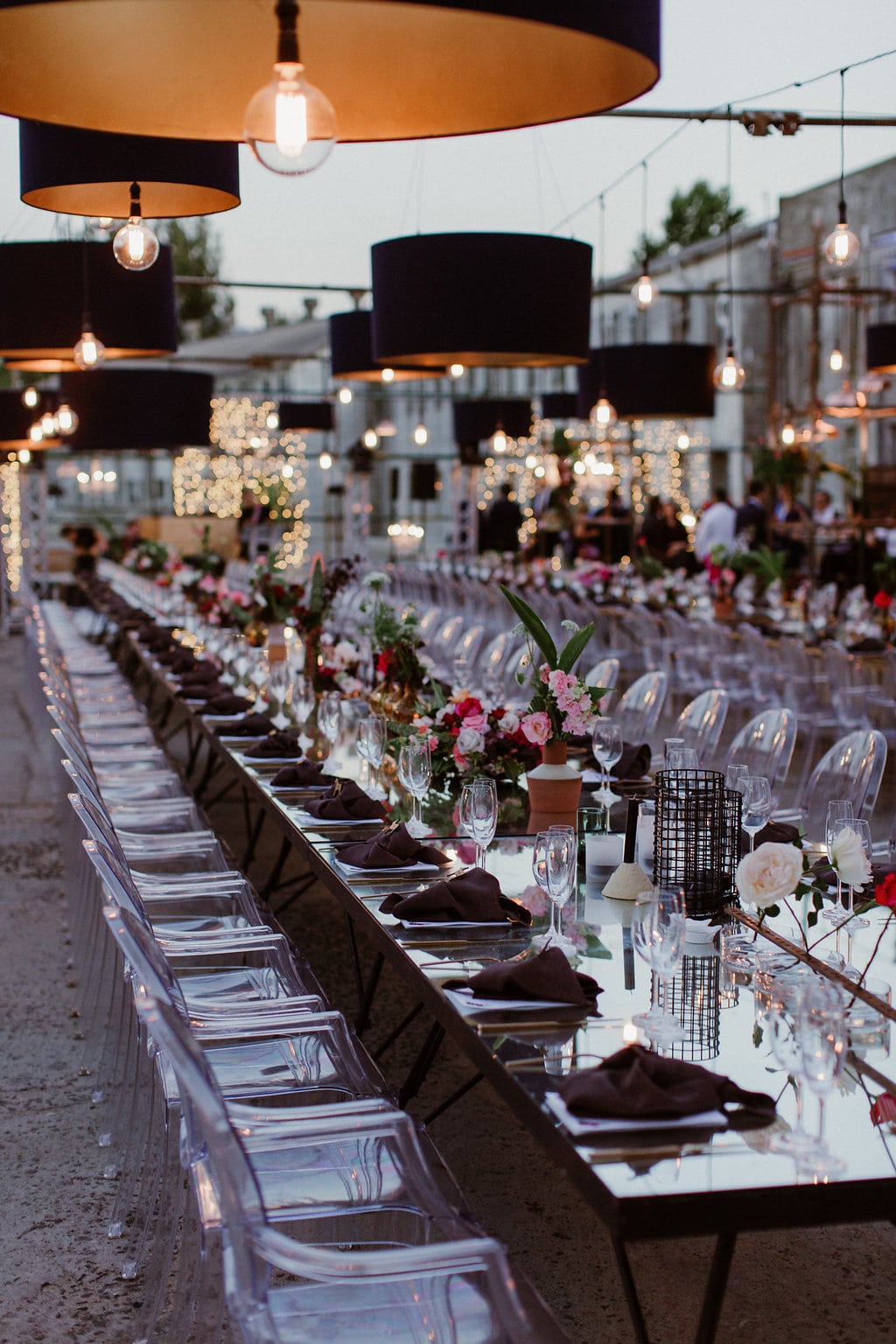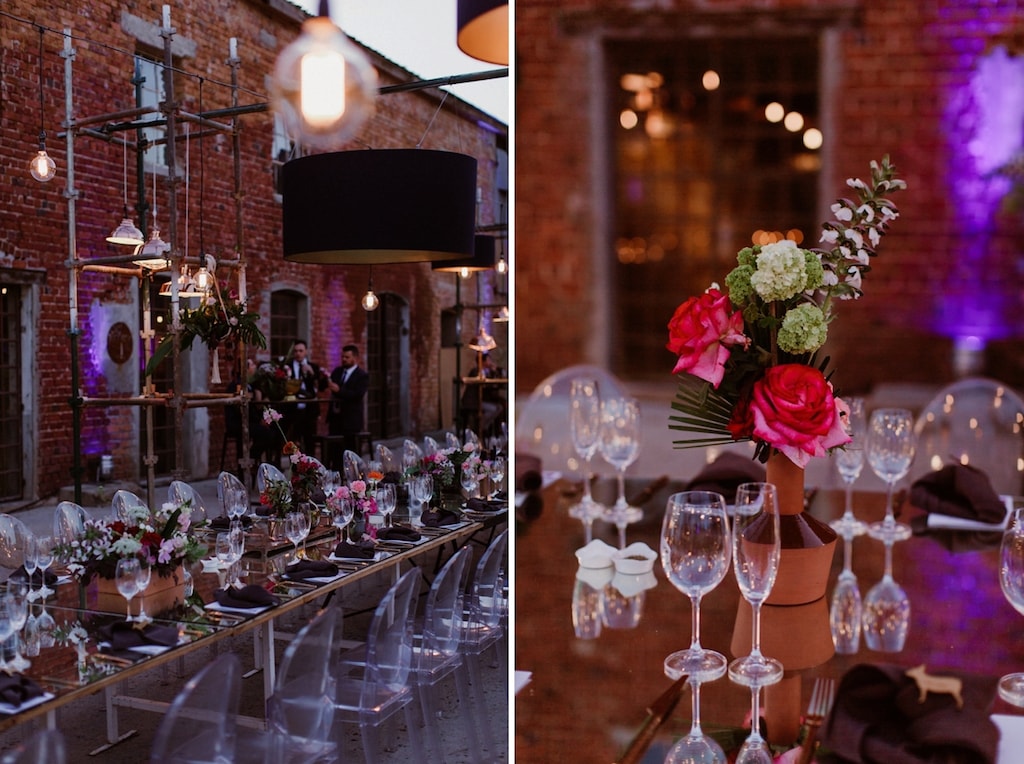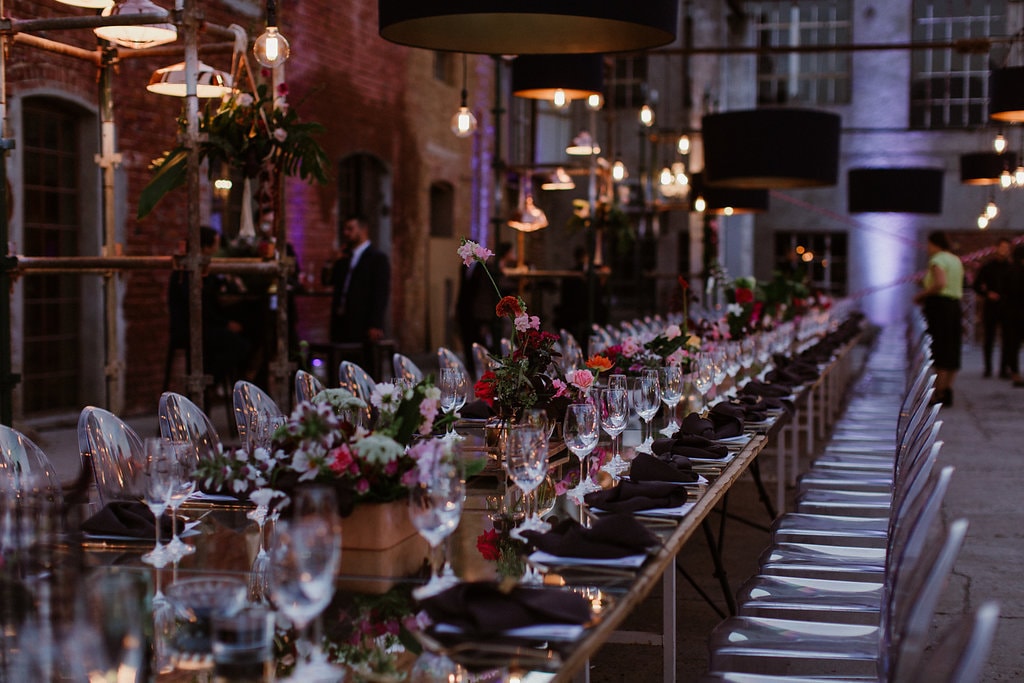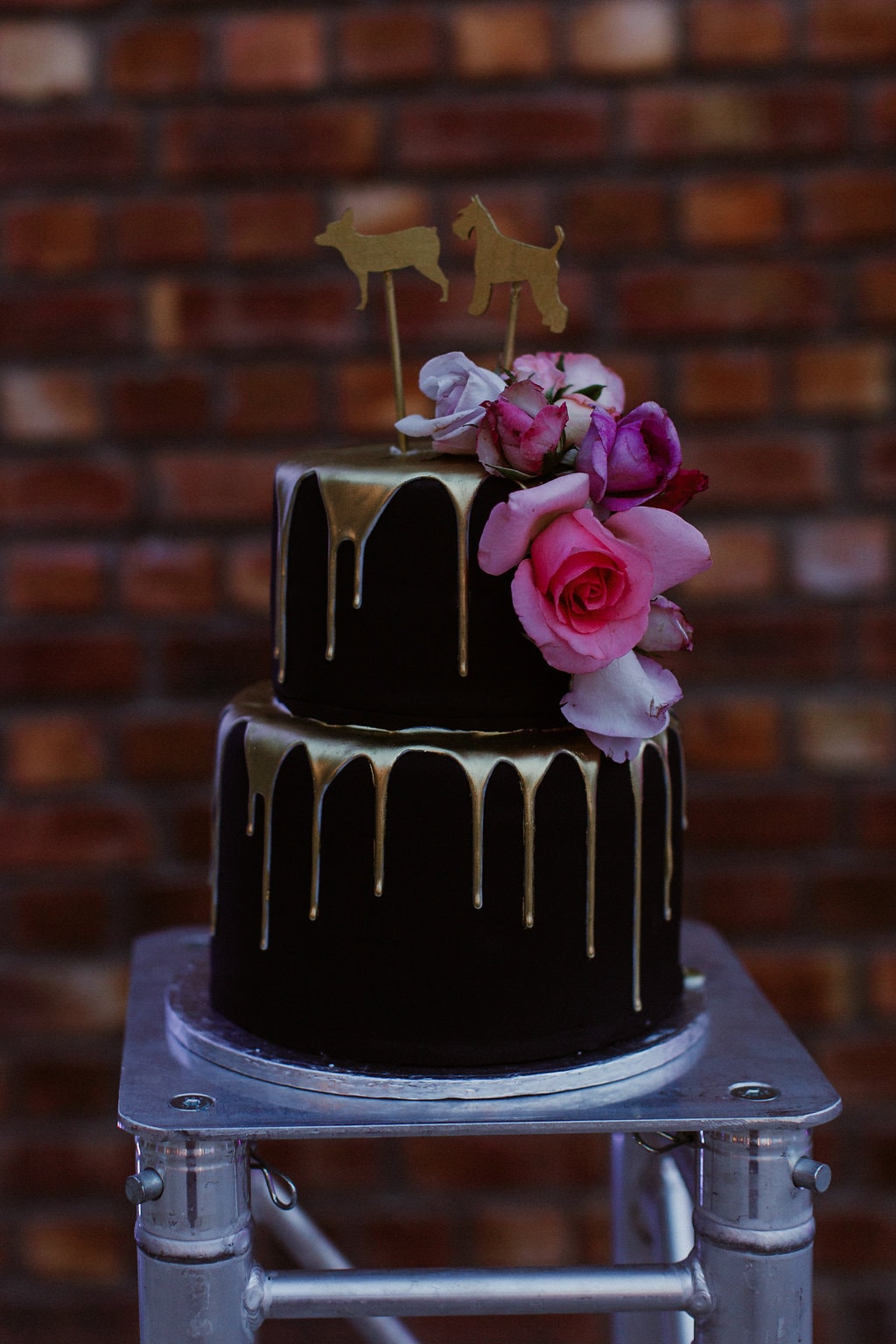 Memorable Moments
The ceremony was probably the most special part of the day for both of us. For me, walking down the aisle and seeing Mitzi waiting for me, looking so beautiful, was definitely a moment I will never forget! For Mitzi: seeing me walk down the aisle and saying our vows!
Proudly South African Details
The music! We both love African music and used our favourite Brenda Fassie song as our entrance to reception song and our favourite PJ Powers song as our confetti song, after signing the register.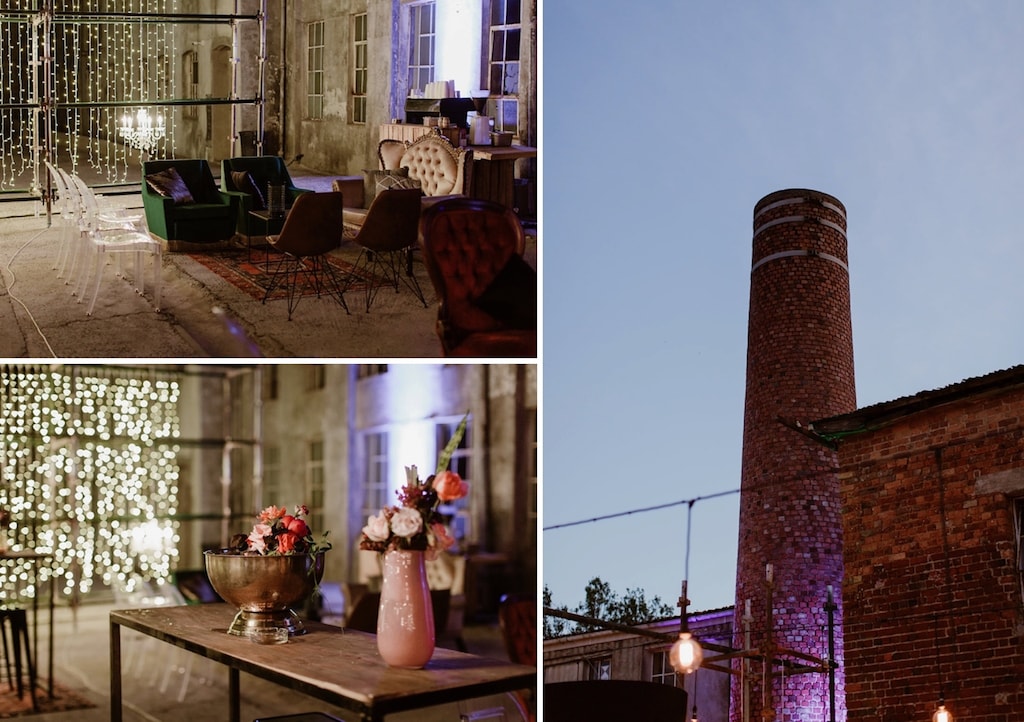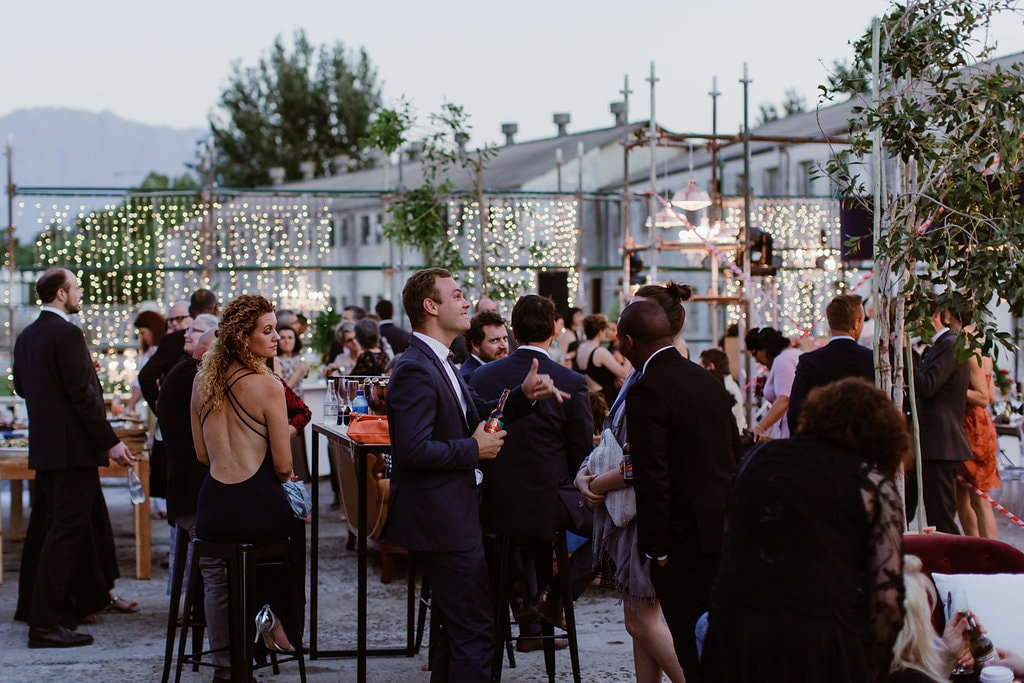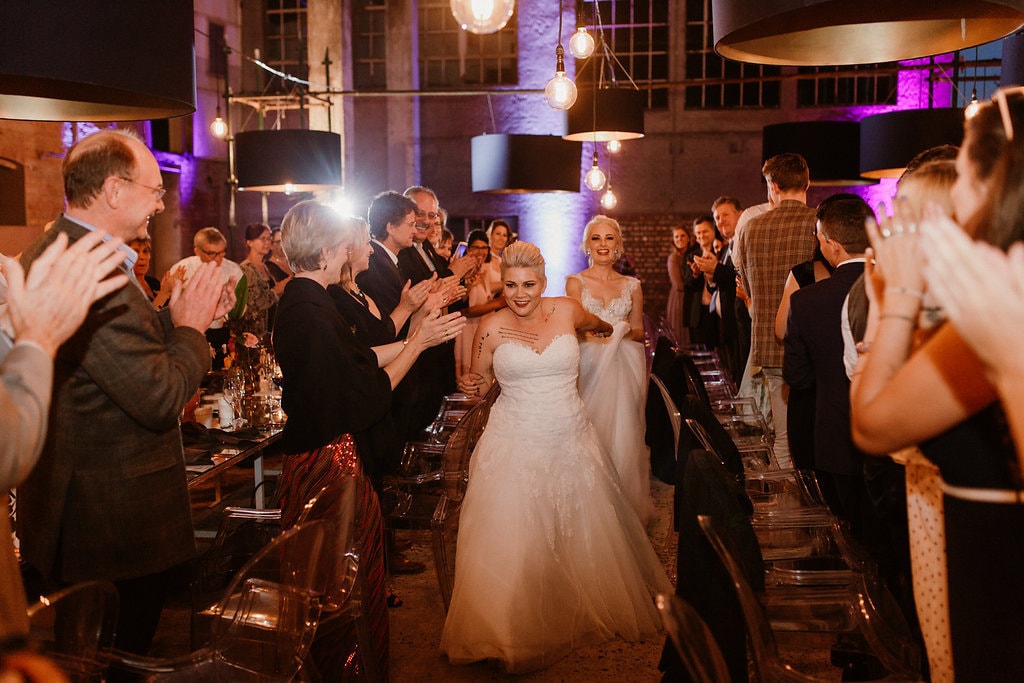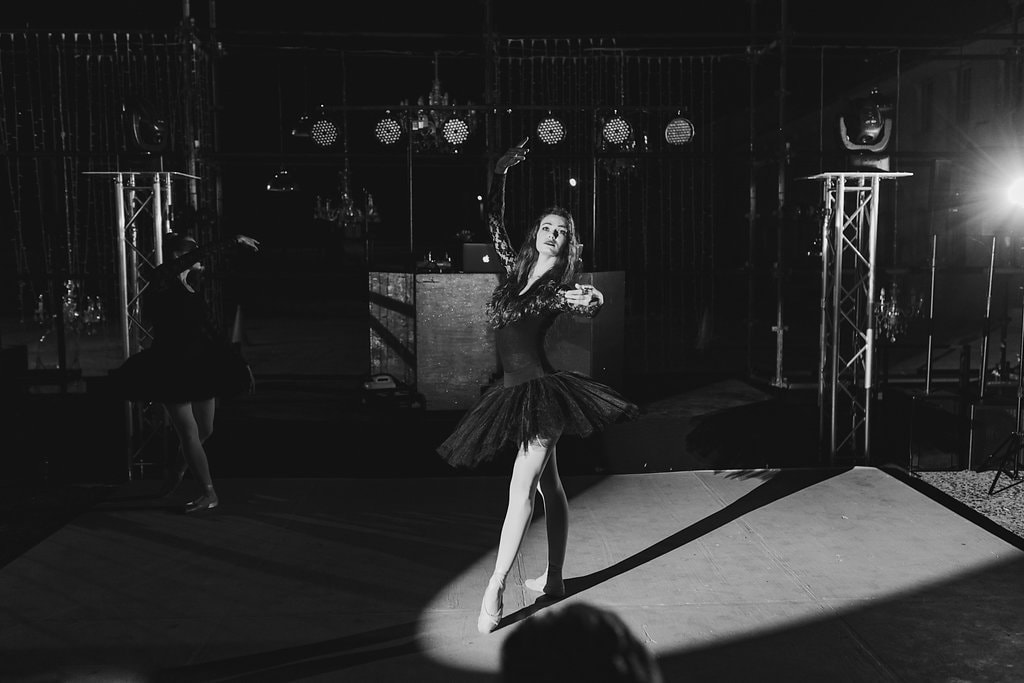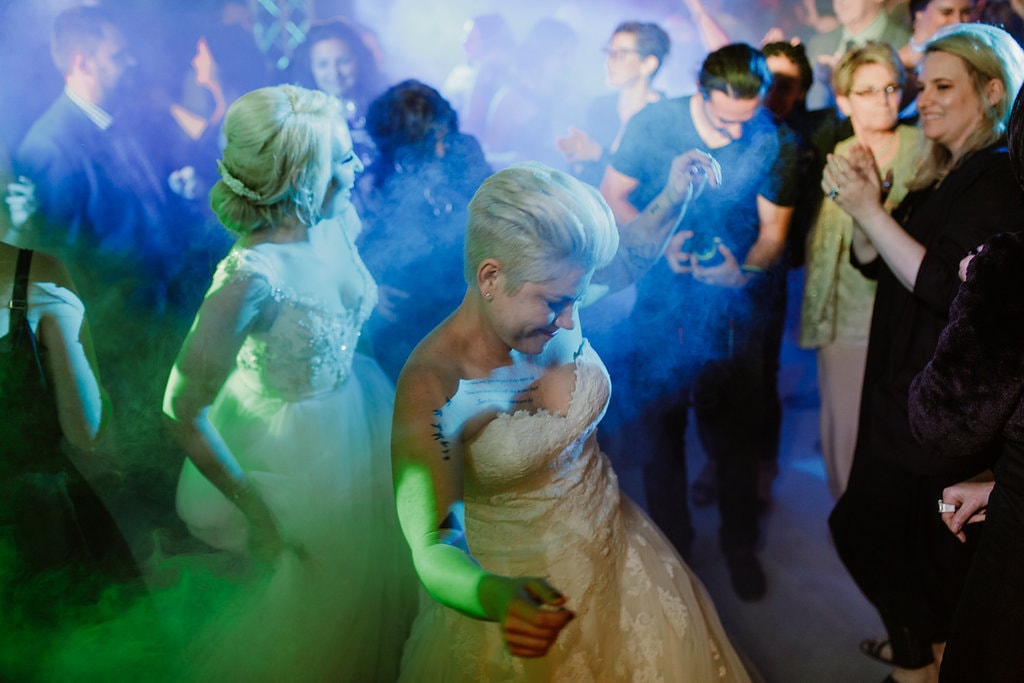 Advice for Future Couple
Get service providers you can trust and depend on. Do your wedding the way YOU want to do it and make it authentic to you as a couple. Don't freak out about stupid little details – your guests will remember how the wedding made them feel and whether they had a good time; that's it. Remember to make it enjoyable for your guests – the truth of the matter is that the ceremony is the only part of the wedding that is truly just about the two of you, so make it special and take it in – the rest of the wedding is a big party for your guests – so make it fun for them. And don't forget to have fun with them!
You can see more from this wedding on Jenni Elizabeth's blog.
SERVICE PROVIDERS
Venue: The Old Tannery | Catering: Malita Joubert Catering | Photography: Jenni Elizabeth | Co-ordination: Bon Ton Event Planning | Flowers & décor: MYUZU | Stationery: KreativeKreative | Video: Filmish | Cake: Vanilla Rose Projects | Brides' dresses: Janita Toerien (Klara) & The Wedding Boutique (Mitzi) | Hair: Leon Dickson for Shyloks 2 Hair Studio & Hairgician | Makeup: Alicia Buckle | Bridesmen's attire: Top Hat Suit Hire | DJ: The Official Chop Shop | Entertainment: Zero Dark 30's | Lights & decor: Goeters | Staffing: ASAP Staffing | Scaffolding: HireIT | Second shooter: Wesley Vorster | Entertainment & mood lights: Creative Gear | Coffee station: Kofi – Gourmet Coffee station | Rings: Swish diamonds & custom designs | Accommodation: Dunstone | Printing: African SUN MeDIA