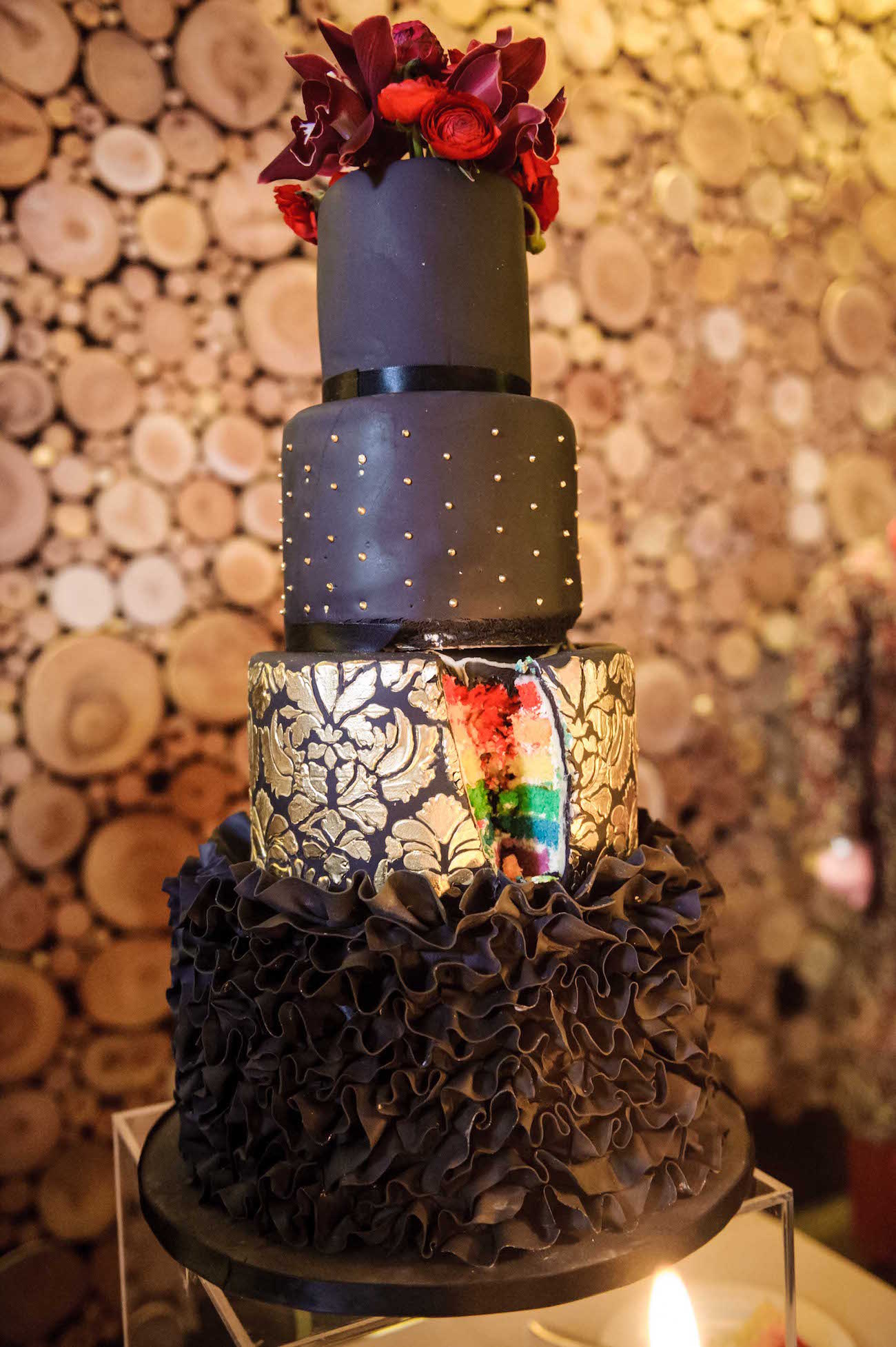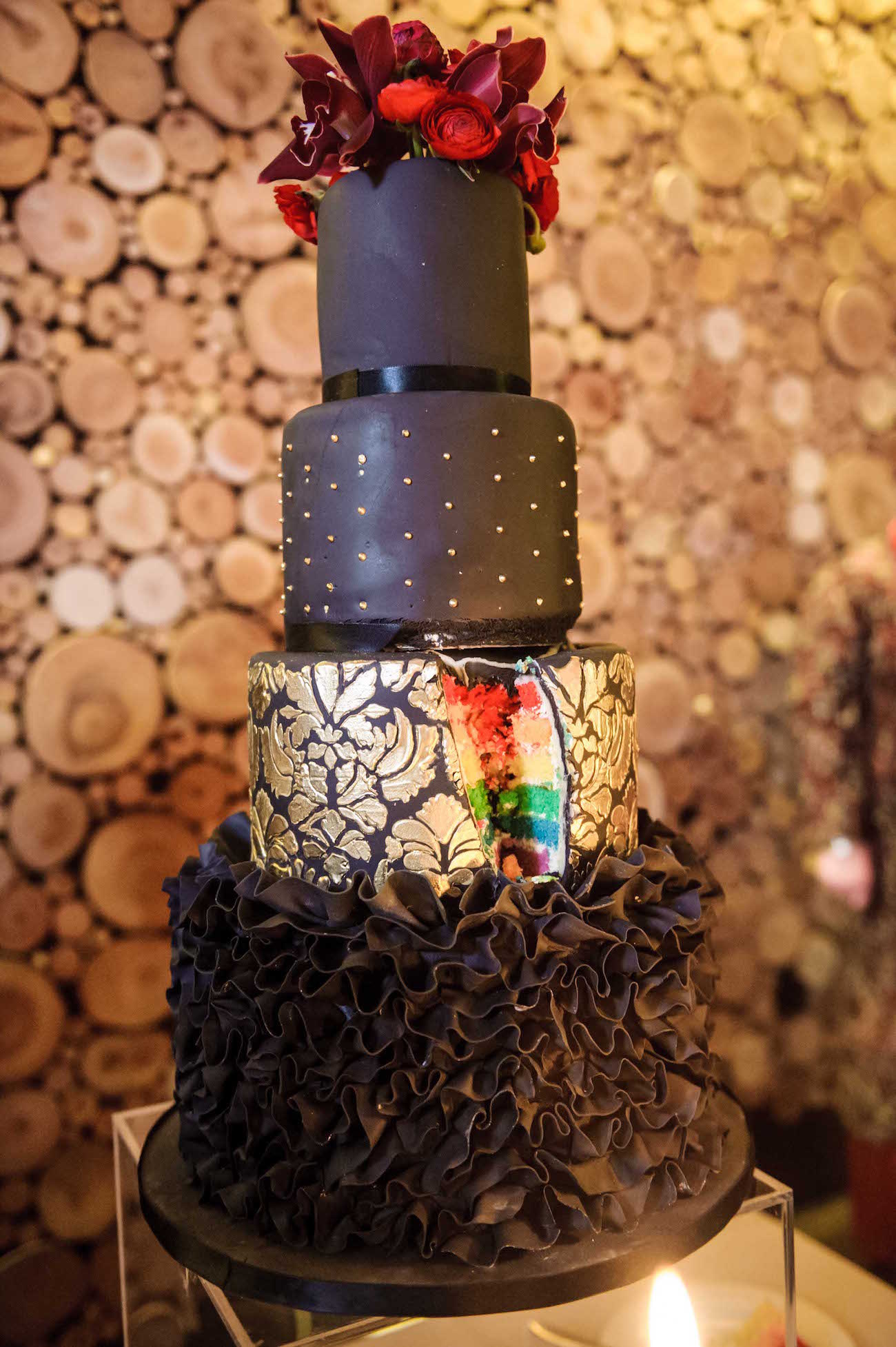 Today's wedding is one of those that I spotted on the photographer, Vizion Photography's, social feed and immediately asked for a feature. Because seriously, how can you not love SW and Gerhard's glamorous, opulent, bright and beautiful celebration? It's floral but masculine, colourful but elegant, and has so much love and personality, which I'm guessing is a tribute to the smitten grooms at the centre of it all. The couple wanted to create a formal but intimate atmosphere, a sense of occasion but with the dinner party atmosphere that long tables and family style dining provide. Which might be one reason why the guests look like they're having so much fun! Another is perhaps that uber planner, Aleit, created one of his signature experiences, where each part of the day and decor felt different. From the clean, modern look of the ceremony with an incredible display of orchids and candles lining the aisle, to the lush floral chandeliers at cocktail hour, to the breathtaking reception decor, each part of the day was a treat on its own, and part of a beautiful whole. But my favourite detail? The cake, which is all formal elegance on the outside, with a mardi gras surprise!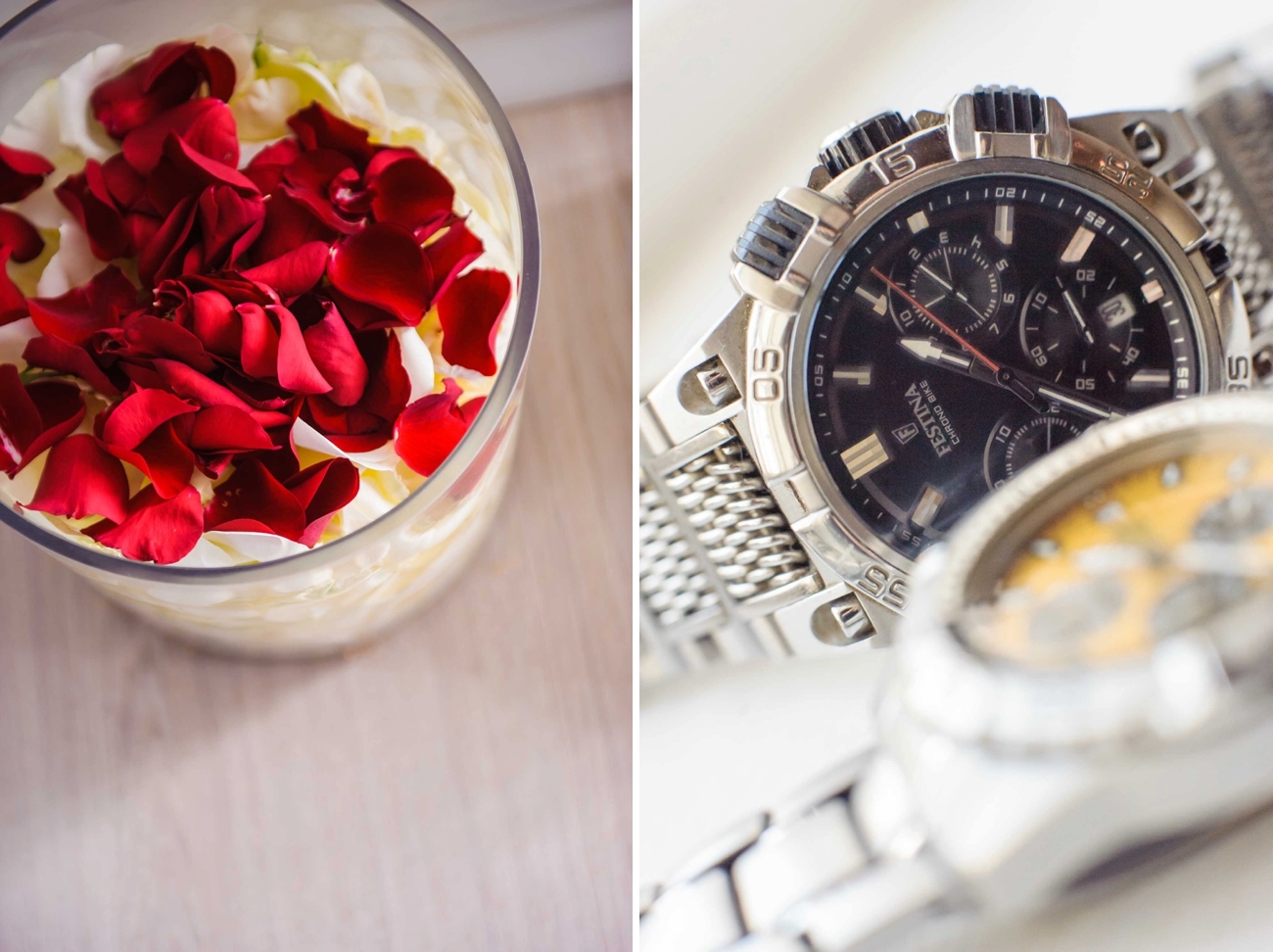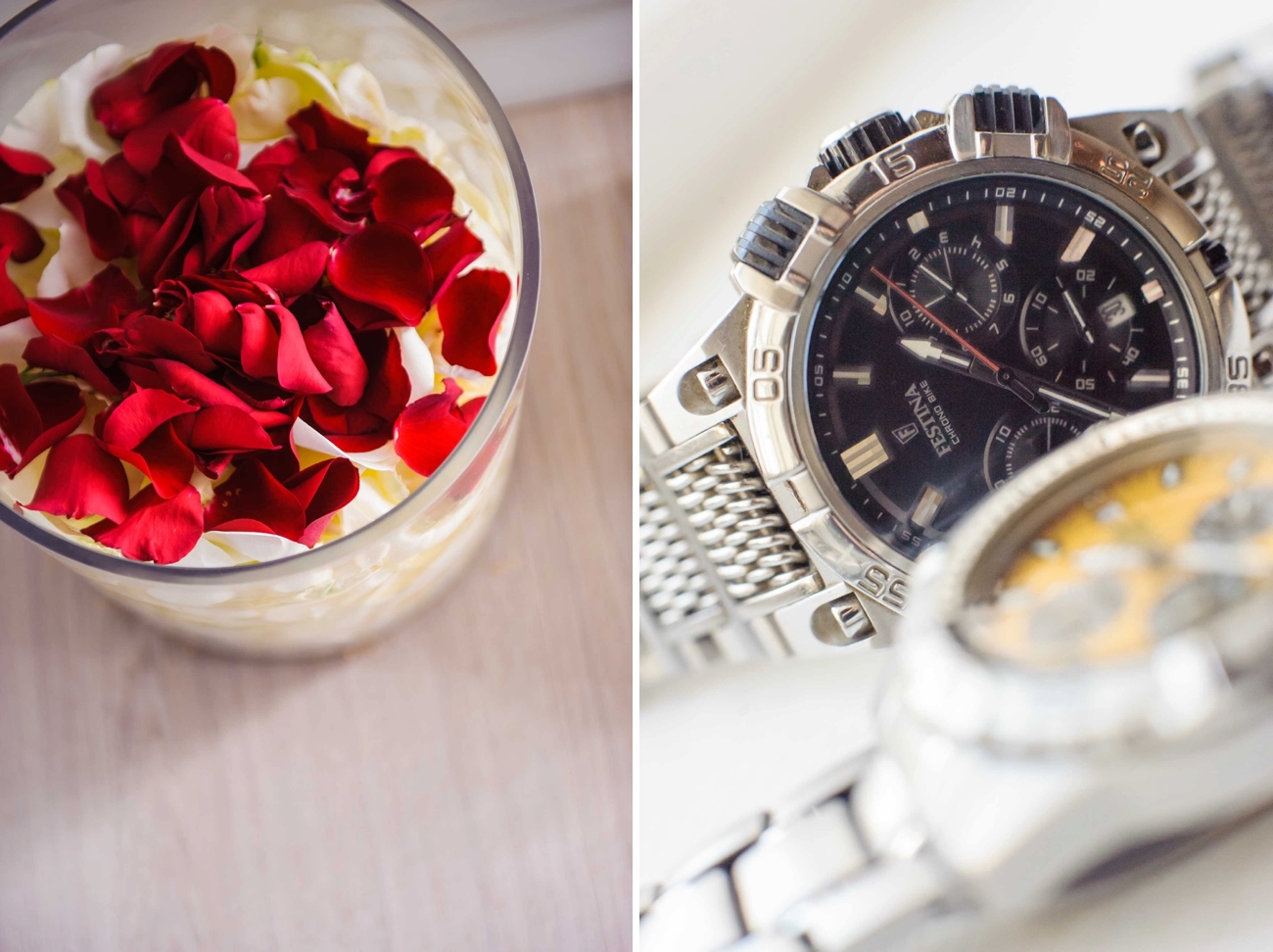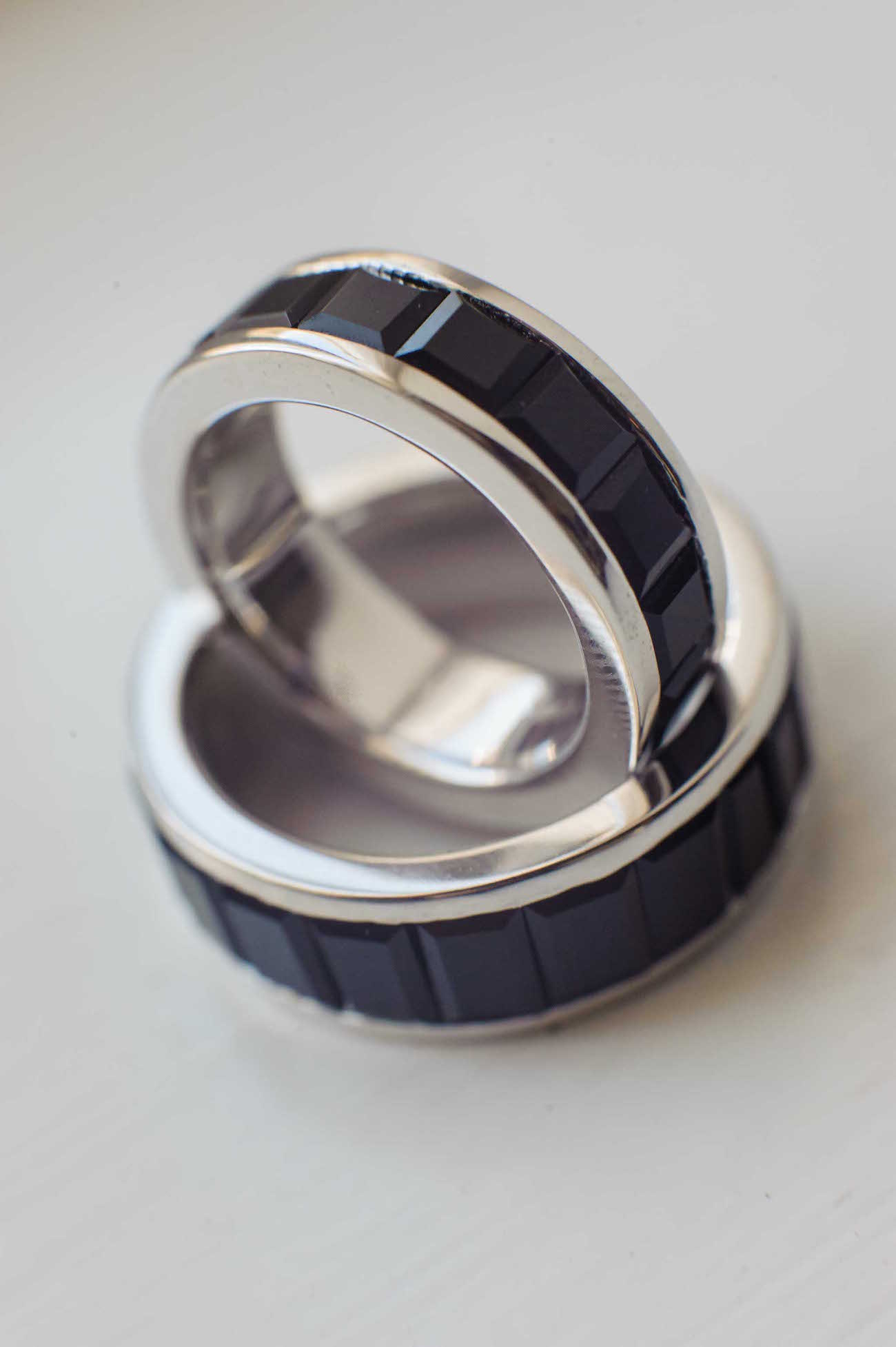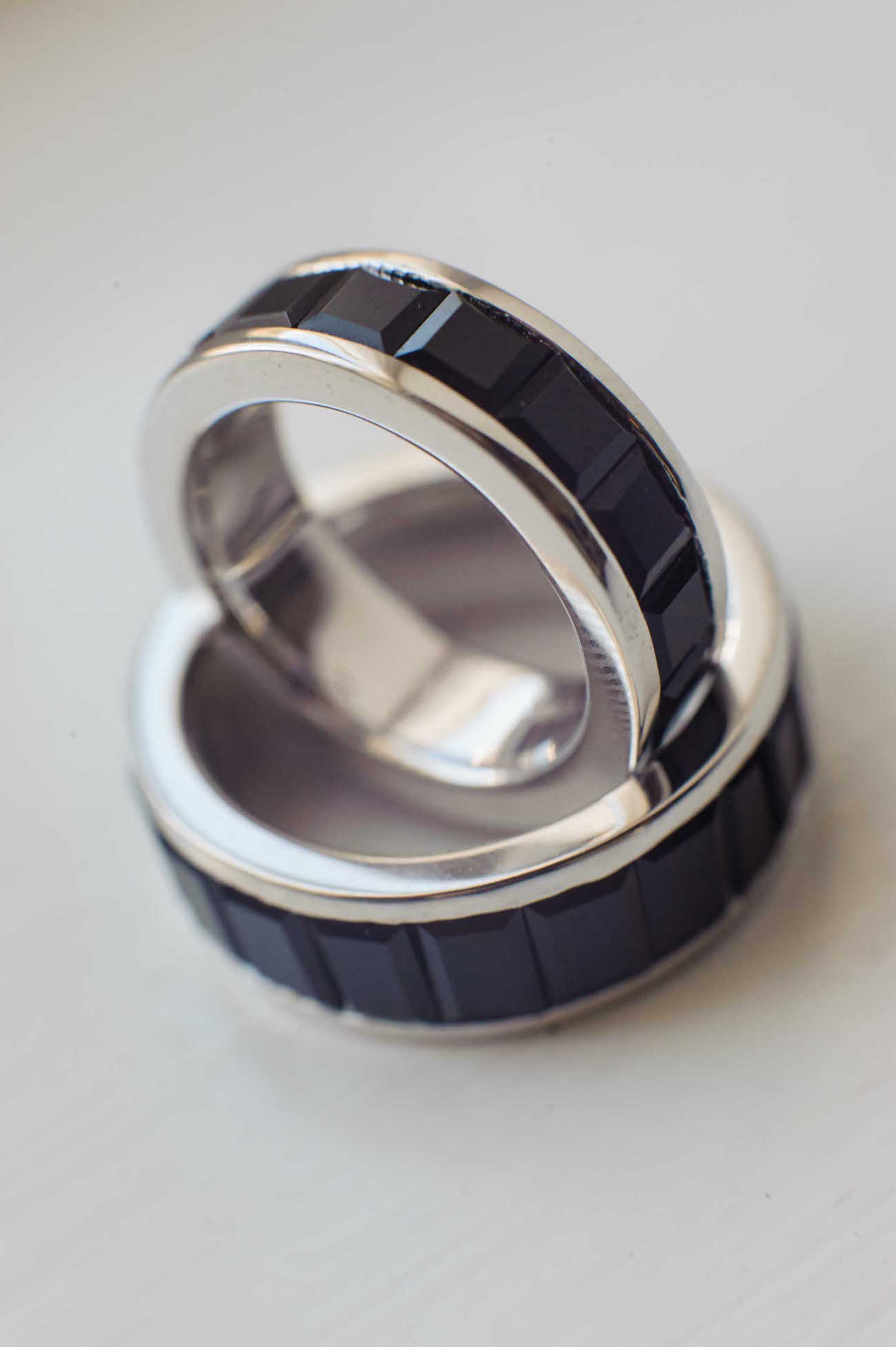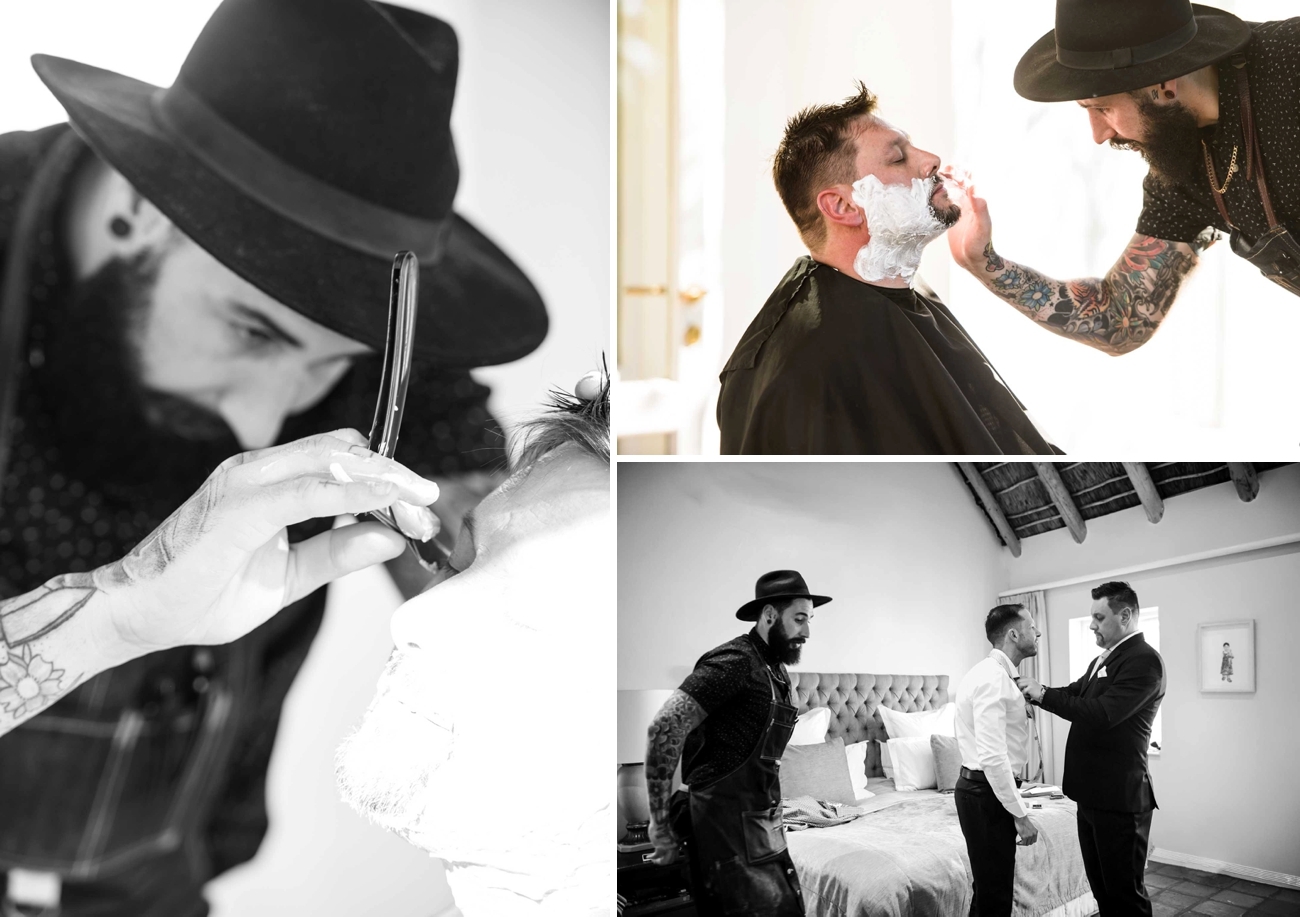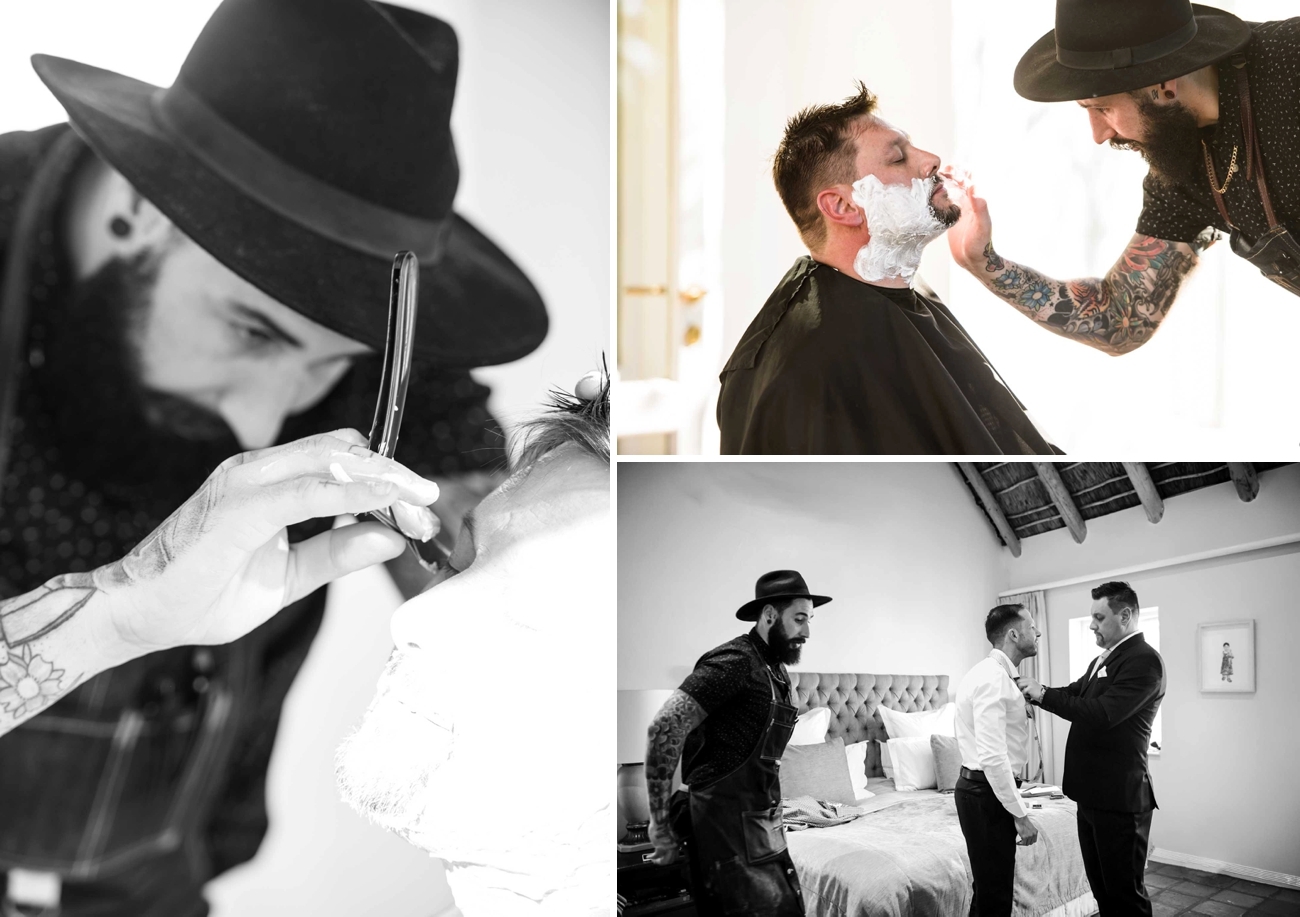 Love Story
Gerhard and I met at a friend's 50th birthday party when we stayed in the same hotel.
The Proposal
For our second 'anniversary' after we met, I wanted to take him out for dinner and propose. I wasn't sure how to ask, because I didn't want to sound soppy or sentimental and quite frankly, boring. Because it was such a big question I thought it was best to just take the plunge and say it, while severely blushing and being very self aware. Fortunately, I was quite certain that he would say yes. And he did. Yay!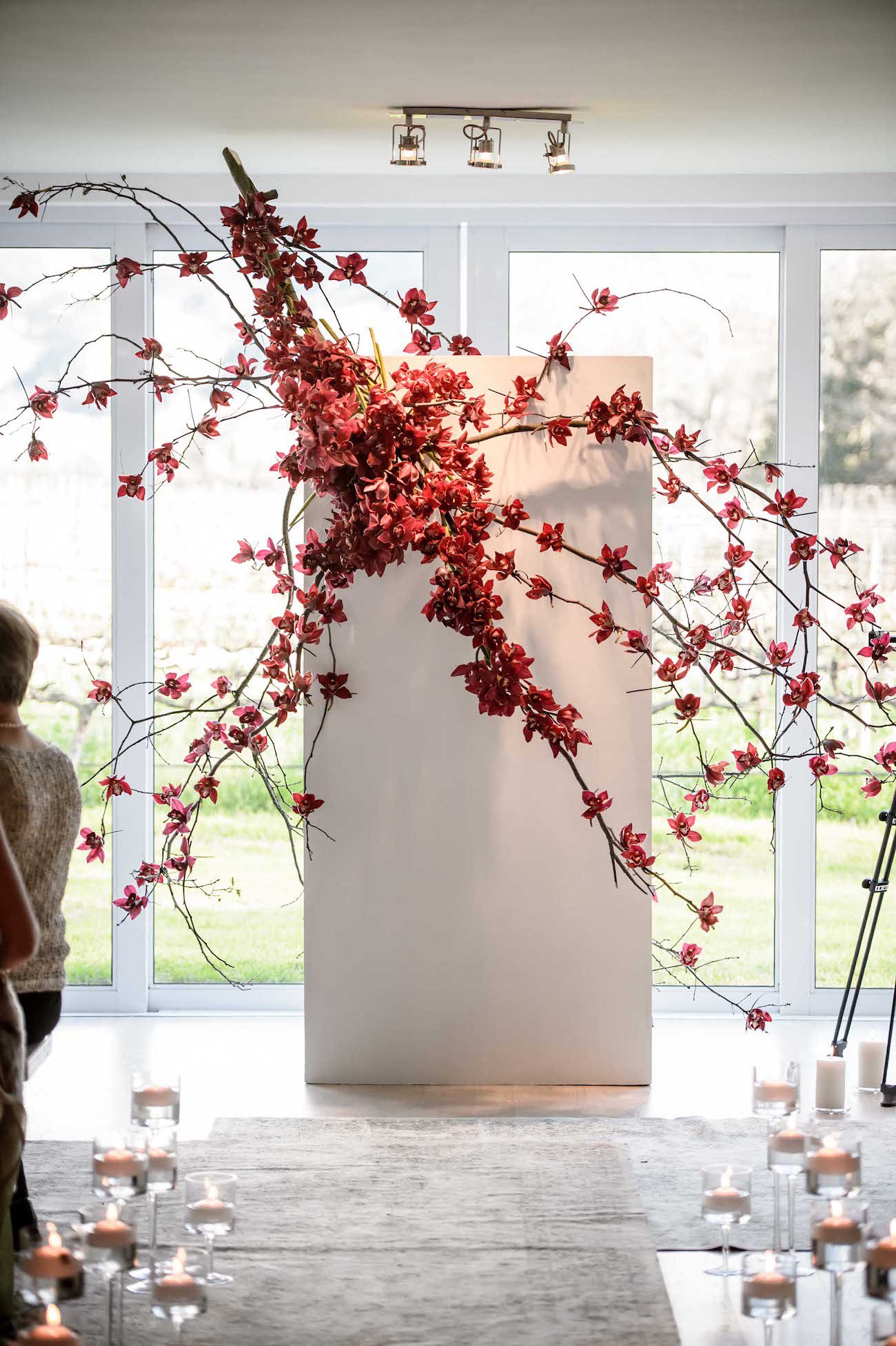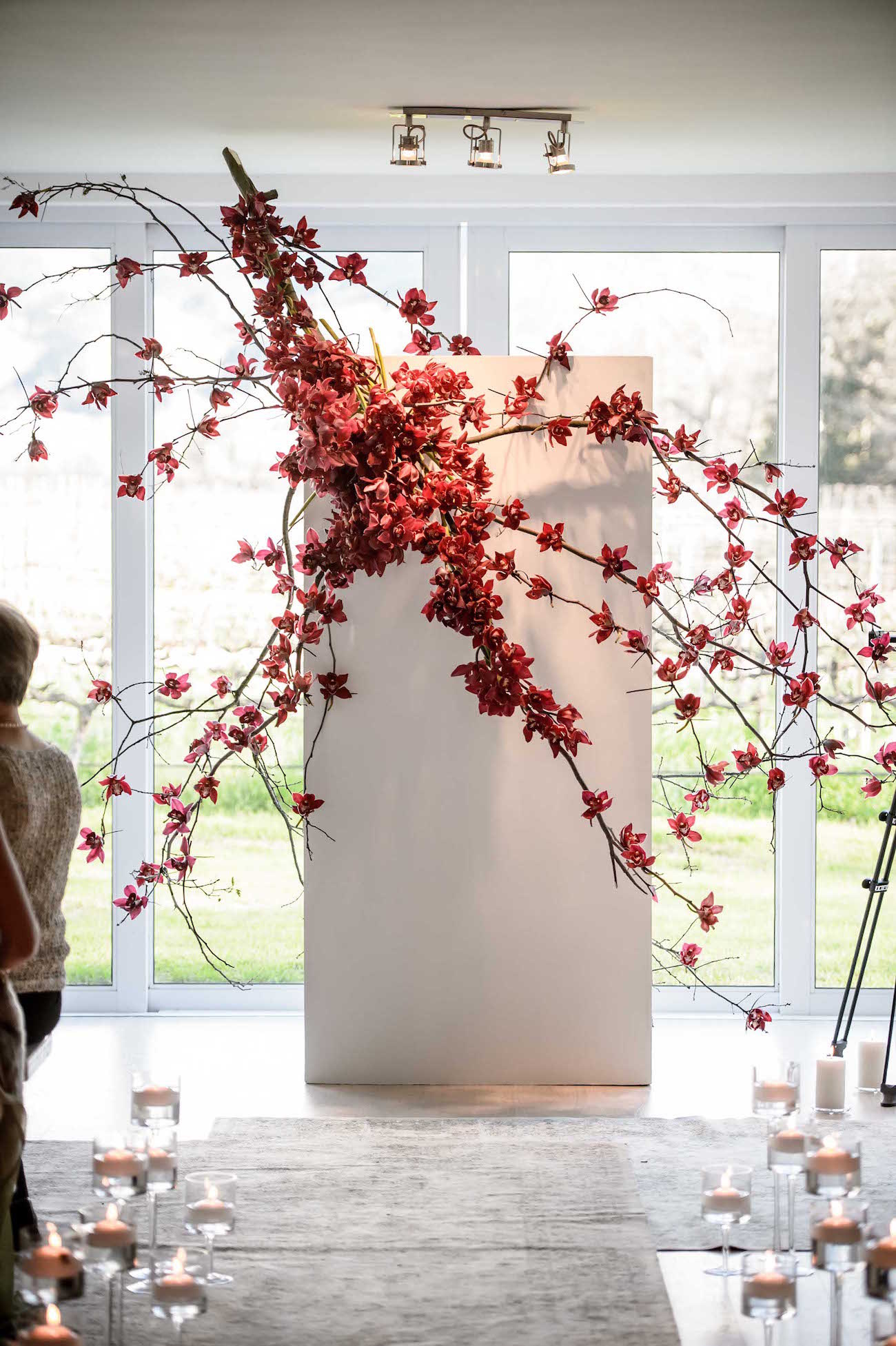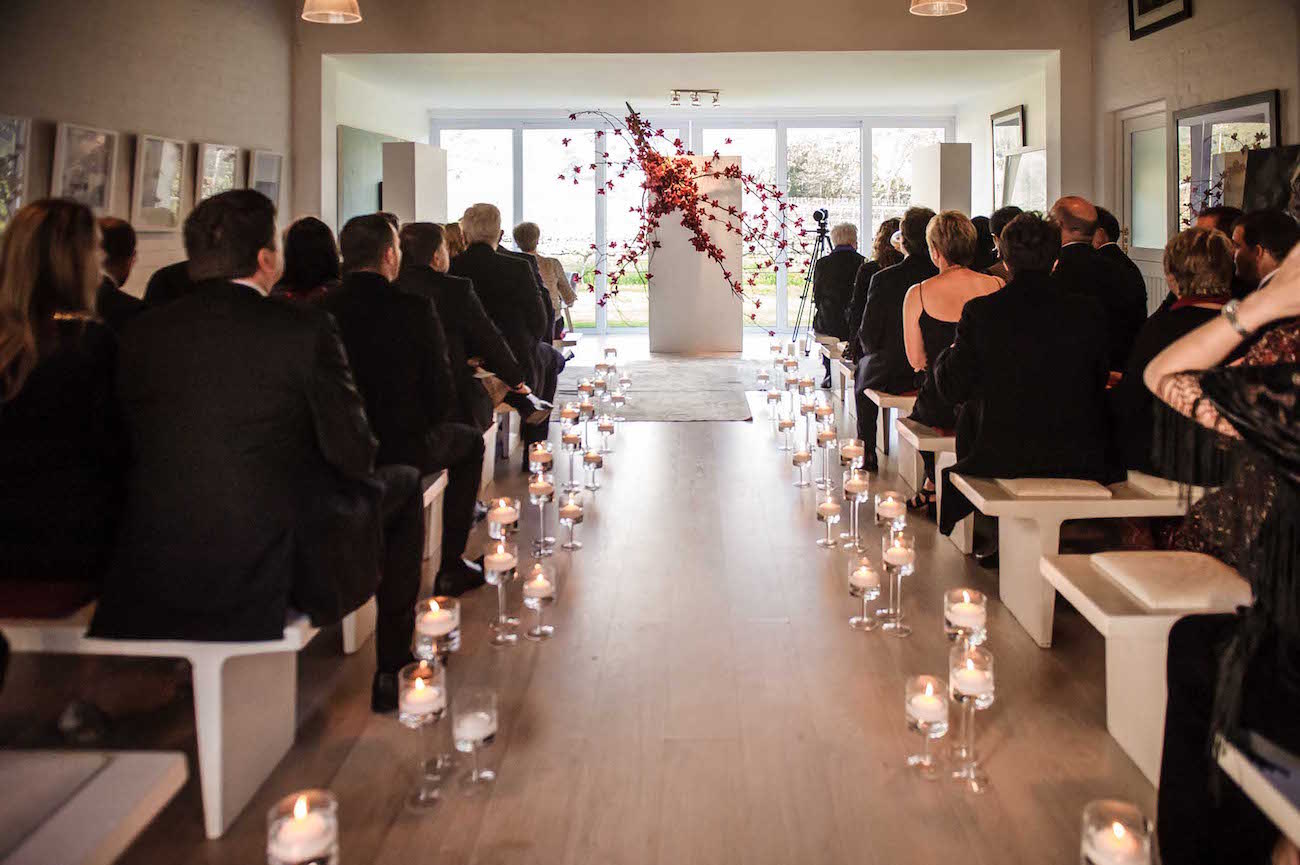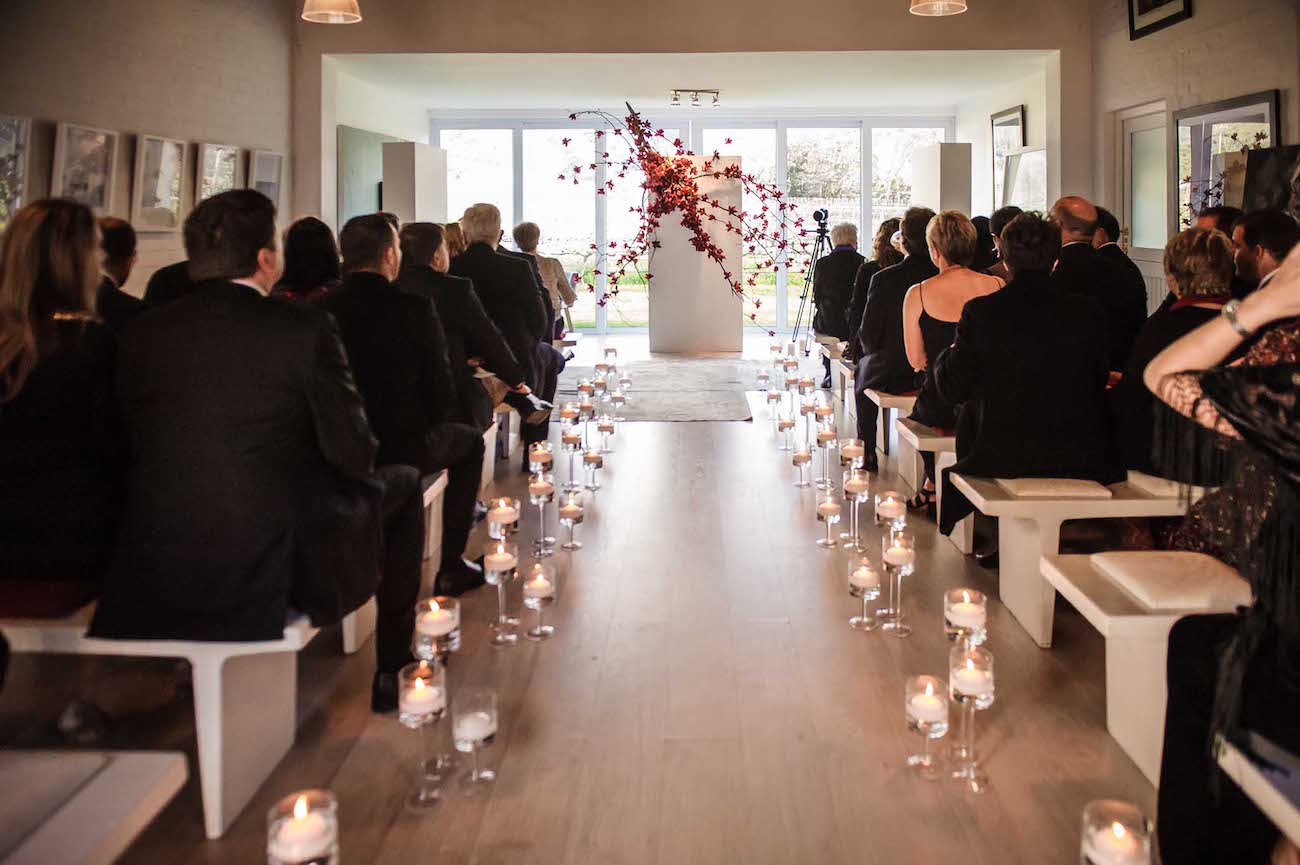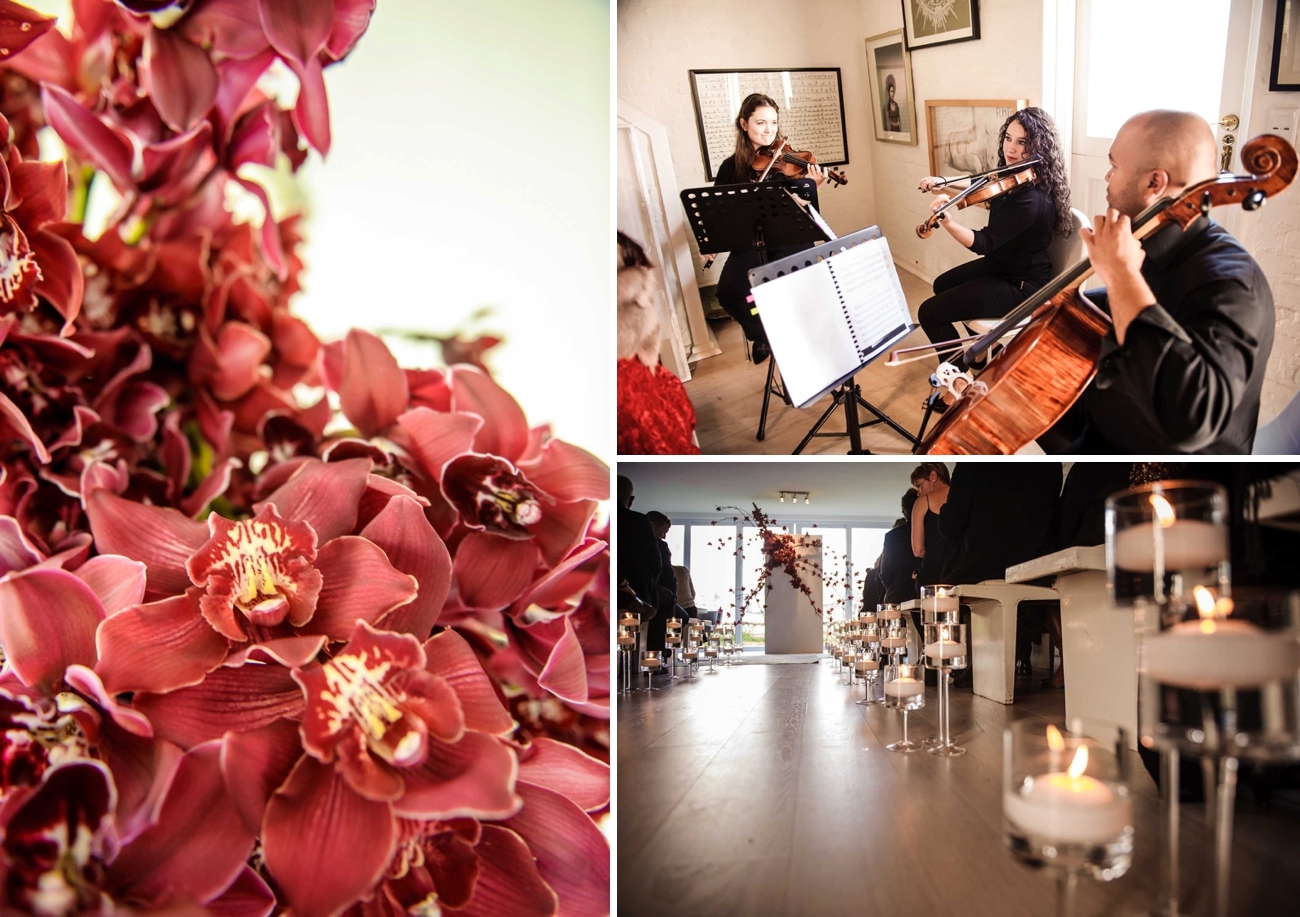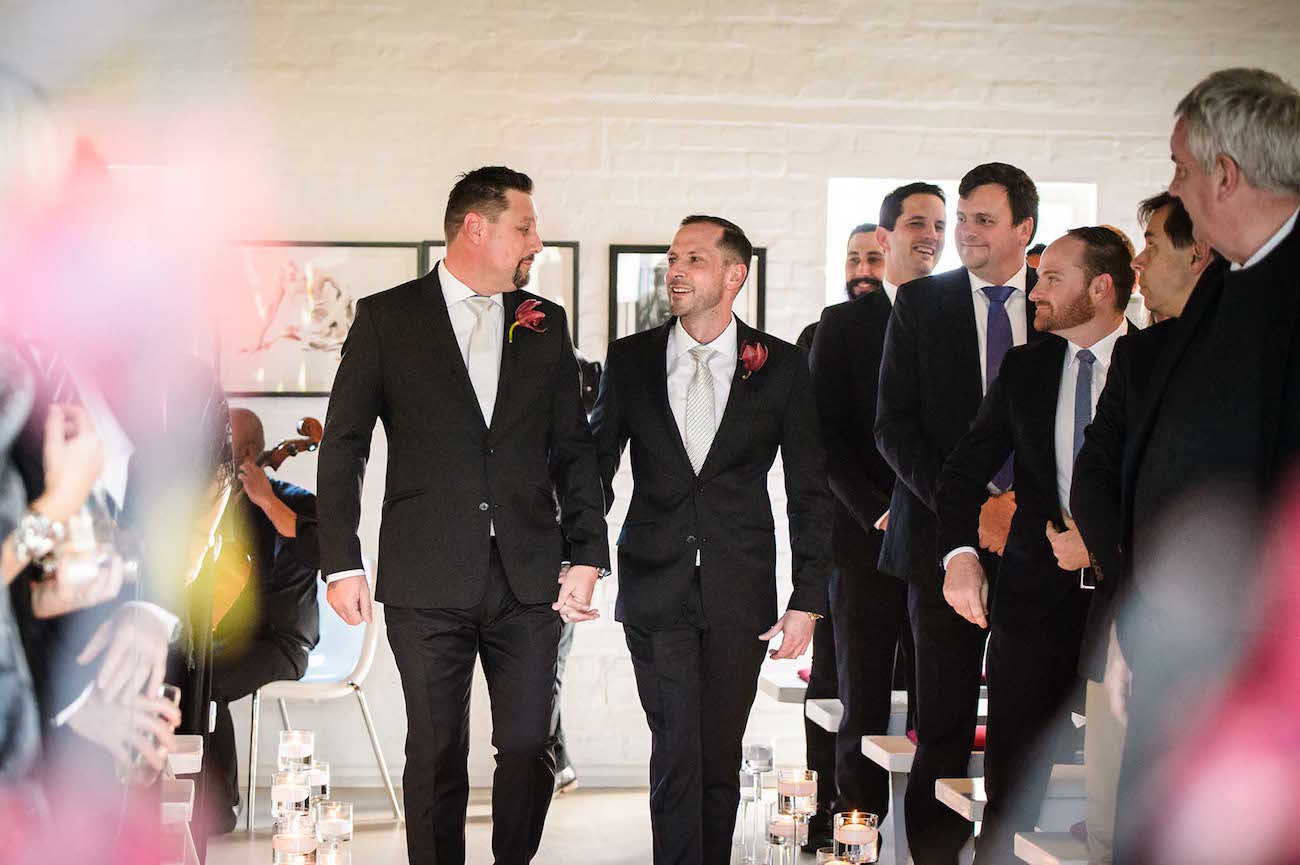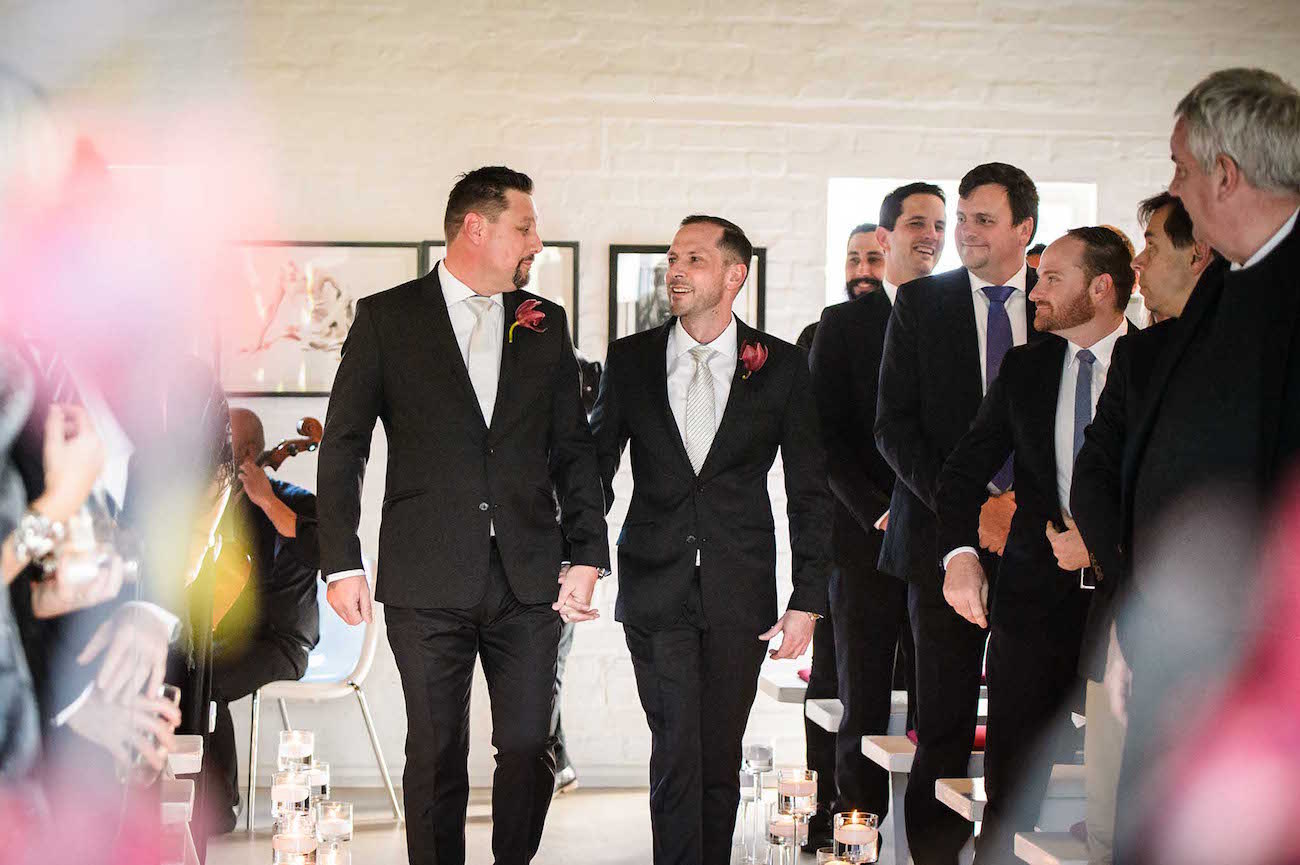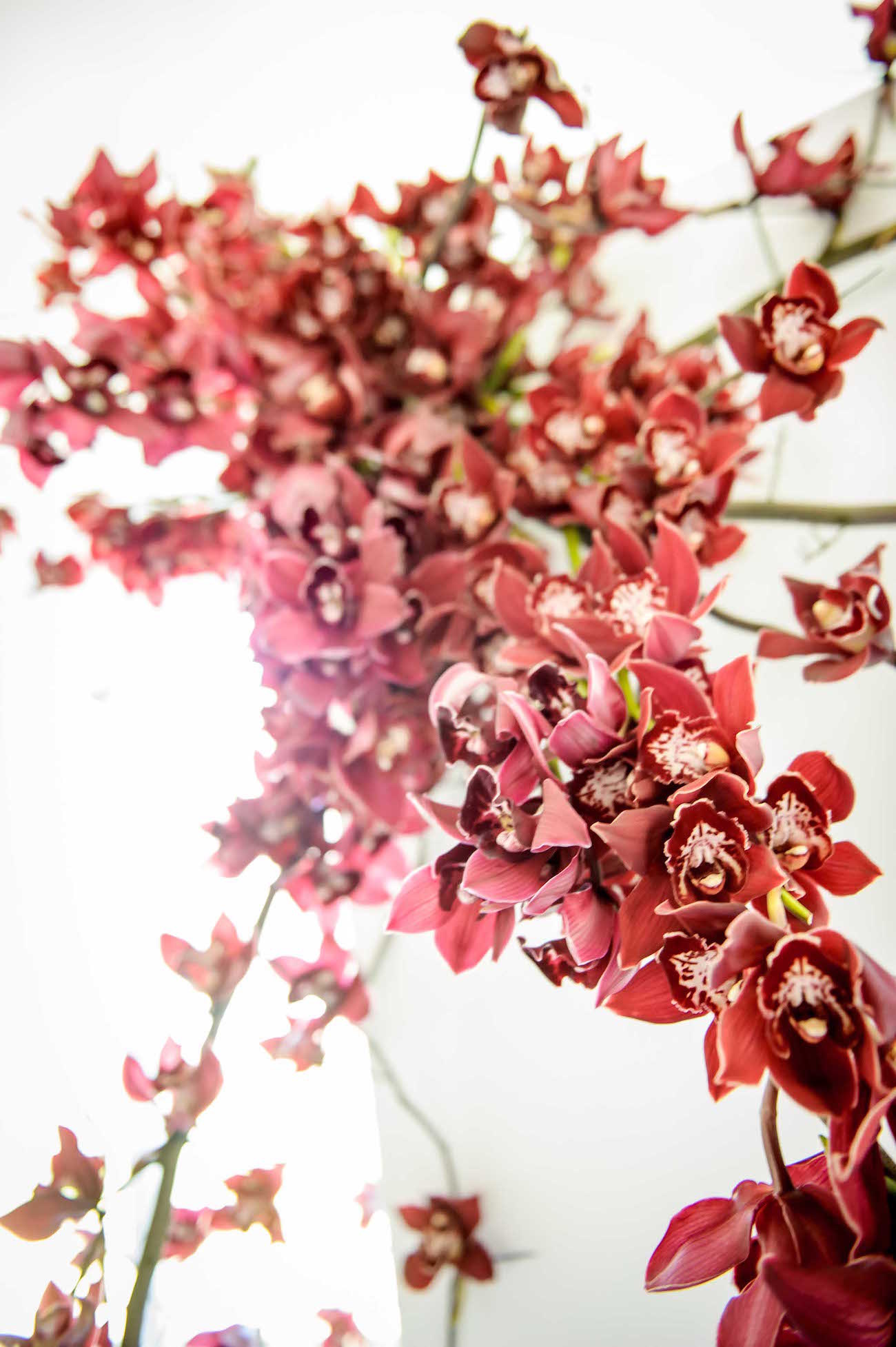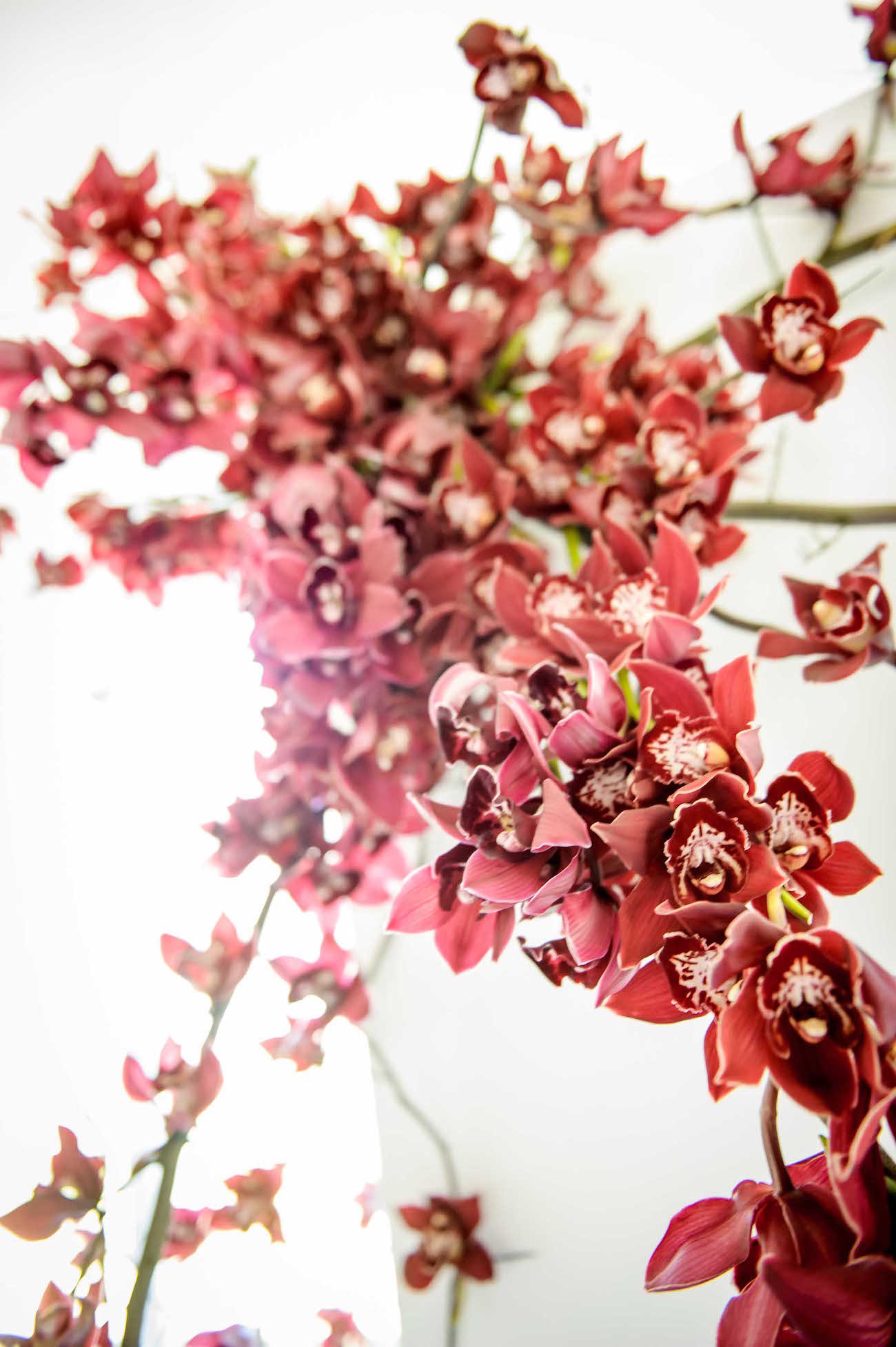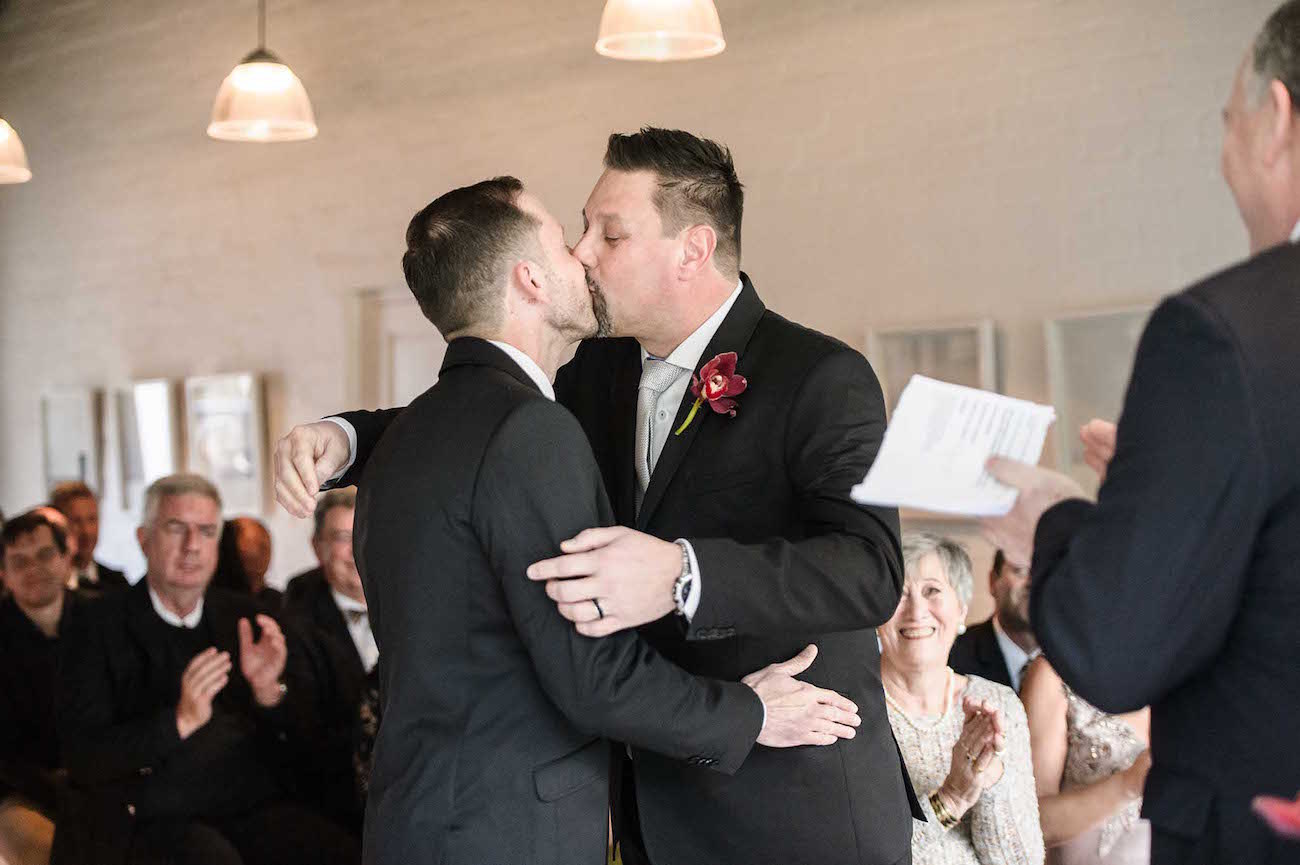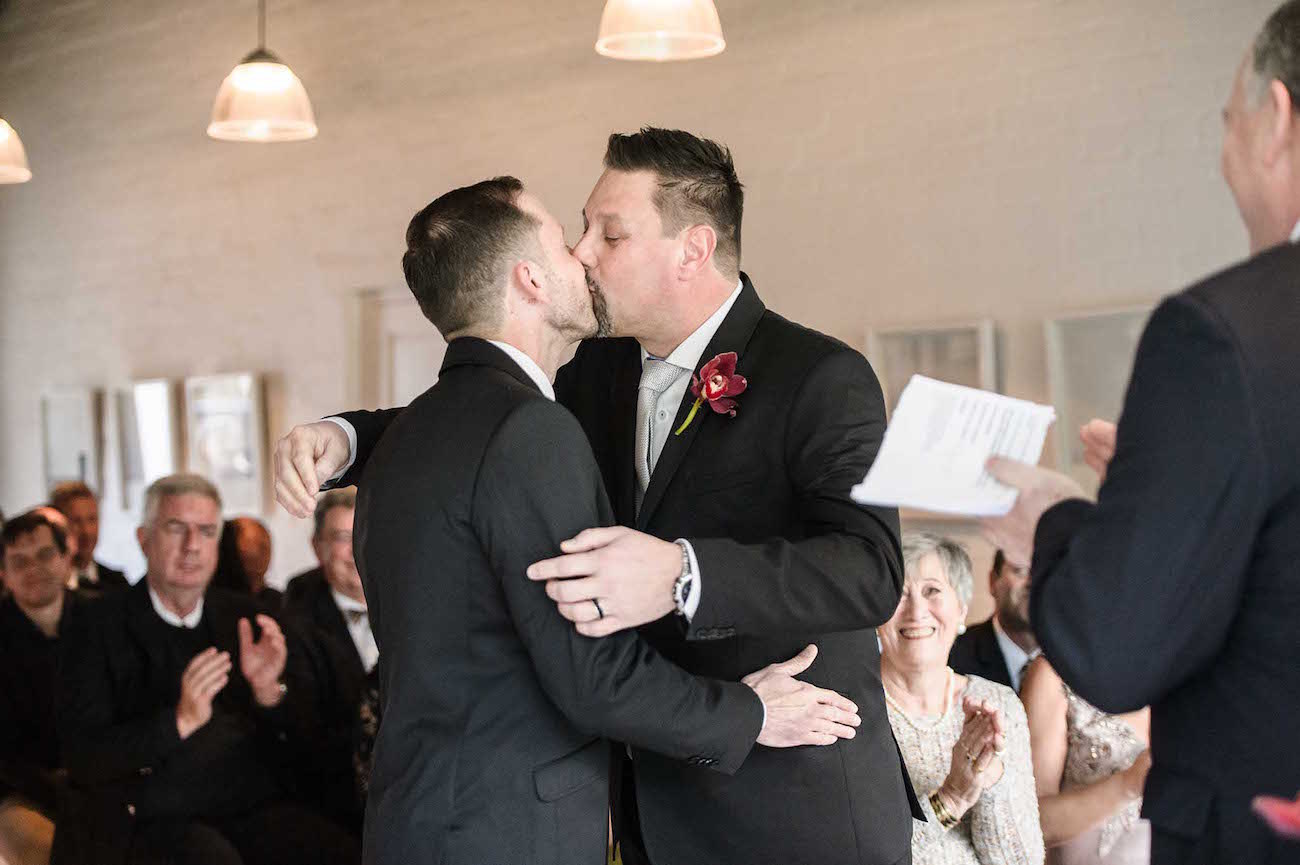 The Venue
The location. I wanted to get married with lots of mountains around me. The venue was intimate and small and we wanted a small wedding, so it suited us well. All areas were very cosy, except for where the ceremony was held, which was crisp and clean, very zen. I thought people would be able to concentrate on what was said at the service, seeing as that was also important to us.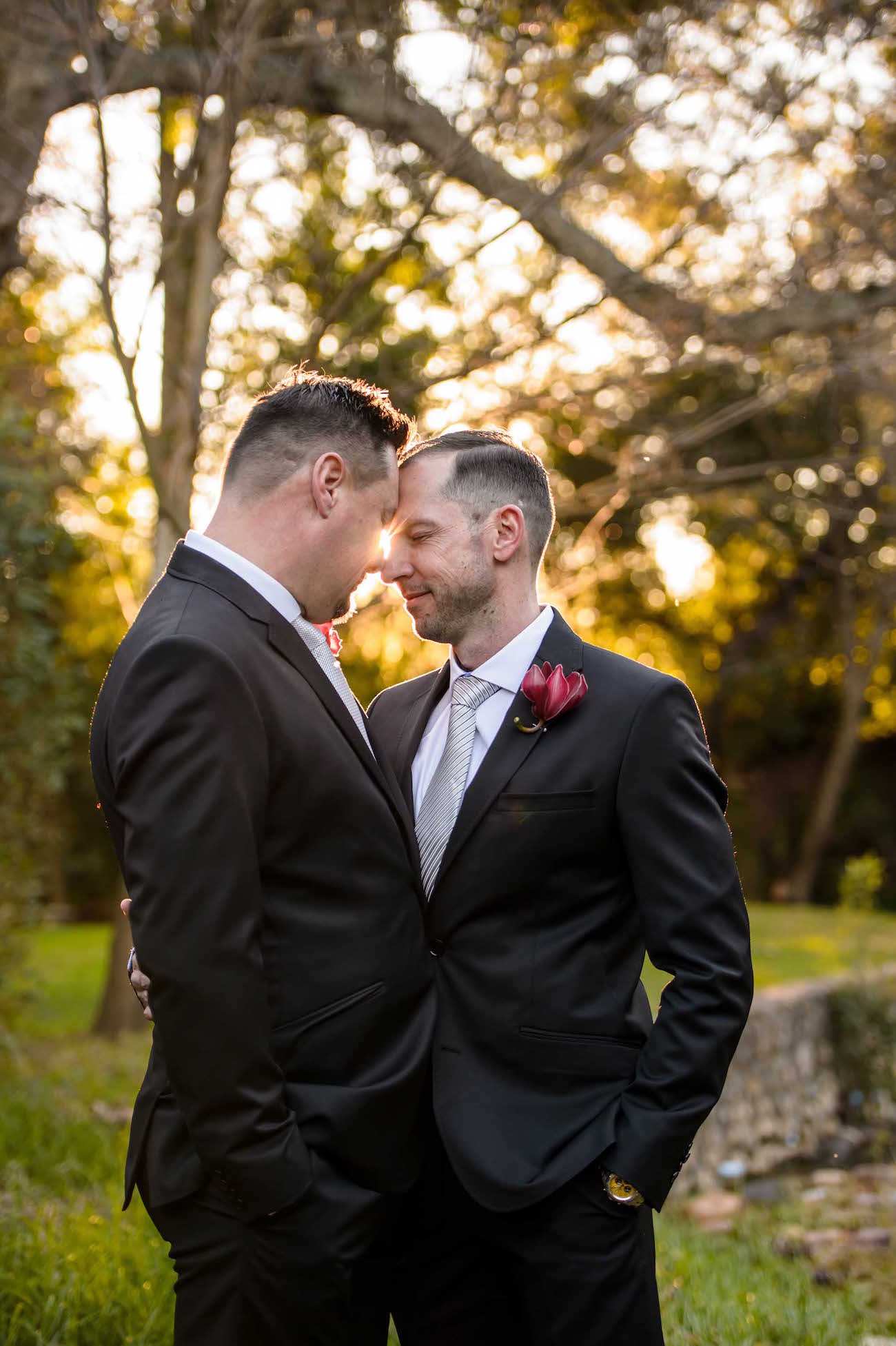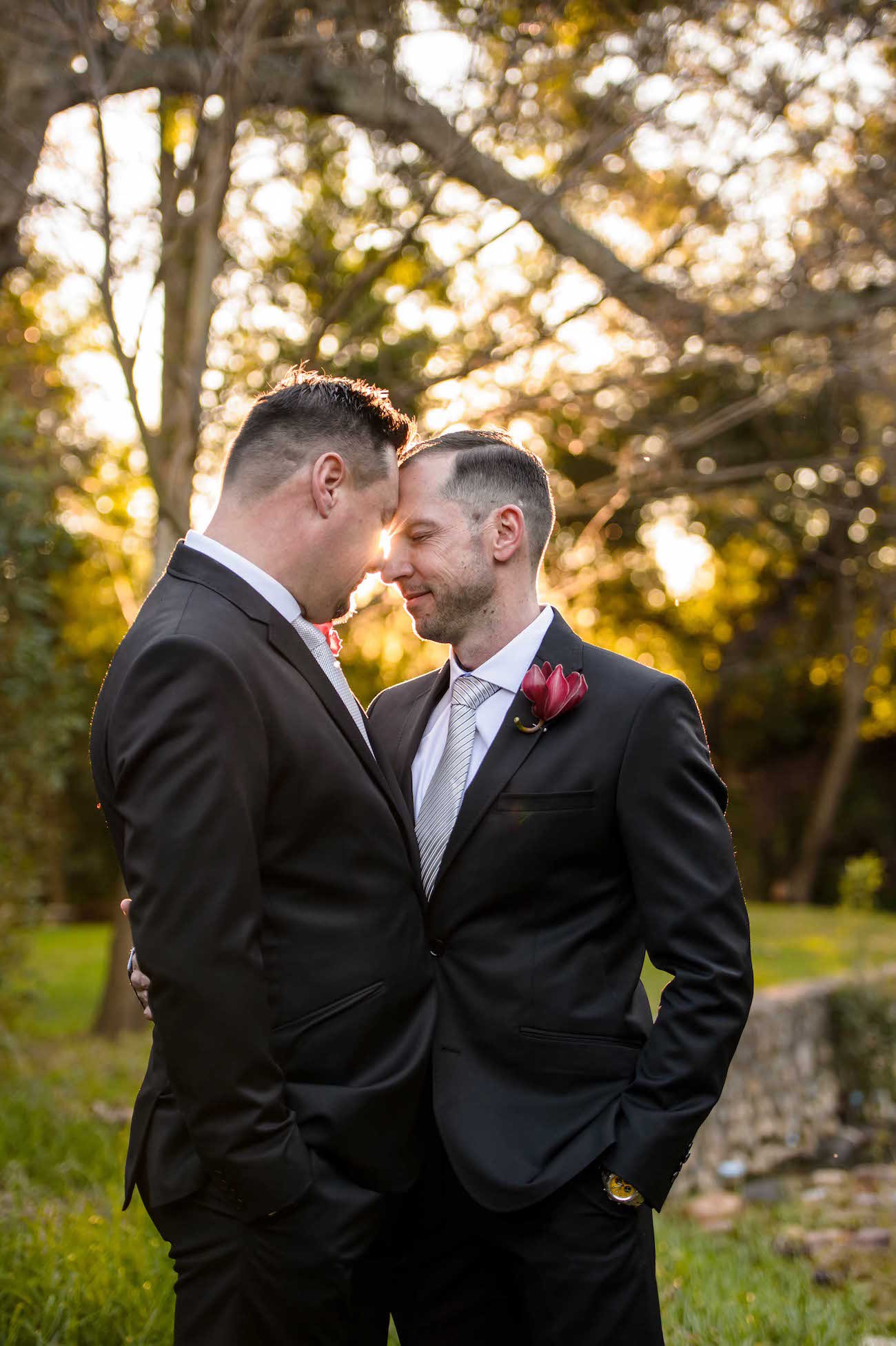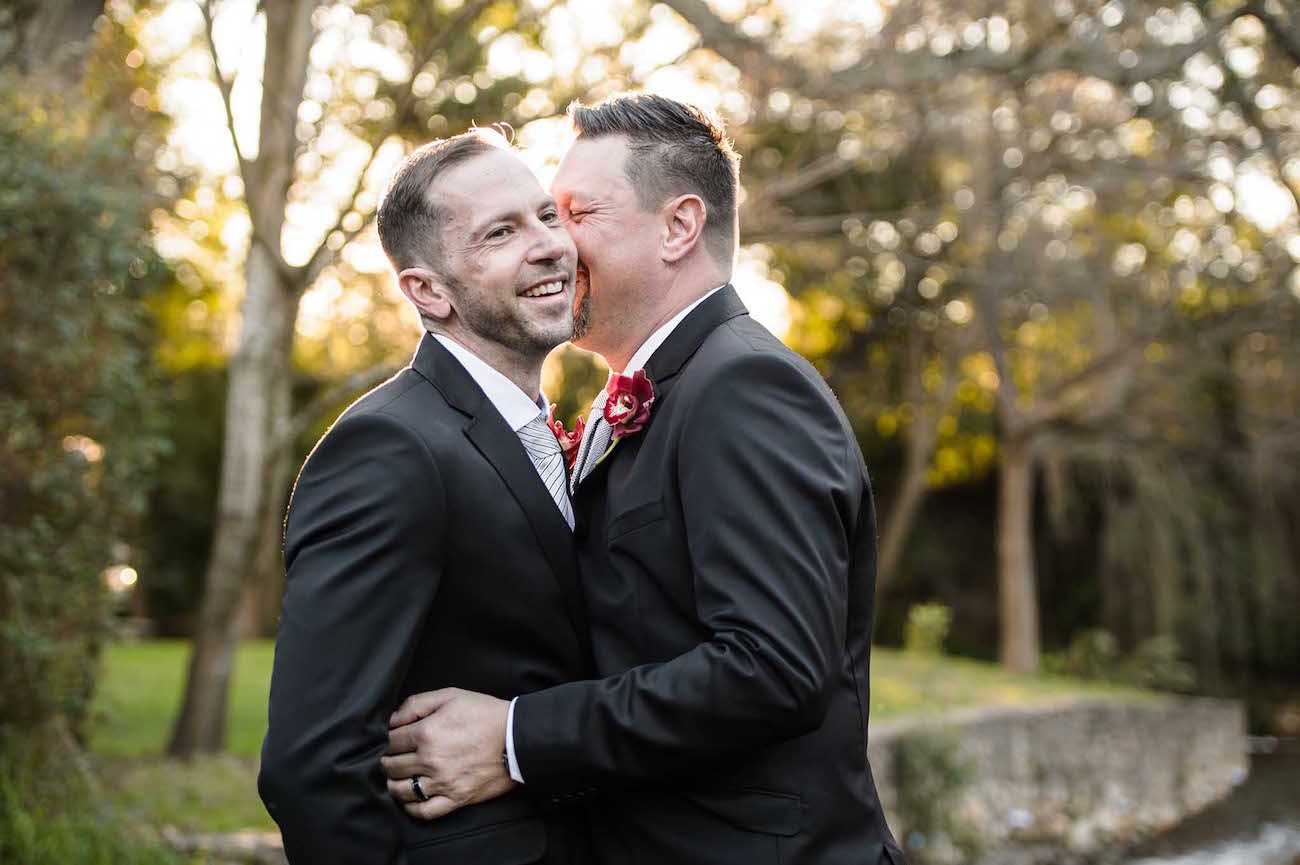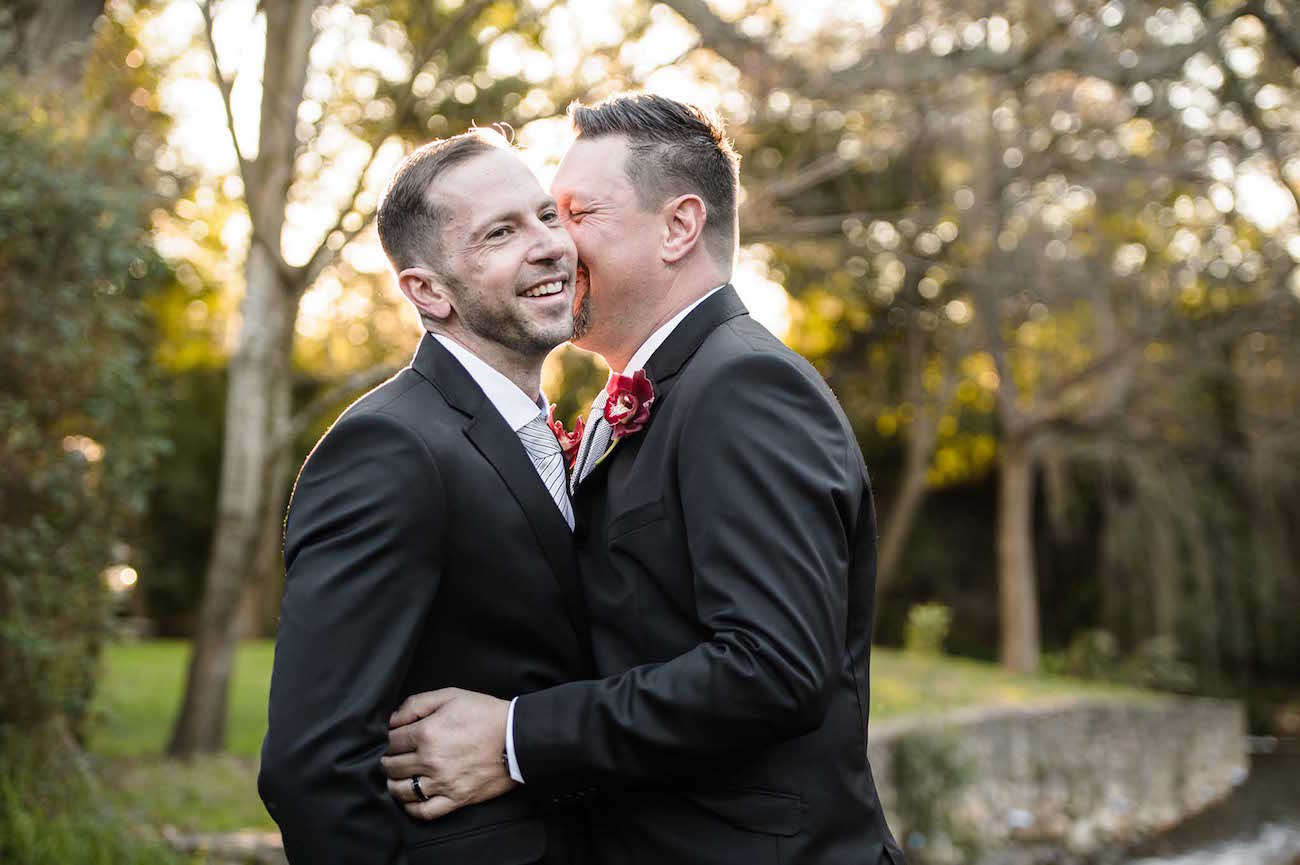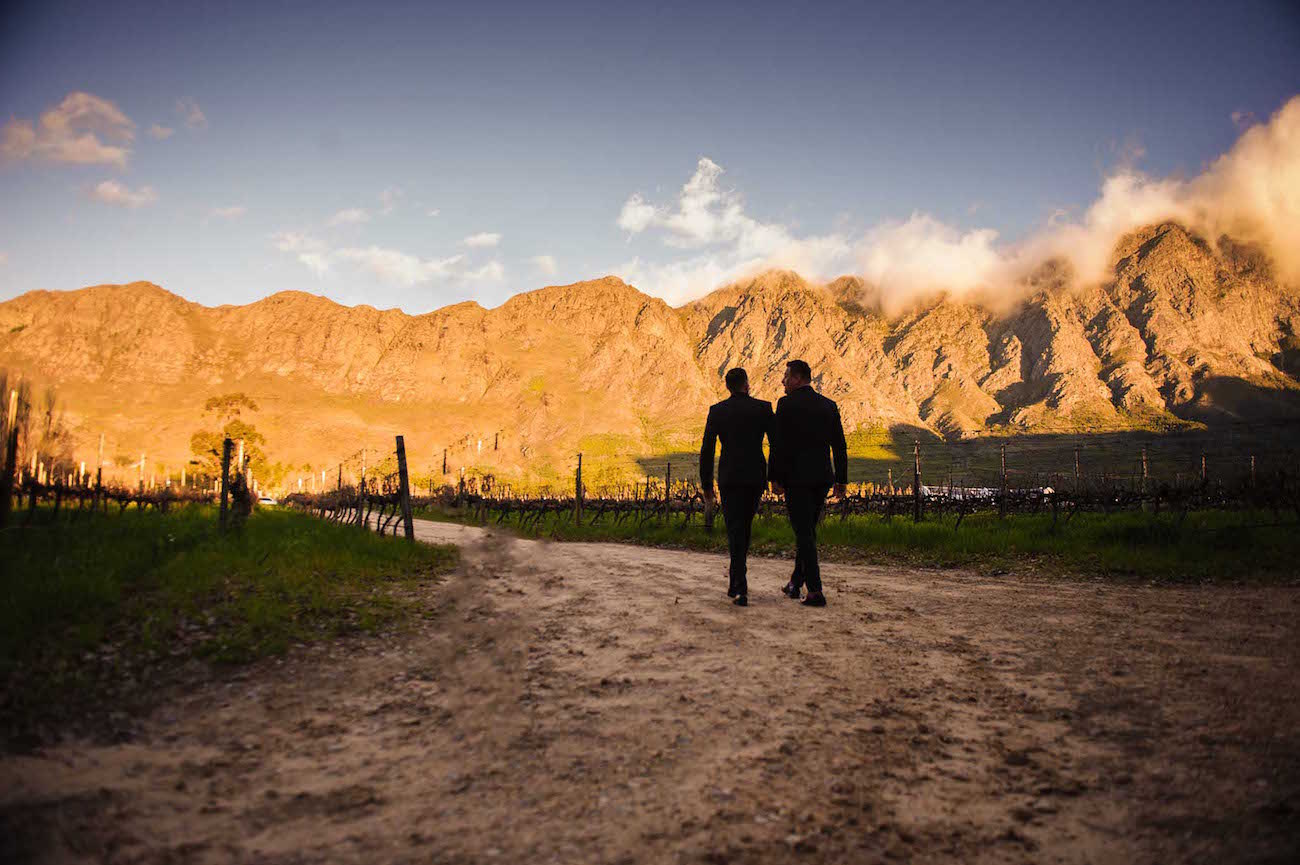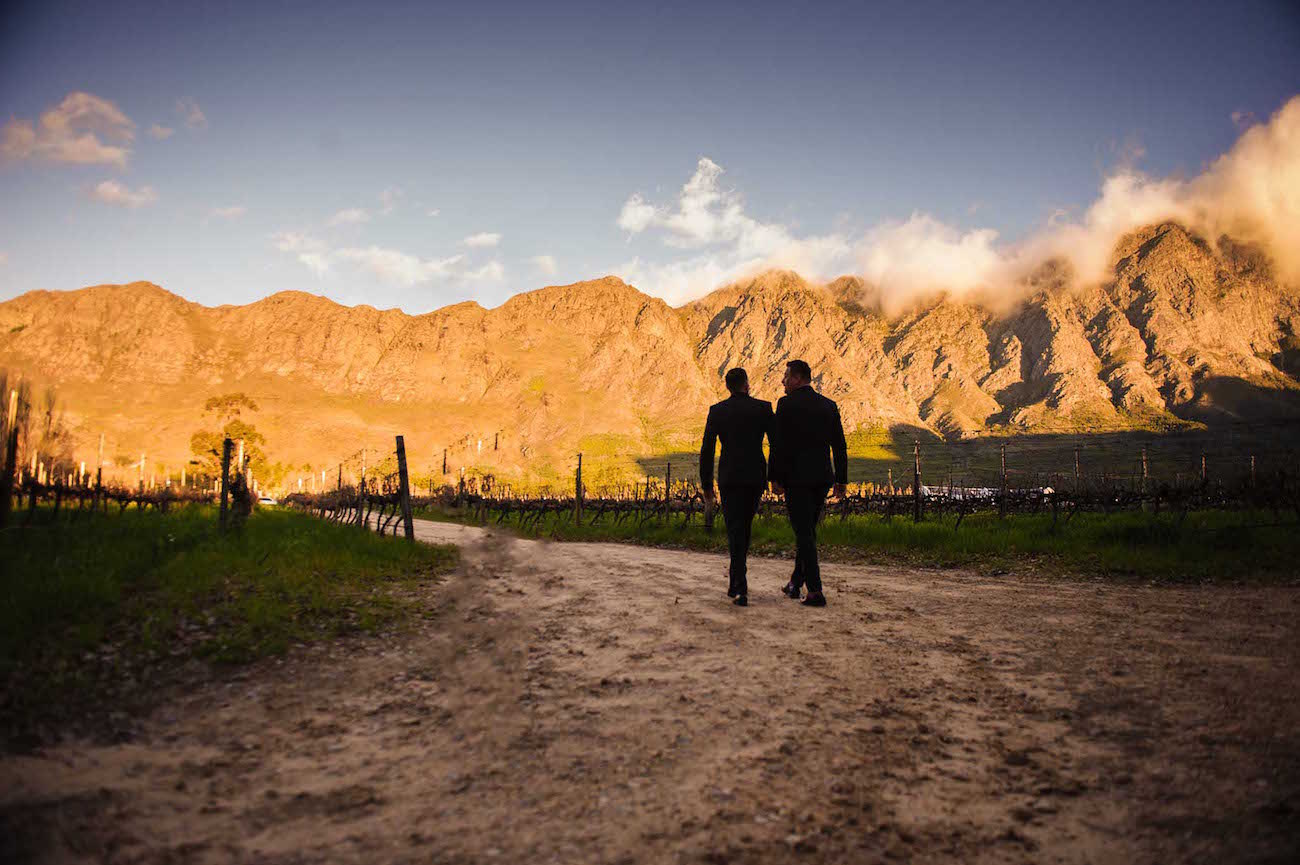 Wedding Style
Seeing as we are older and rarely get opportunities to dress up, we also wanted a formal feel to the affair. Men had to wear black suits and women formal dresses. The colour scheme was loosely based on marsala with the flowers and some of the other decor to be that colour. We wanted to make it feel like an intimate family affair and so had big family style meals put on the tables so that people could share the same dishing up bowls and had to ask for bowls to be passed around. That is also why we had one long table. Only highlights were brought in to enhance the already existing decor which was beautiful and very comfortable.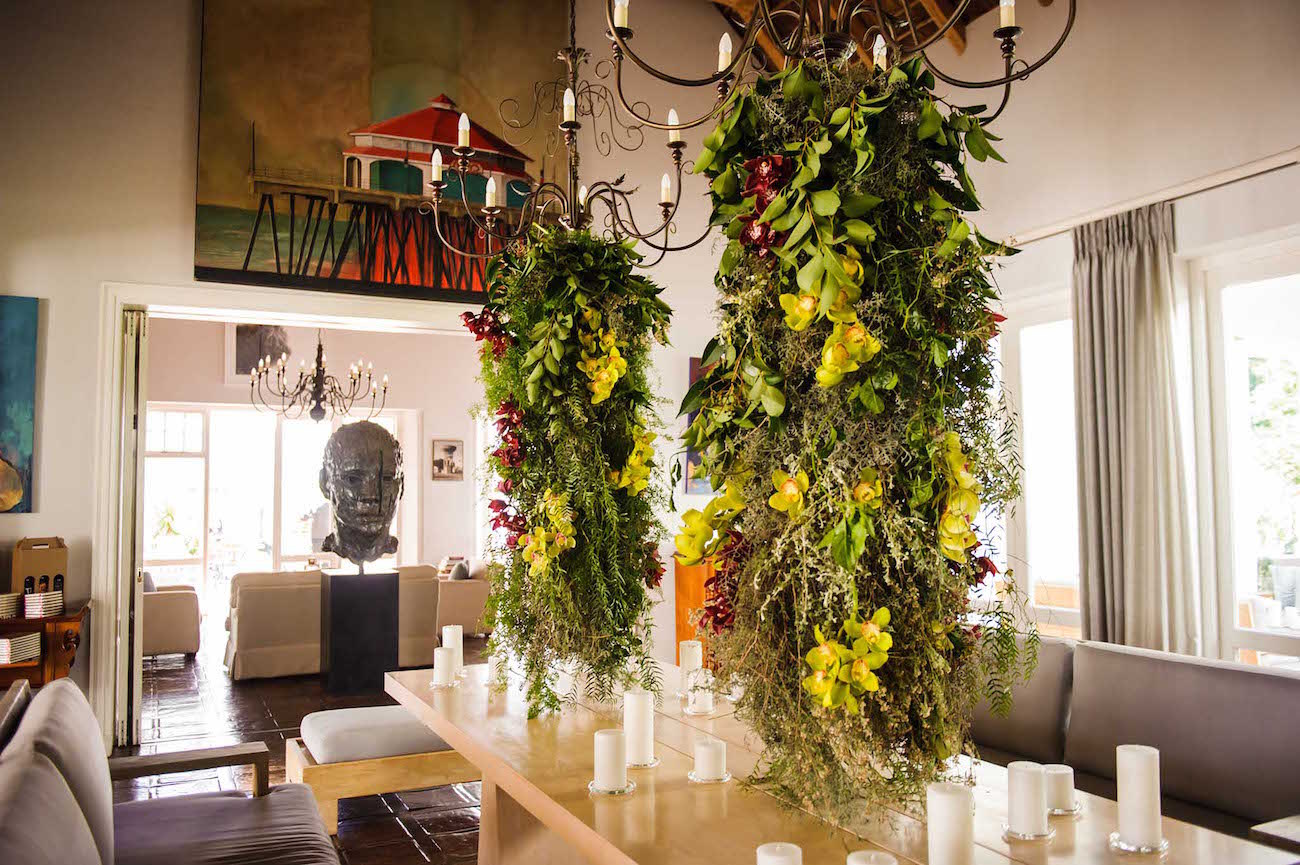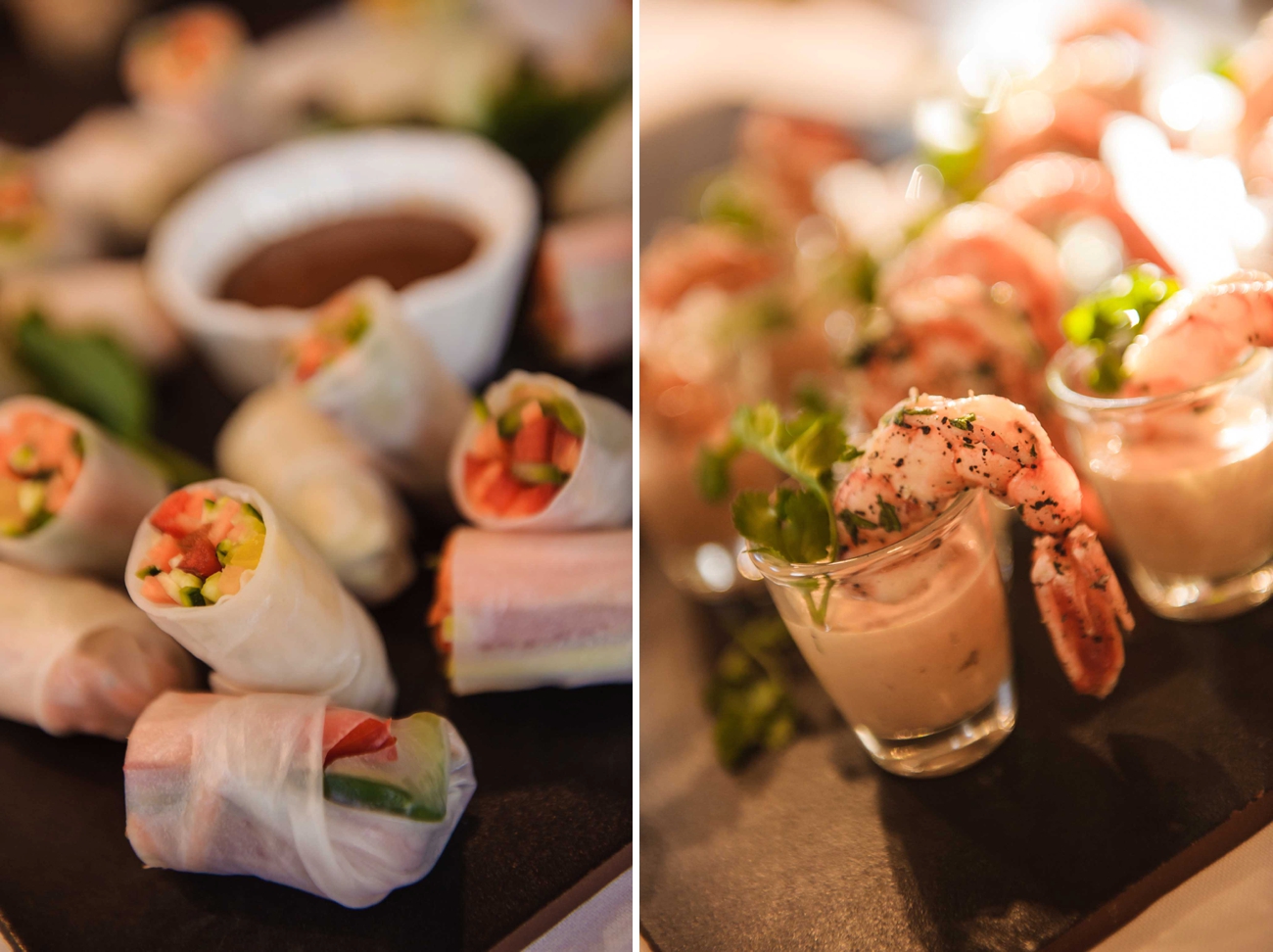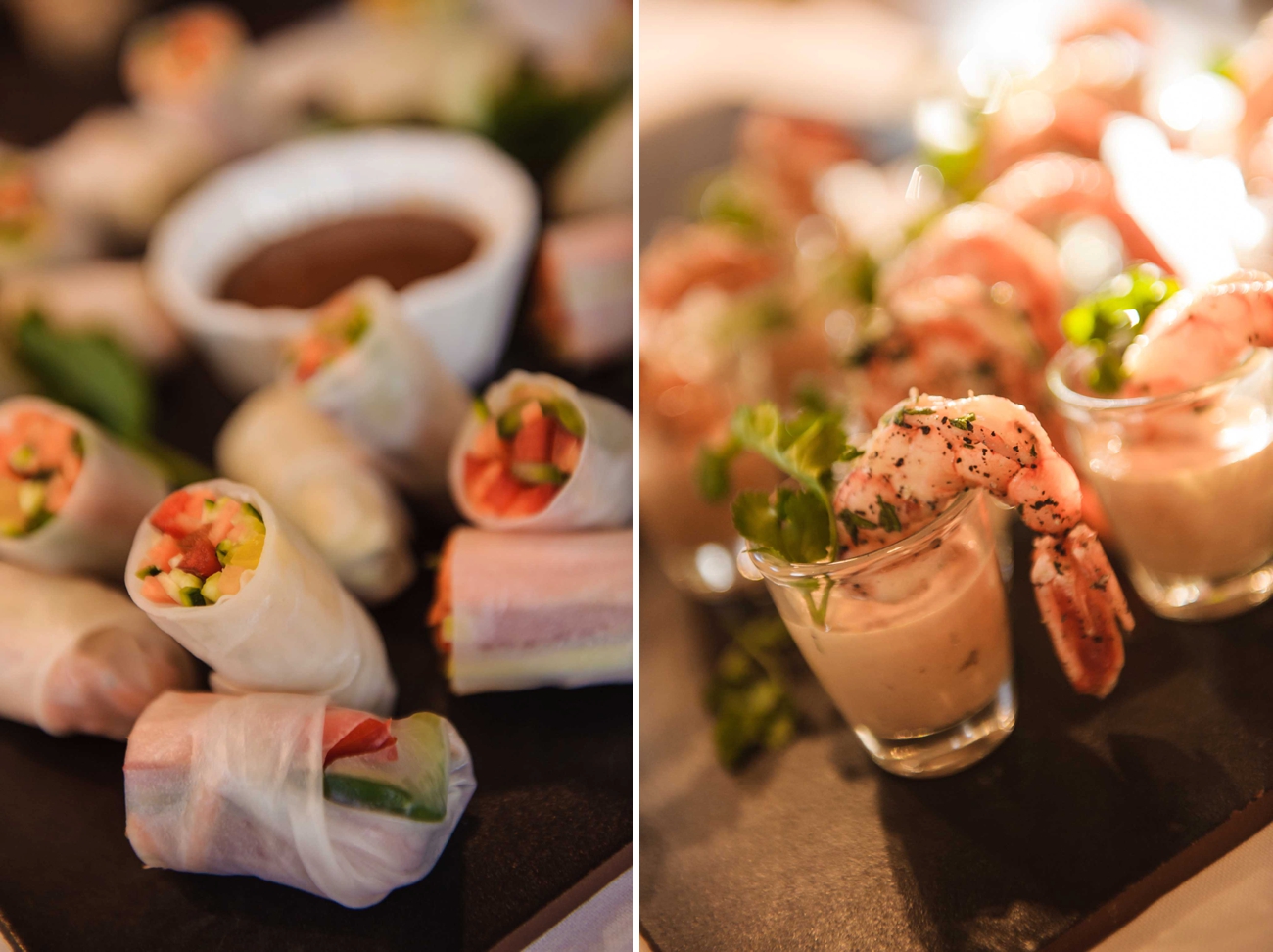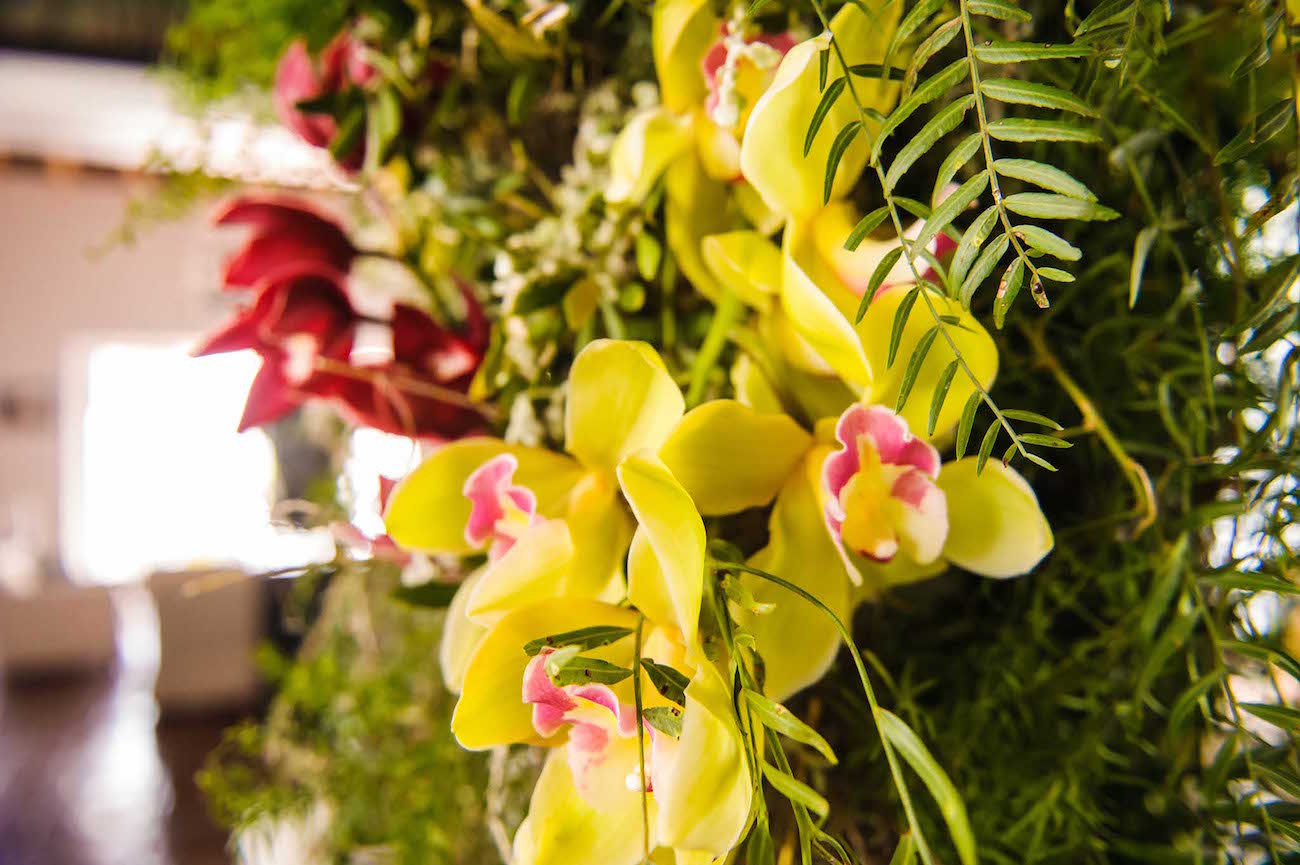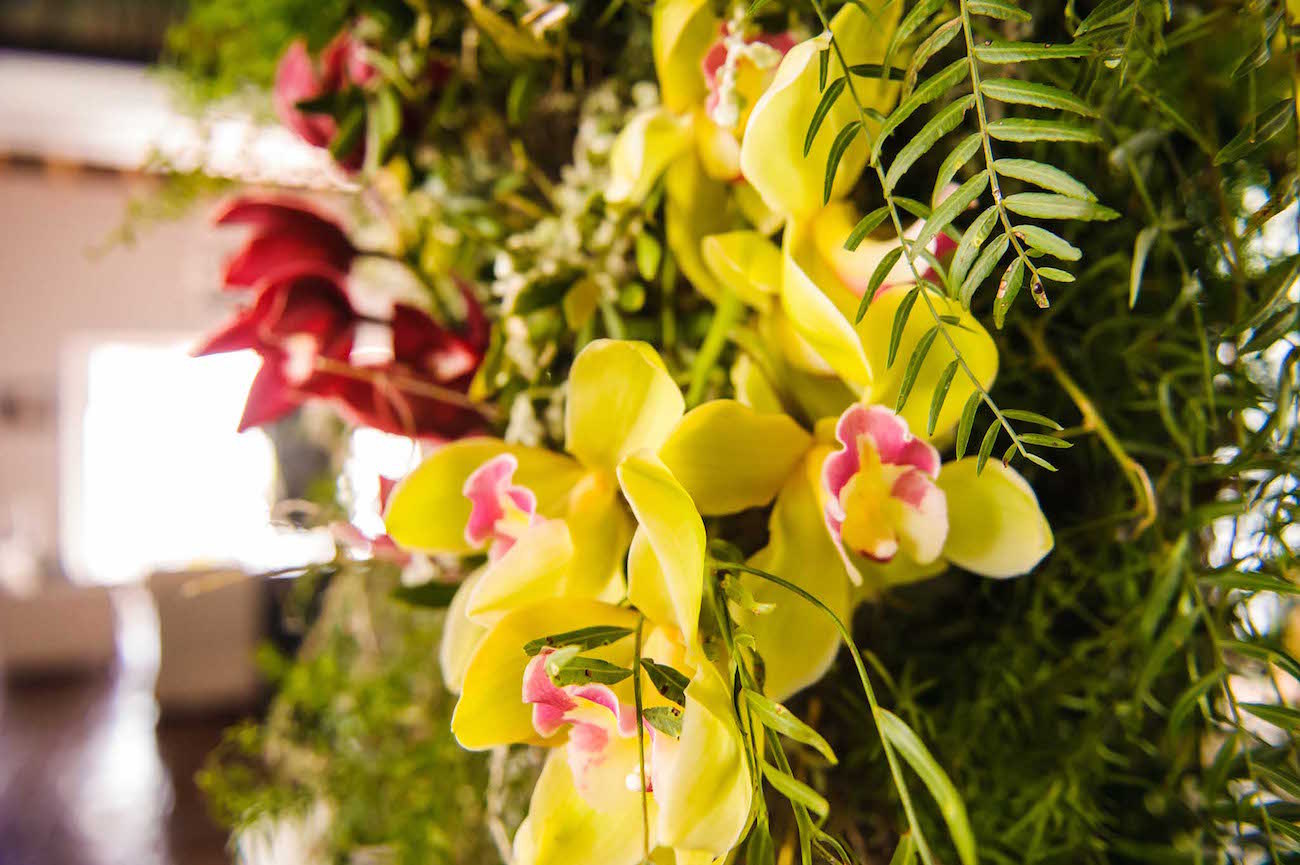 Wedding Details
The service part with the orchids and plain white benches with a classical trio was absolutely beautiful. We also loved the rustic flower arrangements and candles in the area where we had the canapés. My favourite part, though, was the reception area. The table, flowers, and soft lighting were just breathtaking. The girl who did the dessert table and wedding cake is a genius. I never thought it was possible to put something so elegant and yummy together in a million years on one table. The cake was awesome and the flag colours we had her put on the inside were cheeky and fun and tasted amazing.
The Flowers
Perfect. Blomboi is gifted when it comes to flowers. The arrangements and colours were beautiful and the thick flower garlands dropping from the ceiling, were truly astounding.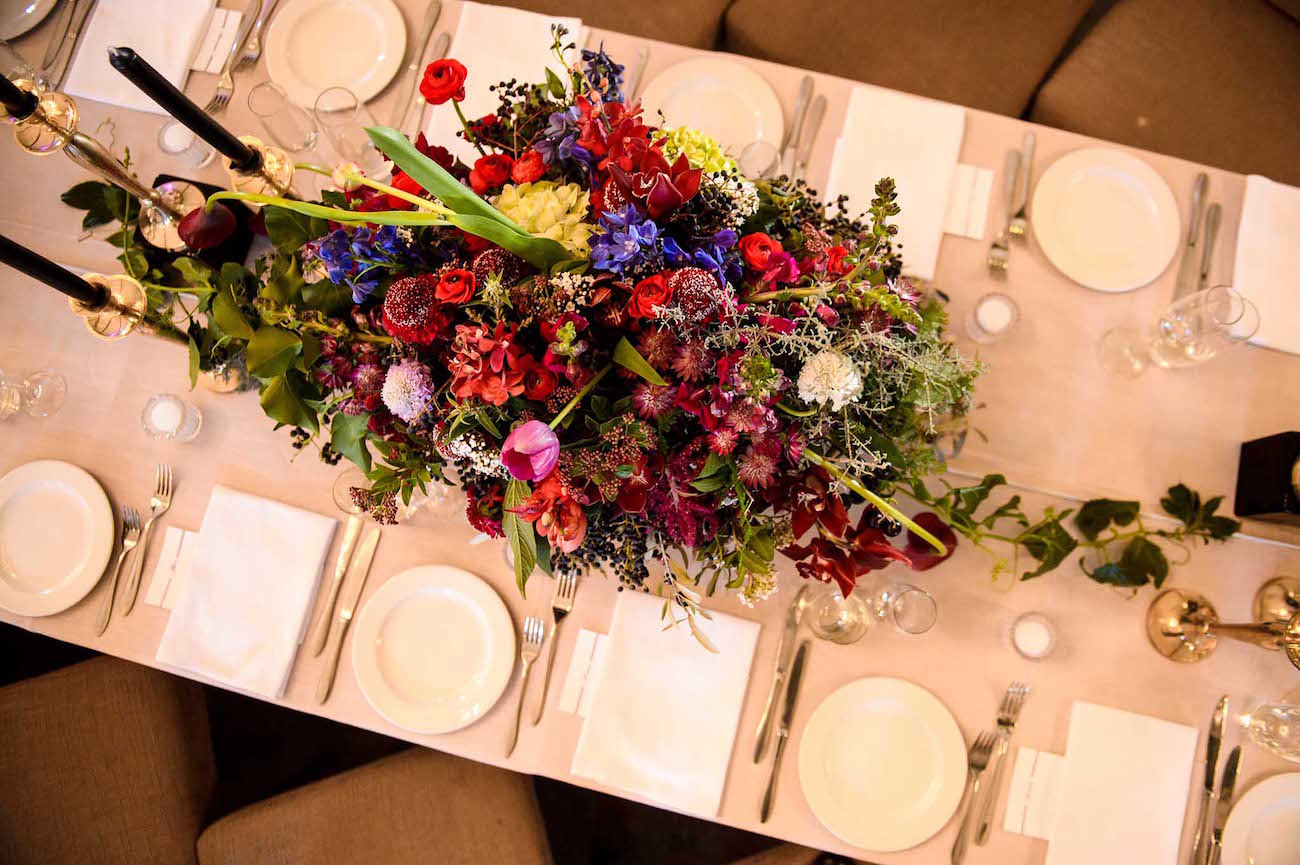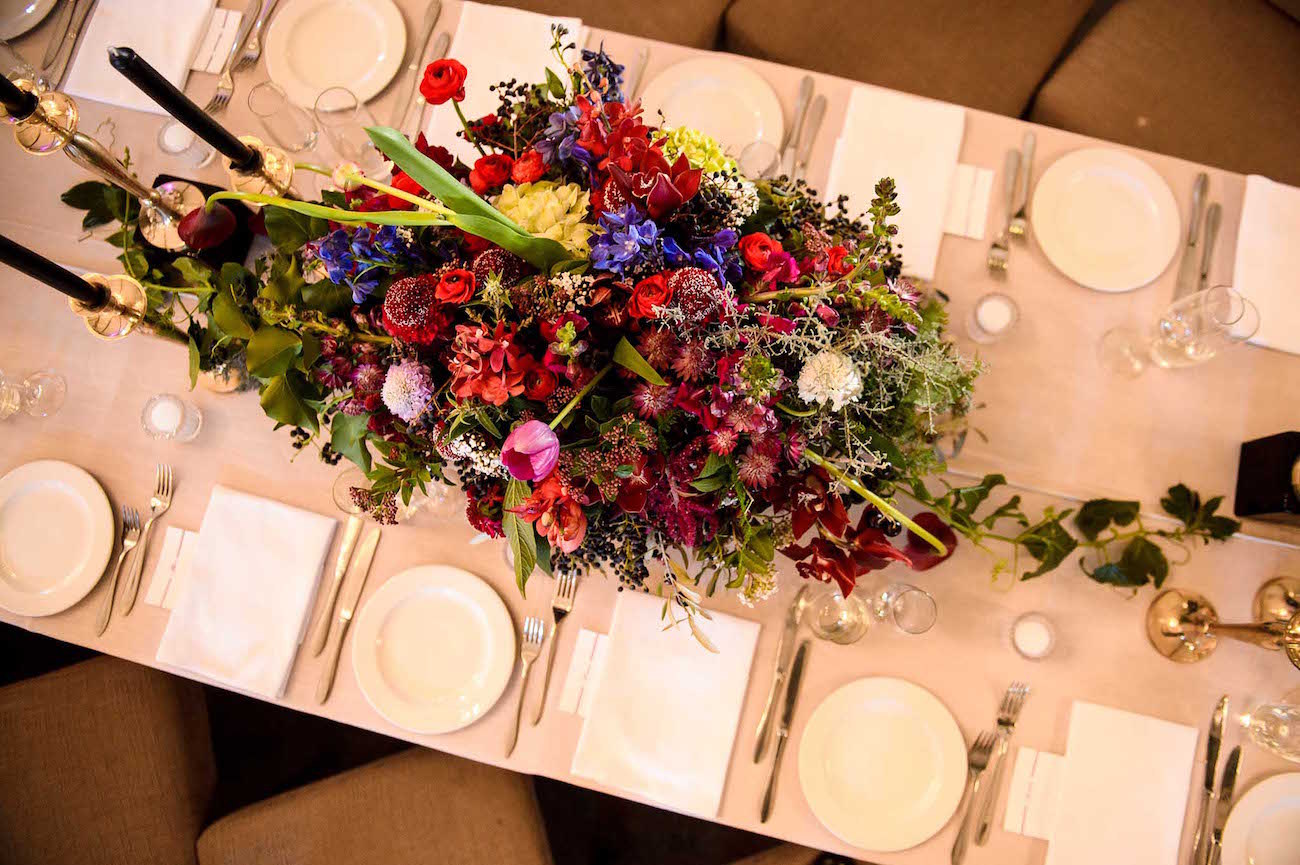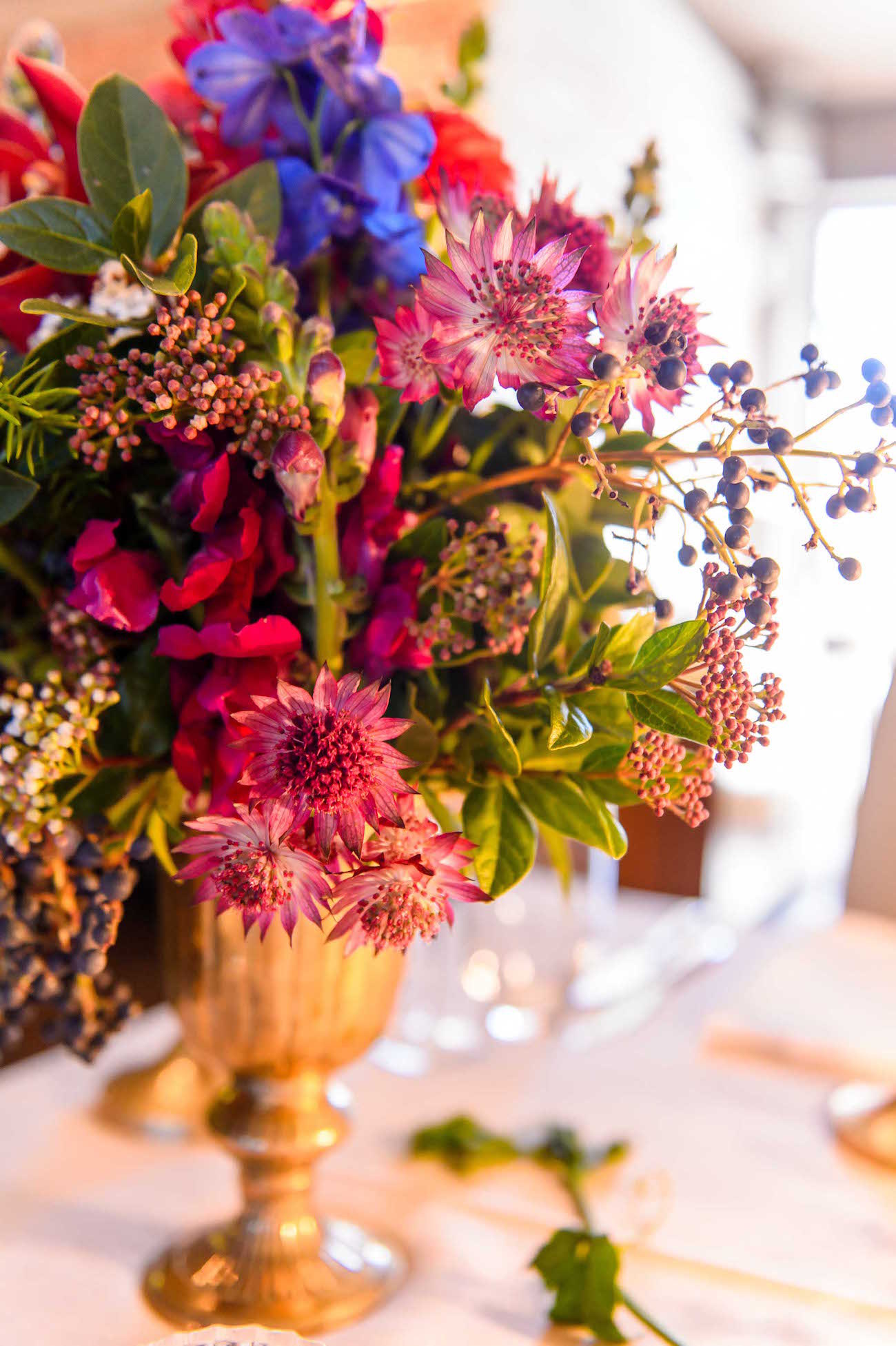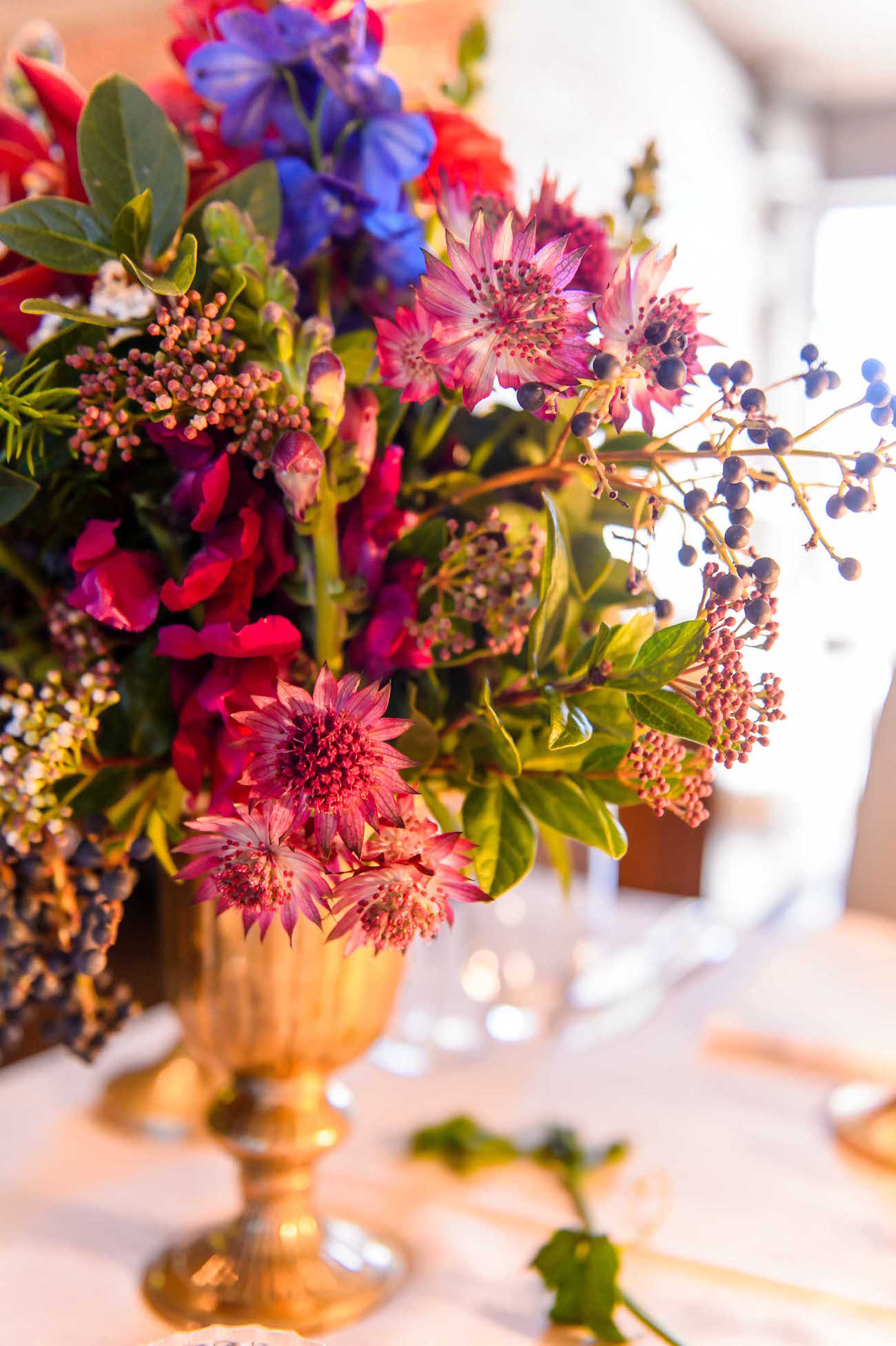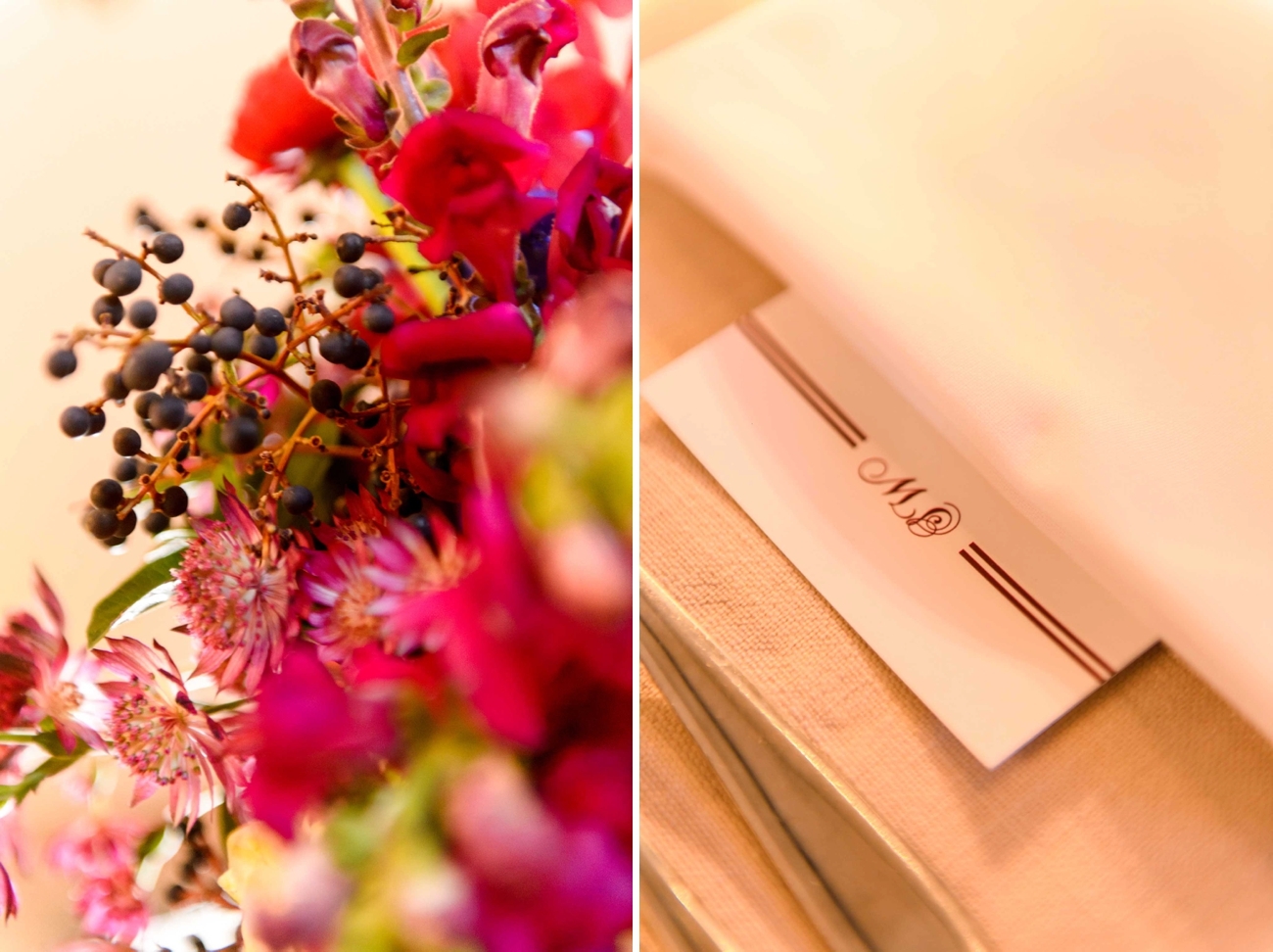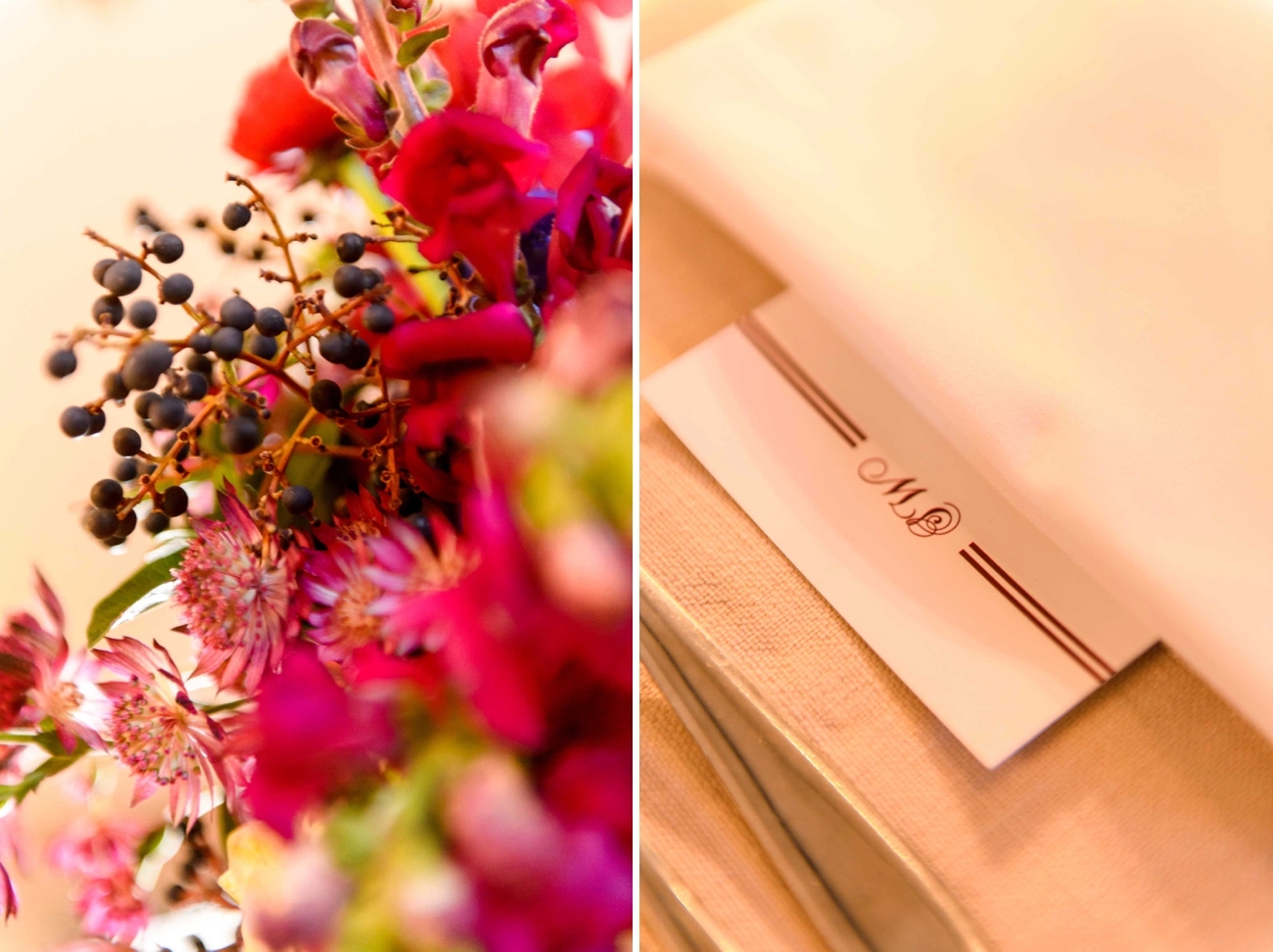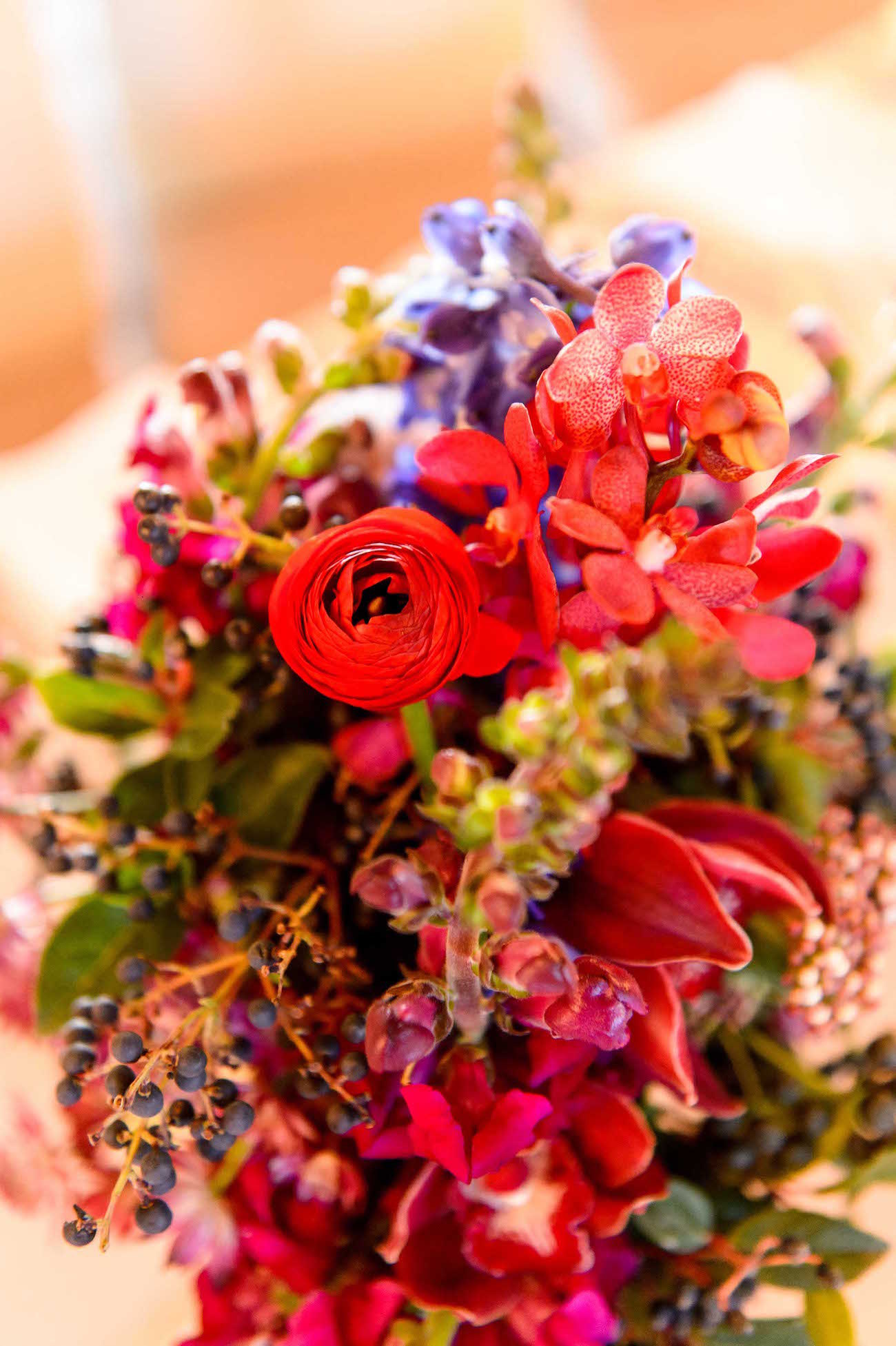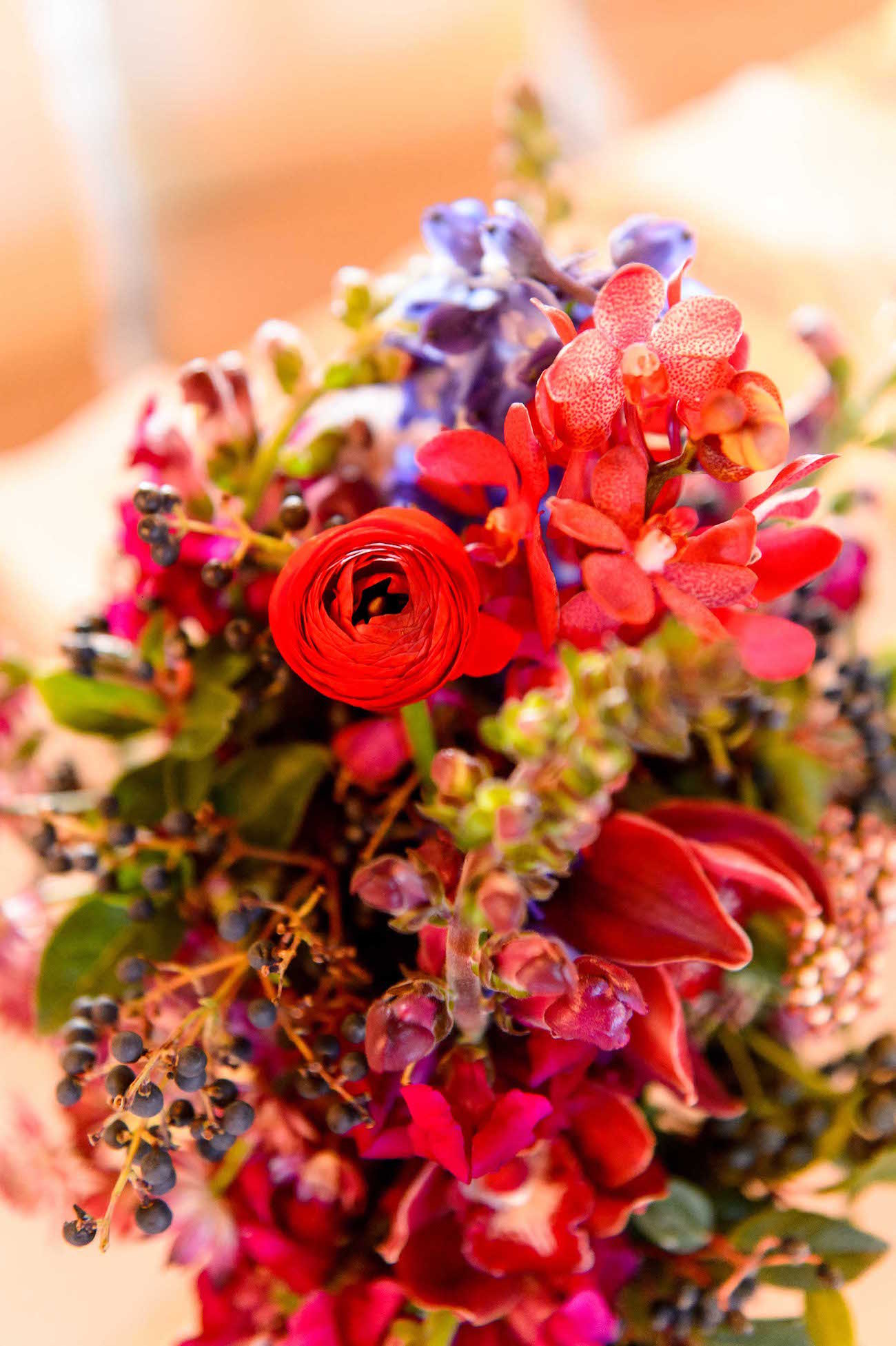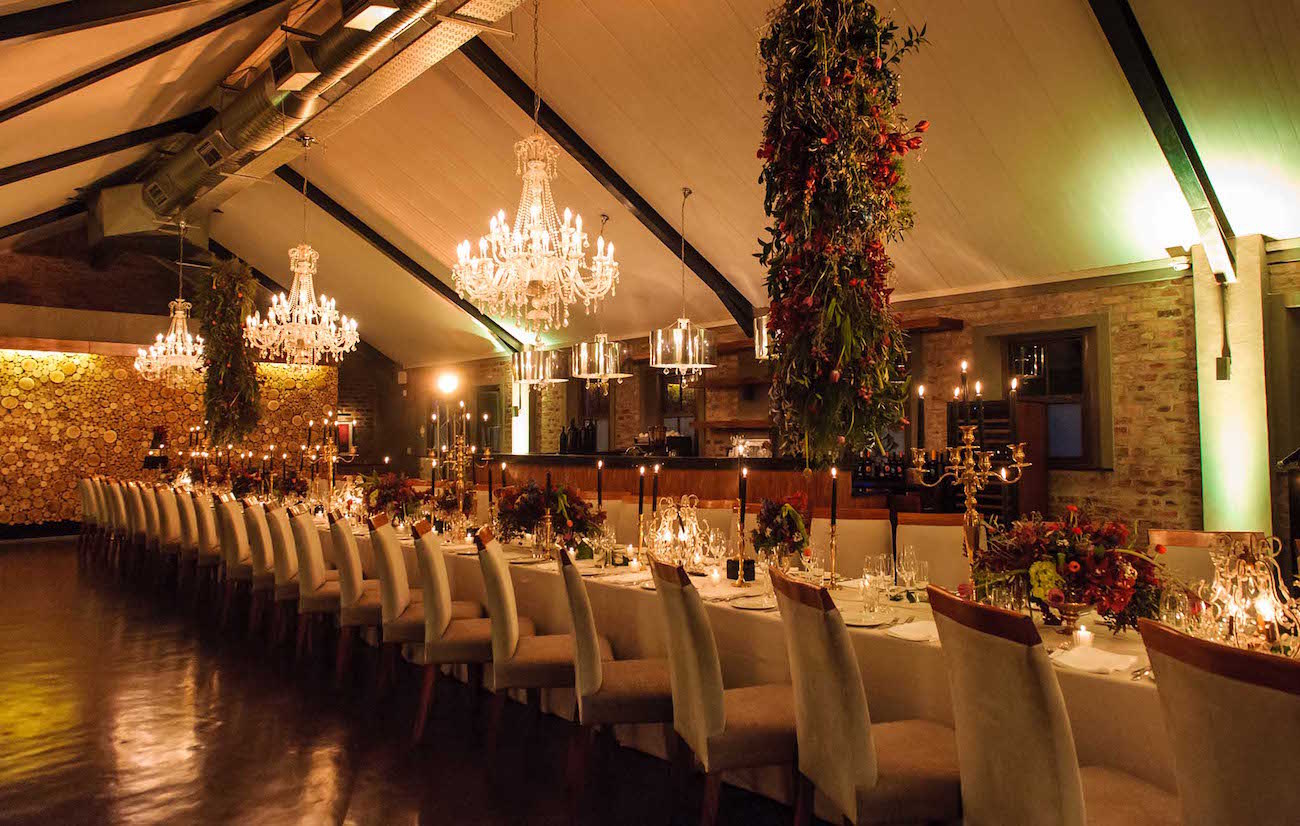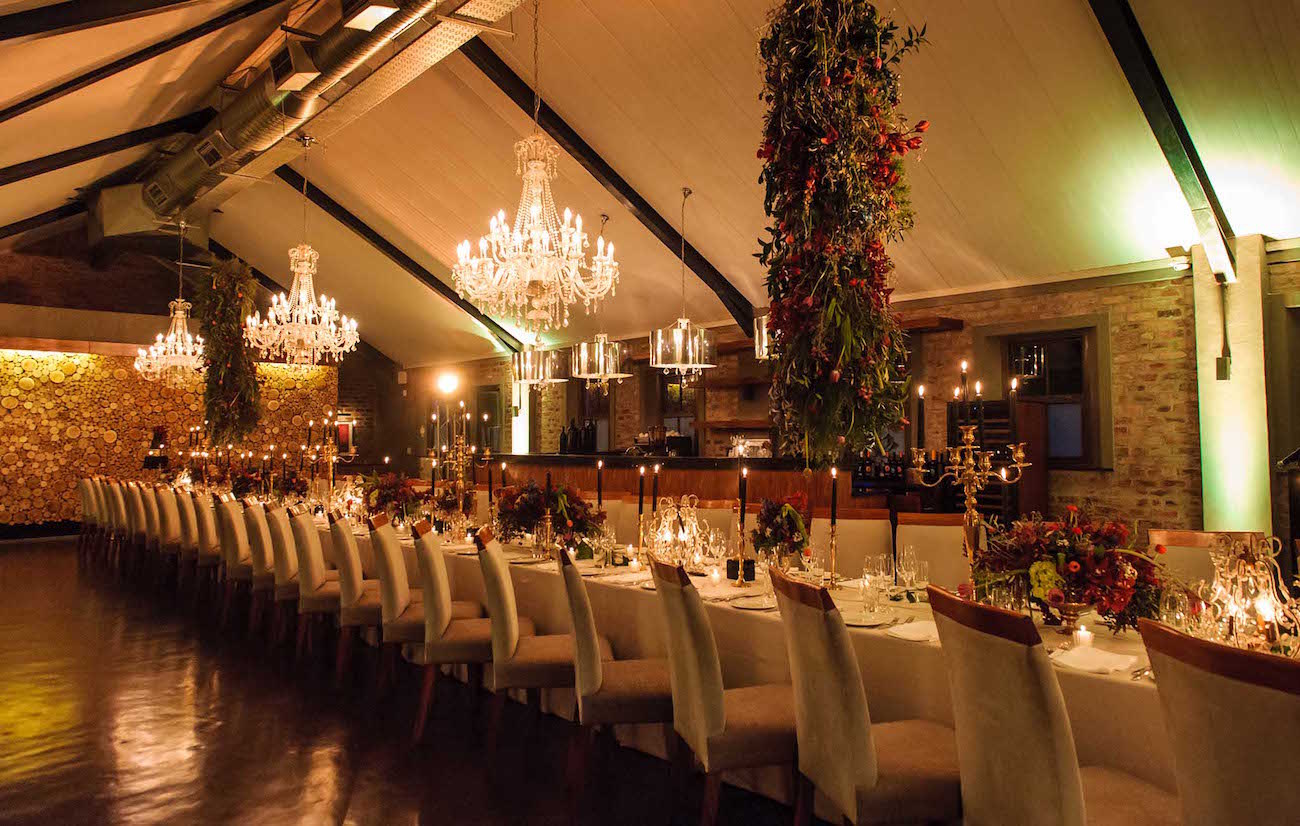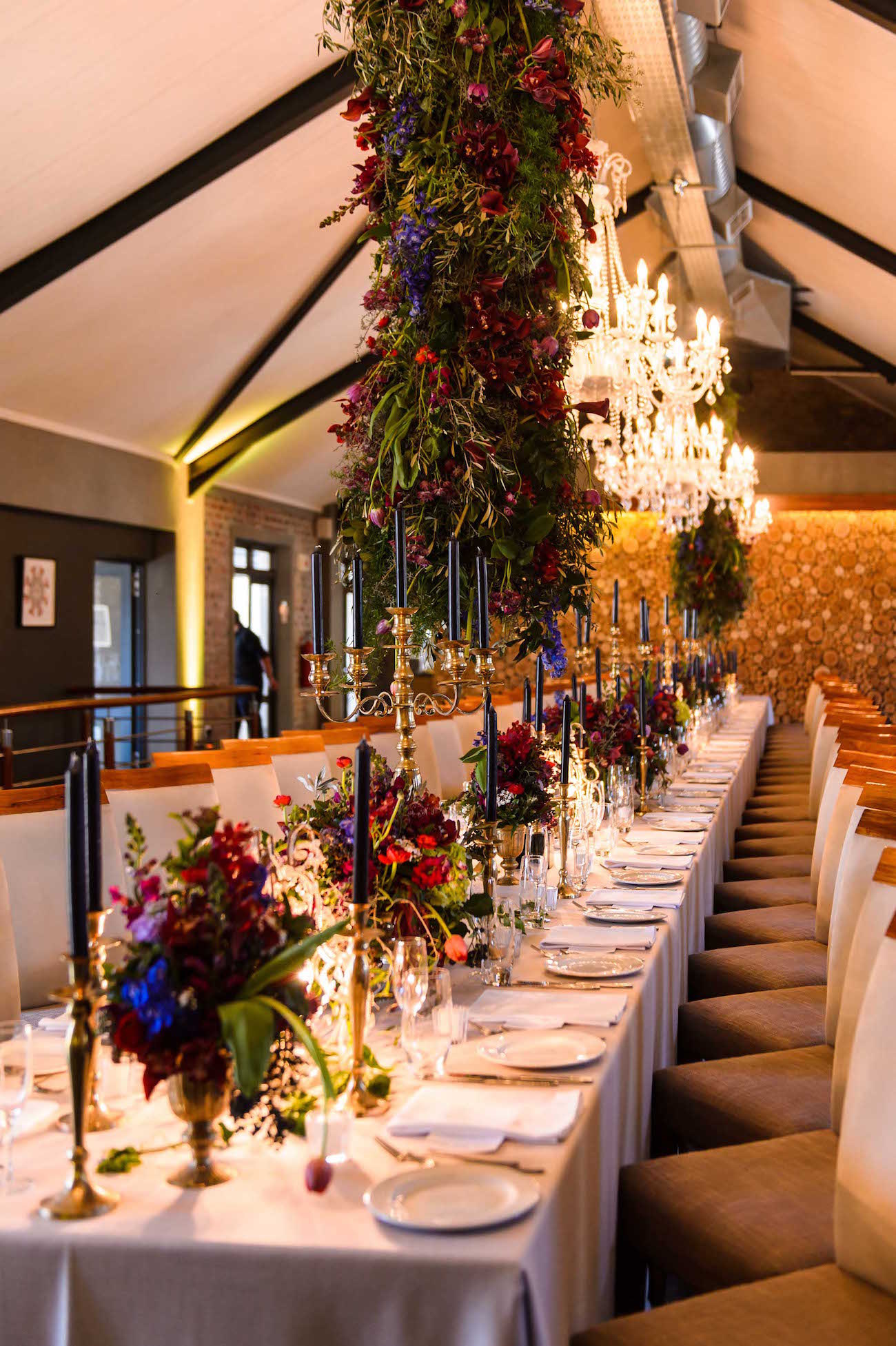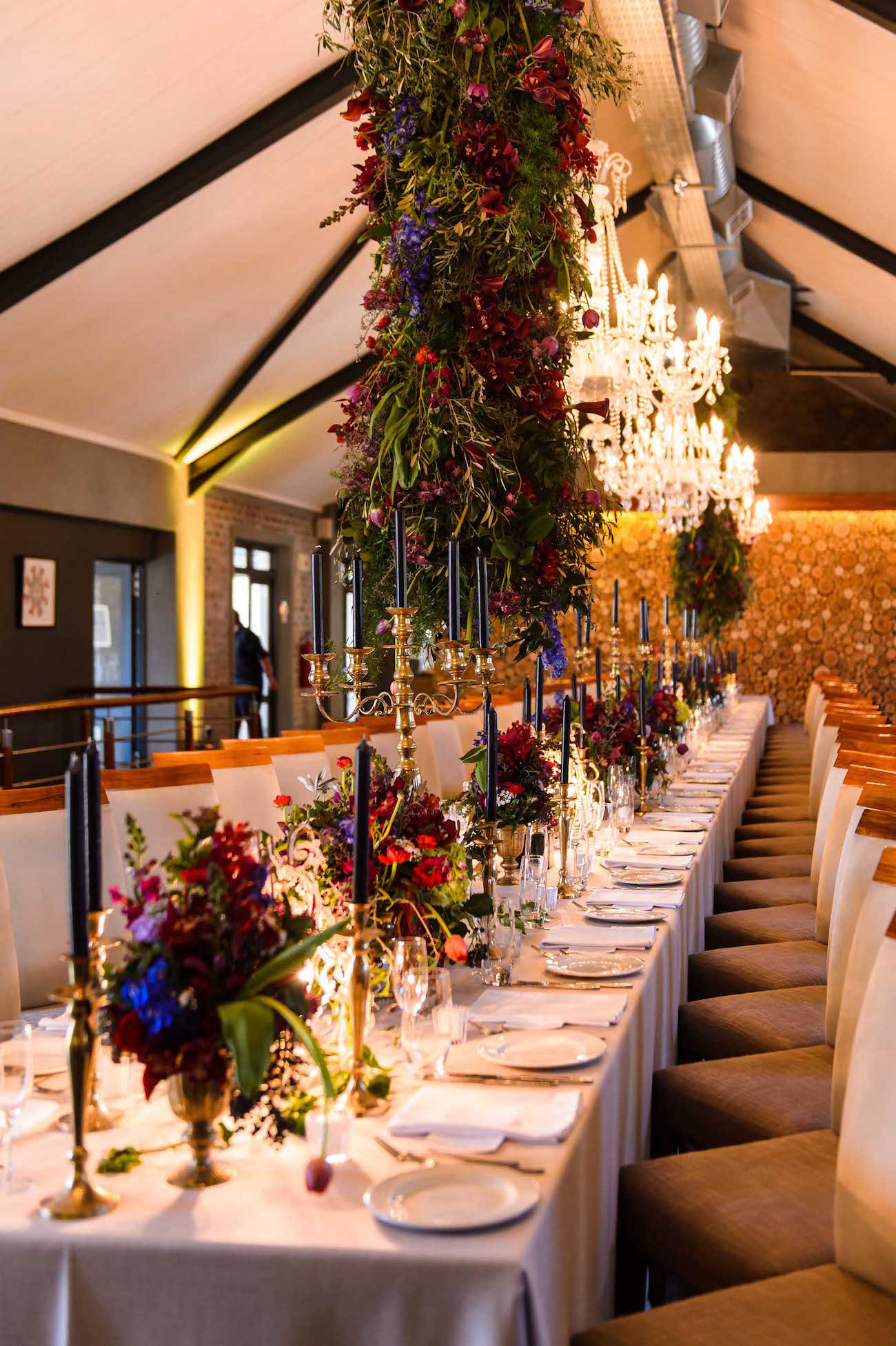 Memorable Moment
Walking into the 'church' and knowing that I am the luckiest man on earth to have met someone so totally amazing and right for me. BUT to be quite honest, I loved every single little thing of that day. There were so many different things going on and different venues, with every single one being so different to each other, that it was one highlight after the other.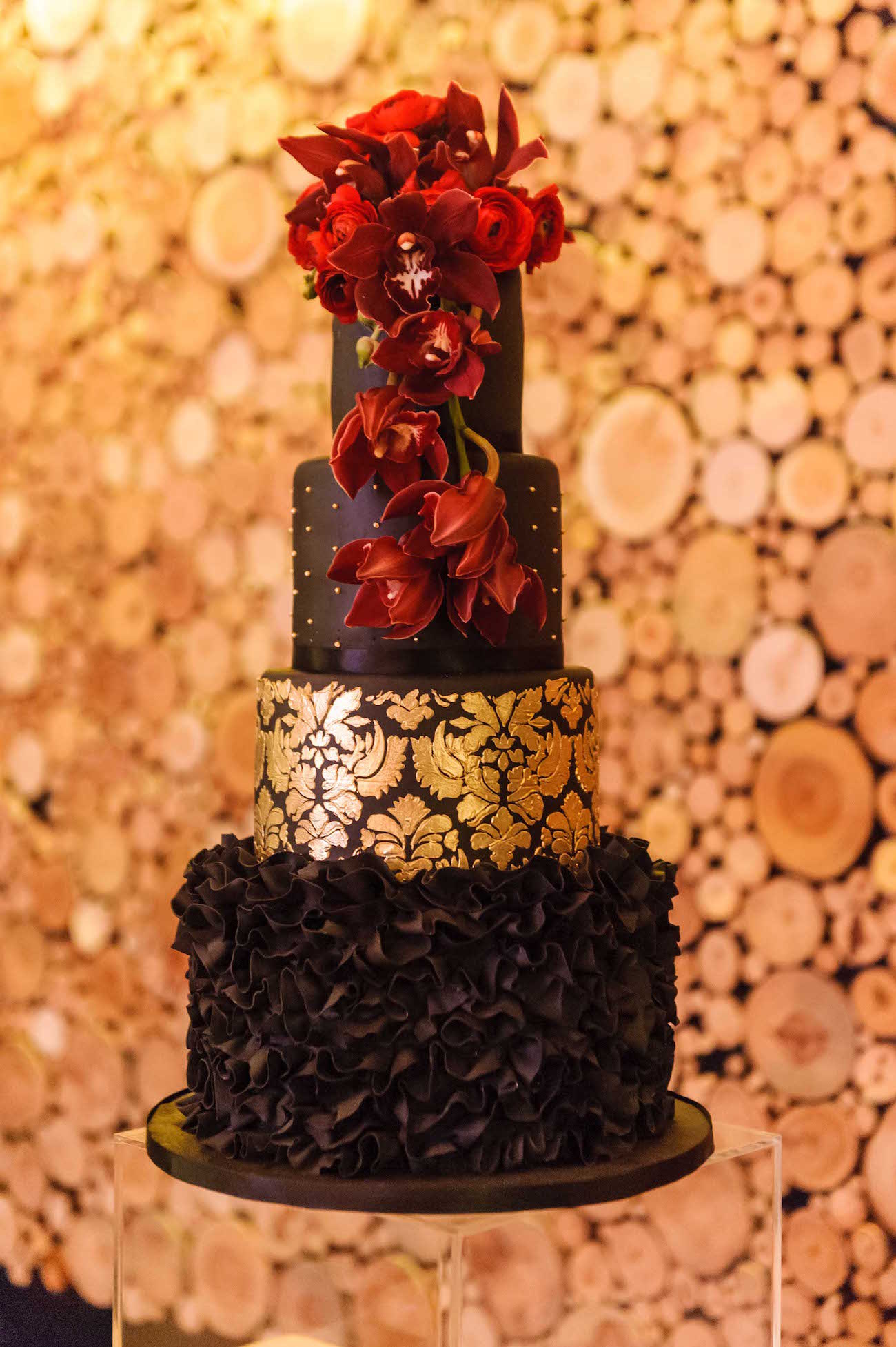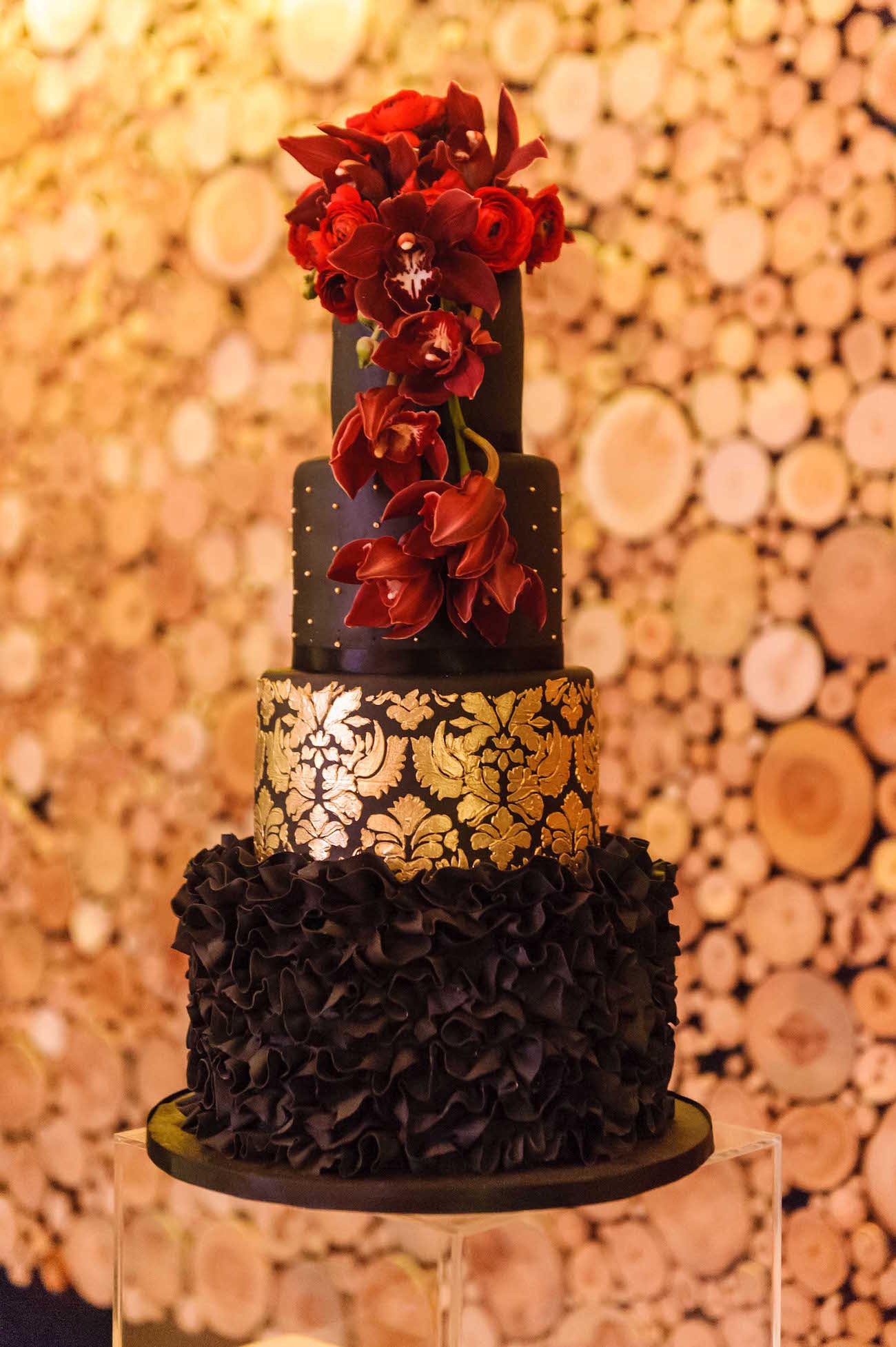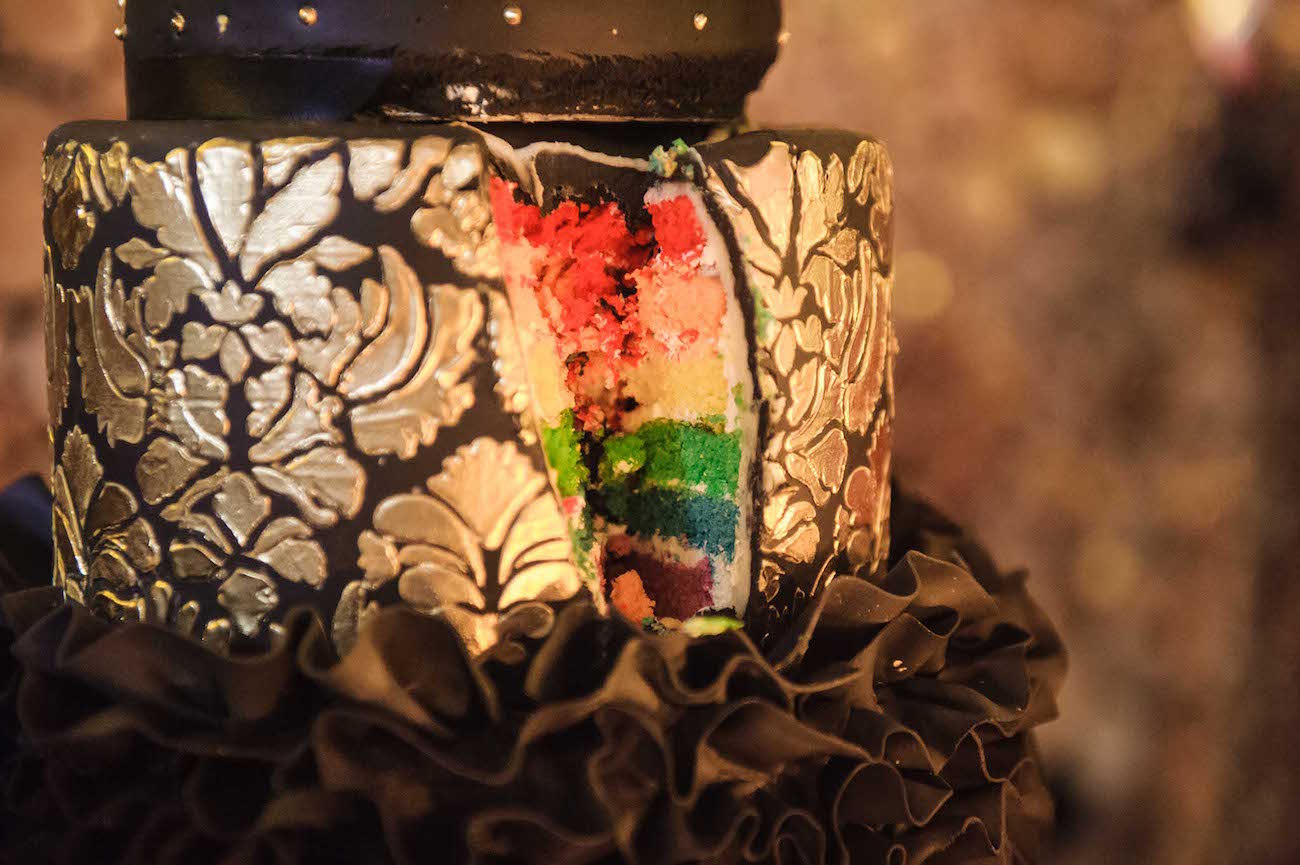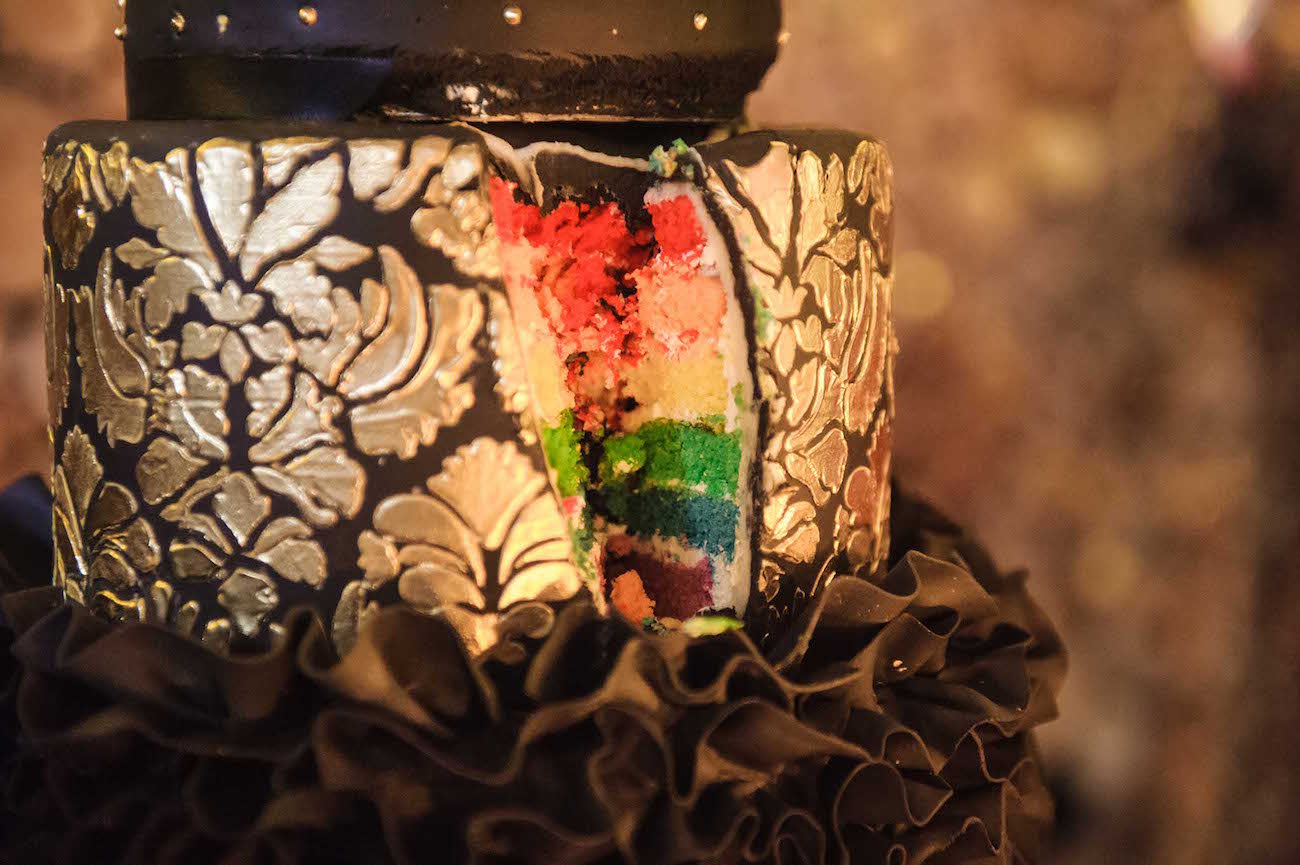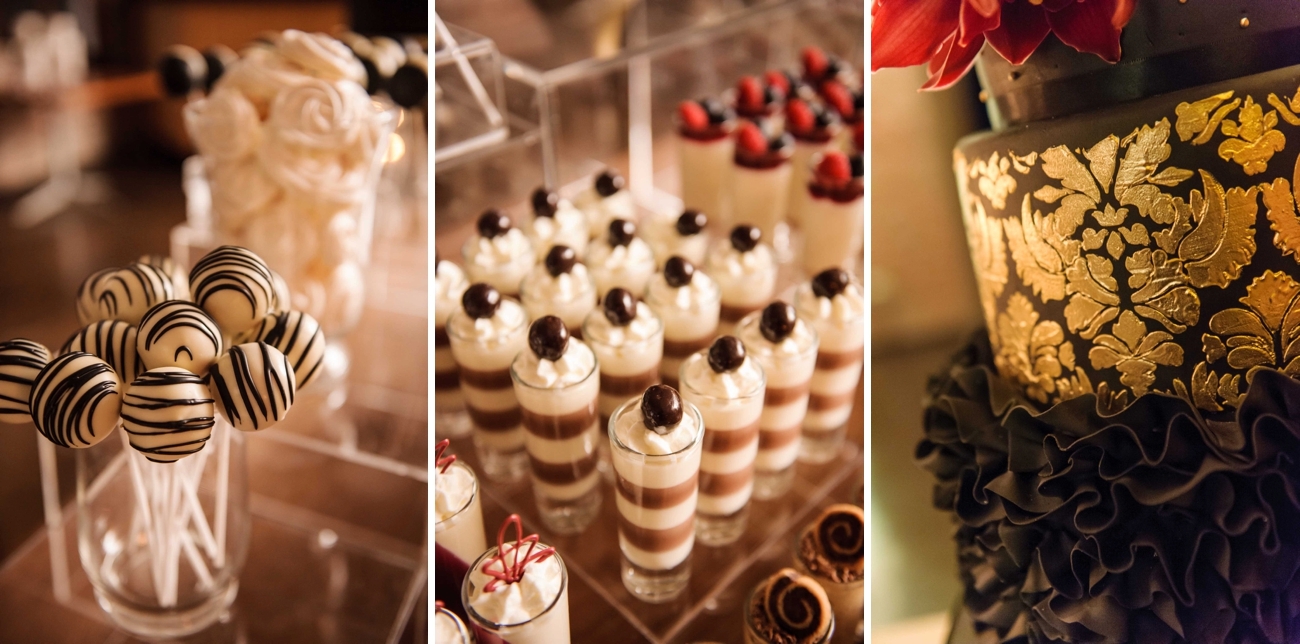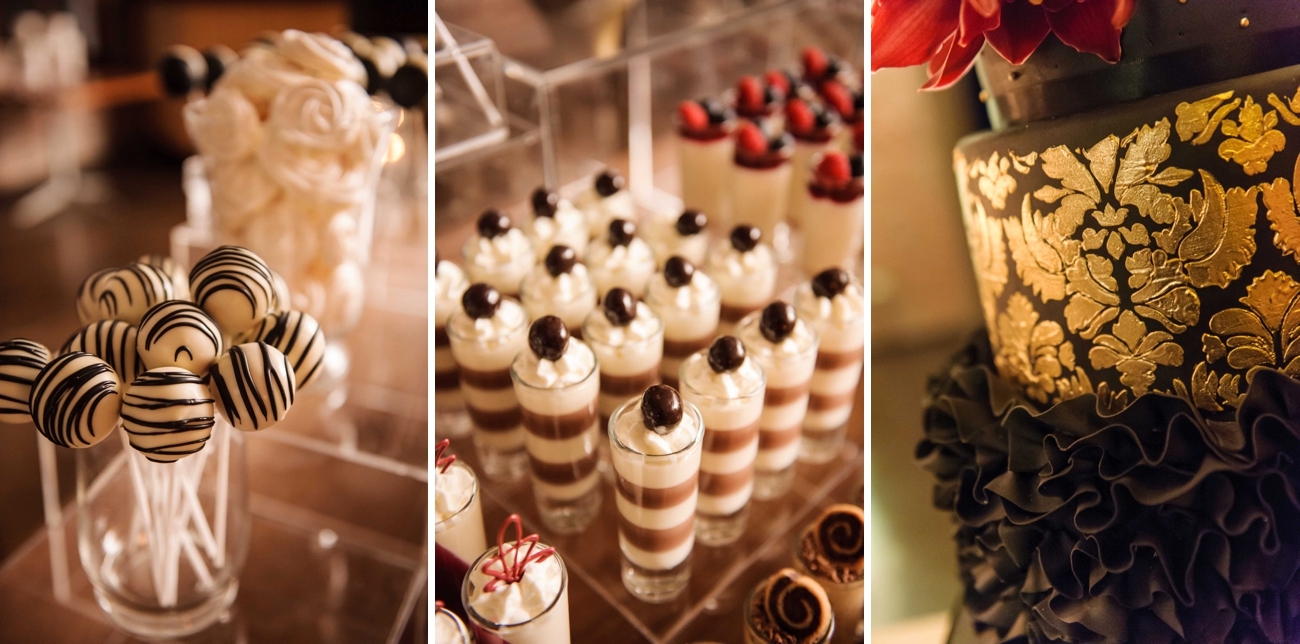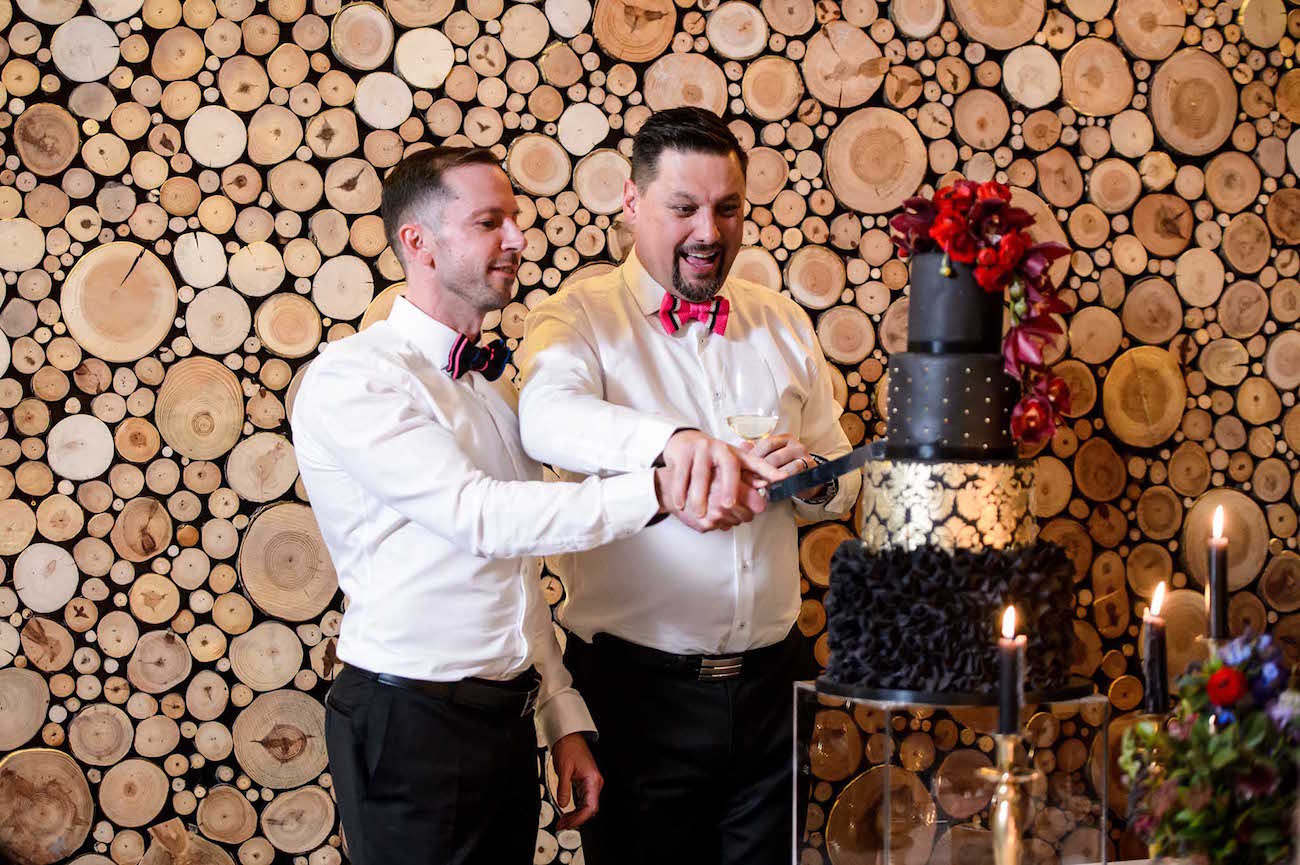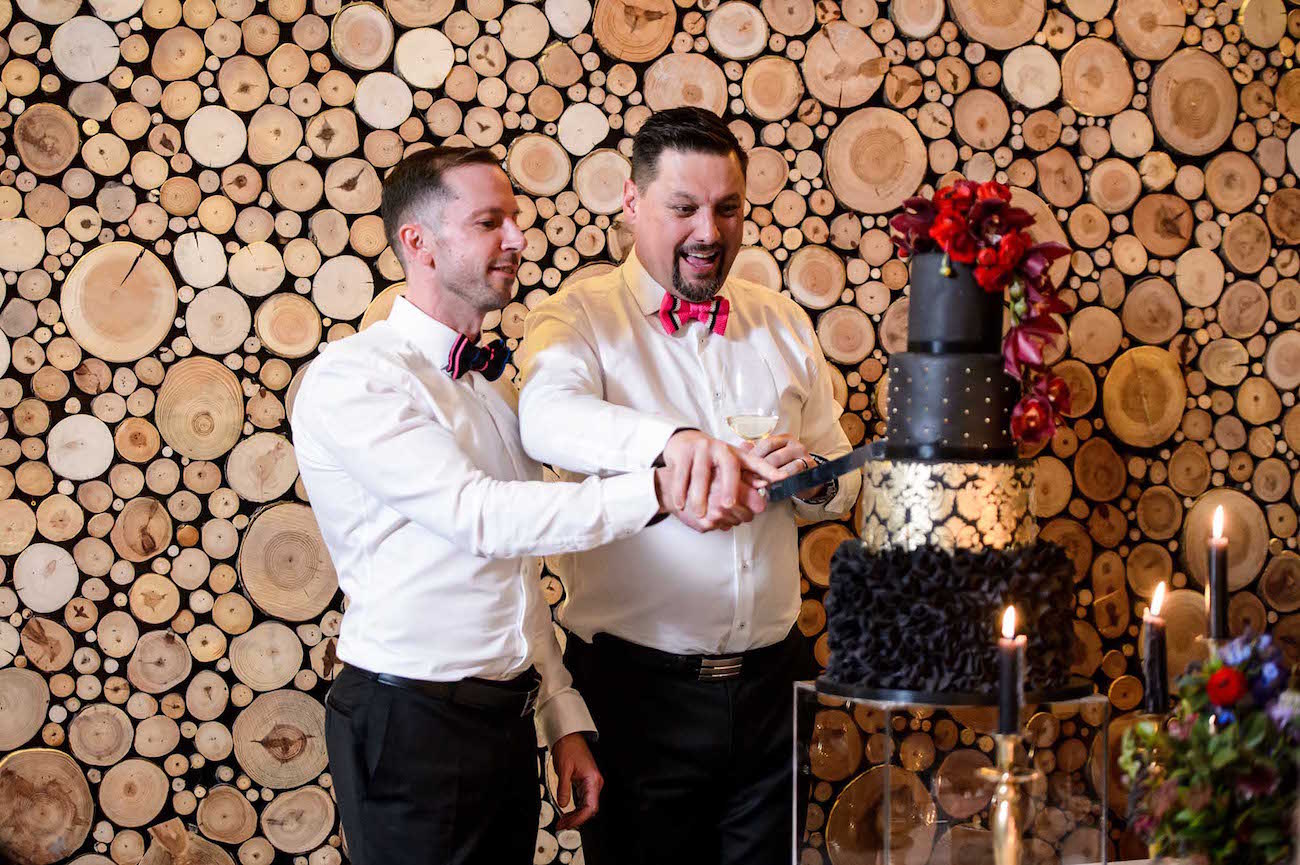 Proudly South African Details
The service was done by a Dutch Reformed Minister and someone I know from school. Quite radical for a gay wedding. Everyone connected to this function was South African and the talent we have here sometimes just boggles my mind. I have a lot of hope for this country if we make a few changes to better the lives of every South African.
The Vendors
The venue was perfect for our small wedding and the staff were friendly and very helpful. Nicola, who helped us with the wedding, was so kind and there was never anything that was too much trouble to sort out. It was so well organized by the Aleit group.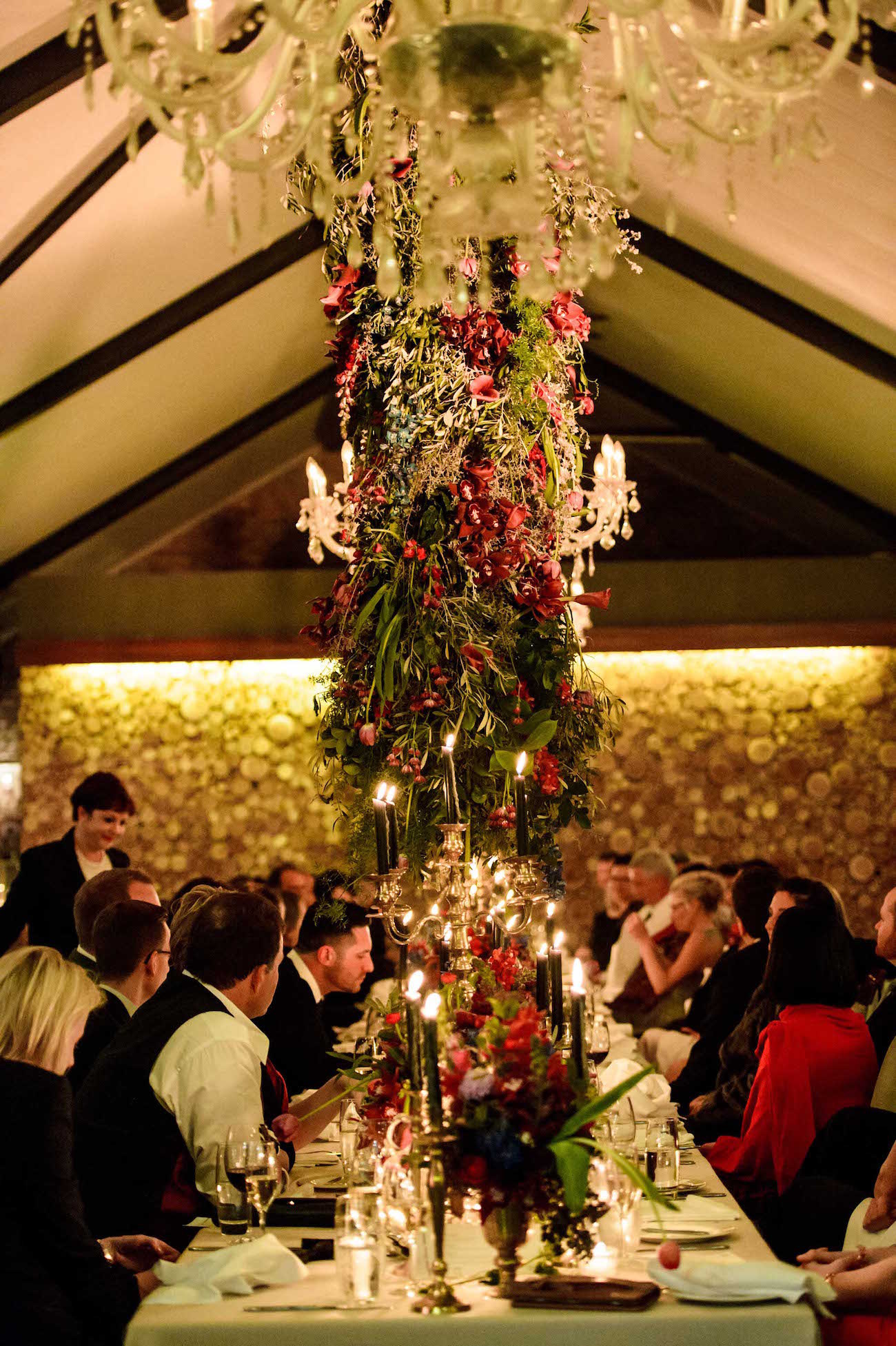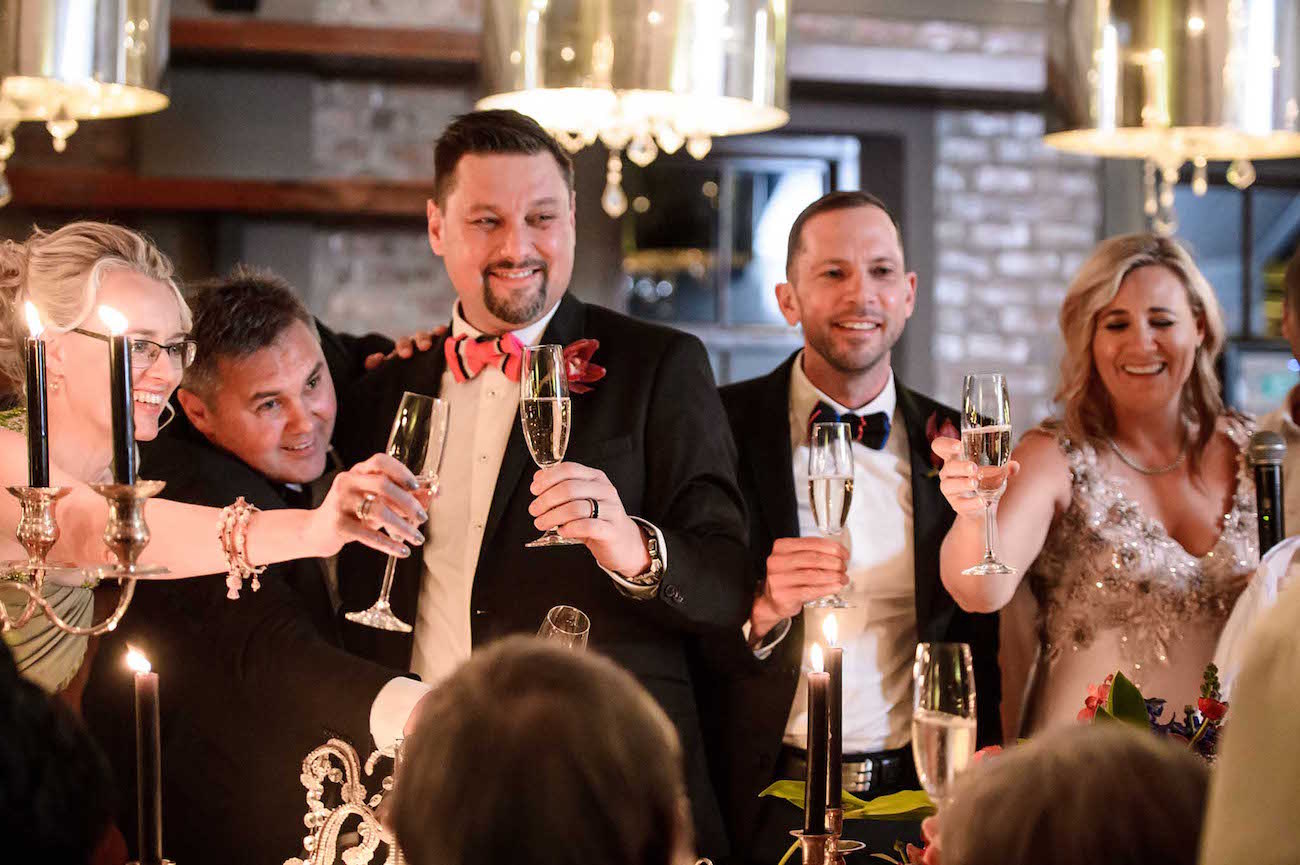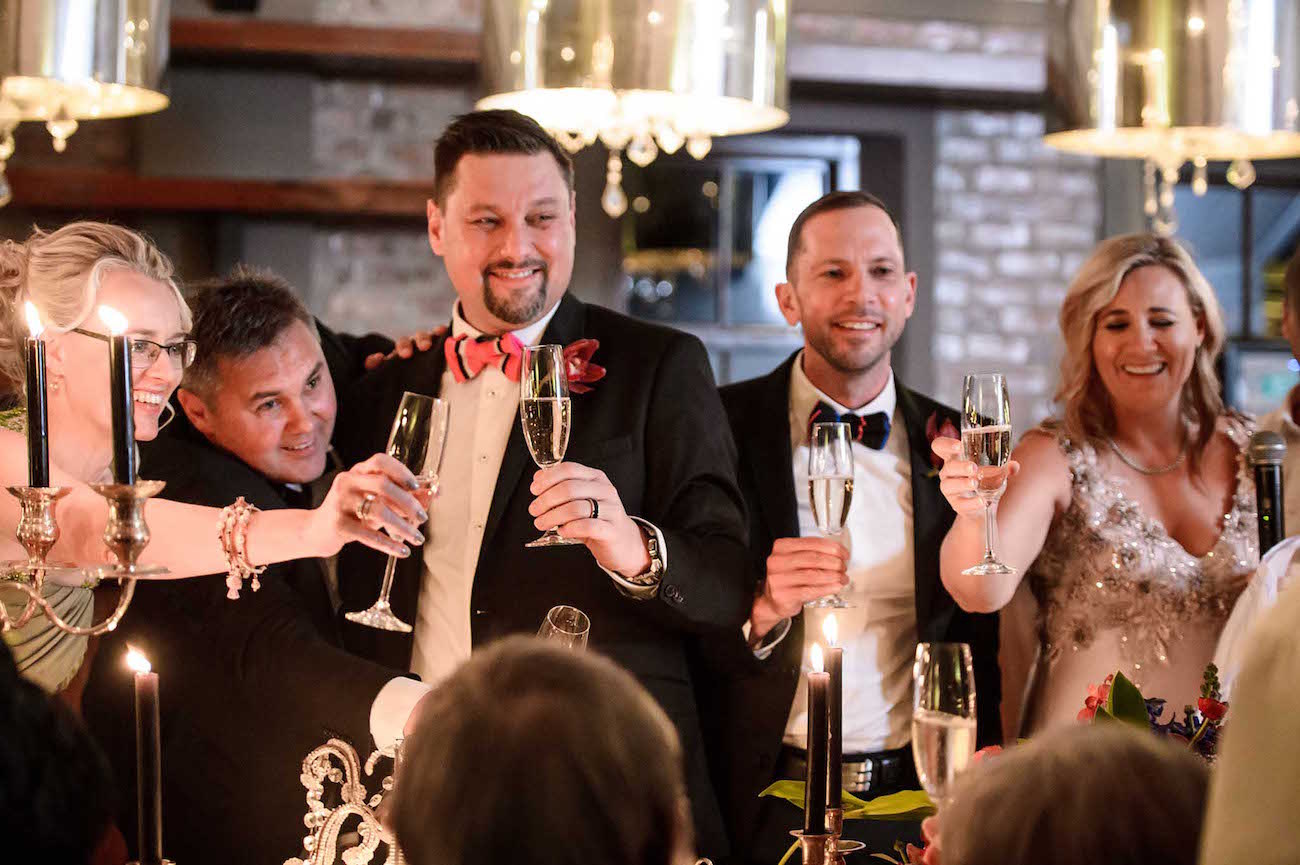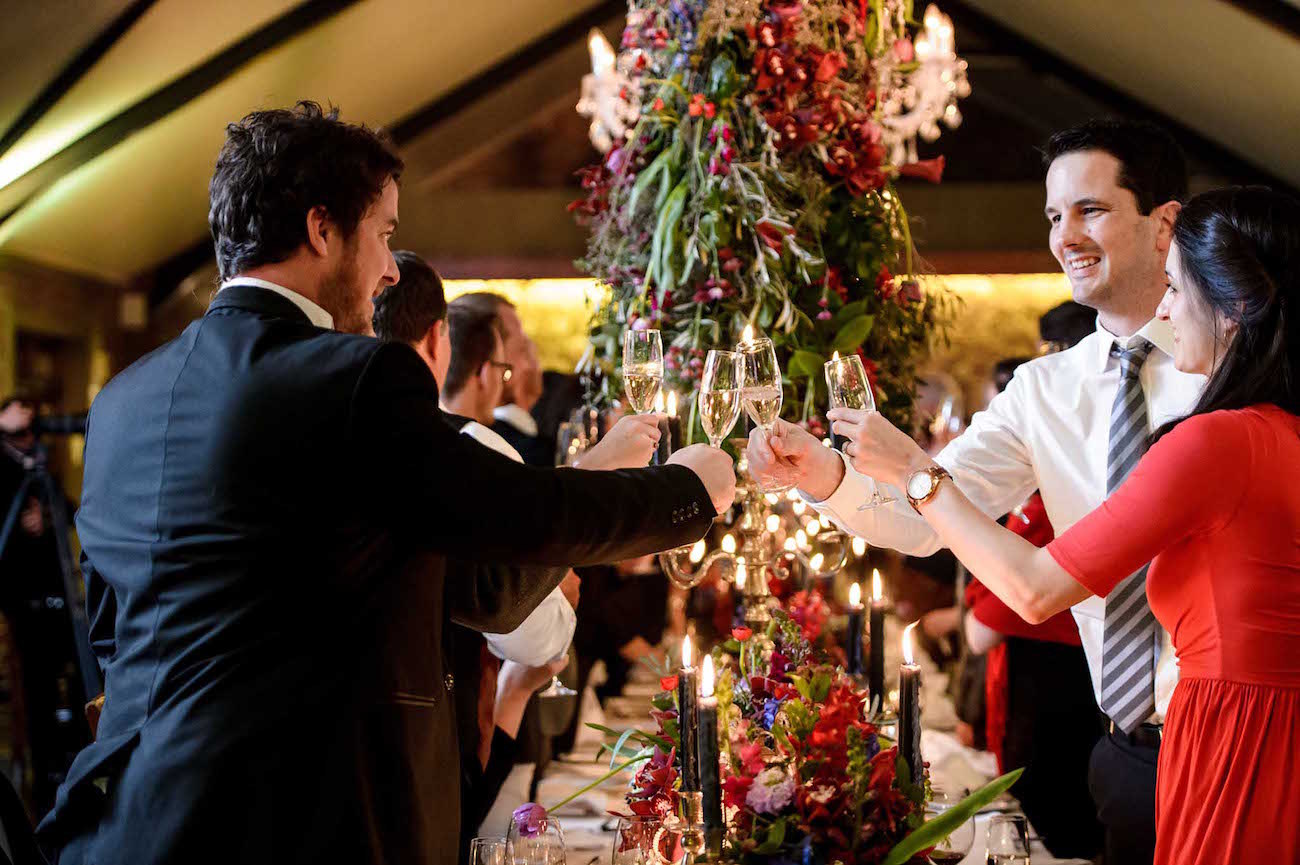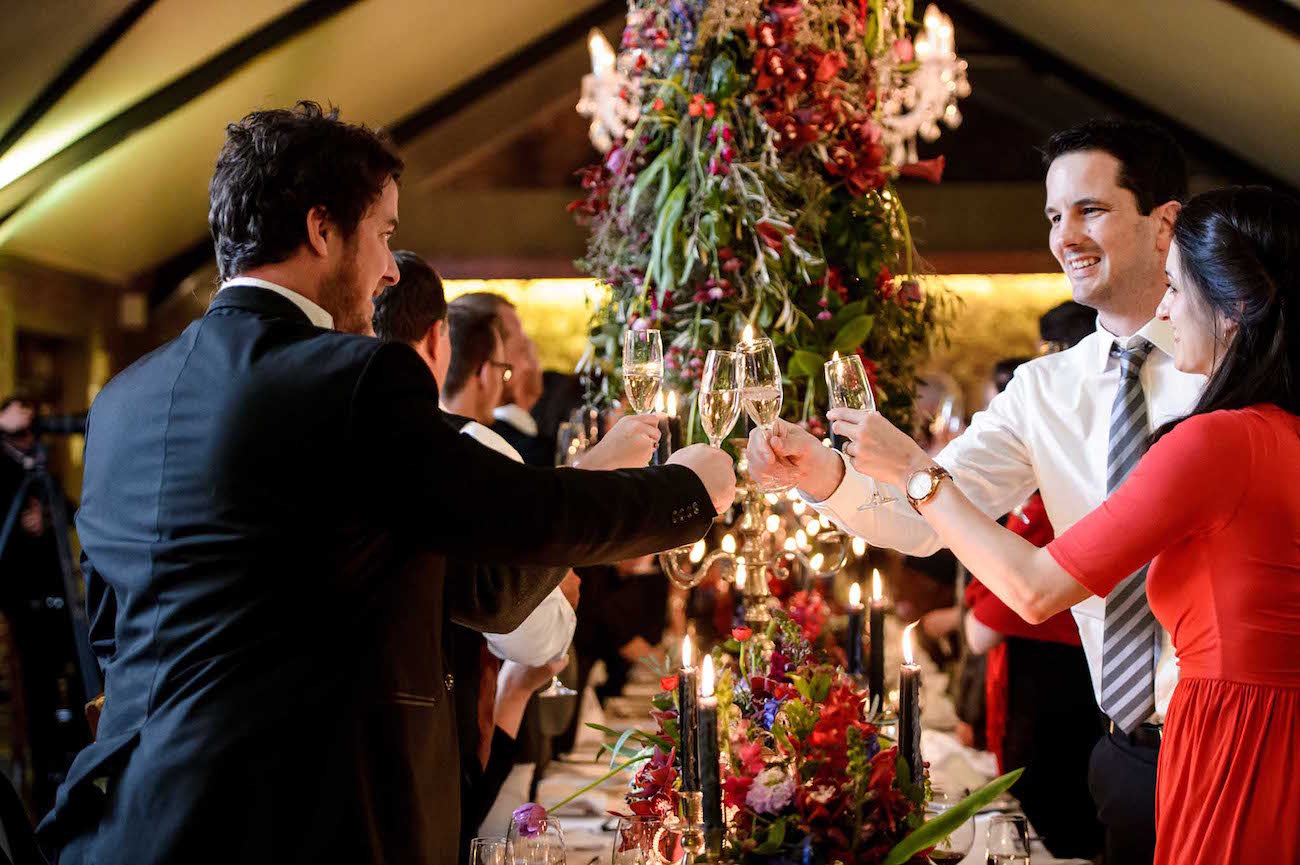 Best Decision
Getting The Aleit Group involved.
Advice for Other Couples
If you get a wedding planner, know your budget and try and stick to it. There are so many thing you don't think about in the beginning, so probably you will go over budget, but on the day, the things that you wanted and didn't get, you don't even miss. The day is just too good!
You can see more from this wedding on the Vizion Photography blog.
SERVICE PROVIDERS
Venue & catering: Holden Manz | Photography & video: Vizion Photography | Co-ordination: Aleit Group | Flowers & décor: Blomboy | Stationery: Secret Diary | Cake: Edible Art | Rings: Amulet | Hair: Ryno Siebrits | Groom's attire: Zedmen
Save
Save
Save