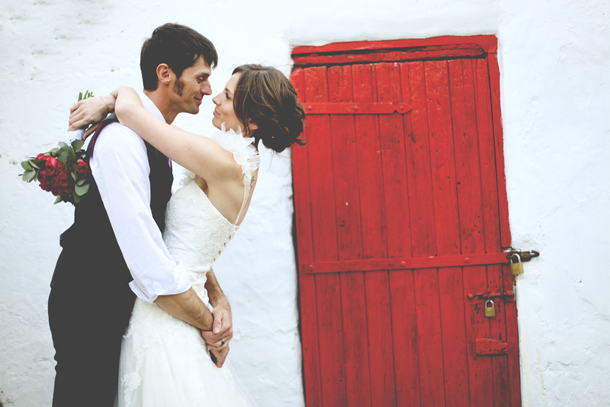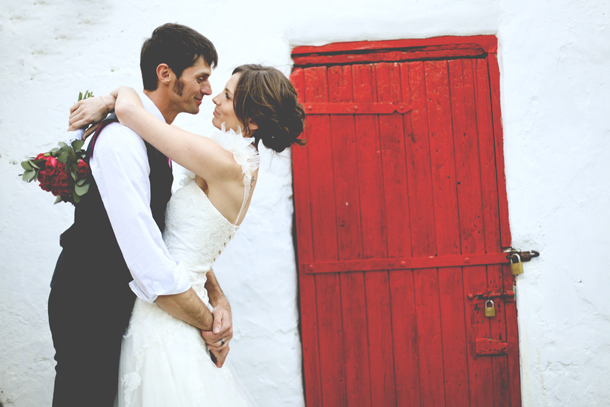 Rain rain go away – it's a miserable day in Durban, but I'm curled up in bed with a dog at my side, bringing you this wedding that's full of colour and light and beachy goodness. I absolutely love SBB reader Sarah and Gareth's chilled out attitude, including their choice of Paternoster as a venue and bright colours and references to children's books and toys on the tables and throughout. In fact, there are tons of great ideas to be had here, so be sure to read Sarah's story as well as revel in Justin Davis' lovely pics. But be absolutely sure to scroll down to the end, where you'll also find the AWESOME stop motion animation that they made for their invitation. So creative and fun!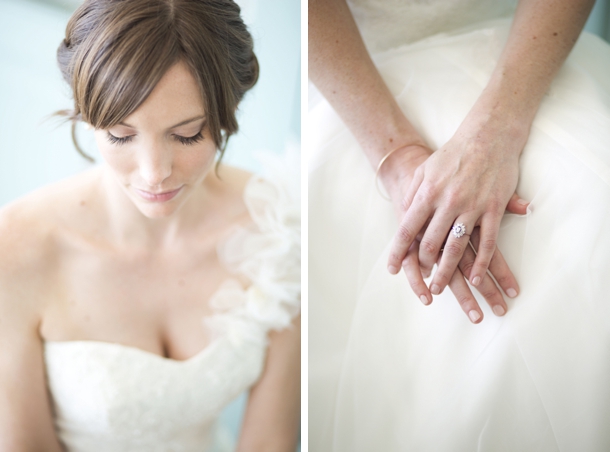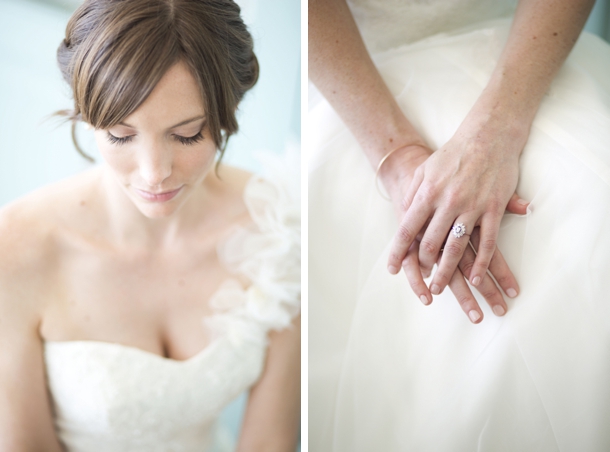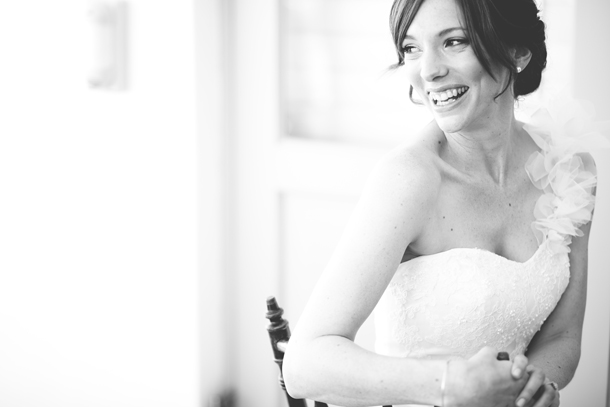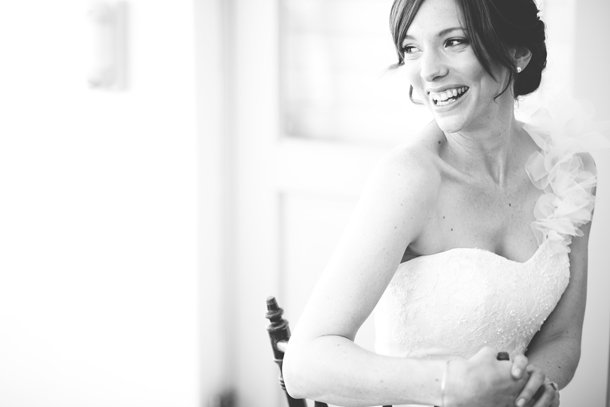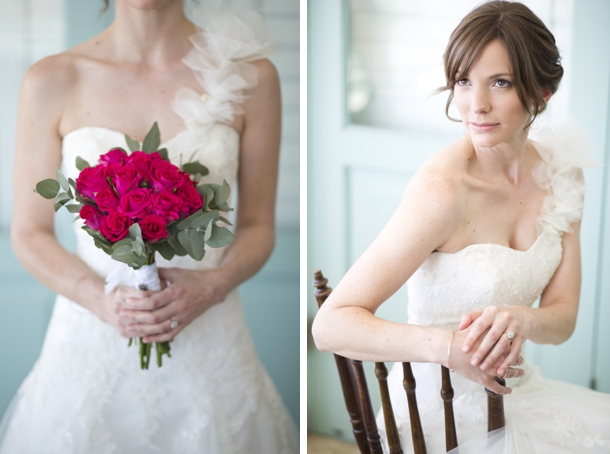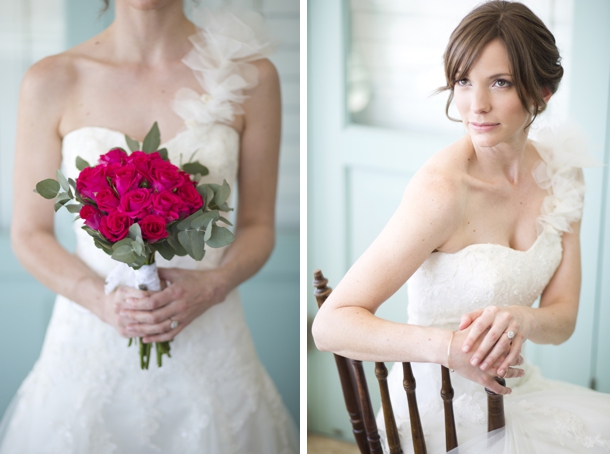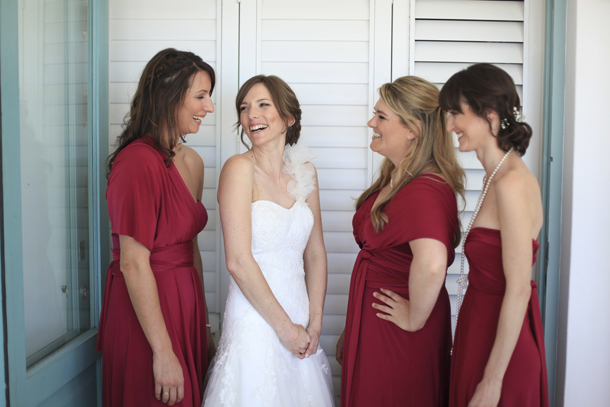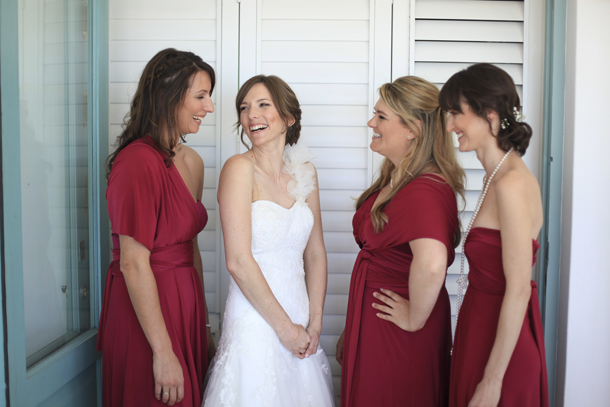 Love Story
We met while I was waitressing at Carlyles Restaurant in Vredehoek. Gareth was our manager's roommate, and a bit of a bar-fly. I thought he was too lovely for words. After an age of flirting, drinks at The Shack and dancing at Mercury Live, I pounced on him at one of The Shack's many bar counters… and the rest is history.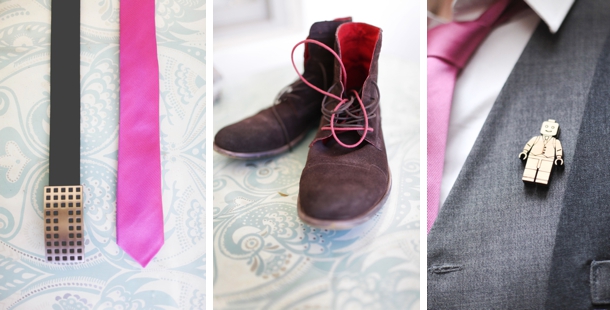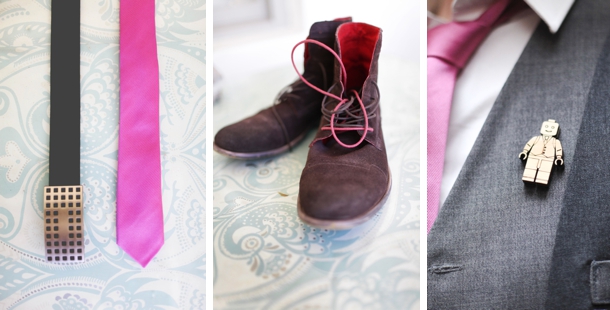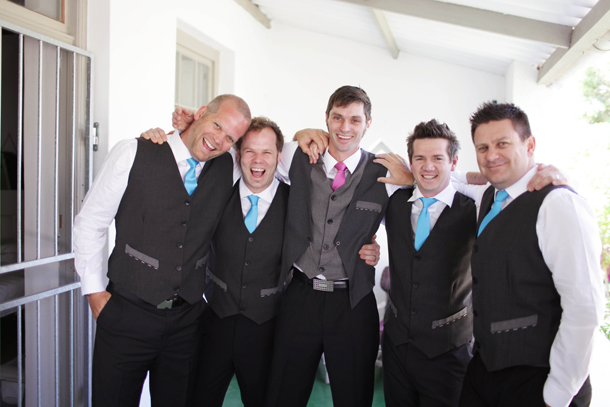 The Proposal
On our seven year anniversary we went for a gorgeous lunch in Constantia. It must have been 35 degrees, so Gareth suggested a swim at my Dad's place afterwards. As it turned out, he'd been trying to get my Dad on the phone all day, without any luck. While I was changing, he quickly asked his permission to propose. Afterwards we went for drinks at the Alphen Hotel and, on our way back to the car, we stopped on one of the lawn benches for him to 'look for his car keys.' The thought 'Imagine he proposed right now – yeah right! That will never happen!' crossed my mind before he pulled out my beautiful antique ring and asked, 'Bokkie, will you marry me?'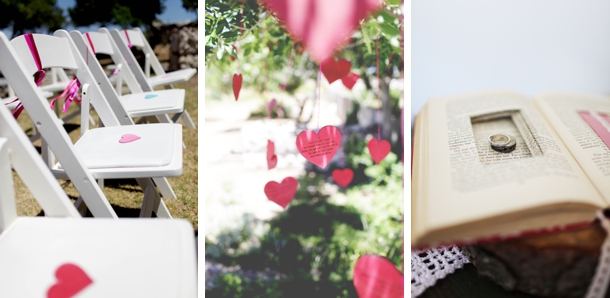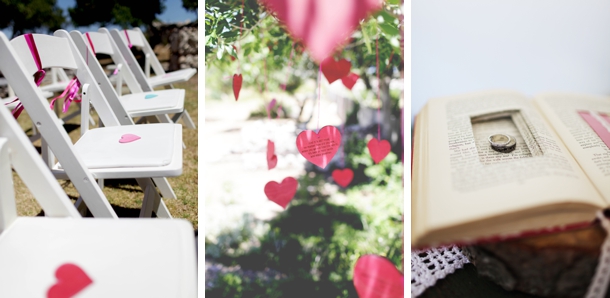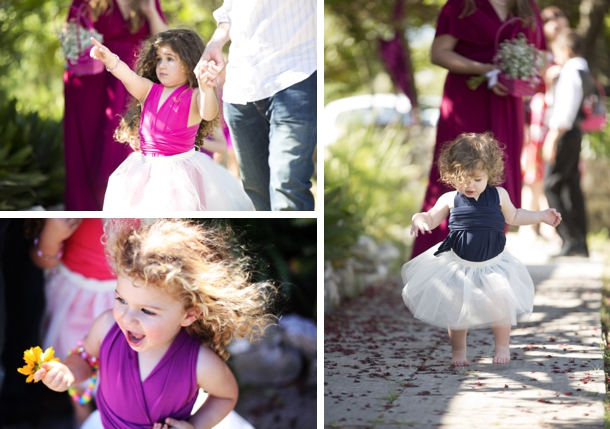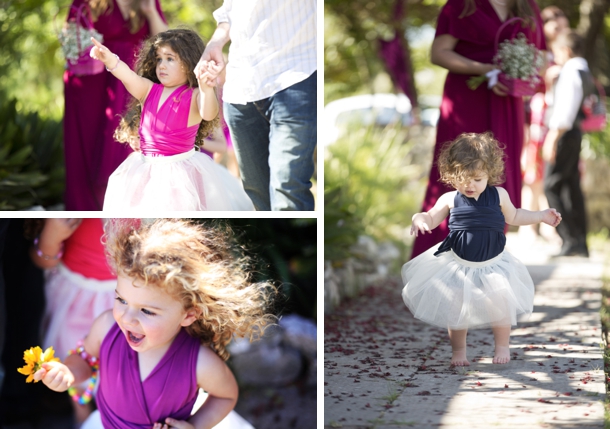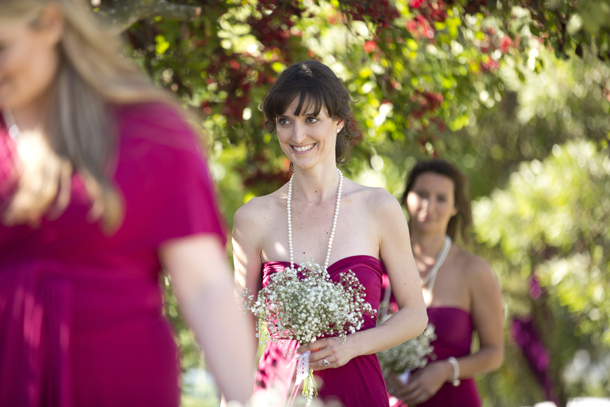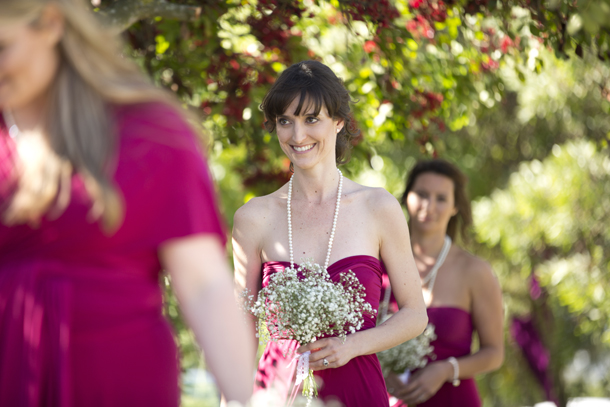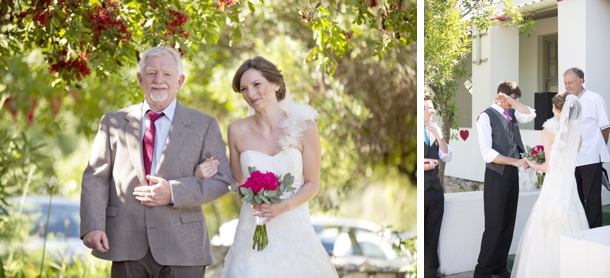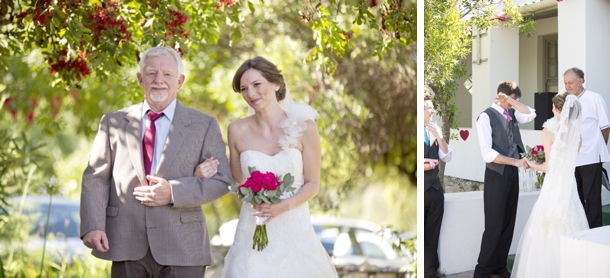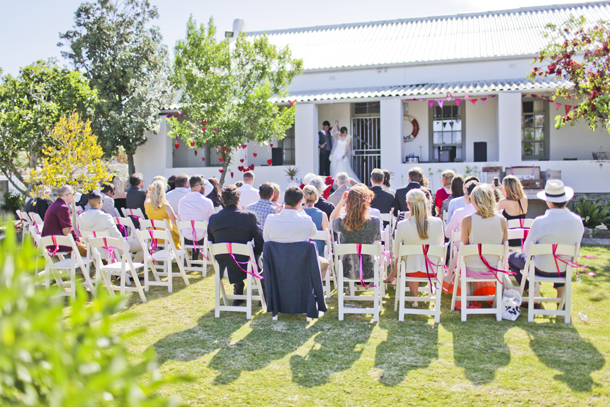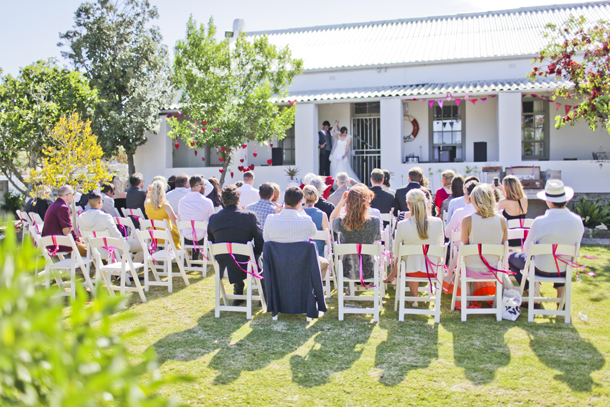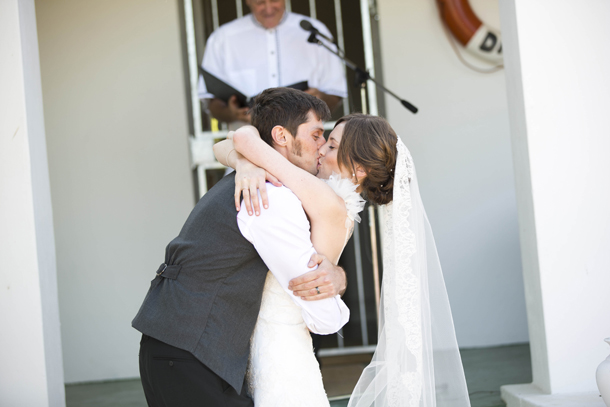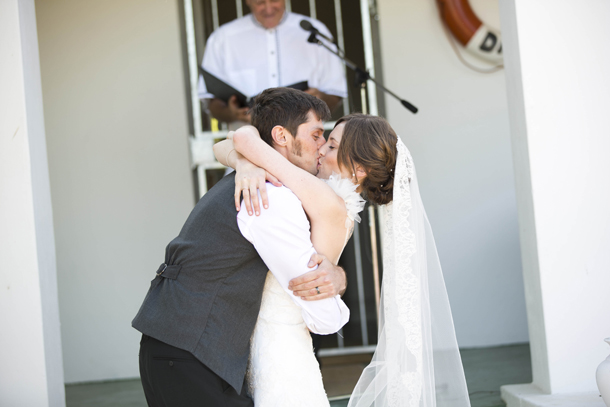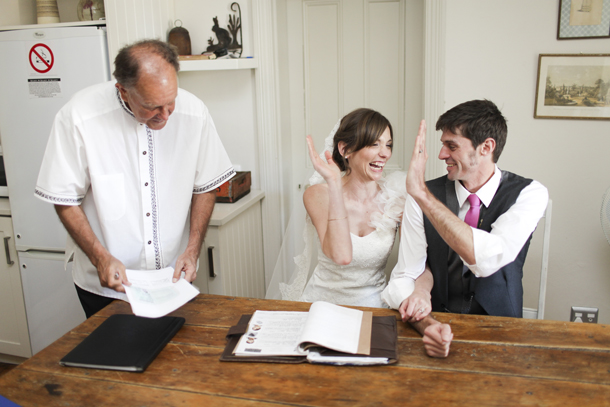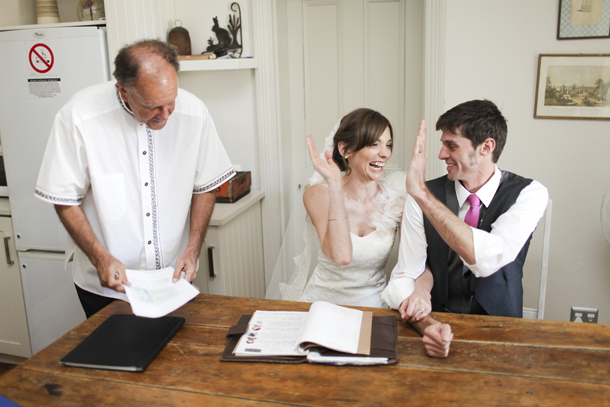 The Venue
We knew we wanted to make the wedding a weekend get together with our friends and Paternoster has always been so special to us. The choice of the Noisy Oyster as a venue, with its incredible food and intimate relaxed setting, was a no-brainer.
Wedding Style
We were inspired by bright pink and red bougainvillea blooms, and the intense cobalt and marine blues of the antique bottles that my father used to find while diving. Our venue already had its own bright and eclectic/vintage look so we looked for colours and décor that would complement it.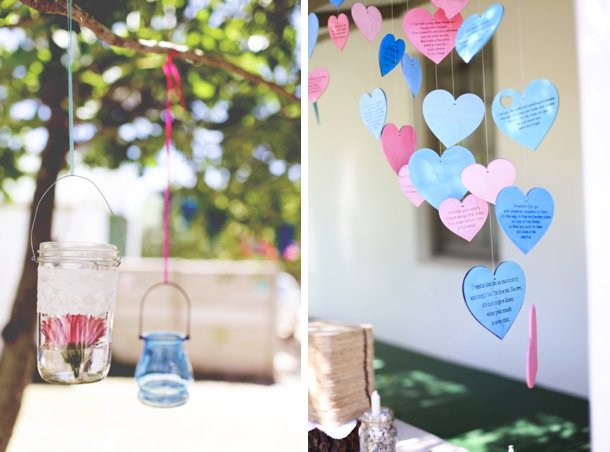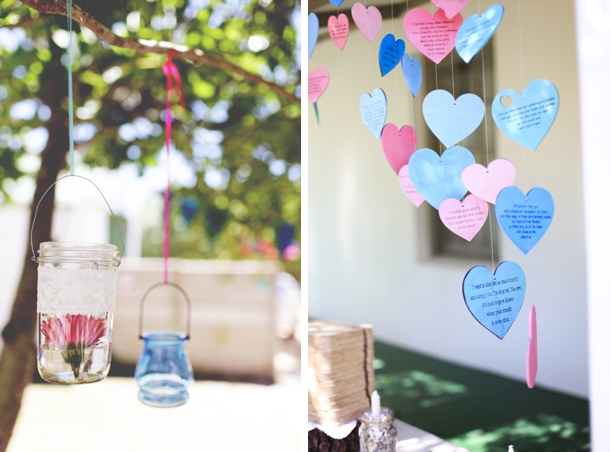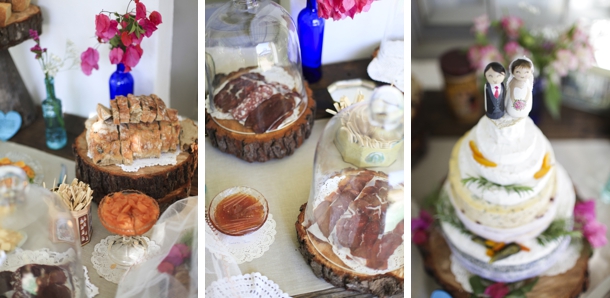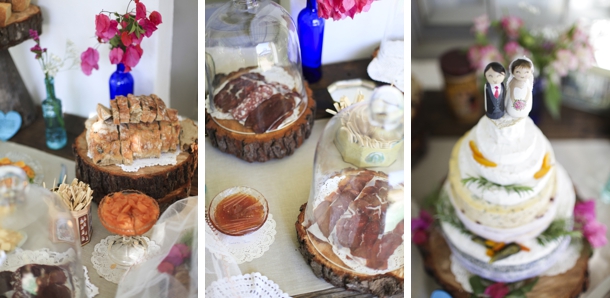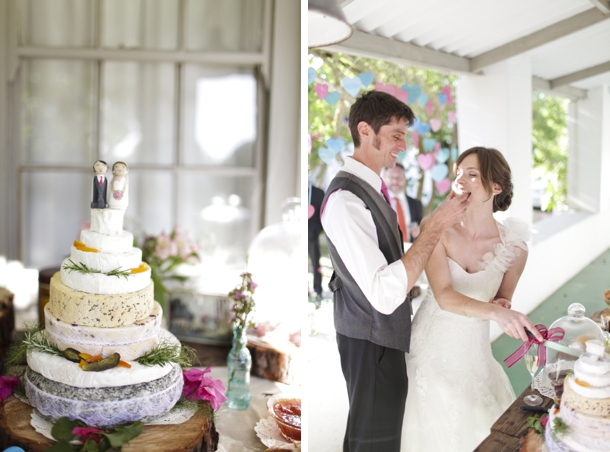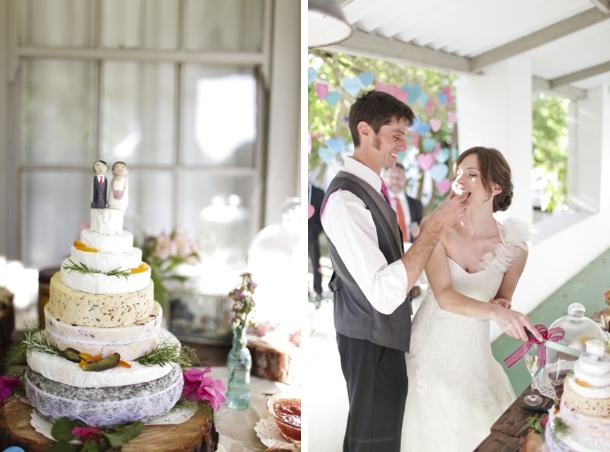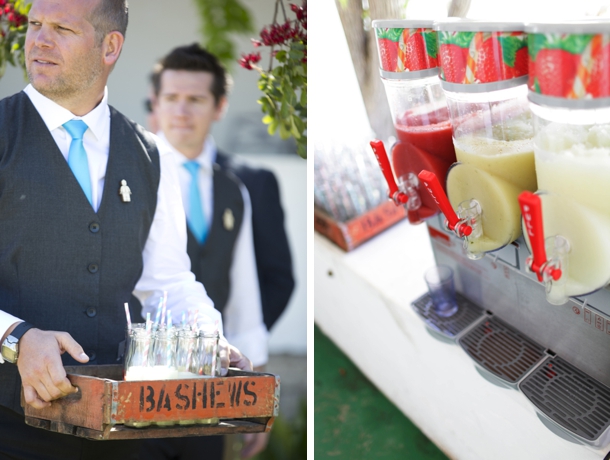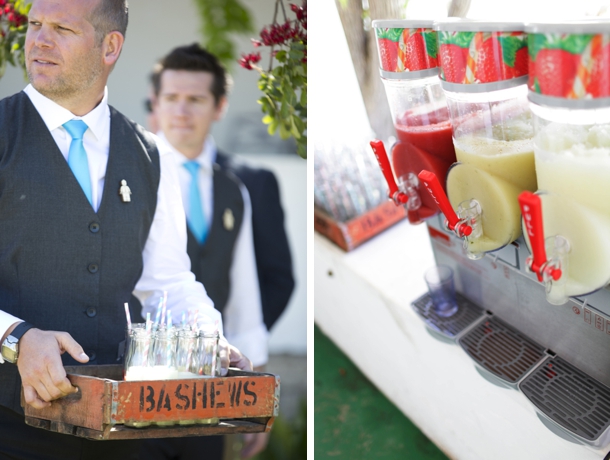 Wedding Details
Gareth and I are both really easy-going people, and we never fight. We've always felt that the reason we 'just work' is that my inner kid and his inner kid are best friends; that we can just be silly together. So we knew we wanted to use the idea of children's toys and books somewhere in our theme. Our invitation was a stop-motion animation storybook of how we met that we created ourselves, and we used quotes from all sorts of children's stories in our décor and in our ceremony. My mom passed away a few years back, so we also blended a wine, served it out during the ceremony and asked guests to pour a little on the ground to remember people that couldn't be there. That was really special to me. We also served shots of hooch that were tailored to each person that made a speech for the toasts, instead of champagne. (For example, my Dad brewed his own limoncello for his toast.)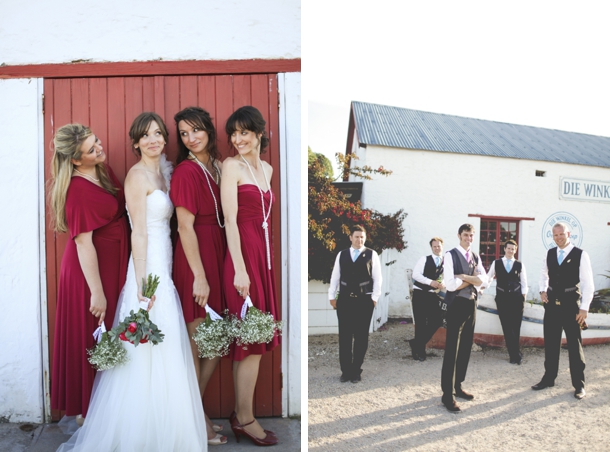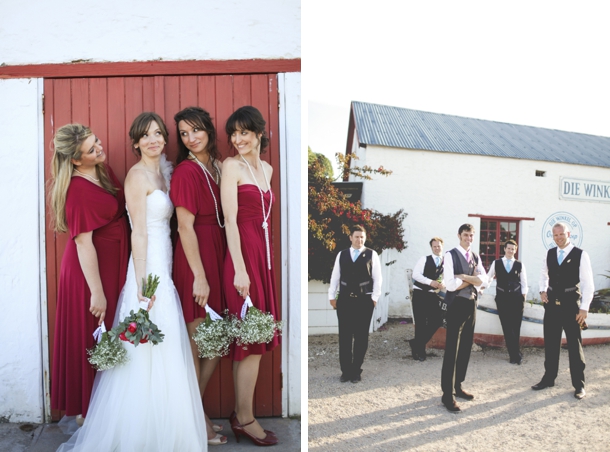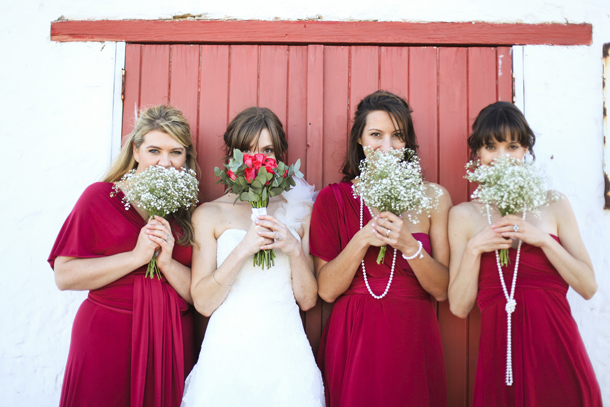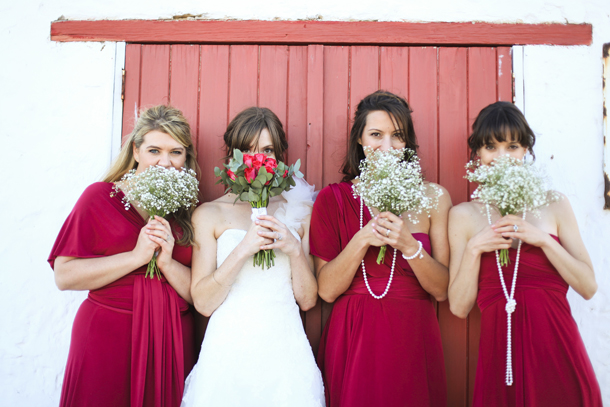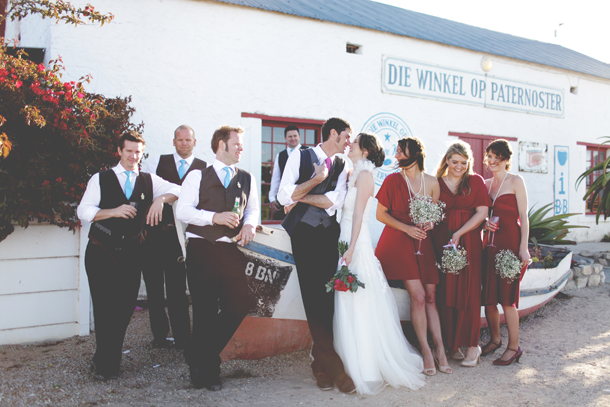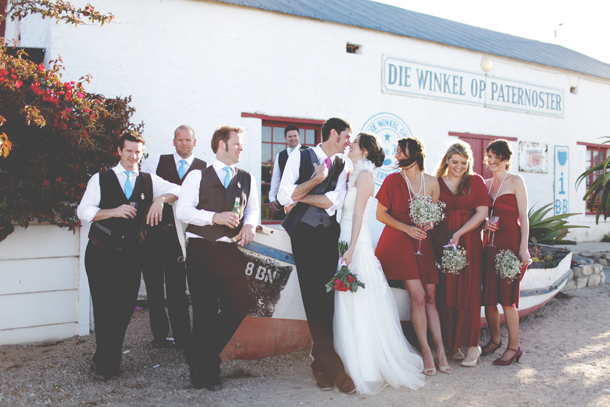 DIY Elements
We made the groomsmen's Lego men boutonnieres, the cheese boards with 'Eat me/Drink me' from Alice in Wonderland, the hearts with our children's book quotes engraved on them that were hung around the wedding and reception venues, shot-trays for the toasts as well as all the shot and slushy and mixes on the day. My bridesmaids helped me sew our bunting together and we put the flowers and bouquets together on the morning.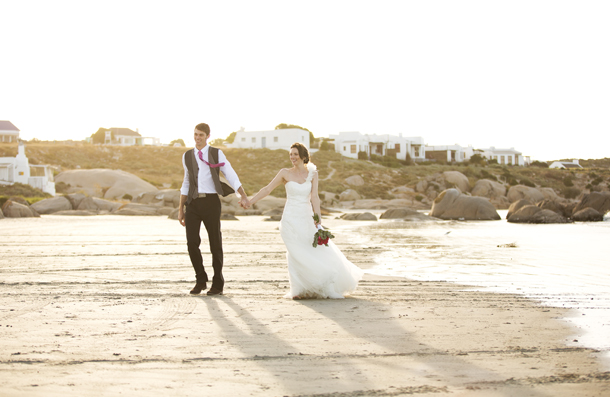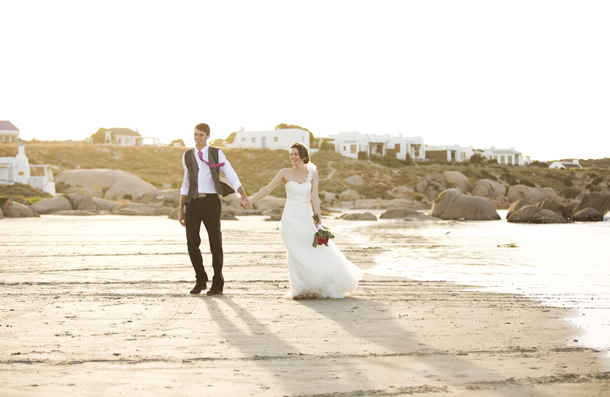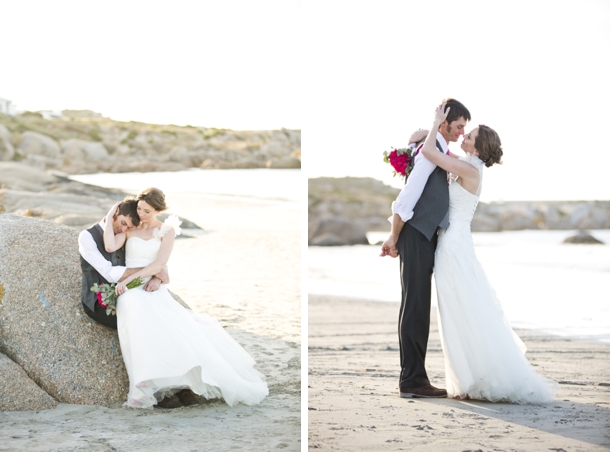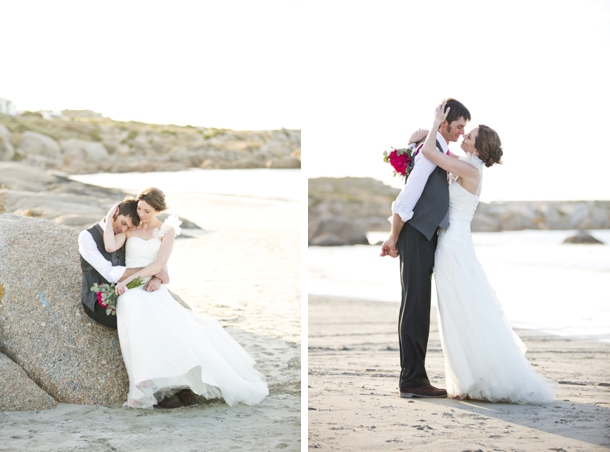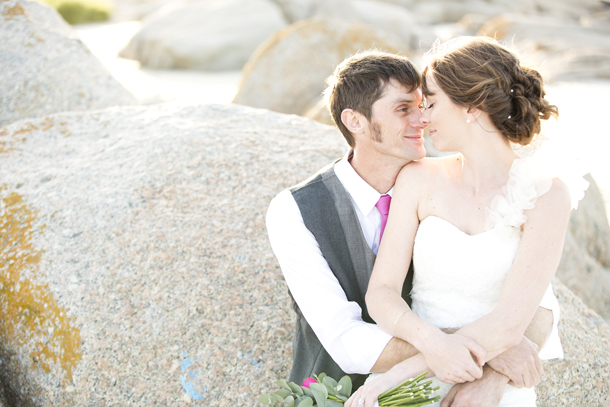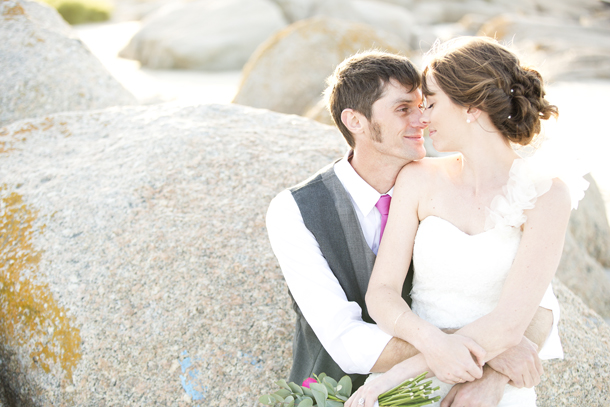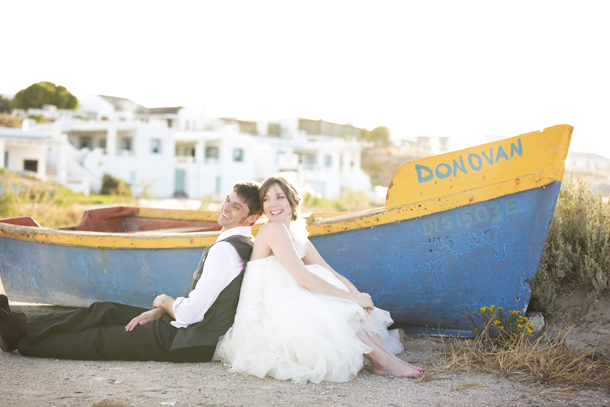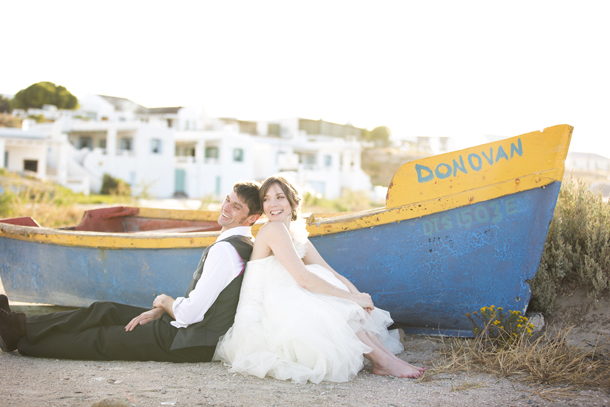 The Flowers
Bright west-coast-inspired wildflowers (assembled in a frantic hurry by Debbie from the Noisy Oyster, and anyone who would help!)
The Dress
My maid of honour took me shopping, bottle of bubby in hand, and I think I bought the second or third dress I tried on. I loved the wild tulle skirt and sense of whimsy about the dress – and it reminded me of a Vera Wang gown I loved. So I had the neckline altered to a sweetheart and my tailor created my flower strap from the tulle of my skirt.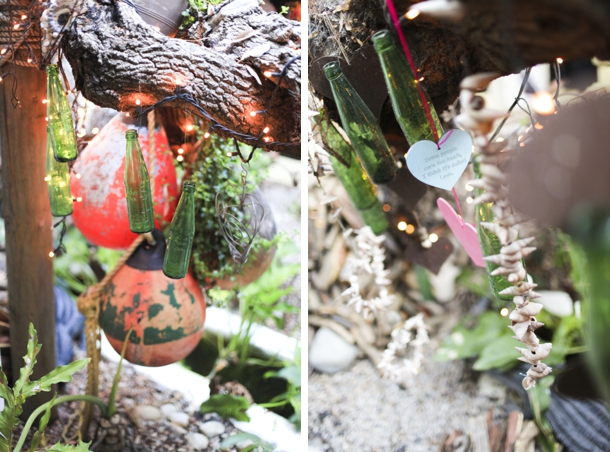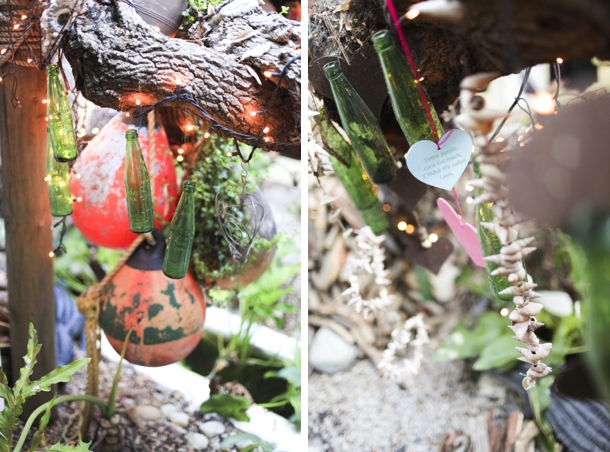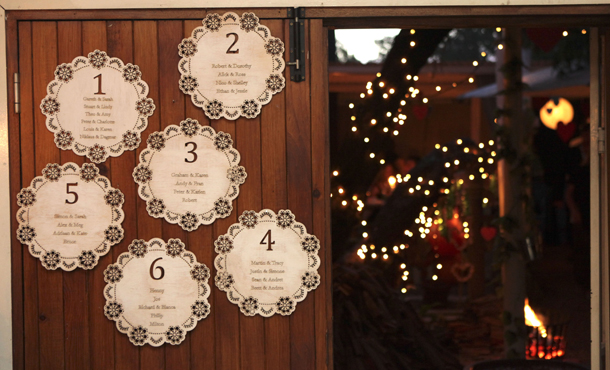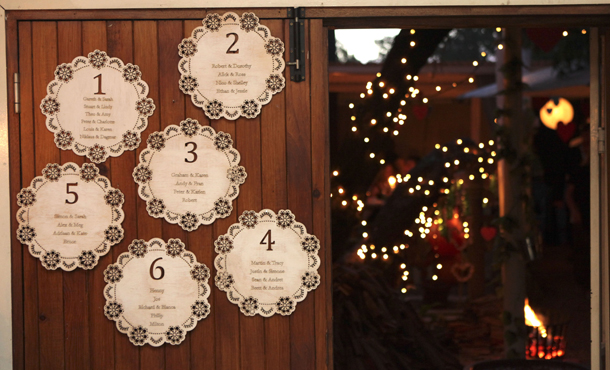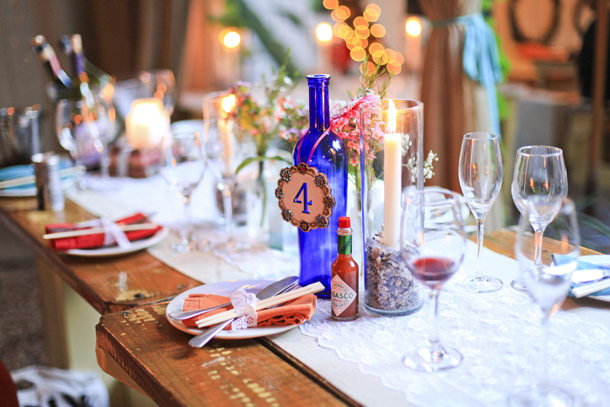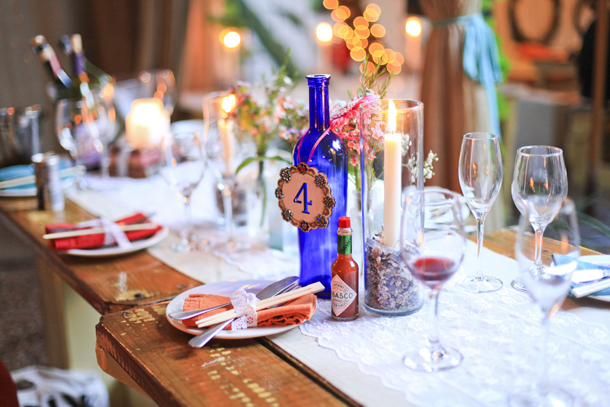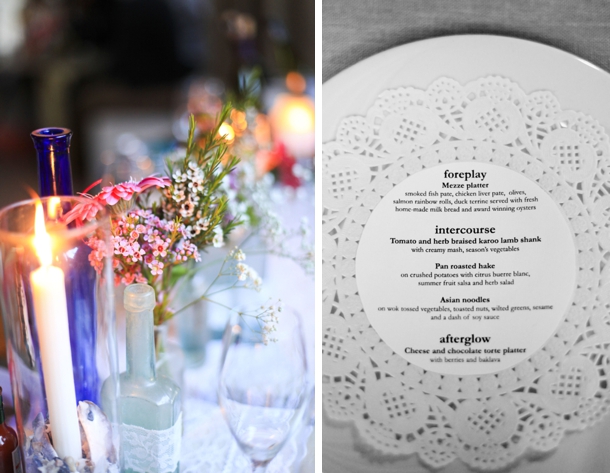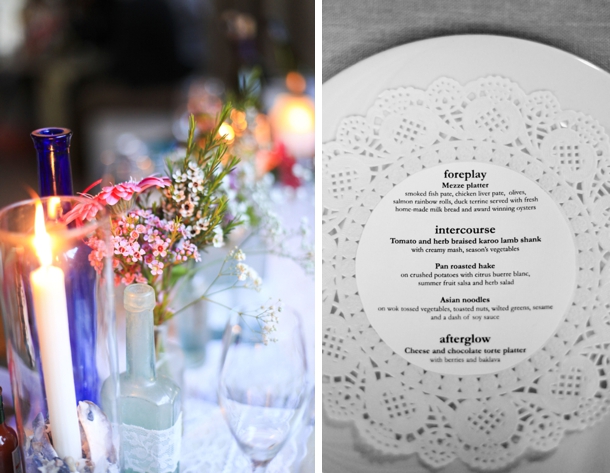 Memorable Moment
Gareth's tears when I came down the aisle… At one point during the ceremony, he whispered 'Cry, dammit!' but I couldn't stop smiling.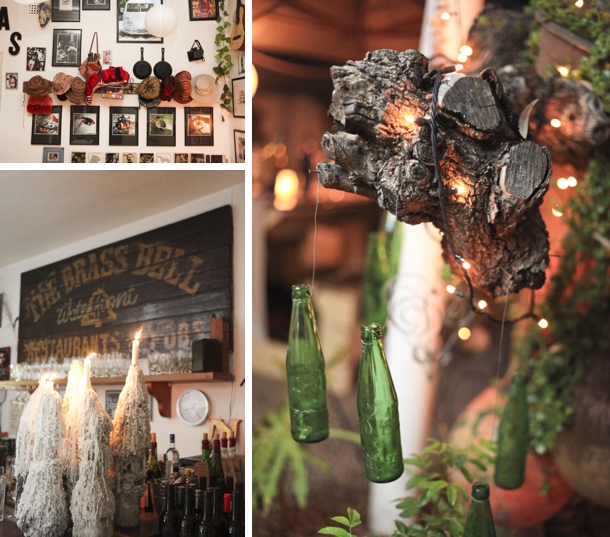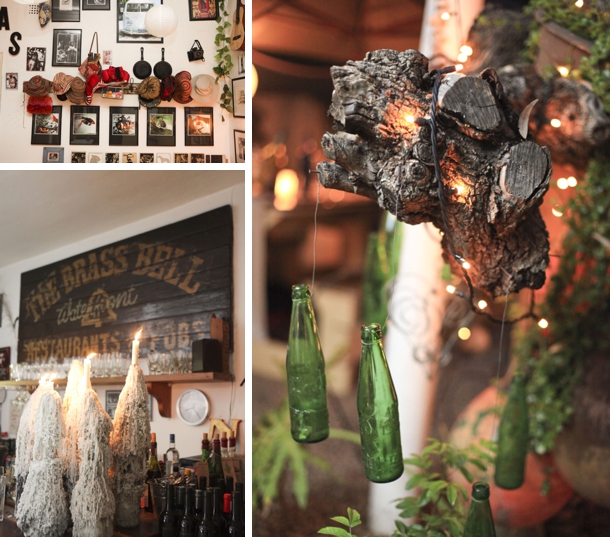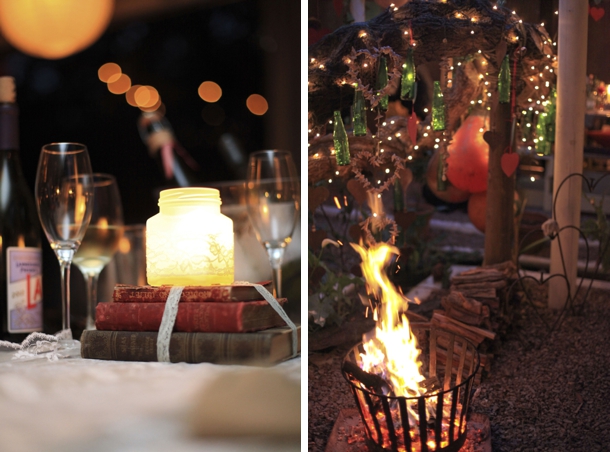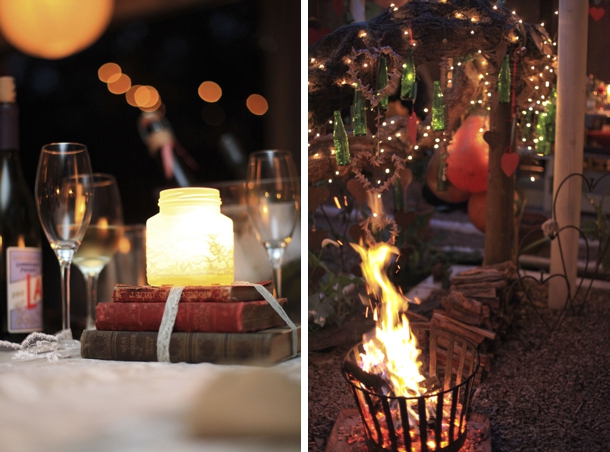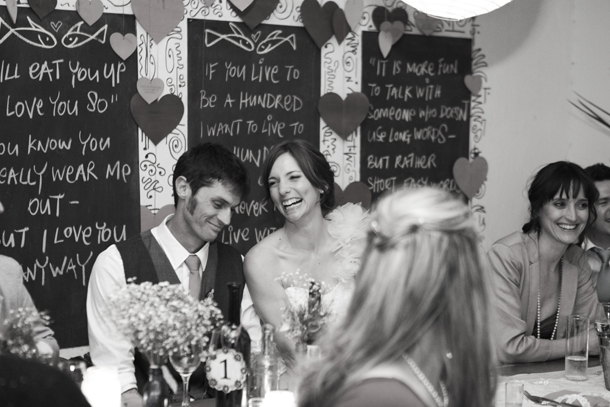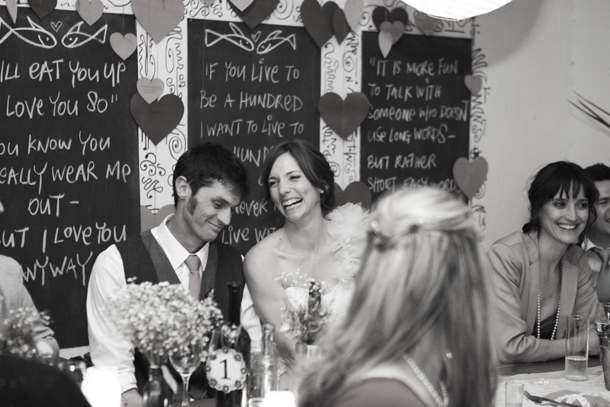 The Honeymoon
We stayed in Paternoster for a few days afterwards, but needed to start saving all over again for our honeymoon. We're going to Thailand in April.
Advice for Future Brides & Grooms
Enlist the help of everyone who is willing and don't try to do everything yourself! You have to let go on the day – no one will know if something doesn't go quite the way you planned. And don't forget that, at the end of the day, it's about just the two of you. It goes by so so very fast so make sure you have fun.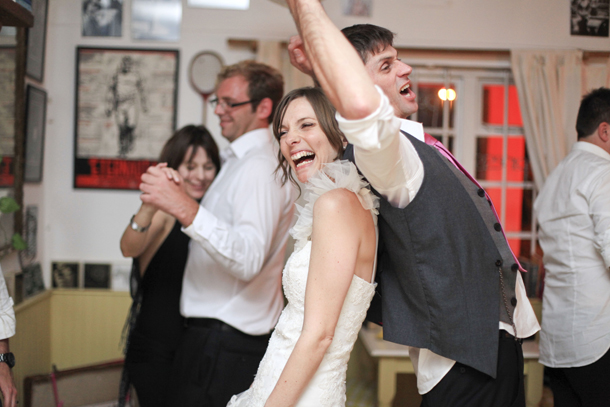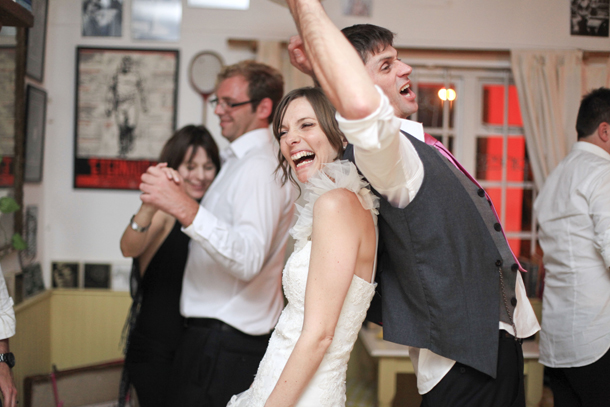 You can see more from this wedding on Justin Davis' blog.
SERVICE PROVIDERS
Venue: The Noisy Oyster | Catering: Tamboerswinkel; Oep ve Koep; Fairview | Photographer: Justin Davis Photography | Cake: Fairview | Décor: Hotwired Design (Gareth's business) | Ceremony venue: Ahoy Garden, Paternoster | Bride's dress: Bride & Co. | Bride's accessories: Brown's | Hair: Andret Christie (Mooi Hair and Beauty) | Makeup: Simone Fourie (Justin Davis Photography) | Bridesmaids' dresses: RAQUELL'S DESIGNS | Hiring: My Pretty Vintage; Banks Hiring | Cake Topper: Ladies and Gentlemen.