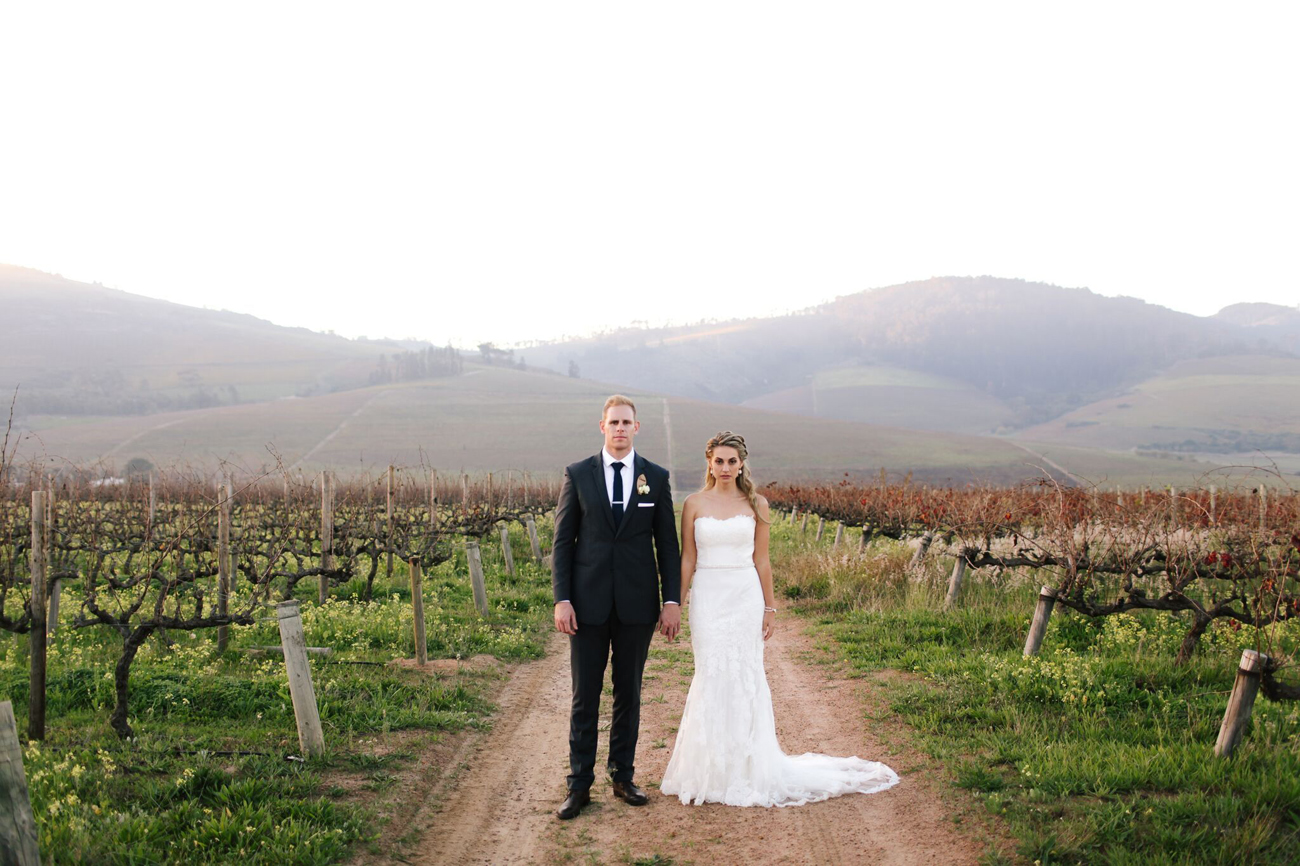 One look at this cozy winelands wedding and you can see it's drop dead gorgeous. Understated, yes, with its elegant navy, grey and plenty of white colour palette, but still completely showstopping. Just look at bride Chantelle's white peony bouquet, or her beautiful lace dress, or the reception hall dripping with chandeliers and hanging glass bulbs. But I think what I like best about Christian and Chantelle's design is that, even though they used classic elements and a sophisticated vibe, they managed to make their whole day also feel warm and welcoming and cozy – perfect for a winter wedding where you want your guests to feel right at home. And let's not forget personal, because this pair paid attention to the little details as a way to tell their story, like the surfboard boutonnieres that mirrored the (completely adorable!) story of Christian's proposal. Justin Davis was on the scene to capture all this winter wedding wonder, and make the fairytale complete.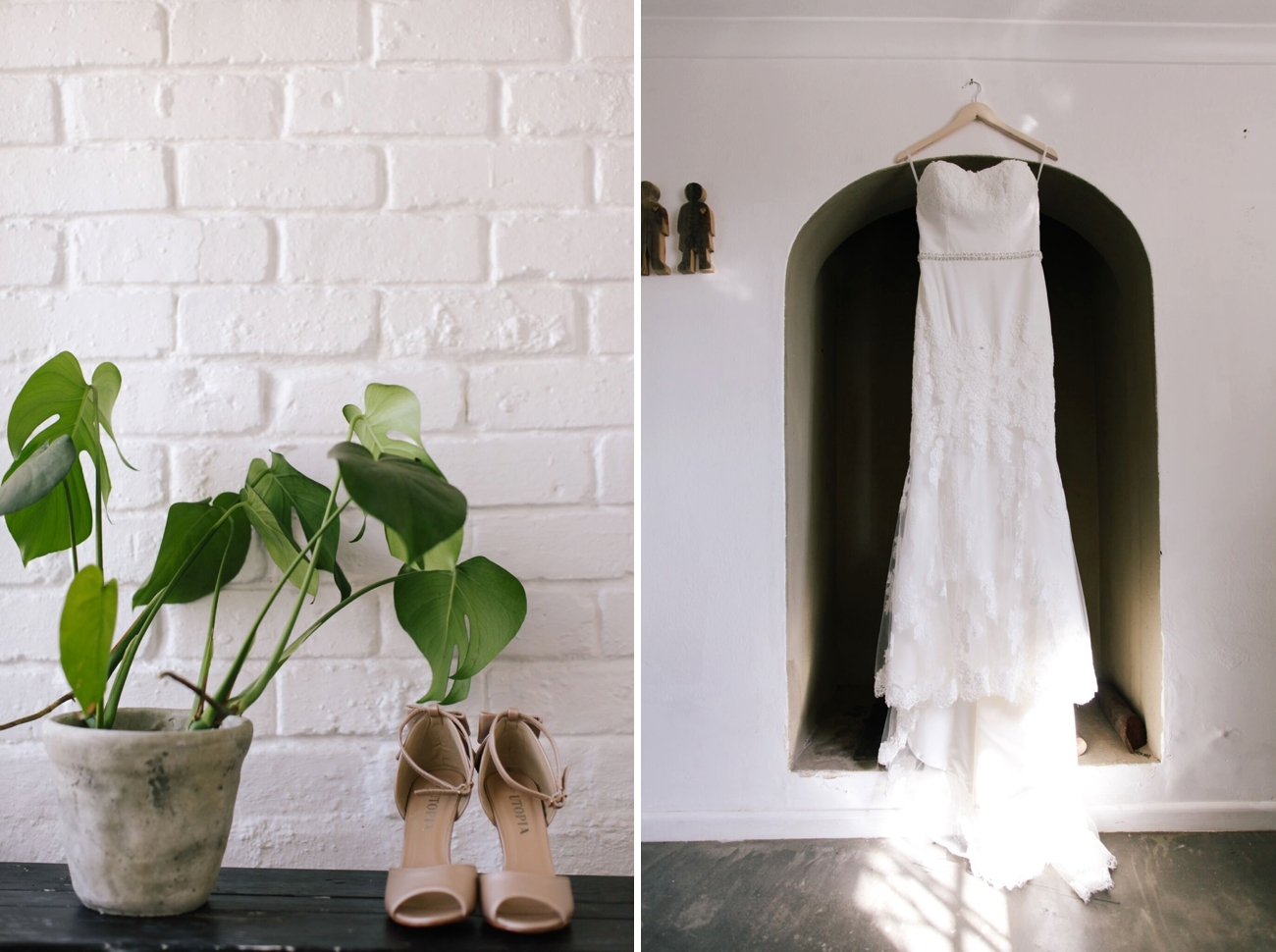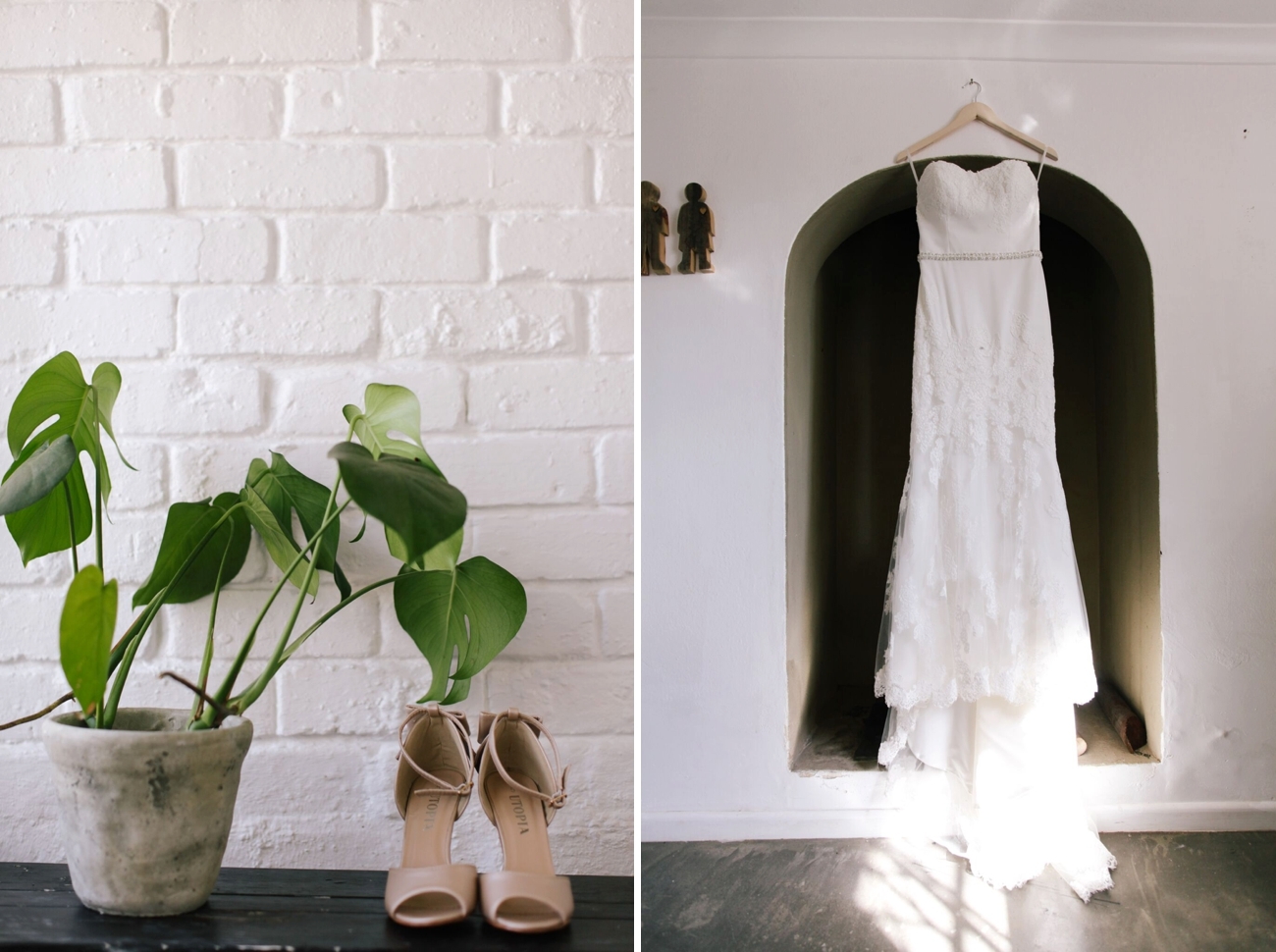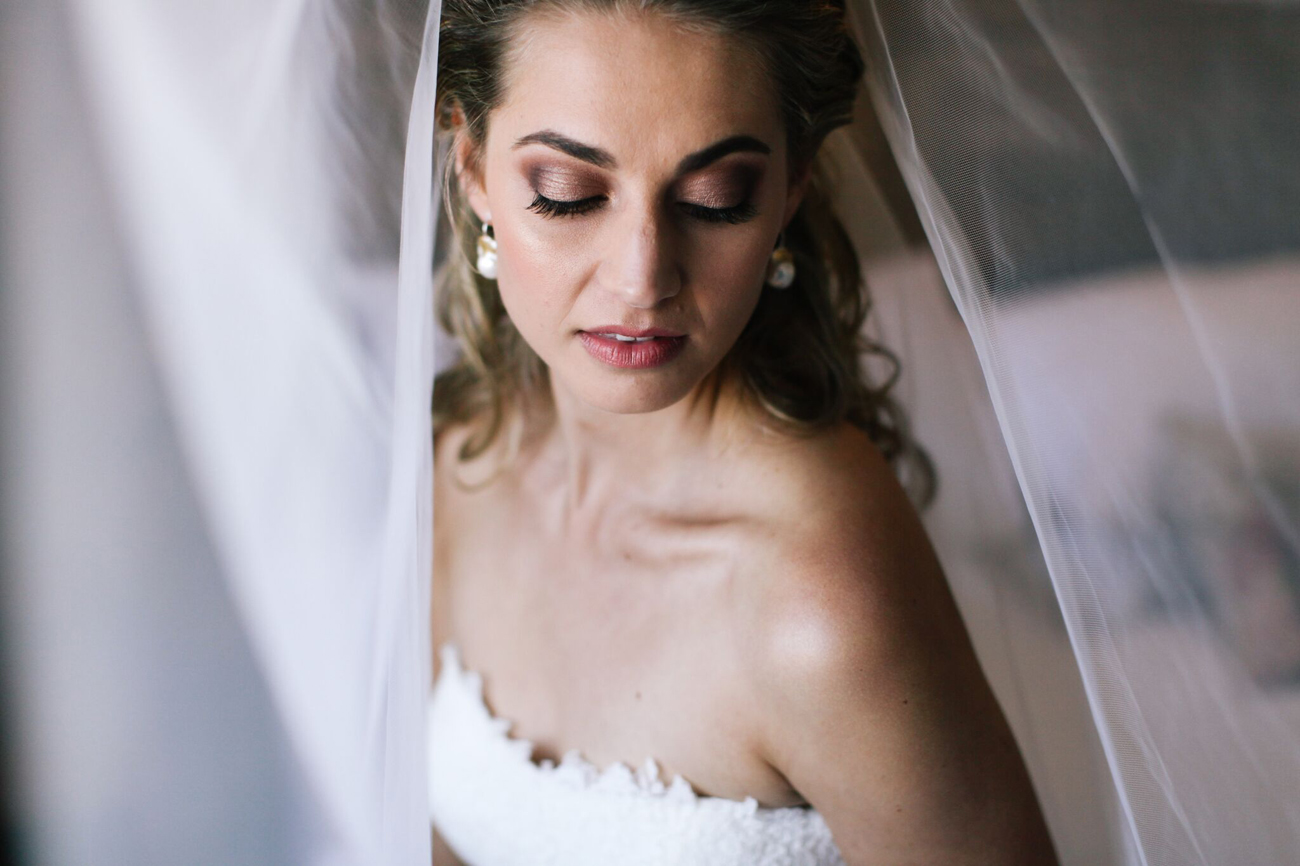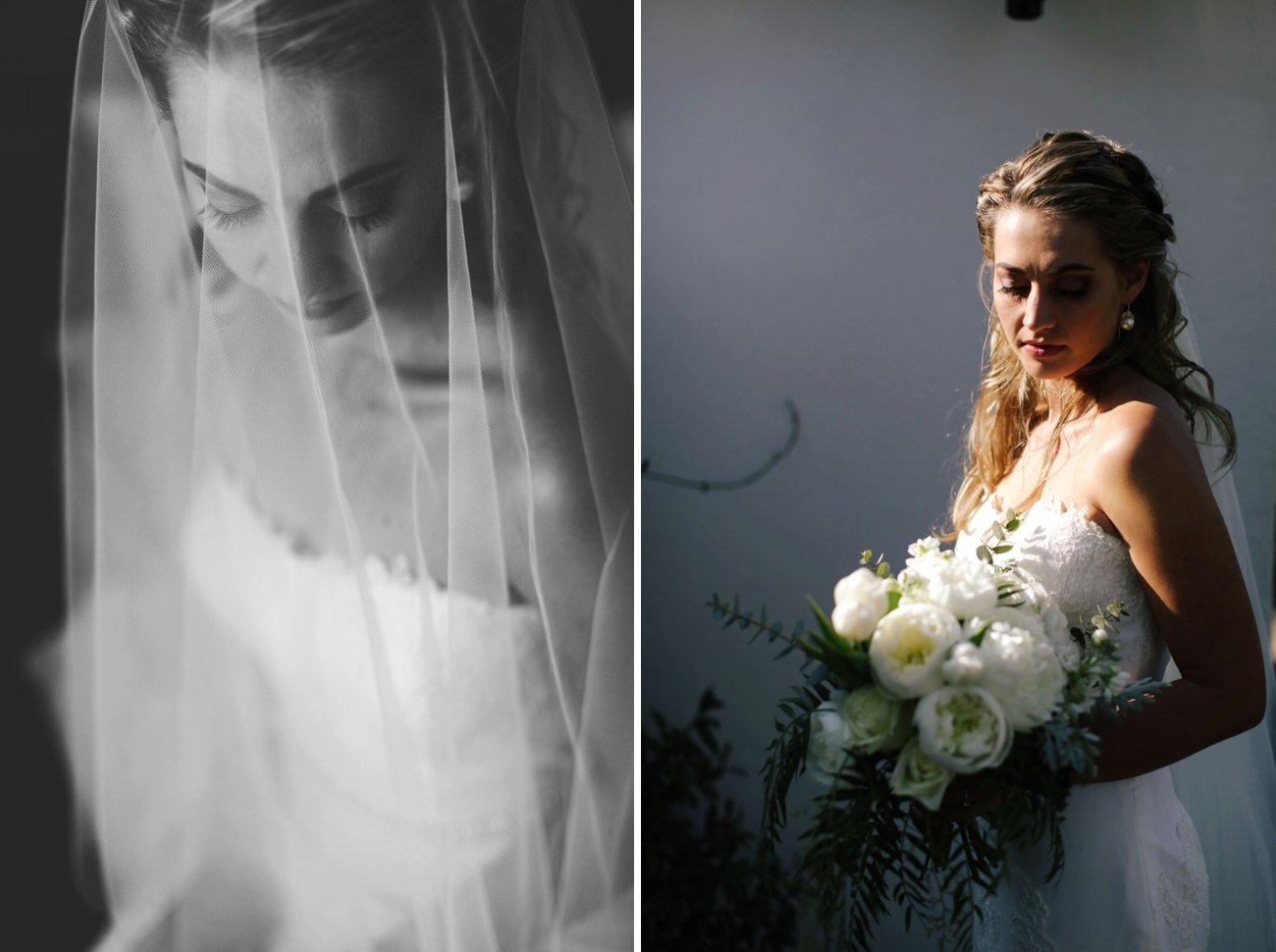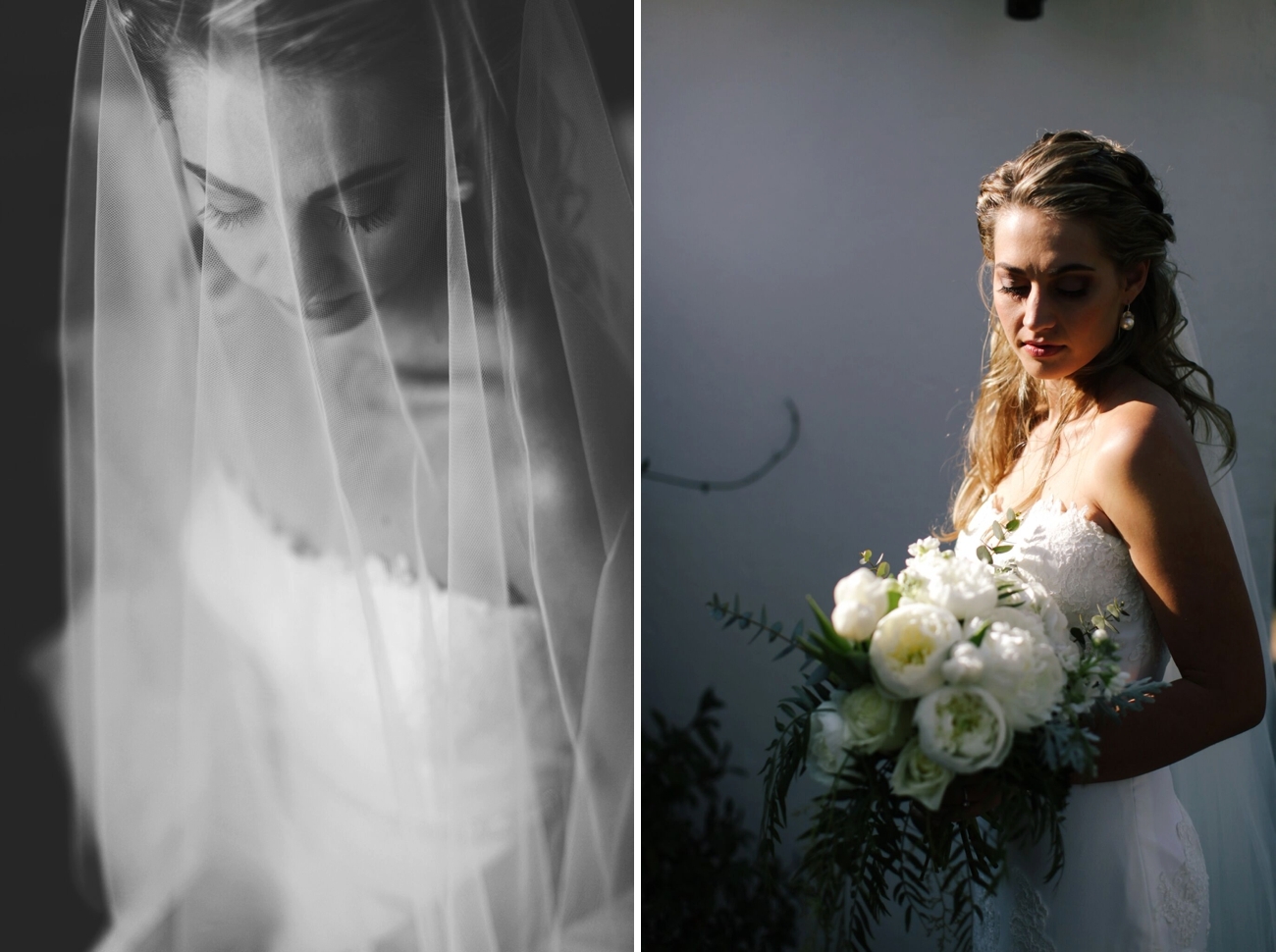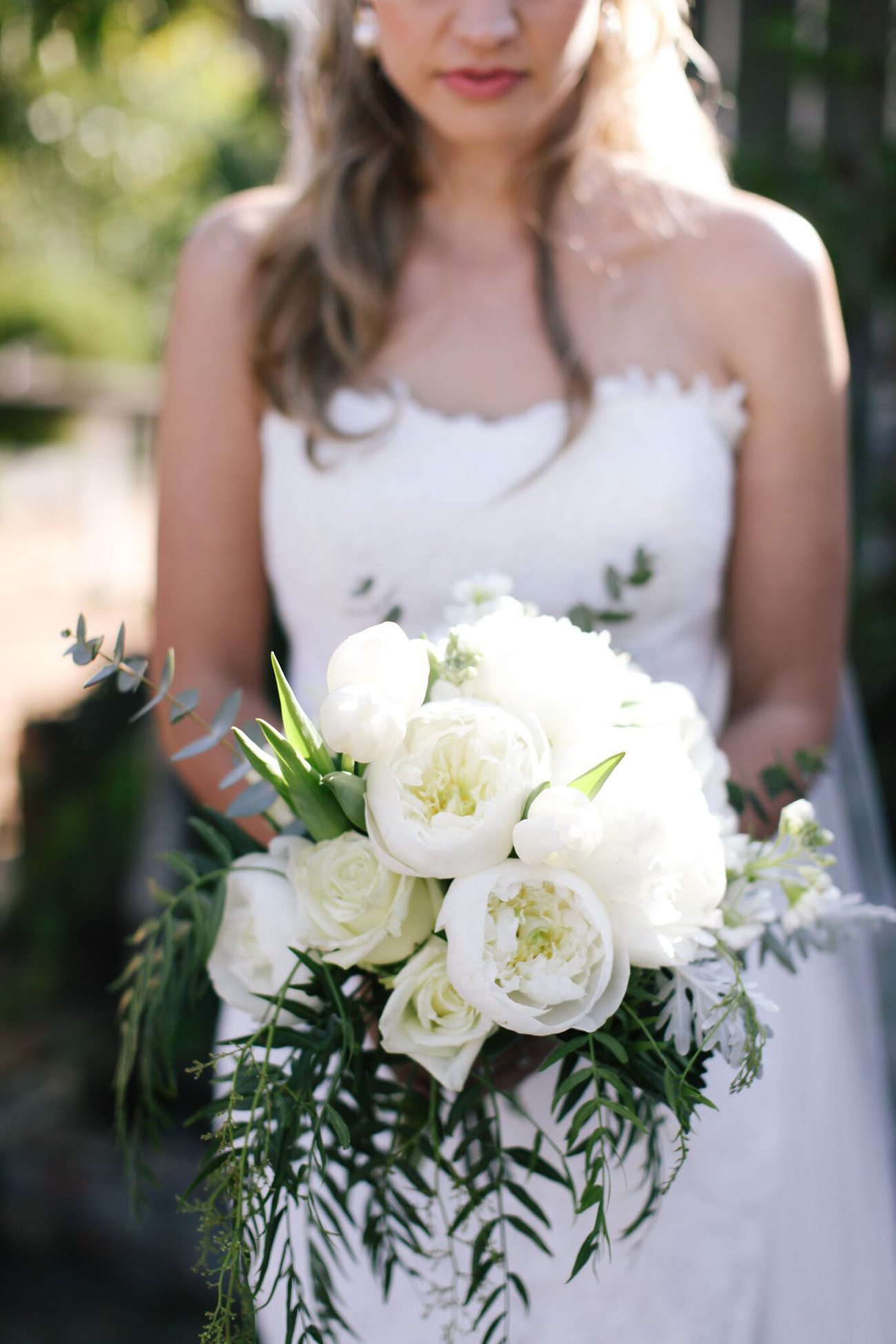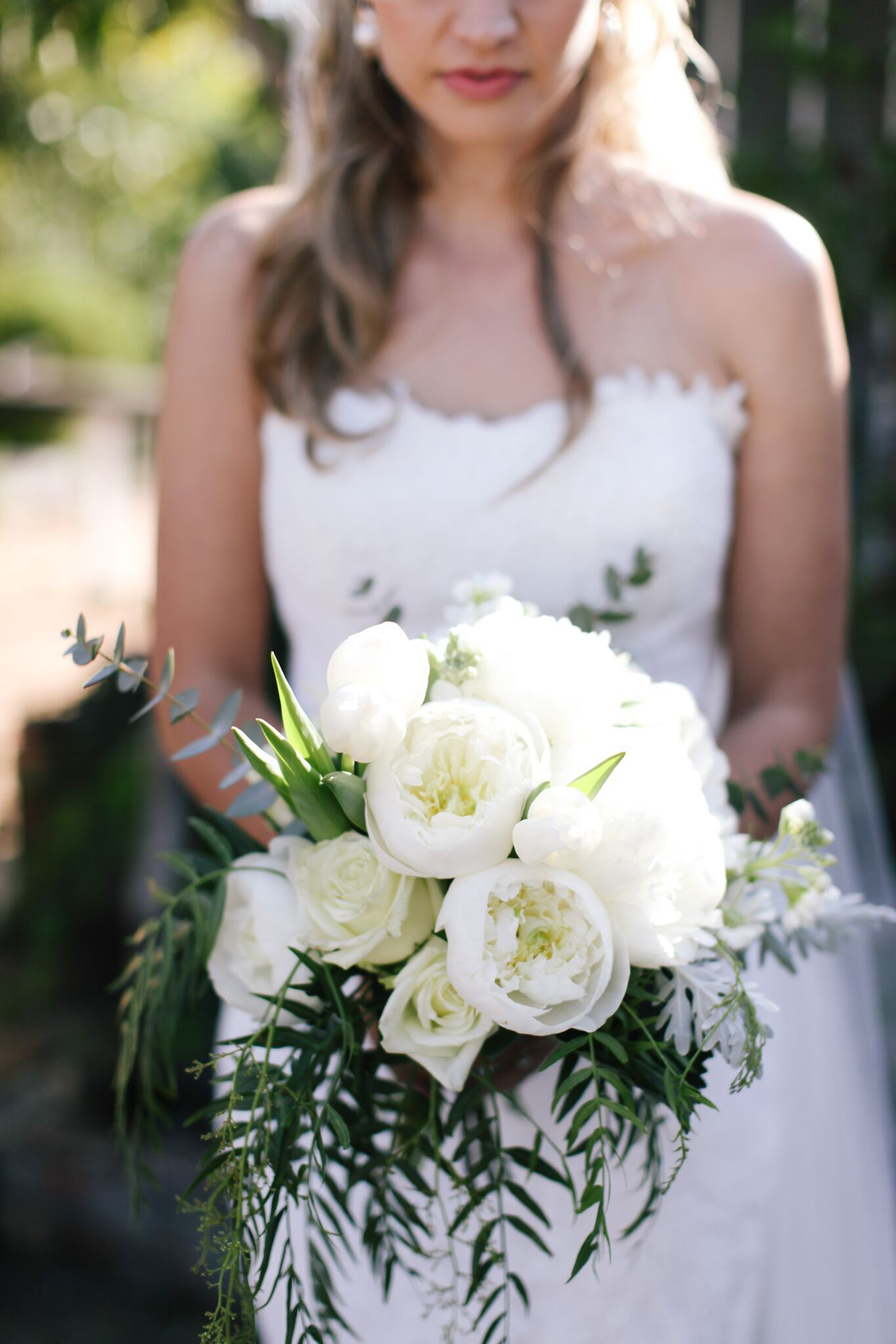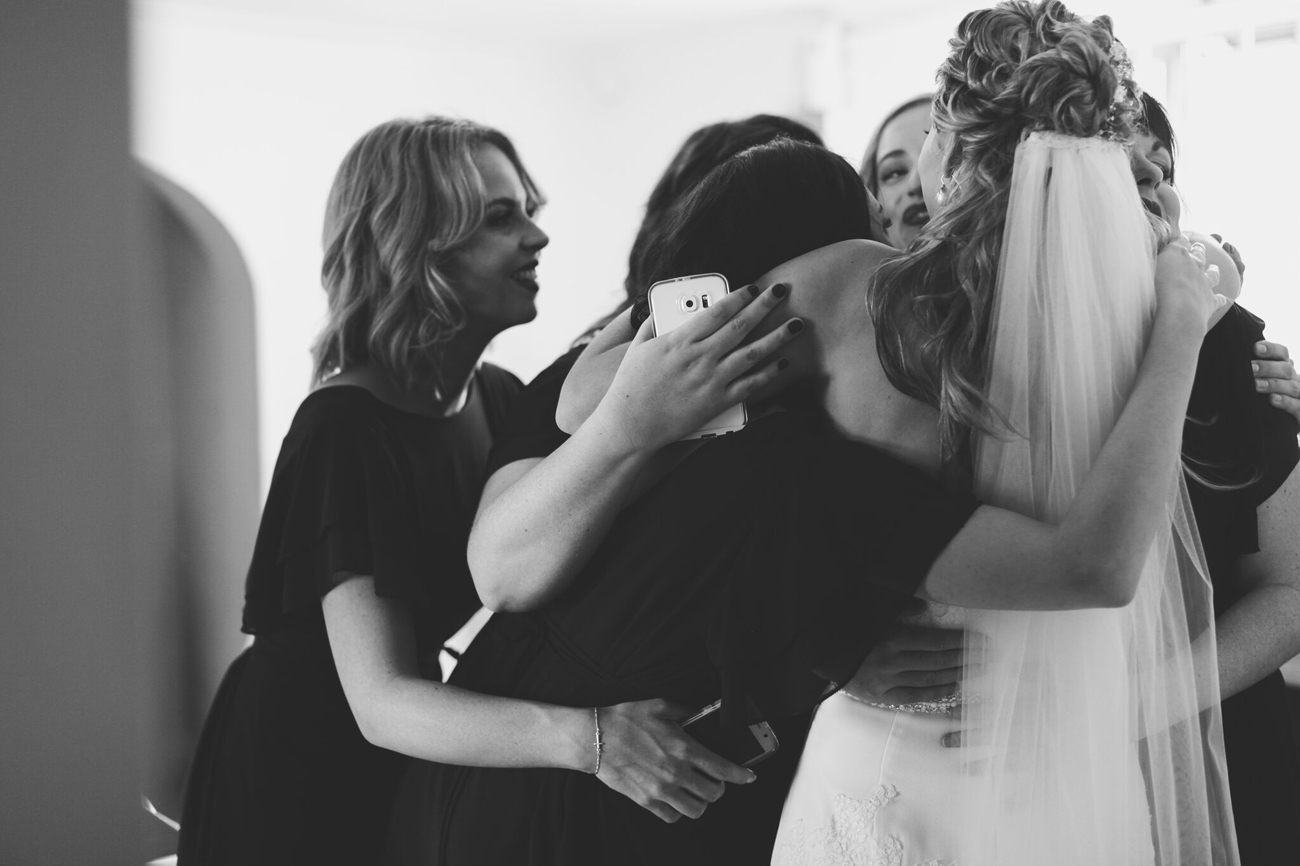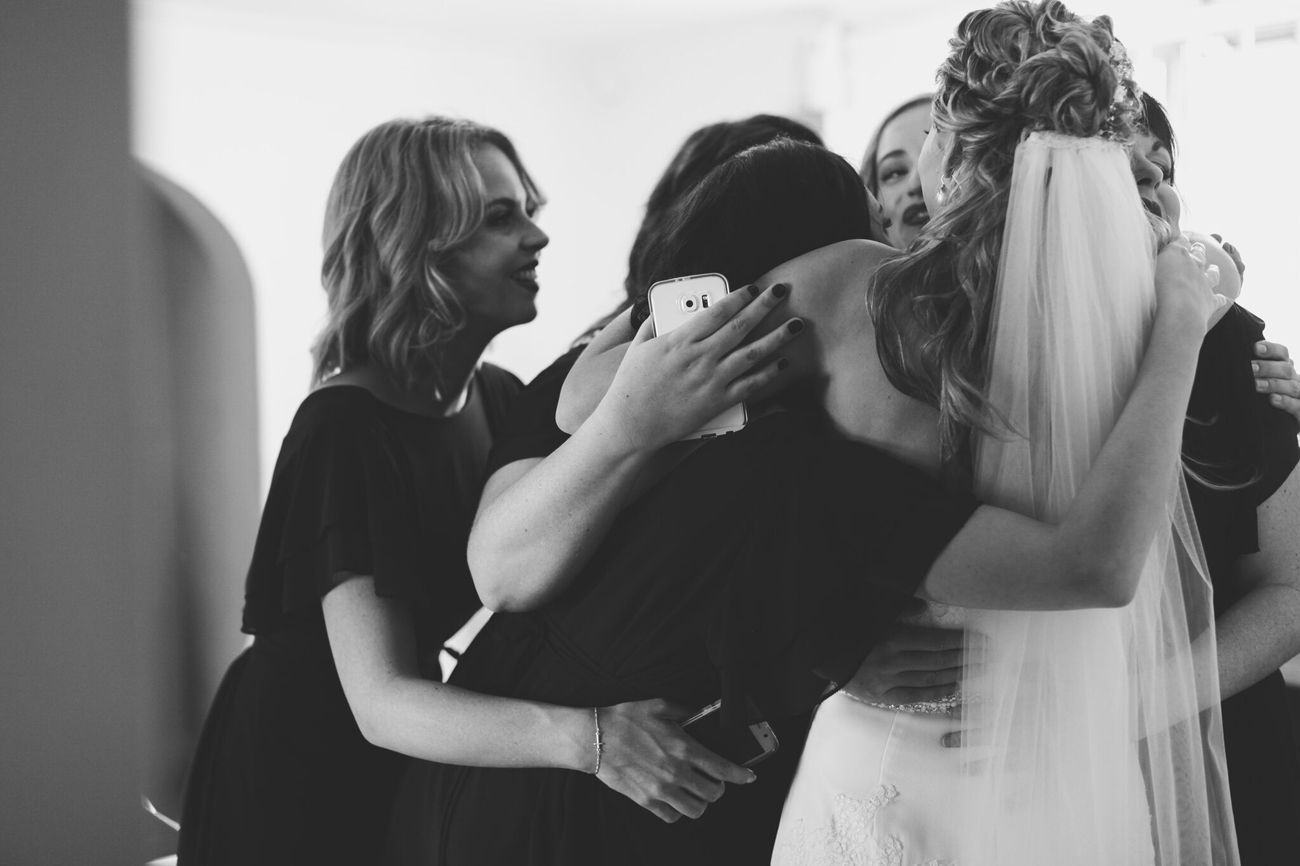 Love Story
Christian and I met at a popular bar in our home town. Christian had seen me a few times before, but finally one night he approached me and asked if I would please join him for dinner one night. I unfortunately turned him down, but he gave me a smile and walked away. After he left, my best friend came to me and asked me how I know Christian I told her he just asked me for dinner, but I said no. Her eyes widened and she said that I should definitely go with him as she knew what an amazing person he is. I contacted Christian through Facebook and he took me out a week later and I couldn't have agreed with her more!
The Proposal
Christian always wanted to go on a surfing trip to Elands Bay, so he arranged a weekend away for just the two of us. When we arrived at Elands Bay we realised it was red tide so that meant that I had hayfever for the whole trip and with no chemist in sight it was not very pleasant. After putting our bags down and settling in, we were told that the whole of Elands Bay's water would be turned off for two days, But through all these hurdles we had such a great time. Christian truly has this amazing way of making any situation so much fun and such an adventure.The next morning we woke up and bathed ourselves in a few liters of water that we brought and headed down to the beach. Christian asked me to take some photos. As he stood by the water with his surfboard in his arms, he turned his surfboard around and revealed the words "will you marry me?" He came towards me, went down on one knee and asked me to be his wife. I hugged him and said YES! When we went back to the guesthouse, Christian had arranged for all our closest friends and family to celebrate the weekend with us. What I love most about his proposal was that it is was so true to him and I wouldn't want anything else than him in his favorite board shorts and flipflops.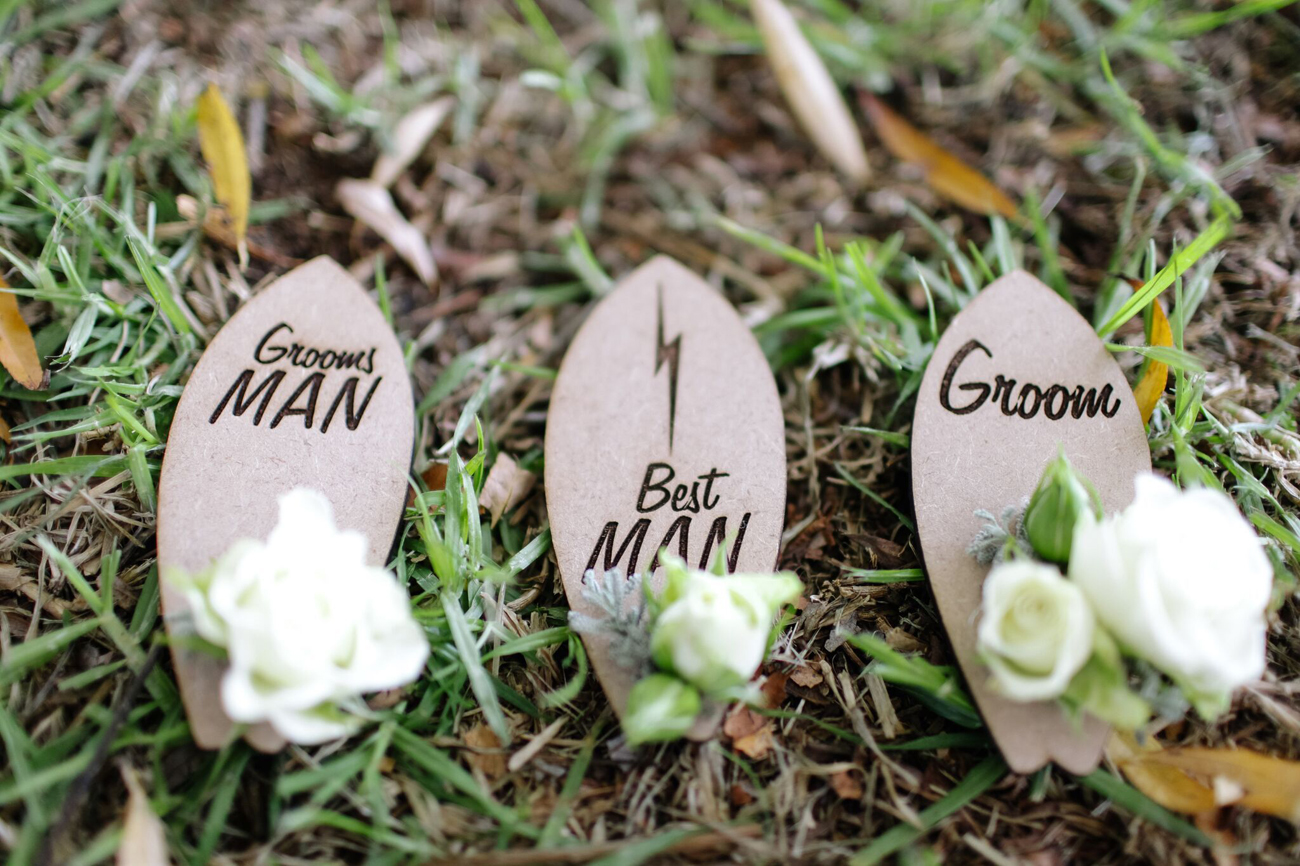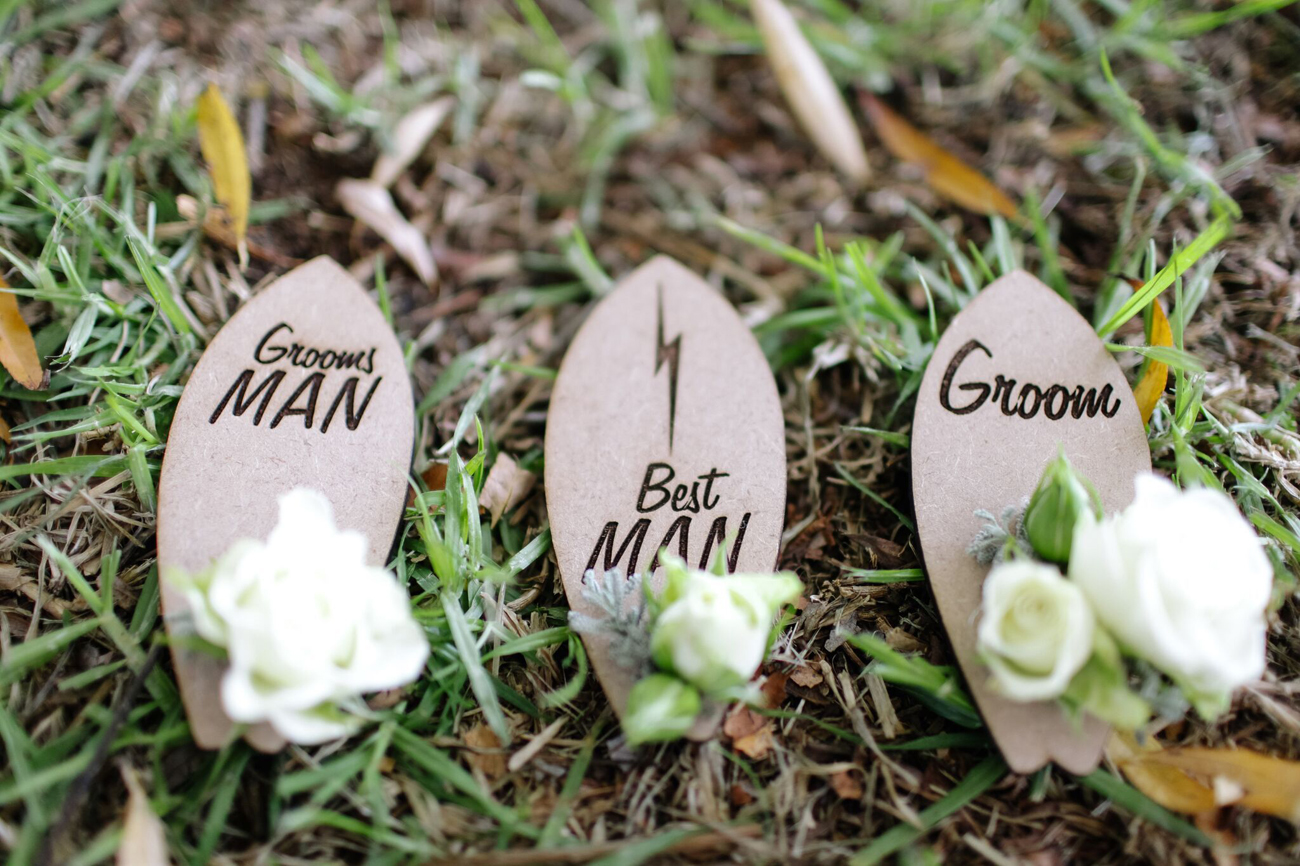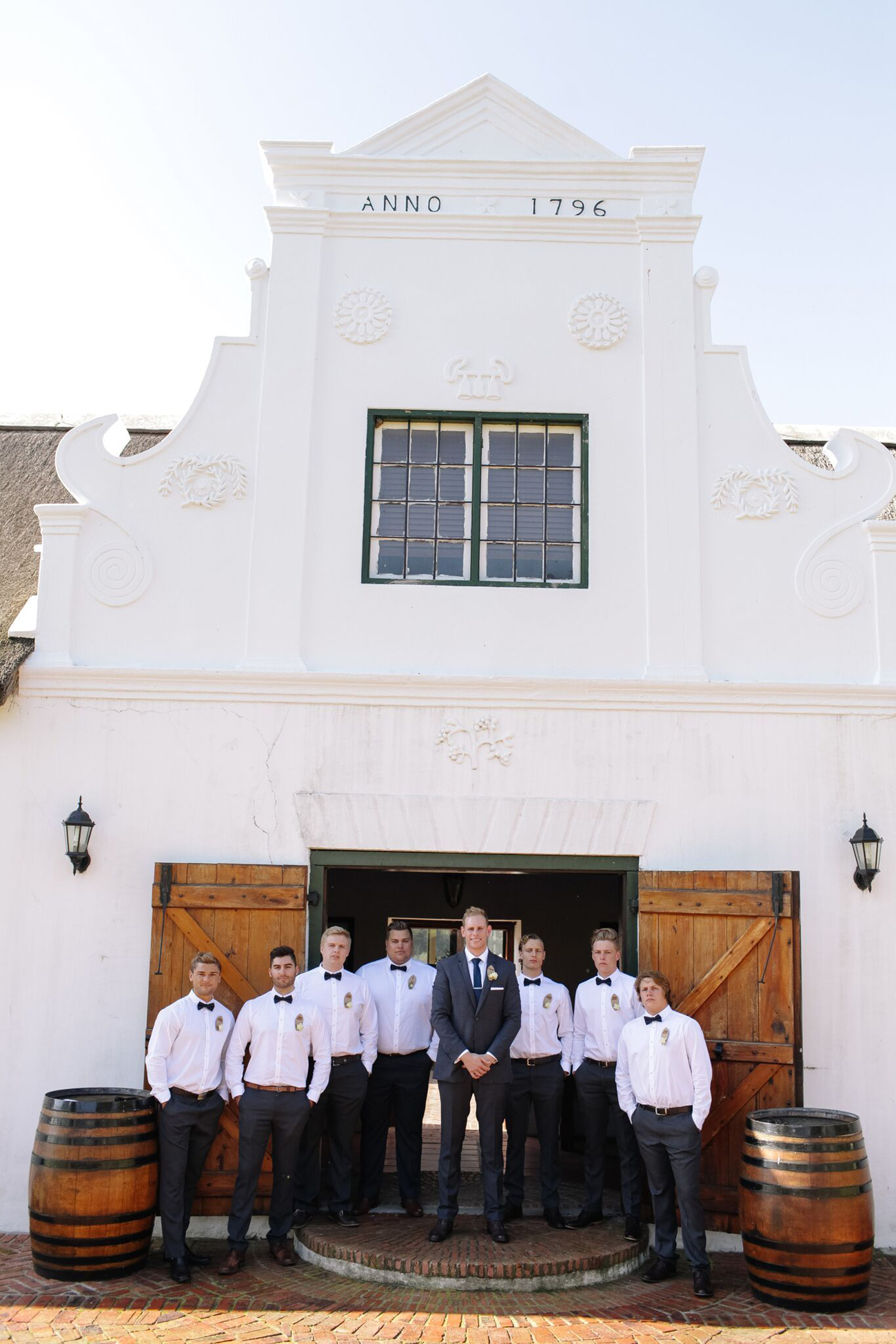 The Venue
As soon as we walked into 401 Rozendal we fell in love. The venue combines originality with style and elegance and that is exactly what we were looking for. As soon as you walk into the venue you see the bare brick walls and the big crystal chandeliers. It truly took our breath away! It's just such a romantic setting. Our two favourite parts of the venue were the big fireplace that would be perfect for our winter wedding and the 100 year old shed that we got to say "I DO" in.
Wedding Style
We love winter and everything that goes with it- fireplace, blankets, rainy days and red wine. We wanted our wedding to reflect that, an intimate wedding with our closest friends and family. We loved the idea of an all-white wedding and kept our decor very simple, with white candles and a few white flower arrangements on the tables that consisted of white delphiniums, orchids, tulips and white hydrangeas. We used a lot of candles, the fireplace and white blankets to create a cozy feeling.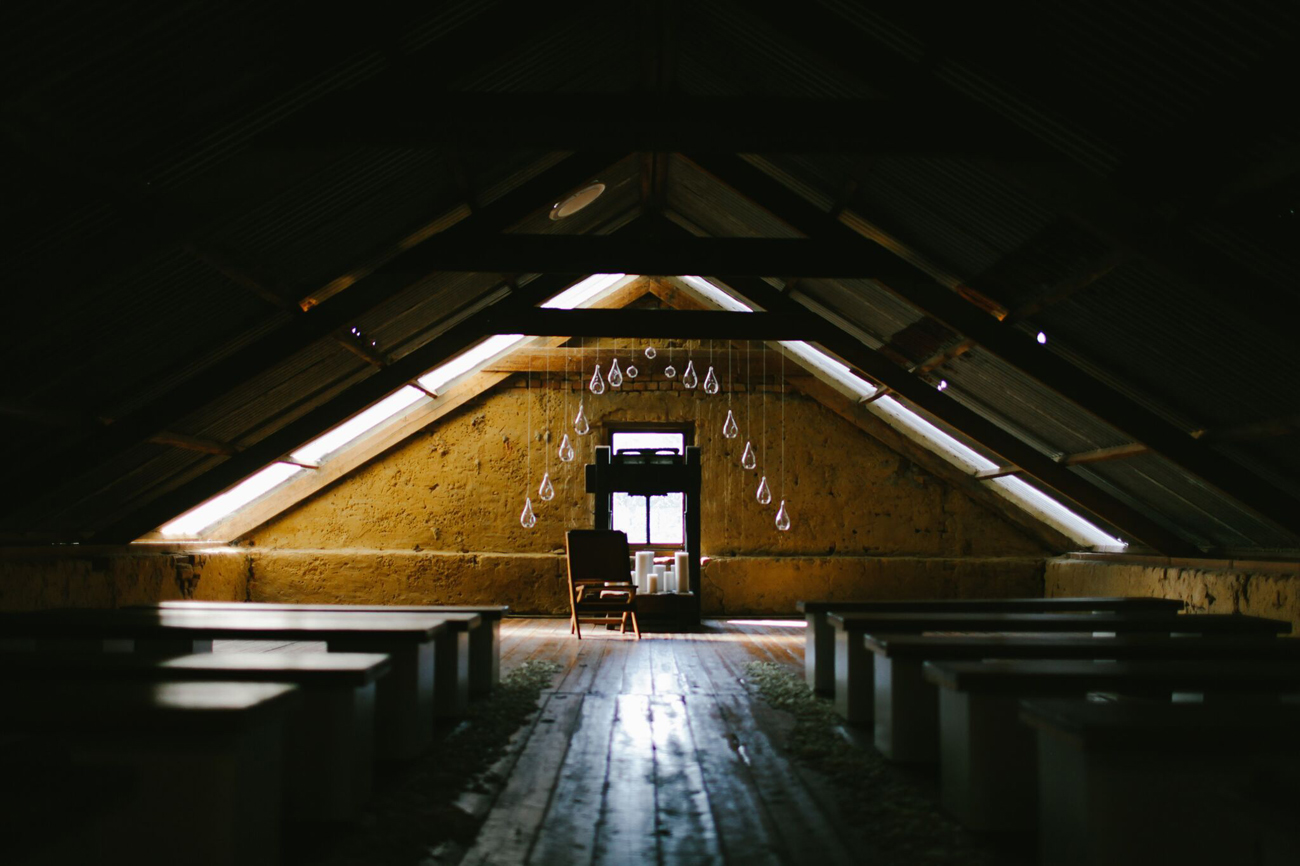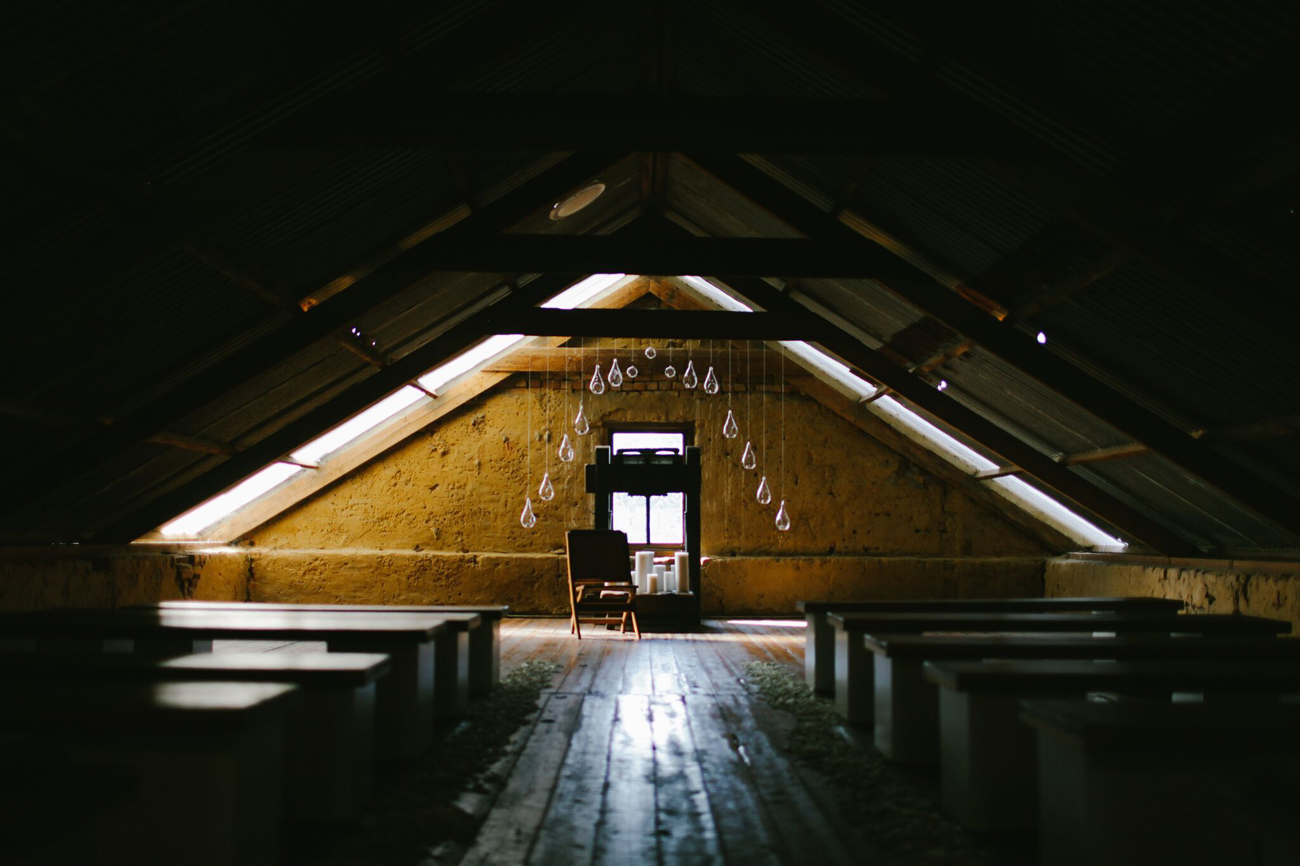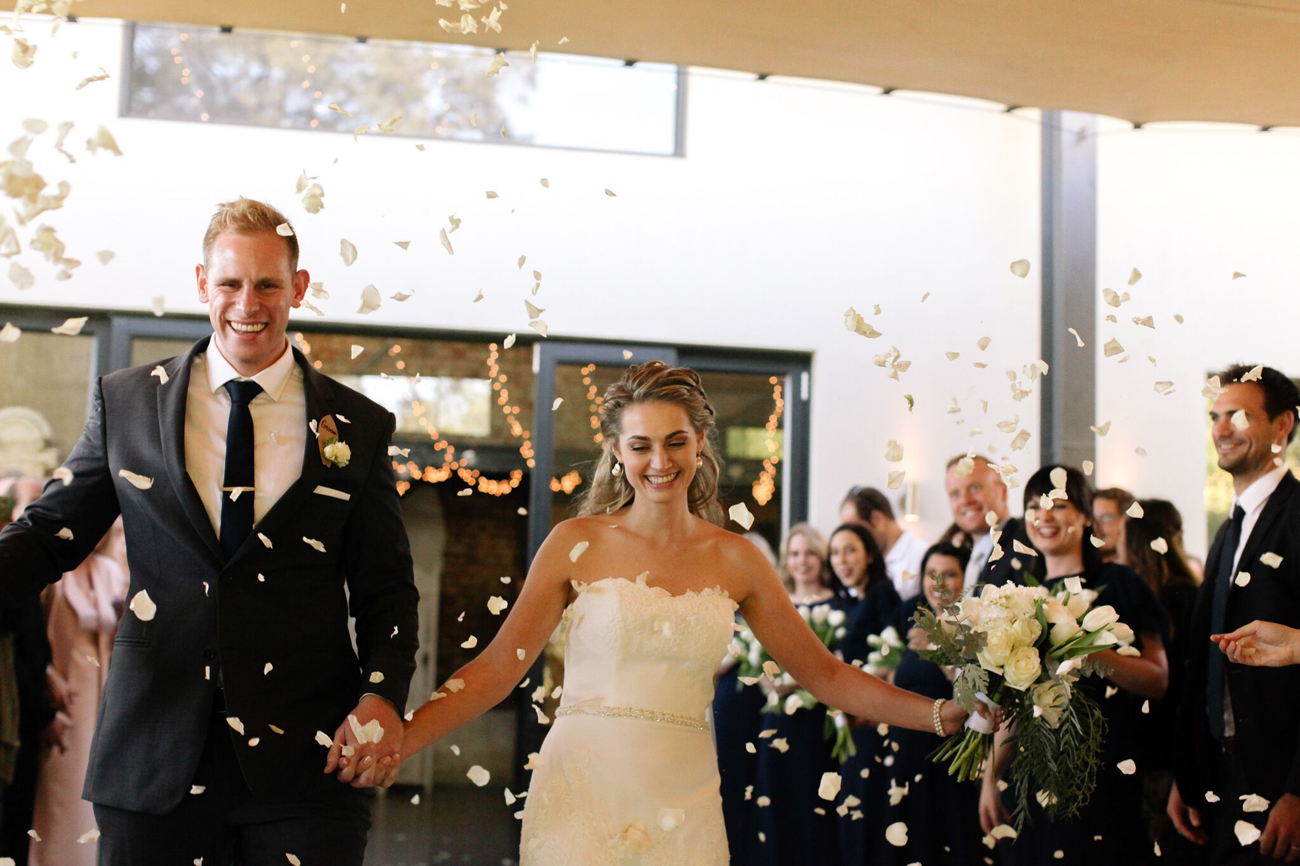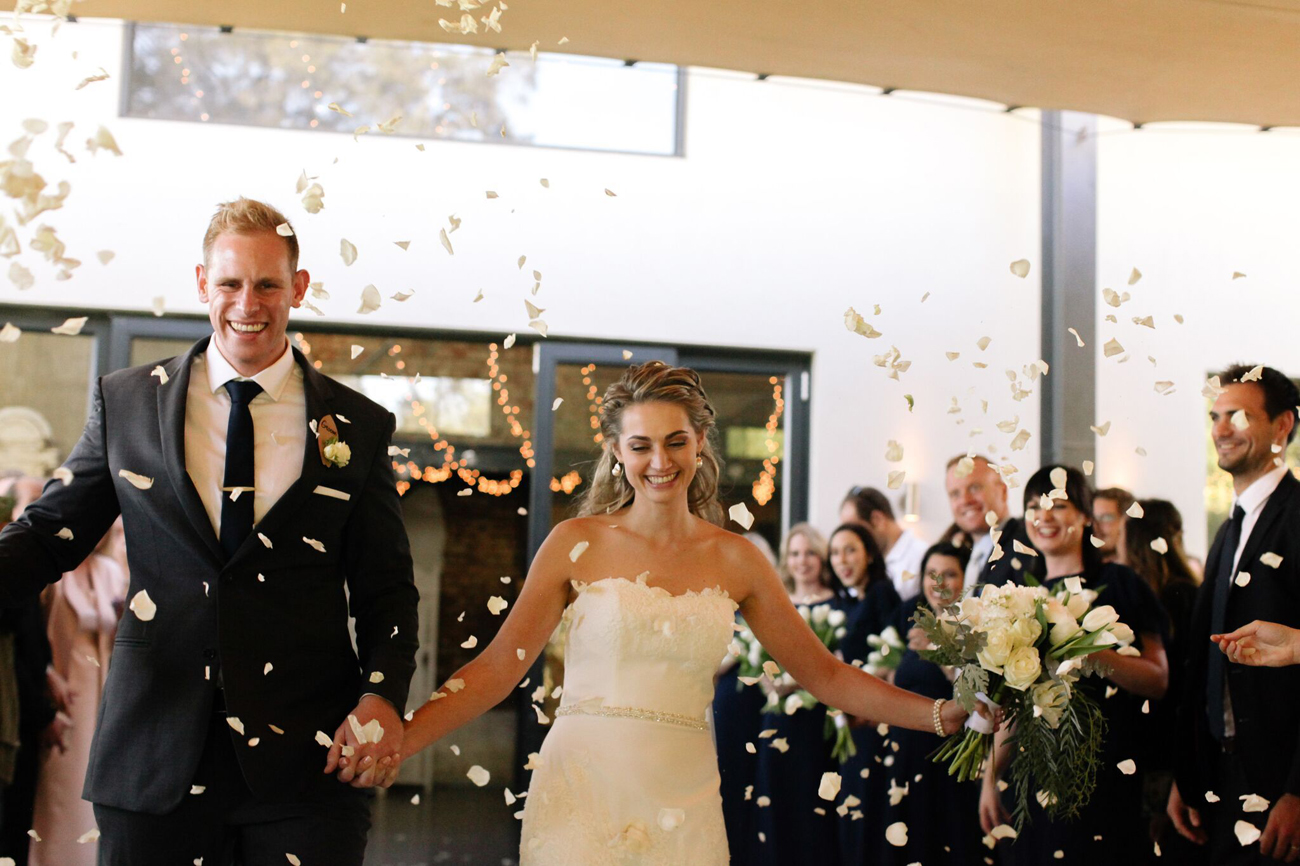 Wedding Details
We incorporated surfboard boutonnieres for Christian and his groomsman we thought that would be such a lovely touch since it is such a big part of our engagement story. We had a musician play different instruments throughout the wedding. He played Spanish guitar as guests were arriving, played the song "Over the Rainbow" on the saxophone when I walked down the aisle and during dinner he played the flute, guitar and saxophone. The guests would get up out of their seats to cheer; it just made for such an amazing experience.

DIY Elements
We are very blessed to have a close friend in graphic design, and he designed our invitations, menu and program. We printed all our invitations ourselves and stuck magnets on the back – it was so wonderful to visit friends and see our invitations on their fridge. Even now, after our wedding, some friends still have theirs. We also printed all the seating plans and table names. We wanted to be different and instead of having traditional numbers, we had names of places that were special to us. We had our friend write on two big boards to show our menu and program. One Saturday morning I arranged for my bridesmaids to come over and help me make our favours – for all the men at the wedding we gave a jar of olives and for the women we had a bottle of olive oil with rosemary. We bought all the olives and olive oil from a factory in Somerset West called Rein Oils. It really saved us a lot of money and it was a big hit among so many of our guests.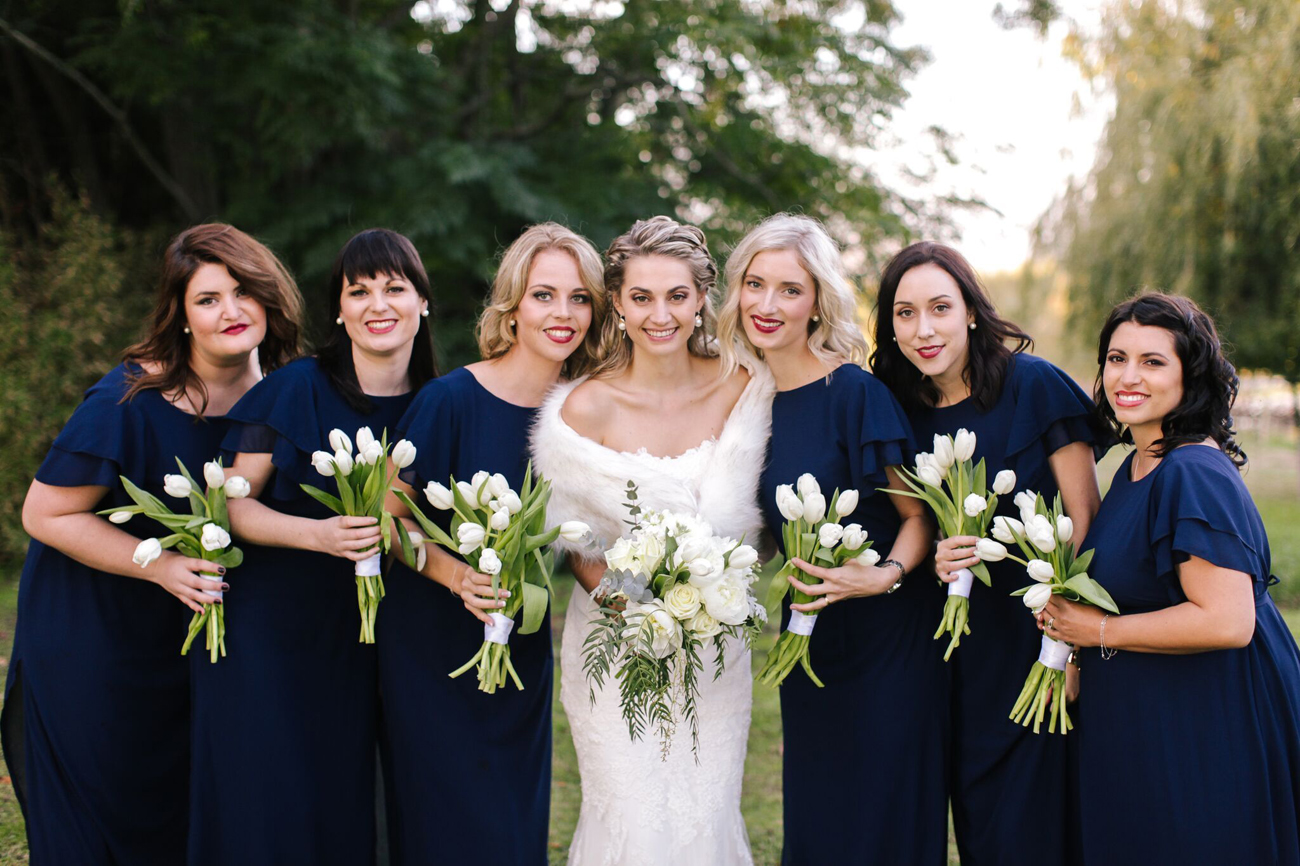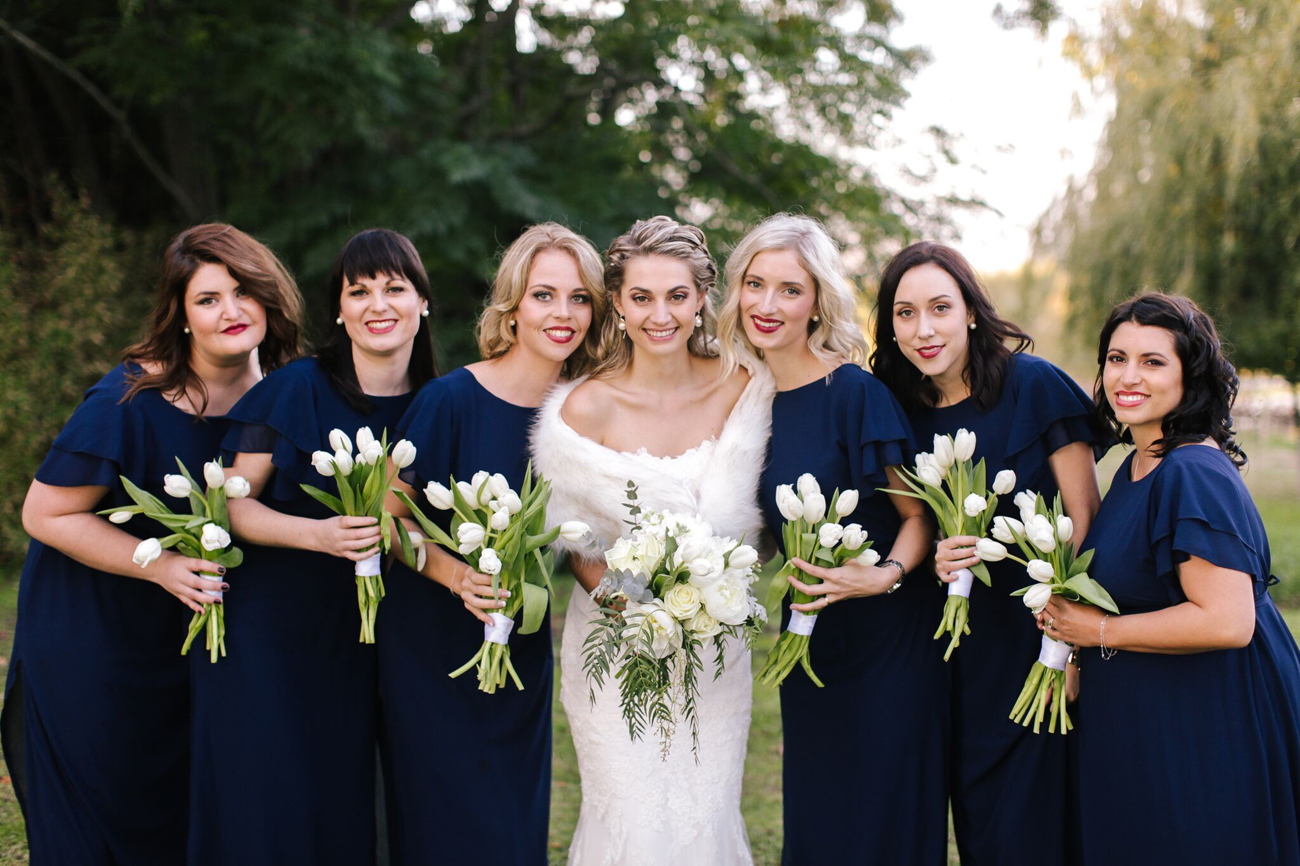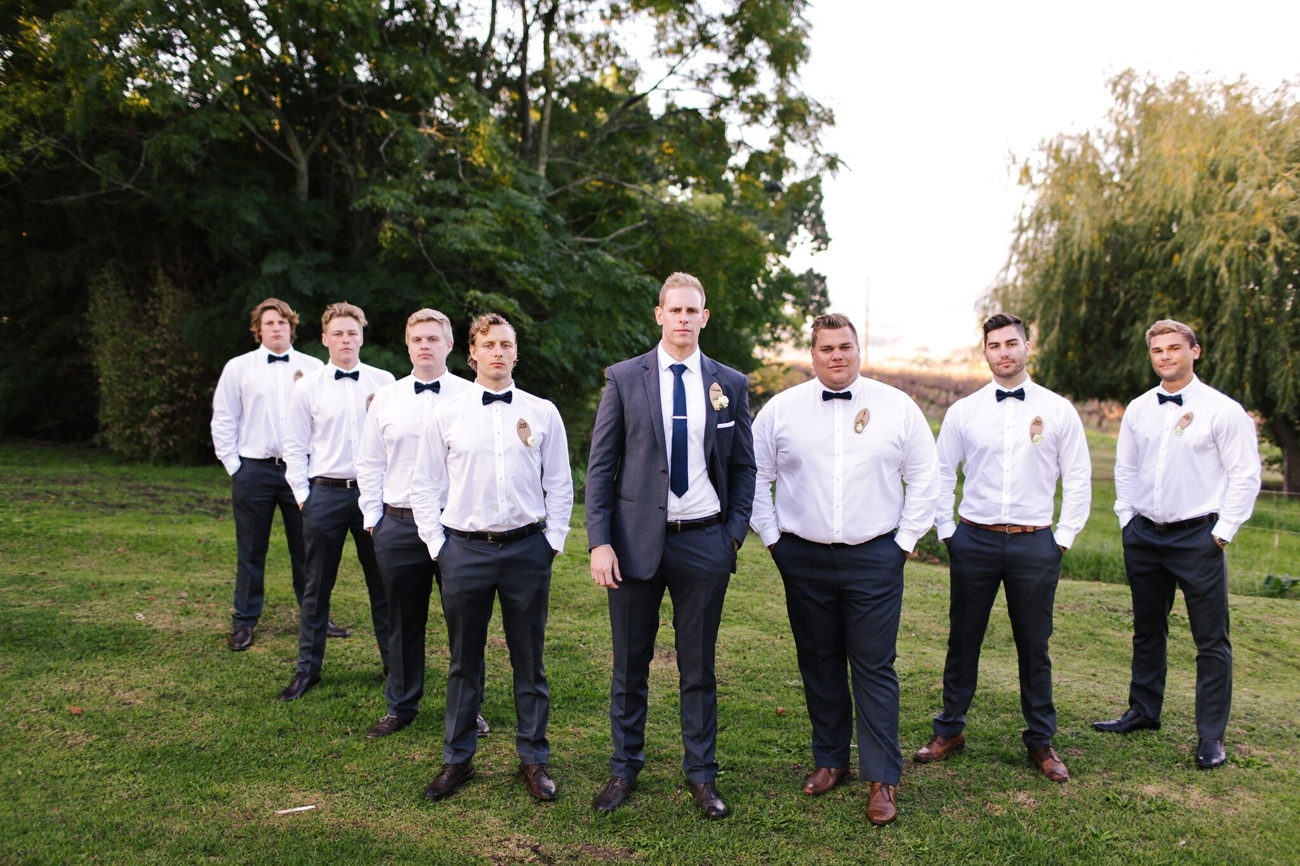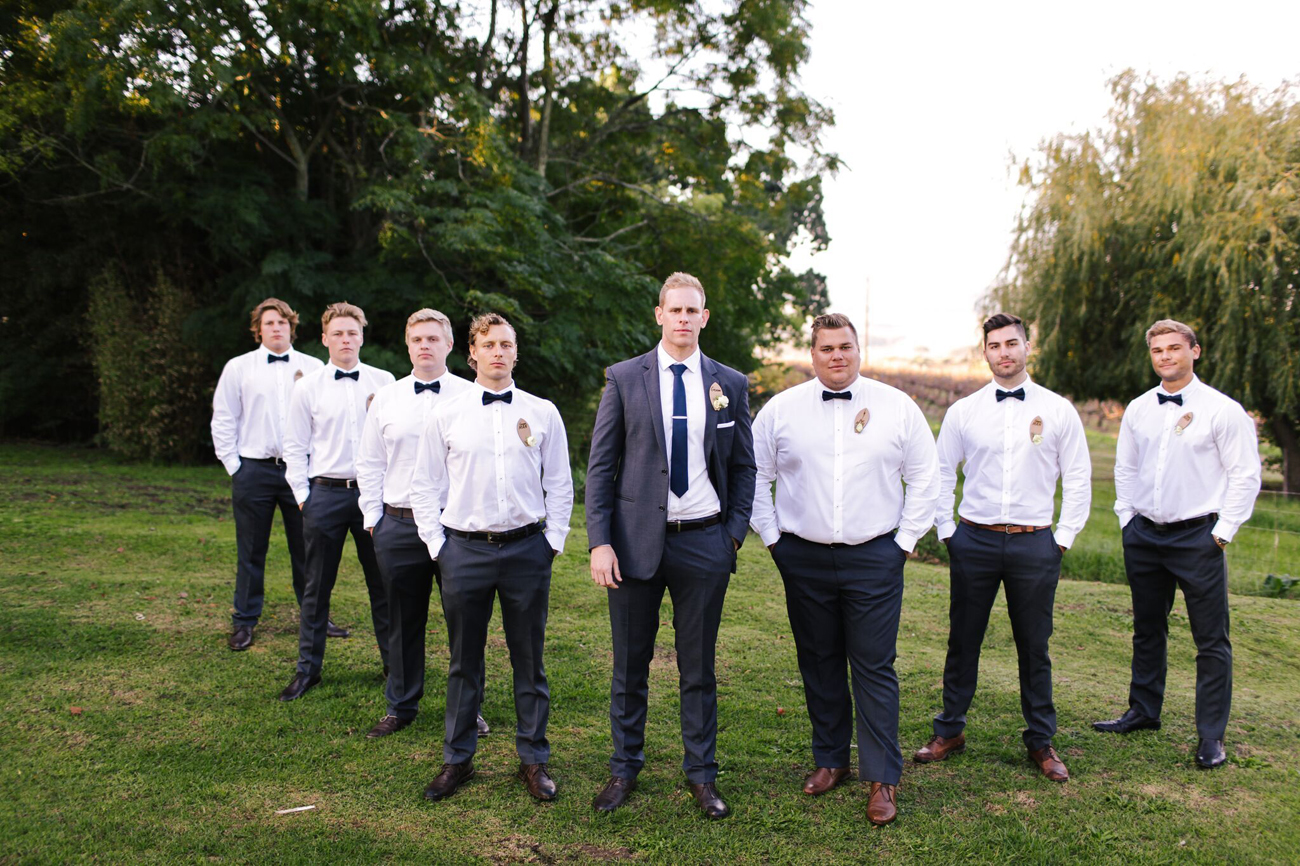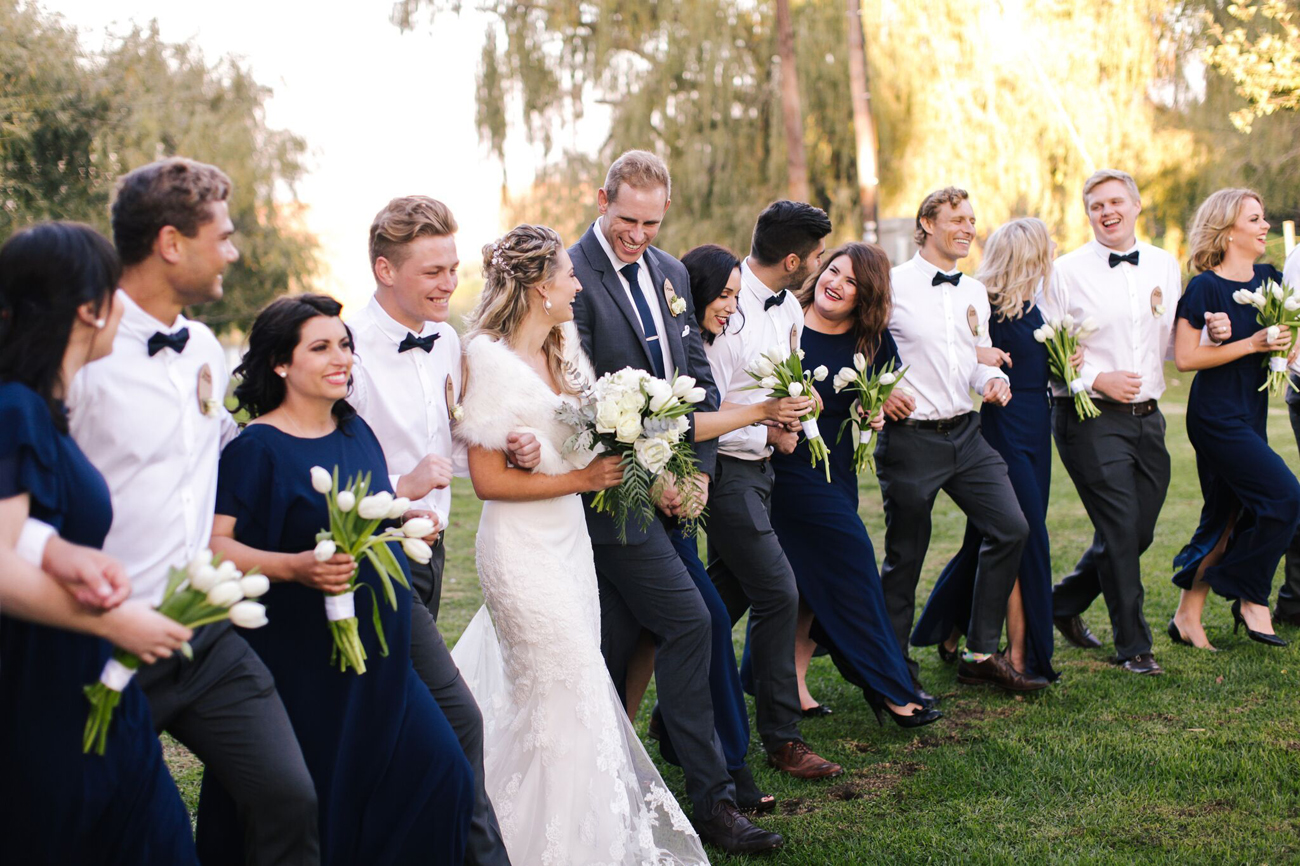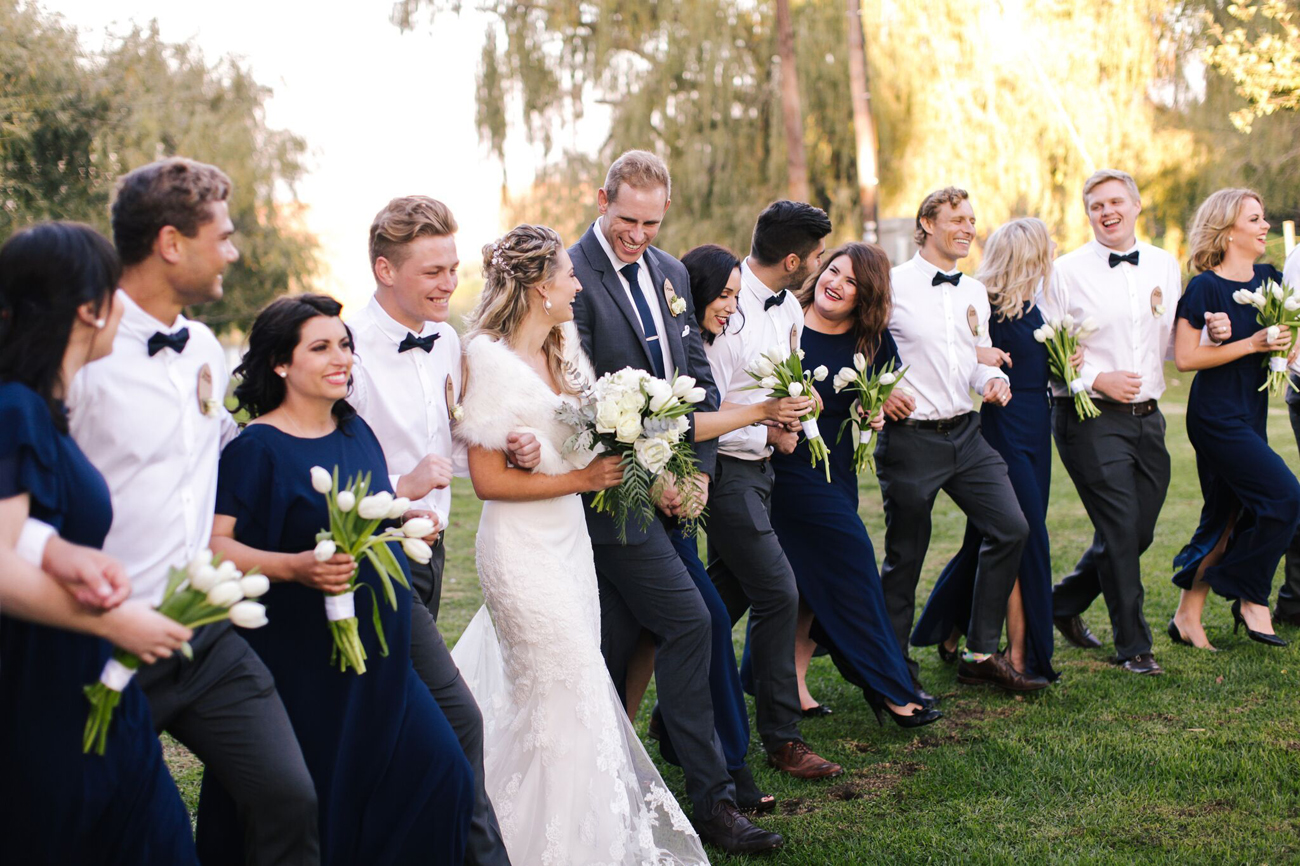 The Flowers
I had a beautiful natural arrangement of white flowers including tulips, hydrangeas and orchids. My bridesmaids all had white tulips.
The Dress
I had this idea of making the perfect wedding dress, but when I walked into Brides of Somerset for my first fitting I tried on a beautiful ivory dress and didn't want to take it off. All I wanted to do was show Christian, and as soon as I had that feeling, I knew that this was my dress. A special friends made my earrings from freshwater pearls and my bracelet was from my grandmother.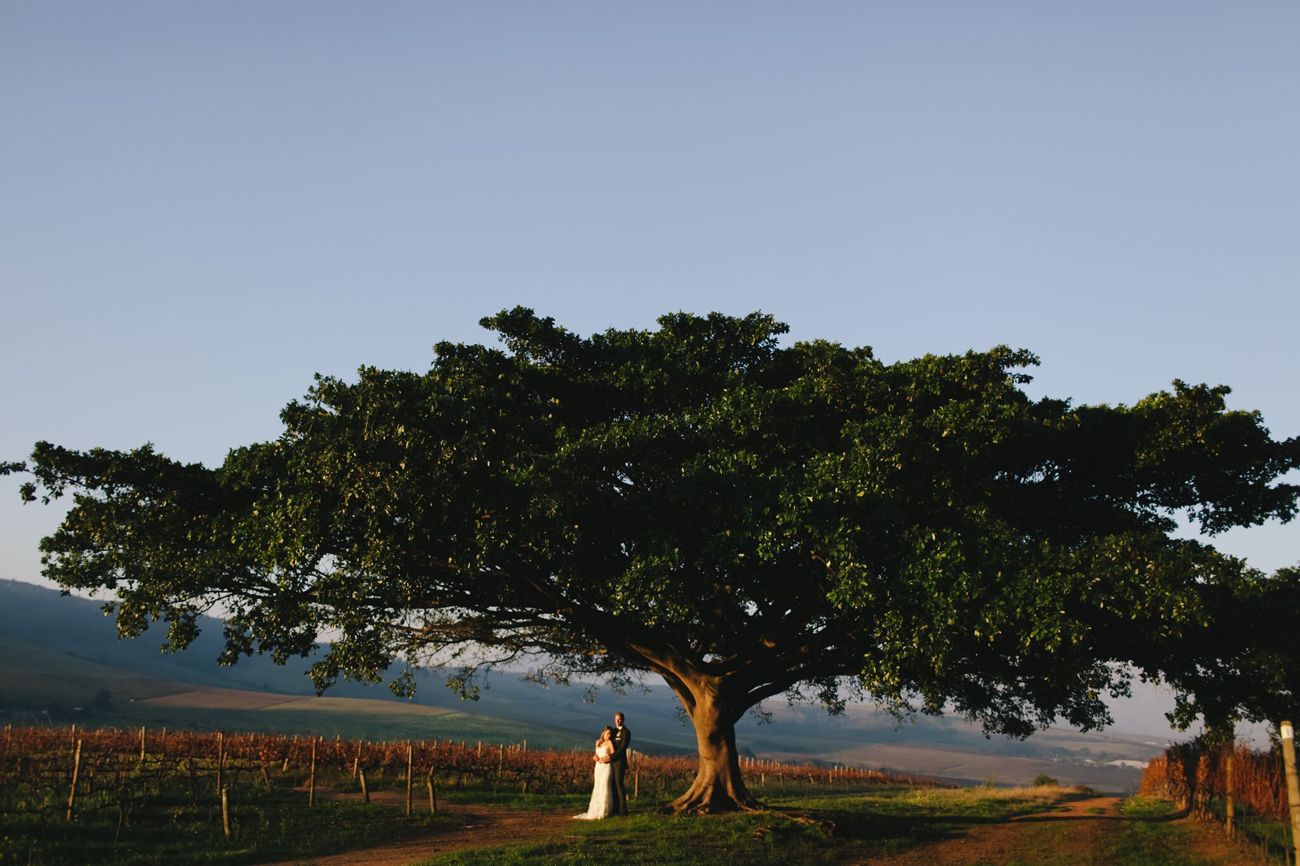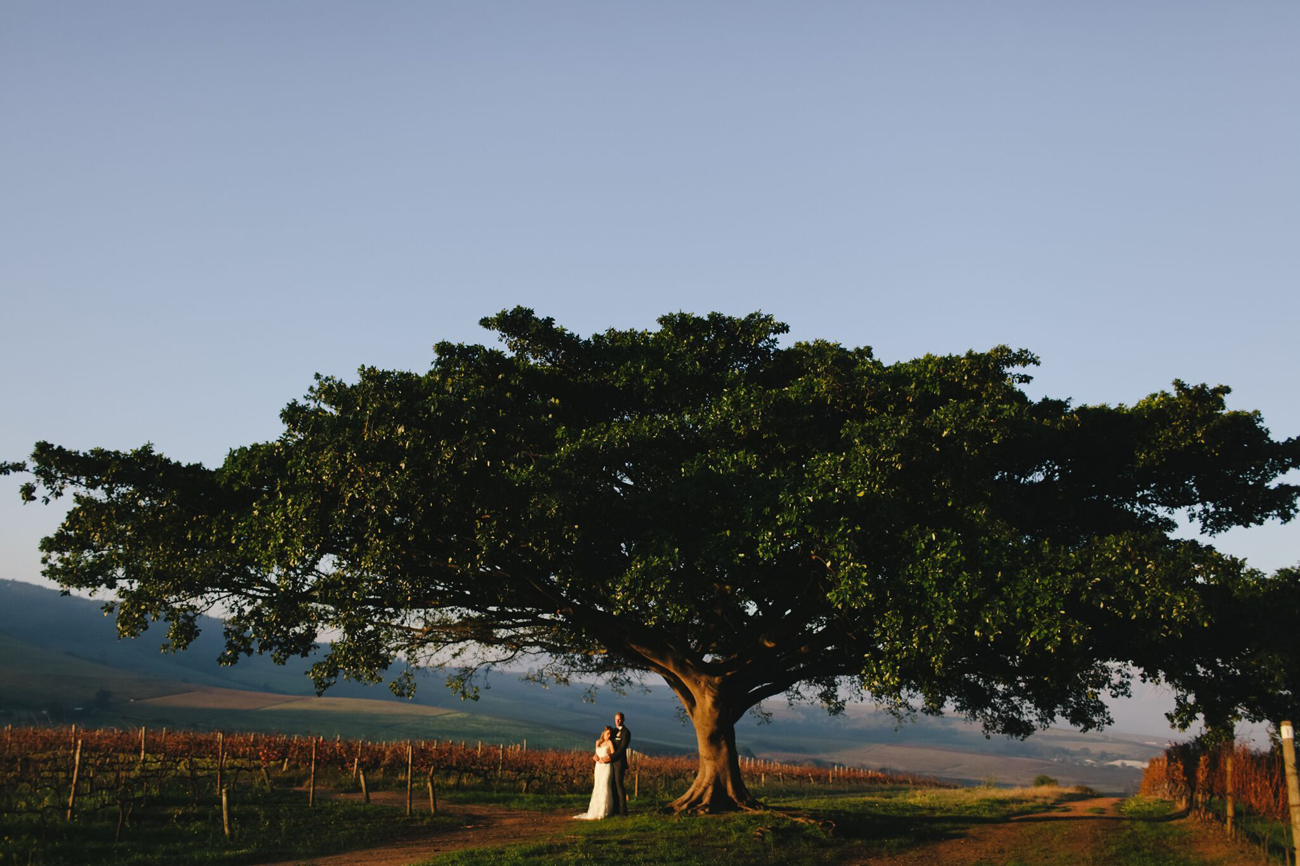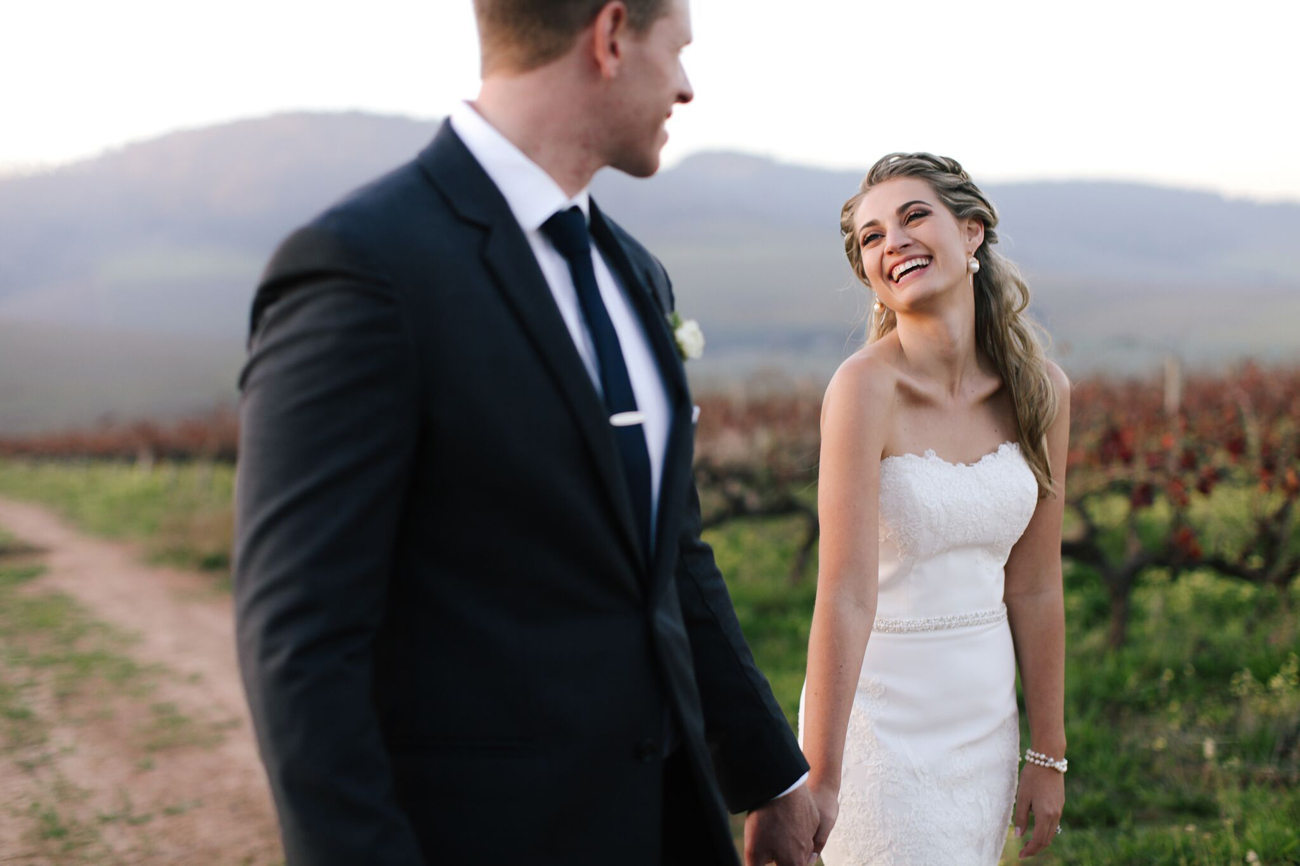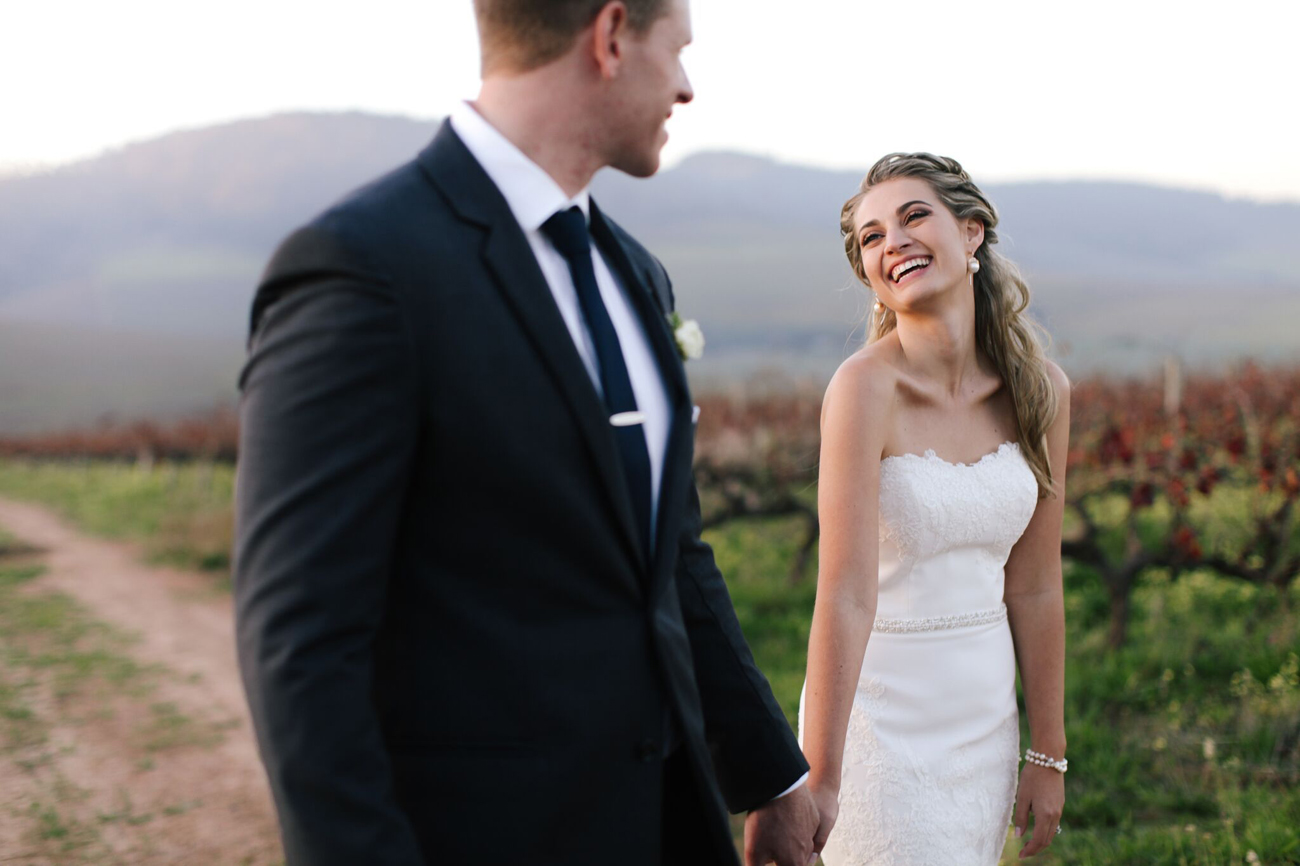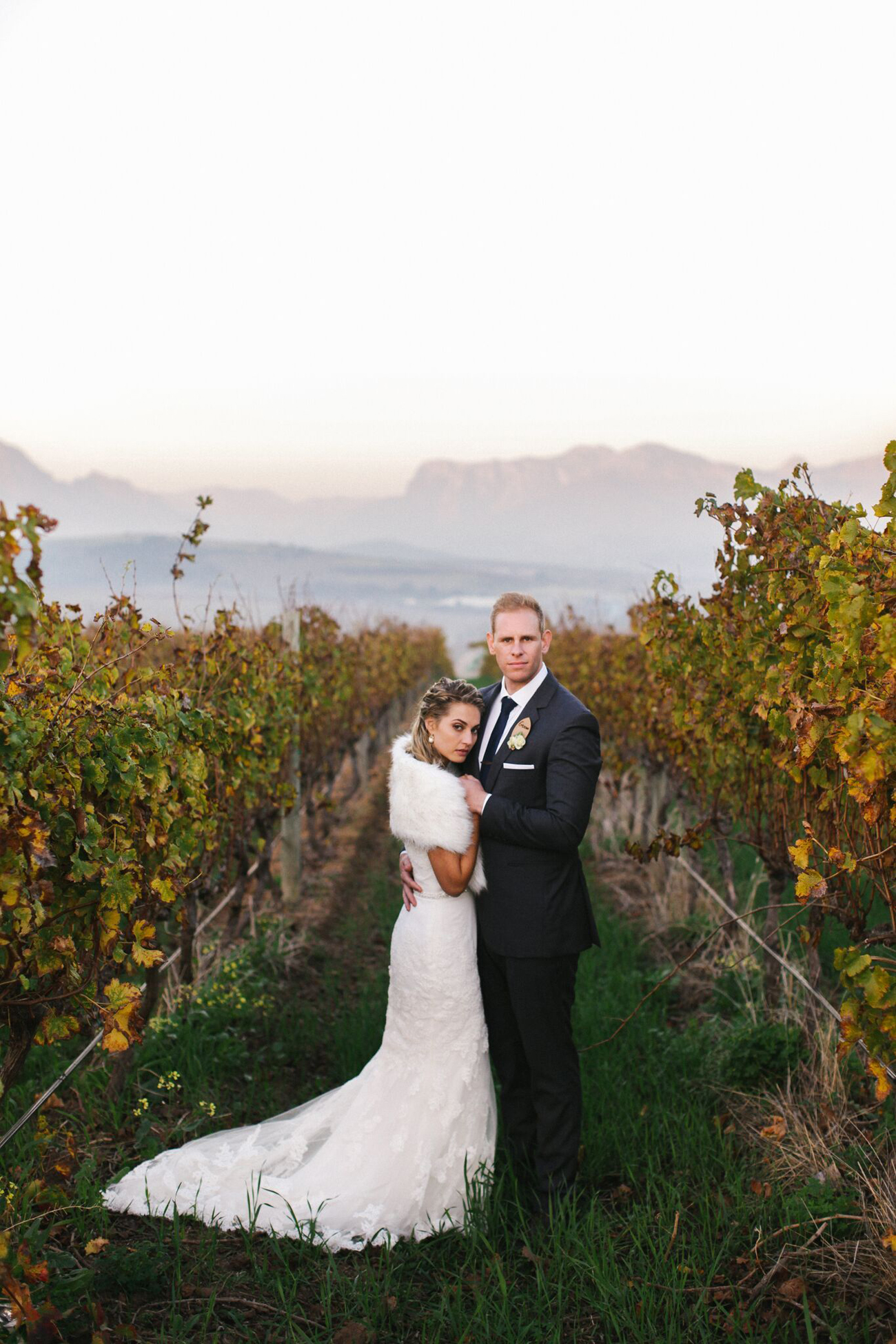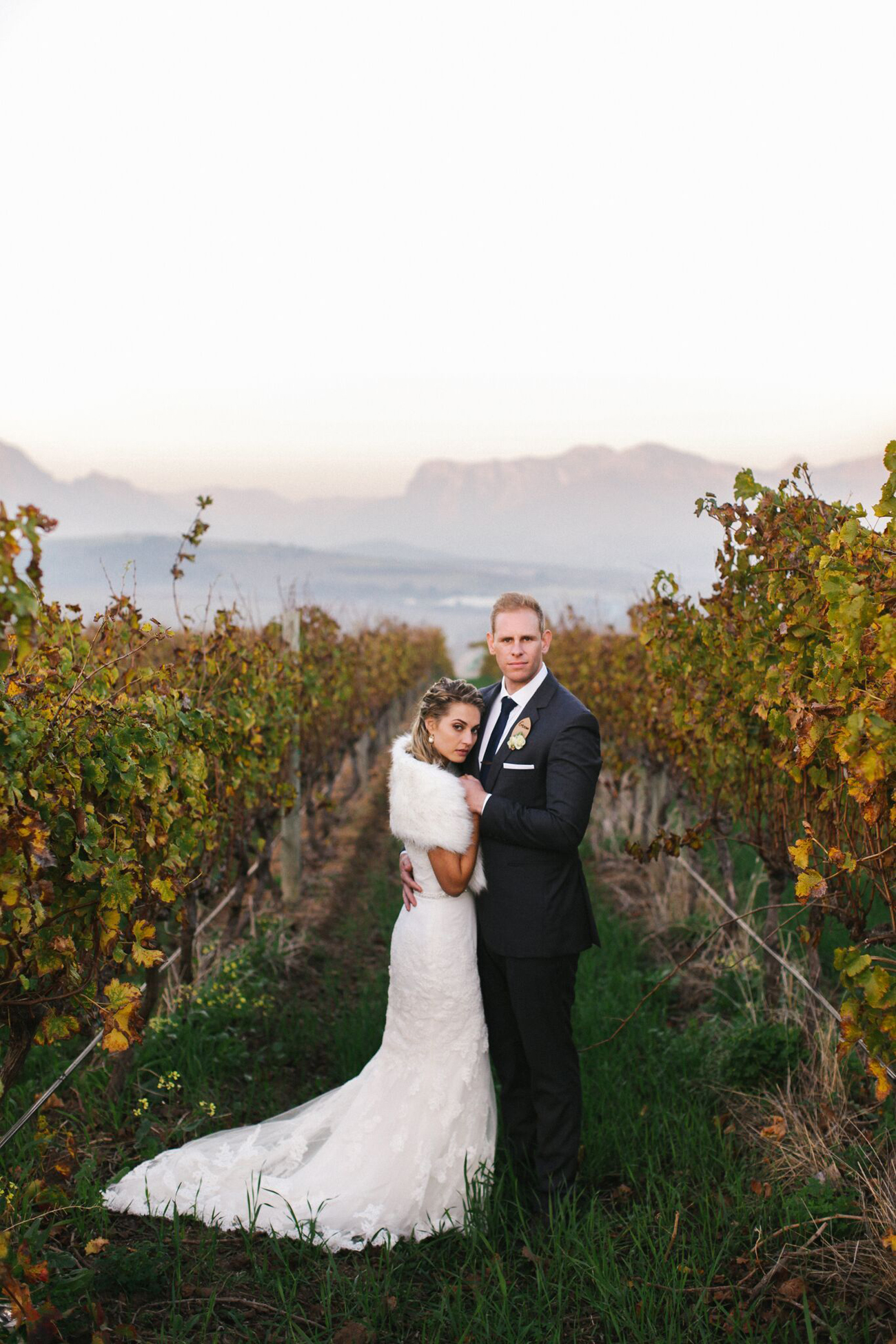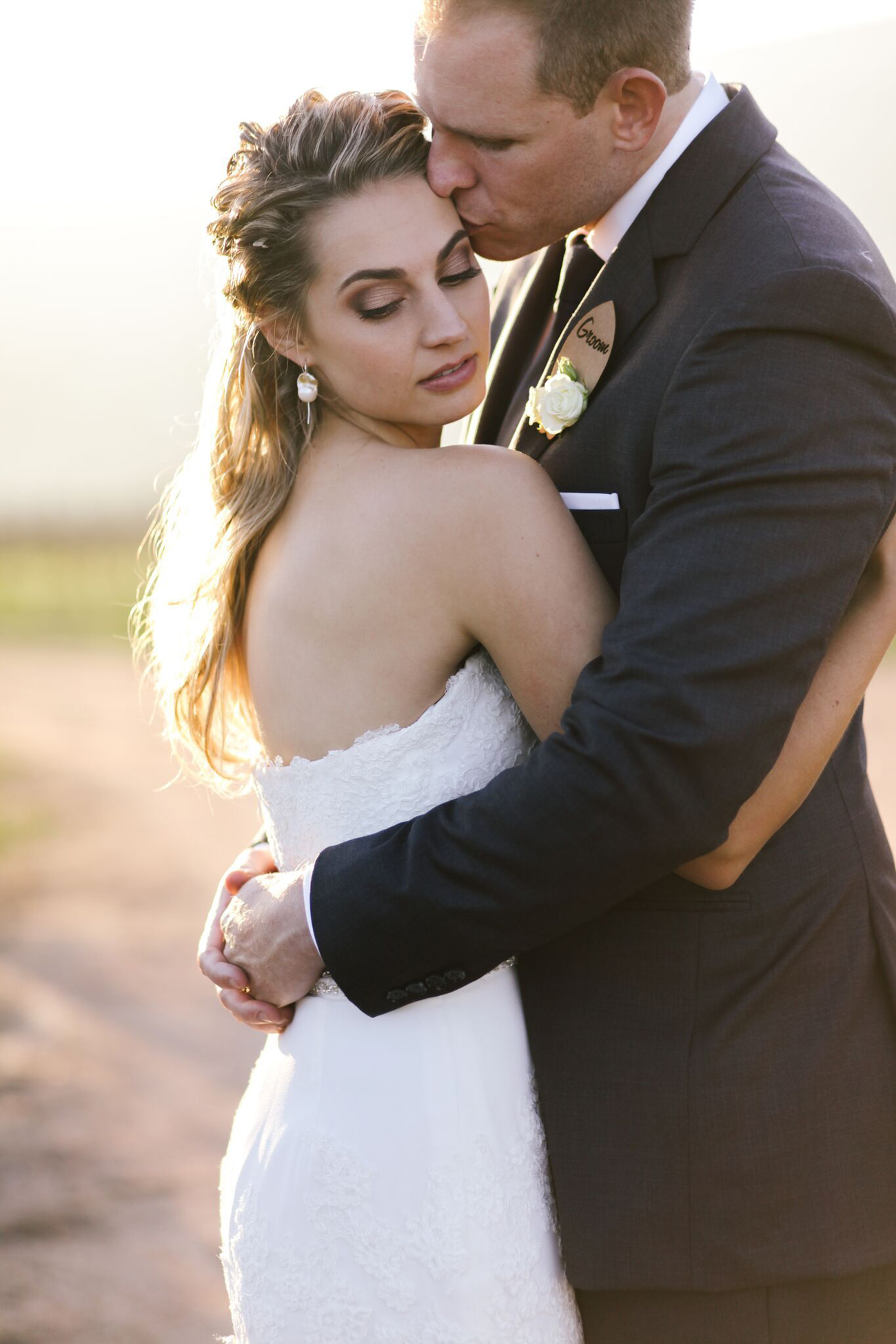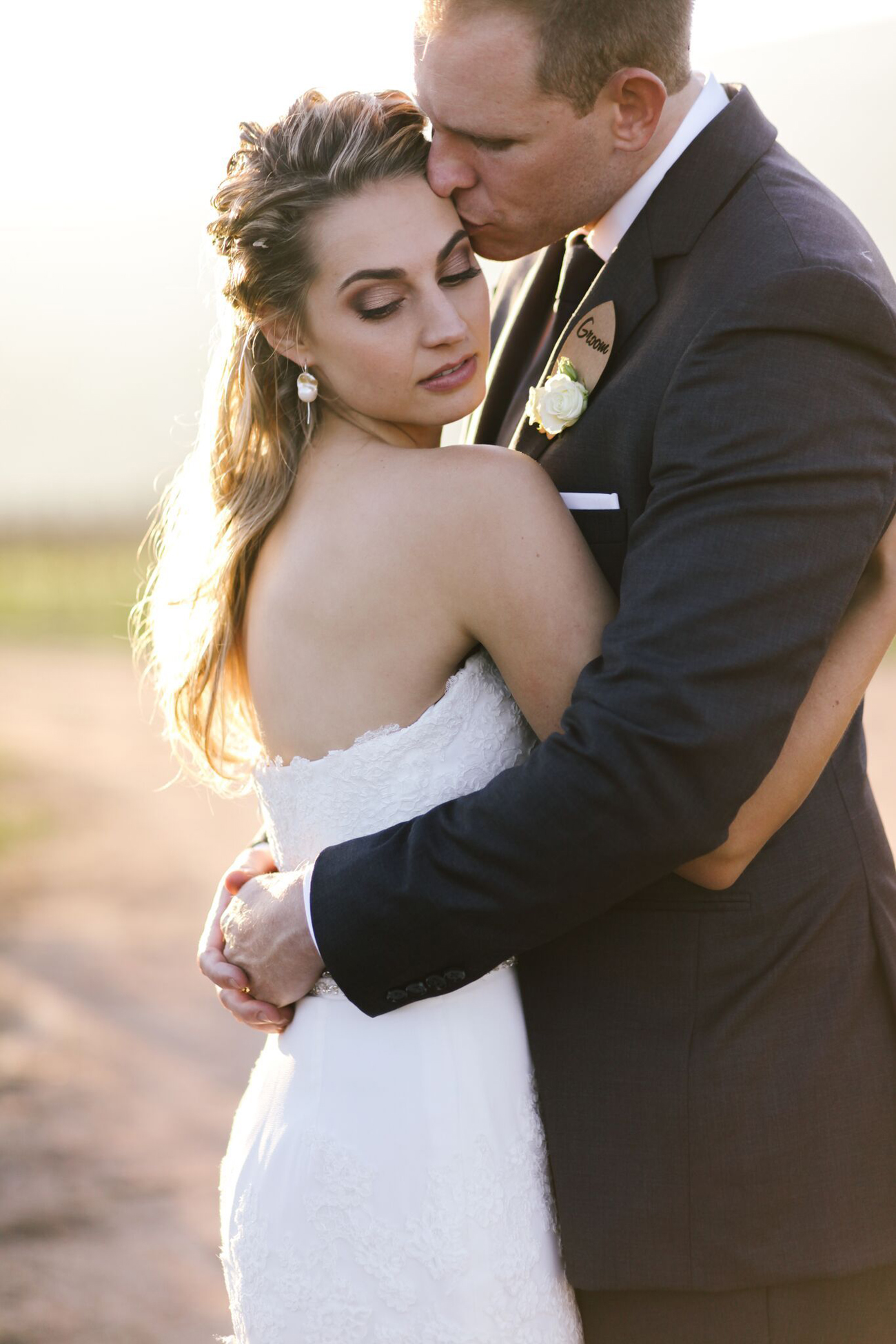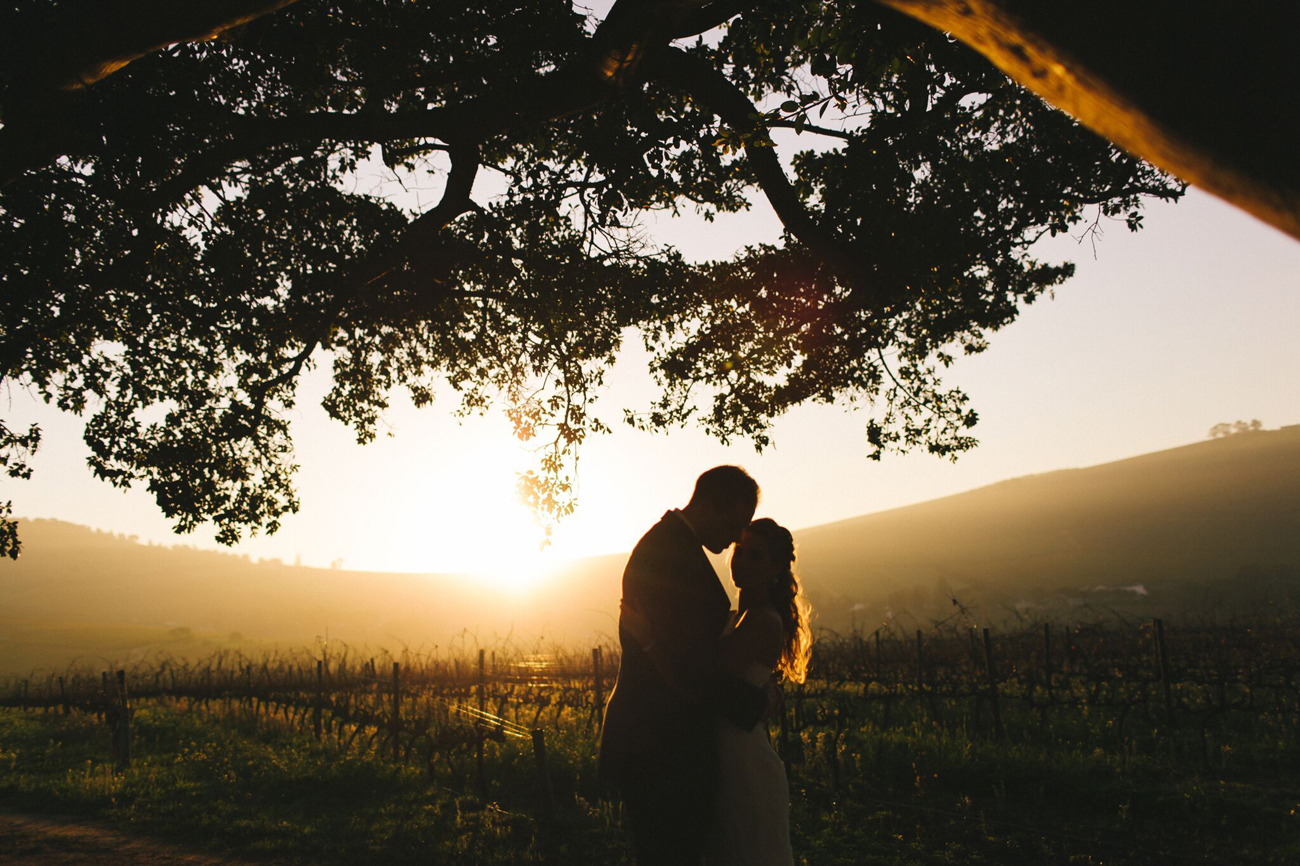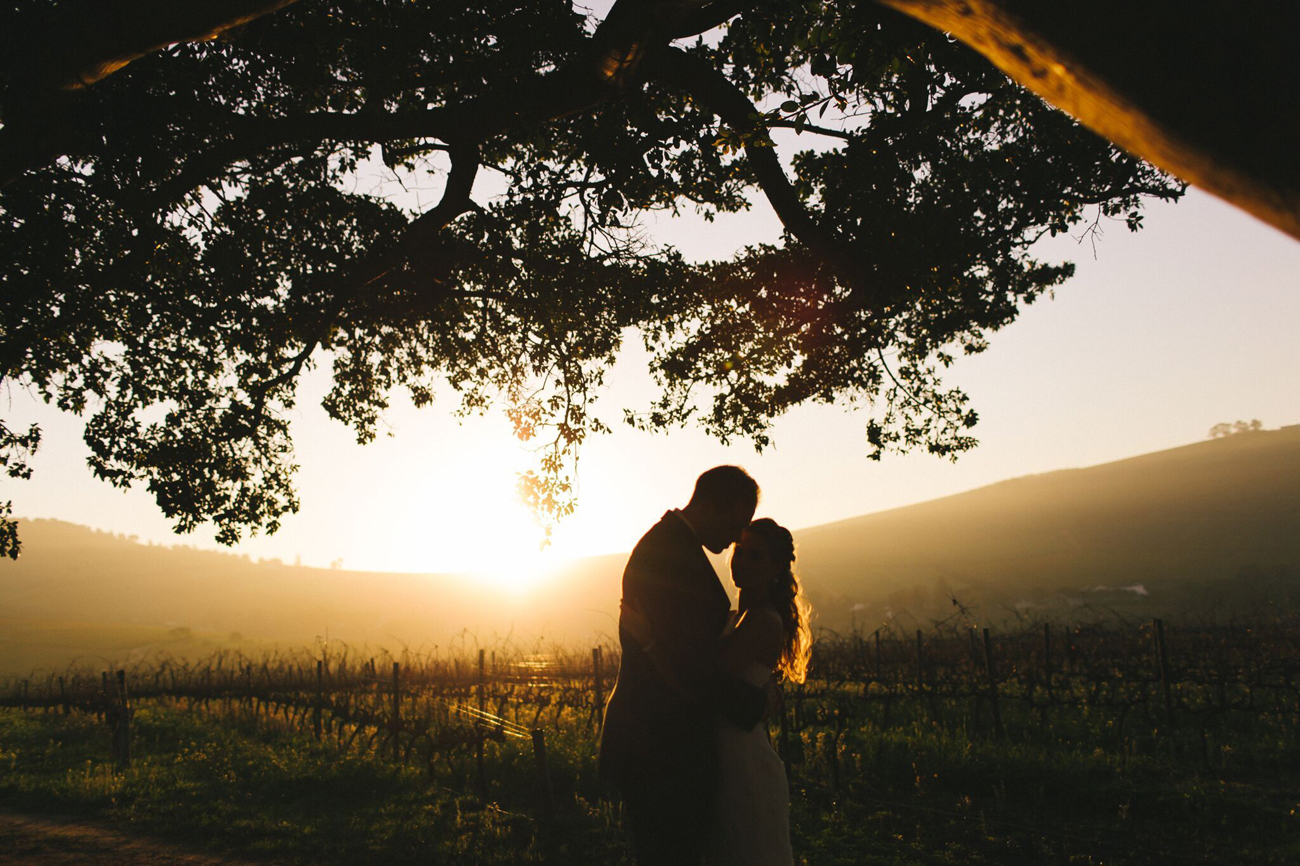 The Bridesmaids
I had the most amazing girls that stood next to me as we said "I do". I had six bridesmaids and chose a dark navy dress for them, one that would fit with all body types, including my sister (who was eight months pregnant) and looked so beautiful. I bought each of them white pearl earrings and had the make up artist put red lipstick on them.
The Suits
We had Christian's suit made and tailored at an amazing place called The Tailor Shop in Cape Town. Dominique is the owner and he was so hands on and it really made Christian feel special as the groom. We bought the groomsman's shirts, bow tie and pants at Woolworths. We had the Tailor Shop sew the navy color from the bridesmaids into the buttons to have a flow throughout all the bridal party.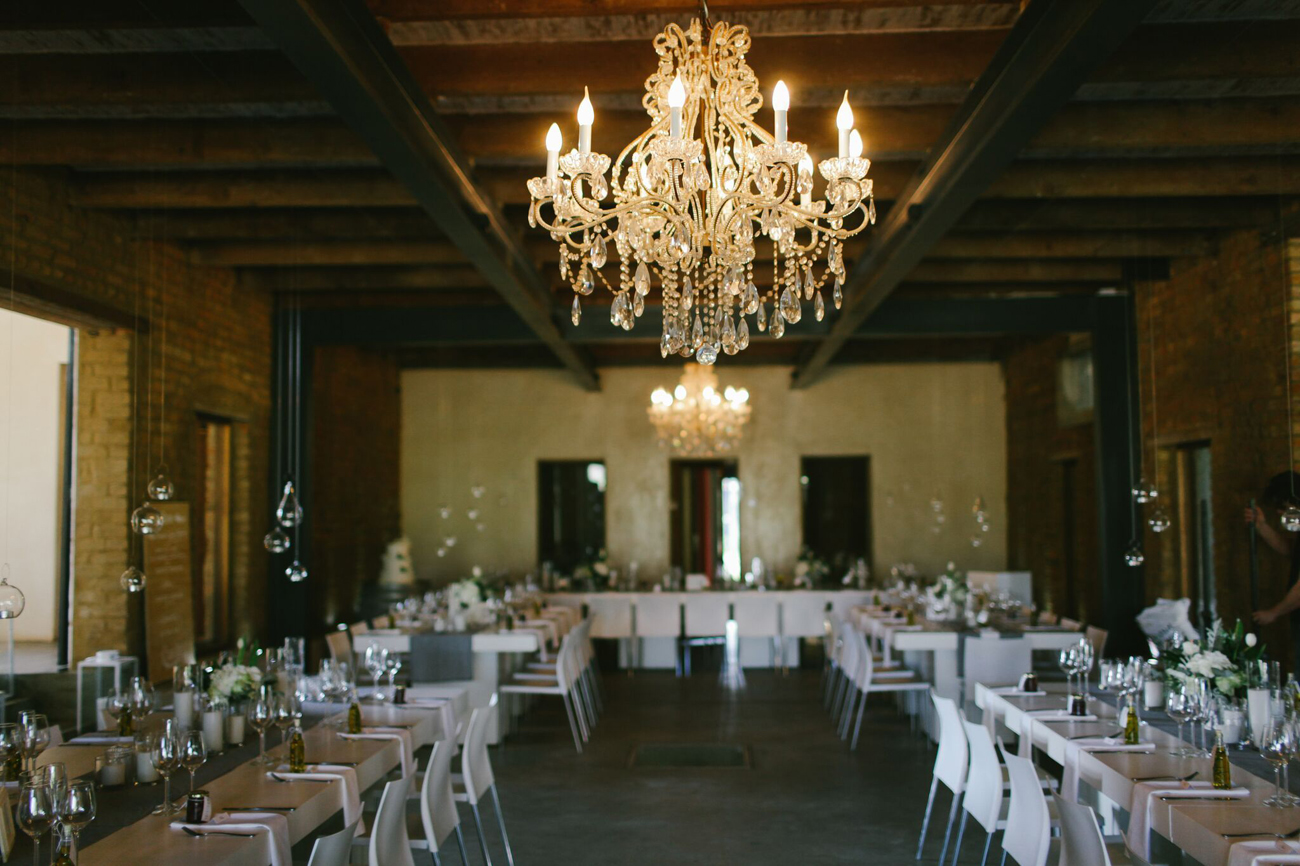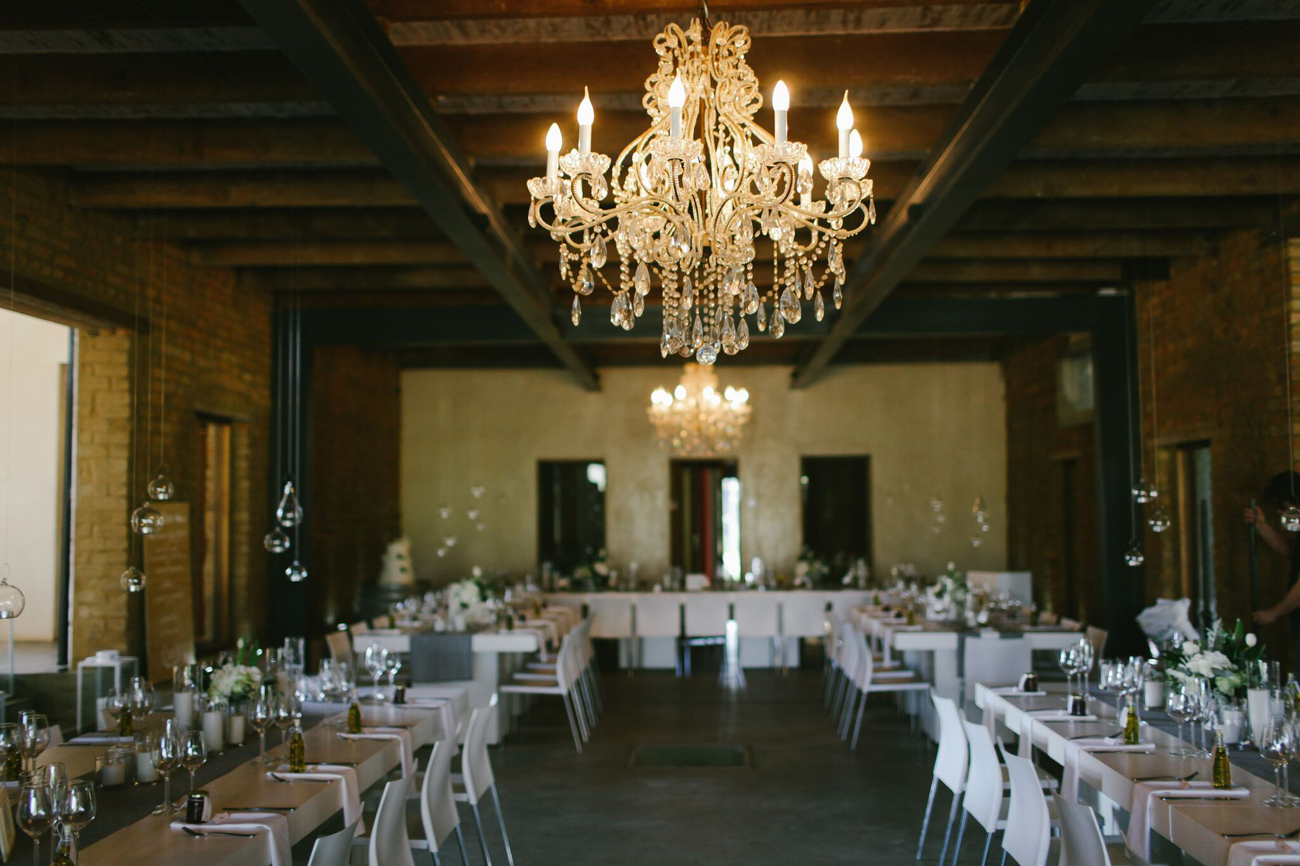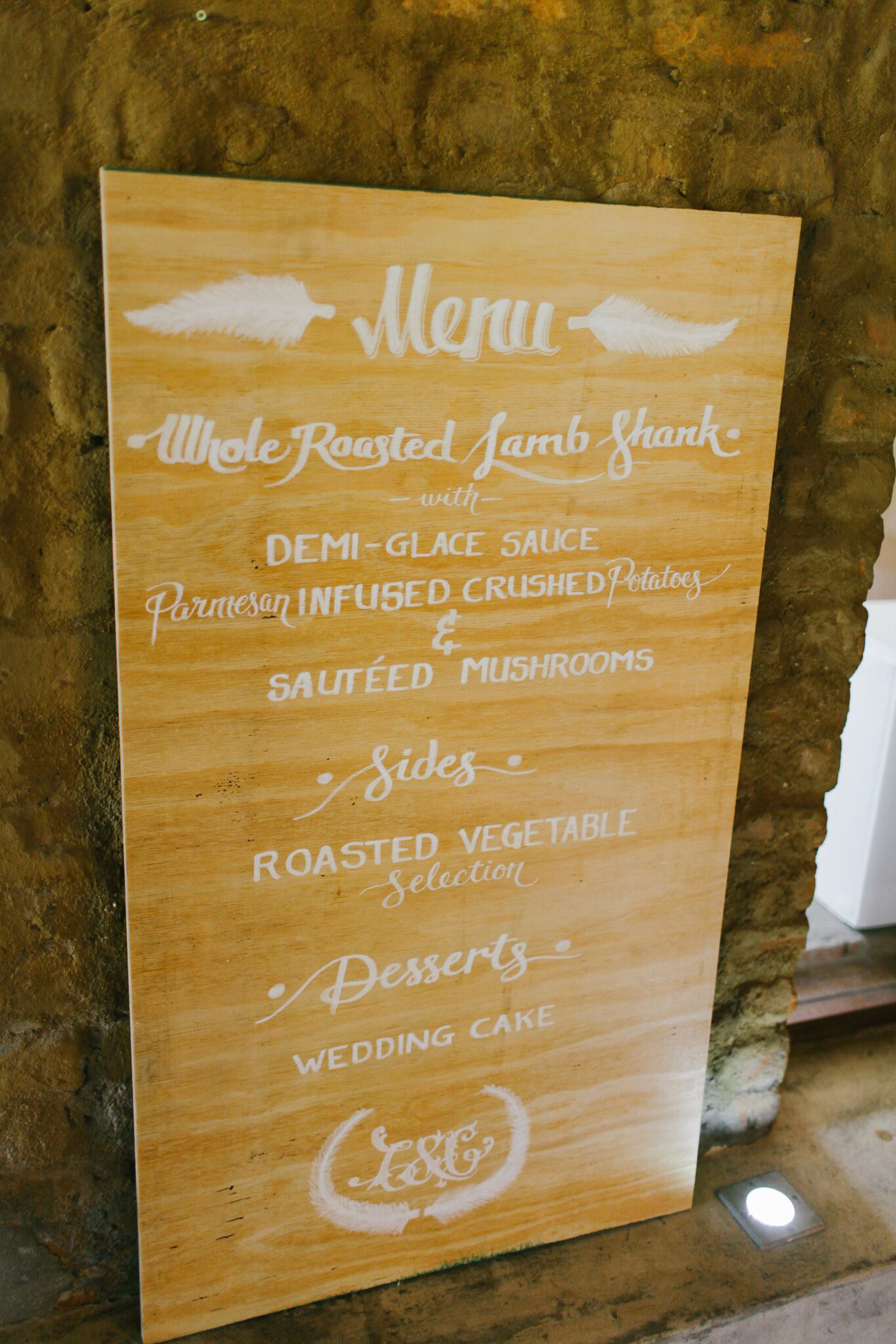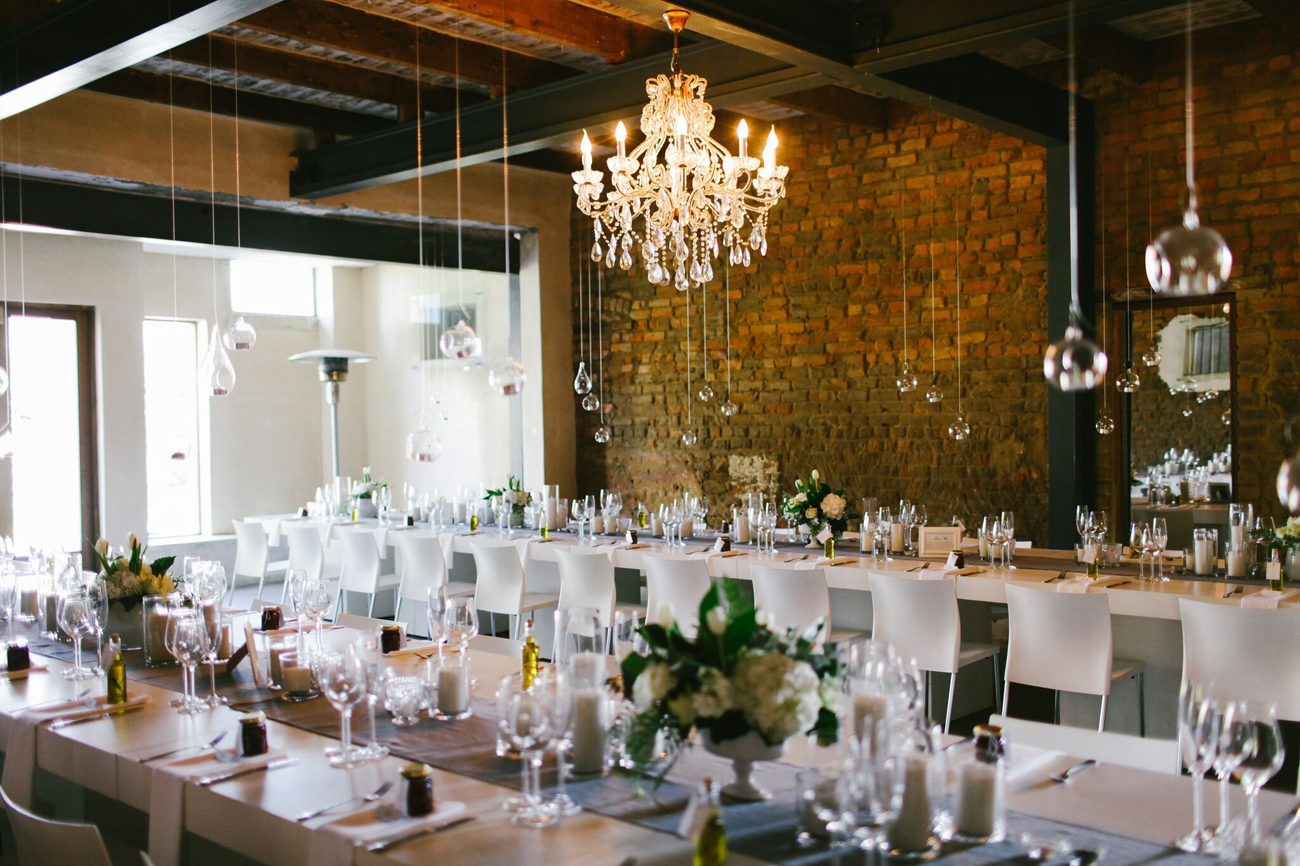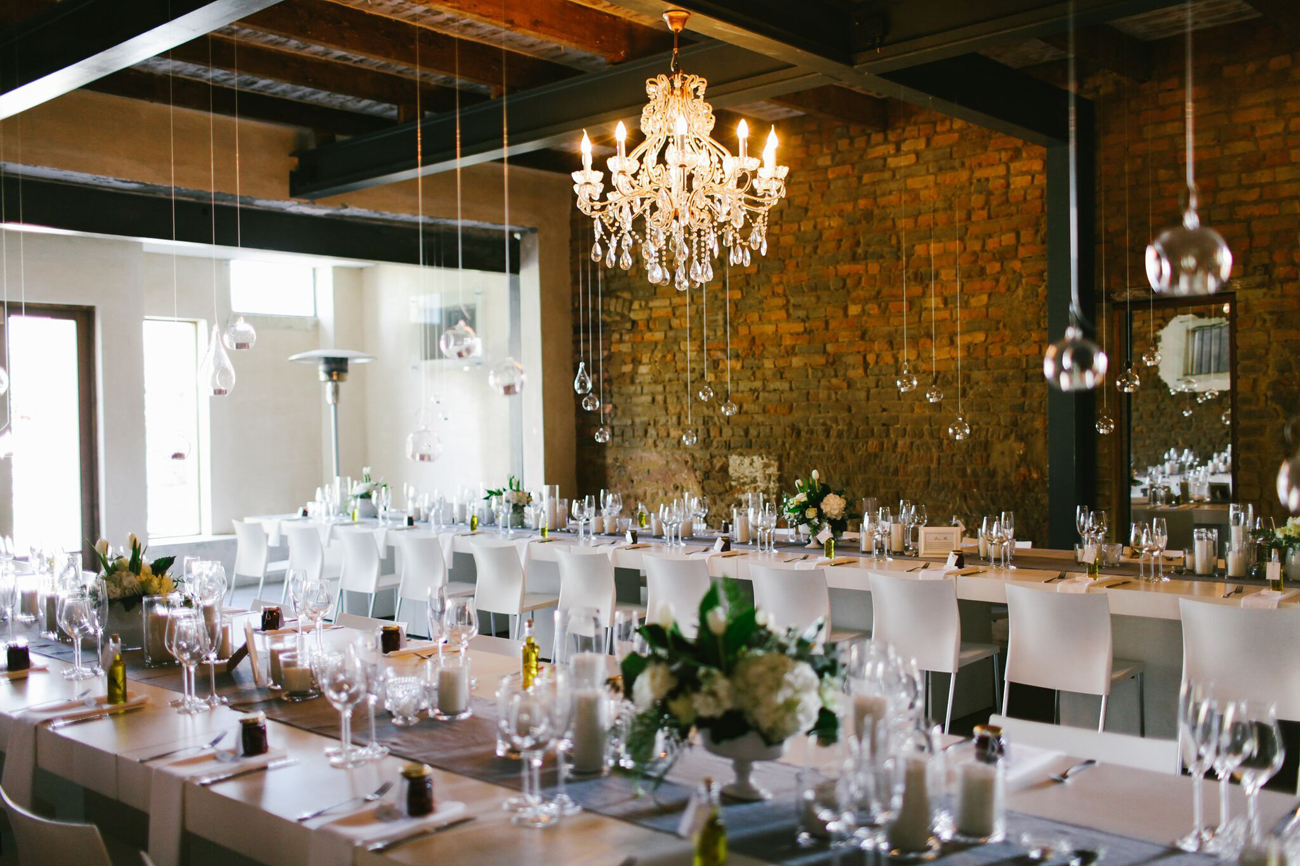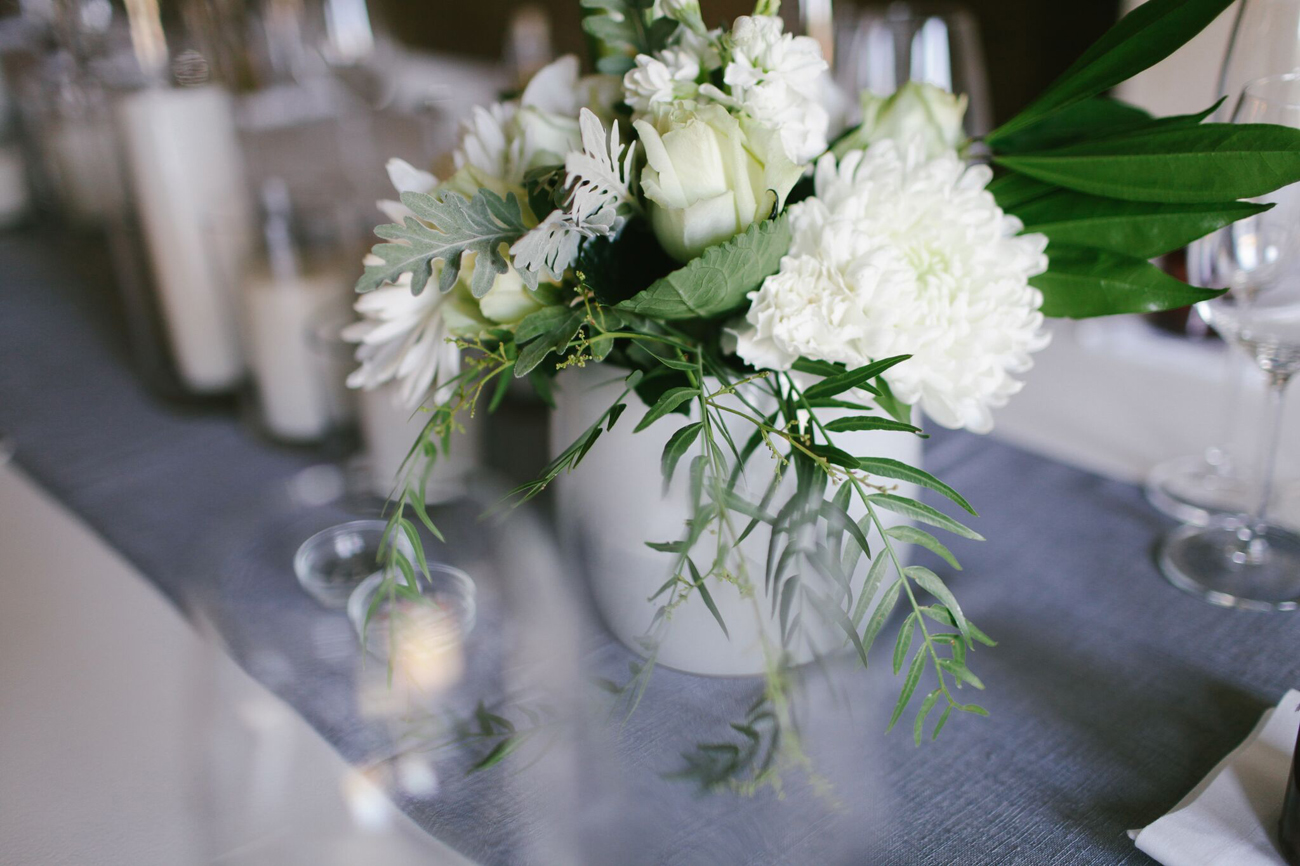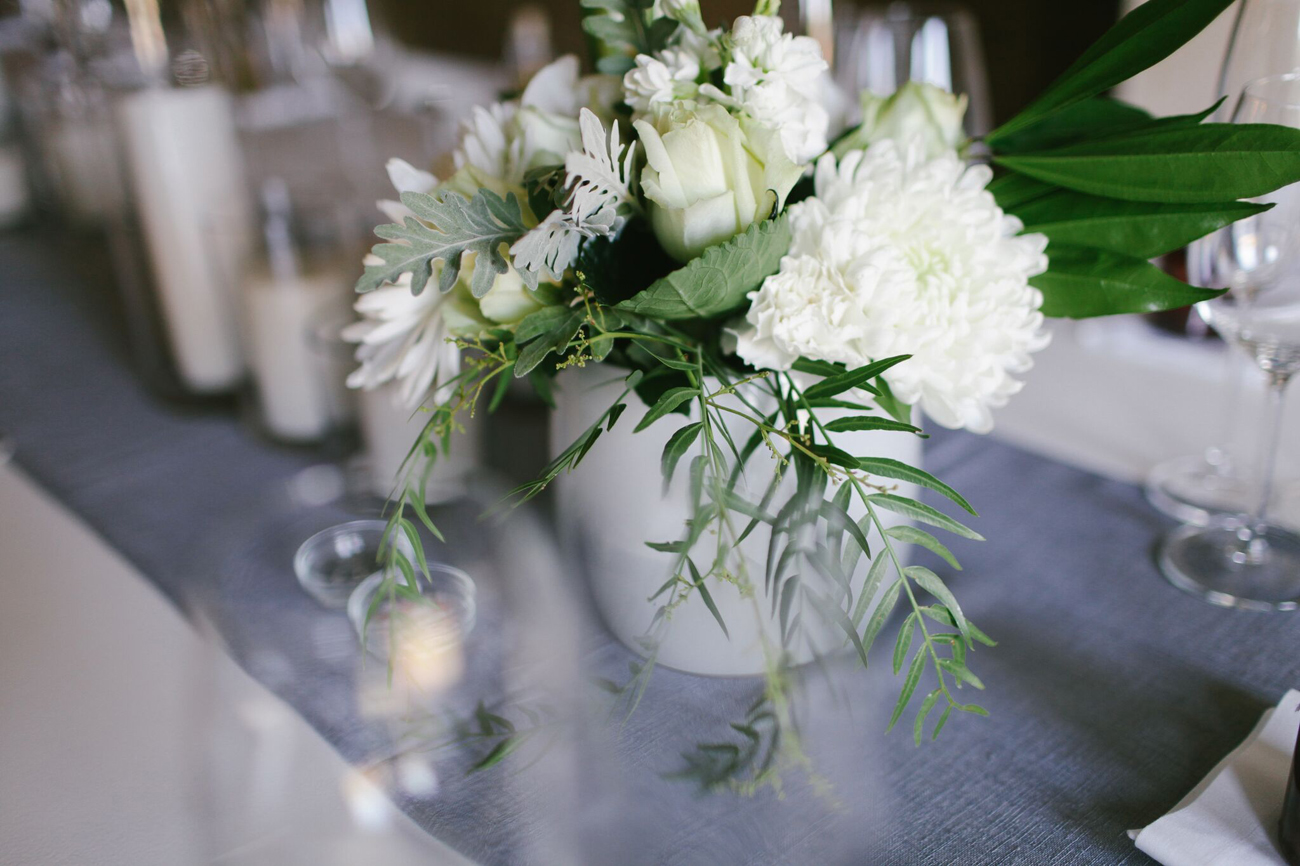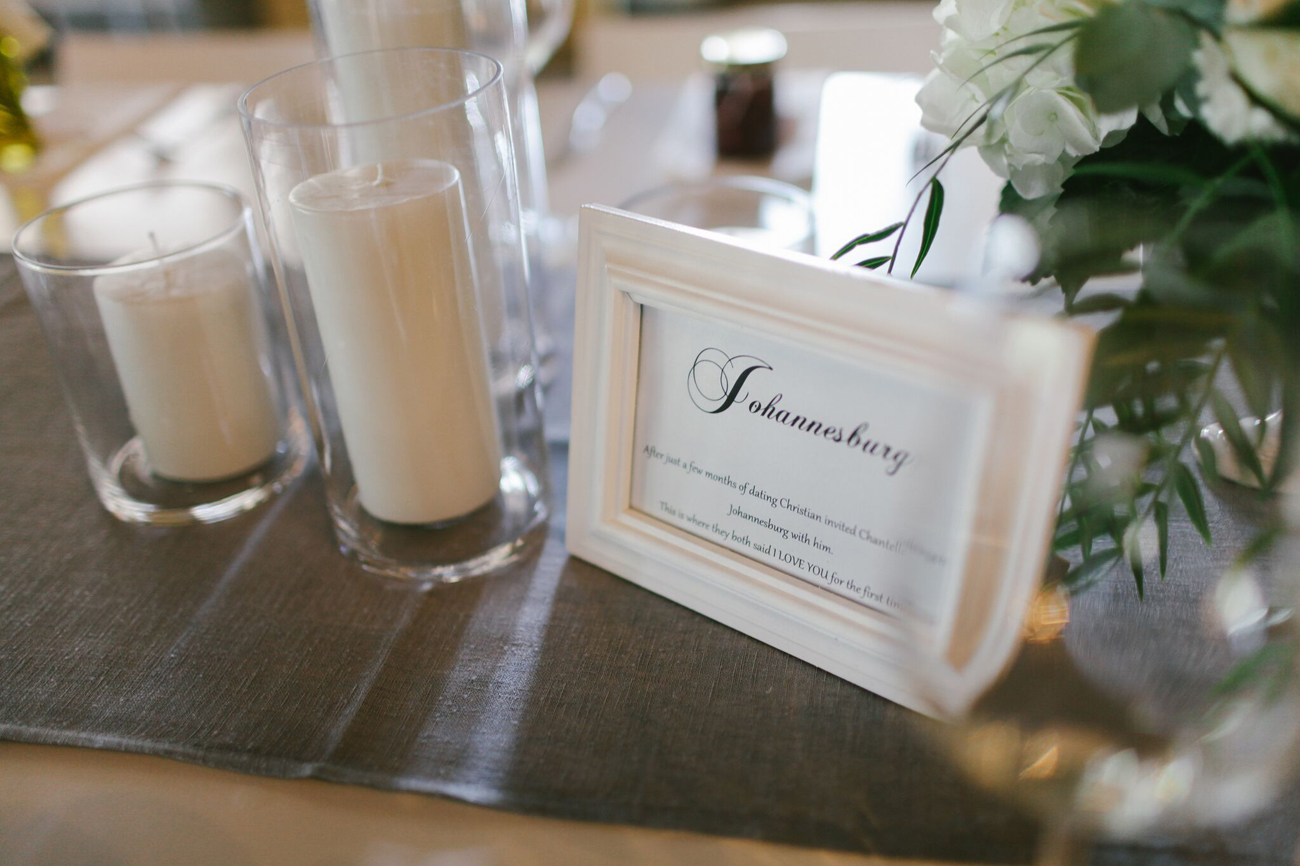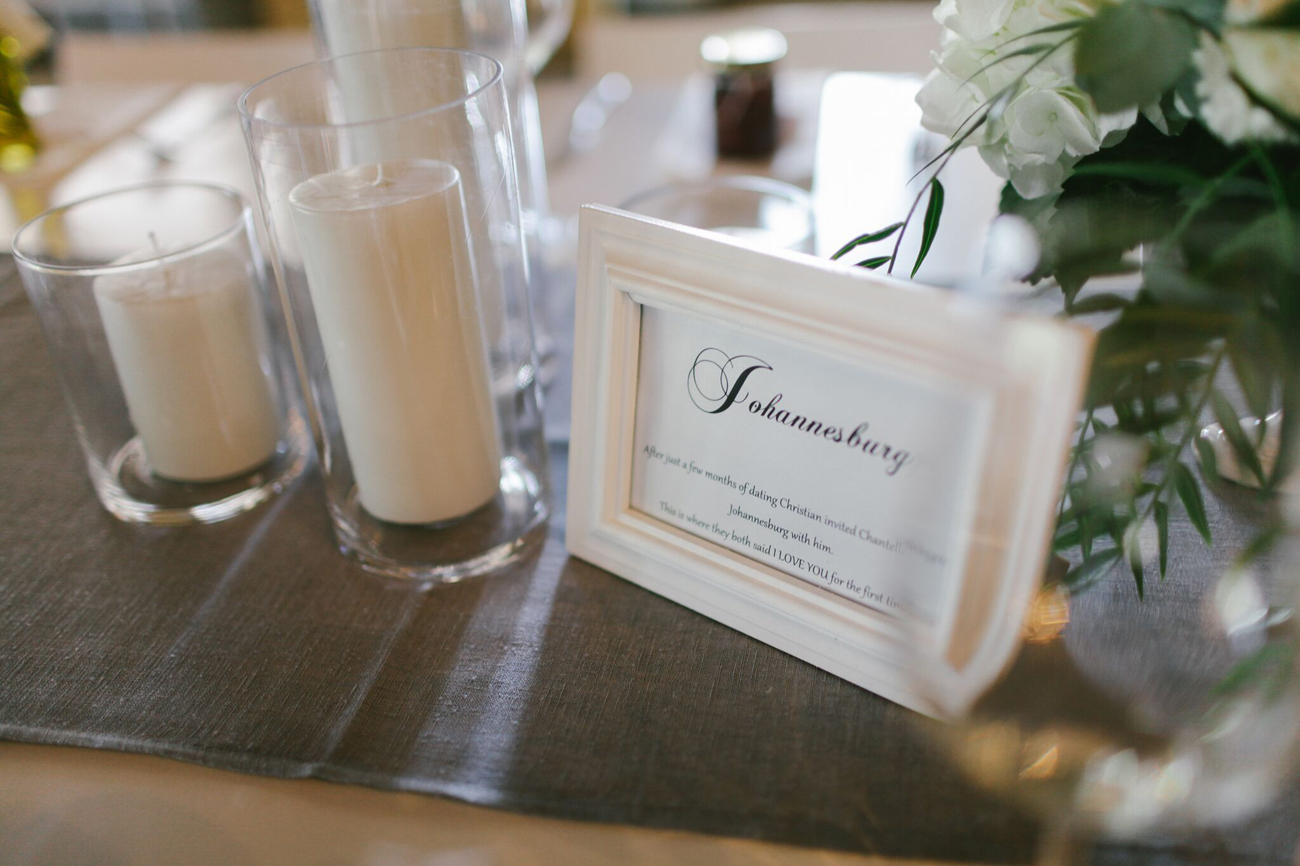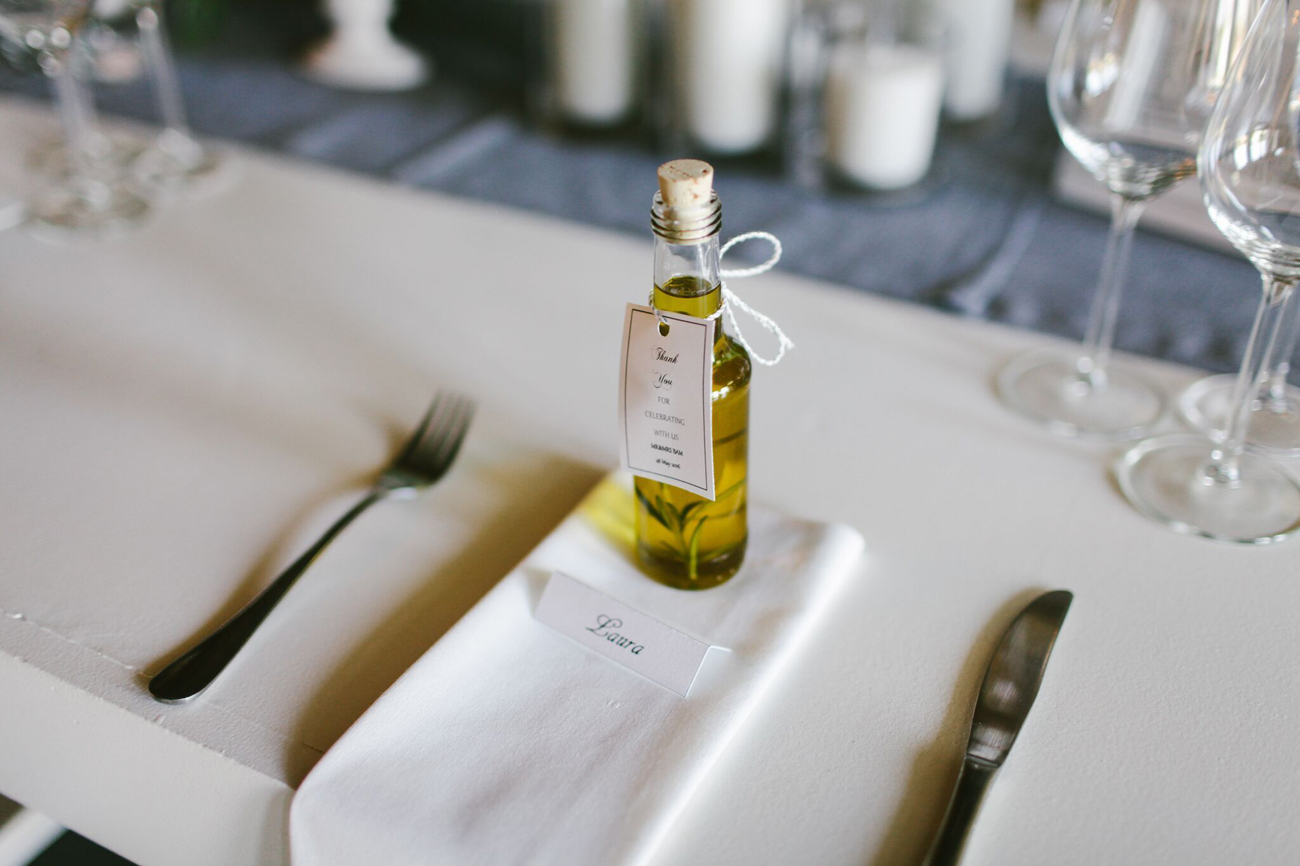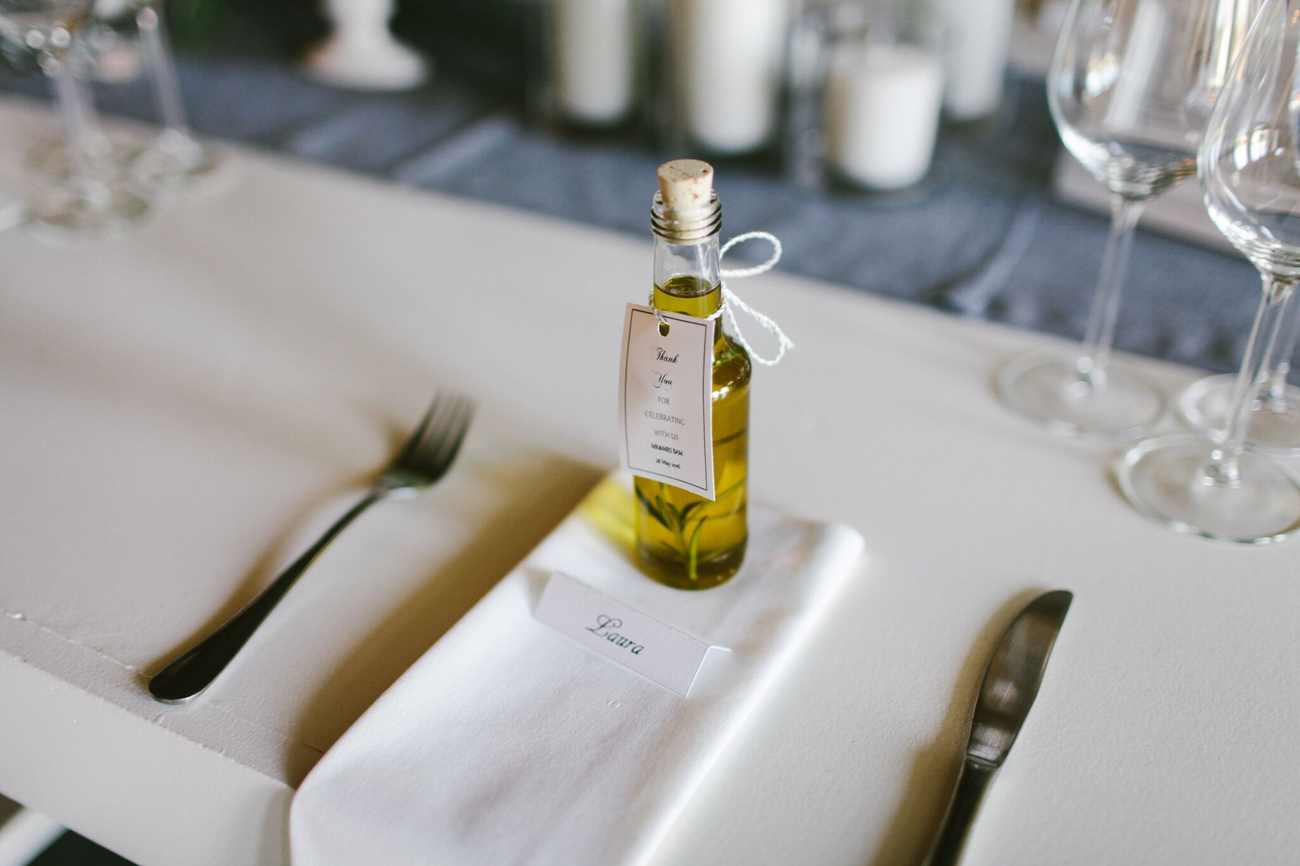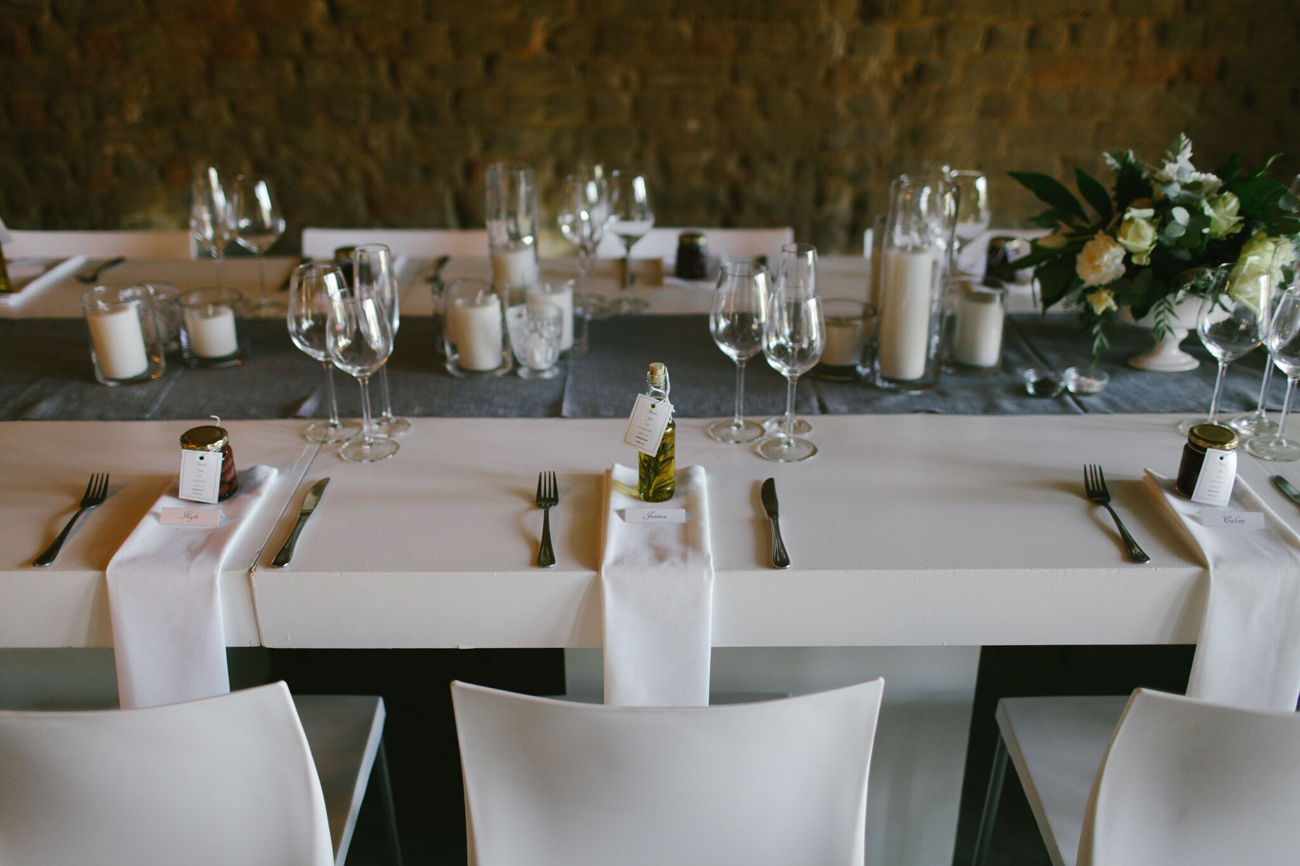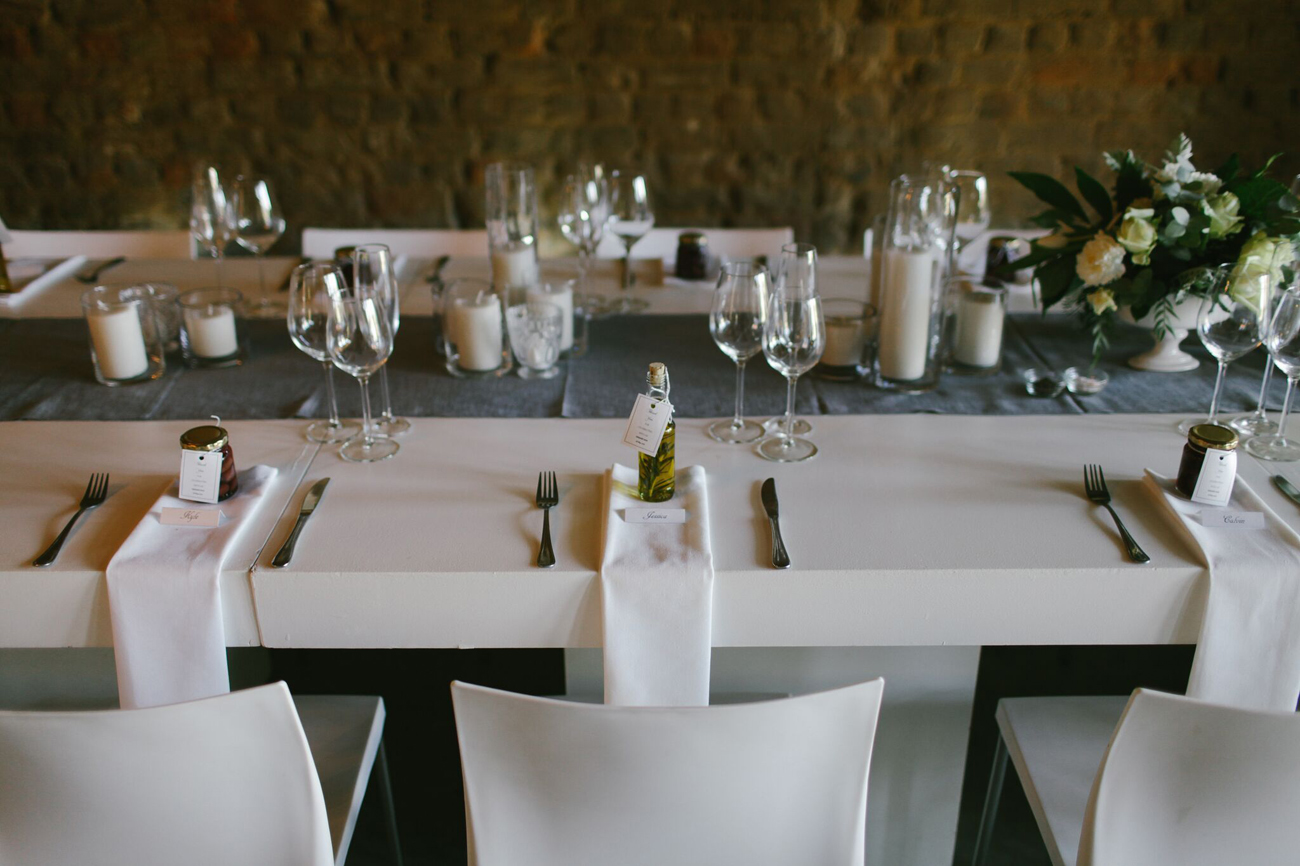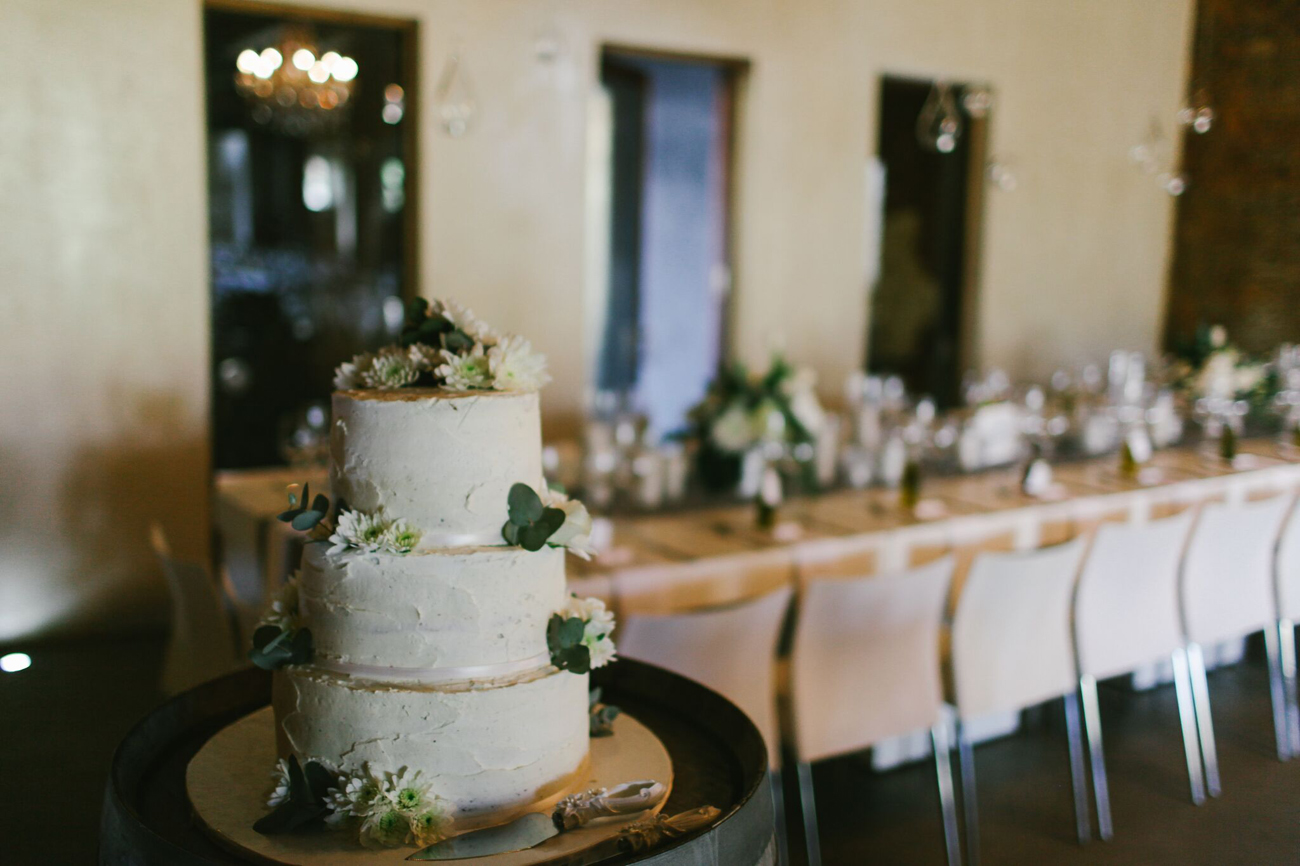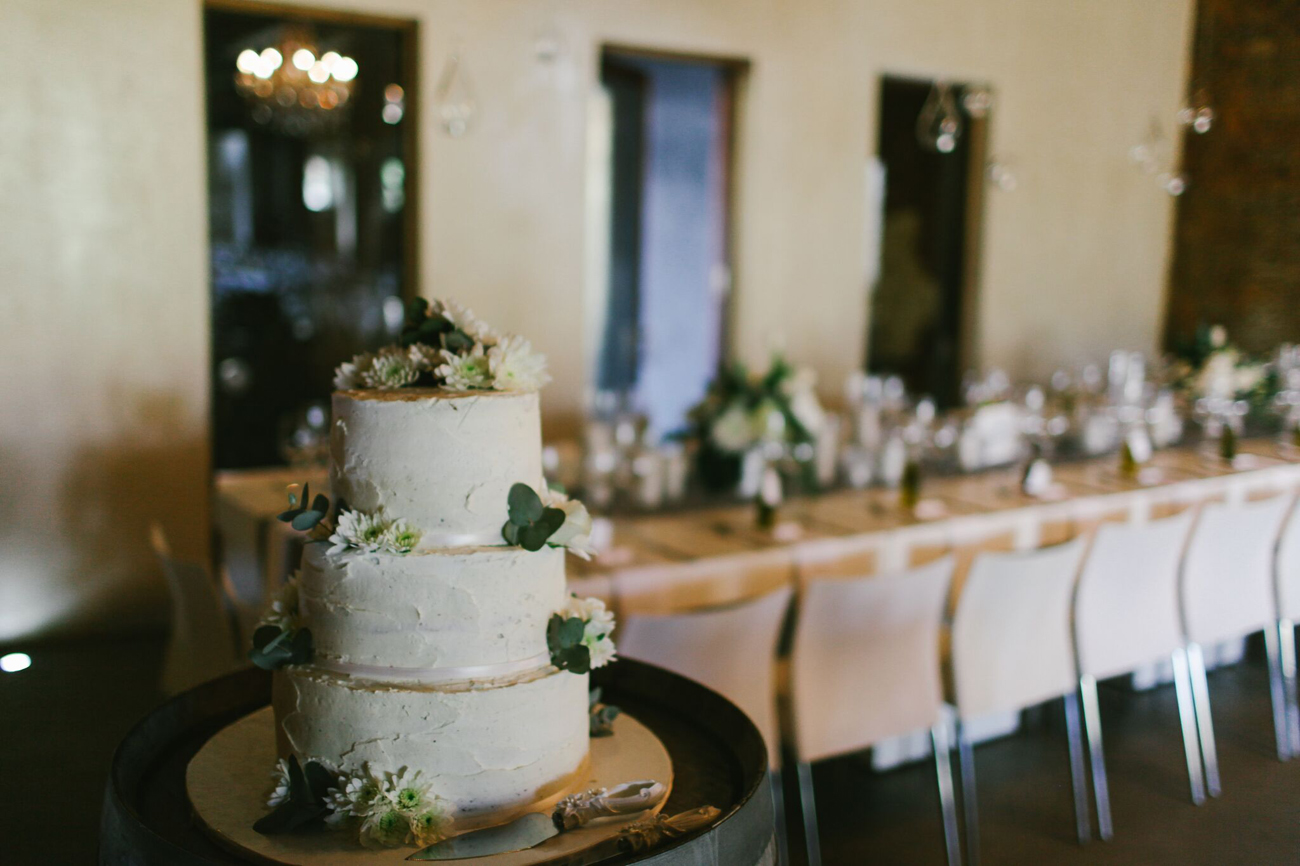 Memorable Moment
Christian: When Chantelle started walking down the aisle and they played the song "Over the Rainbow" on the saxophone it was the most amazing and breathtaking moment of my life. As I looked to my left, I saw all three of my brothers cry and seeing that emotion from them was so special.
Chantelle: The moment I saw Christian at the end of the aisle there was a flood of emotions; that in itself is just such a unforgettable moment. Christian's father passed away six years ago and the way he was honoured throughout the whole wedding was very emotional for both of us.
Best Decision
Having Christian involved in every aspect of the wedding. I think as a bride we tend to run with things and our husbands get left behind, but I wanted both of our stamps on every detail of the wedding. We wanted guests to walk away and think that they saw aspects of myself and Christian.
Advice for Future Brides & Grooms
ENJOY EVERY MOMENT! You will be married for the rest of your life, but you will only be engaged once, so enjoy the journey that you are on. Respect and listen and to each other. When Christian proposed we started asking for quotes and we got a fright when we saw the costs involved so we decided to be engaged for a longer period- a total of 15 months. We opened two separate bank accounts. One wedding fund and one honeymoon fund, and every month Christian and I would put money aside into each account. It really helped us a lot throughout our wedding planning.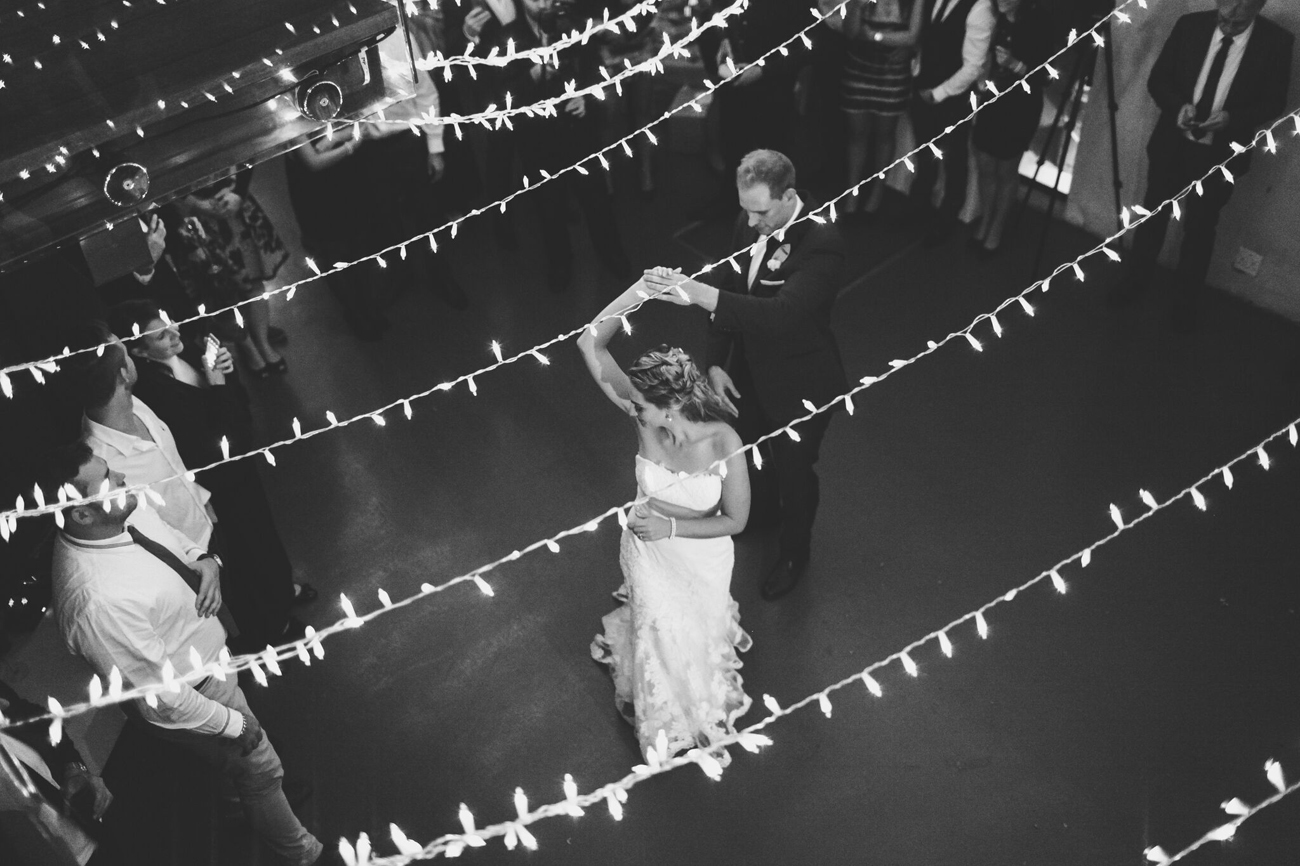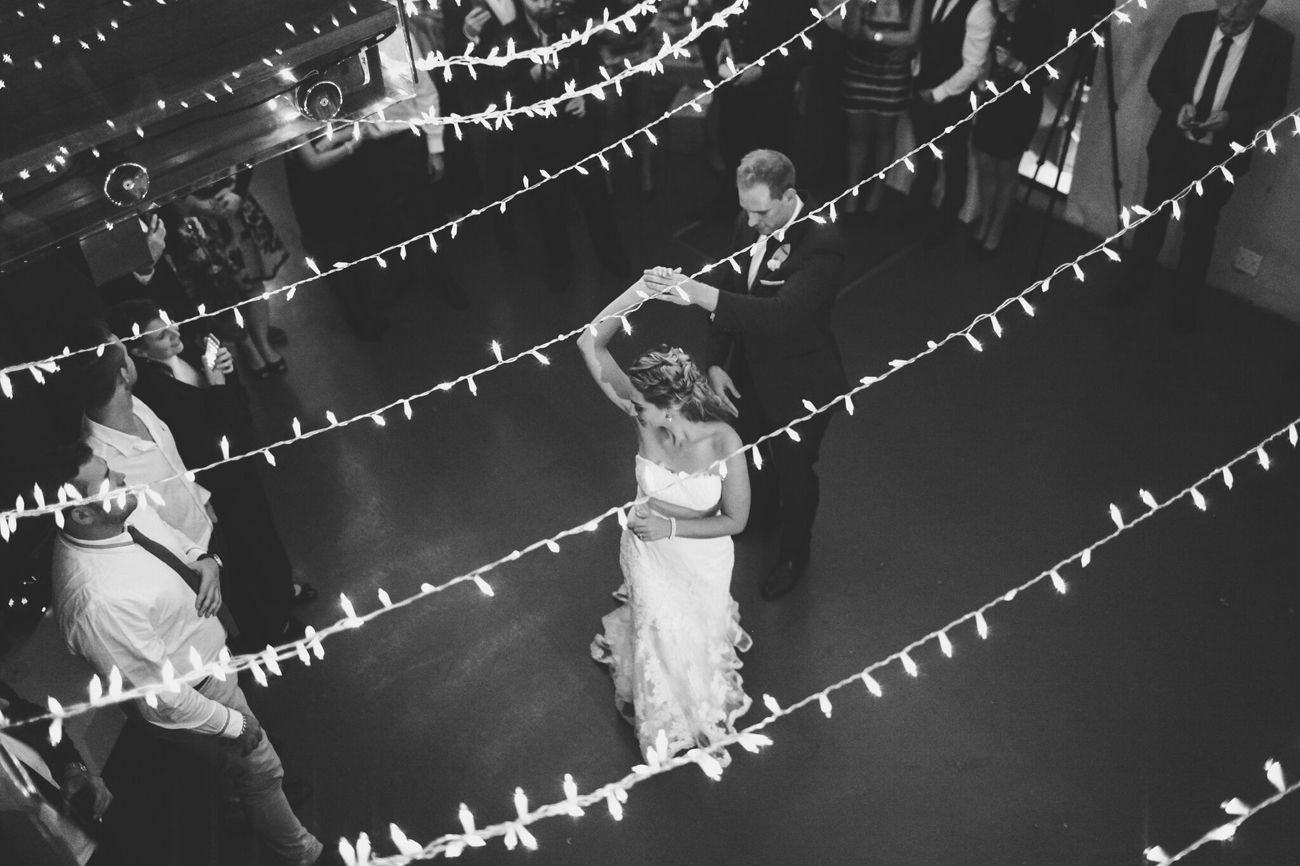 You can see more from this wedding on Justin Davis' blog.
SERVICE PROVIDERS
Venue & catering: 401 Rozendal | Photography: Justin Davis Photography | Flowers & décor: Sitting Pretty | Video: 25 Weddings | Cake: Bake Your Day | Bride's dress: Brides of Somerset | Hair: Suzette from Texture Hair Design | Makeup: Peach Cronje Make up Artistry | Bridesmaids' dresses: Tiara on Kloof | Groom's attire: The Tailor Shop | DJ: Werner Denner


Save