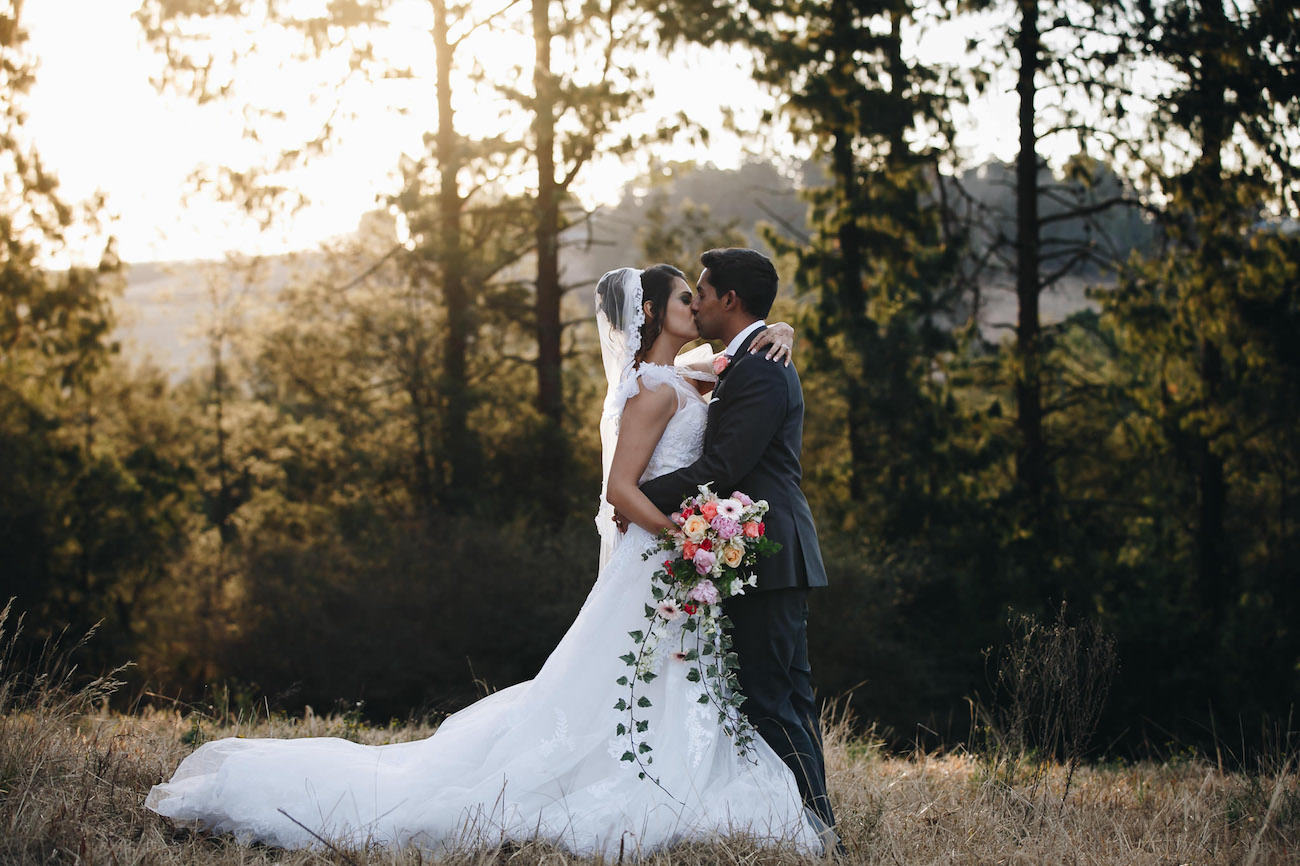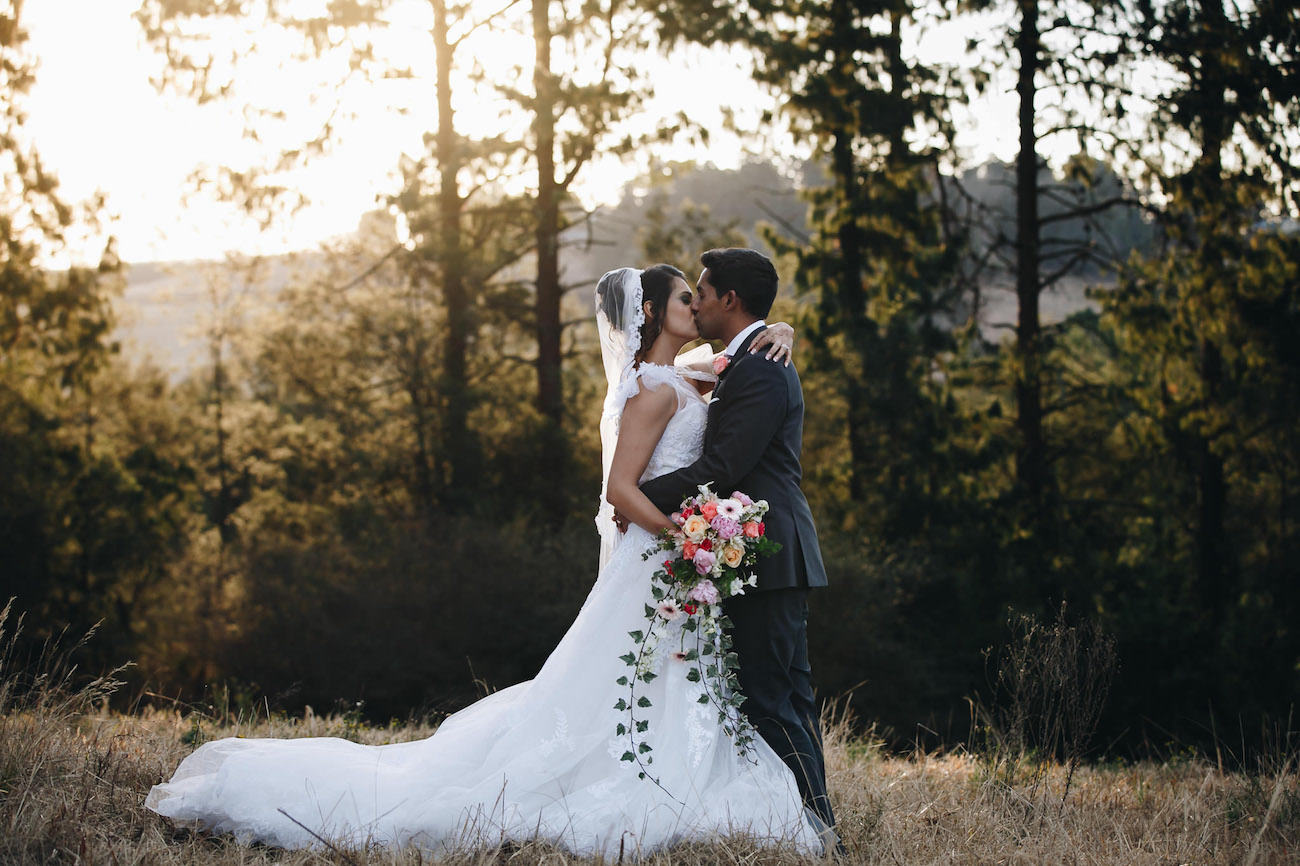 I'm lucky enough to live in KZN, close enough for a day trip to the Midlands, but I still stop and stare at its beauty every time I visit. It's also an idyllic spot for weddings, which of course is why so many couples choose it as a destination location for their nuptials, and Sonia and Preshen did just that when they picked Providence for their own big day. This gorgeous couple had two weddings, and we're featuring their intimate Catholic ceremony and reception today, complete with the most gorgeous florals in bright shades of coral and peach and pink (such a delicious palette!), as captured by the lovely Dear Chloe. But you guys, I have to make a special mention of Preshen's proposal because OMG I loved this one – even if you don't usually read the text be sure you do this time, as it's utterly adorable, especially if you're a dog lover like me! I (and Darcy, my own sweet pup) definitely approve!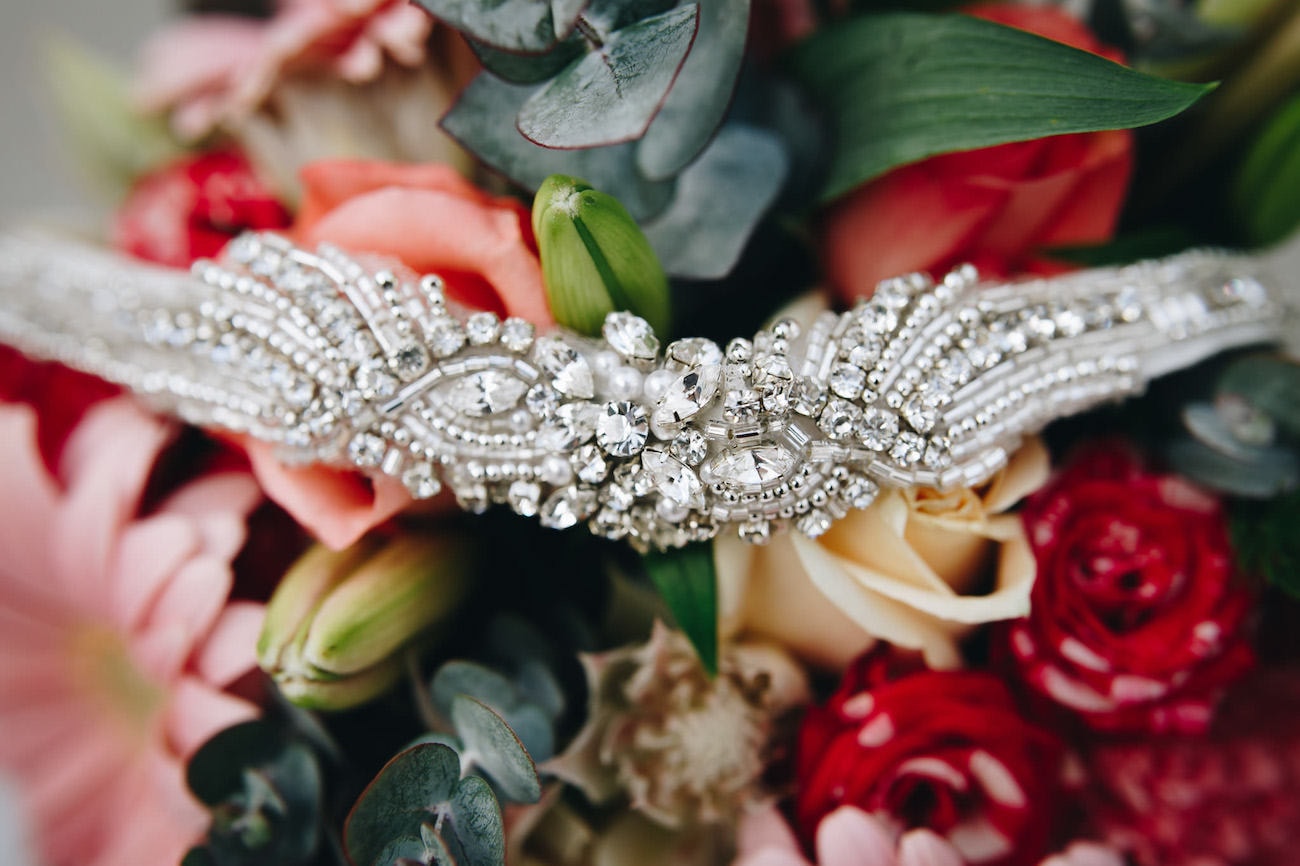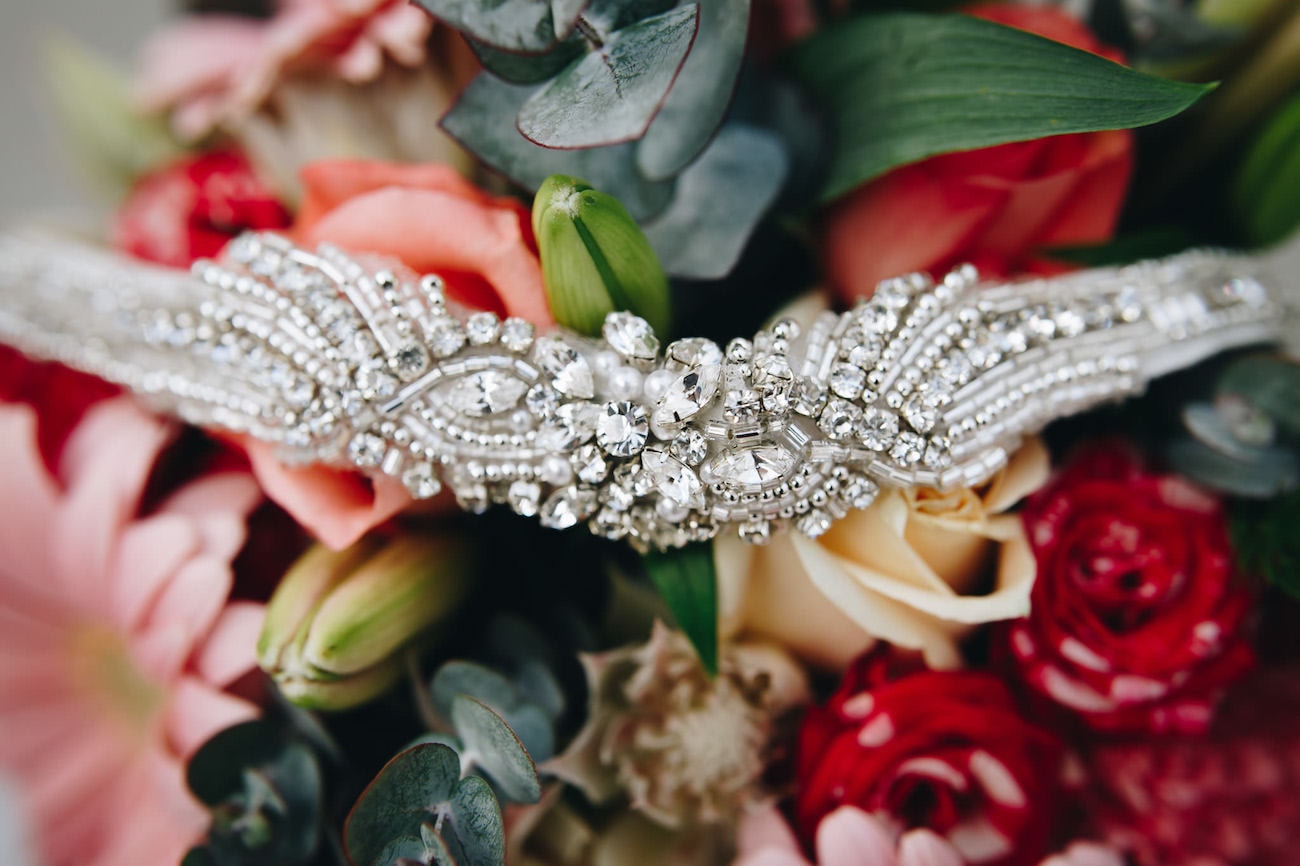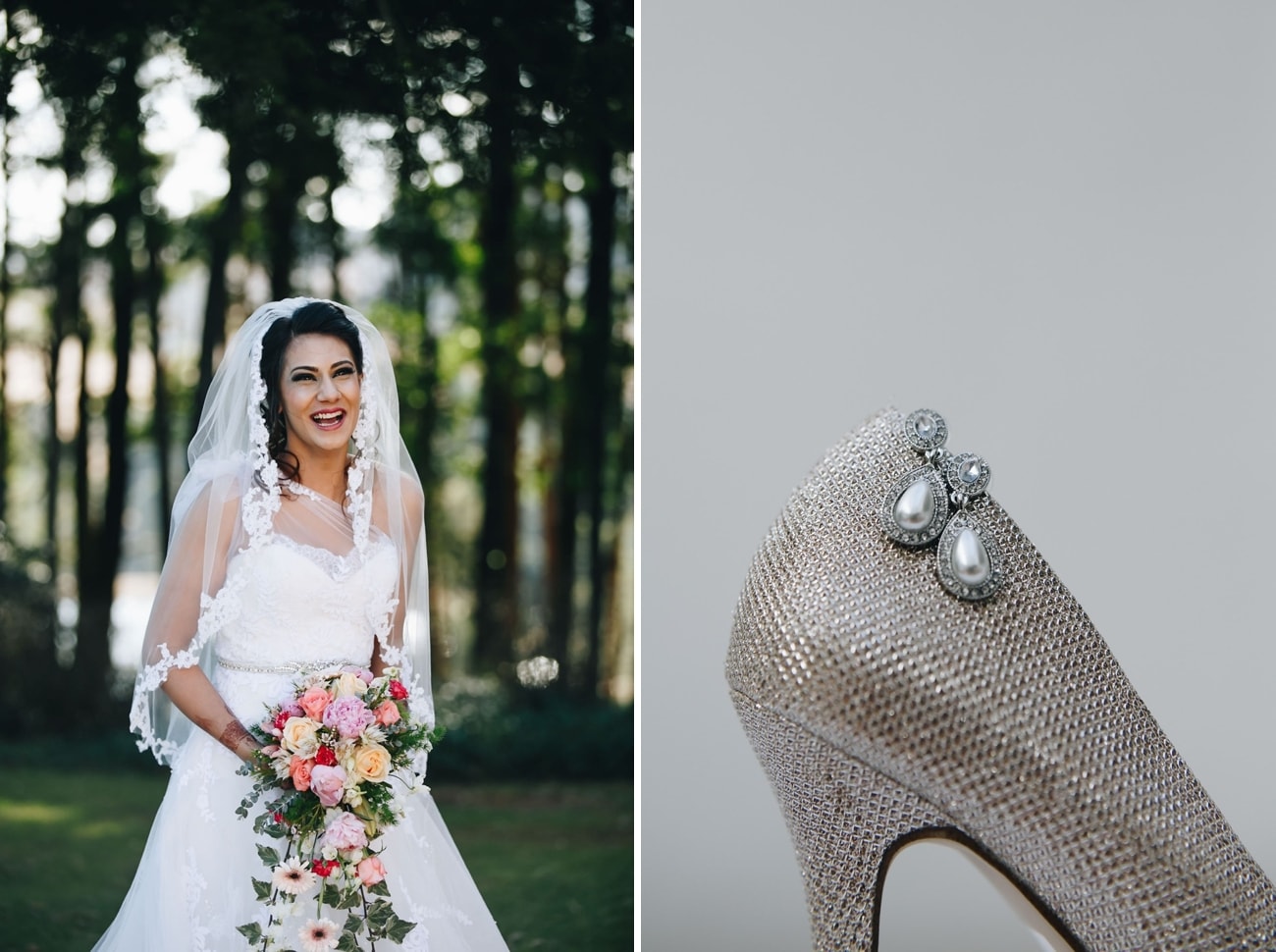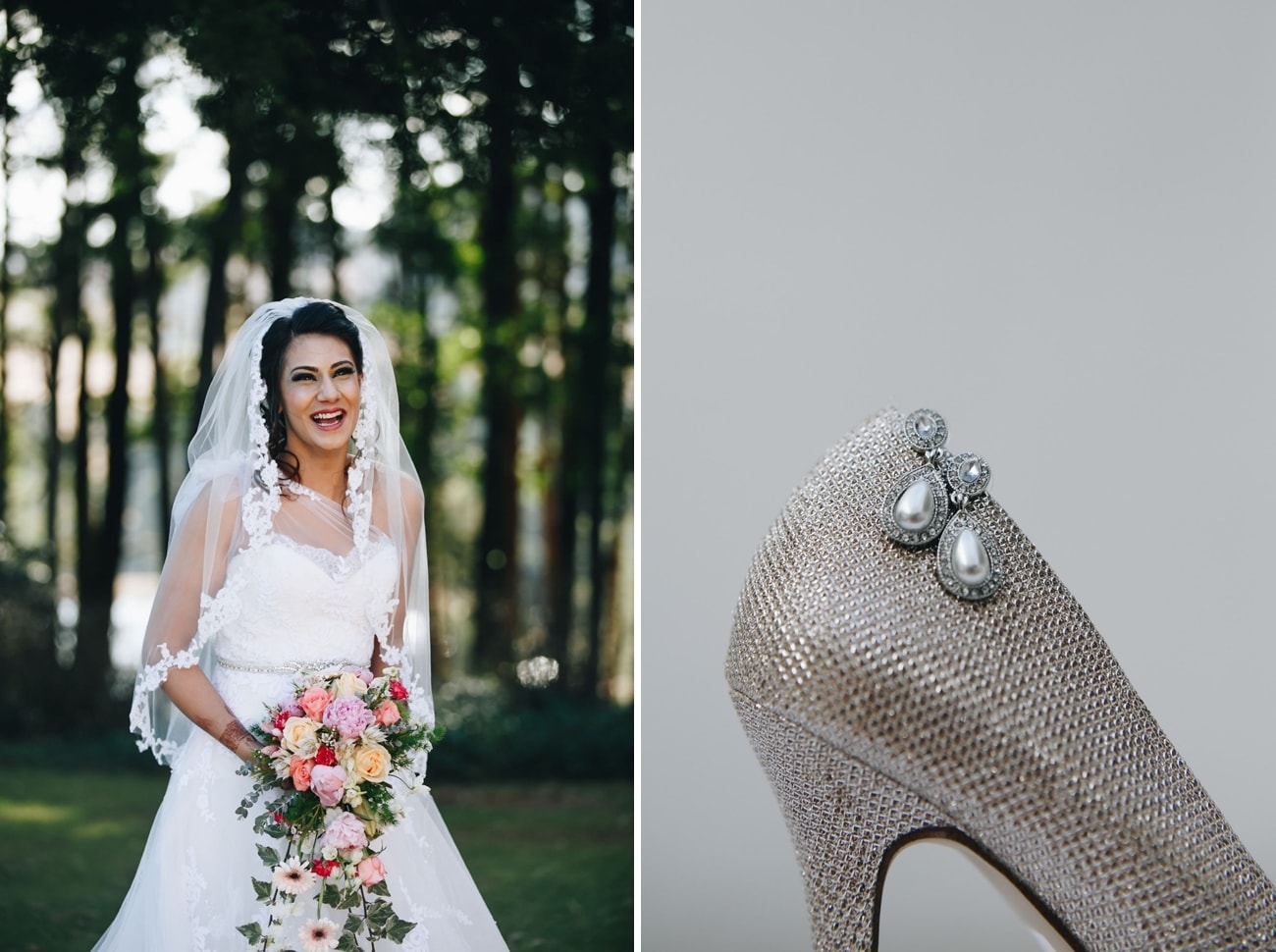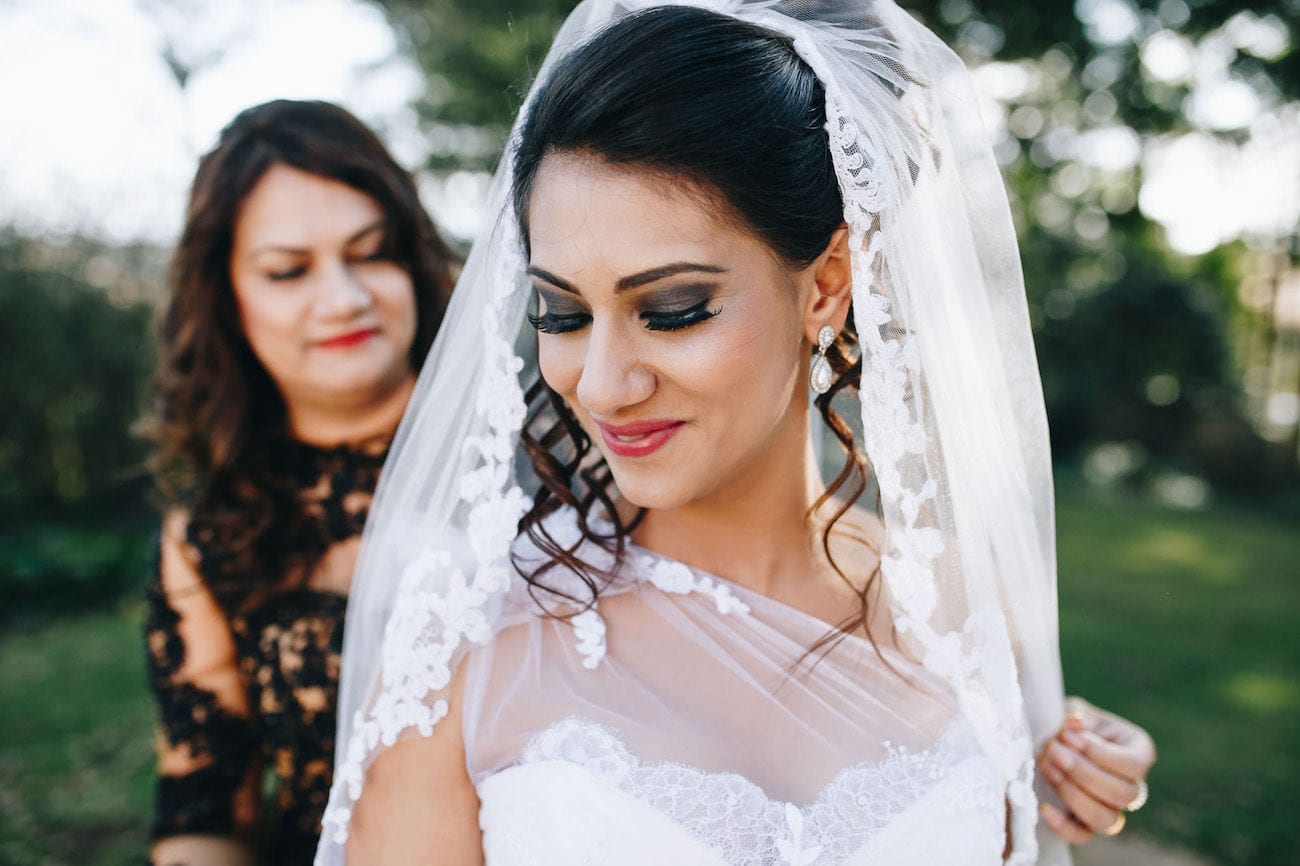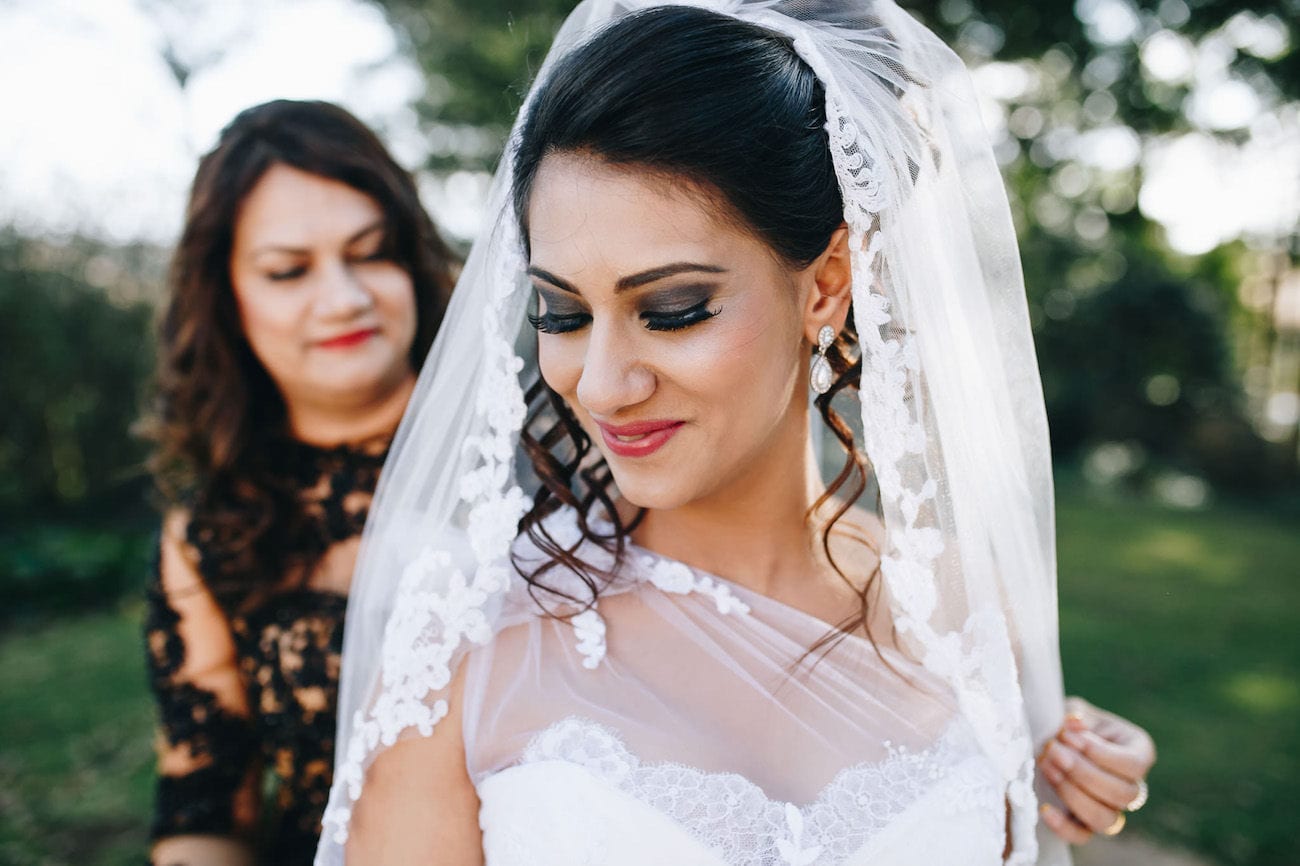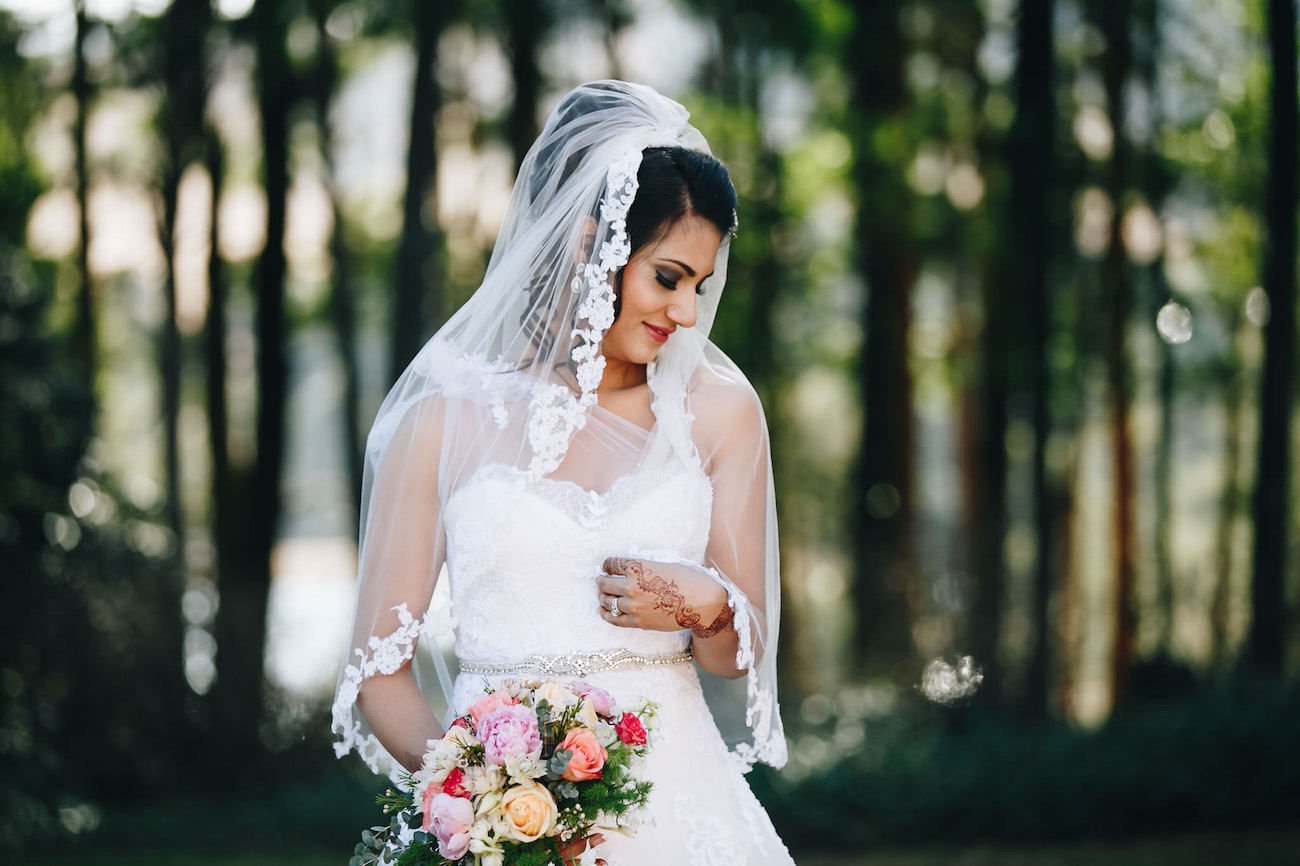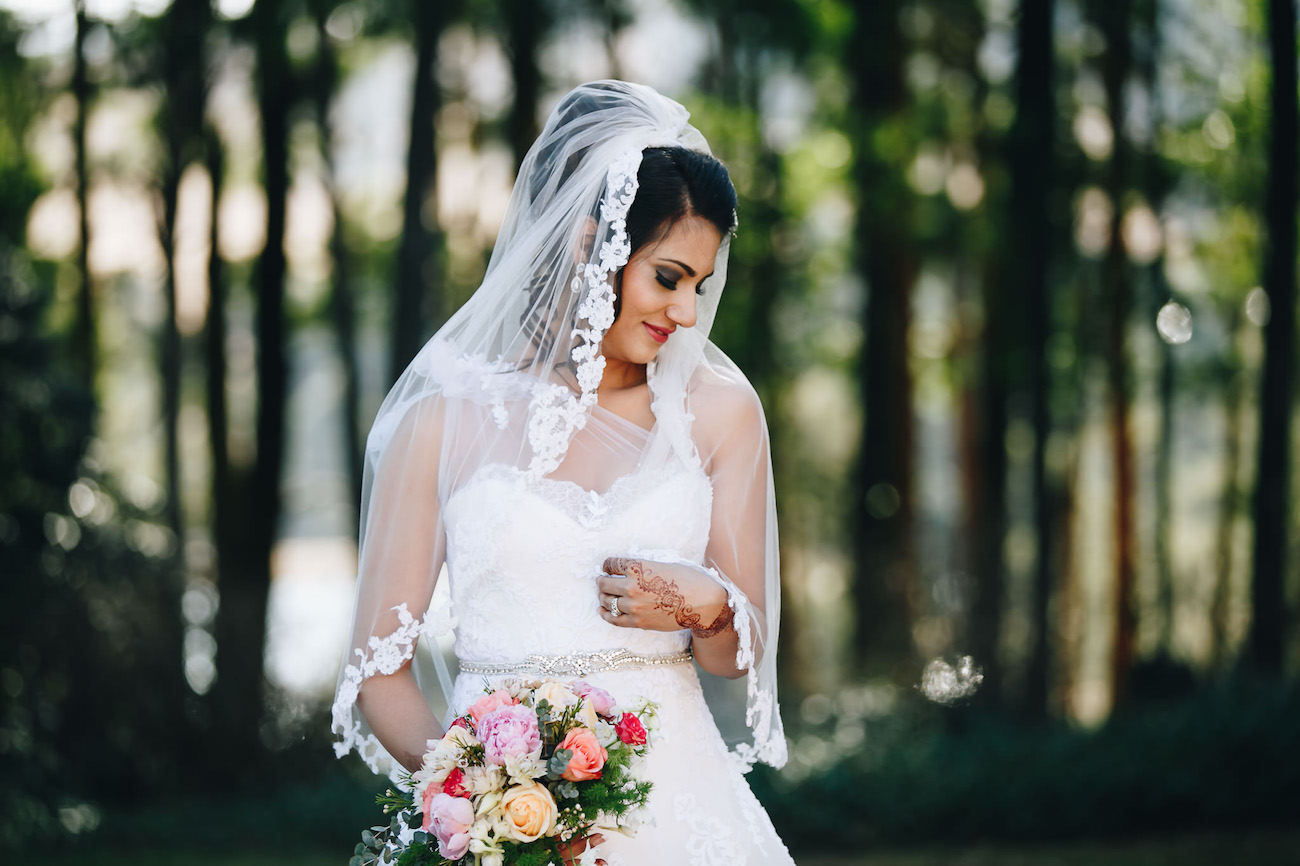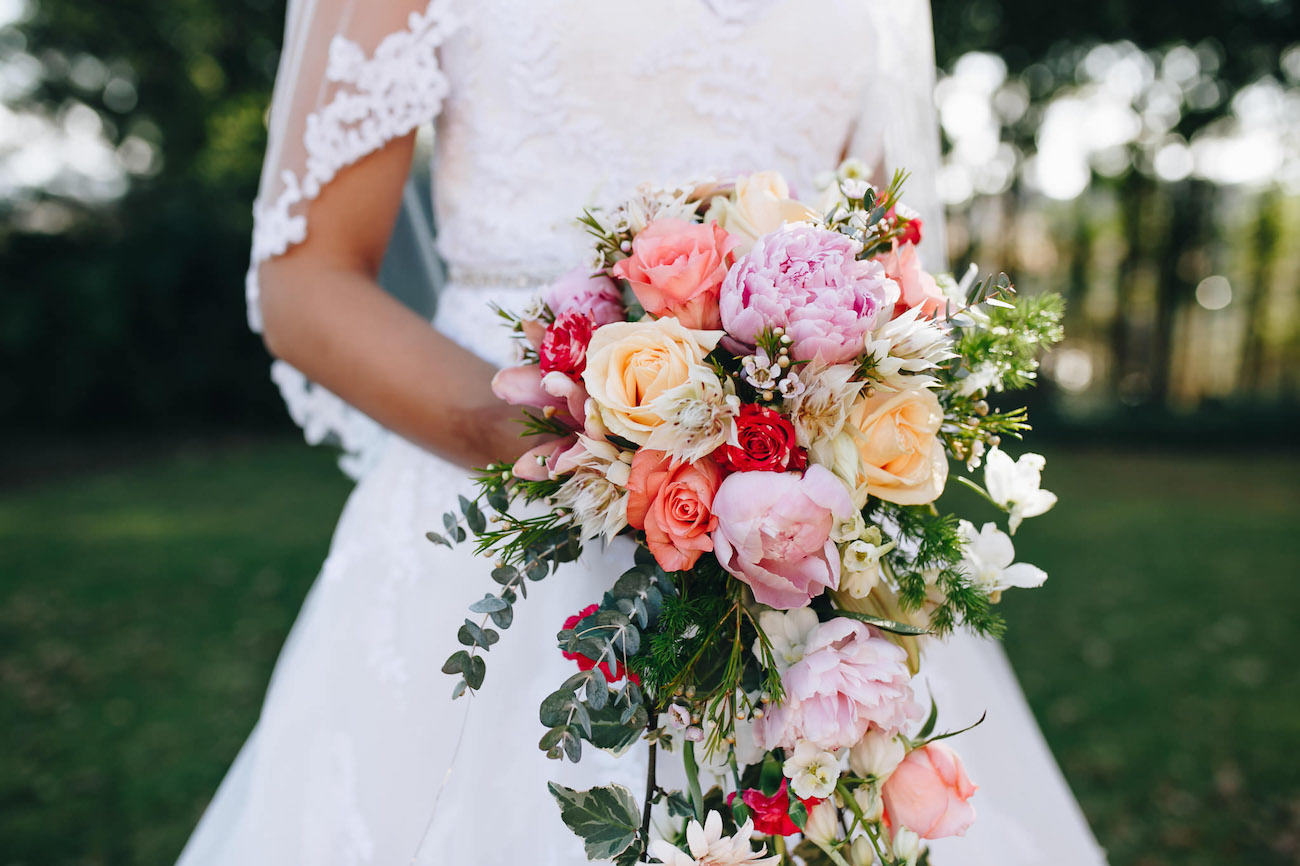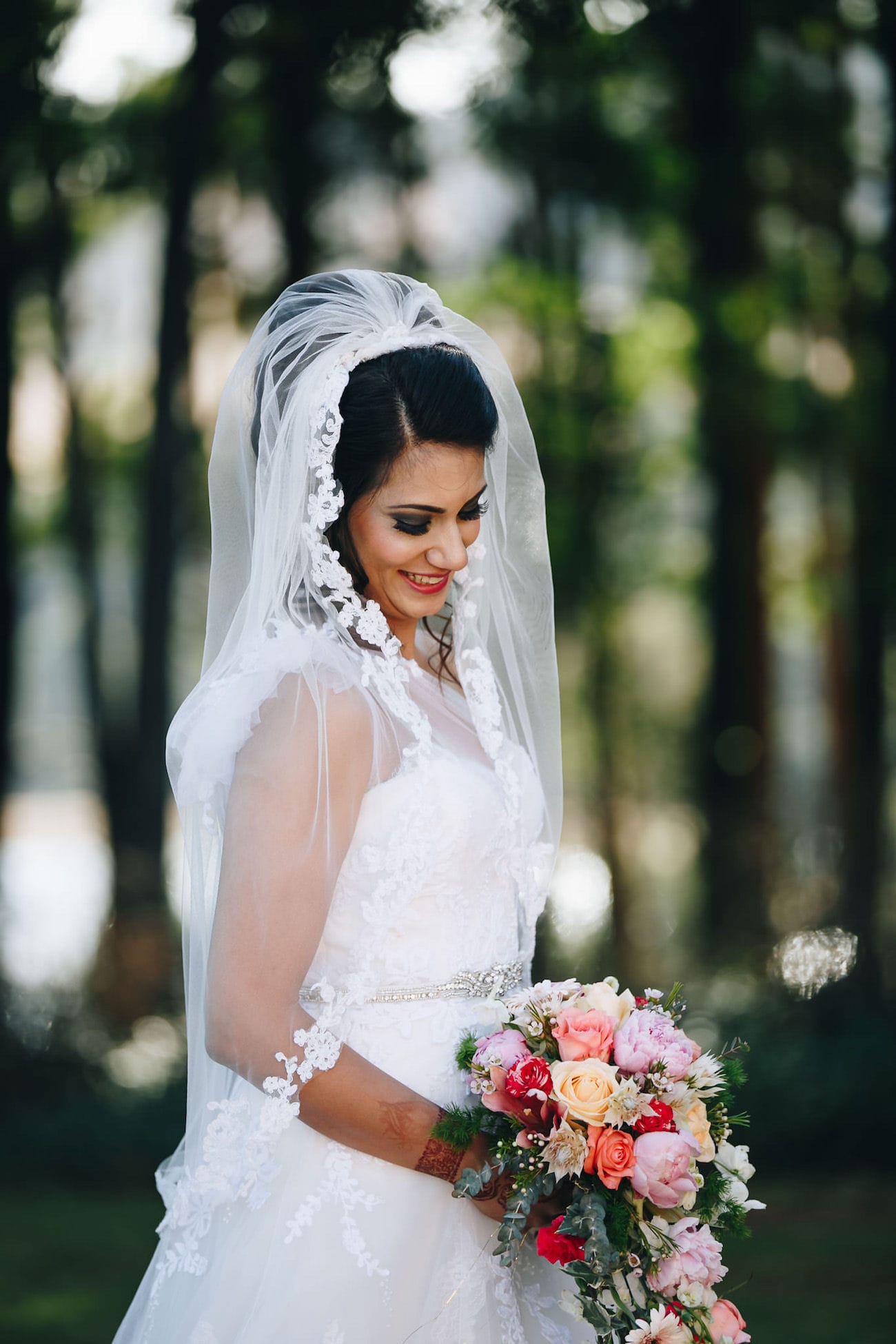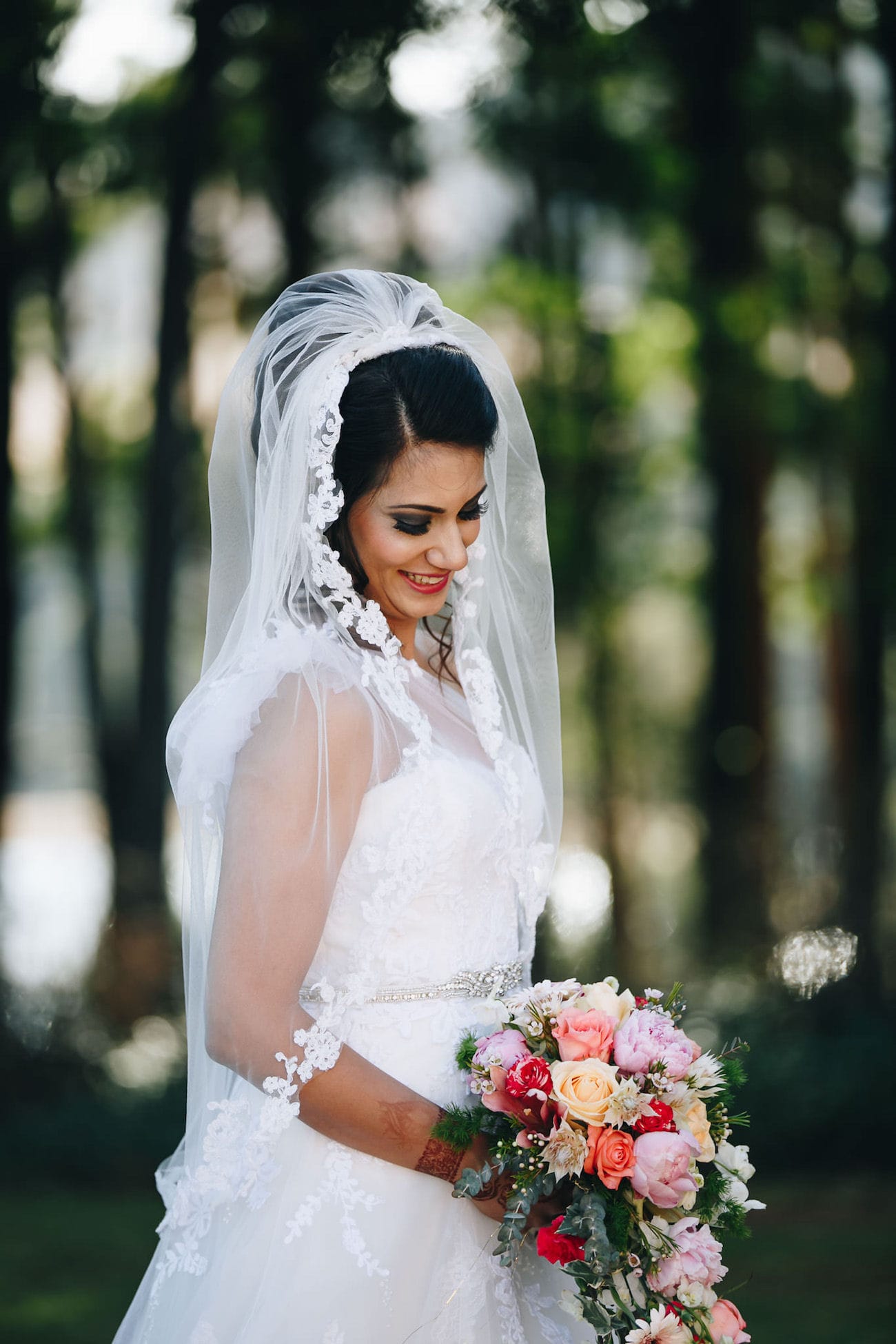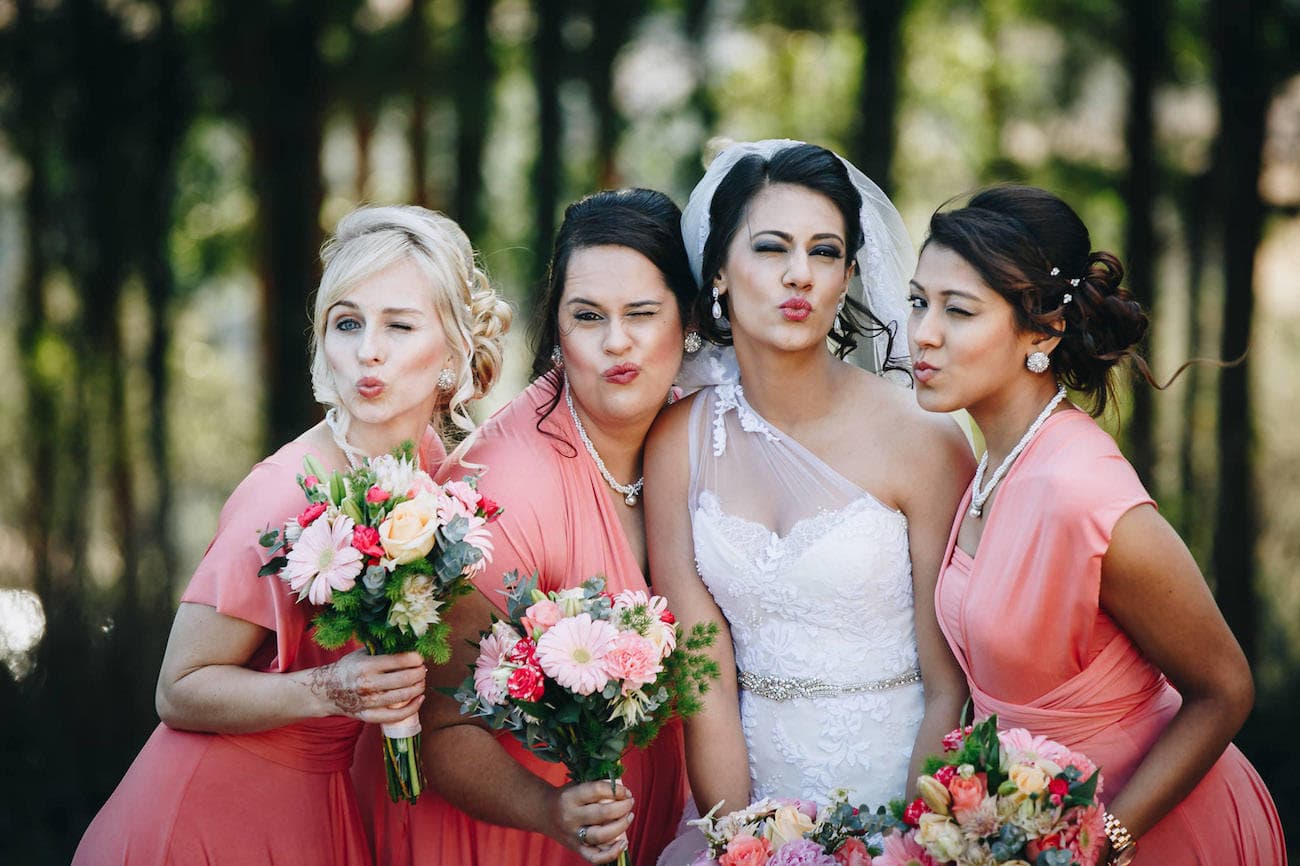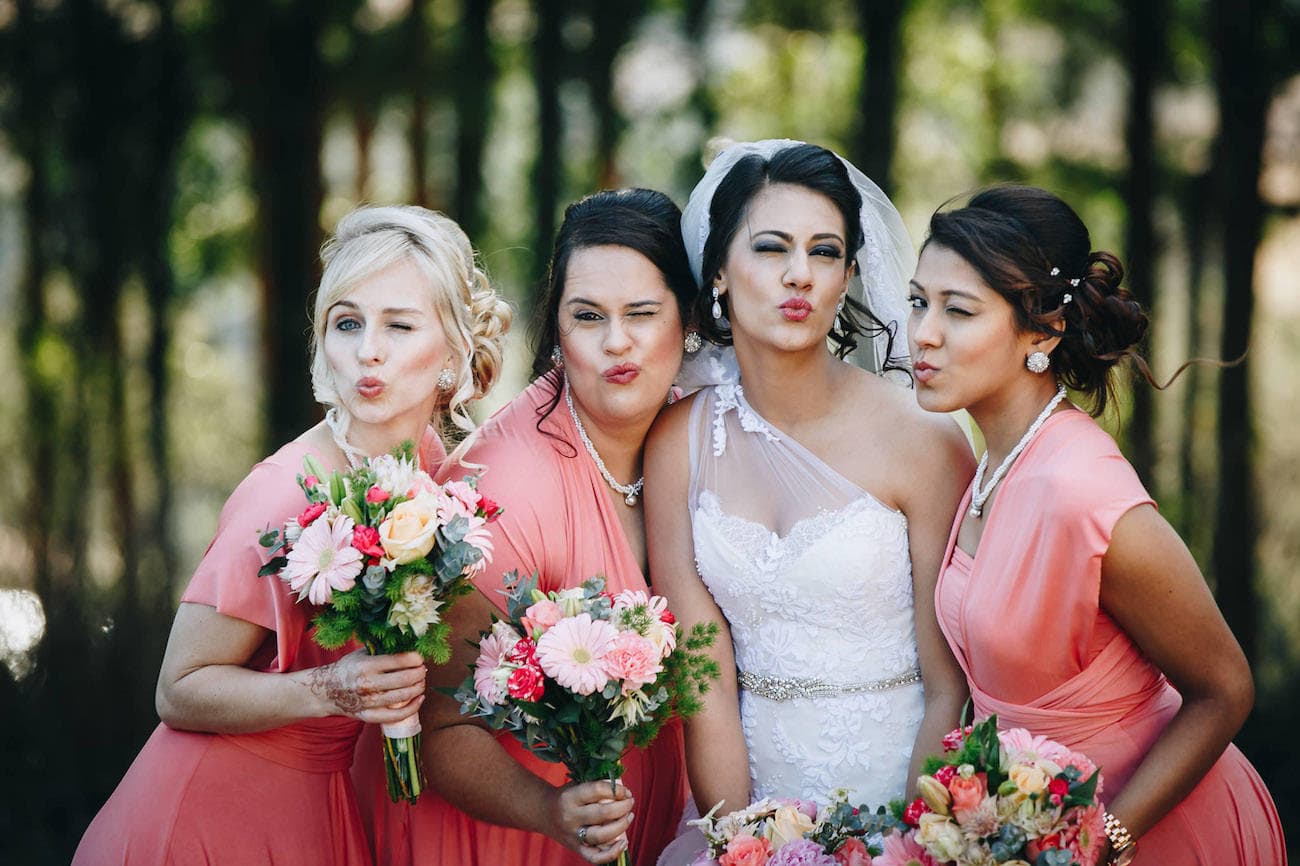 Love Story
We were invited to a mutual family friend's birthday party just over ten years ago. He was giving a toast and was a bit nervous. Truthfully I had spotted him a few years earlier at another birthday, and he had spotted me at a wedding before this party as well. But we hadn't met until that night. We started chatting a little, and the rest, as they say, is history!
The Proposal
We went for lunch in Parkhurst, Johannesburg, to a busy little restaurant called Expresso. When Preshen ordered a starter as his lunch, I should've known something strange was afoot. We finished lunch and he casually suggested we take a walk along 4th Avenue to check out the shops. We came across a small gallery called The Cow Artworks. He casually suggested we have a look. We worked our way from one side of the room to the other, with me commenting on all the pictures as though I was a seasoned art critic. As I set eyes on one of the last frames, I saw four very familiar faces looking back at me. I said: "That looks just like Luca!" (my puppy) It turned out that the picture, hanging amongst all the other art, was of Luca, my two other pups, and his little dog. Printed above their sweet faces was "Say Yes". With a shocked look on my face I turned to Preshen and saw him pulling out a ring box from his jacket pocket. And then he asked. And I said "Definitely Yes".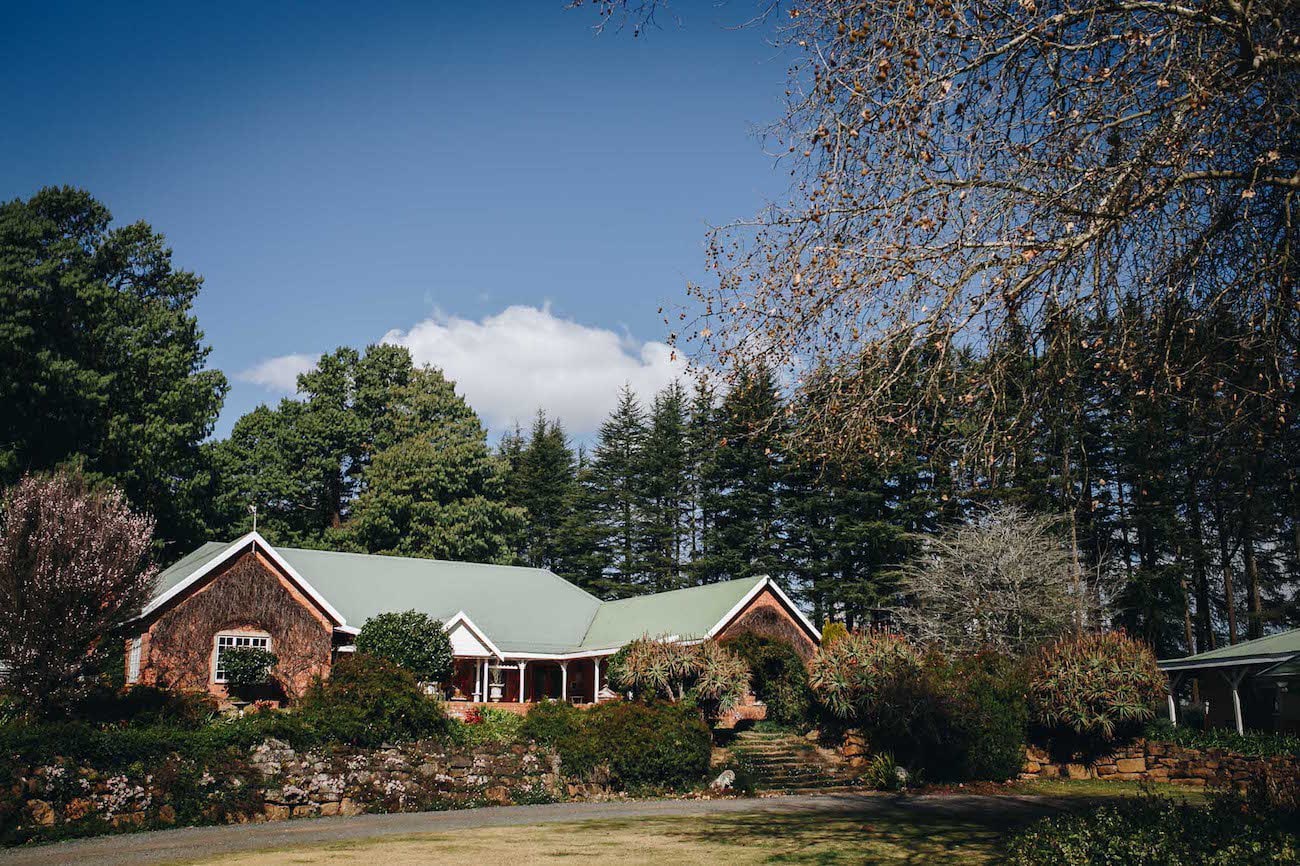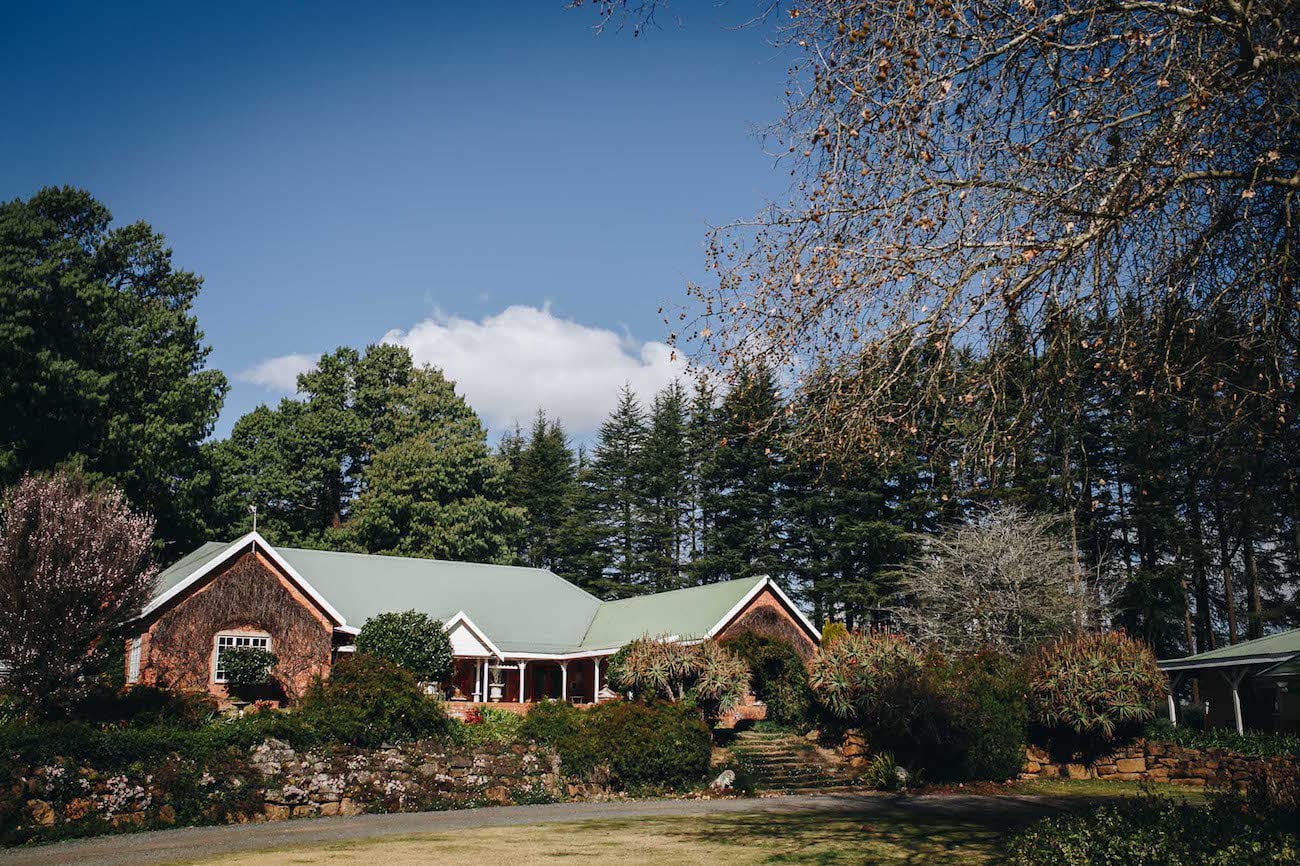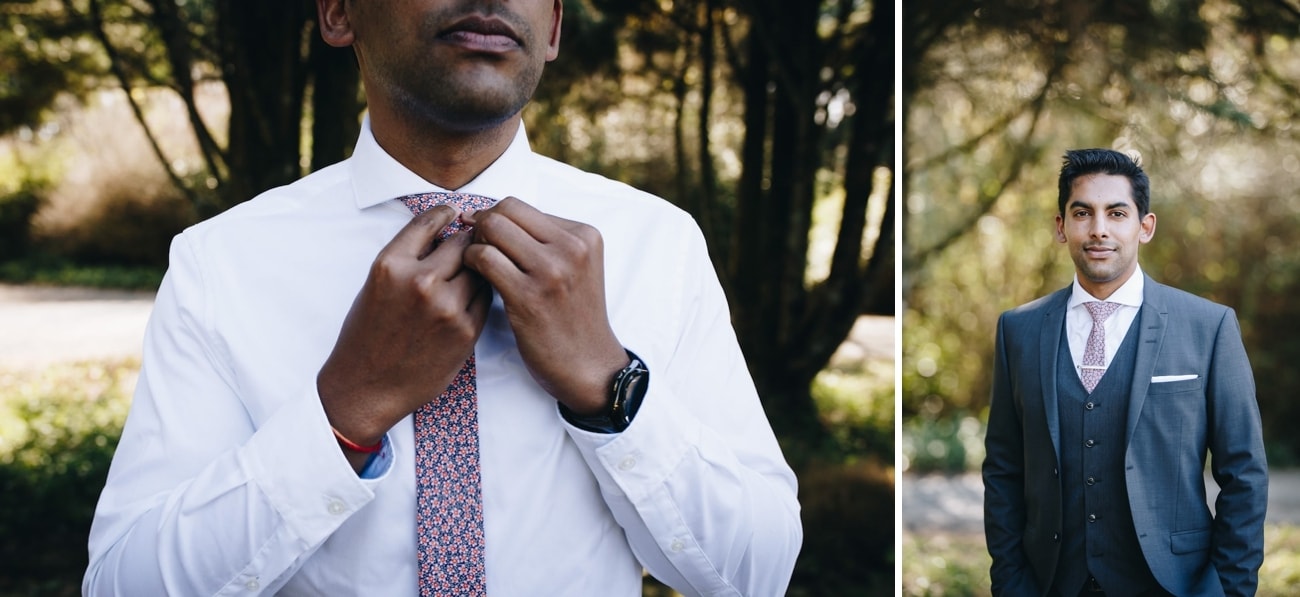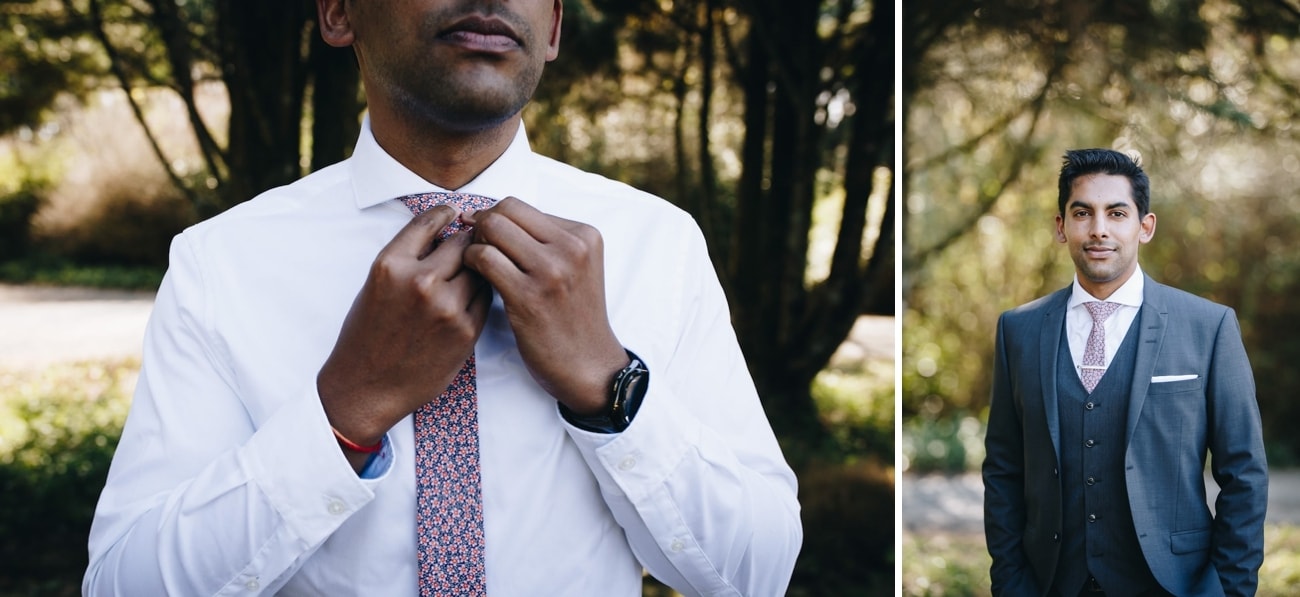 The Venue
I've always dreamt of a Midlands wedding, and on our first day of venue-hunting, we saw five or six beautiful places. As soon as we started walking around Providence, with the most welcoming owners, Kevin and Fern, we knew it was where we wanted to be married. The most beautiful grounds, quaint chapel, perfect reception hall, and most helpful hosts – I knew it would be so exciting to plan! We had two full weddings (our more intimate Catholic wedding at Providence and also our traditional Hindu wedding in the Botanical Gardens in Pietermaritzburg).

Wedding Style
Your imagination is the birthplace of beautiful ideas, but Pinterest DEFINITELY helps bring those ideas into focus. I found myself very drawn to the coral and grey colour scheme, and knew my husband-to-be would look amazing in a dark grey suit. I had a picture of what my wedding would look like in my mind, and found no shortage of ideas on the web.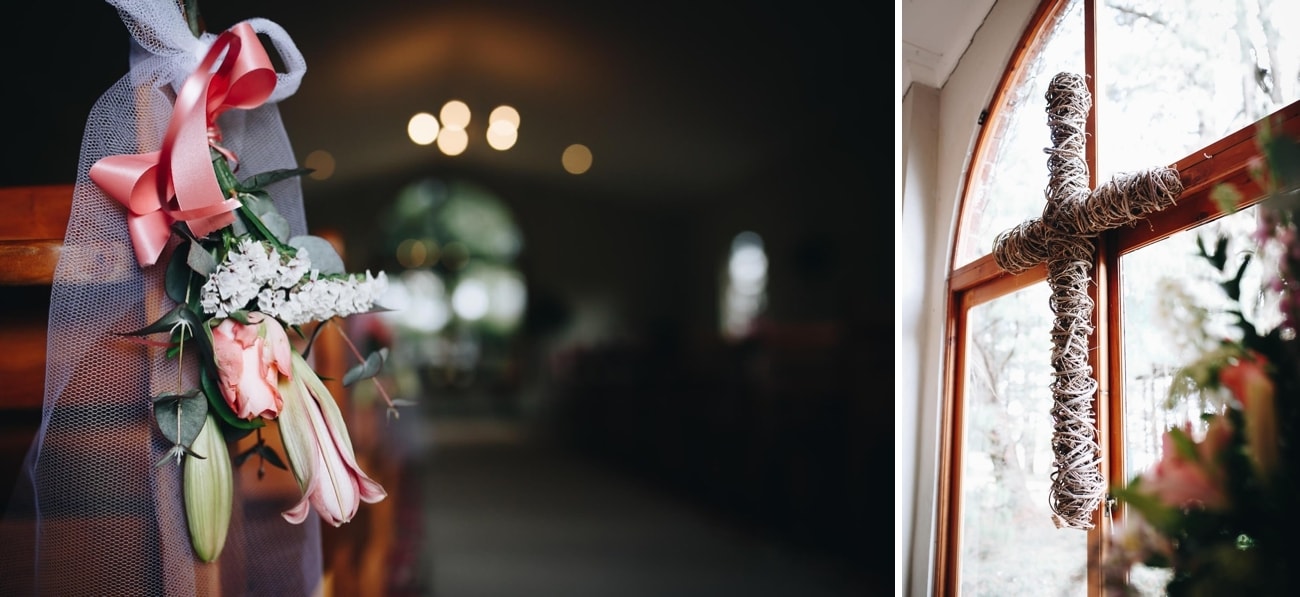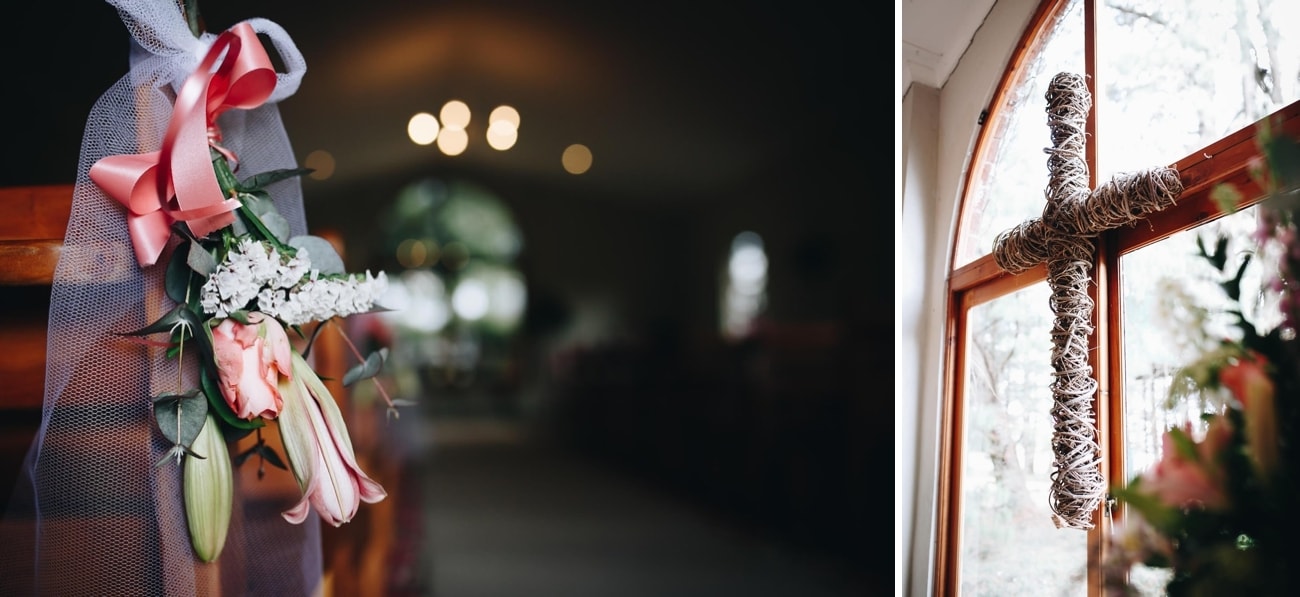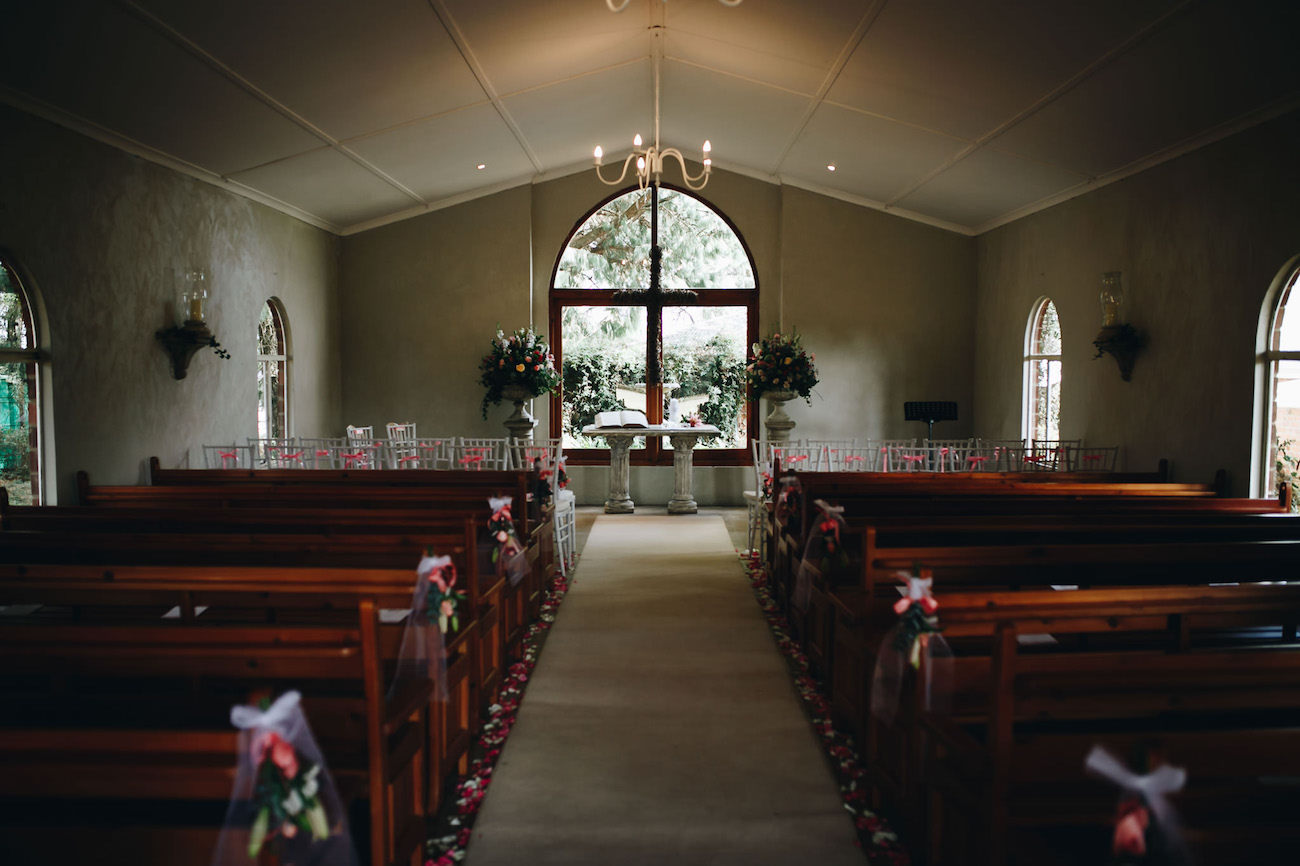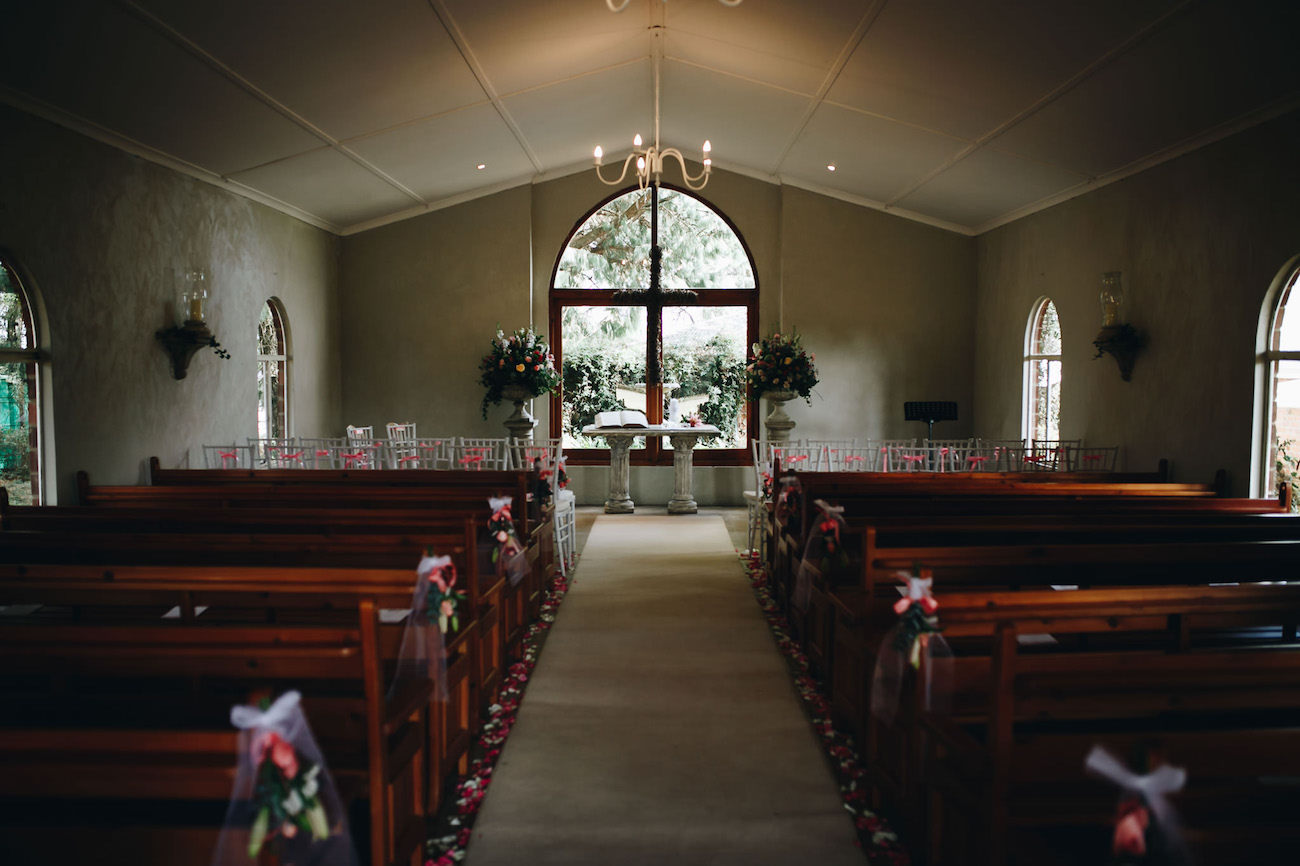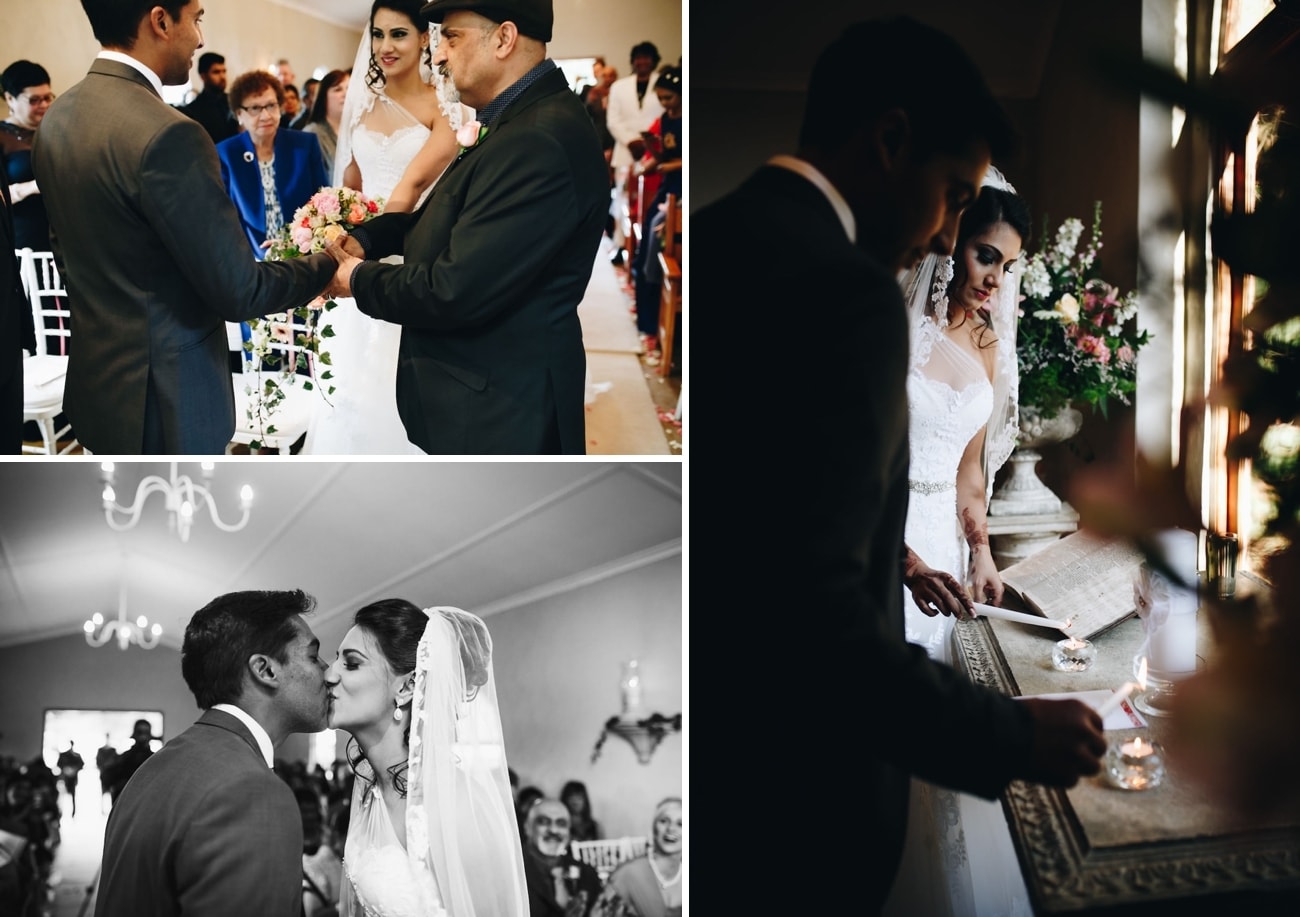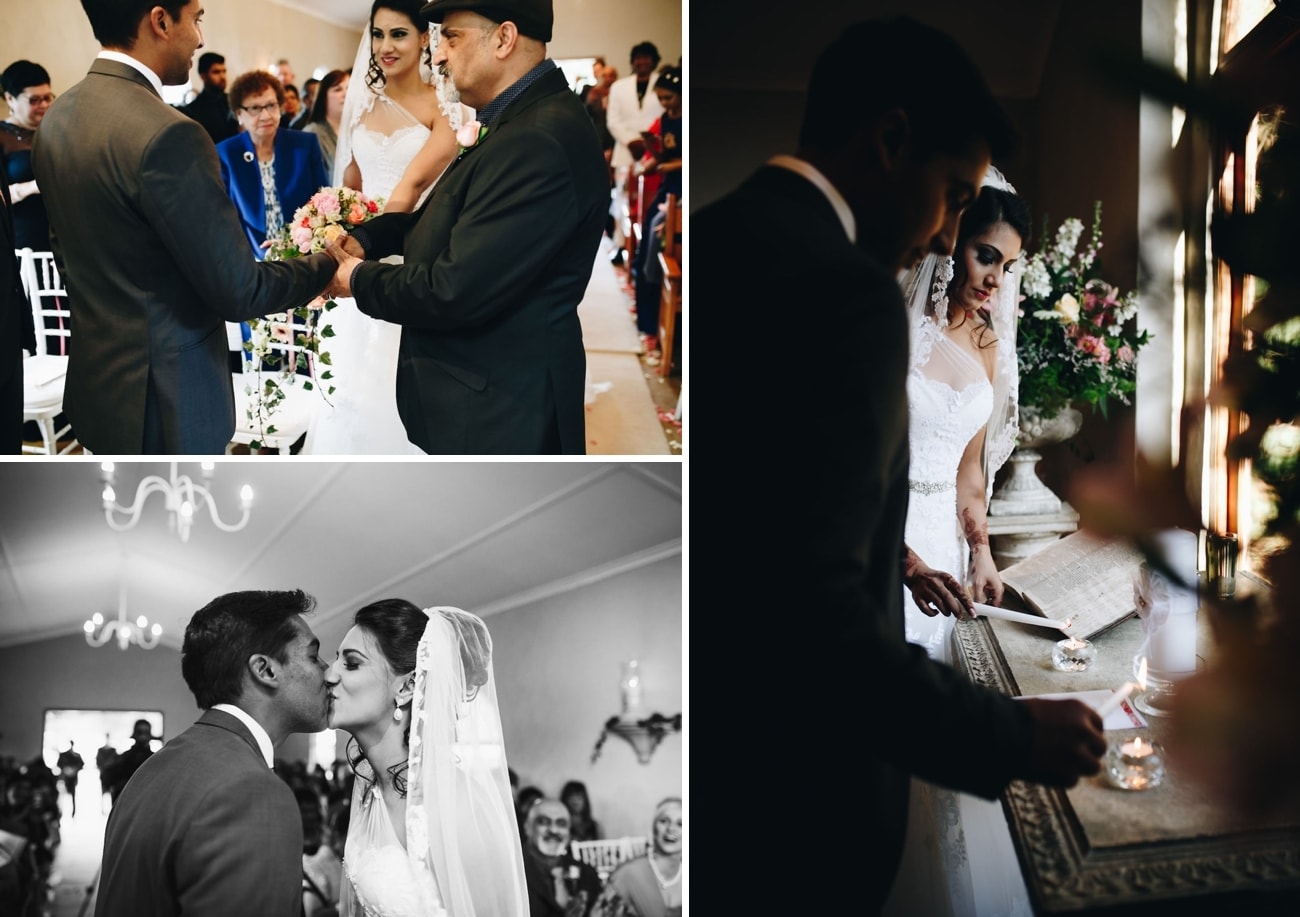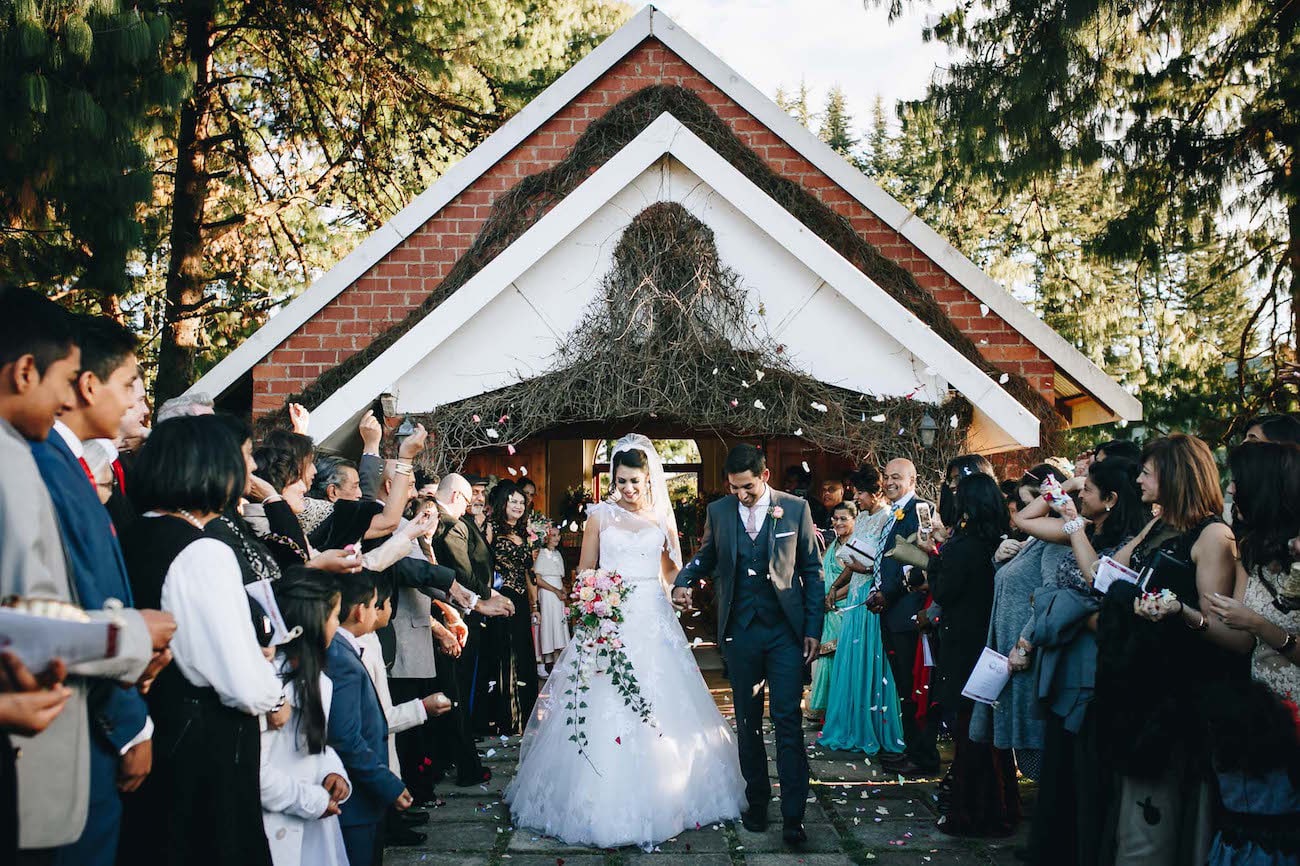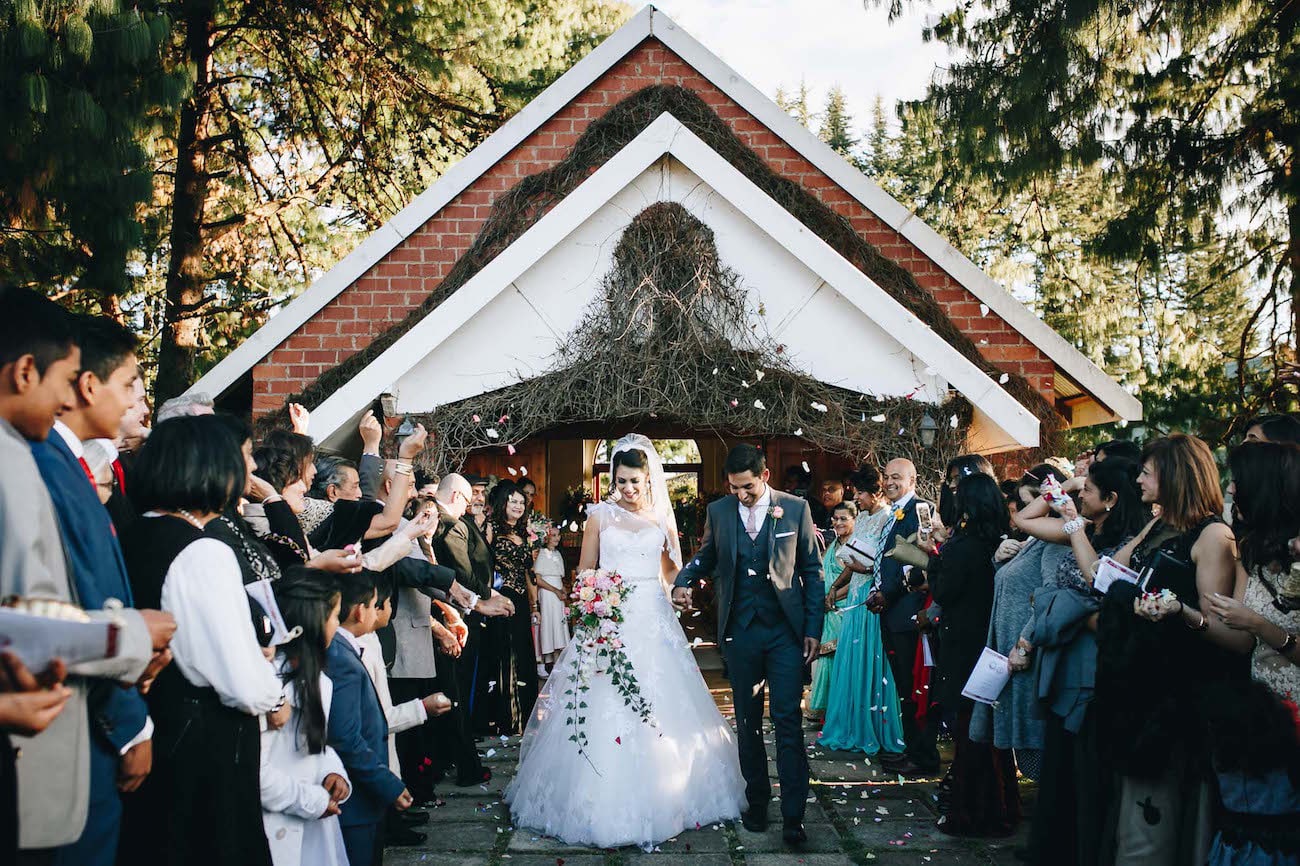 Wedding Details
The wedding favours were a really special part of our décor, and one of my favourite elements of the wedding. On the tables, we placed little pearl jewelry boxes for all the ladies, which my Mum and mother-in-law helped me source in India while we were wedding shopping. Inside, we placed tiny rosaries, personal to me, and little sweets which had our names and the wedding date printed on them, brought by my aunt and uncle from New Jersey. We had an awesome photo booth (RetroPhotoBooth) which our guests had lots of fun posing in! I'm sure those photo strips printed on the night are on many fridges around SA right now.
DIY Elements
Between my Mum, Nan, aunt, and myself we cut white net in which to place flowers and tie with ribbon onto the end of each pew in the chapel. We tied coral ribbons in bows on the chairs of the reception hall, and tried our hand at some chalk art on chalkboards outside the chapel and in the reception venue.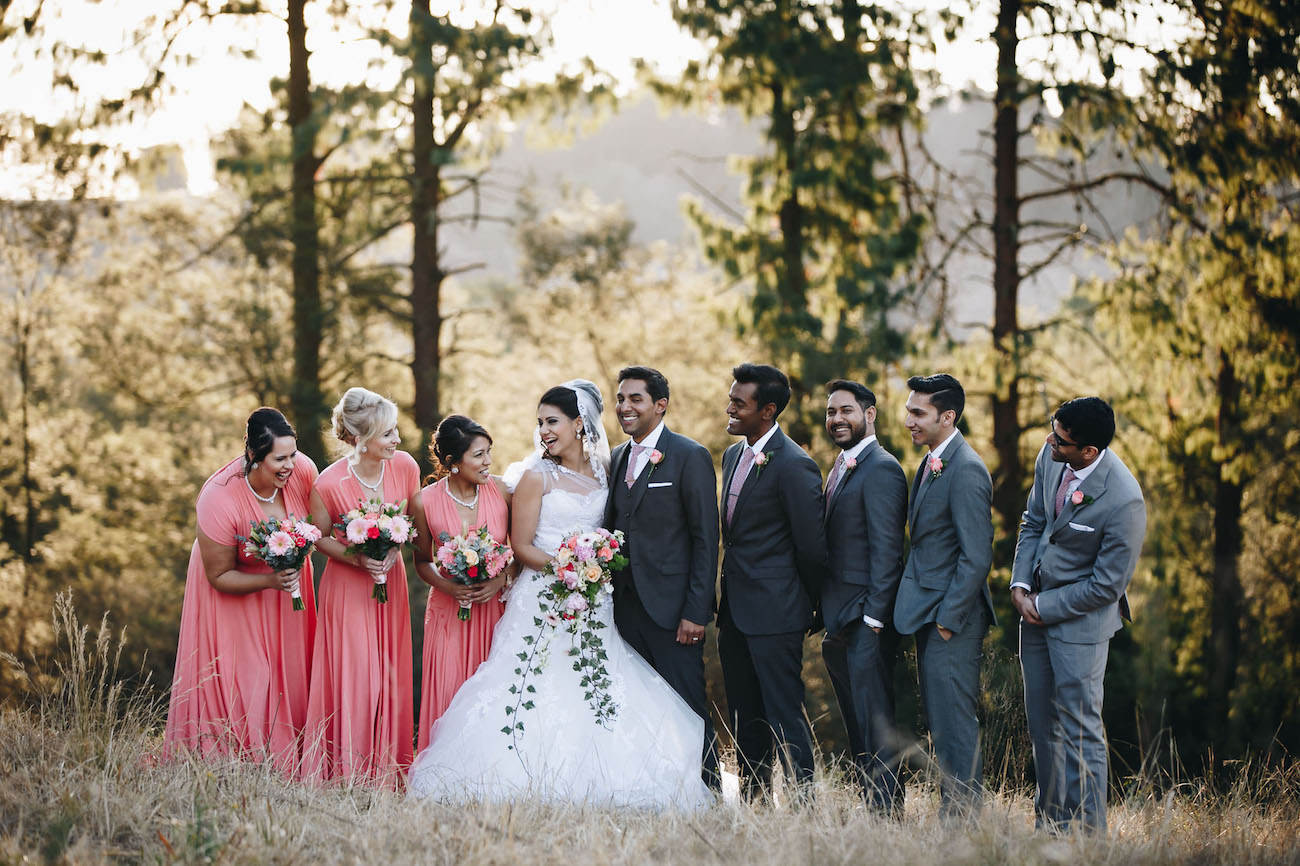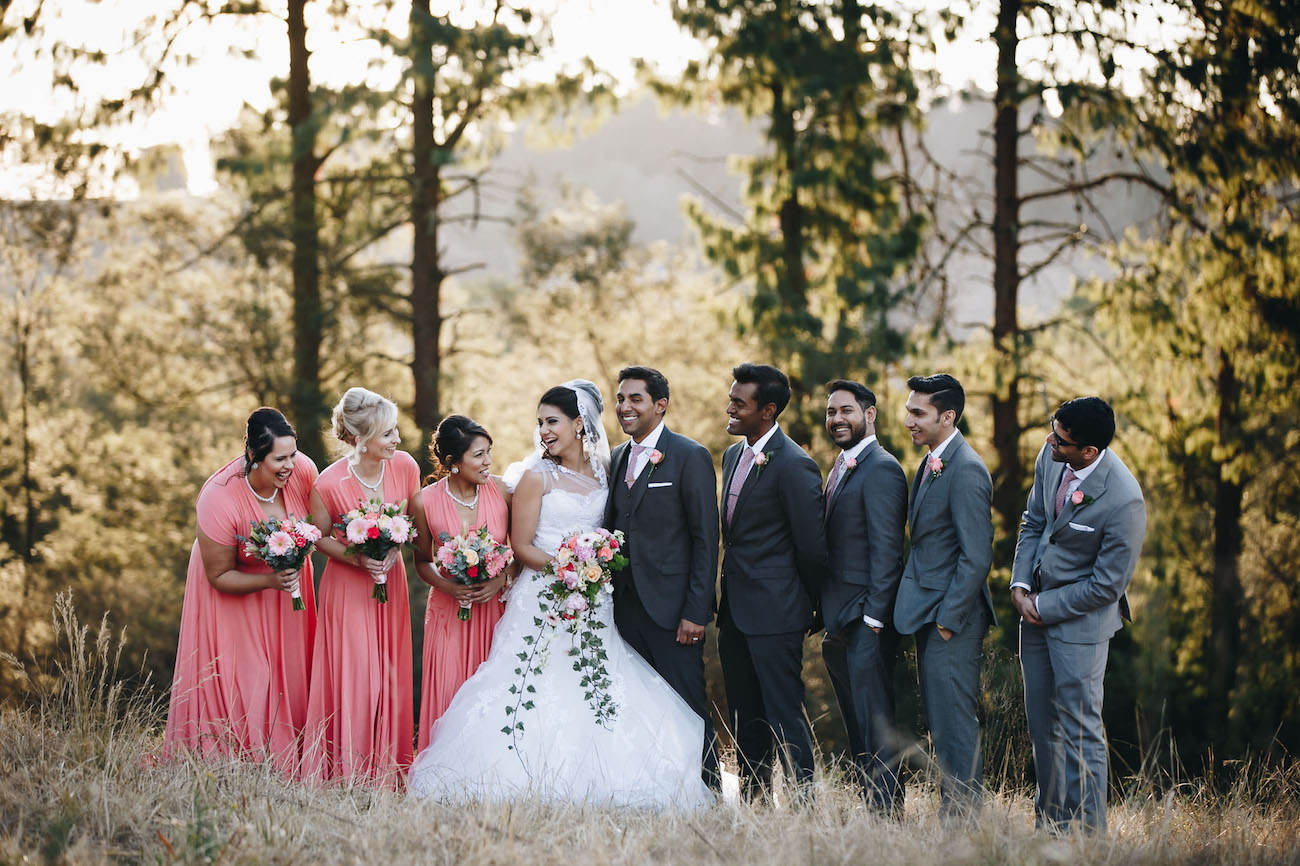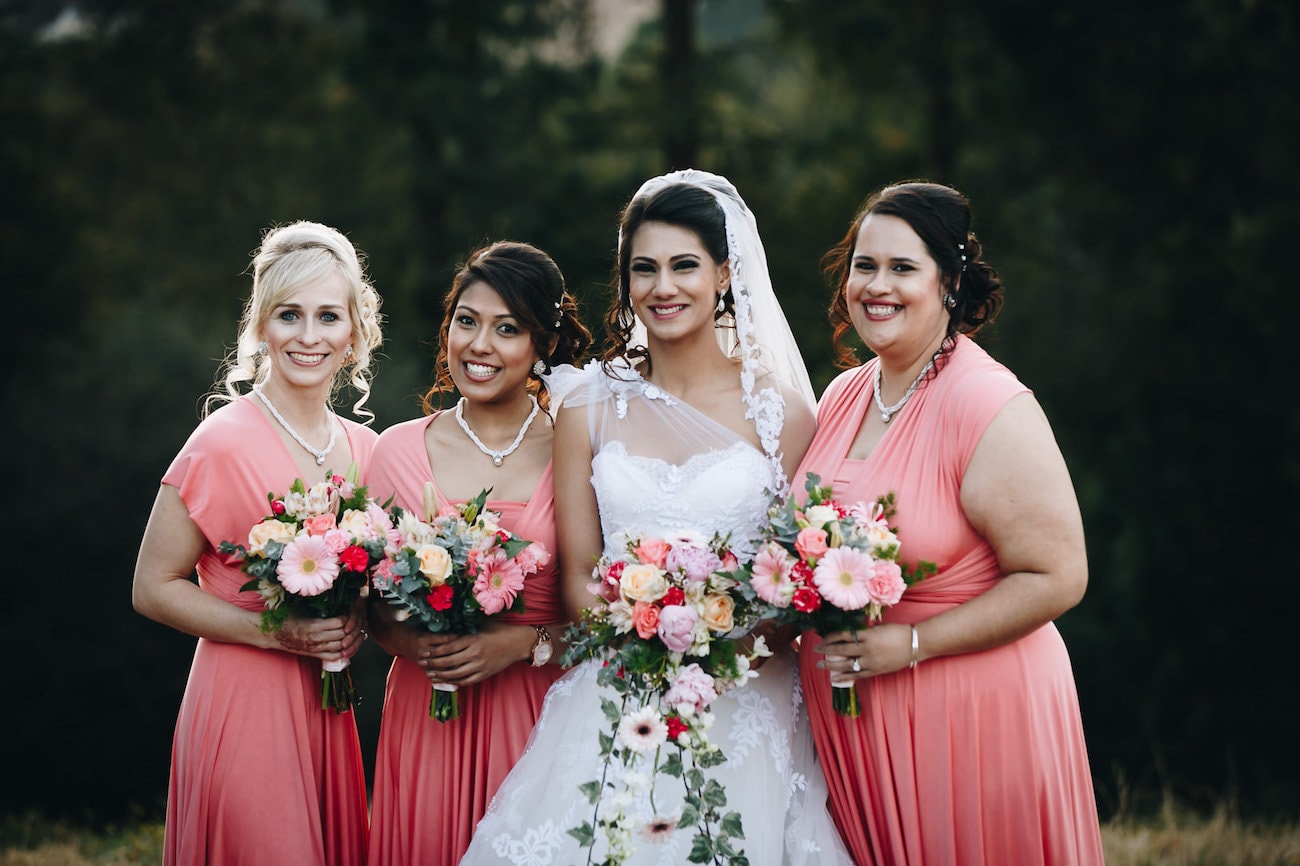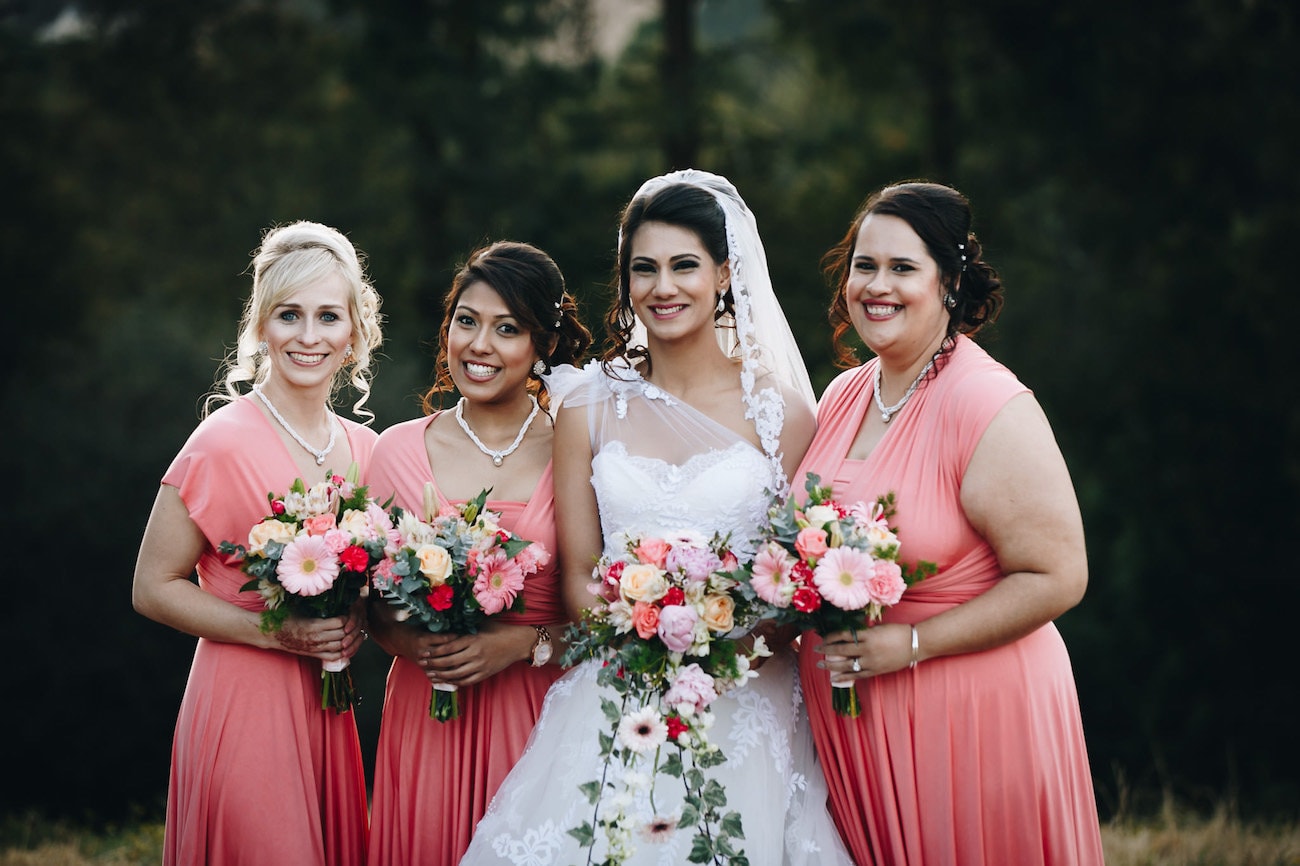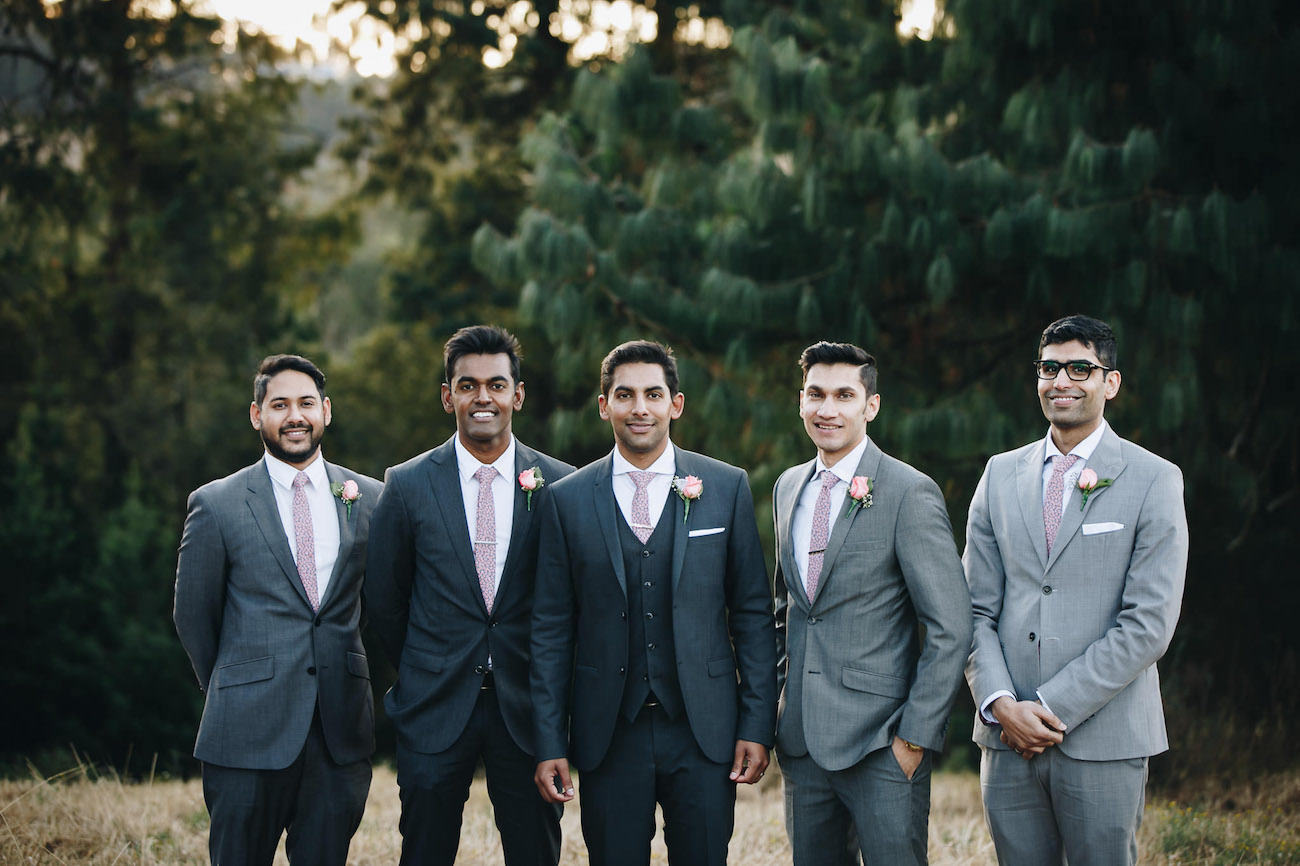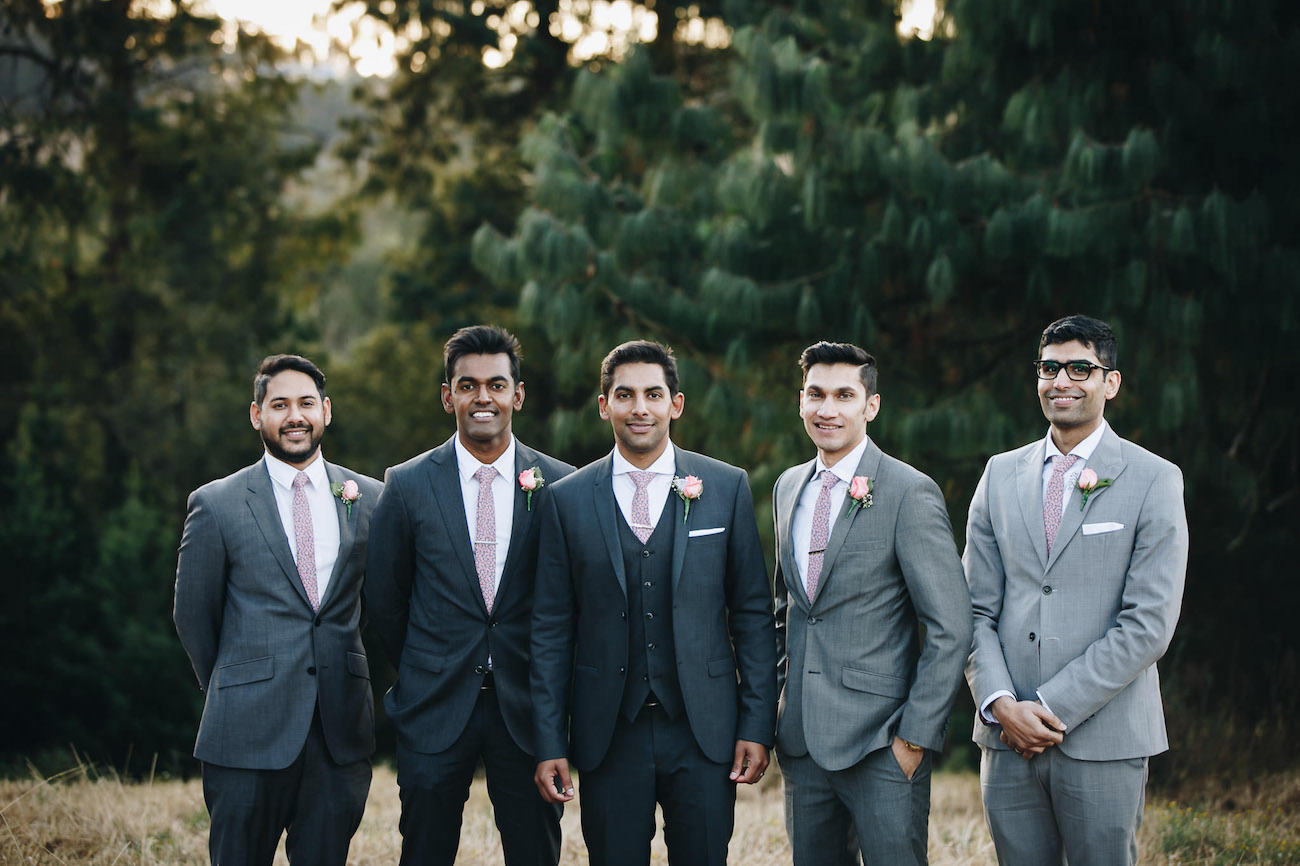 The Dress
I had a certain style in my mind. I wanted something classic for the Catholic wedding ceremony. My Mum and I paged through the catalogue at Bridal Wardrobe in Melrose Arch, and we chose eight dresses to try on. The one I chose was the third dress, and although not the type of dress I thought I was looking for, it immediately made me feel like a bride. I could see my Mum loved it too, so that was the winner! It is a dress called Isadora, by Enzoani.
The Bridesmaids
I had three beautiful bridesmaids: two best friends (Joslyn and Kirtanya) and my cousin (Ashira). All have different complexions and body types. I wanted them to wear the same thing, but had to choose something that would suit all three ladies. I chose coral infinity dresses, as I thought the colour would complement them, and the infinity style would work for all of them. I also got them some pearl and rose gold jewelry to match. I think they liked it – they looked fabulous!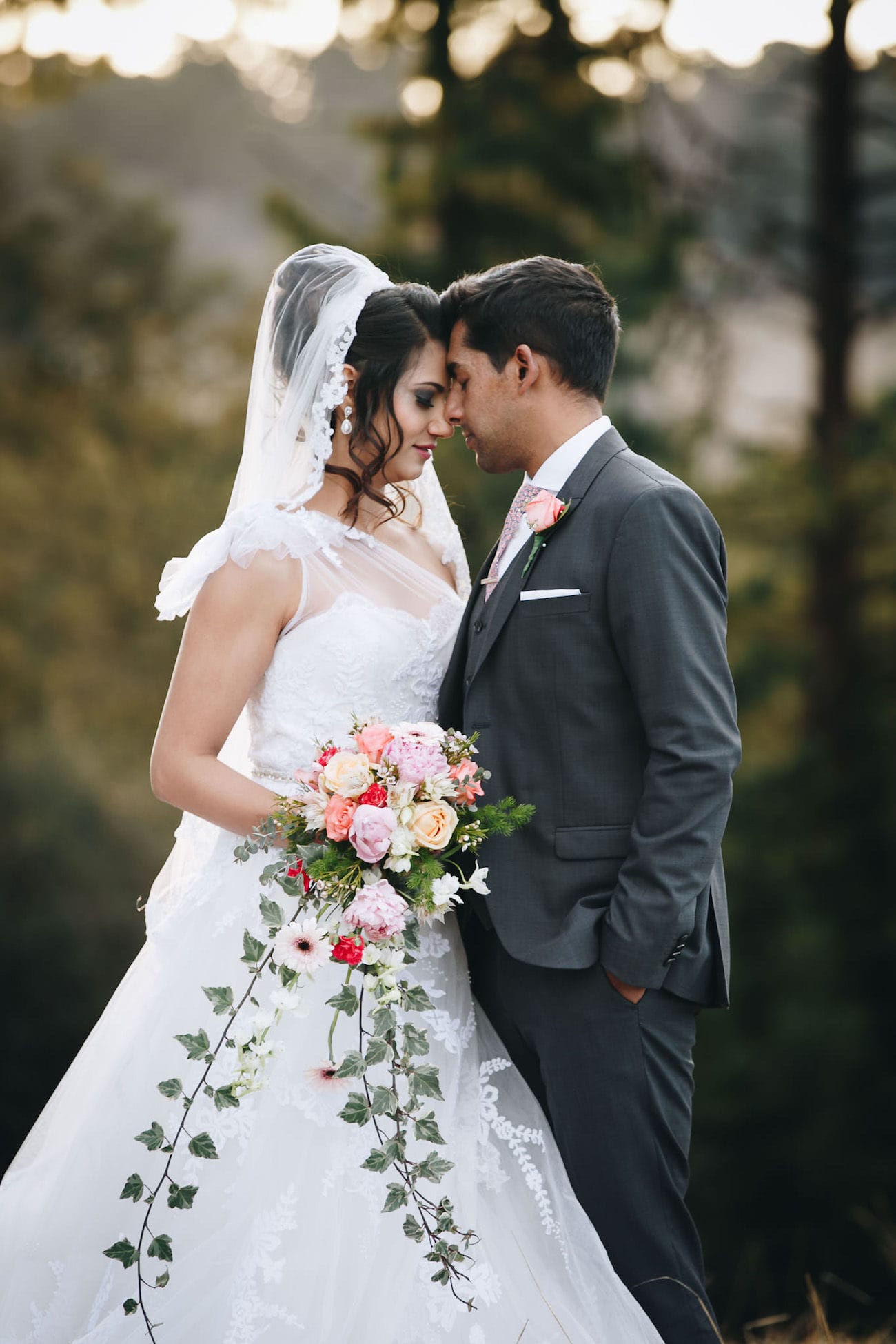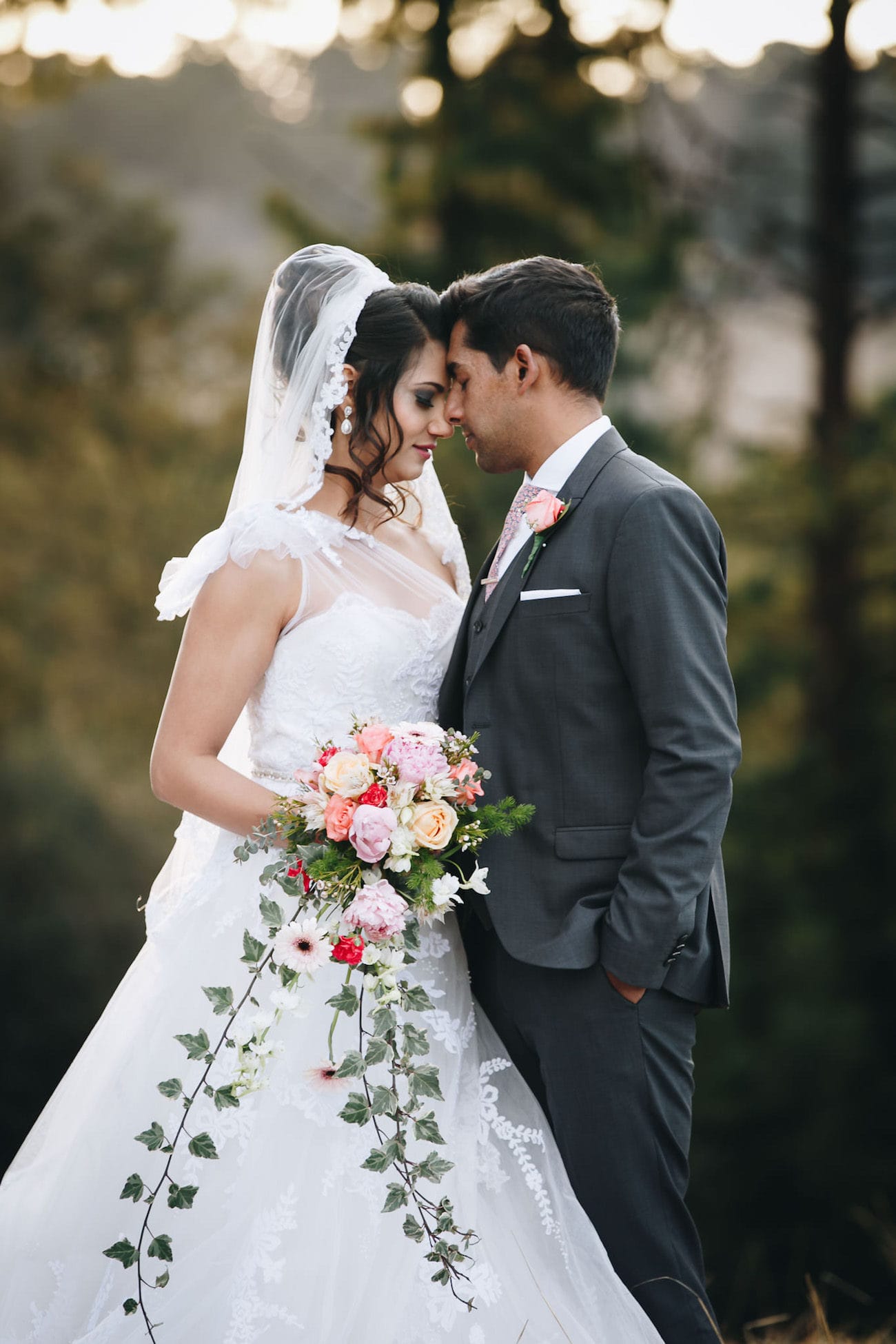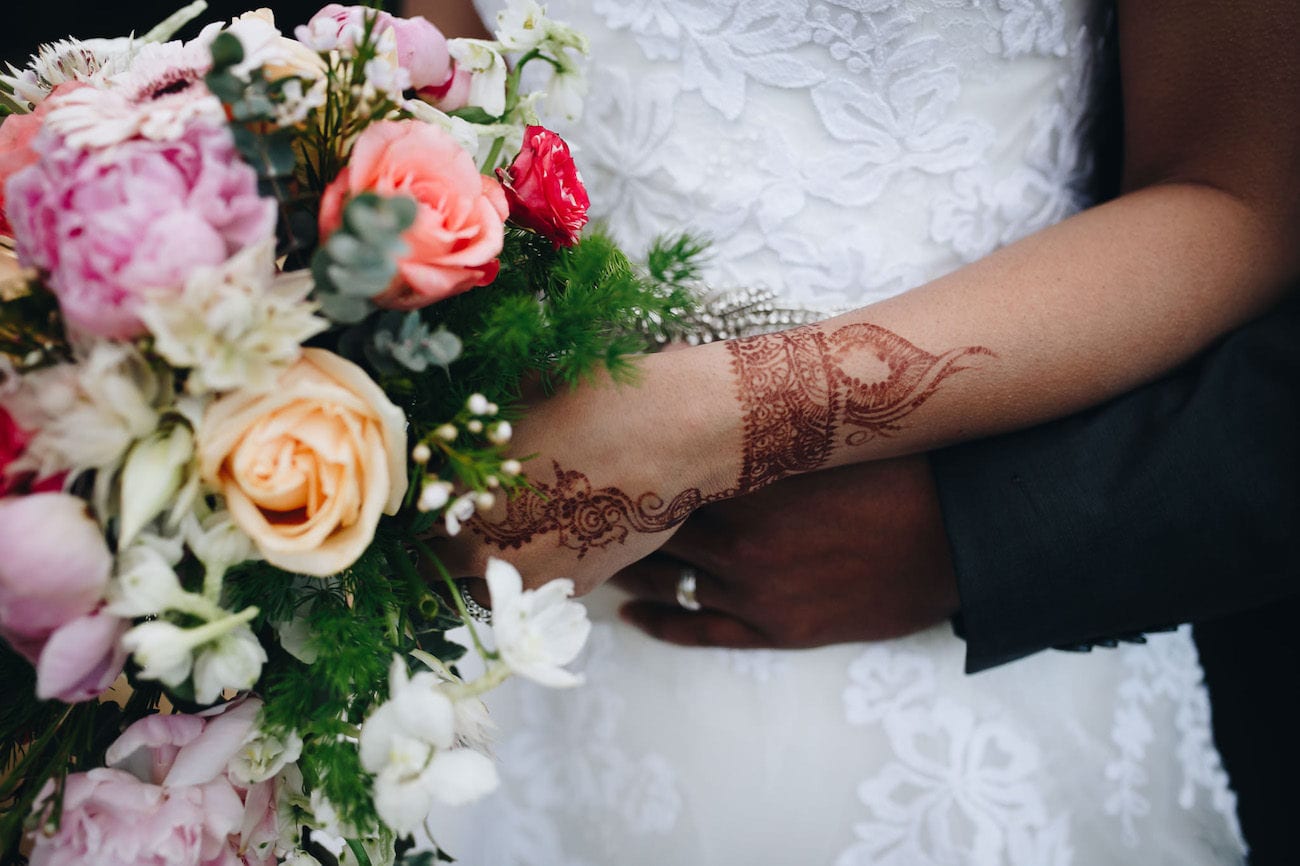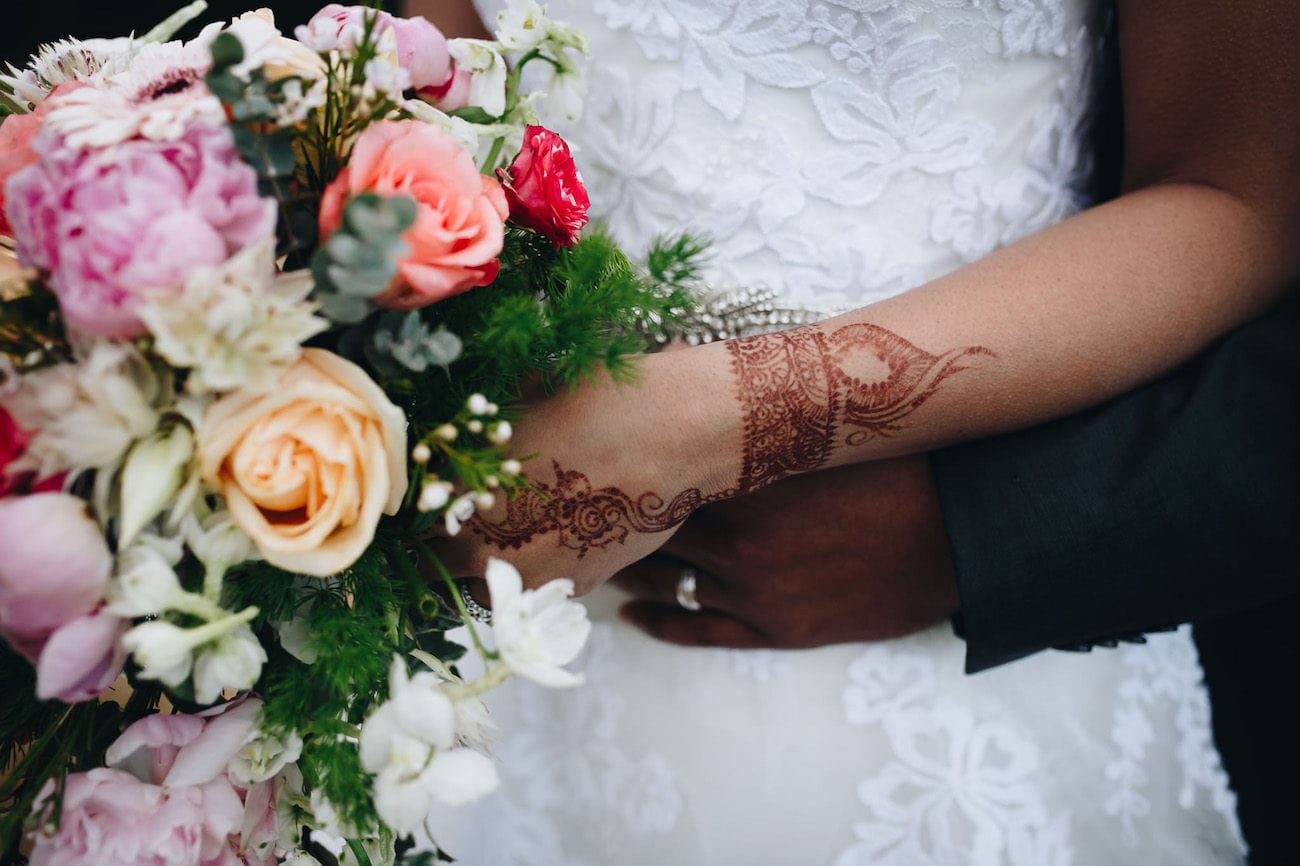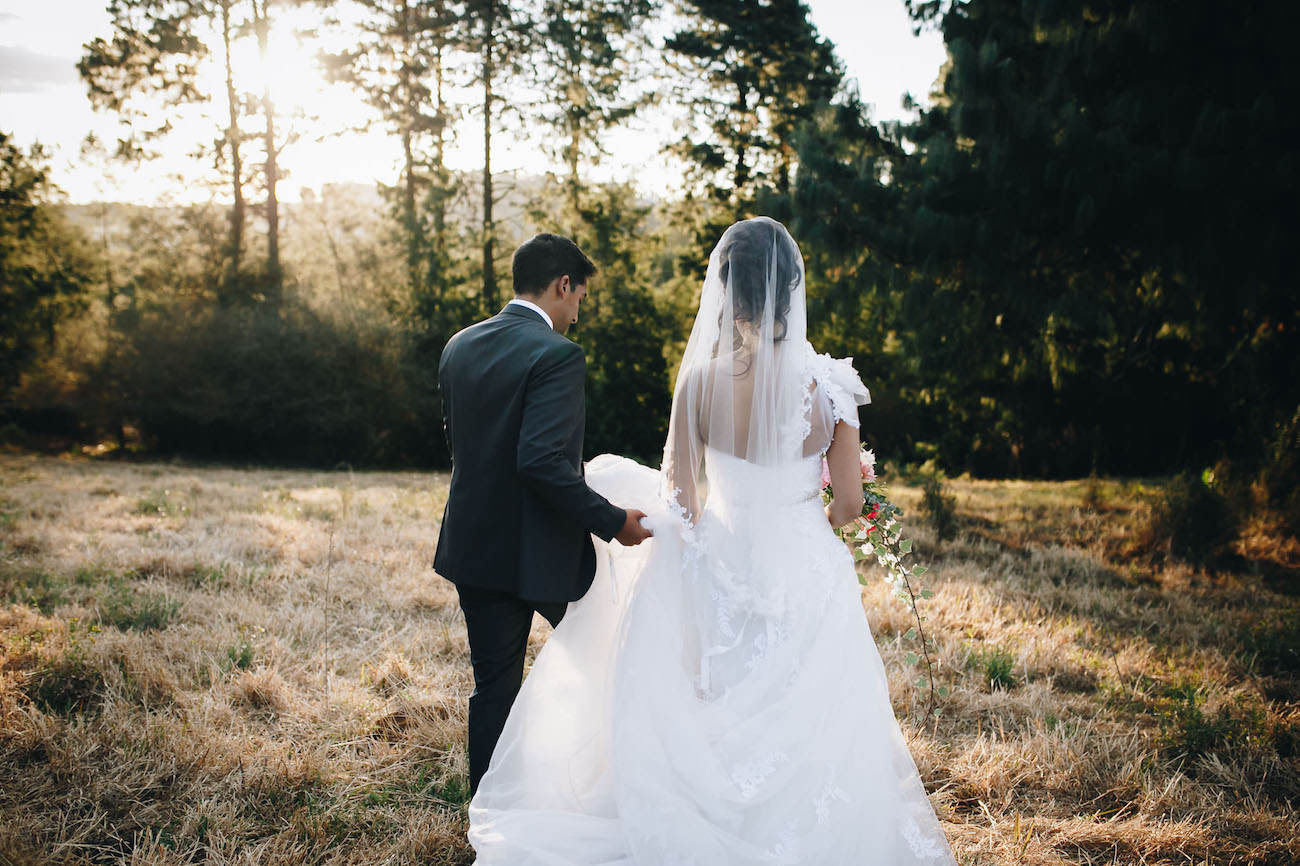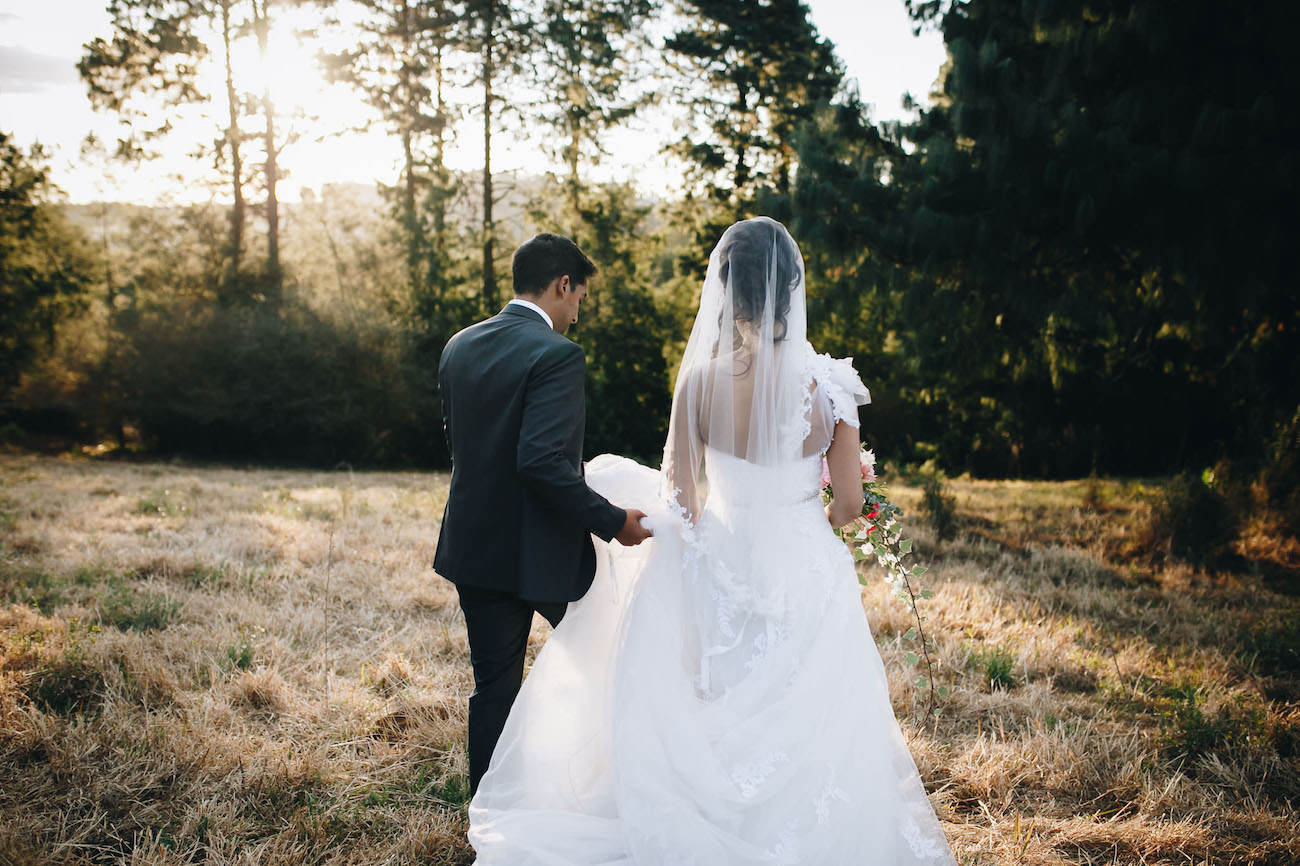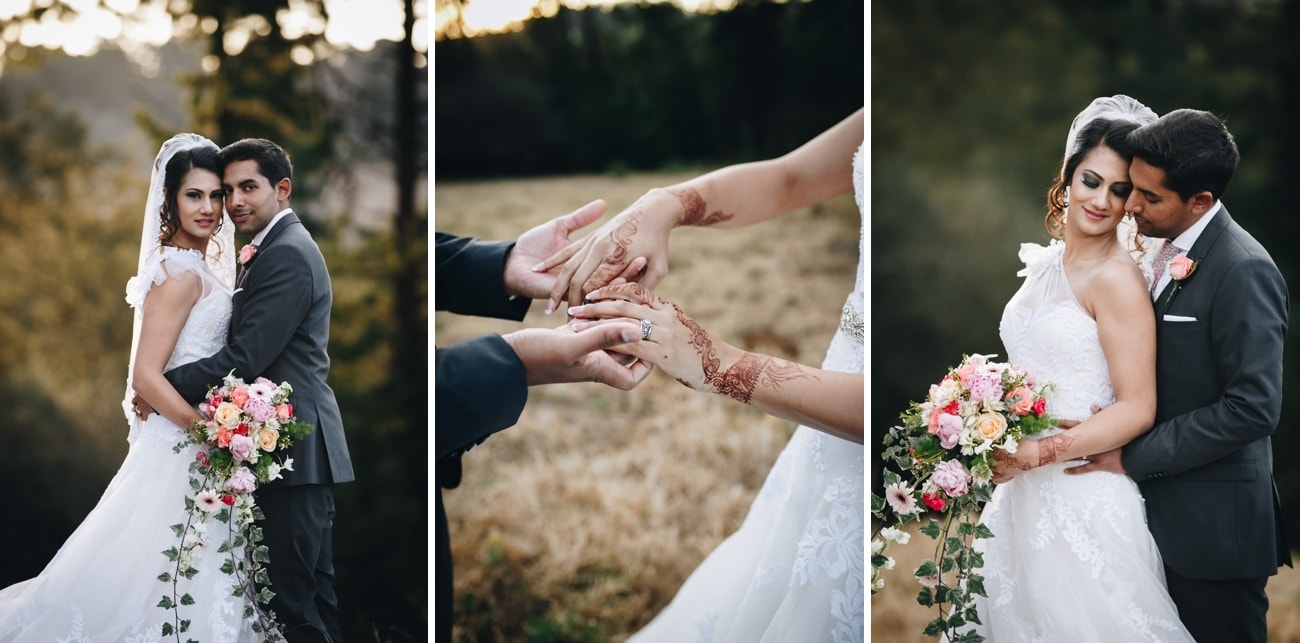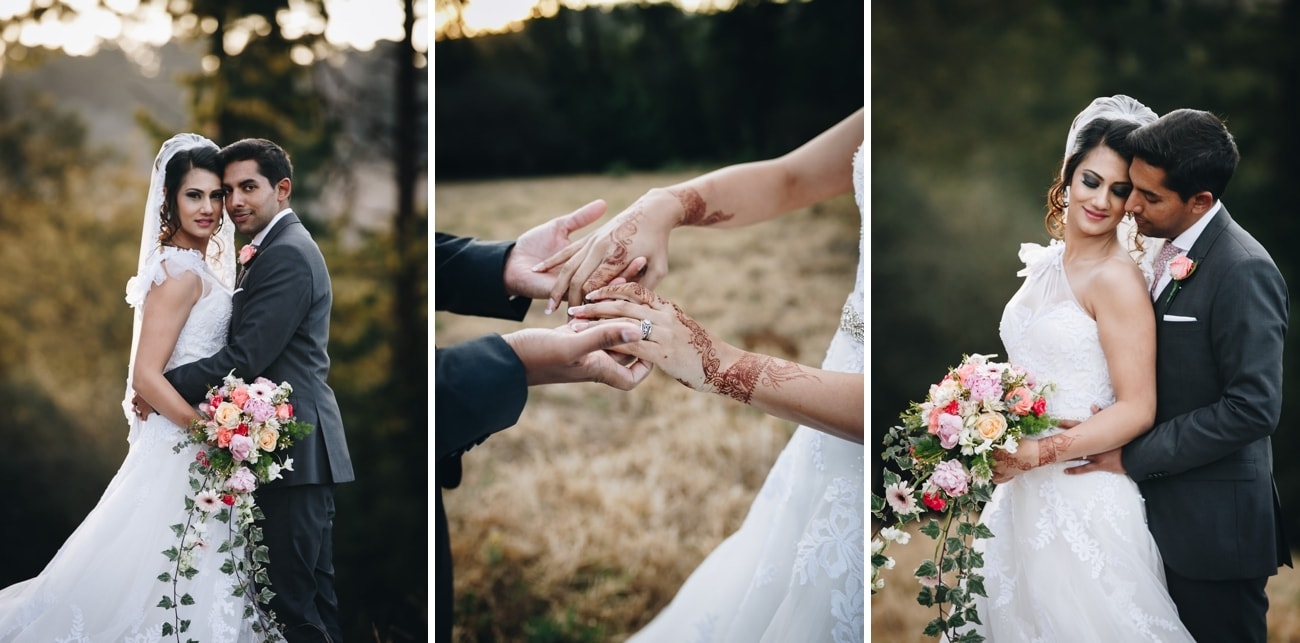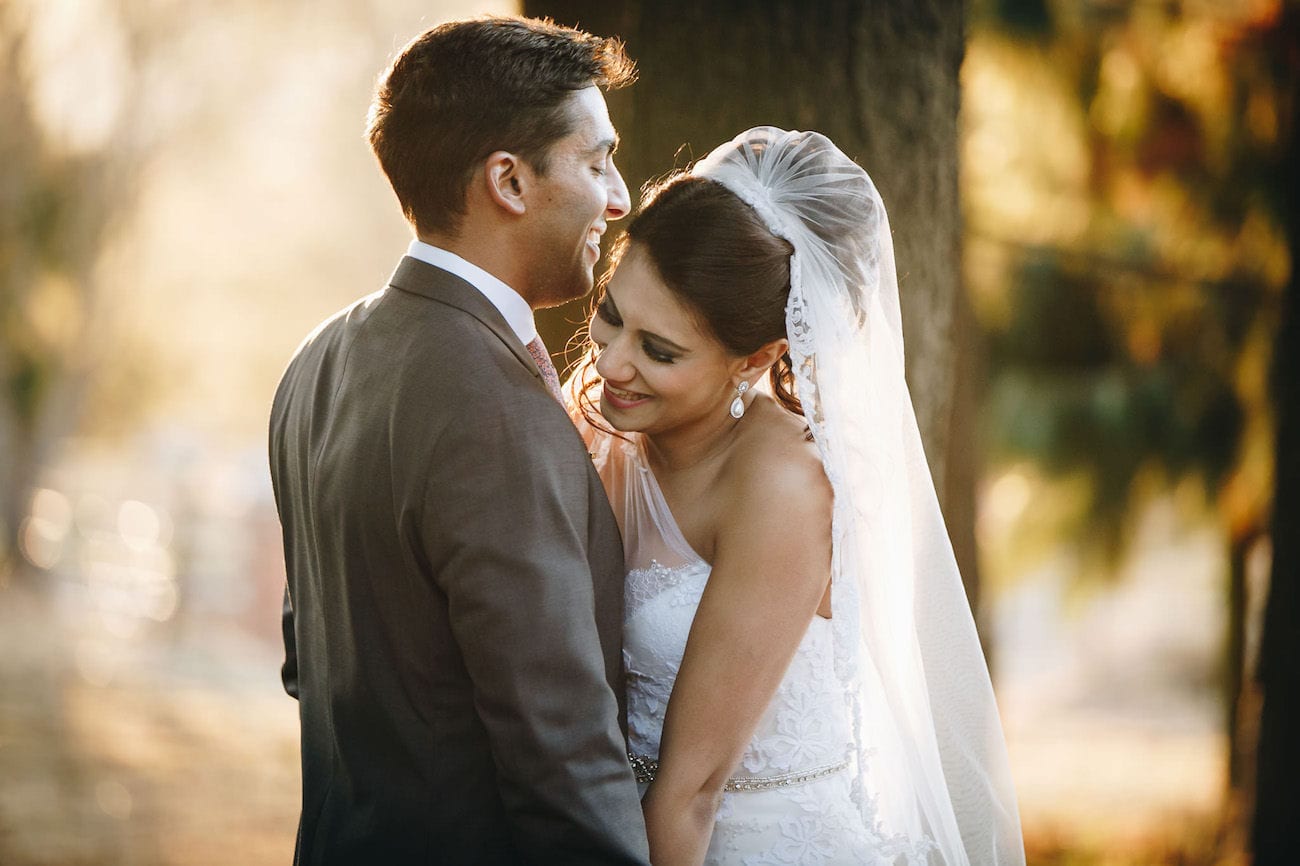 The Flowers
I hate orange, but I absolutely love coral. Very difficult to get that correct! I made a little spreadsheet (because I might just be obsessed with Excel) detailing the flower varieties and colours that I love, after researching what would be in season in SA at the time of the wedding. It was all very organized for once, as I knew exactly what I was after. I sent this to the Florist, and got my Mum to do some recon on the types of vases and arrangements that were possible. The florist got it absolutely right, and put together arrangements using vintage birdcages, and naturally flowing, wild arrangements of sweet pea, carnation, azalea and lily, with lots of greenery.
Memorable Moment
Our first dance, to 'You and Me' by Lifehouse, was beyond perfect. We were married, and dancing at our own wedding reception! And as much as he isn't the theatrical type, he did an amazing job learning that choreography, and maneuvering around my wedding dress! I loved every second…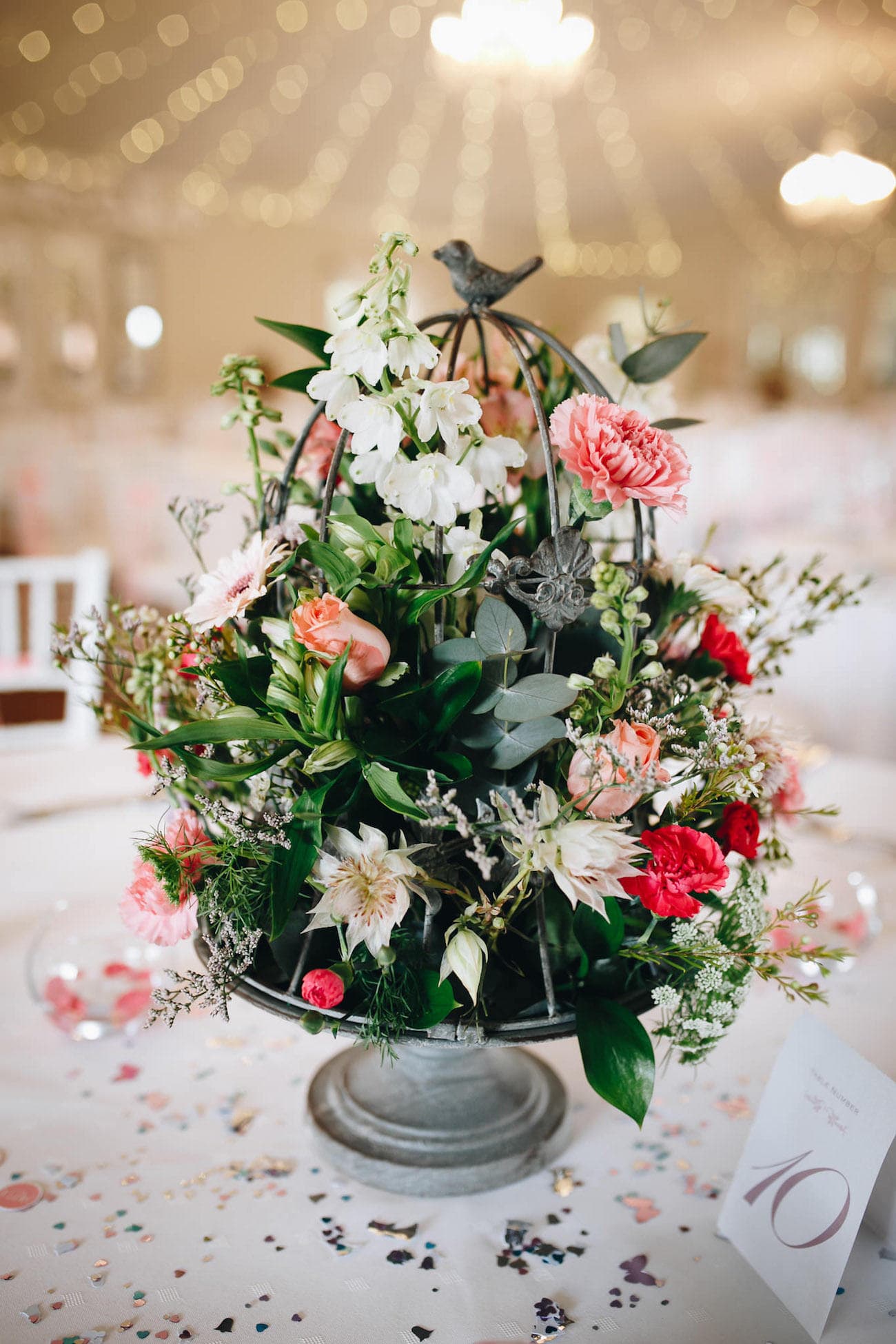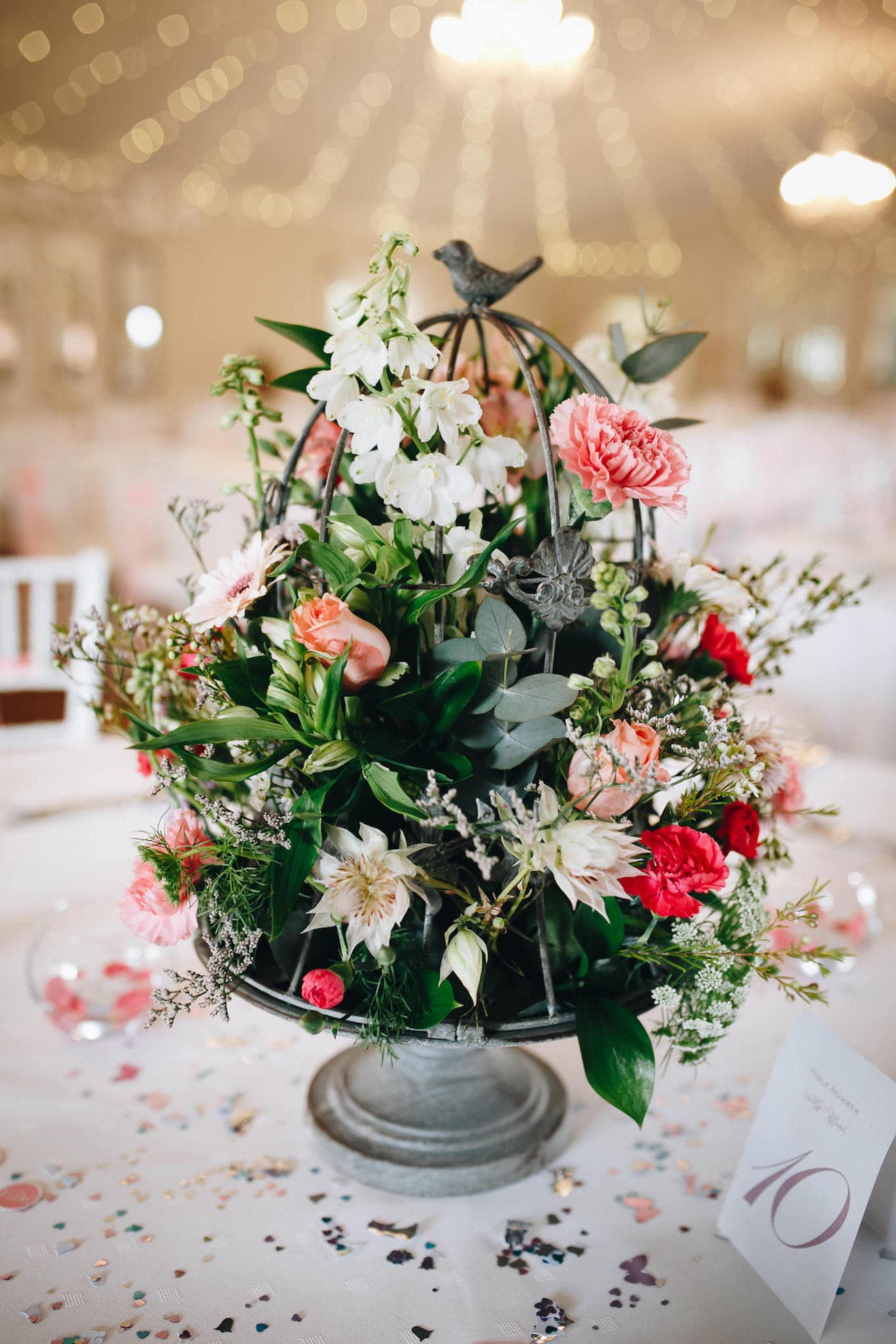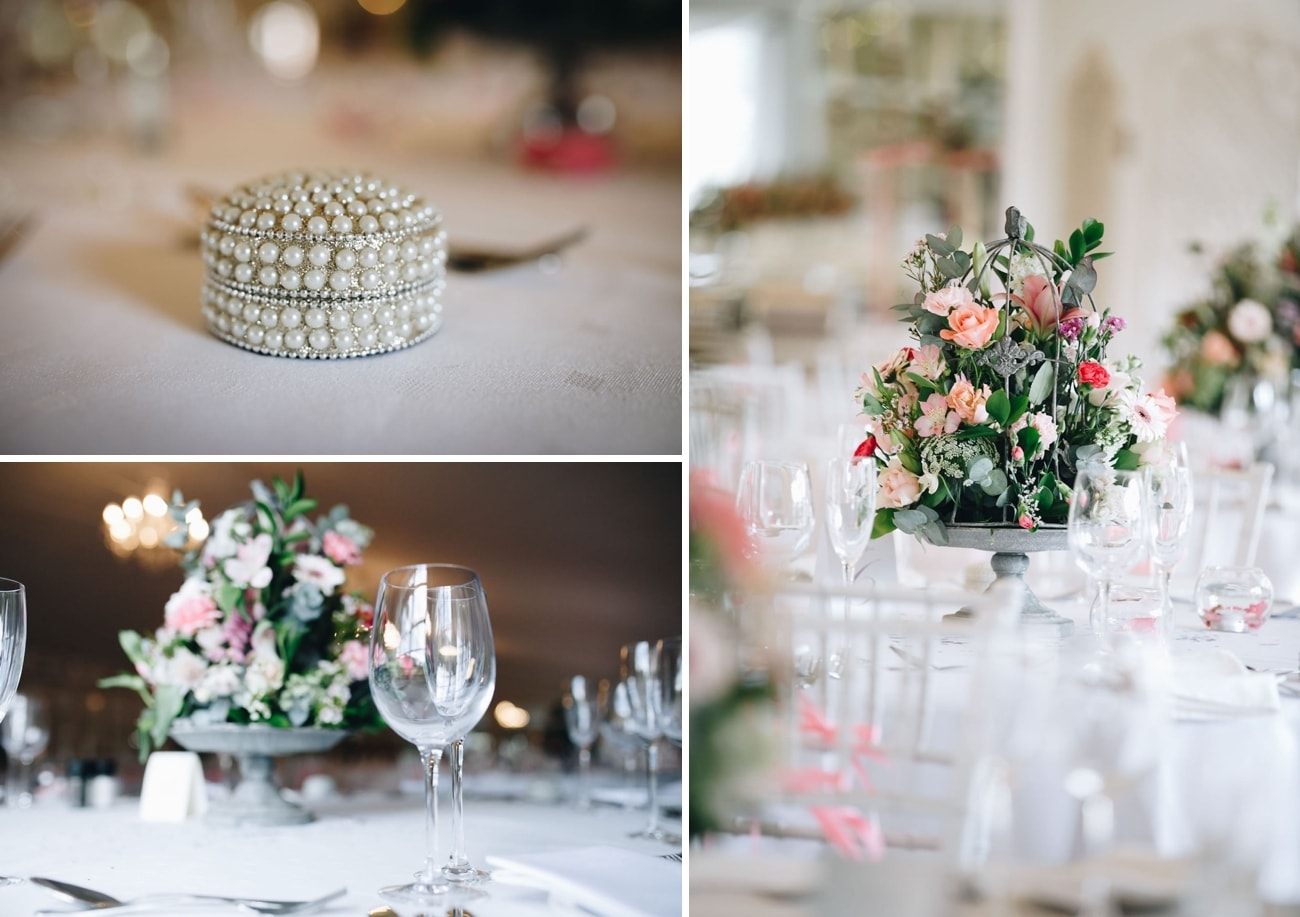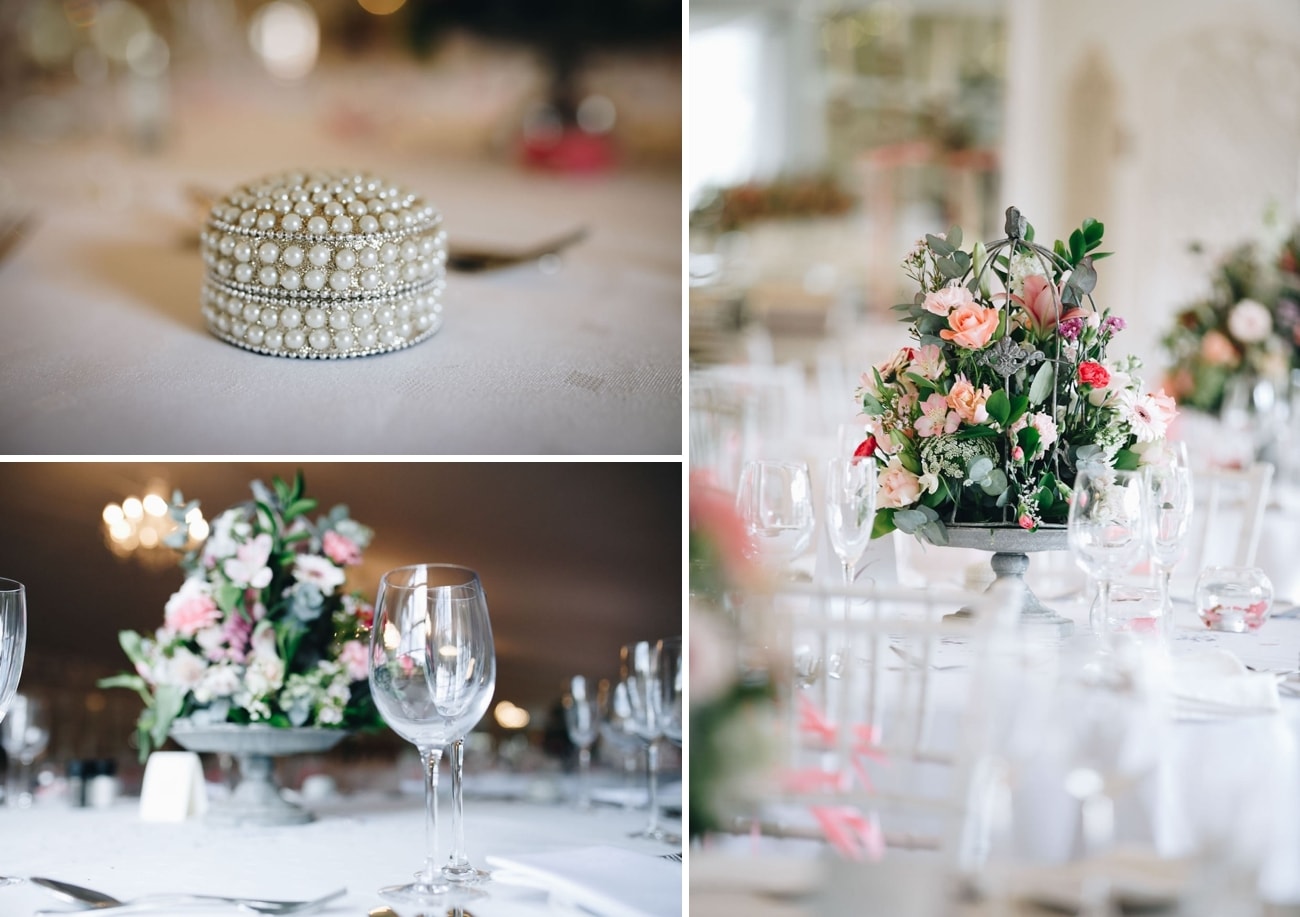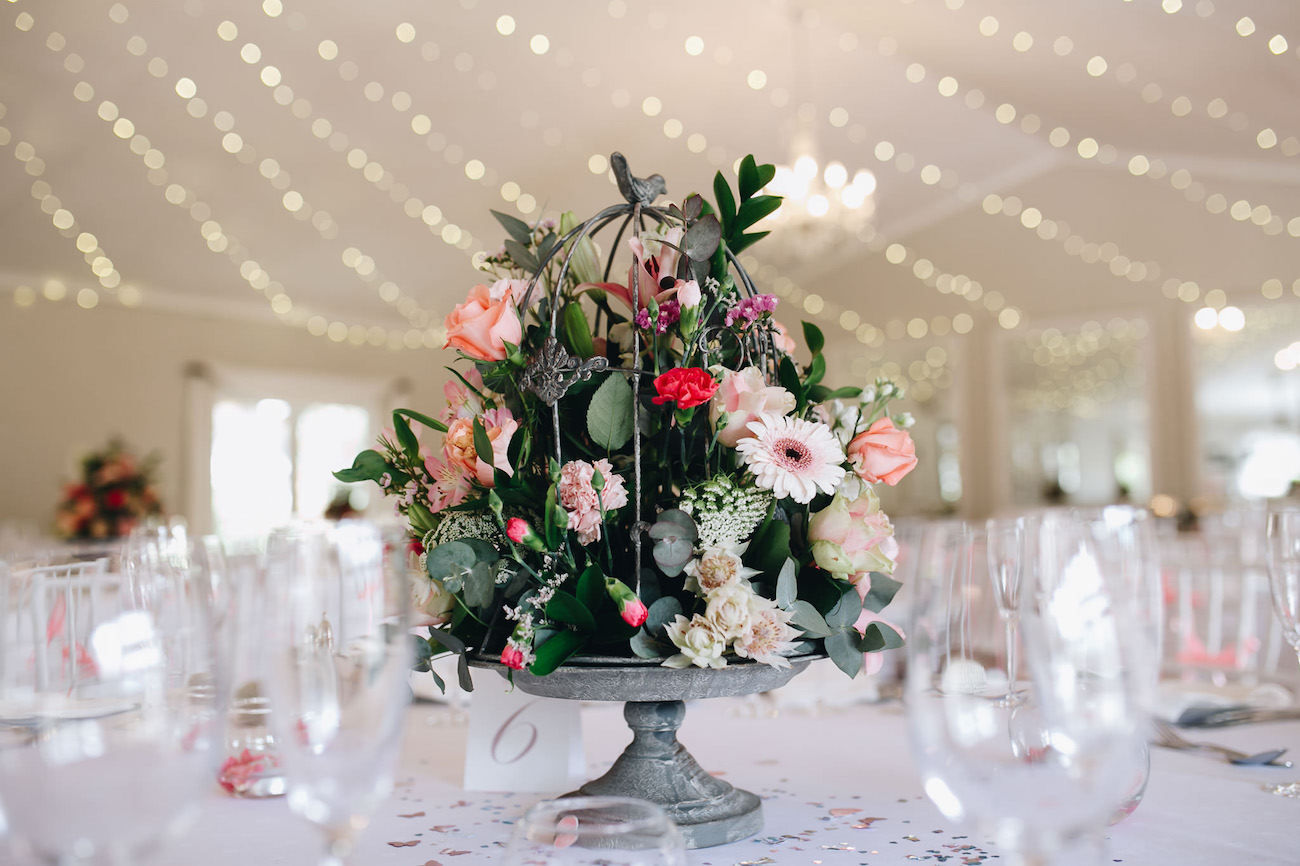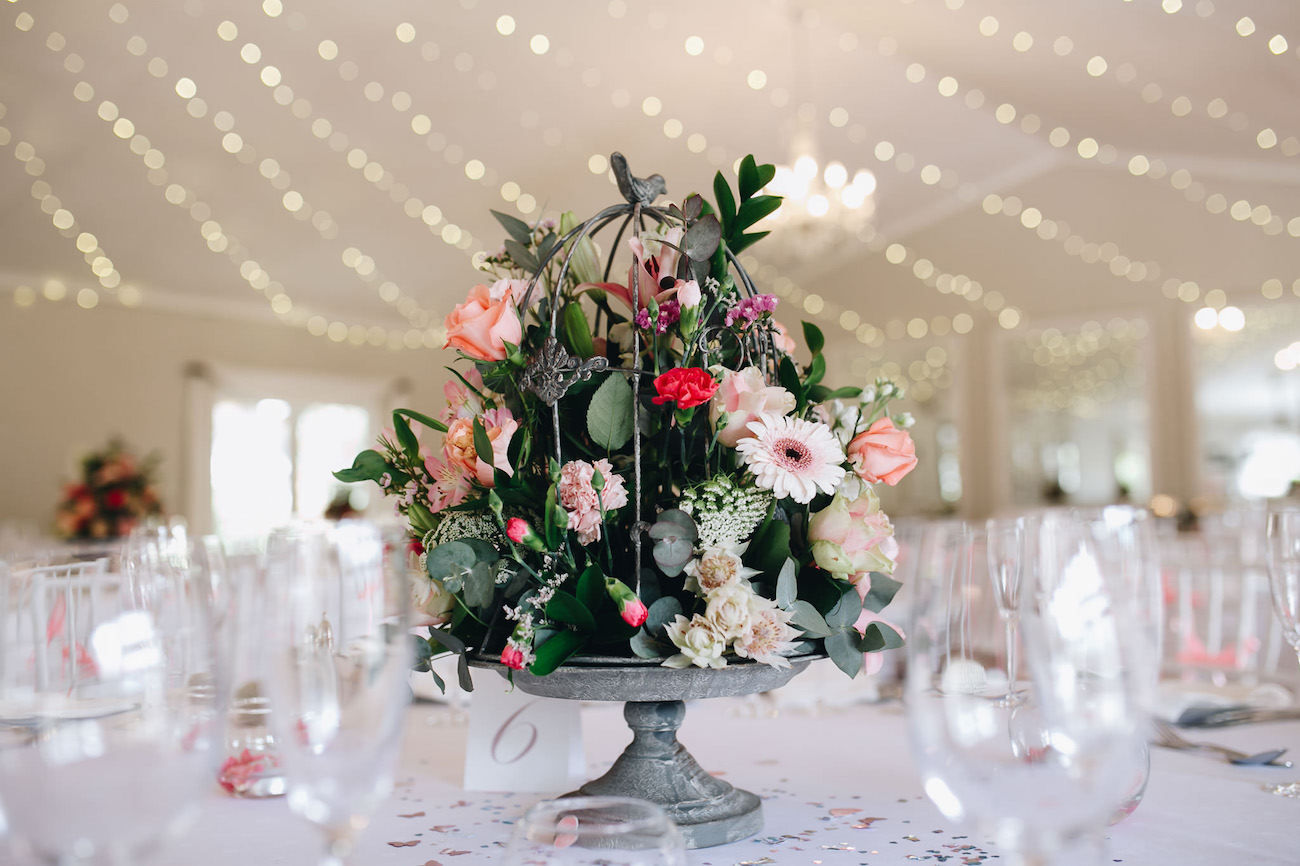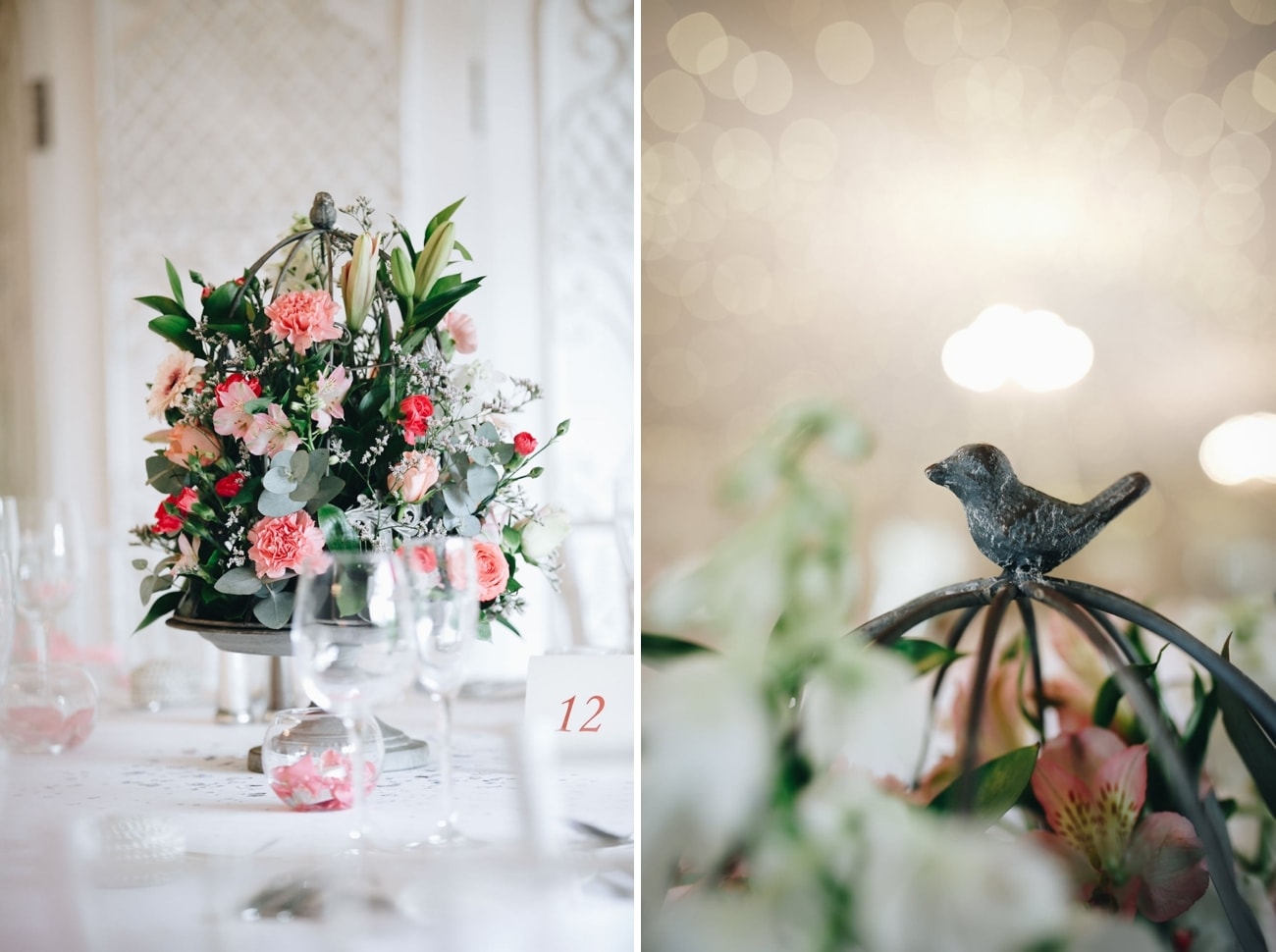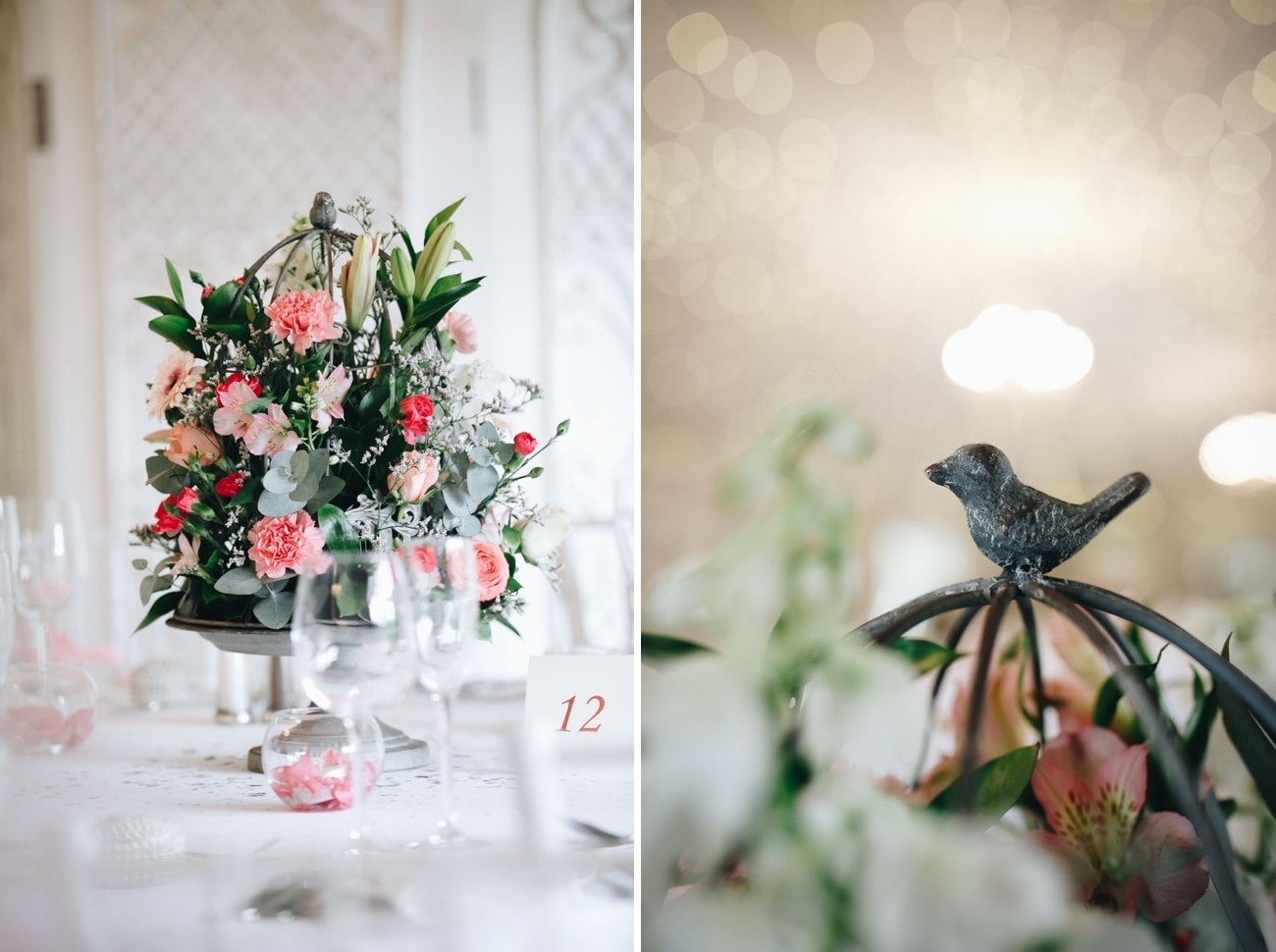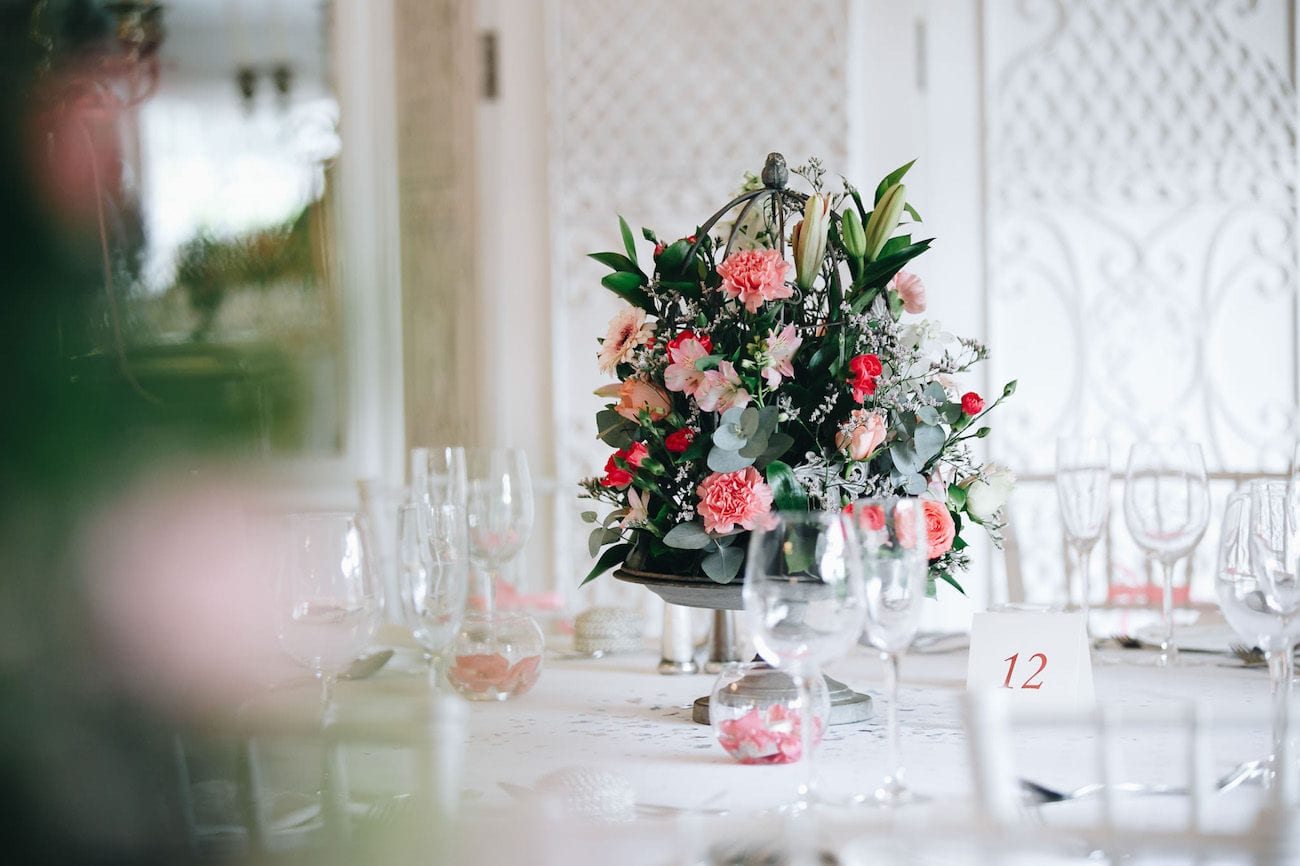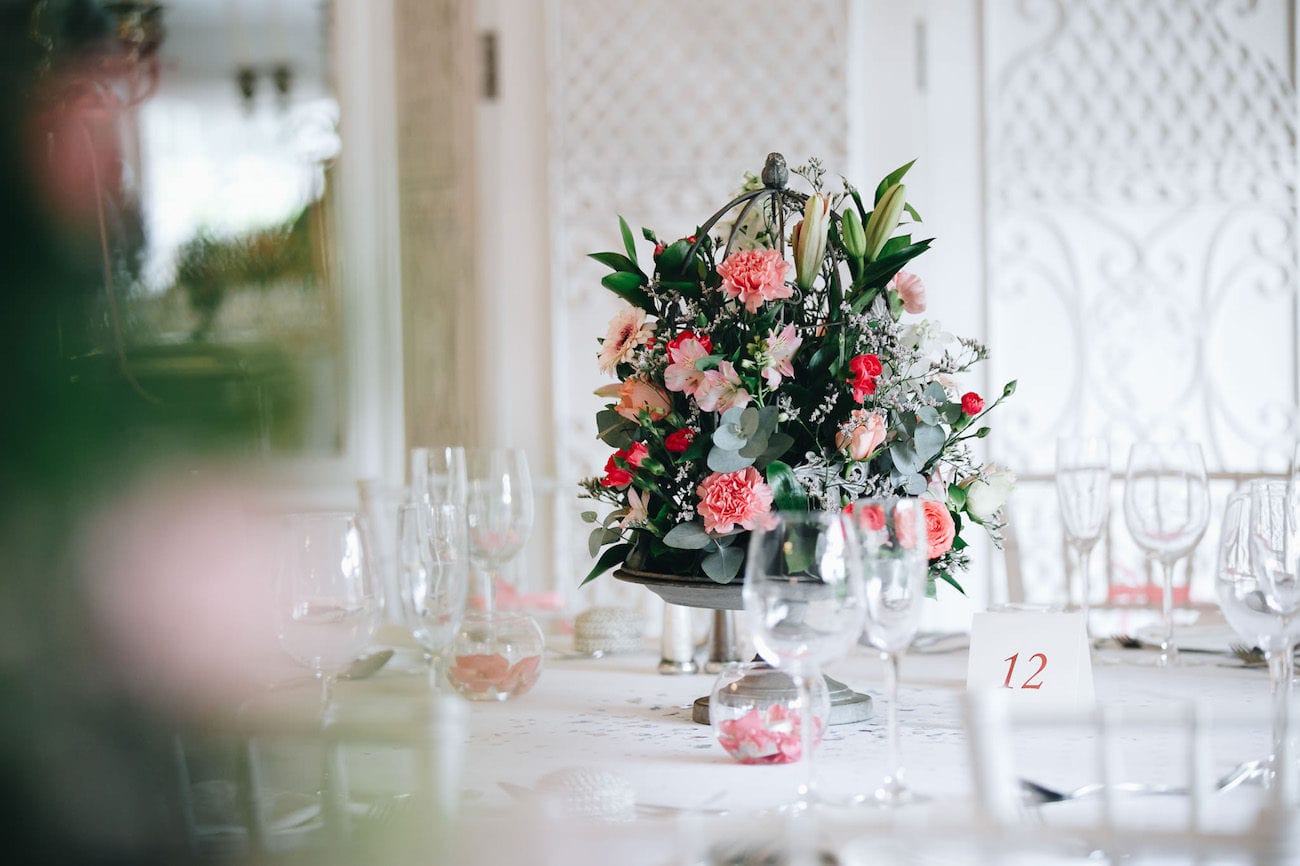 Best Decision
Listening to my Mum's advice. She and my Dad had two beautiful, very simple weddings in Bangalore, India, 30 years ago (her being Catholic and my Dad, Hindu). It's difficult to plan two very different, very important events, but she knew what would be important to me.
Advice for Future Brides & Grooms
Always be on the same page, as a couple, regarding your plans. Communication is key. You can't be upset that things are not as you would like if you haven't made your wishes clear to your partner, and can trust that you are on the same team! This is the perfect (albeit stressful) opportunity to start working together.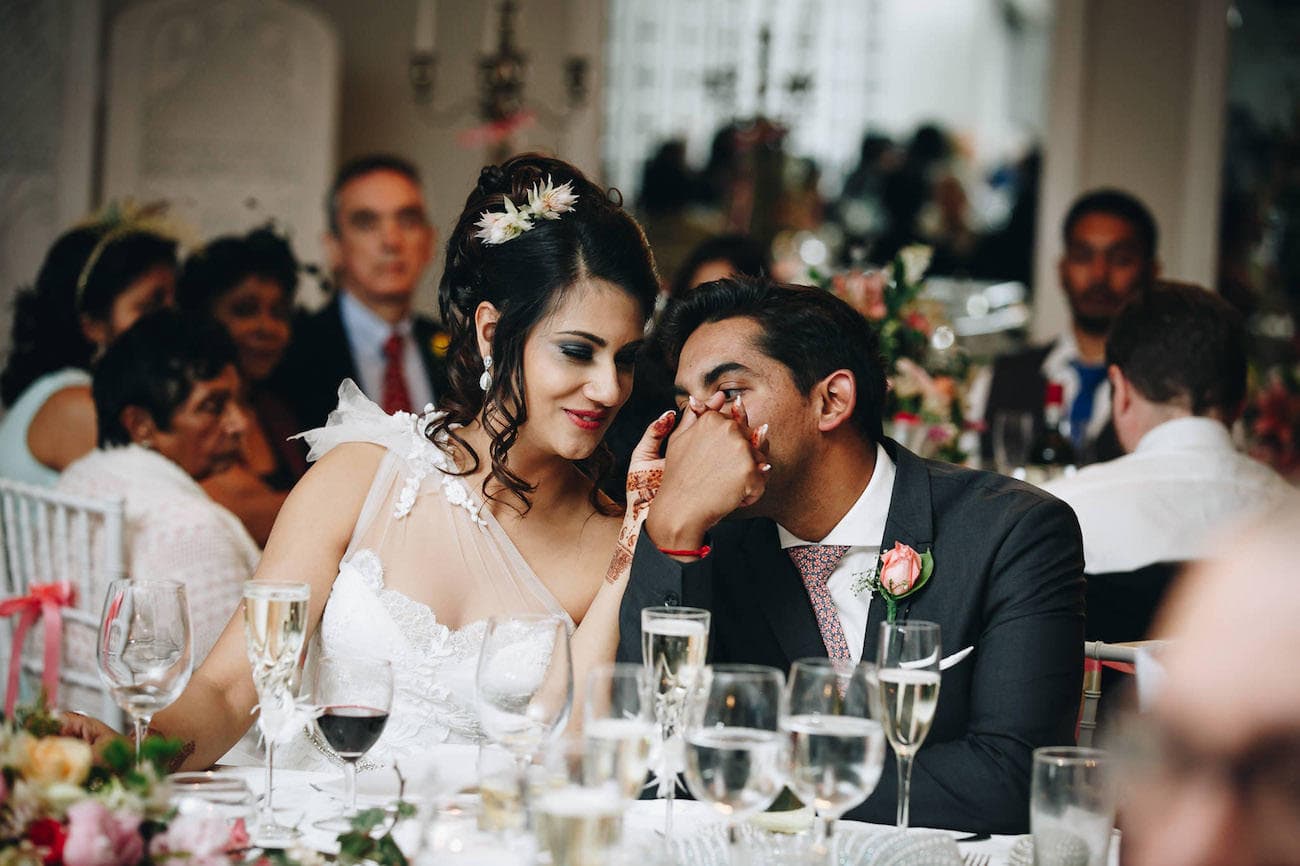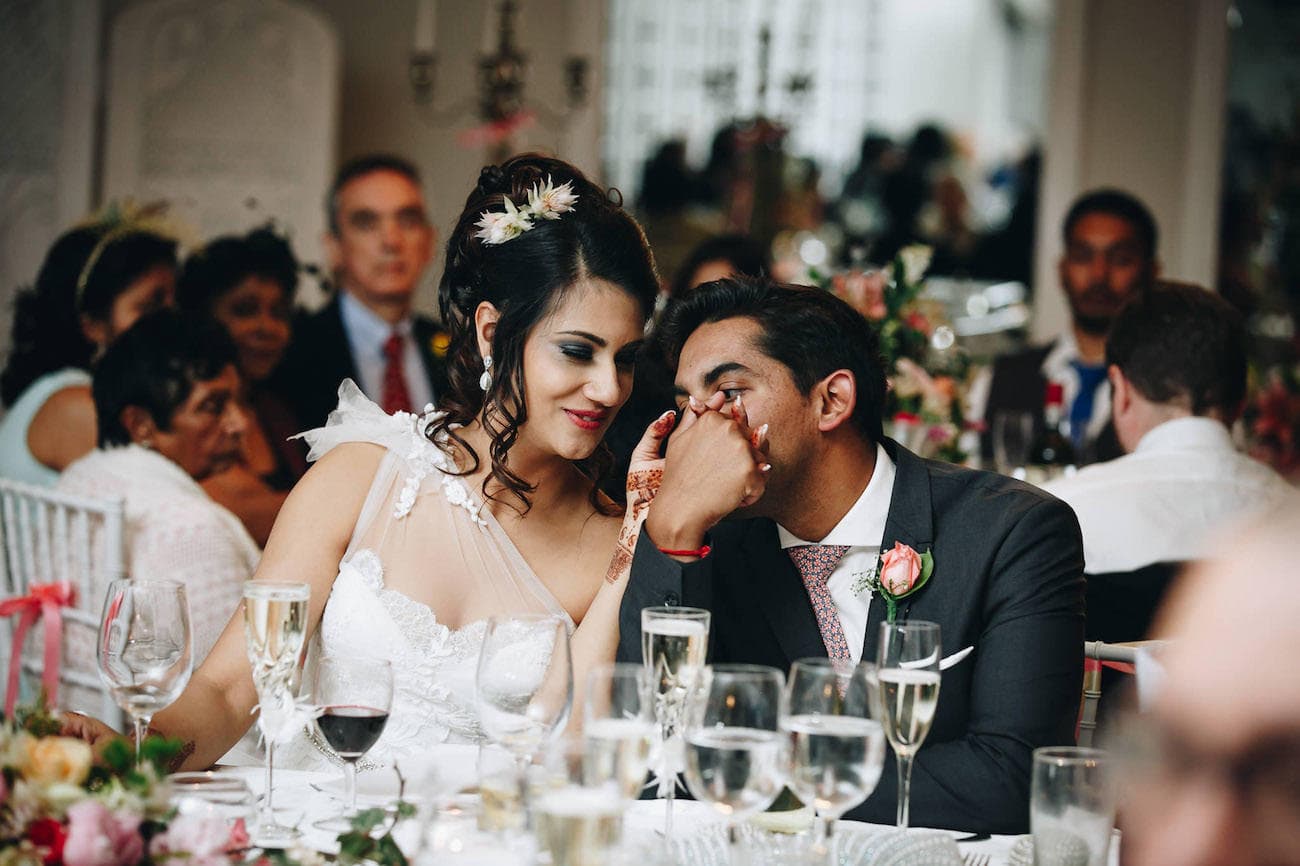 You can see more from this wedding on the Dear Chloe blog.
SERVICE PROVIDERS
Venue & catering: Providence Country Weddings | Photography: Dear Chloe Photography | Flowers & décor: Ram's Florist | Cake: Roz's Beautiful Cakes | Bride's dress: Enzoani from Bridal Wardrobe | Bride's accessories: Bridal Wardrobe (belt & veil) + Aldo (shoes) | Hair & makeup: Mithal Brijmohan | Bridesmaids' dresses: Infinity Dress | Groom's attire: Tiger of Sweden | Hiring: Retro Photo Booth | DJ: Kamil Singh for Capital Video & Sound Productions