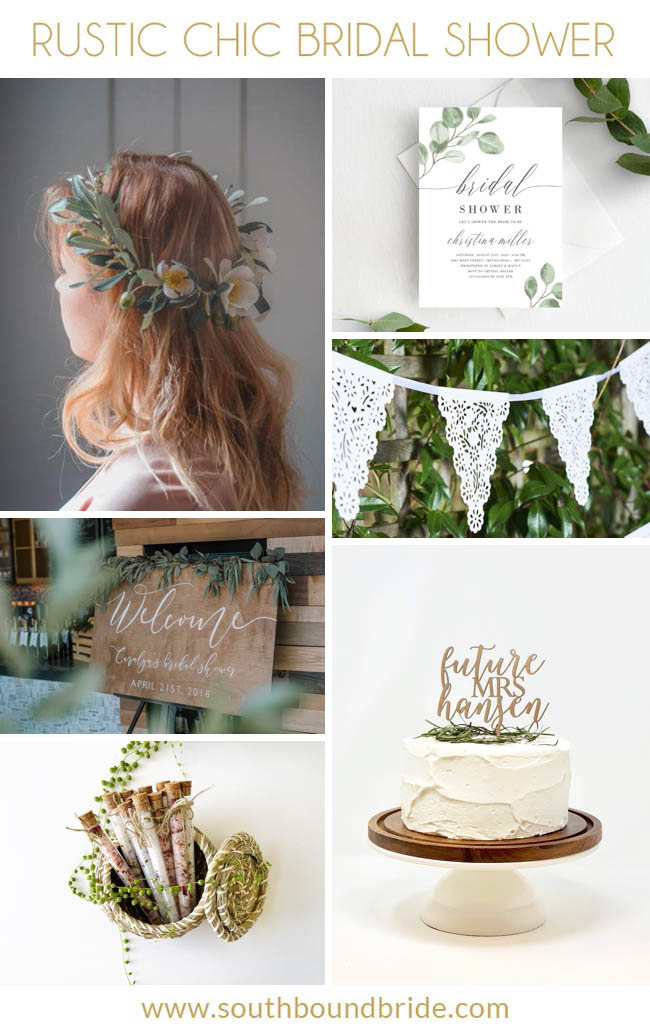 *UPDATED FOR 2021* Earlier today we featured a fabulous real rustic bridal shower (be sure not to miss it!). I loved this, not only because it was super pretty, but because it was a fresh take on the rustic/natural/organic look. And we are all about fresh, pretty inspiration here on SBB! So I thought I would break down the look so that you lovelies could recreate it for yourself (or your bestie). The good news is, a relaxed, slightly boho-chic rustic bridal shower is a relatively simple look to pull off, and the more simple and natural you go with the details, the better. Plus, the other joy of rustic style is that there's really no such thing as mismatched, so you can add in touches of girly or glam or whatever, depending on the style of the bride herself. Perfect, right? Here are some of my favourite rustic bridal shower ideas to inspire you.
*Links in bold denote affiliate links. The cost to you remains the same, but SBB may receive a commission for any sales made.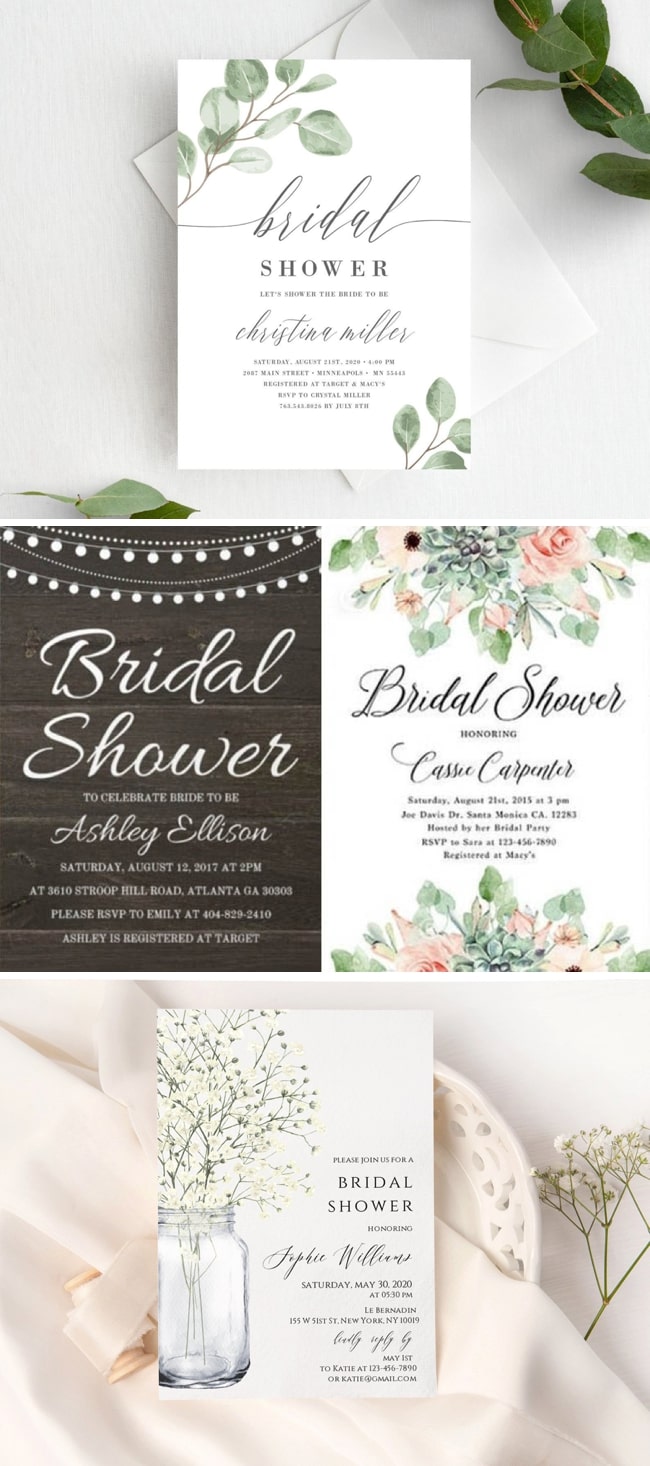 Row 1: Bridal Shower Invitation by Jazz Hands Paper Co | Row 2: Rustic Bridal Shower Invitation Template by Printable Moment (left) | Bridal Shower Succulent Invitation by Glamyland (right) | Row 3: Floral Rustic Bridal Shower Invitation by Just Print Invites

Invitations: There are so many pretty options for bridal shower invitations on Etsy, many of these printable which makes them a breeze if you're the bridesmaid in charge. Go for a floral print, or trendy greenery, a faux wood background, or a simple calligraphy font printed on Kraft paper. And don't forget to keep a copy for the bride's scrapbook!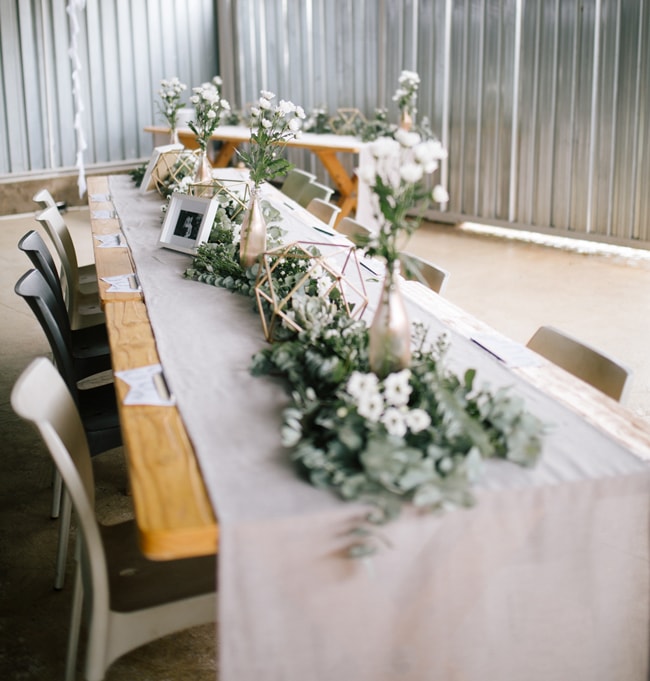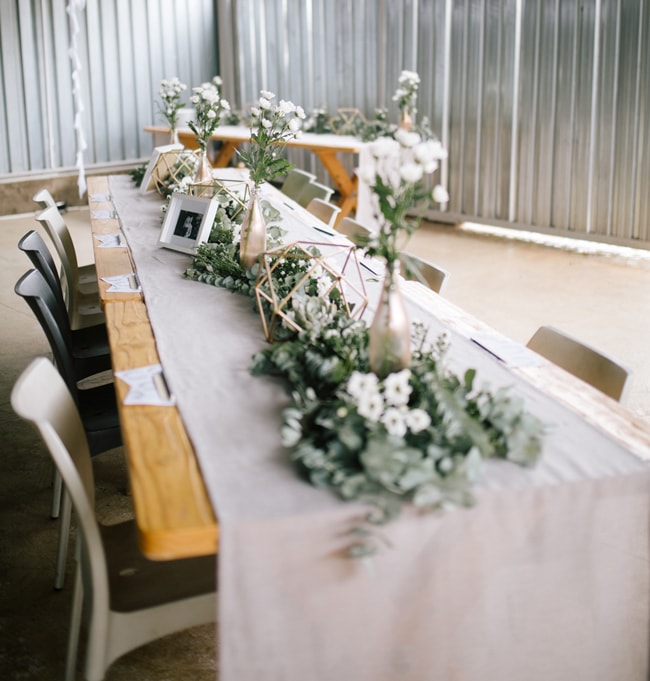 Credit: Anike Benade Photography/Bride in Bloom/You & Me
Venue: So many options for a venue! I loved the choice made by the bridesmaids in the shower we featured earlier, who picked a modern barn style coffee shop venue – the absolute perfect fusion of modern elegance and rustic elements. You'll find many similar venues around South Africa, but a garden or marquee is just as lovely. When sourcing your venue, look out for natural textures and down-on-the-farm details you can capitalise on, like raw wood tables and simple chairs.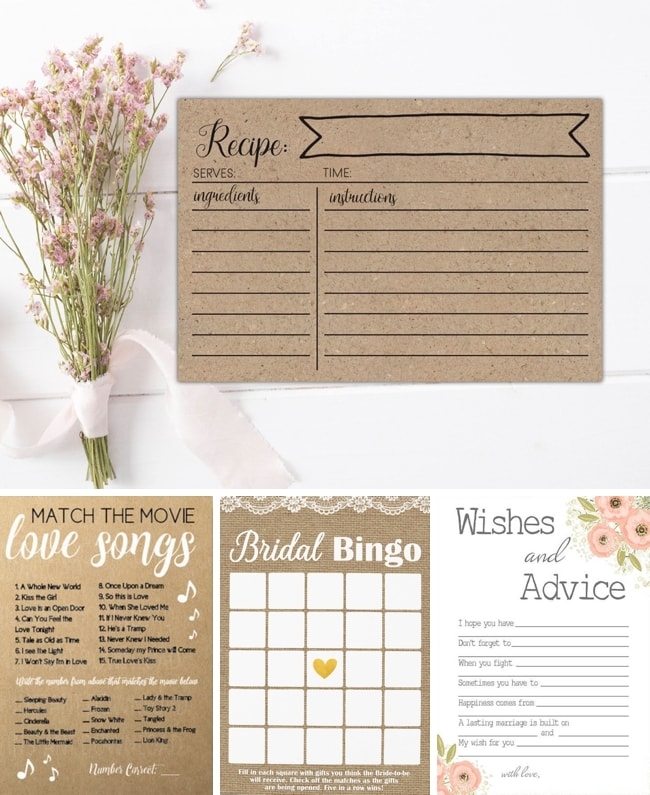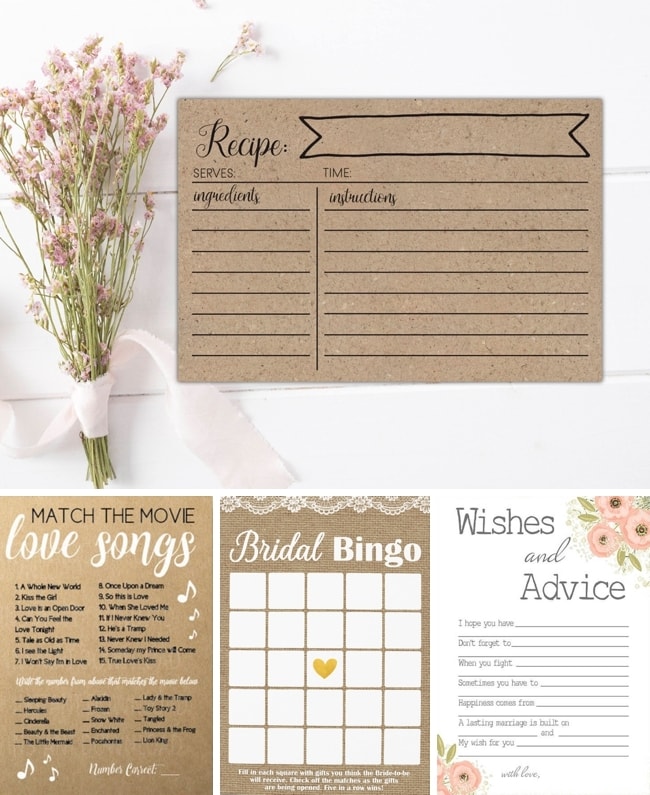 Row 1: Rustic Bridal Shower Recipe Cards by Fortu Designs | Row 2: Match the Movie Love Songs by Aesthetic Journeys (left) | Rustic Bridal Shower Bingo by Violin Events (centre) | Printable Bridal Advice Card by AmaVitaDesigns (right)
Activities: Although there are loads of activities you can undertake (fun example: creating greenery crowns together or how about a spot of flower arranging led by a pro?) I also like the idea of keeping it simple like Lindie's bridesmaids did.  You can find some super fun printable kitchen tea games to break the ice, from bridal bingo to love song trivia, and the focus on chatting and getting to know one another and enjoying the goodies and treats (with a break for pressies, of course!)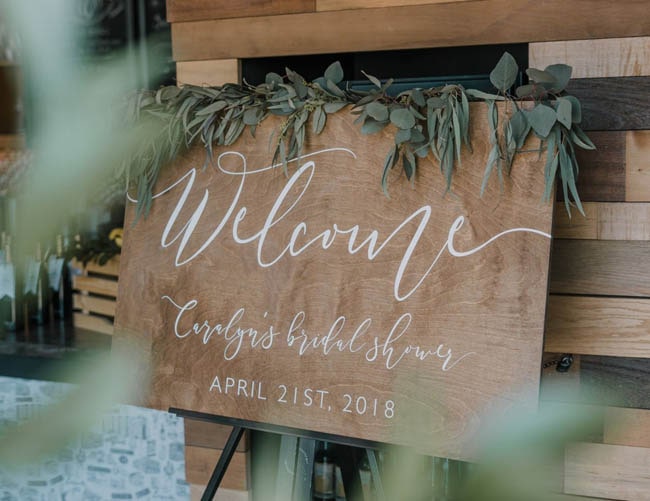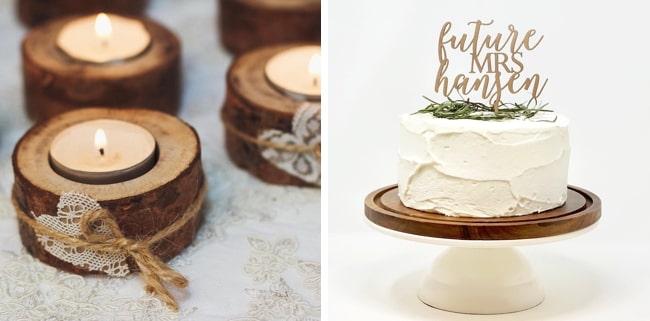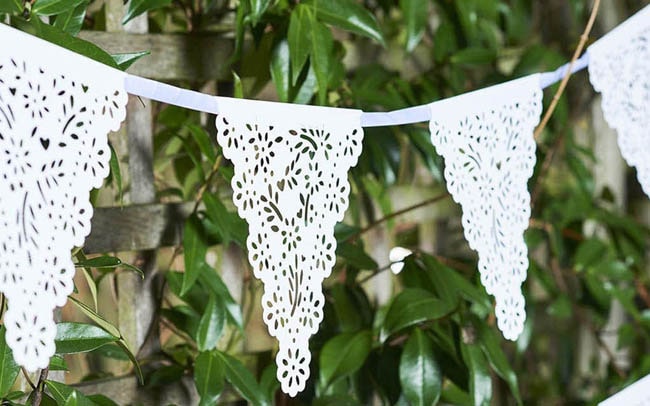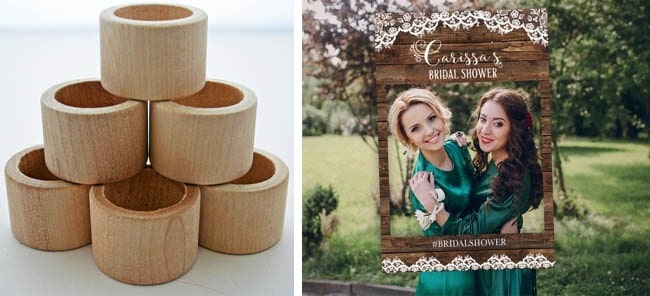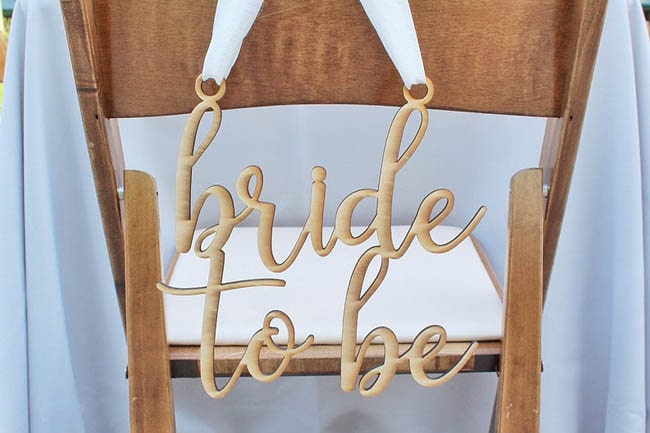 Row 1: Wood Bridal Shower Welcome Sign by Sweet NC Collective | Row 2: 15 Set Rustic Wood Tealight Holders by AS Deco Rustic (left) | Future Mrs Cake Topper by OAKY Designs (right) | Row 3: Botanical Wedding Lace Garland by Luck and Luck | Row 4: Unfinished Wood Napkin Ring Holder by Toying Around (left) | Bridal Shower Photo Booth Frame by ohlillydesigns (right) | Row 5: Bride to Be Chair Sign by The Crazy Bunny Lady

Decor: Again, so many options! To keep this look up to date, drop the burlap and lace (although I couldn't resist this lace garland – such a great update on the bunting trend!) and instead opt for natural textures, especially wood. Wood signage is an especially lovely decor option, because you can give it to the bride afterwards as a gift (instead of a welcome sign, how about one with just the bride's new name, or those of the couple?). Rough wood napkin holders also act as a lovely natural touch and better yet, they double as favours!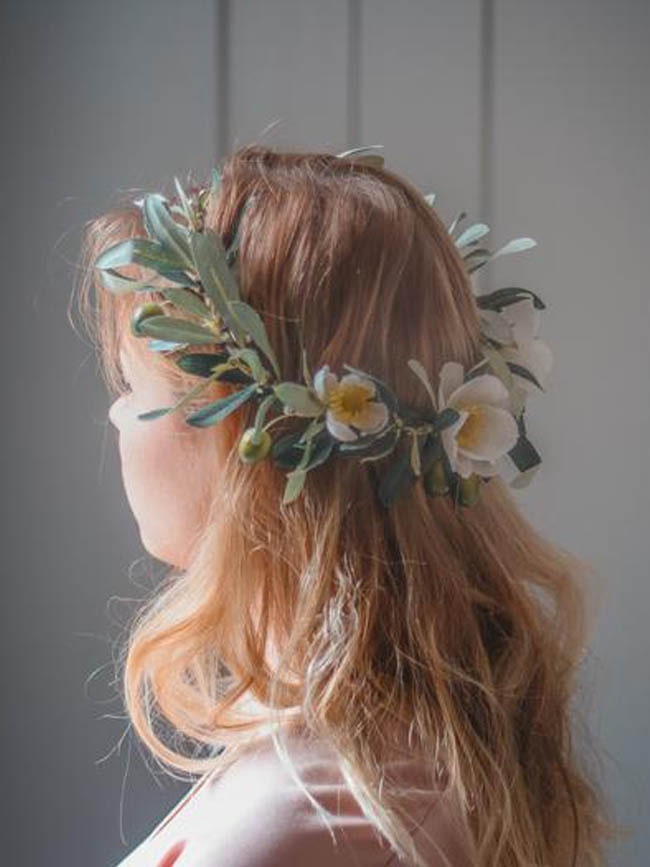 Olive Branch Wedding Crown by Hidden Botanics
Dress: I just loved the palette that Lindie's bridesmaids picked for her shower – with the bride in white and her bridesmaids in navy, and all in greenery crowns, it was chic rustic perfection! Get the bride to wear something boho and lacy, and if you don't feel handy with the flowers, you could treat her to a custom made hairpiece like the one above. So pretty!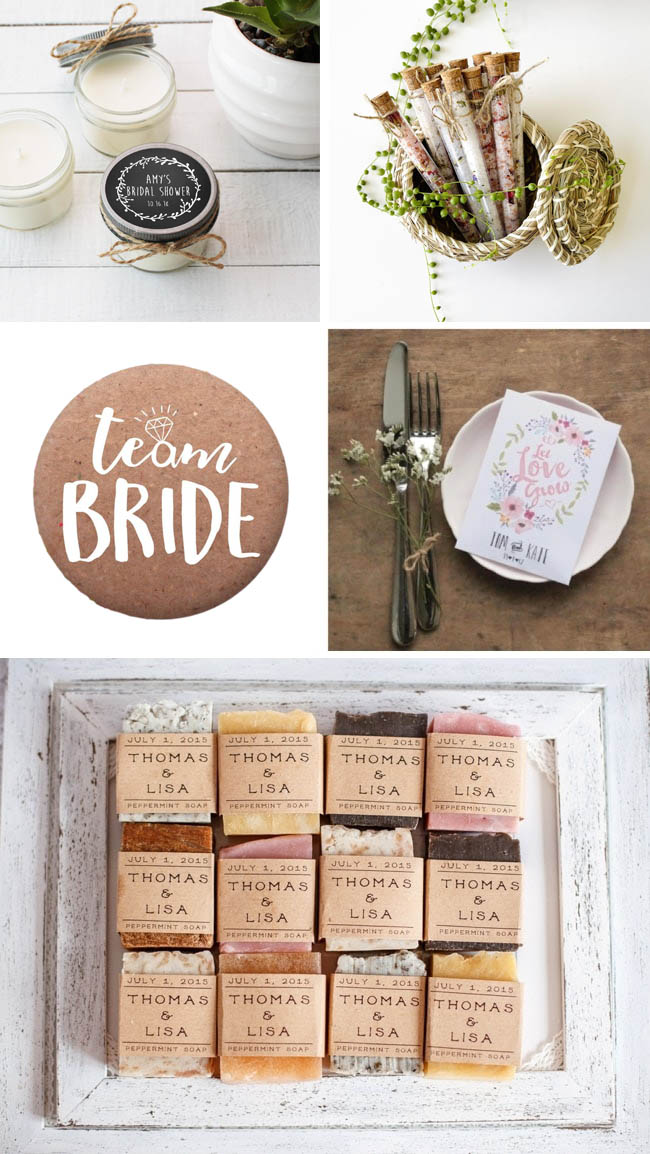 Row 1: Soy Candle Bridal Shower Favors by lulusugar (left) | Bath Salt Favorsby Bare and Basic (right) | Row 2: Hen Party Badge by Hitched By Hand (left) | Let Love Grow Wildflower Customised Seed Packets by Linden Flowers (right) | Row 3: 100 Mini Wedding Favor Soaps by Rustic Joy Soap

Favours: Keep it simple with the favours and give the ladies something they can really use. Ideas I love include candles in jars tied with twine, test tubes with tea or bath salts, seeds, or pretty artisan soaps. All can be DIY-ed, but you could also save yourself the hassle and buy them ready made from Etsy. And why not give everyone a little badge as a momento? I love the ones above made with a Kraft look.
Which of these rustic bridal shower ideas is your favourite?