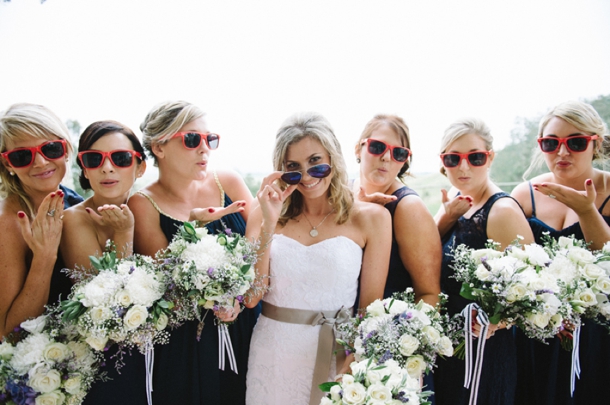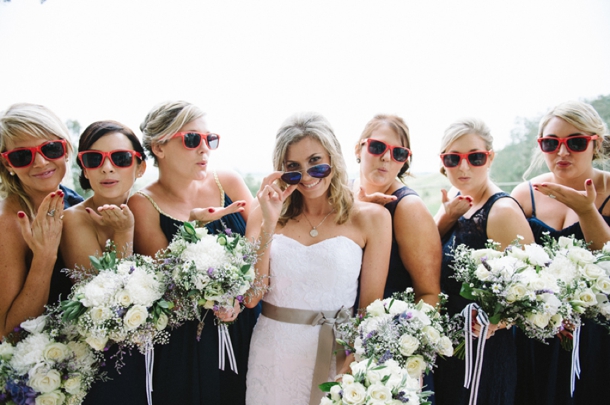 Are you ready… are you ready for love? Lordy, I'm clearly more than a little sleep deprived. I think I just quoted Elton John. Even so, it's an appropriate question, since love is what you'll find plenty of in today's gorgeous real wedding. Love between the cute as anything bride and groom, love from their friends and family, and love-liness all over the place in their design and decor. You may remember me mentioning Keri and Andrew's story last week, when I featured their engagement shoot (so cute) – after helping Keri out with an inspiration board I was dying to see how it all turned out and couldn't wait to see Eileen Laubscher of Bright Girl's fantastic photos. Well, they were even better than I'd imagined – a rustic French-inspired palette with a handmade feel and very personal touches (LOVE those cow table plans!). Keri looked absolutely beautiful and natural, her groom seriously dapper, and I'm a sucker for her stylish mismatched navy bridesmaids' look, especially in their fun shades! If you haven't already, be sure to check out Keri's own blog, Midlands Musings – she's a rising star in the SA blog scene, and you'll soon be a fan ;)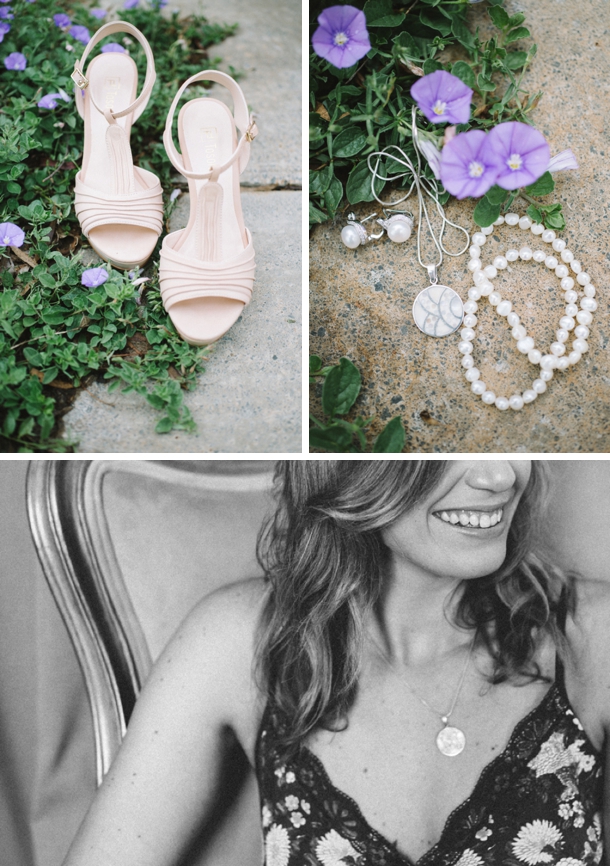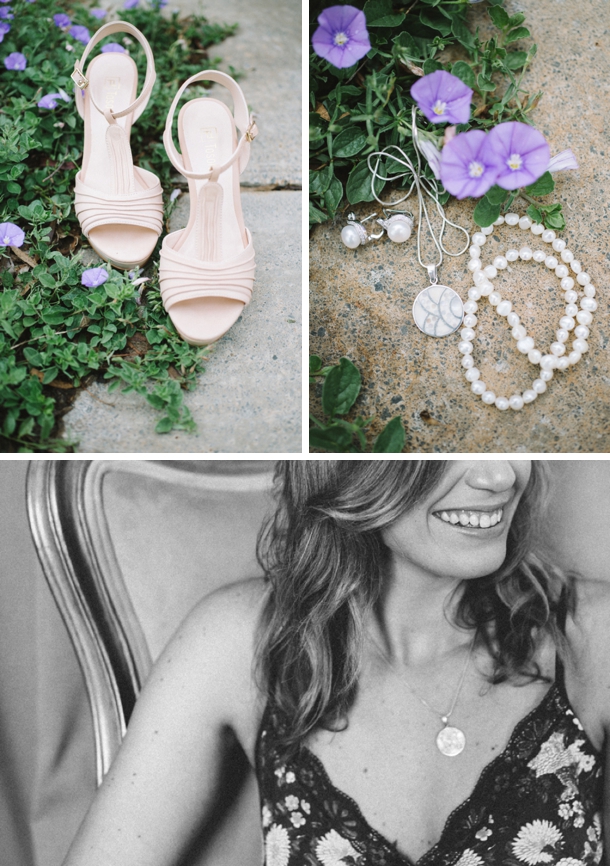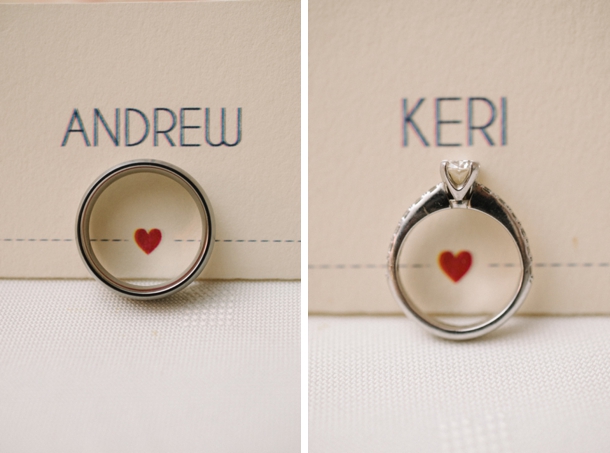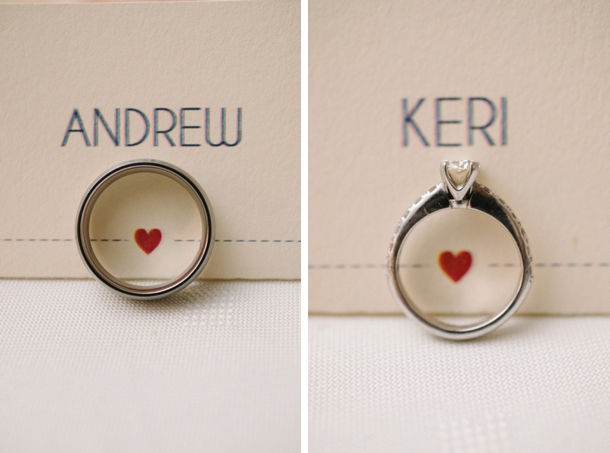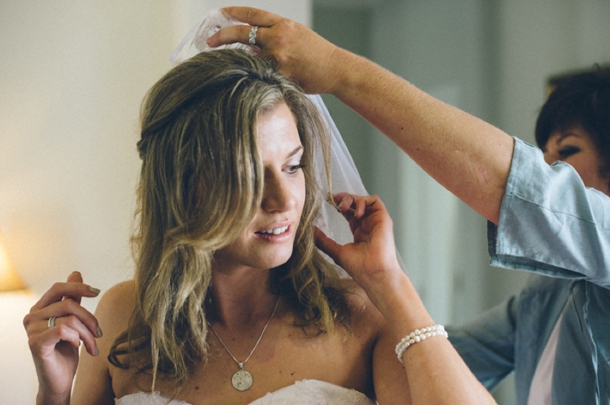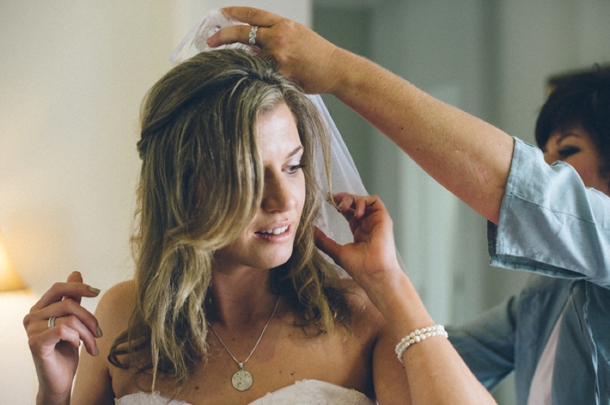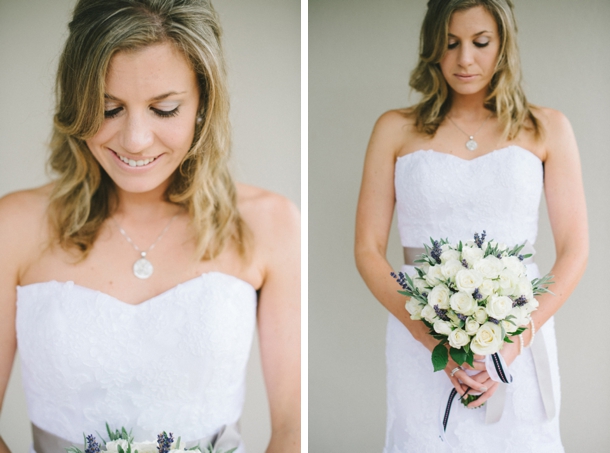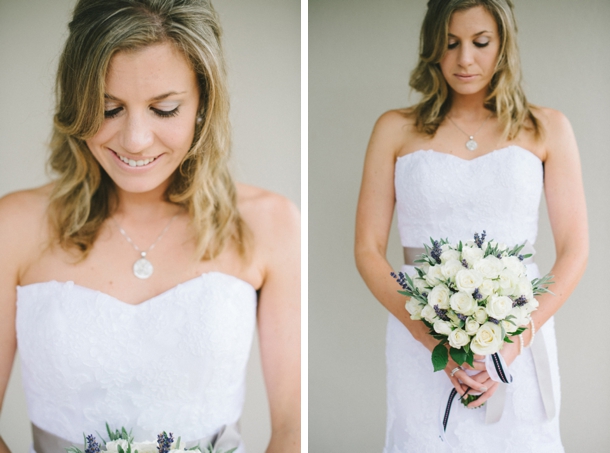 Here's the 'how they met' and proposal stories from the e-shoot, in case you missed it:
How Andrew and I met is quite an interesting story. He was born and bred in England, but had been living in SA for a couple of years by the time I met him. We both lived and worked in Cape Town at the same time, but never met each other, although we shared a mutual friend, Megan. Anyway, I moved back home to Mooi River in May 2010, and Andrew followed the following month. His parents, like mine, had a stud farm up here. In fact, they already knew each other through the horse racing world, so I think it was really only a matter of time before we met. Megan put Andrew in touch with me and asked me to show him around, which I did. And from Day One, we clicked.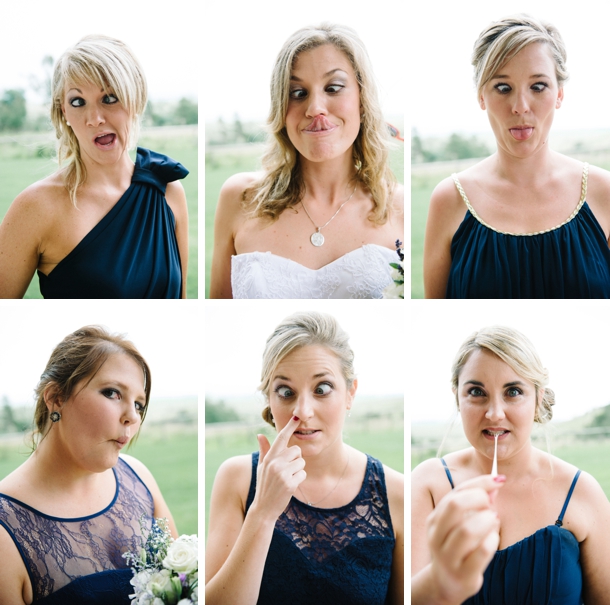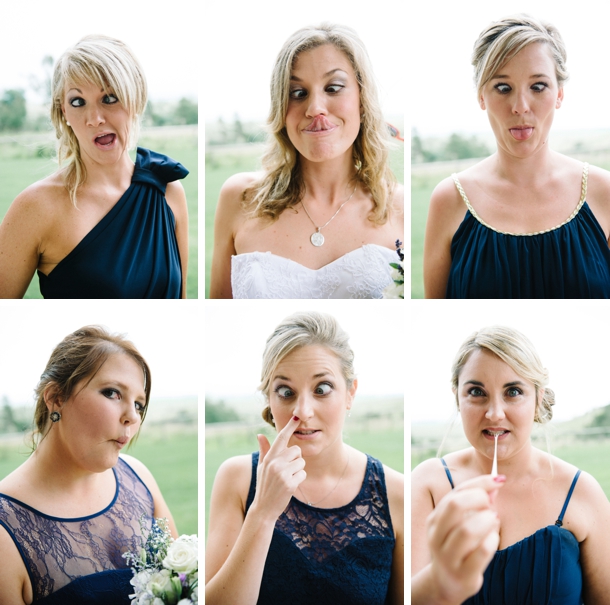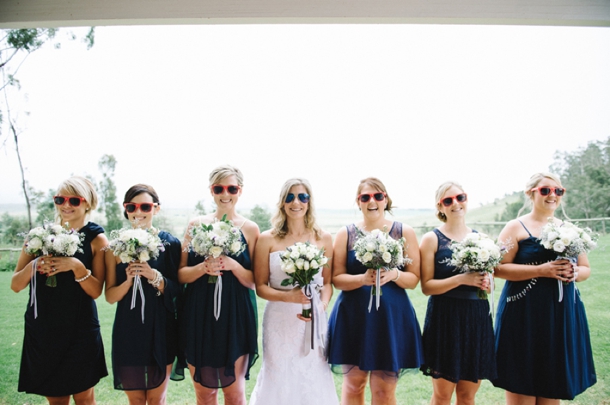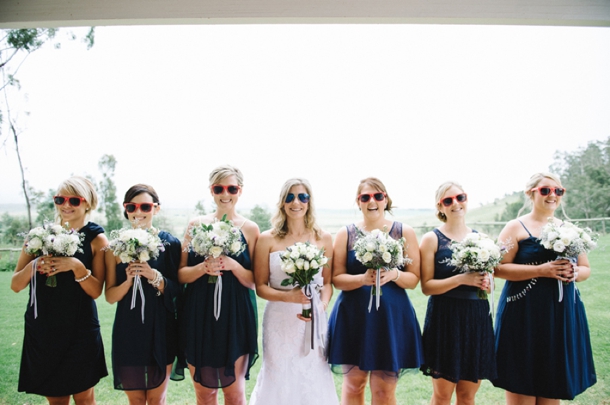 He proposed on top of the mountain on his parents' farm, where we now live. He had had the ring made in England but had been waiting for his mom to bring it out with her. On the day of the proposal, I had no clue about what was going on – in fact, I was a little upset because he had not organised us a dinner out or anything to celebrate our anniversary. In fact, I had had to make the booking (much to my disappointement/disgust). That morning, while we were getting dressed, Andrew asked if I wanted to take a hike up the mountain in the afternoon when he got home from work. I didn't suspect a thing, as I had been pestering him to walk with me up there since we had moved to the farm. It did cross my mind later, as we walked up the mountain, but I quickly pooh-poohed it, thinking he would never propose when my fingernails were all dirty from clawing my way up a mountainside (haha – boys don't think like that, obviously). Once we reached the top, I made him take hundreds of photos of me with the view behind me until eventually he was like, "Ok, Keri, that's enough photos now!" Then he dropped to on knee and told me that he loved me so very much and wanted to spend forever with me. I was so shocked, I just started laughing and laughing until he said, "So are you going to say yes?" Which of course, I did. He then engraved our names and the date on a rock and said that one day we could bring our kids up there to see where Dad proposed to Mom, which was super sweet. After some celebratory champagne, we walked back down the mountain and I found our friends and family all waiting for us at the farmhouse. It was so special!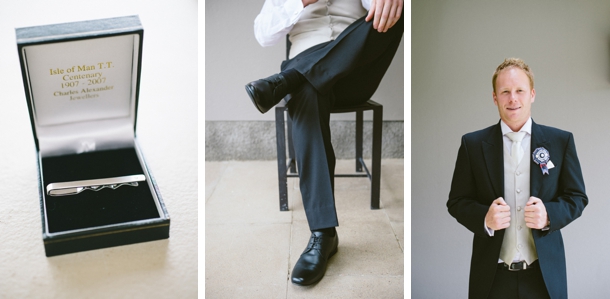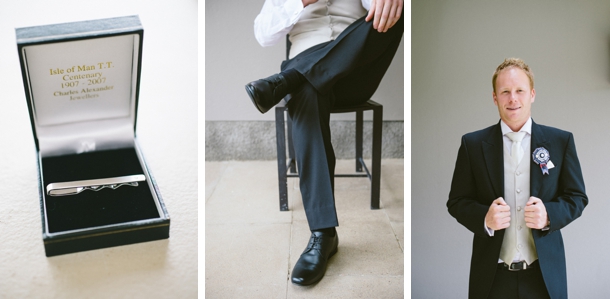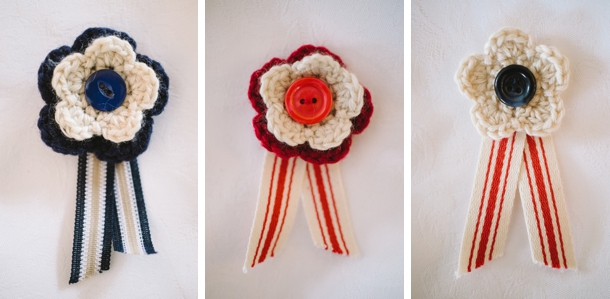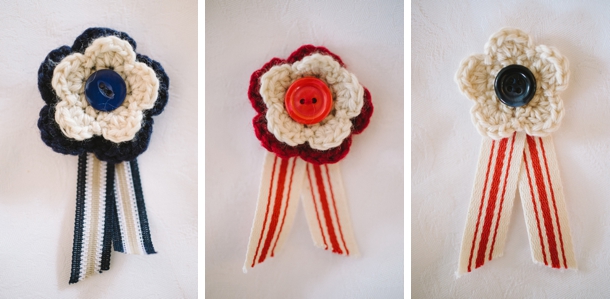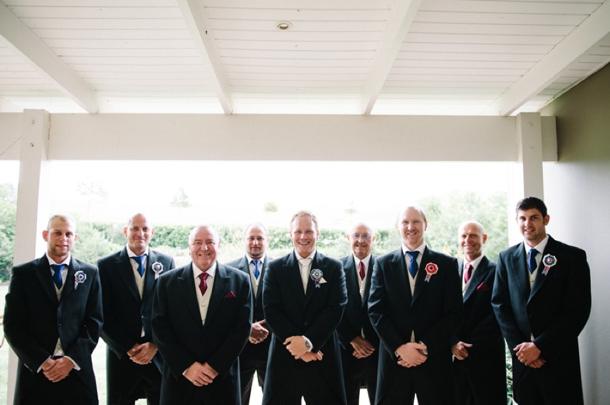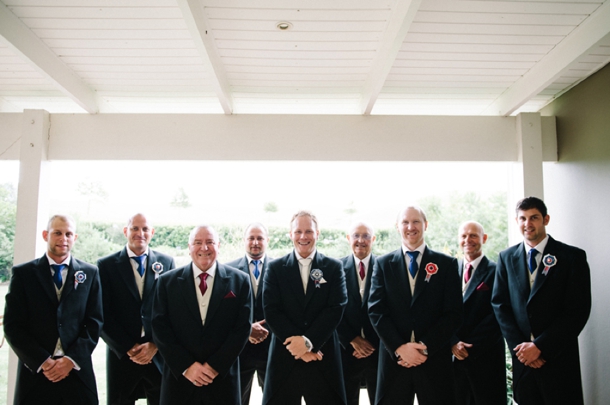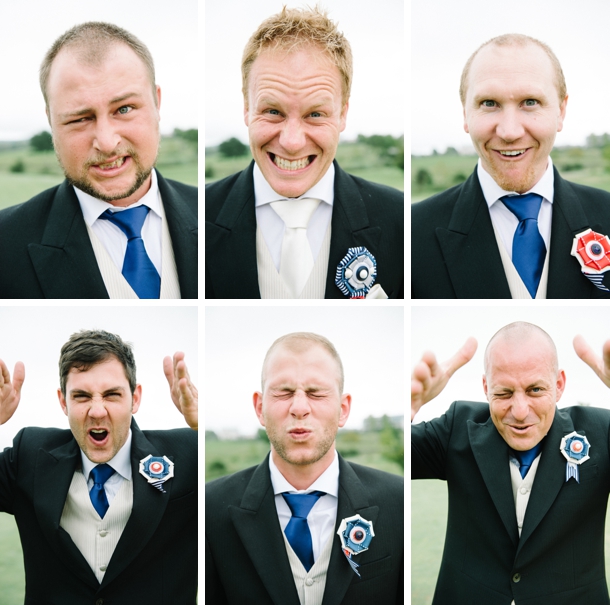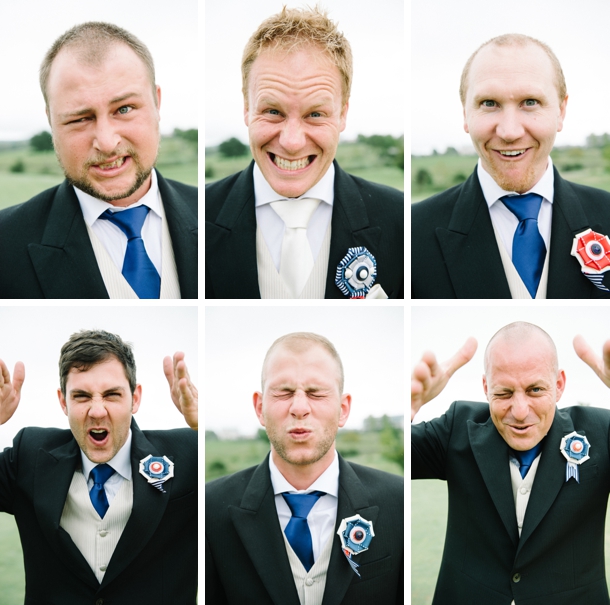 And now here's all the wedding details from Miss Keri (well, MRS Keri, to be precise!):
I originally wanted to do the popular lavender pastel look which was so big last year, but wanted to include crocheted decorations – it's really difficult finding wool in pastel hues! Then I saw a beautiful Union Jack-inspired wedding in a British bridal magazine and decided why not? Red, navy and cream are much easier colours to work with! They work well with both our heritage – Andrew is English and I'm of French descent. Andrew is a chef and loves cooking and I love words and writing, so I incorporated that into our theme as well, using jugs, milk jars and vegetables on the table, as well as a lot of text in the runners and on quotes on the tables (all which had to do with food and cooking).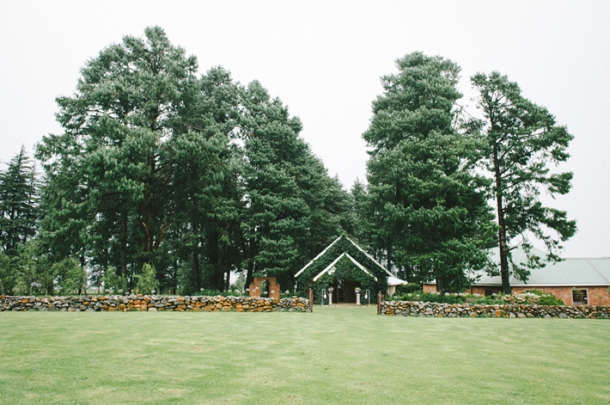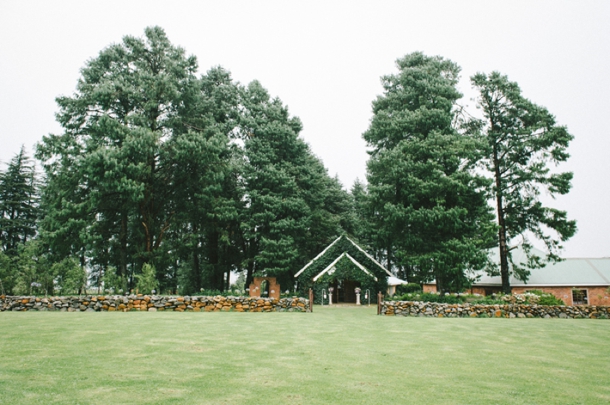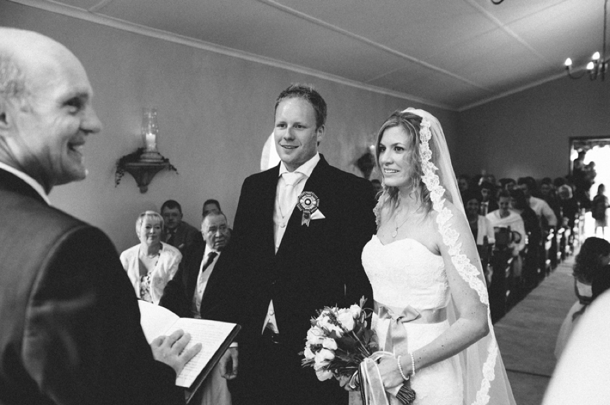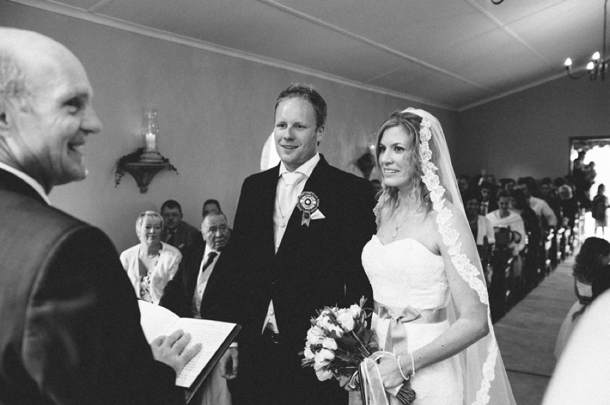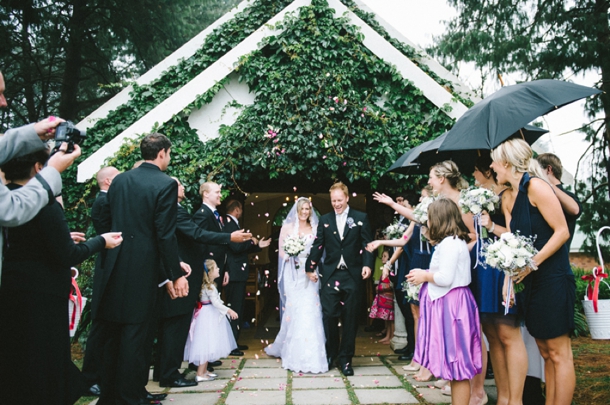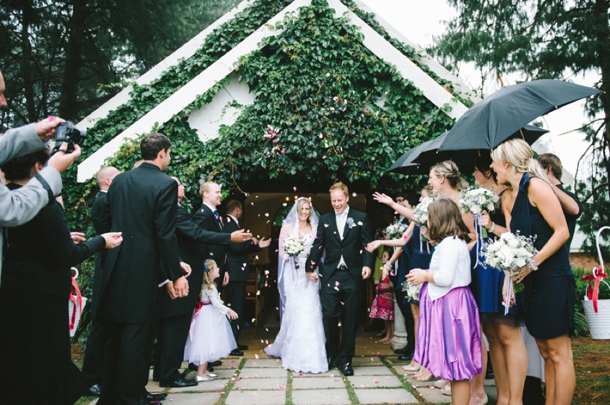 My mom, mom-in-law and I made the crochet buttons and the hearts on the chairs. My cousin is a graphic designer and helped with everything from the invites to the table numbers and name cards. She even made the little personalised figures of me and Andrew to put on the cake! Everything was very personalised – I did not want ours to be a stock standard wedding with the same hired decorations as everyone else. We even kept all the Aqua di Panna and San Pellegrino bottles from Andrew's restaurant to use as vases. Everything had something to do with our personalities, from the cooking to the handmade scrapbook I made.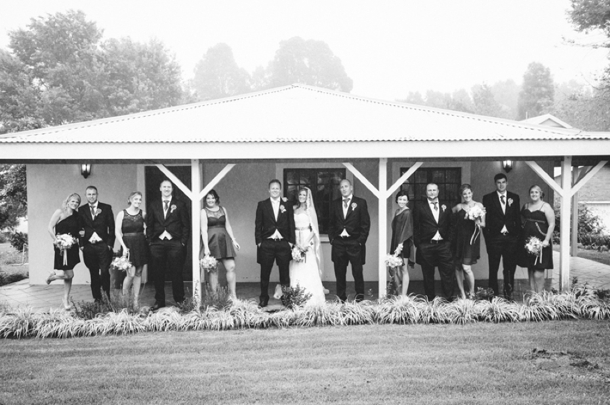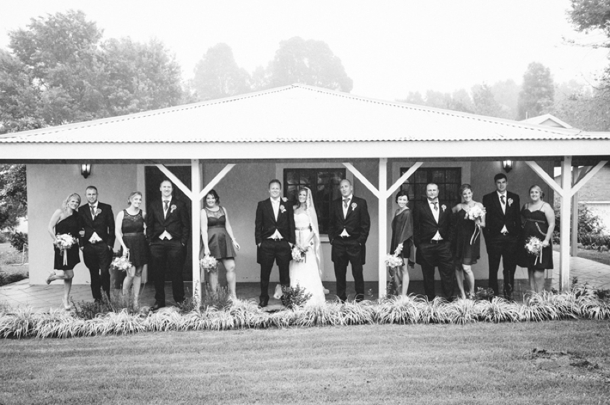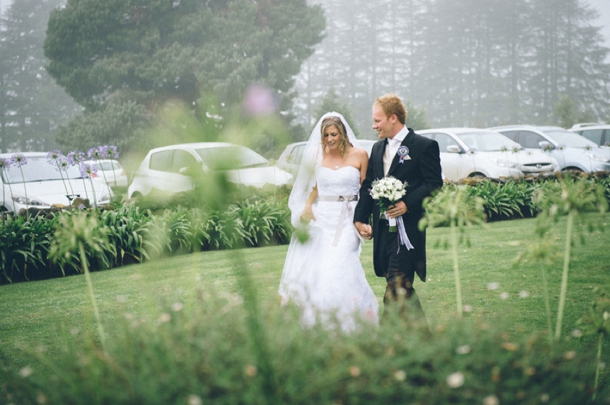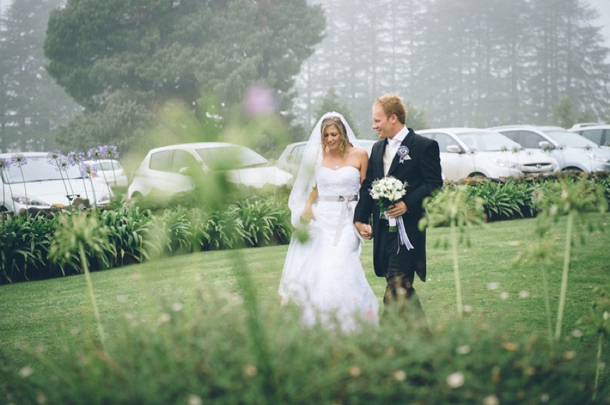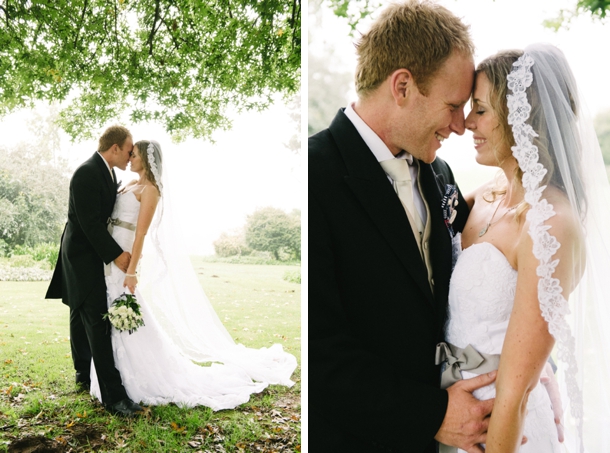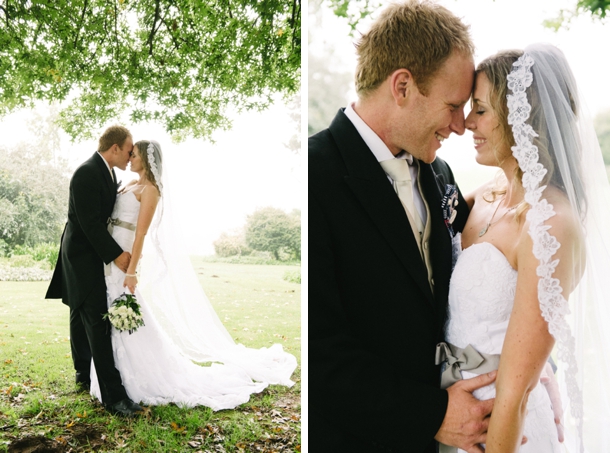 Some of the amazing moments that I most loved, included reading the letter my husband-to-be sent me in the morning as I was getting ready, seeing my father's face when he first saw me in my dress… and taking a shot from my friend Roscoe's belly button! Our wedding was about having fun with our closest mates – no serious stuff or behaving was allowed at all!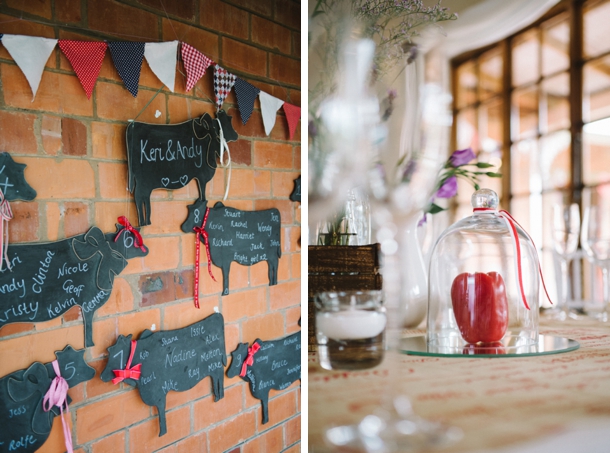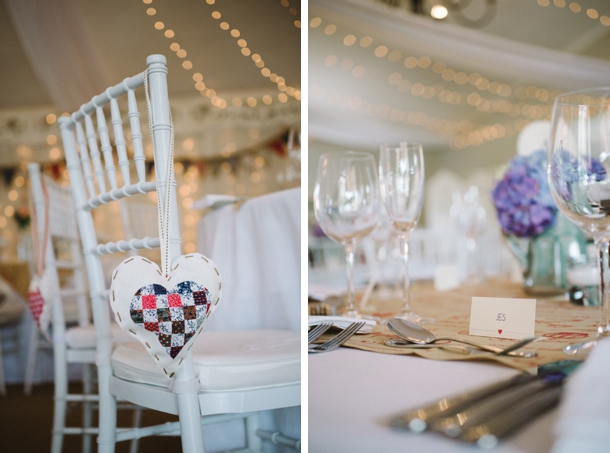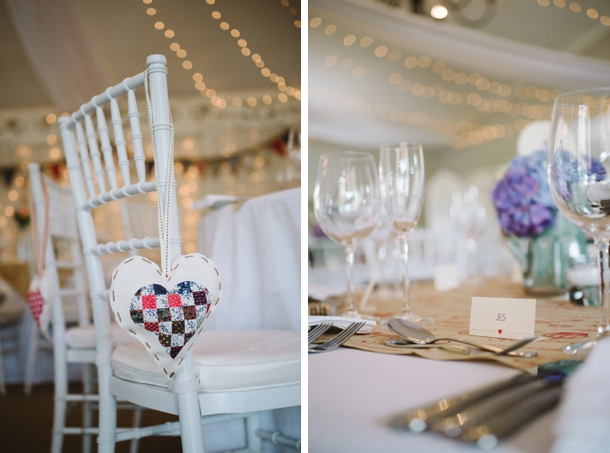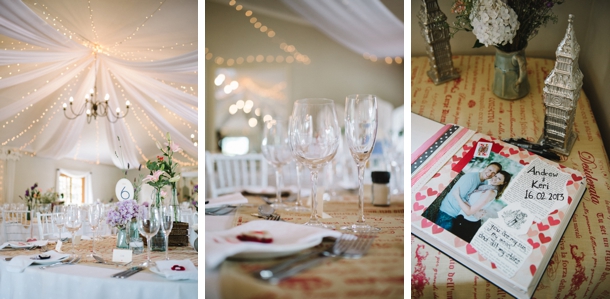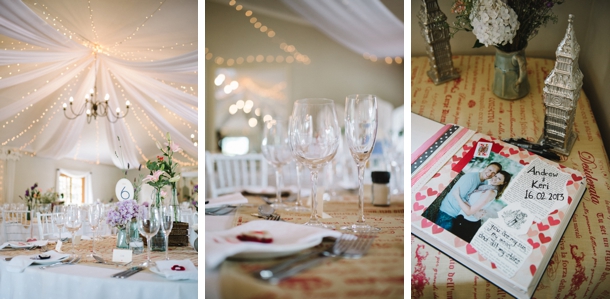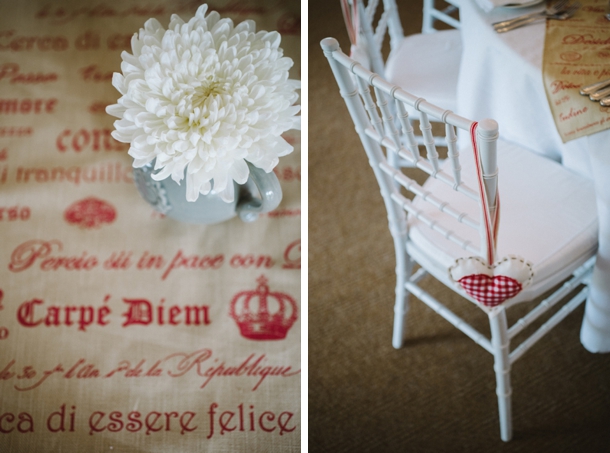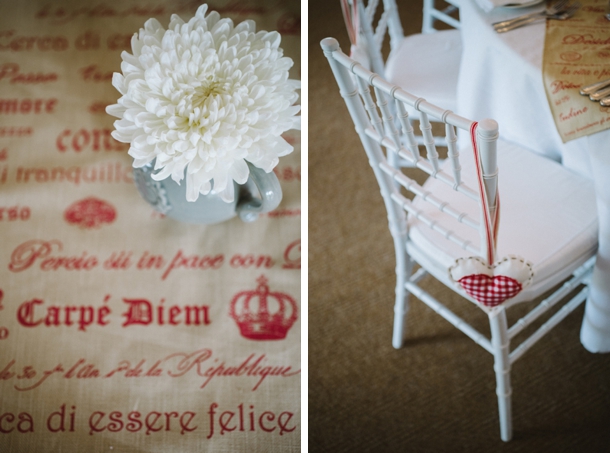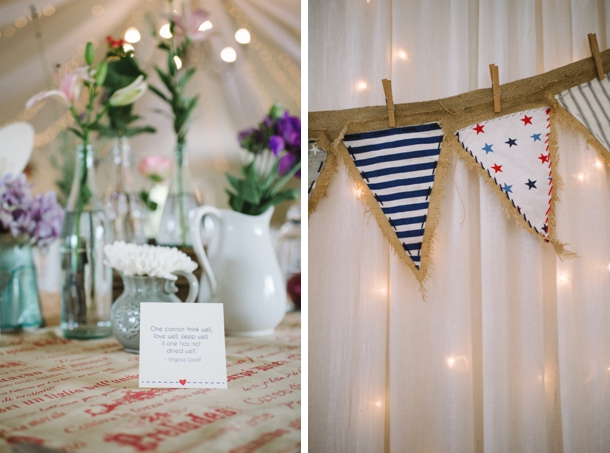 Pinterest and wedding blogs were my main sources of inspiration. Get Gaby to do you an inspiration board (this helped me a lot, even though my end outcome was rather different – it put me on the right path! [Yay! – Gaby]) Once you know what you want STOP looking at these sites or buying magazines – you'll get confused. Stick to what you envisioned and don't try to do every little clever idea you've seen online – it'll be far too stressful and a happy bride is a relaxed bride.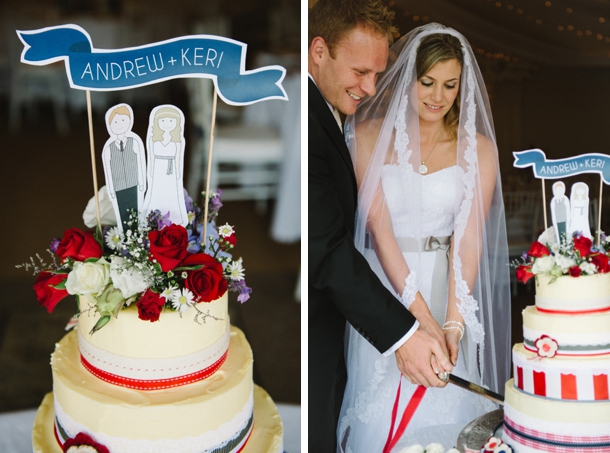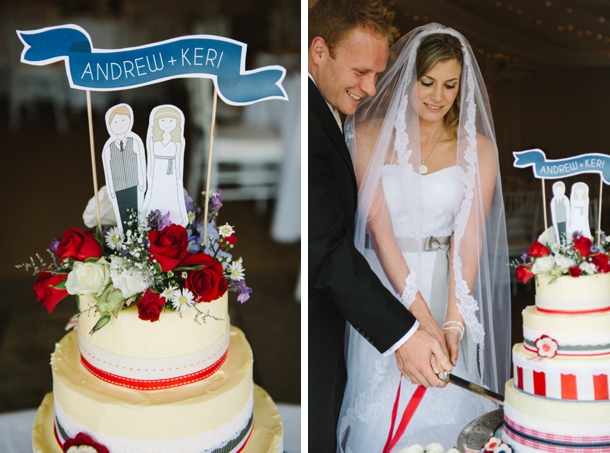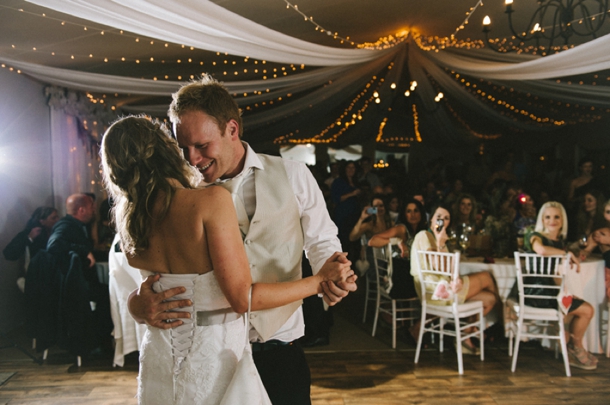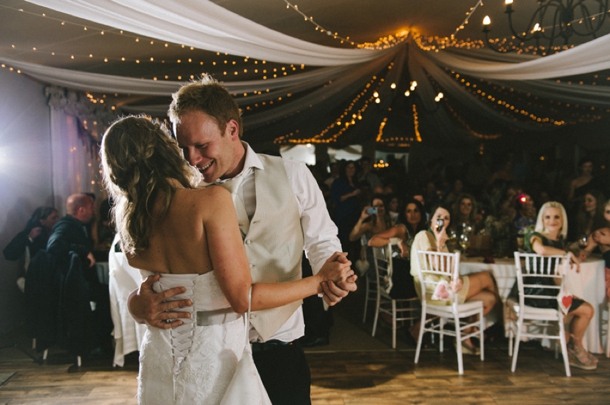 Take it from a bride who clearly was both happy and relaxed! Thank you so much Keri and Andrew, and a big thank you to Eileen for finding the time in between being a mom to send me all these pics – you can see even more from this wedding on the Bright Girl blog.
SERVICE PROVIDERS
Venue & catering: Providence | Photography: Bright Girl | Flowers & decor: Kerry's Flowers & Decor | Cake: Fern McComb | Stationery: Claire Griffin, Light Designs | Bride's dress: Sposabella | Hair & makeup: Erika Bettison, Craik Spears and Ceri Charman | Entertainment: Red Light Stereo