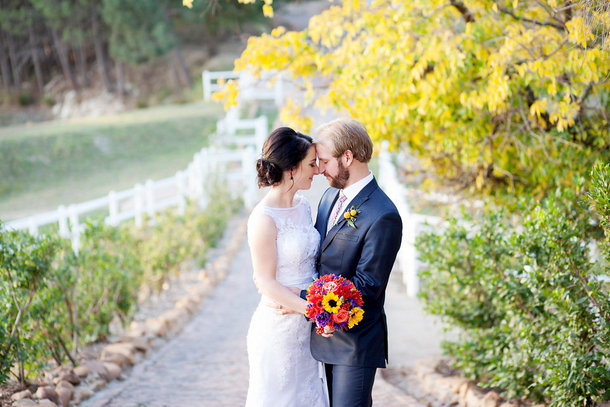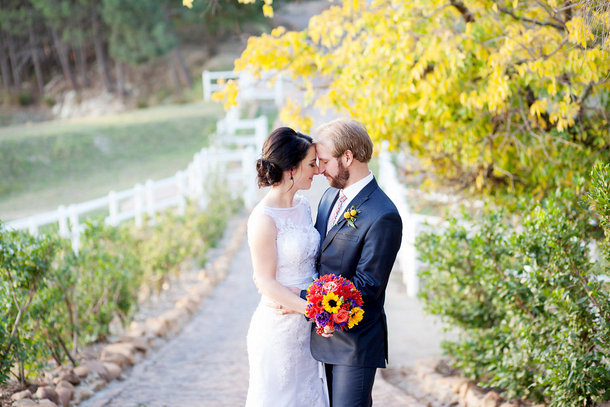 Some weddings land in my inbox and I feel like an elegant symphony should be playing when I open them. For others, it's more like a carnival band, and those celebrations full of colour and life always make me smile just a little wider! Today's is one of those – Kelly and Kieran's big day has that delicious laid-back feeling of a summer afternoon, with one element more common in the colder months: wool. From the most adorable crochet bunting to table numbers, yarn makes its appearance, bringing a sense of brightness and playfulness. This is underscored beautifully by the flowers, which were created by SBB faves Green Goddess flower studio – I just love the magic these ladies create! Kieran and Kelly (who looked particularly gorgeous thanks to another SBB fave, Ida Webster) seem like such a lovely couple – you can sense that special bond in the way they laugh together in all their photos. They also completed the questions together, so you get both groom and bride's perspective on the big day, which I love. And finally, let's not forget to mention that these beautiful pics were taken by Katherine Newman, who captured all of that colourful, smiley goodness in her images. Strike up the band!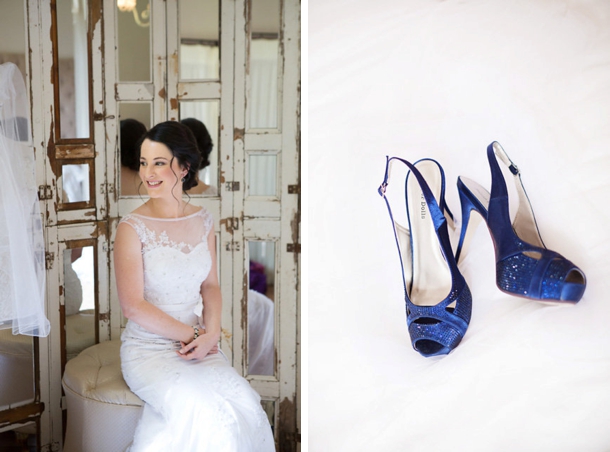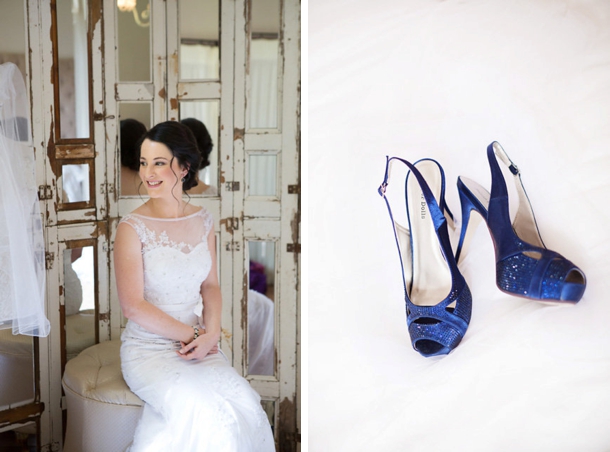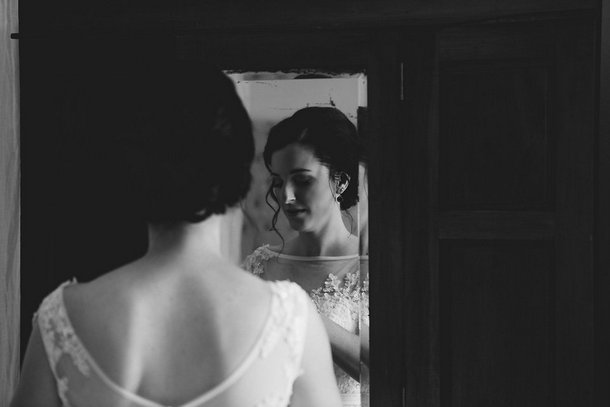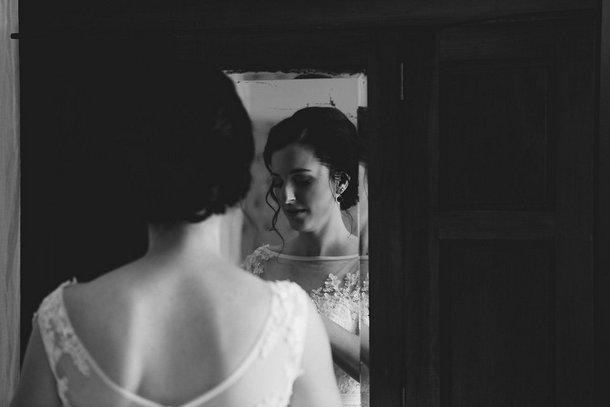 Love Story
Kelly: Kieran's sister was seeing my best friend, Gareth, so we met through them and knew each other for a year before we started dating. It was only when he helped me plan my birthday (he even helped pay the deposit!), that I realised what a kind, caring and simply wonderful man I had in front of me! He hasn't been able to get away since :)
The Proposal
Kieran: We'd been going out for a few years and spoken about our future together, but it was only during a trip on my own in Paris that the idea and confirmation of a future proposal really stuck. Upon my return I began to initiate meetings with a jewellery designer for the engagement ring, which ended up taking nearly six months to finalise. The proposal itself took place over a long weekend getaway to Tulbagh. It was a wet Cape wintery few days and a good portion of the time we'd spent indoors playing board games, reading, etc., where I was hoping for an opportunity to head out for a short walk on the farm to ask THE question. Later in the afternoon the heavens did part and we took a stroll along the hillside to a spot that overlooked a portion of the valley. It was here that just through general conversation I fumbled my way to getting onto one knee and asking Kelly to marry me, caught her by surprise and she said YES! It was a special moment, just the two of us, although the whole event had been witnessed by the farm's ridgeback, who had accompanied us.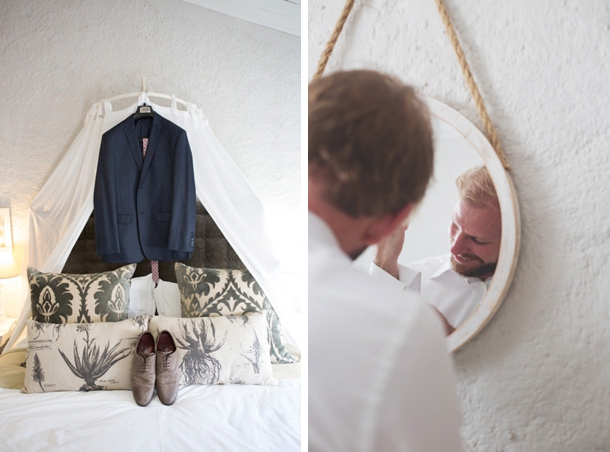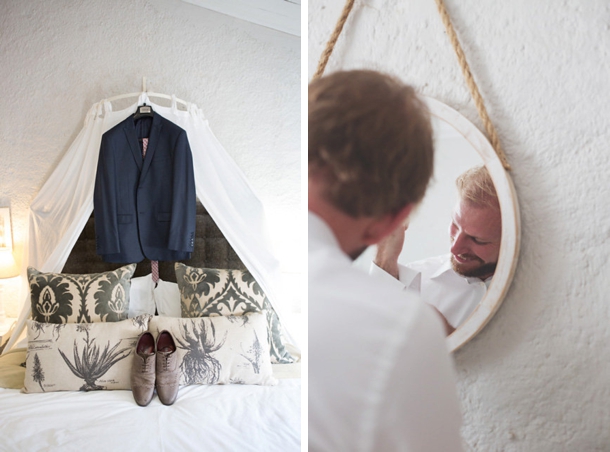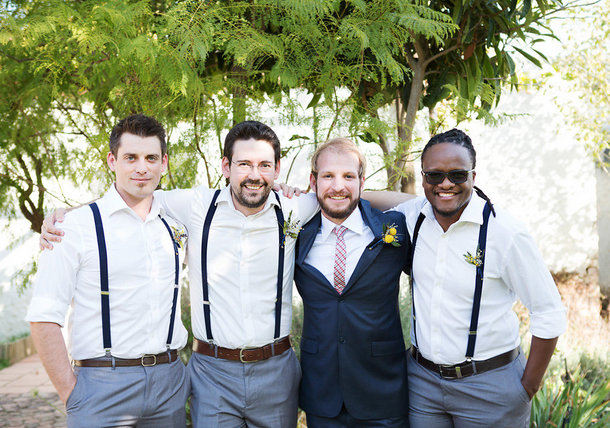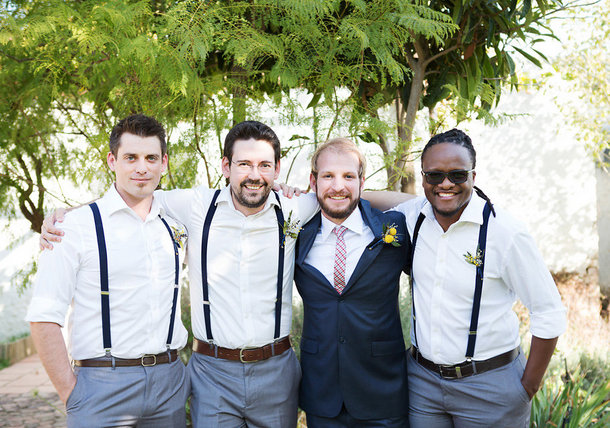 The Venue
Langkloof had been in the back of our minds two years before we were even engaged! We had gone out for a weekend away and wanted to have breakfast on the property but couldn't because they had a function. We sneaked in and had a look and it was just beautiful! It had the right feel, fell within our budget, and had accommodation for guests, very reasonable corkage and a delicious menu. Our one stop venue shop.
Wedding Style
Kelly: Overall our theme was colour! We both love bold, bright colours. My engagement ring is a sapphire and because it's my favourite stone and favourite colour we chose a dark blue for the bridesmaids and then everything else incorporated all the beautiful colours for that season. We wanted a simple yet elegant style that included our laid back, fuss free personalities.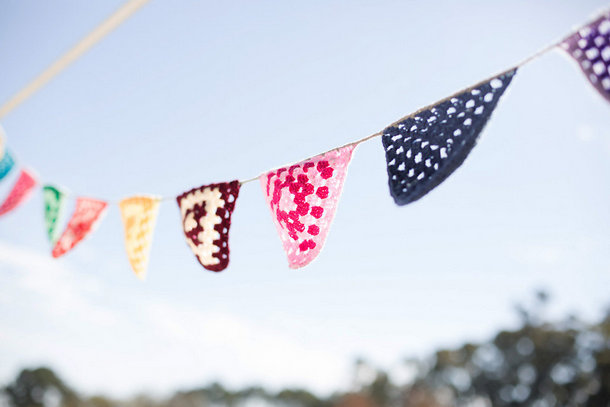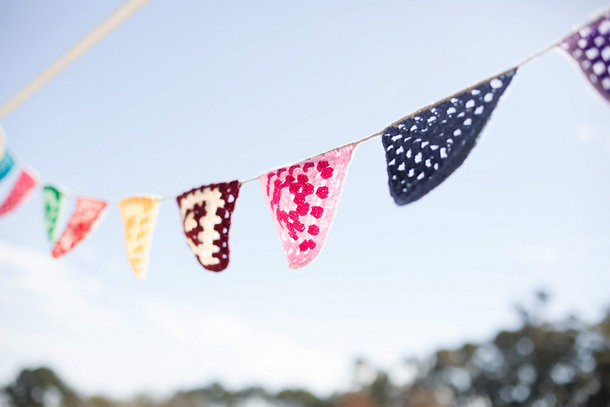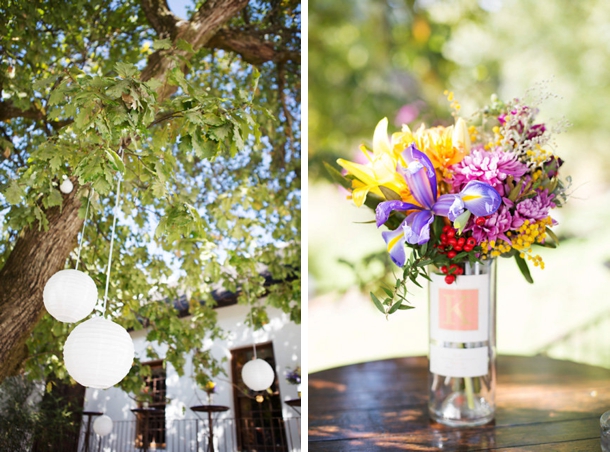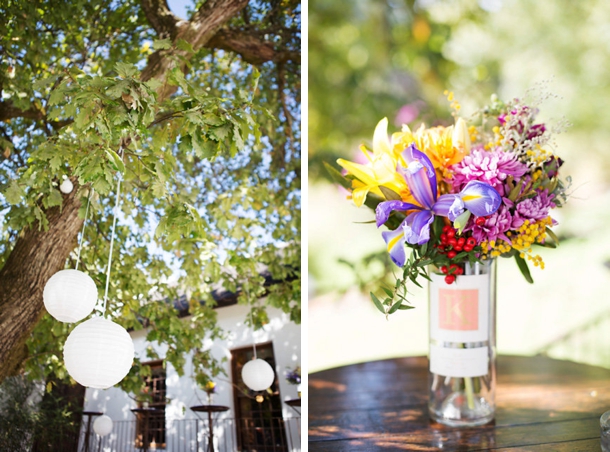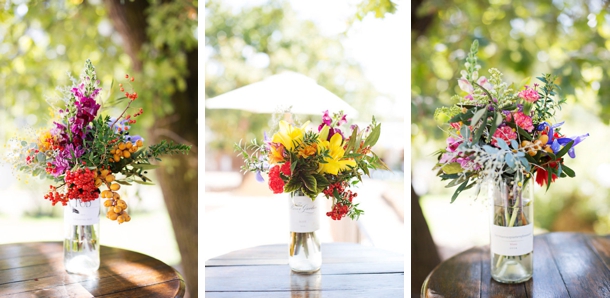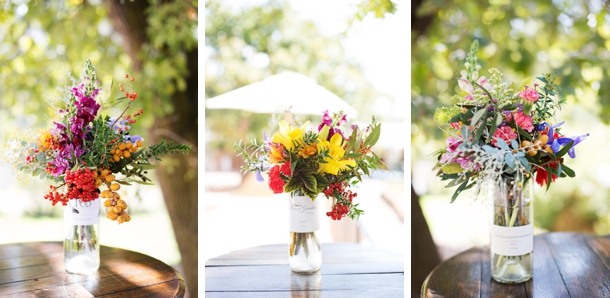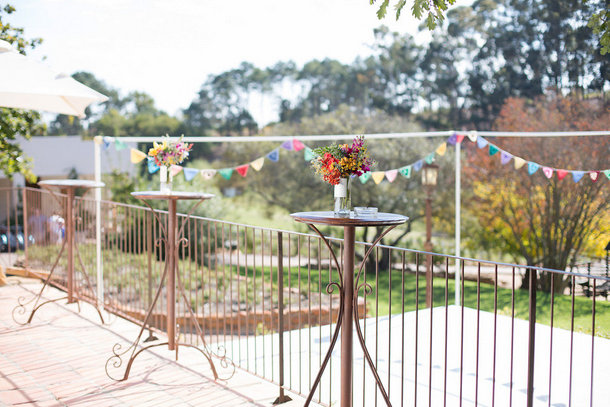 Wedding Details
Kelly: A resounding comment from our guests was just how personal, intimate and full of love the occasion was. Our day was us to a T. Our ceremony was heartfelt and we had wanted to share the role God had played in our relationship by involving our very close friends and family. We had customized place names with a picture or funny meme that reminded us of the person as well as choosing our favourite wines for people to choose from. Kieran also made all the beer (he made four different types!). We both felt quite strongly about having a memory table; it was our way of honouring our loved ones that weren't with us on the day. My mother, Kieran's mother, my aunt and Kieran's Gran crocheted our bunting – it was so beautiful it took my breath away! All in all I like to think we made people feel loved and appreciated on our special day.
DIY Elements
Kelly: We DIYed pretty much all of our décor! I borrowed a lot of vases and votives from a friend and my mum organised the most beautiful array of flowers and succulents for the area where we had drinks after the ceremony – the best part is she took them back with her and replanted them! We both wanted as little waste as possible so Kieran made our vases out of white wine bottles so that our guests could take them home, as mentioned we made our own beer (because Kieran really enjoyed it and he makes great beer!), the jars we used for the sweet table and in the chapel we got specifically to use in our home one day, Kieran's mum made the most amazing wedding cake and the bunting was made into a number of blankets after our wedding so that we now will always have something to remind us of our beautiful day!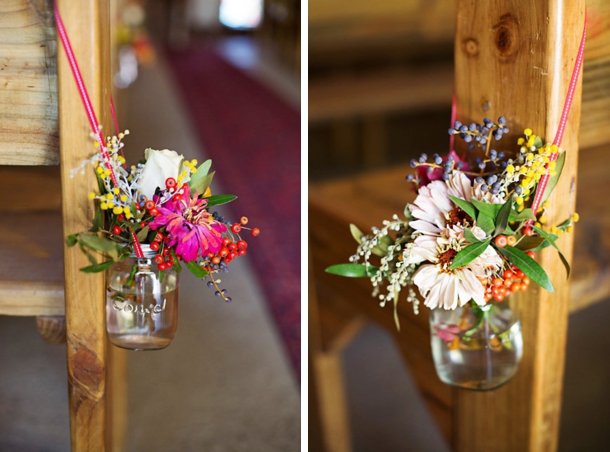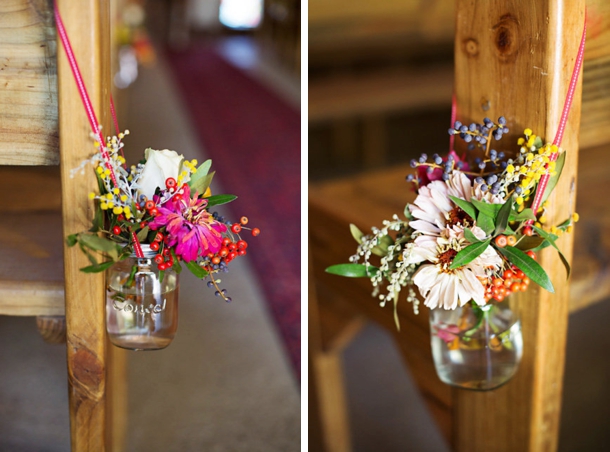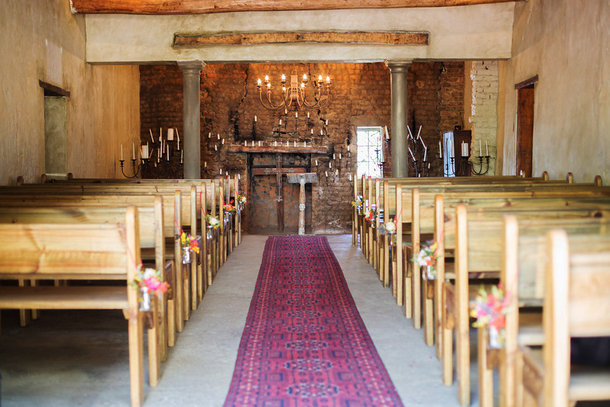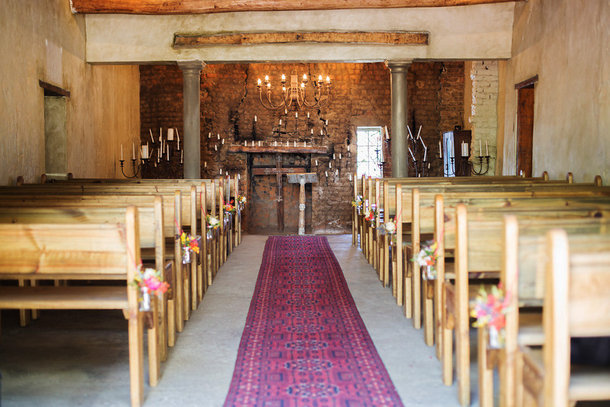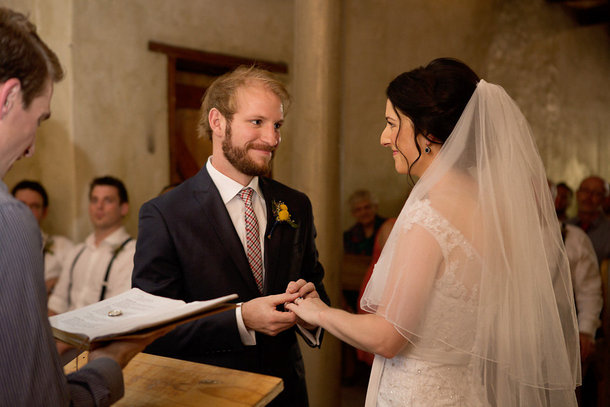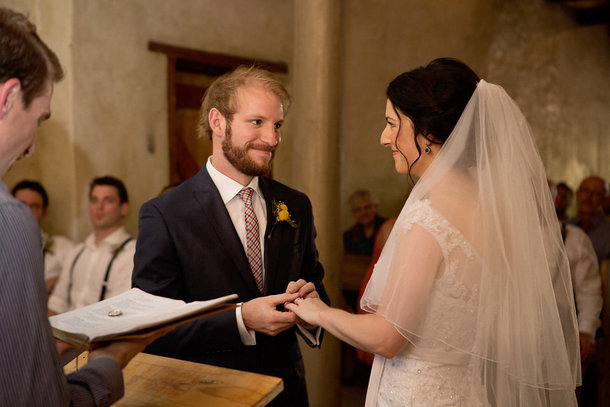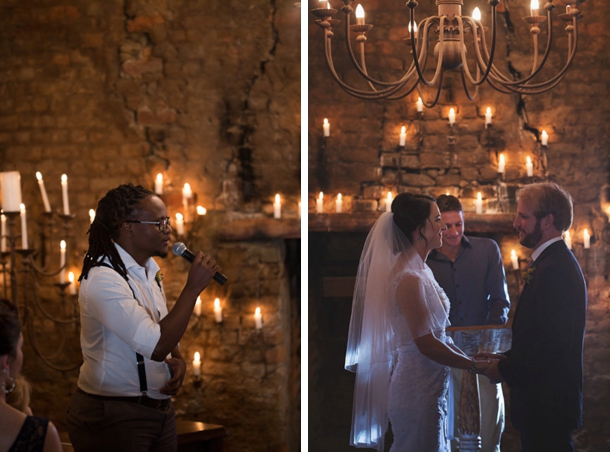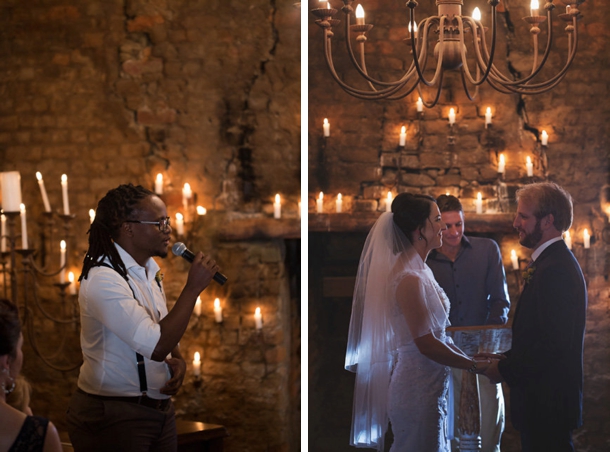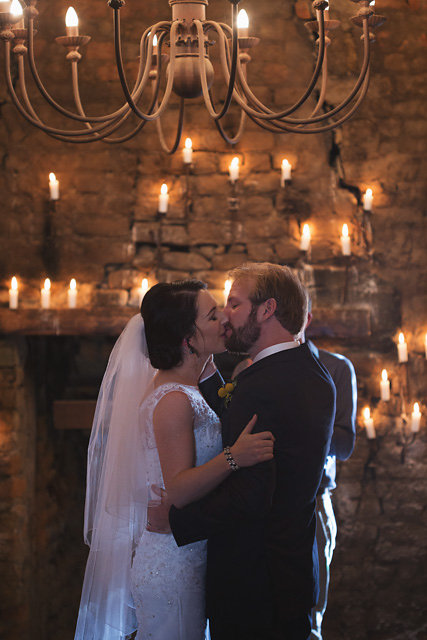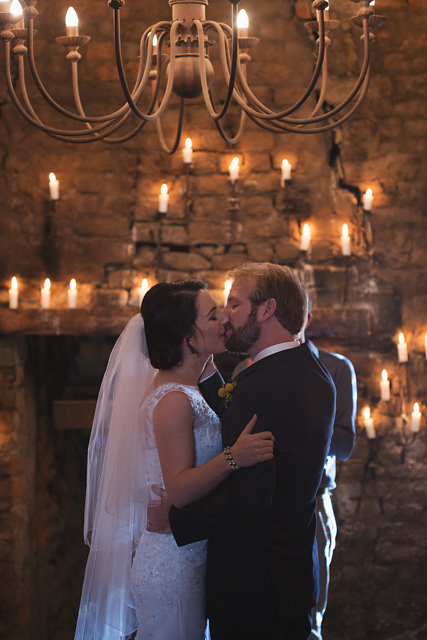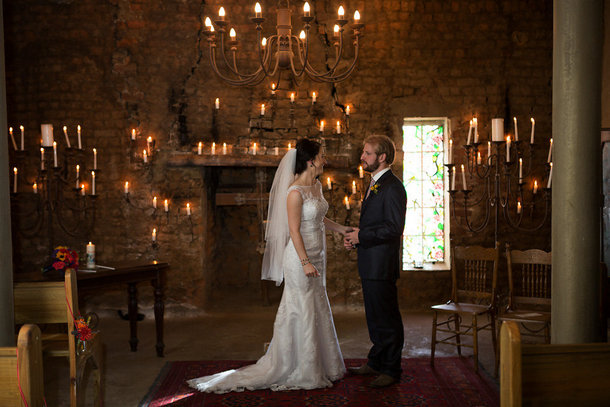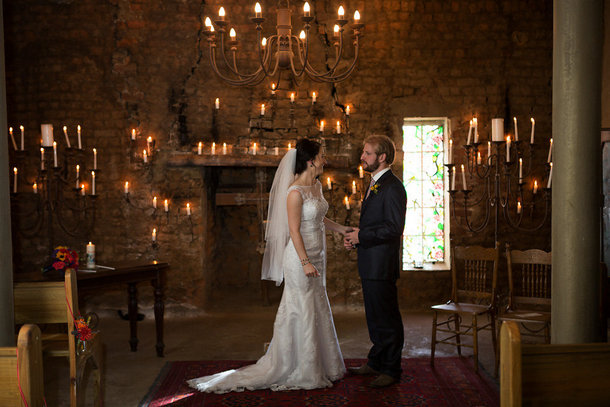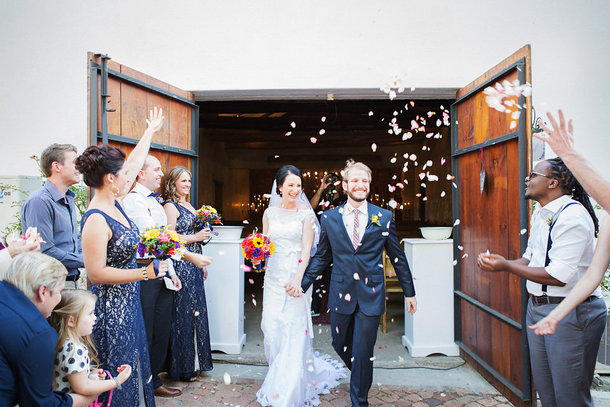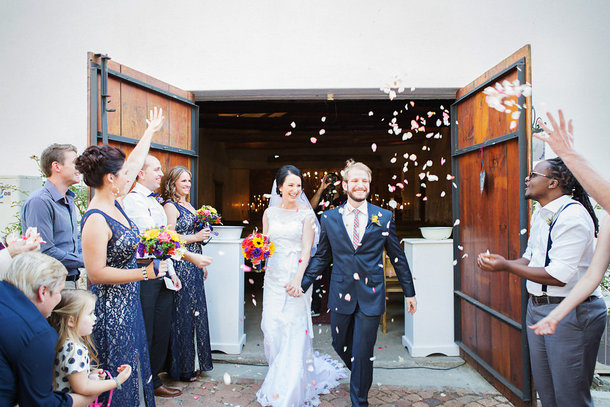 The Flowers
Unbelievably.Gorgeous.Seriously.Amazing. I loved my flowers, loved my bouquet, just loved all the detail Coral Shortt and Chantell Lethbridge went into to give us the most beautiful flowers. All we told Coral is that we wanted colour and we were originally going to do our own flowers but about two weeks before we realised we didn't have the skill or the patience. We gave Coral our budget and asked her to do what she could within it. We were blown away, she went far beyond what we expected. She made personal boutonnieres for Kieran and his best men, both Dads and brooches for the Mums. All I had asked was for sunflowers in my bouquet and now when I look at the photo's my eyes are drawn to those flowers!
The Dress
Kelly: I was quite specific about the style I wanted and what suited me, but I really couldn't afford some of the prices locally. I ordered my dress from a catalogue and when it arrived, I found a wonderful lady to tweak it to my specifications. In the end it was exactly how I had pictured it would be and I truly felt like a princess on the day! Added to that I borrowed my sister's veil from her wedding and it all just fell into place.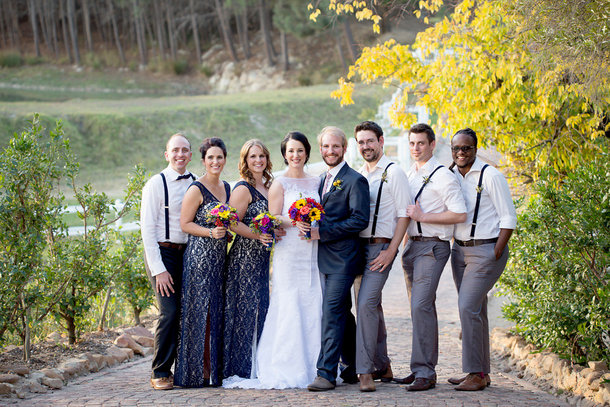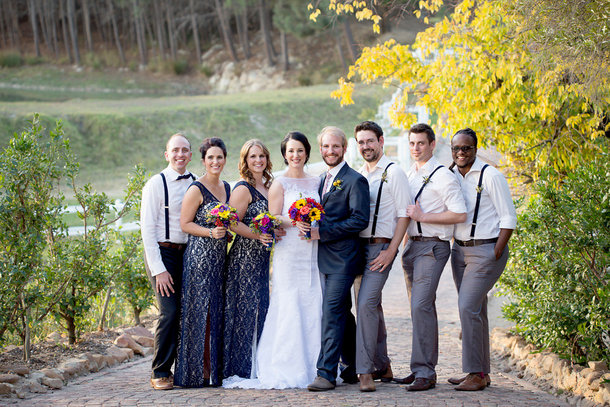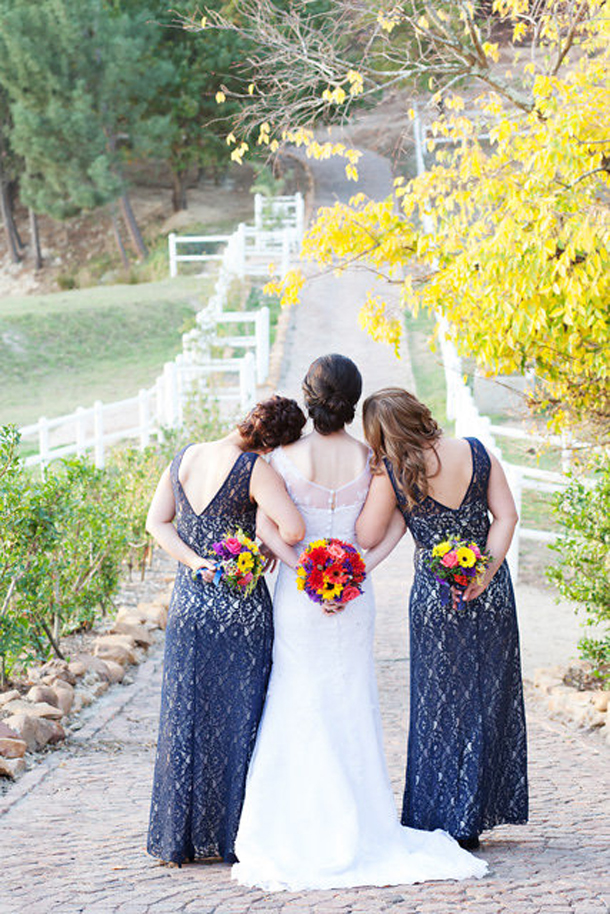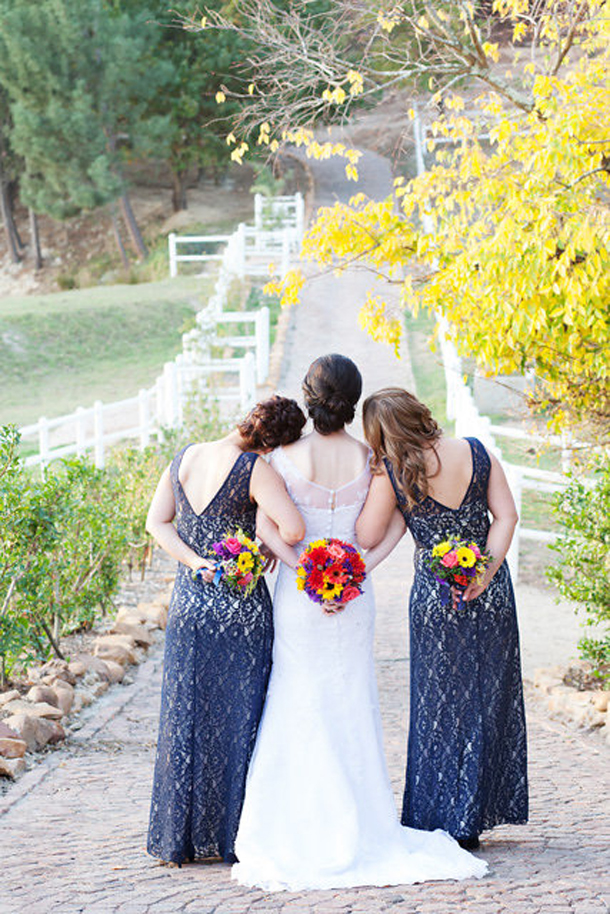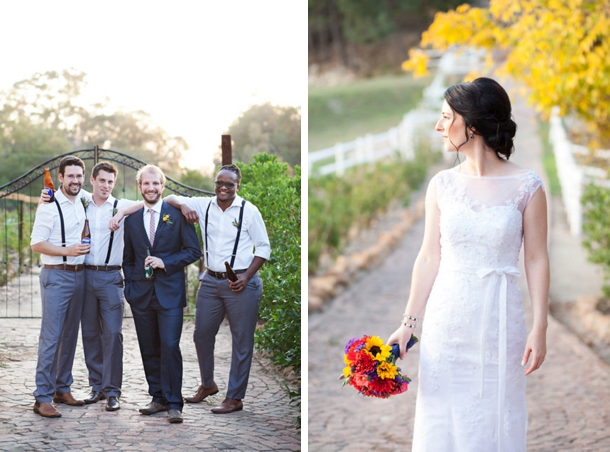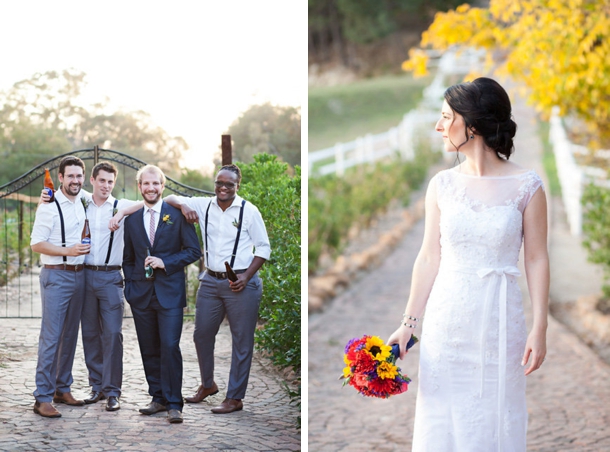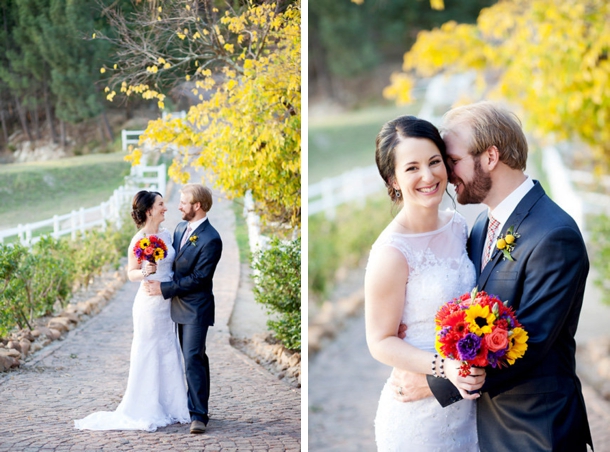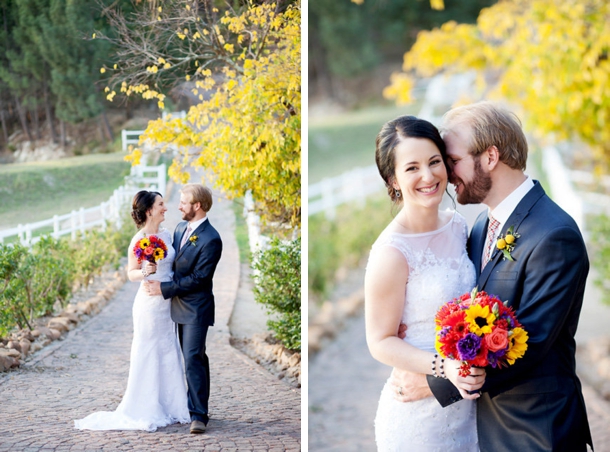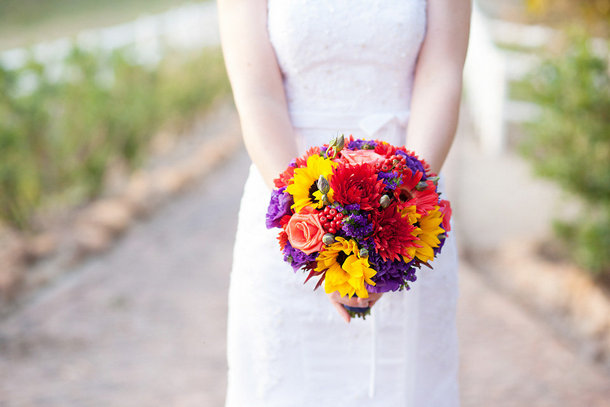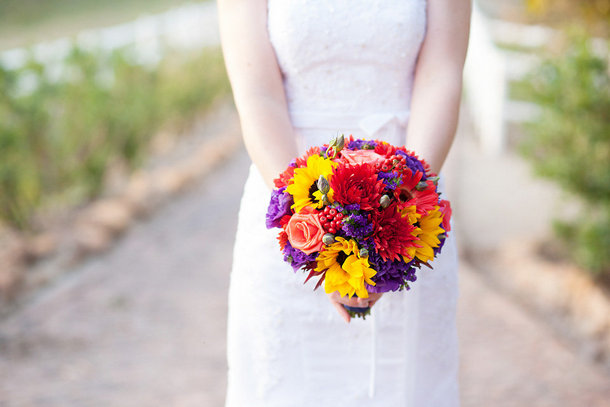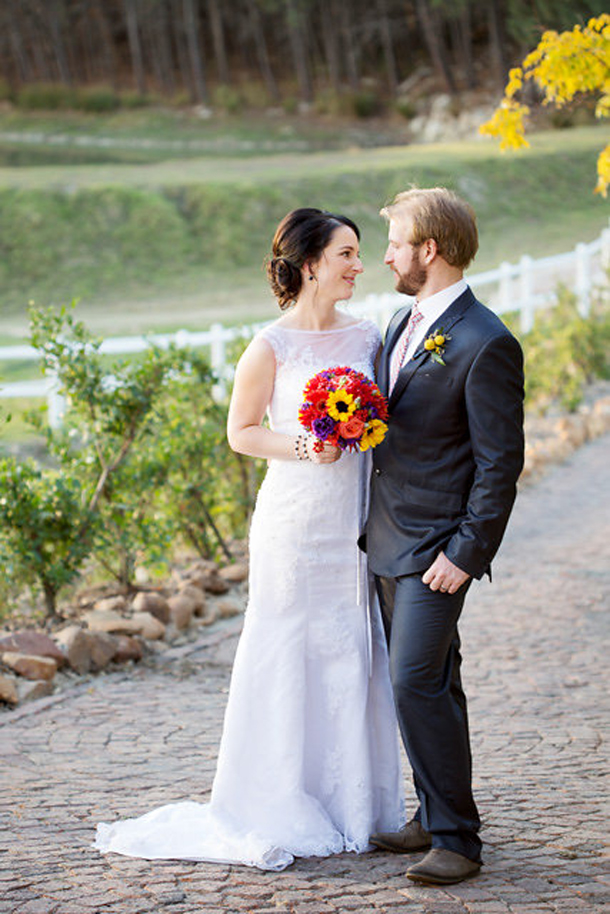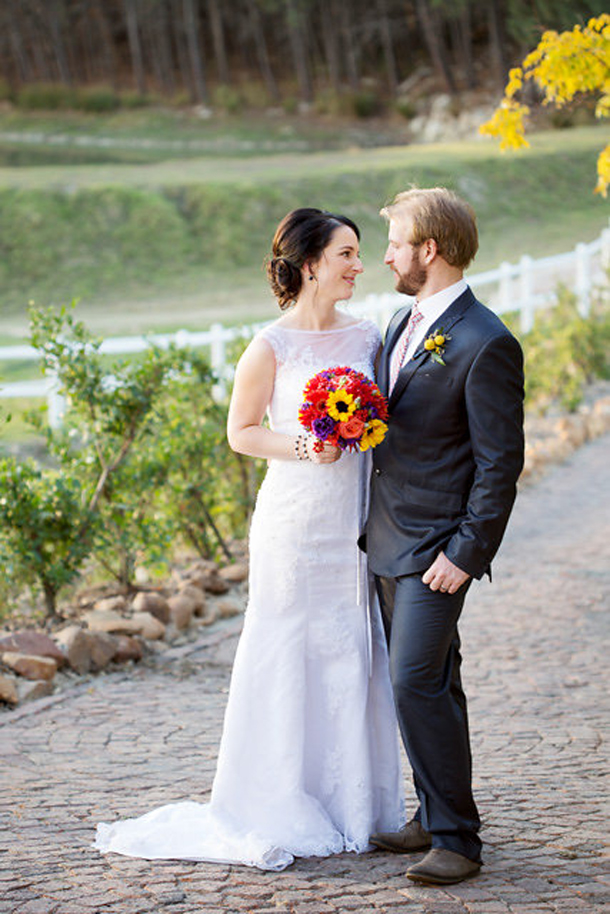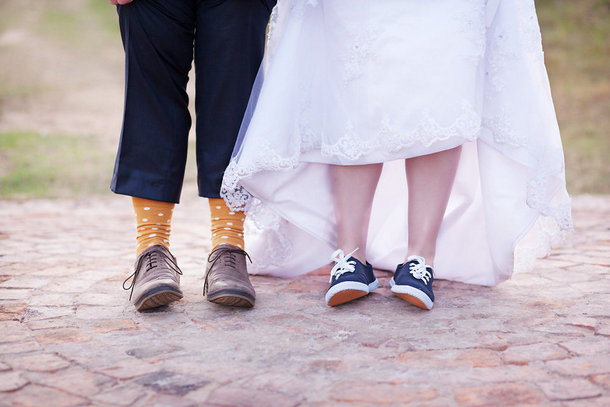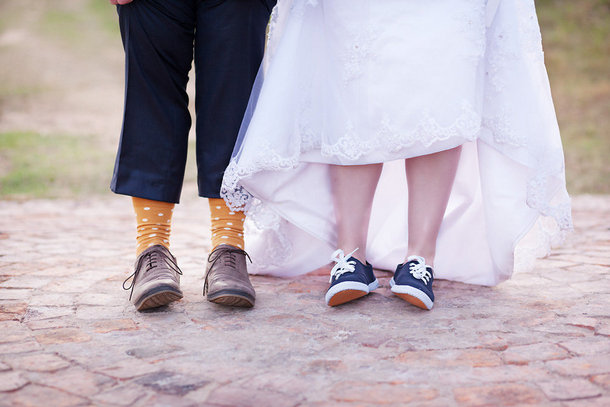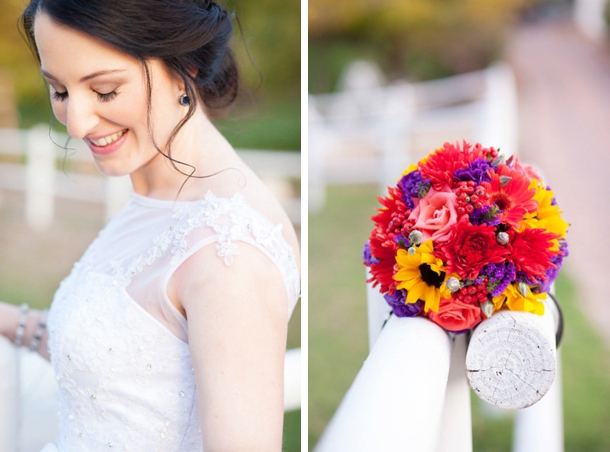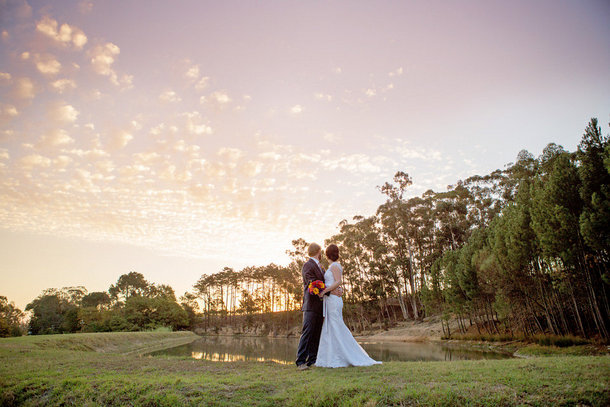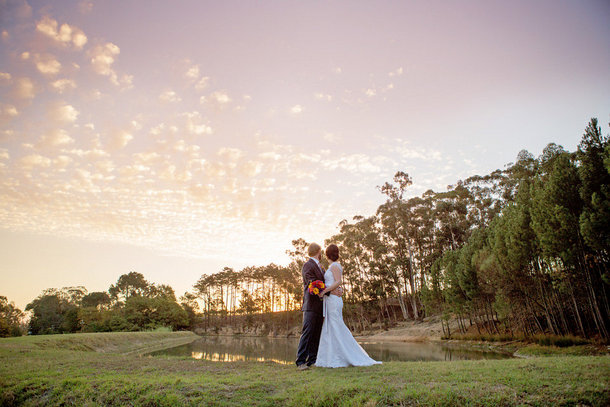 Favourite Detail
Our favourite décor detail was the bunting, as so much love and time went into making them. Again, all colours were used!
Memorable Moments
Kieran's best friend from varsity, Mzukisi, sang 'The Prayer' by Andrea Boccelli at our ceremony, it was quite emotional! But I think the most memorable moment for us was the time where we had a few minutes alone, to absorb that we were husband and wife; it was incredibly exciting and really just an amazing feeling.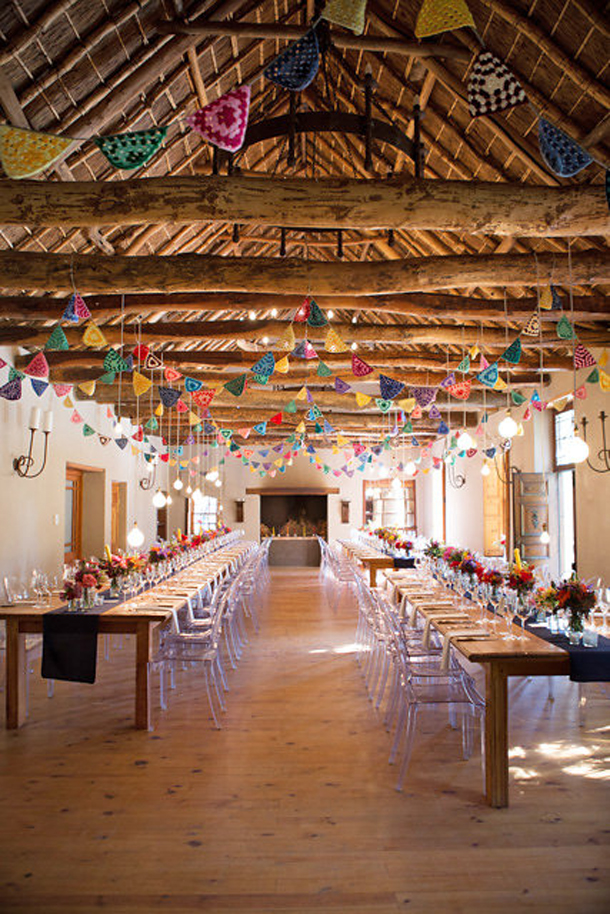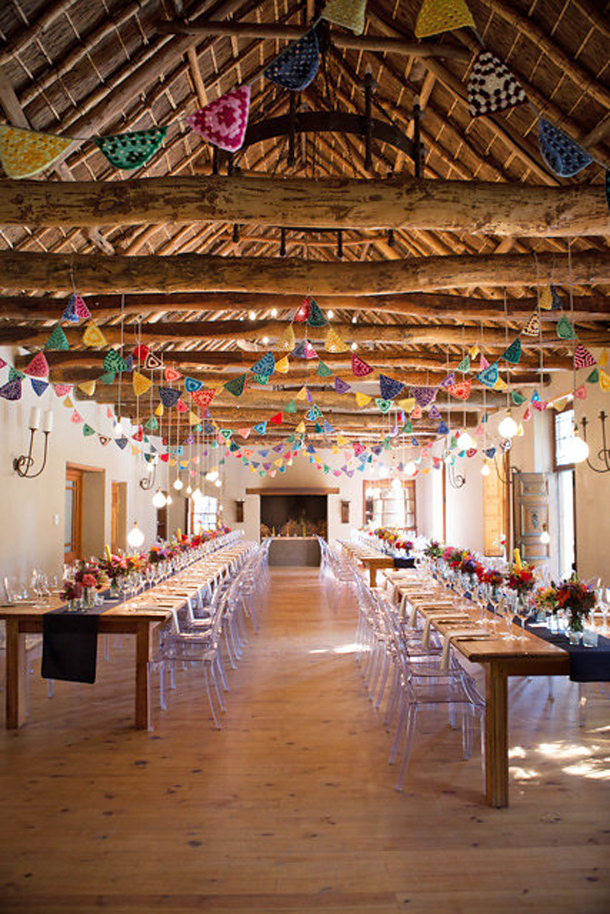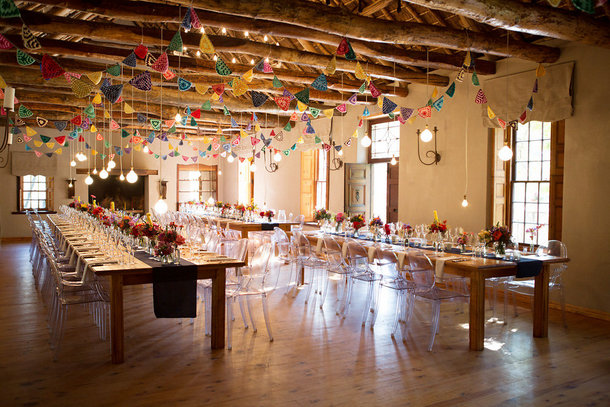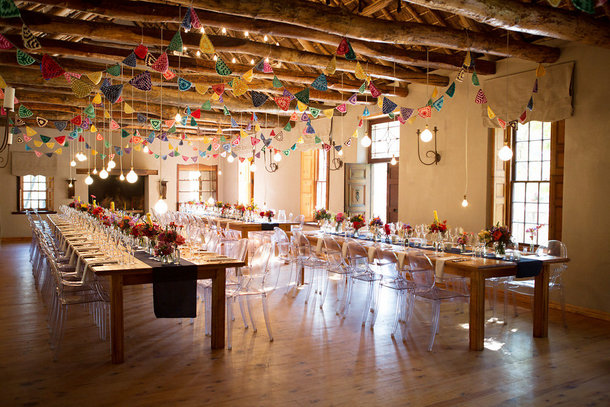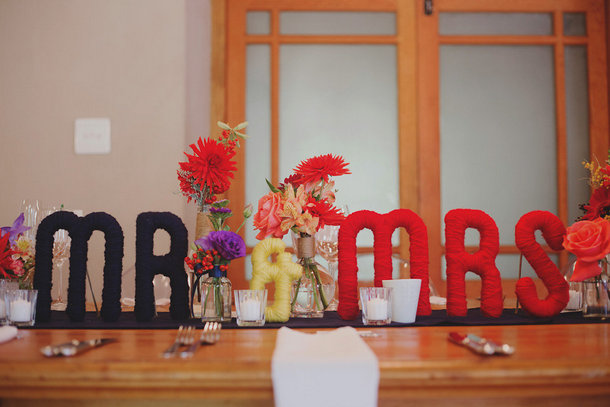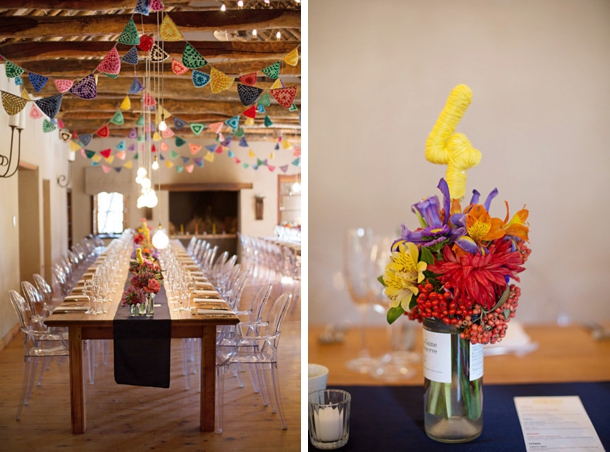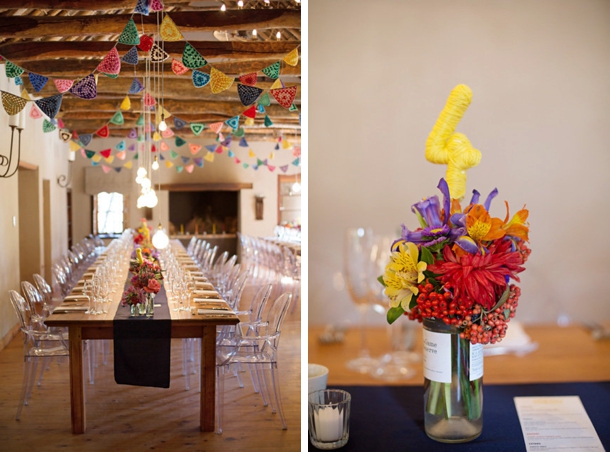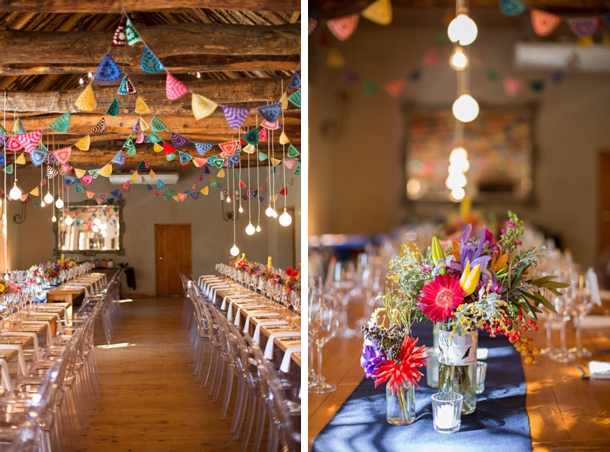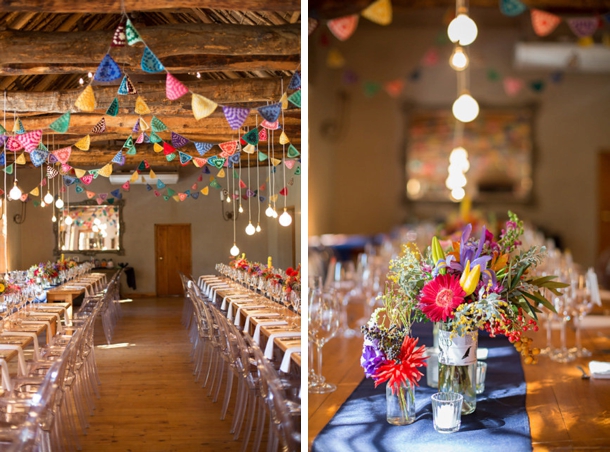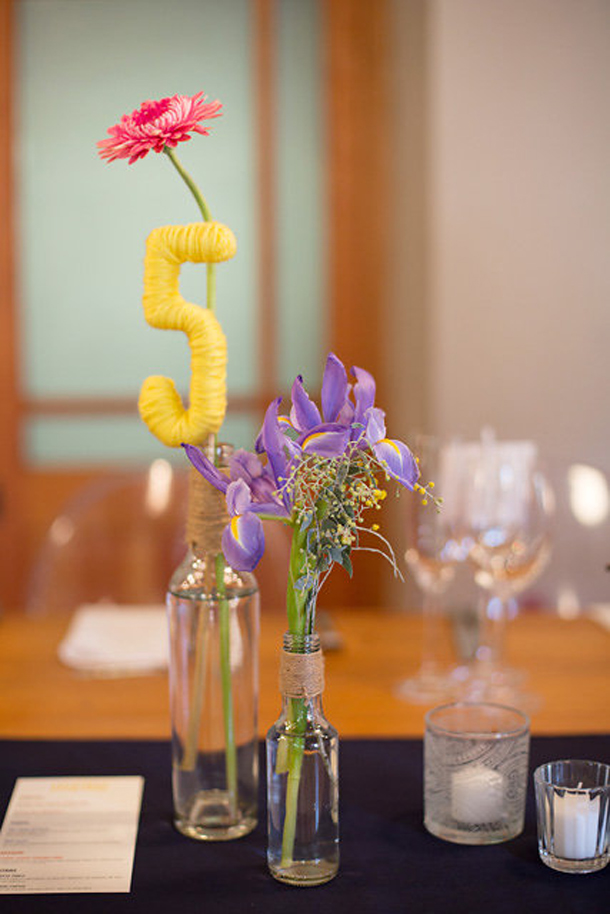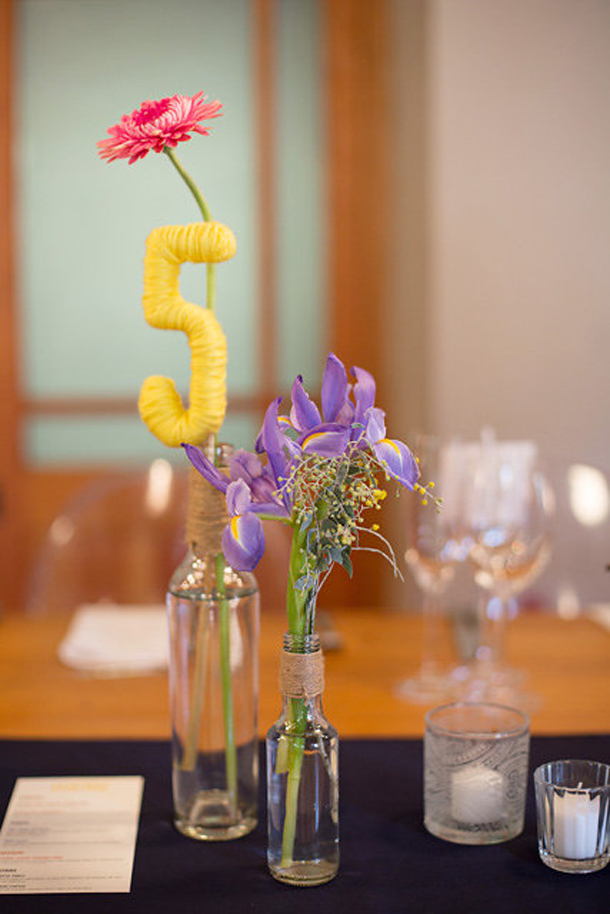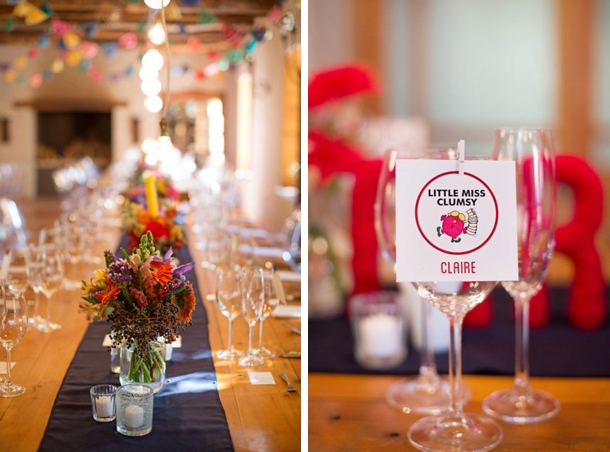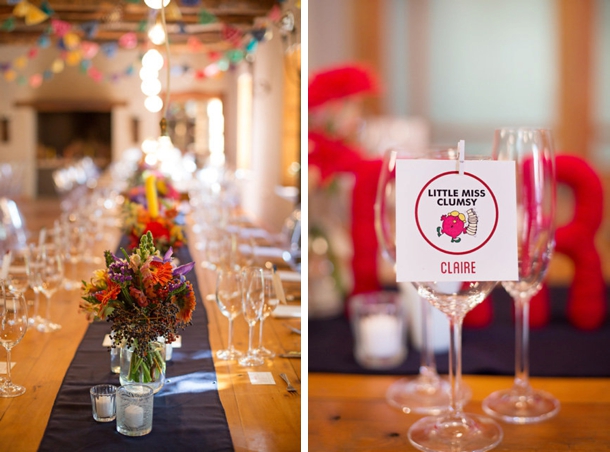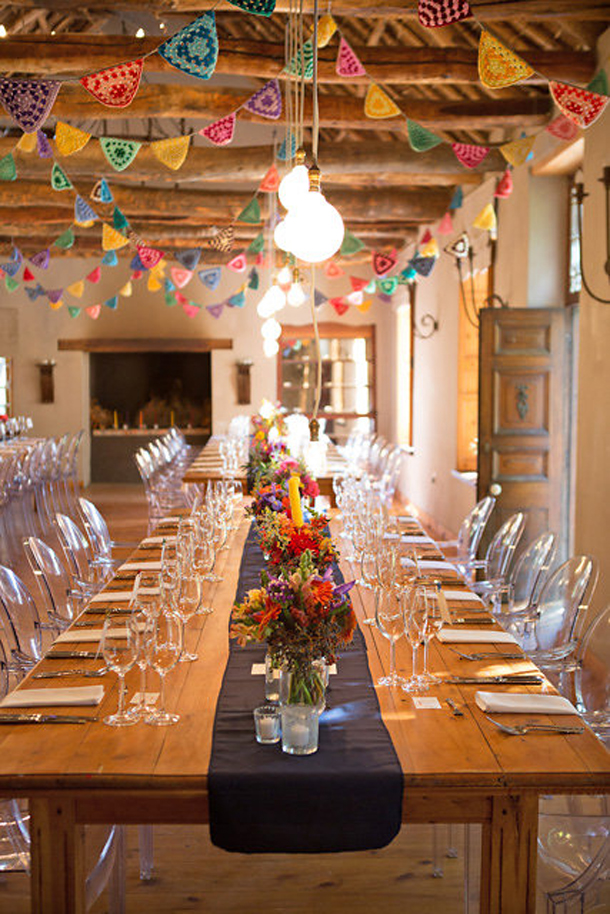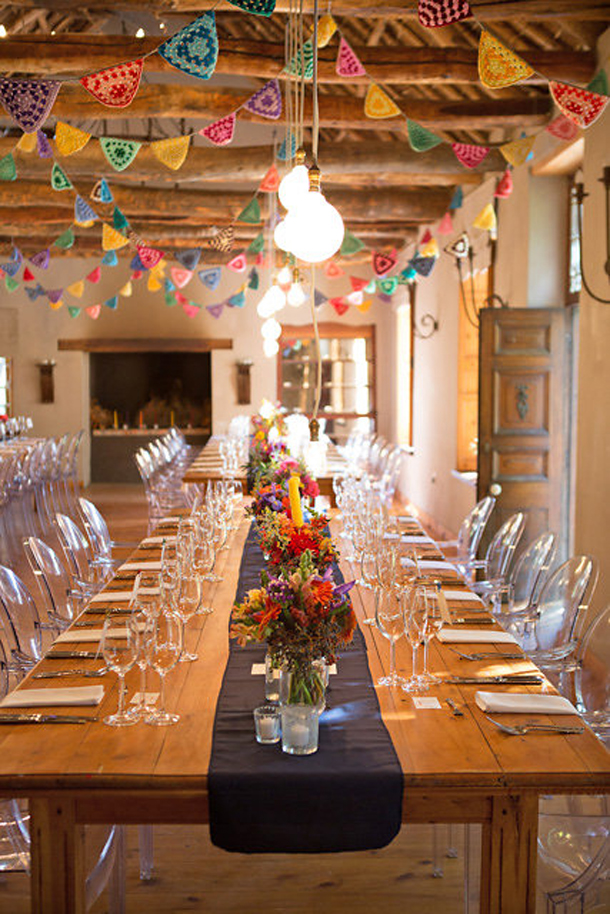 The Honeymoon
We went to Italy! We were fortunate to get incredibly good tickets, so we flew into Rome, then took a train to Assisi and another train to Florence and then we finished off in Milan. I had to get a visa so Kieran wasn't able to keep it a surprise, but in the end planning the trip together was a lot of fun so I really didn't mind knowing! It was the first time we had ever travelled together, we just loved every moment of it and it was made more special because we shared it together. It was an amazing holiday, but as usual far too short!
Advice for Future Brides & Grooms
Don't get stuck in the minor details, keep reminding yourself what is important and why you are doing all of this. Take time off from wedding mania (go on coffee dates, take dancing lessons) it helps to put things into perspective. Not everything will work on the day and you have to be ok with that, in the end it will be your special day no matter what! Oh and get a videographer, so worth it!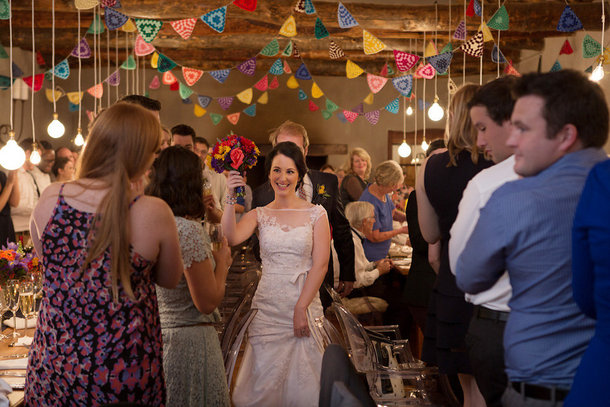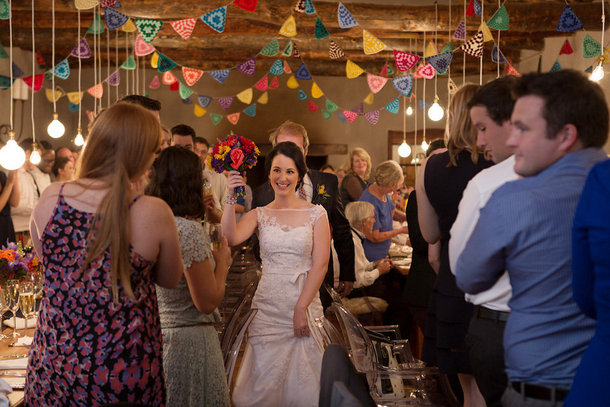 SERVICE PROVIDERS
Venue & catering: Langkloof Roses | Photography: Katherine Newman Photography | Video: Popped Red Balloon | Cake: Groom's mother | Flowers: Green Goddess flower studio | Décor and stationery: DIY | Bride's accessories: Lovisa (earrings), bracelet made by bride's mother | Hair & make-up: Ida Webster | Groom's attire: Stuttafords (suit),  Suit Supply (shirt) | DJ: Southern Sound | Nails & pre-wedding facial: Elements on Kloof | Dance Lessons: Dizzy Feet Dance Studio