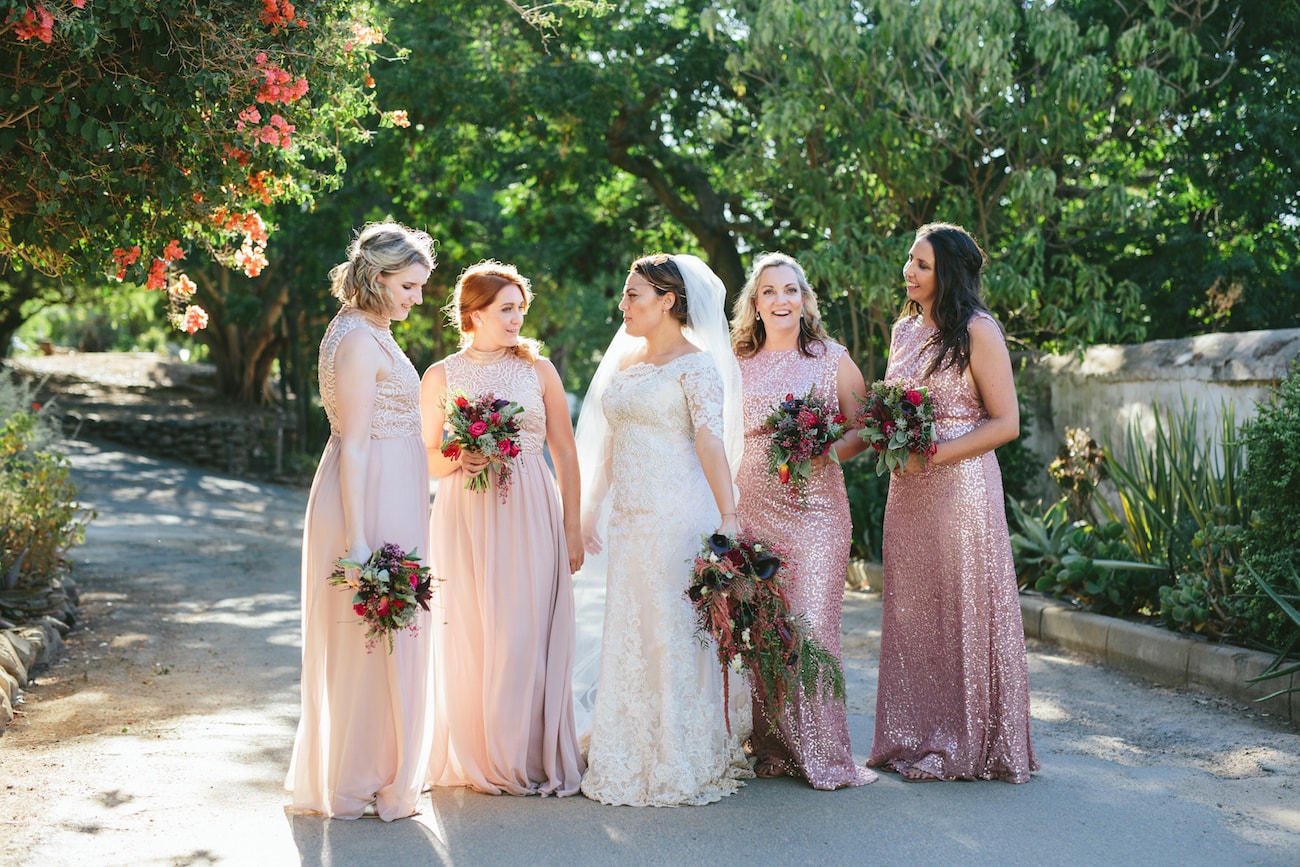 When the planning talents of Kraak are woven together with the irresistable gorgeousness of Vivid Blue's photography, you can be sure that a stunner of a soiree is about to be served up to you on a platter! This chilled out gem of a wedding takes place at one of our all-time favourite venues, The Dairy Shed, and harnesses its rustic beauty for an al fresco celebration that showed the large contingent of overseas guests that we South Africans know how to throw a party. Think gourmet braai, gumboot dancers, and a jazzy African band to keep everyone on the dancefloor all night long. Zoe and Clinton are such a fun couple, and I love how this wedding combines all kinds of pretty (including a breathtaking Janita Toerien dress, sparkly pink bridesmaid gowns, and some showstopping florals) with their super fun, super laid-back vibe, to make a whole that it utterly, uniquely theirs.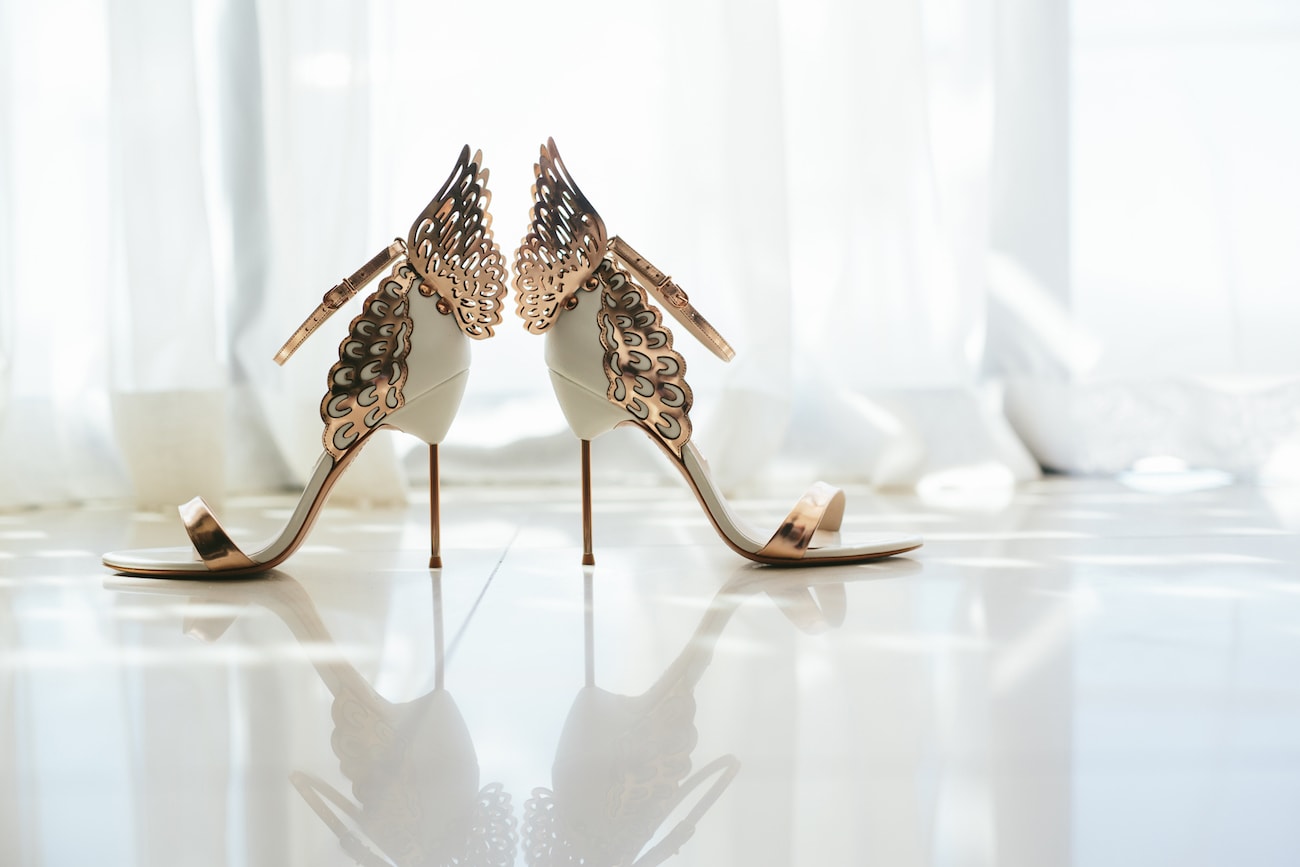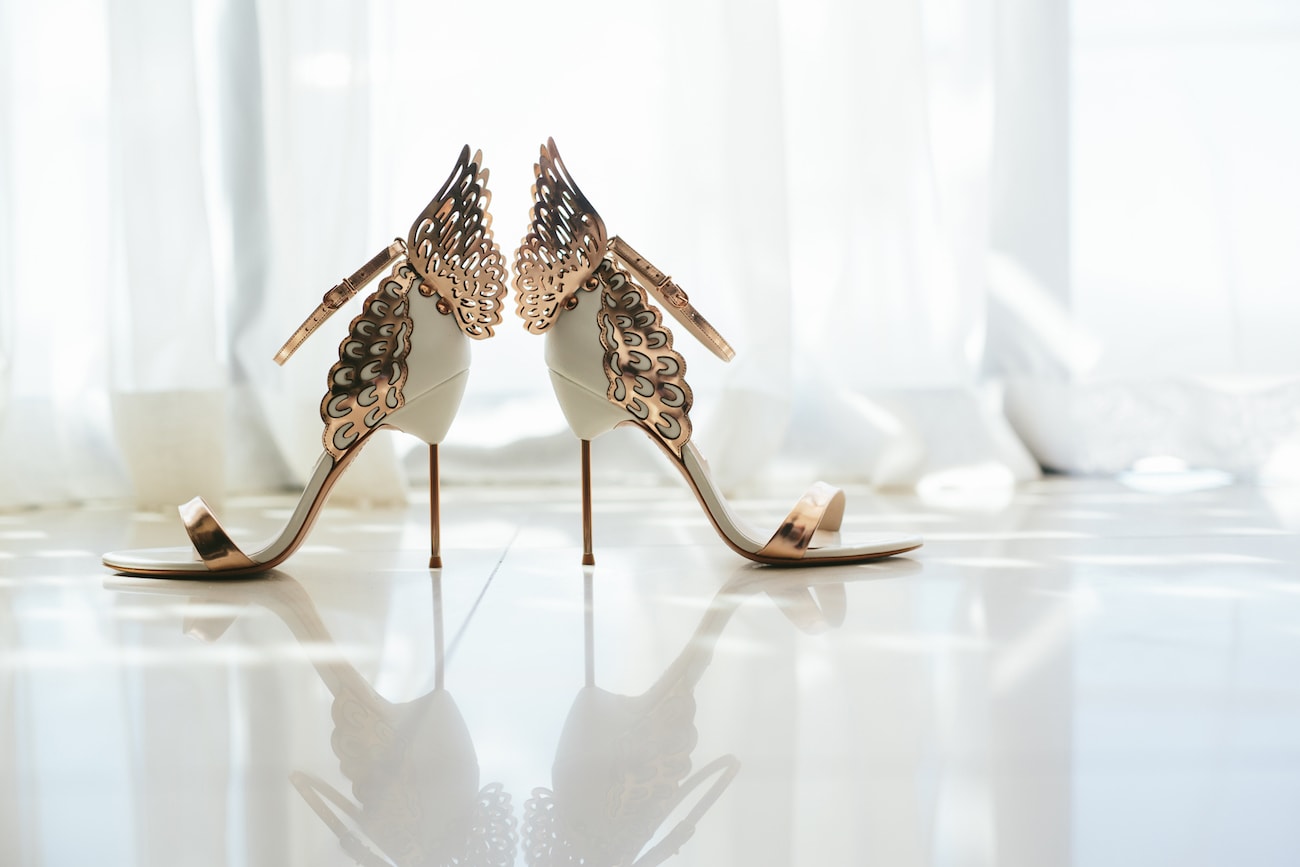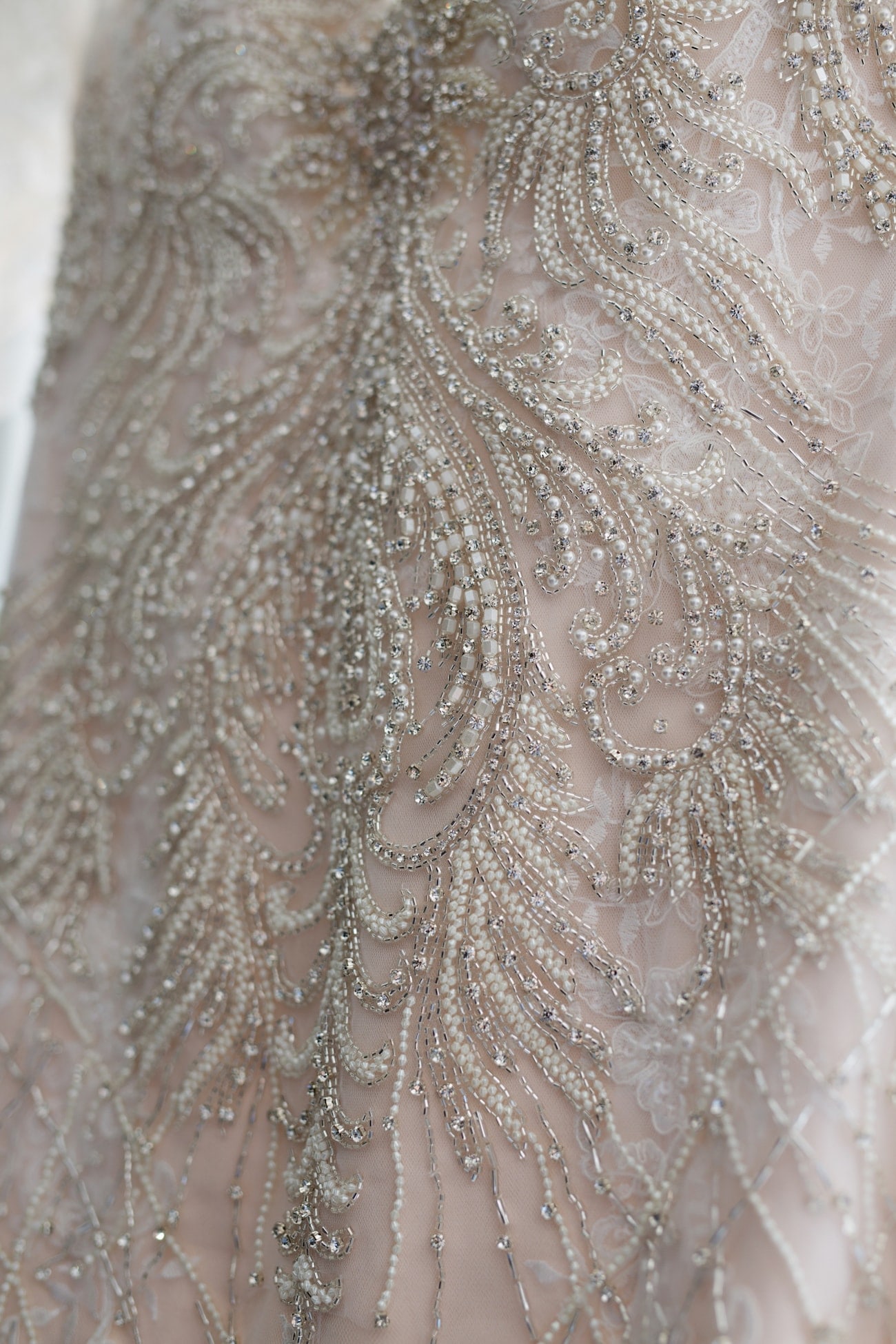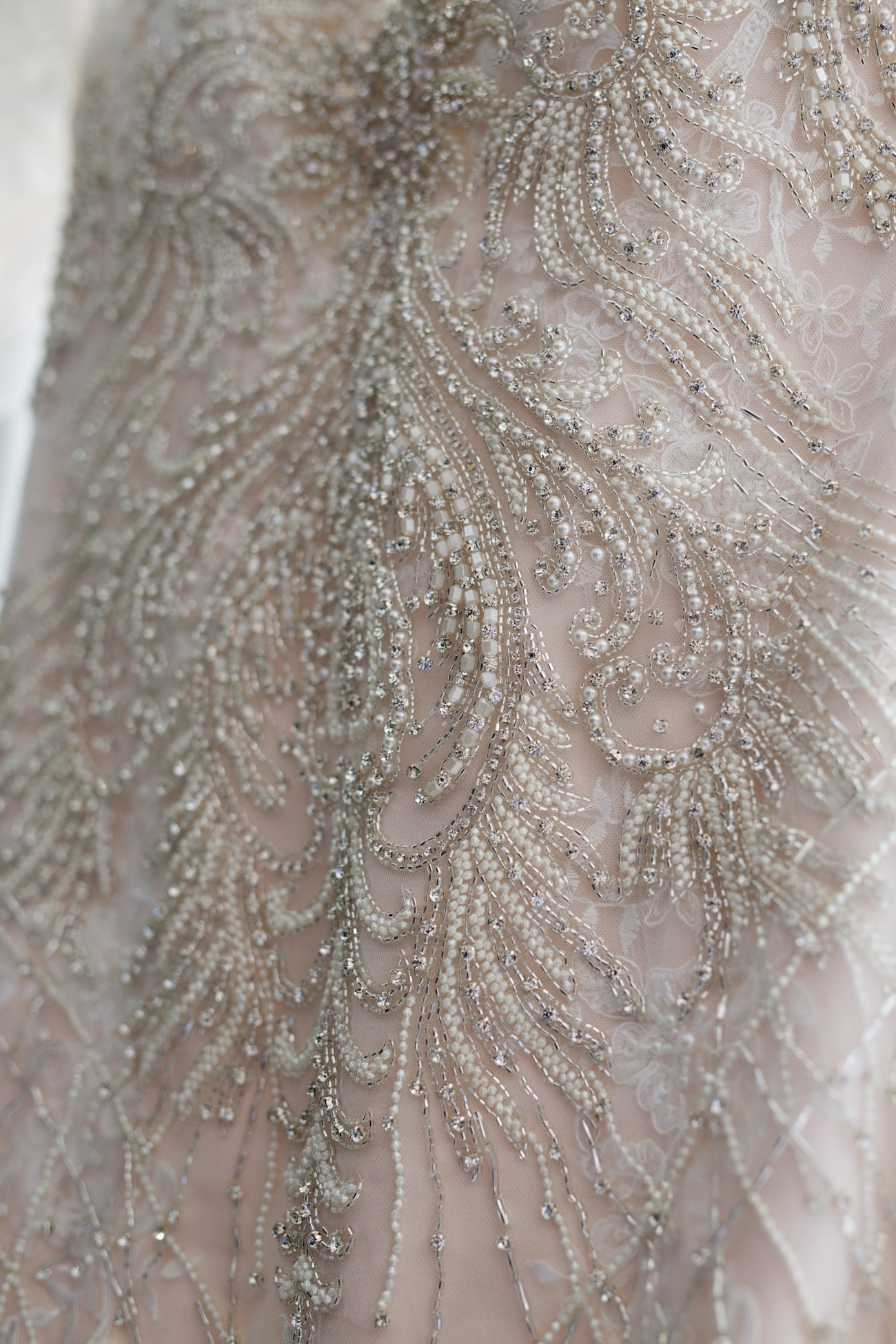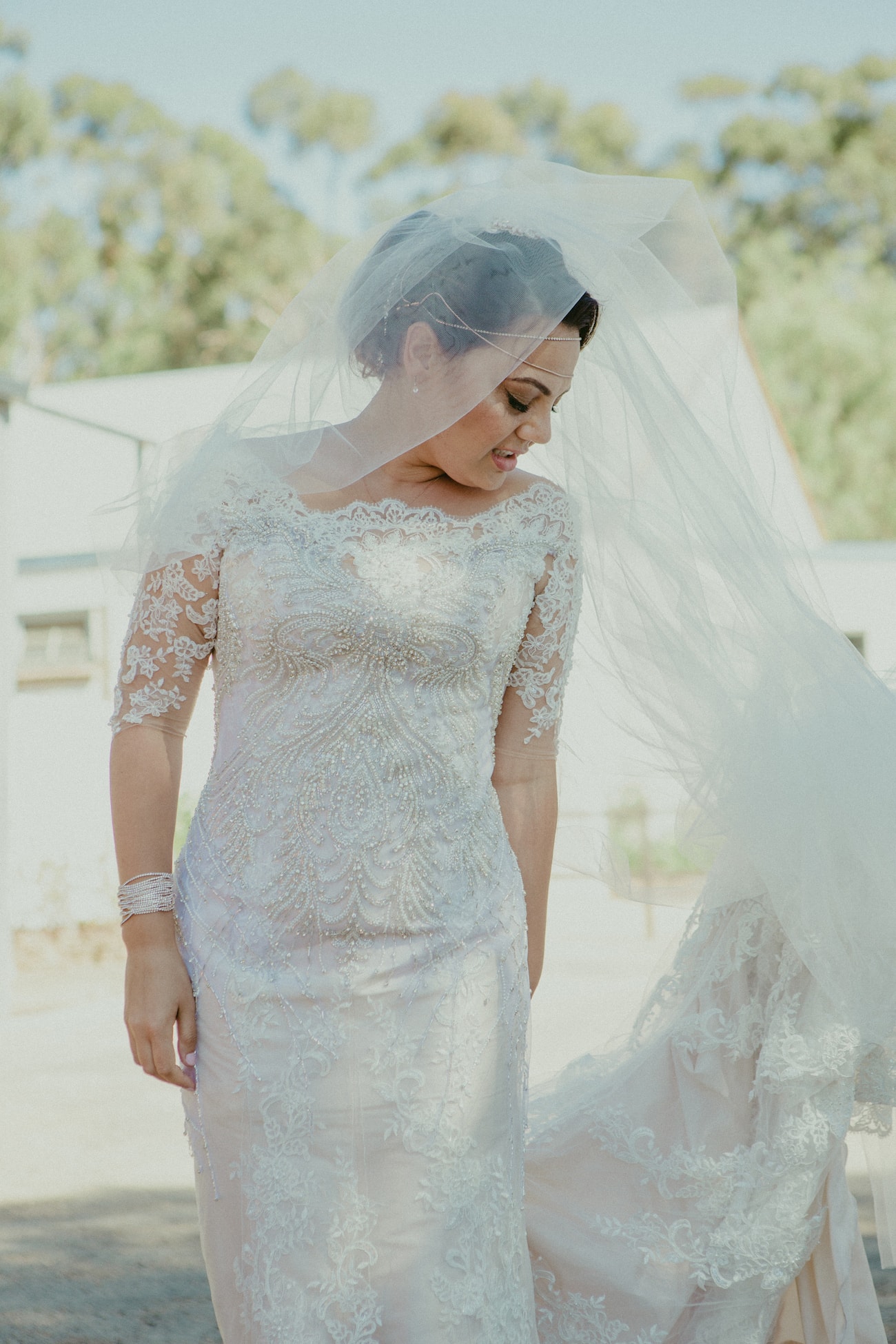 Love Story
We met on a blind date. I had been living in the UK since I left school, so studied abroad and travelled a bit. I hadn't seen my family for a really long time, and decided to go on holiday to Cape Town for a long overdue family reunion. A two week holiday turned into two months. I started working at a company in Cape Town, where I met my best friend, Bernadette. Over cocktails one day I told my friend that what I really needed was someone to go buy fruit with (actual fruit, it's not a metaphor for anything!) Two days later she introduced me to Clinton. We just clicked. A week after we met, we moved in together. That was nearly ten years ago and we have been inseparable ever since.
The Proposal
We were in Limpopo on our annual South Africa visit, at a game reserve with family. Elephants are by far my favourite animal, so Clinton surprised me with an elephant excursion. We had quite a late night before and never managed to have breakfast that; however, Clinton told me we would end off with some lunch on the river bank. At the end of the excursion – we walked down to this beautiful lake (me still thinking "finally, food!").  We were in the middle of nowhere, with giraffe grazing about 500 meters away, a few zebra running by, and some Impala lying down in the tall grass. Out of the corner of my eye I could see this huge elephant walking towards us carrying a picnic basket in his trunk. Again, being absolutely famished, I'm thinking "yes, our food has arrived!". The elephant walked right up to me unaided and literally handed the basket to me – right at that very moment some springbok were walking by in a herd. It was also dead silent. All I could hear was the chattering of some far away birds. I took the basket from the elephant, opened it, and inside was a little box. I then turned to face Clinton, and he was down on one knee. I don't even think he got a yes out of me; I had a complete out of body experience! I had thought something odd was going on as there was a random photographer (I thought he was taking photos of the lake maybe the animals) but actually he was there for me! The funniest part was that in my haste getting ready that morning, instead of grabbing some leggings I actually grabbed tights, so the whole day I was walking around in tights thinking they were leggings, and every romantic picture of us has me standing there where you can see my bright green underwear. :)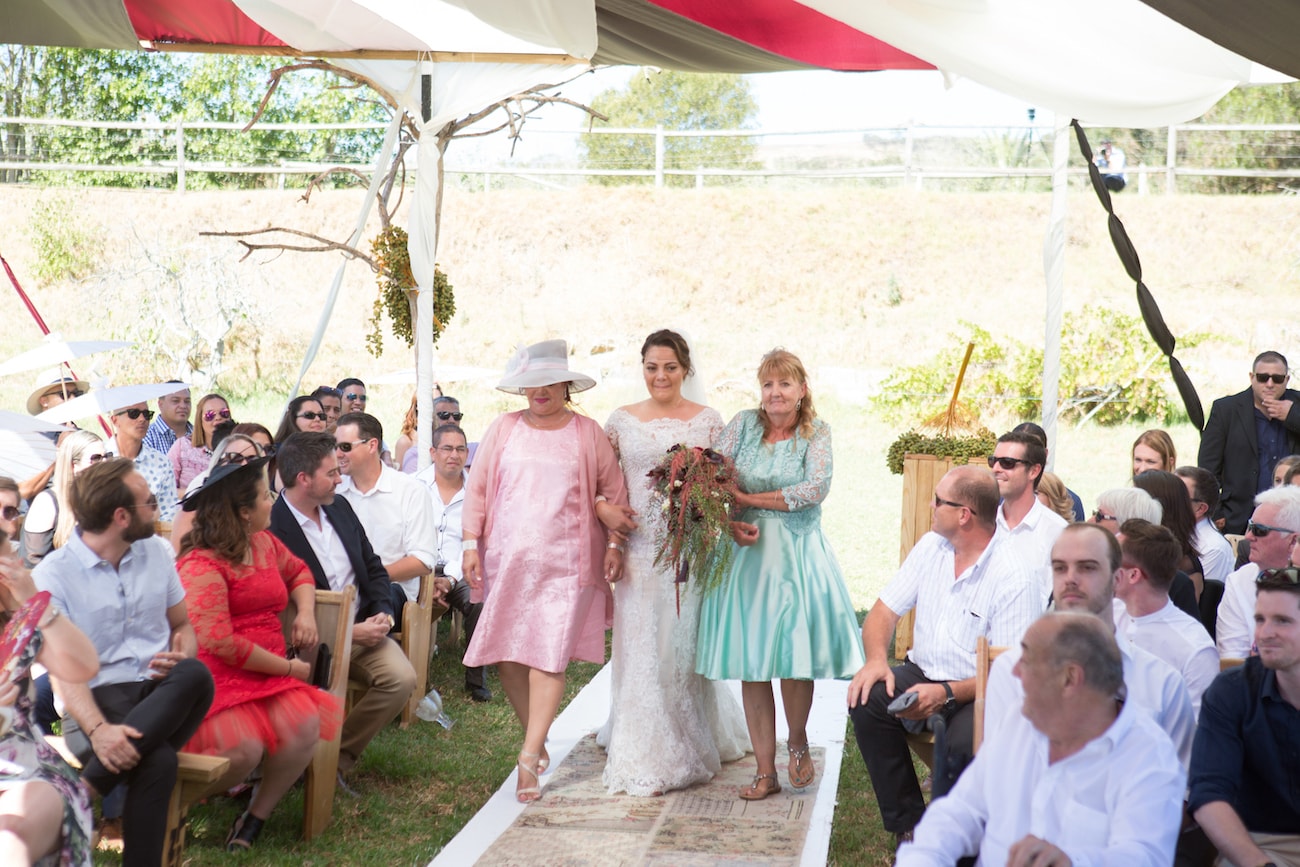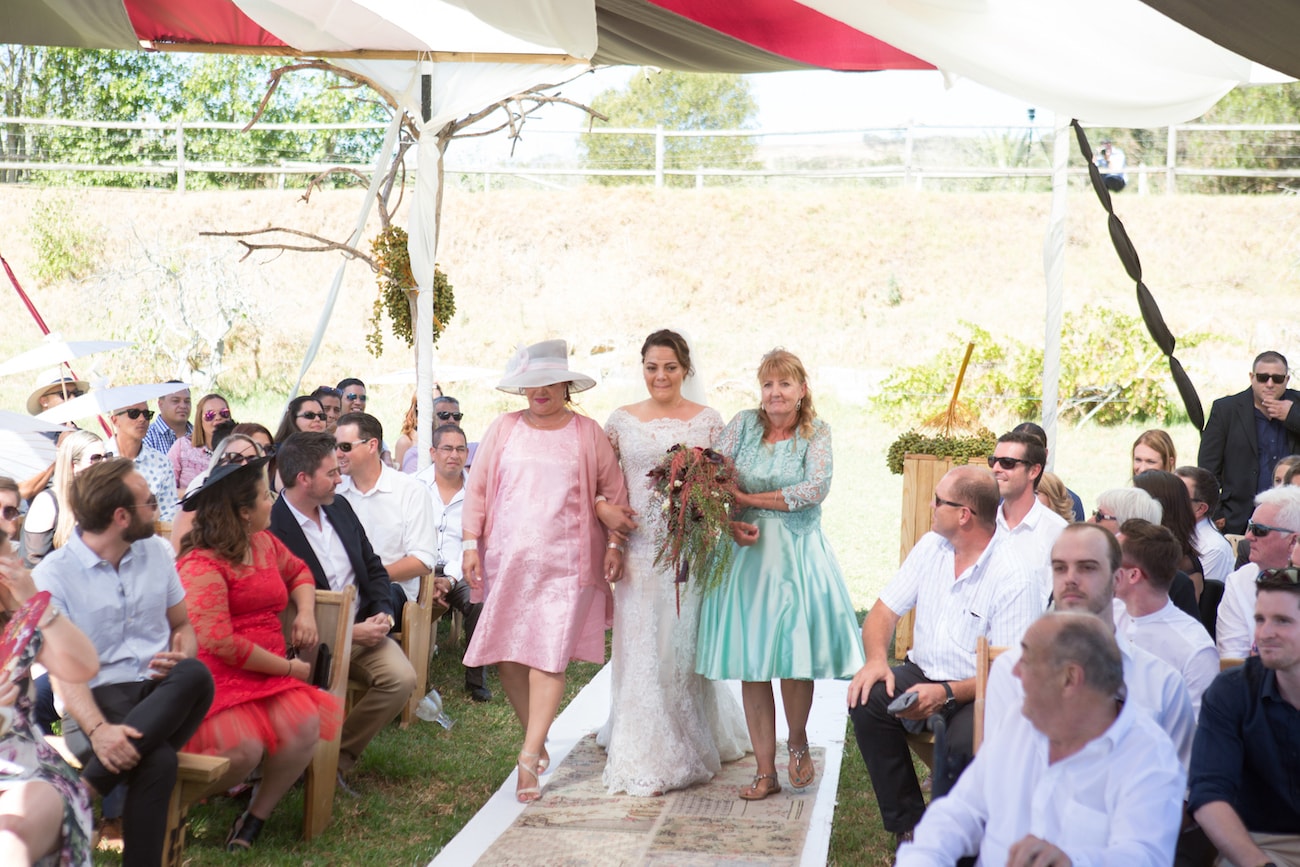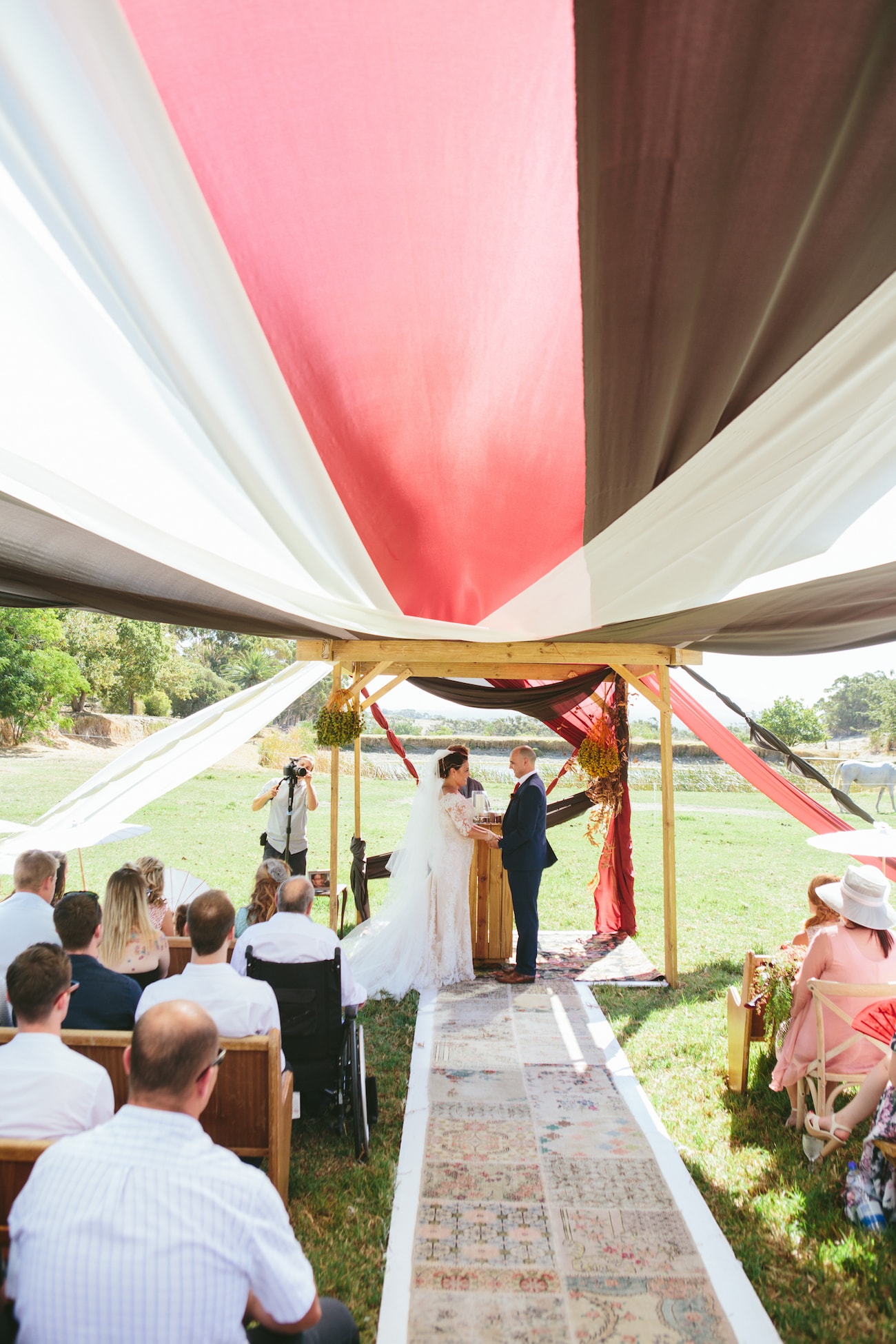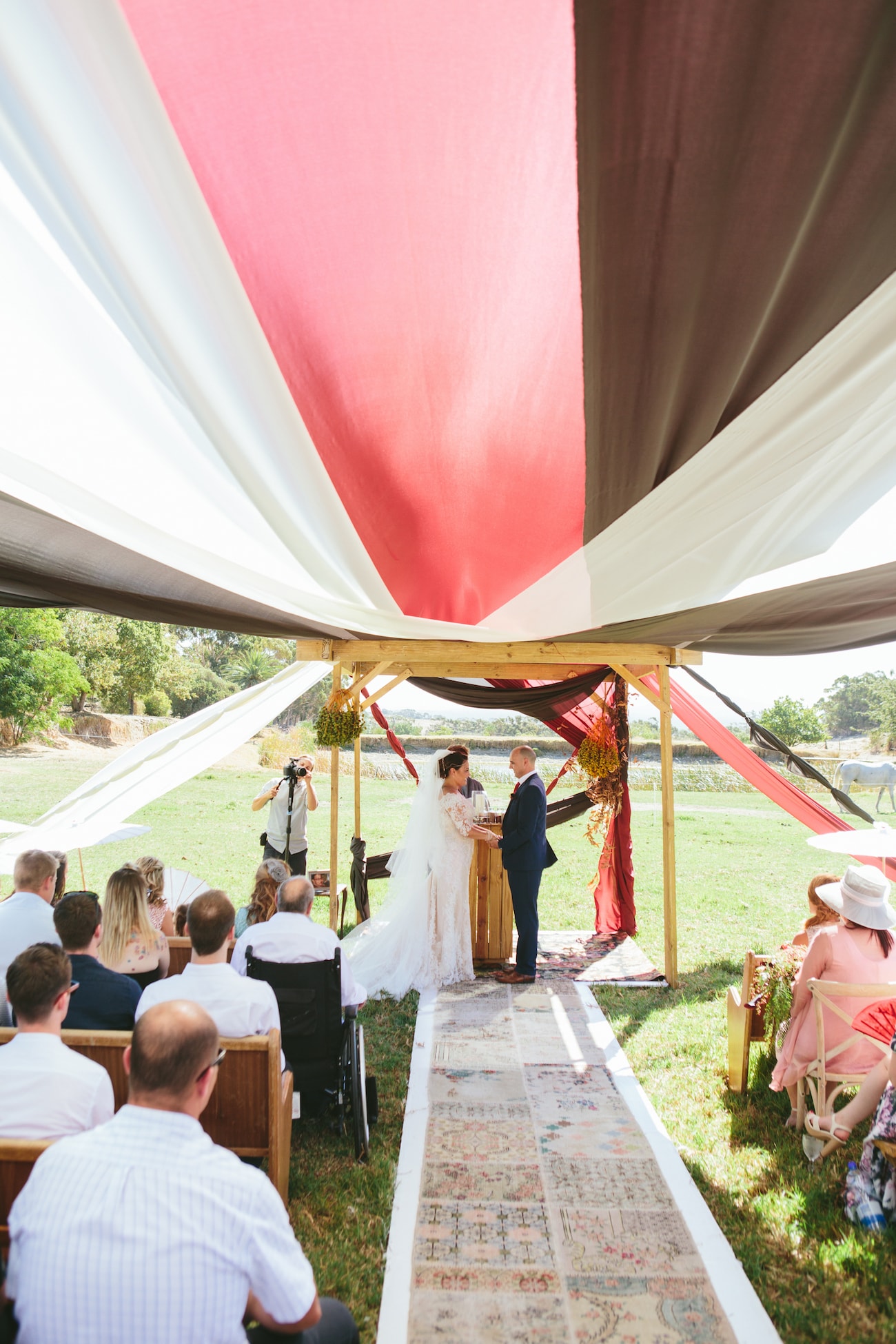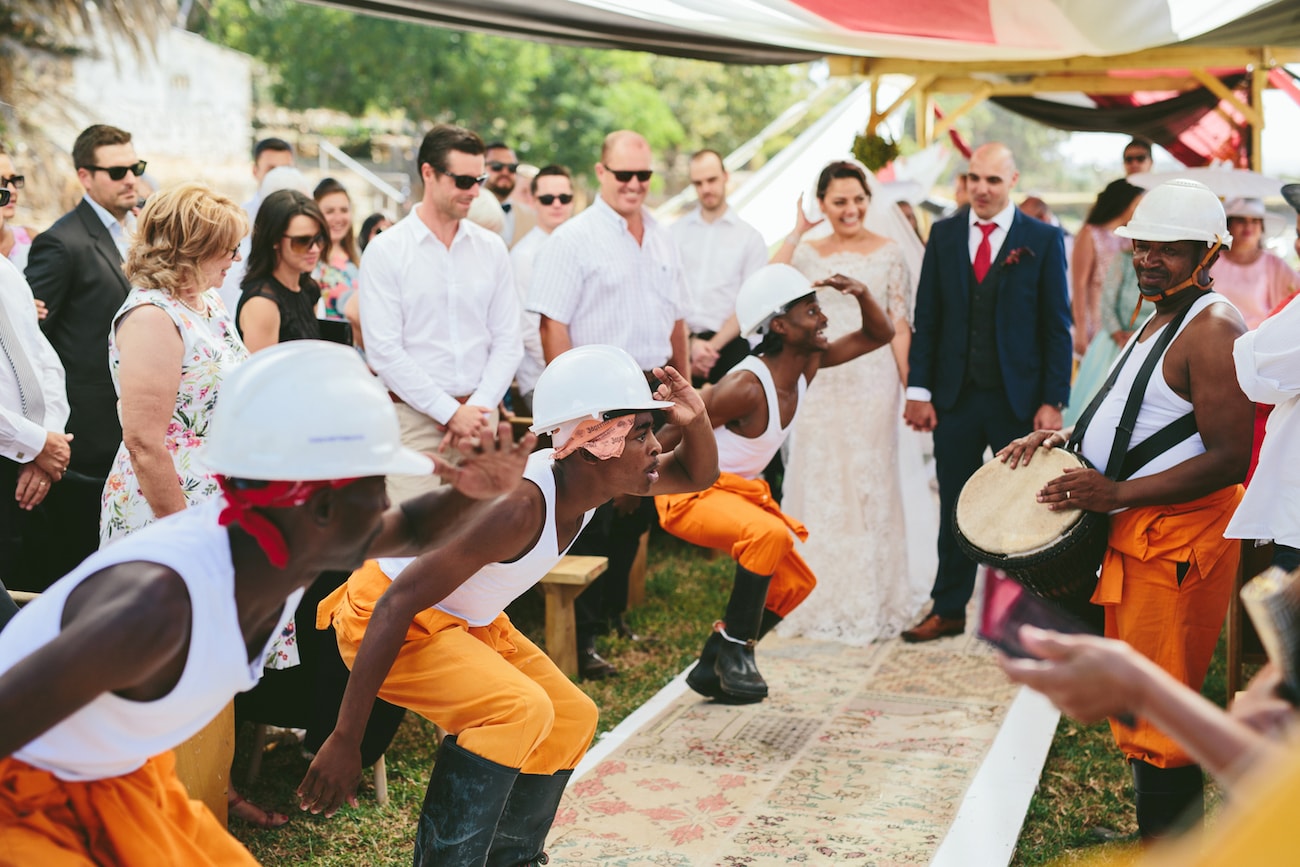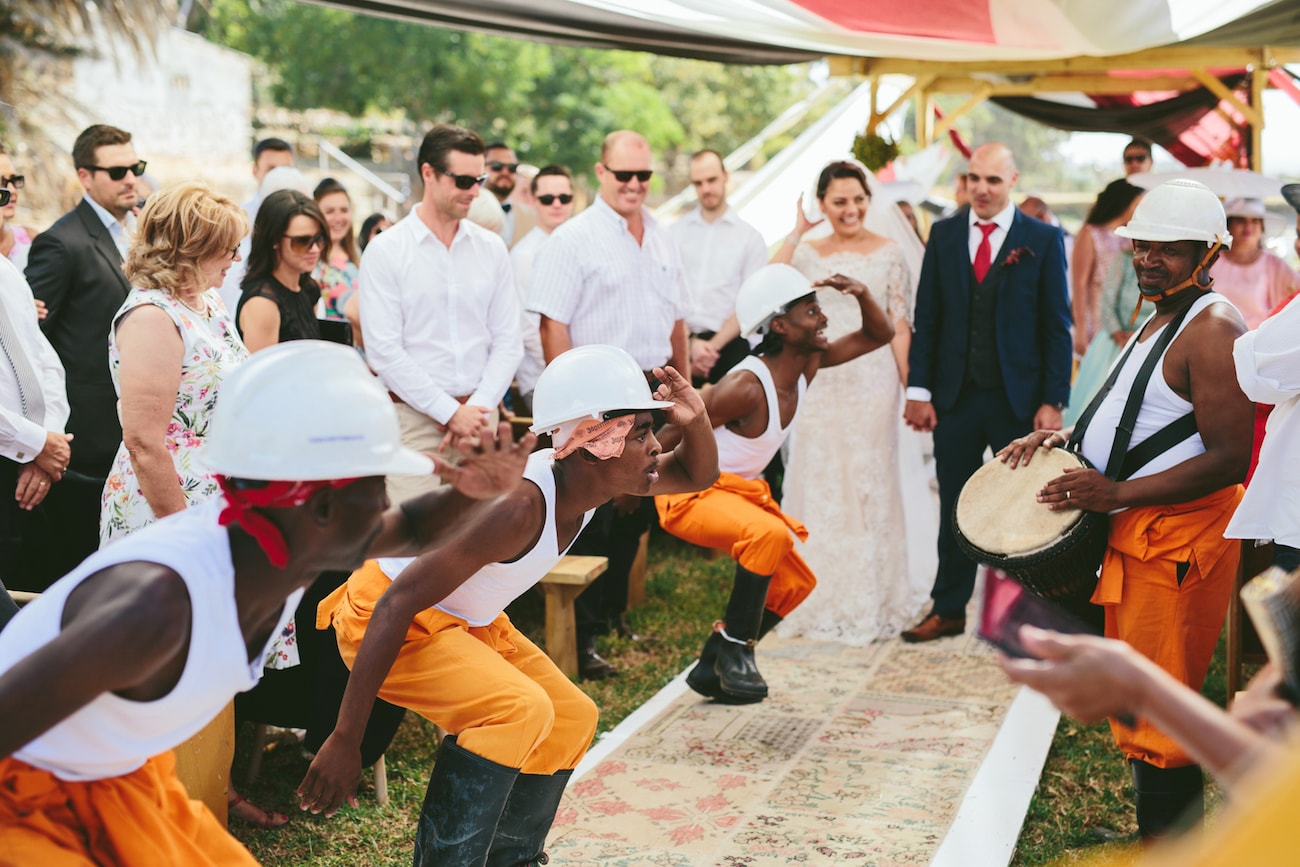 The Venue
We both love the ocean and the forest, so we wanted a combination of the two. The dairy shed doesn't have a view of the ocean but it does have a beautiful lake and an abundance of trees. Somewhere for everyone to feel relaxed and in nature. We had looked at about 8-12 venues and just never got the "this is the one" feeling. However, with the Dairy Shed we saw potential – we just loved the broken down tractors and the rawness of everything there.
Wedding Style
We've always had the vision of combining a few ideas – relaxed, chilled-out meets luxury. We also had quite a few guests coming from as far the States and wanted to give them a true taste of South Africa: the food, music, hospitality, and general "Saffa" vibe There were no formal seating arrangements, but bistro style tables and lounge pockets dotted over the reception area. We wanted everyone to be comfortable and sit next to whoever they wished and meet some of our other friends and family.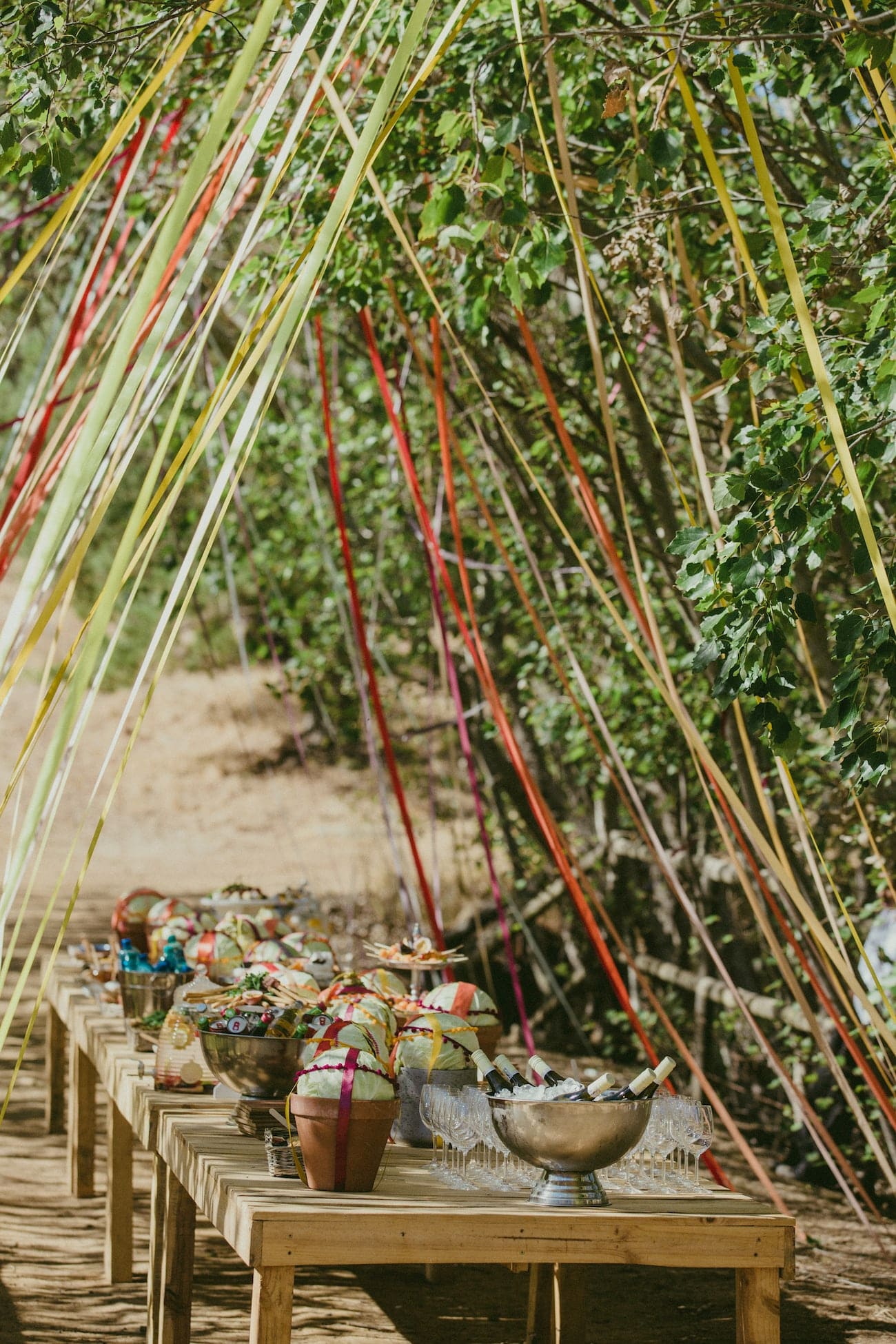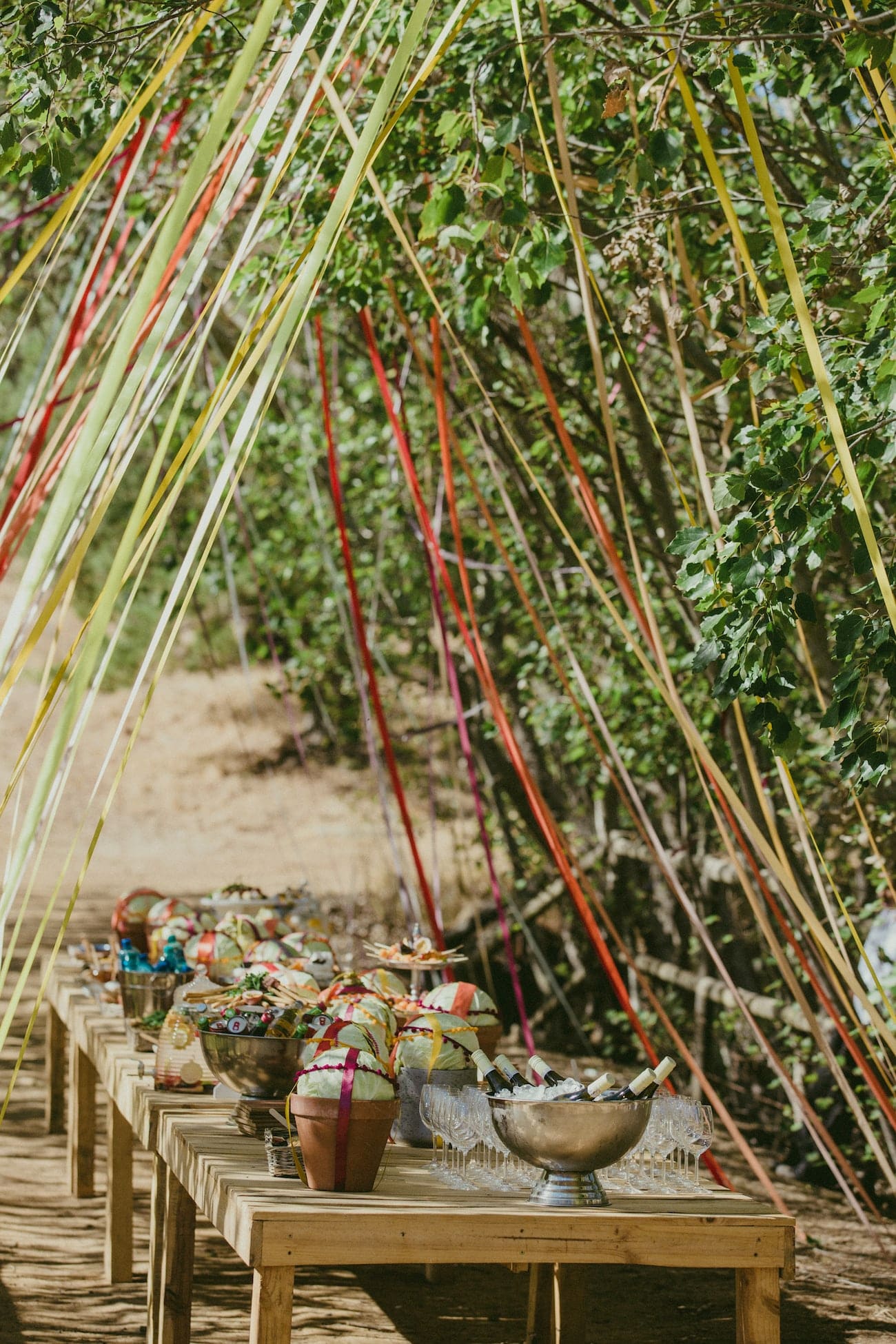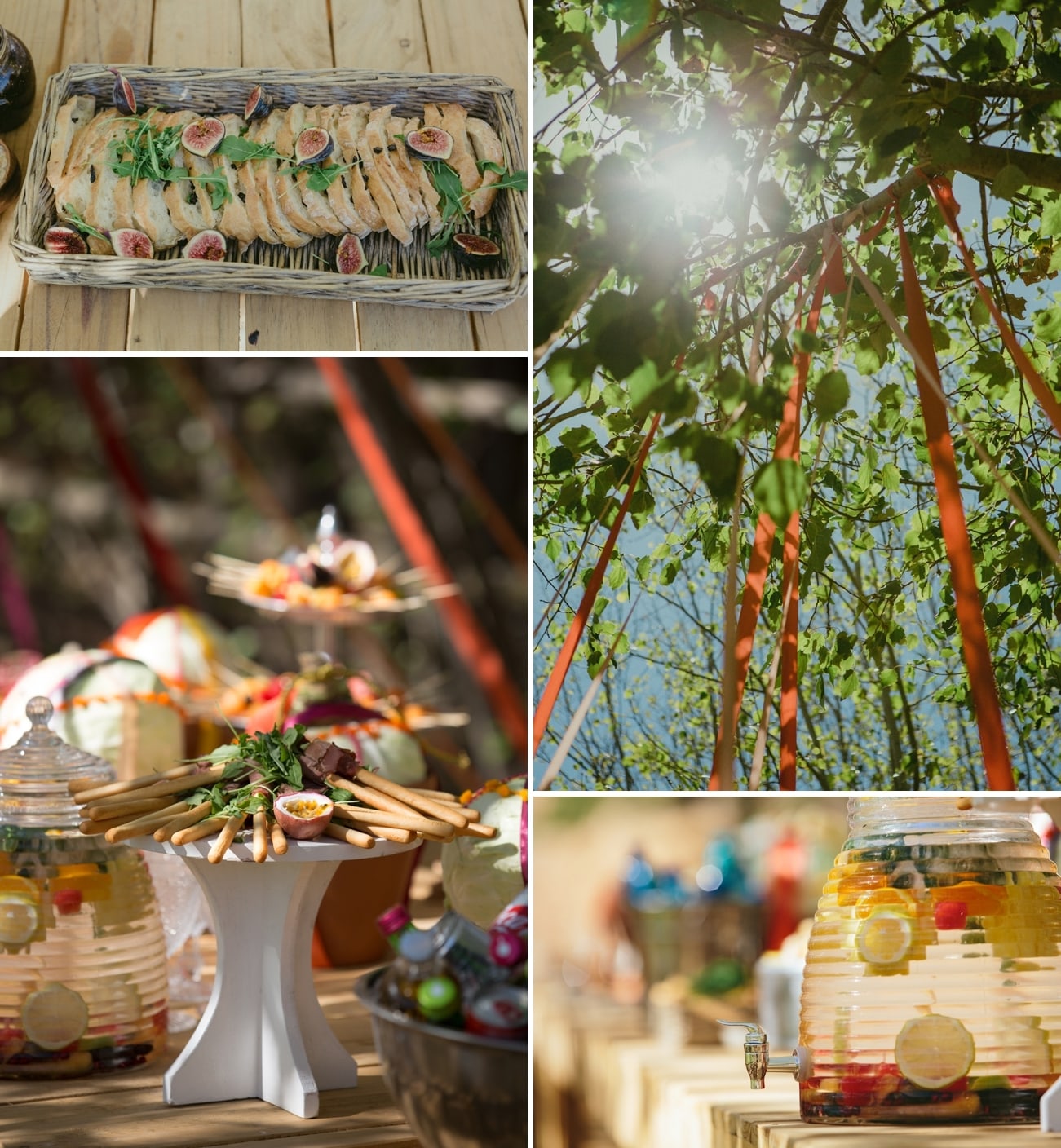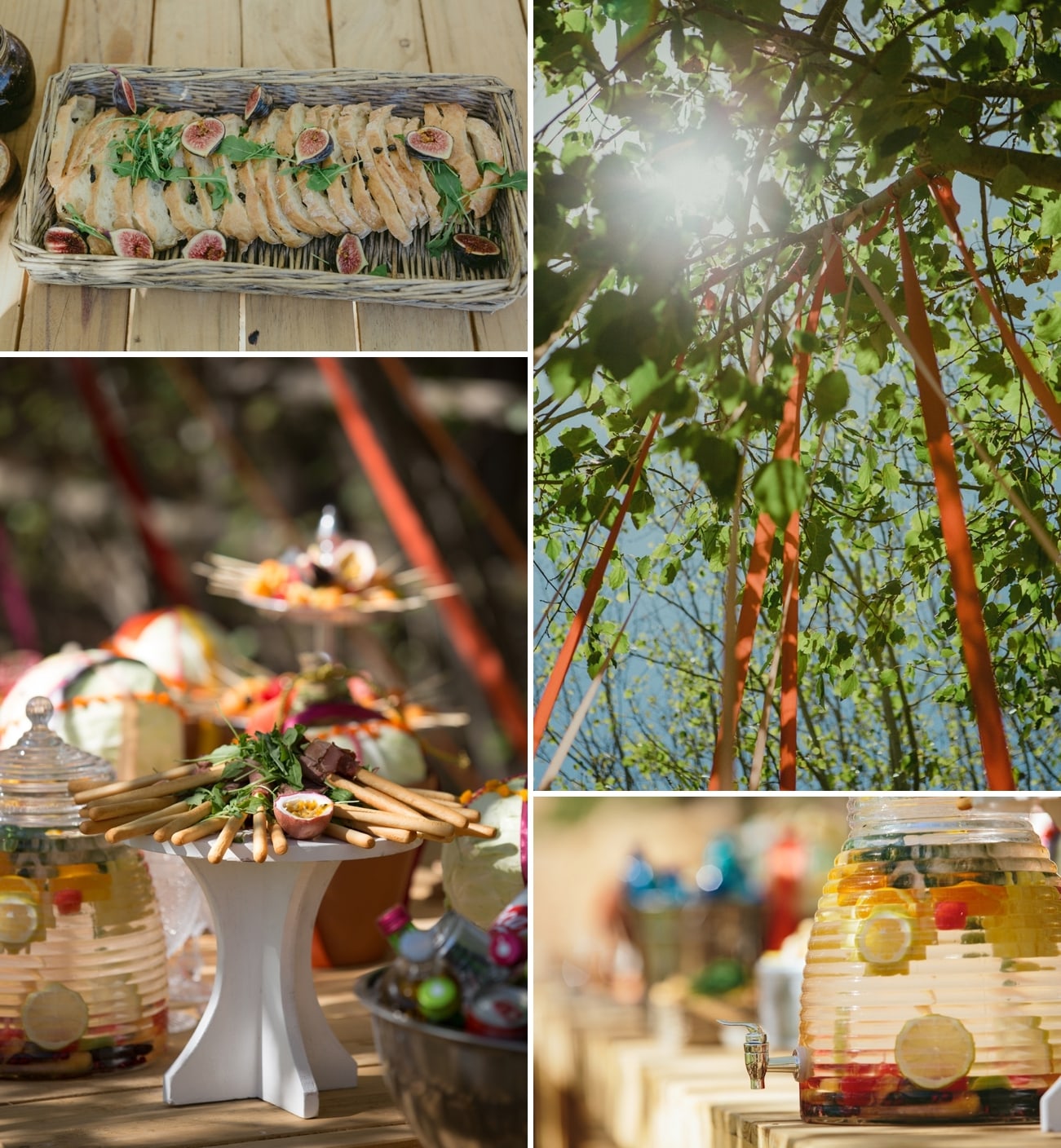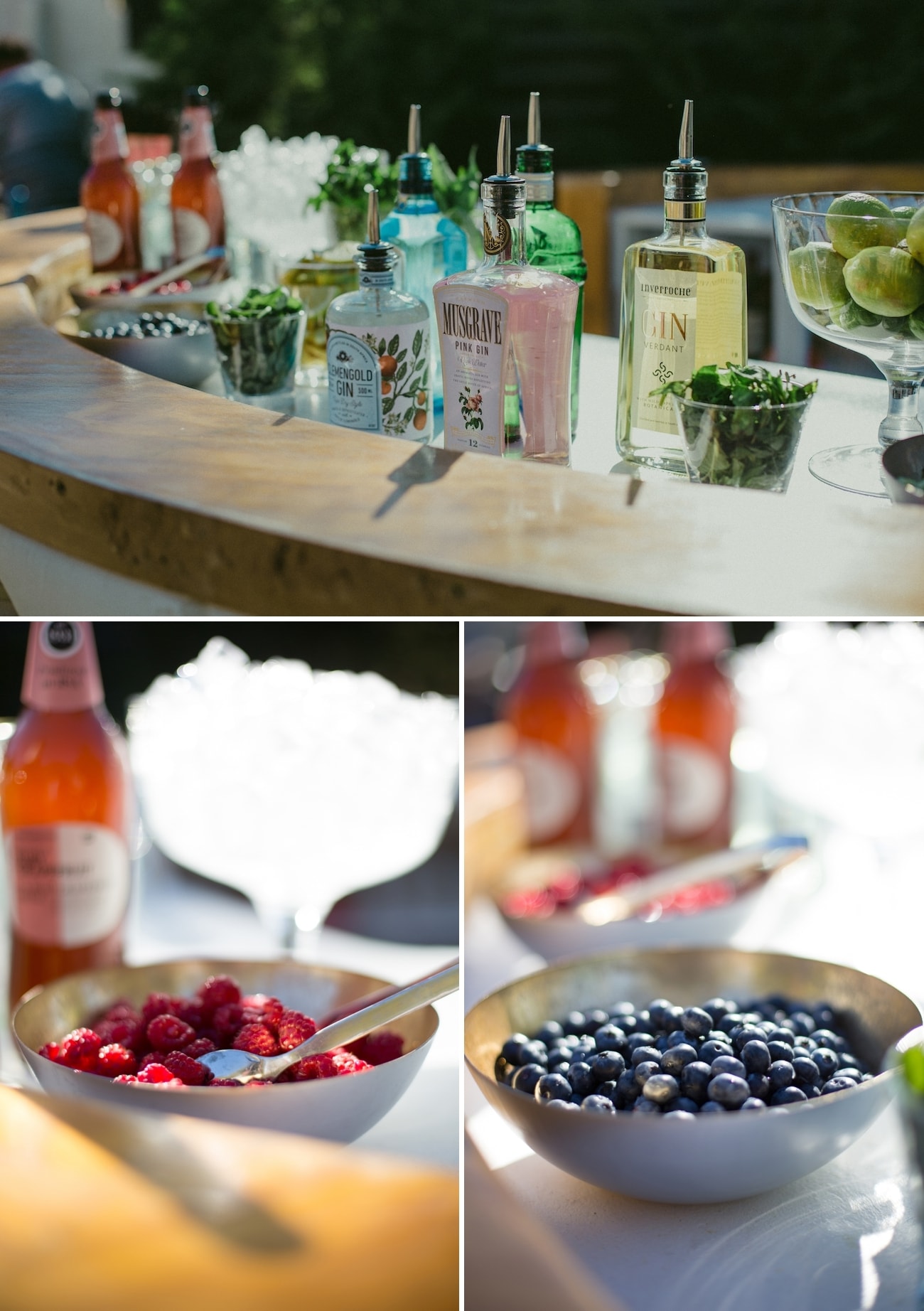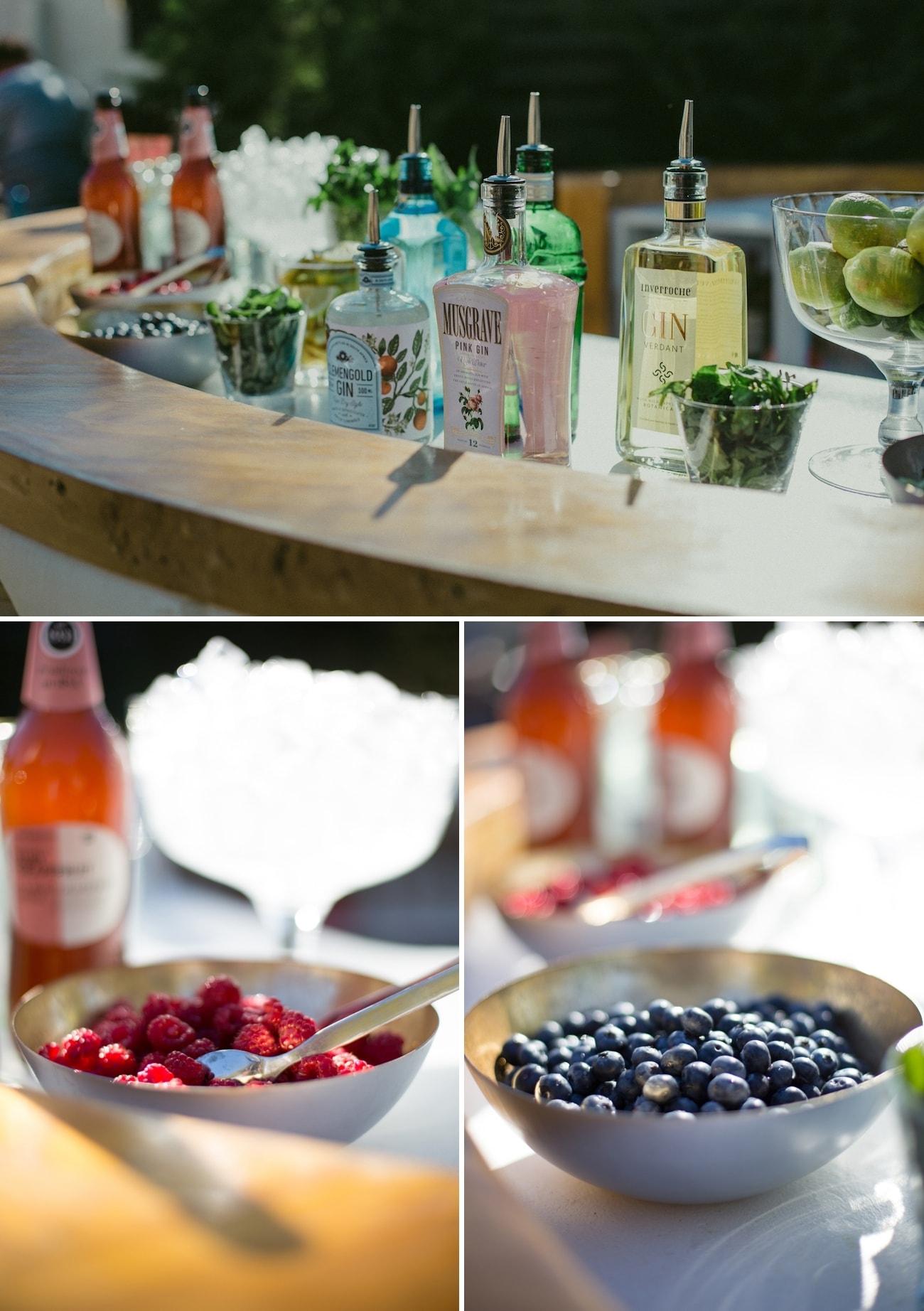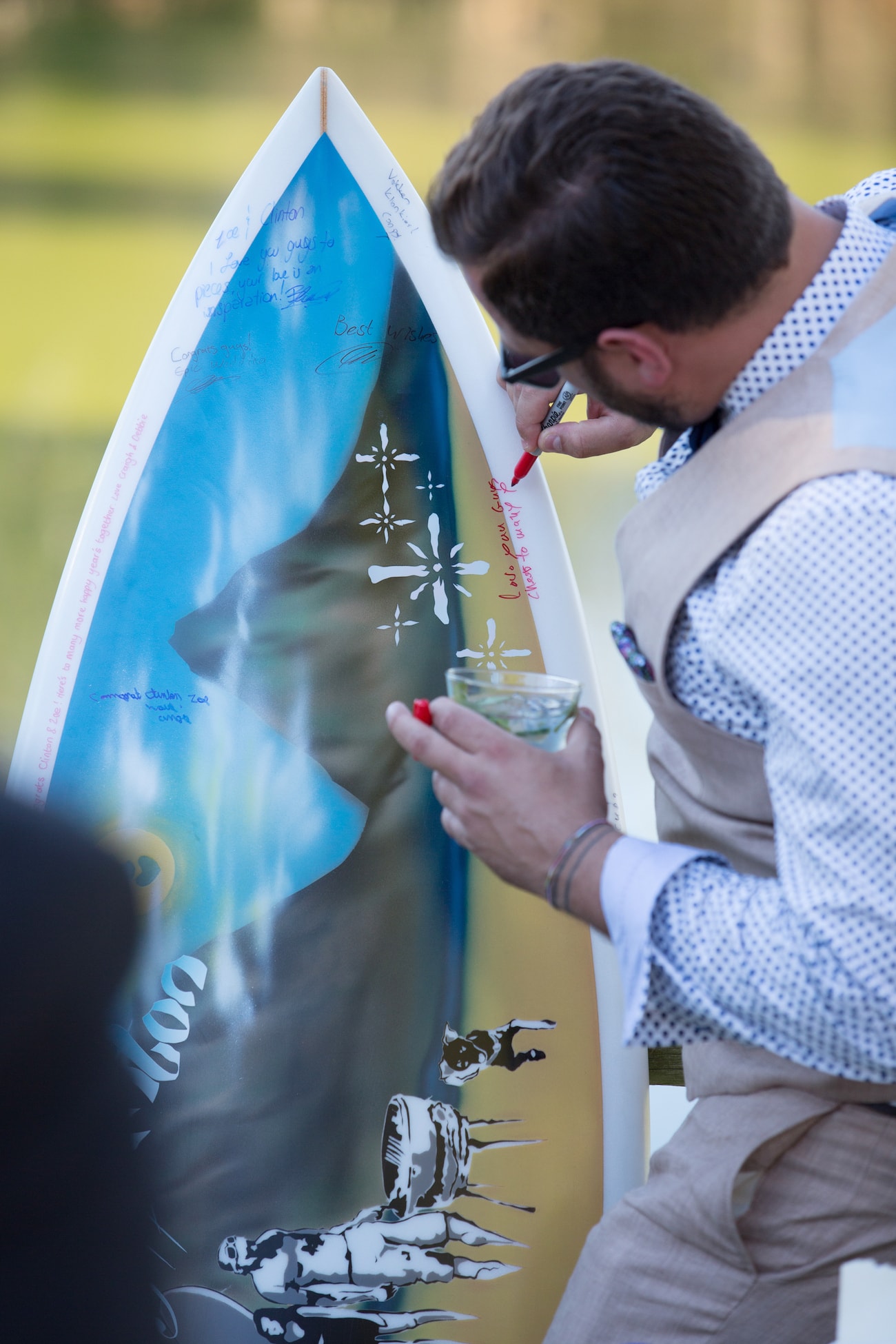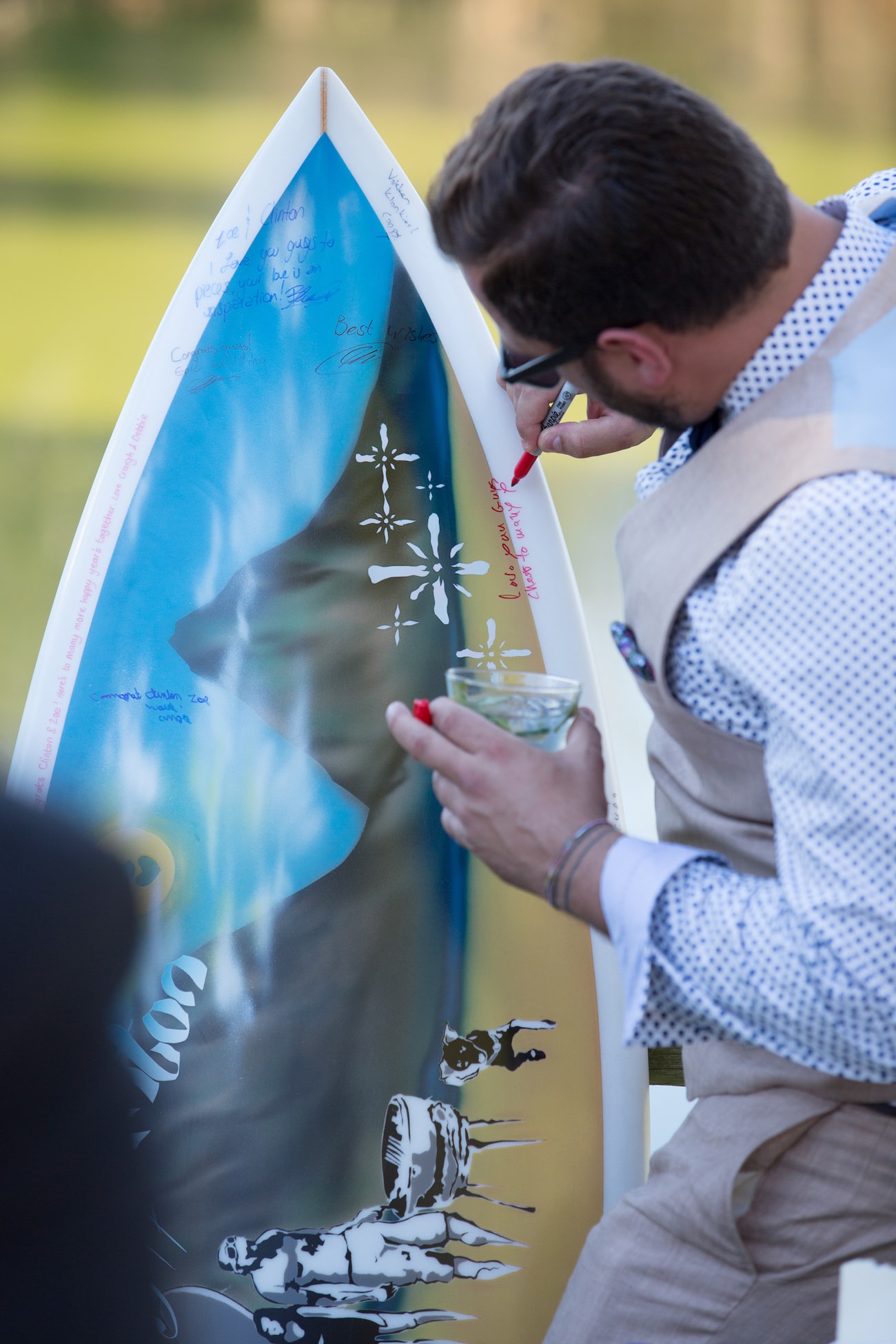 Wedding Details
As individuals and as a couple we are very sentimental. Our guestbook was a bespoke surfboard by the talented BuzzBox Surfboards, with an illustration featuring the two of us and our dogs and table mountain in the background (because we are both from Cape Town, and even though we live abroad, it will always be our home). We envisioned a large piece of art that we could take with us all over the world that has a little bit of all our friends and family on it. Clinton loves braais and always has tongs in his hands come rain or shine; I grew up on the ocean surfing and swimming , so the illustration depicts us as a couple as well as individuals, and we also have our animals as part of the art, including our dog Morrison, who we have had with us since our first date (when rescued him from the roadside). For our sand ceremony, we included sand from the beach where we had our first date and from my grandmother's grave. Every close family member had the chance to pour some sand into a glass vase with a candle in the middle. The thinking behind it, was to light the candle on every anniversary, and reflect on the year that has passed. I also did not toss my bouquet – I saved this to put onto my grandmother's grave and tossed one of my bridesmaids' bouquets instead.
DIY Elements
We hand made our Save the Dates – I had the romantic notion of making all the invitations, so we tested this out with the save the dates (I even learned to sew!)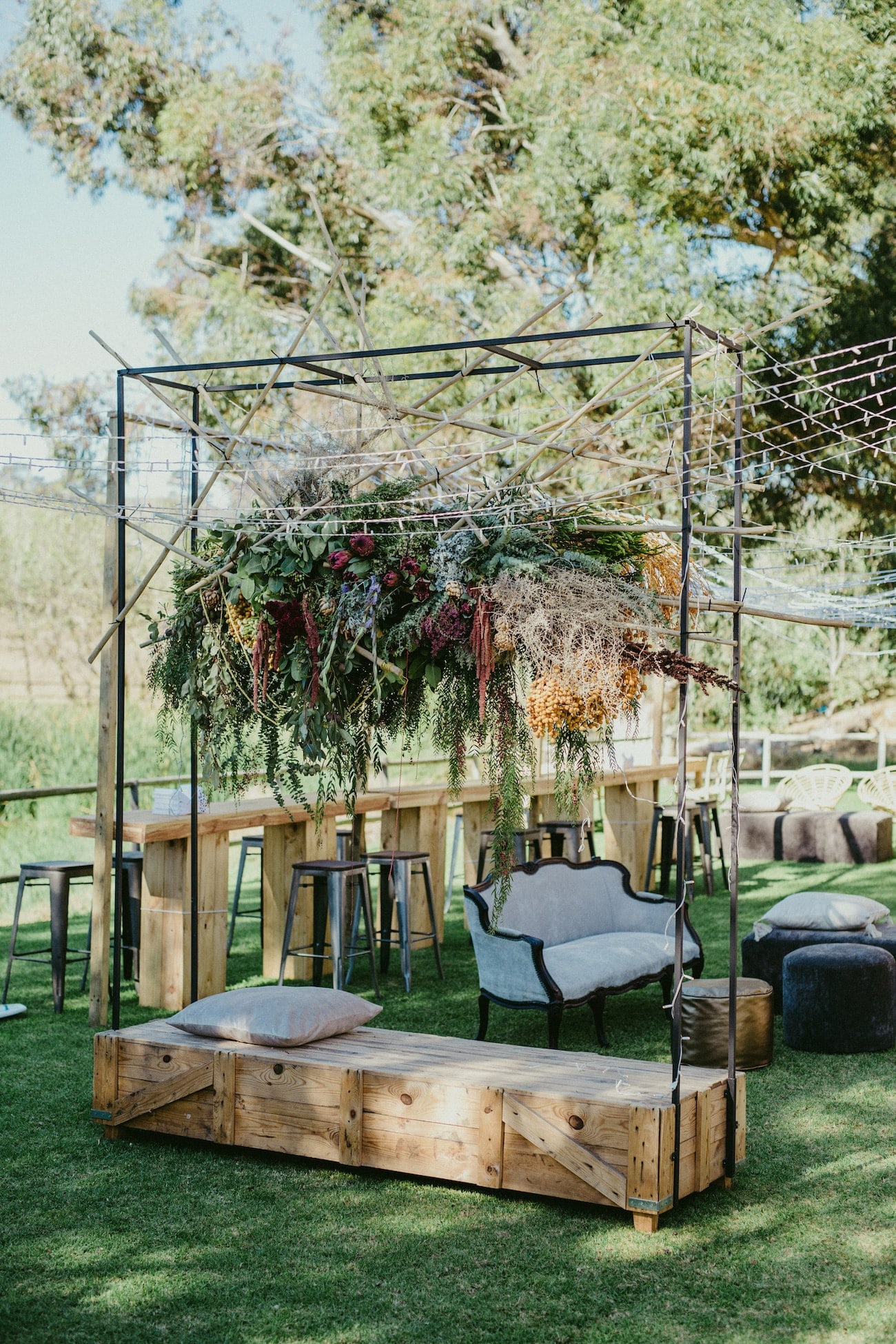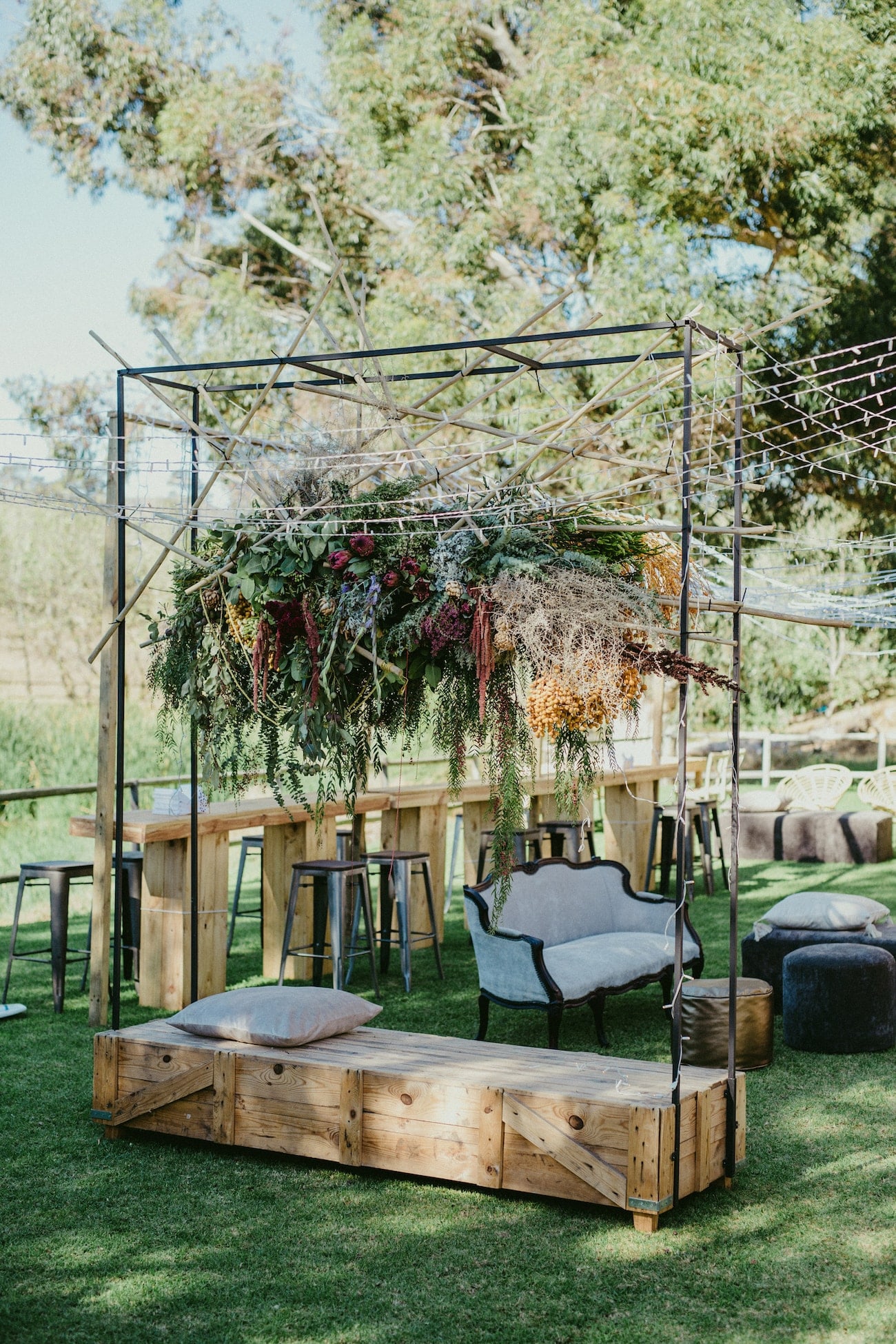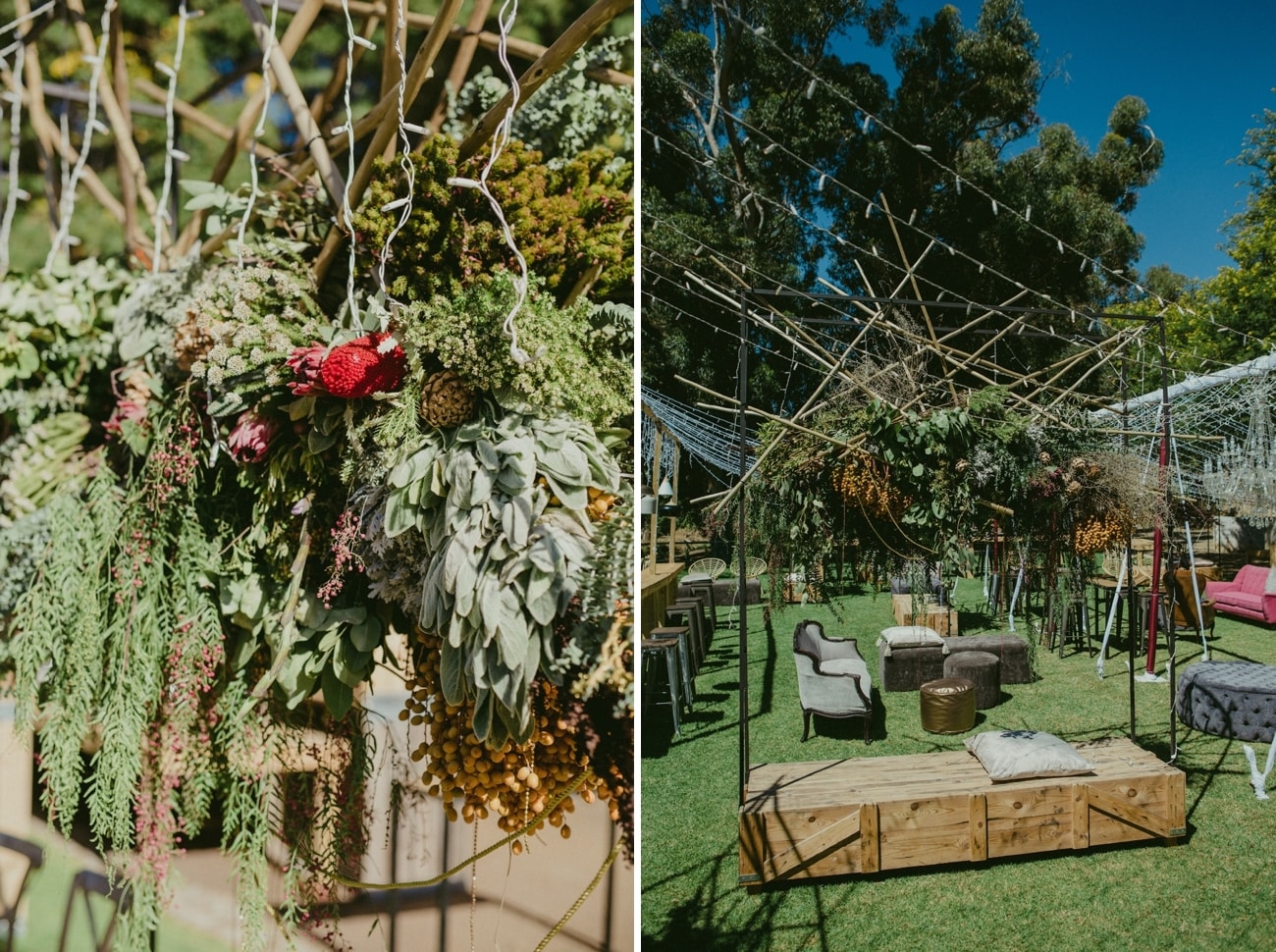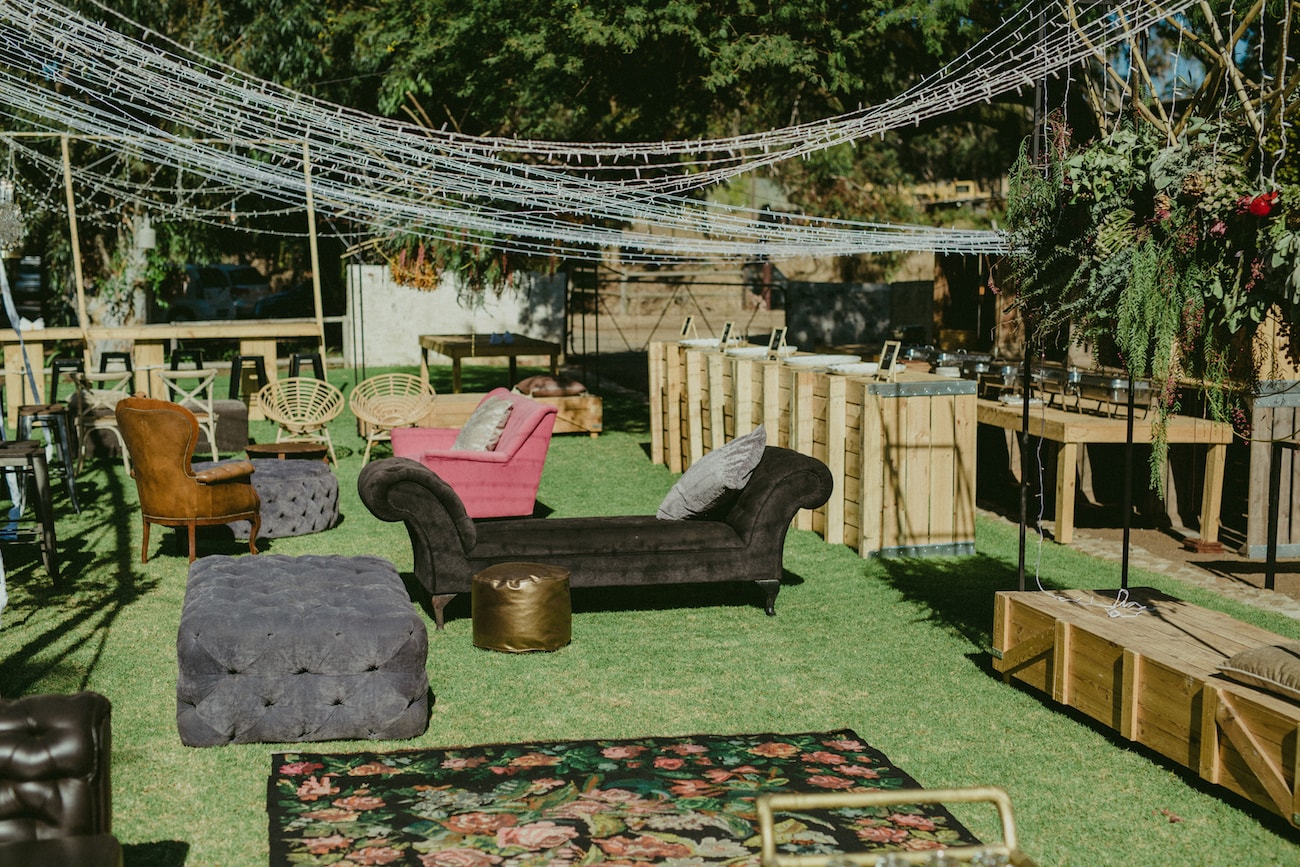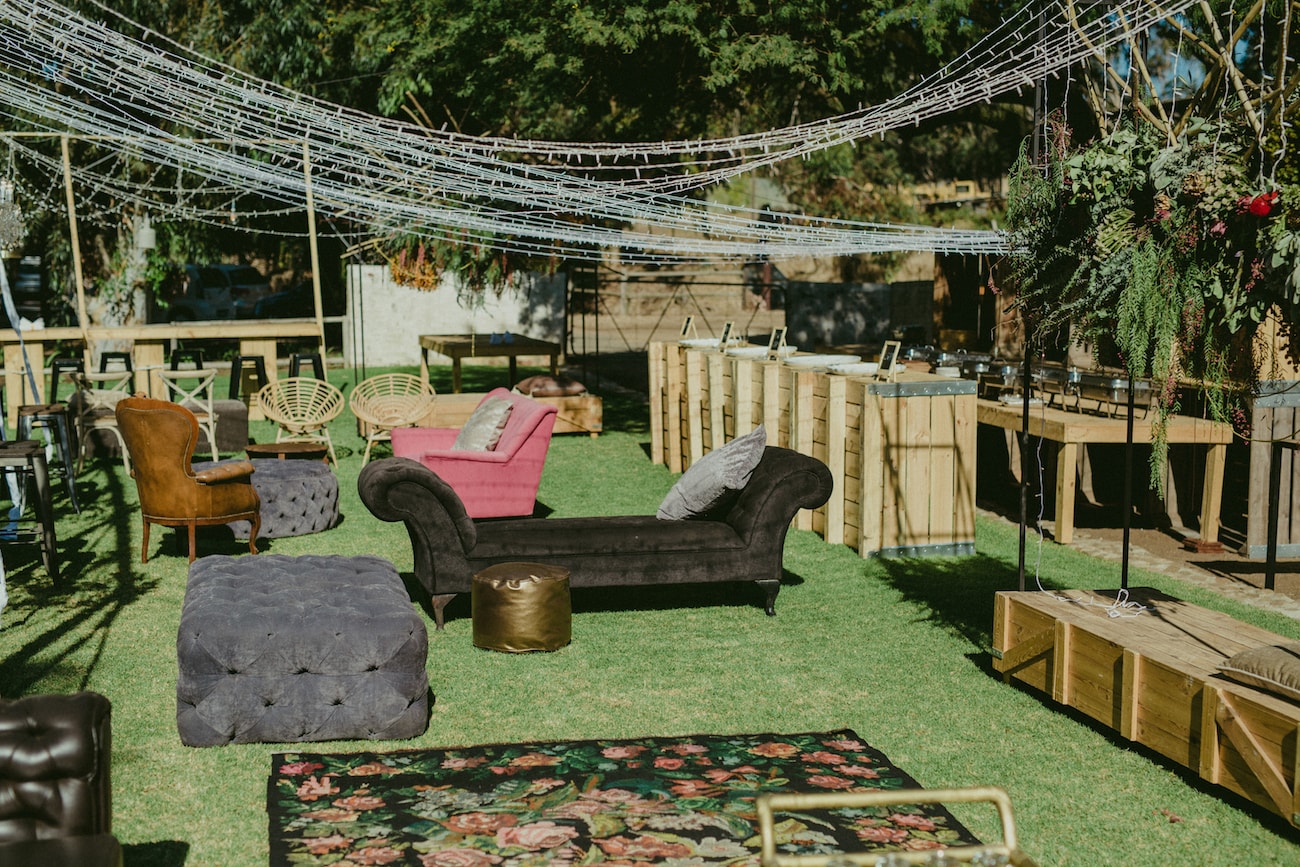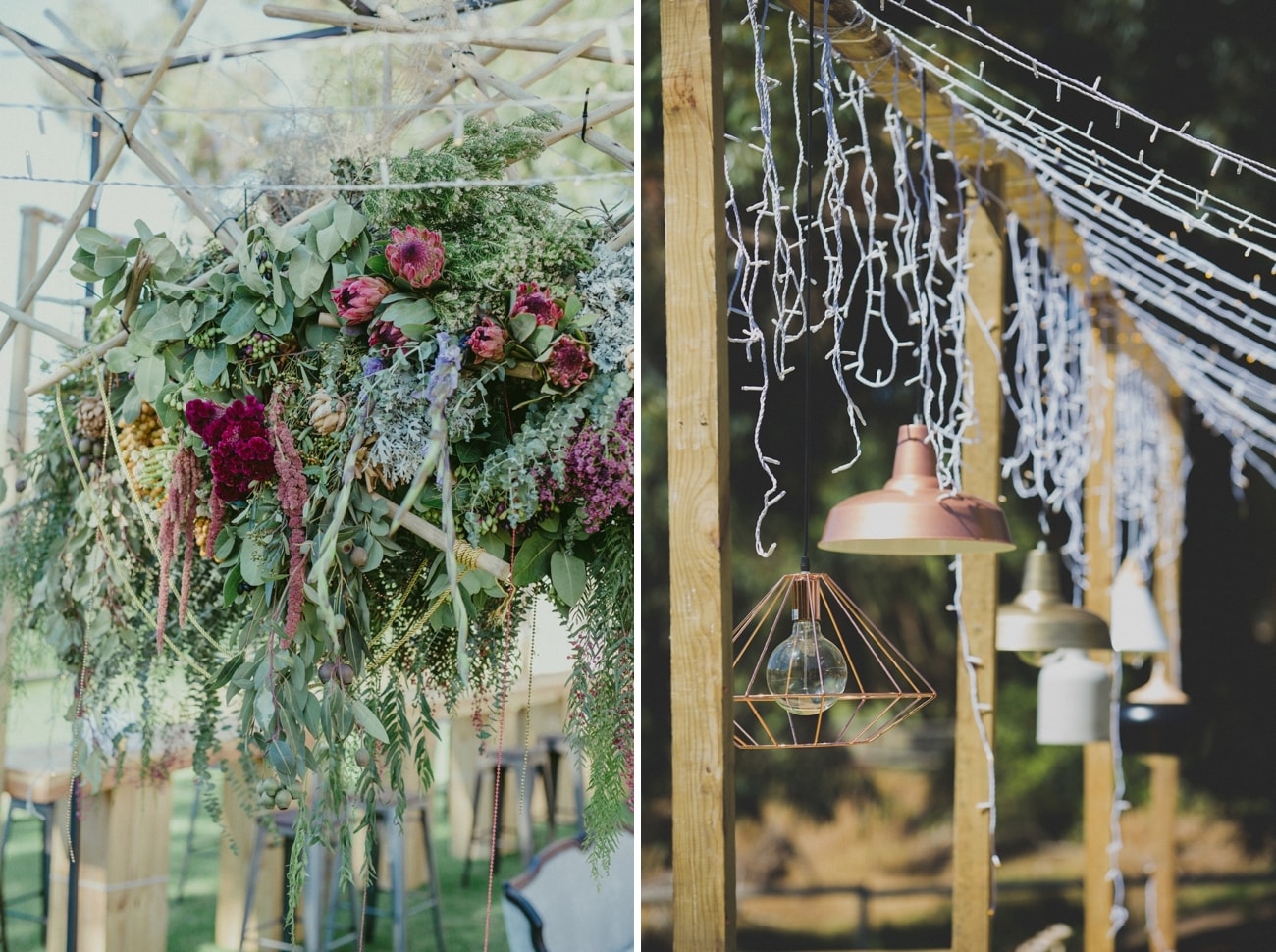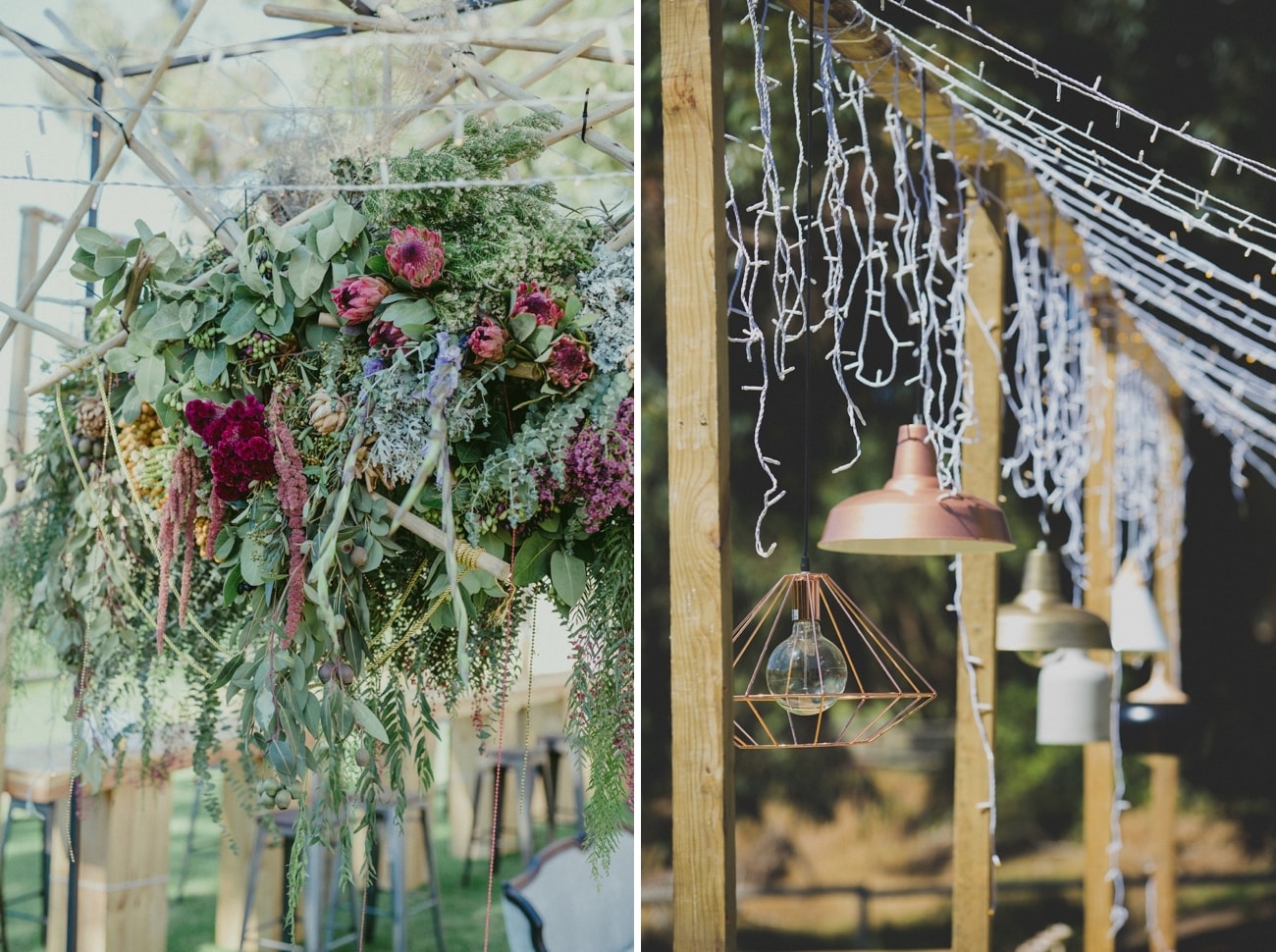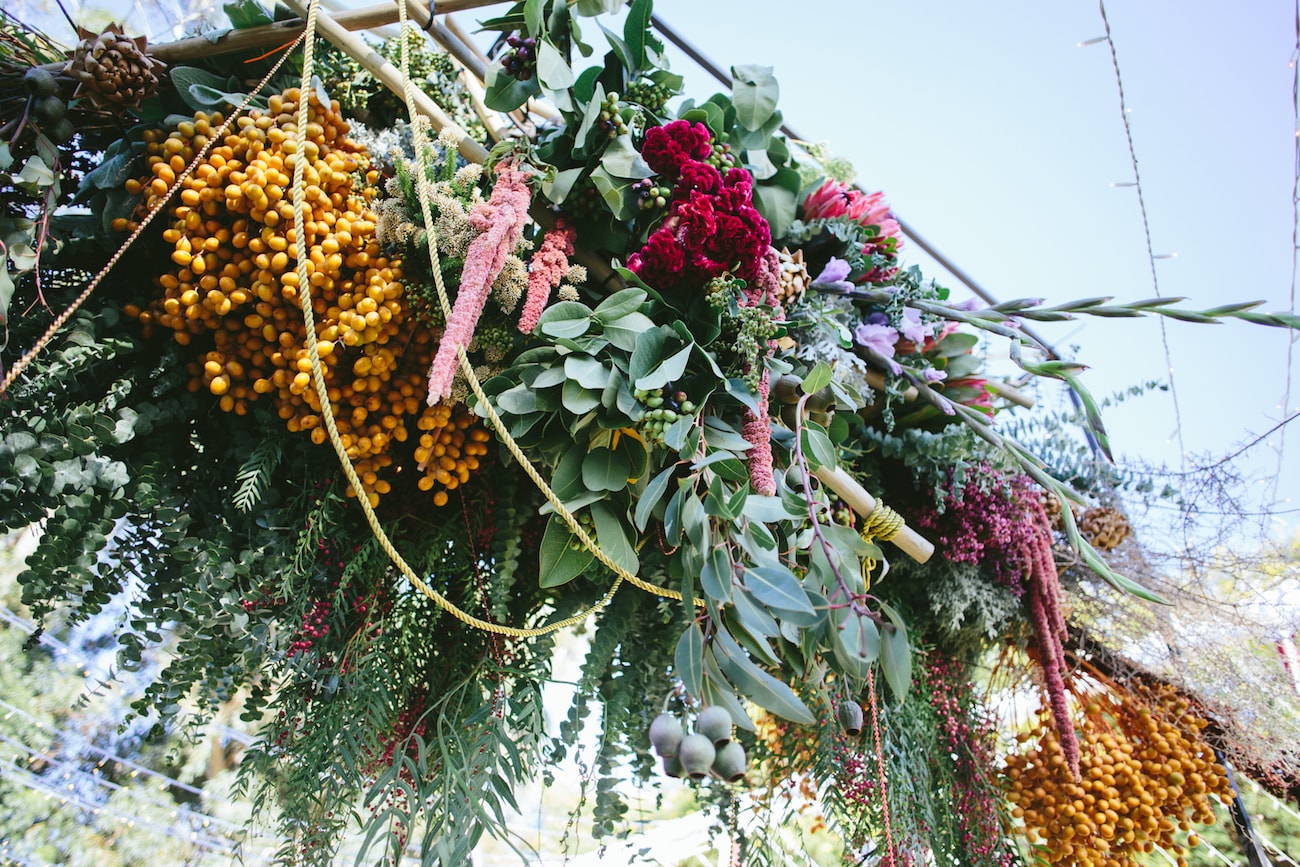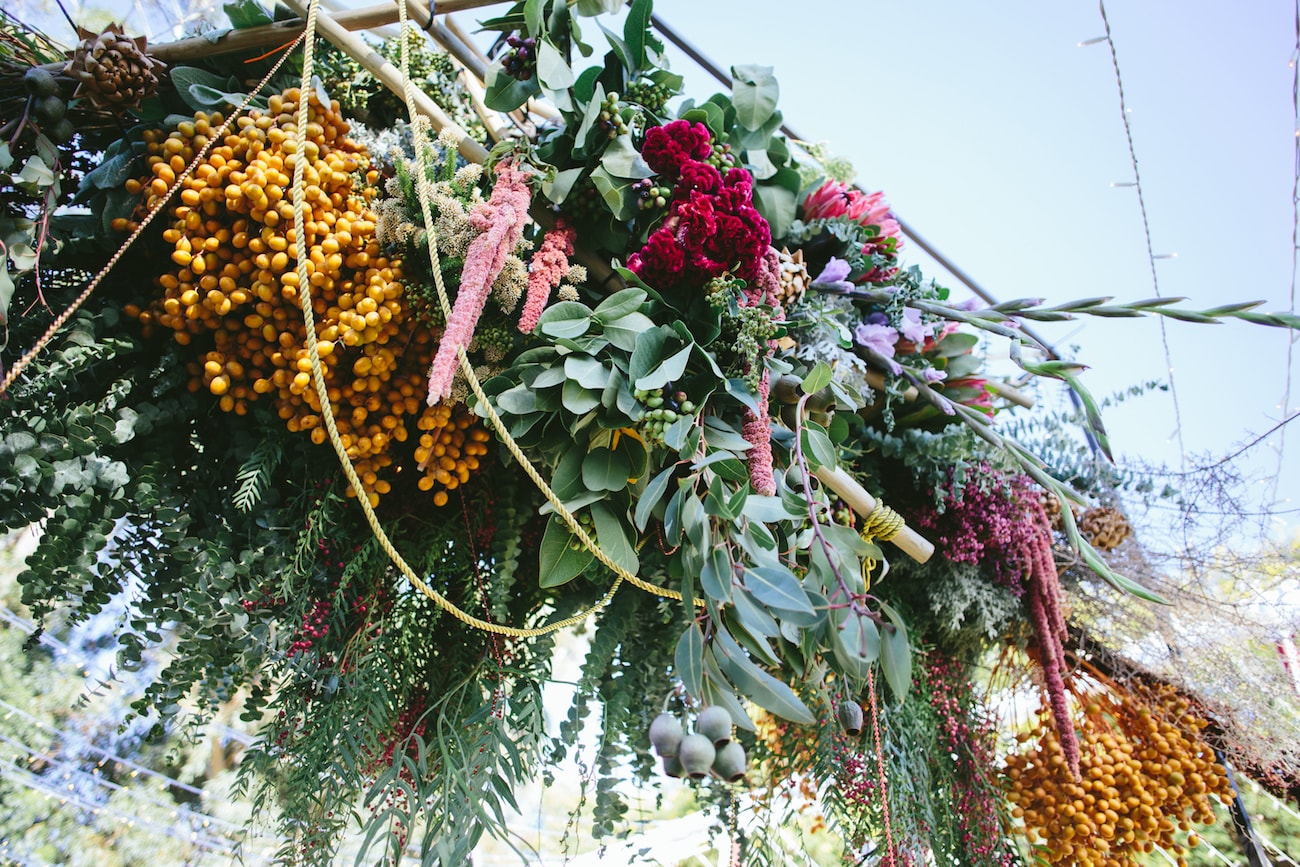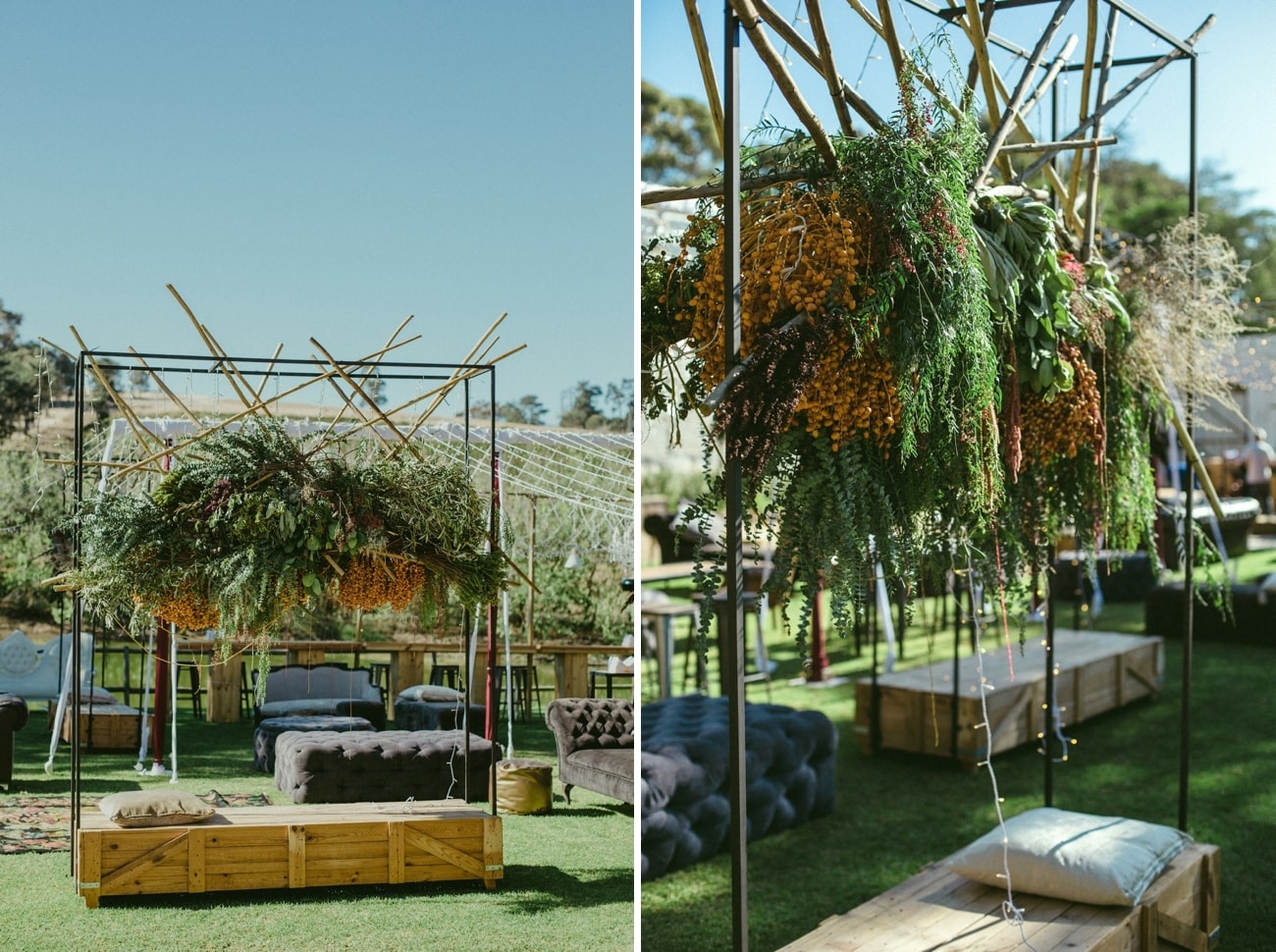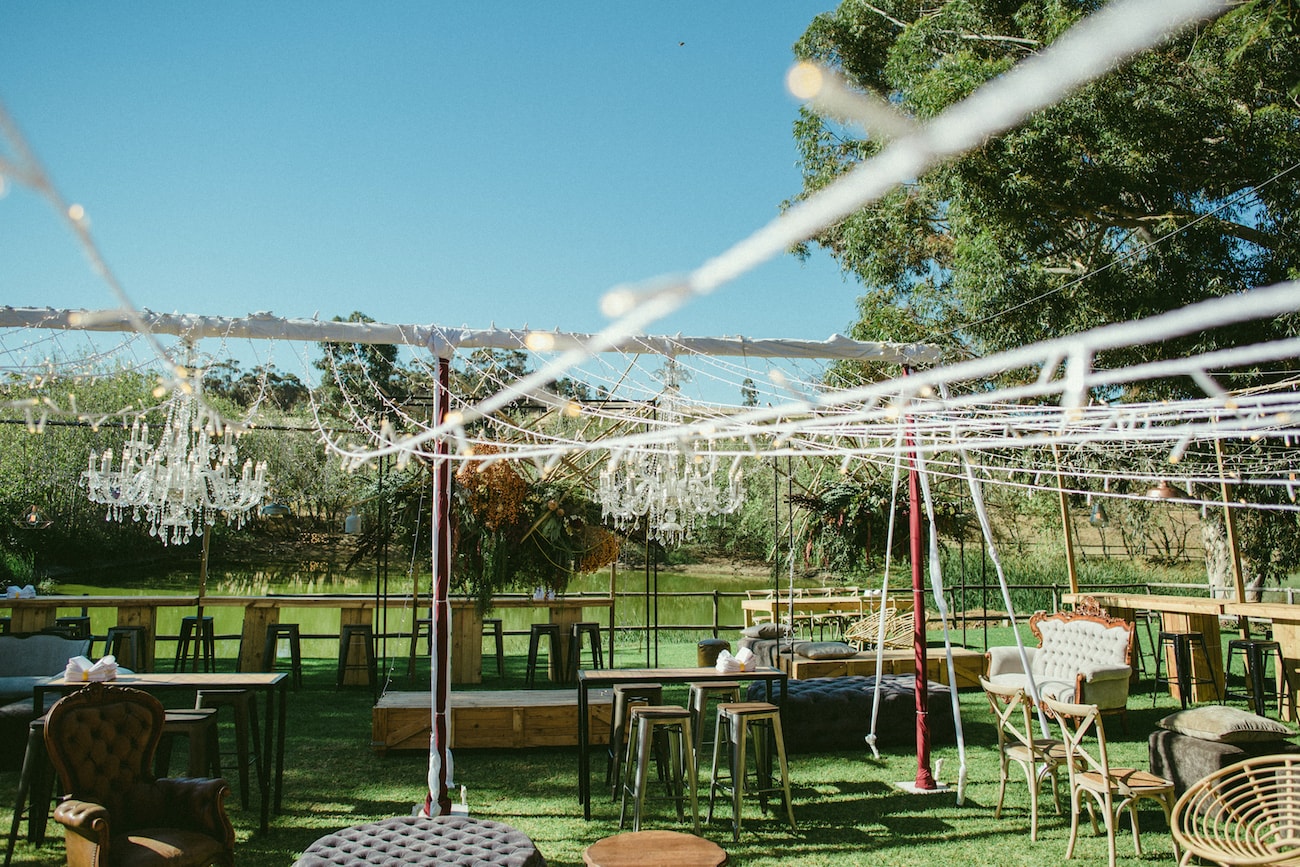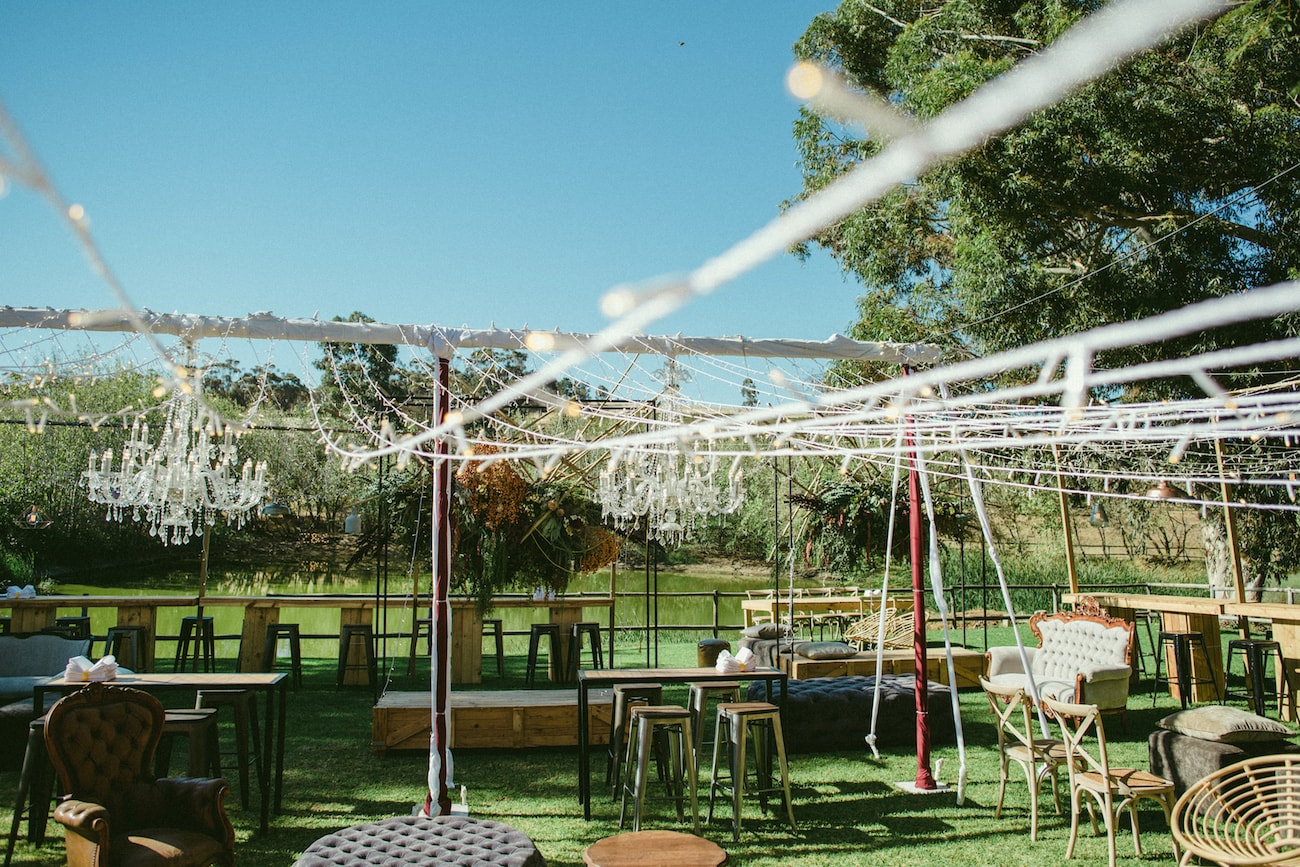 The Dress
My wedding gown was custom made by the incredibly talented Janita Toerien. Even before we were engaged, I always knew I would have Janita design and make my dress. I remember spending countless hours drooling over her incredible designs and dresses. Because we live abroad, I found the process of choosing a dress extremely stressful, especially since all my family live in Cape Town, but I did not want to miss out on the 'trying on dresses' feeling. We all have little insecurities and things we want to hide, so going dress shopping was not a great experience for me; some of the boutiques I went to, I felt like I was being talked into some dresses that I wasn't particularly happy about, that highlighted parts of my body that I wanted to hide. In walks Janita, who knew exactly what I wanted, and keenly listened to every idea I had – even though I didn't have a clue ! I met her about nine months before our wedding. We communicated via email, she sent me some gorgeous designs and we met four months before the wedding, but I was adamant that I was not going to be my ideal weight until a few months before the wedding. I found this very stressful, but Janita assured me all would be fine. Three weeks before the wedding, I had my first measurements, and she literally created my dress from scratch. It is the most beautiful, sparkly dress I have ever seen, and exactly what I wanted. It was a beautiful blush pink gown with yards and yards of tulle, and a very sparkly detailed bodice all hand sewn. It honestly fit me beautifully – Janita is a true artist. Not only in the designing skill, but her approach to dealing with the bride, and the insecurities that may or may not be there. I was quite close to my grandmother, and growing up I always imagined having her walking by my side on my wedding day. She sadly passed away last year, and in memory of her I had an item of clothing sewn in to my dress (both hers and Clinton's grandmother) that way I felt like she was actually walking with me.
The Bridesmaids
I had four bridesmaids – again, I had a vision of luxury meets relaxed, so wanted quite a beautiful flowy dress for them with boho style beach hair. My two chiefs wore beautiful rose gold sequin dresses by Jenny Packham (these were so sparkly!) and my other two bridesmaids wore Jenny Packham again, but with a more neutral tone but also quite heavily sequined. The combination was gorgeous.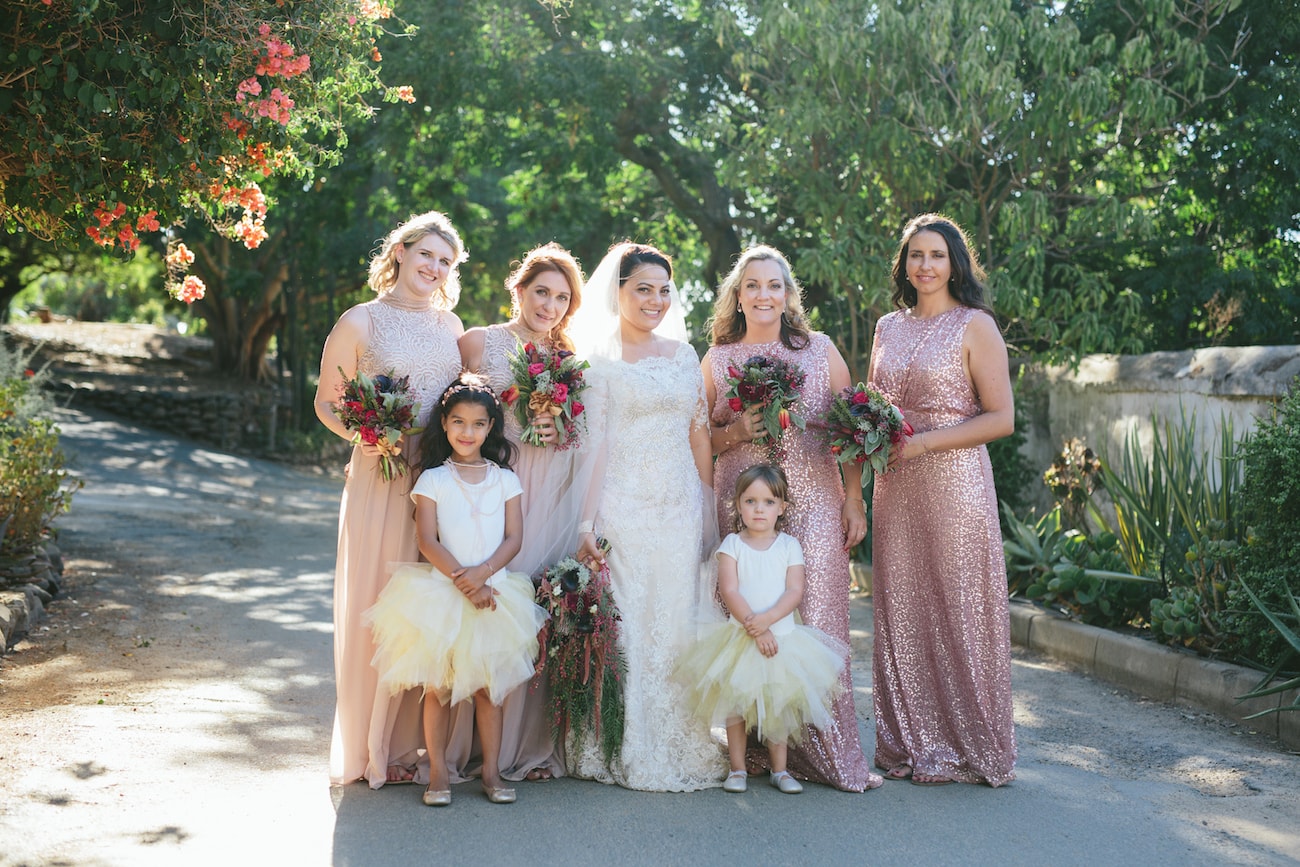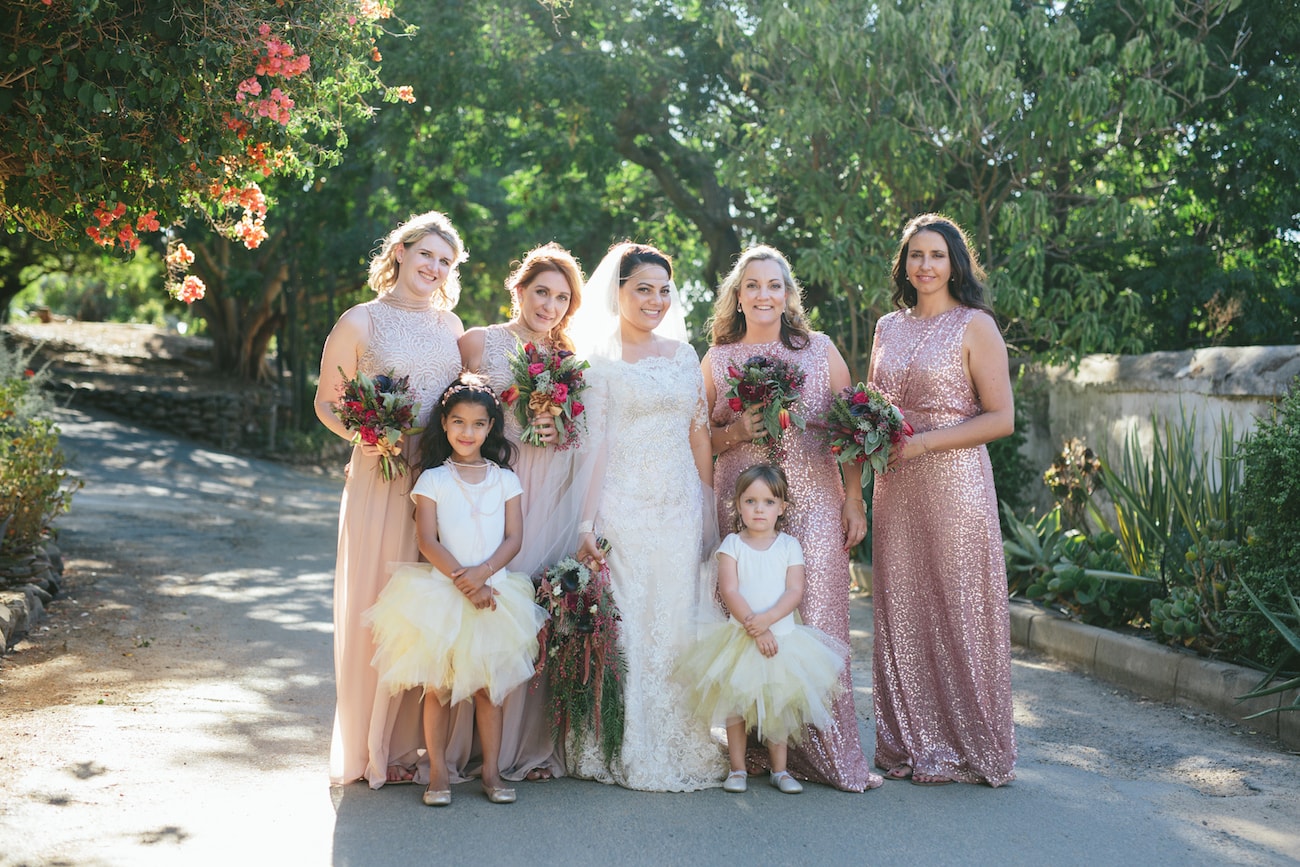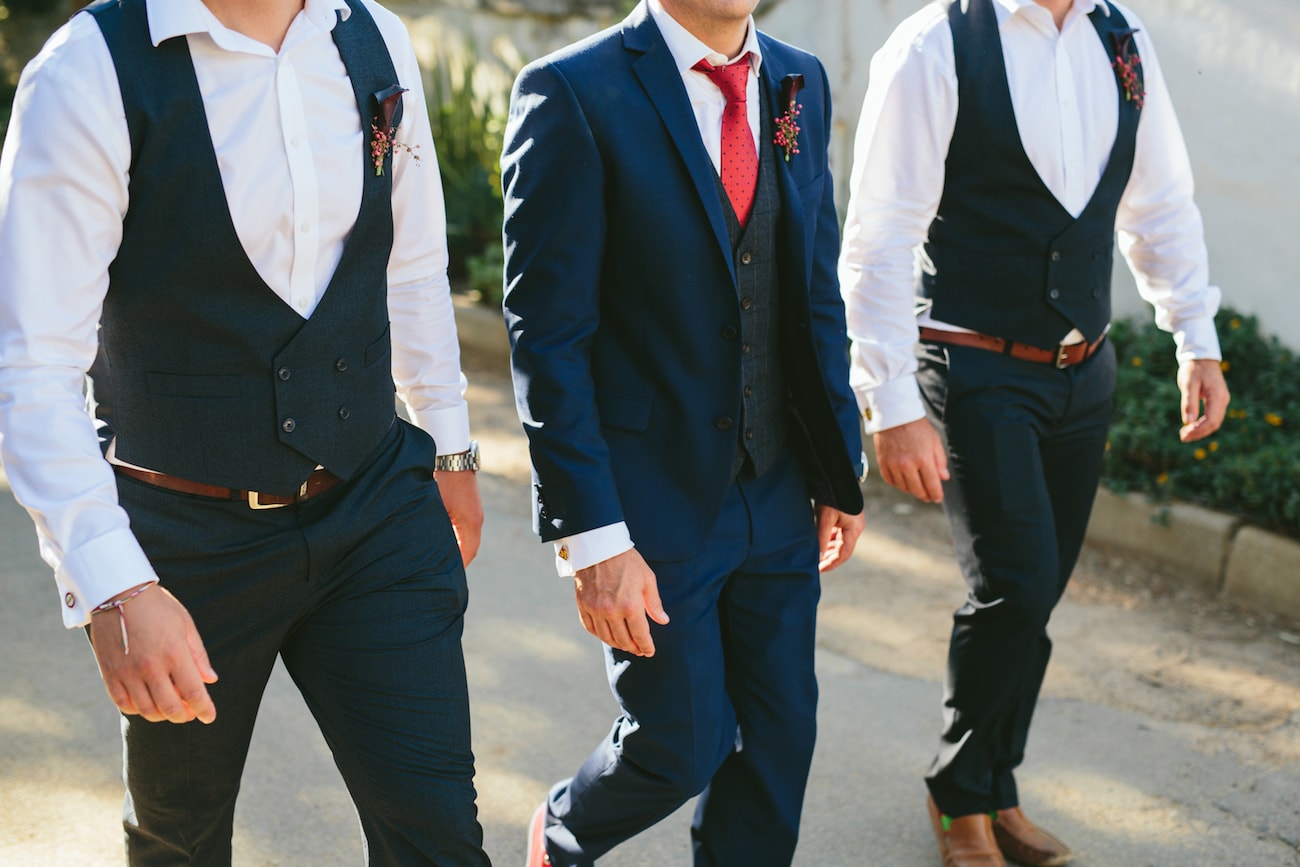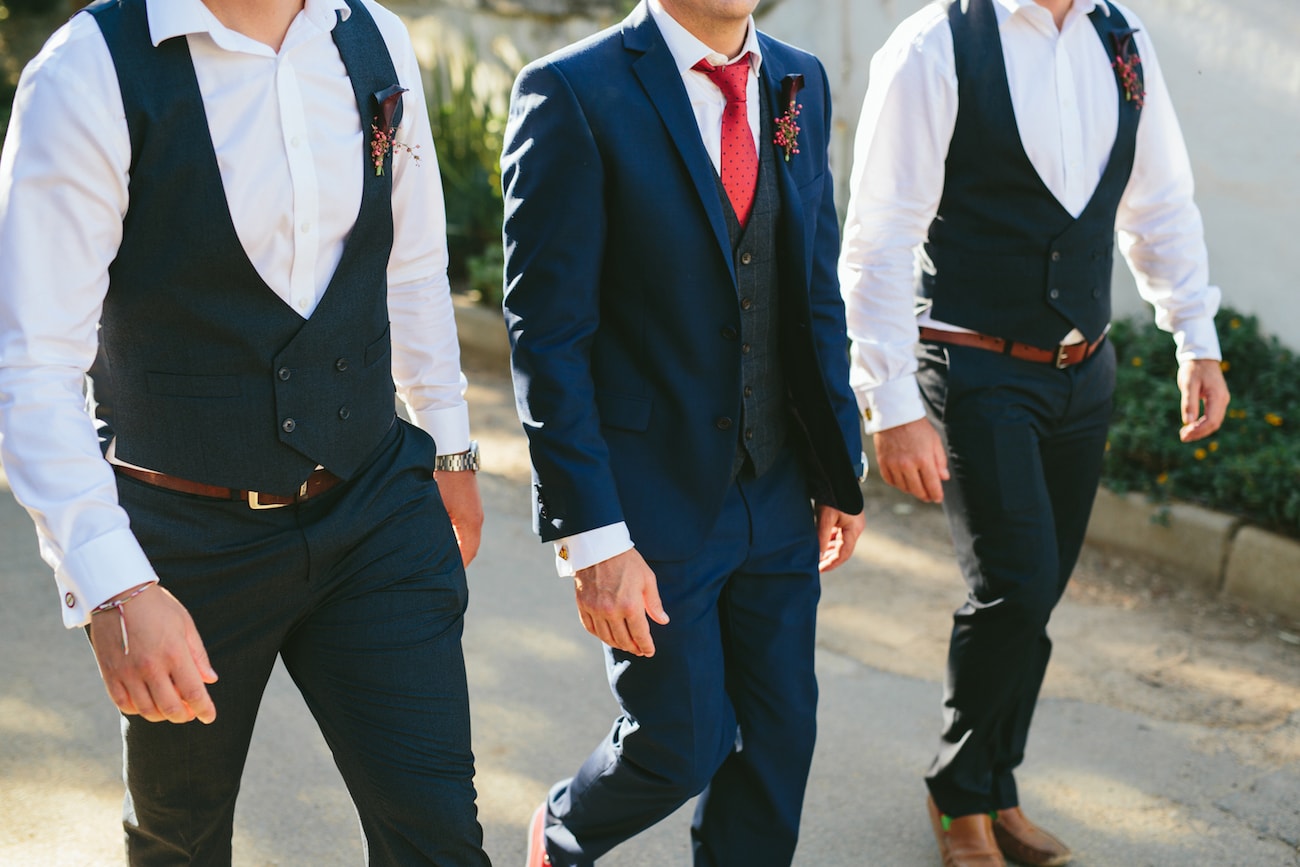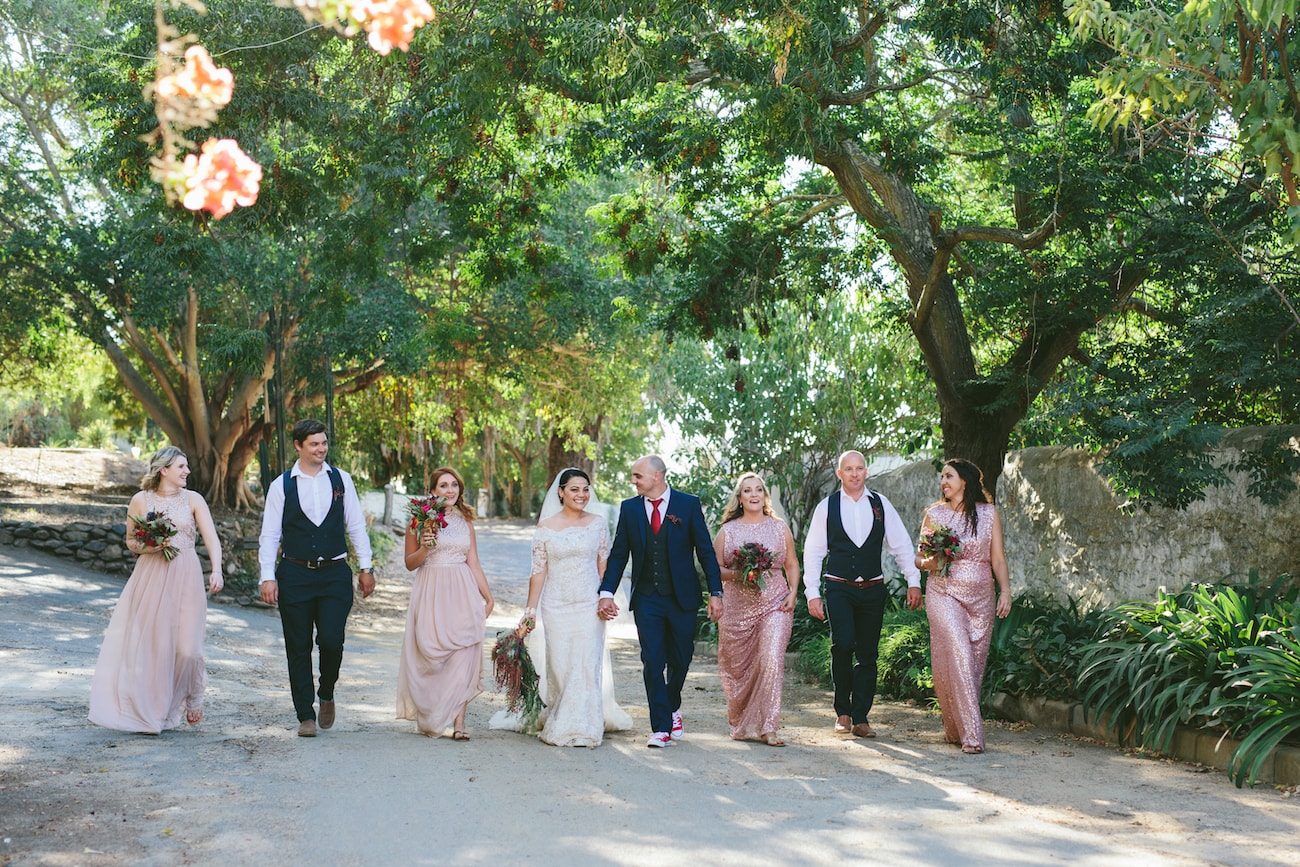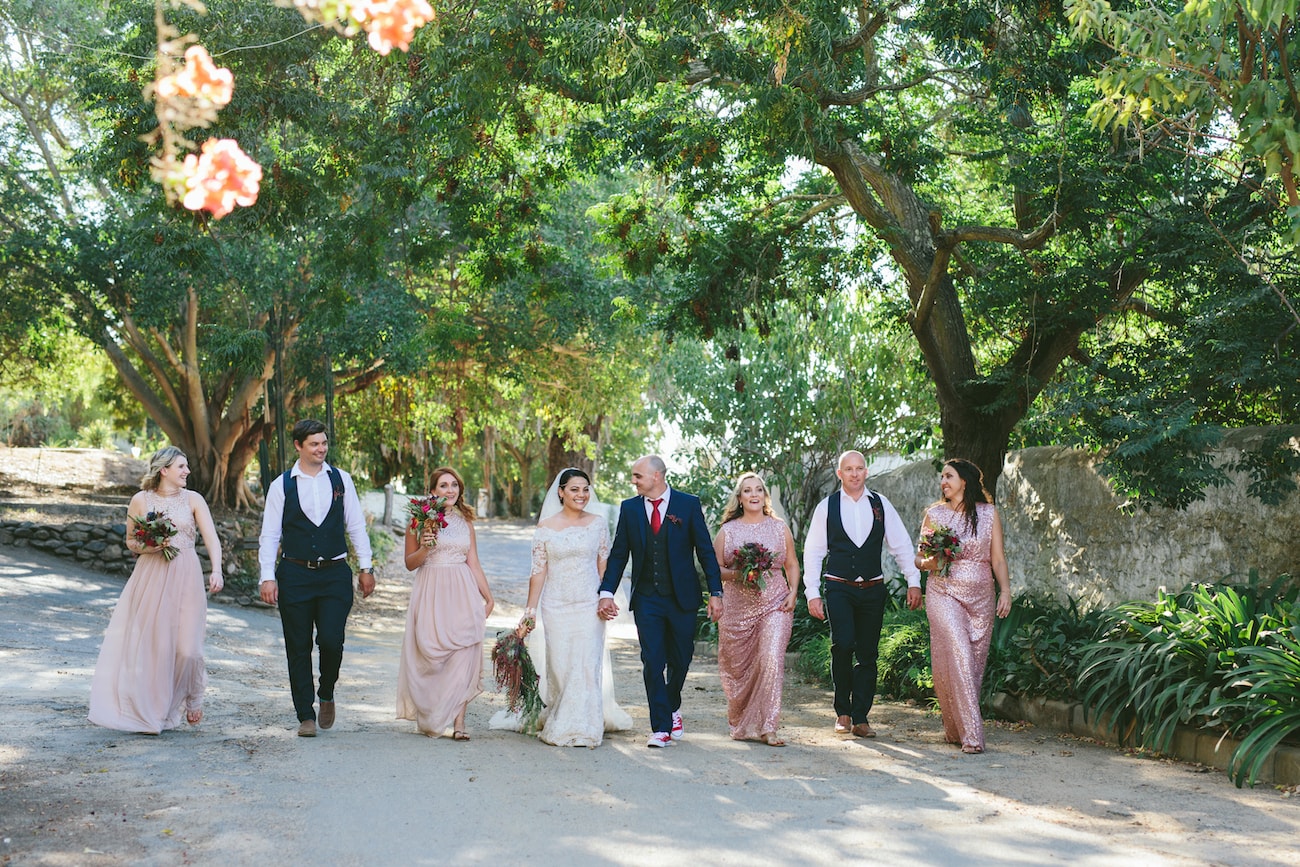 The Flowers
I'm not a particularly flowery kind of girl and prefer bursts of natural colour like deep red plum or the red from pomegranates. I also love the unusual! Our bouquet consisted of a lot of greenery, with some black lilies and lots of red berries. My brief to Blomboy was "I want a tree as a bouquet" and he definitely delivered! We didn't have decor flowers really, more like art installations of fynbos, and spray painted branches, with a lush Moroccan spread of lots of rich fabrics like Marsala, and golden yellows. We also had some cabbages in a pot plant – its sounds weird but looked fantastic; it definitely was a talking point.
Proudly South African Details
We wanted to give our overseas friends a real South African welcome and a traditional feel. Immediately after the vows we had gumboot dancers walk down the aisle towards us and lead us and the guests to the canape table. The catering was a luxury braai, where guests got up and went to choose their meat. Our live band was The Fancy Galada Band, playing traditional African music. I had seen them play every time I came to Cape Town and always thought I wanted them to play at my wedding. The year we got engaged, they disbanded, but somehow we found that they were playing under a different name – it was really a highlight for the guests.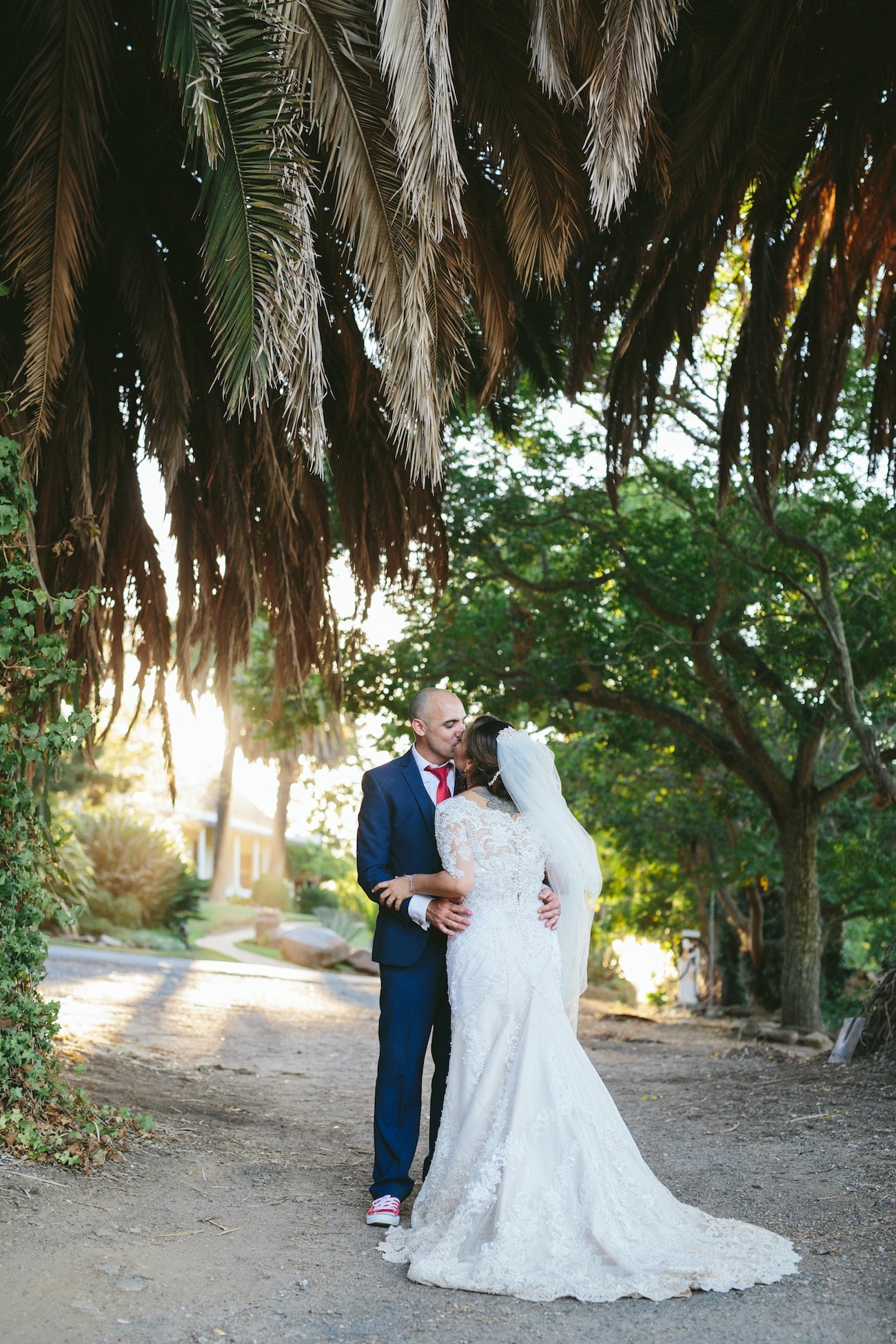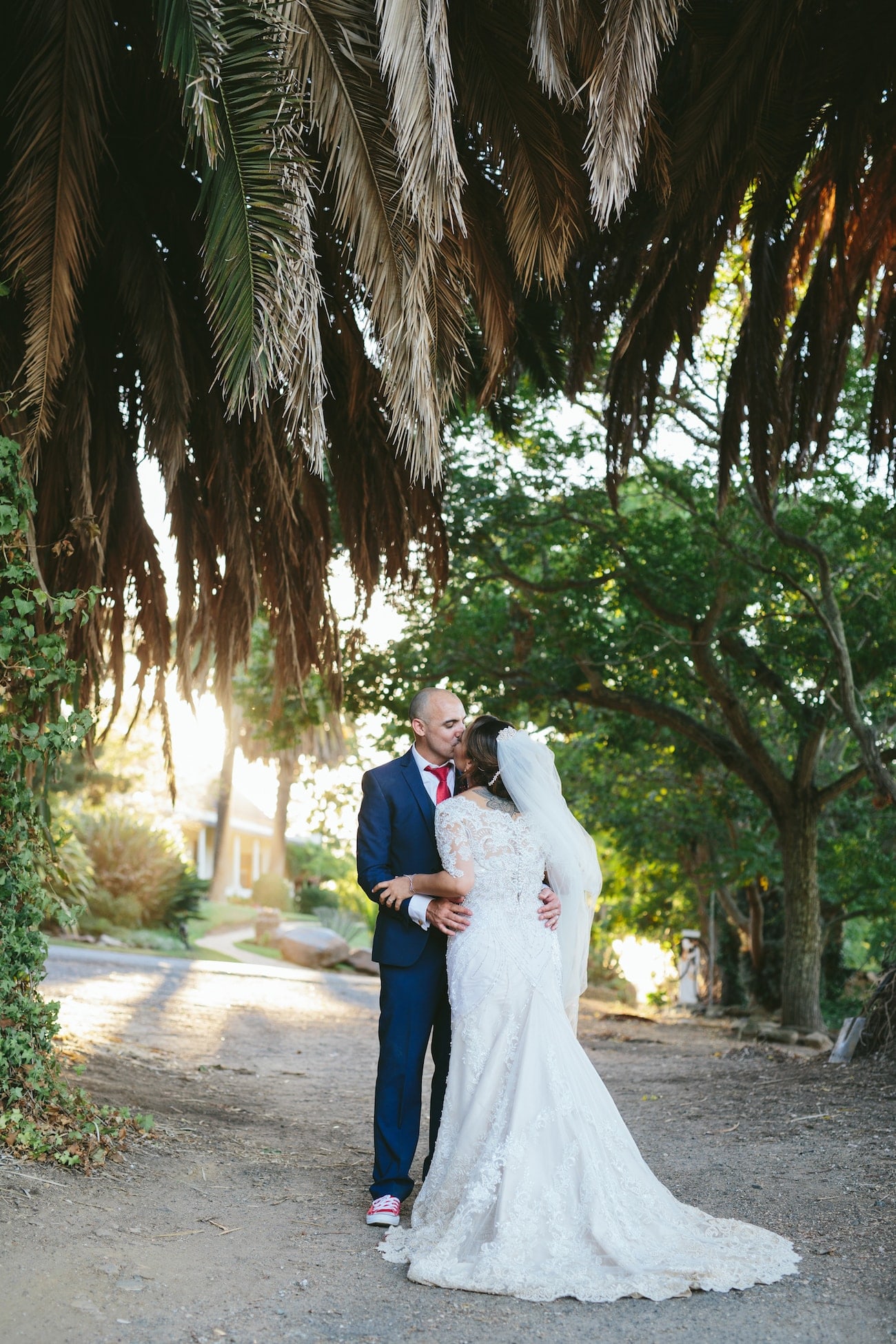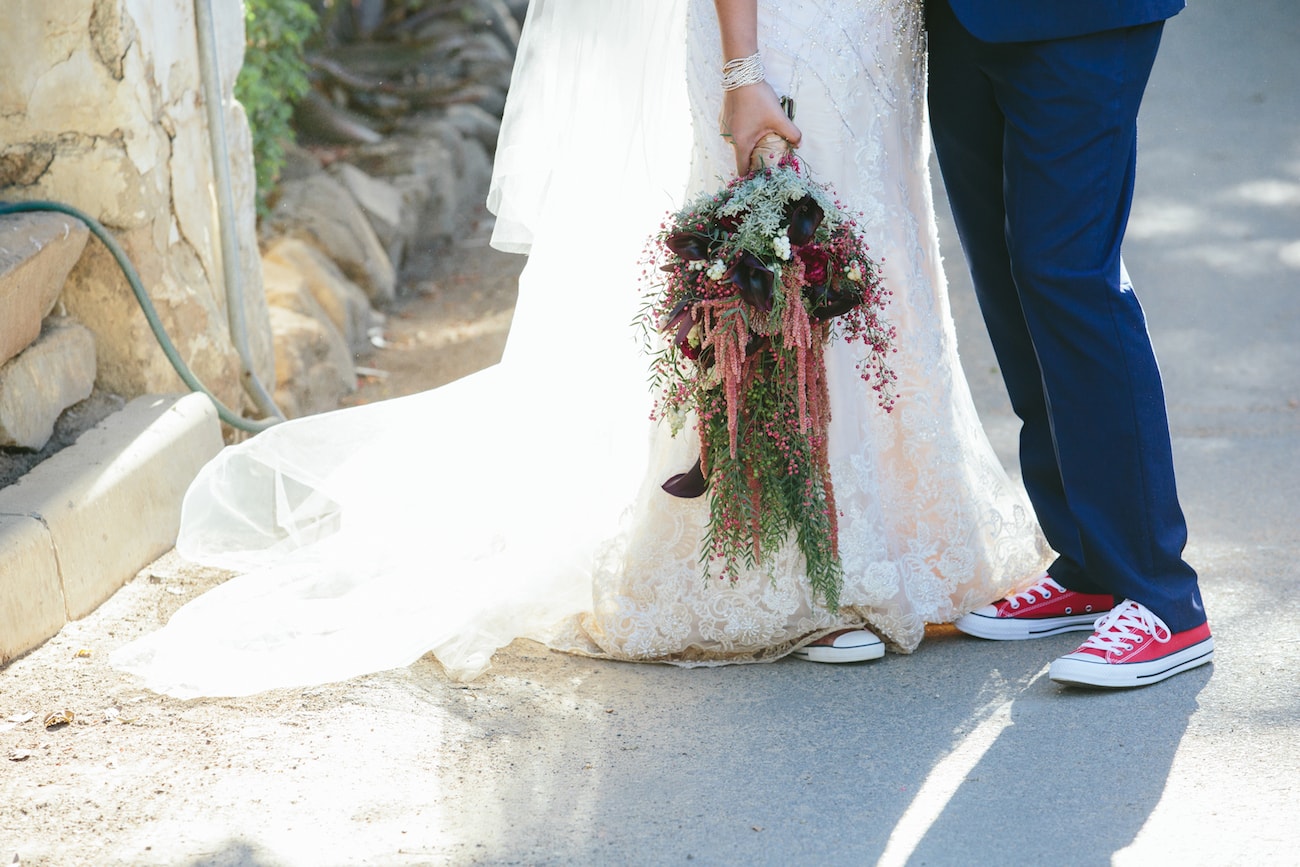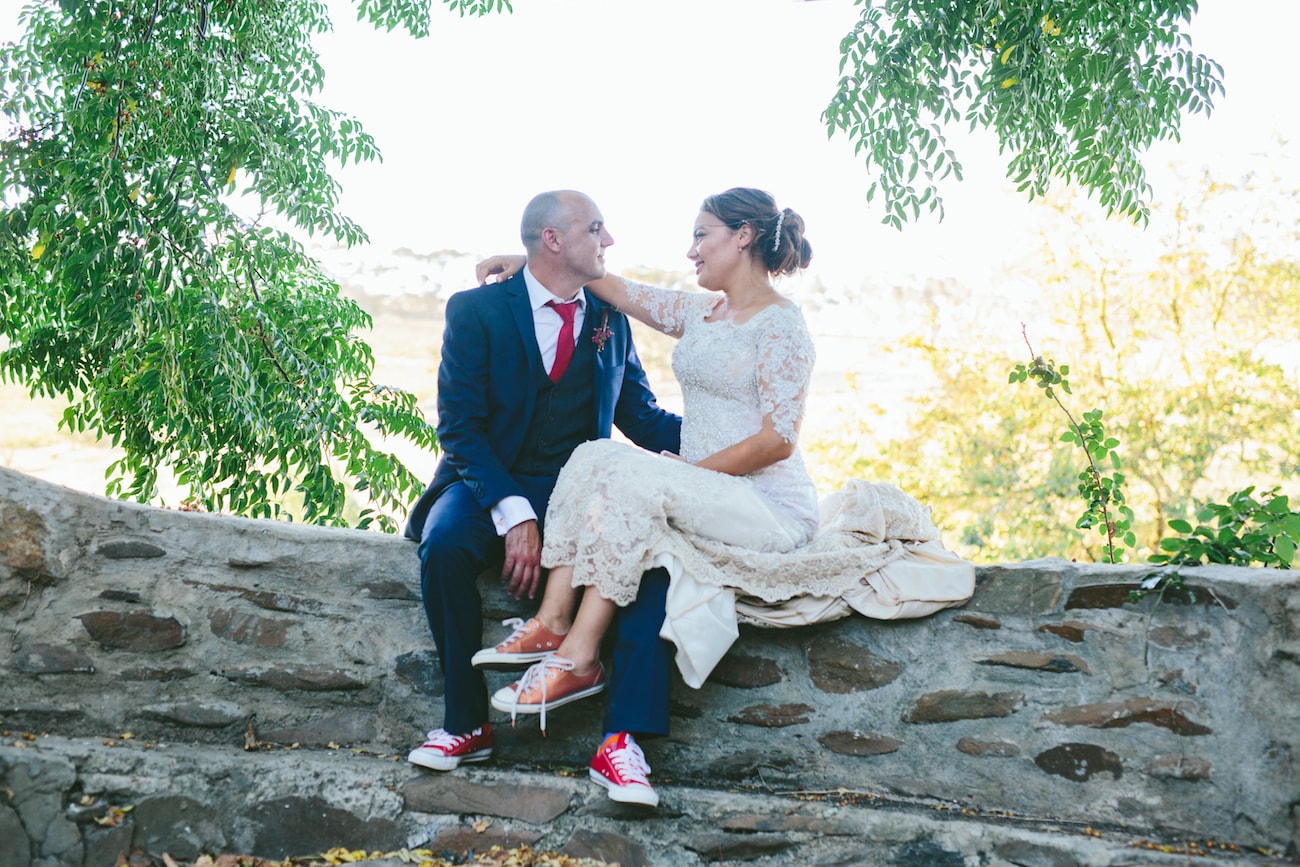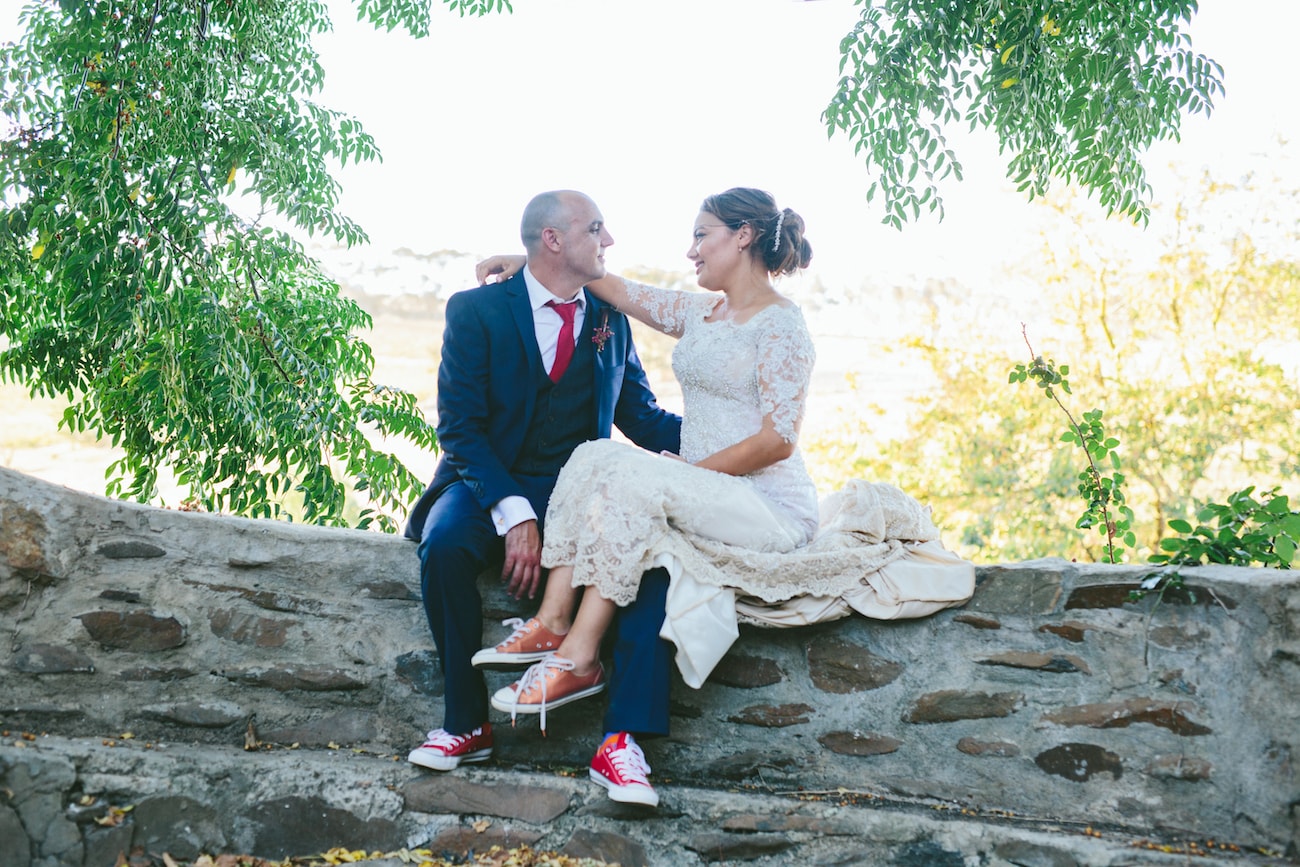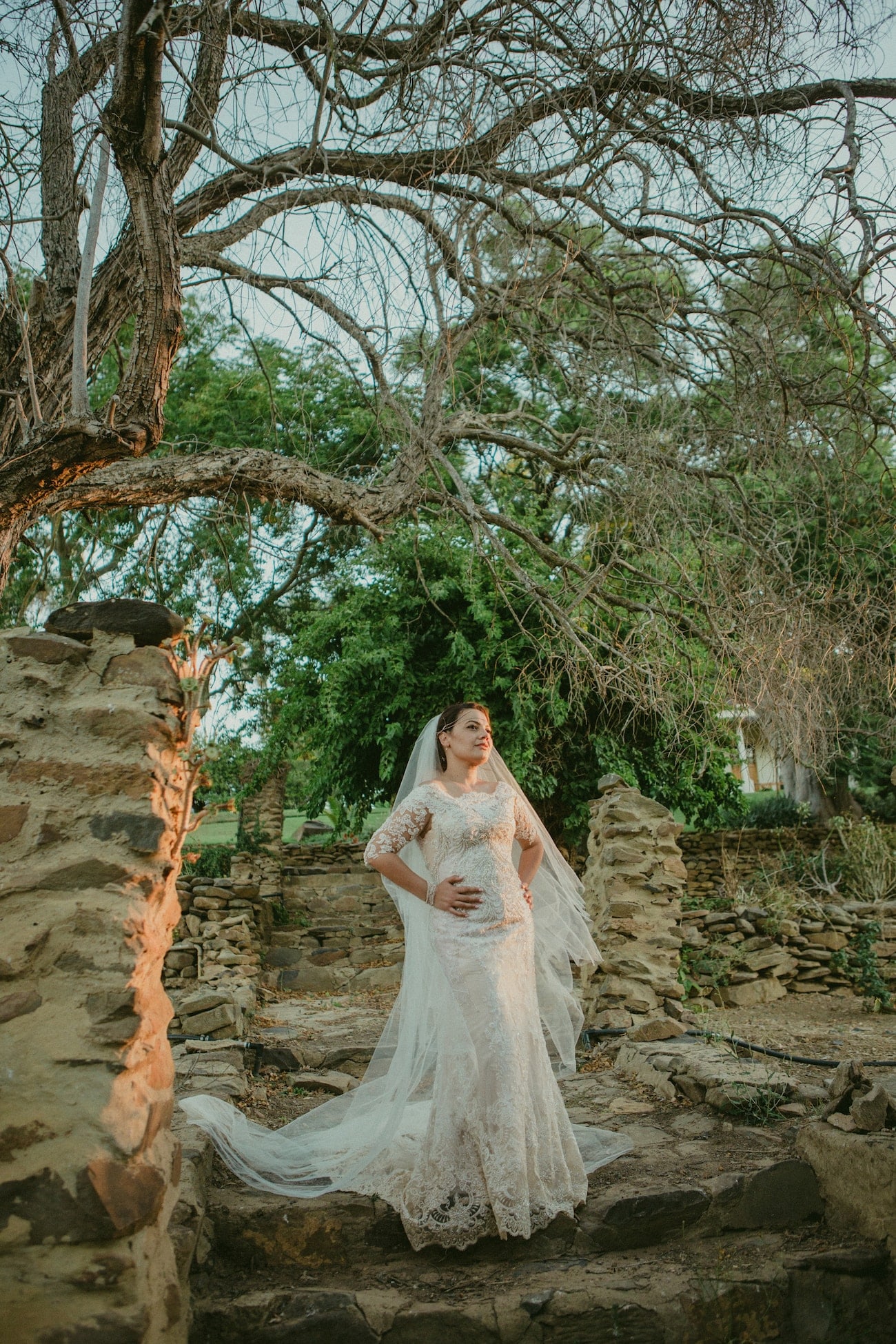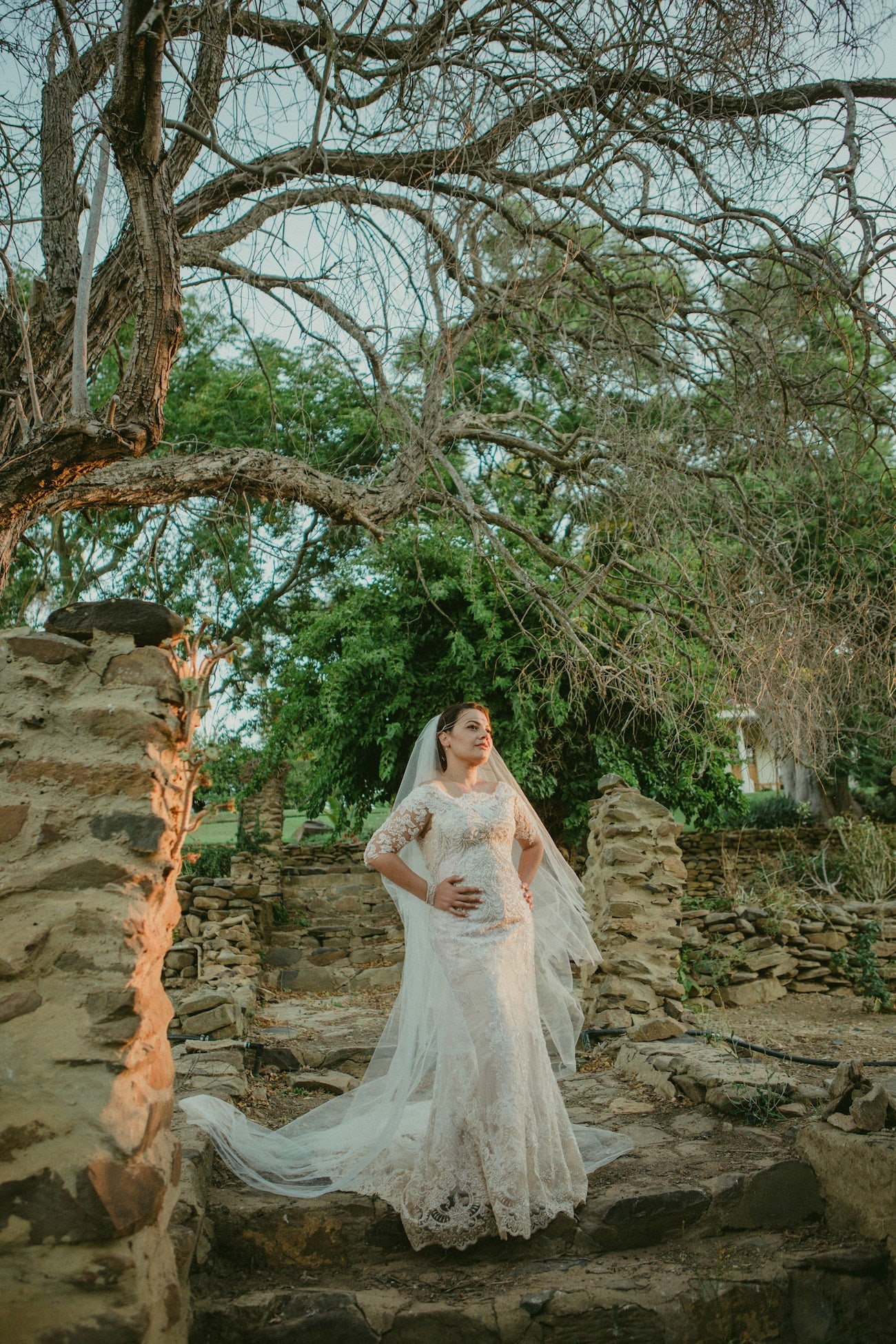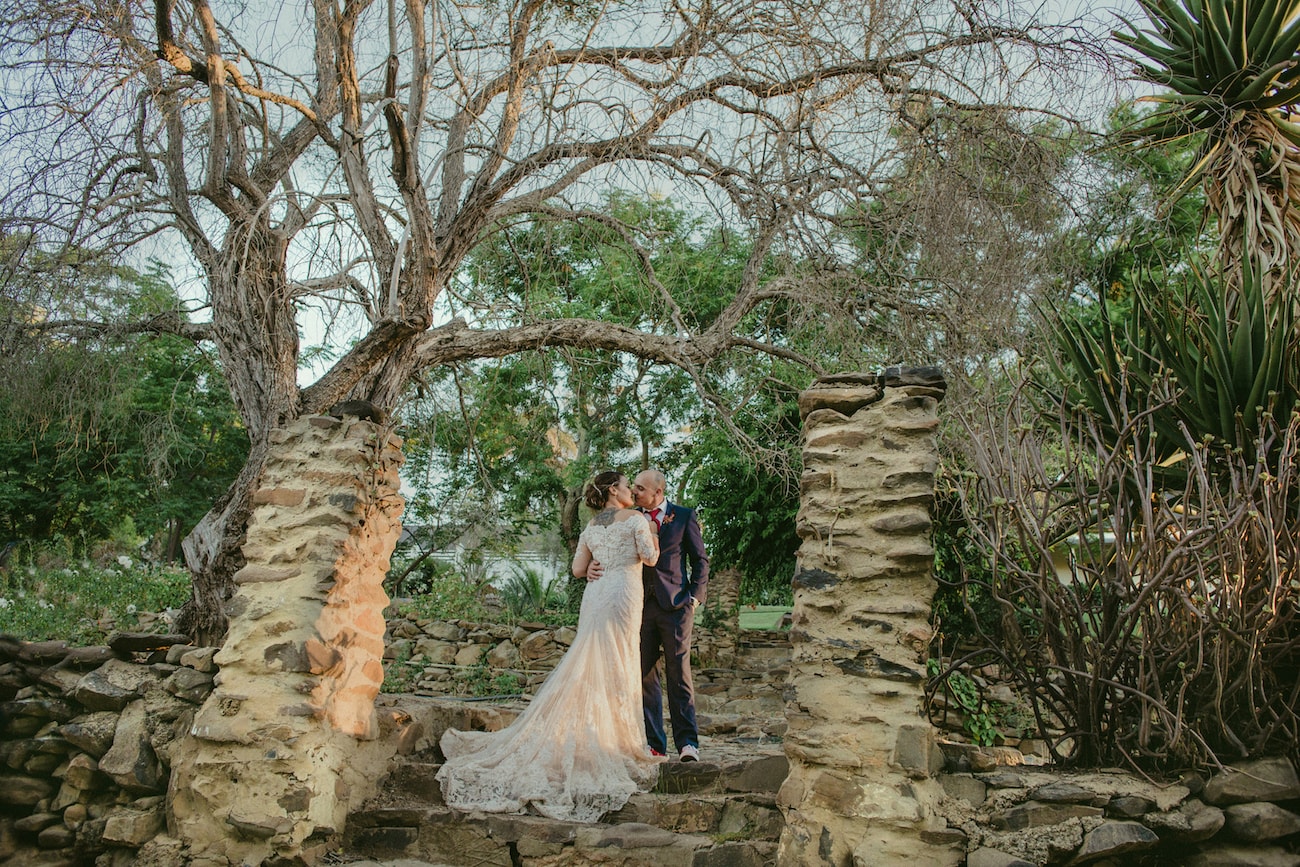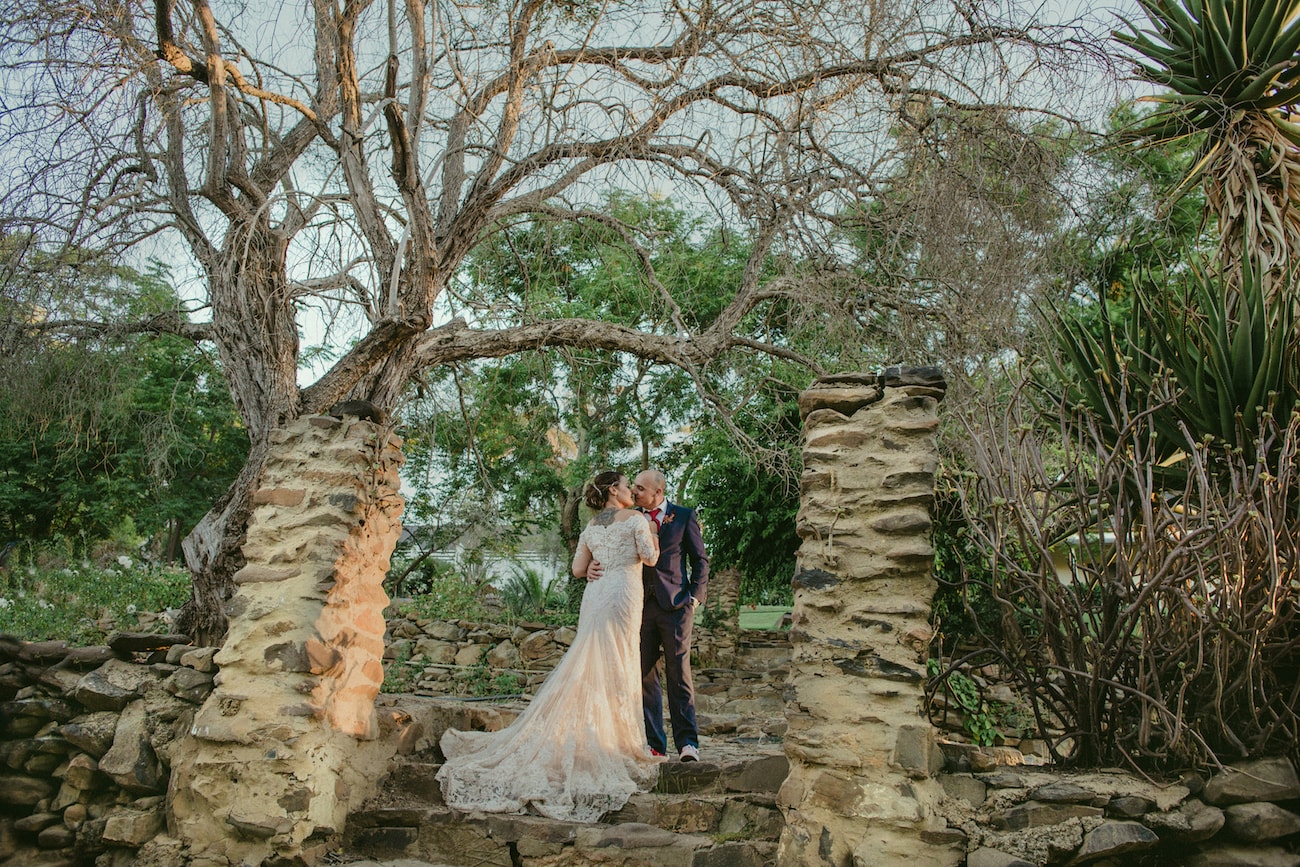 Memorable Moments
The vows were my favourite – and Clinton's speech. On our first date, Clinton had arranged a picnic on the beach, and one of the bottles of champagne he had was from a winery in Stellenbosch (Moreson). We decided to not open the champagne and keep it for another day. On the way home, we found a puppy stranded on the side of the road – we named him Moreson after the bottle of champagne. Throughout our travels around the world, we have taken the bottle literally everywhere with us – every time we moved to a different country we would hold our breath hoping it was not broken. The label had faded and there were some chips in the glass, you couldn't even tell what it was called. Whilst Clinton was doing his speech, he brought it out, and his words to me were: "This bottle of Moreson has not only been with us for the duration of our relationship but it also personifies it. We could have chosen any bottle of champagne from the collection that evening to keep. But we chose this one. As I choose you Zoe. It has travelled thousands of miles, endured the test of time, it could have easily cracked or shattered But it didn't and our relationship forever remains strong. The label may be worn, and the champagne may not taste as it should. But it doesn't matter. It's the journey it has been on that makes this bottle more important to me than any other bottle of champagne in the world. As are you."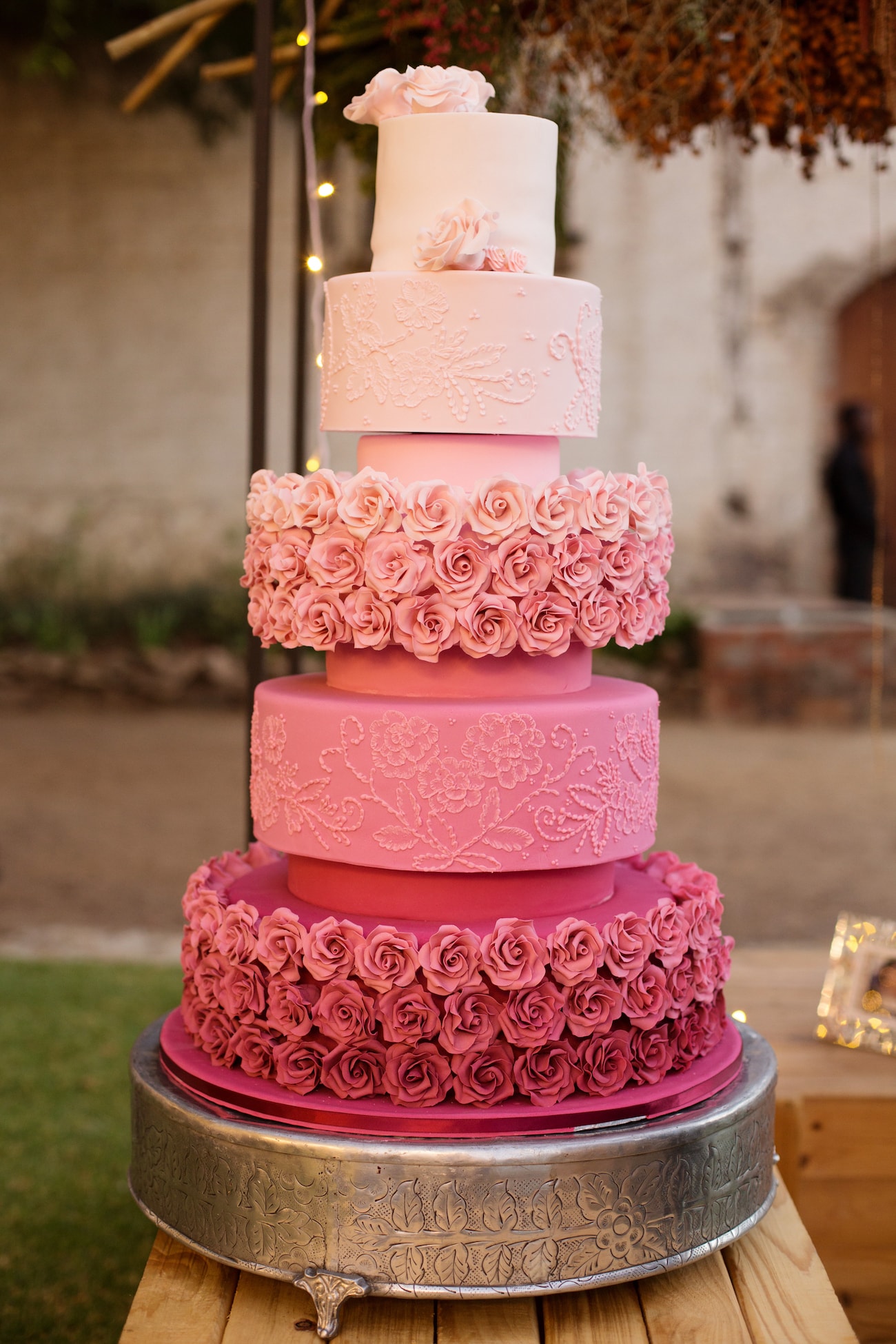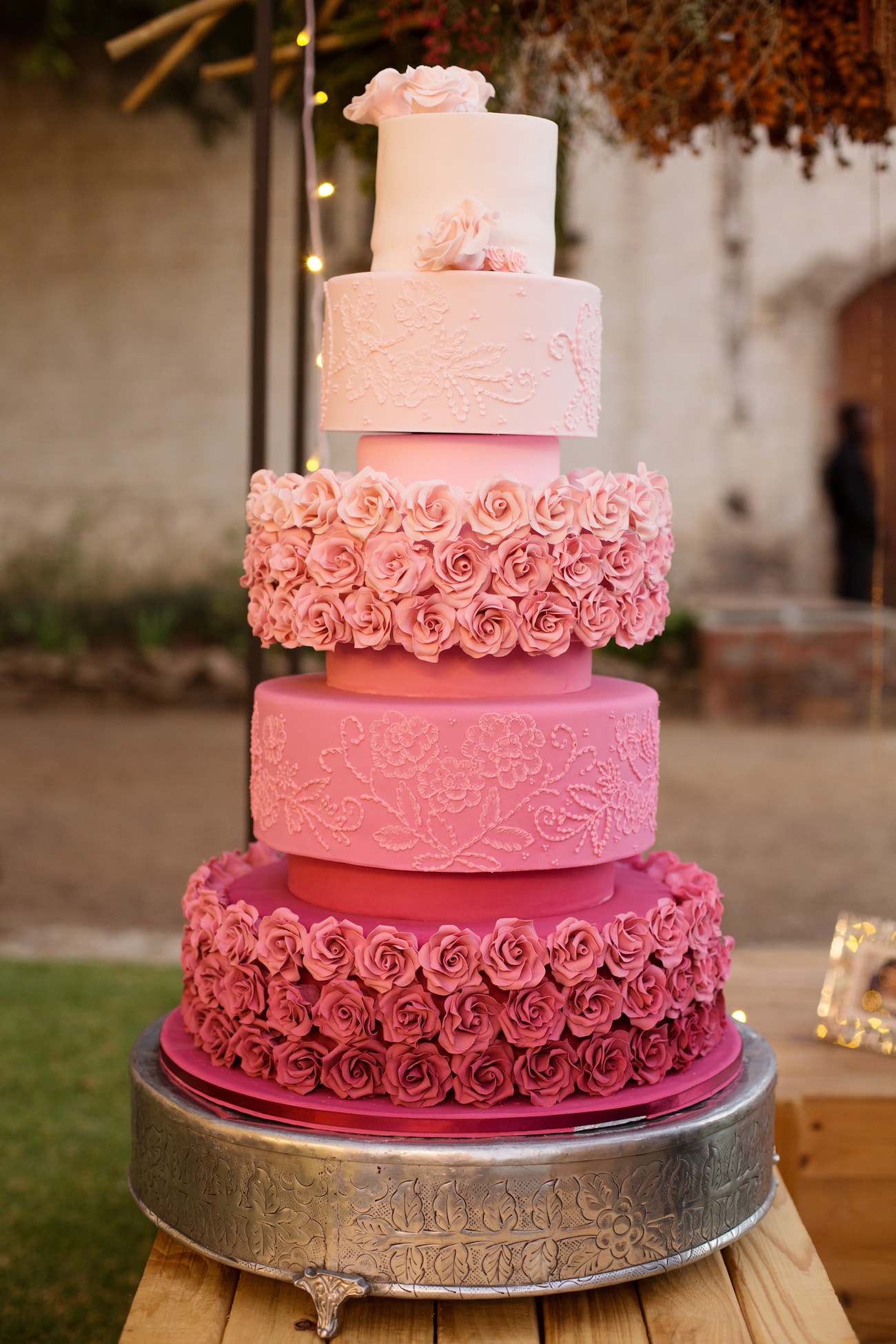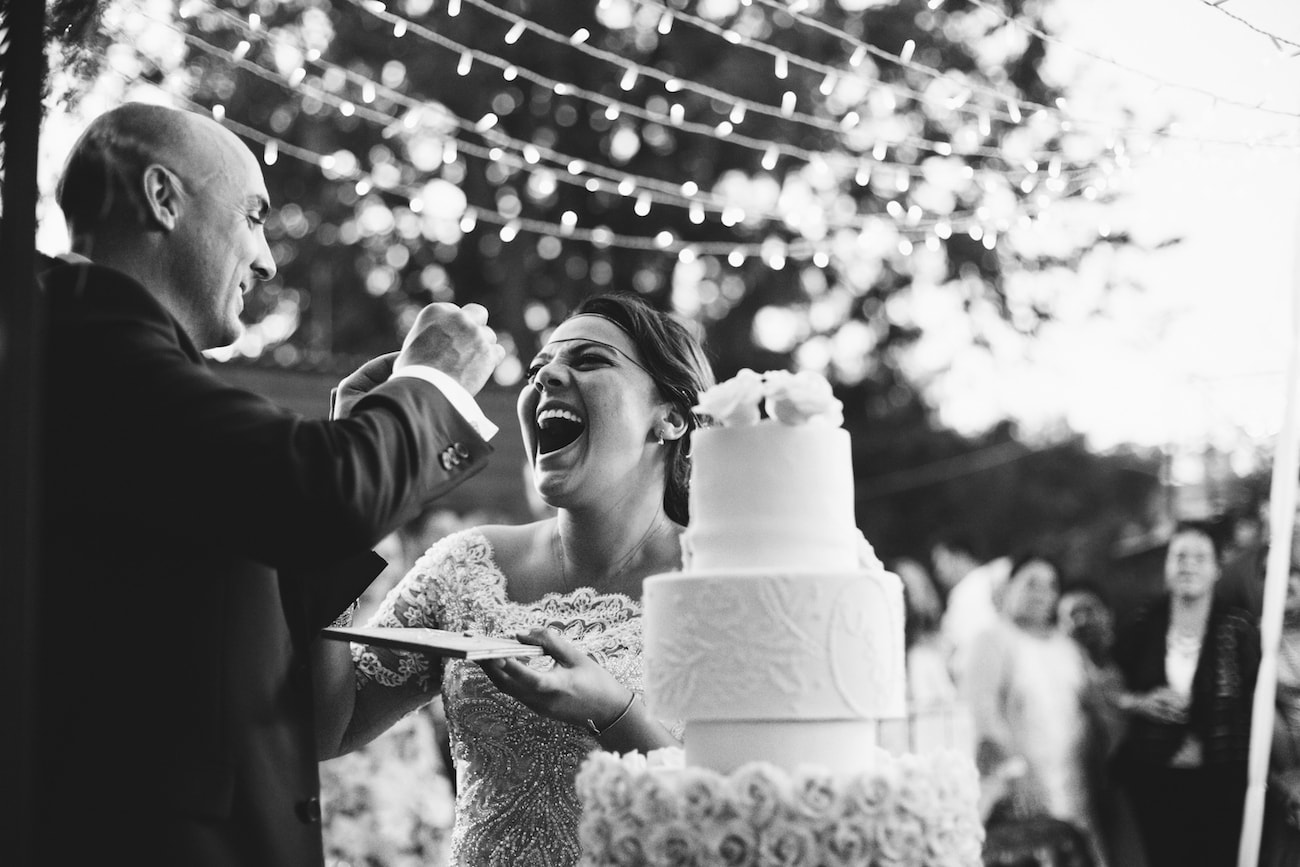 Best Decision
Getting a wedding planner – we hired Hannes Maritz from Kraak and honestly it was the best decision we ever made. It is difficult/stressful planning a wedding, but planning it in another country is even harder. I'm quite a perfectionist, and find I get really too much into the detail, so when things like our chauffeur cancelling days before the wedding happened, Hannes was on it, and his first words to me were: "it's not a biggie – we have other options on stand-by". If we had been through this ourselves I think something like that would have tipped me over the edge. He also made me feel like I was the most important client in the world – and when we couldn't decide on something, he knew just what to say. Also wearing takkies as my seconnd pair of shoes – my Sophia Webster rose gold angel wing stilettos* were incredibly beautiful, but by the end of the ceremony I could barely walk (I never really wear heels). I then changed into my rose gold Converse* which were way more comfortable.
Advice for Future Brides & Grooms
Everyone always says this – but until you have experienced it yourself, you will not realise how quickly the day goes by. In all the chaos that ensues in the run-up to your wedding – you have appointments and facials and hair to contend with, an endless list of To Dos – make time for you and your fiancee. A few days before the wedding have some alone time – go for dinner , have a spa session (without looking at the clock) and just be together, and just remember what you are doing all this for. That alone time reminds you why you are running around and somehow puts the build-up in to perspective. Including your fiancee in all the decision making, which also makes him feel like he has some say in the finer detail. Take a moment to yourself before your walk down the aisle – to gather your thoughts, take a deep breath, smile and focus on your partner waiting for you. Take a moment to yourselves once you are married and steal yourself away from everyone, find a quiet spot just the two of you, and take it all in. I was completely floored when we did this – as it hit me that everyone we love and who loves us, was at our wedding, and there specifically to celebrate with us – to share with us. Have a good support system – you will break down in tears, things may not go your way, but you need a good support system to help you through, hold your hand and take on some of the never-ending tasks that appear on your list.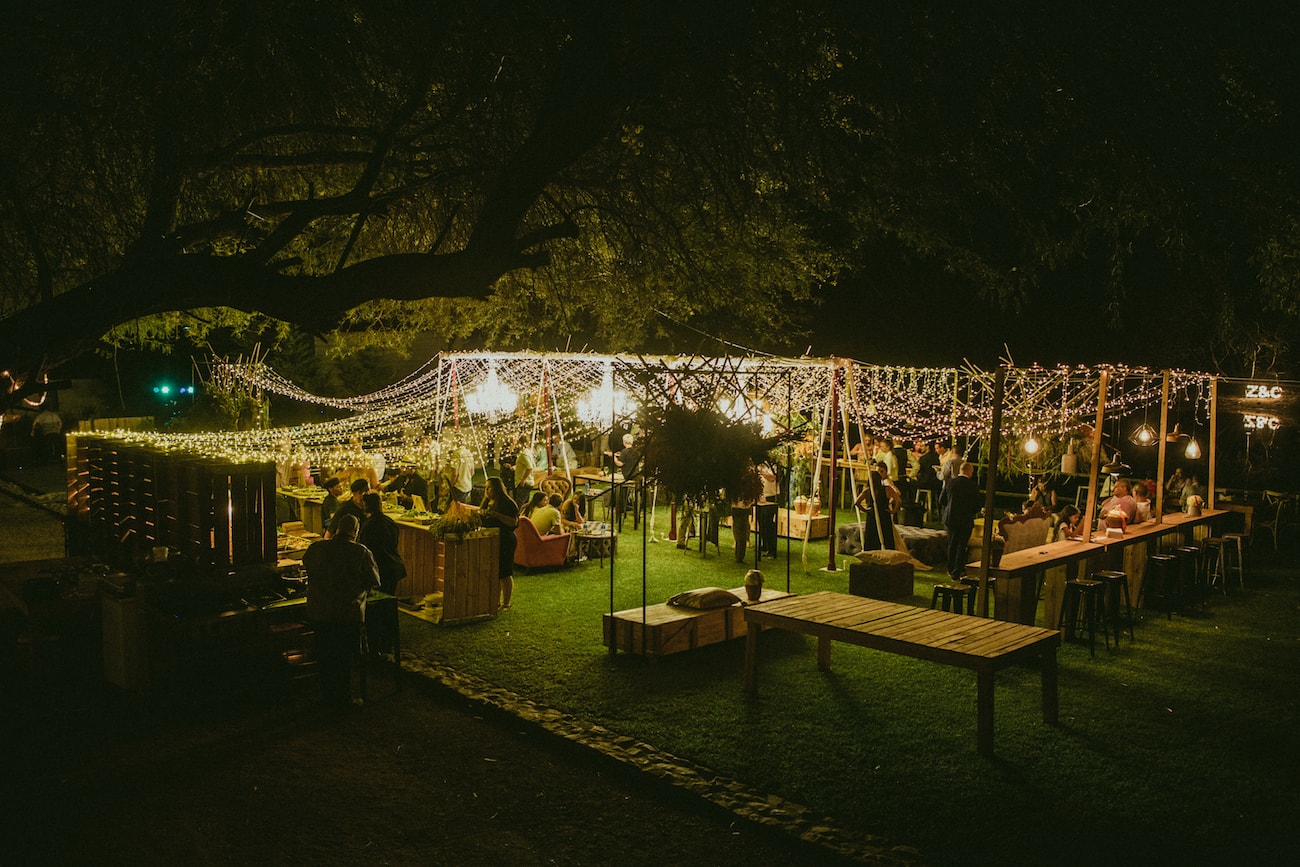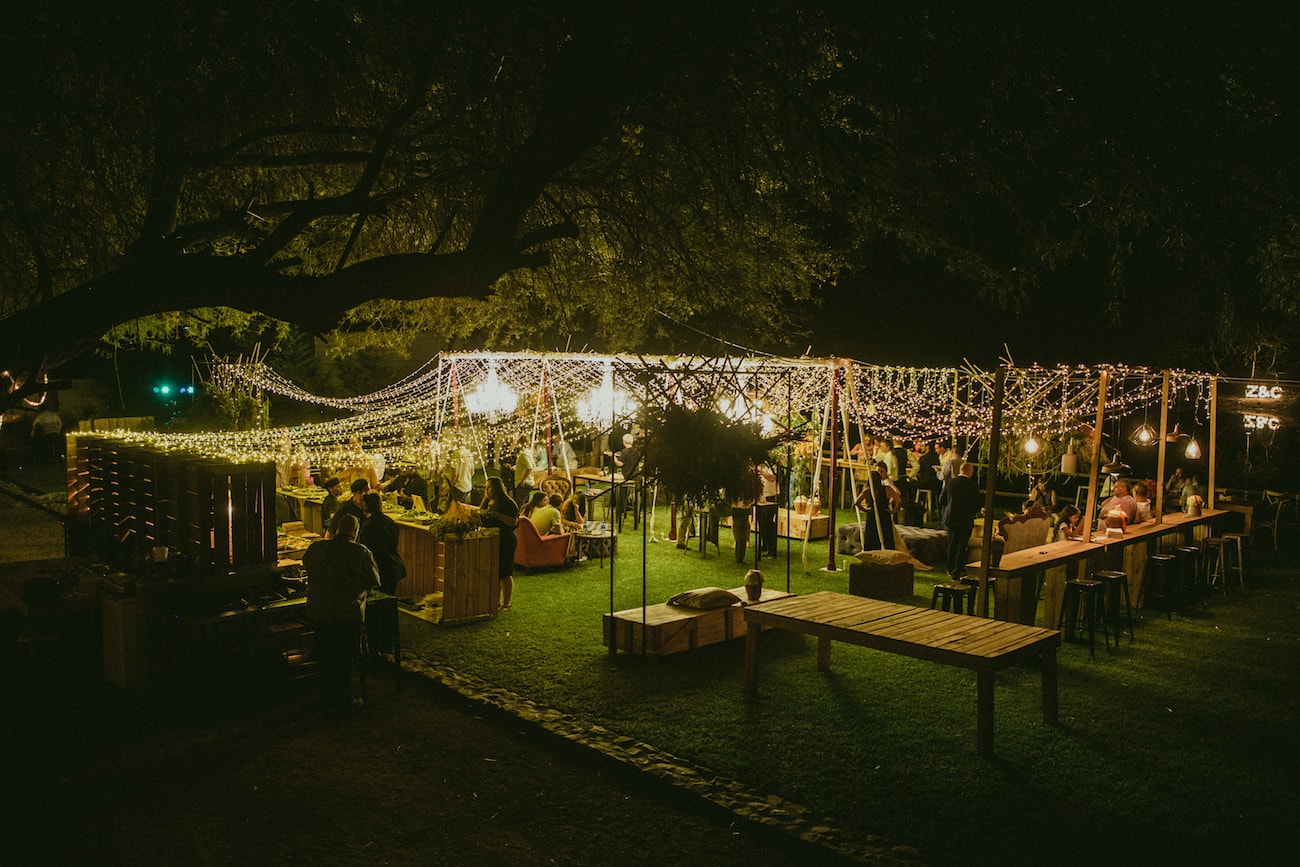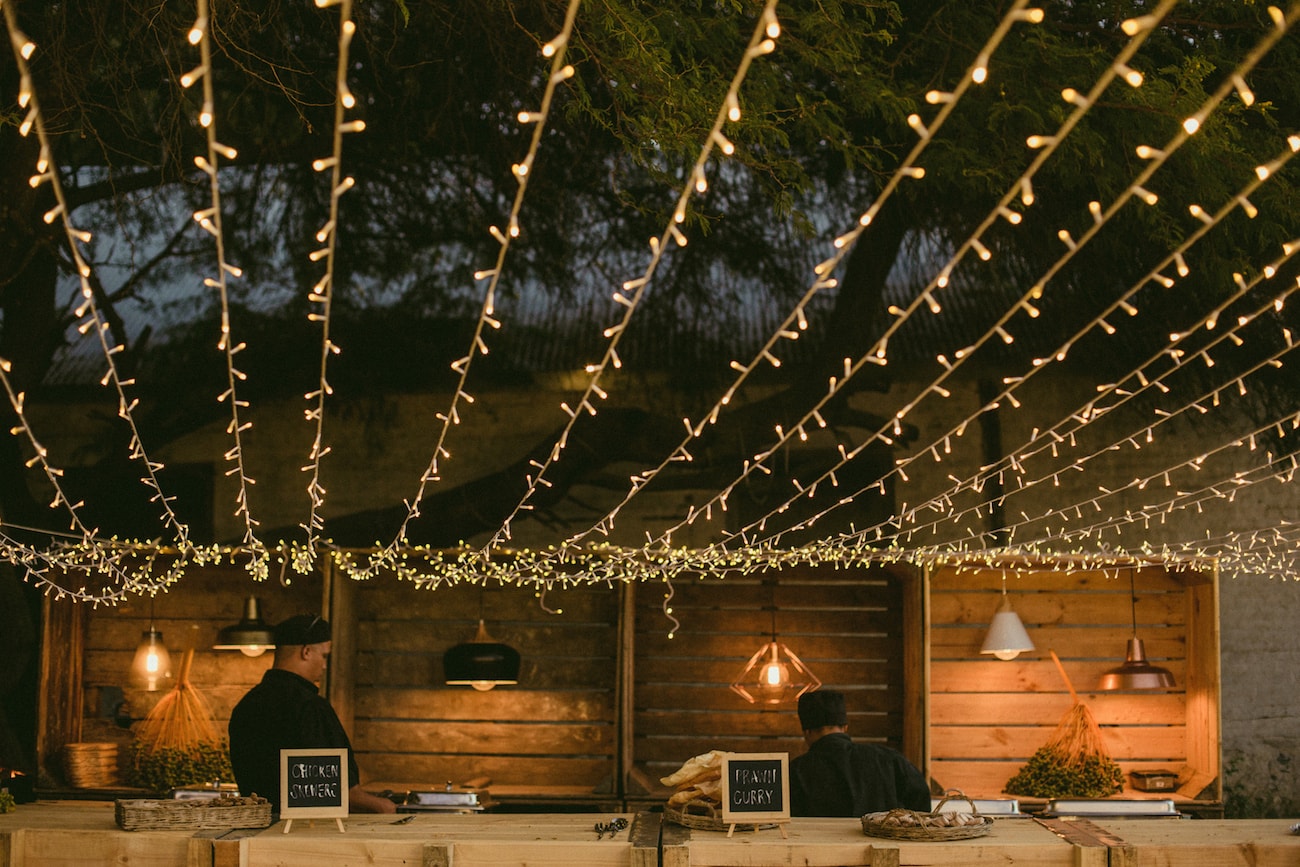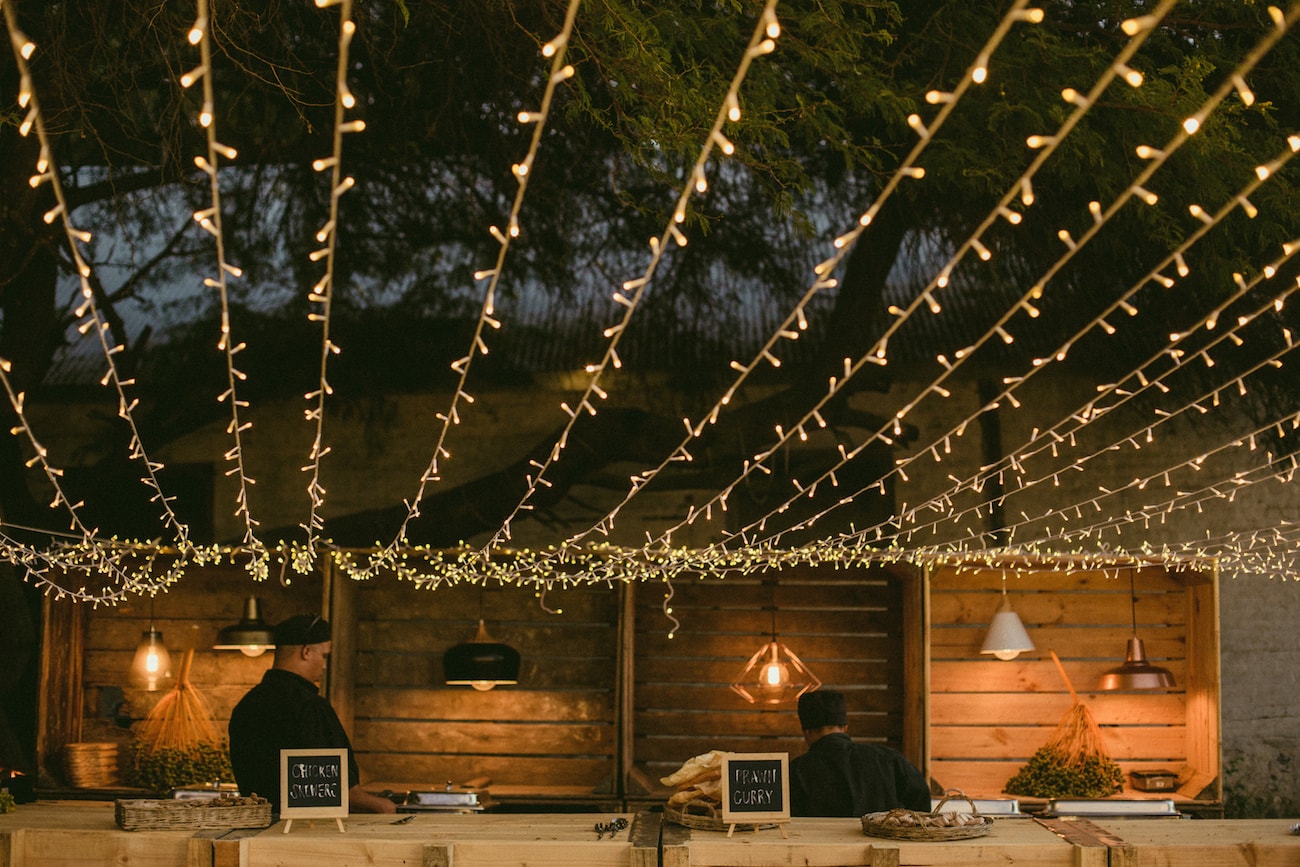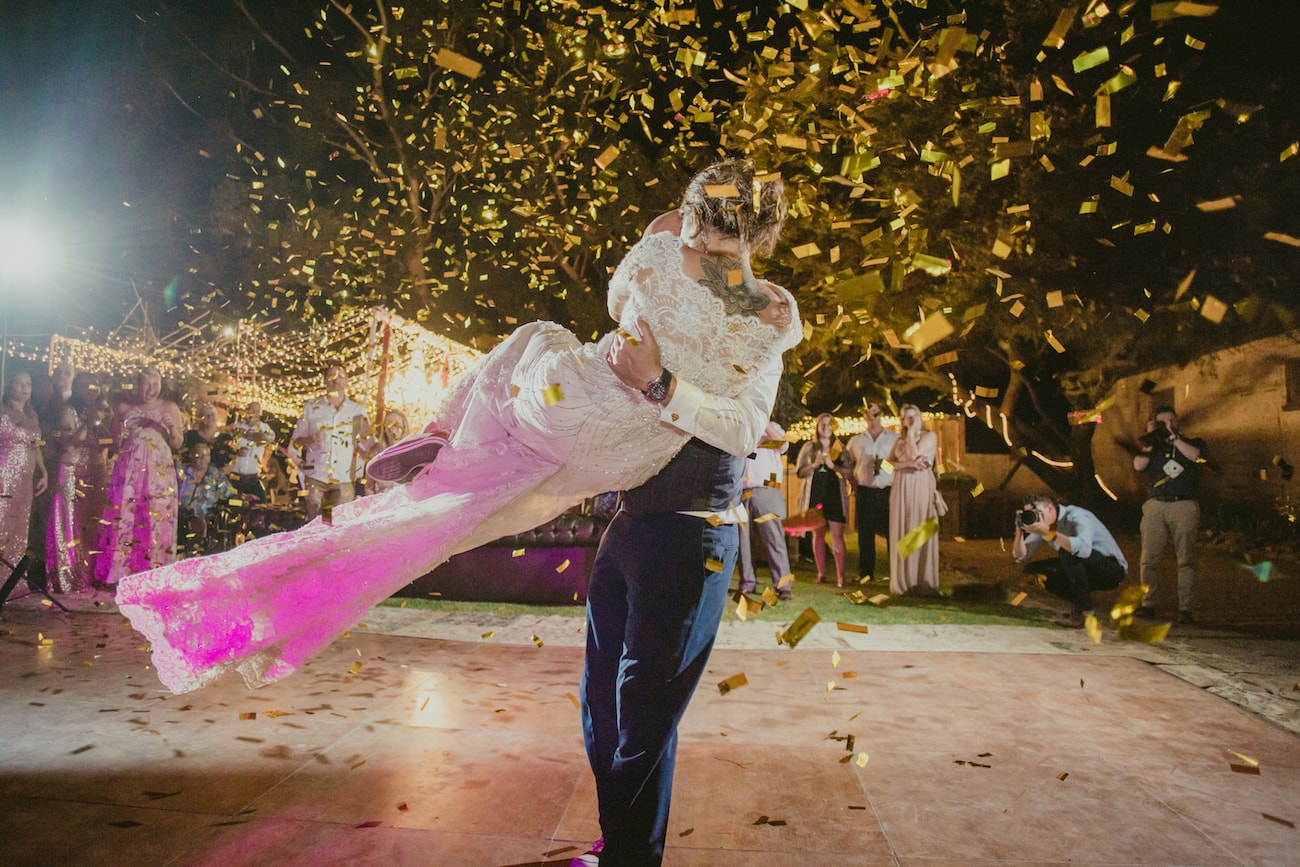 SERVICE PROVIDERS
Venue: The Dairy Shed | Catering: Malita Joubert | Photography: Vivid Blue | Co-ordination: Kraak | Flowers & décor: Blomboy | Stationery: Lezanne's Designs | Video: Vivid Blue | Cake: The Birdcage | Bride's dress: Janita Toerien | Bride's accessories: Janita Toerien (custom veil & comb) + Groom's mother (garter) + Sophia Webster Evangeline* (shoes) + Converse* (shoes) +  Carolina Herrera (bracelet) + Browns (earrings and necklace, a gift from the groom) | Hair & makeup: Danielle Jacobs | Bridesmaids' dresses: Jenny Packham | Groom's attire: Breitling (watch) + Ted Baker (shoes & suit) +  Converse (shoes) | DJ: DJ Chopper | Entertainment: The Fancy Galada Band | *Affiliate link: SBB may receive a commission on sales