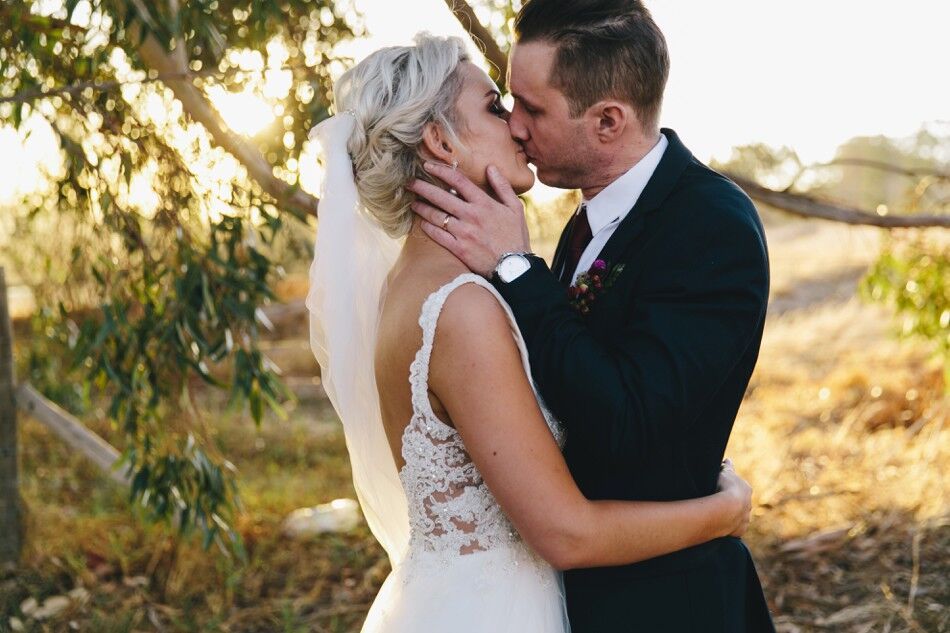 When a wedding is held at one of our absolute favourite venues, you know you're in for a treat! Nick and Candice picked The Dairy Shed in Durbanville for their big day and then filled this rustic chic venue with the most gorgeous opulent organic flowers, from a chandelier overflowing with greenery and rich wintery burgundy and pink blooms, to a circular floral arch that has me utterly smitten! And when Candice walked down the aisle in her breathtaking Cindy Bam gown (along with her bridesmaids rocking their Jacoba frocks!) it heralded the start of an unforgettable winters day that went on through the glamorous reception onto the outdoor dancefloor, which the lovebirds opened in style. And hello, donut wall! Love everything about this, including the gorgeous pics captured by Tiffany B.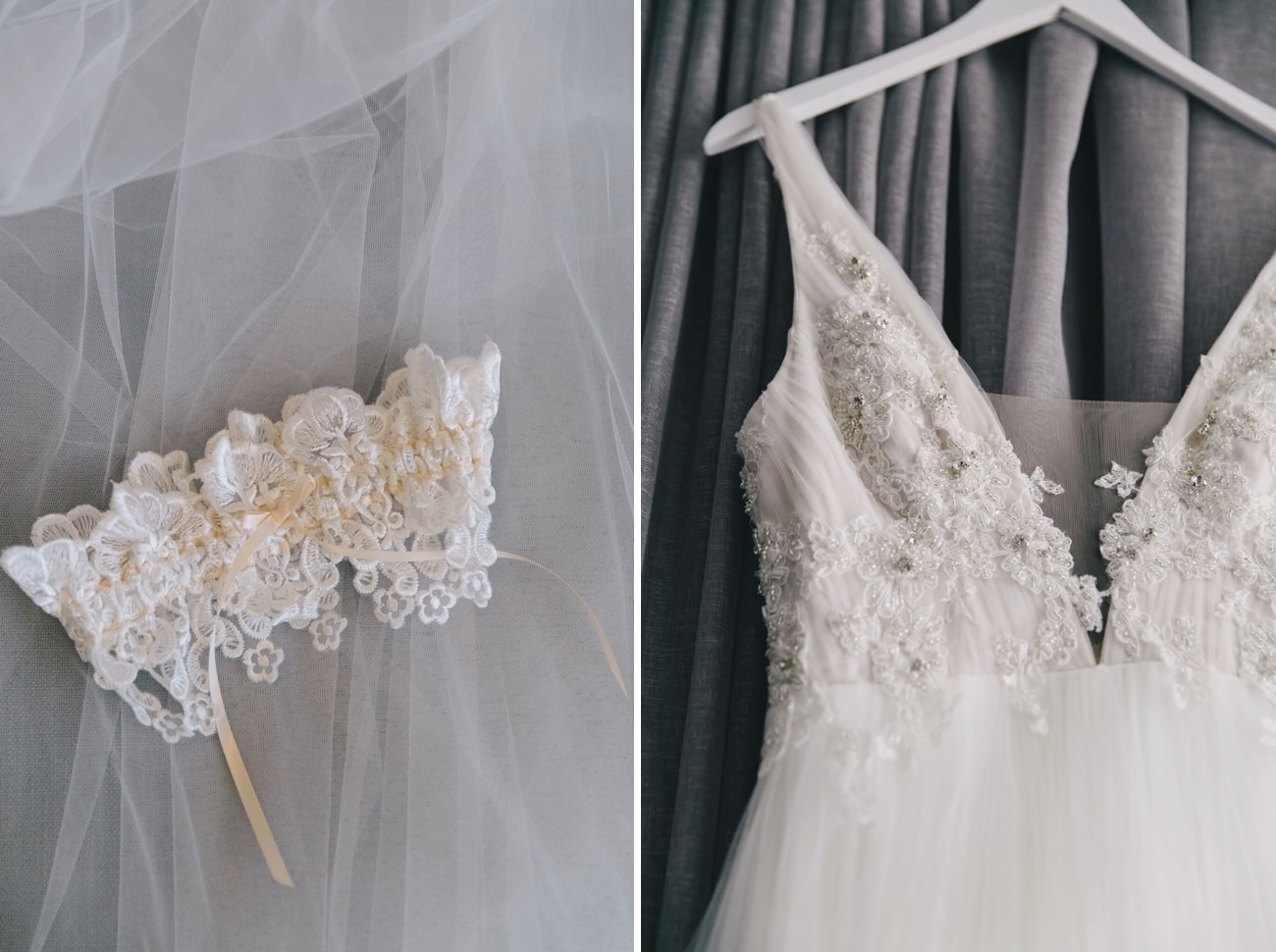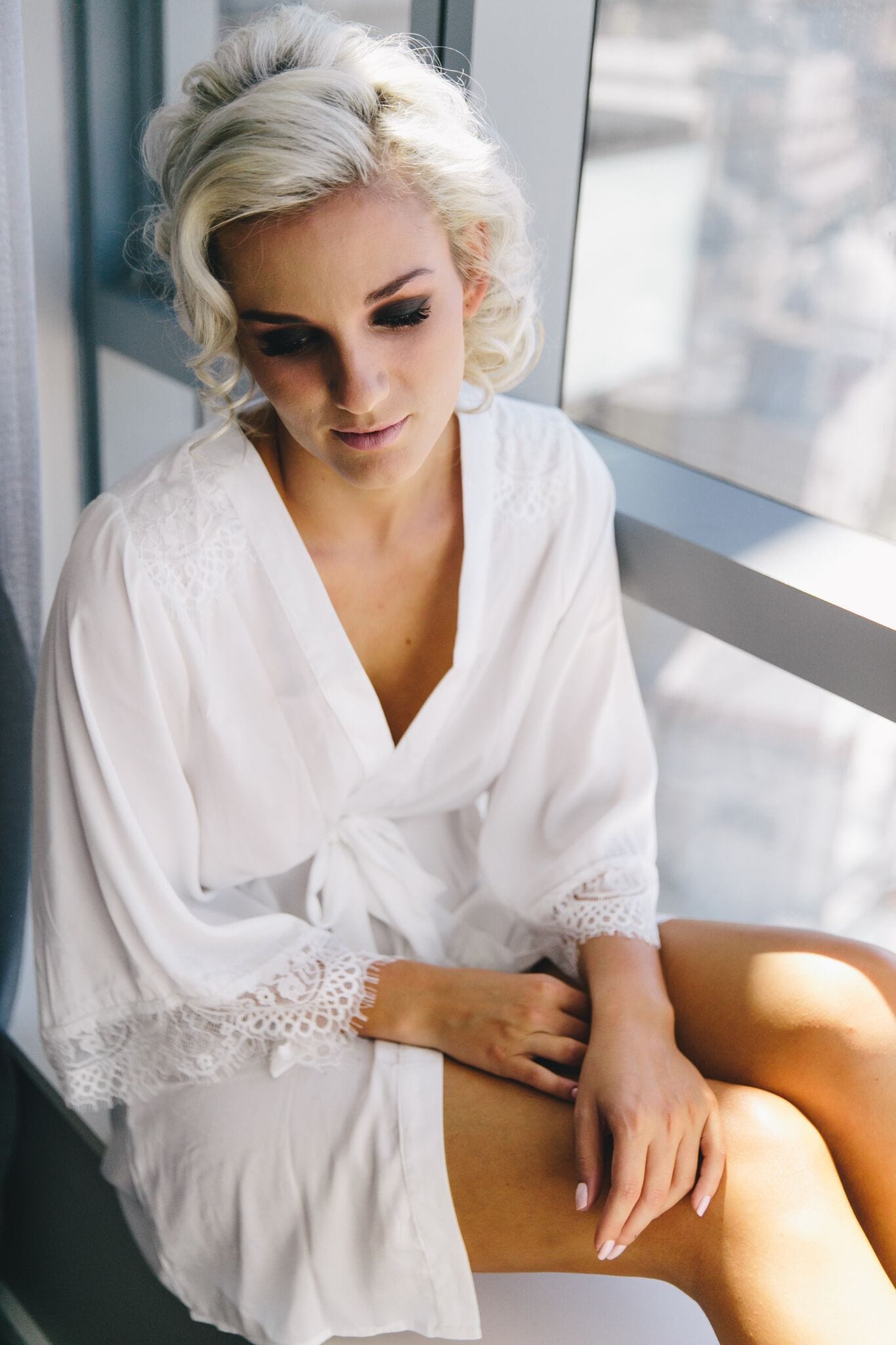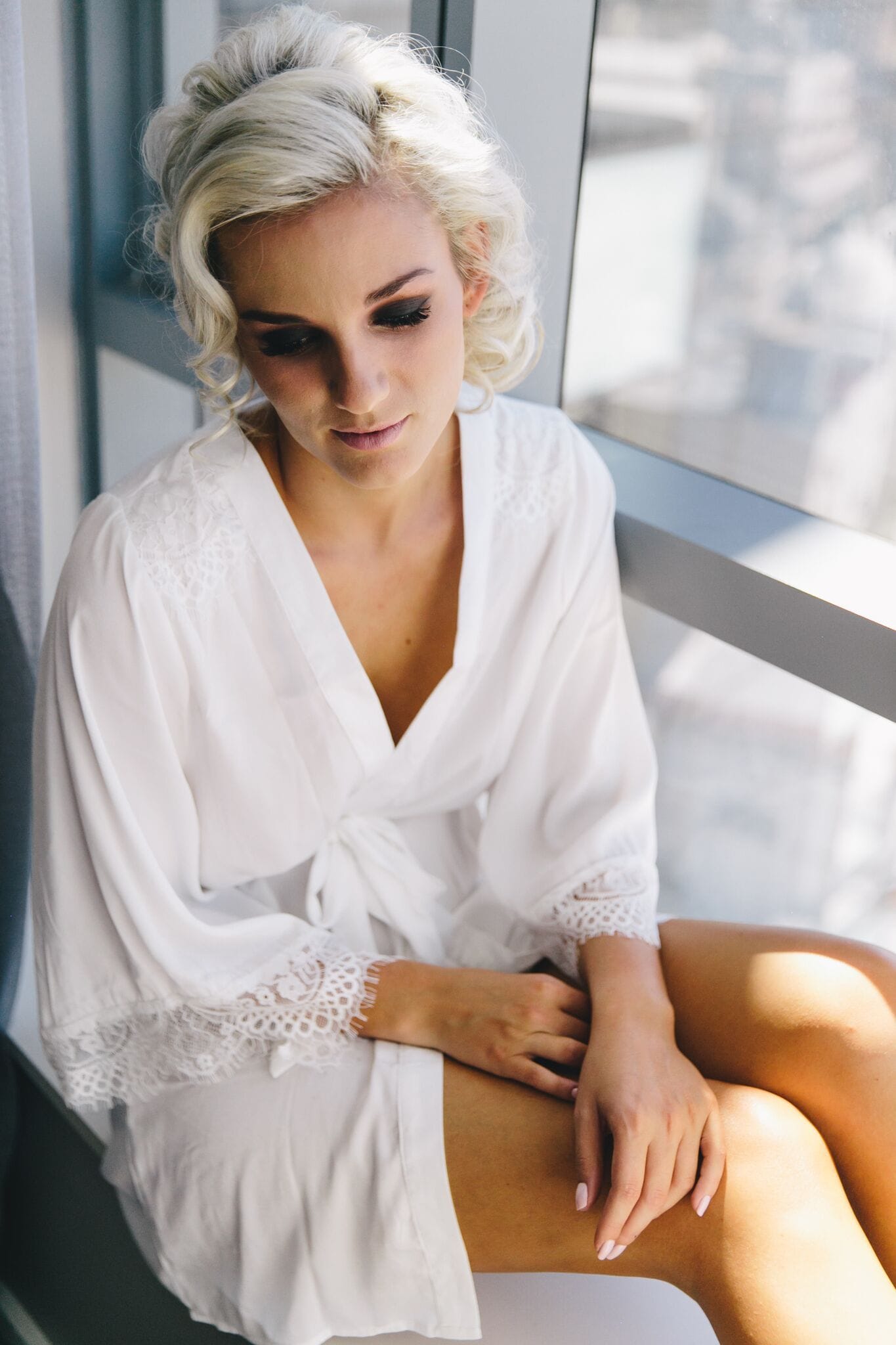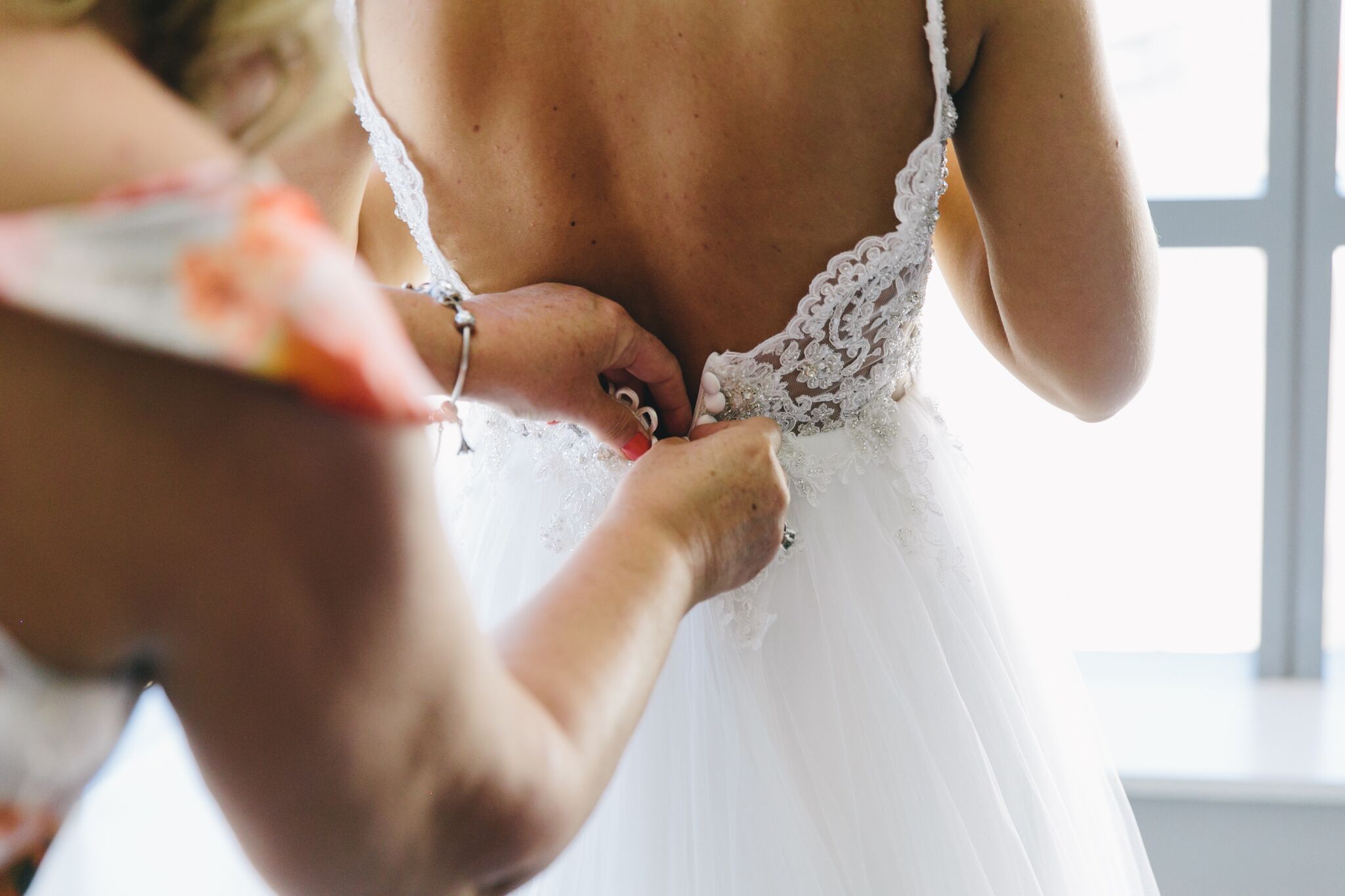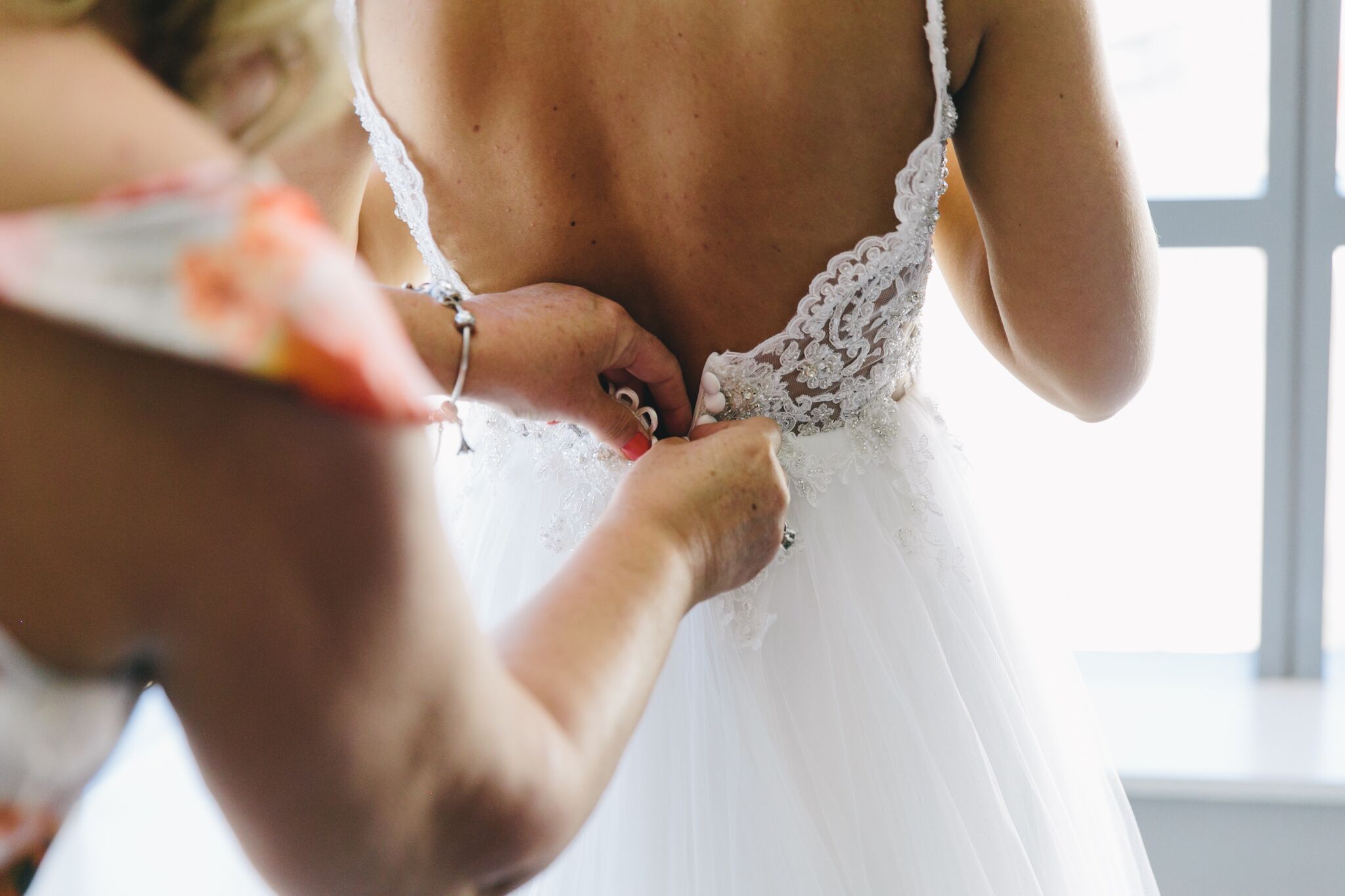 Love Story
Nick and I stayed in the same block of flats in Stellenbosch while at university and eventually met via a mutual friend. She came round to my place before a party and kept saying there was this guy I had to meet and that I would really like him! We became good friends and have been together for eight years.
The Proposal
We went away to Paternoster for my birthday in June – I had no idea where we were going. I still remember I was so so sick with a chest infection and slept in the car on the way there. On my birthday he suggested we walk down to the beach (in the freezing cold) and watch the sunset. So I put on the thickest jersey I could find and, armed with my scarf, hot water bottle, blanket and wine (it was my birthday after all) we went down to the beach. Later, as I was gathering my things to go back, I turned around and he was on his knee. I cried, he cried – it was really so special.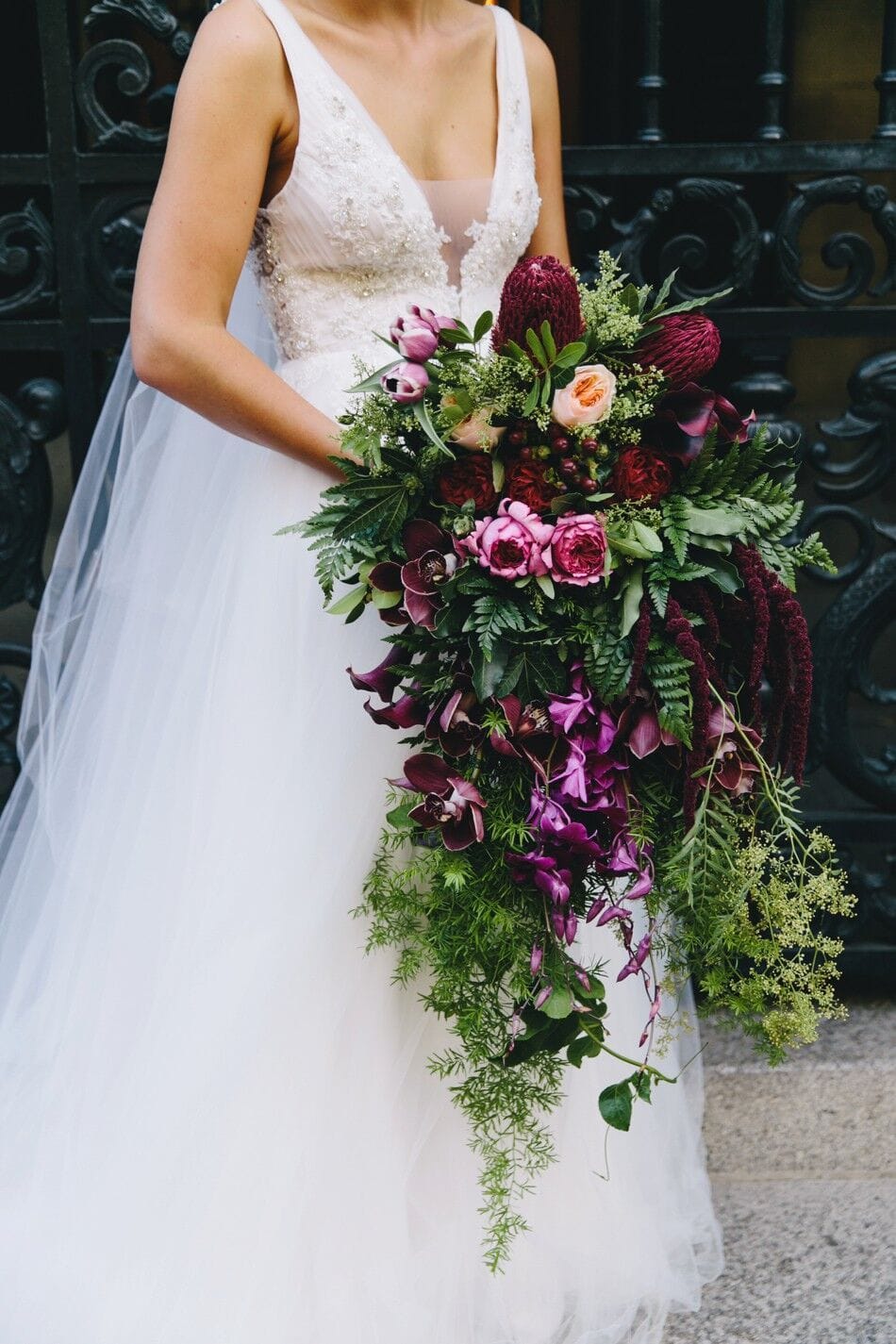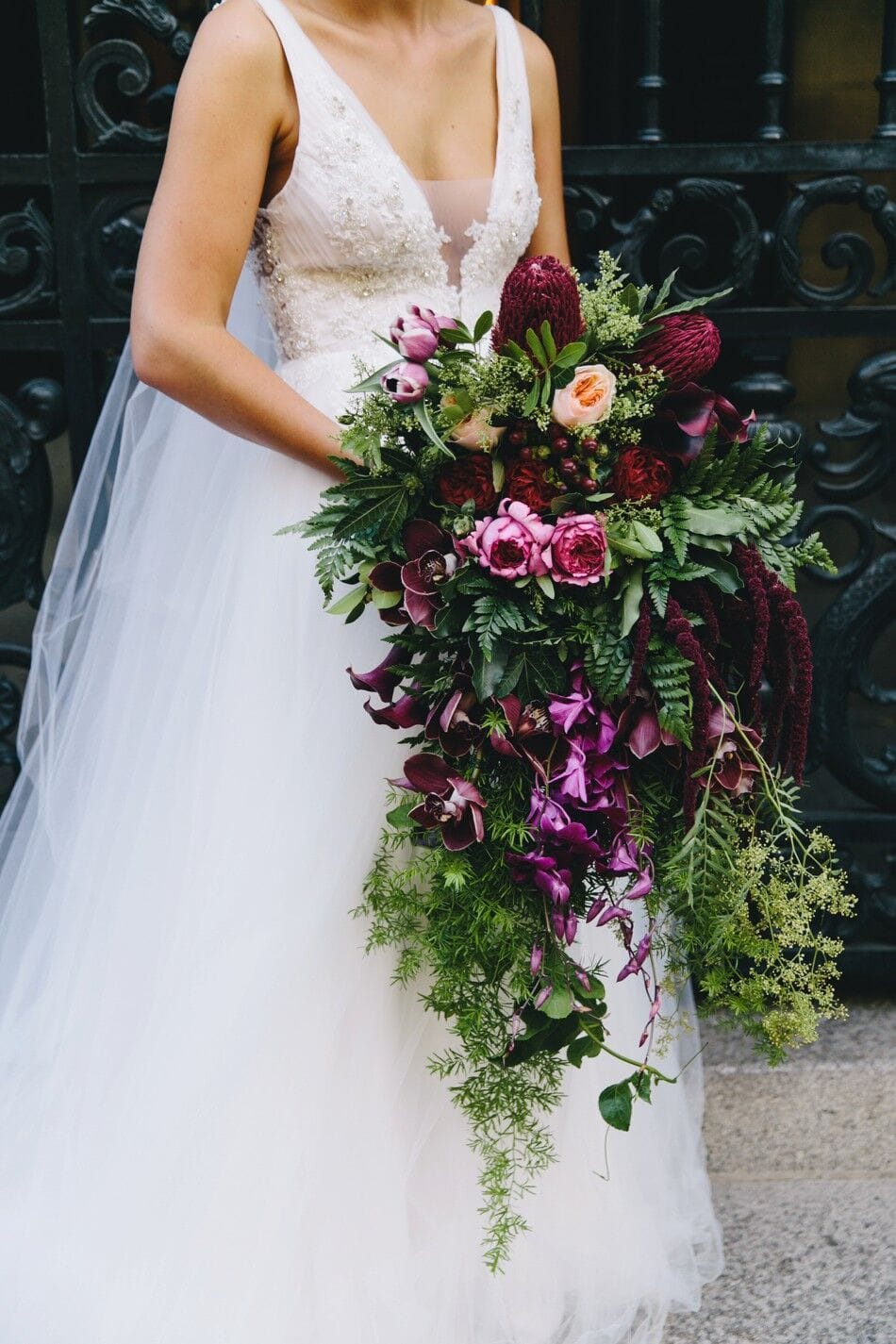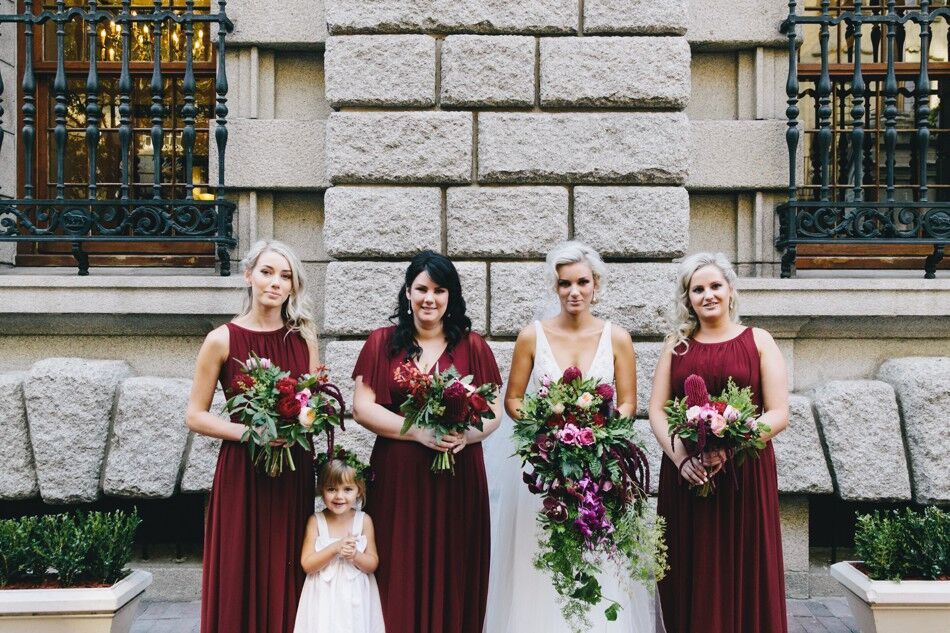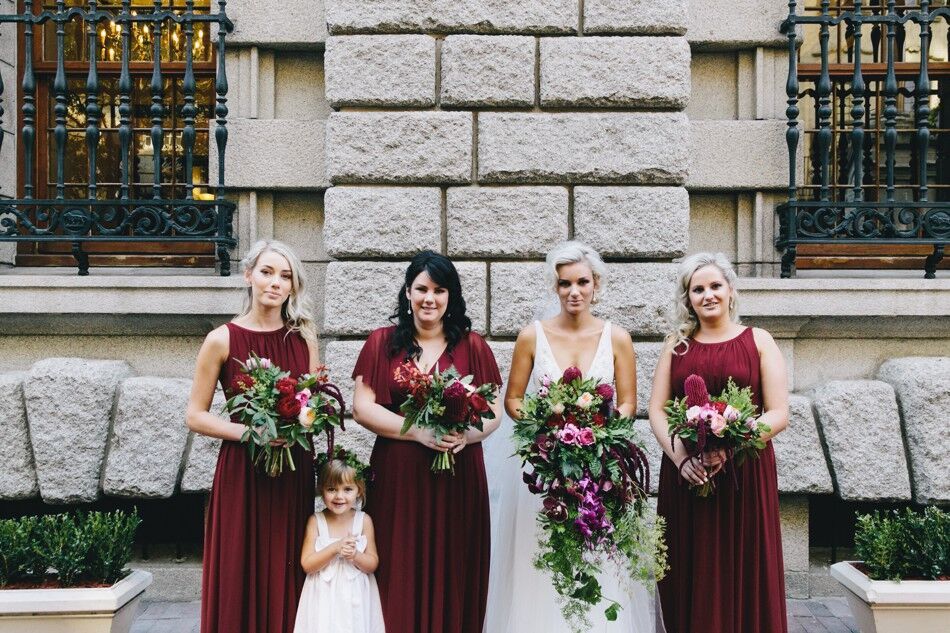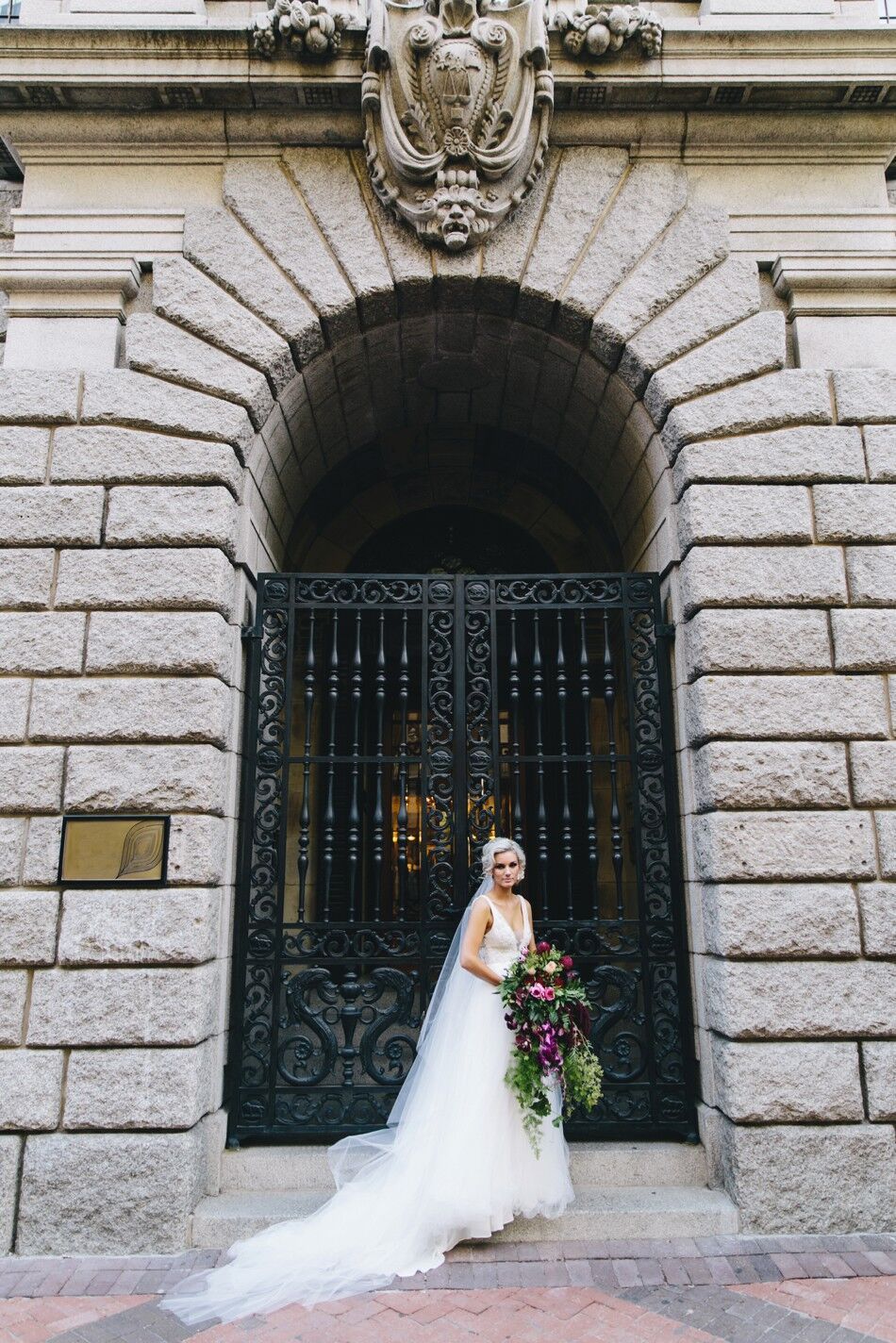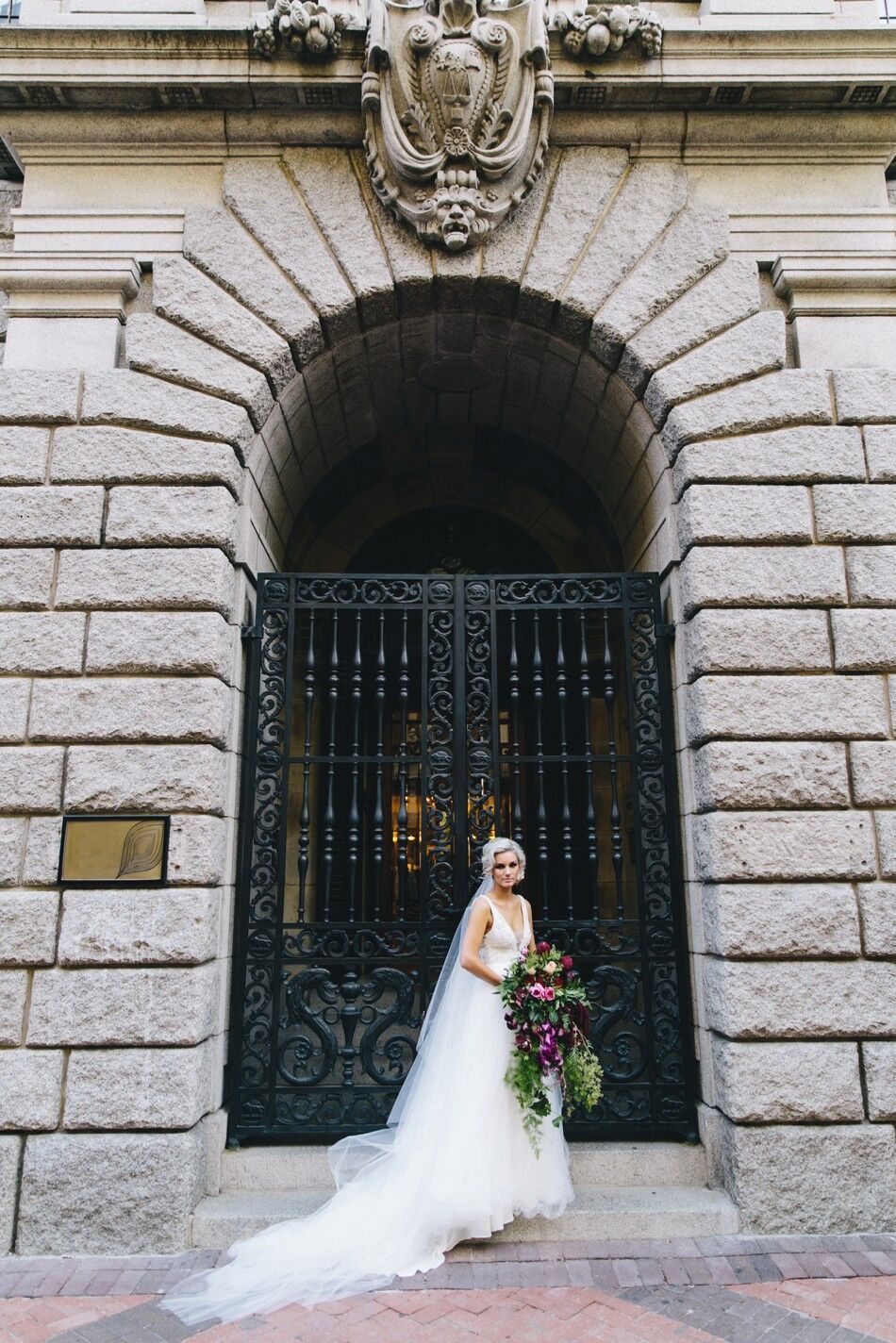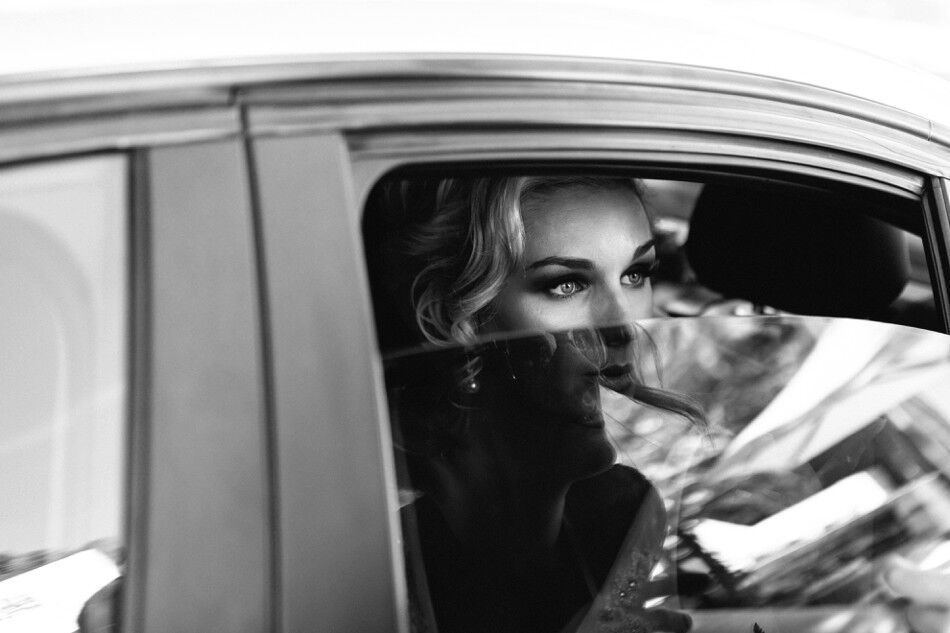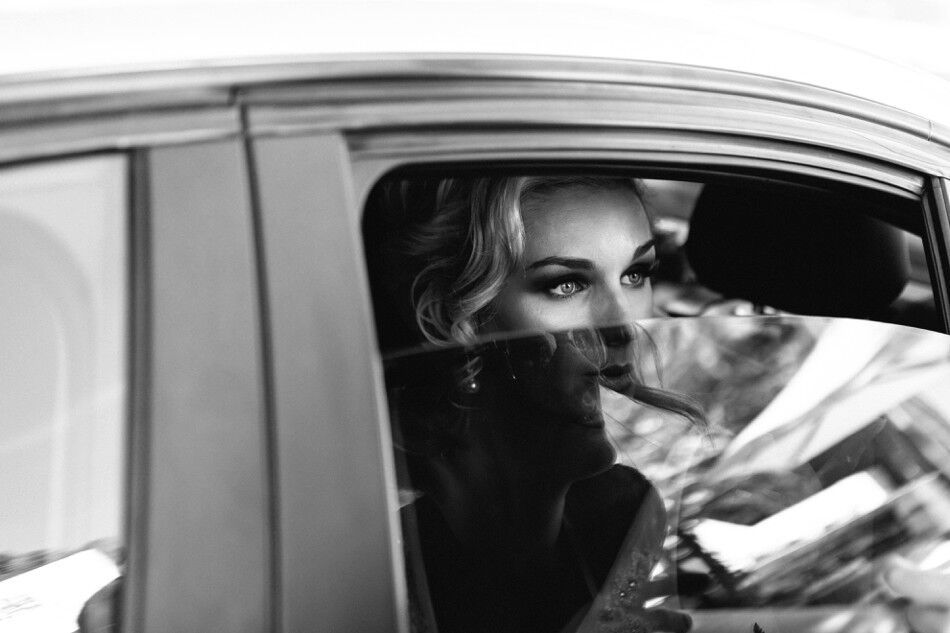 The Venue
We chose the Dairy Shed because it wasn't pretentious. It was rustic and relaxed. It was the only venue I found that could carry out my vision. We also liked that it was in Durbanville which was close to where most of our guests stayed.
Wedding Style
My vision was to create a boho chic inspired day. I didn't necessarily have a favourite colour that sprung to mind when I started planning but I knew I wanted the venue to feel warm, which is why I opted for the rich red tones. I also knew I didn't like the typical 'wedding look' which is why I chose to have the flowers look wilder, had the floral wreath installed and added features like the Persian carpets. It was also very important to us that our guests enjoyed themselves.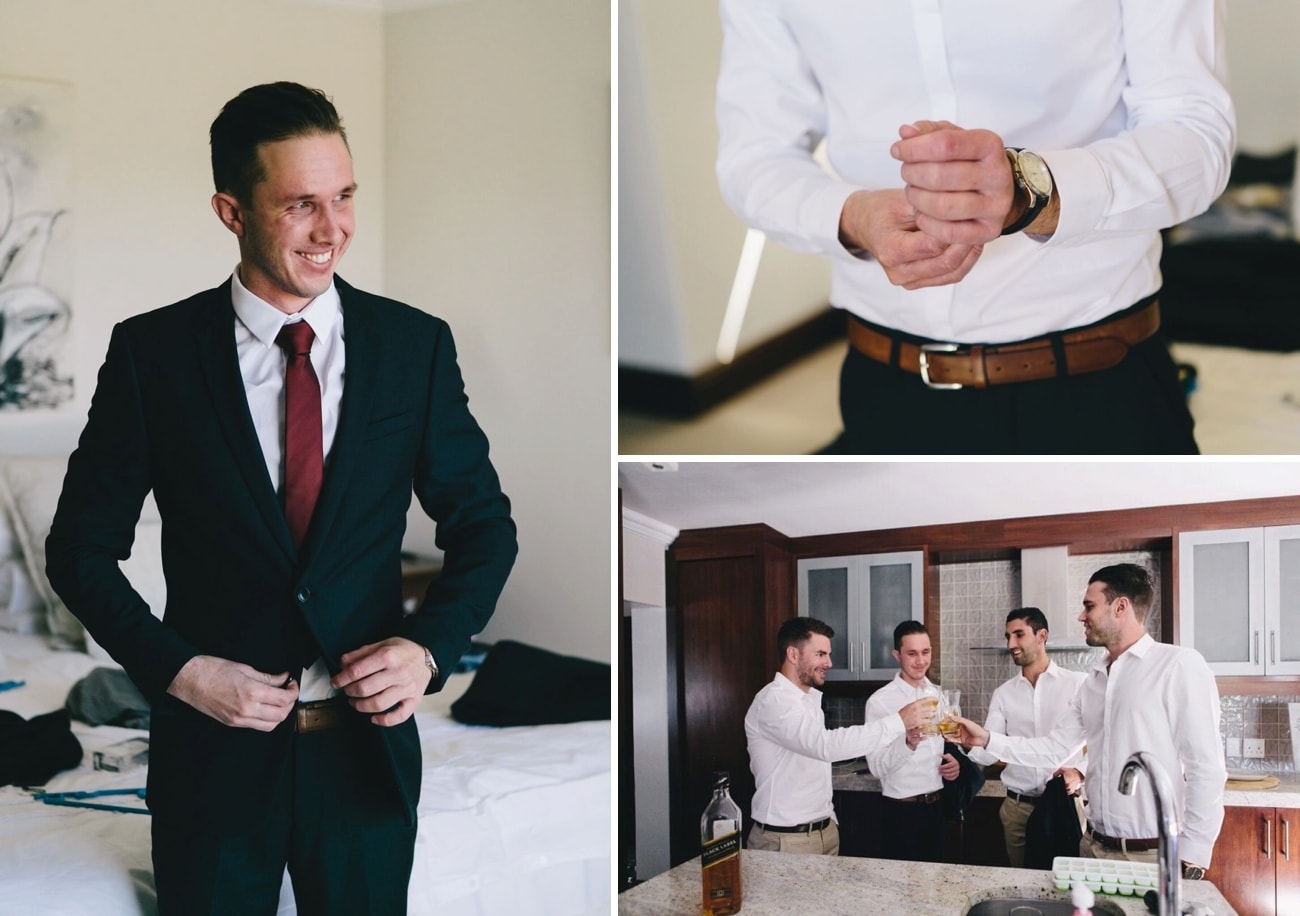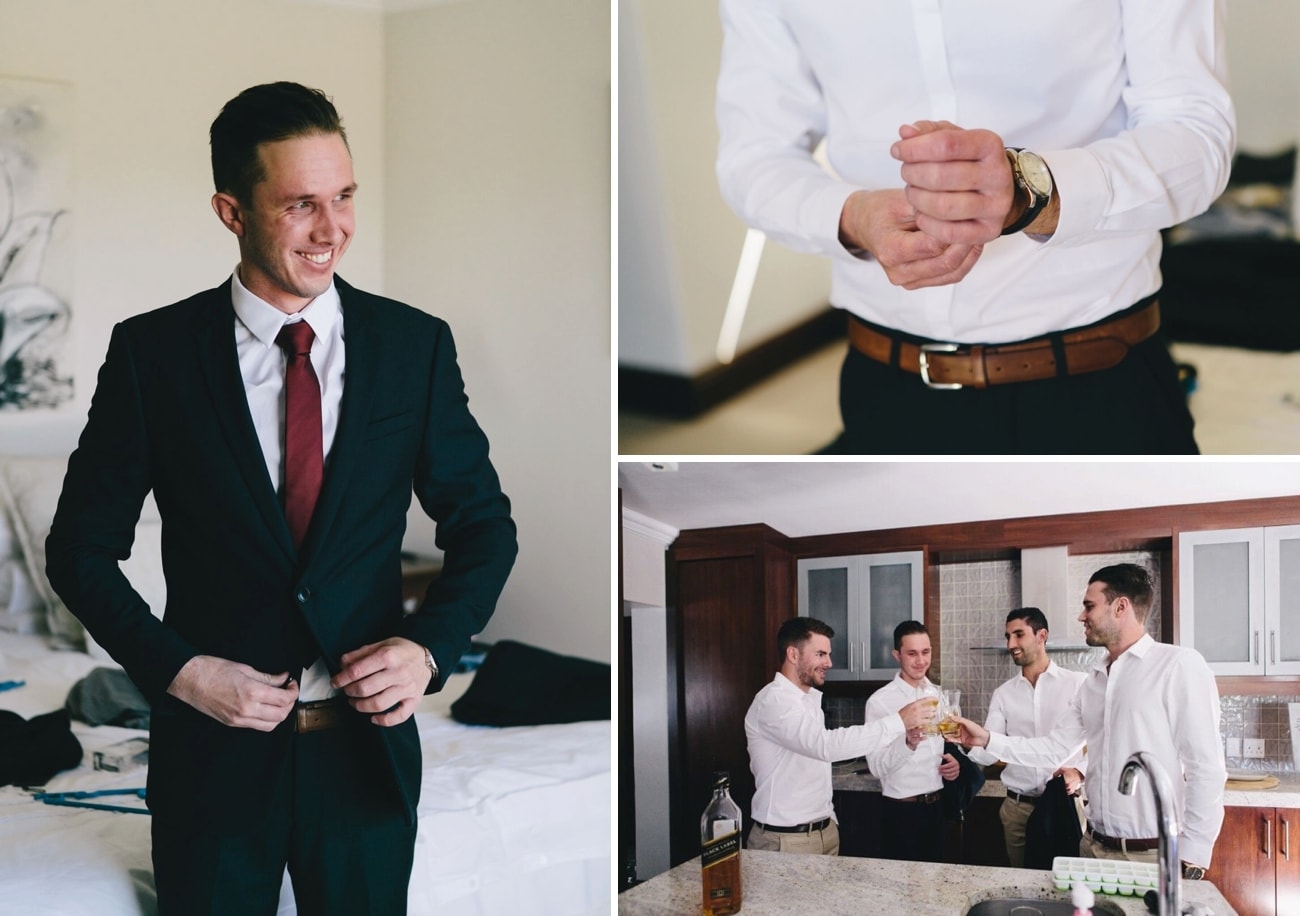 Wedding Details
We love to go out, eat, drink, dance and have fun, so the dancefloor was a big thing for us. We made this a feature by putting it outside with fairy lights above it – this also forced our guests to get up from the tables and join in the atmosphere. I also loved our red Victorian couches that we rented from Goeters. After deciding on the red colour tones, I managed to find the couches and the rest of the decor centred around them. We also loved all our food and drinks because we are such foodies! From the lollies from Las Paletas, amazing grazing table by Malita Joubert Catering to the donuts from My Sugar in Cape Town. Our guests were very complimentary on the food and drinks. I also loved our Boho Balinese parasols that we rented from HoutHuis. They really reinforced the boho feel of the day and added such a fun element.
DIY Elements
My mom made all the runners and serviettes because I couldn't find any I liked to hire. She also made my beautiful garter. It was a surprise and I only saw it the night before. My dad made our amazing donut wall to my specifications. It actually turned out black by default because my original idea didn't work and black was the only spray paint we had (two days before the wedding). We threw caution to the wind and took a chance! It turned out to be such a feature with the gold vinyling on top.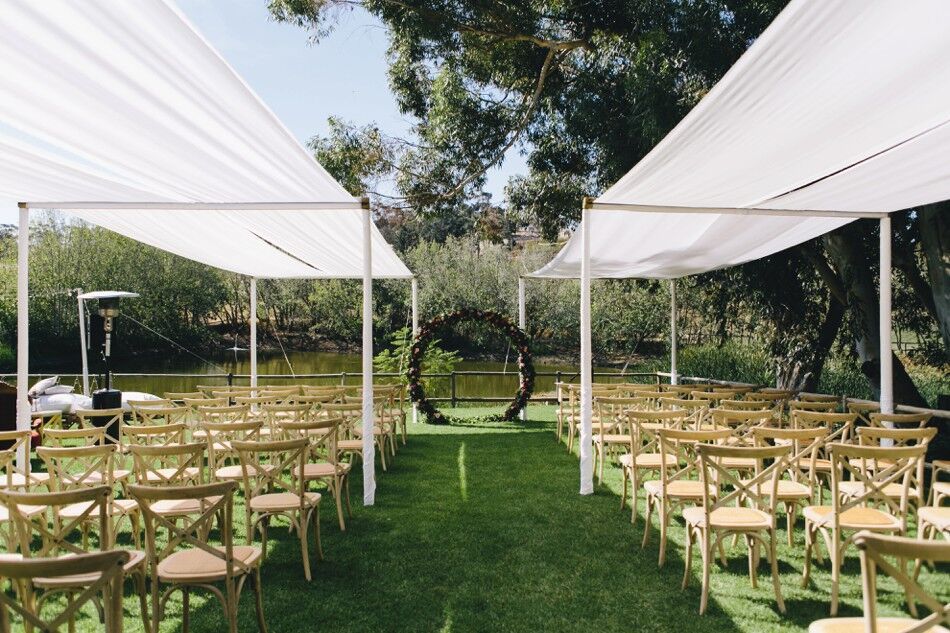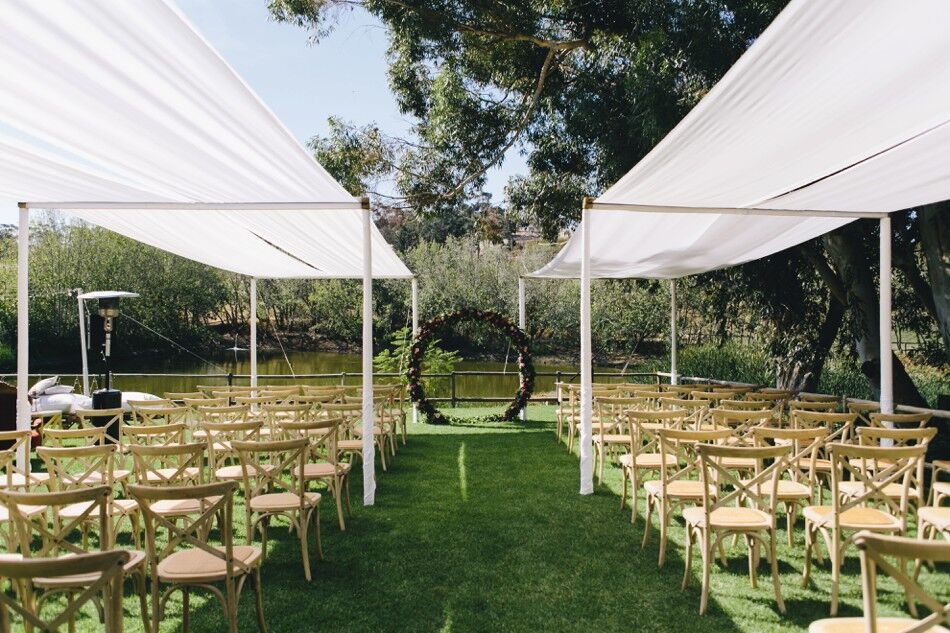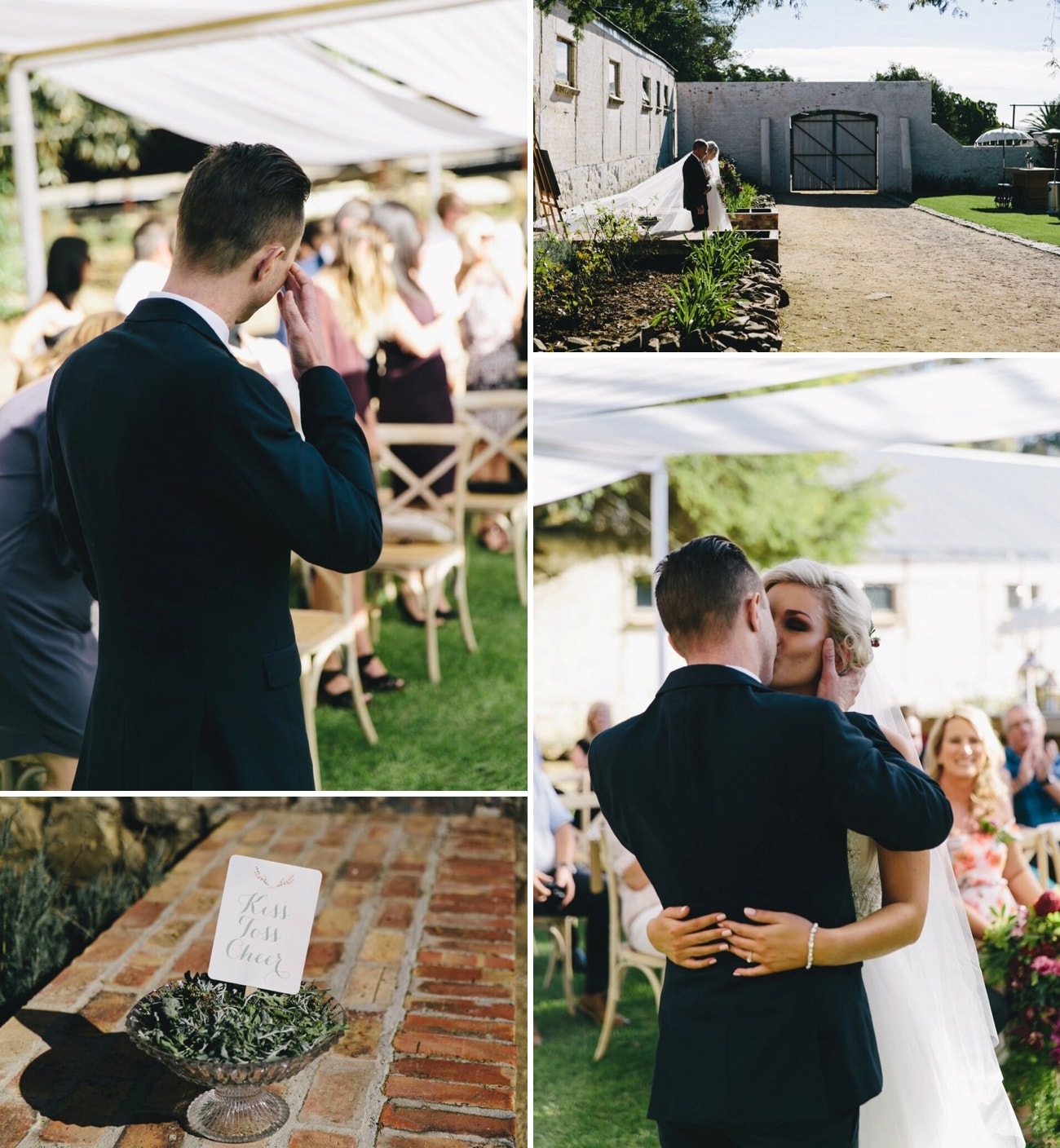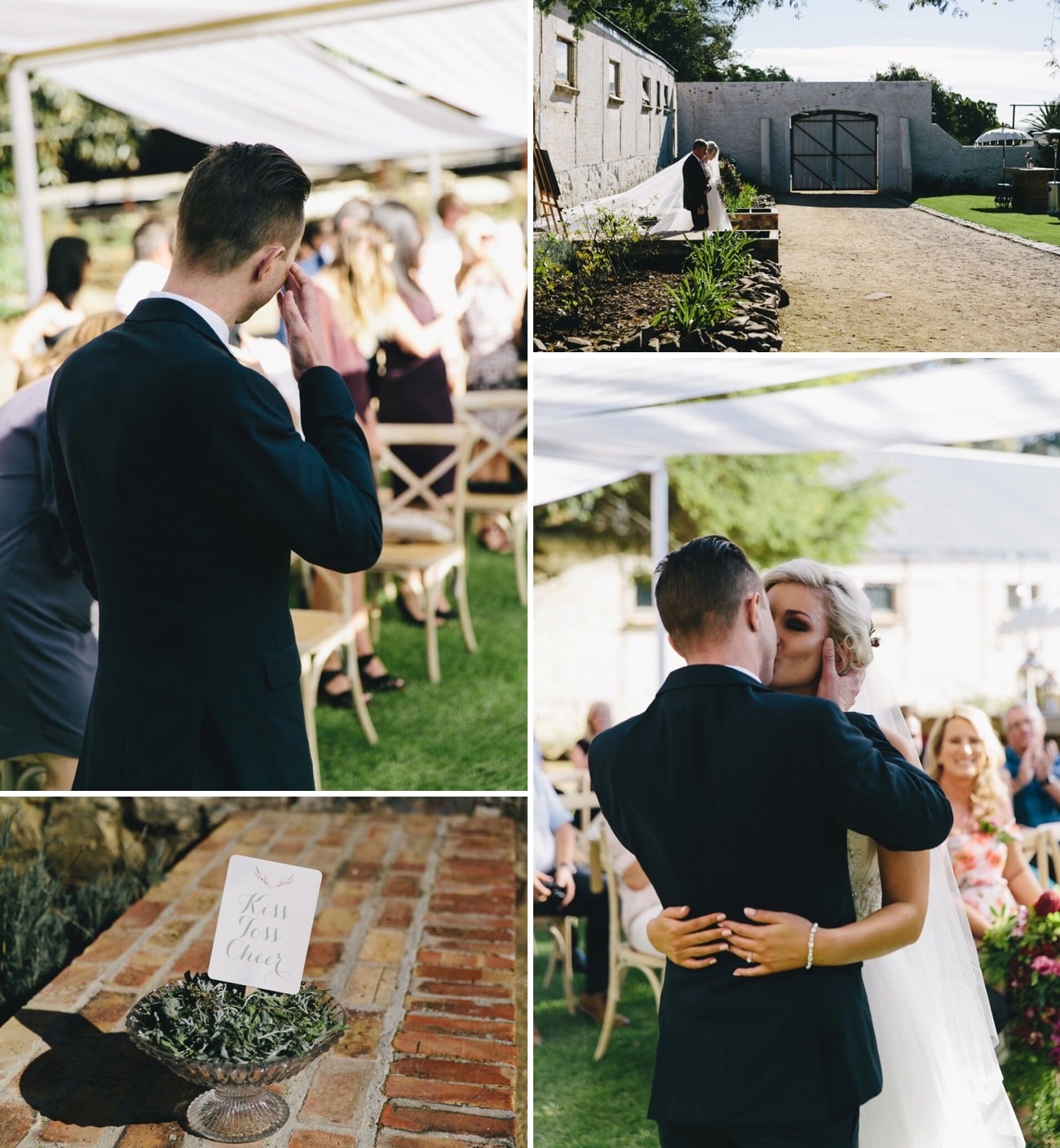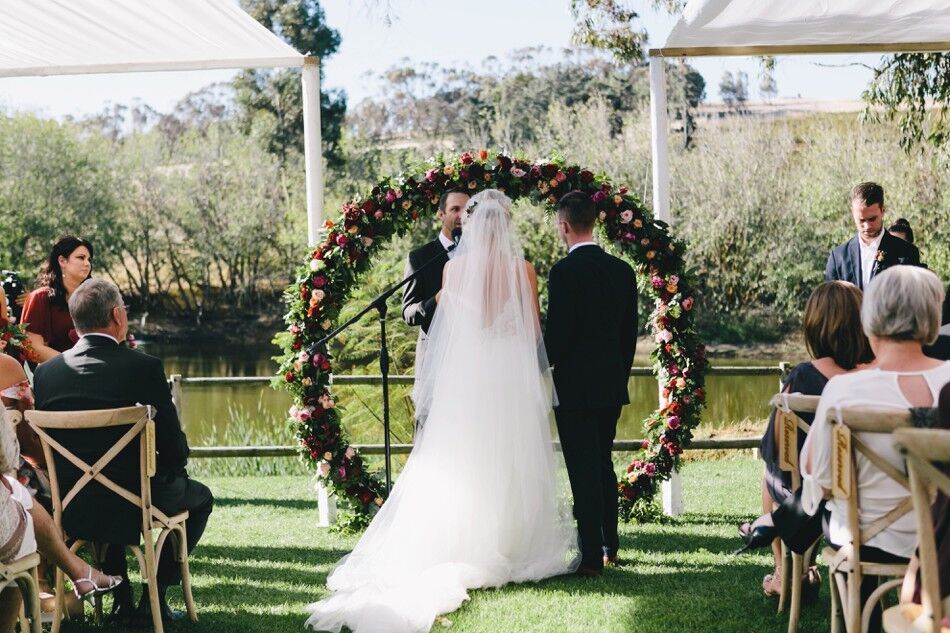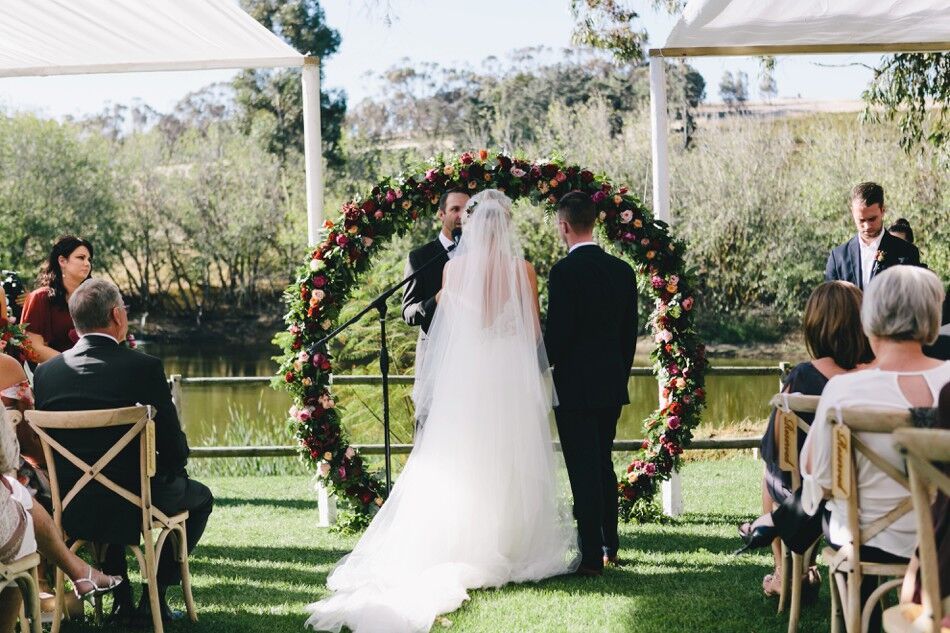 The Flowers
Jeanette (from Paramithi) and I never met face to face to discuss details. We handled everything by email and phone calls and when I walked into the venue to check it out before walking down the aisle (I was super early), I was absolutely amazed. She took what I had described to her and made it more that I could have imagined. The flowers were beautiful tones of reds, pinks, purples and greenery. They were wild but still so glam! The floral ceremony arch (which was all her idea) and the hanging wreath above the sweetheart table stole the show. I was so sad to leave them at the venue. I just wanted to take everything home.
The First Dance
We went for lessons for months with Regan at Paradiso Academy. We wanted something different and eventually did a Bachata to John Legend's 'All of Me' (Bachata version). It was sexy and so much fun and our guests loved it.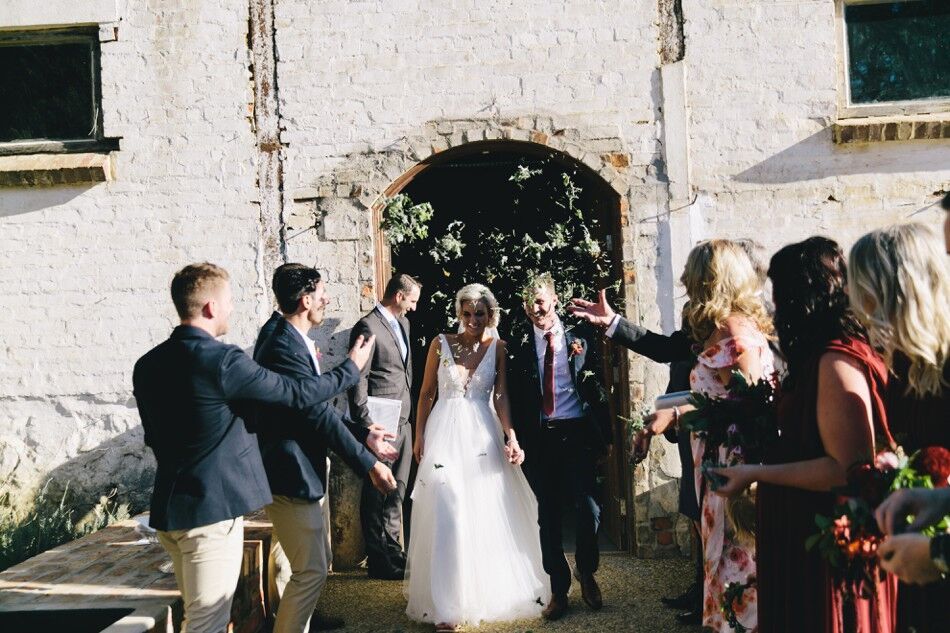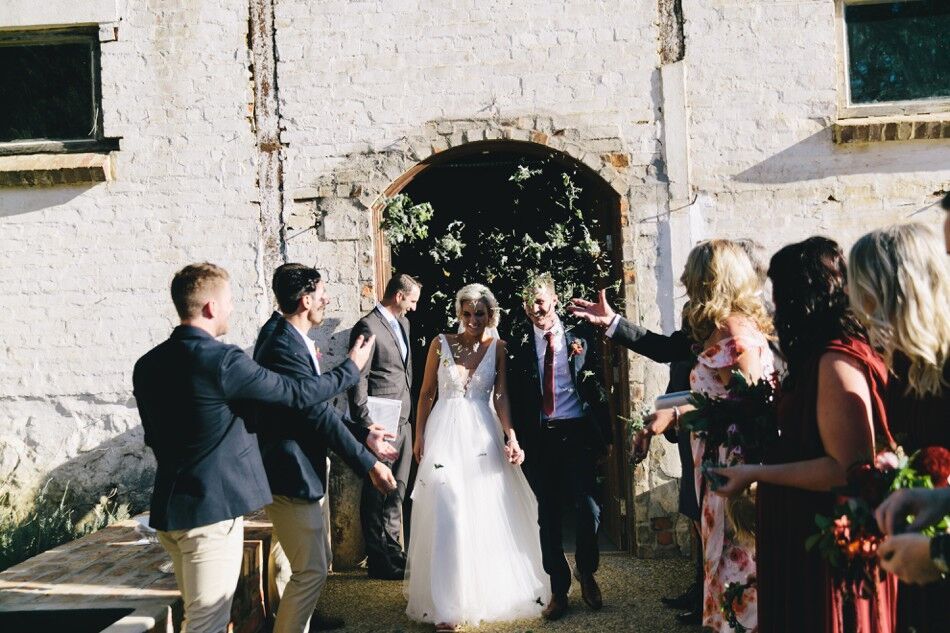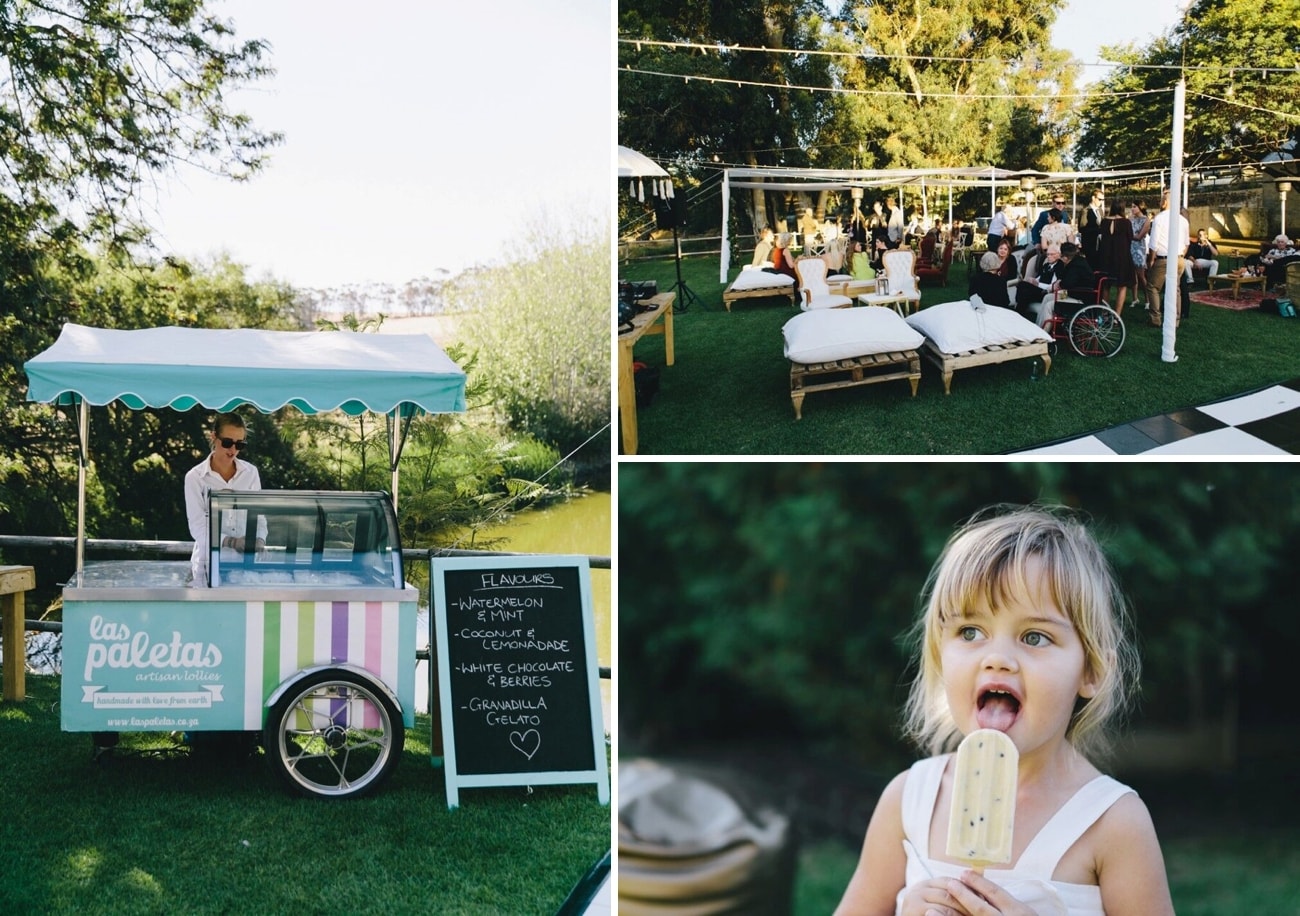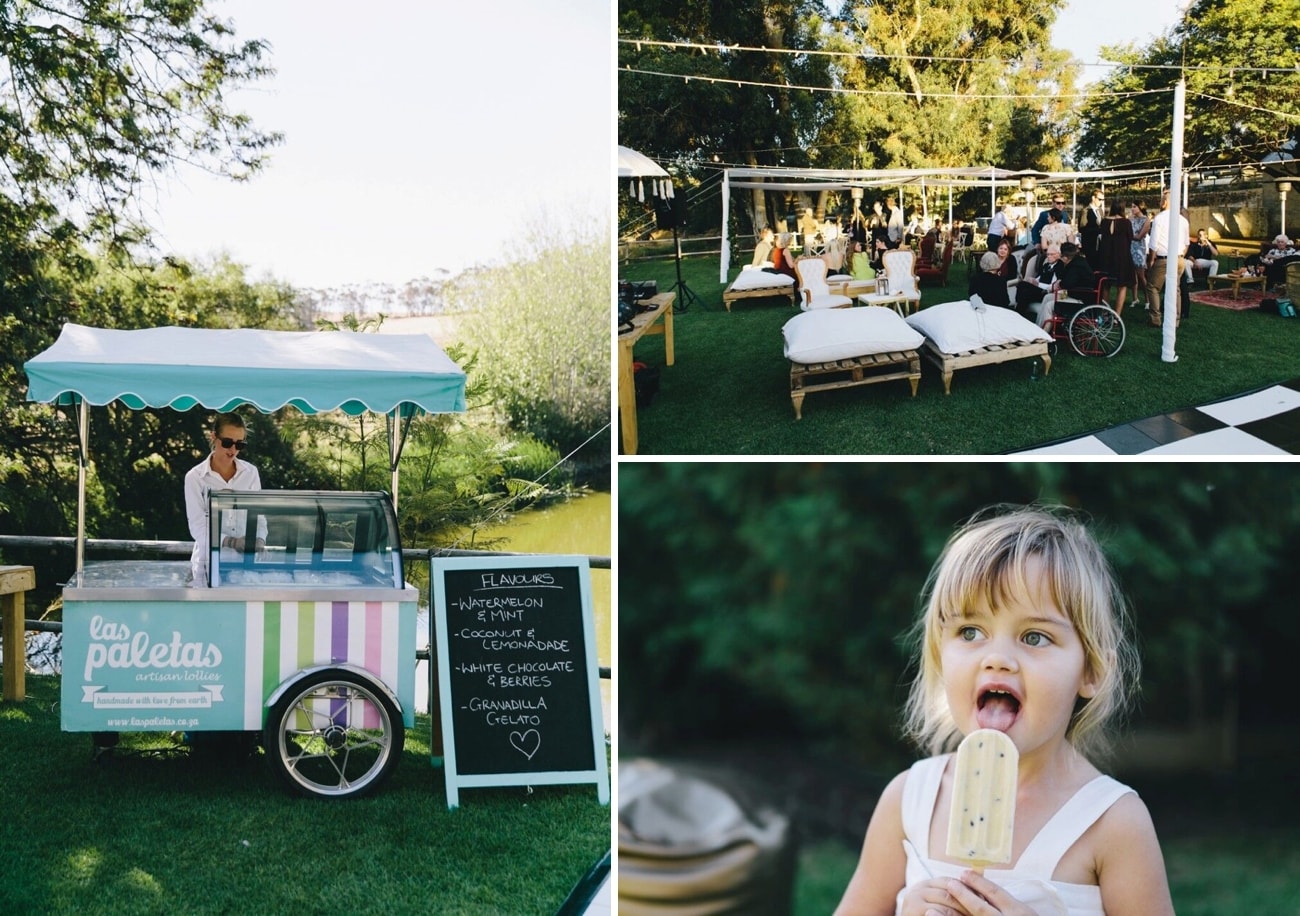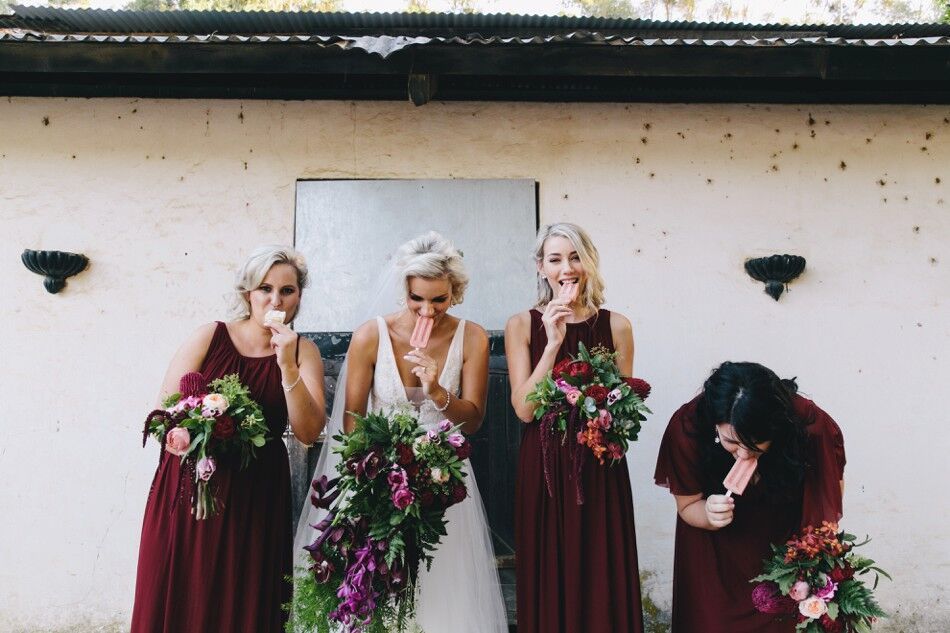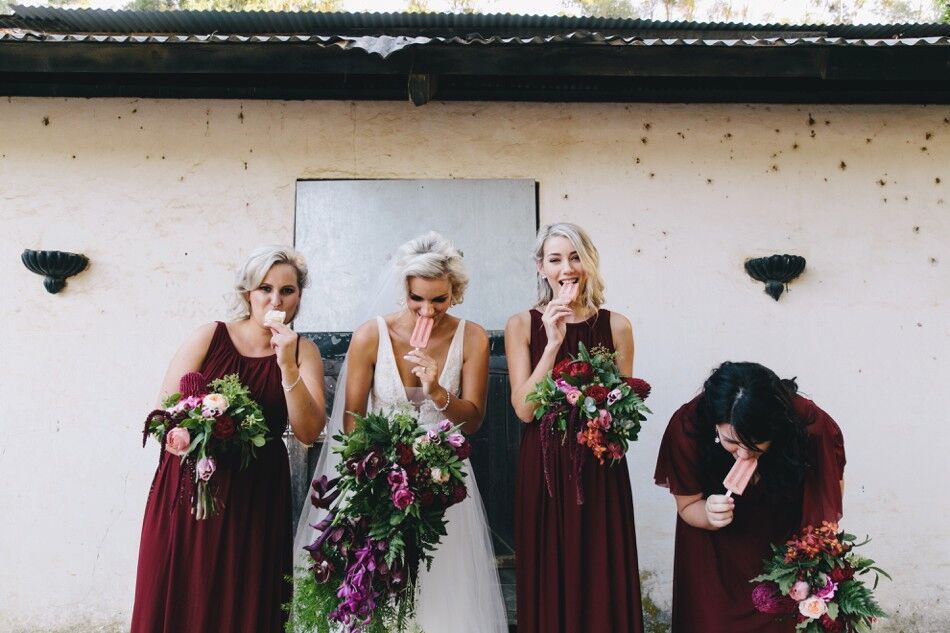 The Dress
I had no idea what I wanted. I had no particular style in mind, which turned out to be a good thing – it kept my mind open to all suggestions. Cindy Bam was the second designer I visited and she was incredible. She put me in every style imaginable and by the end of the fitting there was no doubt in my mind that that style was the right one. We tailored every detail to my liking and her patience was endless! It was really dreamy to wear and I felt like a princess.
The Bridesmaids
I had three bridesmaids – two of whom were my sisters. My eldest sister, Megan, was my maid of honor and was actually due to give birth on my wedding day! Thankfully little Luna arrived early. I chose the long loose dresses as they were comfortable, fitted with my theme and looked beautiful. Megan's dress was a last minute order as we weren't sure when she was giving birth – so her style is different.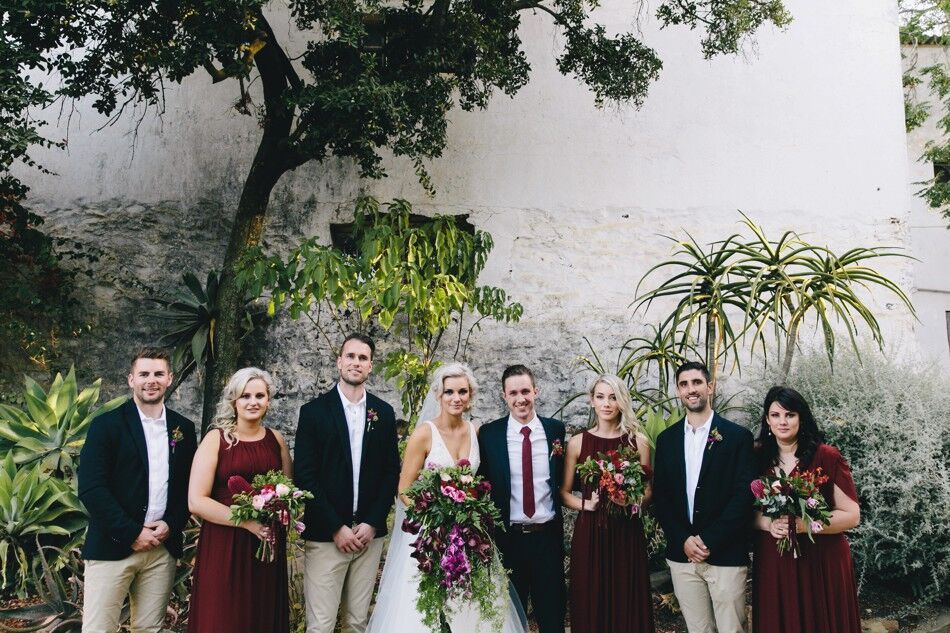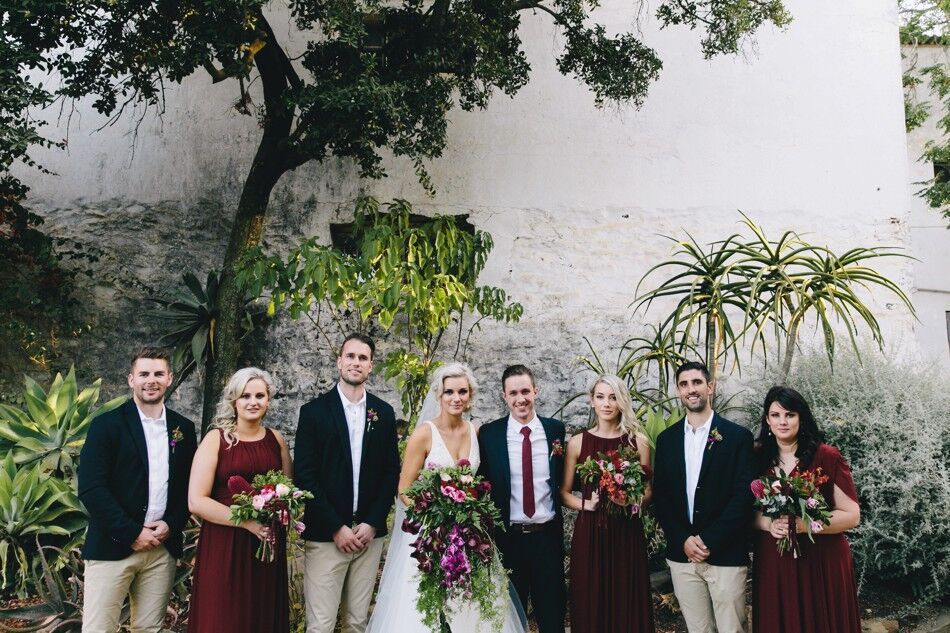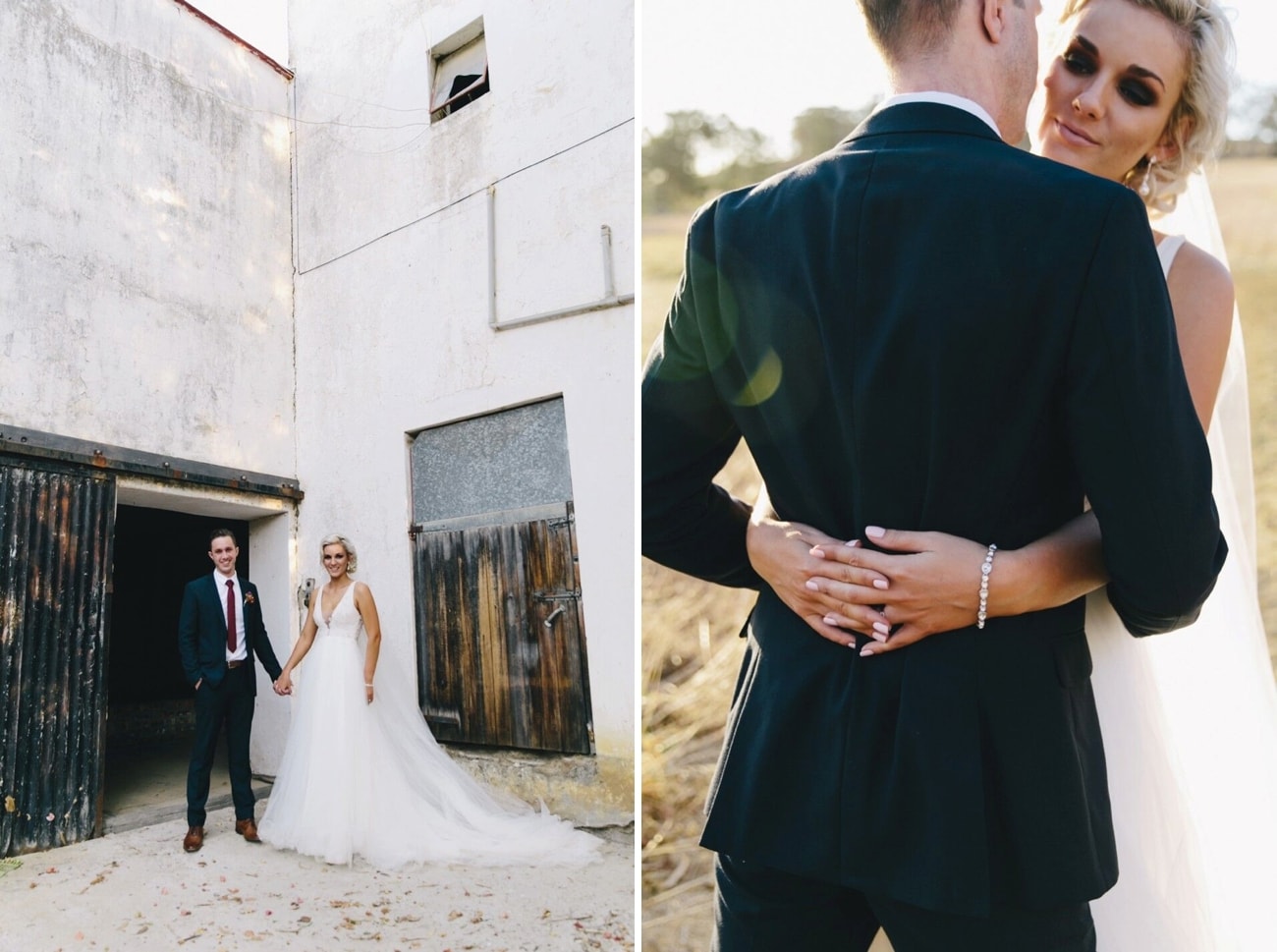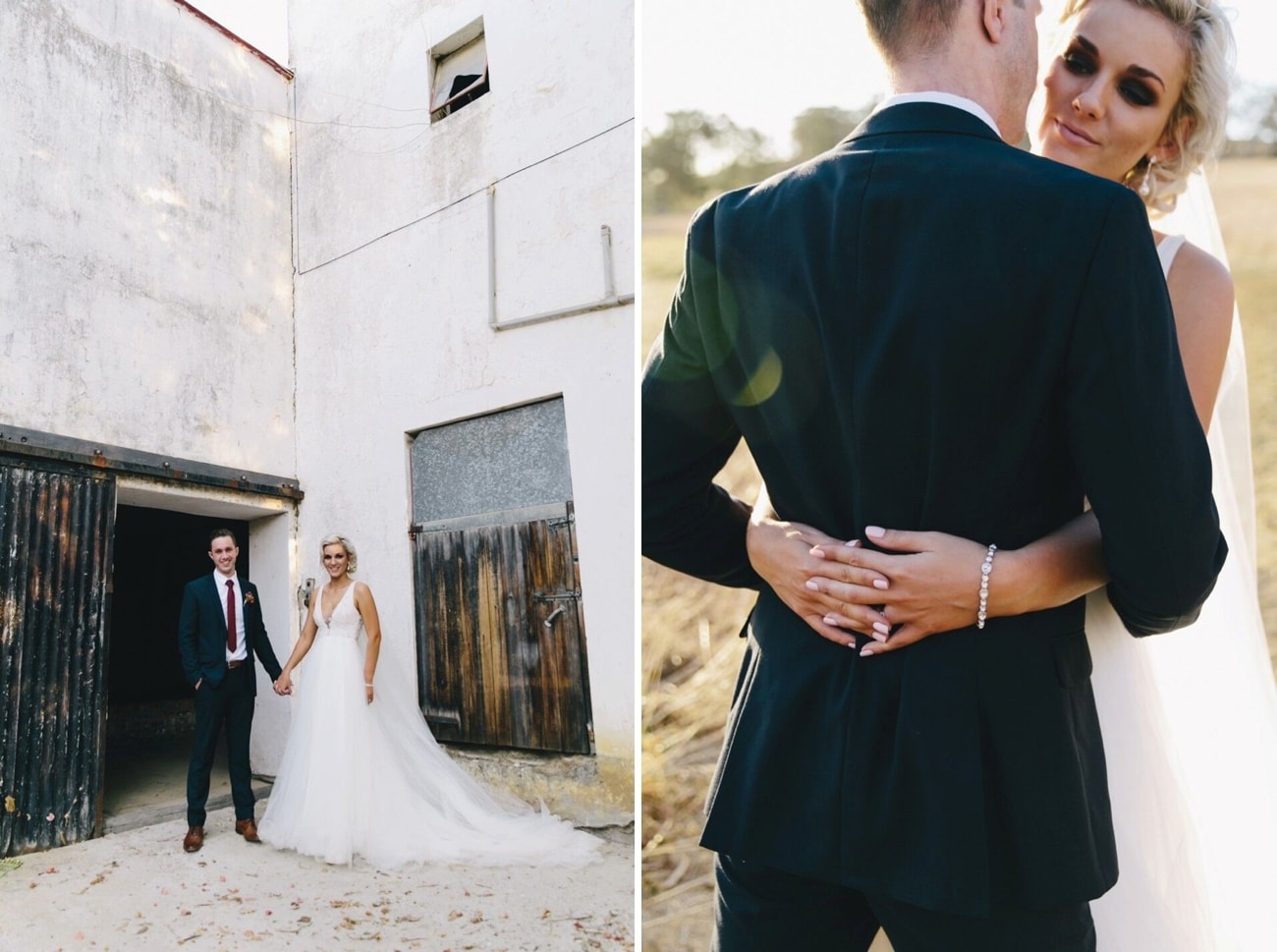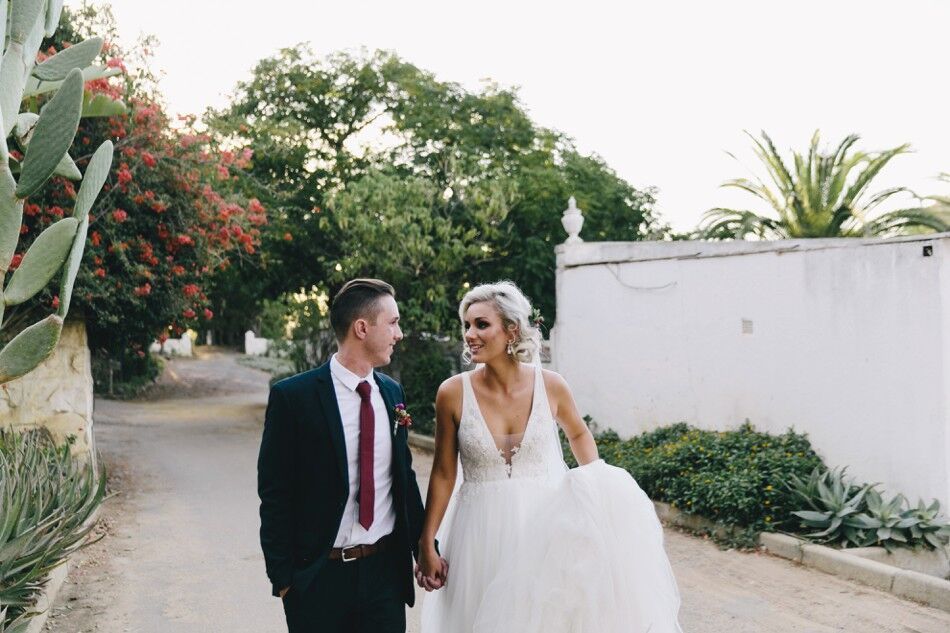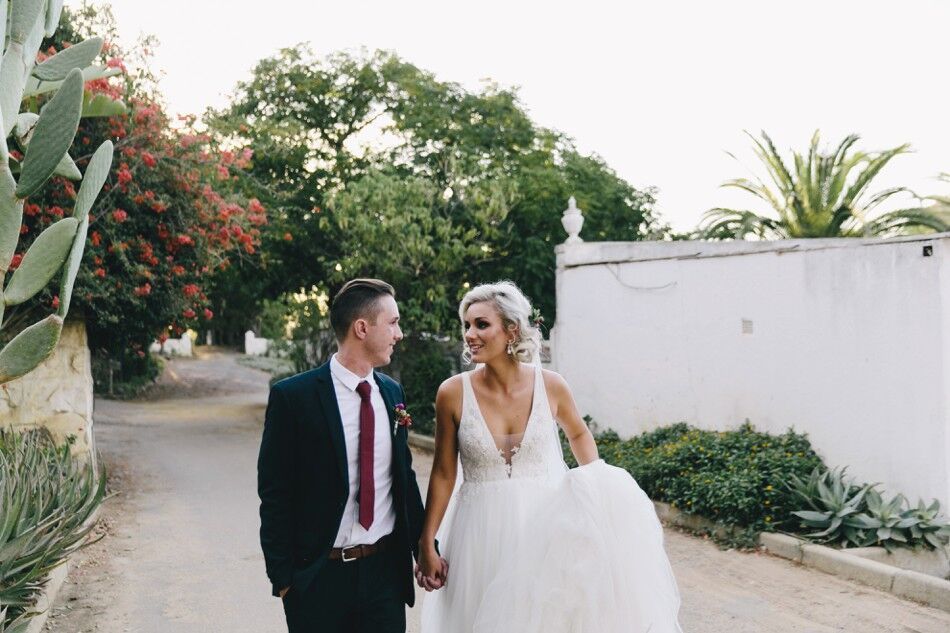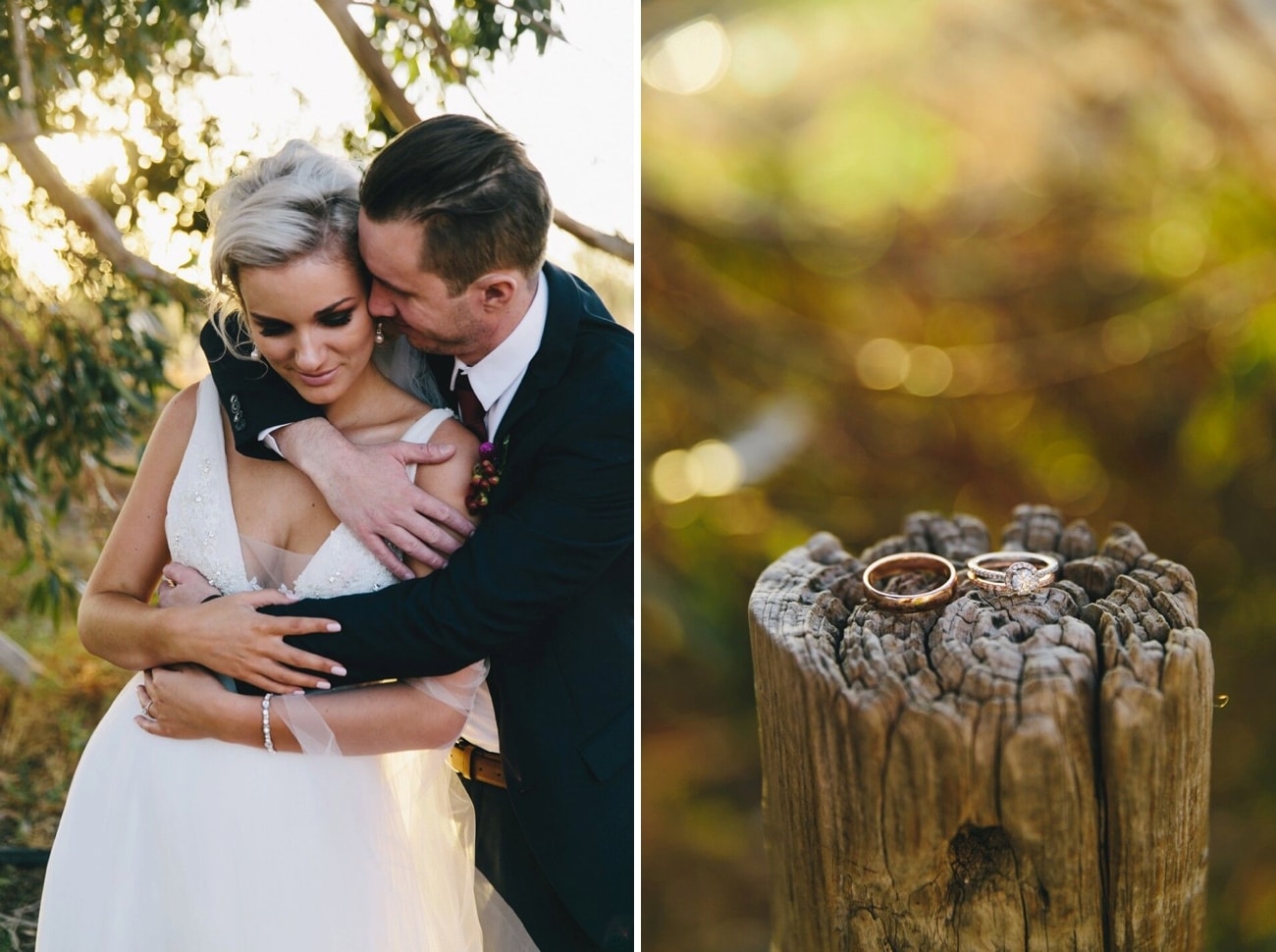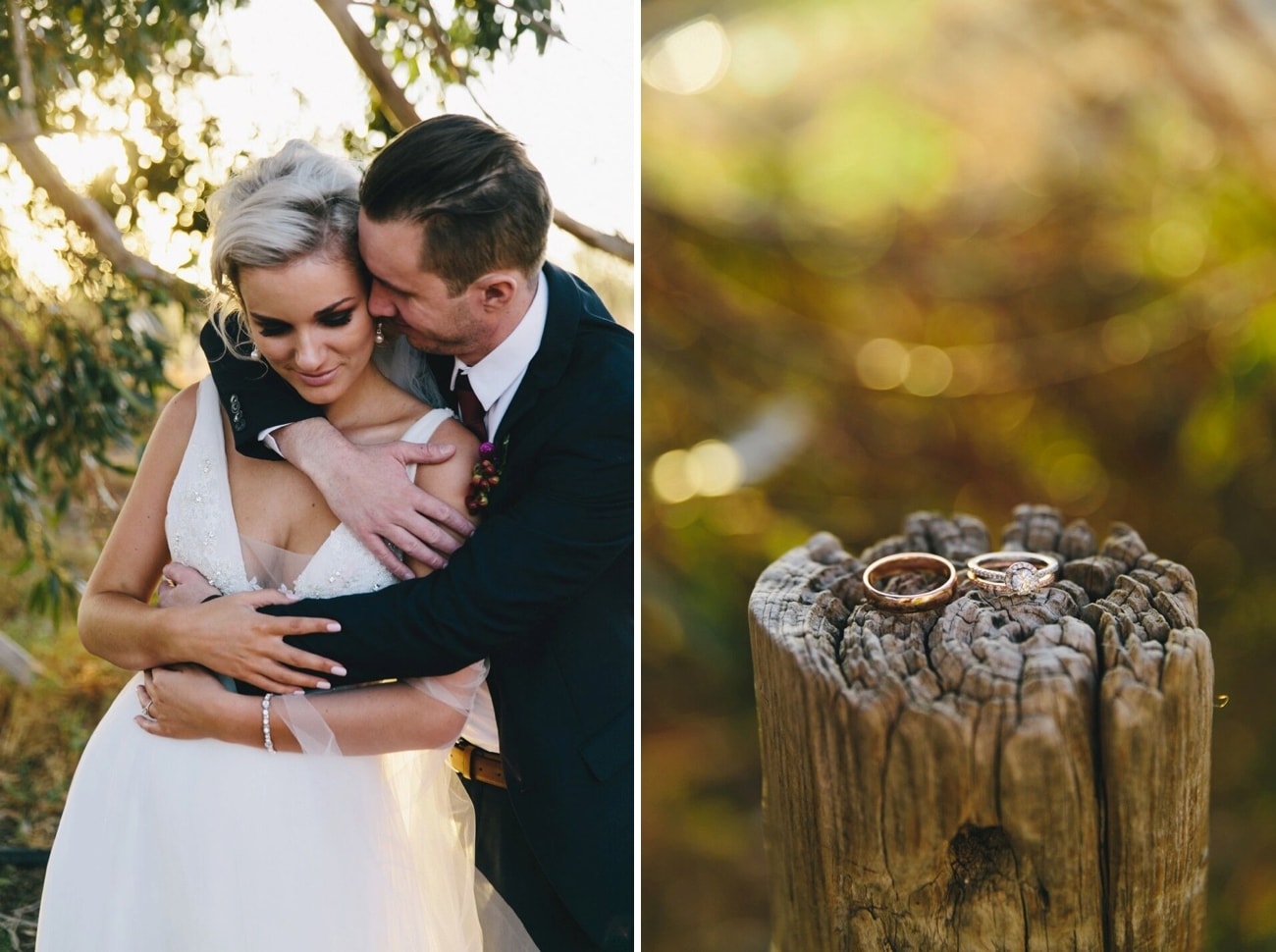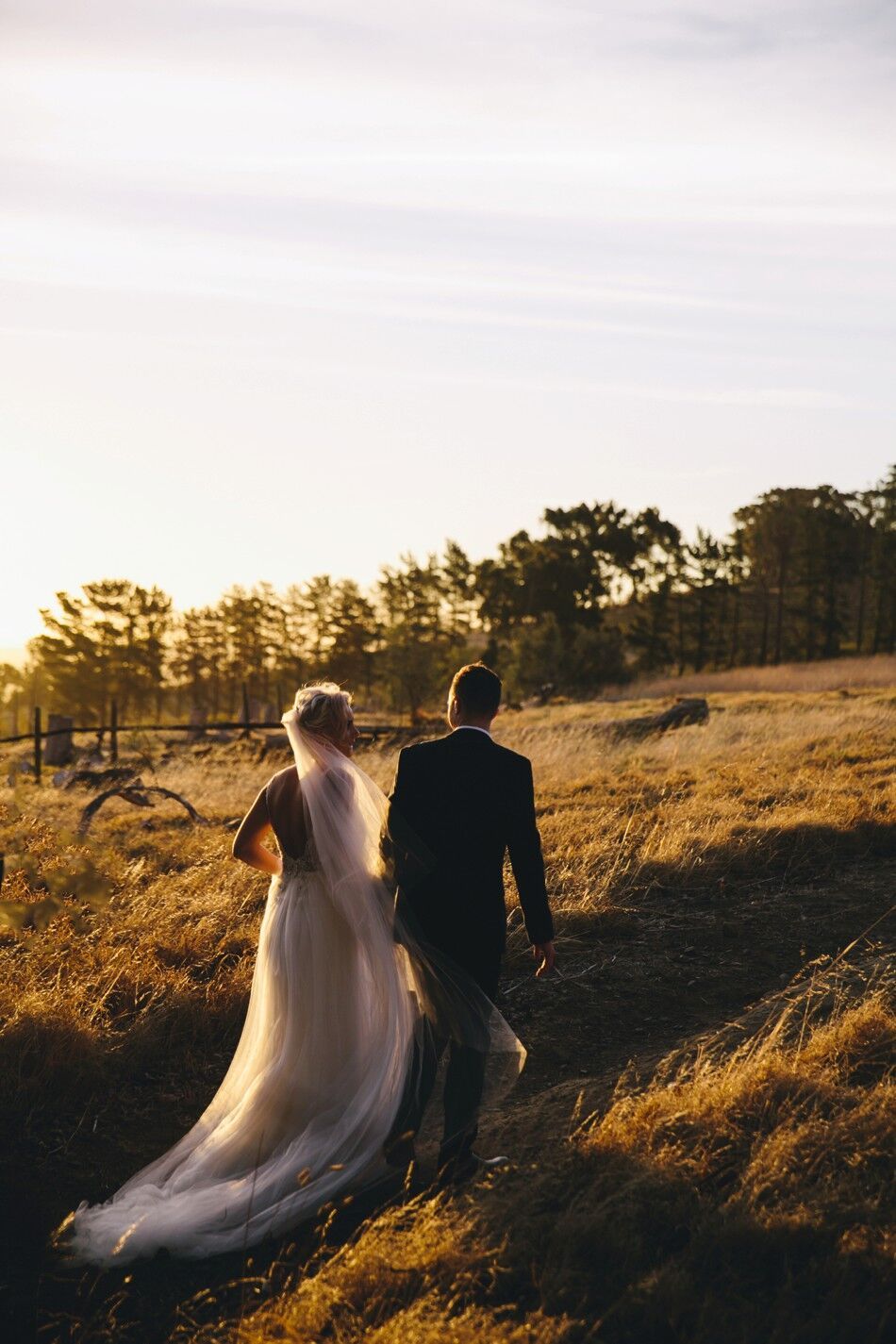 Memorable Moment
Nothing compares to standing next to your father as you are about to walk down the aisle. You have your veil on, holding your bouquet and you are not sure if you are going to faint or not from the nerves. You walk out and see your husband-to-be standing there and everyone else disappears.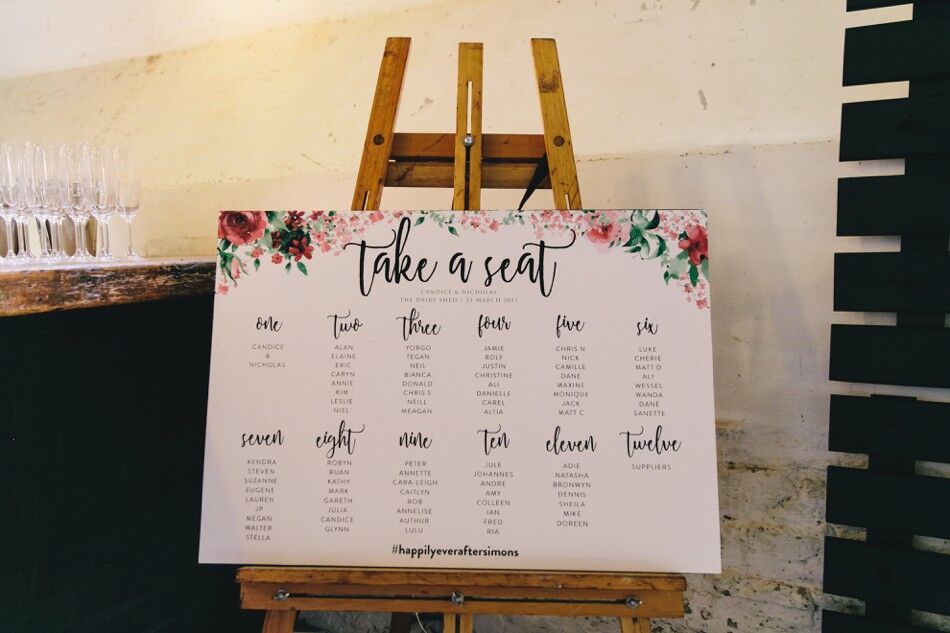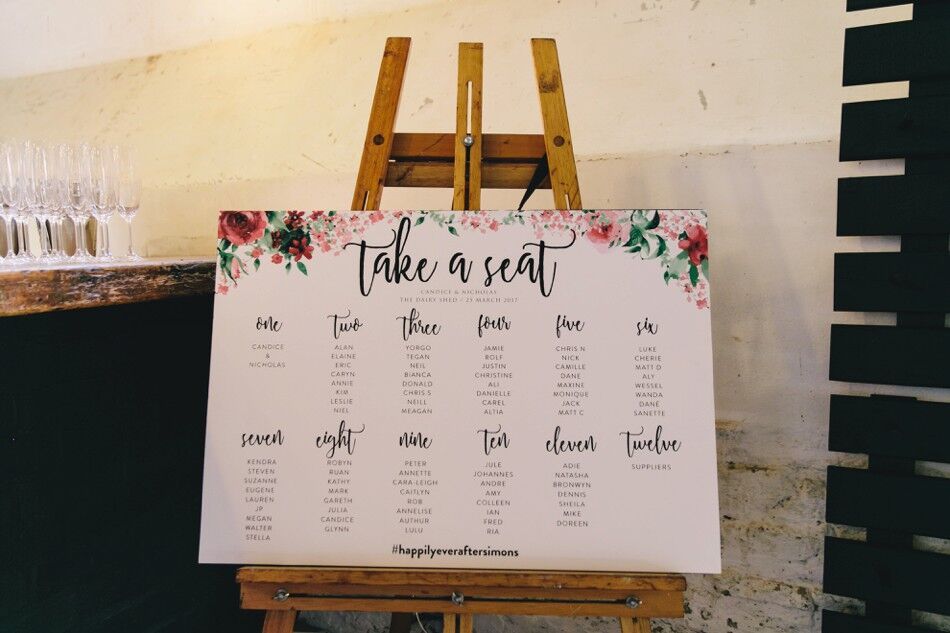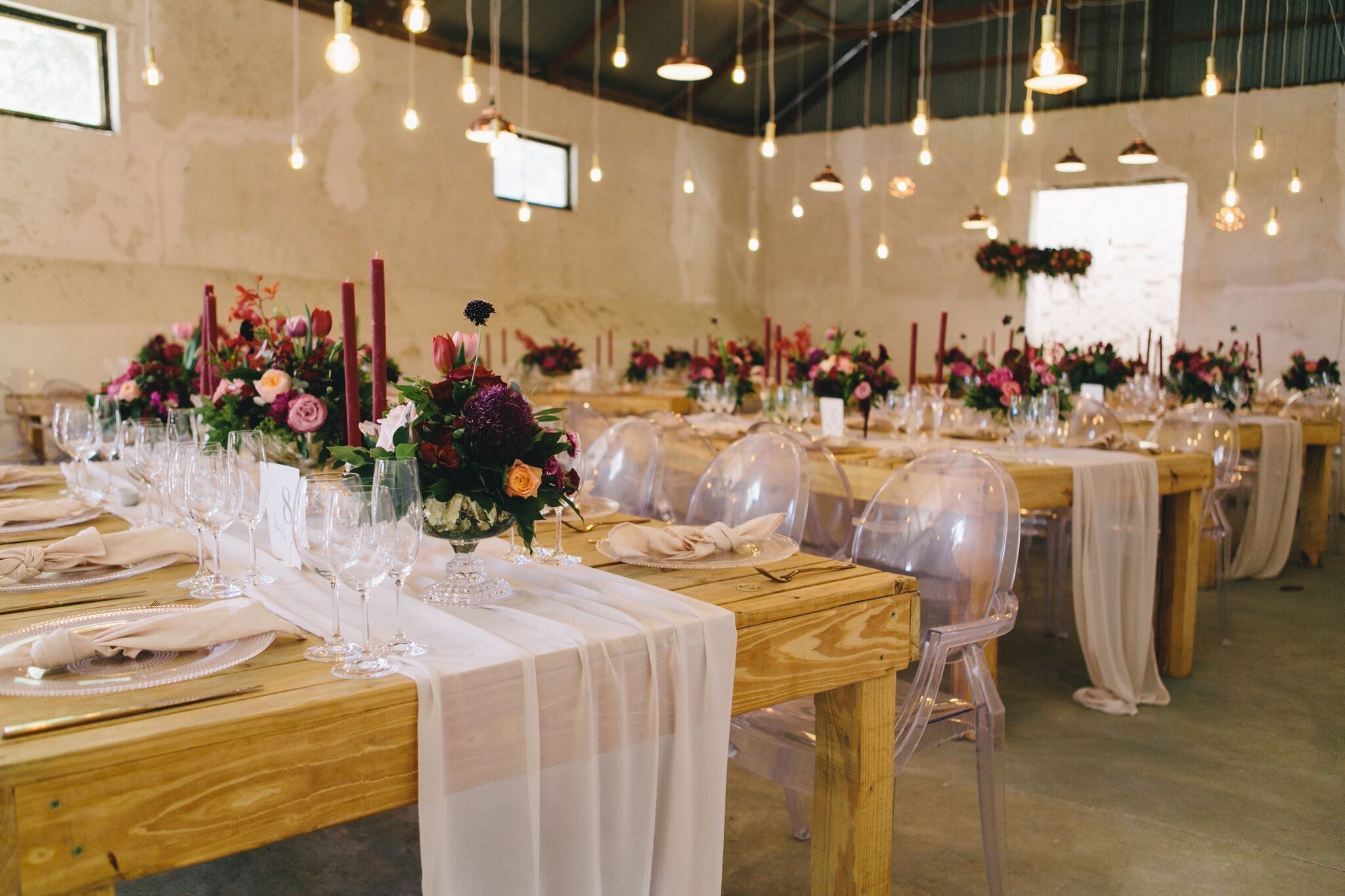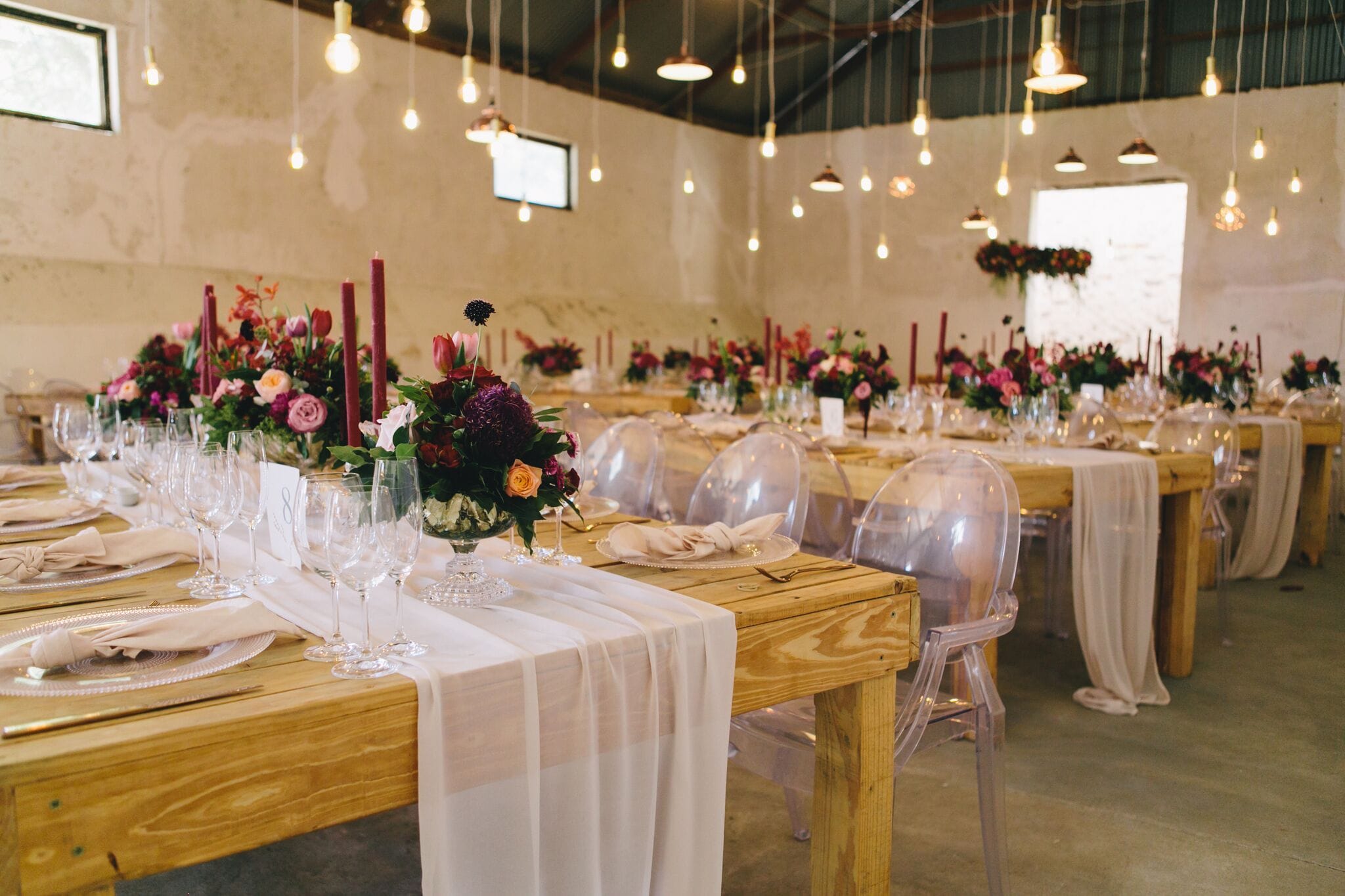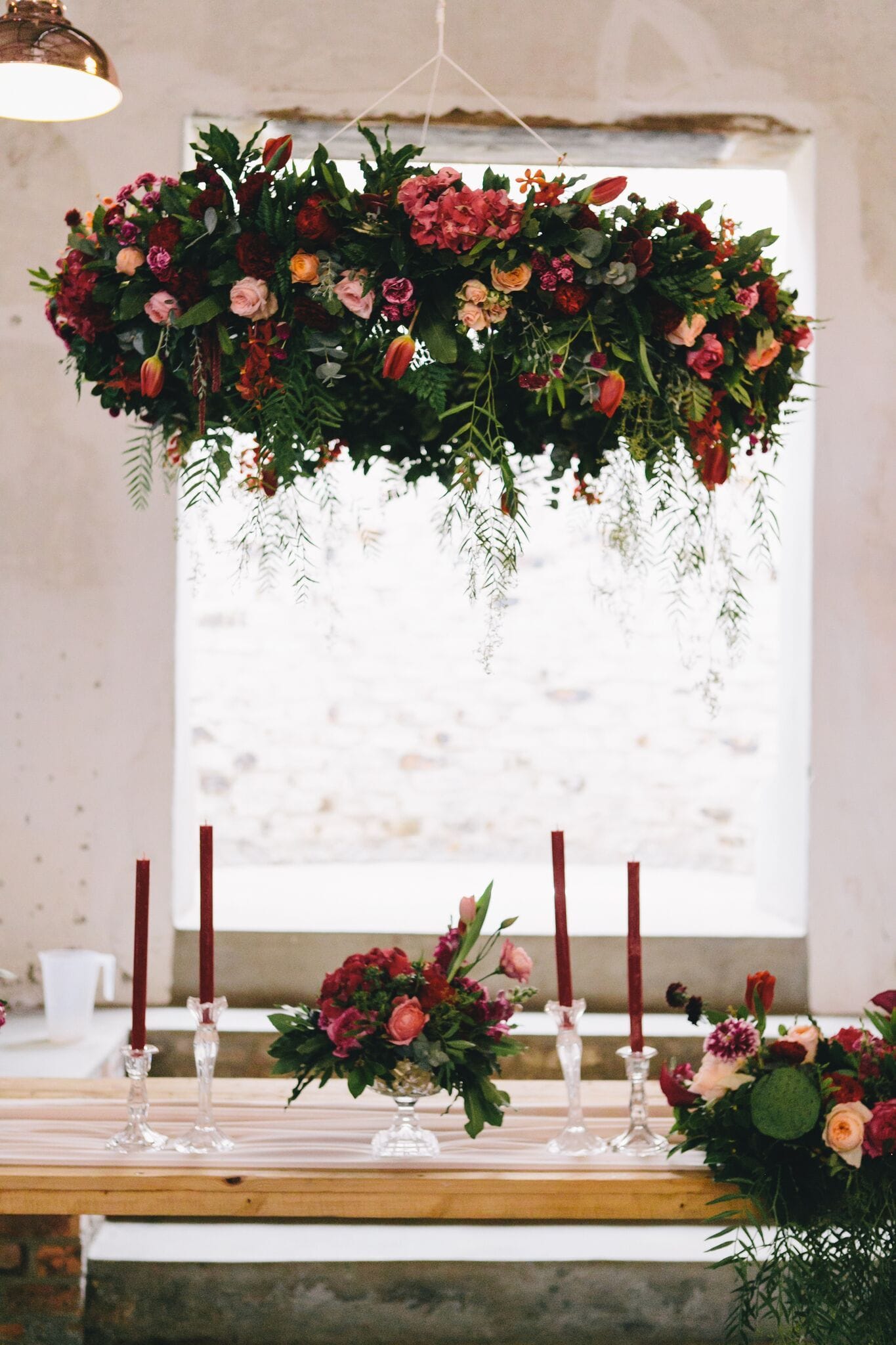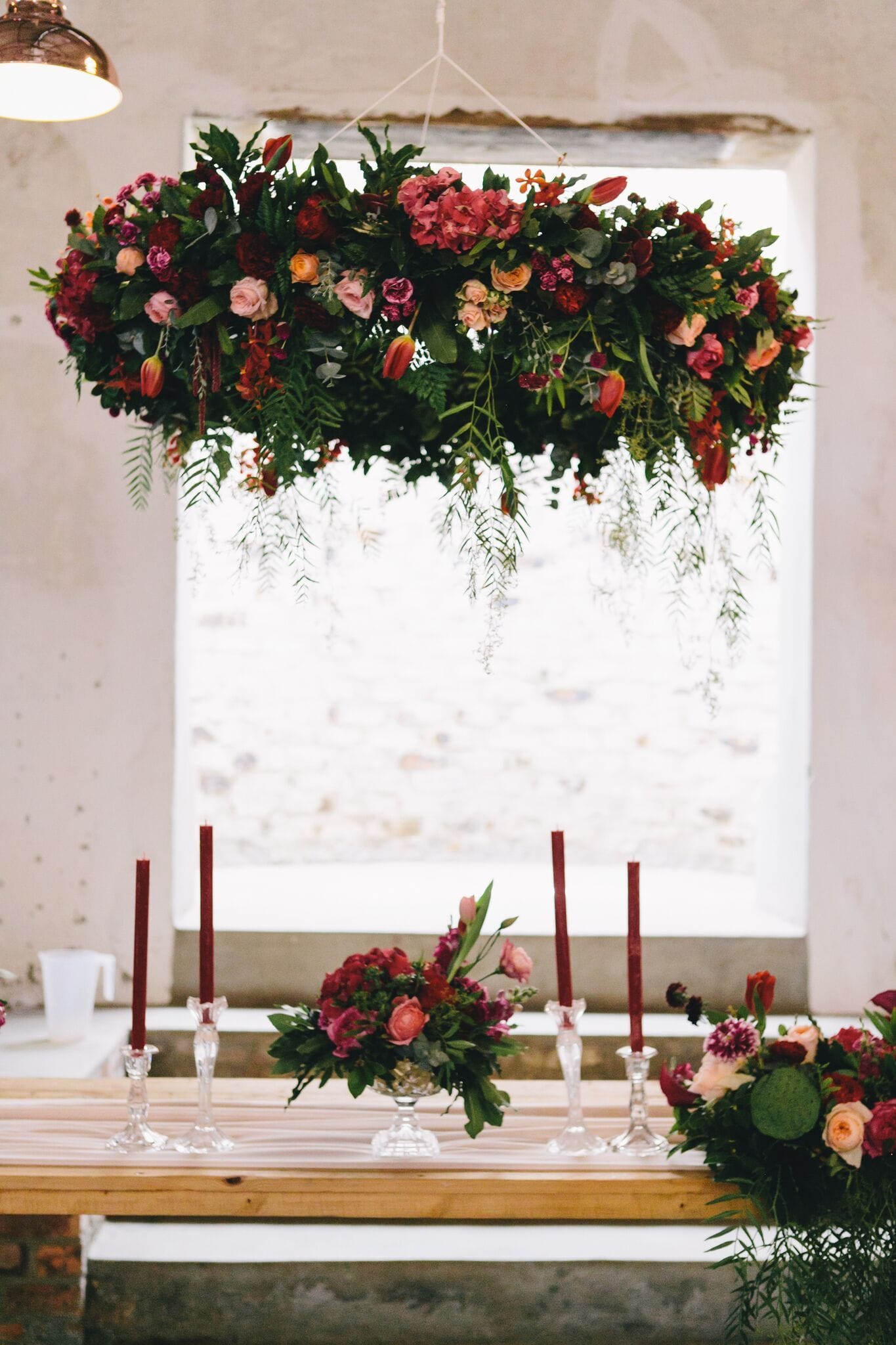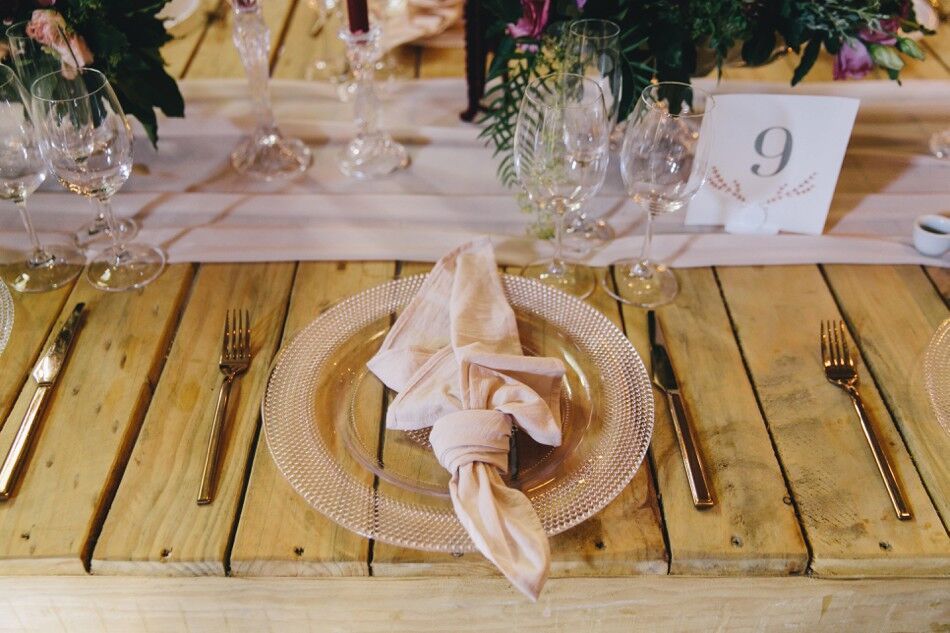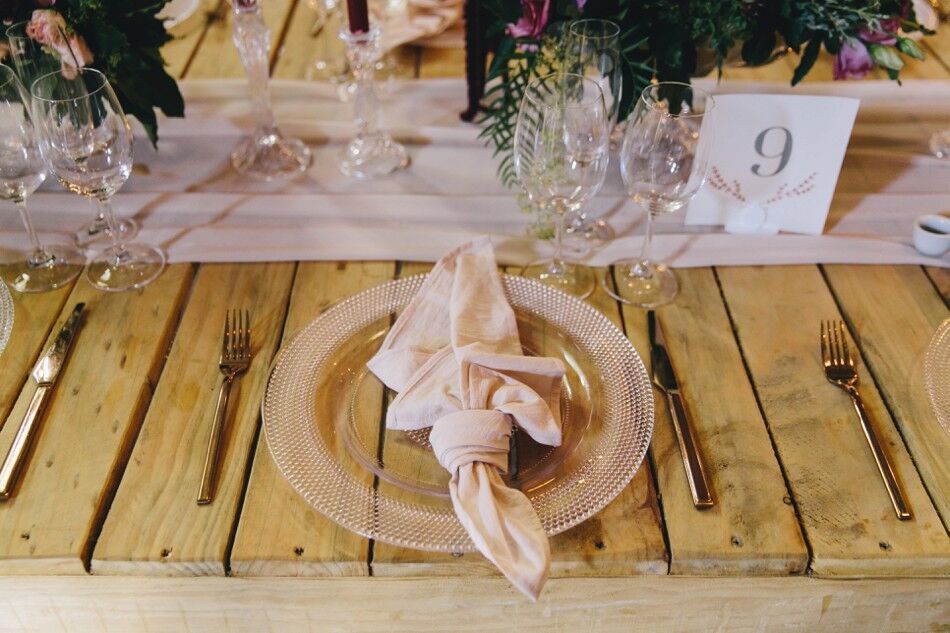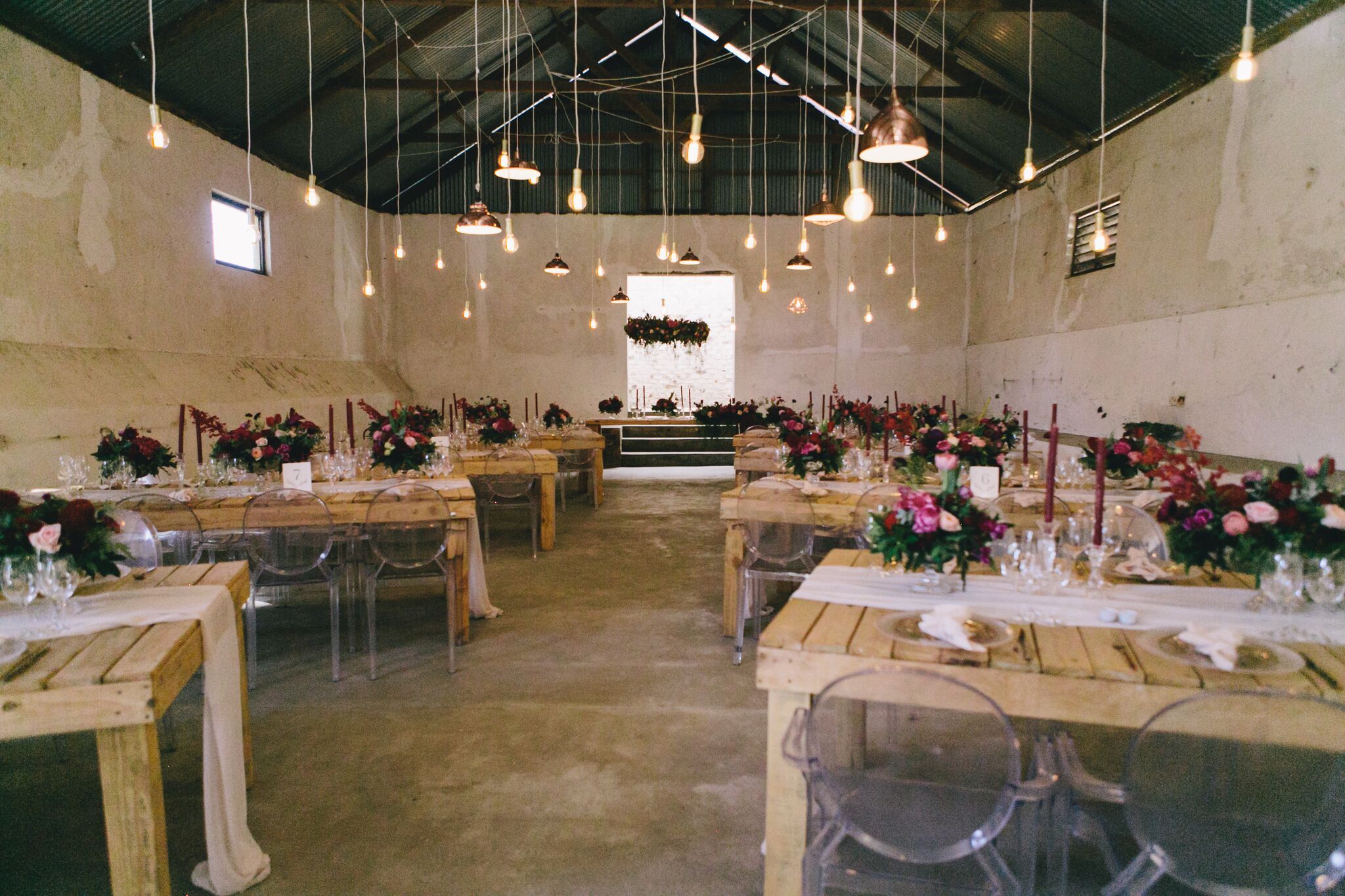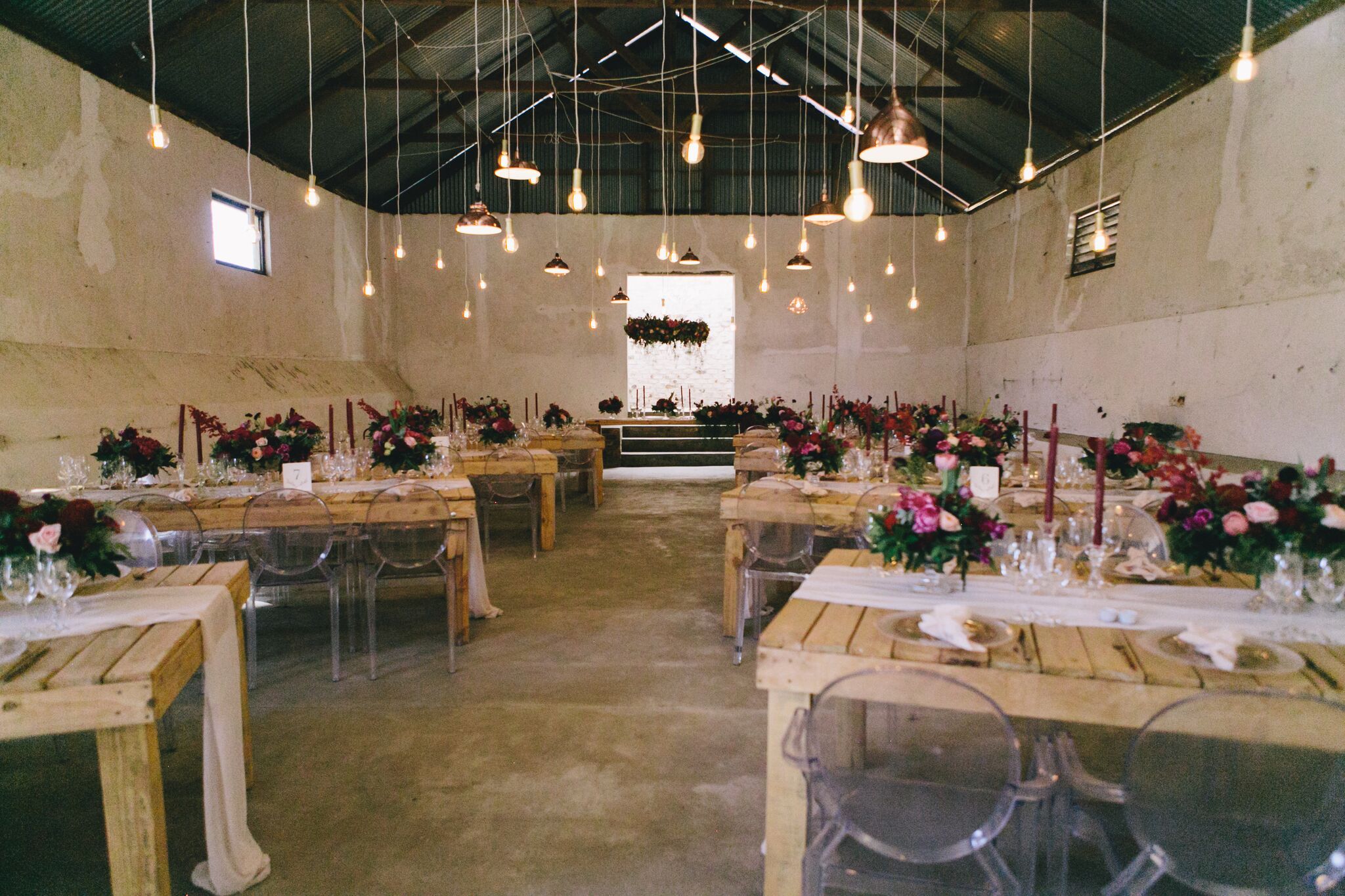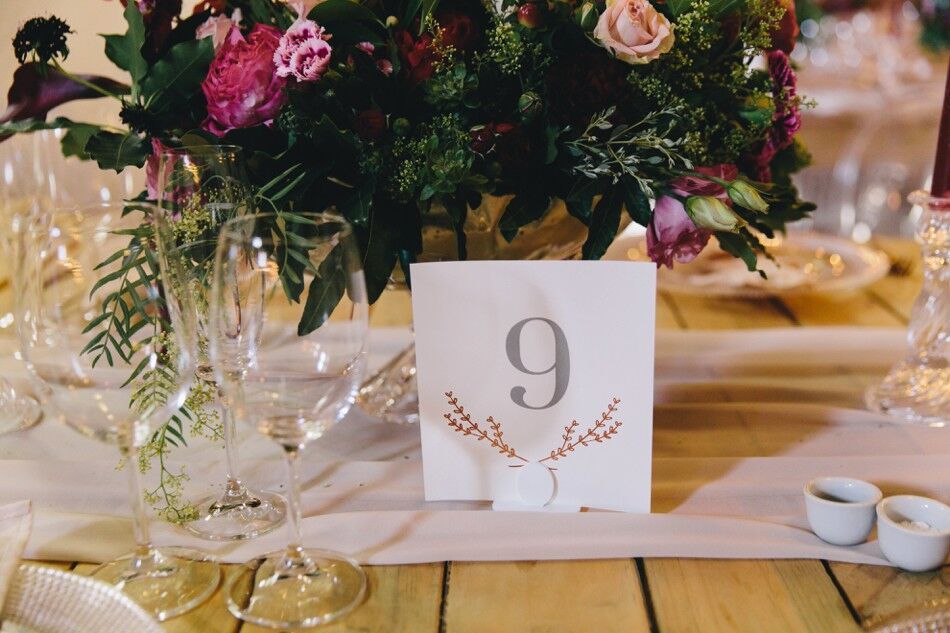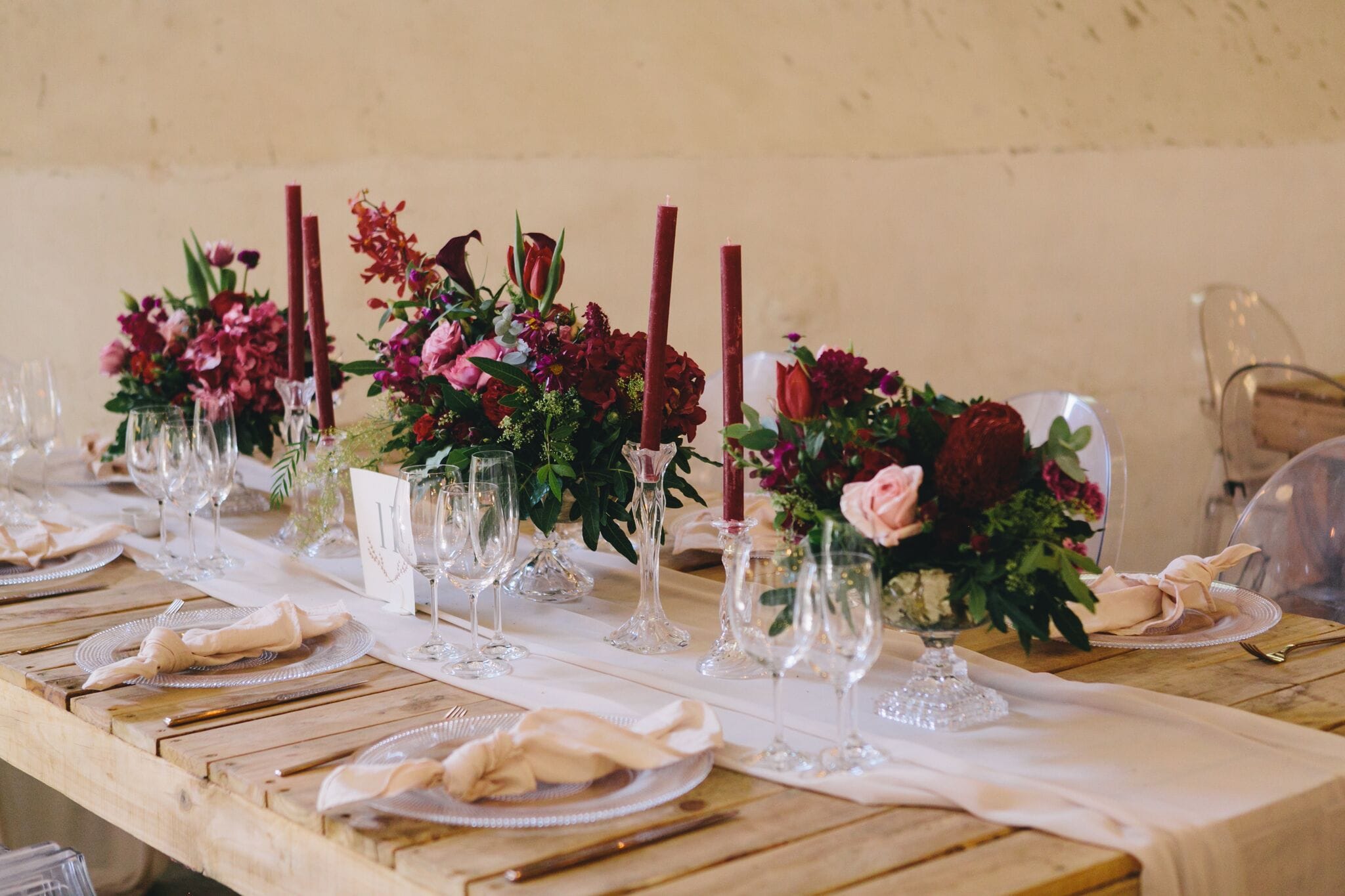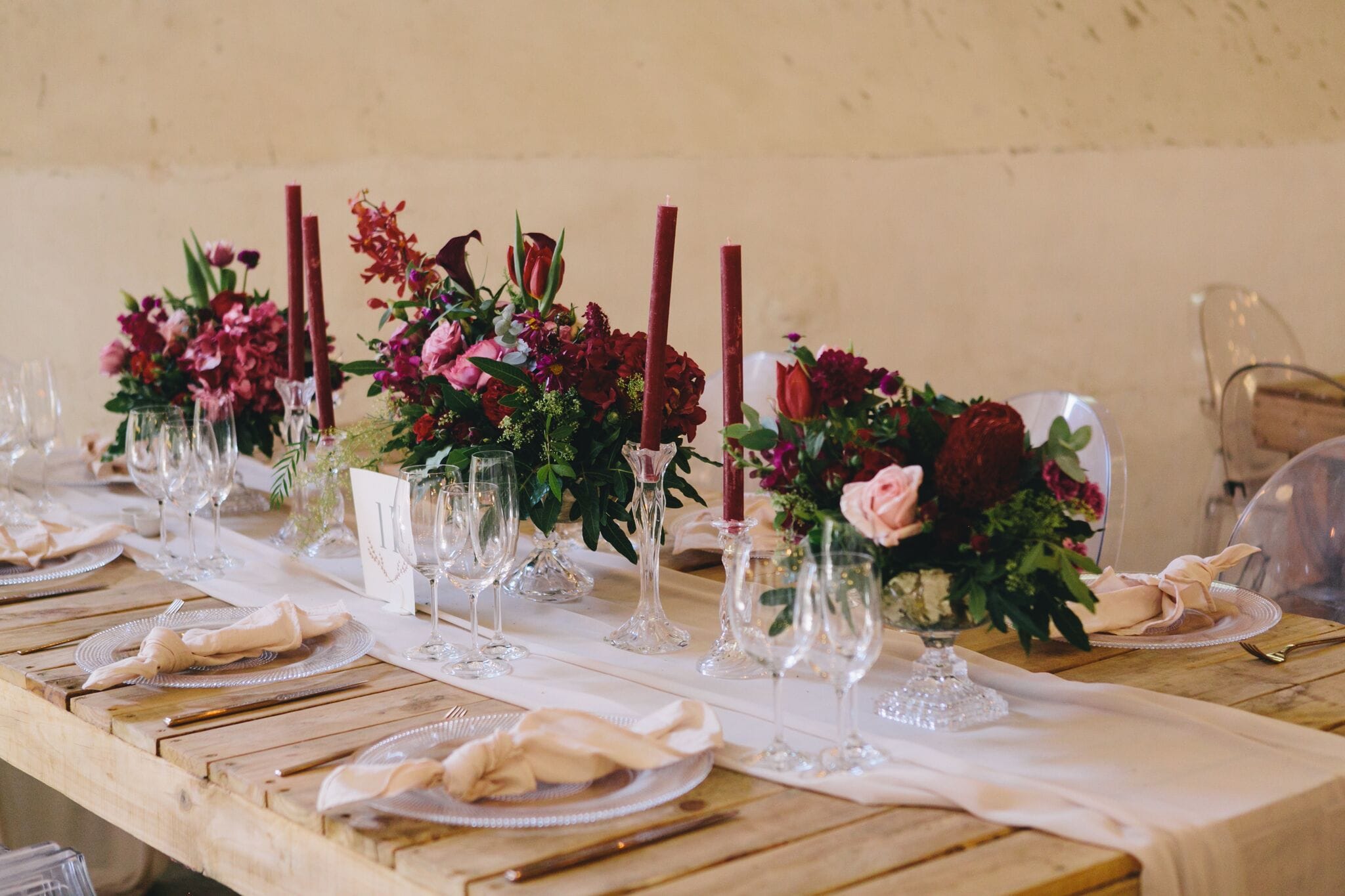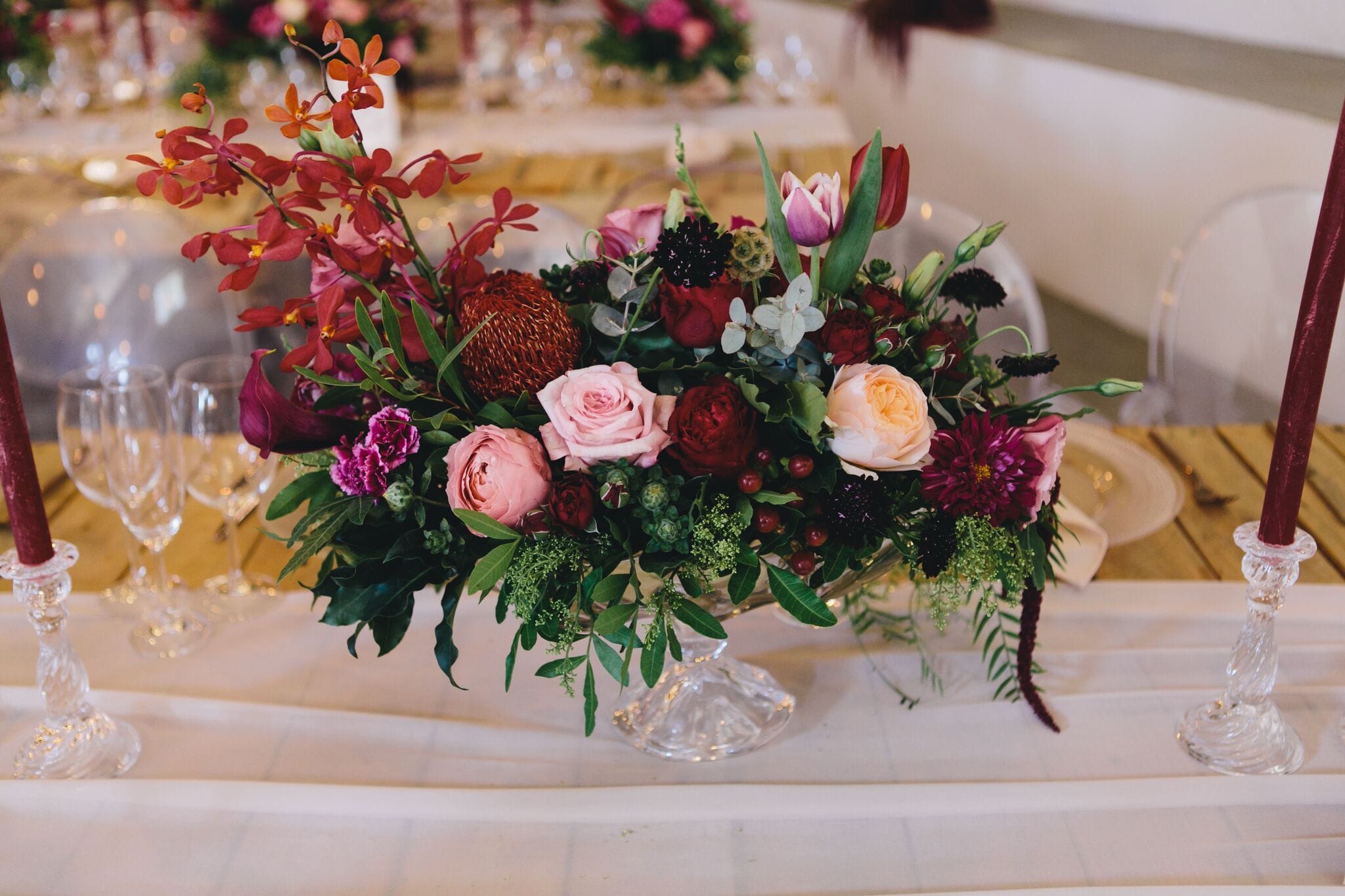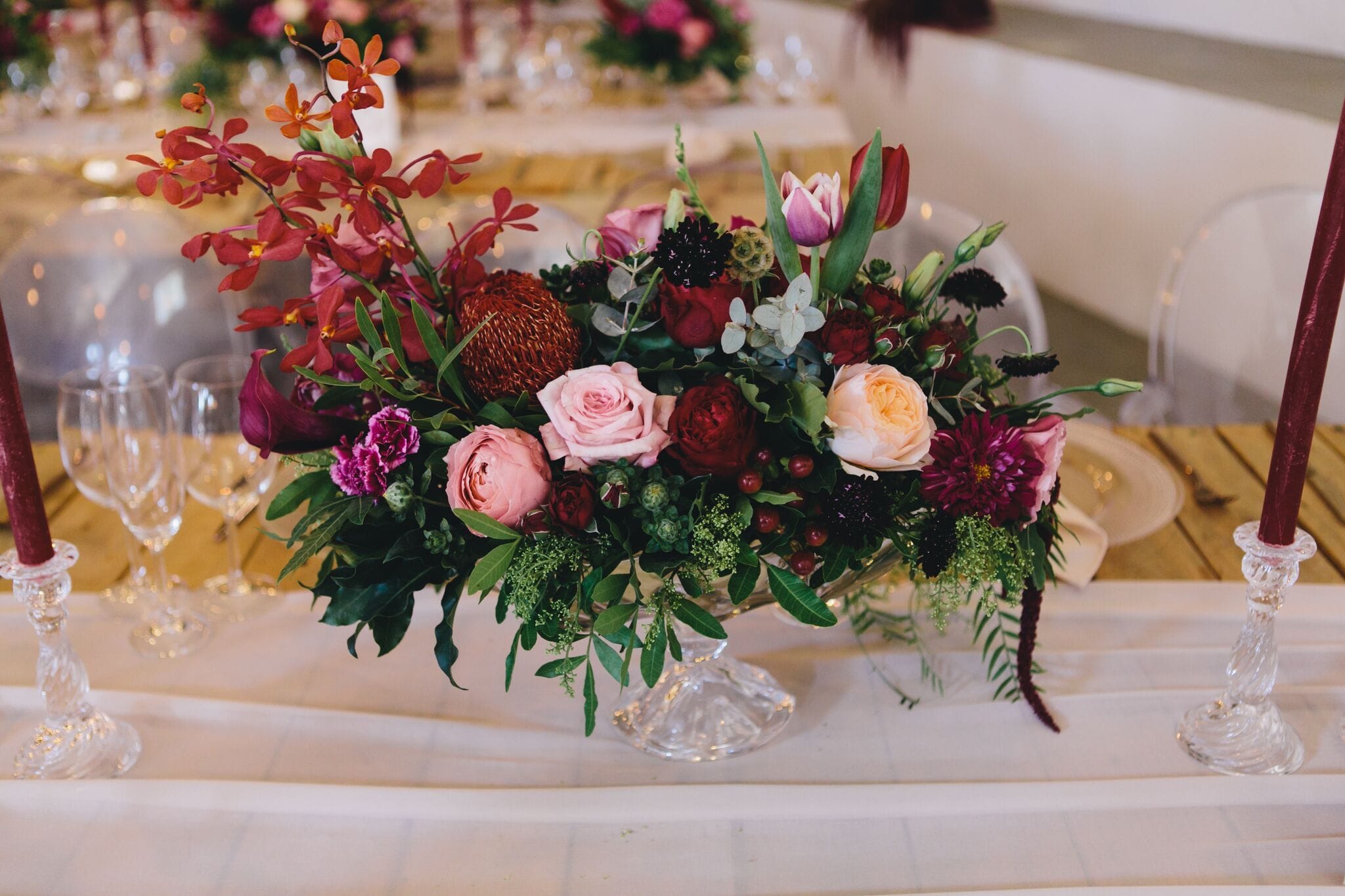 Best Decision
There were a couple. First, I chose what was important to me and Nick chose what was important to him – that is where we spent our budget. It prevented anything excessive and made sure the budget didn't get out of hand. Secondly, we had an amazing on the day co-ordinator from JC Events. She made the world of difference and ran our wedding like a German warship. Another was that Nick left all the planning to me, he didn't get involved apart from the food and DJ. Because of this we never fought about the wedding. Finally, we had our own table. At the end of the day – it was about us and our union and it actually slowed the moment down a bit and made it more intimate. We weren't distracted from "us".
Advice for Future Brides & Grooms
Keep your suppliers to a minimum. If you are planning it yourself then it is a lot to juggle. They all require a certain amount of correspondence (especially in the two weeks before the wedding). Also, the fewer suppliers you have, the more your vision is portrayed. Remember it is your day – no one else matters. Everyone loves to have an opinion or ask for a plus one. Don't be scared to offend – they will get over it and you only get to do this once!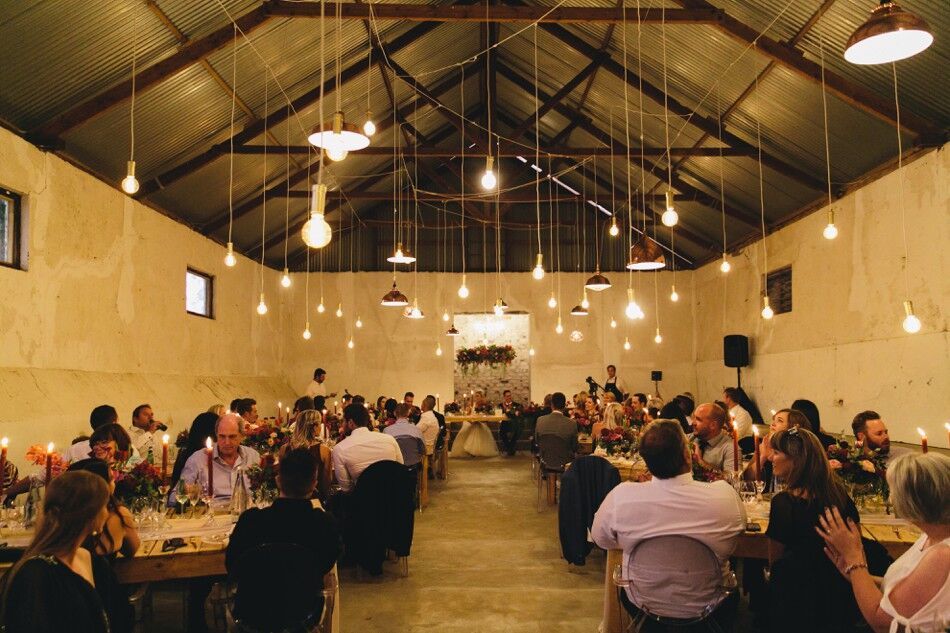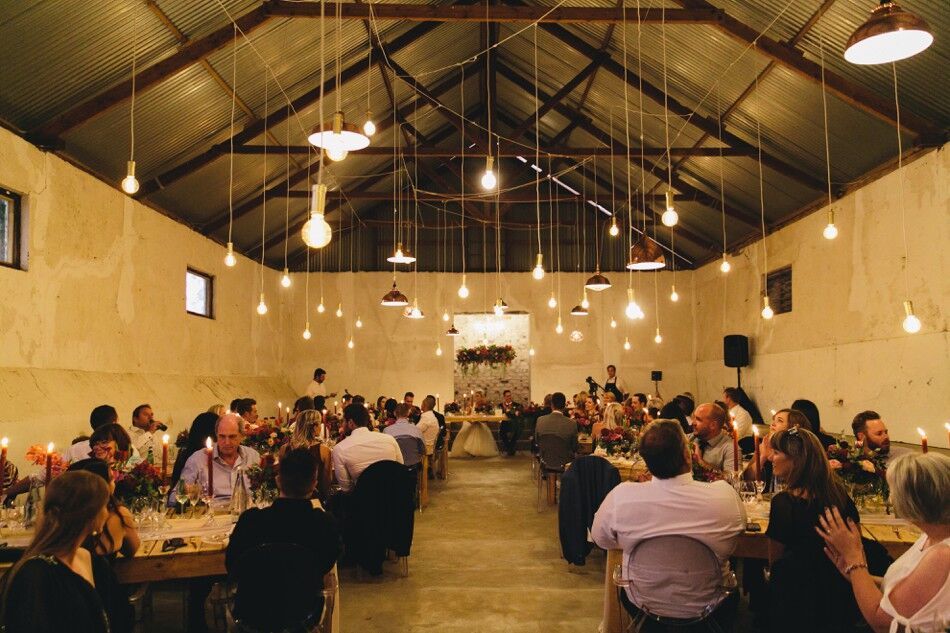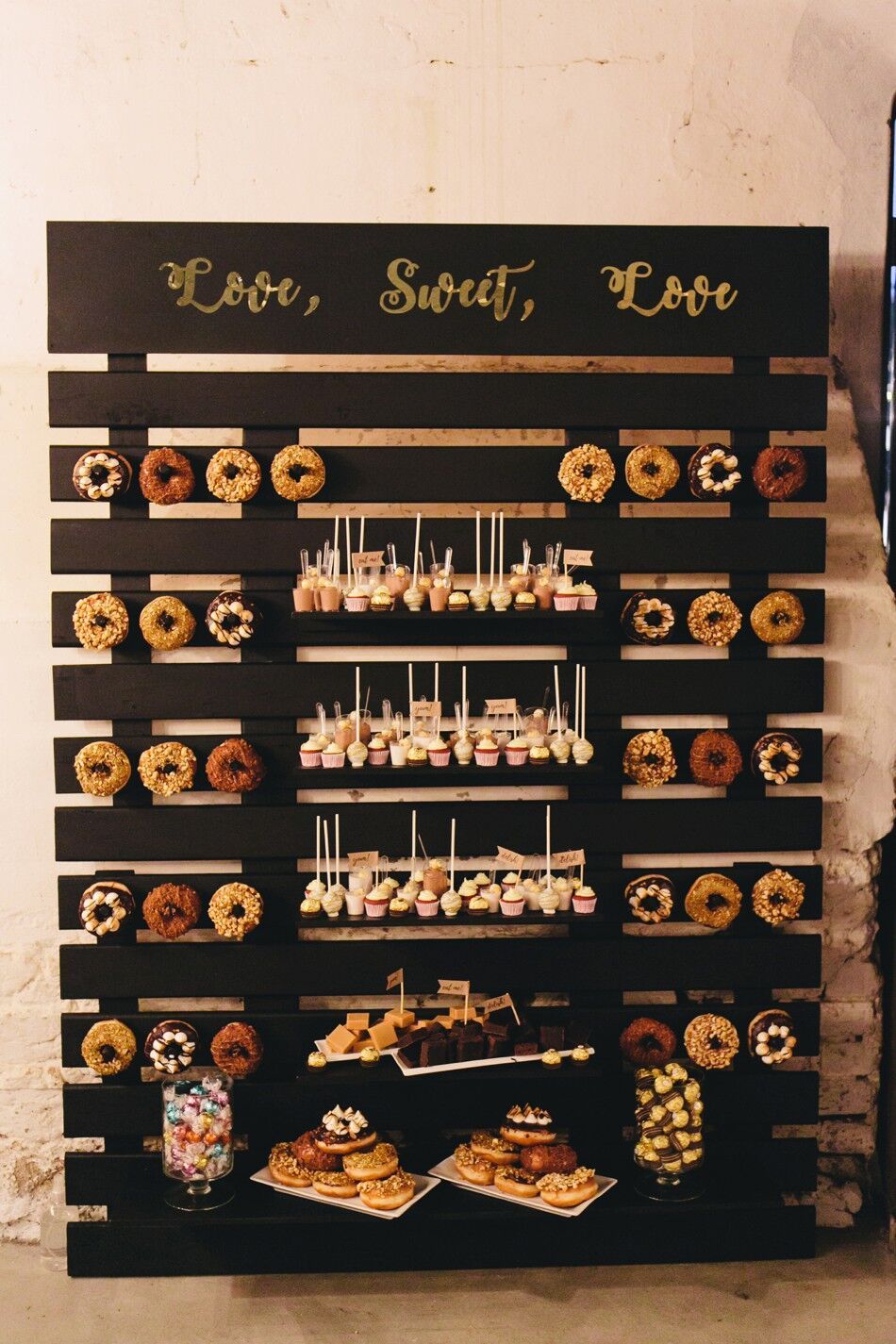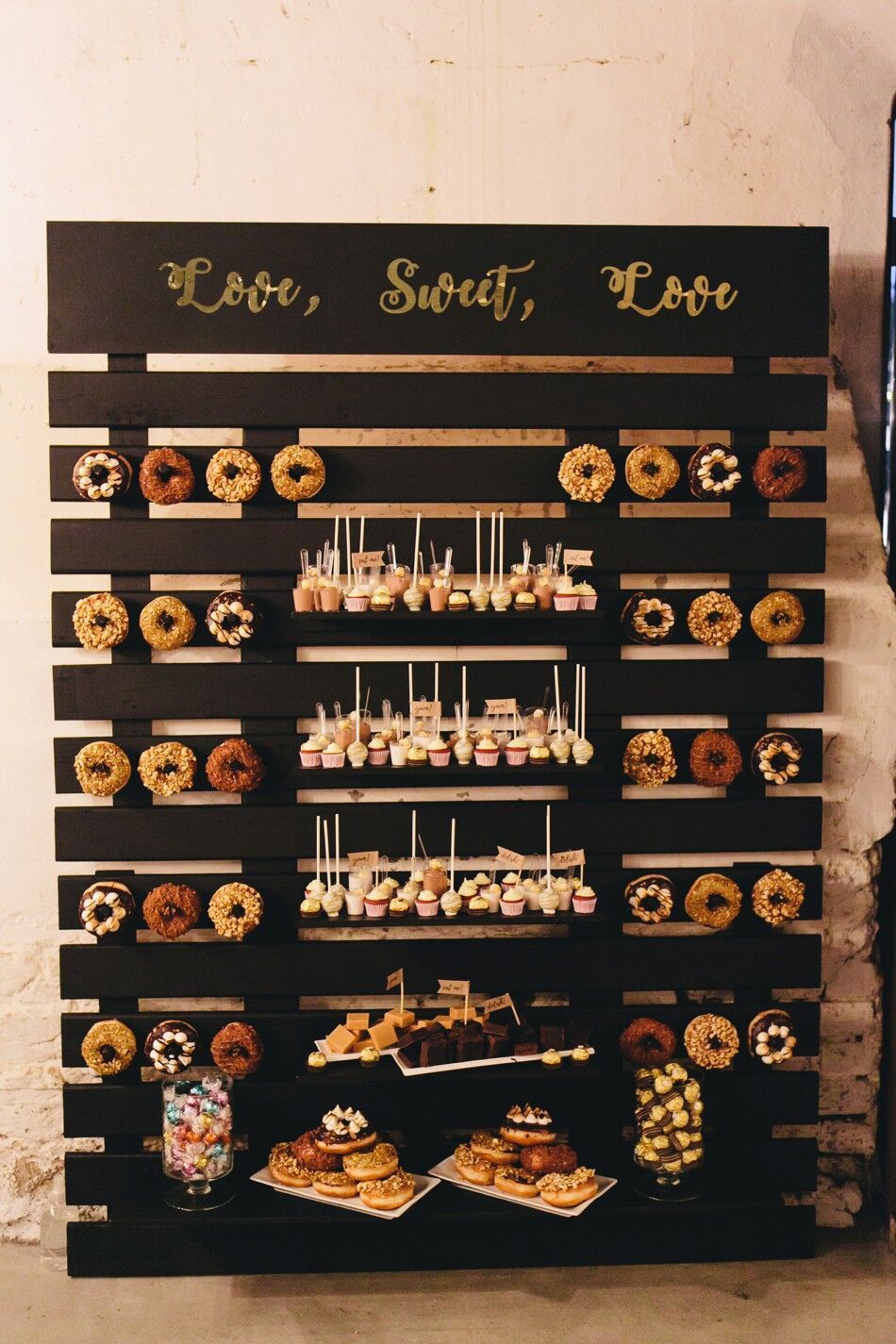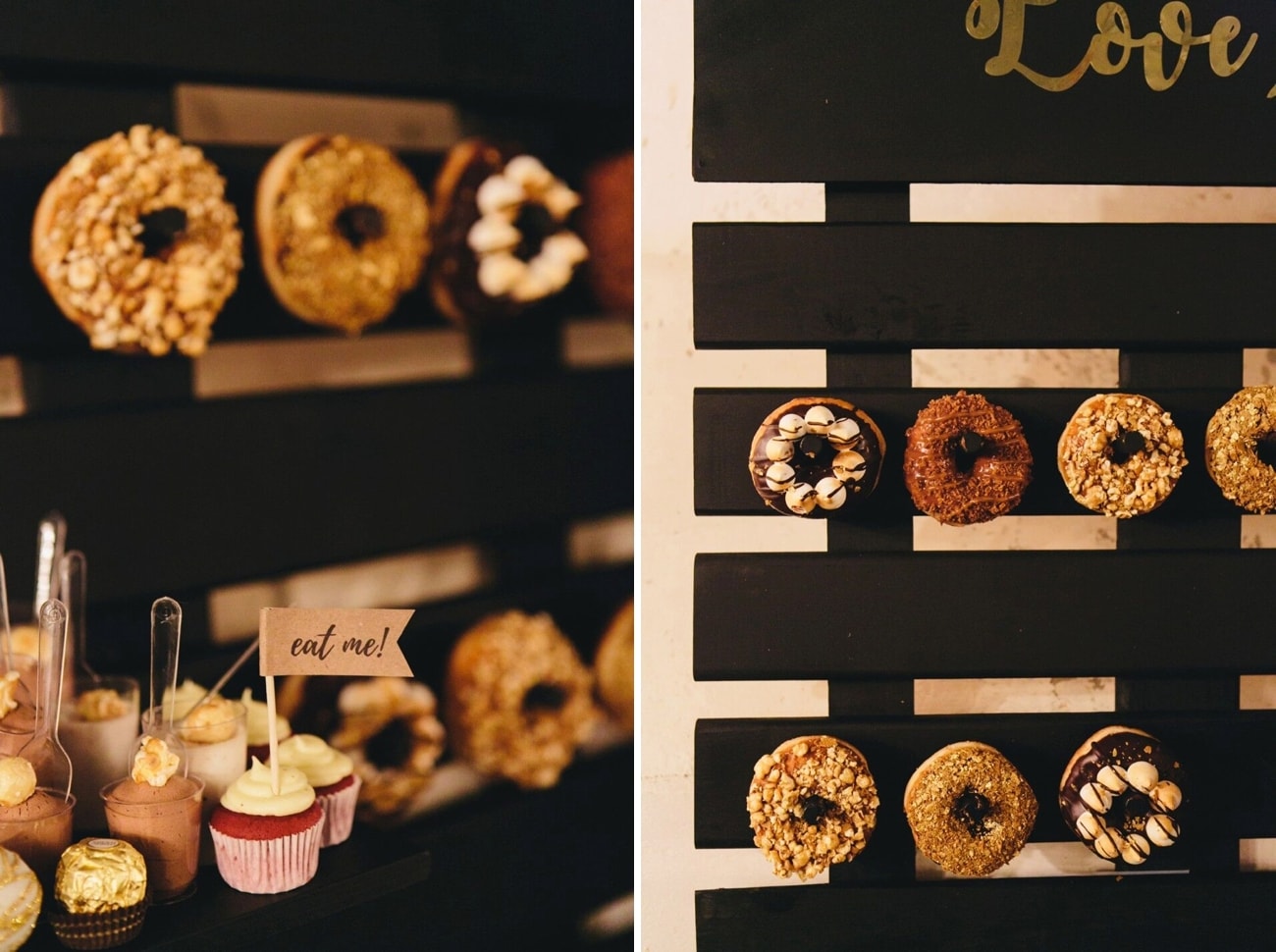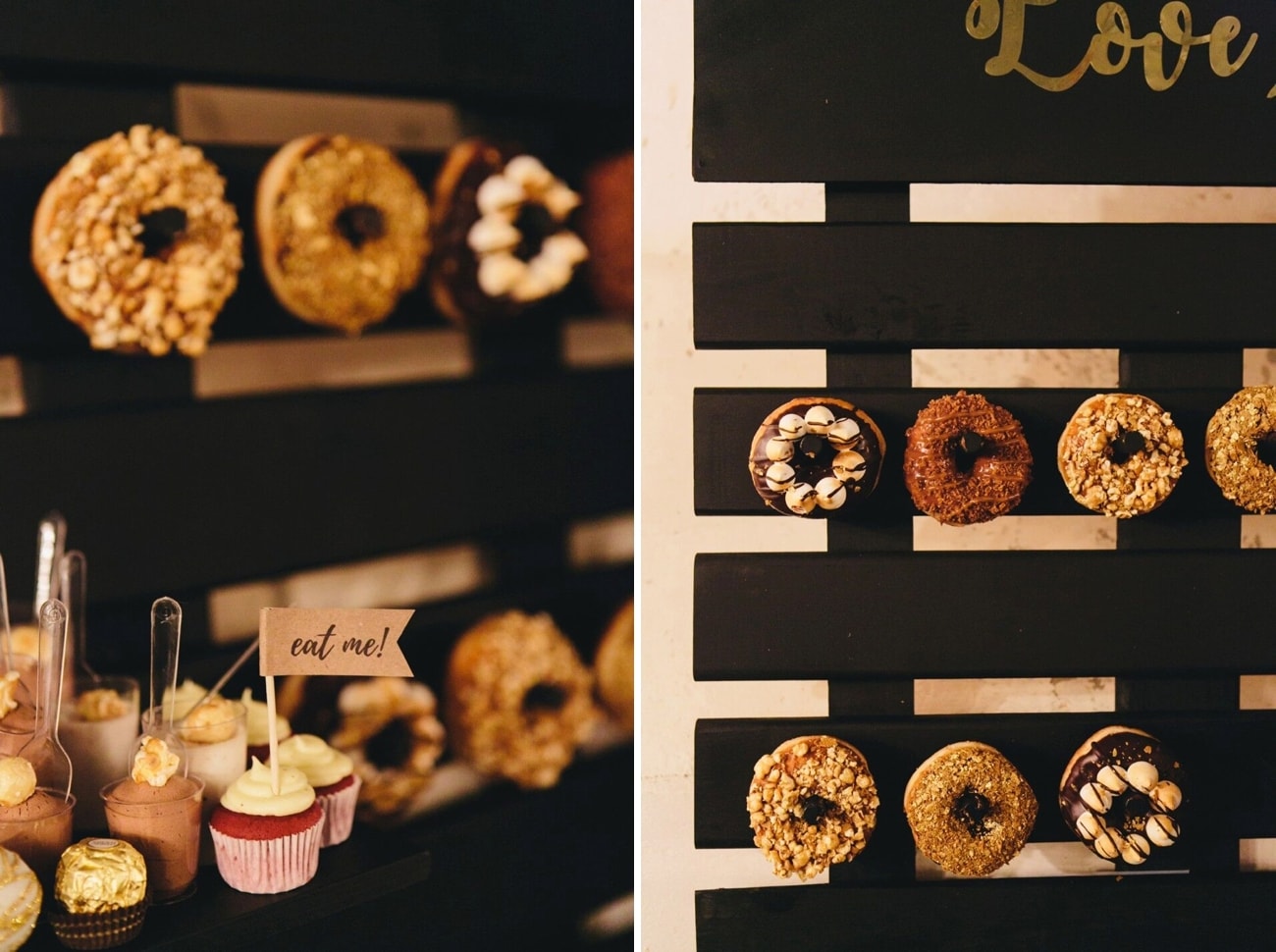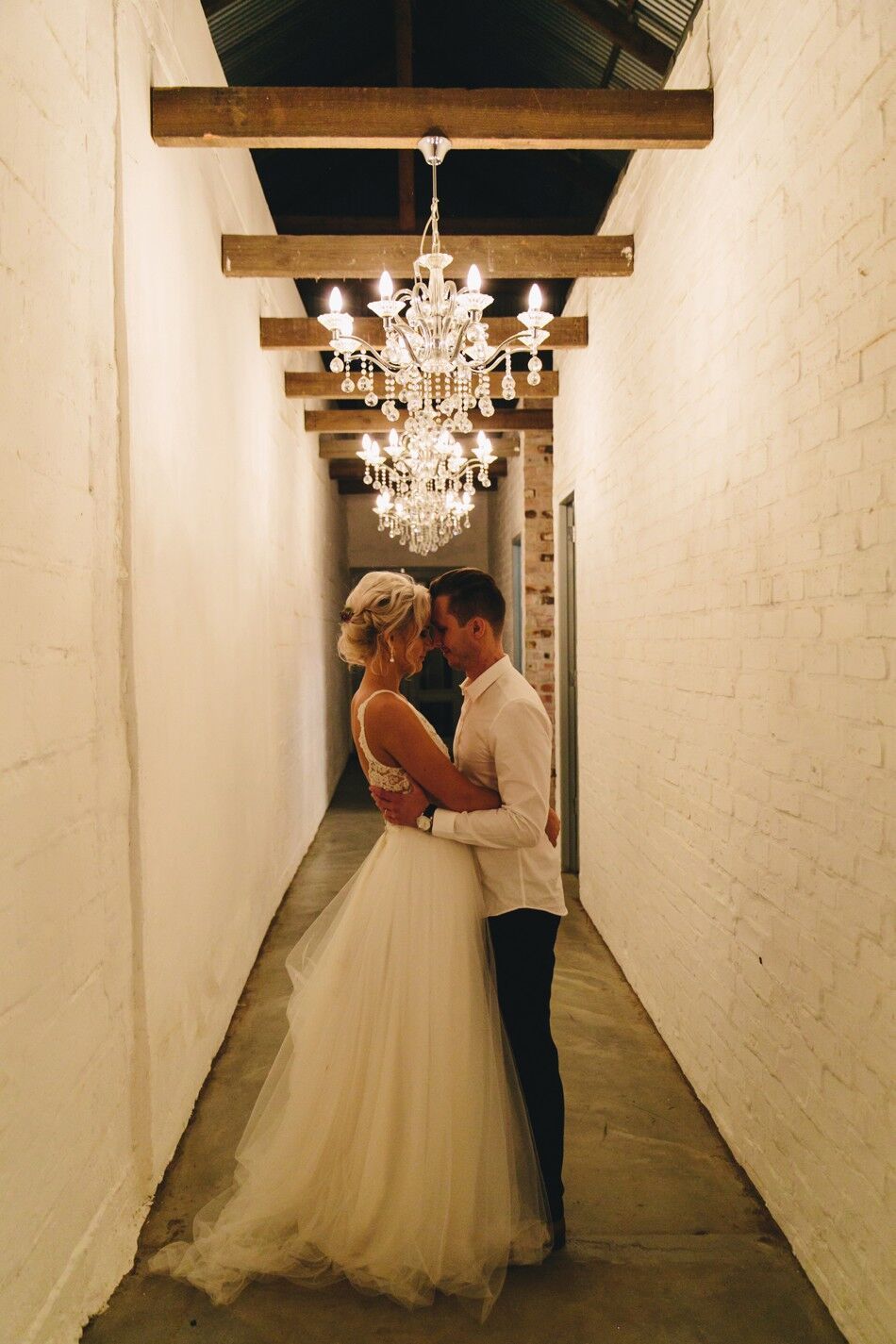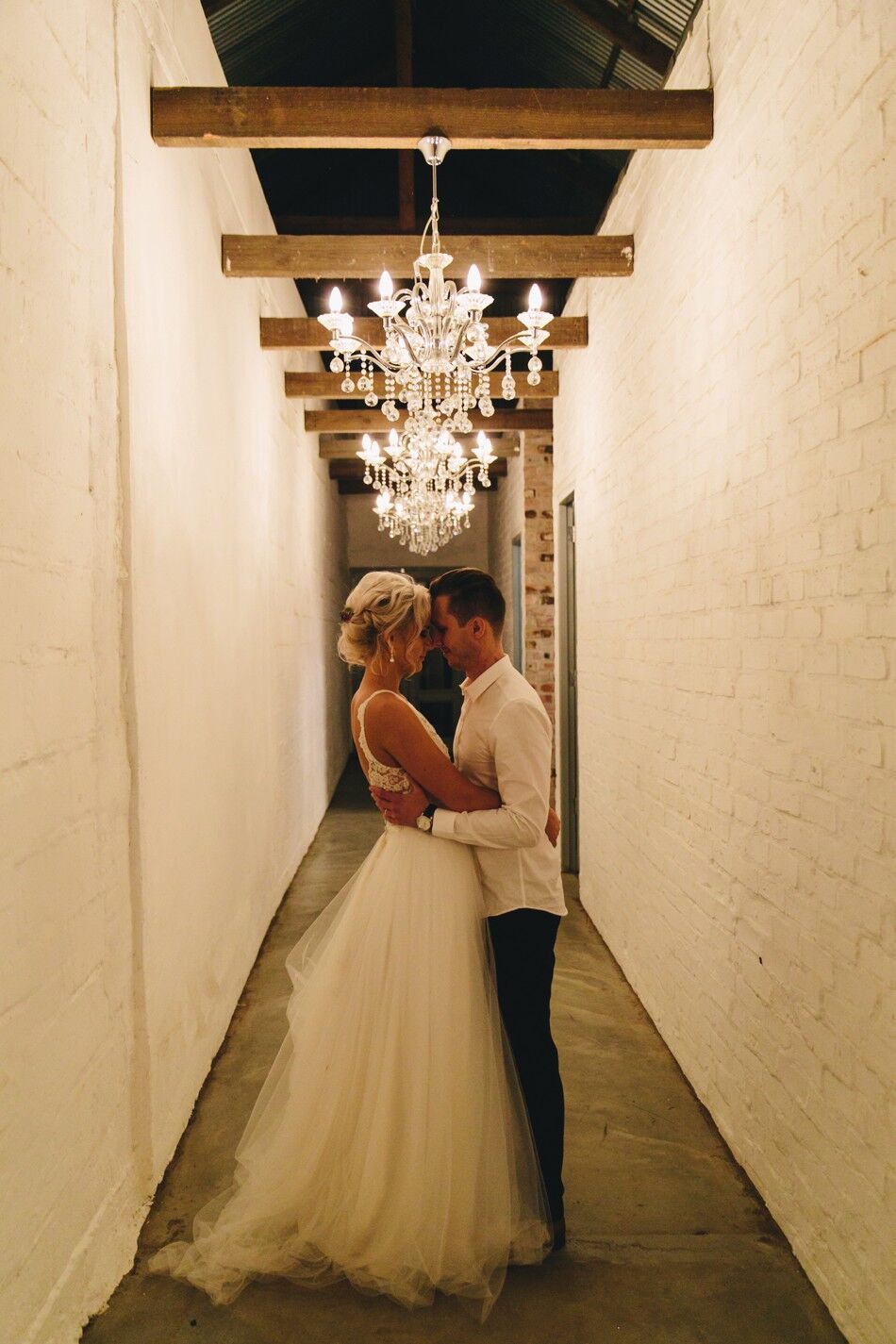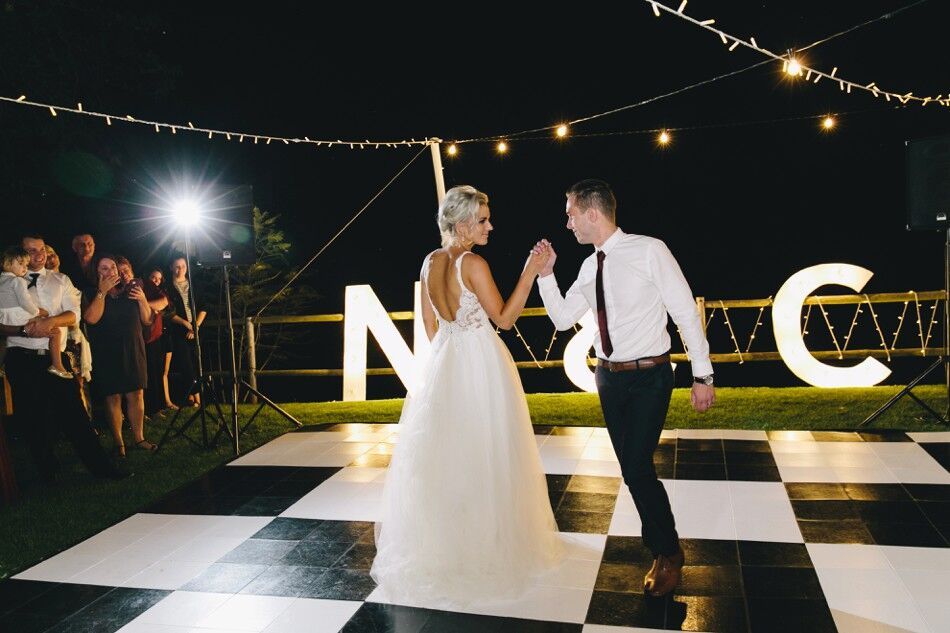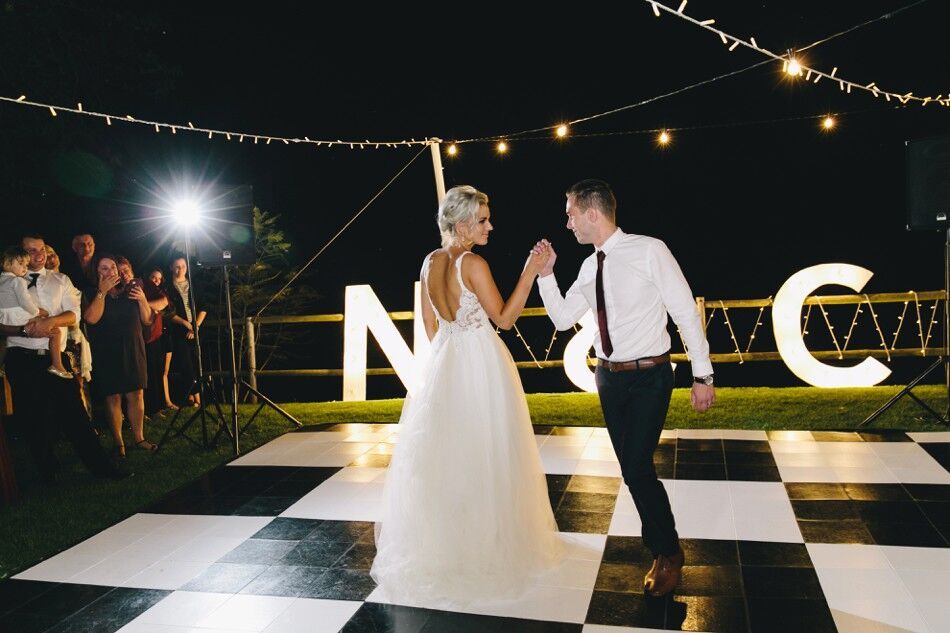 You can see more from this wedding on Tiffany B's blog.
SERVICE PROVIDERS
Venue: The Dairy Shed | Catering: Malita Joubert Catering | Photography: Tiffany B Photography | On-the-day co-ordination: JC Events | Flowers & décor: Paramithi Floral Design | Stationery: The Pink Collection | Bride's dress: Cindy Bam | Bride's accessories: Lovisa (earrings) + Woolworths (shoes) | Hair: Madeleine Conradie | Makeup: Lisa Brown | Bridesmaids' dresses: Jacoba Clothing | Groom's attire: Zara (suit) + Studio W (tie) | Groomsmen's attire: Zara (blazer) + Country Road (trousers) | Hiring: Hout Huis (umbrellas) + Goeters (draping, lighting, seating, dance floor, bar, etc.) | DJ: Dirk from Baha Entertainment | Dessert wall styling: Boutique Styling | Donuts: My Sugar
Save