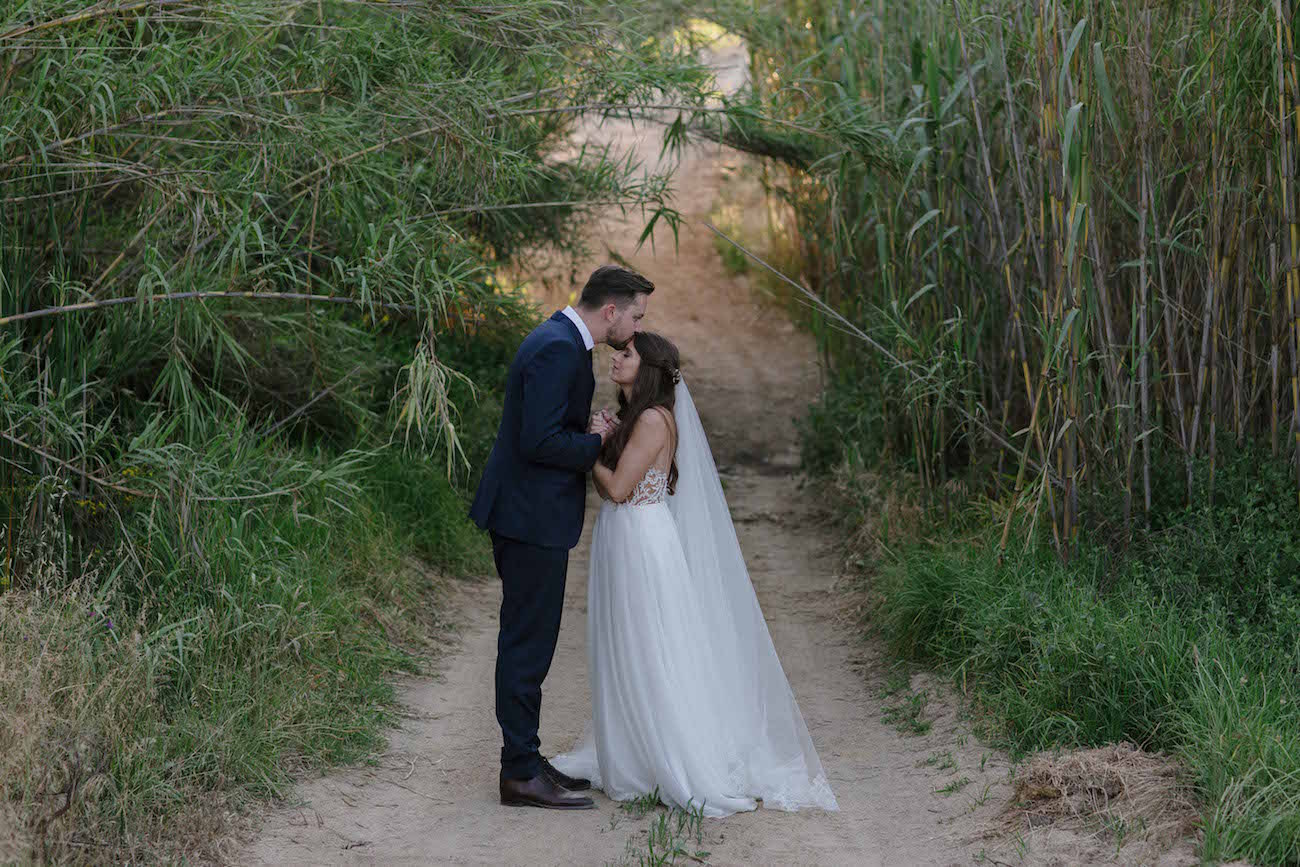 This wedding almost didn't make it to your faces today, thanks to a suuuuuuuper long power outage (thanks, Eskom), but I just couldn't wait another second to share the love that is this contemporary, classic, little-bit-botanical, gold and greenery wedding with you all! By now you know that I believe a wedding should ALWAYS and above all be a representation of the couple themselves, so I love it when a bride and groom take the time to really think through their theme like Anuschka and Stefan did. They came up with the idea of a blank canvas, representing the clean slate of a new marriage, and picked one of the best blank canvas venues out there as their starting point, Neo. Then they filled this classic, contemporary space surrounded by its beautiful views with lush white blooms, touches of gold, black, white and grey, sumptuous trellises of greenery and Edison bulbs dripping from the ceiling, and a group of loving family and friends to celebrate with. Anuschka looked absolutely stunning in her nude lace gown, and was flanked by a bevvy of equally stylish bridesmaids in tulle tutu skirts and off the shoulder tops (love a bridesmaid separate!). And with the groom and his groomsmen in smart navy blazers, the long pink shadows creeping up the mountains, and the gin and whisky bars in full swing, Christene de Coning was on the scene to capture these lovely images we're sharing with you today. Totally worth the wait.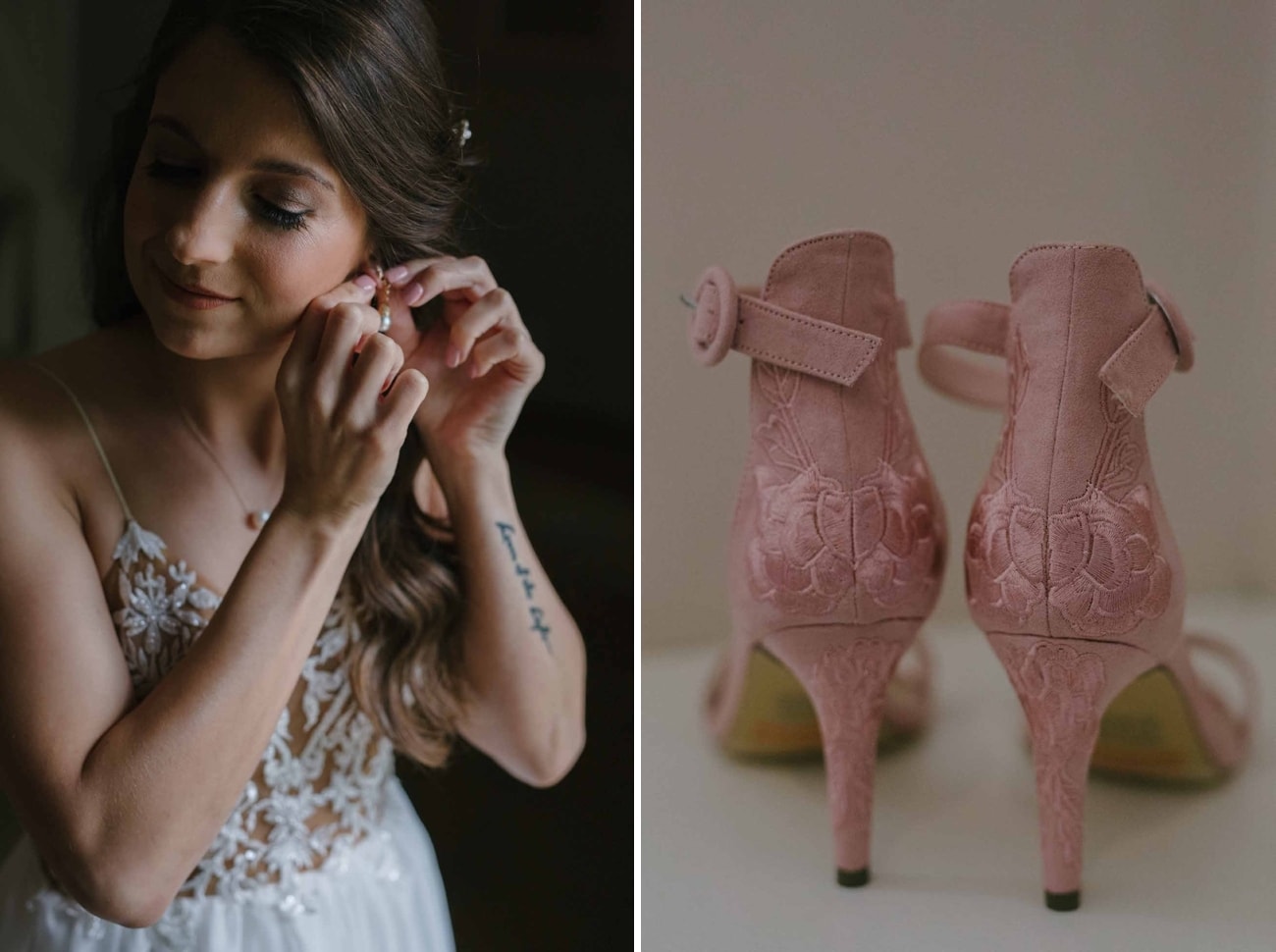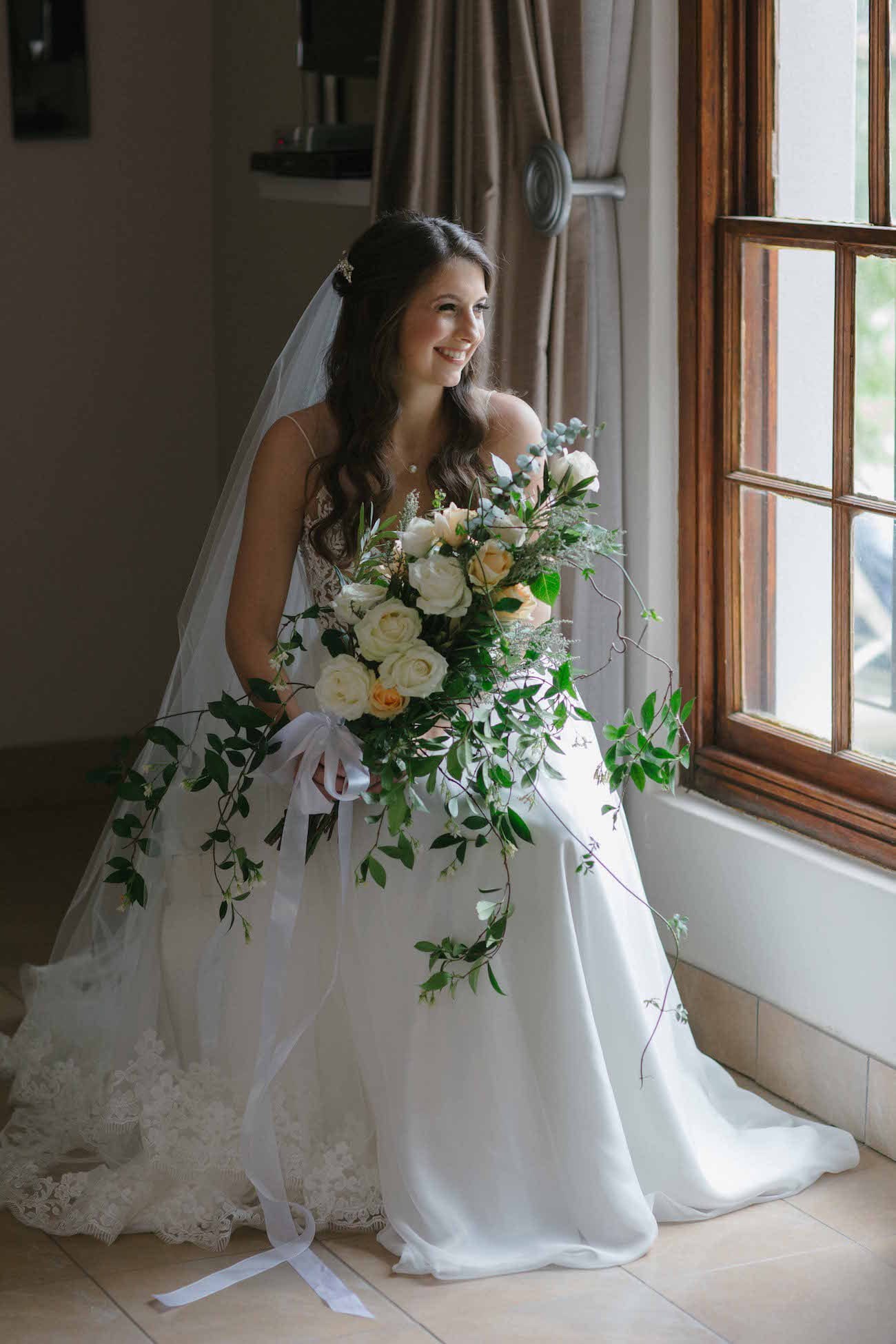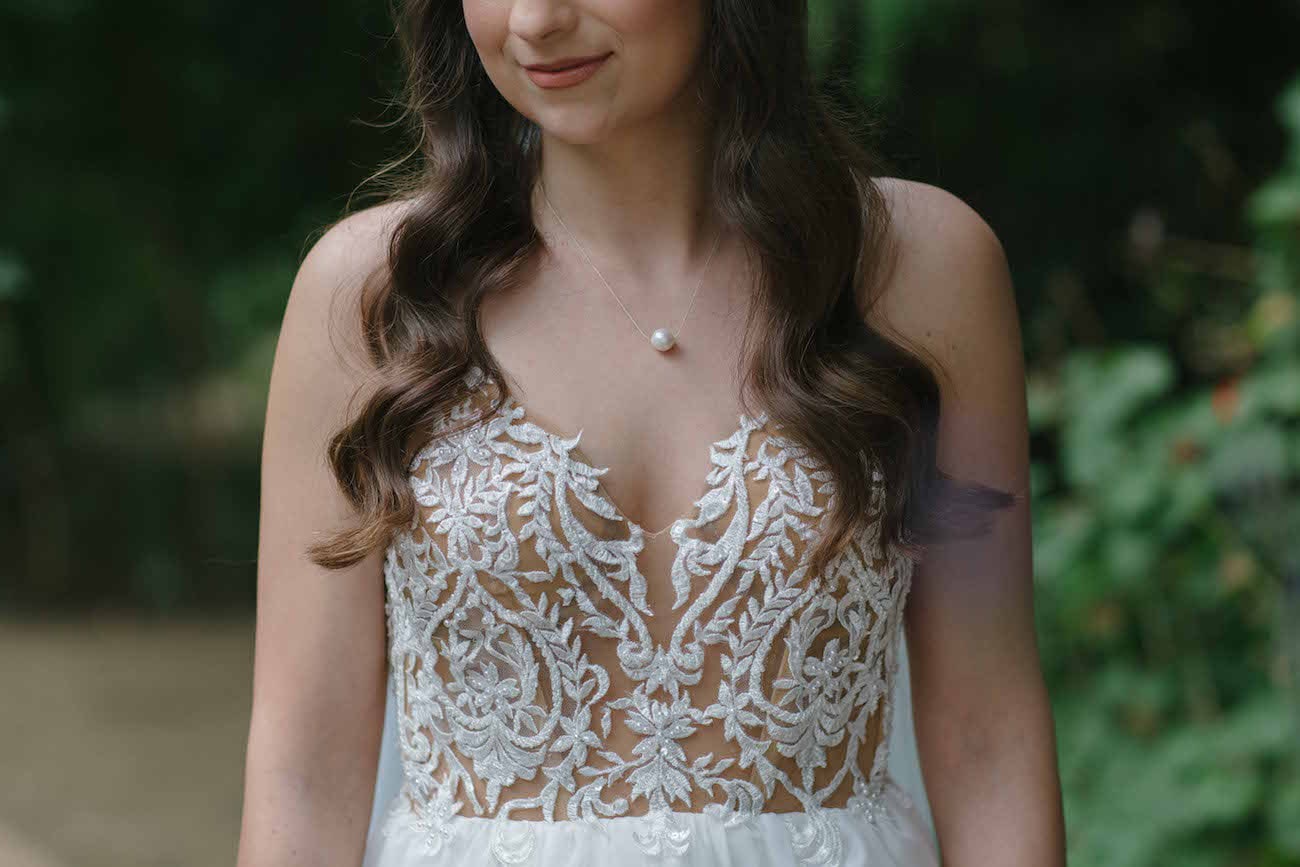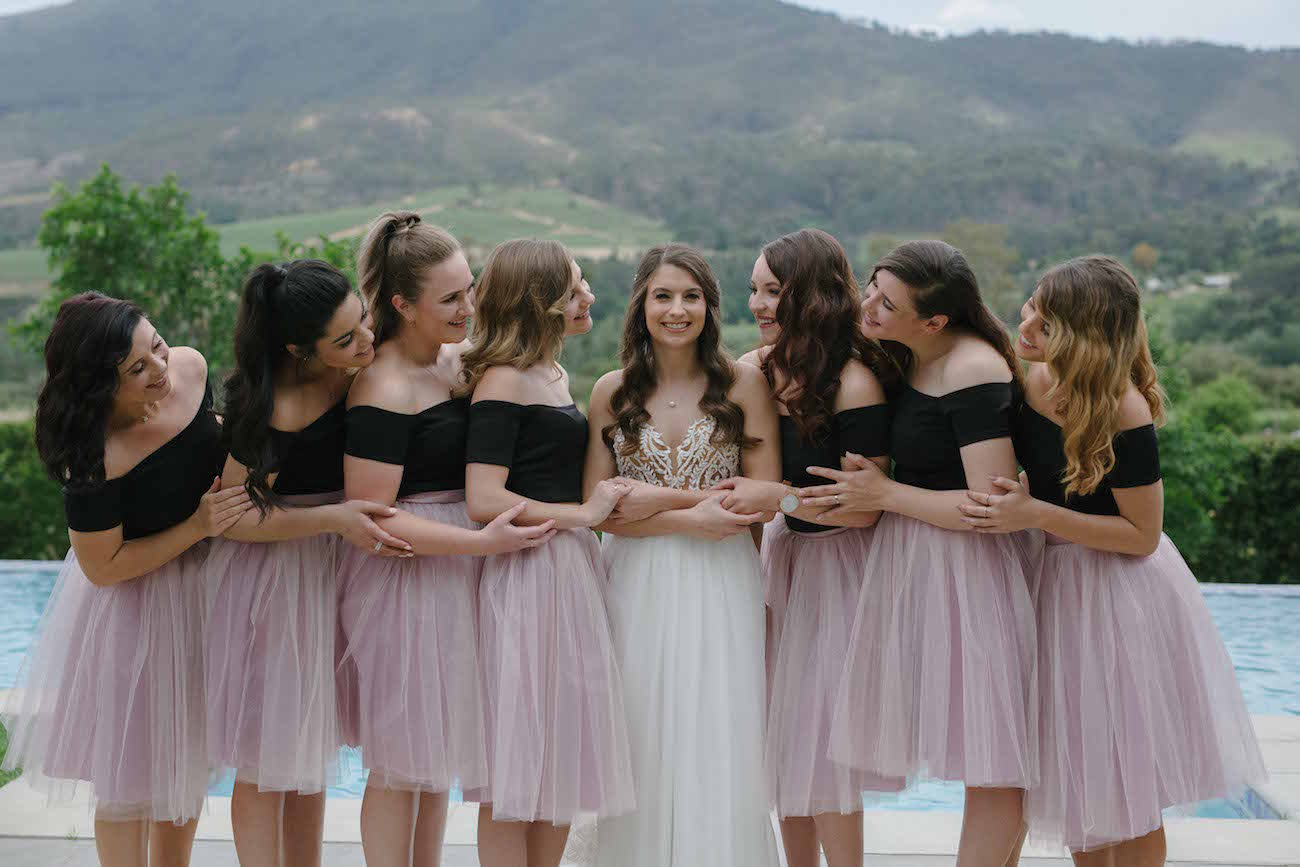 Love Story
Stefan and I met at church about three years ago. I remember him being at the center of all the action, always loud and crazy and definitely someone I would not be interested in, mainly because he photobombed all the photos I took while I was serving in the communications department at church. In February 2015, we found ourselves being added to the same WhatsApp group, where our friends were planning a mutual hang, that never came about. Stefan took my number off the group and started texting me. At first I didn't think much of it, but everything changed at our church's young adult summer camp, where we had our first proper conversation. After that conversation I found myself constantly scanning the area to see where he was during the remainder of the camp. His servant heart and love for Jesus, paired with his humour and passion for life attracted my attention and made me look at him in a different way.
I knew that Stefan was God-sent, on the first day of the Hillsong Women's Colour Conference in 2015. I was driving to the Grand West Arena during peak traffic when my car decided to die on me. I pulled over to the side of the road and while I waited I started to panic, as the area I was in wasn't very safe. Not even ten minutes later and a silver Polo pulled up on the side of the road next to me. As I approached the car, coincidentally I saw it was Stefan. At that moment I remember God telling me "I've sent Stefan to you to keep you safe", and since that day Stefan has done just that.
The Proposal
After Stefan arrived back from a European holiday with his mom, we planned to go to a Saturday market to spend some quality time with one another. He decided to take the scenic route overlooking our Cape Town beaches. He suggested we pull over to take a photo as the lighting was awesome (which it was) and seeing as I had just bought film for my Polaroid camera, I jumped at the opportunity. He said he had packed his camera too.I was quite impressed, because he isn't into the whole "cute couple photos" thing. We did a few test shots; he ran back and "adjusted the camera settings" (little did I know he turned it to video mode) and then he said that he had something in the boot that would make the photo even better. He ran to his car to get the "something". As he came running to me, he handed me a NKJV Bible and told me to read a verse he had underlined. When I opened the Bible, the ring was tied to the bookmark. The verse read: "And there you shall eat before the Lord your God, and you shall rejoice in all to which you have put your hand, you and your households, in which the Lord your God has blessed you." Deut 12:7 NKJV. I struggled to read the verse through my tears, he went down on his knee and told me he wanted to spend the rest of his life with me, to which my response was a YES! He packed a picnic and suggested that we might pop in at the Kirstenbosch Botanical Gardens in Cape Town, one of my favourite places in the world. An hour into the picnic, some of our closest friends started arriving and joined us for a picnic. Not only did he take time to plan our engagement, but an engagement party too.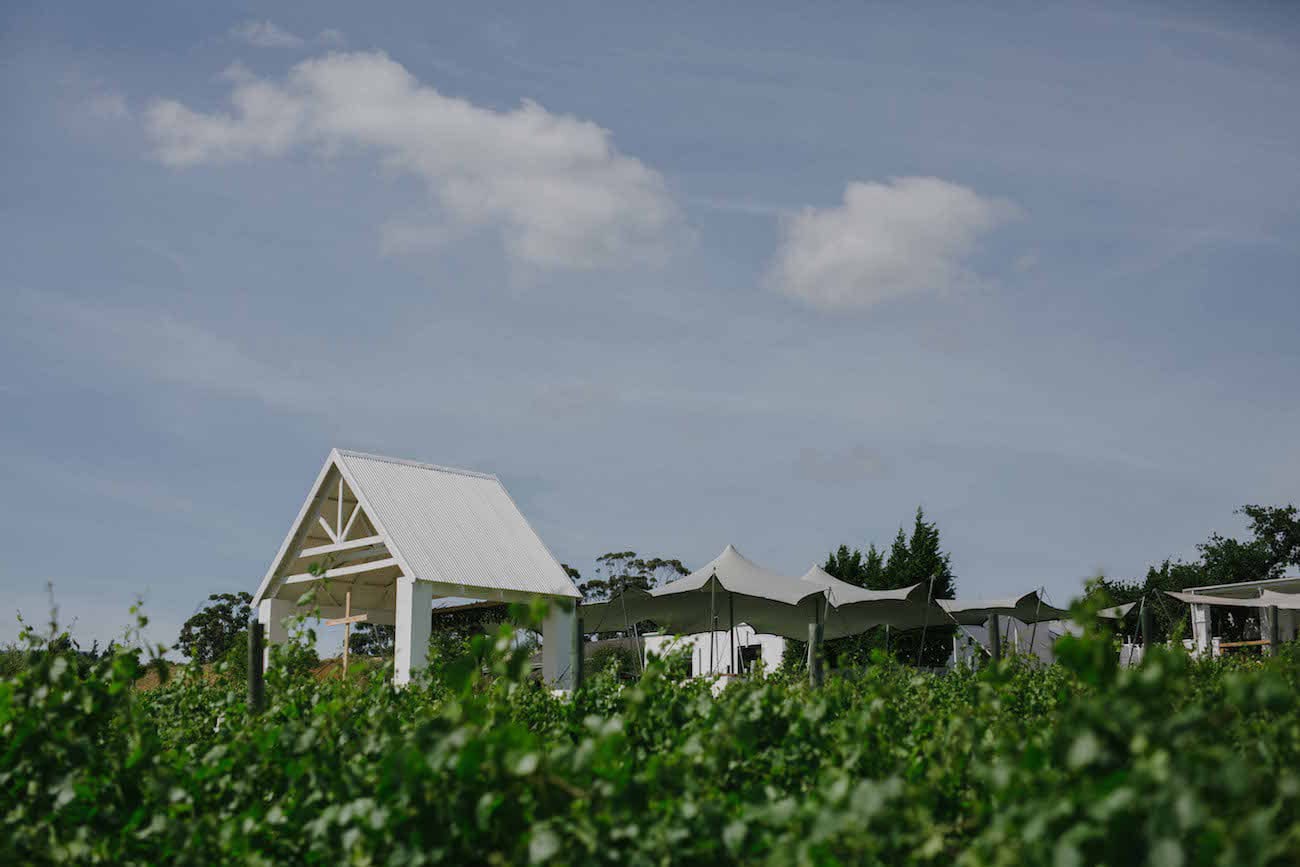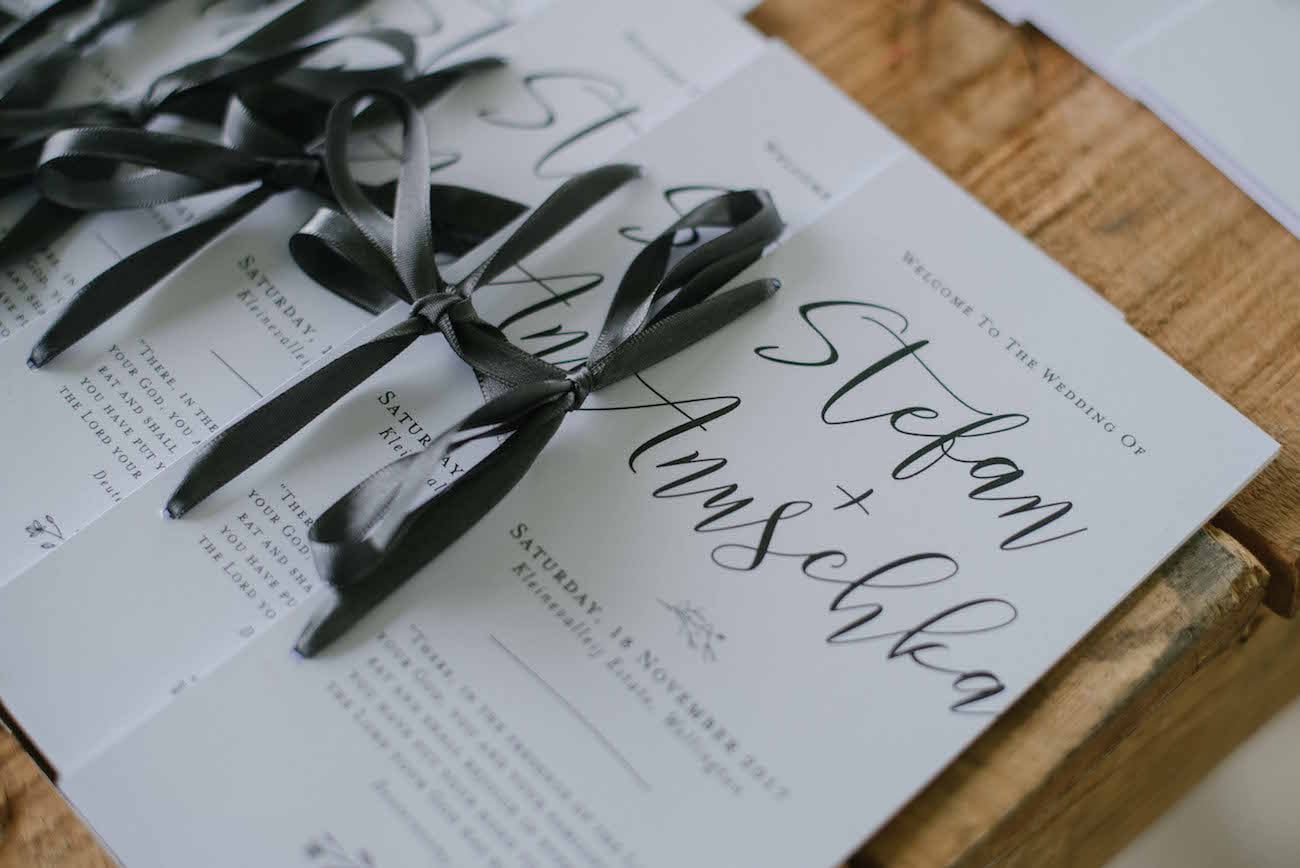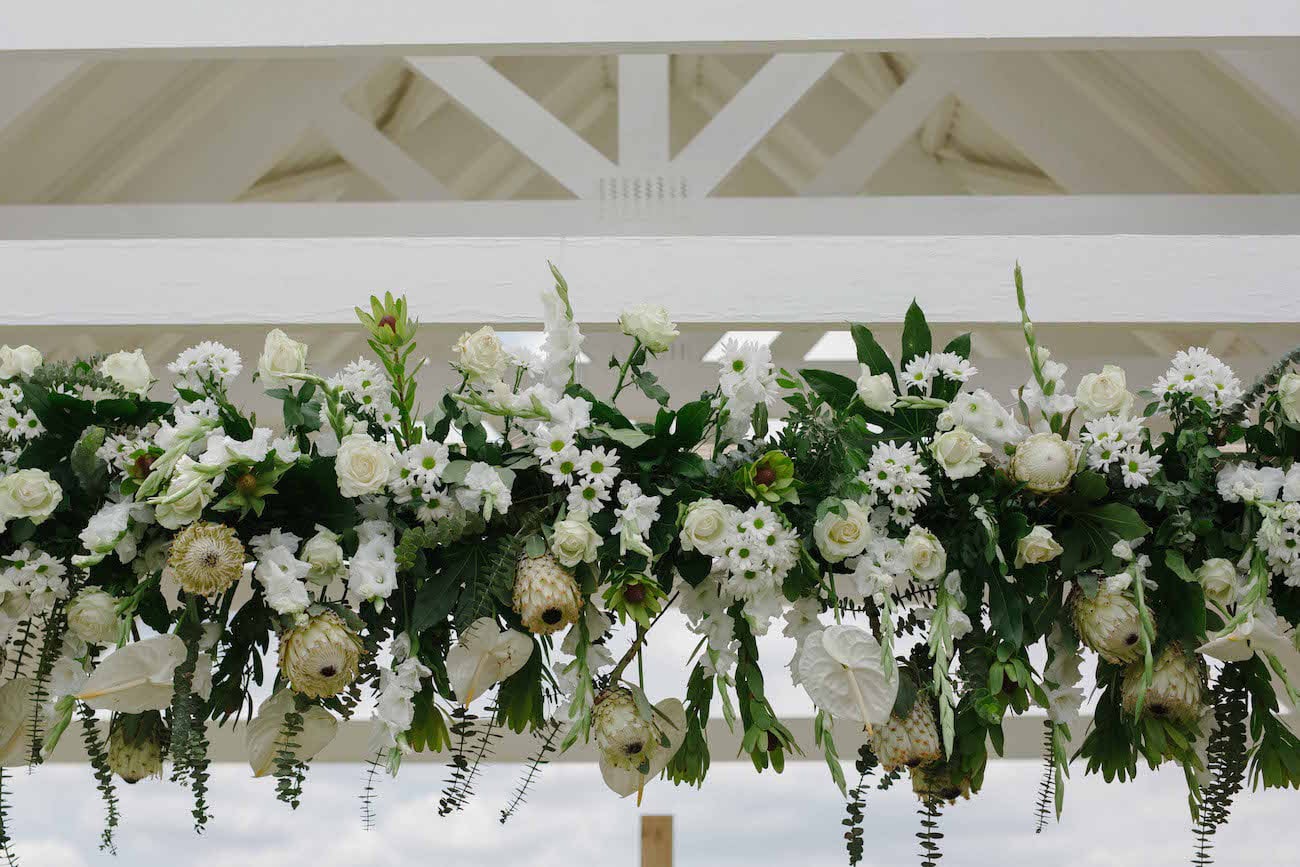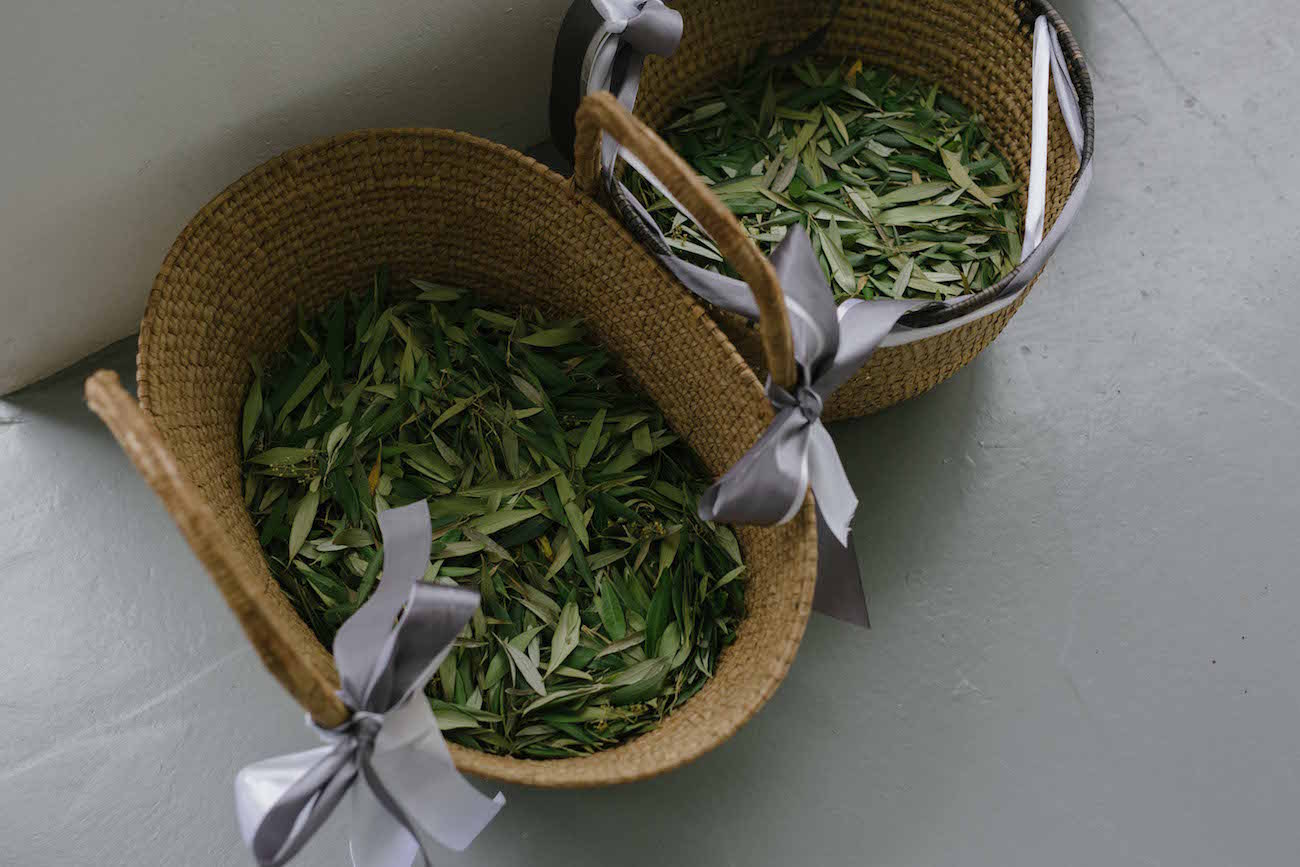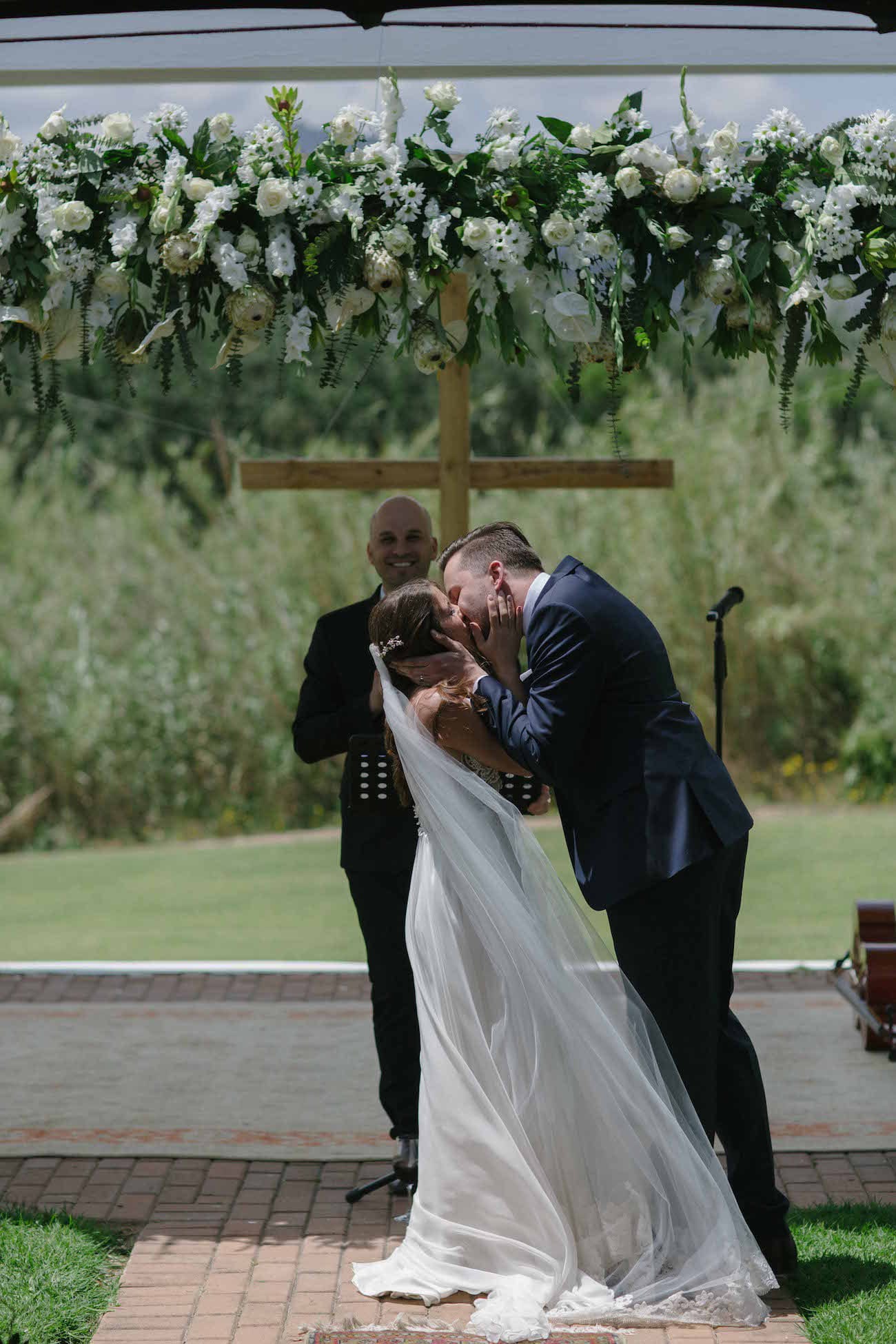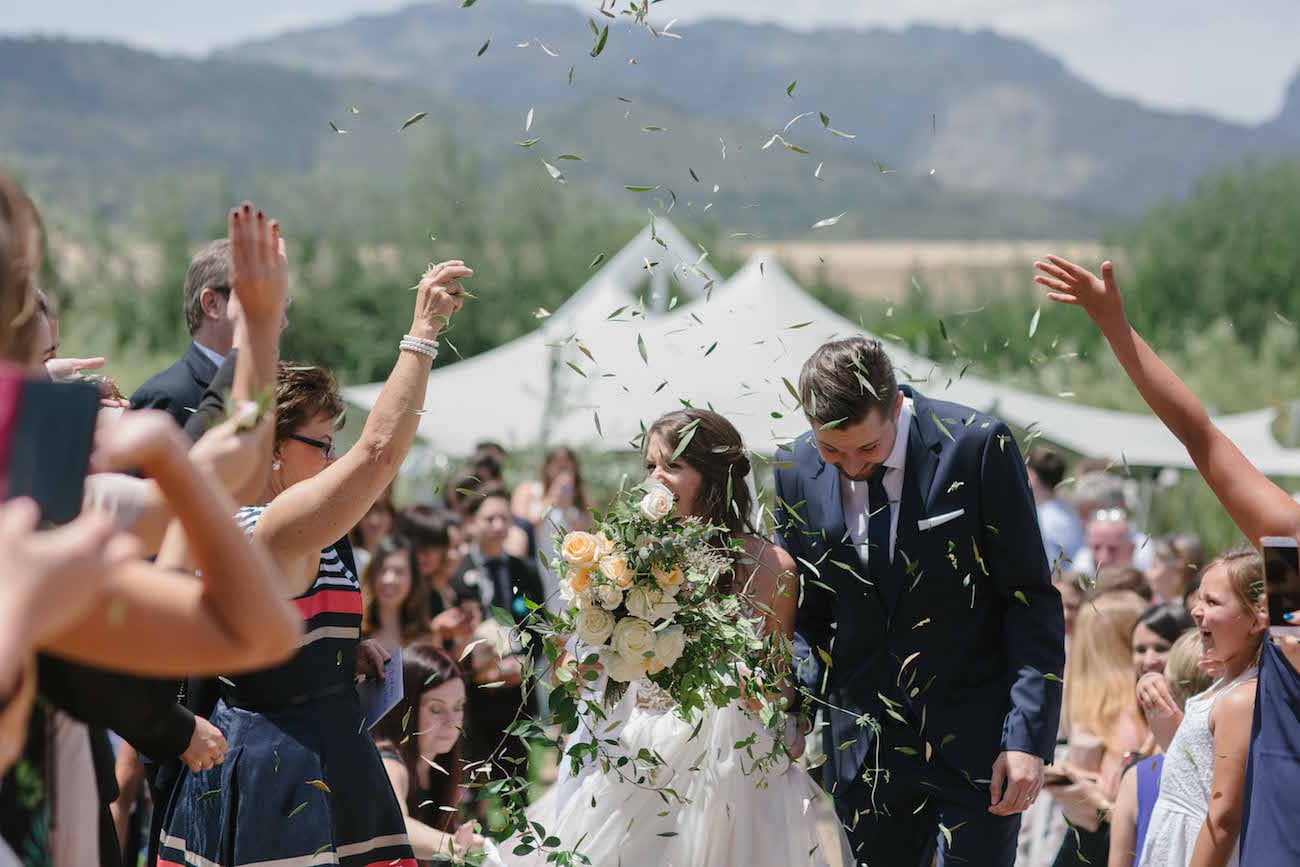 The Venue
Before the venue hunt started, one of our friends gave us the sound advice that we shouldn't choose a venue unless we both loved it. After looking at several around the Cape and doing extensive internet research, we came across a stunning venue in Wellington called NEO. It was the perfect venue to host our very large guest list of 220 people. NEO comprises of Kleinevalleij (the venue), The Slippery Spoon (the caterers) and Baie Goeters (the decor hiring company). The entire NEO group were very professional and excited from start to finish, making every effort to bring our wedding vision to life.
Wedding Style
The theme and look of our wedding can be called the "blank canvas", which represented the start of our life together. We used black and white in our design work and actual canvases for our signage. Green, grey and gold was the colour scheme, and the style can be described as clean, elegant with an added eclectic edge.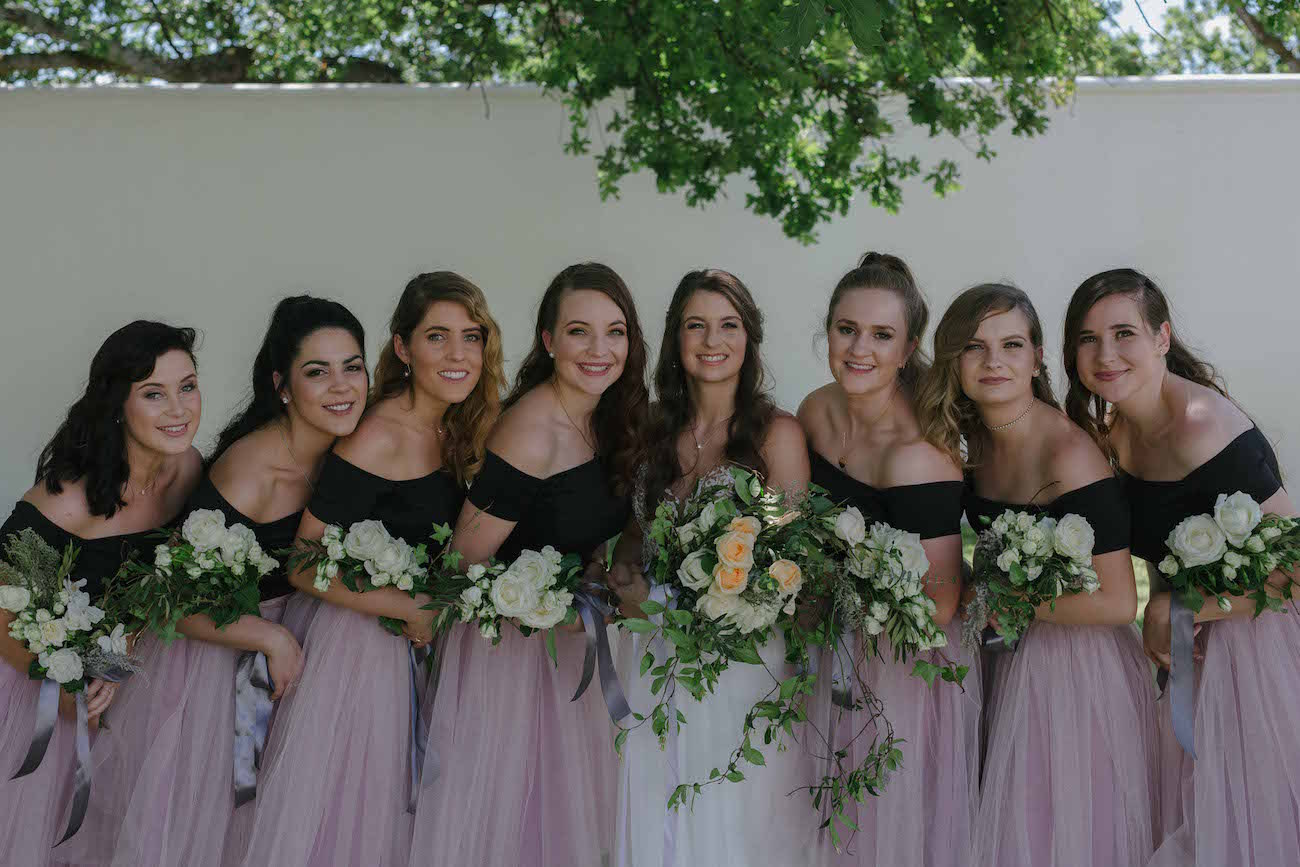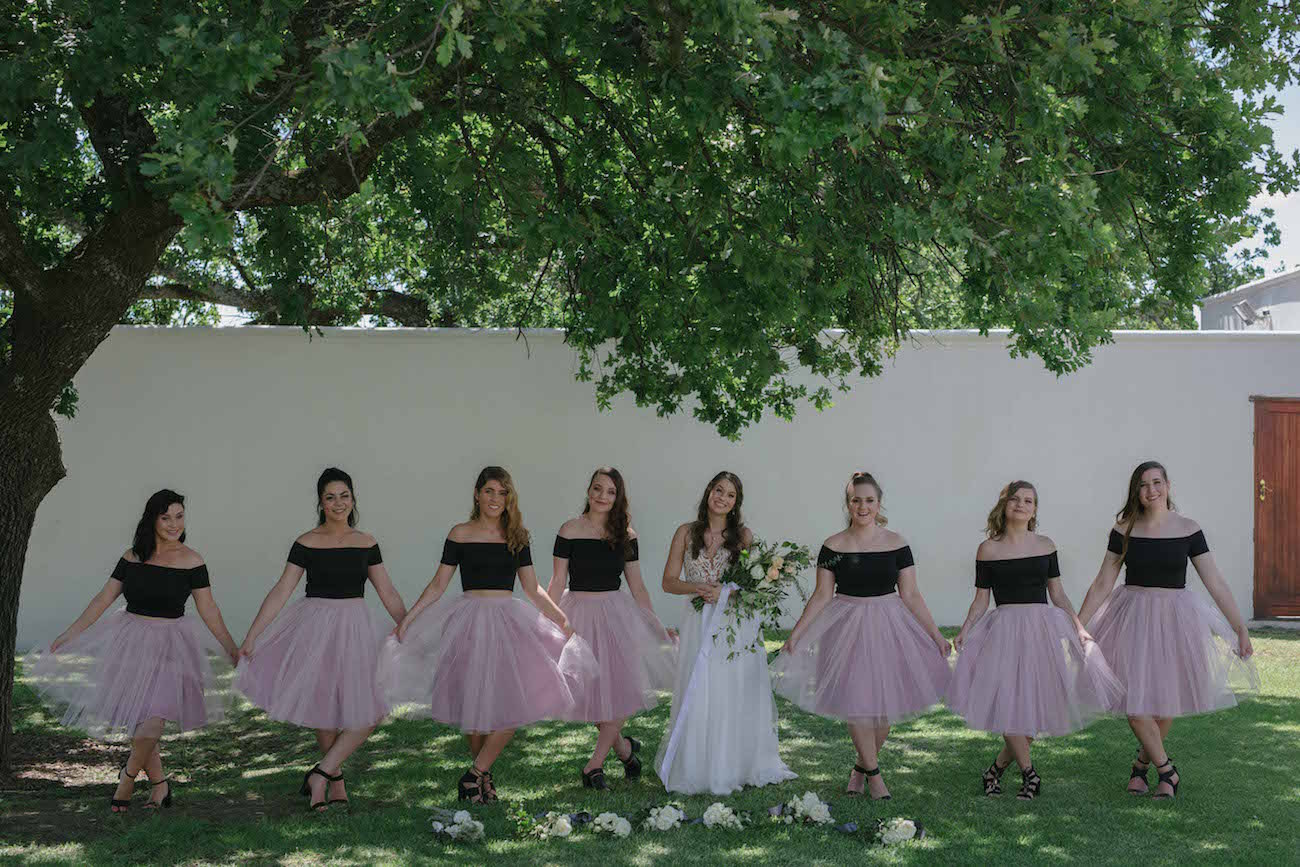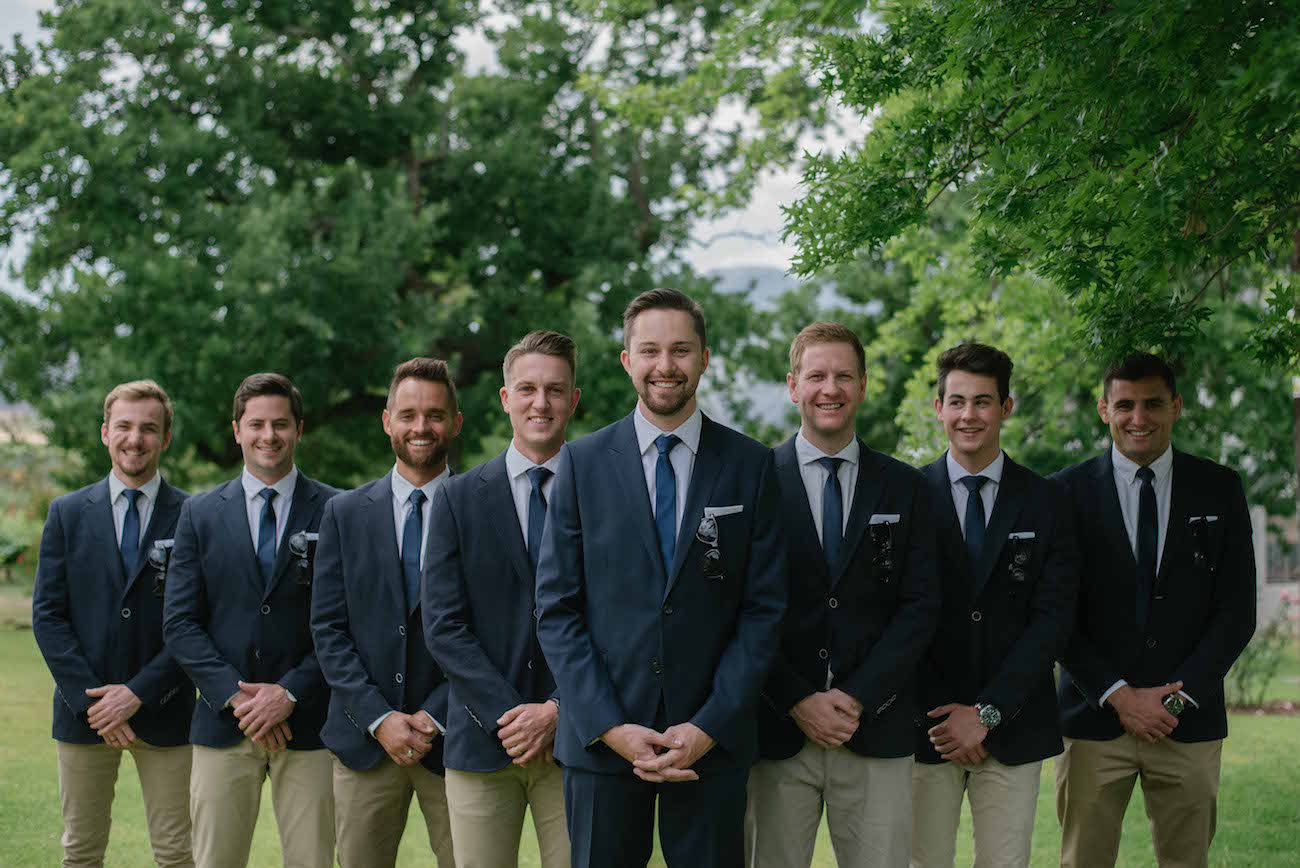 Wedding Details
Our wedding was a feast of culture combining our Portuguese and Afrikaans heritages. Many of our friends and family traveled from across South Africa, so we decided to treat them to an entire day of festivities including a lunch and a supper from 12:00 – 23:00. Food has played a big role in both our lives and our families. The lunch was an "Afrikaanse fees" which represented my husband's family and heritage. The food was served on the tables in a family feast style to represent the many Sunday lunches that our families have hosted over the years. The pork belly, leg of lamb and salads were contemporary takes on some of his family recipes. In the evening, the Portuguese feast began, along with a live band, prego rolls and a craft gin and whisky bar. We also included some of my family recipes, such as my Portuguese Grandmother's Broas (Coconut Biscuits) served with the coffee. A very special moment at our wedding took place when my husband's uncle opened up the dance floor with a sabrage of our favourite MCC, Simonsig Kaapse Vonkel, using the family ceremonial sabre.
DIY Elements
As I am a graphic designer, all of my stationery and signage was self-made, which included many hours of punching and ribbon threading for the programs. My cousin and I also put together the bride and groom chairs. A group of us also spent hours pulling olive leaves off branches for the confetti. At the back of each name tag we wrote a personalised note to each our guests explaining why we invited them to the wedding and how much we love them. We did this as a parting gift so that guests can always remember how special they are to us.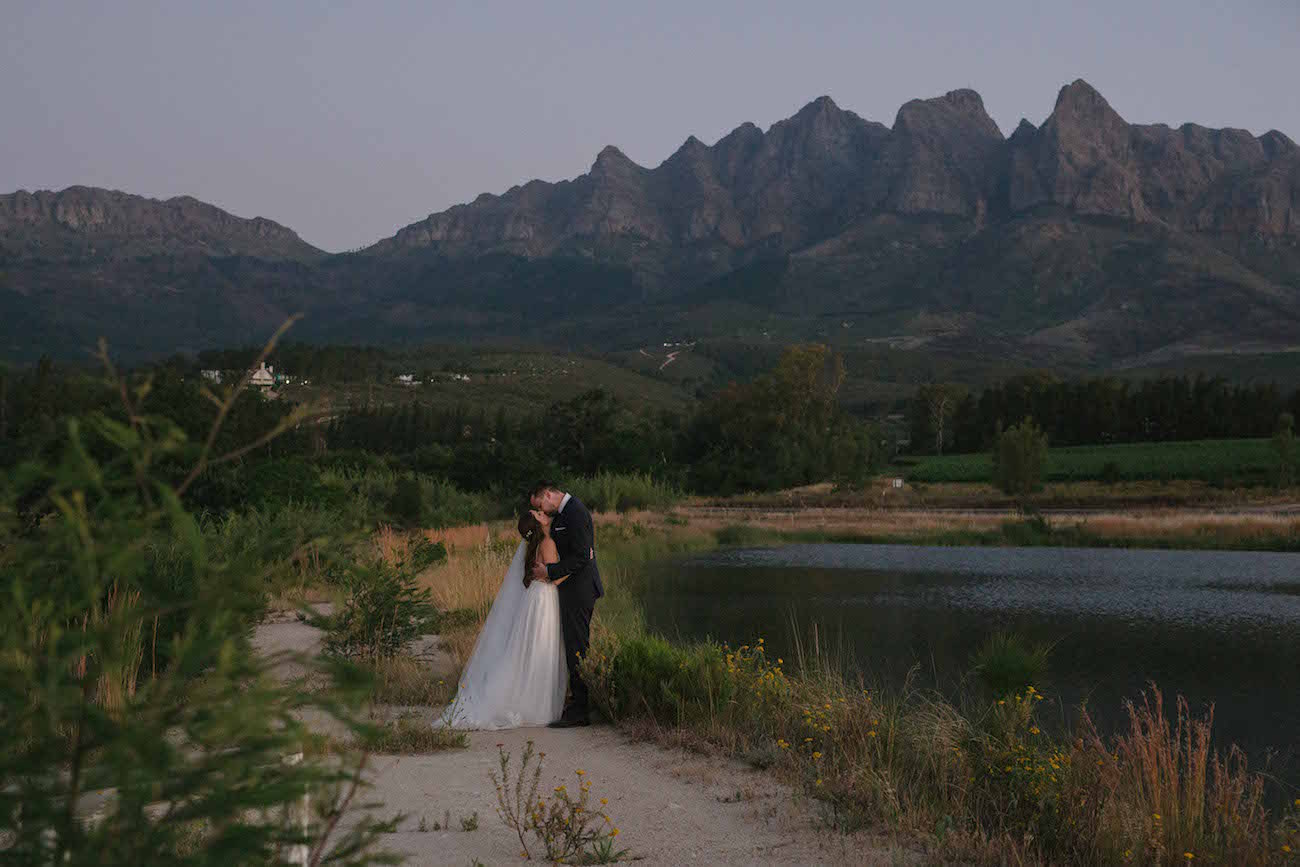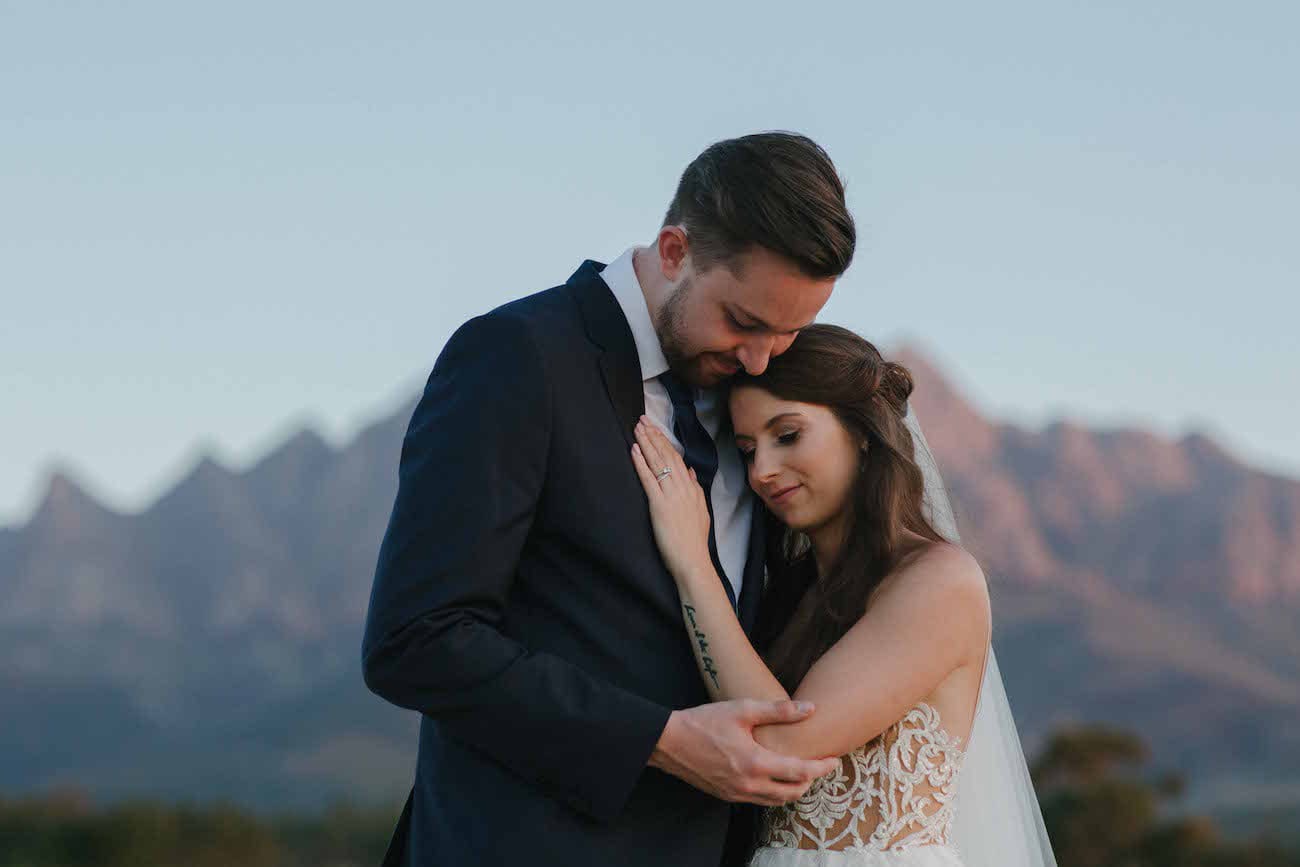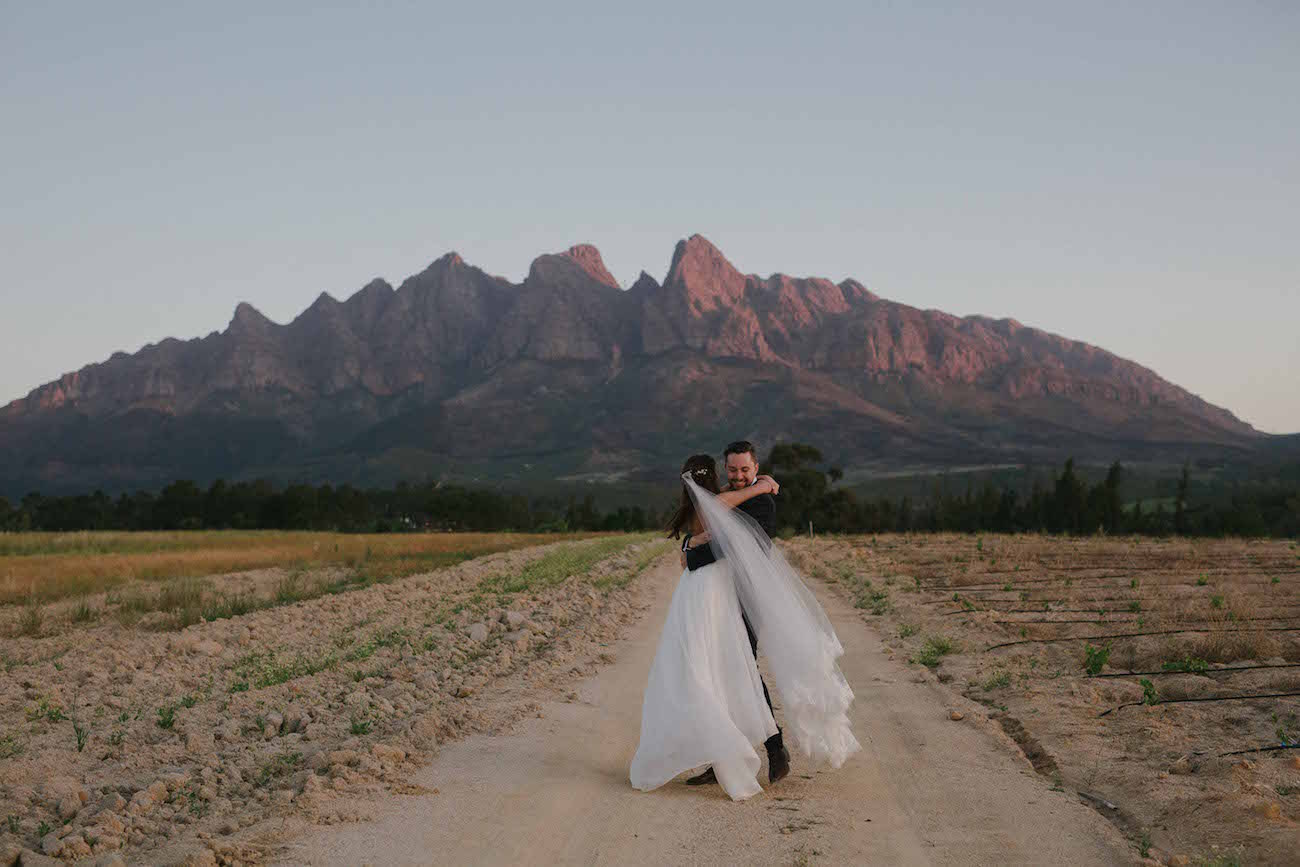 The Dress
My masterpiece of a dress was designed and made by the beautiful Ricci Janse van Rensburg. The inspiration for my dress came from the Berta Fall 2017 Bridal Collection. I wanted the structured, well-fitted sheer lace top with the romantic flow of the silk chiffon bottom. I also wanted a cathedral veil for the wow factor as I walked down the aisle. Ricci not only produced my dream dress but she was a blast to work with.
The Bridesmaids
I had seven bridesmaids on the day, and my dream was to have something made for them that they would wear again. I have a secret obsession with tutus and because our wedding was at the start of summer, I wanted the girls to look fun and whimsical, but in a classy, sophisticated way. So, naturally paring a dusty pink tutu with aN off-the-shoulder top and pretty little heels did just the job.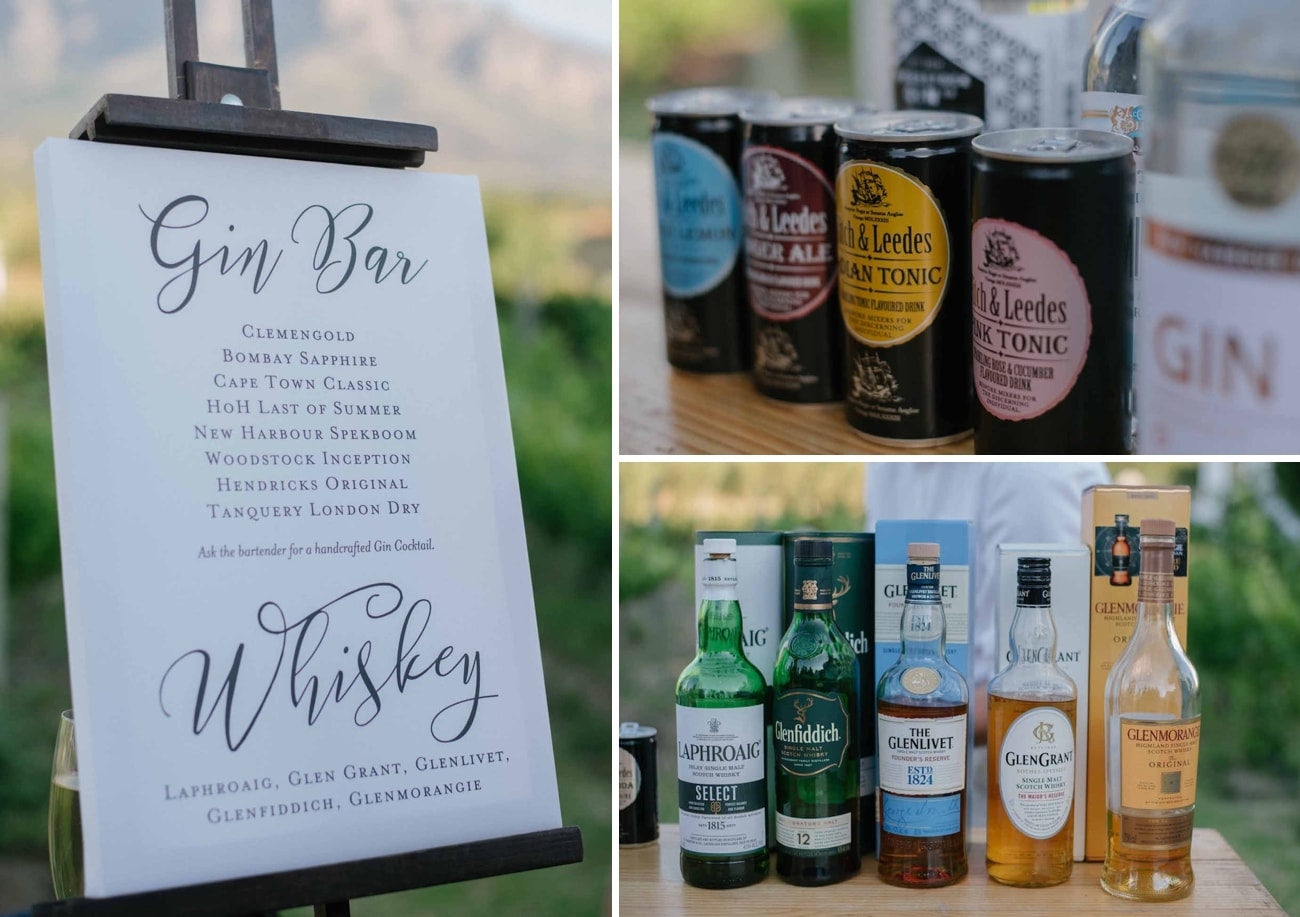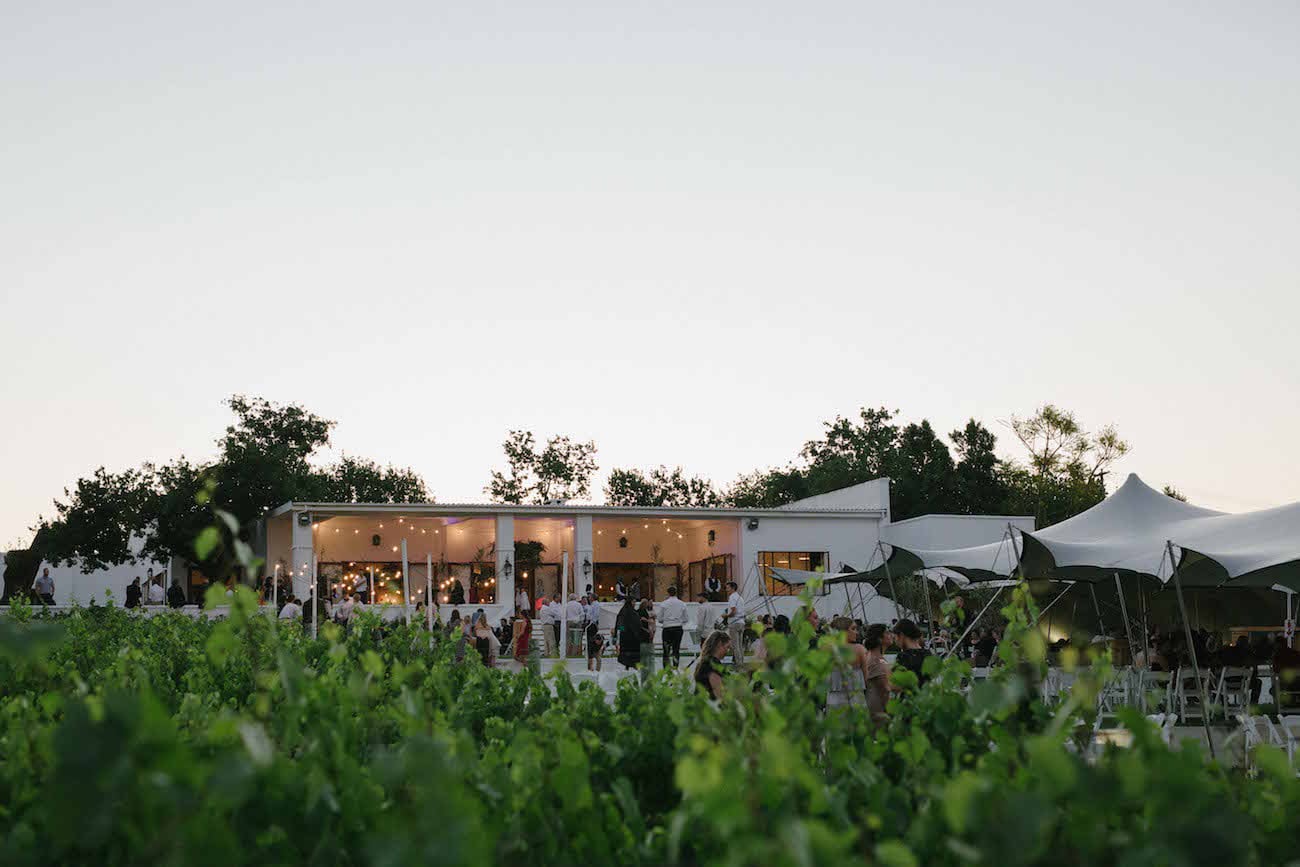 The Flowers
Our wedding flowers were put together by the masterful Willie Darlington. He worked hard to bring our vision to life. We had greenery with a touch of white, the greenery comprised of mainly olive branches and our white flowers comprised of white proteas and roses. The flowers were suspended from the ceiling to keep space on the table for the food. The same theme was echoed with the flower arrangement at the ceremony area. The flowers over the main table were described by Willie as "a night of a thousand stars". We had olive trees across the entire venue to liven up the space and bring a more earthy feel to the venue.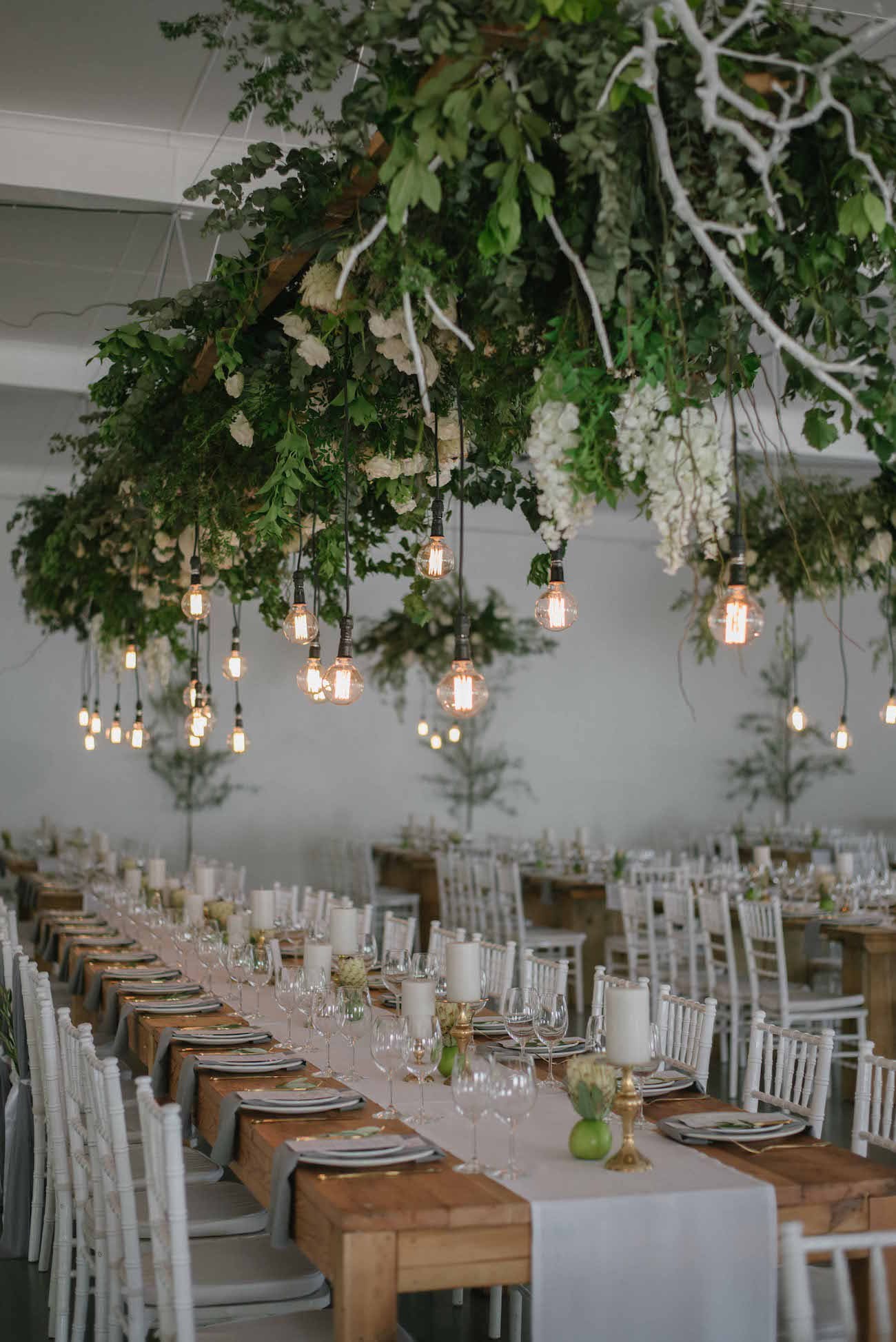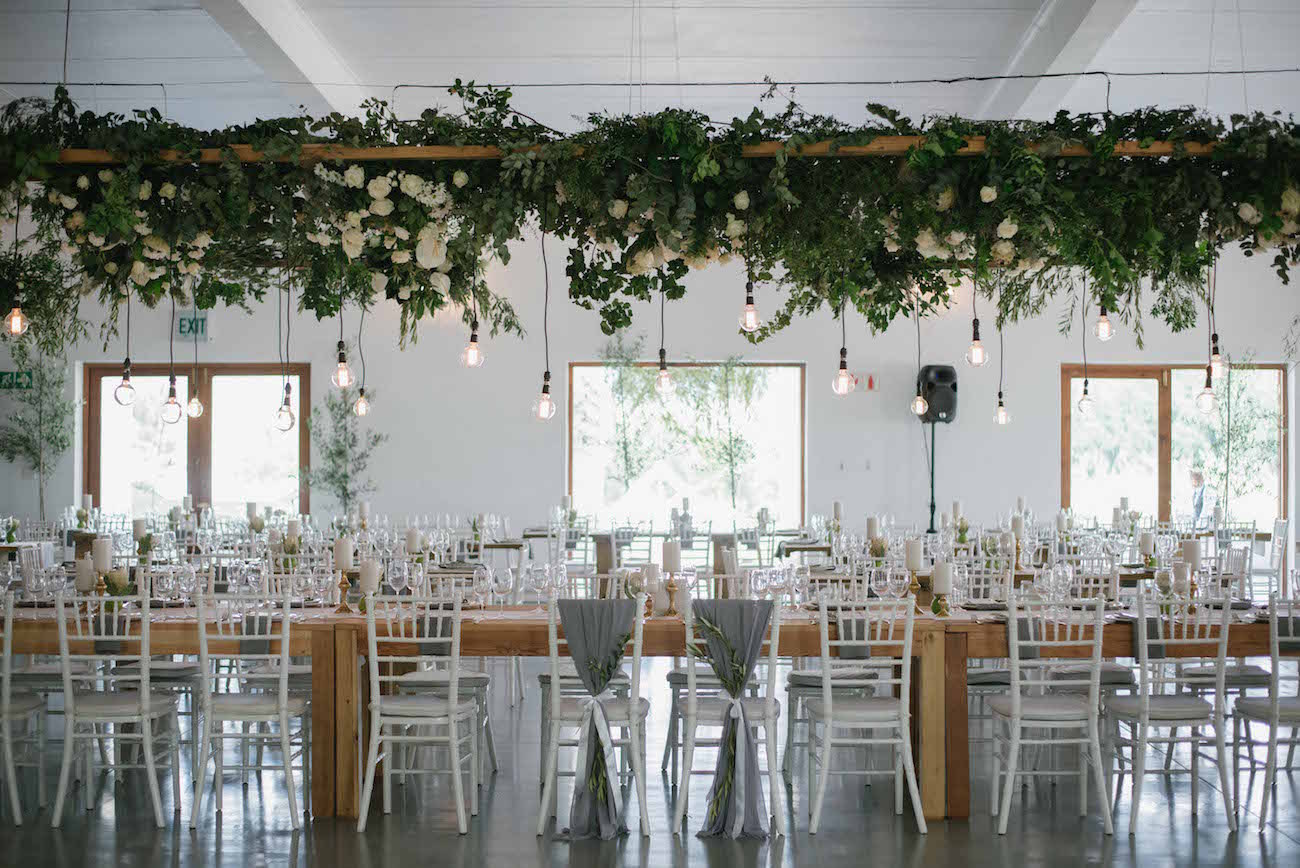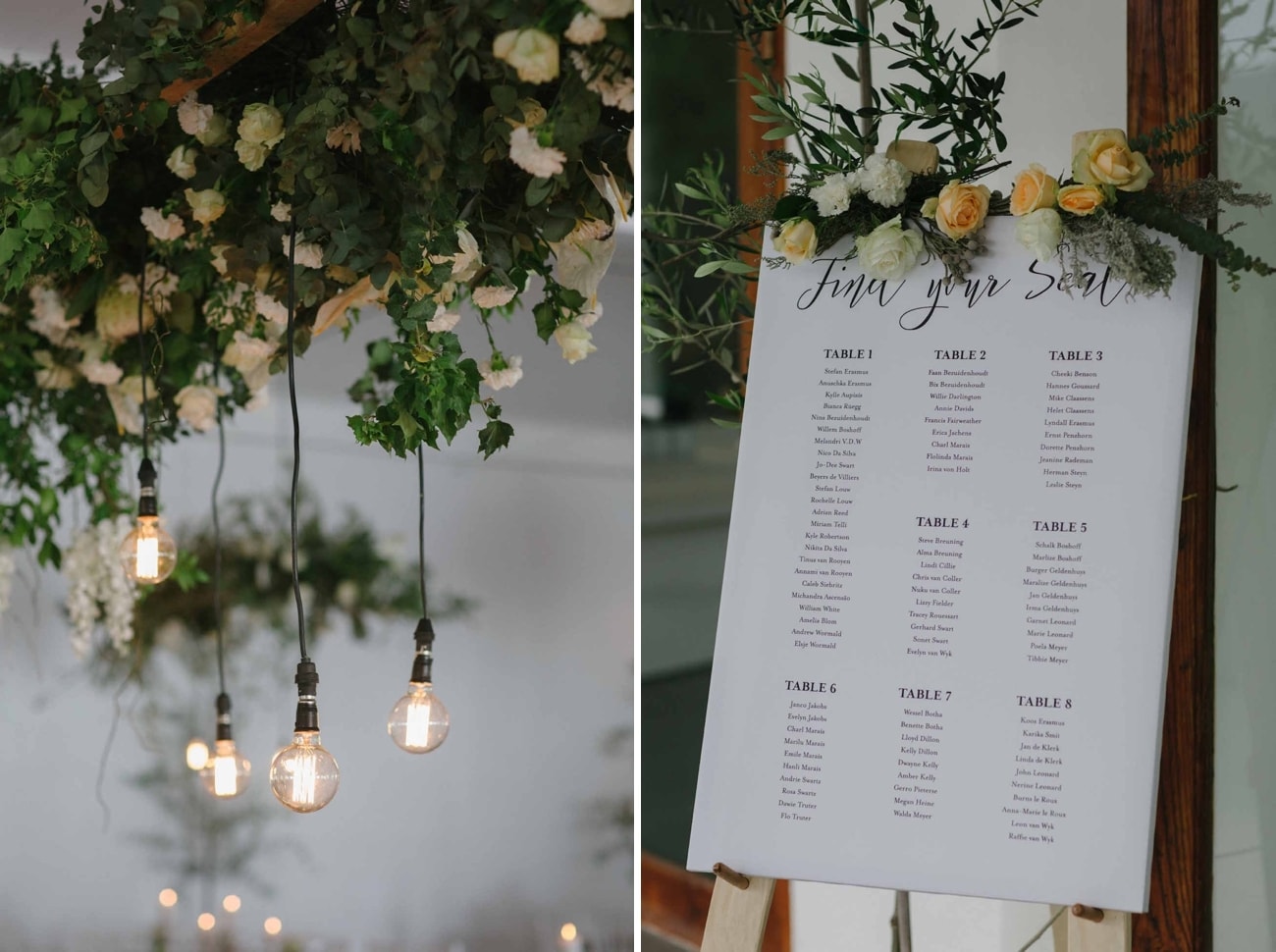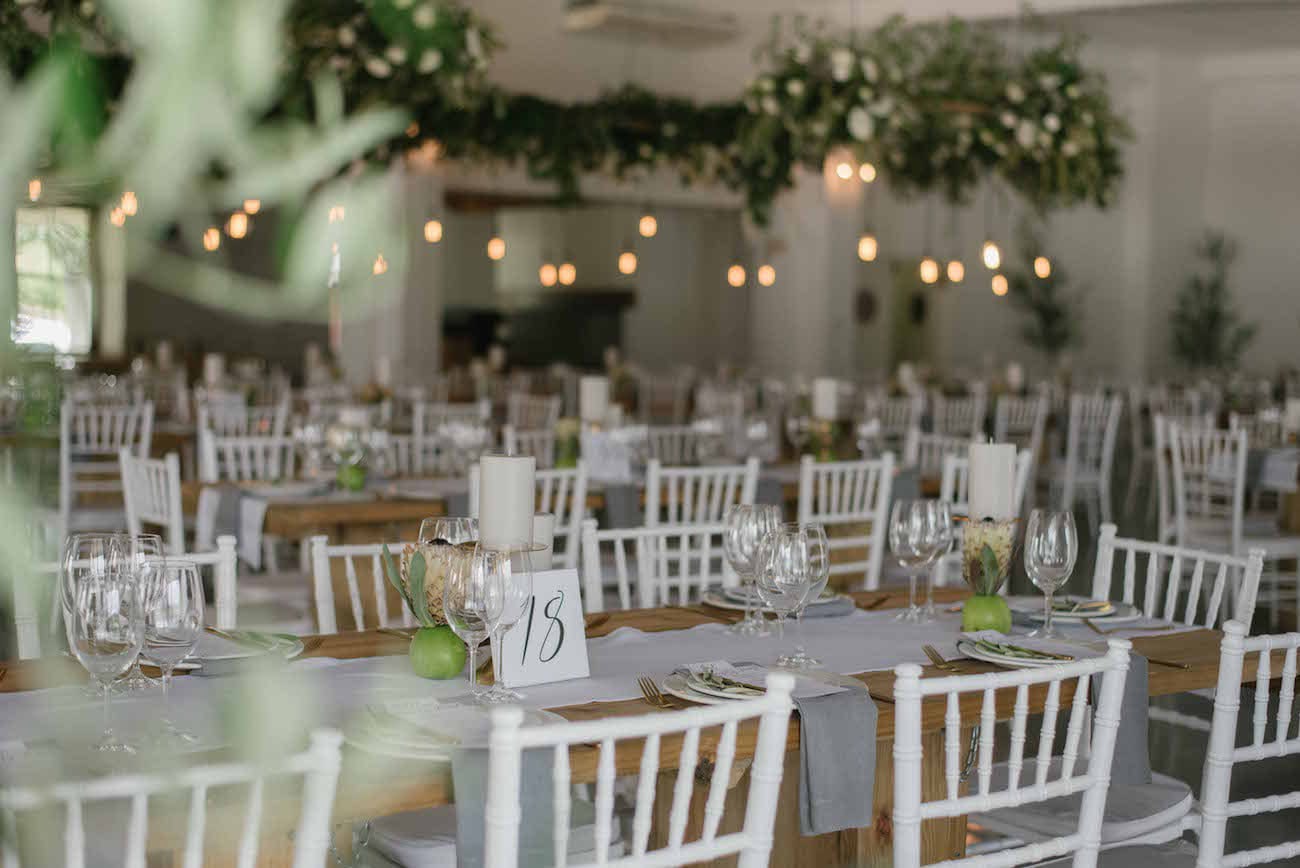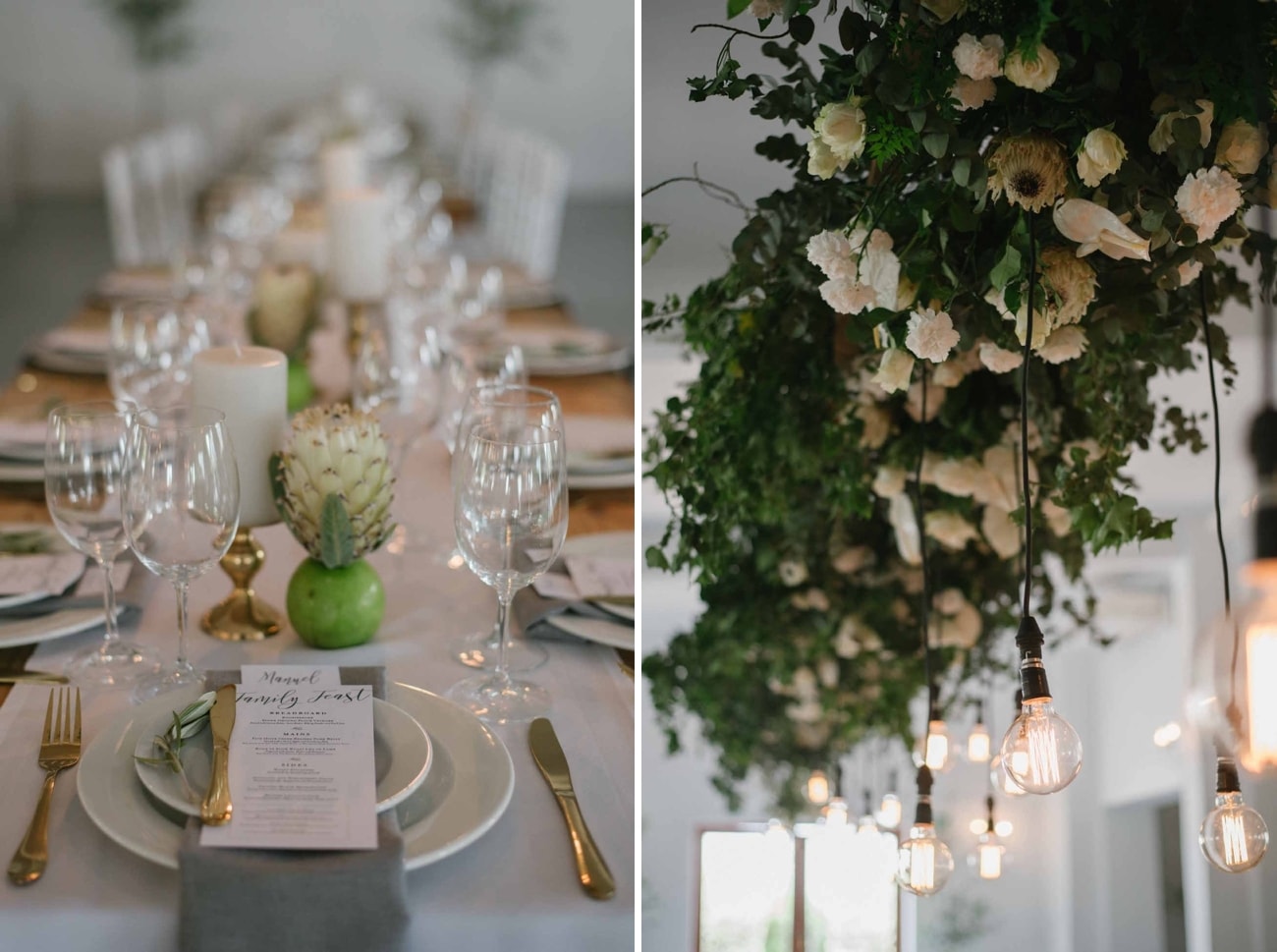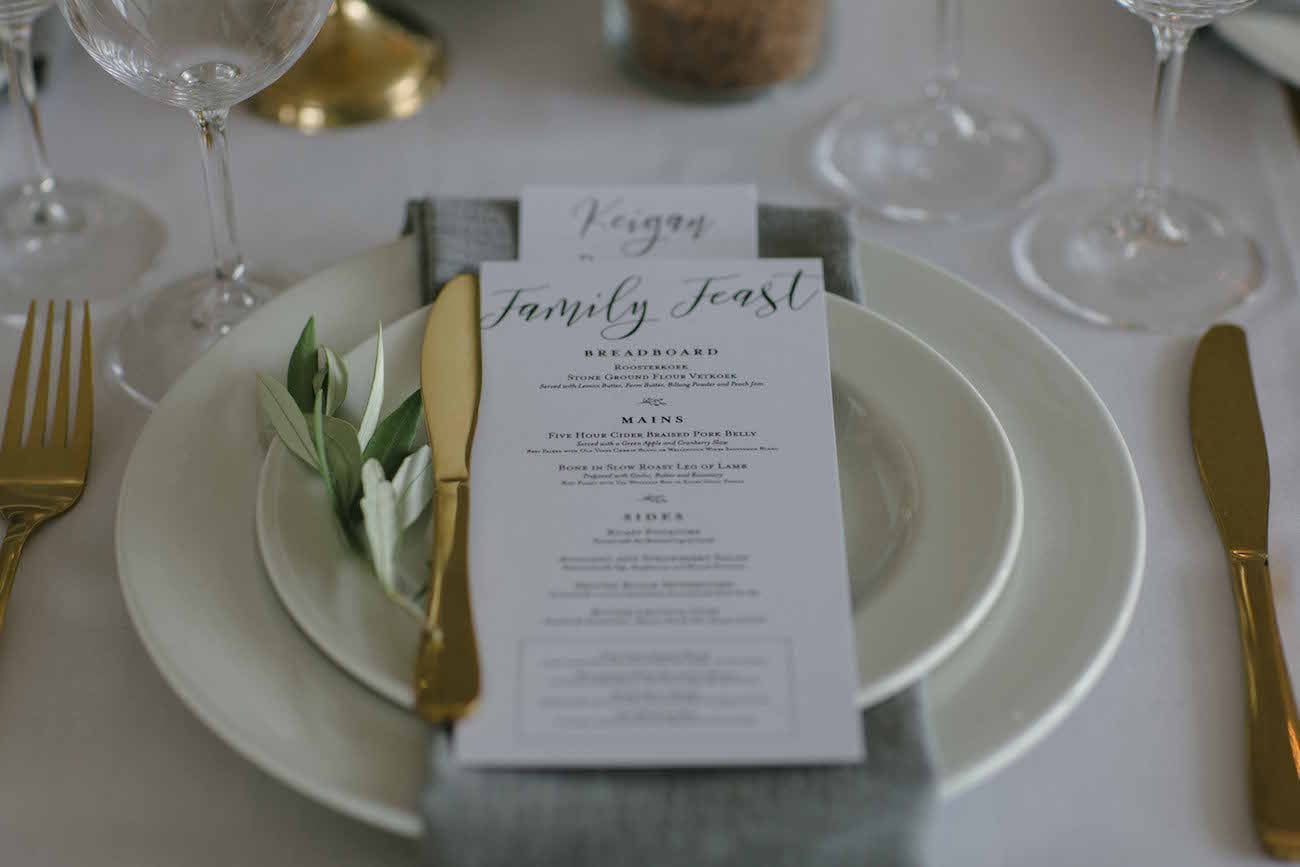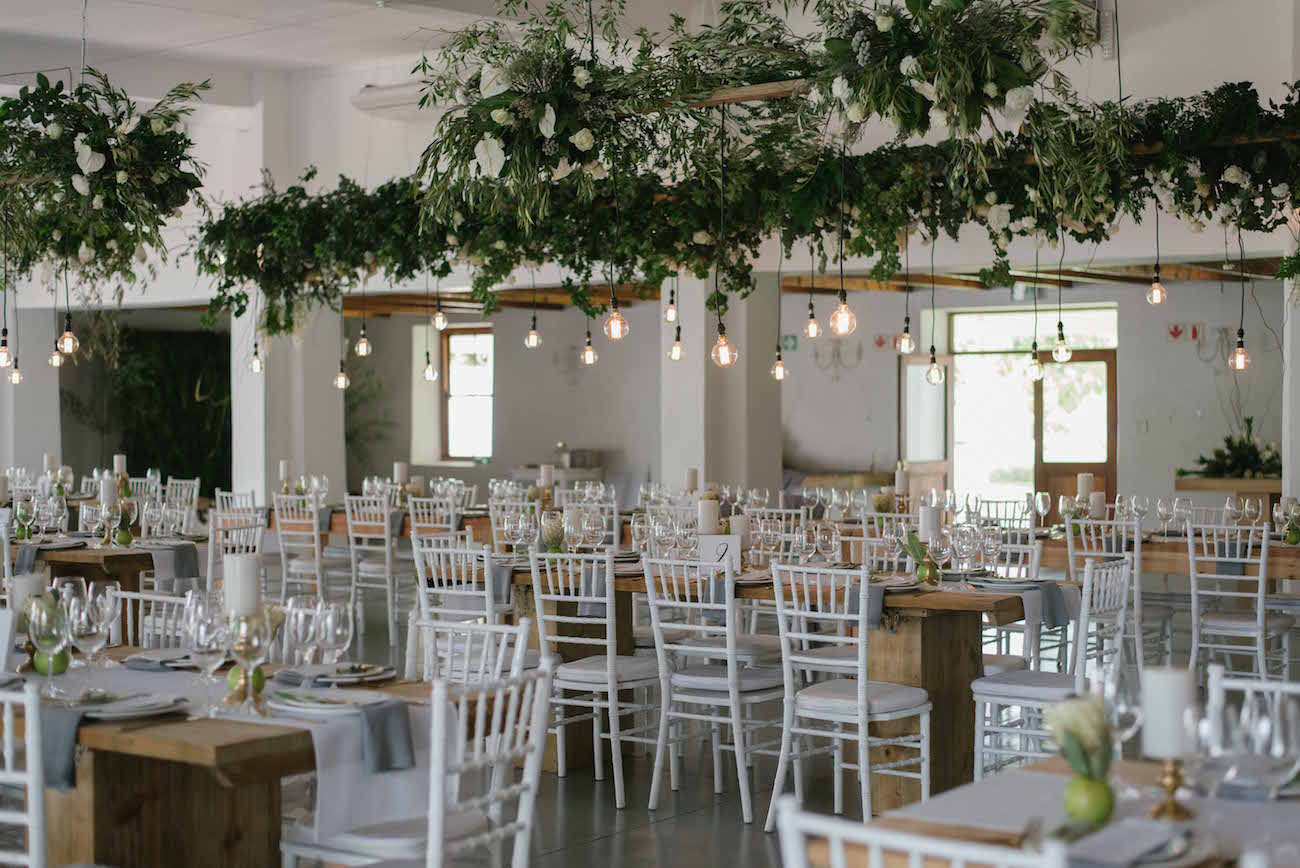 Memorable Moment
The ceremony was our favourite part of the day; it was perfect. Our love for Jesus and for one another is the most important part of our relationship and to share that with our loved ones was the most incredible experience.
Proudly South African Details
Our wedding definitely had a few proudly South African elements. The food was proudly South African, with it being prepared and served in the traditional Afrikaans style. There were also a few "sokkie" and "langarm" songs in the playlist. Our main flower was the the Protea, which was used extensively throughout the decor.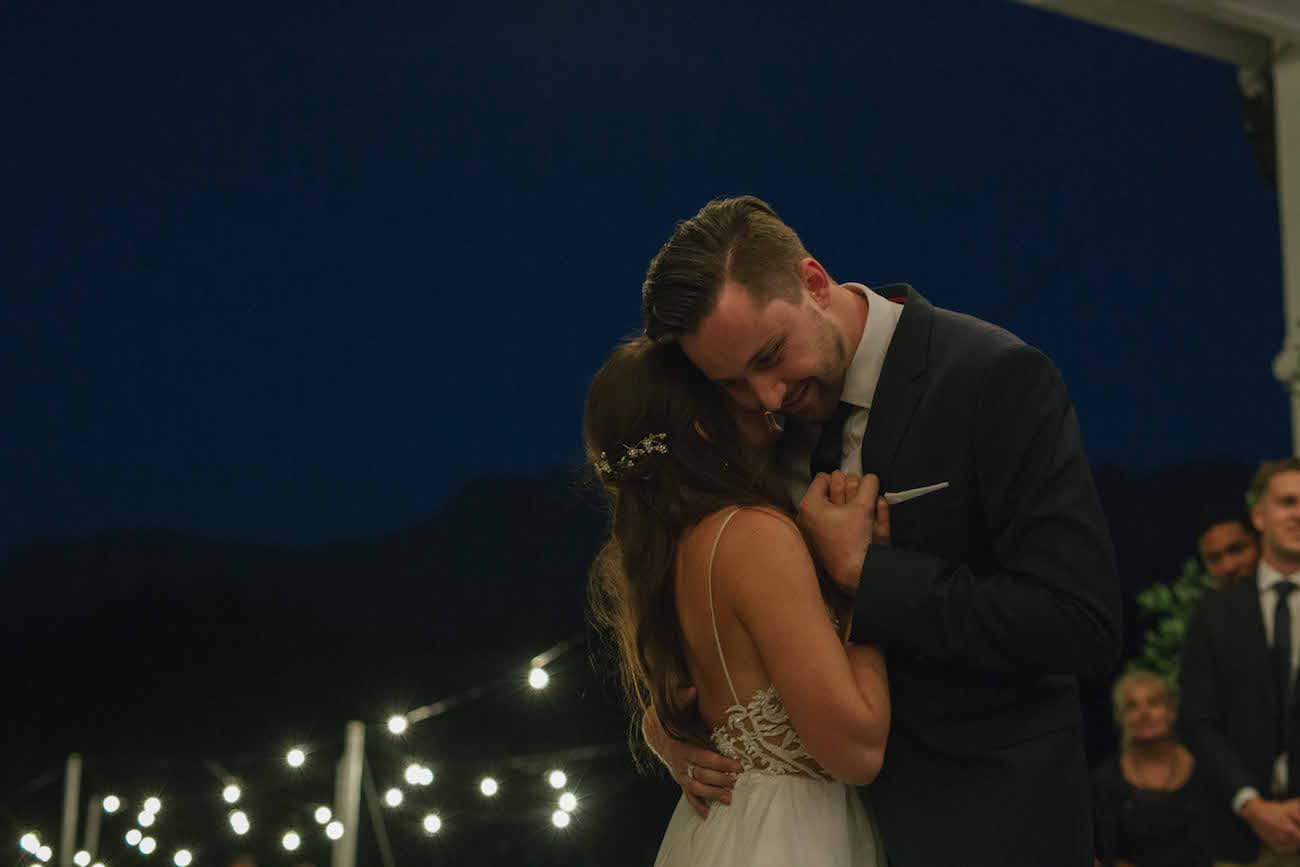 Best Decision
The best decision we made was to give ourselves a year to plan our dream wedding. That way we knew that every detail was exactly the way we wanted it without compromising. From the food and wine pairings, to the entertainment. The final finishes were crucial in pulling off a dream wedding.
Advice for Future Brides & Grooms
Planning your own wedding is very possible if you stick to simple guidelines. Book your venue as early as possible and try to find a venue that has things included like tables, chairs, glasses, etc. Get quotes from several vendors to ensure that you get the best prices possible. Use your resources, and trust for blessings. We had many big ticket items given to us as a gift, so that helped us with our wedding budget big time. Set up an Excel spreadsheet to plan your guestlist, budget, seating arrangements and order of events and share it with all parties helping you plan your wedding. Don't decide on something your fiance isn't equally excited about; this way you both get to enjoy your wedding to the fullest. Don't forget to breathe, everything works out in the end and you get to marry the person of your dreams.
SERVICE PROVIDERS
Venue & catering: Neo Venue Space | Catering: The Slippery Spoon | Photography: Christene de Coning Photography | Co-ordination: Neo Venue Space | Flowers & décor: Willie Darlington | Stationery: Anuschka Erasmus (bride) | Video: Aletta Francina Film | Bride's dress: Ricci Janse van Rensburg | Bride's accessories: Jade (necklace) + Lovisa (headpiece) | Hair & makeup: MARY GOUVEIA | Bridesmaids' dresses: Christine | Groom's attire: Hugo Boss Red (suit) + Mont Blanc (cufflinks) + Arthur Jack (shoes) | Groomsmen's attire: David Jones (blazers) | Hiring: Goeters + Function Hiring 4U + Quirky Party Hire + To-Netts | DJ: The Occasion | Entertainment: Stefan Green, Inge Leonard, Jonathan Grayson, Key Change