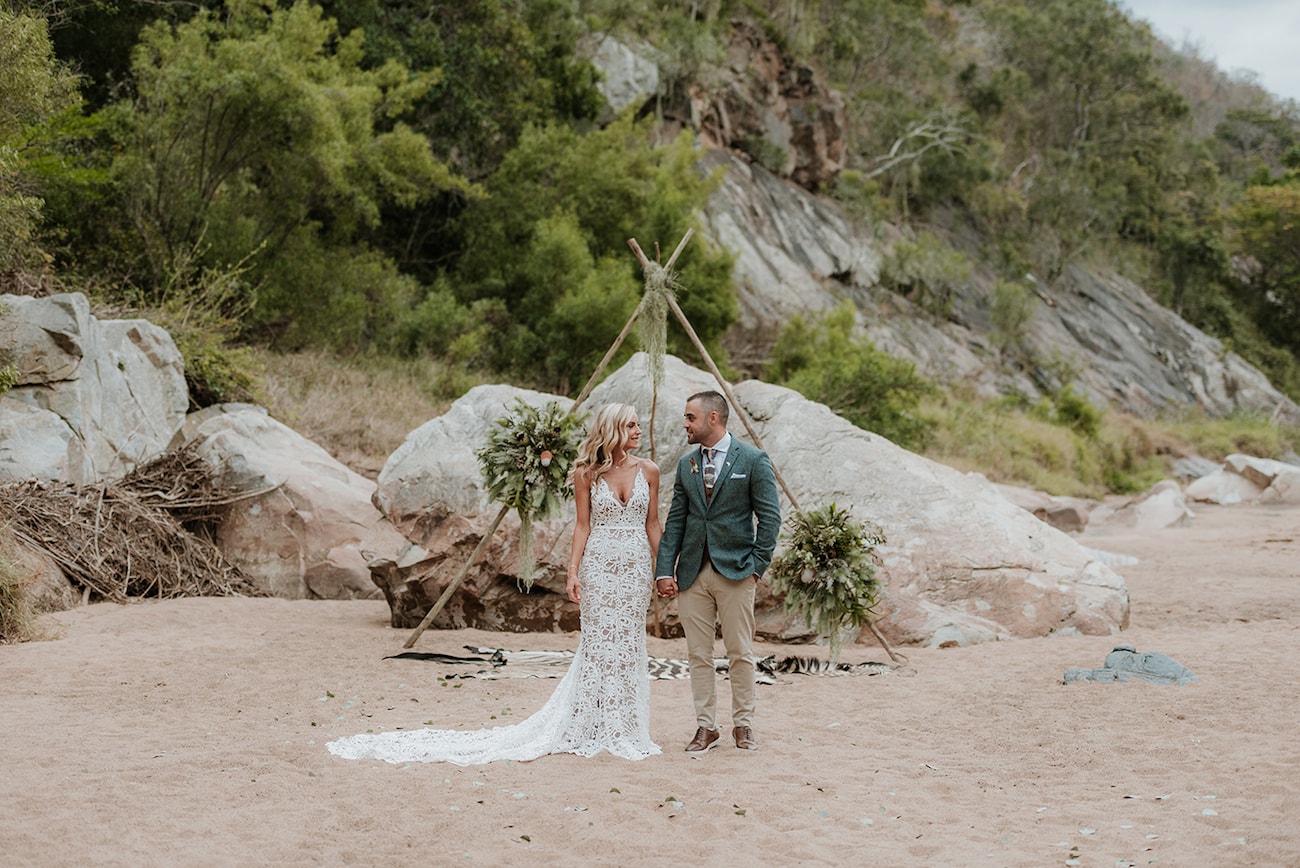 I'm pretty sure if I was planning my own wedding right now, I'd want it to be just like this one. An incredible location (I mean, a riverbed ceremony in the middle of the African bushveld and a reception under the stars? Dying), a handful of my favourite humans, a breathtaking lace gown, boho wedding details, a protea bouquet, and of course my sweetheart by my side. This is what Adam and Natasha chose for their nuptials, and you guys, it is stunning. From their ceremony beneath a floral tipi to their beautiful, radiant couple shoot images, it's all just so picture perfect – thanks also to the gorgeous images by Derryn Schmidt of course! I have no doubt you bushveld loving brides will be totally inspired for your own big day, out under our endless South African skies.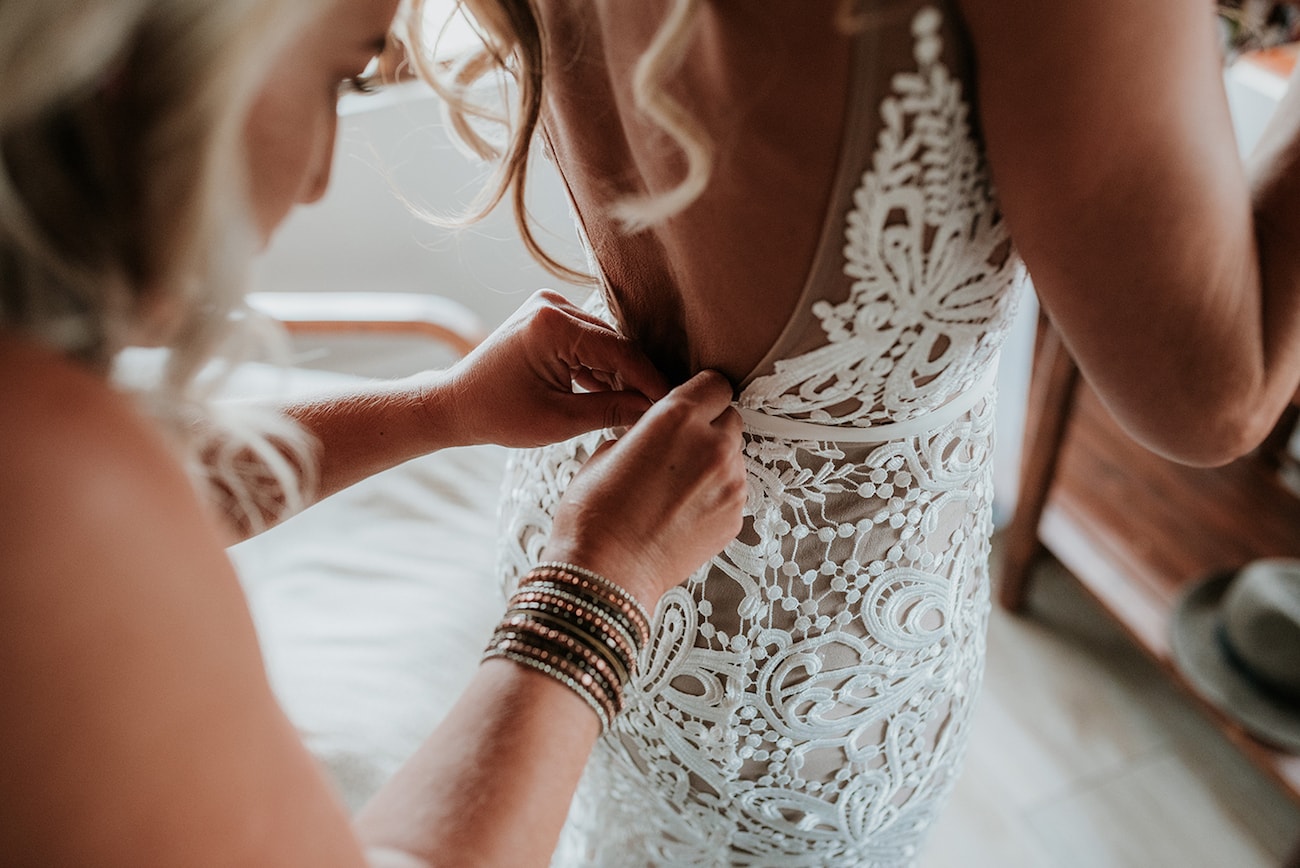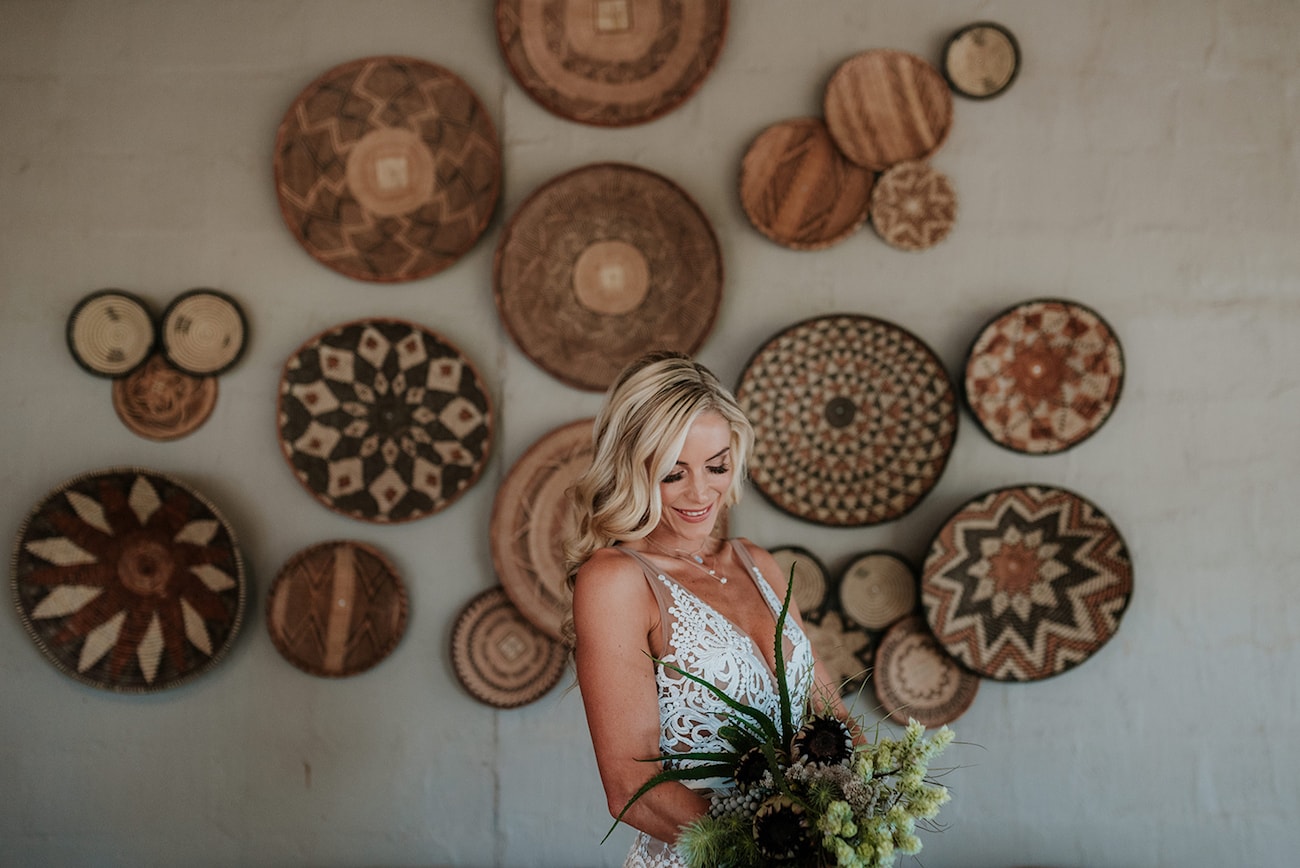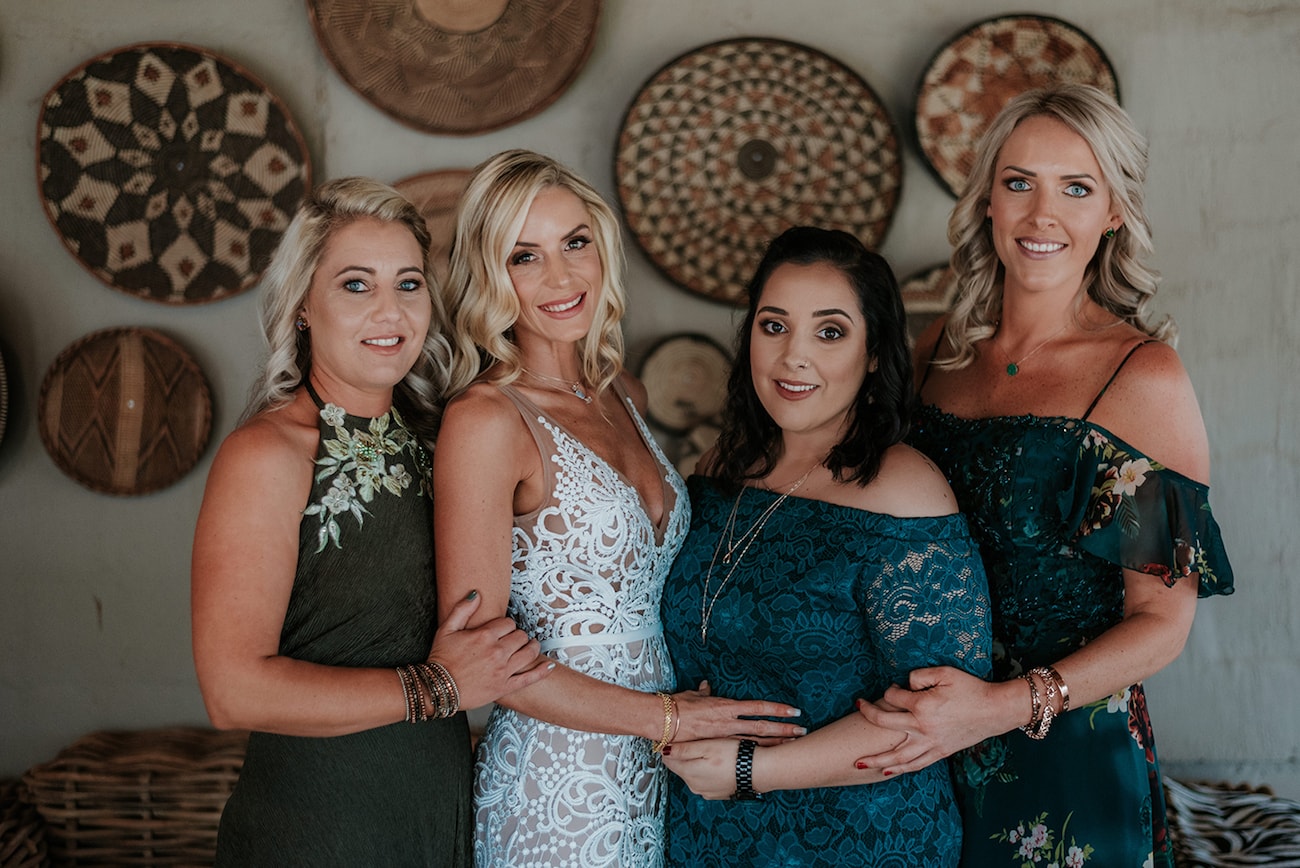 Love Story
We met at a mutual good friend's braai on an unassuming Saturday afternoon! How authentically South African :)
The Proposal
We have the privilege of going to the bush frequently with friends who own a lodge up the North Coast. We have had many incredible trips and memorable moments there and it seemed fitting that Adam chose to propose there! He lured me under the pretense of another normal weekend away with friends and went up early to "help" with something. When I arrived it was dusk and he had set up the hide overlooking the dam with hundreds of candles and hurricane lamps. I was so mesmerised by the beauty of the scene I still didn't 'click' it was a PROPOSAL until he sank to his knee!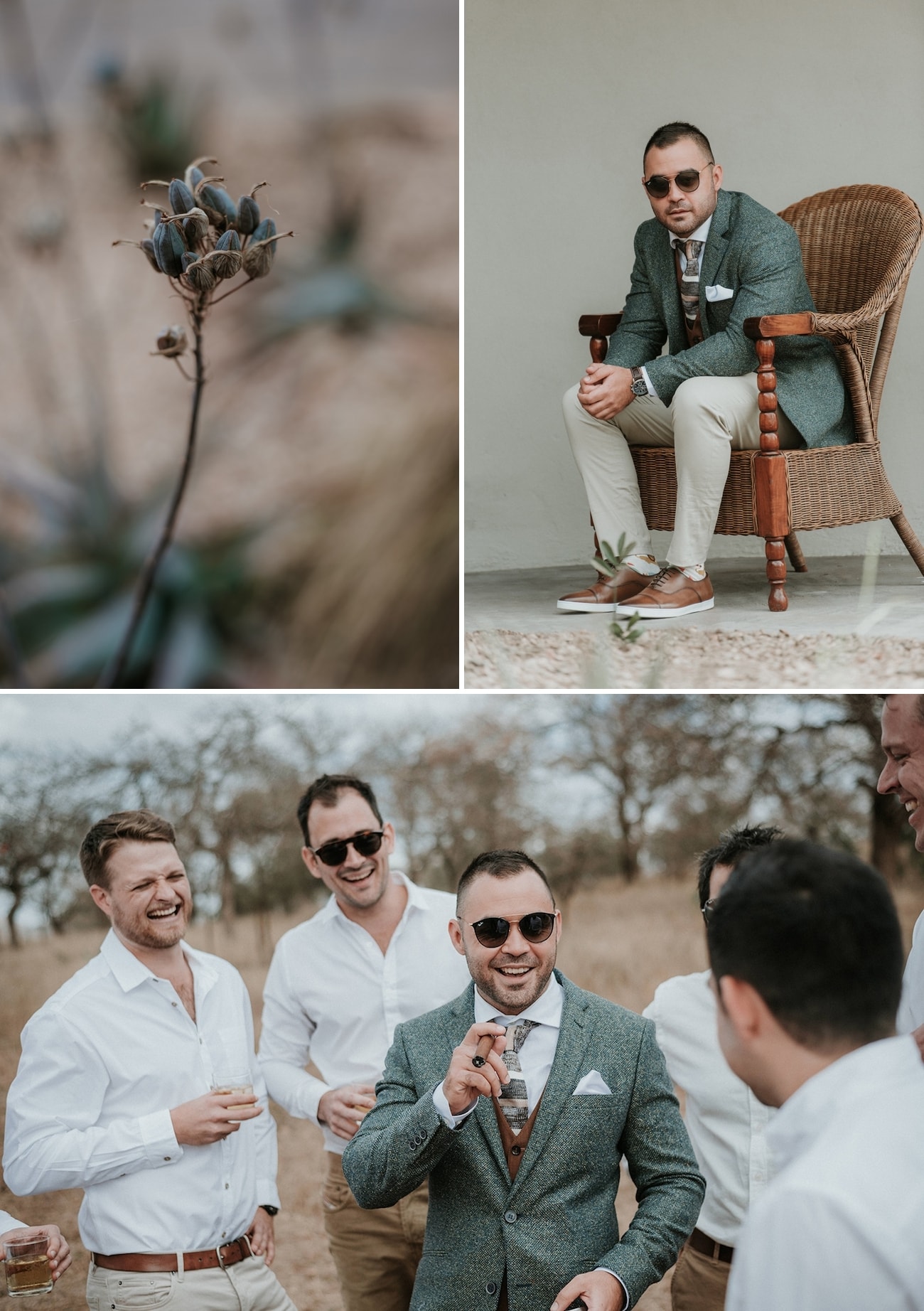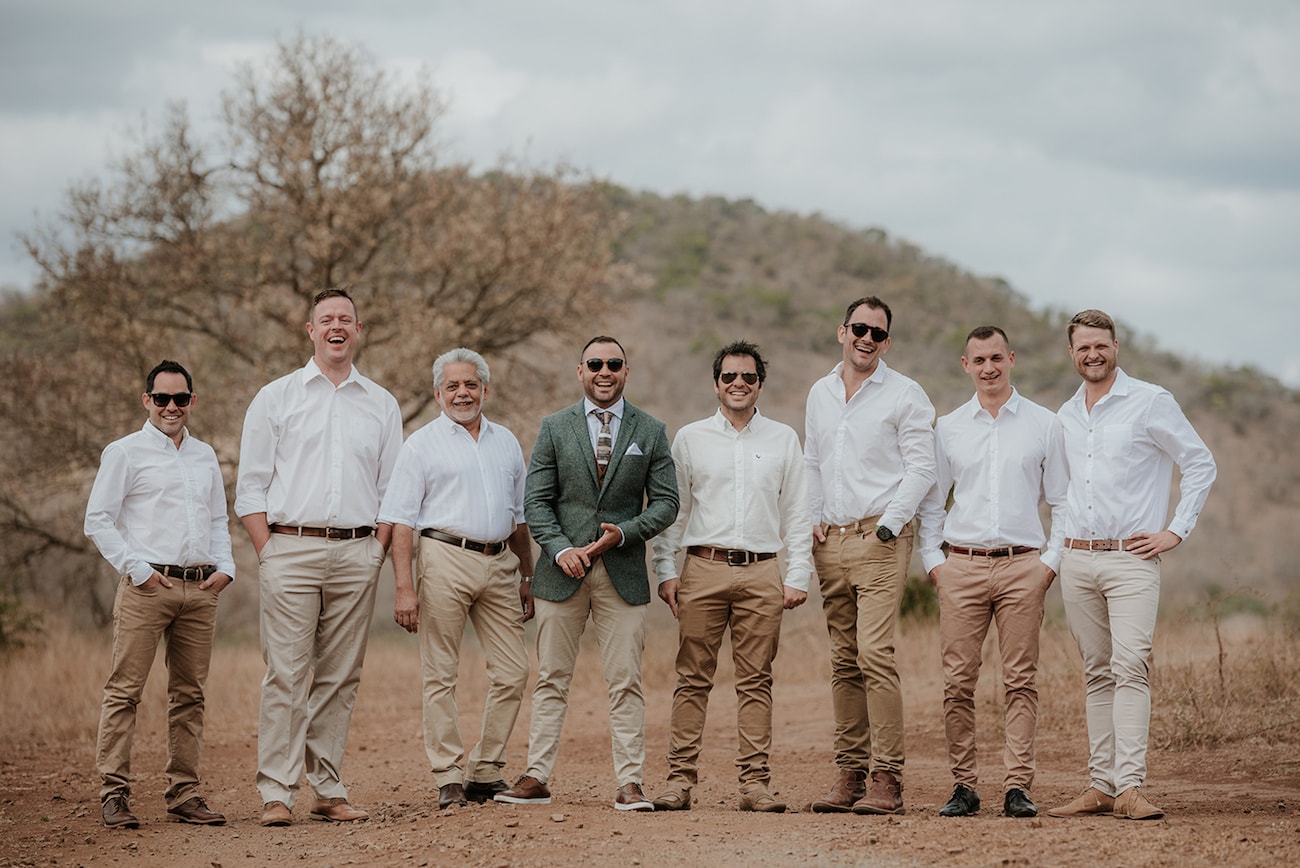 The Venue
We are both total wildlife enthusiasts – our first weekend away was to the bush, we spend every chance and spare weekend we have in the bush, and our engagement was in the bush! The bush is – obviously – quite central to our relationship and was always a natural choice! We wanted a intimate venue in a game reserve that could accommodate our family in close proximity – Adam's dad and brother and my brother and his family were all flying in from overseas – so we wanted a whole weekend of togetherness and a space that encouraged that. Zebra Hills was exactly this and more.
Wedding Style
We wanted bush elegance – the landscape is so beautiful it never needs much to stand out. We wanted it in the open – both the ceremony and the dinner reception – and chose a natural colour palette of wood and greenery mixed with glass and bronze/gold and lots of golden light in the evening! Our close family friend, Gail Cuttler, is a flower and event specialist and she turned our vision into reality.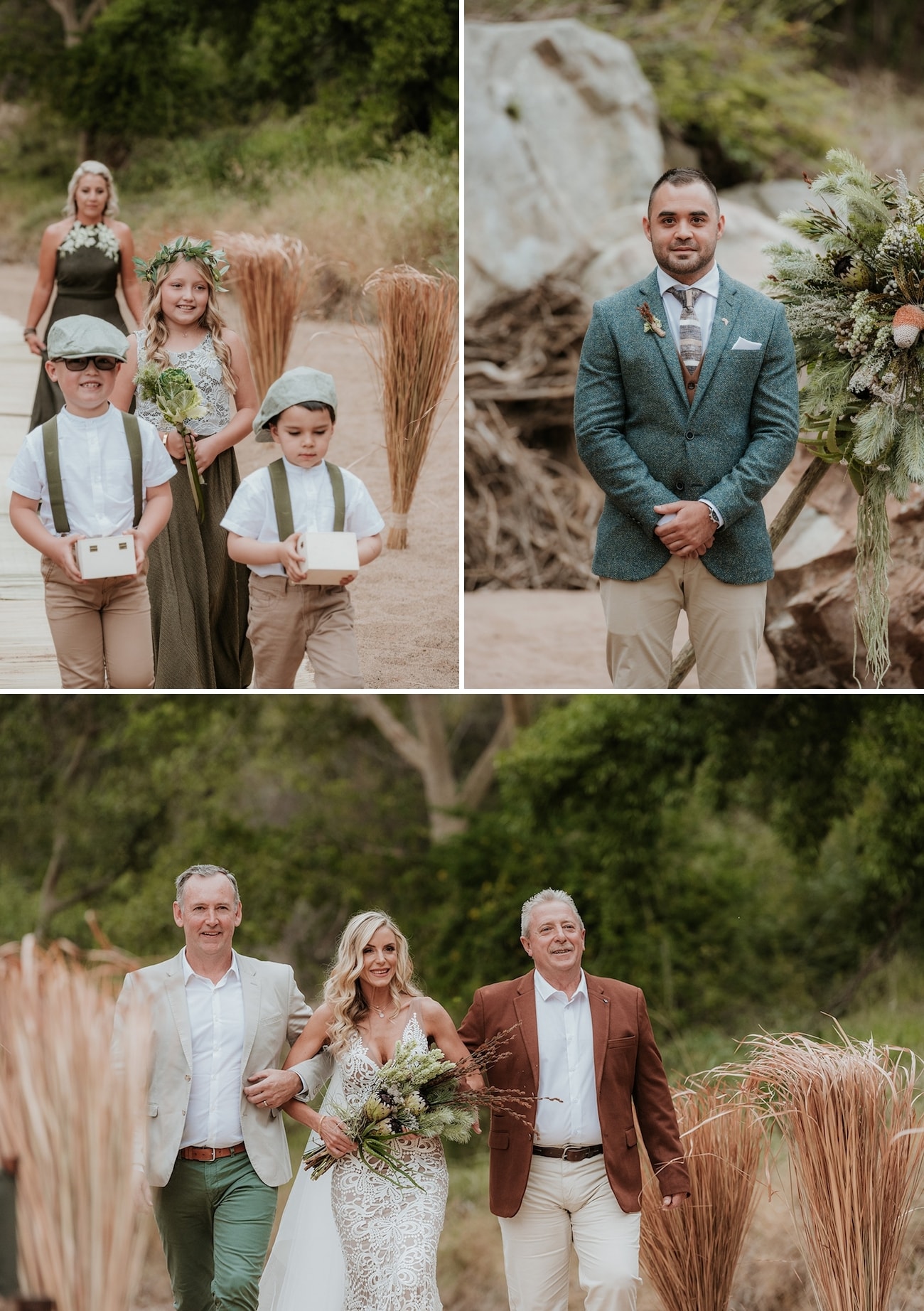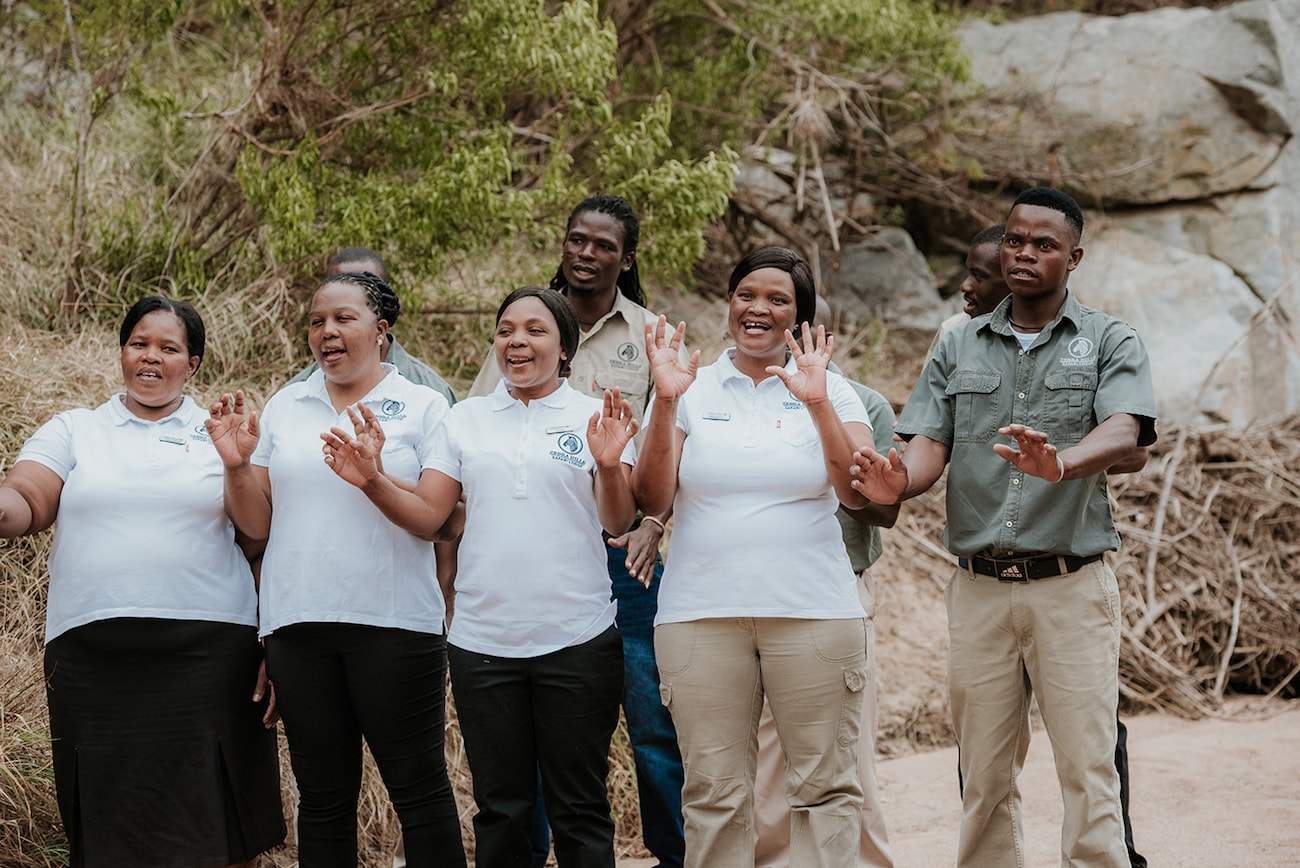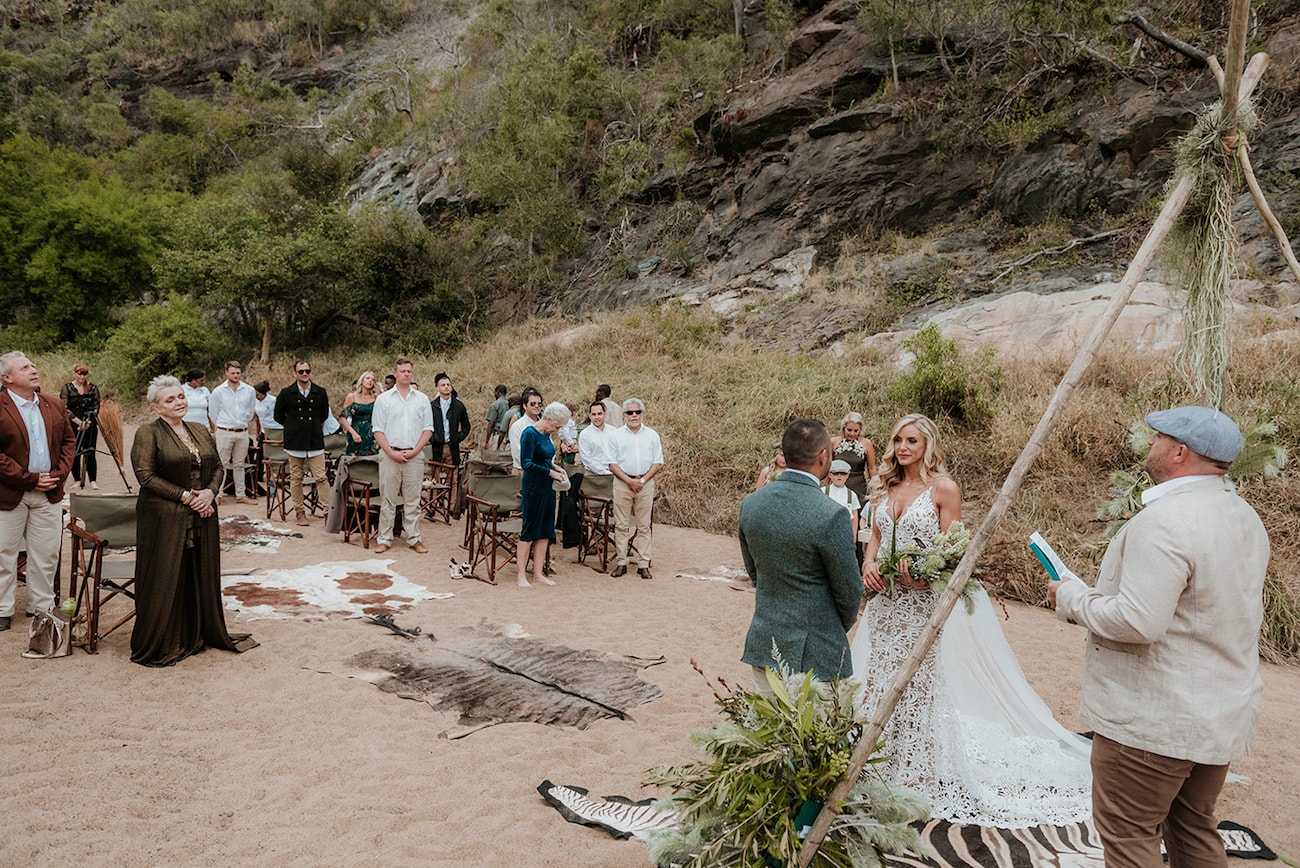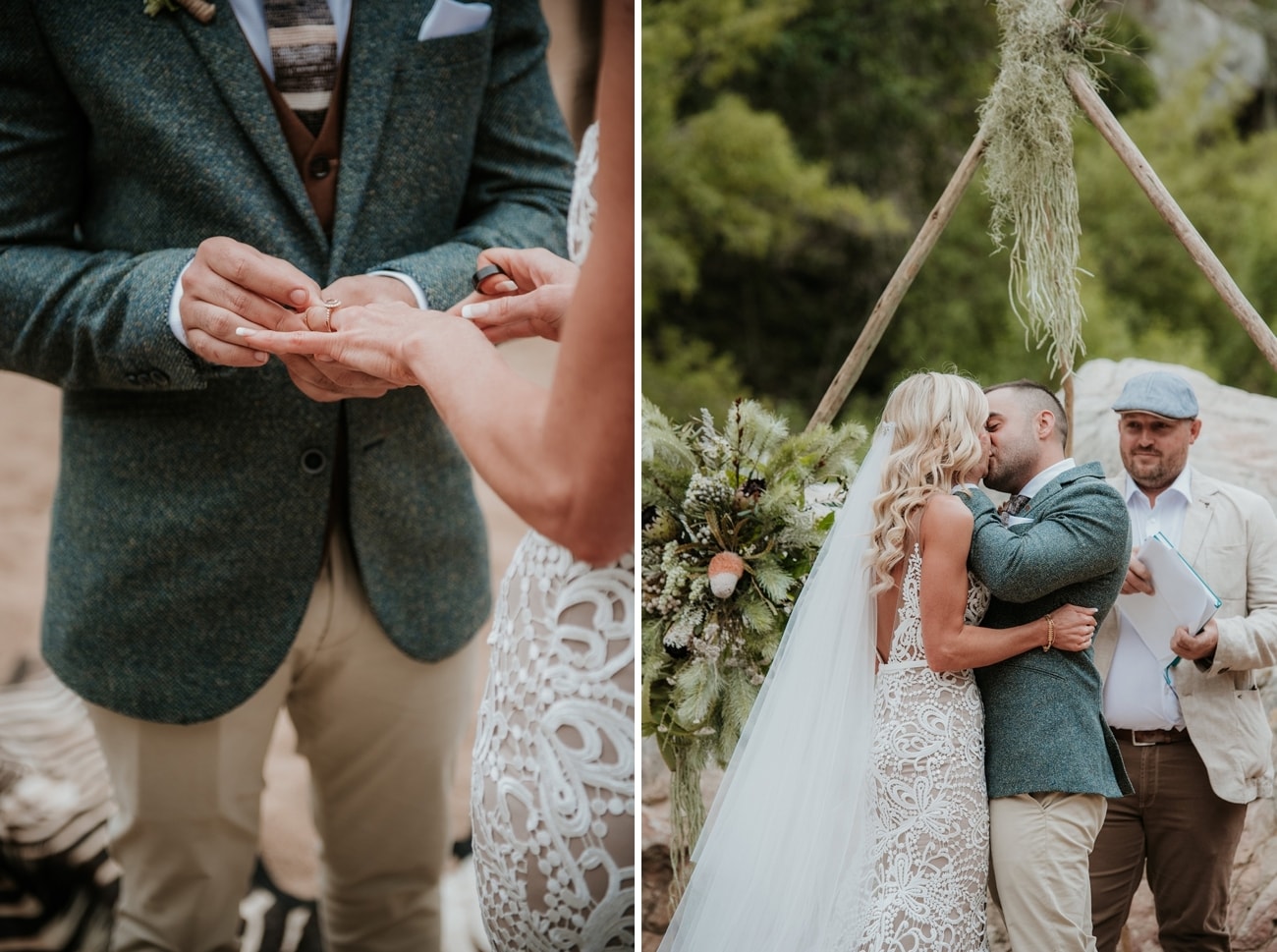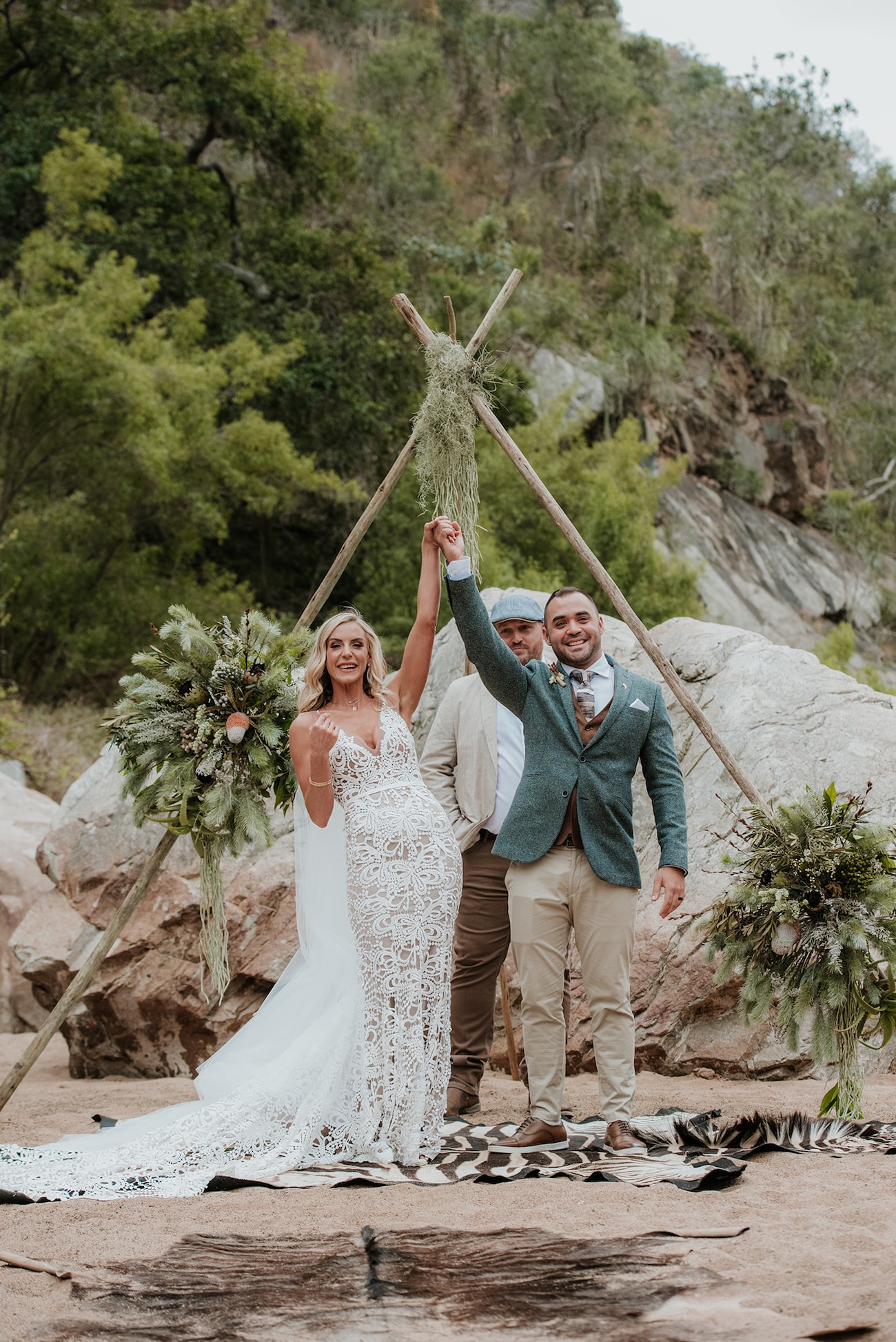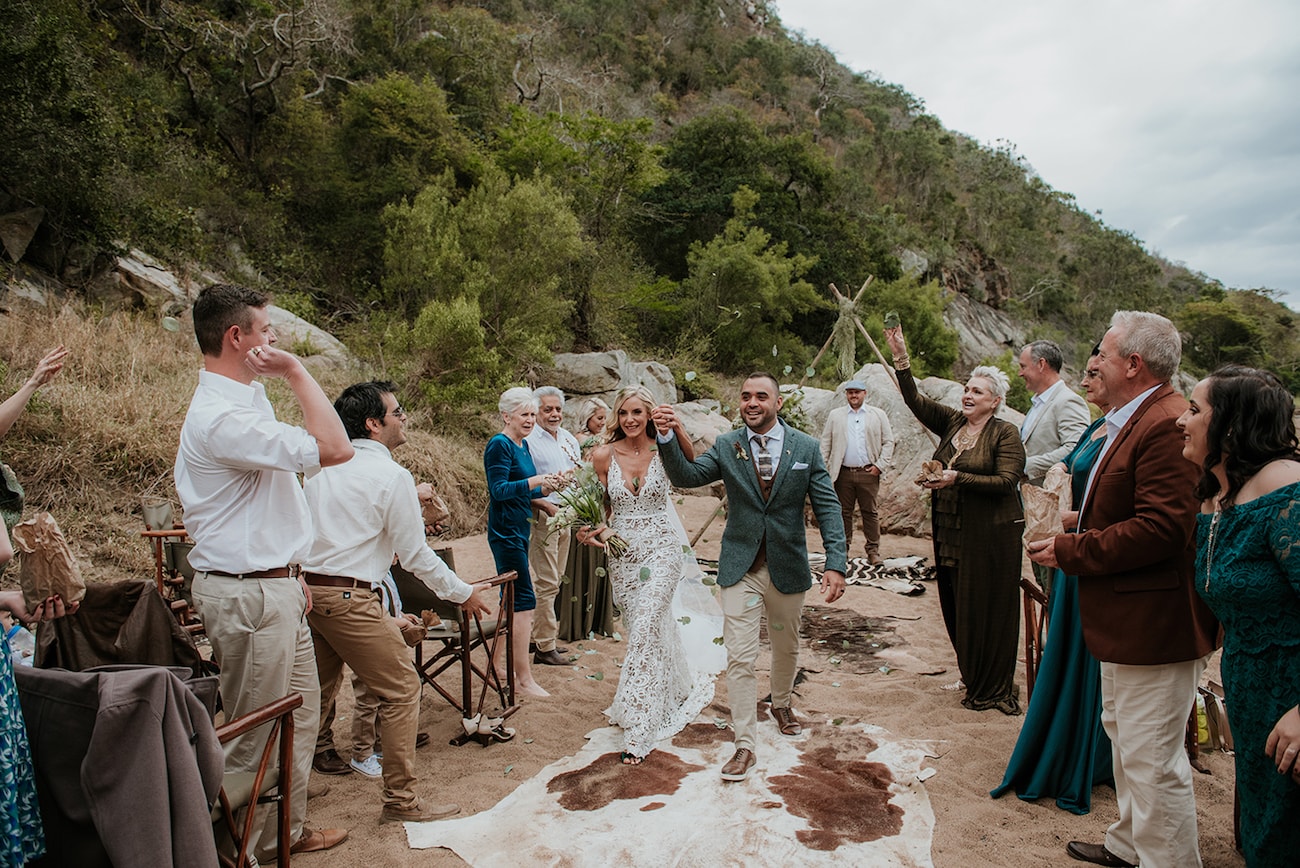 Wedding Details
We were married in a place and space where we feel happiest and which epitomises our love for each other. We chose a dry riverbed for our ceremony and the day before we were due to set up a lioness gave birth in our spot and we had to move location further down the river – what a special omen?! Both my father and stepfather walked me down the aisle – we are incredibly family oriented and close knit and they are both significant and central figures in our lives, so it seemed fitting we shared the moment. My brother conducted the ceremony as neither of us are strictly religious – it was relaxed, honest and humorous; the perfect expression of us both.
DIY Elements
Our floral altar!We sourced the wooden poles on the reserve the day before and built the 'teepee' and Gail transformed it into a floral altar of dreams overnight!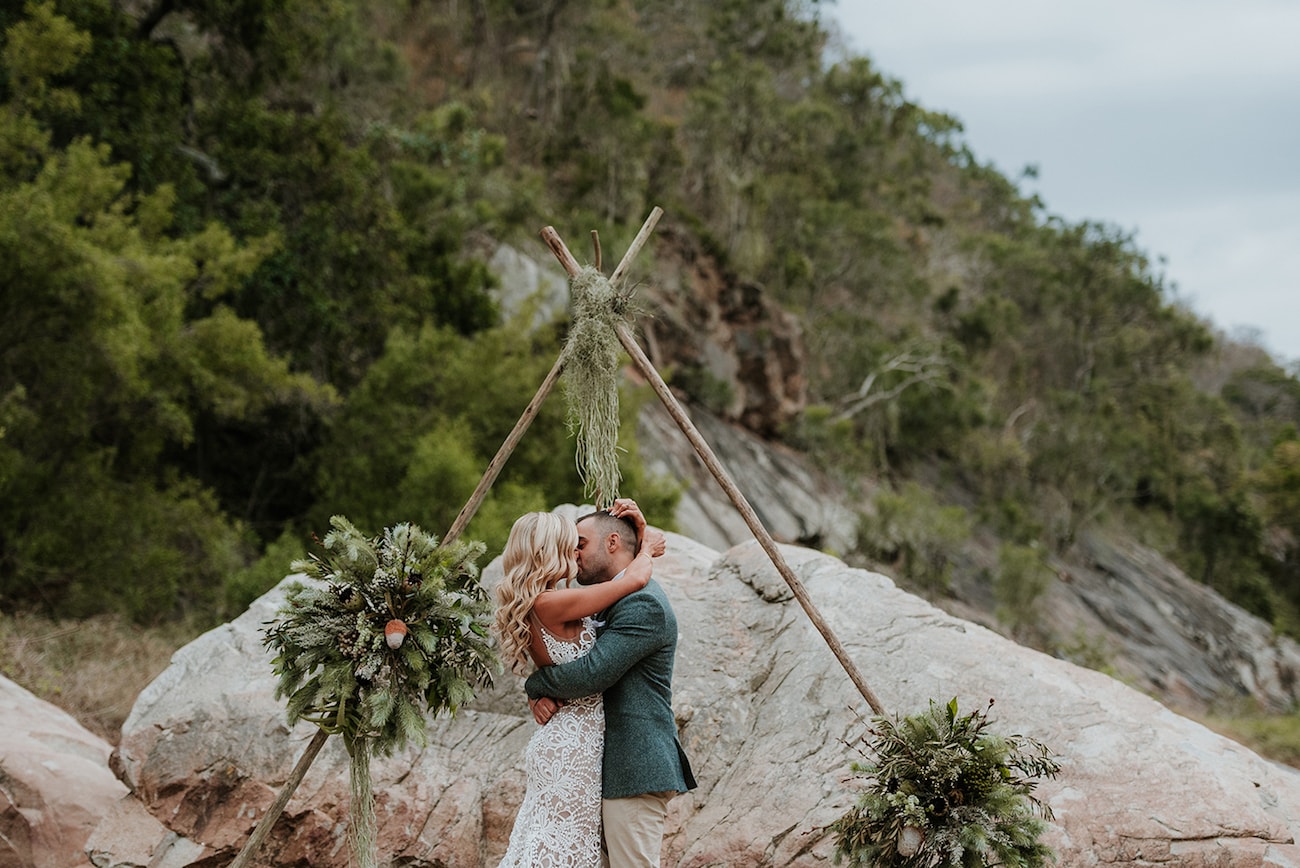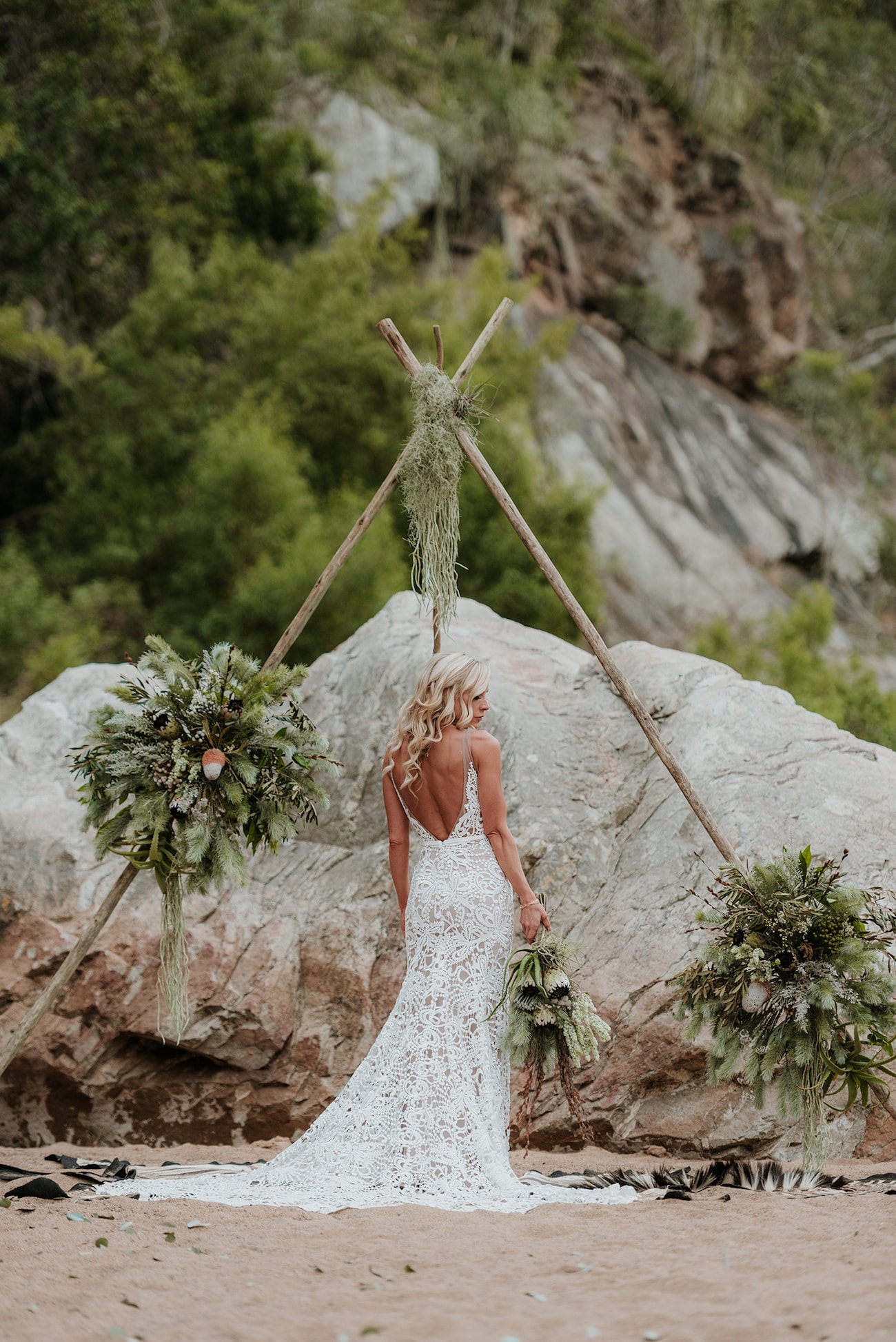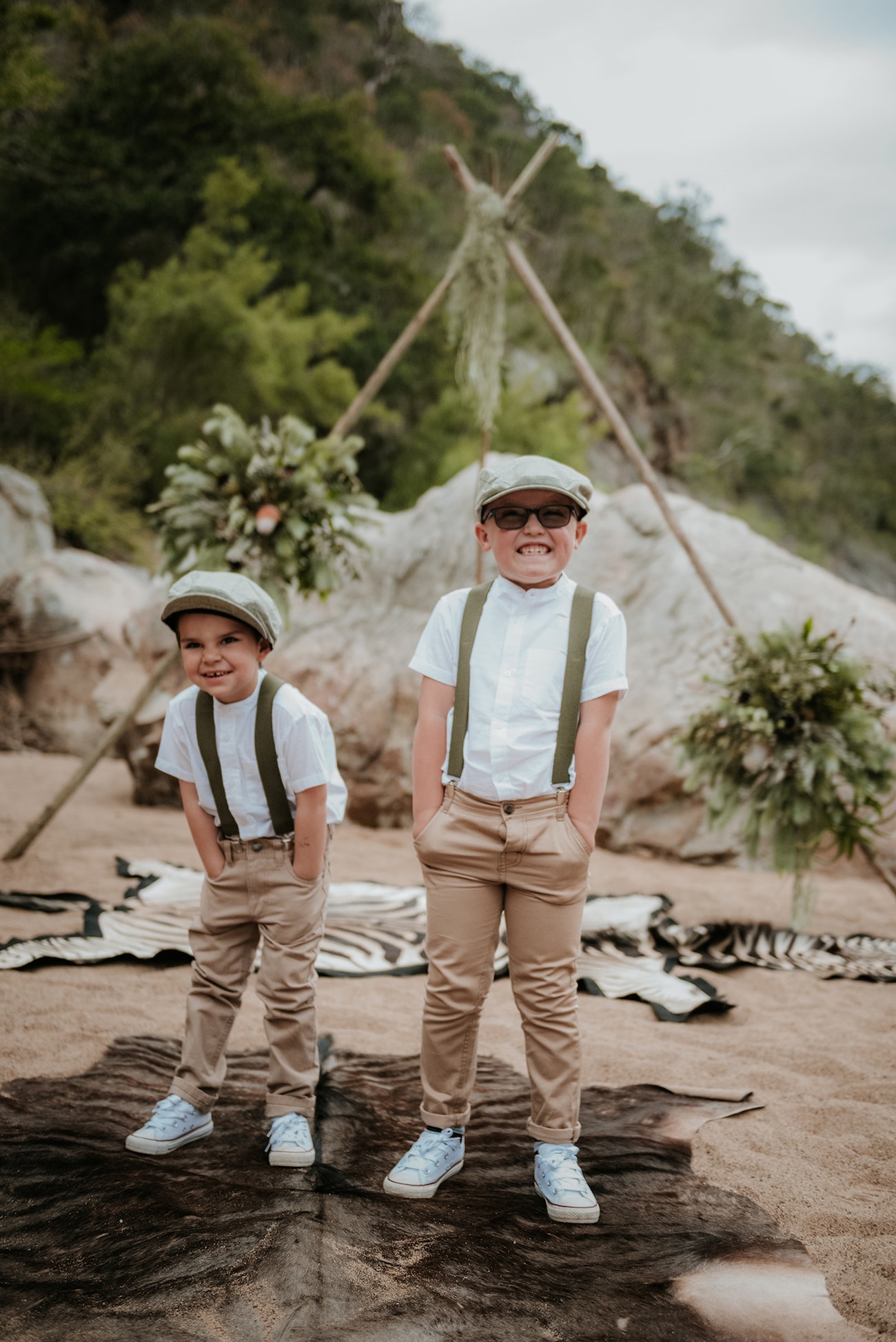 The Dress
I knew I wanted 'modern boho' and a friend suggested I try Ivory Isle Bridal who is the RSA stockist for Australian label, Made With Love. I looked at their Instagram feed and instantly fell in love! Their Sasha gown was my modern boho dream: exquisite crochet lace over a tan underlay with a dramatic train and open back. I booked a consult! My mom and I made a day of it and went to a few other bridal boutiques to try options, and oohed and aahed over a few before heading to Ivory Isle Bridal. When we arrived, Cath had laid out the entire range and expected a long, lengthy dress-up session. I said it wouldn't be necessary as I only needed the one. I put it on and walked out and it was like that moment everyone speaks of – you just KNOW you've found it!
The Bridesmaids
I chose to only have my eight year old niece as my flower girl. We are incredibly close and adore one another and she is a real little princess. Kathryn Kidger created her dress for us as a last minute favour, and knew just how to make her feel extra special.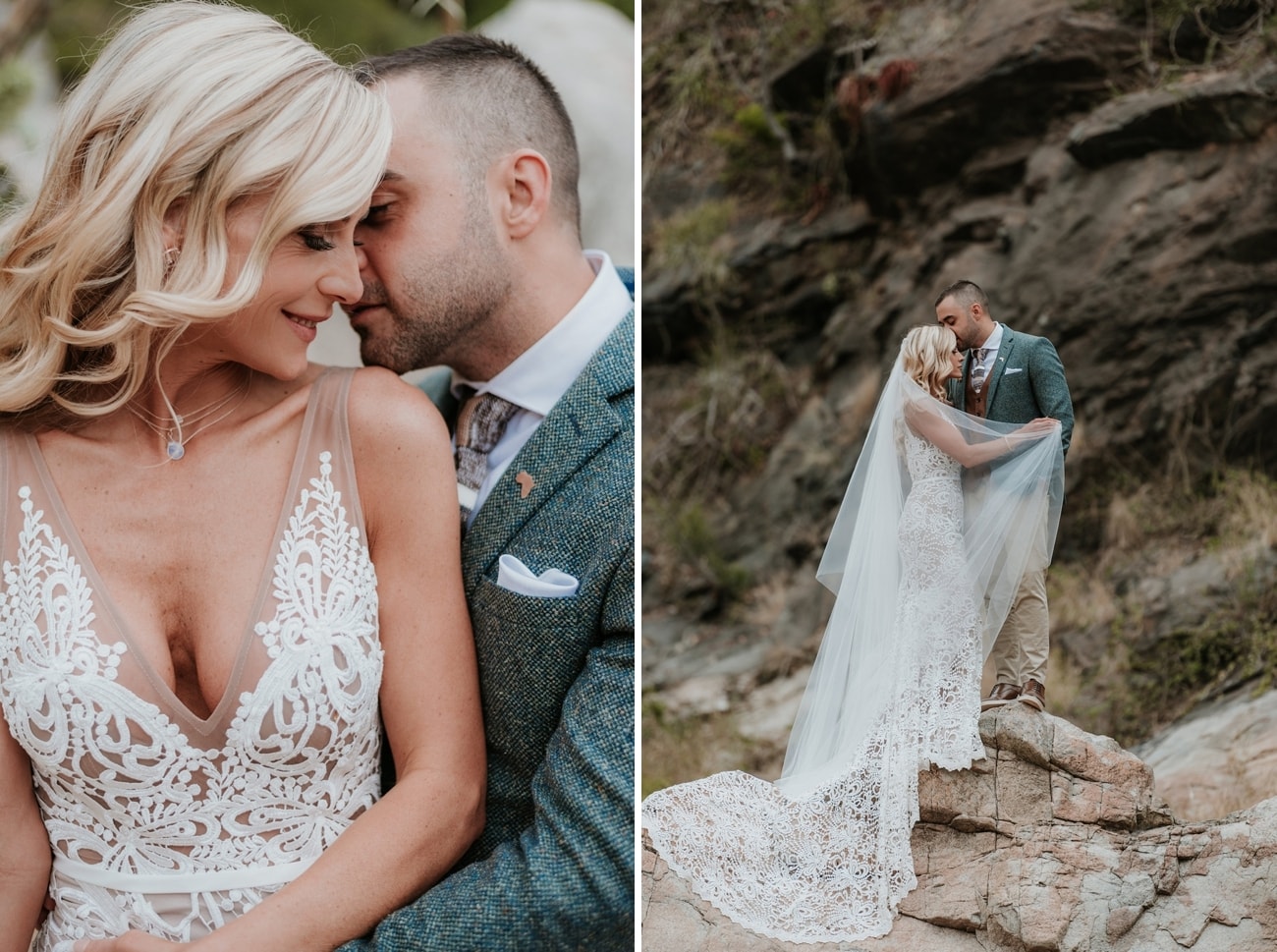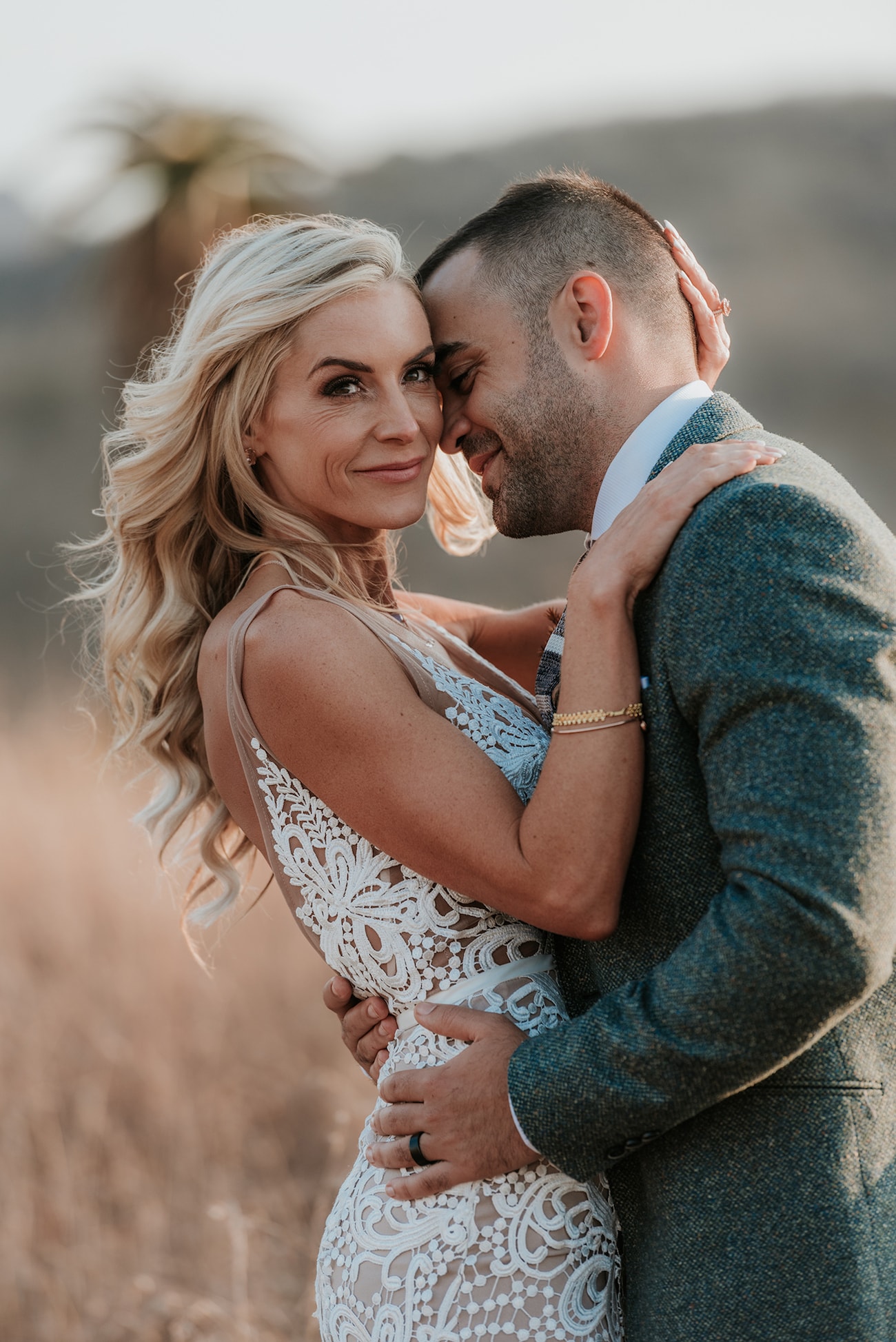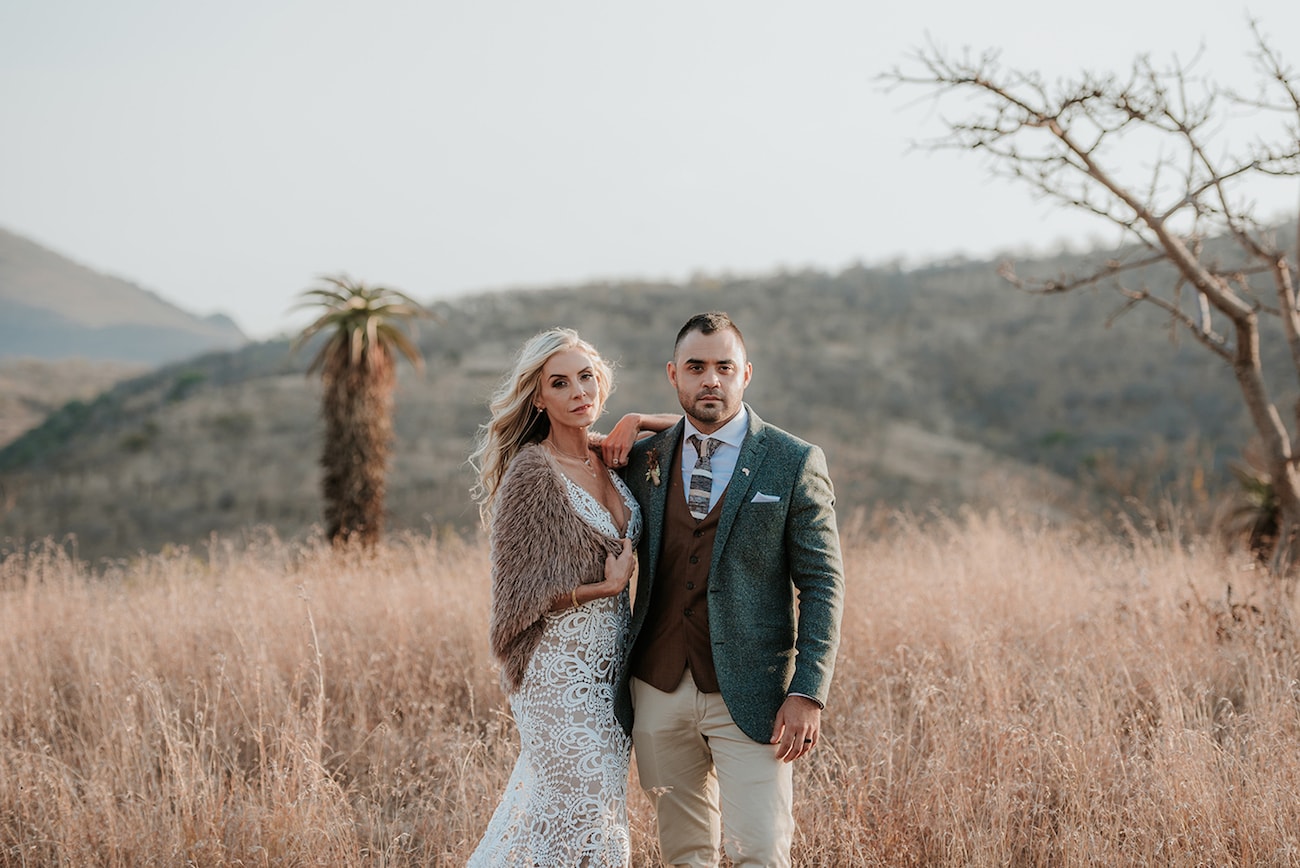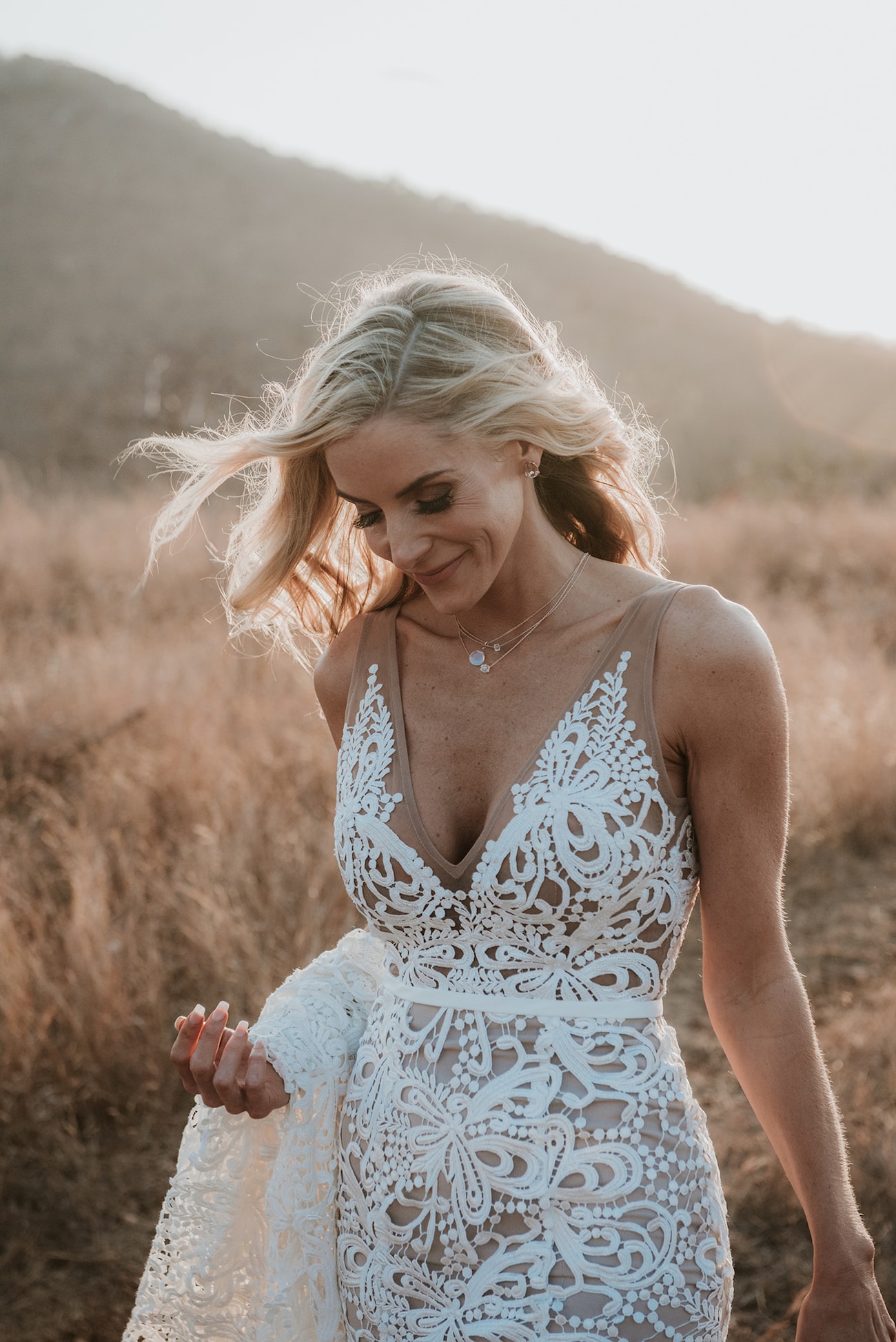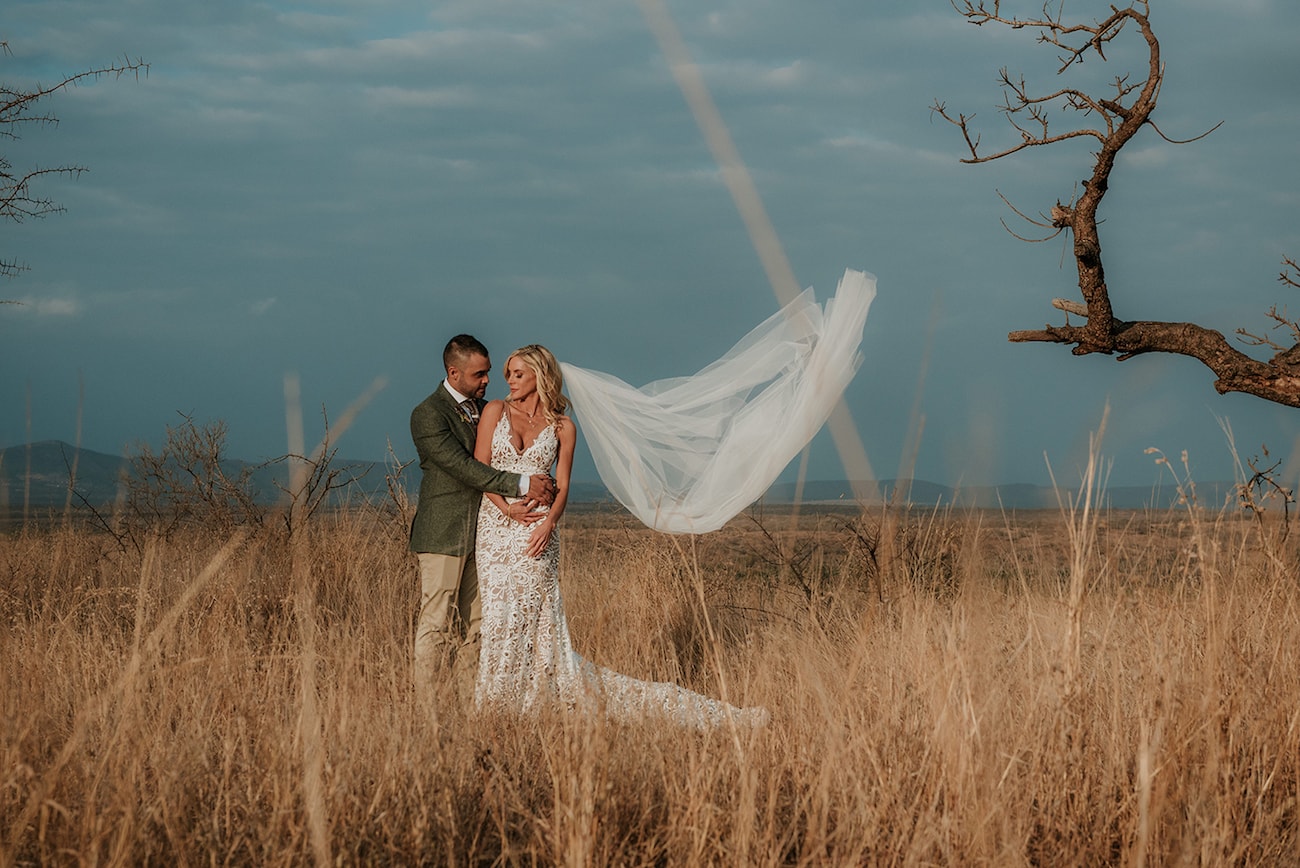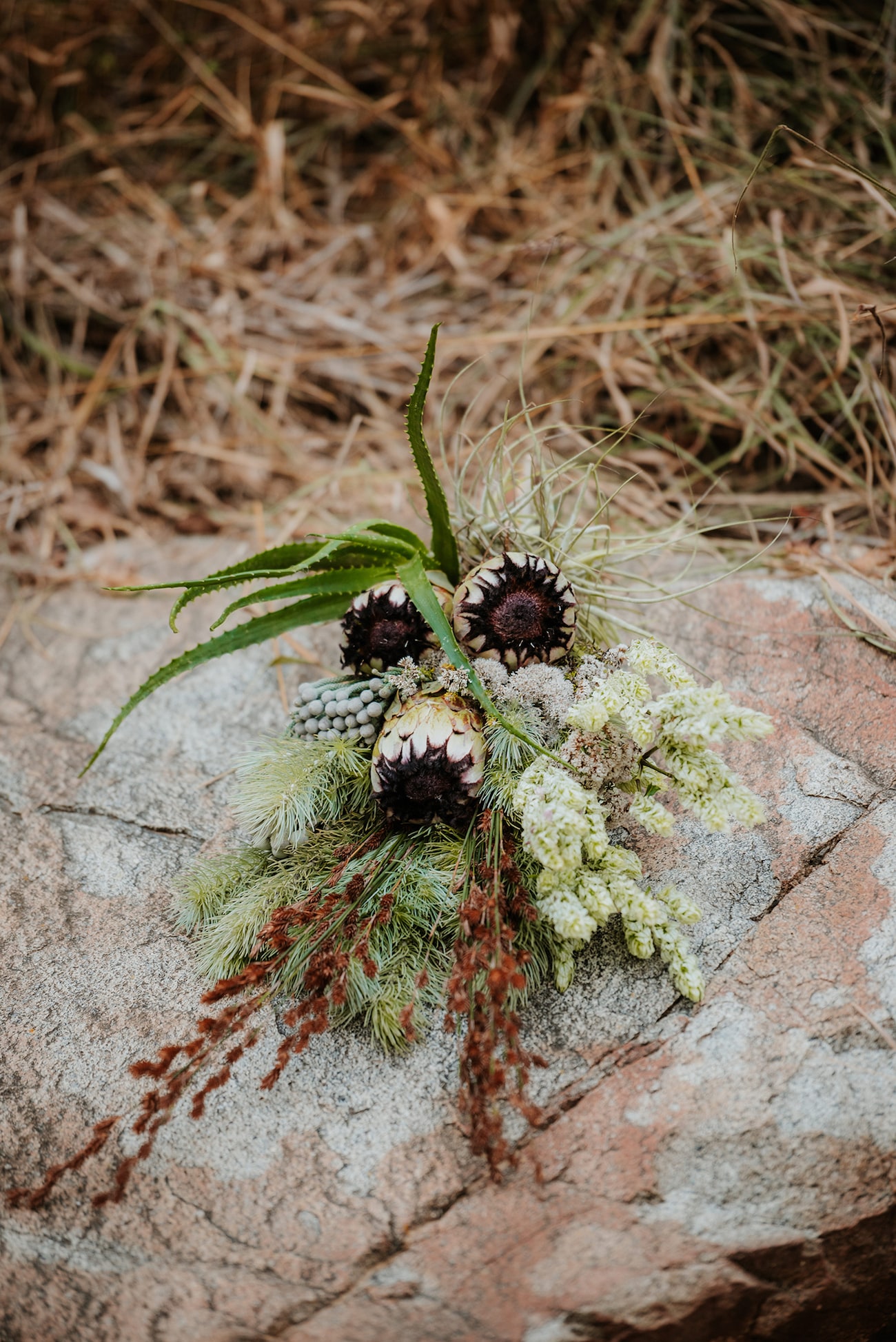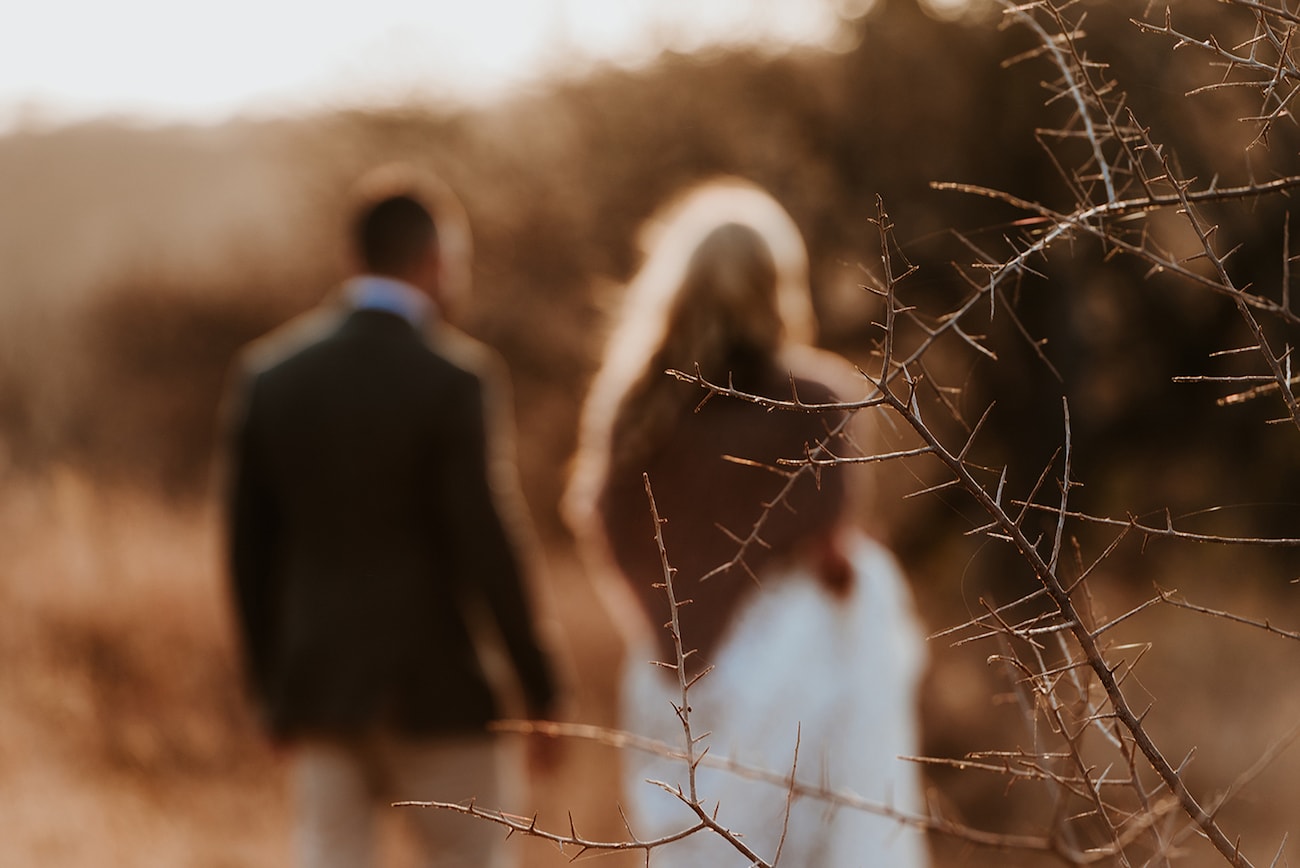 The Flowers
I wanted a bohemian, earthy feel. Natural colours, different textures and lots of grasses, greenery and locally sourced flowers lent themselves to a romantic look with a modern twist. Gail did everything – sourced, arranged and wove her magic with the tables, altar, bouquets, flower crown, lapels. She mixed different proteas (my favourite) with aloes, grasses and greenery, and completely blew us away with her creativity and styling.
Proudly South African Details
The Zebra Hills staff sang a traditional Zulu song as I walked down the aisle – it was so powerful and emotional and just a beautiful personal touch.
Memorable Moments
Adam: Watching Natasha walk down the aisle!
Natasha: I would say it was our vows – we were holding hands and I remember being so hyper aware and really drinking the moment in. Looking at his face and really seeing and feeling the love in his eyes, having our family around us and feeling so overwhelmingly happy. Another stand-out moment for me was during the father-daughter dance when my dad stopped halfway through and ushered for my stepdad to take over – completely unbeknownst to anyone of course. It was so special and unique and OVERWHELMINGLY emotional. There wasn't a dry eye in sight.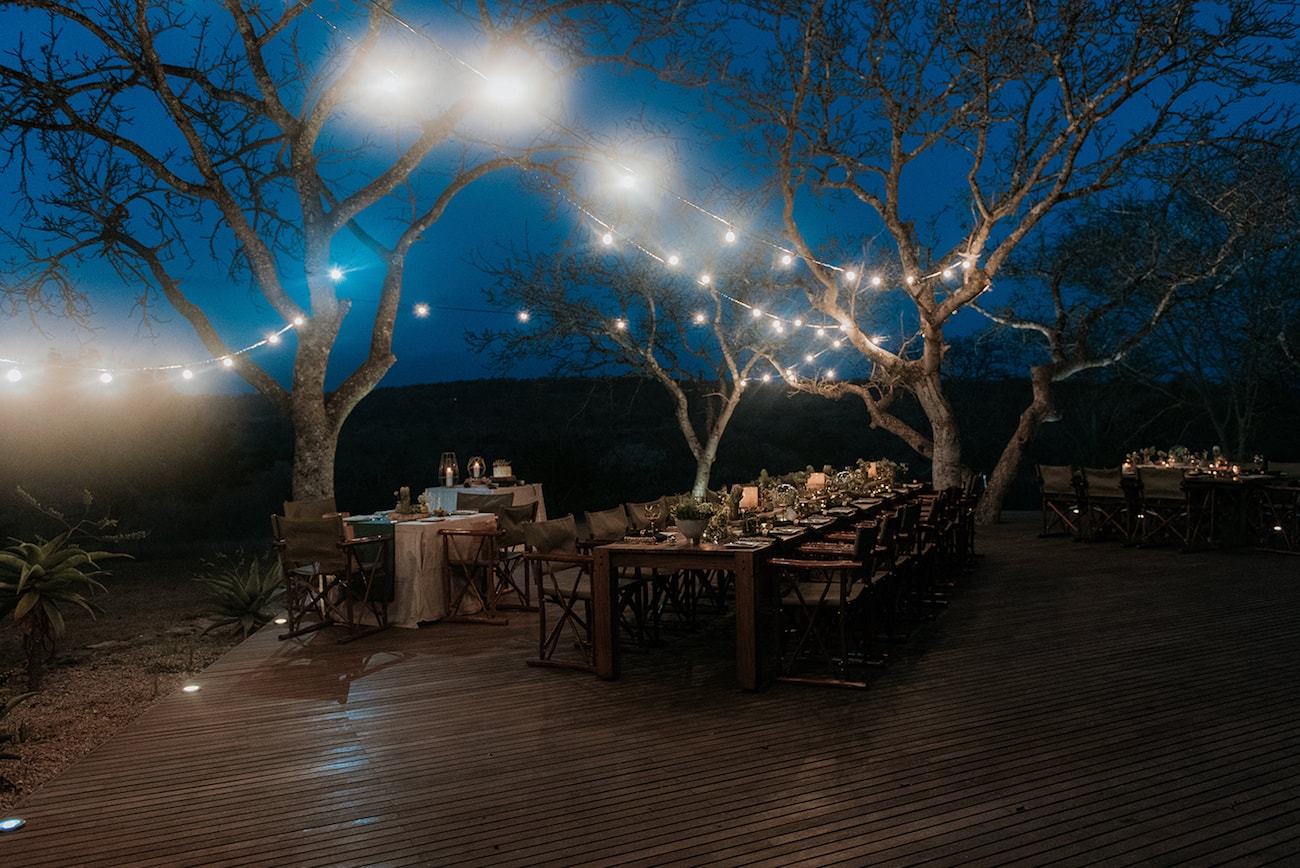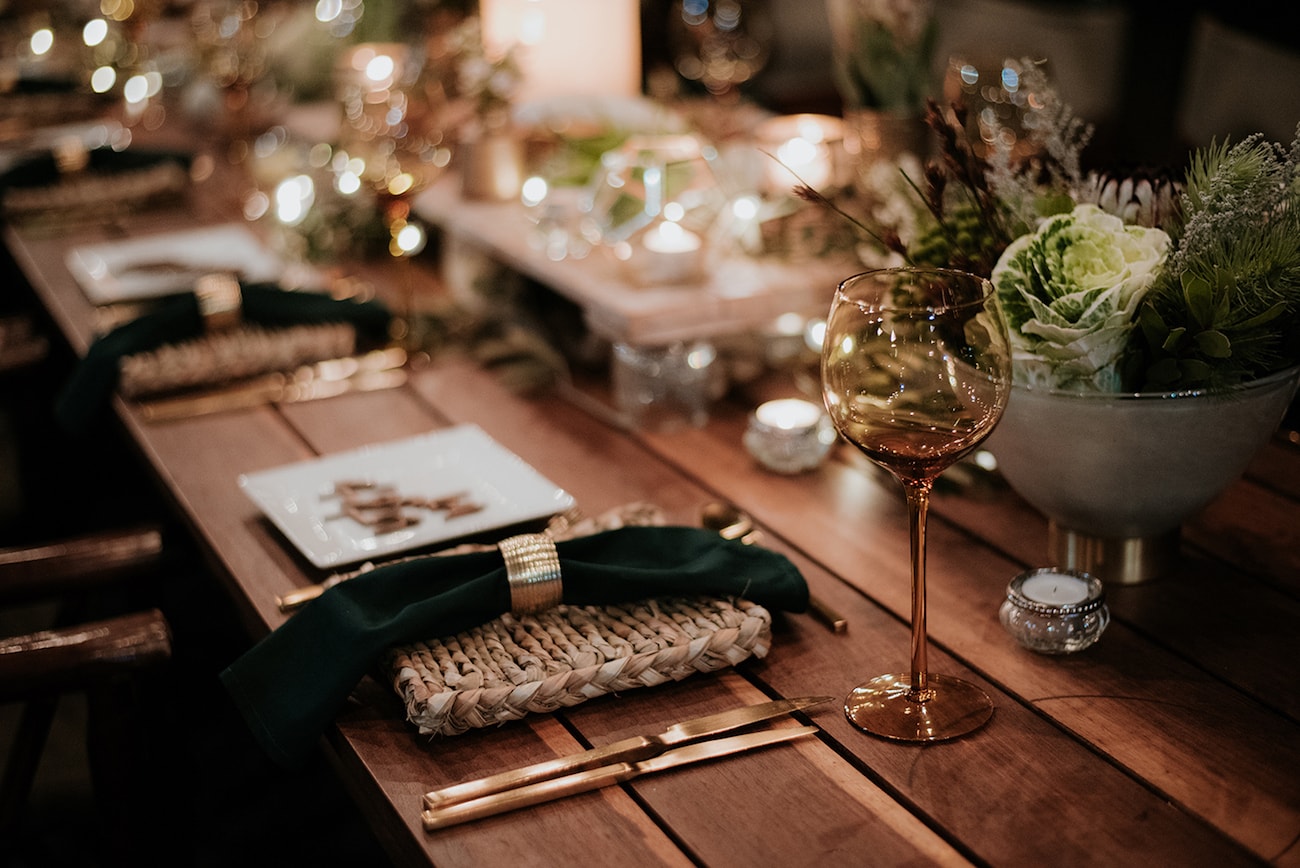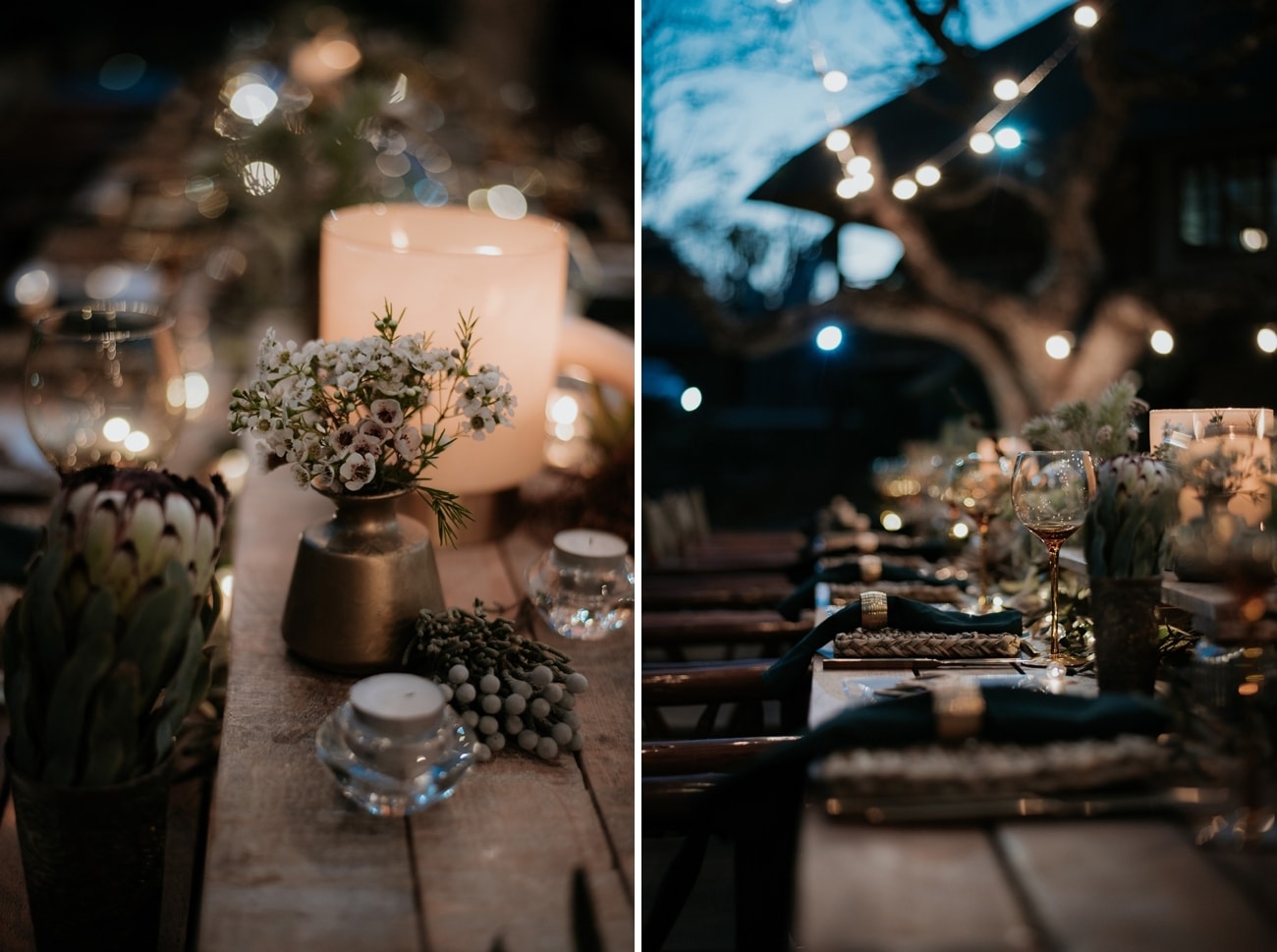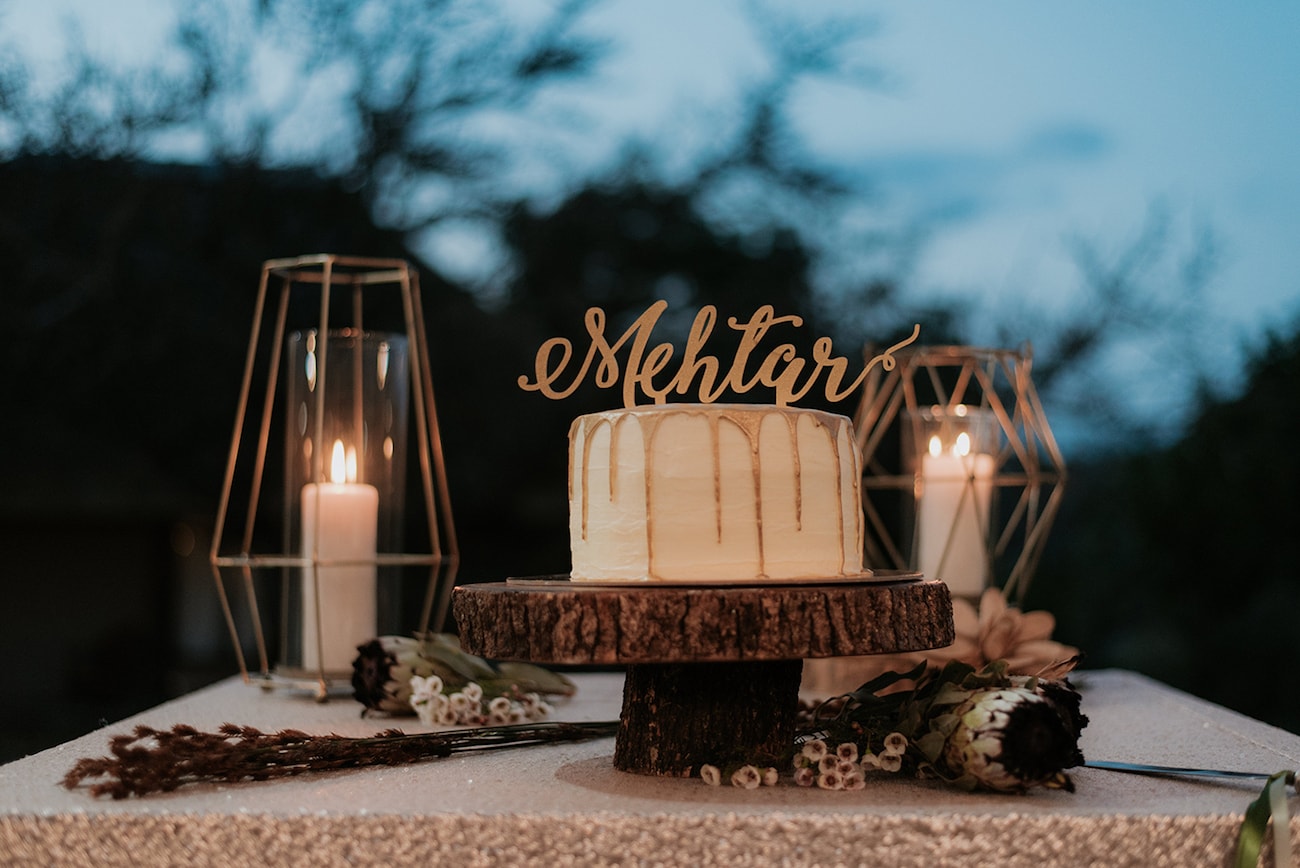 Best Decision
Keeping it very small and intimate with only immediate family and not trying to do it ourselves! Having a professional coordinater took the pressure and stress off and allowed us to just completely relax, Soak it all up and be present in every moment.
Advice for Future Brides & Grooms
Don't sweat the small things – no one notices but you! Keep it real and uniquely you and don't create an event designed around making your guests happy – remember the day is about the two of you so let it represent that. Try to take moments throughout the entire day to pause and really take it all in – it is so overwhelming and passes by in a flash!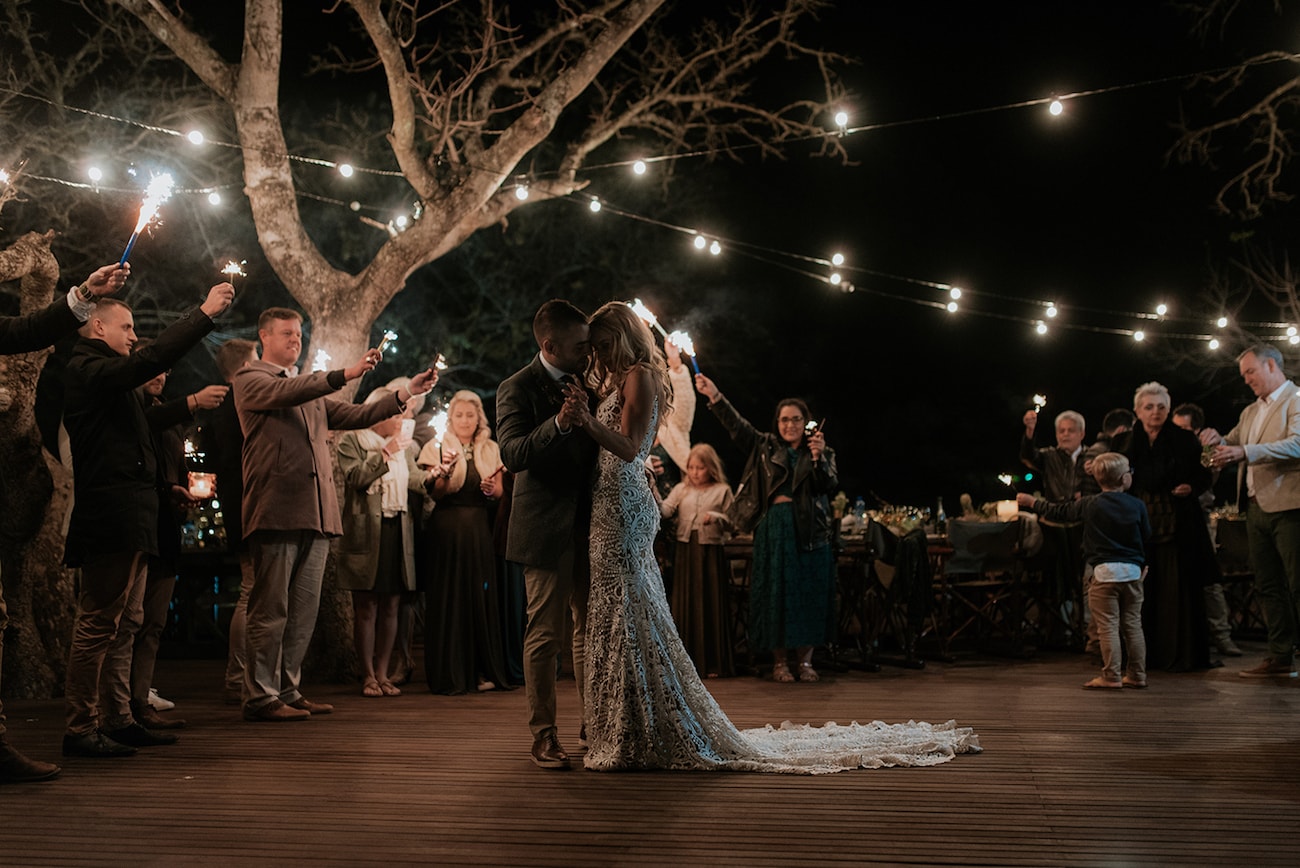 SERVICE PROVIDERS
Venue & catering: Zebra Hills Safari Lodge | Catering: The Secret Kitchen | Photography: Derryn Schmidt Photography | Co-ordination, flowers & décor: Gail C Flowers and Styling | Video: James Peters Film | Cake: Bron Celine | Bride's dress: Made With Love from Ivory Isle Bridal | Hair & makeup: Tia Botha of Nixon Make Up | Flowergirl dress: Kathryn Kidger Designs | Groom's attire: C squared