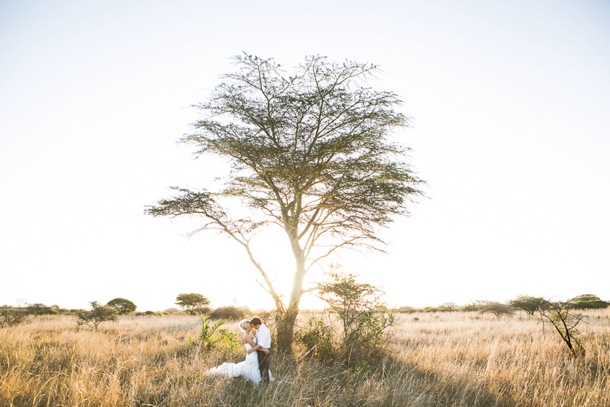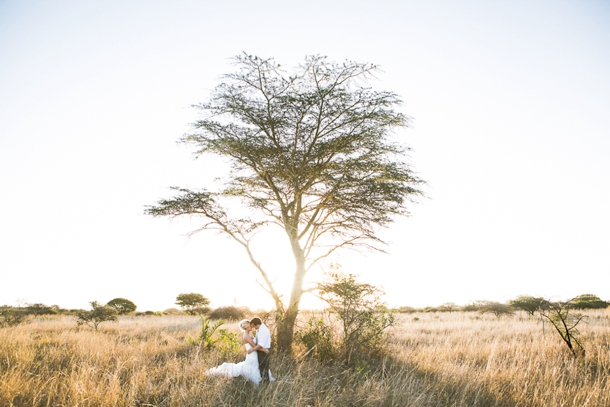 You guys don't need me to tell you how much I love the African bushveld, it is my BEST THING. So of course I have a soft spot for couples who share that love, and as soon as I saw Melissa & Keenan's wedding I knew that they were just that sort of couple. Long-distance lovers who now live in beautiful Kwazulu Natal, they planned a game lodge fabulous wedding complete with a chic bush ceremony arch, zebra bridesmaid robes, and just about every variety of protea. It's super joyful and beautiful, and super South African, which makes it the perfect wedding to kick off our super SouthBound year! The phenomenal Fiona Clair was on-scene to capture these gorgeous pics.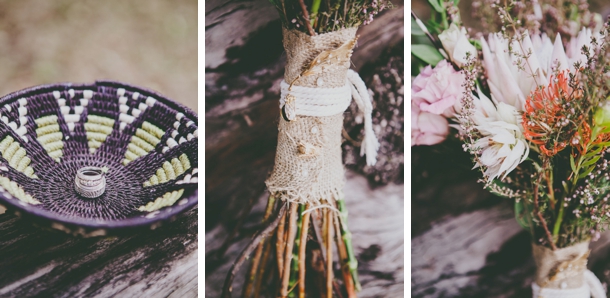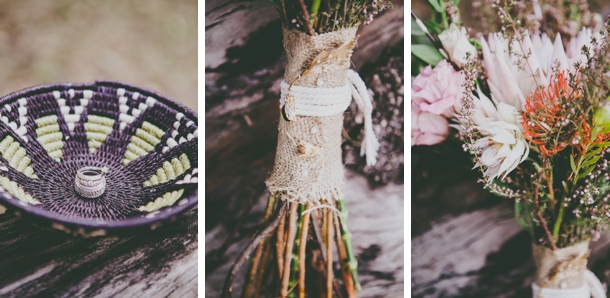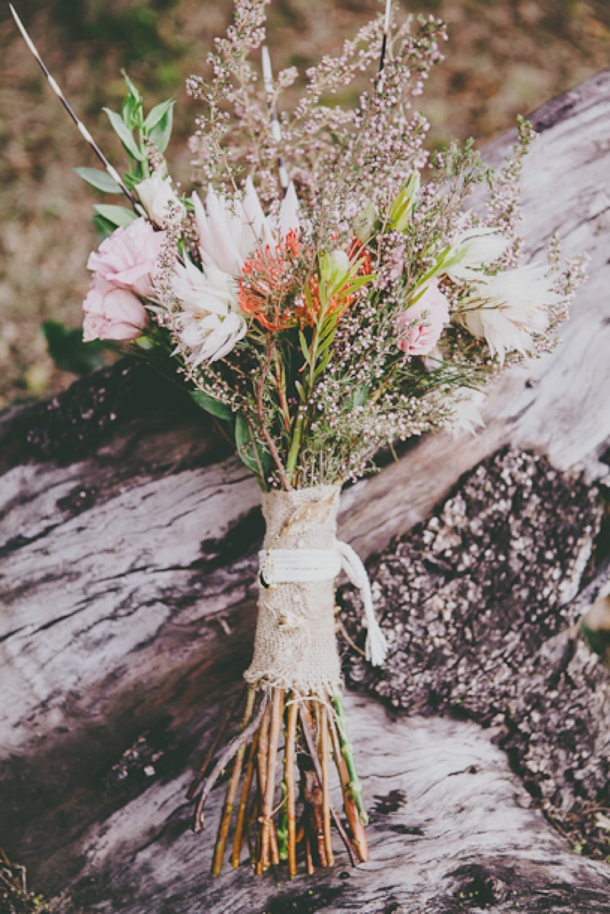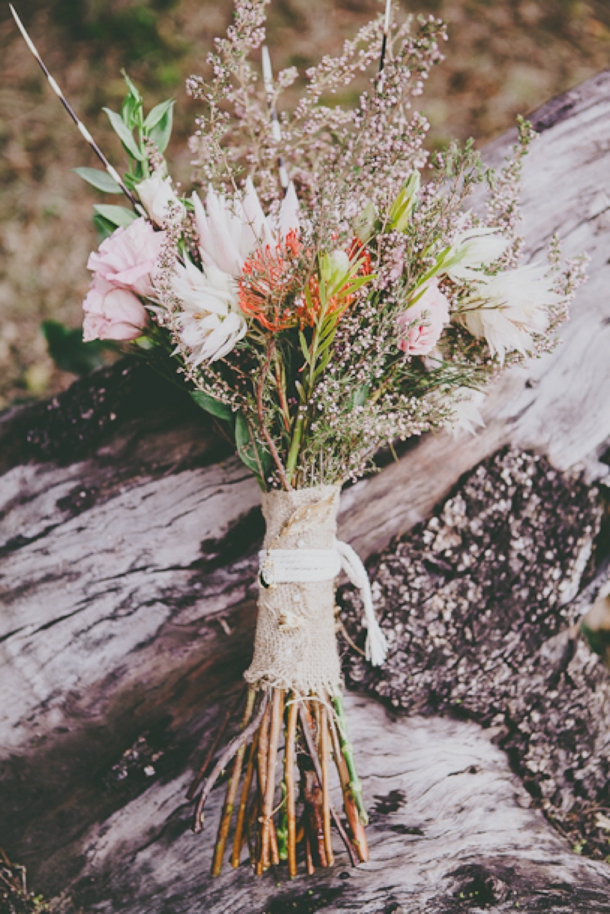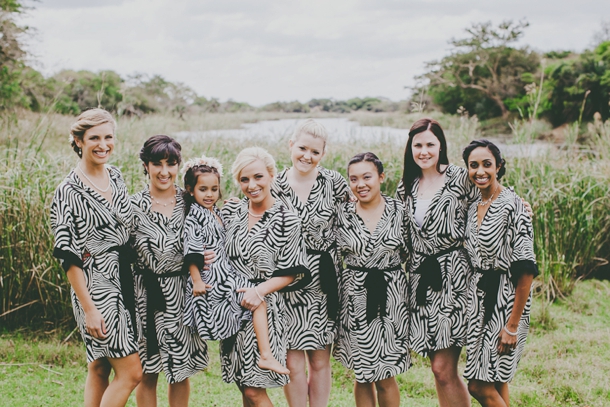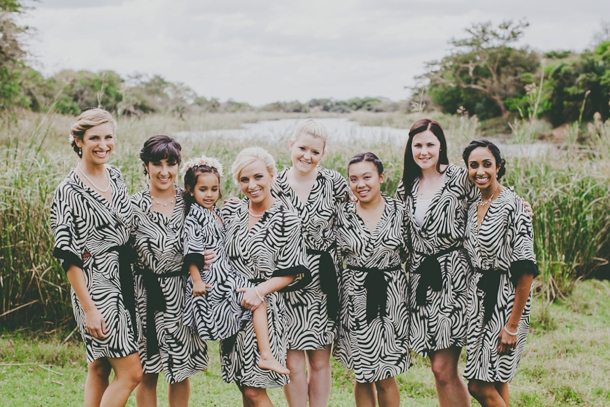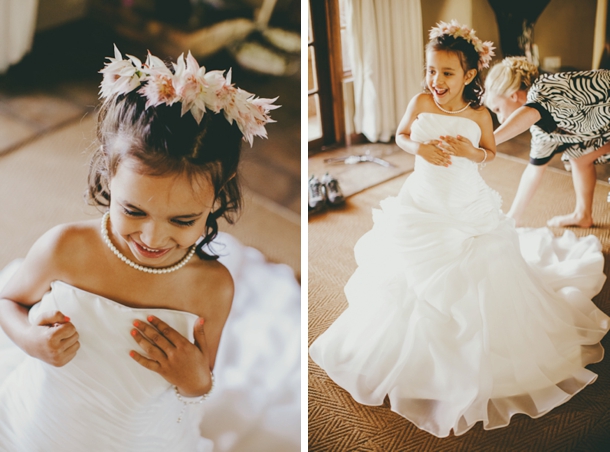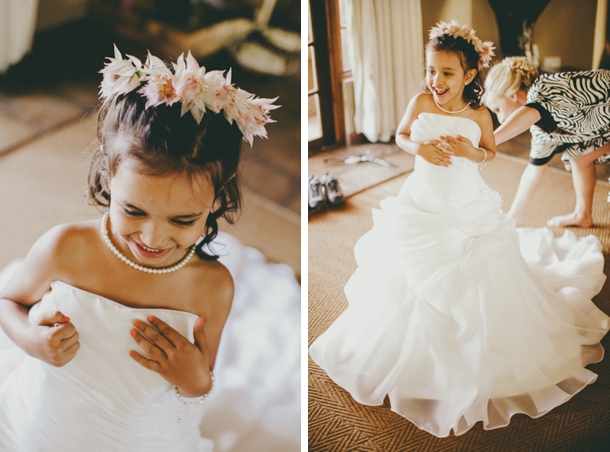 Love Story
Keenan is South African and I am American. We met at university when I came to study in Pietermaritzburg as an undergrad. Keenan and I are both biologists and ended up working together on a project studying zebra and we just clicked. The beginning of our relationship was tough because we spent a lot of time apart while I was still living in California. However, we knew it would work in the end because we are the perfect match for each other. I finally moved back to South Africa to get a Masters degree and we are now living together in KwaZulu-Natal. During our entire relationship, we have enjoyed traveling and exploring together, both in South Africa as well as in California, but never straying far from nature.
The Proposal
Keenan proposed to me while we were on a joint family camping trip in the Kruger National Park. My dad really enjoys his food, so Keenan took a jaffle (toasted sandwich) to my parents' tent as a peace offering and proceeded to ask their permission to marry me. My parents quickly said yes and then Keenan waited for the right moment to whisk me off to my favourite place in the world— Mathekanyane (Sand Flea) Koppie near Skukuza. From this koppie, you have a view of the bushveld as far as the eye can see. I visited this koppie many times growing up while vacationing with my family and remember this as the spot where I fell in love with South Africa. Keenan knew this, and, true to form, Keenan proposed there wearing his beloved khakis. This koppie is usually quite busy with tourists but when Keenan proposed, we had it all to ourselves so we could enjoy the view and the moment alone. Instead of an afternoon game drive, we enjoyed the rest of the afternoon drinking champagne and gin and tonics around a fire.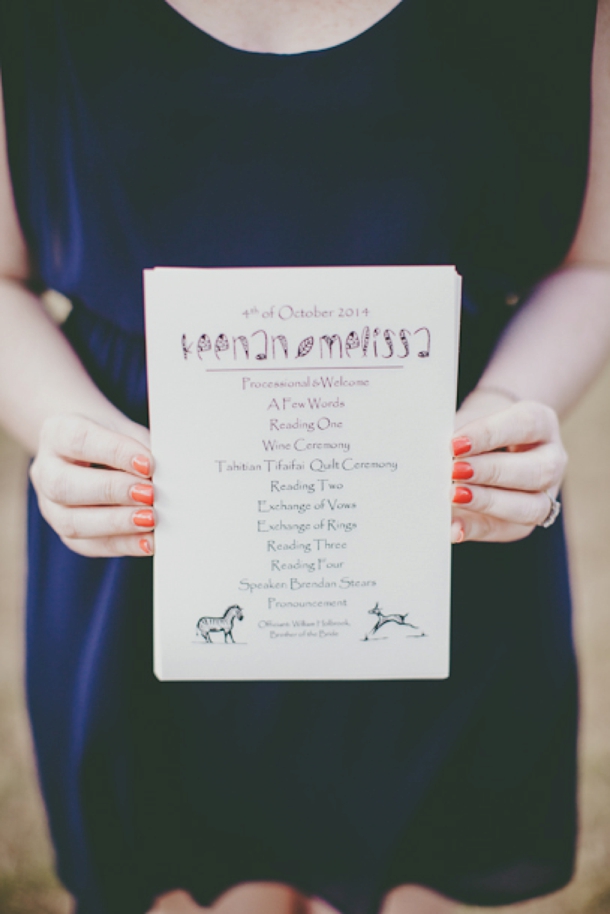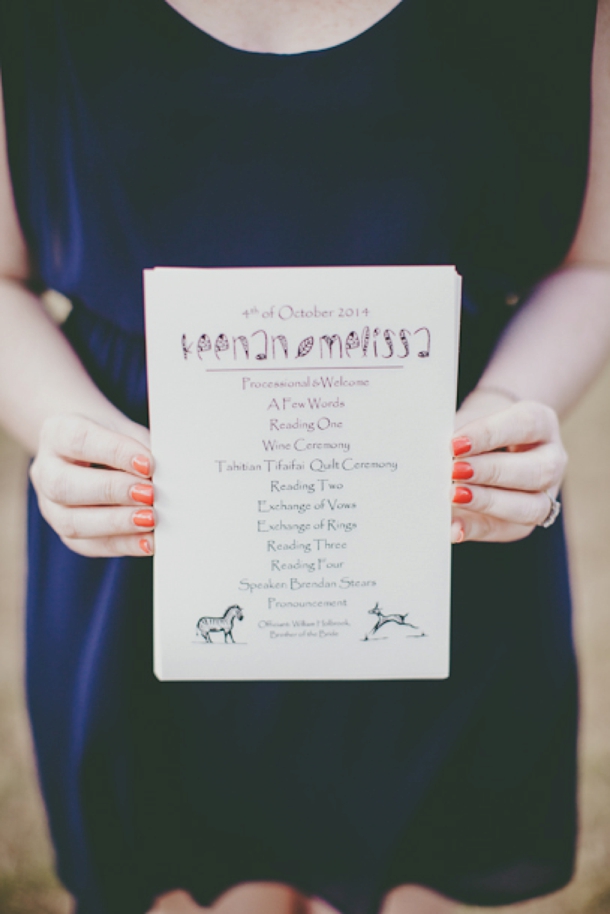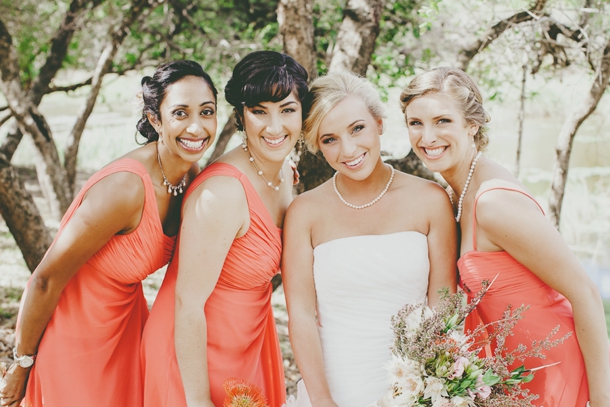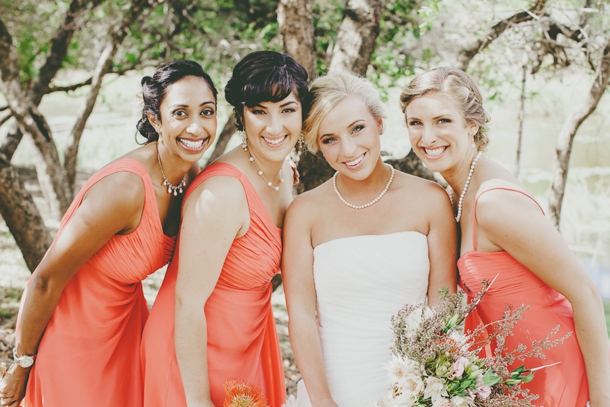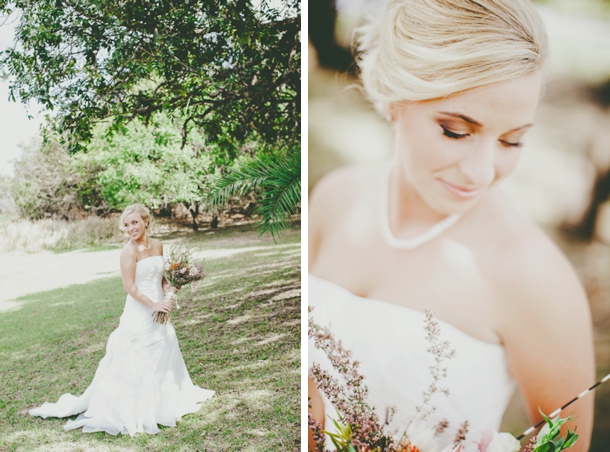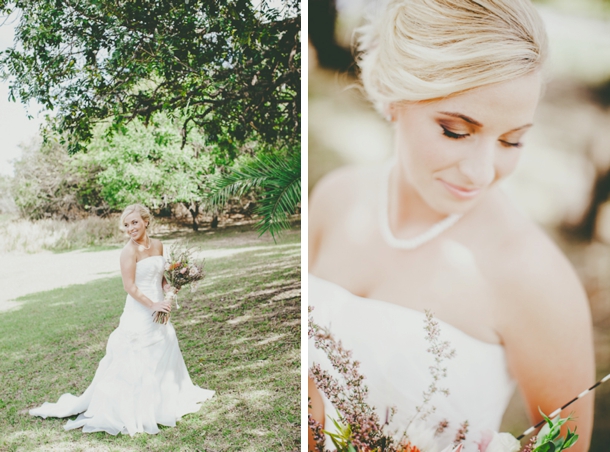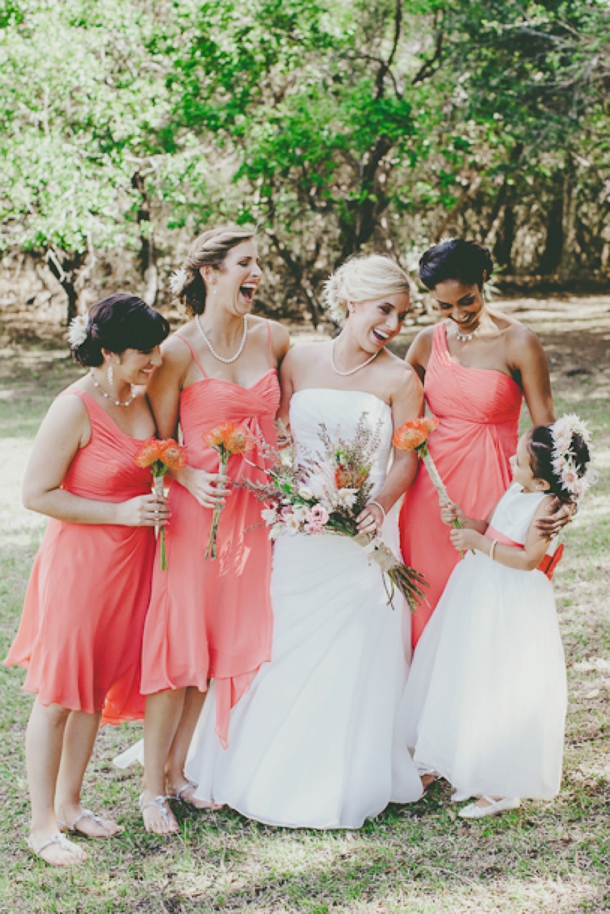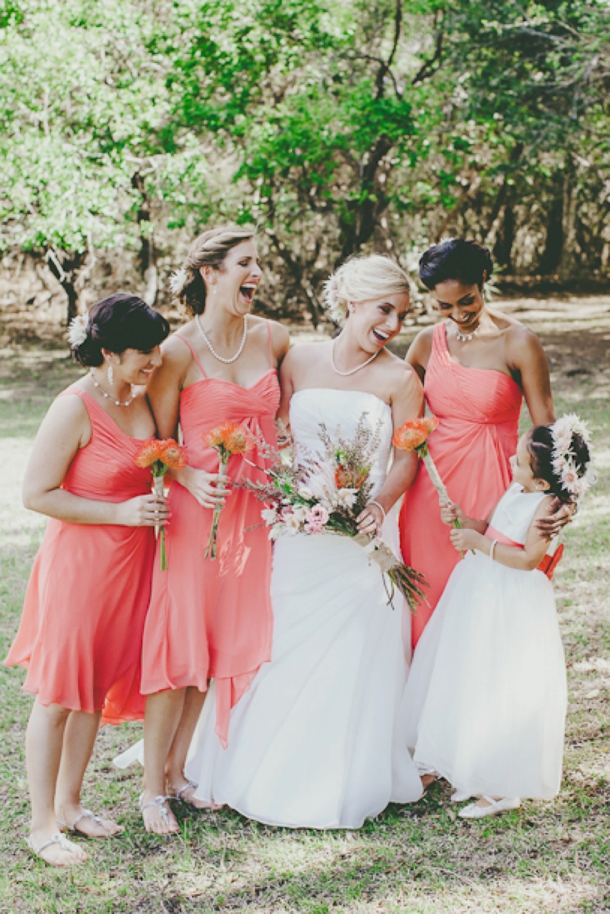 The Venue
From the moment we first visited Bonamanzi Game Reserve, we loved it. The main camp, Lalapanzi, is situated on a small dam and has spectacular sunsets. We had a weekend wedding with a number of guests arriving a few days before the wedding. Bonamanzi offers a number of activities (e.g. sunset river cruises and trips to Hluhluwe-Imfolozi Game reserve) for guests to enjoy. Lalapanzi camp was also big enough to accommodate all our of guests. We adored the open-air restaurant at the camp and instantly decided that we would hold our reception there. Most importantly, Bonamanzi suited our style and we loved the scenery and ambiance.
Wedding Style
We both love the African bush and wanted our wedding to reflect that, so we went for a rustic bush theme. We used a palette of greens, browns, and pinks at our reception venue and our ceremony spot in the bush. We also used porcupine quills and guinea fowl feathers in our decorations.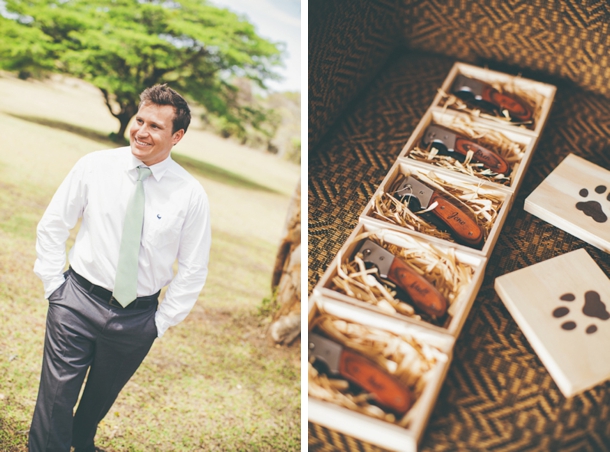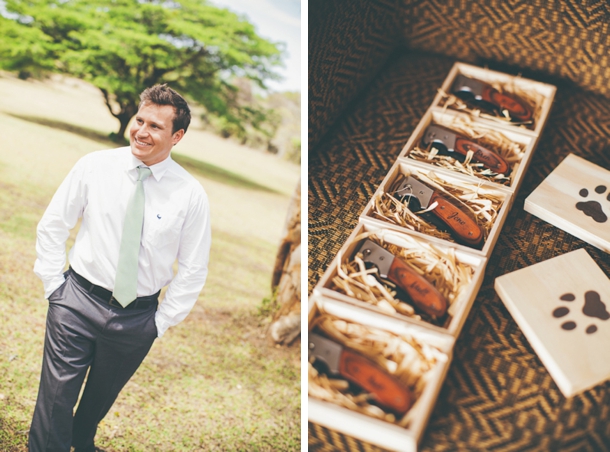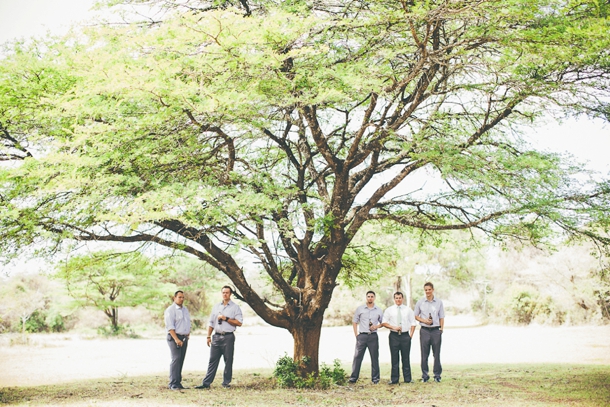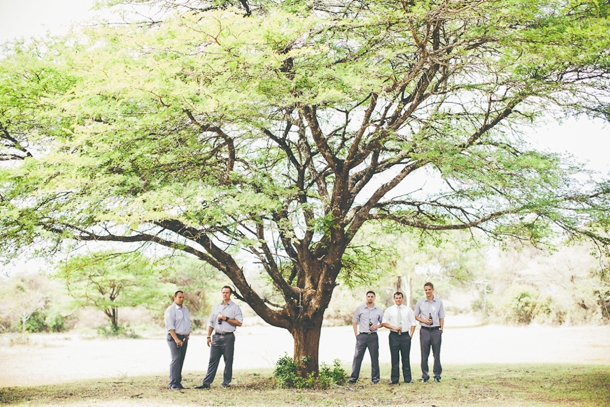 Wedding Details
Every aspect about our day had a personal meaning to both of us. This included a message my dad wrote to me on a piece of one of his blue work shirts that was sewn into the inside of my dress. My bouquet included jewellery from my two biological grandmothers and step grandmother as they could not attend our wedding. I also included a pin from my mom, even though she was there celebrating with us. Another close family friend, who could not attend the wedding, is from California and is an elder in the Chumash Native American tribe. He made Keenan a deer antler knife as a welcome gift when Keenan first came to visit me in California, and we used this to cut our cake!
My brother, Will, wrote and officiated our ceremony, which was just amazing. He included personal anecdotes, meaningful readings, and advice. Keenan's brother delivered the most heartfelt reading of Wayne Visser's poem, "I am an African."
While growing up, I spent some time in French Polynesia, in the South Pacific, so we incorporated many Tahitian customs into our ceremony. We did a lei ceremony in which Keenan and I presented each other with leis (floral necklaces) made by two of my best friends. The flowers are all strung together to form an unbroken circle that represents your eternal commitment and devotion to one another. The beauty of each individual flower is not lost when it becomes a part of the lei, but is enhanced because of the strength of its bond. We also did the traditional Tahitian marriage ceremony in which both sets of parents wrap us in a quilt. This symbolizes the joining of the couple for life, and reminds them to always think of and consider each other as they are now one.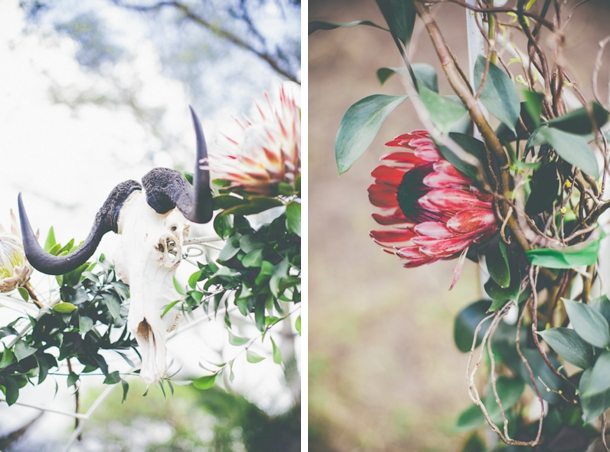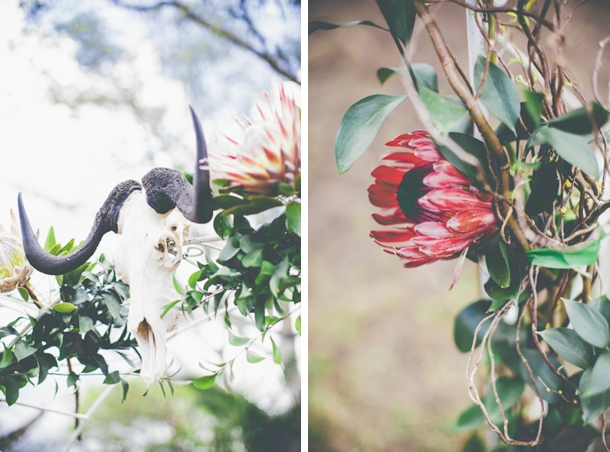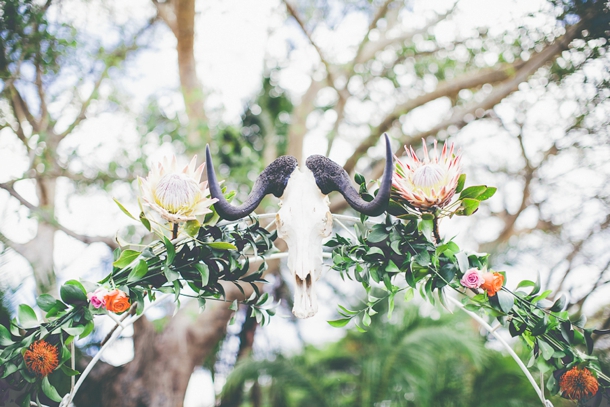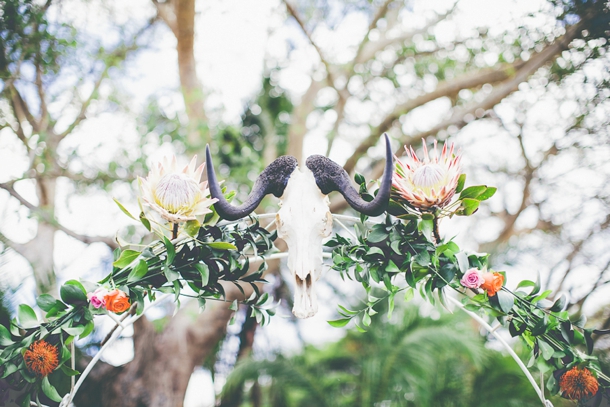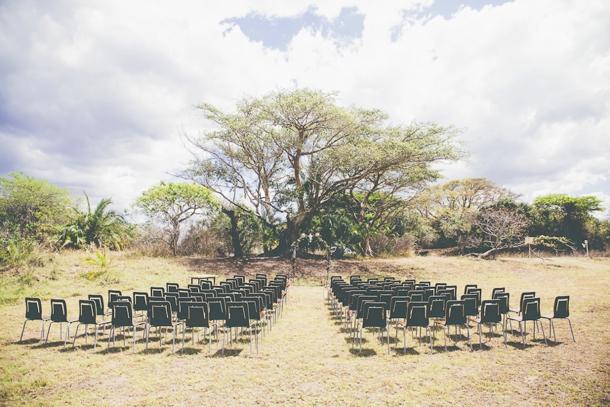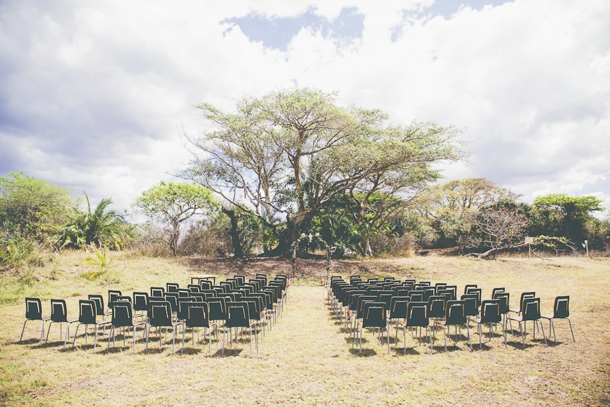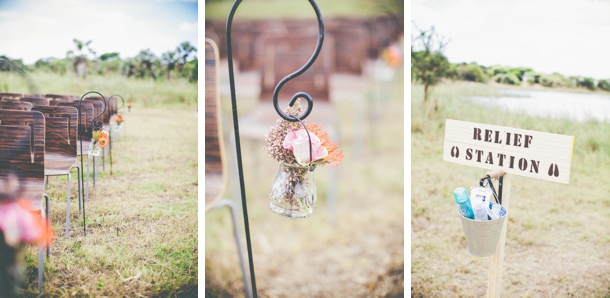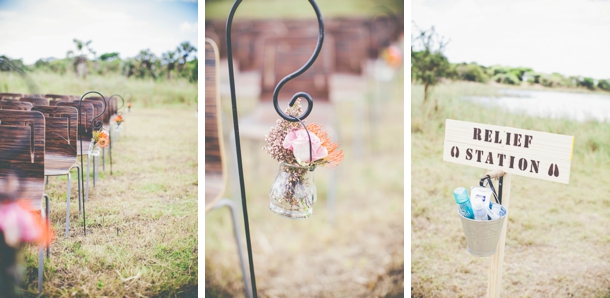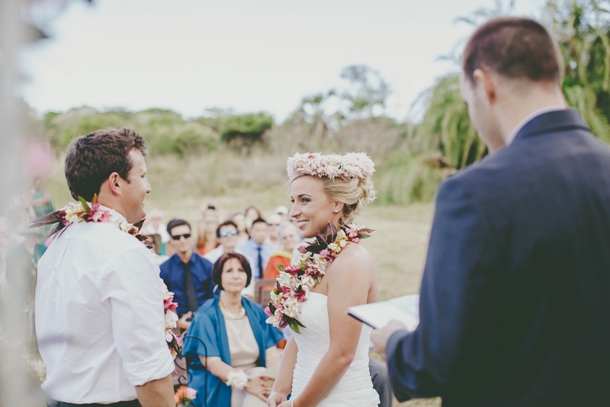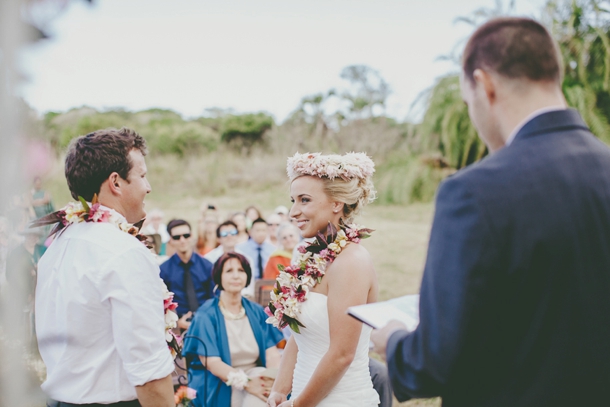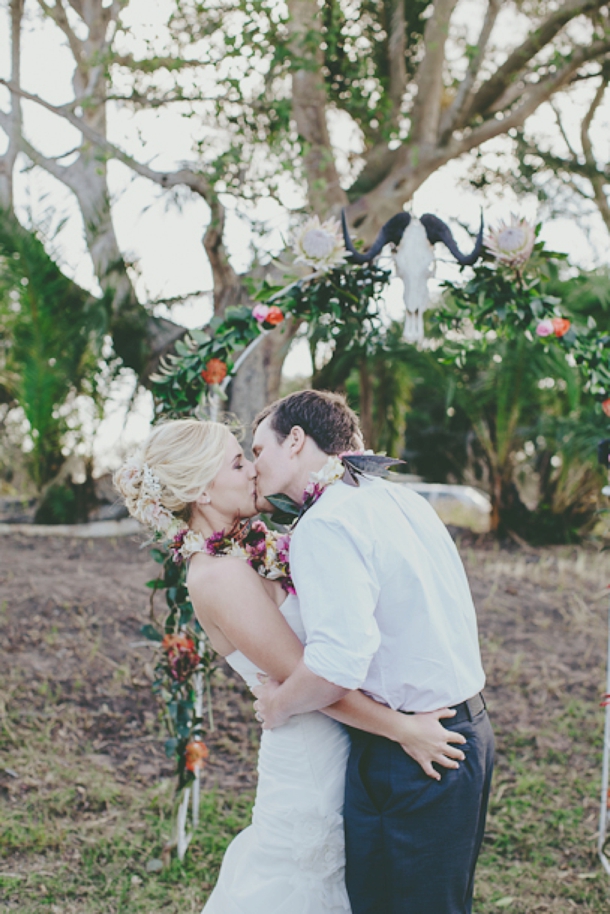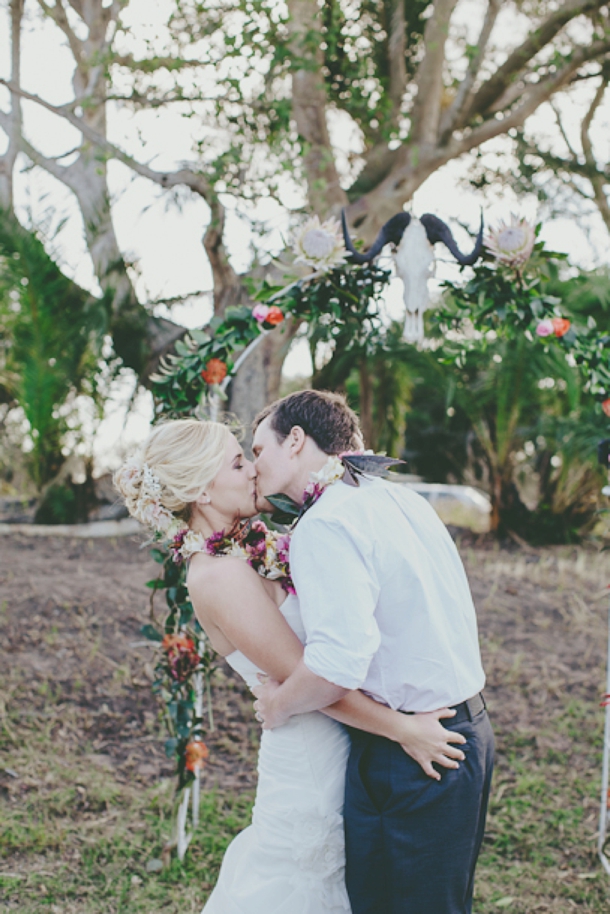 DIY Elements
My artistic abilities leave something to be desired, so any DIY that was done, was done by Keenan. He spray painted signs that were used to give directions on the day. He also drew and designed the wine labels for the table wine as well as the ceremony stationary. We left the rest to the professionals.
The Flowers
Proteas were a major theme at our wedding! We love proteas, so we wanted as many types of them as possible mixed in with everything else. Our decorating team, Function Flair, was so amazing. They listened to our crazy visions about our floral decor being stuffed with proteas, succulents, and porcupine quills… and totally delivered! We also wanted our arch to reflect our love for the bush so we asked Function Flair to incorporate our black wildebeest skull into it, which they made fit in perfectly with the proteas! All of my bridesmaids and I wore blushing brides in our hair and our flower girl wore a flower crown of blushing brides.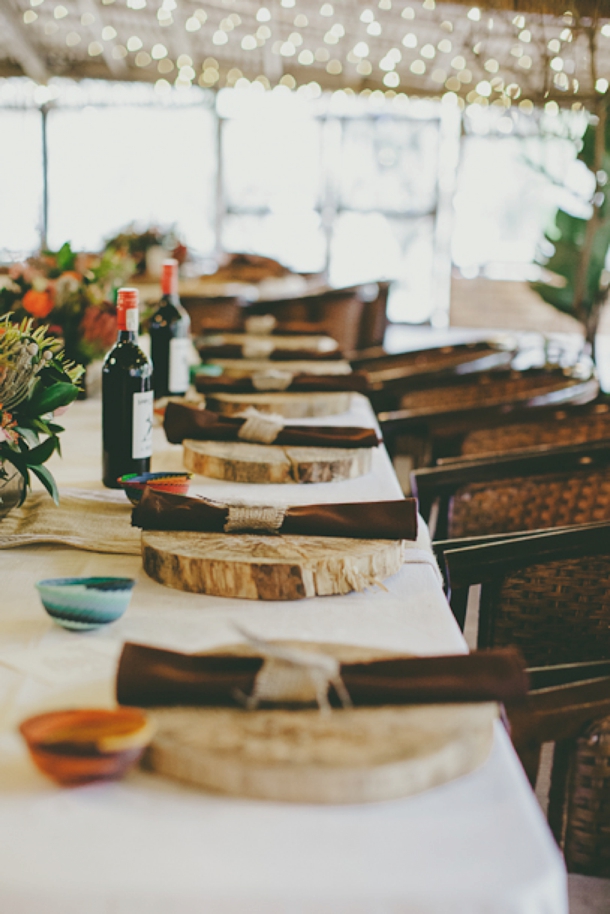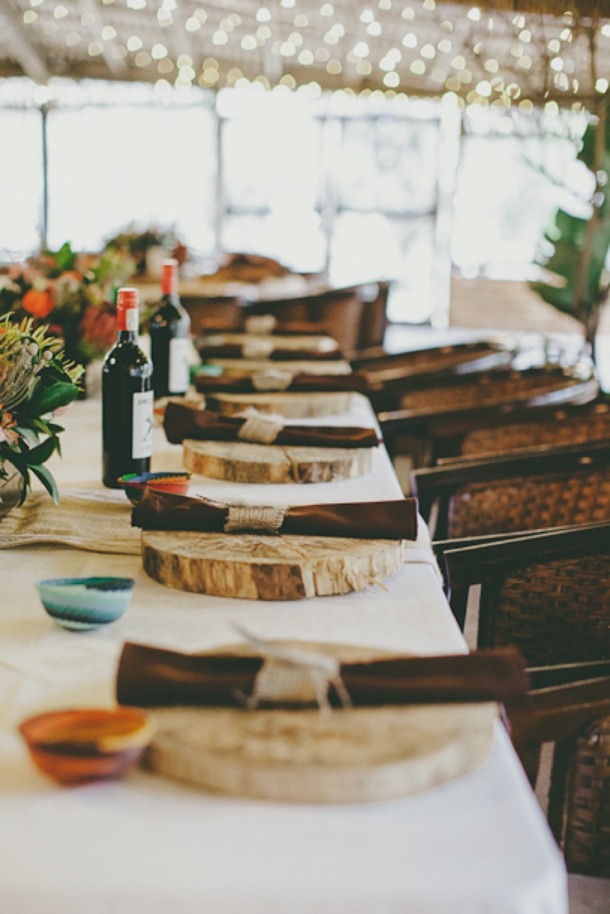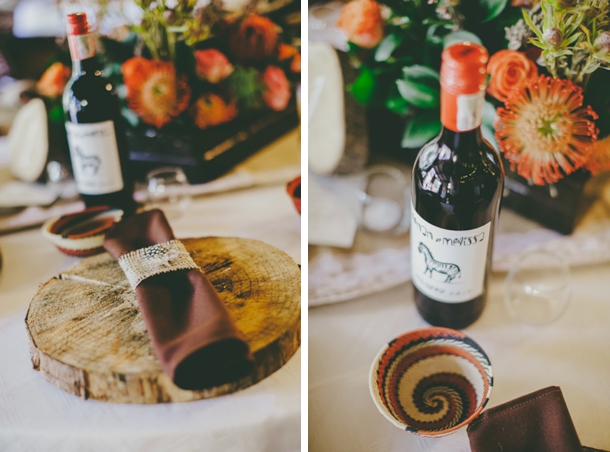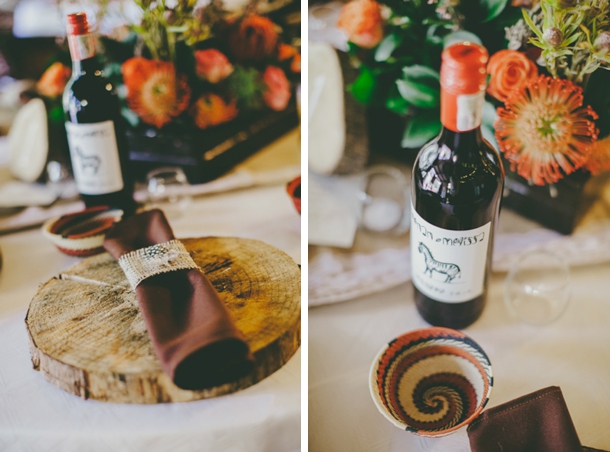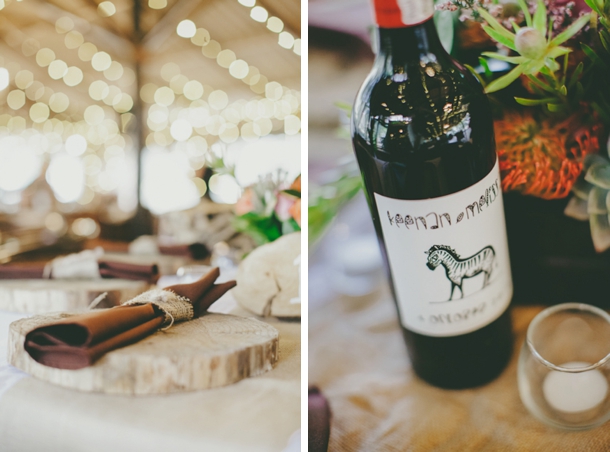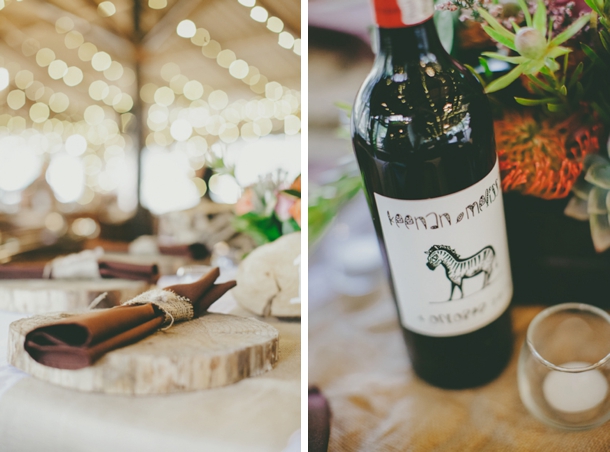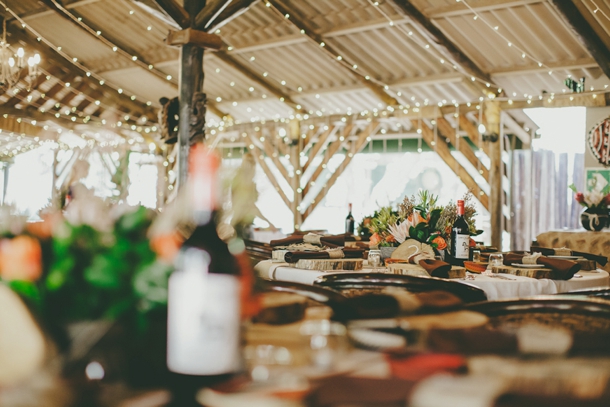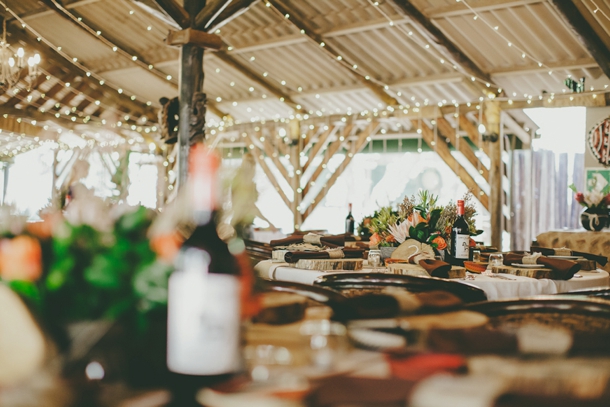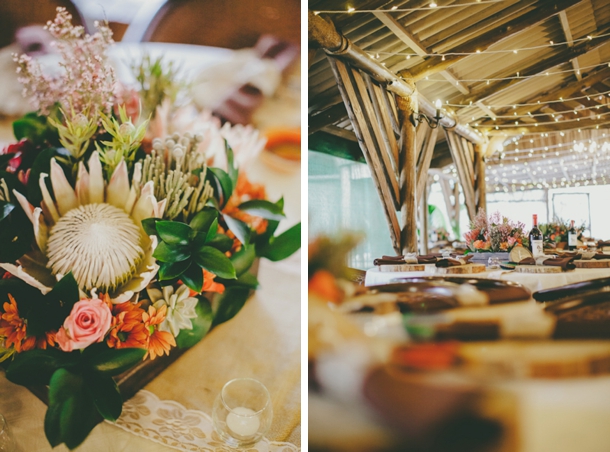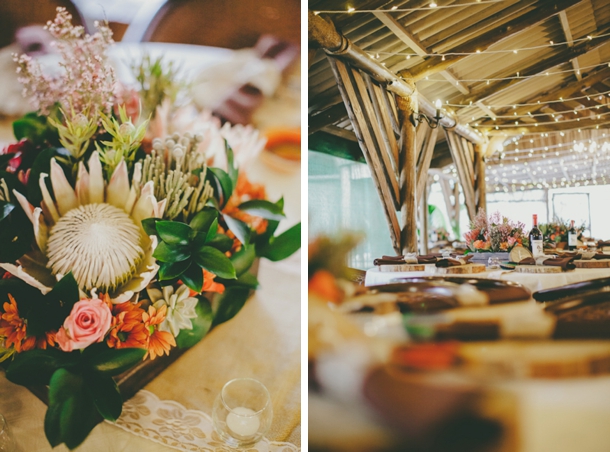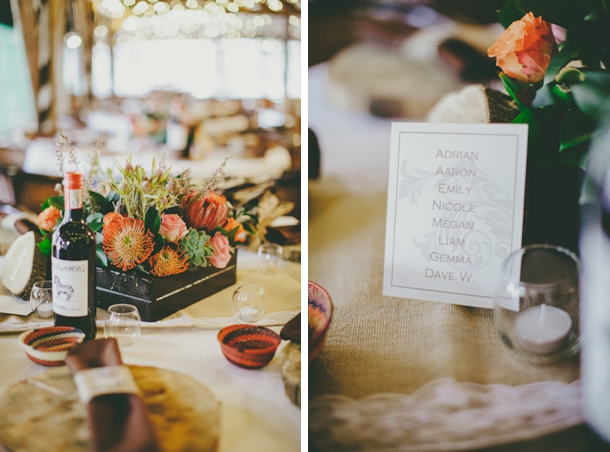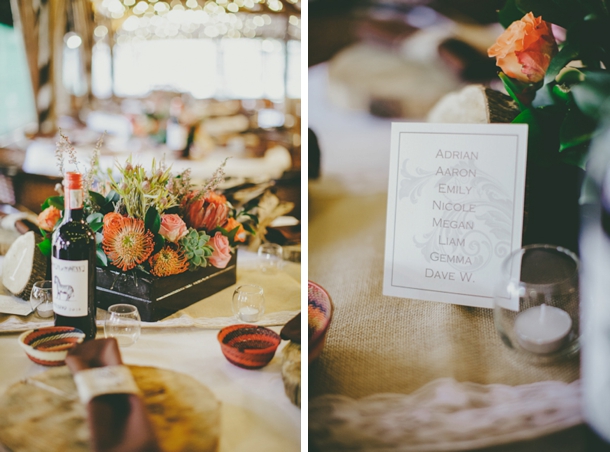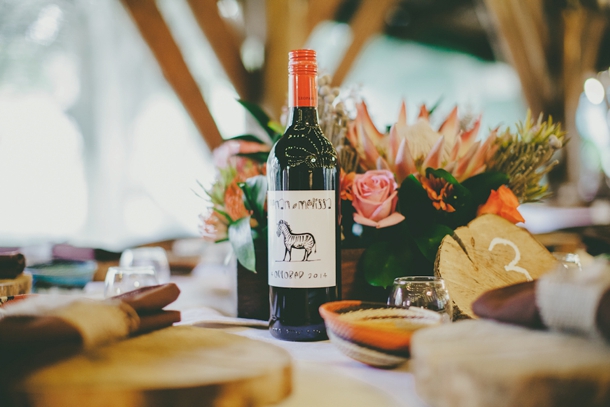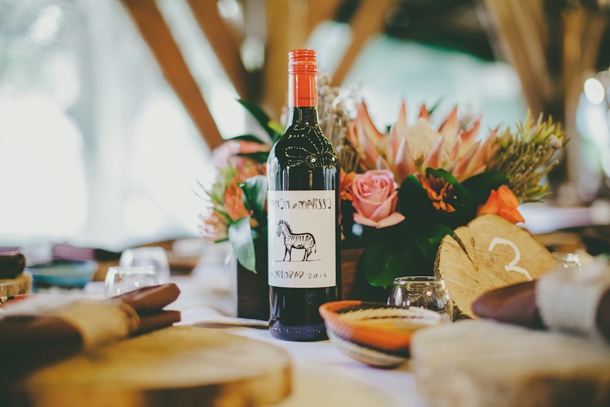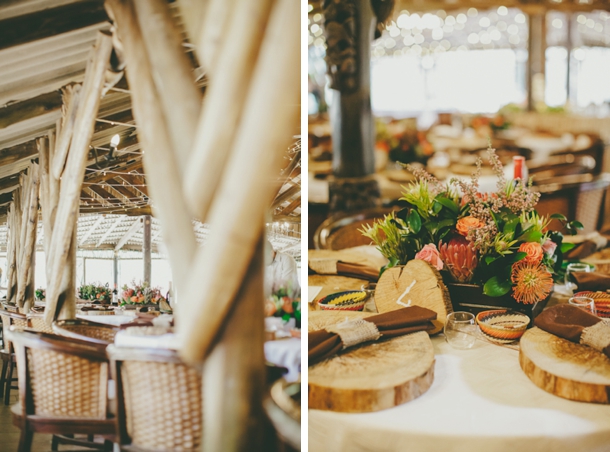 The Dress
Finding my wedding gown was the easiest part of the entire wedding process! I went to Olivelli in Durban and Tracey Laubscher, the owner, instantly made me feel special. I had no idea what I wanted, but I knew what I did not want! Tracey listened to everything I had to say (as well as Keenan's mom and my mom!) and helped me select dresses that she thought I would like. When I tried on 'Denver' by Rosa Clara, I loved it from the moment I was buttoned into it. It was structured, but soft at the same time, and I could imagine myself wearing it in the bush. It ended up being perfect and was so comfortable the entire day.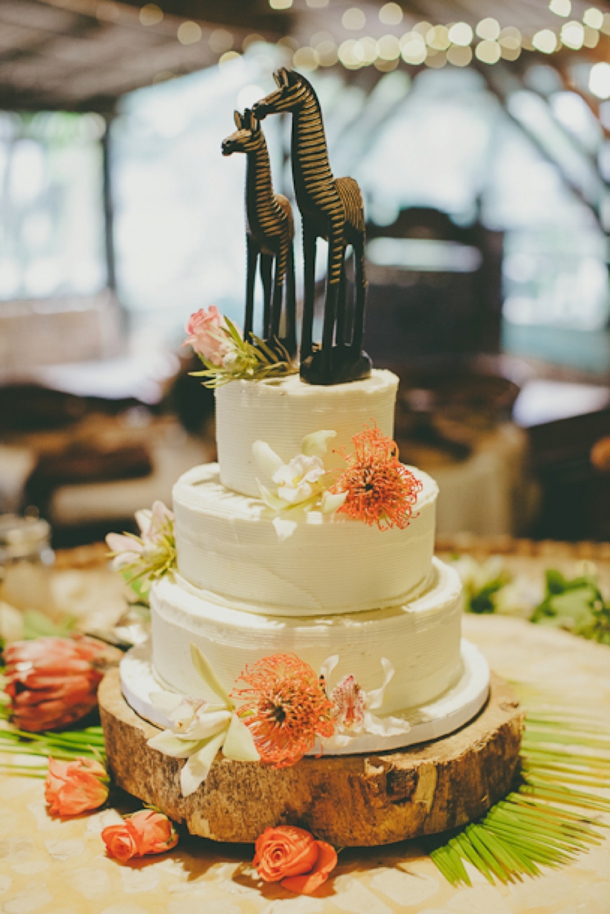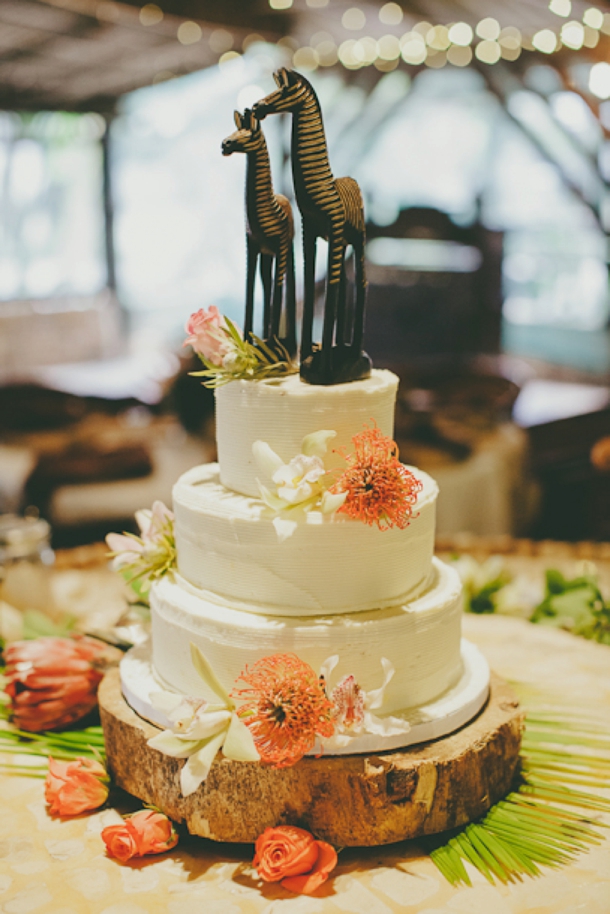 Most Memorable Moment
The day was filled with amazing moments, from start to finish. Although I think the most memorable moment for us both was seeing each other for the first time (there was a lot of 'snot en trane' type crying) when my dad walked me down the aisle. That, and when my dad and Keenan fist-bumped at the end of the aisle instead of shaking hands.
Proudly South African Details
Beyond what has already been mentioned, we wanted our guests to have the quintessential South African bush experience! We made our wedding a weekend getaway to Zululand. My brother and sister-in-law hosted everyone for a bush braai around a waterhole the night before the wedding, which was fueled by many 'Black Labels'. The braai was complete with potjies, steak, boerewors, pap and sous, and Zulu dancing. For the ceremony, Bonamanzi's Zulu choir sang while everyone walked down the aisle as well as during our cocktail hour.  As our wedding favour, we gave everyone Zulu telephone wire baskets made by weavers in Hluhluwe.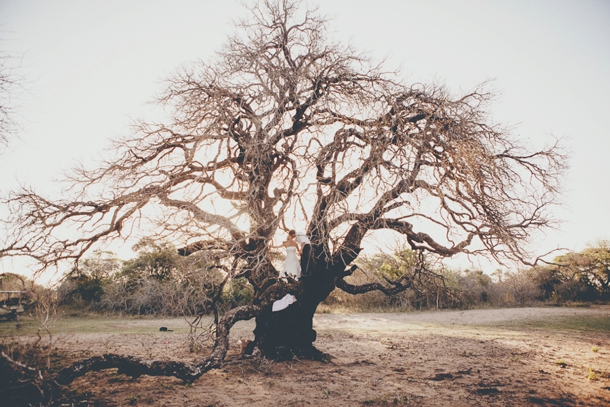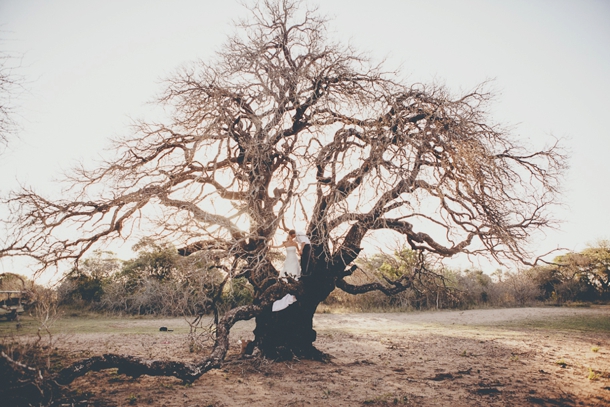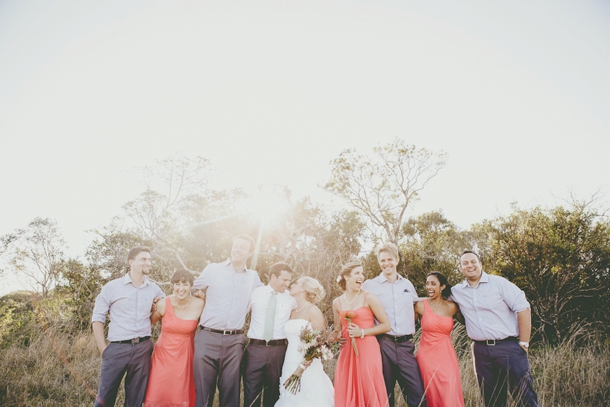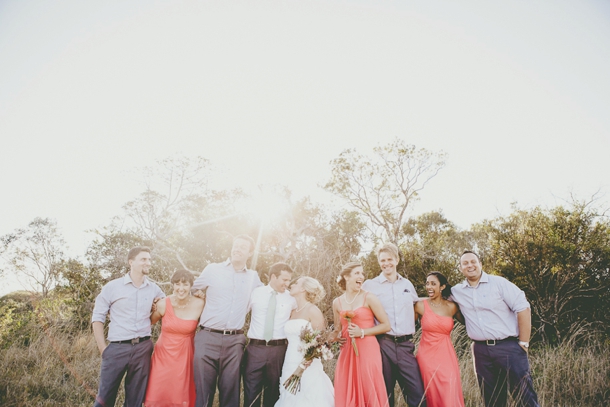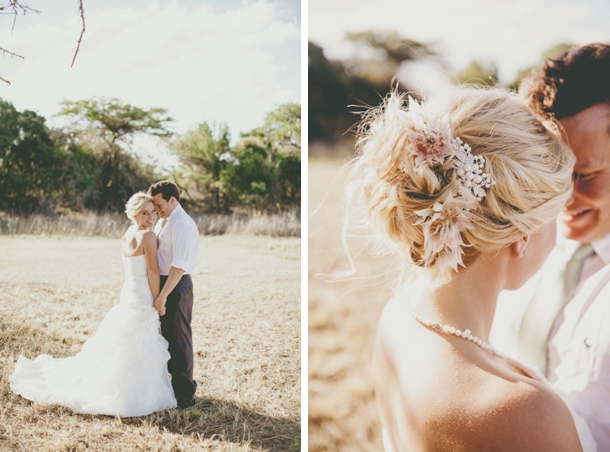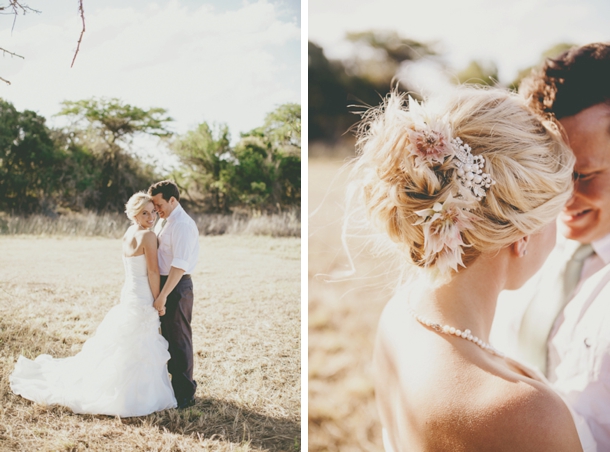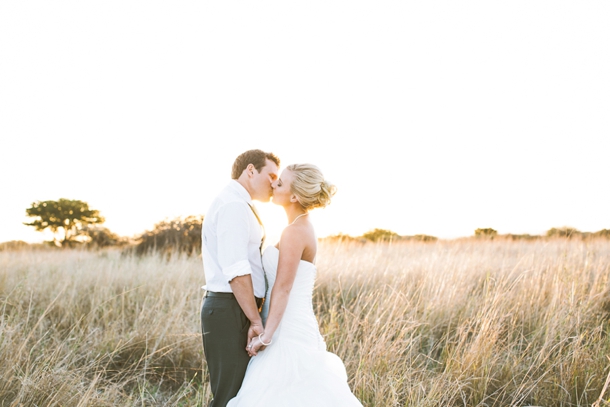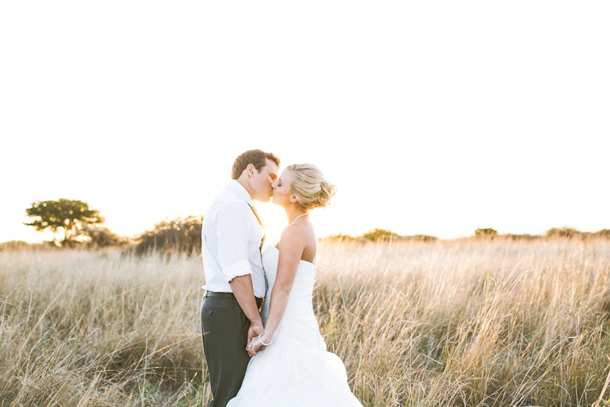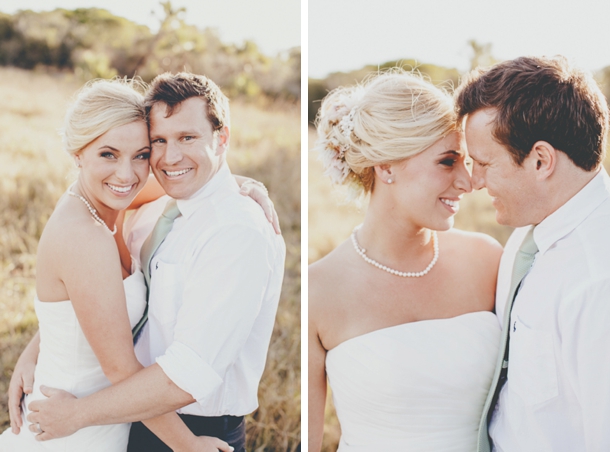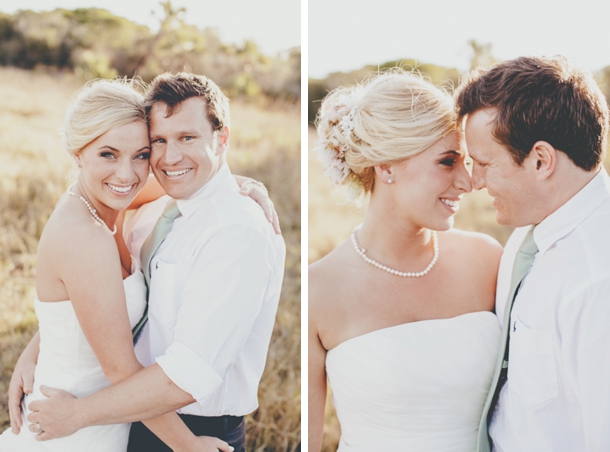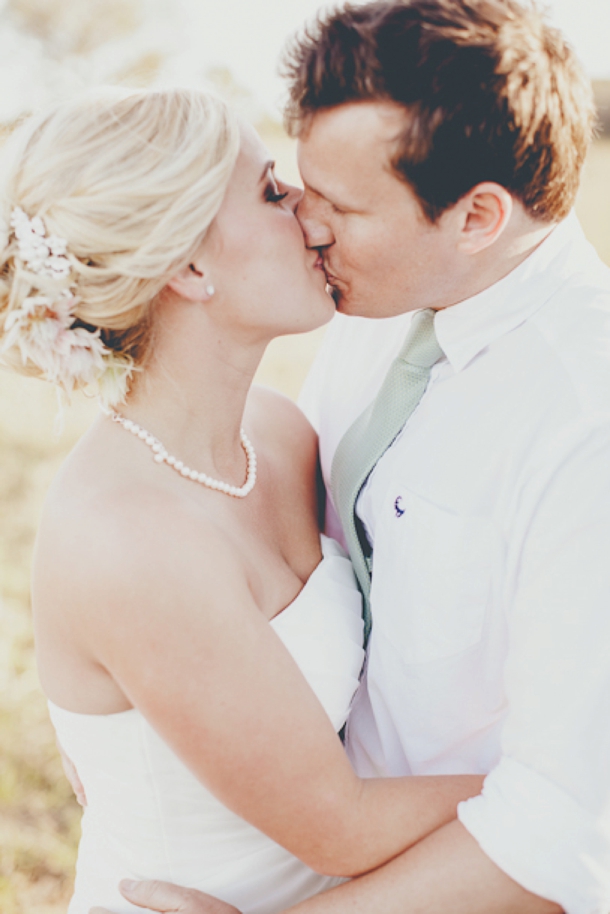 The Honeymoon
Due to time constraints, we were only able to take a 'mini-moon'  directly after the wedding. We spent a week at Leopard Mountain Game Reserve. It was heaven for us. It has awesome game viewing, incredible food and a fantastic atmosphere. We are already counting down the days until we can go back! We are planning a longer honeymoon in the future where we will travel through Namibia and Botswana.
Advice for Future Brides & Grooms
The best thing we did was have a long engagement. We were engaged for almost two years, and because of that, we were able to take our time planning. Also, it's so cliché, but your wedding day goes by in the blink of an eye. Take time to savour the moments and don't skimp when you hire your photographer and videographer! They are the ones who create the physical memory of your day!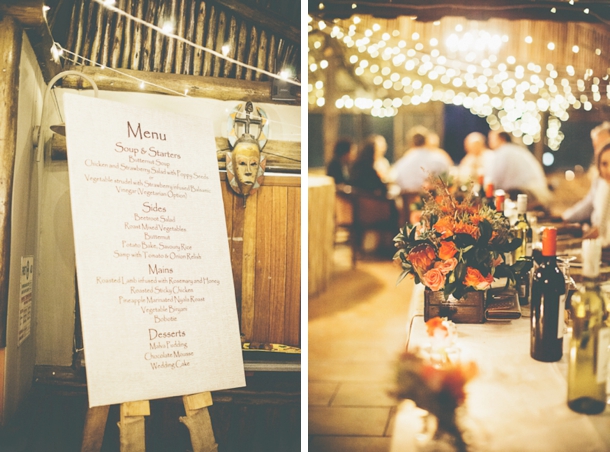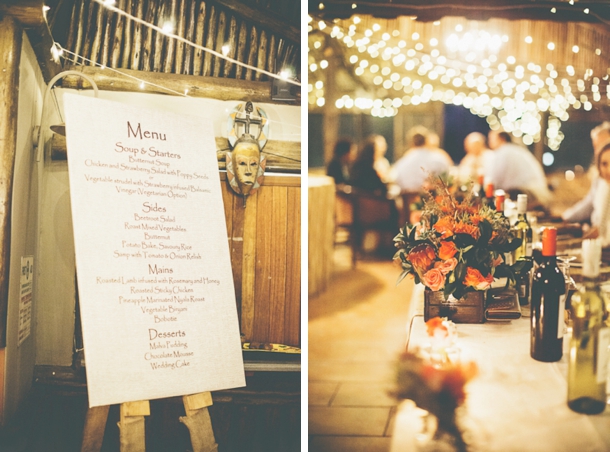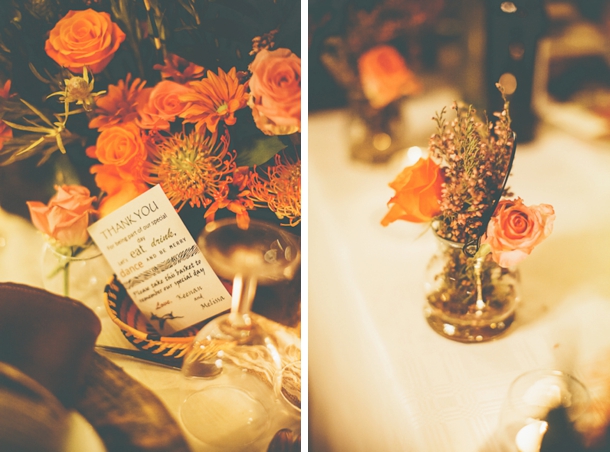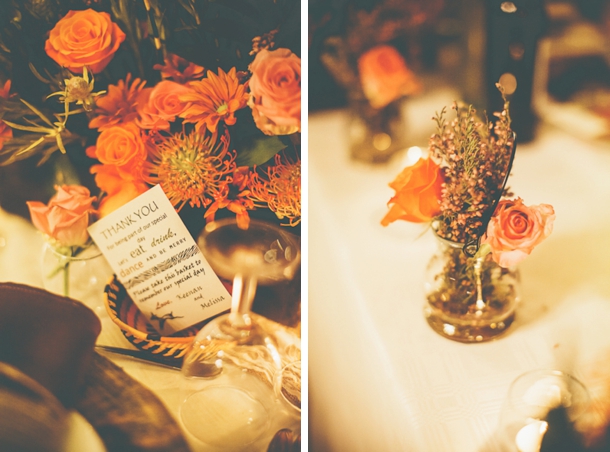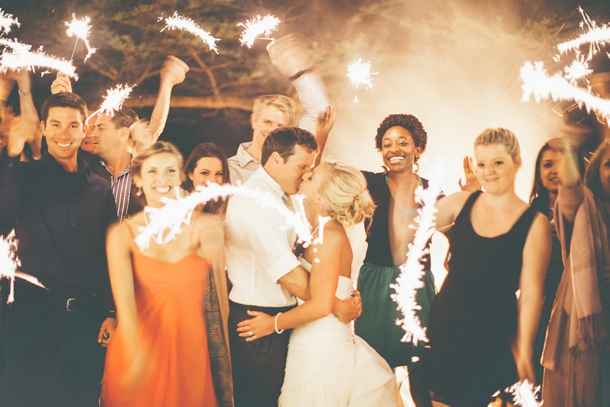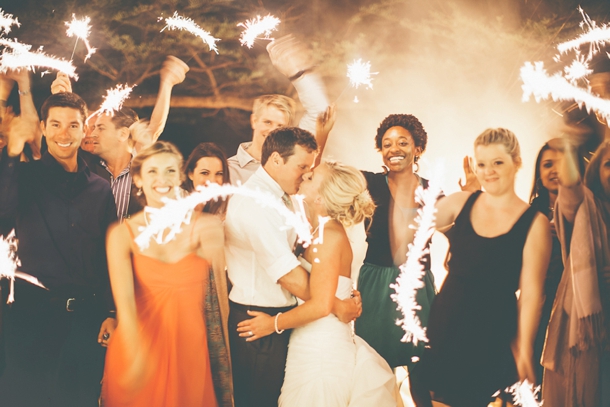 You can see more from this wedding on Fiona Clair's blog.
SERVICE PROVIDERS
Venue & catering: Bonamanzi Game Reserve | Photography: Fiona Clair Photography | Videography: The Shank Tank | Cake: Lana from Cupcake Couture | Flowers & décor: Function Flair/Wedding Flair | Stationery: Cut Out Design | Bride's dress: Olivelli Durban | Bride's accessories: David's Bridal and Shane Co. Jewellery  | Hair & makeup: Kendyl McPherson from Nixon Makeup  | Bridesmaids' dresses: David's Bridal  | Groom's attire: Old Khaki  and Men's Warehouse  | Groomsmen attire: Old Khaki  and Woolworths | DJ: David Yapp from Top Jocks | Bridal Robes: Tesia Dowling