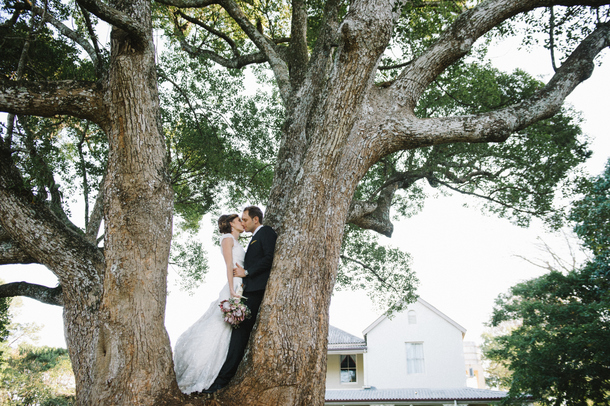 For our third gorgeous wedding of the week, we're heading to the KZN countryside for a relaxed luncheon bathed in golden light and awash with proteas. Because in case you haven't noticed by now, we bloody love proteas around here. And I love that Lauren and Luke used them as the basis for their colour scheme, along with lanterns, mismatched glass jars and vases and custom laurel monogram napkins. Add beautifully rustic wooden tables and lace bunting, blush dresses for the bridesmaids and Lauren's dreamy lace-back dress, and it's everything an elegant country wedding should be. Everything and more, since it's photographed to romantic perfection by the lovely Eileen of Bright Girl Photography. What a way to end the week!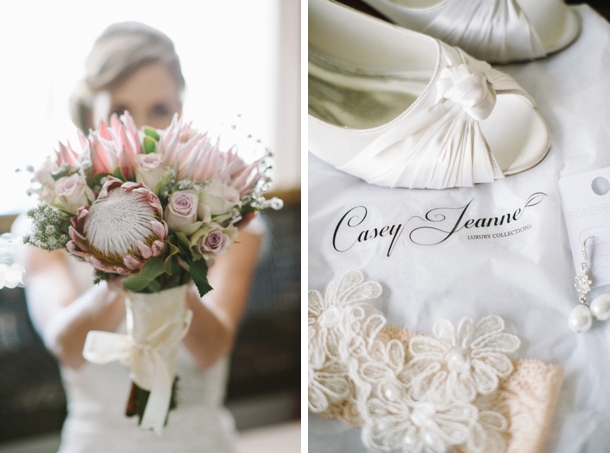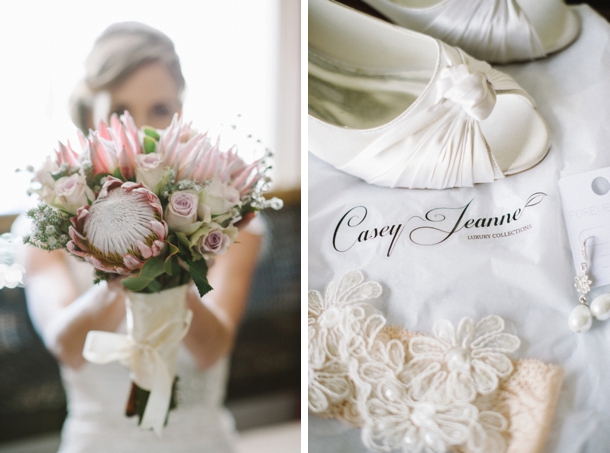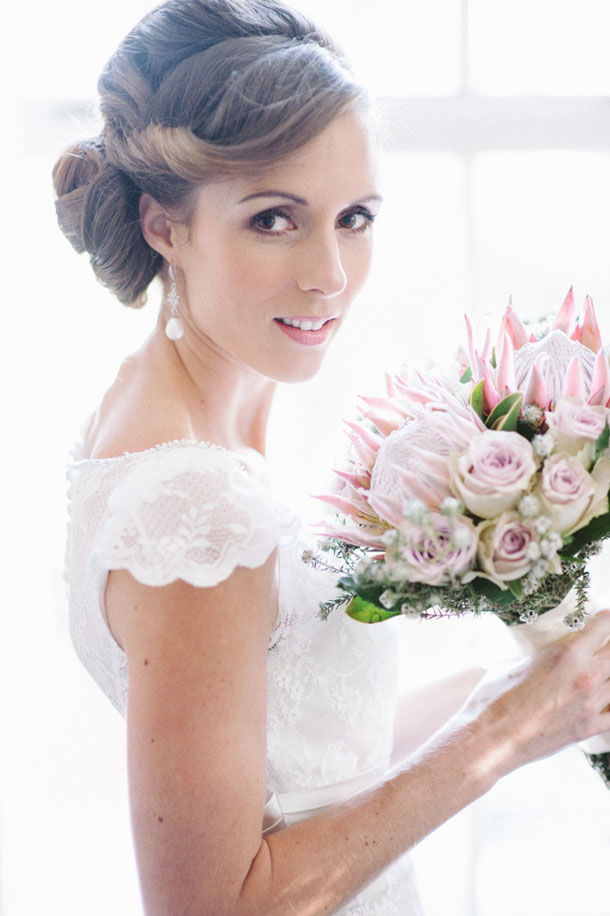 Love Story
Luke and I were introduced to each other by a mutual friend during endurance training but only chatted a handful of times regarding bicycles or racing. For my first big race, I planned to go down to Cape Town and cycle the Cape Argus. Nervous as hell, I arrived in my batch on the morning of the race and Luke ended up being in the same seeding batch! We rode the entire Argus together, chatted about our lives and careers and giggled over jokes the entire route. Afterwards we went our separate ways, as we were both in relationships at the time. A couple of months later I was single. My friend, Janene, convinced me to try triathlons, so I joined up with her training squad, and, lo and behold, Luke was part of the same group! Everyone was gearing up to go to Port Elizabeth for Ironman South Africa, so as a novice, I went along to watch and support everyone participating. On the Monday after the race, Luke finally asked me out for an 'informal lunch date' of pizza and wine at the local Primi. We spent the afternoon in the sunshine laughing and chatting and have been pretty much been inseparable ever since!
The Proposal
A year after our very first date, we headed back down to Port Elizabeth (Ironman Part II). Luke is rather romantic, so when he 'strongly' suggested we should go for dinner at The Boardwalk (PE's beachfront entertainment complex) before we meet up with the rest of the team, I thought nothing of it. We sat on a lovely private balcony overlooking the lake and chatted about how far we'd come since the year before. Earlier in the week, The Boardwalk had put on a symphony of lights, water-cannons and opera signing, so when it was announced over the PS system that there wouldn't be a water show that evening, I remarked "That's really professional of them to let people know…" (I didn't know they were actually announcing it to give Luke his cue, haha!) After hearing clapping and cheers from other parts of the Boardwalk, I looked across at where the water show had been the night before and saw lights with a large sign of a man on his knee that read "Will you marry me?" I turned back to Luke who had dropped to his knee and the rest was history! I was so happy, emotional, overwhelmed and crying so much I could barely see the ring through the tears. P.E. will always hold a special place in our hearts because of that. It's where we shared our first kiss, our first date, and where we got engaged.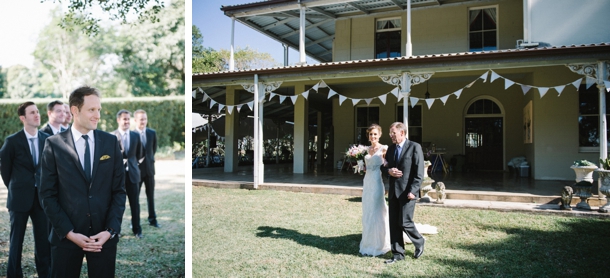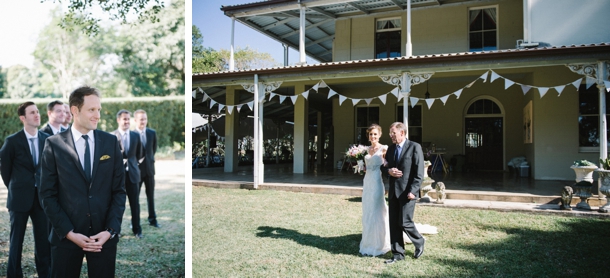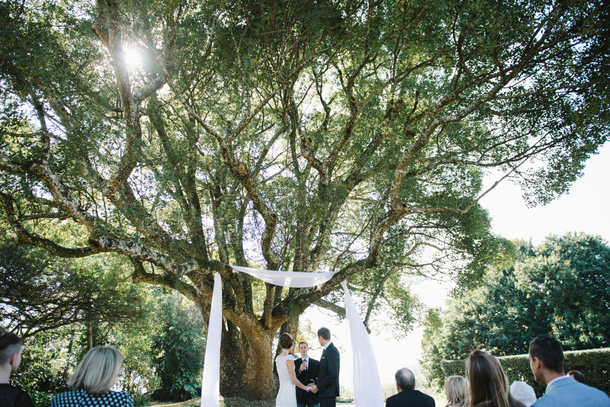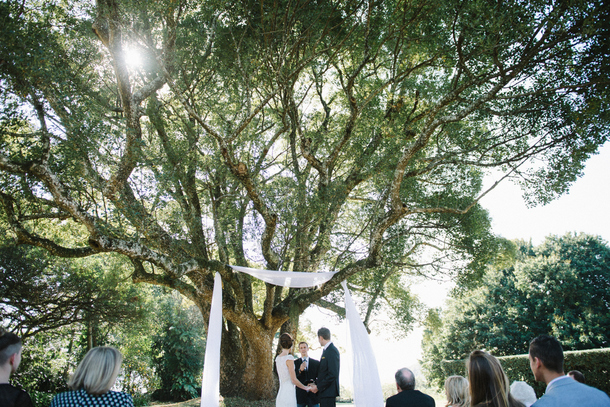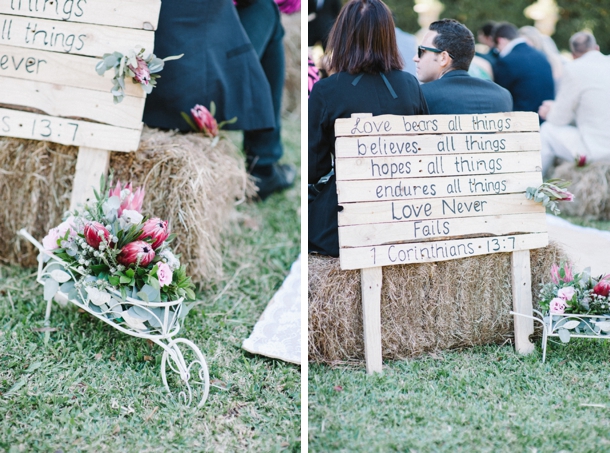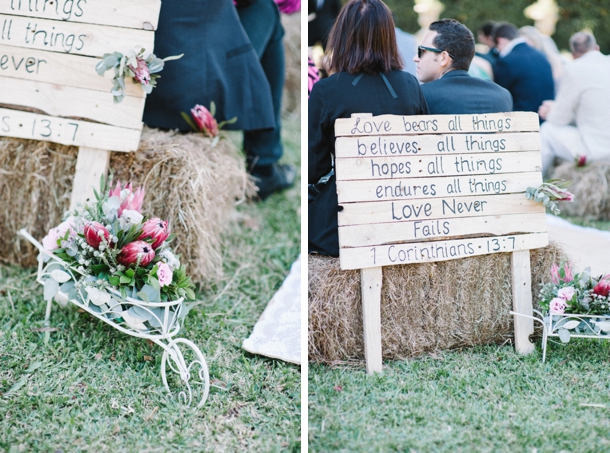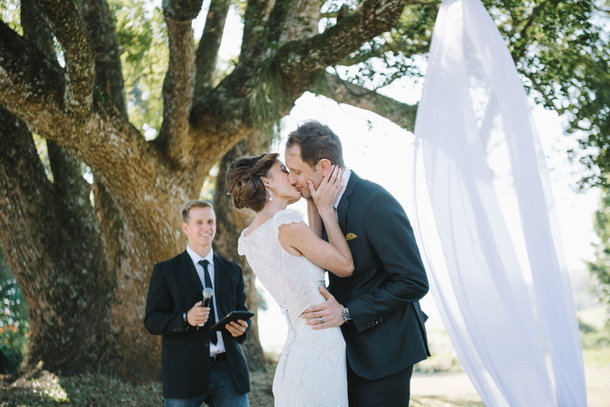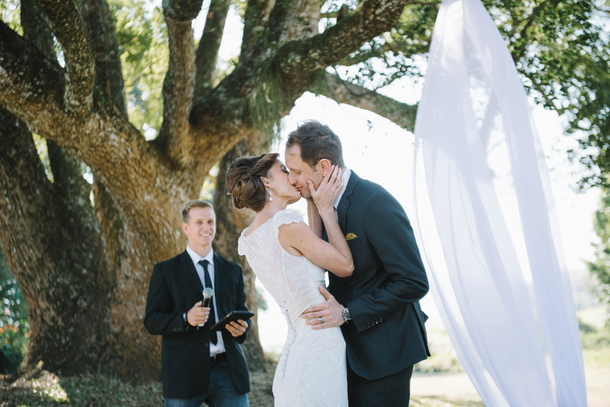 The Venue
Natural beauty and an exquisite garden were first on our list. A friend suggested Sibton Hill and we went to check it out. We both knew it was right the moment we saw it. It had an enormous oak tree (which we were married under), rolling lawns, huge wrap-around verandas and plenty of space for picnic blankets and lawn games. As a bonus, there were peacocks and a bulldog who walked around entertaining the guests. It felt like we had discovered a secret playground that we could make our own for the day!
Wedding Style
Ever since I was a little girl, I've always had the idea of a late afternoon lunch wedding. I'd watch grown ups in Hollywood movies have afternoon events at someone's house. We wanted a day where guests could be content lazing in the sunshine and playing games, while sipping on their cocktails and champers. We didn't have an exact style but we were going for a feeling. We wanted the guests to feel relaxed and for the natural beauty of the venue and surroundings to stand out. We used the protea as a base colour palette and mixed creams, dusty hues of pinks and greenery to get an overall theme.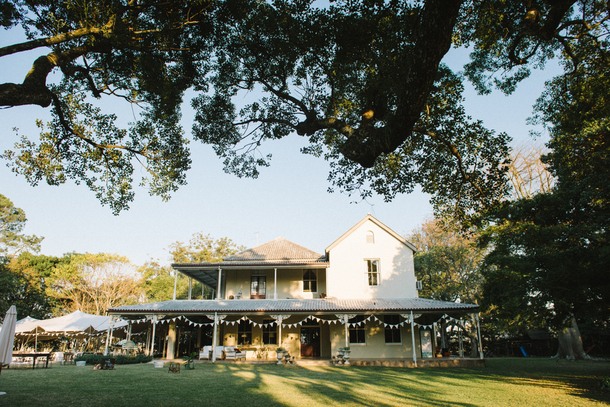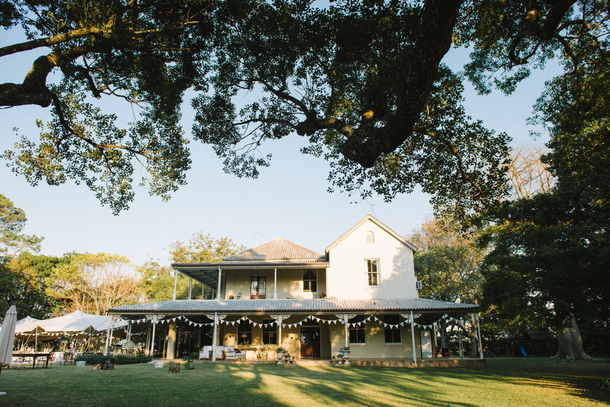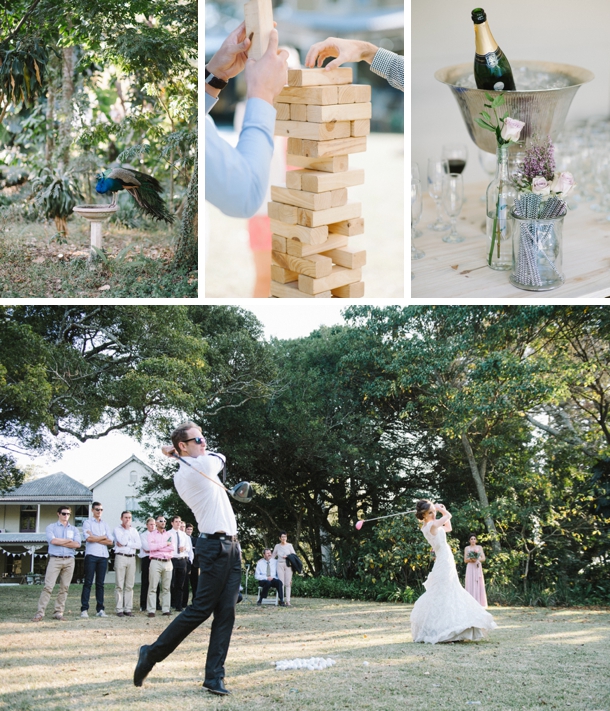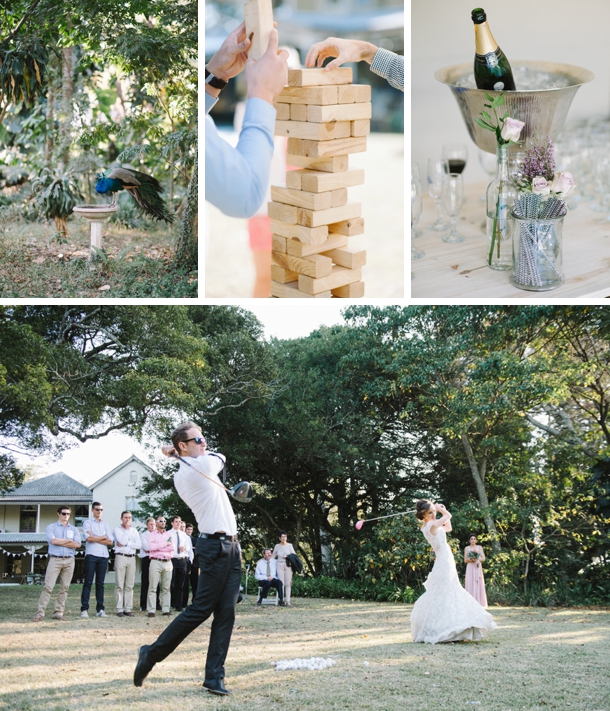 Wedding Details
We're both fairly relaxed, "outdoorsy" type people, and we enjoy adventuring together. We tried to create that sense of an 'adventure' in a relaxed outdoor atmosphere. There was no rigid, to-the-minute timetable, just a basic order of events. There were no seating arrangements, or hymn sheets to read off, just plenty of food to eat, wine to drink, things to do and parts of the venue to explore.
DIY Elements
I would say most of the wedding was pretty DIY. Our bridal party really were a God-send to us in the week leading up to the big day with all the help they provided. As soon as we started planning, I asked friends and family to collect glass jars and vases for us, which we used for our table arrangements. I grew rock roses for a year leading up to the wedding and at one stage I was talking to them daily asking them very nicely to grow big and beautiful for my special day. Thank goodness all the encouraging words seem to work! I was also very fortunate that Bianca and her ladies did most of my sewing on their industrial machines for us. We made 200m of lace and fabric bunting in various hues of creams and beige, a blanket for each of our guests to take home with them and napkins for the table were also made with our initials embroidered on them. The palette signs were made by my dad and myself, and I also made the cake. (I had my two bridesmaids frantically whipping cream cheese frosting the night before our wedding!) Luke and his groomsmen helped out with music, lights, seating and finishing up decor the day before. It all worked out wonderfully in the end.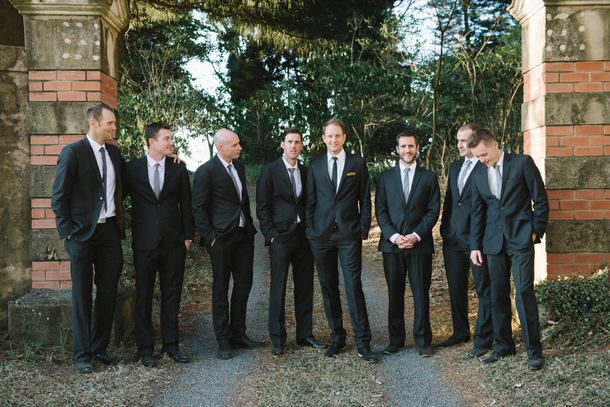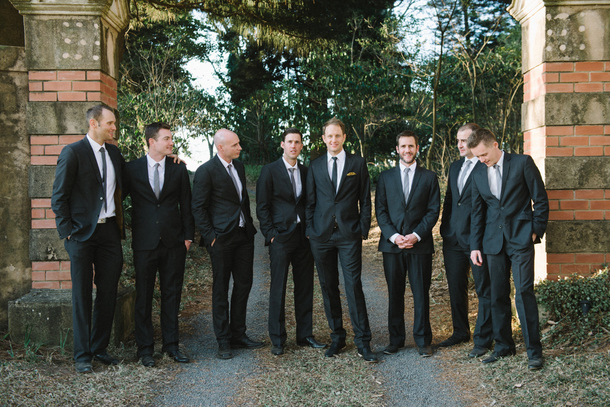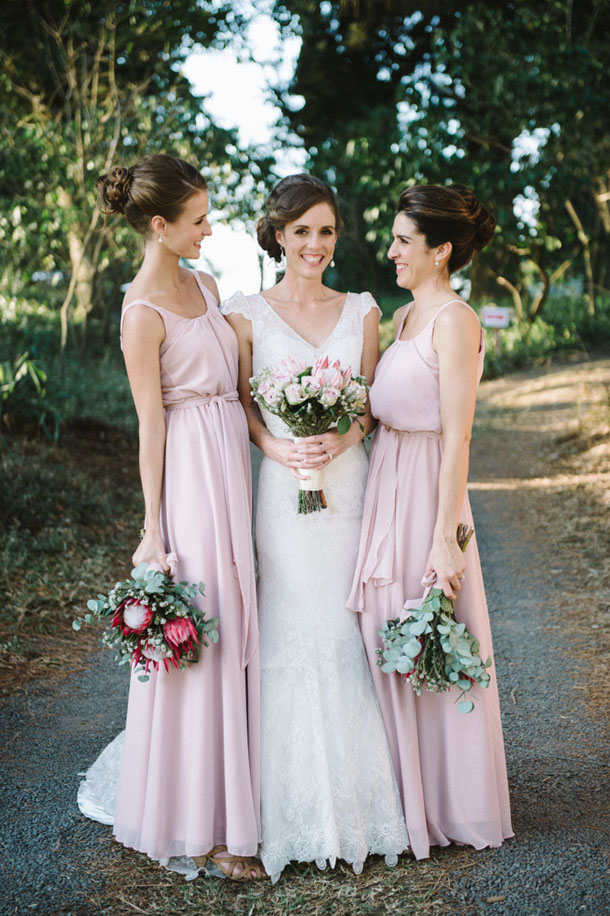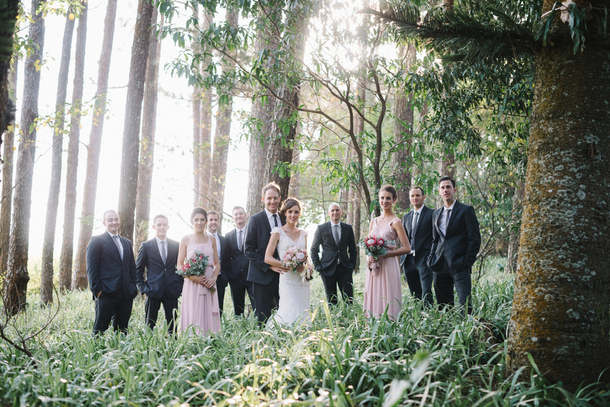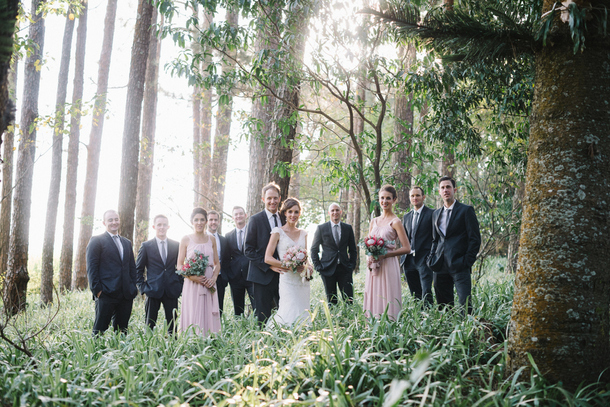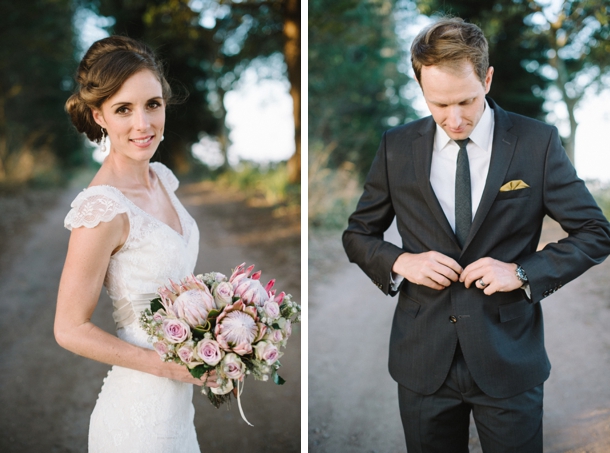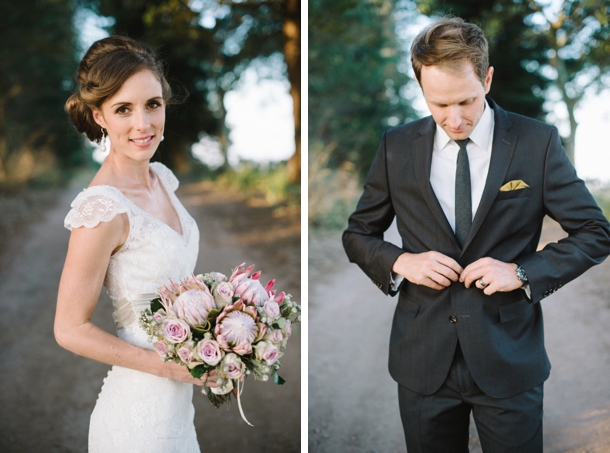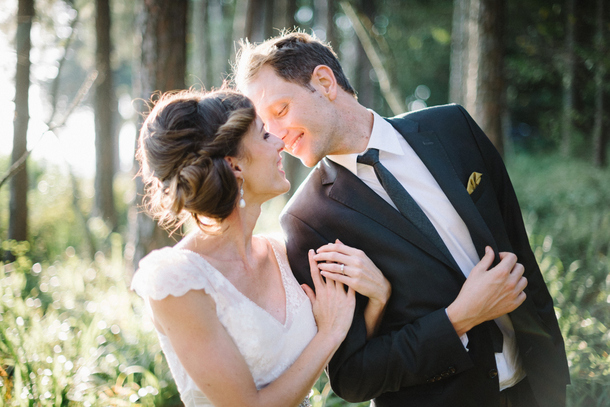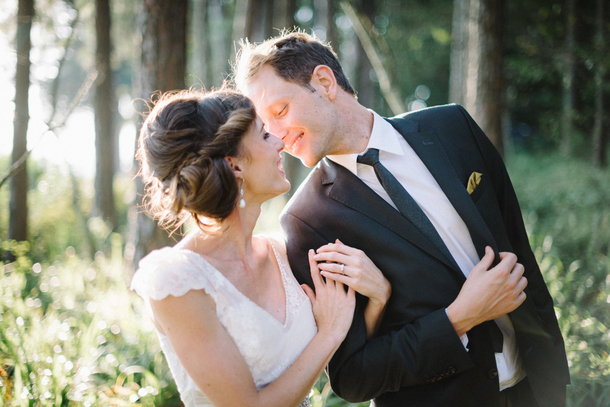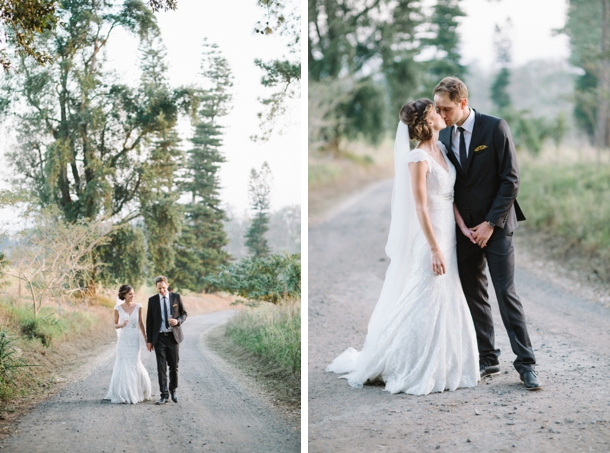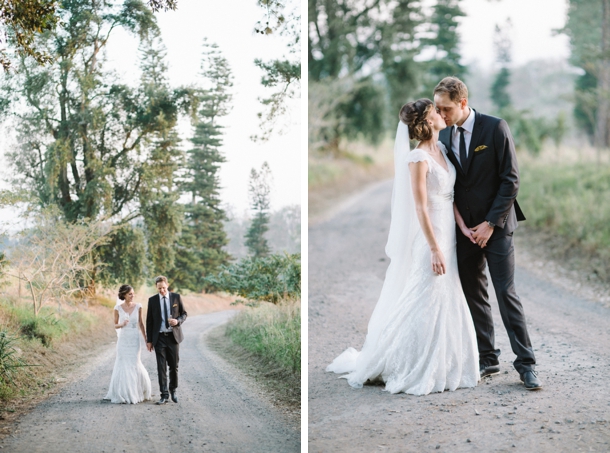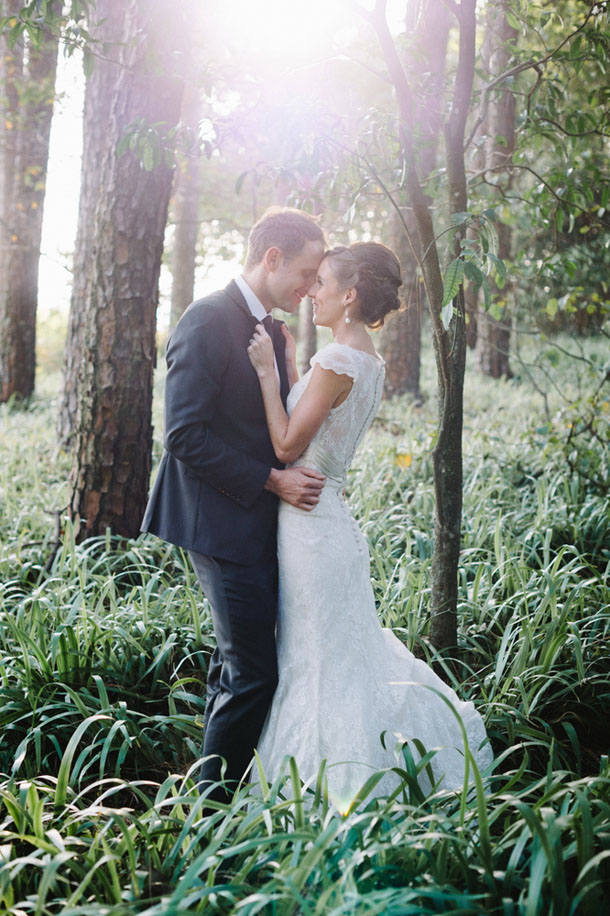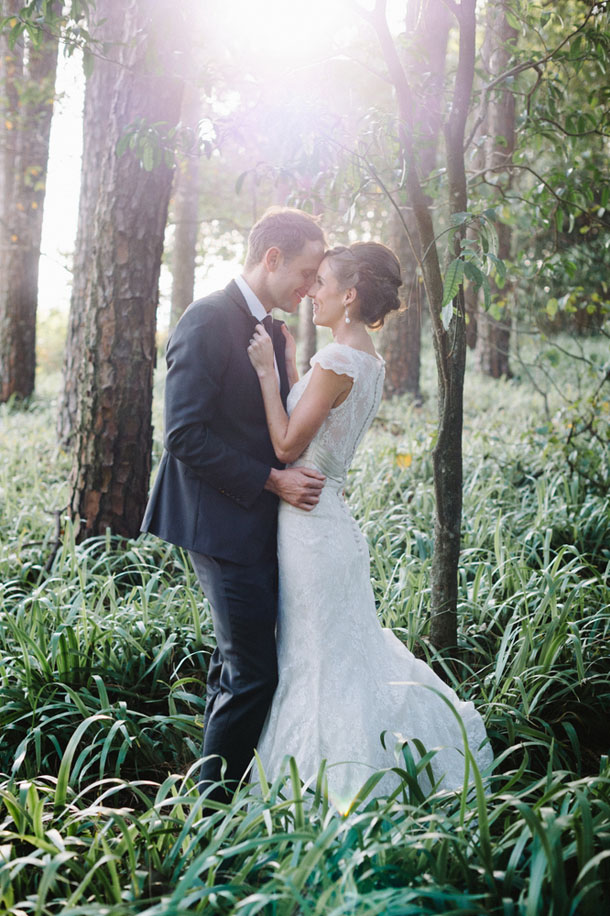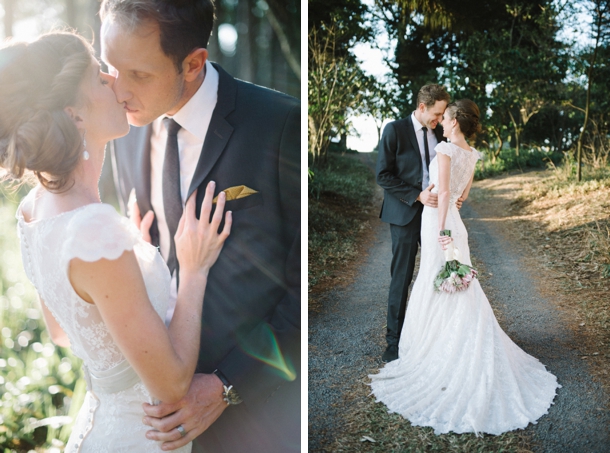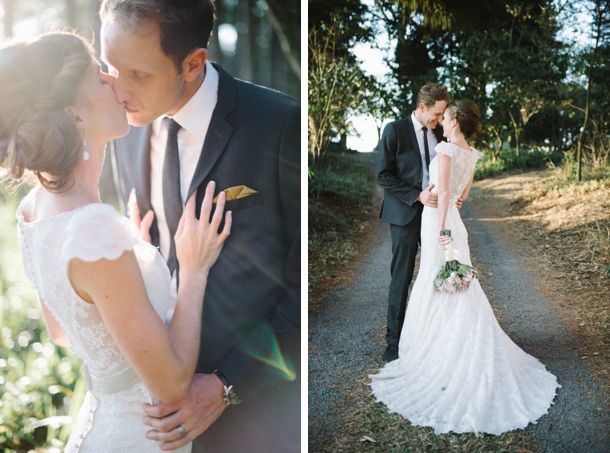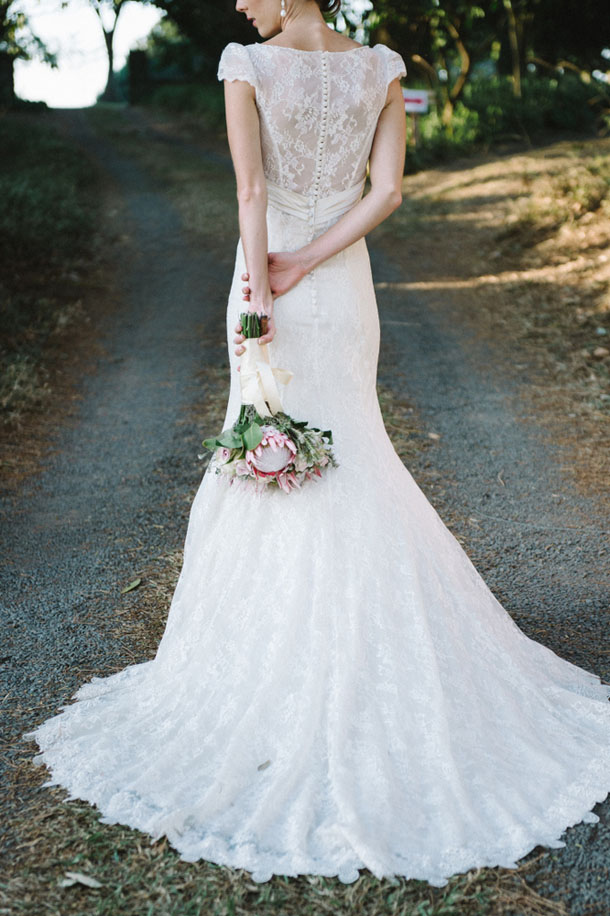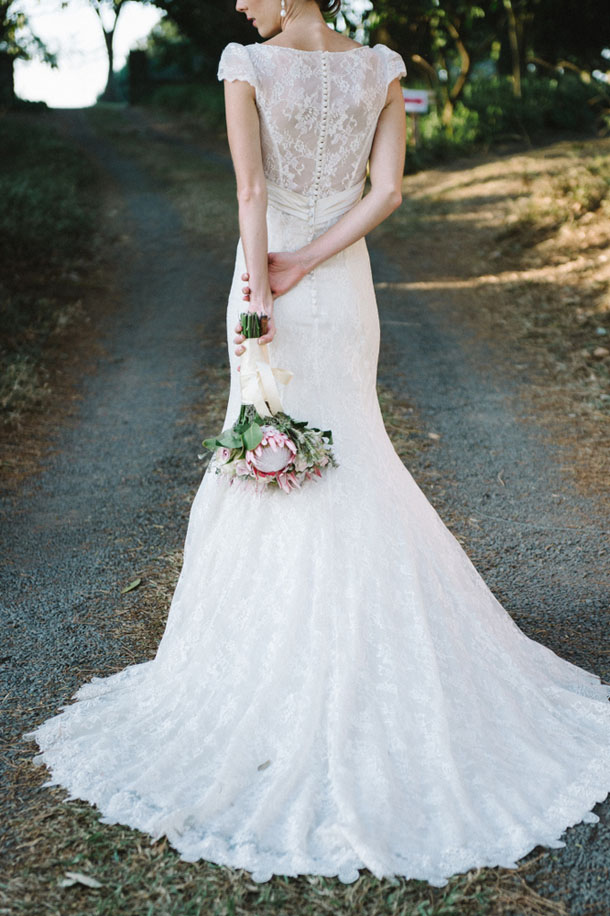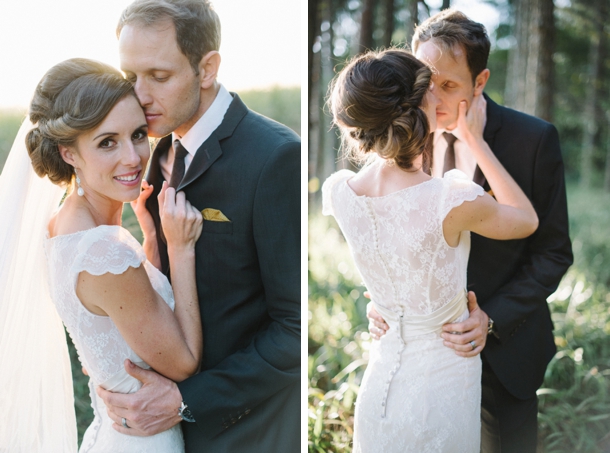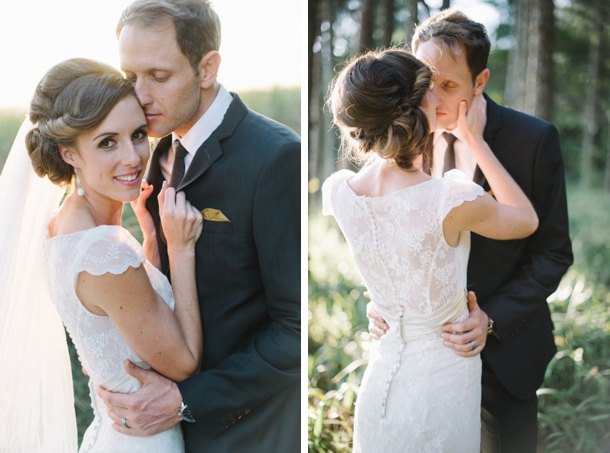 The Flowers
I absolutely love Proteas, so we had hundreds of different varieties on our big day. The rest of the flowers were hues of cream and dusty pinks so as not to detract from the beauty of the Proteas. I did not want formal arrangements so I had individual stems, or small bunches in various glasses, placed in and around the entire venue.
The Dress
I searched high and low but could not find THE dress I was looking for. Eventually, after what felt like a hundred different dress appointments, I imported my dress which was then altered and changed by my very close friend, fashion designer, Bianca Warren. It was Chantilly lace with a small cap sleeve and a raw lace back. It had an encrusted brooch, buttons all the way down my back and a long train which I clipped up when the night began! It was my dream dress and I've never felt more like a princess than when I was wearing it!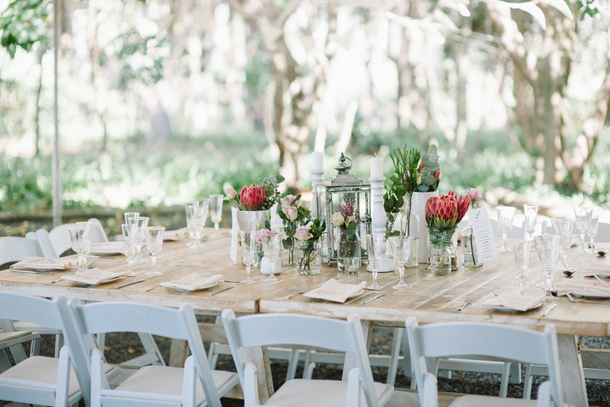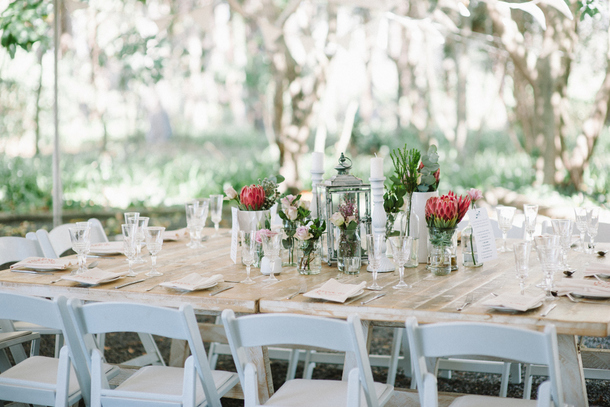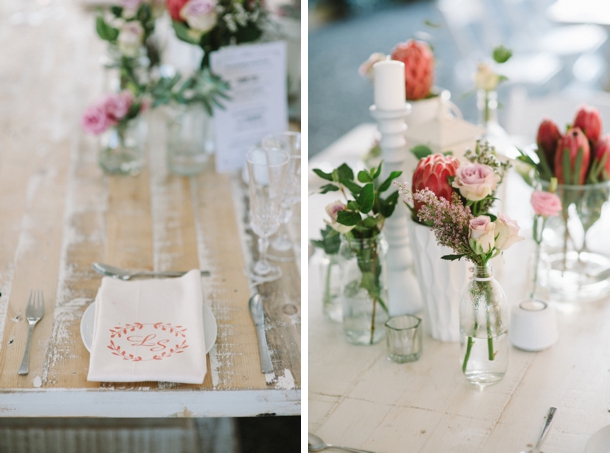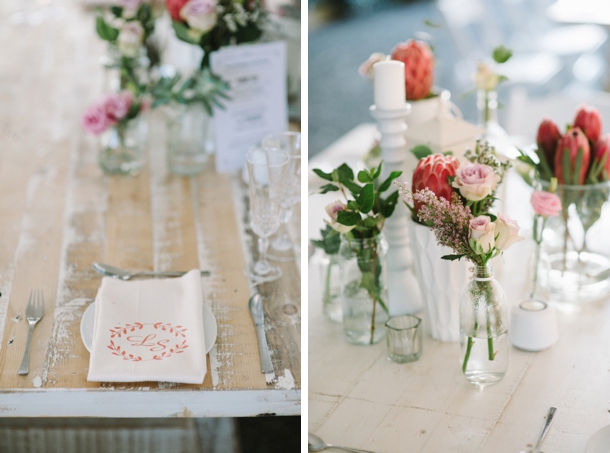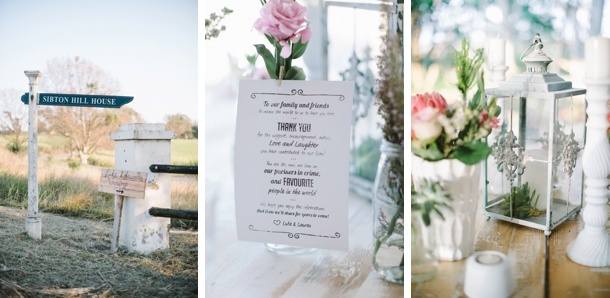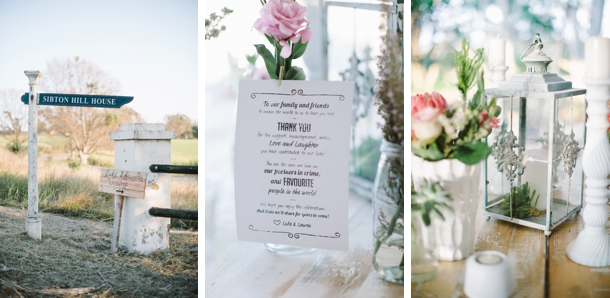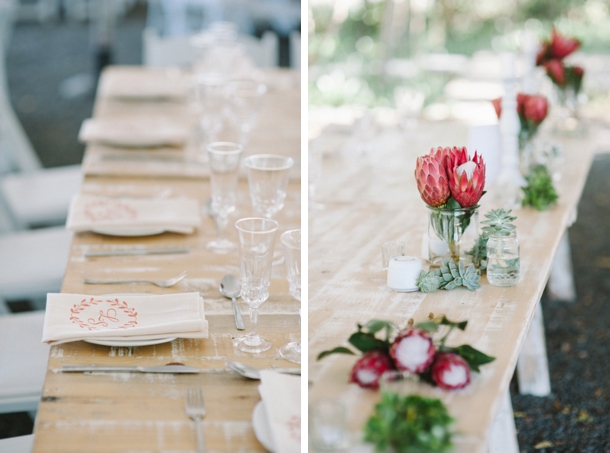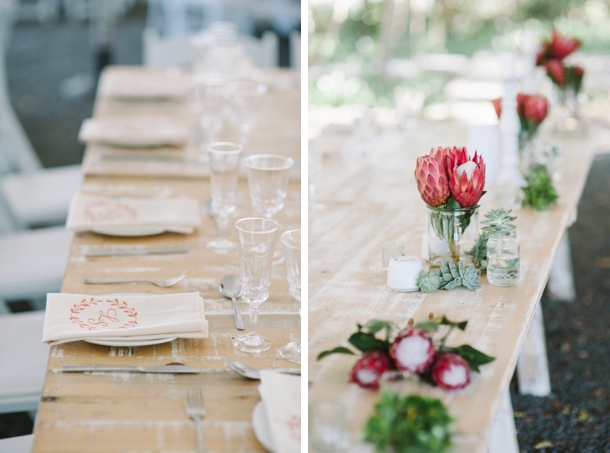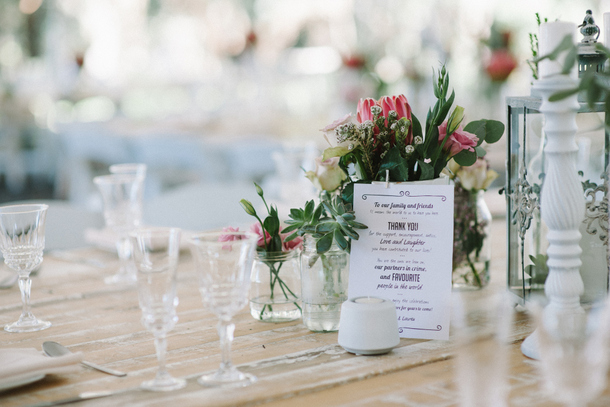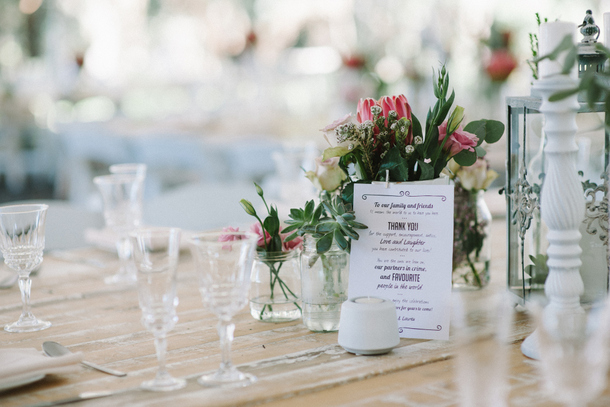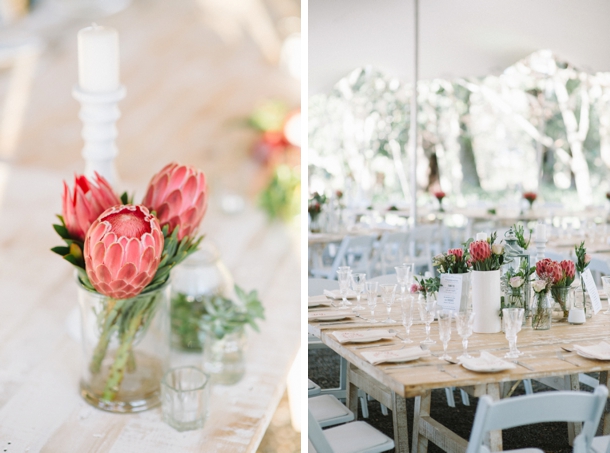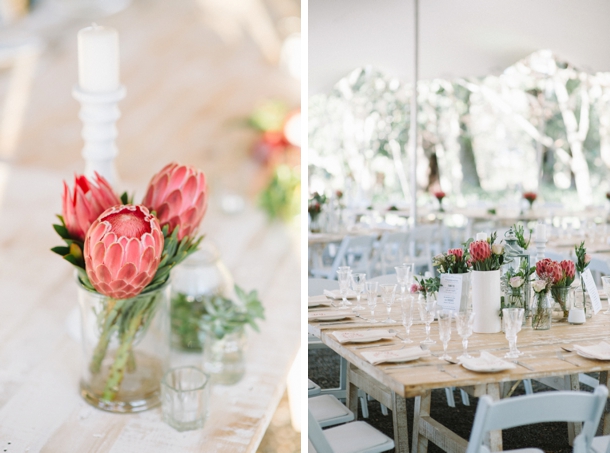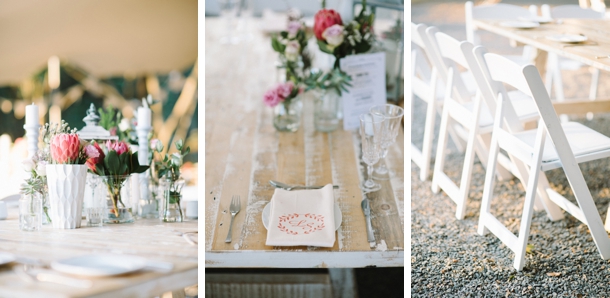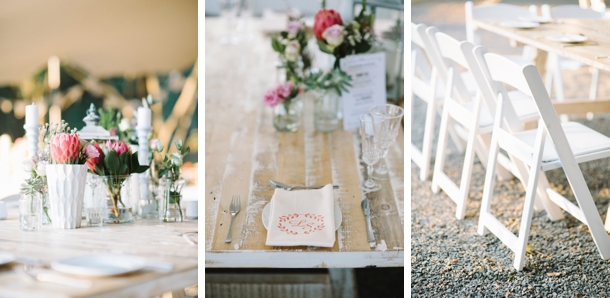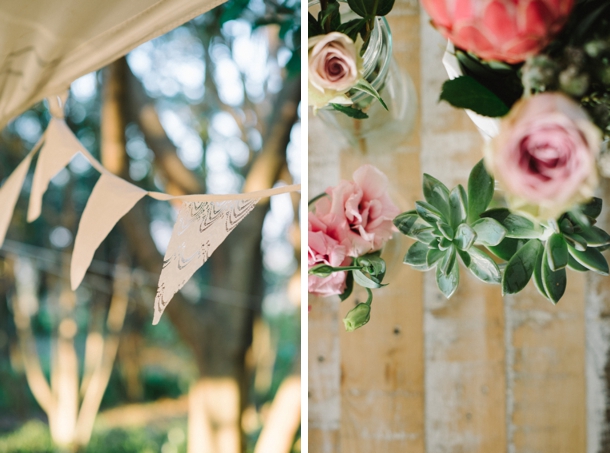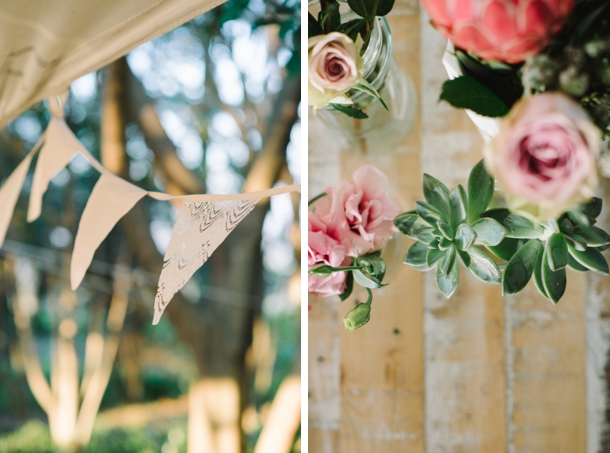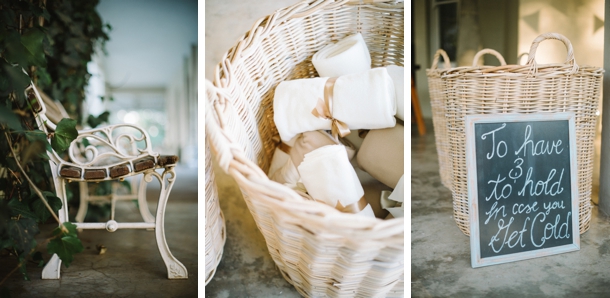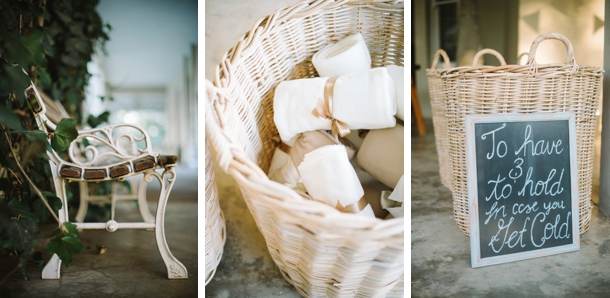 Memorable Moment
The whole day went by in a blur, but a standout moment was probably all the dancing. As the sun went down, we turned up the music and did a Foxtrot under fairy lights, giant sparklers, the full moon and stars. Our friends and family were quick to follow onto the floor and the party never stopped after that!
Proudly South African Details
Proteas are a must for a South African bride. We also tried to support as many local suppliers from the Durban area. It helps to have people who care about their craft and who go the extra mile involved in your planning.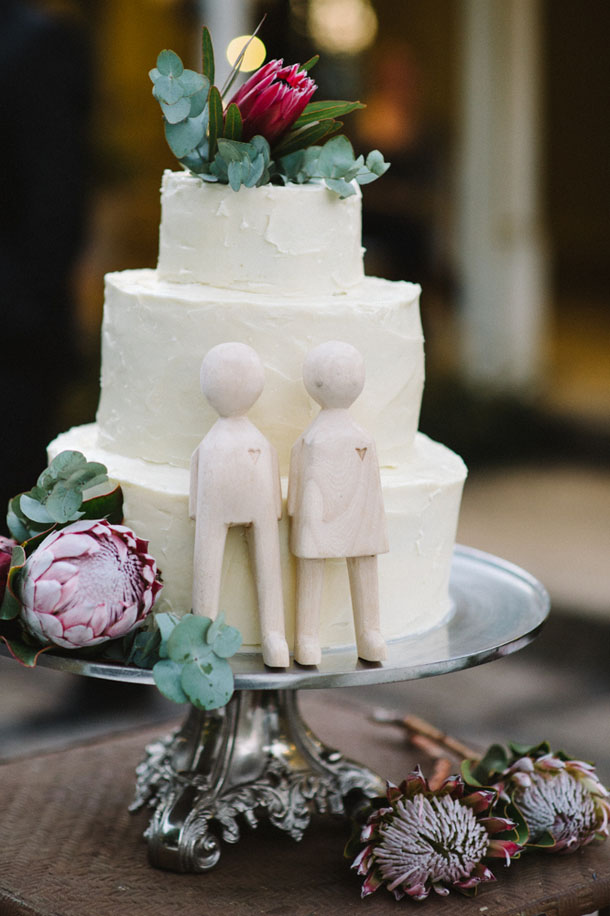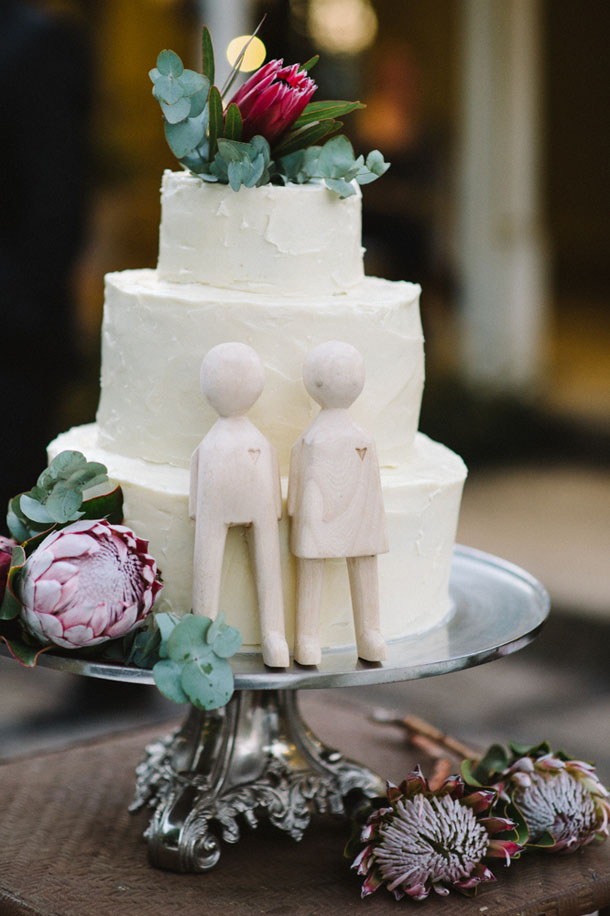 The Honeymoon
We had a mini-moon which we planned straight after the wedding. We went to Hartford House in the Midlands for a couple of days and then to Nambiti Hills Private Game Reserve. I loved every minute of being with my husband, unwinding after the stress of wedding planning.
We are planning an overseas holiday to Europe (France, Italy and Spain) next year for our one year anniversary.
Advice for Future Brides & Grooms
Combine both your ideas together at the start and then pick a few things you both consider to be the important/no compromise, stand out parts of your day. Be prepared to make sacrifices, and to rework your budget quite a few times! Don't let the little things stress you out, but most importantly, make the day about who you are as a couple. Whatever happens on the day, just try to enjoy every moment. The old saying of 'it goes by so quickly' rings as true as ever!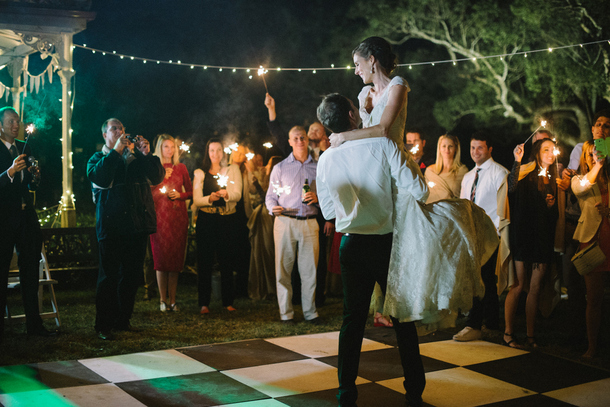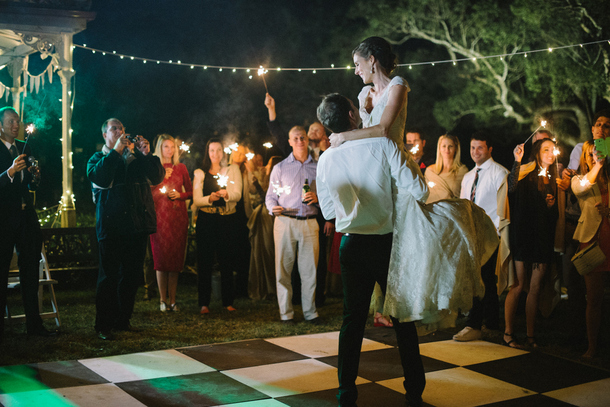 You can see more from this wedding on Brightgirl Photography's blog.
SERVICE PROVIDERS
Ceremony & Reception Venue: Sibton Hill | Photographer: Eileen from Bright Girl | Videographer: James Gibbs  | Dress: Imported. Alterations and fitting by Bianca Warren, Signature Store (The Square) 082 465 5640  | Bridesmaids' Dresses: Bianca Warren | Groom's attire: Zara (Gateway), Country Road (Gateway), 'His Apparel' (I Heart Market) | Groomsmen and Family: Suit Yourself | Make up: Tammy from Pro-make up | Hair: Drew Christie 082 335 4625 | Tent and dance floor: Nomadik Tents  | Wooden tables (main tables): Emily Lockhart 084 468 9890  | Trestle tables (serving tables): Caron 0842931439 | Proteas: From a farm in the midlands – Cindy 083 8754263 | Decor: mostly DIY from bride, bridesmaids, groomsmen and parents | Candle holders, lawn games, other flowers: Lindy from Labola | Cake: Bride | Food: Jeanie Campbell 084 493 2802 | Coffee Station: Love Coffee, Windermere Rd, Durban | Mixologist (cocktails): Michael Stephenson (Lucky Shaker) 078 450 6751 | Beer Kegs: Jared Hogg | Craft Beers: The Standeaven Brewery  | Sound And Lighting: The Hirezone