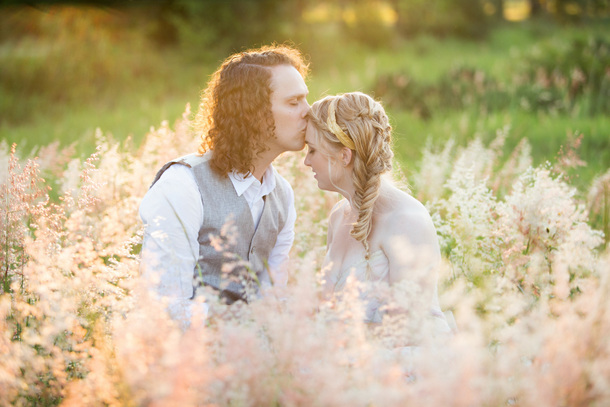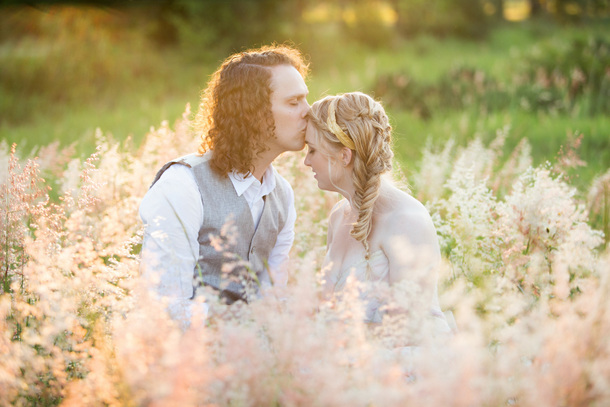 When Brownwyn of Van der Bijl Photography sent over today's gorgeous organic-lovely wedding, I had to go back and double check her email after the first few pics that this was a real wedding and not a styled shoot, since the florals and details are that perfectly styled. Of course, once I saw Leigh and Byron's ceremony pics, the happy tears and the love between the couple (and on the faces of all their guests) there was no doubt this was as real a wedding as you'll find, which of course makes me love every pretty botanical detail put together by Carol-Anne of Eco-chic Weddings even more. And eco-chic is the right word – everything right down to Leigh's gorgeous frothy dress was created with an eye on upcycling and sustainability. It's a beautiful day with a big heart, and I'm delighted to be sharing it with you all!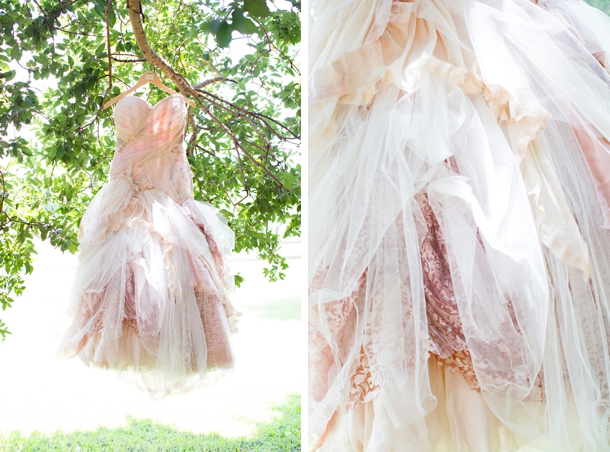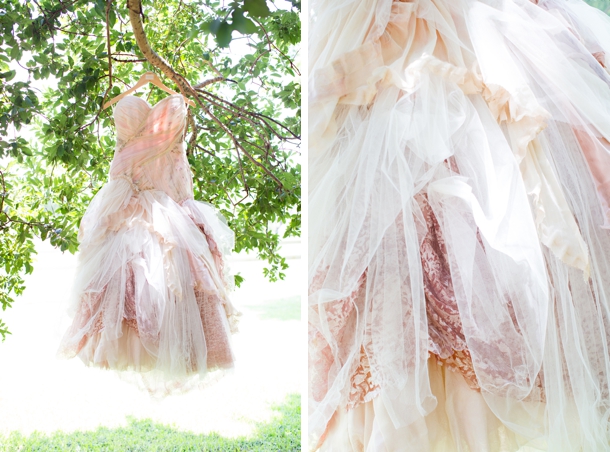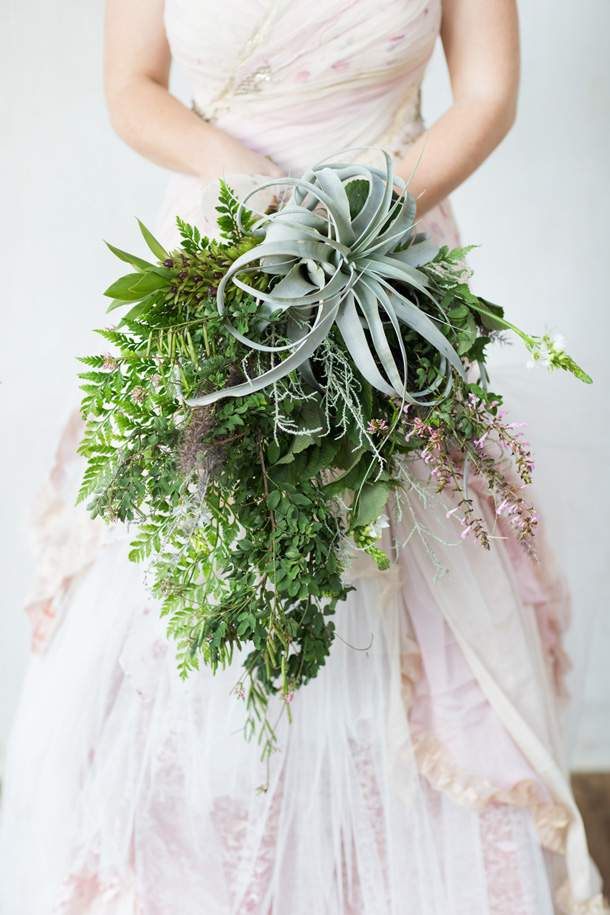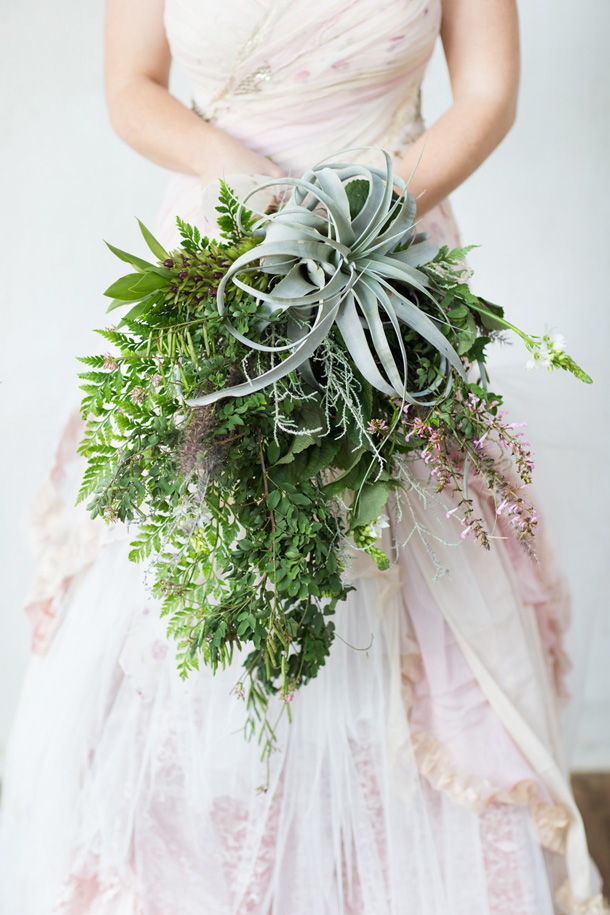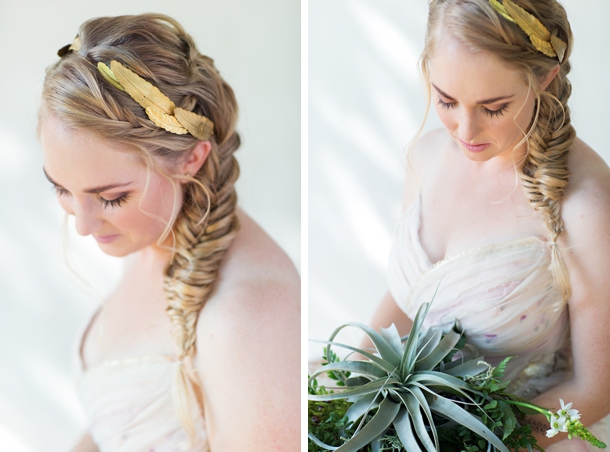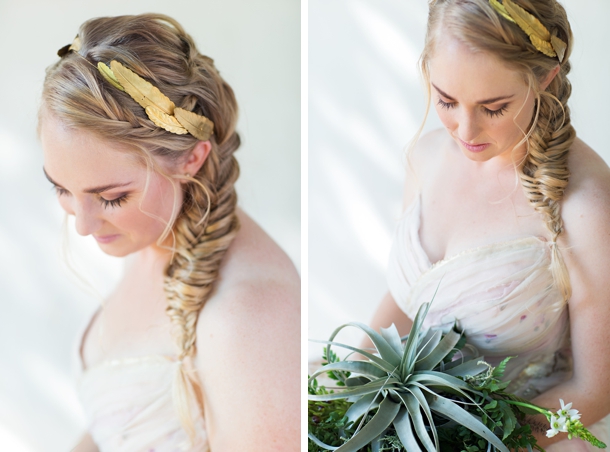 Love Story
Byron and I met in Grade 12. We both participated in a school play held at my high school, Brescia House, where his mom is the director of Music. This was very out of character for me but my best friend and Maid of Honour, Sarah, coerced me into auditioning with her; I was reluctant then but obviously very grateful to her now. Byron and I shared our first kiss on at the cast party and have been with each other ever since. After university and seven years together, we went on a trip to Paris and Byron proposed at sunset on the lawns of the Eiffel Tower. My knees literally collapsed beneath me. He is the most kind-hearted and passionate man I know and he makes me laugh every day. I am always so grateful for the time we have had together and the future we get to share.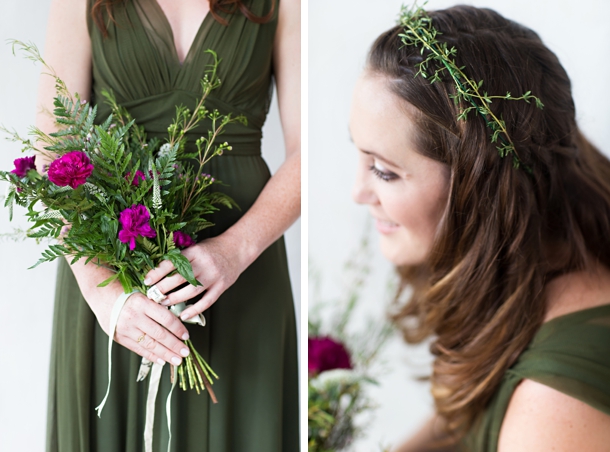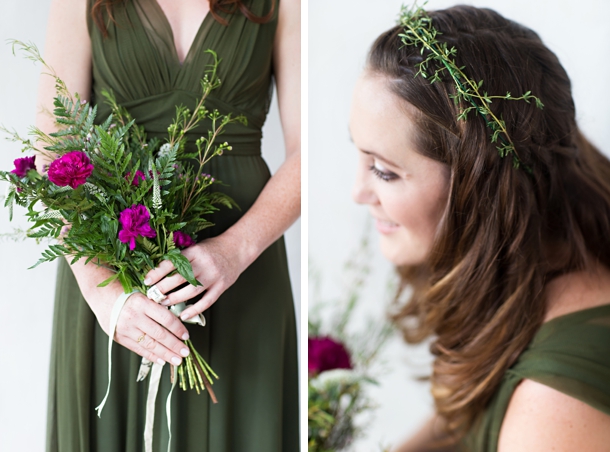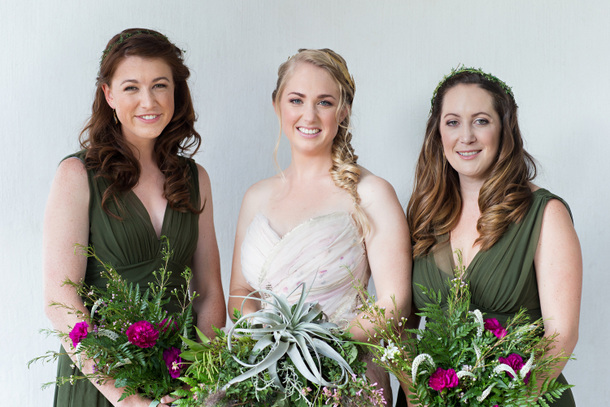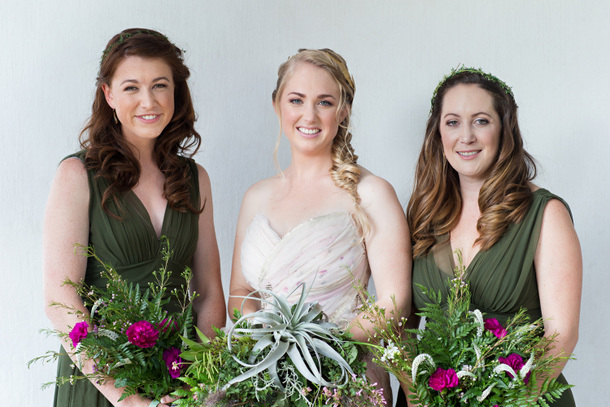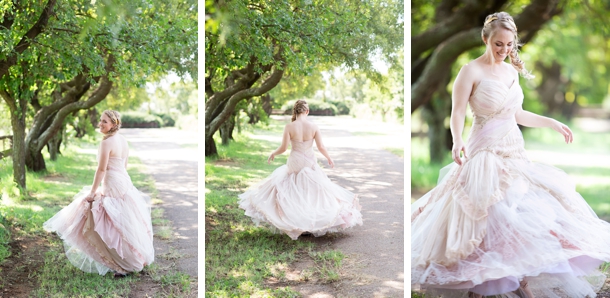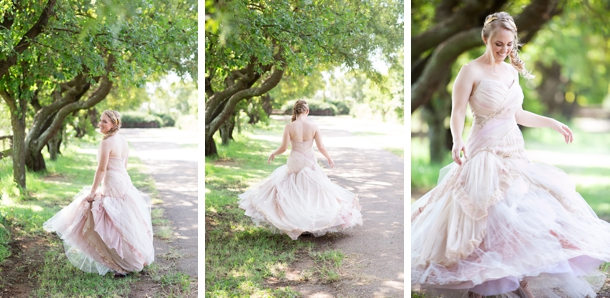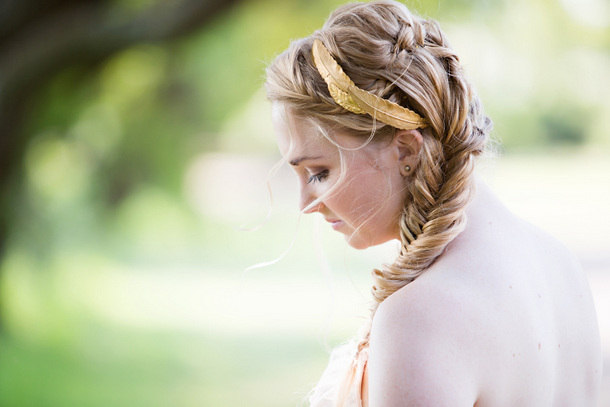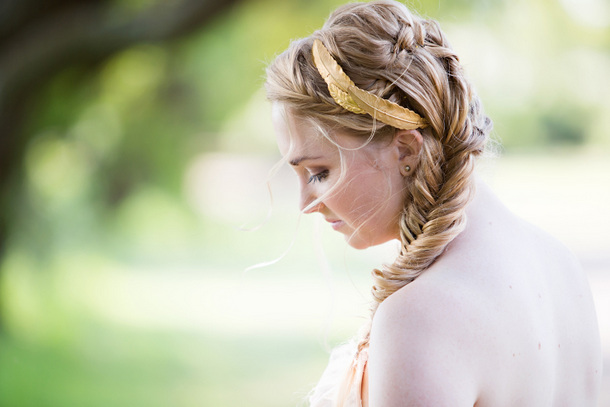 Wedding Style
We were married at Rosemary Hill, an organic herb farm in Pretoria, on the 15th of February 2014, almost nine years to the day we first kissed. Our primary wedding objective was to create a day that felt entirely like us. Something relaxed, non-traditional and fun but also very intimate and hopelessly romantic. The first and undoubtedly the most important thing we did was hire Carol-Anne Frey from Eco-chic Weddings to co-ordinate the day. An environmentally conscious wedding was central to our vision and she understood our style and expectations immediately. All the vendors we chose were the first ones she recommended. Our wedding day was a fairytale and Carol-Anne was our Fairy God-planner!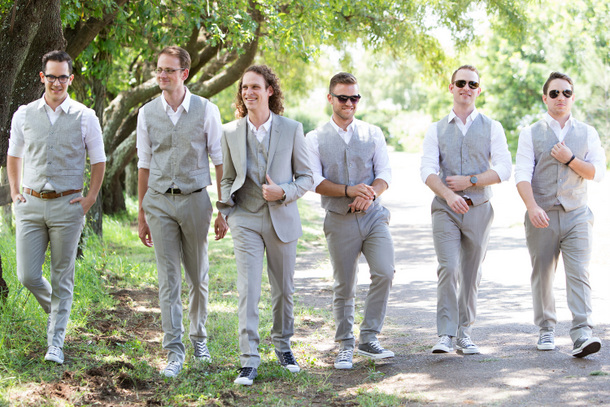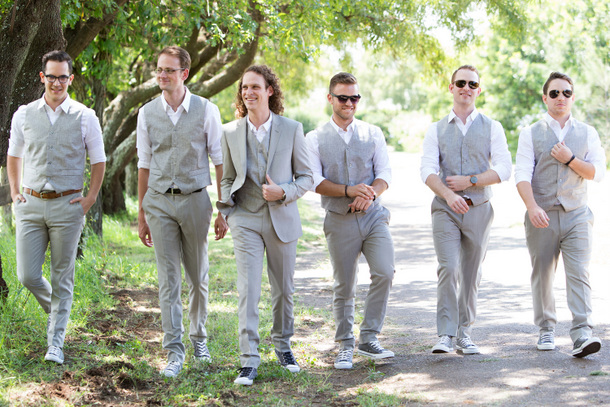 The Ceremony
We chose to have an outdoor ceremony under a large tree with our friends and families seated on hay bales arranged in a semi-circle around a pedestal of wooden palettes. I walked down a hessian aisle strewn with wild flower petals and herbs. I took a quiet moment with my dad just before it was time to take the walk; I squeezed his arm and let him know how special that time was to me. My two best friends and bridesmaids wore sweeping olive green dresses from Lunar and the groomsmen wore Converse Allstars (the only shoe my husband has ever owned) and waistcoats with a Paris motif on the back (a subtle nod to our engagement). During the ceremony each of our retinue recited a reading we felt represented how we feel about each other, including passages from my favourite novel, Jane Eyre, and Byron's choice of a sweet story about two dinosaurs who fall in love. We wrote our own vows – as we are not a very religious couple, we wanted the ceremony to be about our love and the people who have contributed to it and shared it with us. It was so special to have these amazing people as an integral part of our ceremony. We celebrated our love in the best way we could imagine.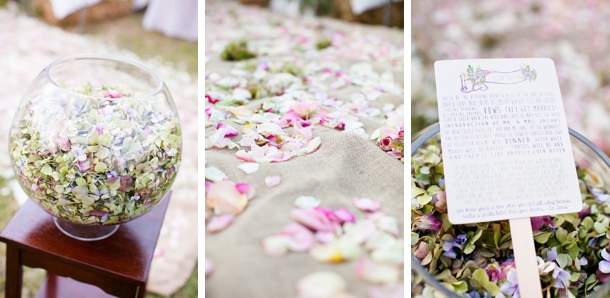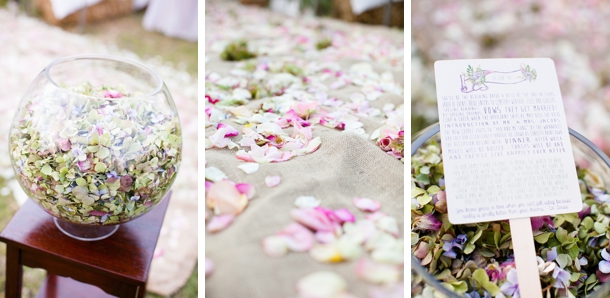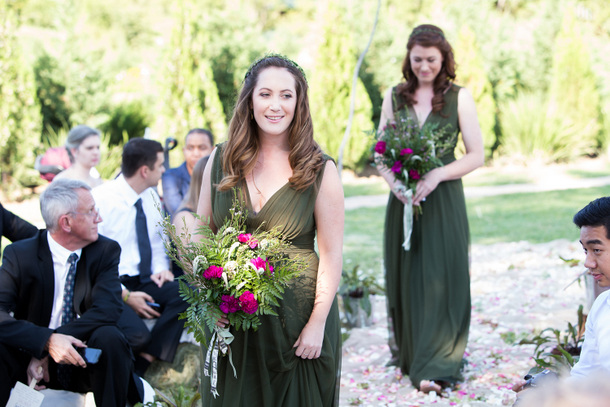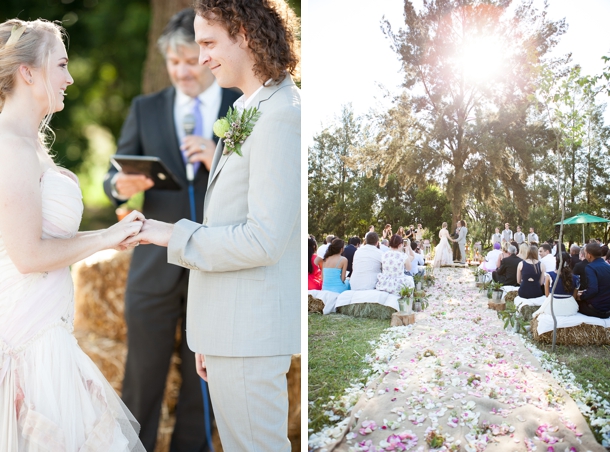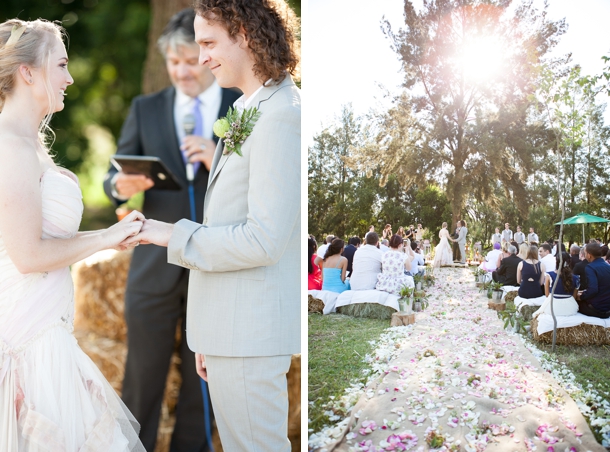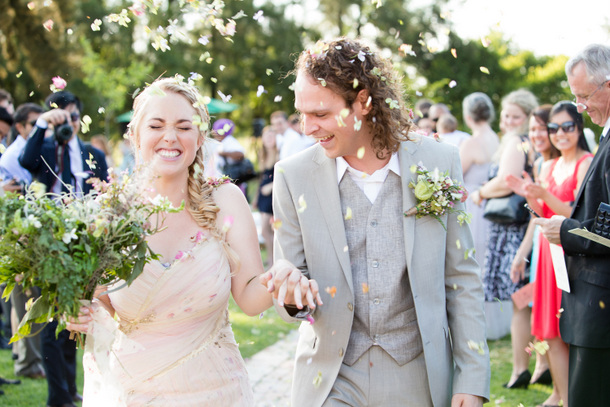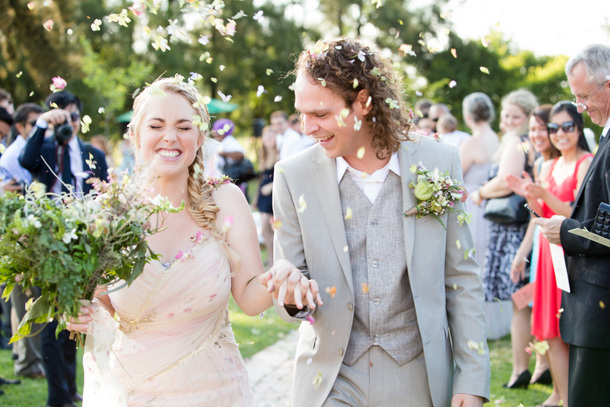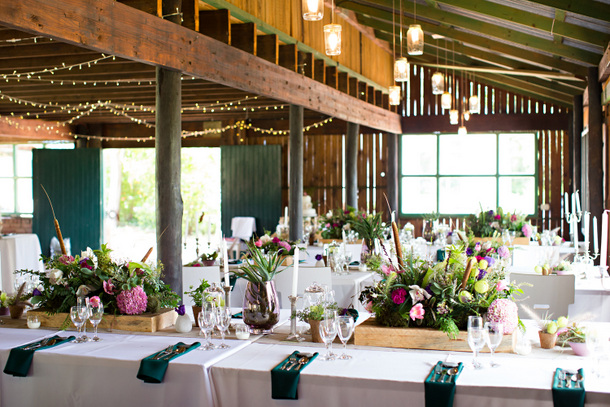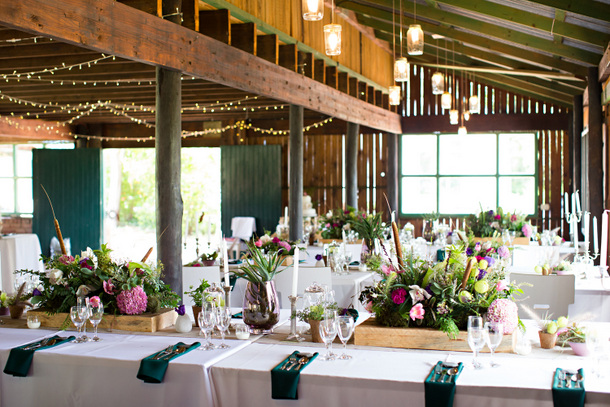 Wedding Details
The reception took place in the Rosemary Hill barn. We kept the menu humble and delicious; organic homemade burgers and all the trimmings including fries served in little tin mugs and mini-doughnuts and milkshakes for dessert. Looking over the photos captured by the talented Bronwyn and Terence Van der Bijl makes us long to relive this most happy day over and over. The barn illuminated under the full moon with candlelight gleaming inside and a bonfire blazing outside while Calandra Youngleston oozed soft jazz into the night air was simply magical and everything we dreamed our wedding day would be.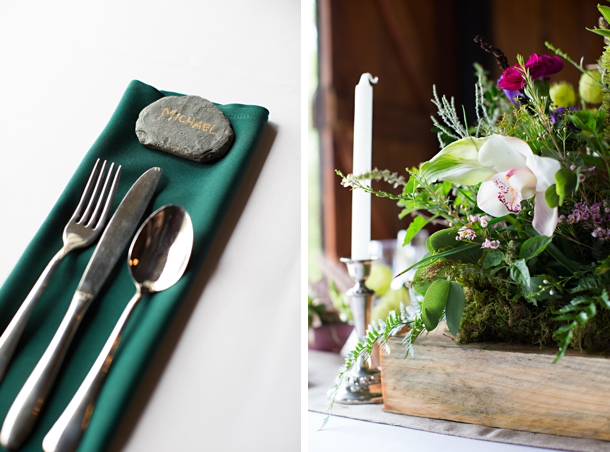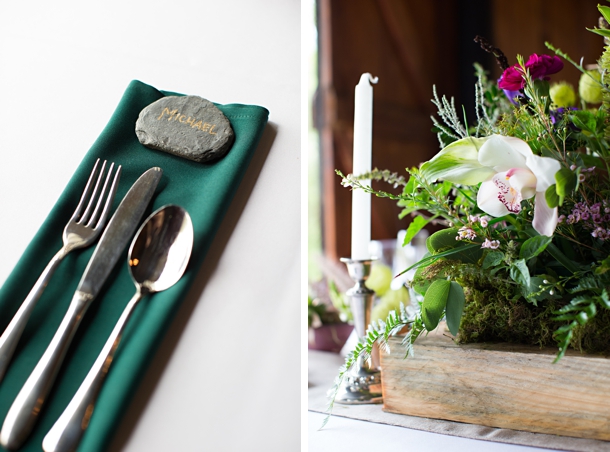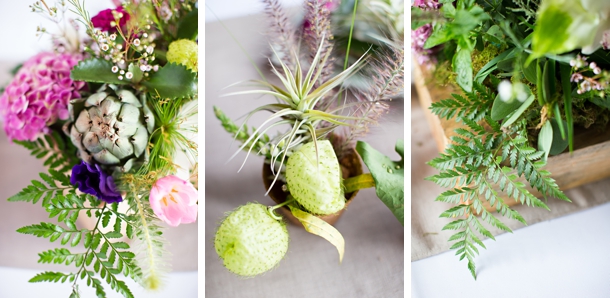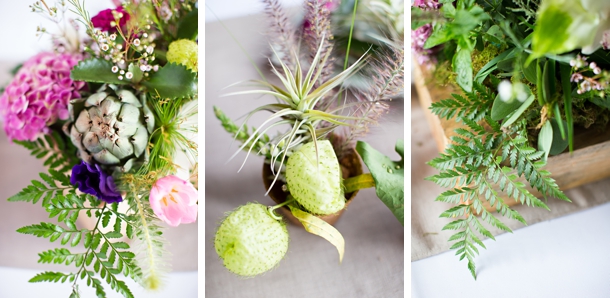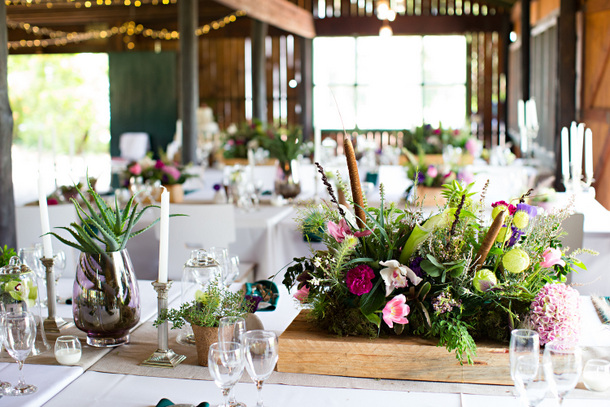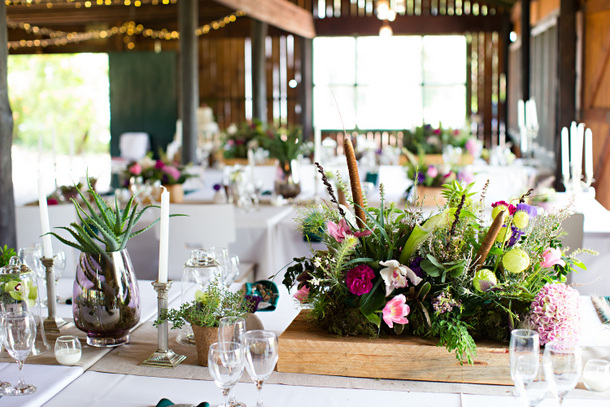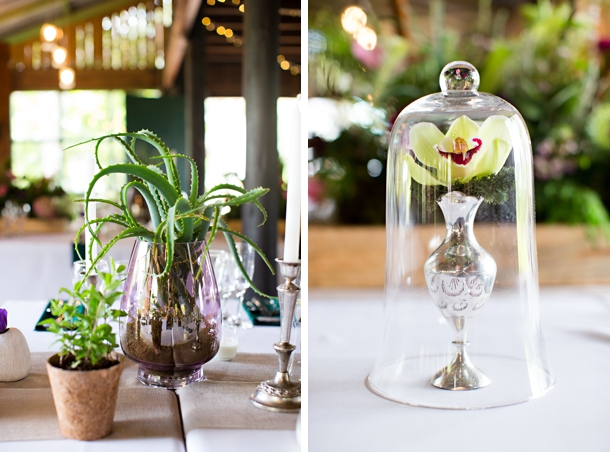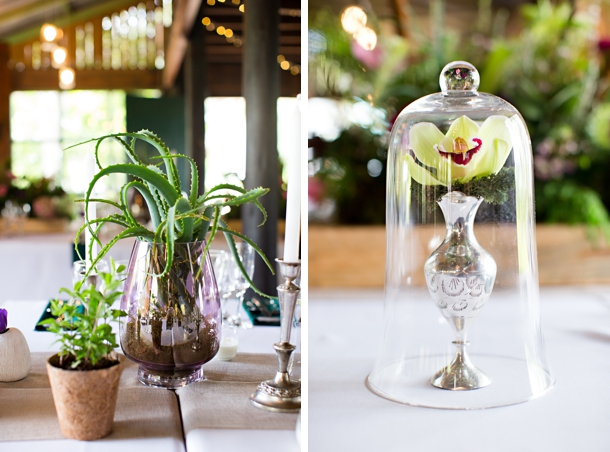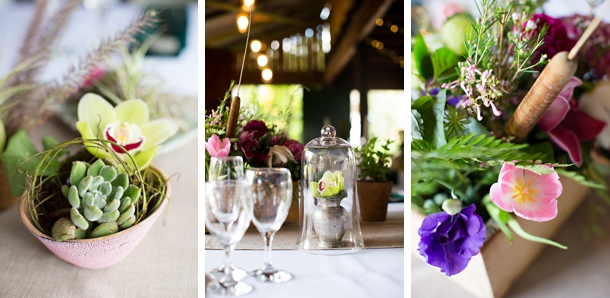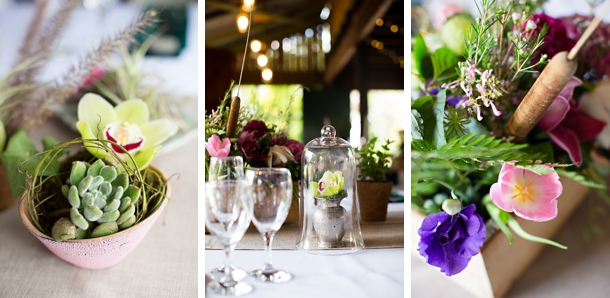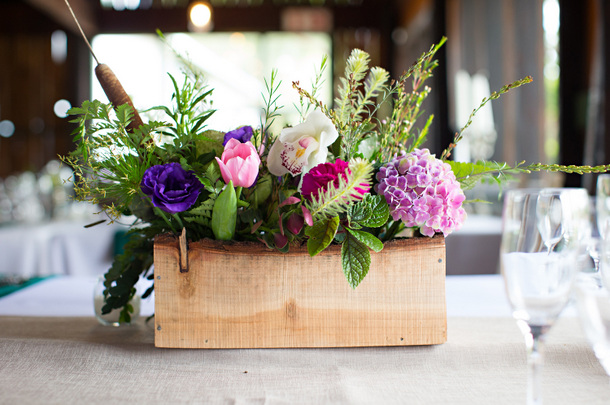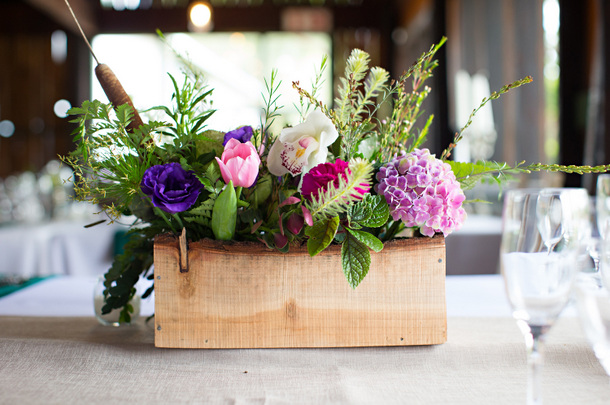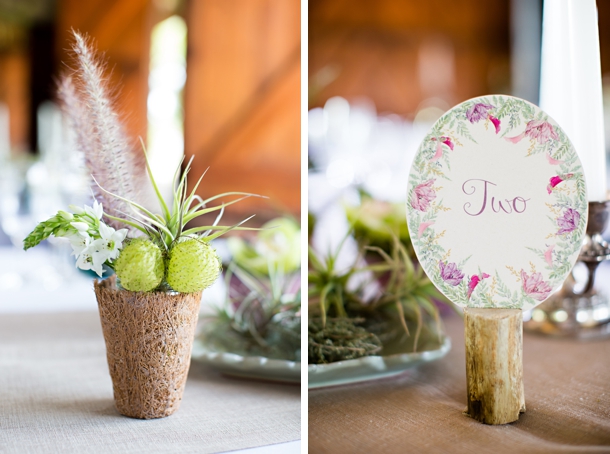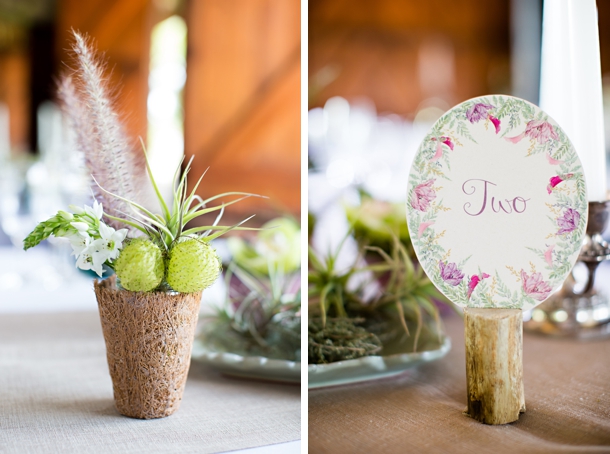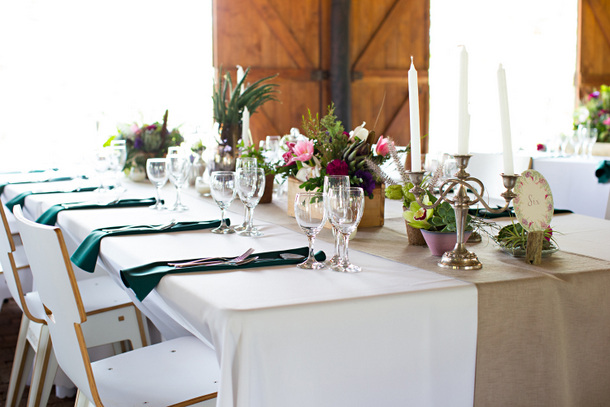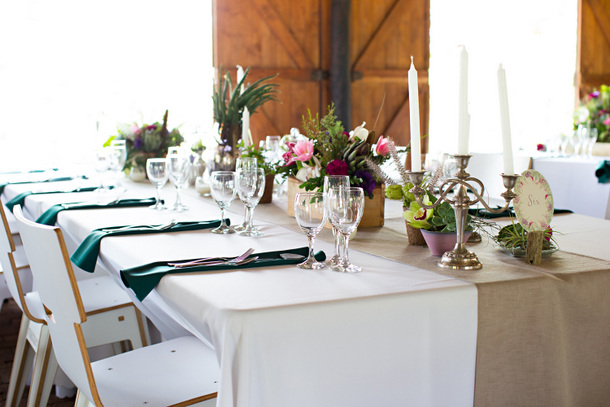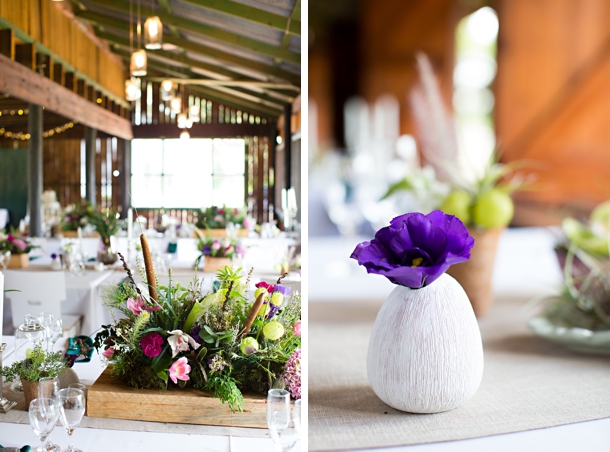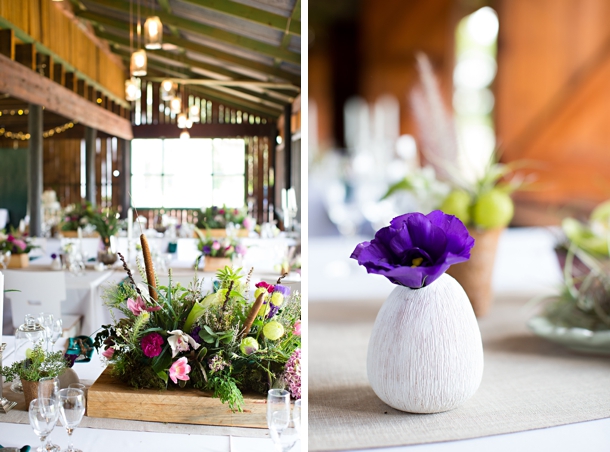 DIY Elements
My husband and I are not really DIY types but we wanted to have a piece of ourselves in the day, something we had created, so we hand wrote the slate placeholder shingles for each guest's place setting. We used the nicknames we call them rather than formal names, for example Byron calls his mom Gail, G-dogg, and my brother Drew, Drewsky. It was a personal touch I loved.
The Flowers
Carol-Anne designed all the flowers and décor, which were simple, organic and elegant; taking inspiration from nature and the hues of figs growing in the trees. We decided to focus on foliage, succulents and air plants with just a few floral accents for impact, most of which was harvested from my mother's incredible indigenous garden the day before the wedding, combined with antique silver candelabras for a touch of sophistication. The arrangements were such that everything seemed to be growing right where it sat, it was wild and free and wonderful.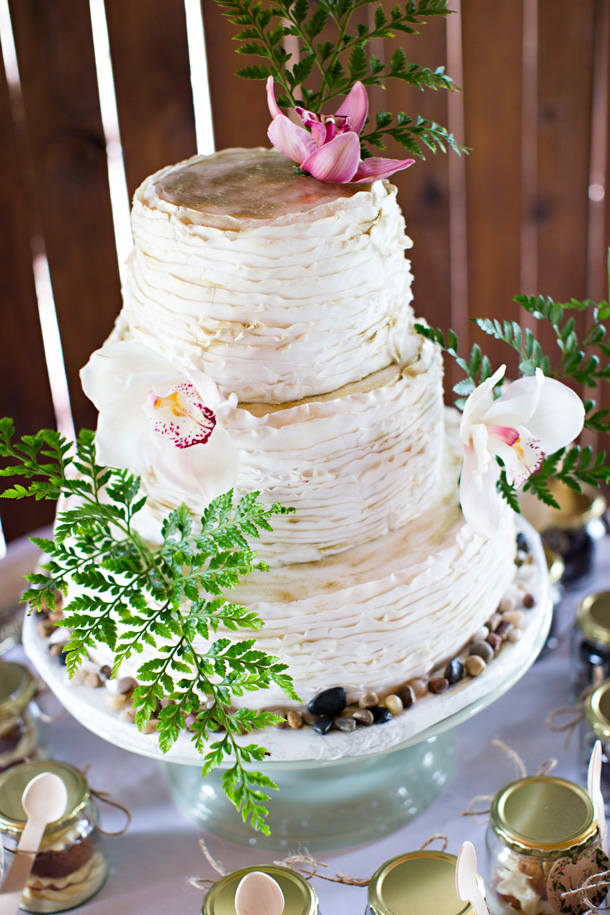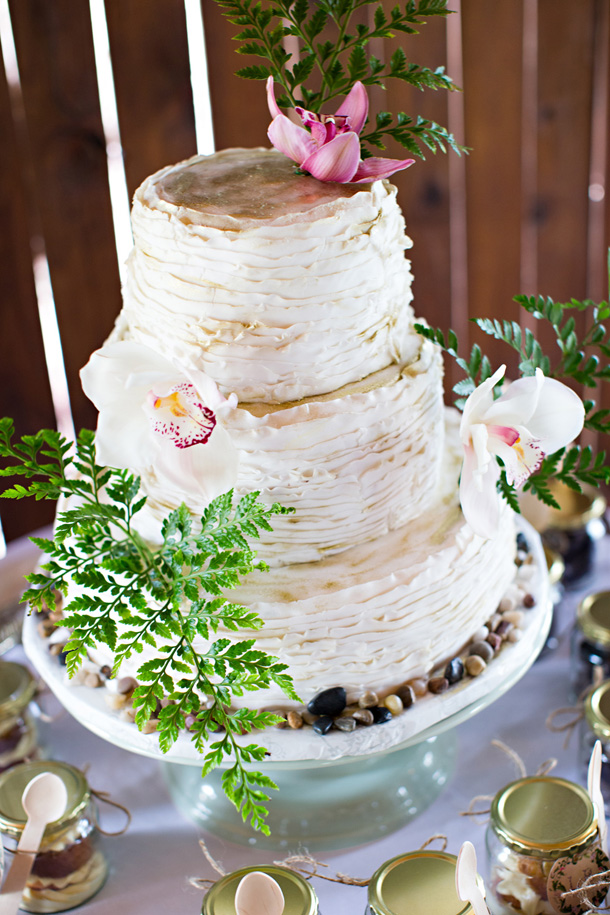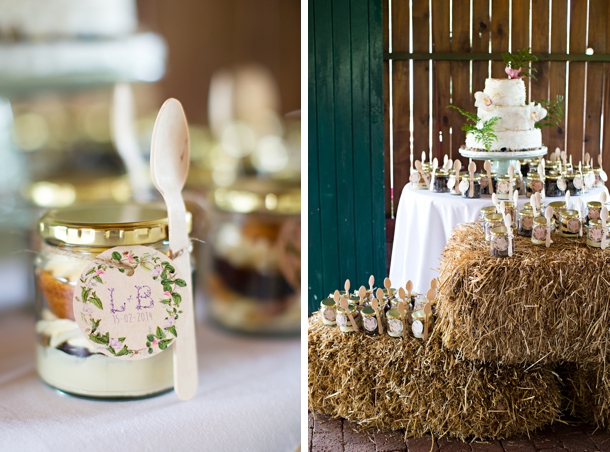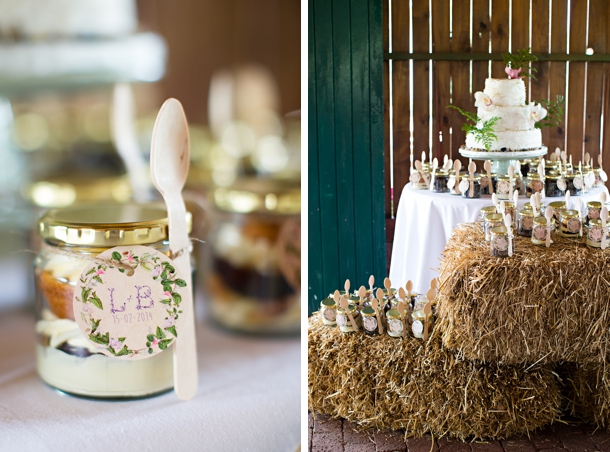 The Dress
I'm not a white, lace overlay and crystal embroidery kind of a girl and so finding a dress I loved in a boutique was a challenge. I dreamt of a wild, tulle creation in every shade of blush and burnt rose with raw edged texture and lots of drama. My second fairy godmother, Wendy Schultz of Dimity Eco-bride took these vague musings and numerous Vera Wang clippings and created the most beautiful dress. Wendy is a genius and her ethos of recycling and reusing forgotten bits and pieces fit perfectly into our wedding vision! She gives old fabrics new, sparkly lives. The masterpiece she designed for me combined tones of blush with distressed gold details and included fabric from an antique sari of deep rose, and an Egyptian shawl with hand clamped burnished metal embellishments and of course, lots of upcycled tulle! I kept my accessories simple with my mom's gold stud earrings, a gold fig leaf headband from Mignonne Handmade and a pair of gorgeous dark rose and gold Anthropology heels. Wendy's attention to detail and craftsmanship is beyond comparison and I will cherish the dress she gave me forever. It is unique and exquisite and most importantly, me.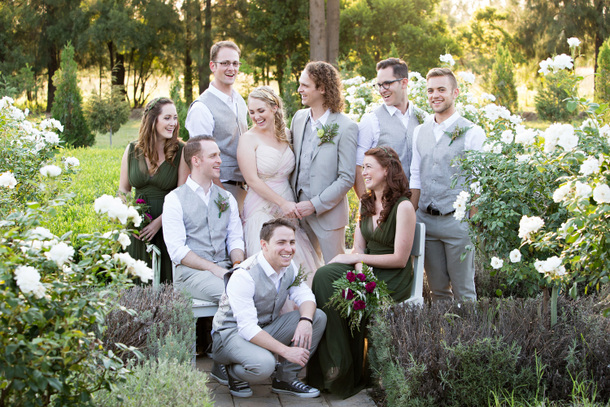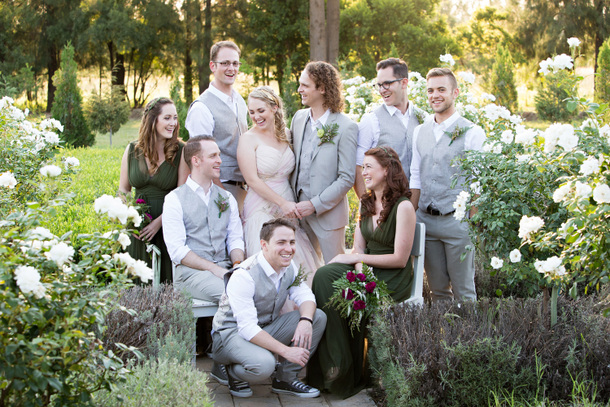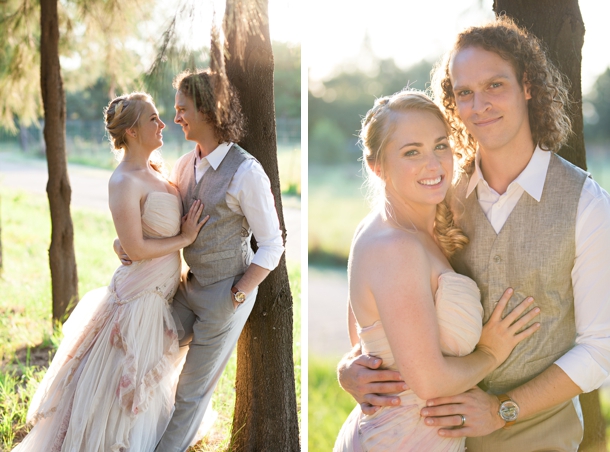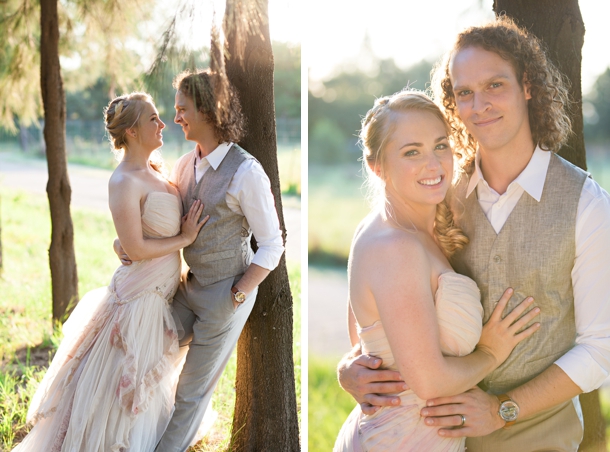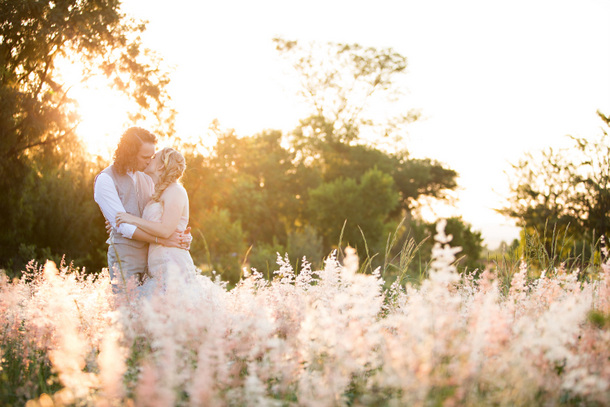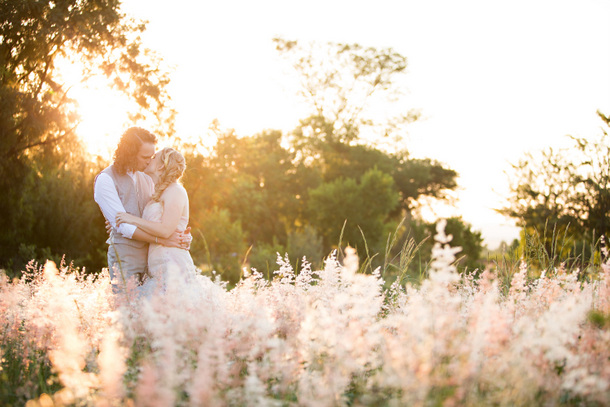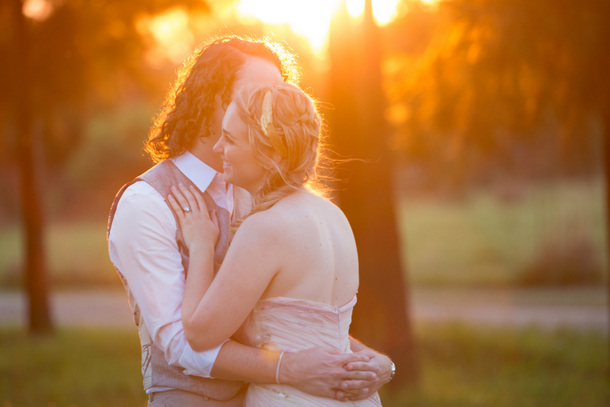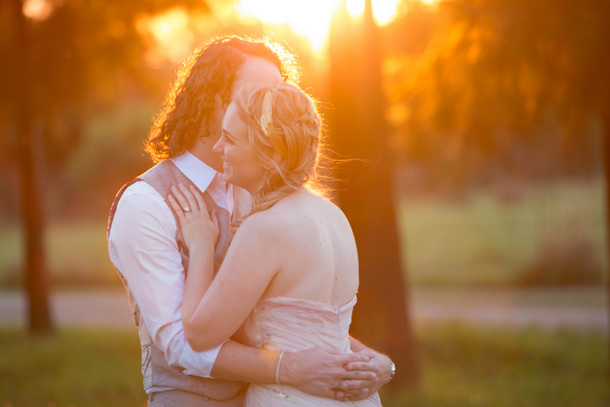 Advice for Future Brides & Grooms
In all honesty, if we had any advice for other couples starting out this exciting and daunting journey towards the aisle it would be to hire Carol-Anne Frey of Eco-chic Weddings as your wedding co-ordinator. She is worth her weight in gold and then some and I am privileged to now count her as a close friend. Other than that, be true to yourselves; don't let others impose their ideas of what a wedding "should be" onto your day. There are no rules; your wedding day is the one day when you and your love can be authentically expressed and celebrated. It takes time and perseverance but living a day that is truly you, is the only way to start your lives as husband and wife.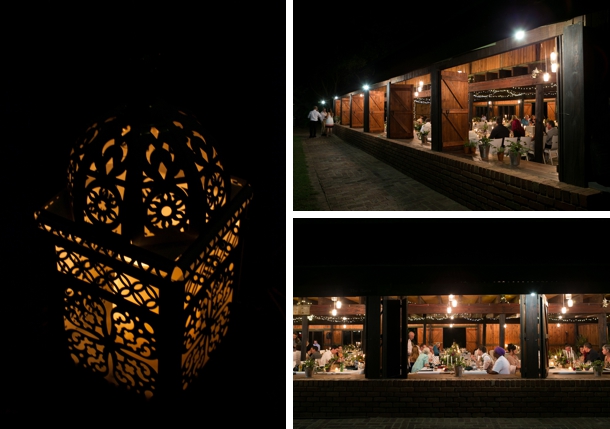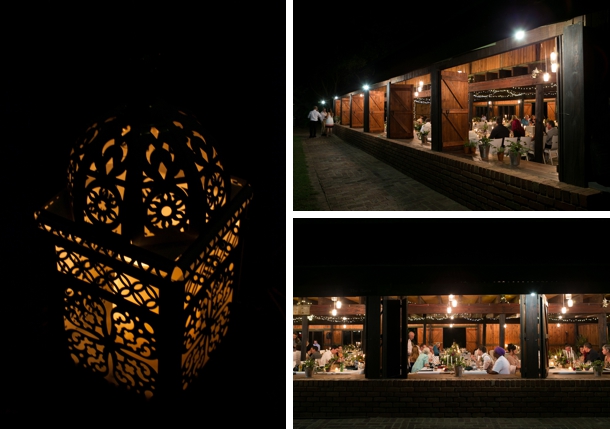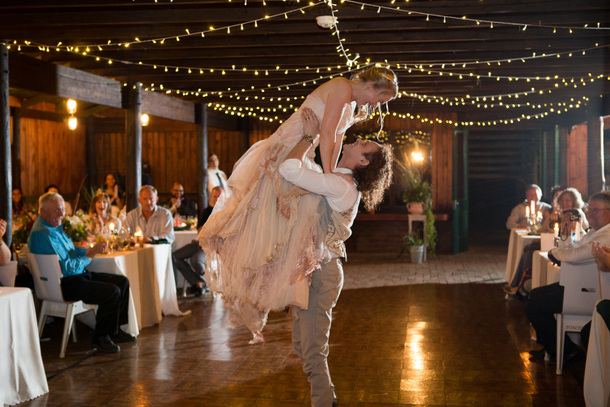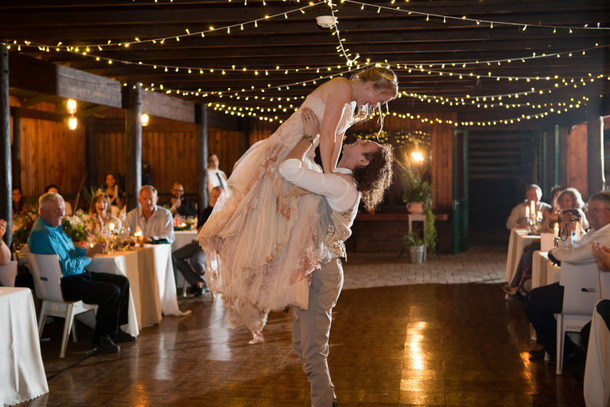 SERVICE PROVIDERS
Venue: Rosemary Hill | Photography: Van der Bijl Photography | Co-ordination, flowers & decor: Eco-chic Weddings | Bride's dress: Dimity Eco-bride | Bride's shoes: Anthropology | Hair: Lynette van Zyl | Makeup: CK Make-up | Golden Leaf Hairpiece: Mignonne Handmade | Cake and Cup-cakes in Jars: Down the Rabbit Hole | Suits: Hilton Weiner Classic | Groom & groomsmen's shoes: Converse Allstars | Groom & groomsmen's waistcoats: Sheila Wilesmith | Bridesmaids' dresses: Lunar | Officiant: Ryan Hogarth | Live music & vocalist: Callandra Youngleson & Tuck Shop Parking