Are you all sick of hearing from our friend Ché of Indieberries yet? No, of course you're not. Because she is Awesome.Sauce. We love Ché. And we especially loved all the fab ideas she had for her wedding, from her Save the Dates to her invites to her guest book. And that's what Ché is sharing with us today, along with a bunch of brilliant advice for how to make your own guest book awesome. UN-fortunately, we don't get to see Ché's actual wedding or pro pics of her guest book because… well, something bad happened to the photos. We won't talk about it. Moving on. But let's just say that this lady is not only a legend at producing an incredible wedding and choosing a very lovely man to marry, she is also the queen of grace under fire and an awesome example of someone who loves the pretty but knows what marriage is really all about. Maybe one day I'll ask her to tell you about that. But for today, she's talking guest books. Thanks Ché!
*********************************************************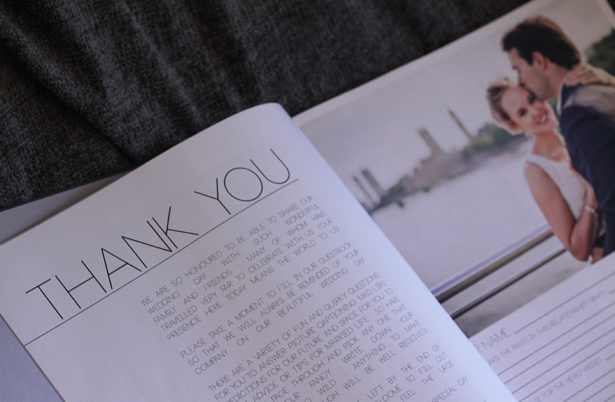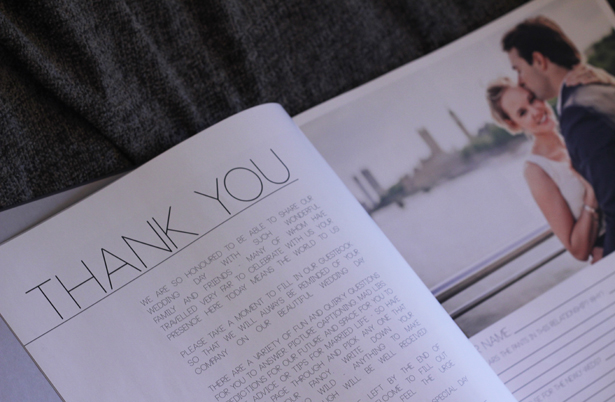 After searching for a wedding guestbook and only finding standard run-of-the-mill, not-too-exciting options I decided to crack on and create my own personalised coffee-table keepsake. (Although to be fair, I didn't search too hard for the aforementioned guestbook because I always knew I wanted to make my own).
Most guests at a wedding will feel slightly intimidated when faced with a blank guest book – there's just too much pressure to write the perfect-most-beautiful and heartfelt message in the 3.5 minutes you have the guestbook in front of you. PANIC. They most likely will have already "used up" all their best words in a wedding card to you. [This is 100% true for me. I write the WORST guest book messages. And I'm a writer for a LIVING. -Gaby]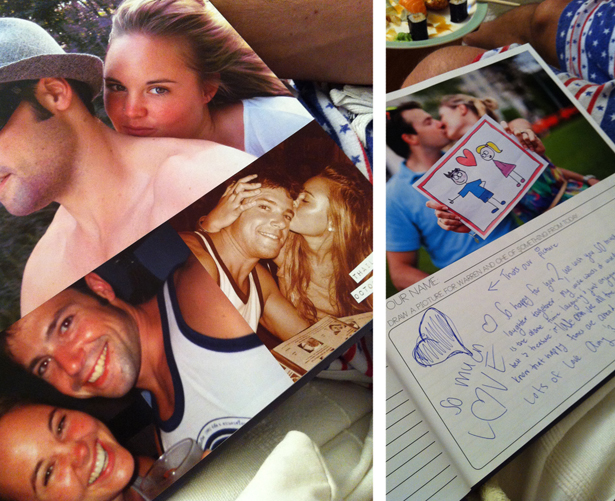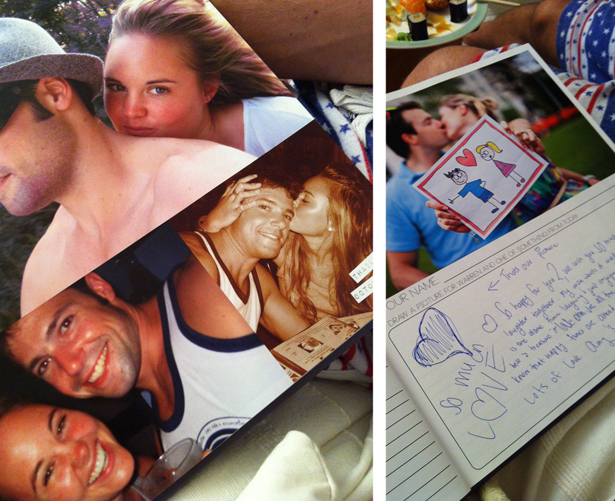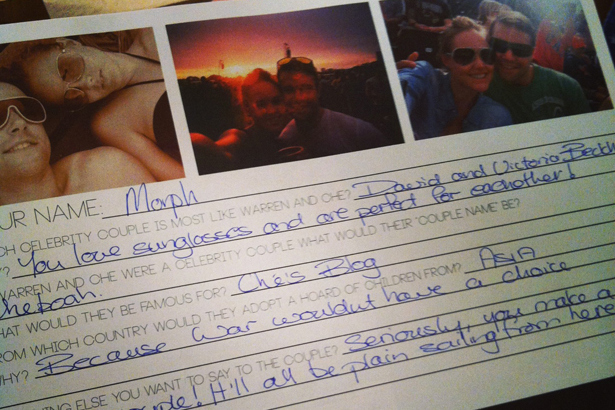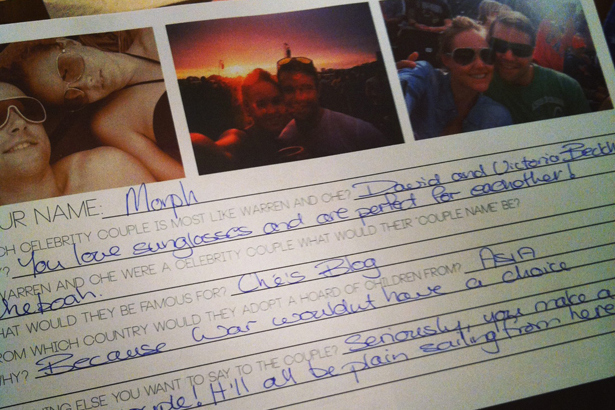 To counteract this problem, I wanted to create a wedding guestbook that was un-intimidating and FUN for wedding guests to fill in. Instead of the standard "Leave a message for the bride and groom" pages, I created some different, quirky questions for guests to answer. Some pages included Mad Libs – where tables could sit together and fill in nouns/adjectives and verbs to make "Ché & Warren's honeymoon story", other pages featured funny photographs to caption or "free space" for guests to doodle, draw pictures or 'practice Ché's new signature'. It was so much fun after the wedding to go back and see how creative our guests had gotten with all the quirky questions and free spaces!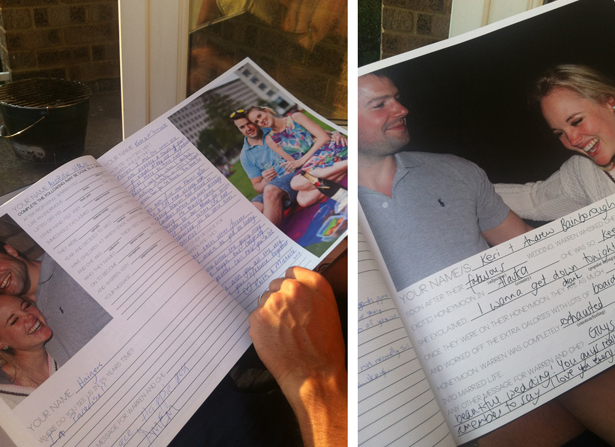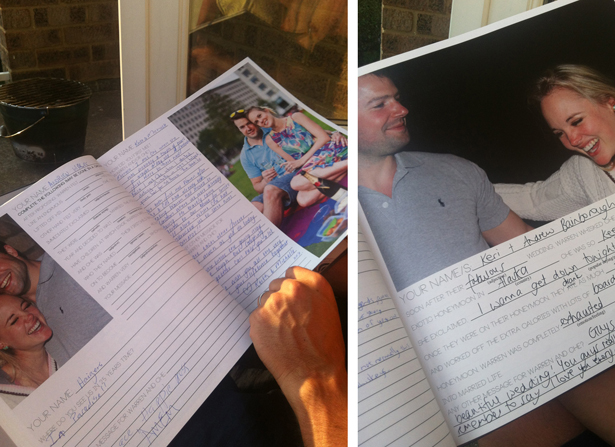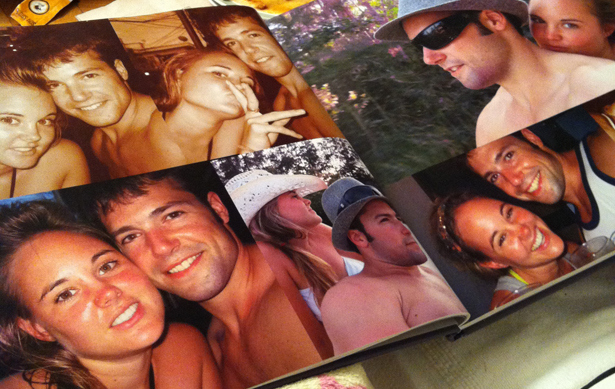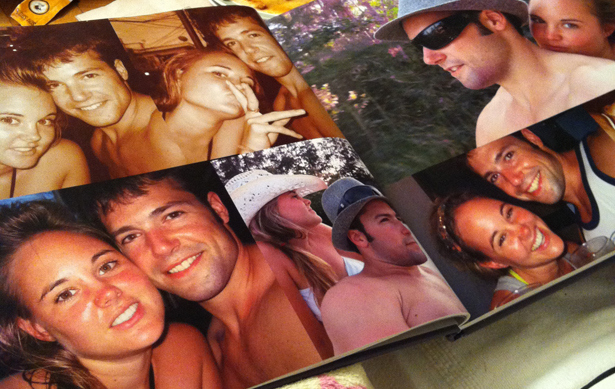 The awesome thing about creating your own guestbook is that you can make it completely personalised. We had the most amazing engagement photoshoot on London Southbank and I used this opportunity as a way to combine our wedding guestbook with a keepsake coffee table book of all our engagement pics. I also used plenty of pictures from our time together over the years – some pages even featured complete photo spreads of our travels.
It has been so much fun to sit down post-wedding and go through our wedding guest book. And In ten years time I know I'm going cherish it even more!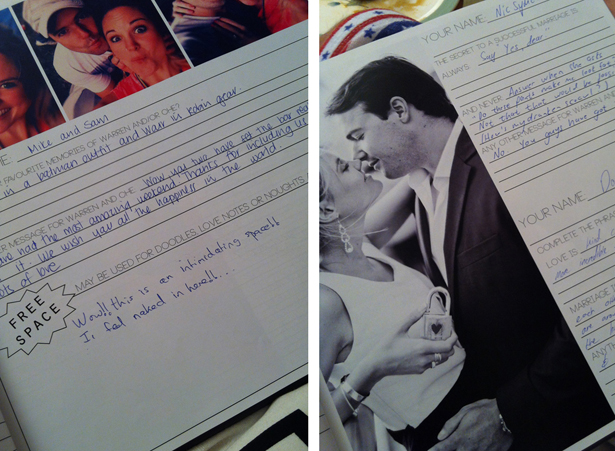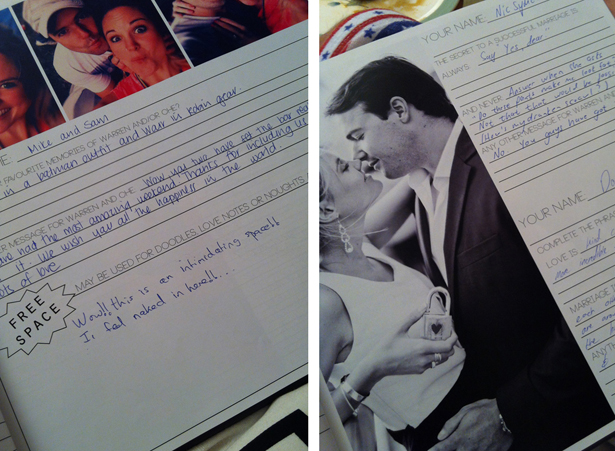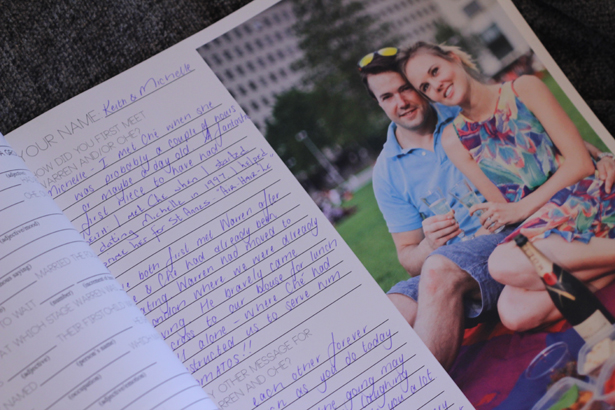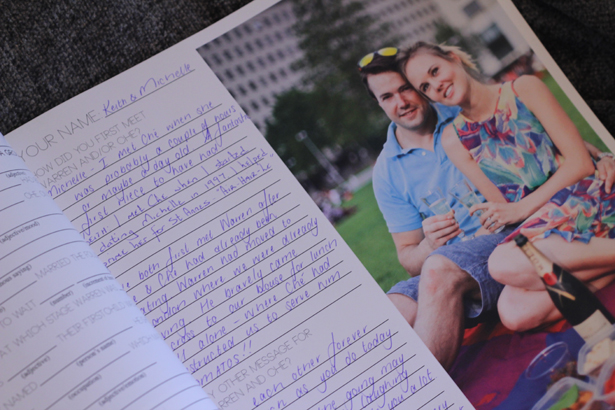 A few guest book tips –
If you have friends/family/bridal party staying with you the night before the wedding – get them to start filling in the guestbook then. Your bridesmaids and family will be so busy on the day that it is better for them to get the guestbook signing out the way.
Don't forget pens and a container or something to put them in.
Test your pen on the surface you are intending it to be used. There is nothing worse than arriving at the venue guestbook and pens in hand only to realise that this particular pen+paper combo is a complete smudge-fiasco.
Assign the task of "guest book" specifically to a bridesmaid or two. It would be a huge shame to have created a gorgeous guestbook and it remains empty. Make sure someone reliable is "on it".
Depending on how 'treasured' you want your guest book to be – get your bridesmaids to encourage guests to sign it before the evening festivities kick off and all you get is undecipherable scrawl. A way to counteract this would be to have separate pieces of guest "tags" for guests to sign, that way at the end of the party you can select and keep the messages that are coherent and toss the rest. Although, you will need someone to keep this all together – which is a task all on it's own.
Keep your guest book questions quick, easy and short – guests don't want to be sitting all night long answering your essay questions.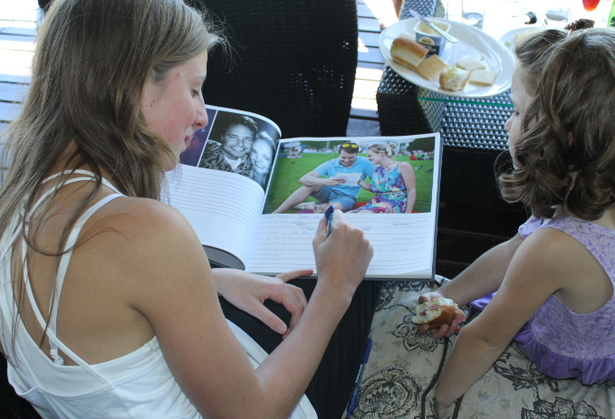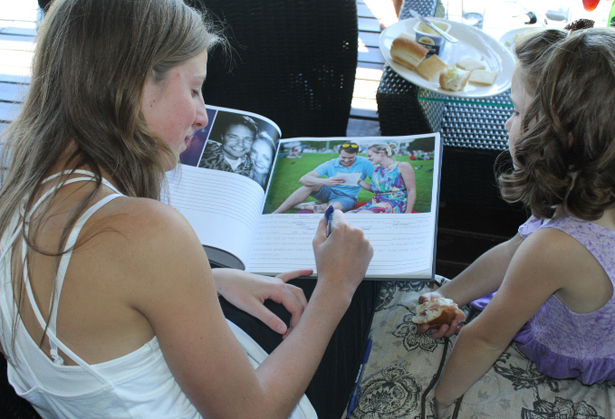 If you are interested in having a custom guestbook made, pop me an email – you can find my contact details on my blog – and I can give you a quote.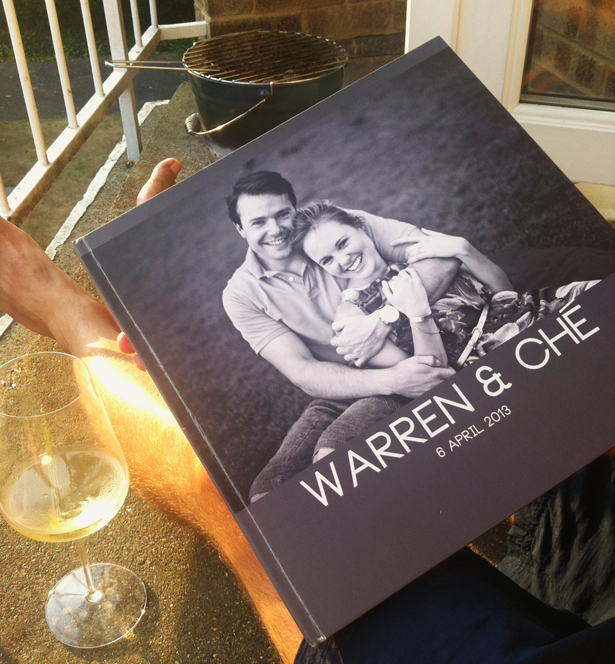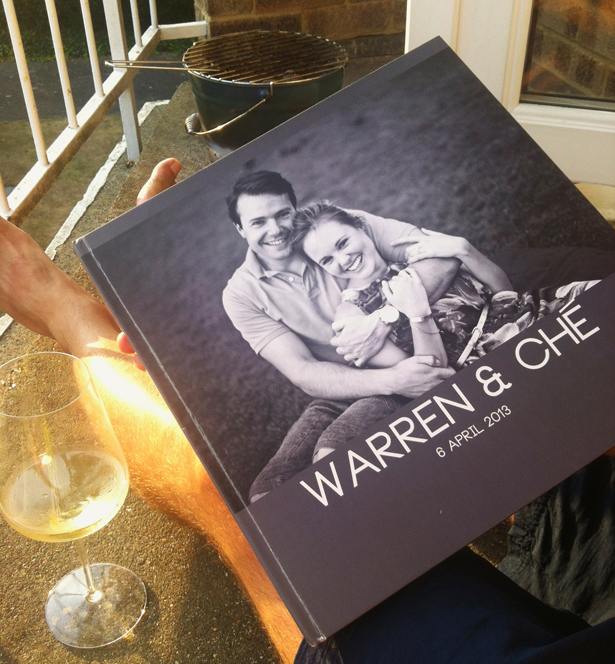 Glad to see that the guest book is in use, Ché! Um… 'coffee table book' or, er, wine lap book? ;)