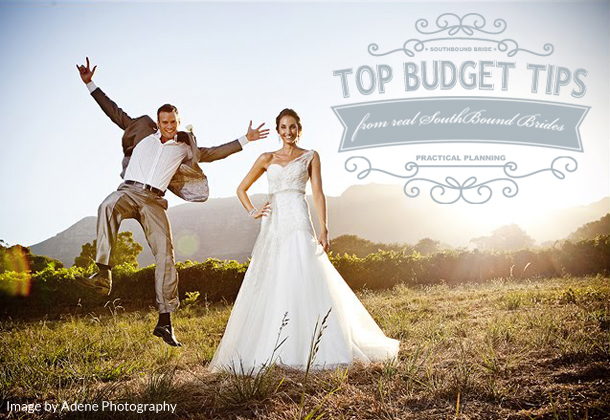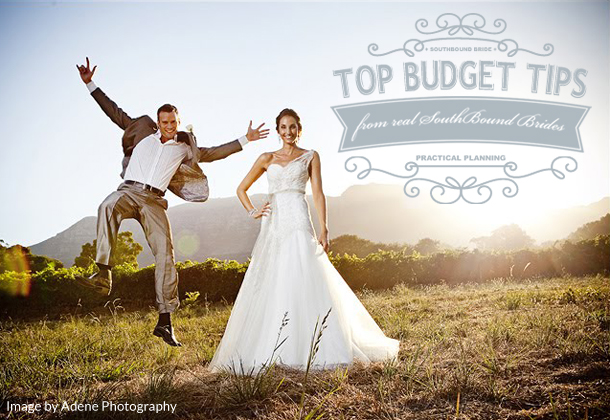 Image above by Adene Photography – see the full wedding here.
Happy Friday friends! You may have noticed, but I'm working hard behind the scenes to bring you more of what you love, and one thing I always get feedback about is practical/advice posts. You'll be seeing plenty of these in the coming weeks and months! In the Reader Survey, you also told me that one of the ways SBB has really helped you is by reading the advice given by our real brides in each wedding post. So I thought, who better to give you some advice than our own SouthBound brides? Keeping costs down is one topic that always comes up, so I've trawled through our archives to find all the very best tips and ideas for budget-conscious couples. Each of them is summarised in a handy card, so go ahead and add the ones that resonate with you to your Pinterest boards as reminders while you go through your planning process. And feel free to share your own advice and ideas in the comments!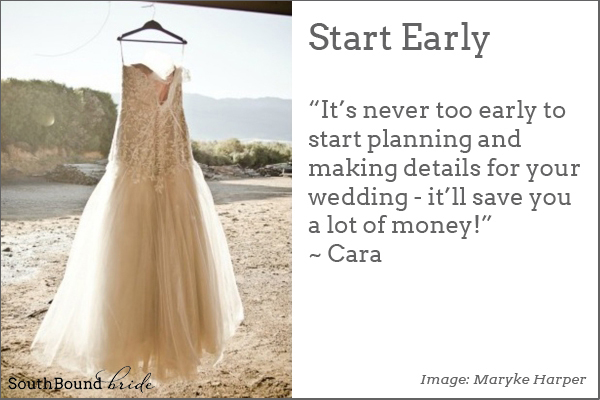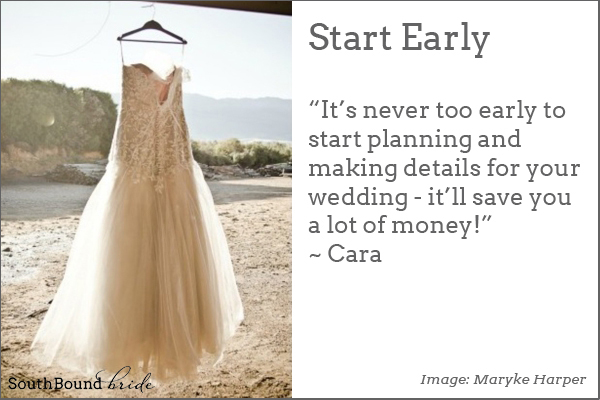 Click here to see the full wedding
This is especially true for all you DIY brides – don't leave everything to the last minute or you may end up having to buy at full price instead. Another good way to use your time is to take into account retail seasons, like post-Christmas sales or seasonal clearouts. This is a brilliant way to pick up bargains, but you'll have to be patient and strategic!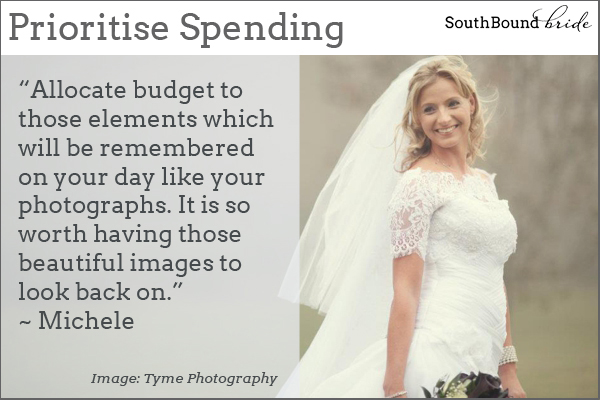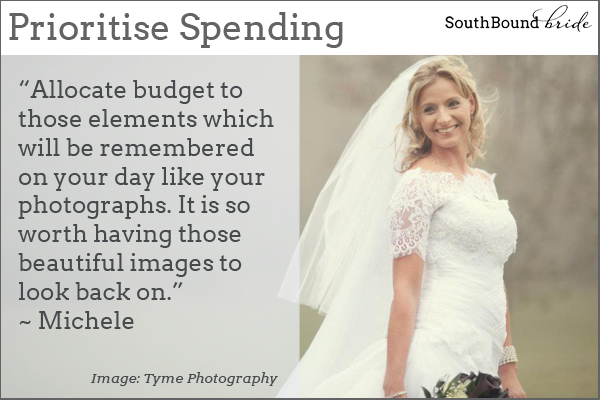 Click here to see the full wedding
Each couple has their own priority areas – agree three of these together and allocate the biggest chunk of your budget to them. Bear in mind that, as Michele points out, expenses like photography and video are the ones that last long after the wedding day. You get what you pay for, so don't cut corners in this area as you'll likely end up regretting it.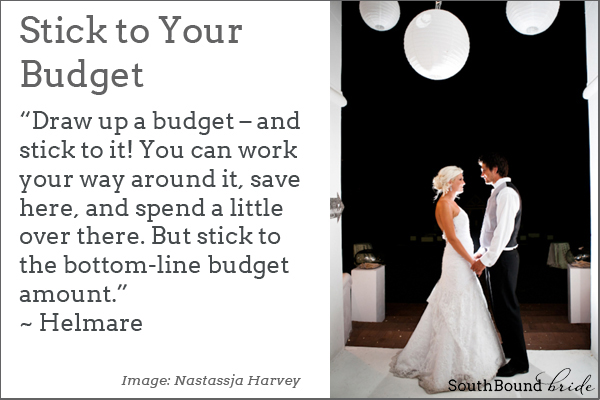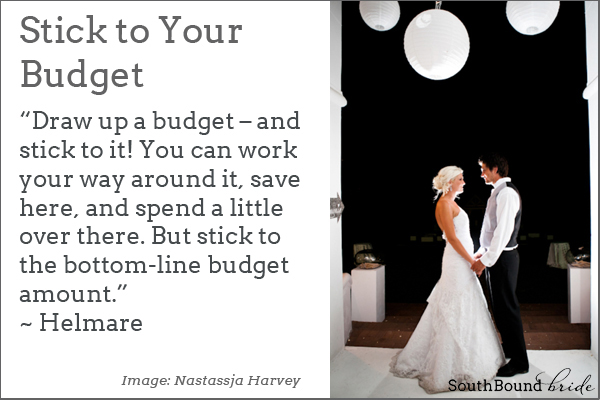 Click here to see the full wedding
 This was the tip most often shared by our real brides. They all advised drawing up a comprehensive budget at the start of your planning and making sure you stick to it. One said she enjoyed challenging herself to come in a little below on each budgeted area, which added up to a significant saving!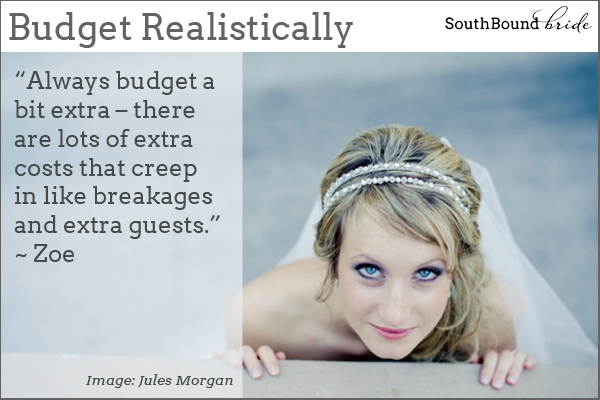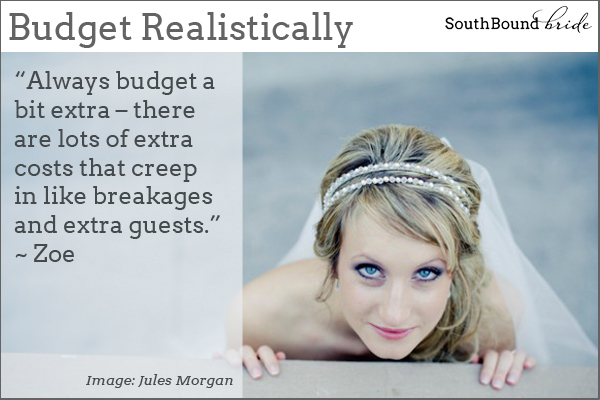 Click here to see the full wedding
This one's an important add-on to the previous tip – do your research before you set a final budget to make sure your expectations are realistic. Add in some contingency money for unexpected expenses.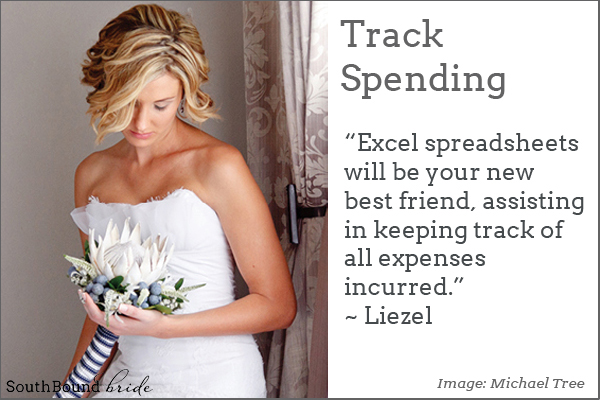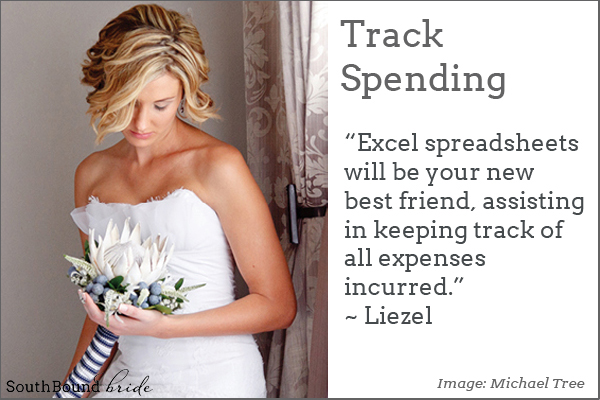 Click here to see the full wedding
There are lots of budgeting spreadsheets you can download from around the web, but many brides turn to good old Excel to track their budget, their quotes and their spending. This is a great way to ensure that the little costs – like DIY supplies – don't add up too much without you noticing.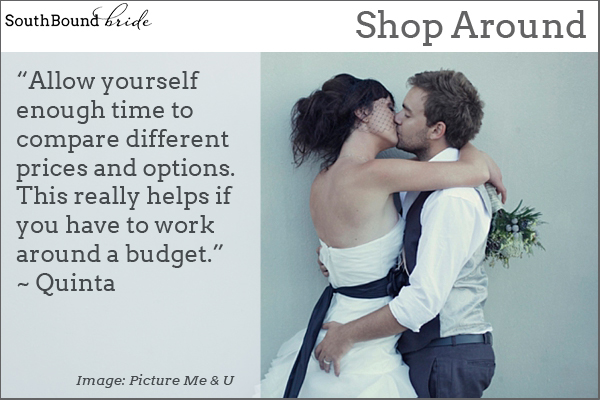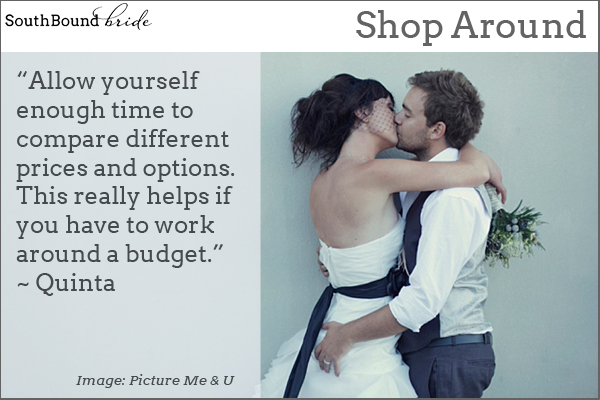 Click here to see the full wedding
Shopping around is really important when it comes to your wedding, as prices (especially when it comes to decor) can vary wildly. Don't limit yourself to wedding and party suppliers – depending on the look and style of your wedding, you may be able to find alternative or DIY options in some unusual places. Pinterest is a great place to find unique ideas using materials that can be found in local charity shops, hardware stores, etc. Plus, the internet is the BEST resource. Do your research and you'll be rewarded.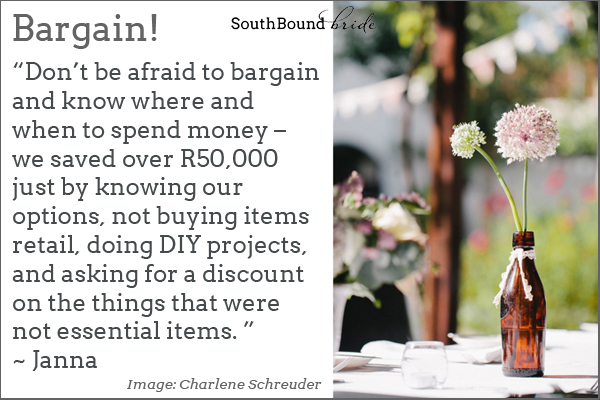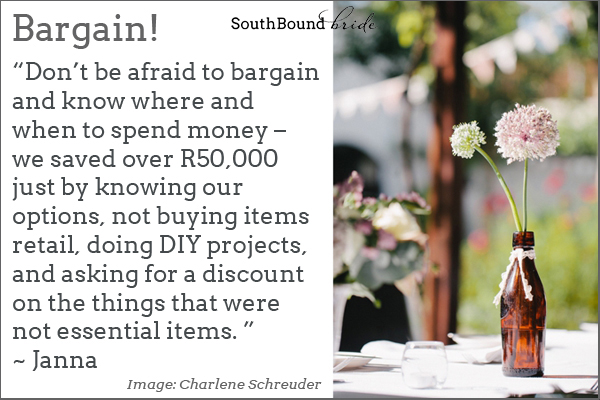 Click here to see the full wedding
I'll never forget the episode of UK show Don't Tell the Bride with the South African groom who tried to bargain about everything. He kind of made me squirm. Thing is, he got a lot of good deals, and the truth is that if you don't ask, you'll never know. Just like the previous tip, it's all about doing your research. Which is completely different to showing a lack of respect for professionals who need to make a living doing their jobs. As bride Janna says, know when to spend money (and when to save it).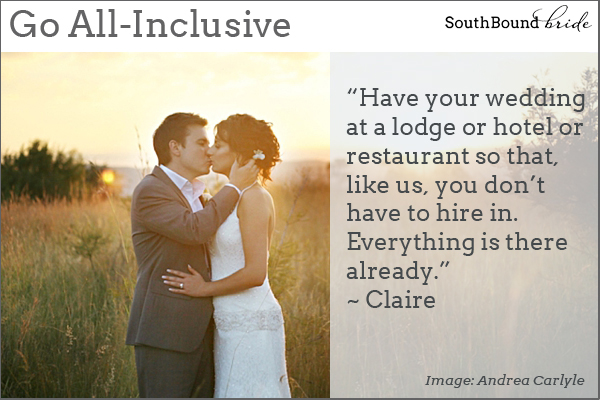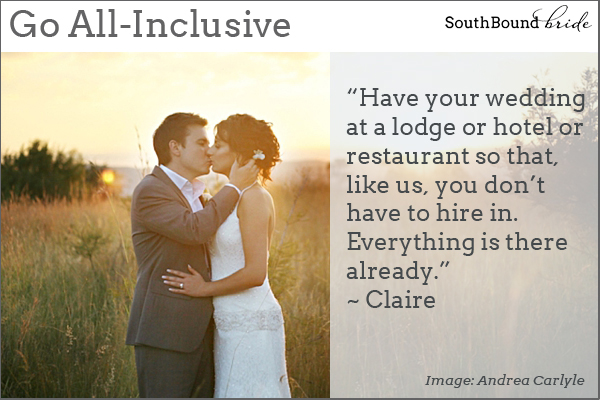 Click here to see the full wedding
A mistake that I've seen couples make in the past is to choose what they consider a laid-back, pared-down venue in a garden or park or on a beach and celebrate how much cheaper it is than a formal wedding venue without taking into account the hiring fees that they'll need to pay for marquee, chairs, cutlery, crockery, linens, generator, etc. etc. Don't get me wrong, it CAN be cheaper, but often it's much of a muchness and an all-inclusive venue offers extras like accommodation for you and your guests as well as on-site wedding planners that can make it all a lot less stressful.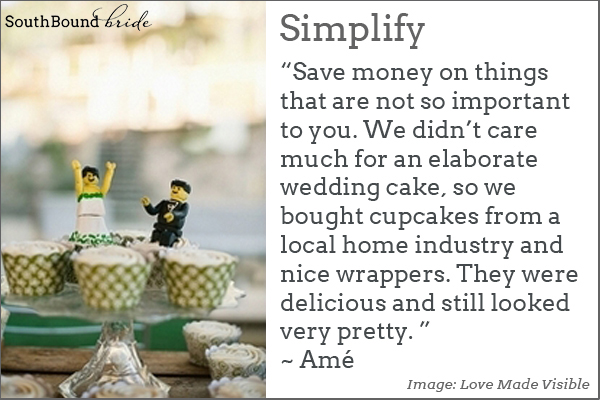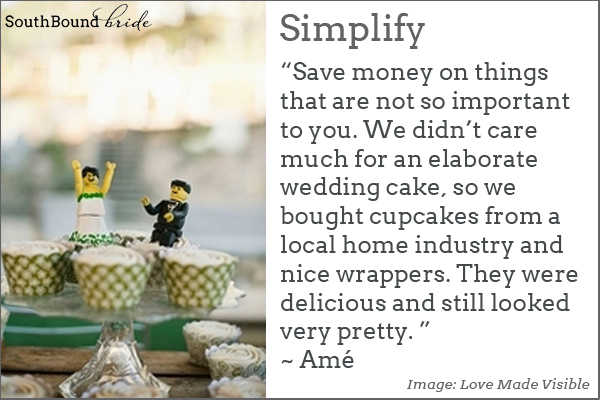 Click here to see the full wedding
This goes back to that list I suggested early in the post, about choosing the things that are important to you both and allocating your budget accordingly. Let go of the things that you don't care about but think you're expected to have, and separate everything else into must-haves and nice-to-haves.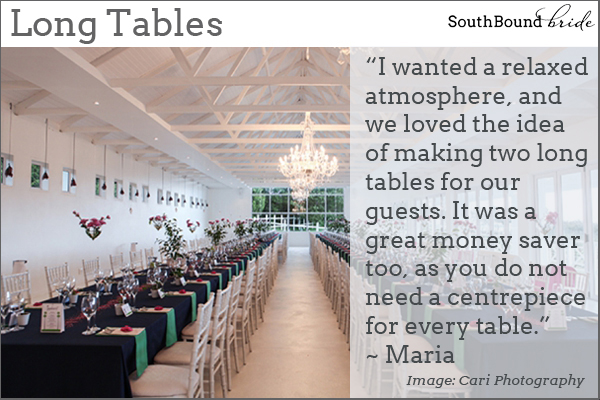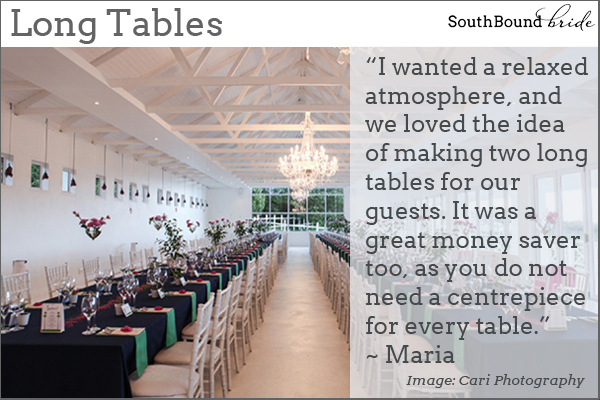 Click here to see the full wedding
I love this idea – it's so spot on, and not just because I love long tables. Having a dozen round tables means a lot more in terms of table and decor centrepieces, whereas with long tables you can space things out a bit more and the volume of flowers can be less – after all, people want to be able to see across the table to talk to one another.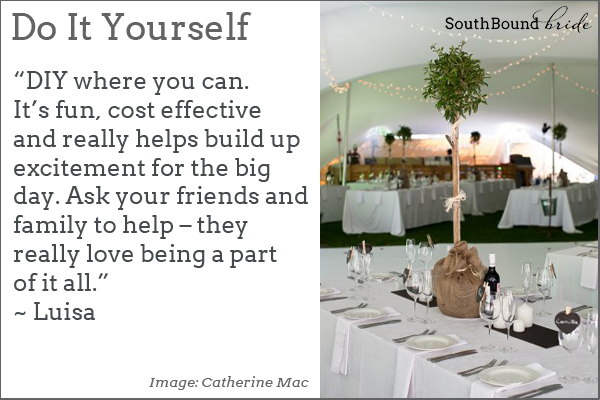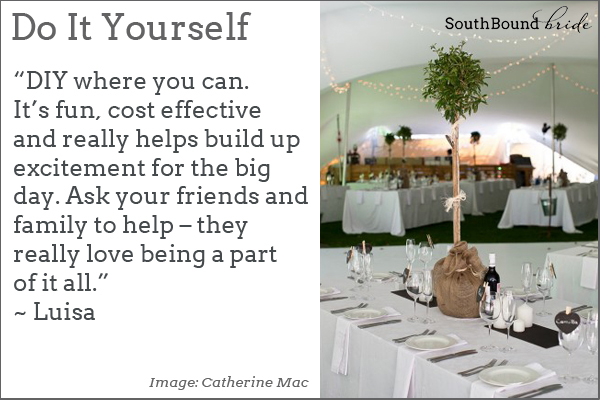 Click here to see the full wedding
DIY isn't always the cheaper option (read our top tips for DIYing here), but it really can make a difference and it's a great way to make things personal. Even better, it gets friends and family involved, and you may find that their skills and ideas lead you to new things you haven't even thought of.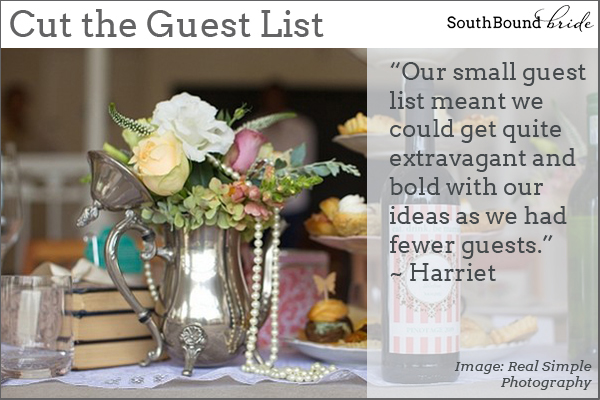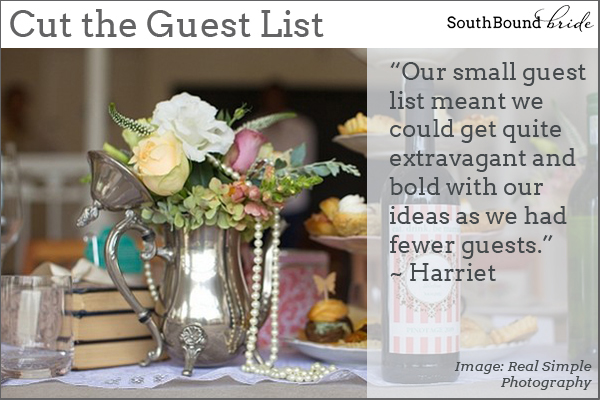 Click here to see the full wedding
I love intimate weddings – they have so much heart! They're also a brilliant way to save money. You can go all-out luxurious on food, drink and decor when you have fewer people to cater for.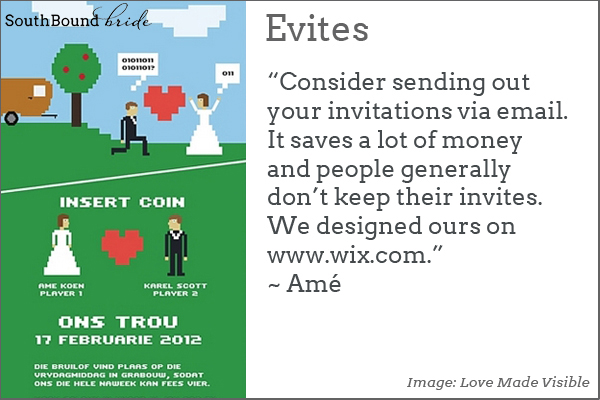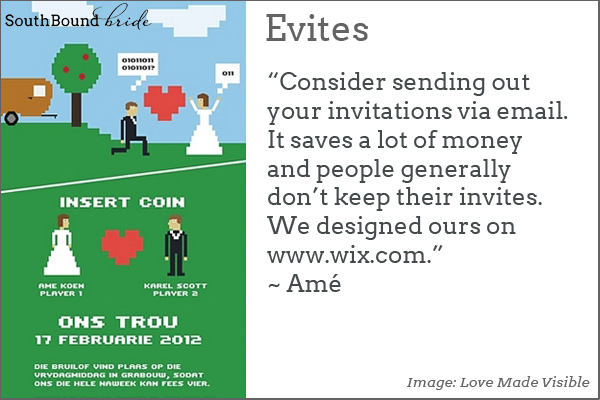 Click here to see the full wedding
Okay, I love pretty stationery as much as the next person, but you have to admit that evites have some serious eco advantages to paper. Even if it's just for the Save the Dates, consider doing some of your inviting online. It doesn't have to be a boring email – how about an image, a video or a fully designed invitation that you just don't post but email instead?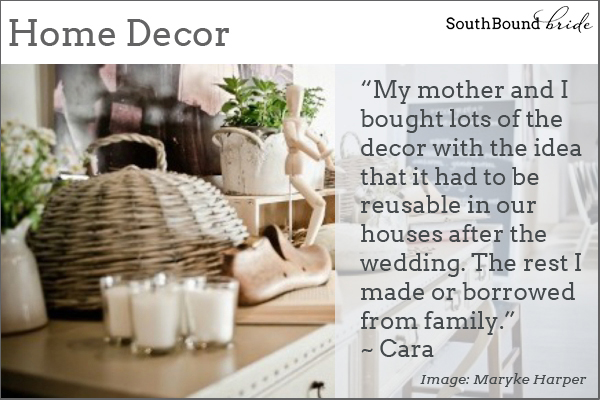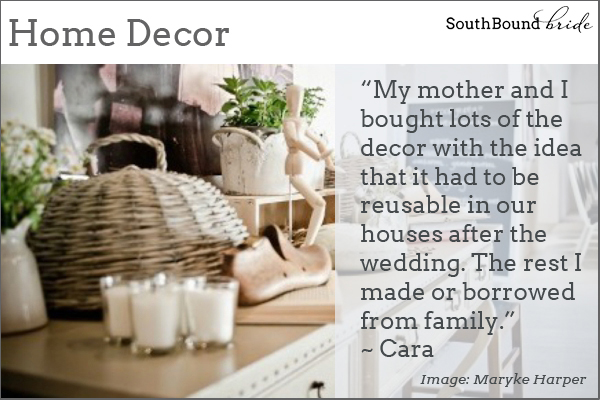 Click here to see the full wedding
The decor at Cara's wedding was one of my all-time favourites, so she knows what she's talking about! Using decor items from your home or those of your friends and neighbours is a great way to not only include quirky pieces but to save a ton of money. Alternatively, buy what you need, but use it in your house afterwards – if you do this, your wedding will really be a reflection of your personal style, and you'll have furnished the marital home at the same time! Plus, think how special those decor pieces will be over the years when you look back? Sentimental value, check.