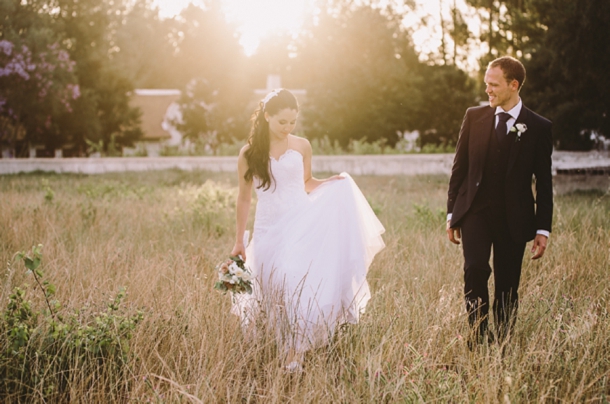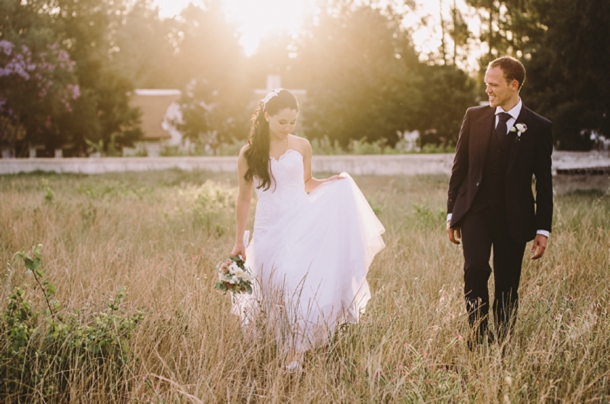 I have to tell you guys, I LOVE reading your love stories. I never get tired of it. And what amazes me is that each one is unique and different and special, like fingerprints or snowflakes. Some really put a big goofy smile on my face, and that was the case with today's bride and groom. It's not just the fact that Janna came to South Africa for adventure and found love, or that her groom Nathan is one of the most romantic guys I've come across with a real talent for creating moments straight out of a movie. I think it's that, when you look at the beautiful pictures Charlene Schreuder captured of their big day, and you see them laughing together, completely caught up in the moment and in their happiness, you can't help but feel a little part of that glow. And that's really what their reception seems to do – to glow – from the light over the mountains at golden hour, to the fairy lights surrounding their garden courtyard reception. Goofy smiles at the ready? Go.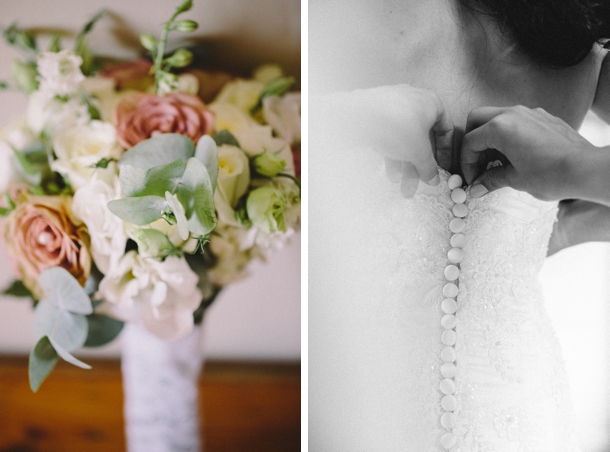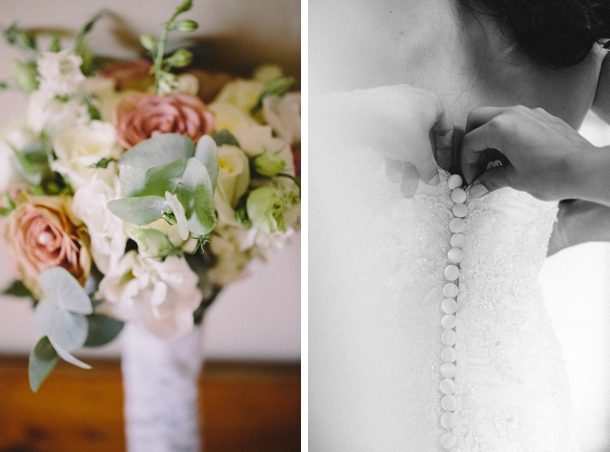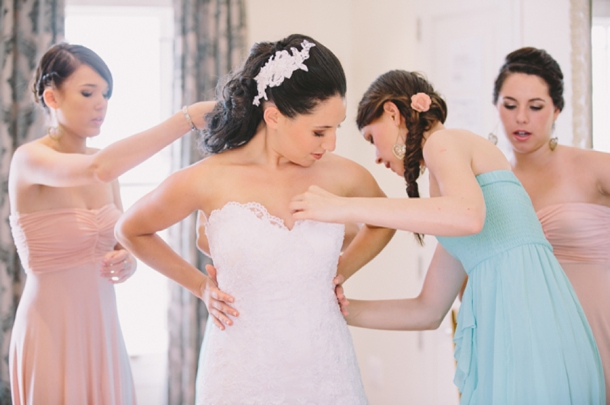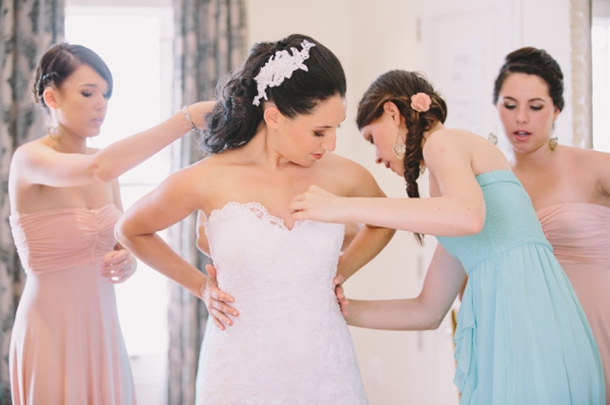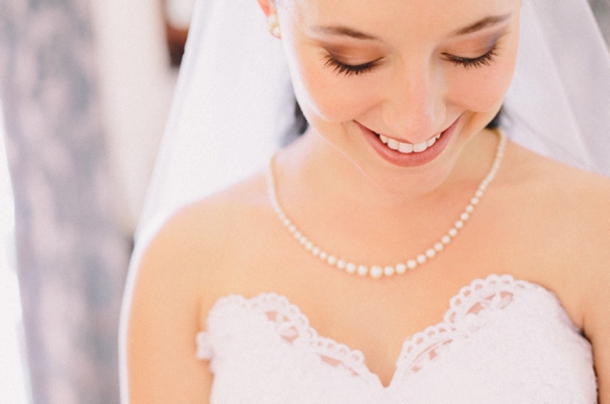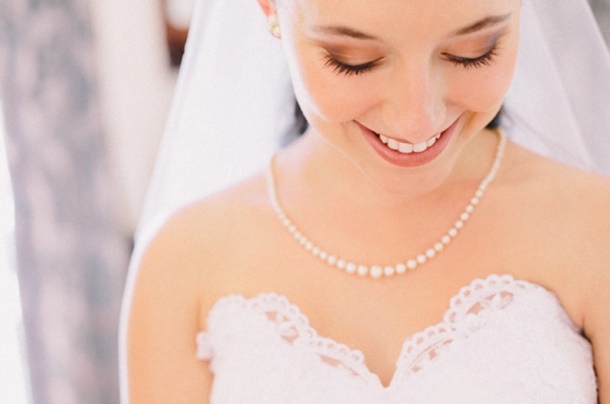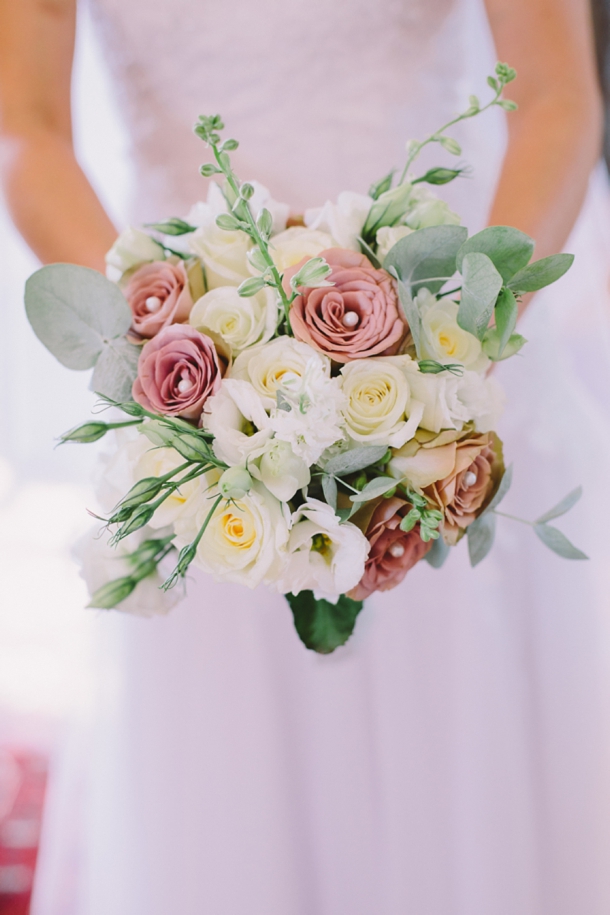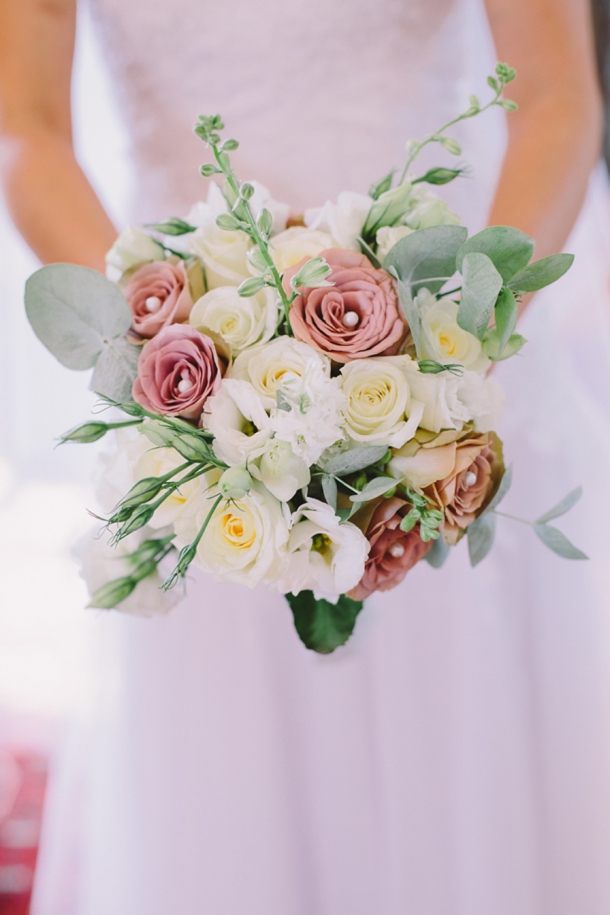 From our bride, Janna:
I am originally from the States, but came on exchange to South Africa in 2009. When I got here I was very career focused, and was really not in the mindset to even think about a relationship, but I had my mom's words as I stepped on the plane ringing in my ears: "Janna, you're going to find your husband in South Africa." I tried my best to ignore her words, because I was so keen to have an adventure and meet as many people as possible, but it soon became apparent that my conservative mother's bold words were coming true. I met Nathan at a church band rehearsal (we are both musicians). He seemed like a nice enough guy, but I didn't take much notice. However, the next time I saw him, we were at a social function in Kogelbaai. The two of us ended up playing a set together on the beach at sunset, and in that moment I started to realise that maybe something was a bit different. After a mission trip, learning to sokkie, surf, braai, etc. he asked me to be his 'girlfriend with purpose' and I couldn't refuse. Nathan is such a romantic and knows how to make even the littlest moments special – I realised that he would treat me like this for the rest of our lives together. We were each other's first relationship, and from the beginning it was so special because everything, even holding hands in public, was a new experience for us.
Nathan proposed after a surprise horse riding session on Noordhoek beach. He blindfolded me and took me up to a spot on the rocks right by the ocean. Beautifully laid out for us was bread, wine, flowers and a guitar. After some singing and very special words, as the sun was setting in the backgroundm he got down on one knee and asked me to marry him. Little did I know that just below us on the beach was a whole group of friends, ready with sparklers for a massive celebration!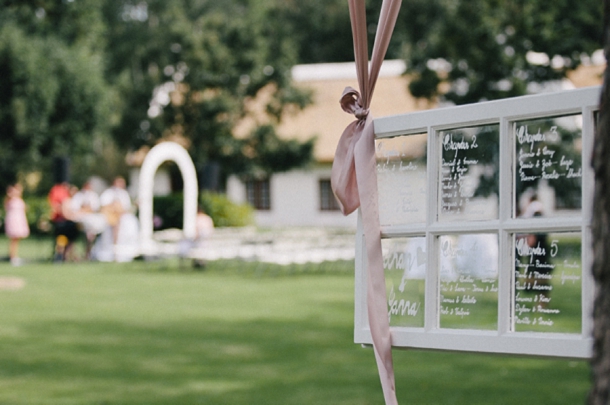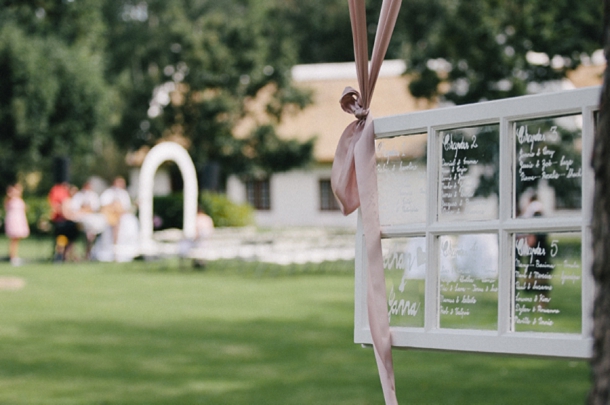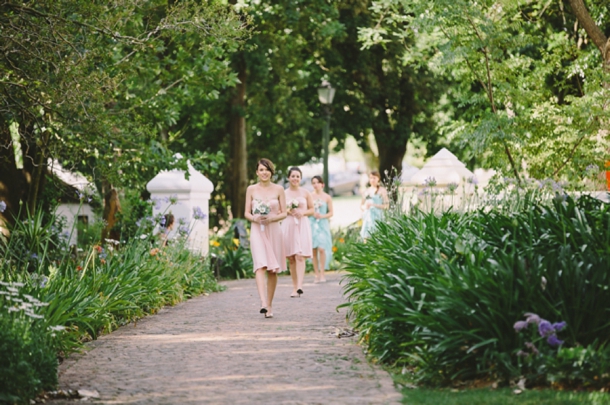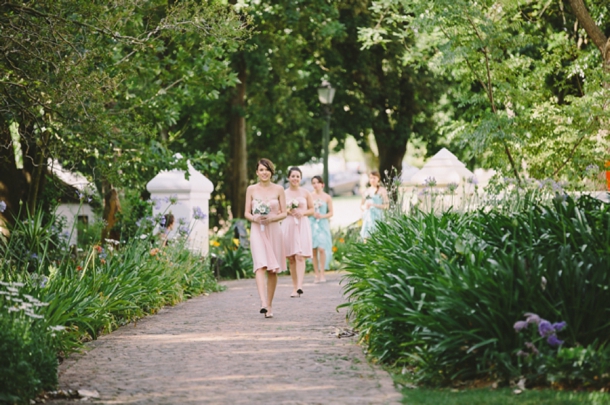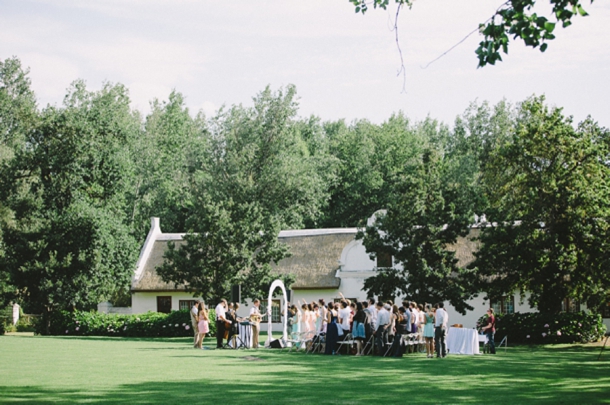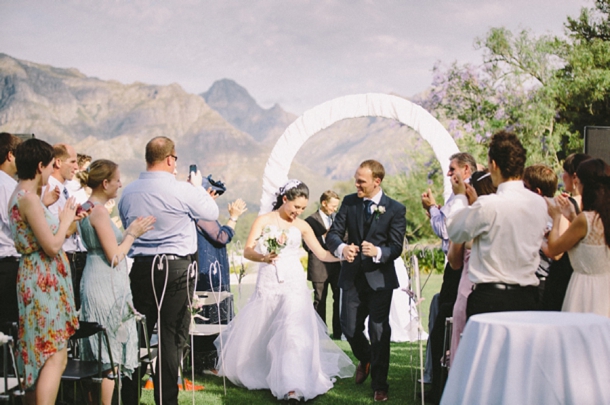 I wanted an elegant wedding that was not stuff, and that had many aspects of 'us' incorporated into it. The concept for the day was that the wedding should have the formality of the occasion, but be laid back enough for everyone to completely be themselves and enjoy it as much as we knew we were going to! I don't like themes, so we just chose everything based on what we liked and thought was 'us'.
When choosing the venue, I knew I wanted mountains, vineyards and a garden, but who can honestly have it all? Well, I discovered that in this amazing country, I actually could! I also wanted the venue to be naturally beautiful, so that very little decor would need to be added. We chose Blaauwklippen for its stunning view of the mountains, the flower and herb garden in the courtyard with vines all over the place, and the friendly, cheerful staff. The whole vibe of the venue lent itself to what I had in mind. I pictured soft, natural colours to blend in with the venue's natural beauty.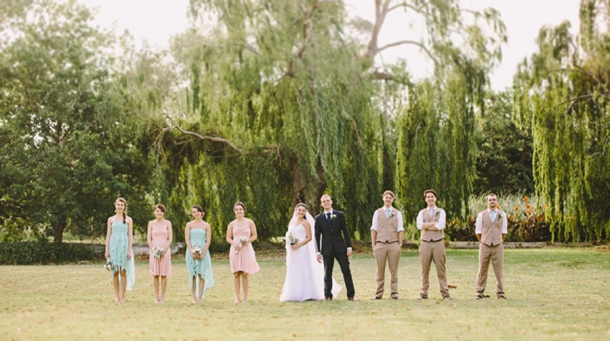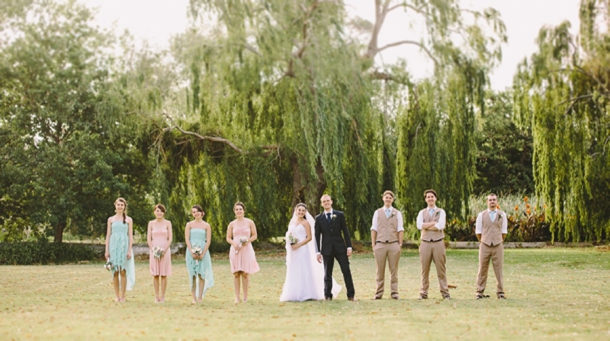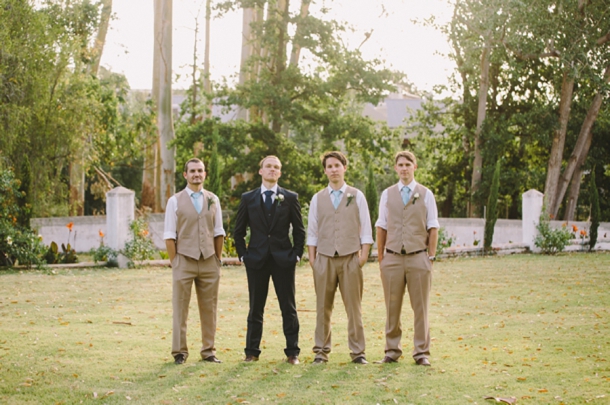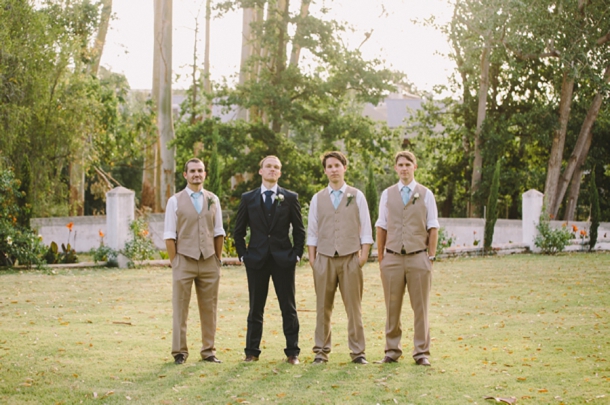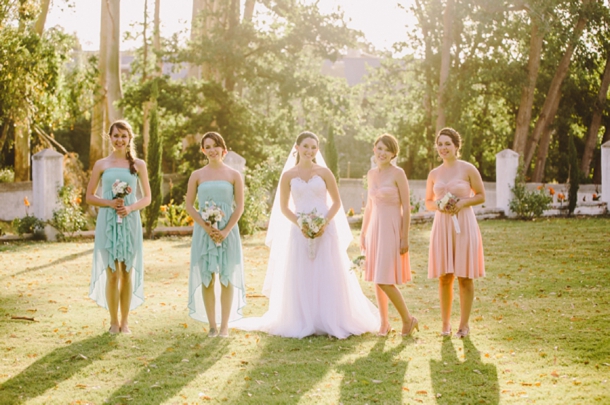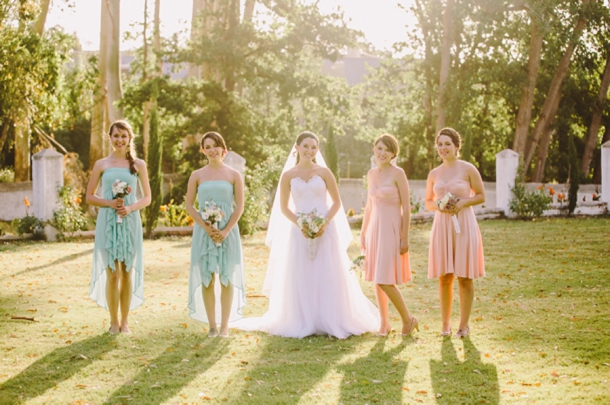 We wanted the wedding to be a reflection of who we are and our life together, so many of these elements were incorporated into the wedding. For example, letters have been a very special part of our relationship, so we wrote a letter to each guest. I've kept a journal since the age of five, and we had one at each table instead of a guest book. And, of course, the music – I walked down the aisle to a song a producer friend of mine recorded, and for which I played the violin and viola and sang.
My husband and I made the radical decision that we wouldn't invite a single person out of obligation, so we were completely surrounded by people who wanted the best for us, and celebrated 'us' and with us the whole day. So many of our friends and family are creative and artistic people, so everyone jumped right in and DIYed so much of the wedding. This included the hanging glass jar lanterns, a paper curtain made of vintage sheet music, my garter and our seating chart (bought at a scrap yard and then sanded, repainted and decorated by us). So many other items were made by friends that had just or have since started their own businesses.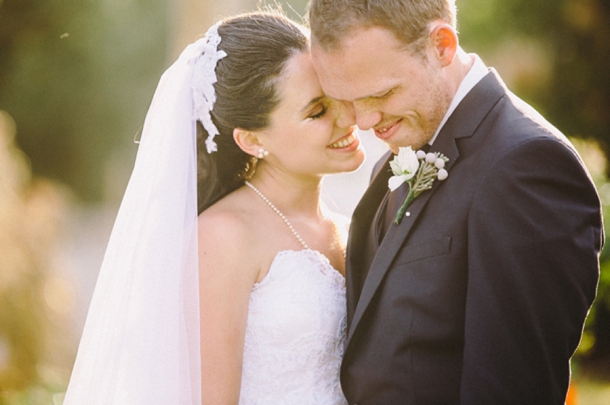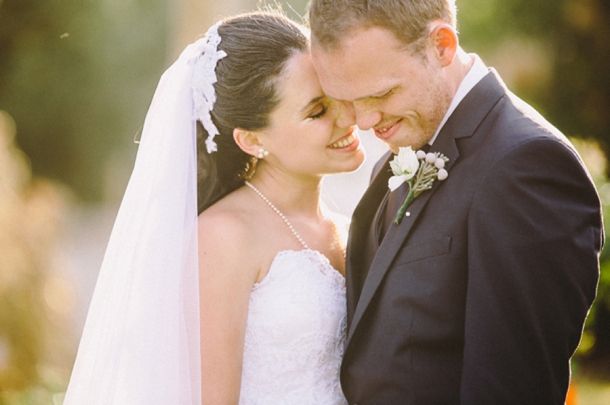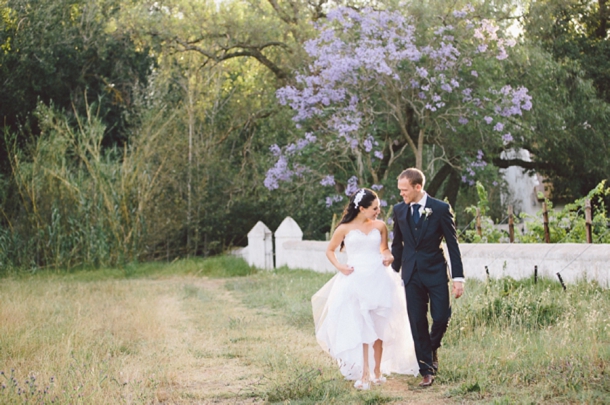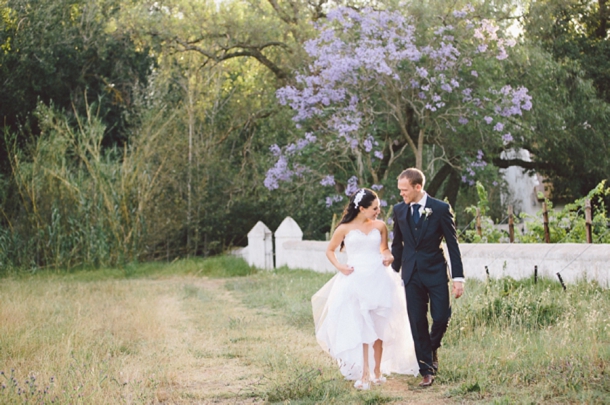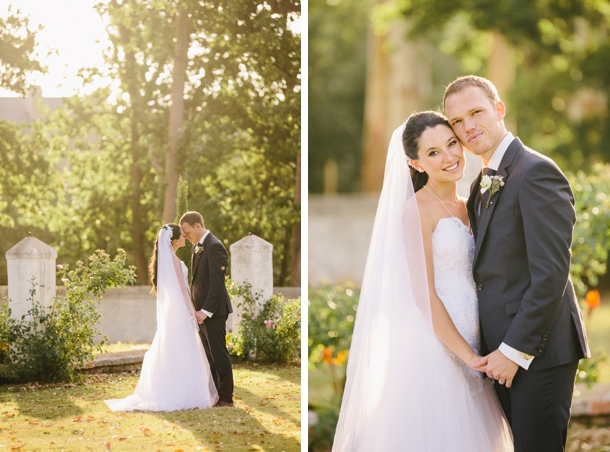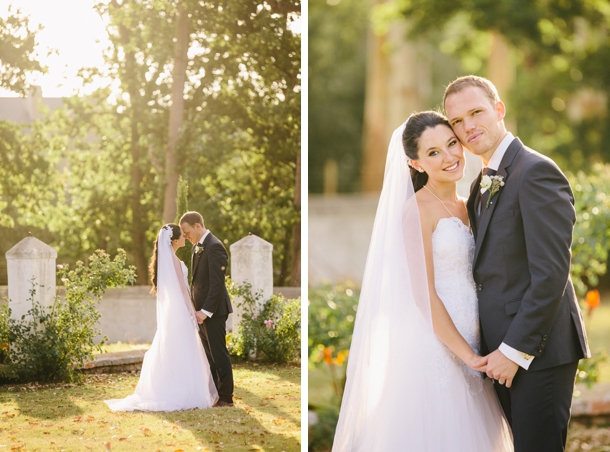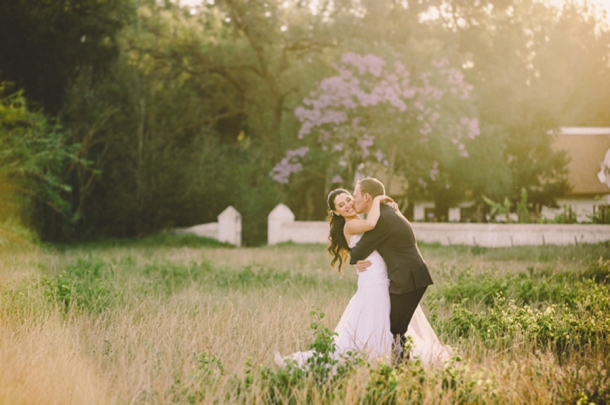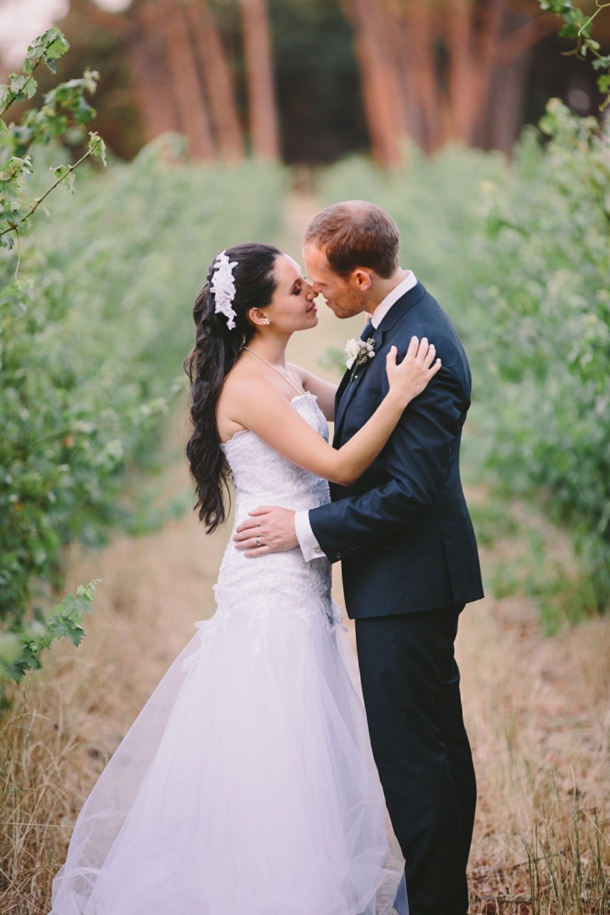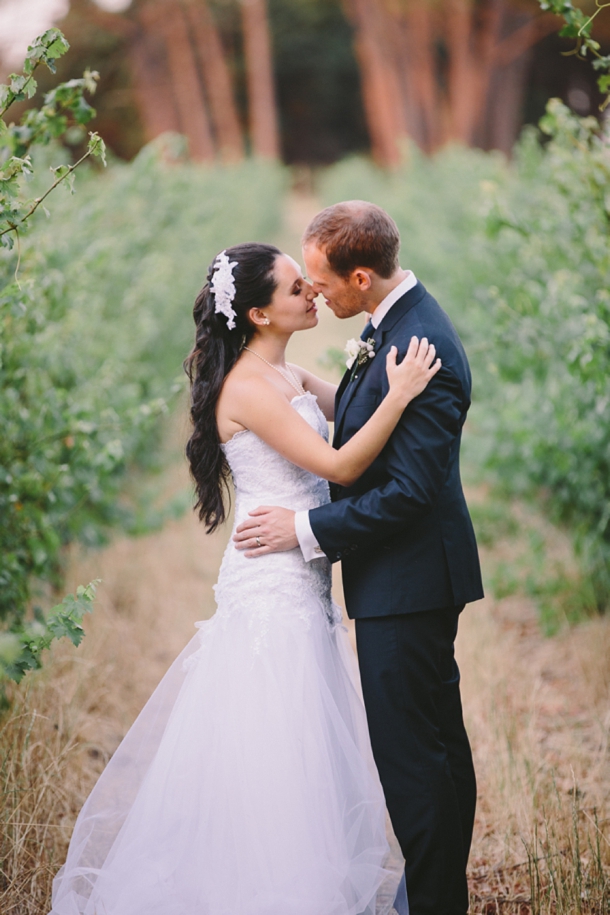 The moment we said 'I do' was so special, and one that will stay with me for the rest of my life. We had dated for three years and had many hard decisions to make in that time, but in that moment, when we became husband and wife, everything was just so worth it.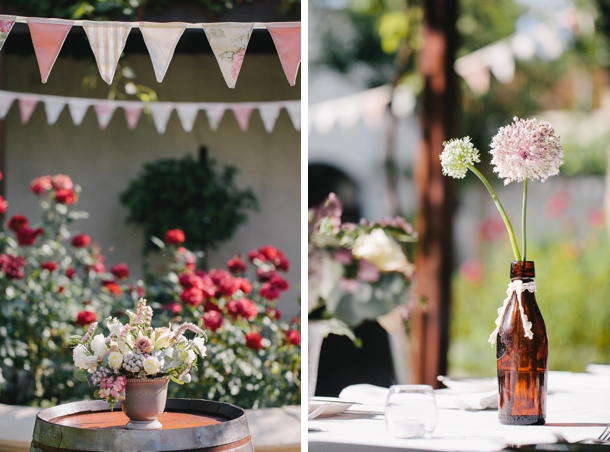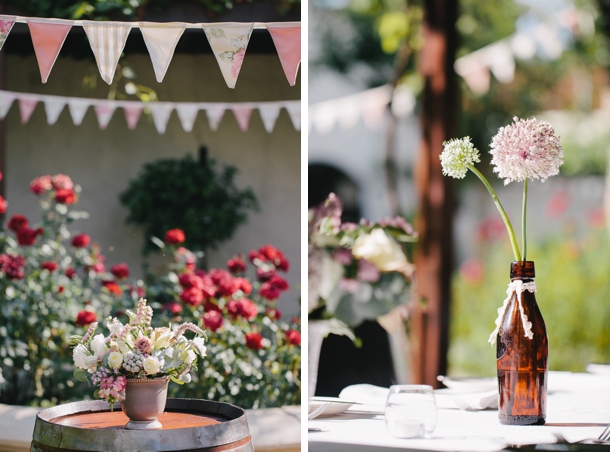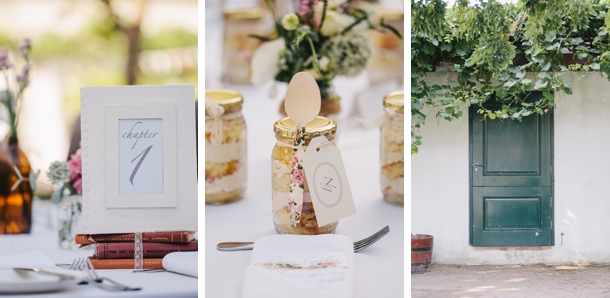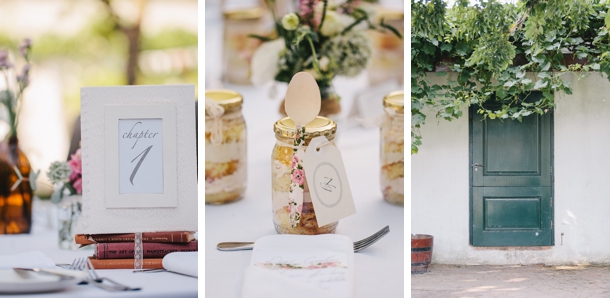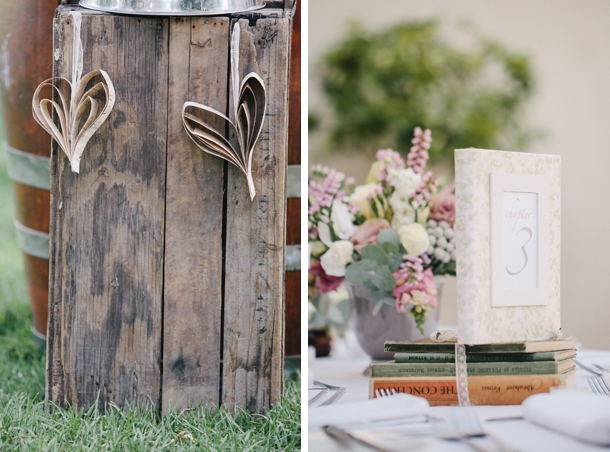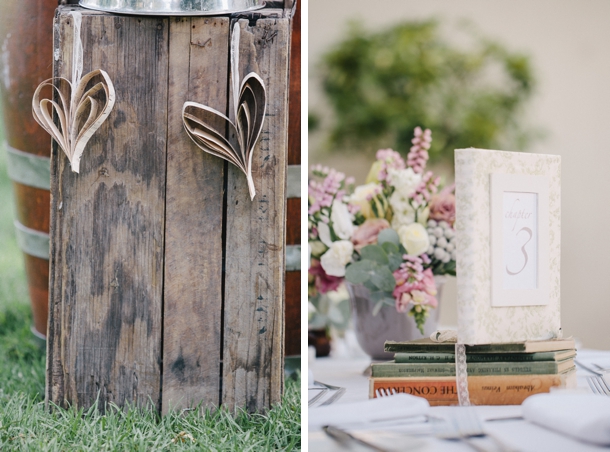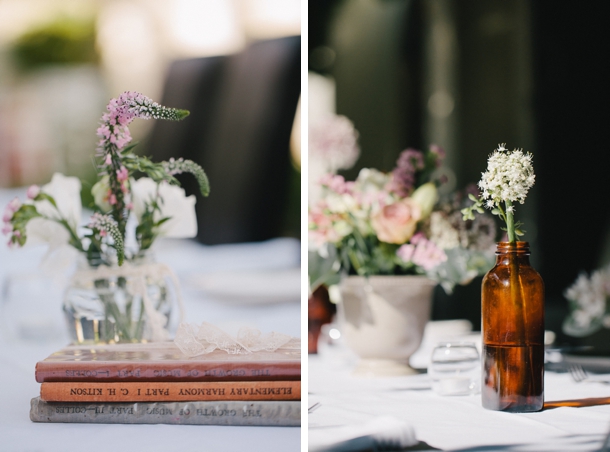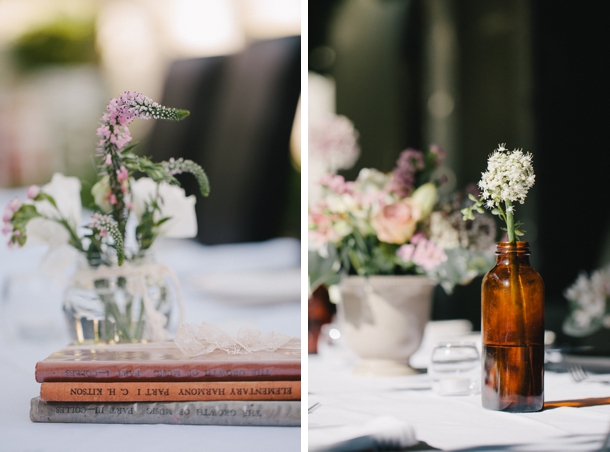 When we first started planning the wedding, I felt completely alone (even though my then fiancé was part of everything). All our family was either in the Eastern Cape or abroad, and I was at first so frightened to actually let myself be creative without their affirmation. This process however opened the door to me actually discovering what WE wanted for our wedding and being able to do it. So my first piece of advice is to discover what it is that YOU want for your wedding day, and don't be afraid to dream it up, and then make it work. There are so many themes/trends/pictures out there, that it's so easy to get confused. Your own creativity and imagination is such an amazing resource that is often underutilised. I found that once I had my own ideas, blogs, magazines and other wedding resources helped me to make them a reality!
Another piece of advice would be, let everyone be a part of making your ideas come to life! I never thought what I envisioned would actually happen as firstly, we didn't have enough money, and secondly, I thought I would have to do everything myself. I discovered that EVERYONE wants to be part of a wedding. All you need to do is just ask, or sometimes even just mention, and more than likely your friends will jump in. Also, don't be afraid to bargain and know where and when to spend money – we saved over R50,000 just by knowing our options, not buying items retail, doing DIY projects, and asking for a discount on the things that were not essential items. You can REALLY have the wedding of your dreams without being in debt for the next 10 years.
Lastly, make the decision to enjoy your day no matter what. This was the best advice I could have taken to heart. At a wedding, yes there will be drama at some point, and yes some things will not go according to plan, but just laugh it off, and look into the eyes of the man you're marrying. If you can do that on your wedding day, you can weather many other storms that life throws your way, and have fun in the process!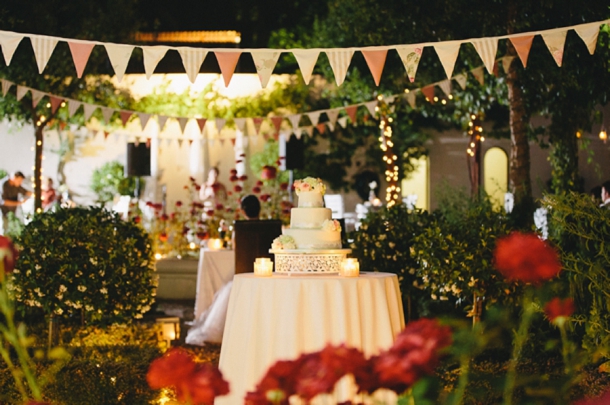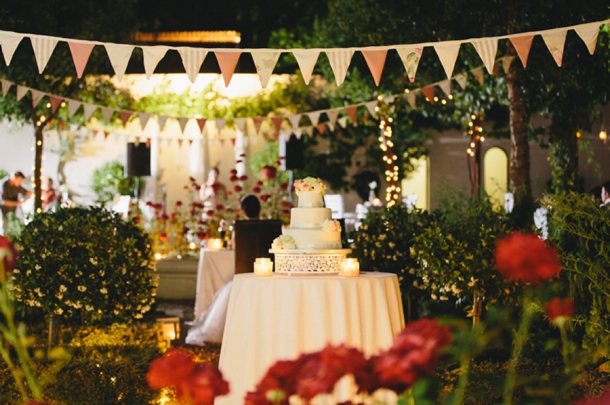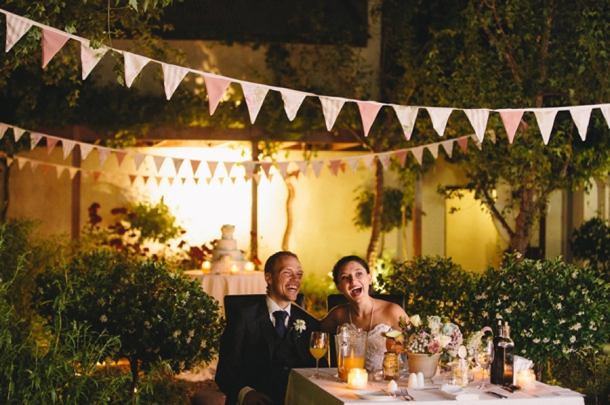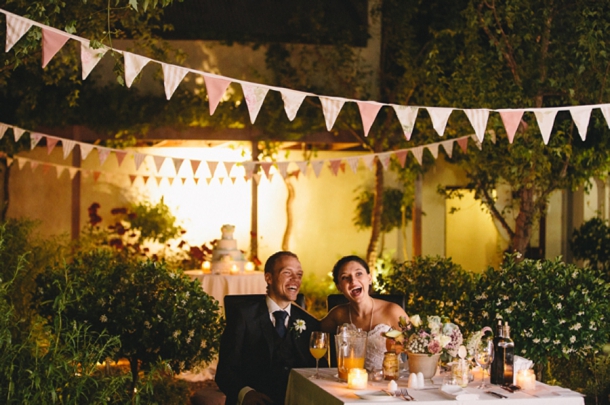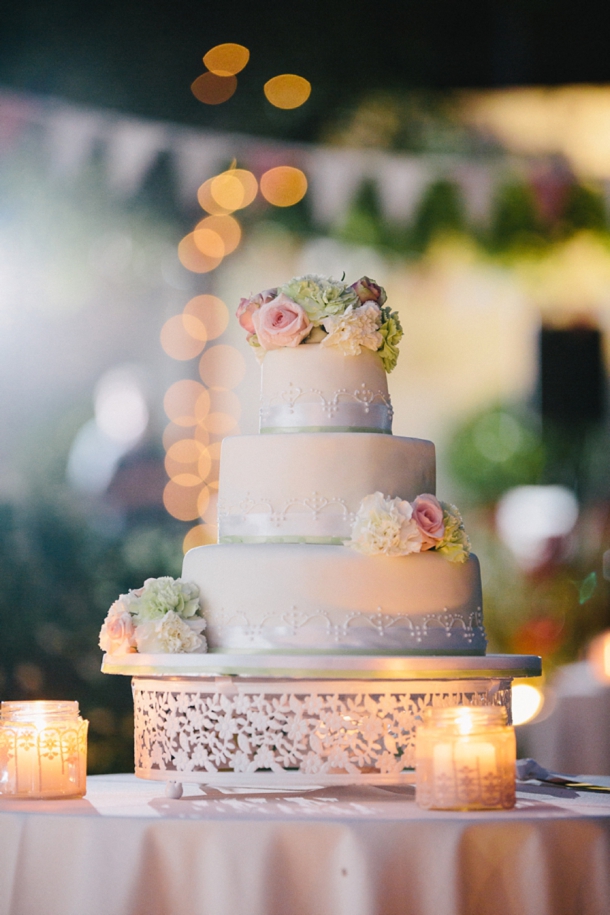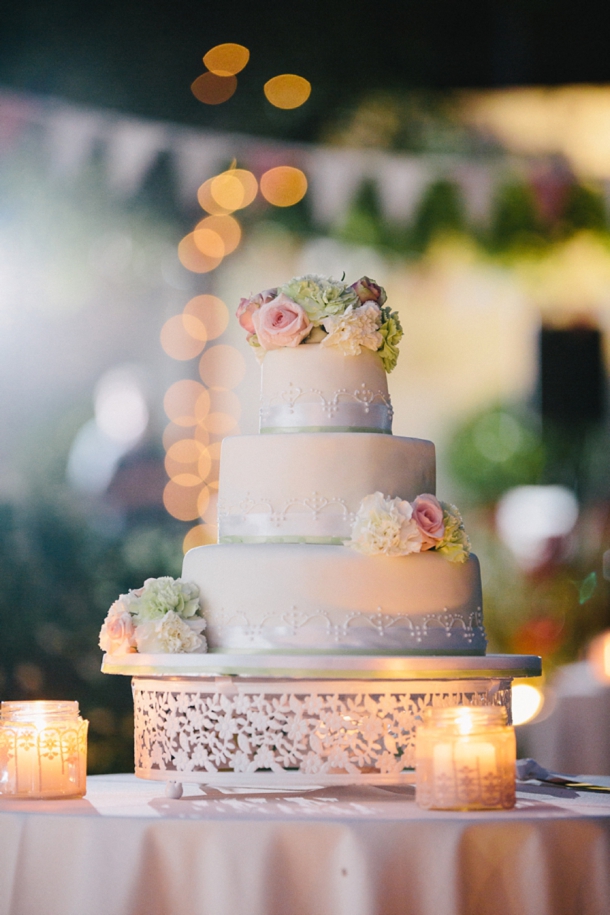 Huge thank yous to the bride and groom for sharing their big day with us (and a big welcome to your new home country, Janna!). And a cheeky tip of the SouthBound cap to the lovely Charlene Schreuder – always a pleasure! You can (and should) see more from this wedding over on her blog.
SERVICE PROVIDERS
Venue & catering: Blaauwklippen | Photography: Charlene Schreuder | Flowers, decor & hiring: Special Events | Cake: Lauren Schoeman | Invitations: Kirsten Hartley | Stationery: Nube Designs | Bride's dress: Magda Grové | Hair: Roxanne Thomas | Makeup: Madeleen Health and Beauty Studio | DJ: Reinhardt Faure | Entertainment: Just Friends Jazz Band | Suits: Taliep (District 6) | Video: VideoBRAND | Cupcake in a jar favours: Die Huisvrou
Charlene Schreuder is a member of the SBB Directory