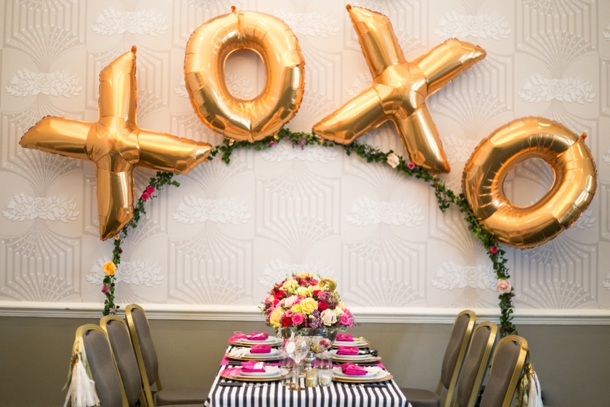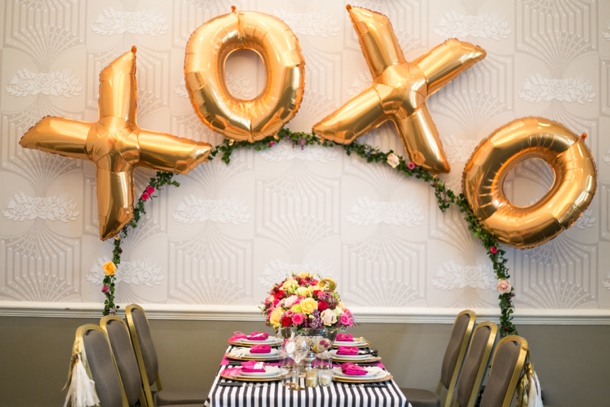 We're back this afternoon with the second part of our recap from The Editorial Wedding. From our talented students' work earlier you will have had a good idea of the gorgeousness that Louise of b.loved Wedding Design and Styling created for us that day, but now it's time to share the full shoot from my EdWed partner, Anneli Marinovich Photography. Anneli's love of colour was so perfect for highlighting Louise's design – like the 'Kate Spade meets Elizabeth Messina' theme, it was a marriage made in heaven. Lou's inspired idea was to mix bold glitzy graphic prints with soft florals, and to introduce colour gradually through the design. So starting with the set-up of the bridal suite, which has just a little touch of gold, black and white to offset the romantic vintage gown and accessories, it moves into an emerald and gold ceremony area and on into a riot of gorgeous colour at the reception. I love it. In fact, I loved it so much that I'm surprised Louise managed to take any of it home, as I wanted to steal every glass, every invitation, every plate, every glittery peg and tassel to hang up in my house and stare at forever.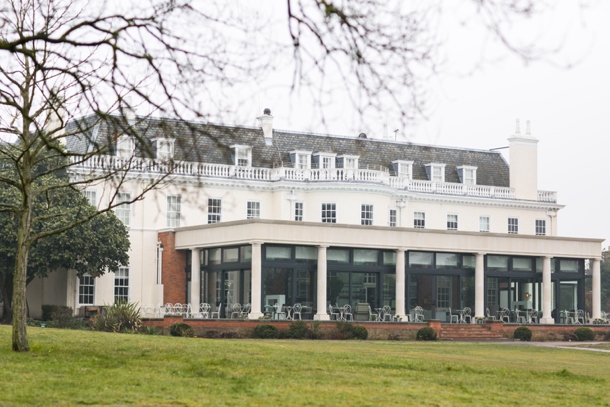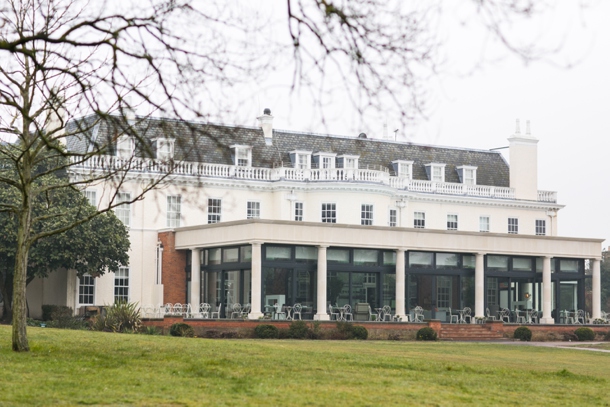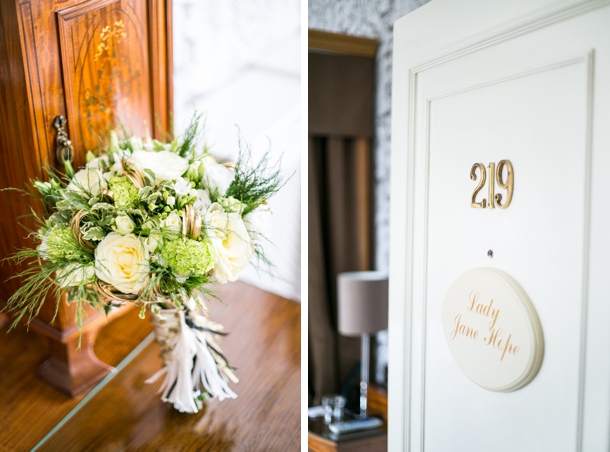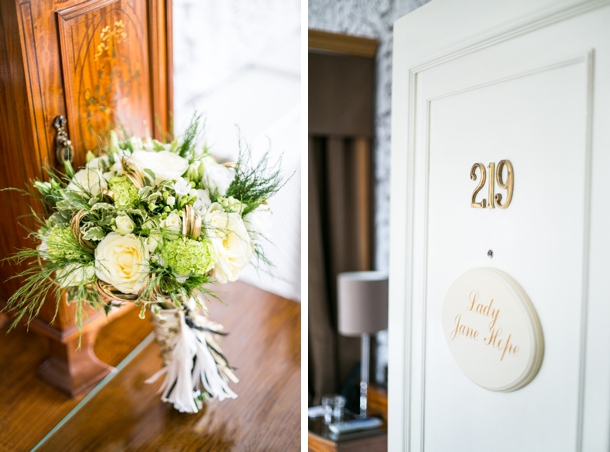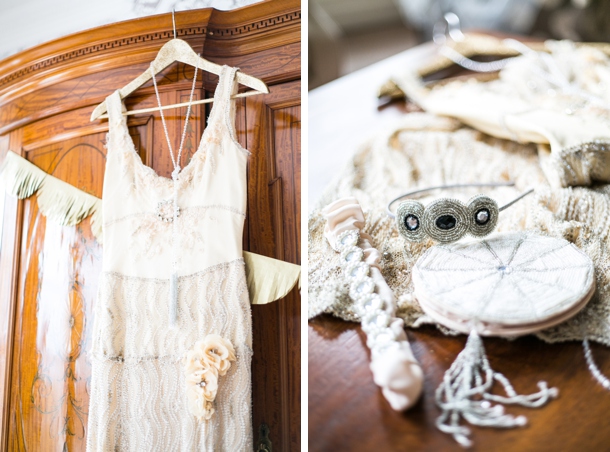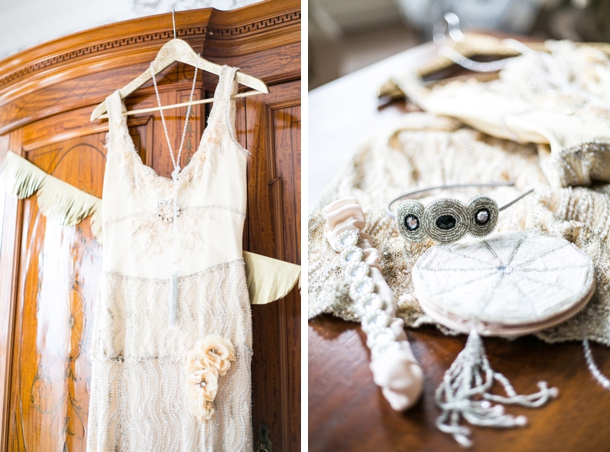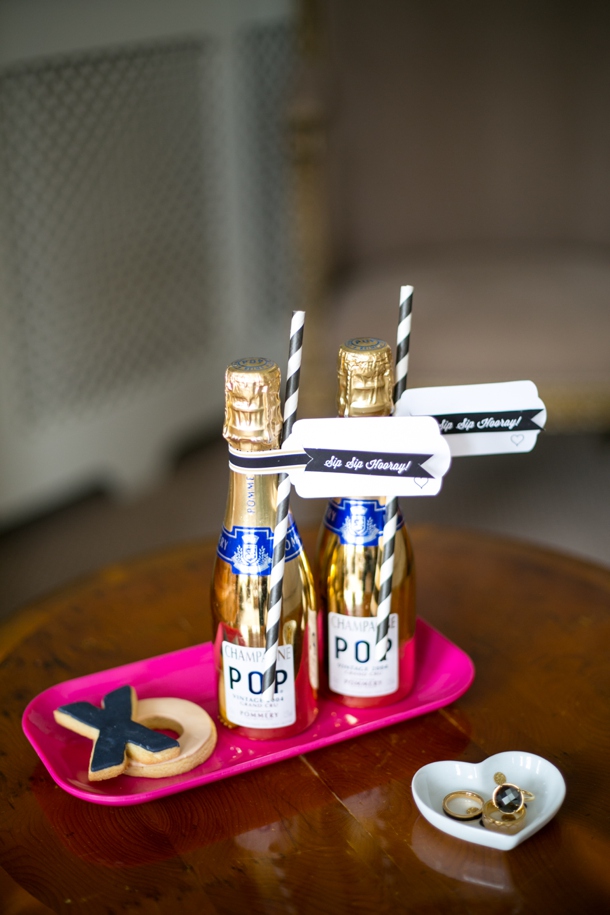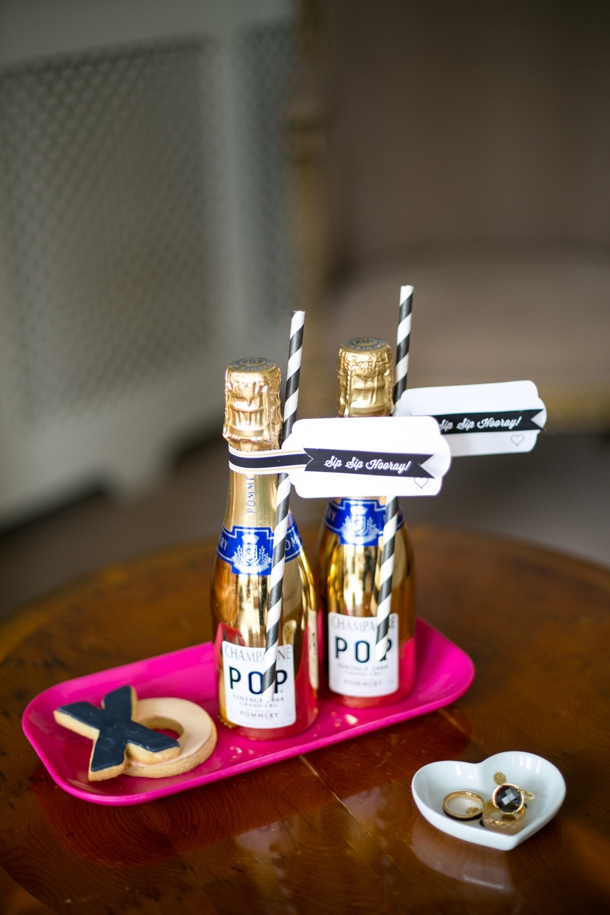 Before I had over to Louise, there's a couple of things I think every bride can learn from this shoot – and yes, styled shoots are there to inspire YOU, the brides! First, we held our workshop in Cannizaro House, which is a gorgeous hotel in Wimbledon in London. It's a neutral backdrop, but I suspect many brides who choose it for their venue would automatically choose a muted colour scheme to complement the refined decor of the hotel. Louise proved that using the very same backdrop, you can create something modern and colourful and fun (but still totally romantic). And the second thing is this – if you, like me, have an eclectic mix of tastes, if you love the elegant as well as the bold, the vintage as well as the modern, and the glamorous as well as the simple, then this is your design moment. Right now stylists like Louise are proving that a mix of styles can be the best of all worlds instead of a hodgepodge of tastes. You don't have to stick to just one. And this is a shoot that proves it. Awesome job, Louise and Anneli – thank you so much for sharing! And a huge, HUGE thank you to all of Louise's amazing suppliers – you'll see a full list at the end and I can recommend all of them. A special shout out to the Eagle Eyed Bride ladies – seriously, UK brides, this is one number you MUST have in your little black wedding book.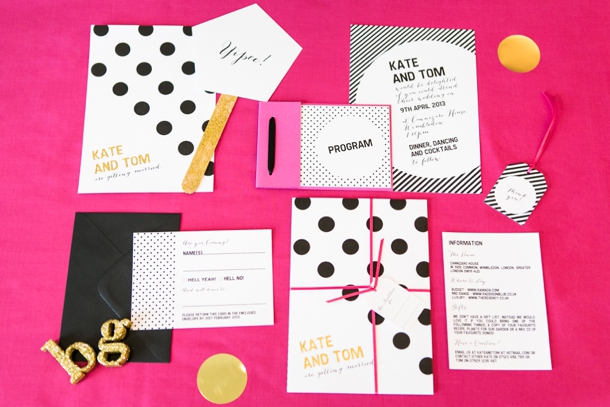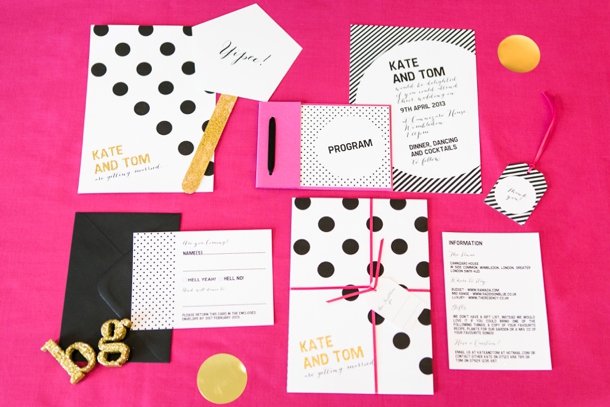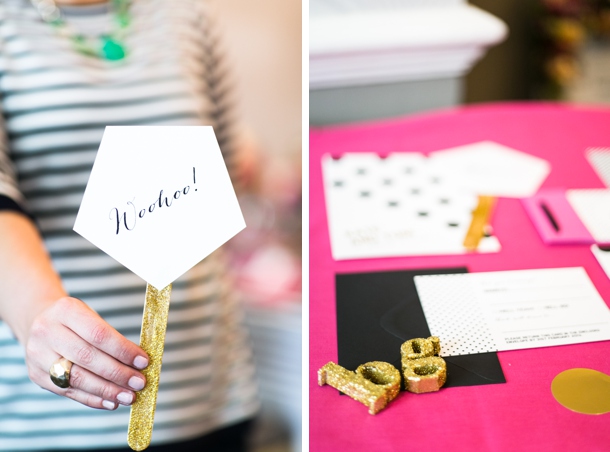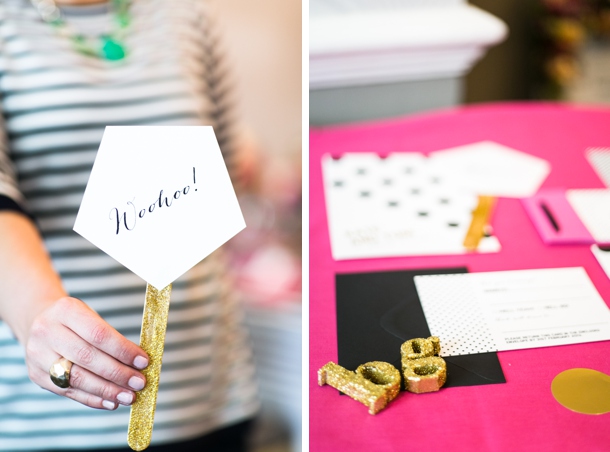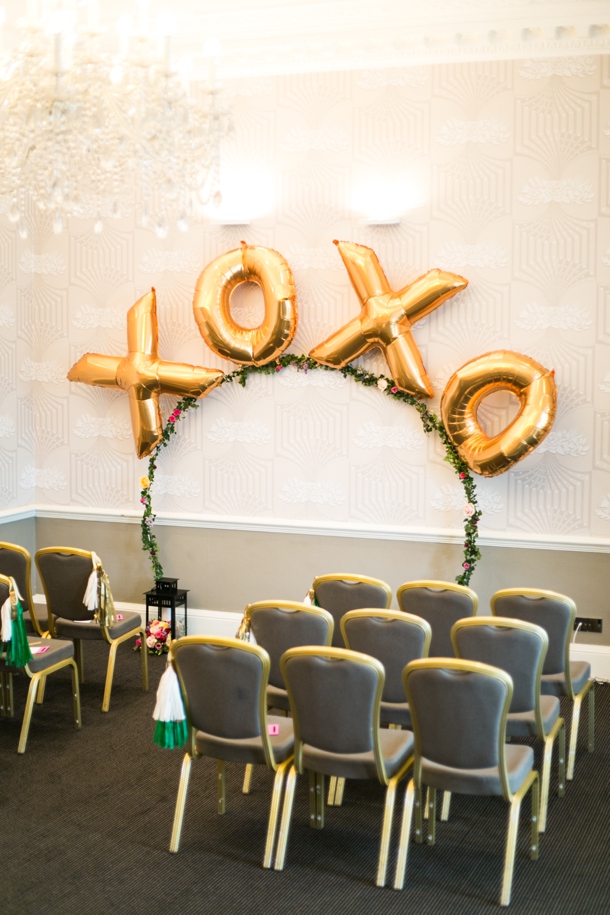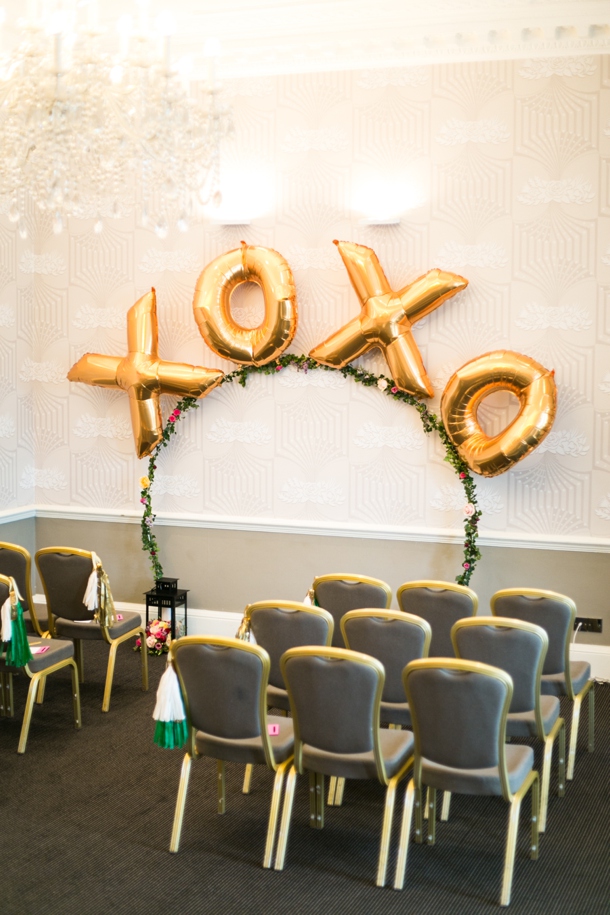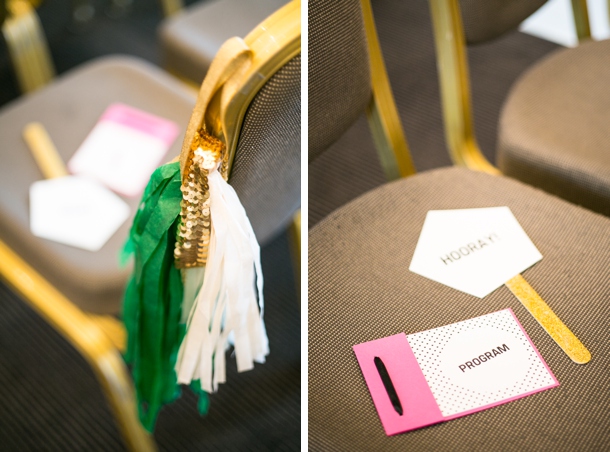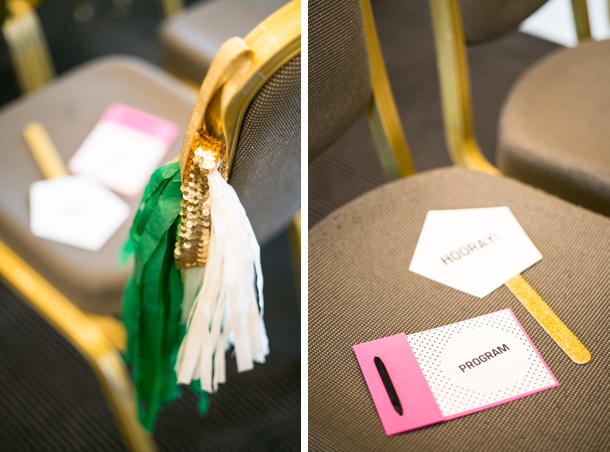 From Louise:
I was beyond excited when Gaby asked me to style for The Editorial Wedding. With a totally open brief, it was an easy decision to indulge her (and my!) love of Kate Spade's fun & contemporary style! To add a touch of wedding-appropriate romance, I added a touch of Elizabeth Messina's style too (another of our mutual loves!) which is seen especially in the bridal suite shots, but also in the sense of whimsy in the reception setting. I had a lot of fun putting together an amazing creative team, and loved bringing everything together on the day. As well as having my work photographed by one of my favourite photographers, Anneli Marinovich, it was an honour to have the shoot captured by such a wonderful group of students. Each one is so very talented, and I loved seeing their different styles emerge in their final images!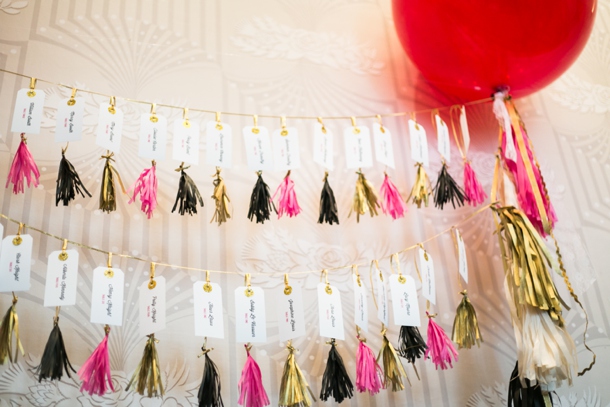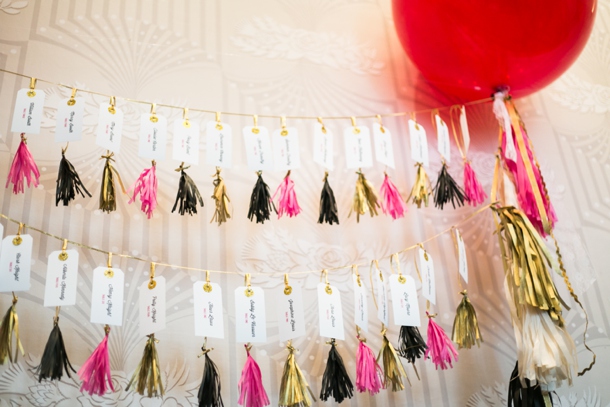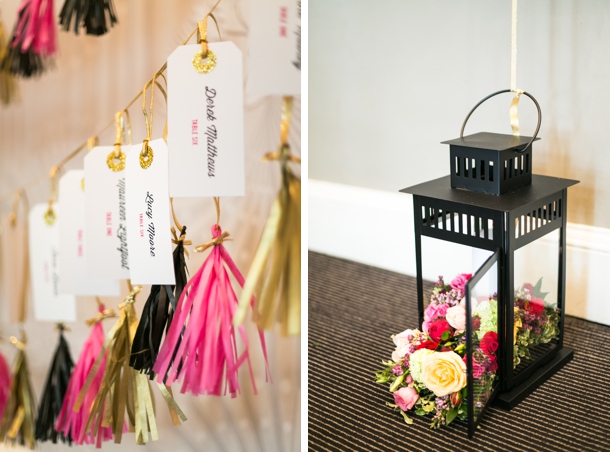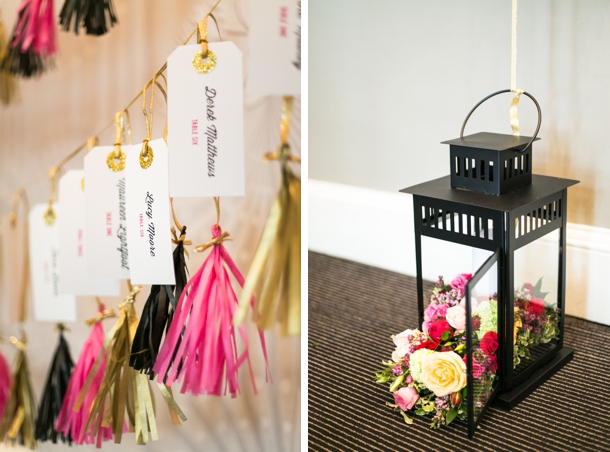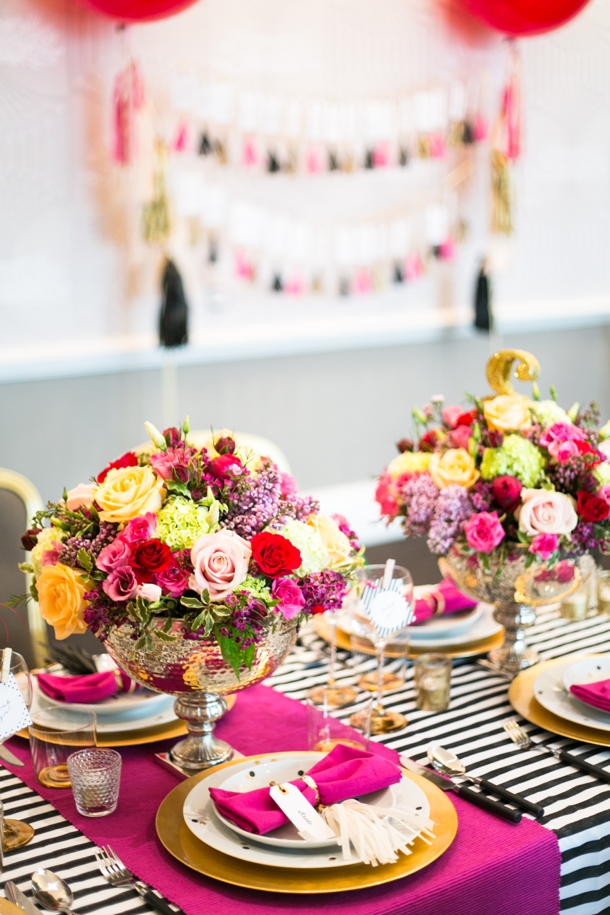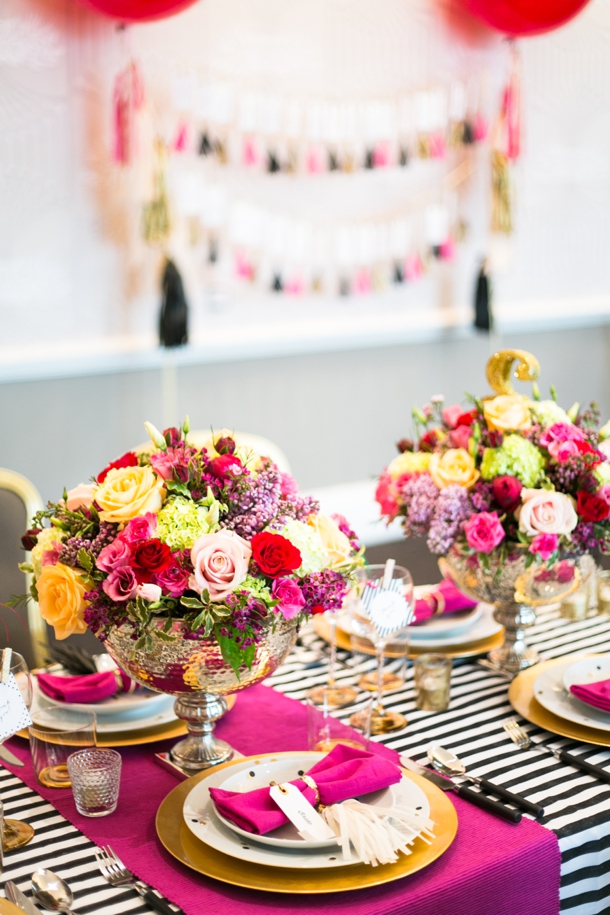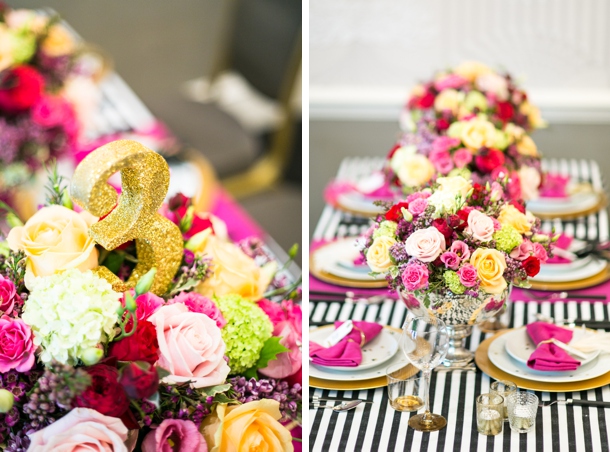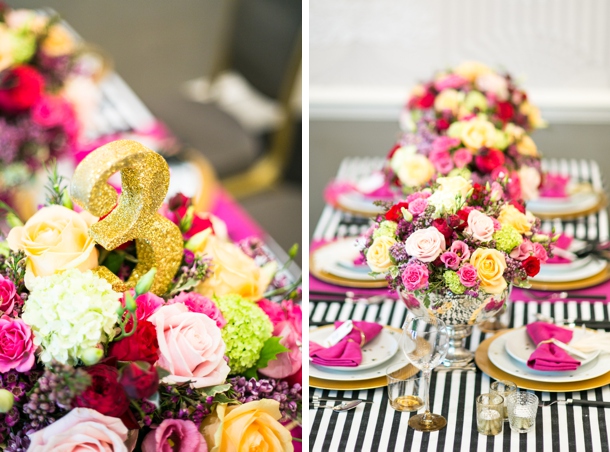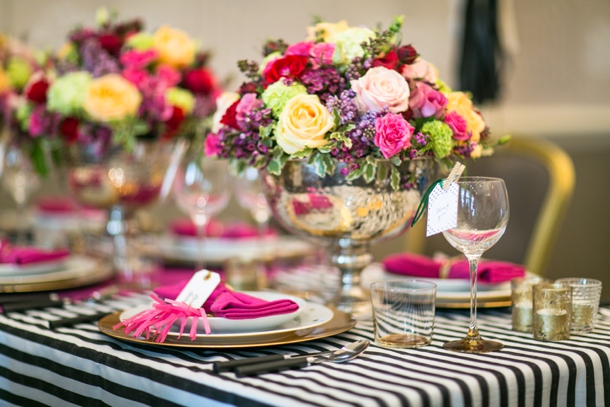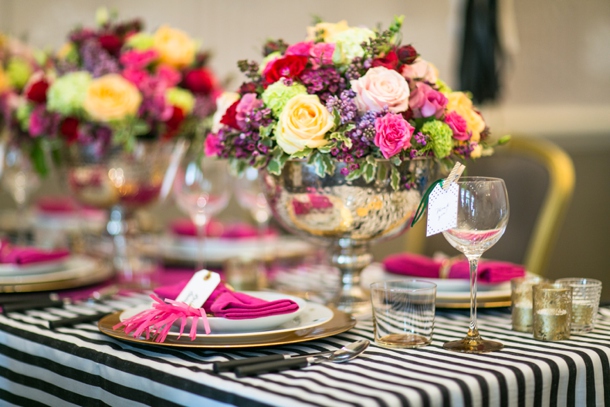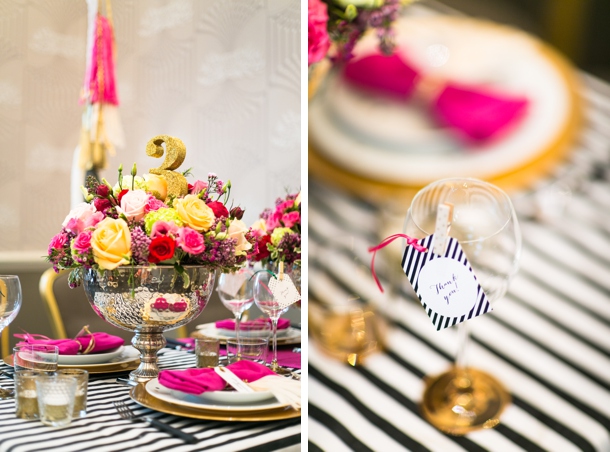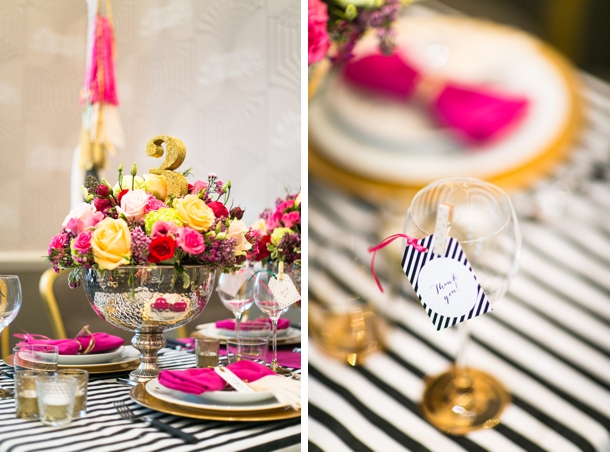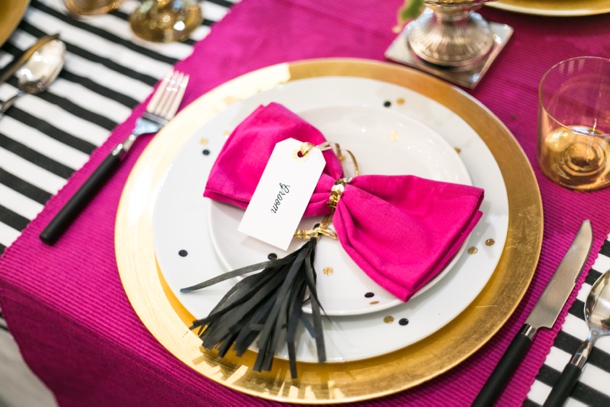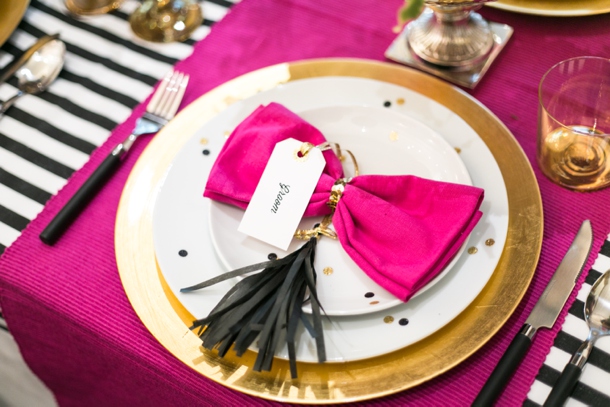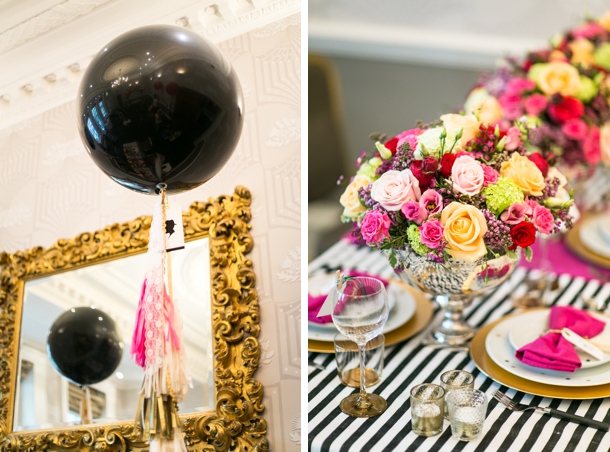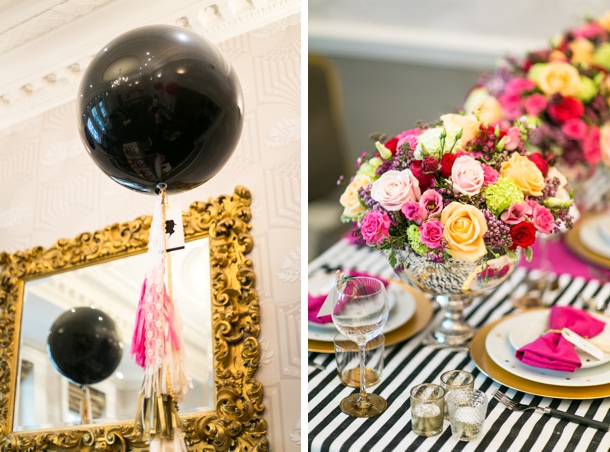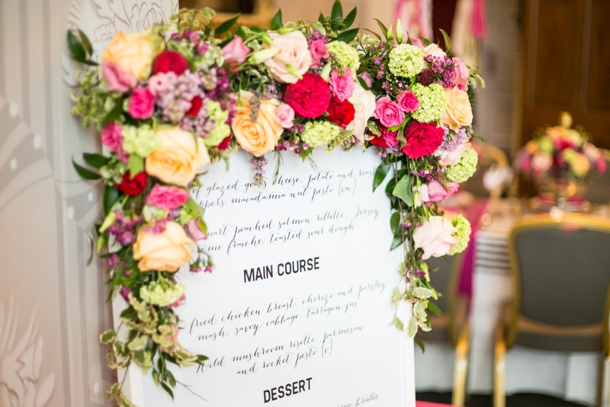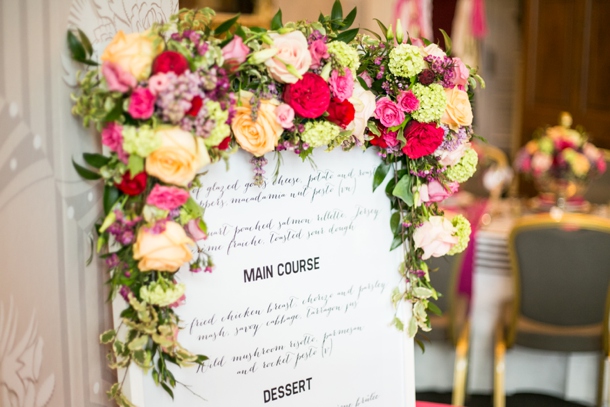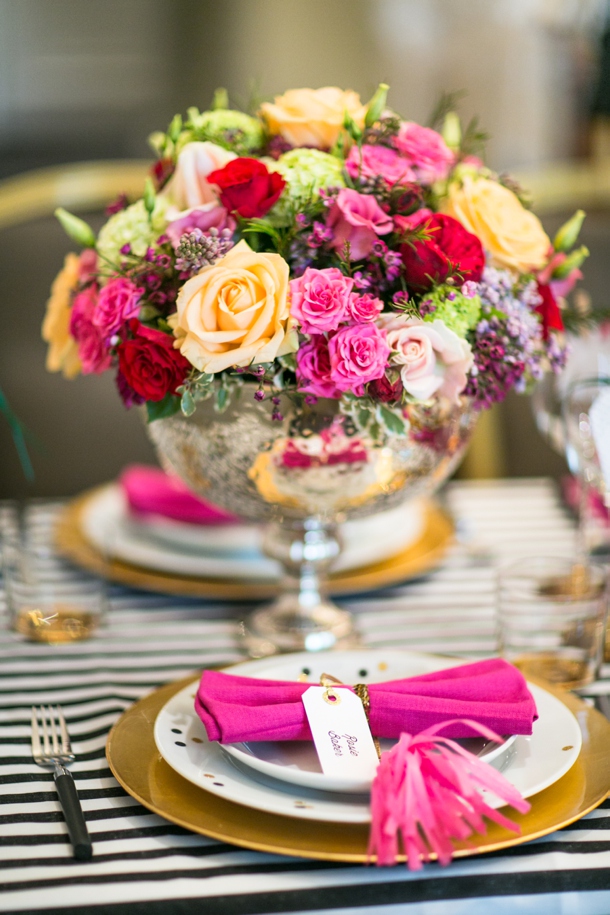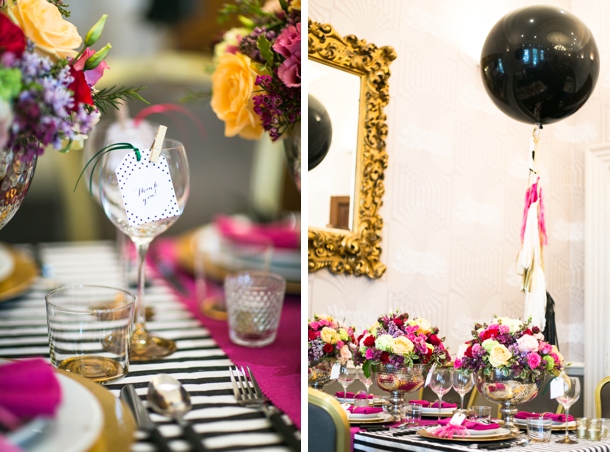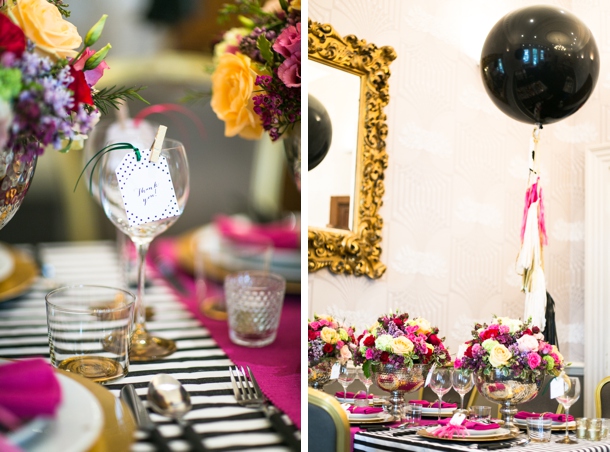 Teaming hot pink and gold against a monochrome backdrop creates a striking table display, with statement floral centrepieces adding elegance and prettiness. Using gold accents lifts the whole palette with fun contemporary touches like the gold dipped glassware and polka-dot plates. The stripes and polka-dot graphics are carried throughout the paper elements – a fun & modern suite with added sparkle! Giant balloons and tassels add another touch of fun while the escort card display is a totally unique concept – tassels hung between two giant balloons! A super cute element of the shoot was the cake & dessert table! Framing the cake is a simple & fun way to create a feature.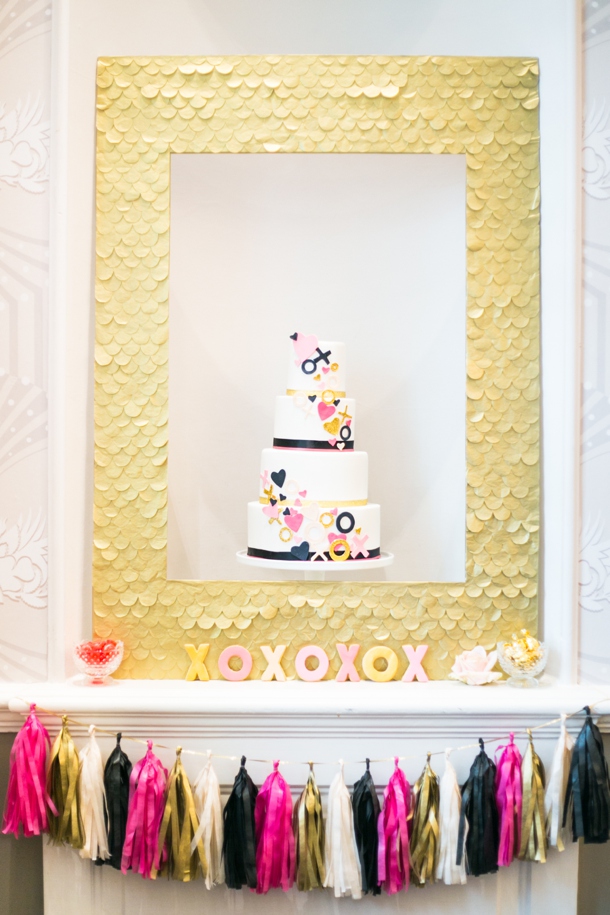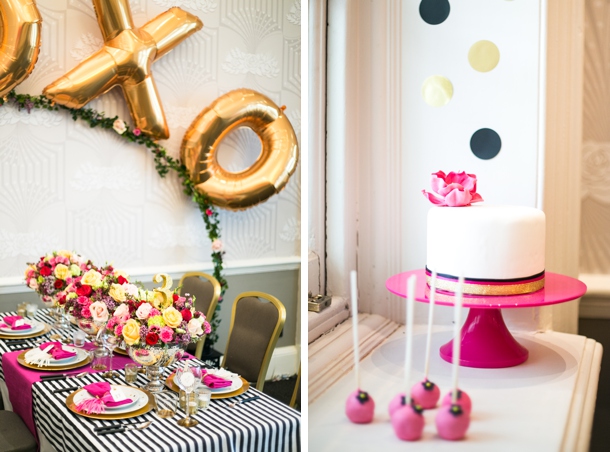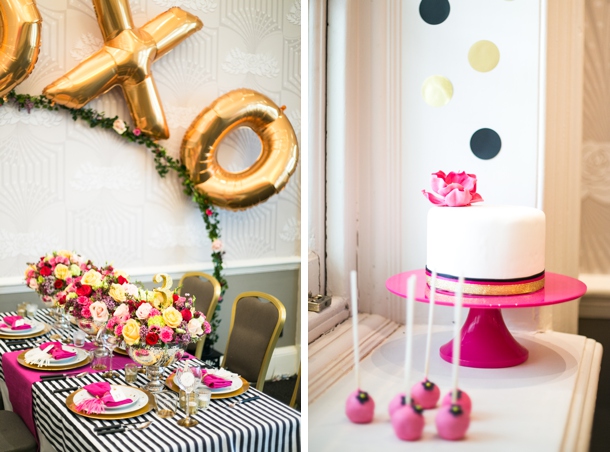 SERVICE PROVIDERS
Photography: Anneli Marinovich | Shoot Concept, Coordination, Styling, Crockery, and Glassware: b.loved Wedding Design and Styling | Flowers: Brian Kirkby Flowers | Wedding dress: Wilden Bride | Bridal accessories: Britten | Shoes: Upper Street Shoes | Rings: Astley Clarke | Cake & desserts: Sugared Saffron | Champagne: Pommery at House of Fraser | Hanging Table Plan, Place Cards, Balloons, Tassels, XOXO Balloon Arch, Table Numbers, Bunting, Champagne Tags and Cake Frame: Eagle Eyed Bride | Footed Bowls and Votives: Wedding Day Hire | Stationery: Golden Apple Designs