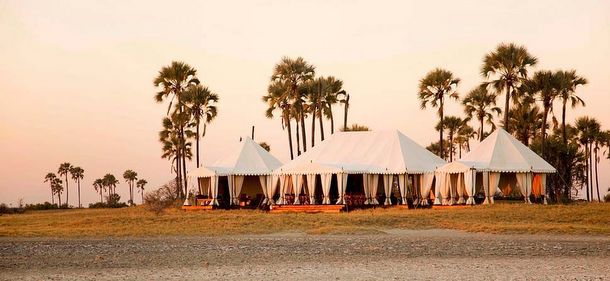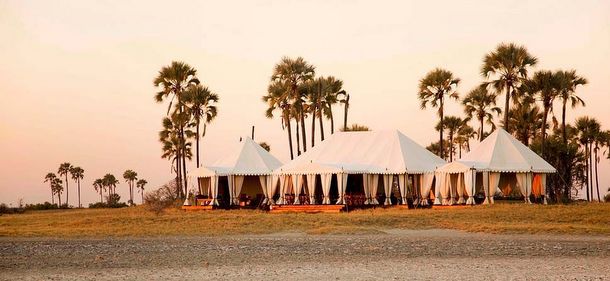 All this month we've been showcasing boho wedding content, but this afternoon, we're turning our attention to boho honeymoons, and I can't think of a more appropriate answer for nature-loving gypsy types than glamping. In case you've not heard the term before, glamping (glamorous camping) is a huge trend in travel at the moment, combining all the best things about camping with a hefty touch of luxury as well as eco-friendly credentials. Think leaving the city behind you, fresh air, exercise, the sun on your face and sleeping under the stars. But without: fighting over how to pitch the tent, rocks in your back, long walks in the dark to find a bathroom, breaking camp in the rain. (Basically, all the reasons I do not camp.) There are some SERIOUSLY cool places to glamp around the world – some close to home, some further away – and today I'm rounding up ten of my favourites, all of which would be perfect for a honeymoon break. Get ready to be inspired! PS: Did you know that if you book your trip via Expedia and become an Expedia+ Rewards member, you'll save 10% or more just by logging in? WIN.
This post includes affiliate links. SBB may receive a commission on any sales.
1. San Camp, Botswana (pictured, top)
I'd pretty much sell my right arm for a visit to this tented camp in the Makgadikgadi Salt Pans – the scenery is insanely beautiful and serene, the wildlife is fantastic, and the accommodation is gorgeous. Plus, the camp has impeccable eco creds, as it's run almost entirely on solar energy. As well as the beautiful bedroom tents, there's a mess tent where elegant teas and meals are served daily, a library, and a tented yoga pavilion. I don't even DO yoga and love the sound of that!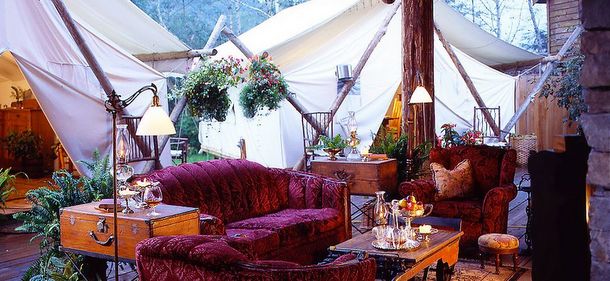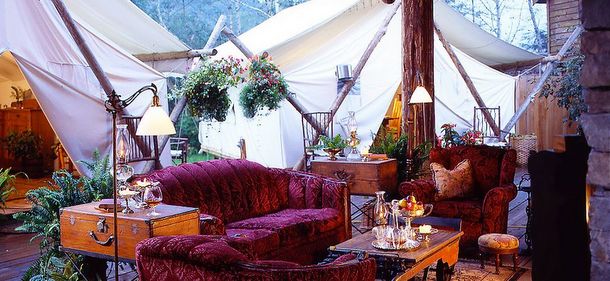 2. Clayoquot Wilderness Resort, Canada
Nestled in the Clayoquot Sound World Biosphere in British Columbia, home to wolves, bears and orcas as well as some of the most spectacular lake and rainforest scenery, is this little eco resort gem – complete with luxury prospector-style tents decorated with antique furnishings and fine china, propane woodstoves and King size beds. I especially love the plush lounge tents, outfitted like wilderness gentleman's clubs, where you can enjoy a game of billiards or a fine whisky in between hiking and bear watching or chilling in the hot tub.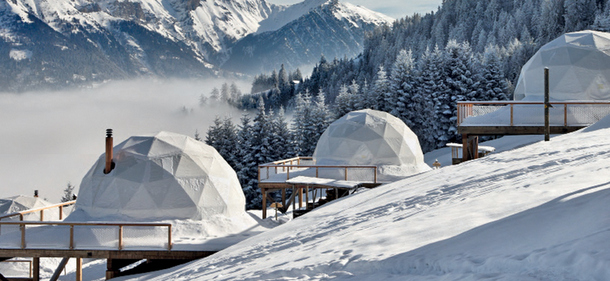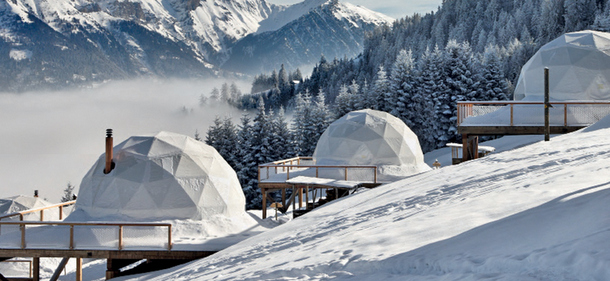 3. Whitepod, Switzerland
If you're a couple that's more interested in skiing than snorkelling on your honeymoon, then this Alpine resort is the answer. Not only are the eco pods totally adorable, they're just like a luxe hotel room inside, with panorama bay window views, King size beds, fully fitted ensuite bathrooms, wood-burning stoves, and clean, contemporary decor. Perfect for cuddling! The resort has its own ski slopes with free and exclusive access for guests, as well as spa facilities and outdoor activities like dog sledding and paragliding. Fun!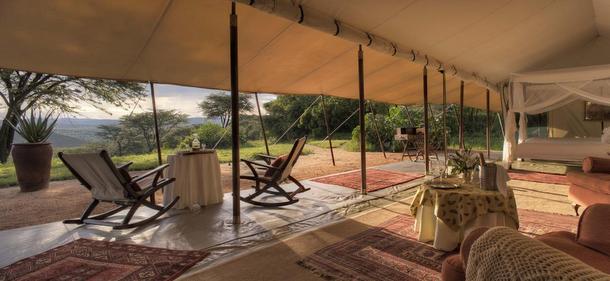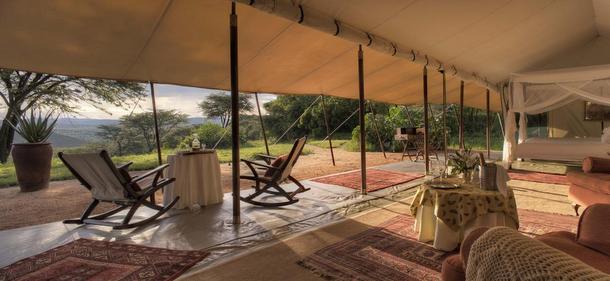 4. Cottars 1920s Safari Camp, Kenya
Kenya is awesome for Out of Africa-style romance, and has a number of incredible tented safari options. One of my favourites is Cottars, with lingering G&T sunset-worthy views over the neighbouring Masai Mara reserve, antique furnishings, and just ten tents including a very special honeymoon option – some even have living rooms with fireplaces (this kind of camping is a long, long way from the caravan park!). There's also a pool and spa area, to relax in between game drives.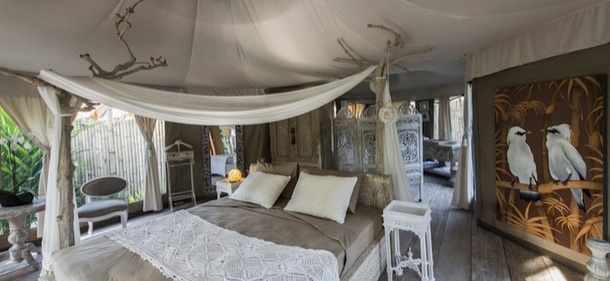 5. Glamping Sandat, Bali
Don't you just love the decor in this beautiful bedroom tent? I just kind of want to move in right now. But as attractive as this luxury resort in Ubud is inside, it's also situated in a breathtaking area of the 'Island of the Gods', nestled in between rice terraces and lush tropical greenery – a thoroughly relaxing environment, where you can eat, pray and love to your heart's content.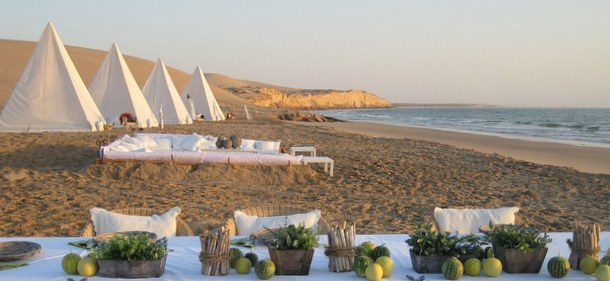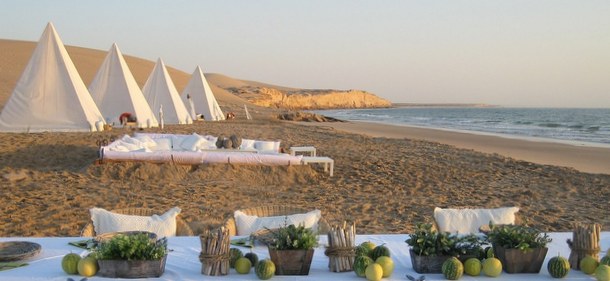 6. Hud Hud Travels, Oman
Tents have been part of Bedouin culture for centuries, so what better way to experience the desert sands than pitching a camp in the dunes? Hud Hud offer bespoke desert safaris, whether to the mountains or the beach (or both), mixing tradition with modern comforts like crisp cotton bedding, Arabian rugs, and lamp-lit meals under the star-strewn sky.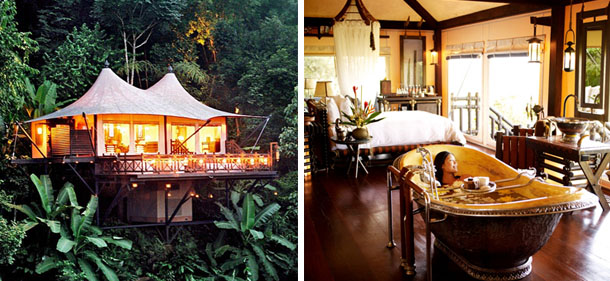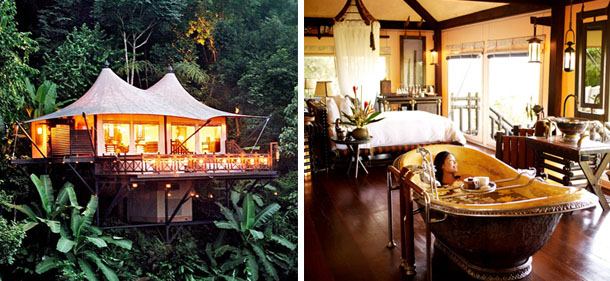 7. Four Seasons Golden Triangle, Thailand
Probably the most luxurious property on our list, the Golden Triangle has all the usual Four Seasons luxury (including a full service jungle spa, free-form pool, boutique, and fine dining (including dinner for two in the wine cellar), but tucked away into a bamboo jungle in a tented camp. Best of all, you can interact with elephants, and trek with them through lush jungle.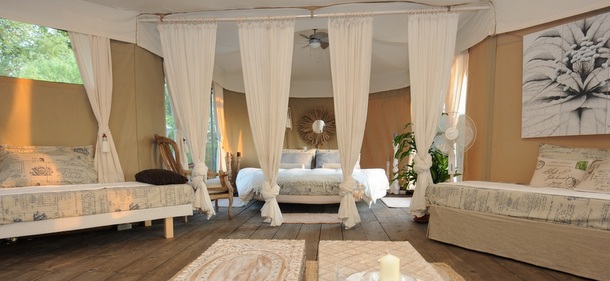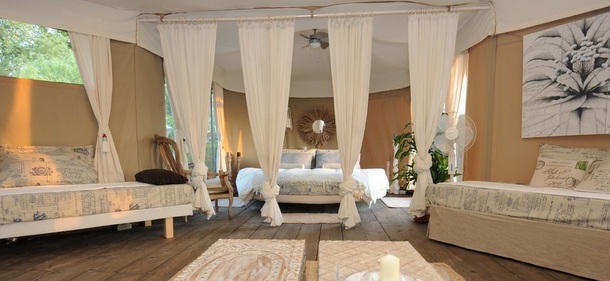 8. Canonici San Marco, Italy
I don't know about you, but Venice rates high on my list of most romantic cities in the world, and is perennially popular with honeymooners. Why not combine your city break with some time in the country at this glamping oasis, where you can take in the surrounding orchards while sipping on local prosecco. The decor is sumptuous – from stately chandeliers to silver-plated beds, and soft white curtains fluttering in the summer breeze. Oh, Italy!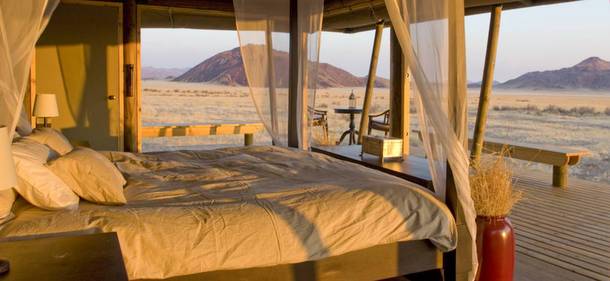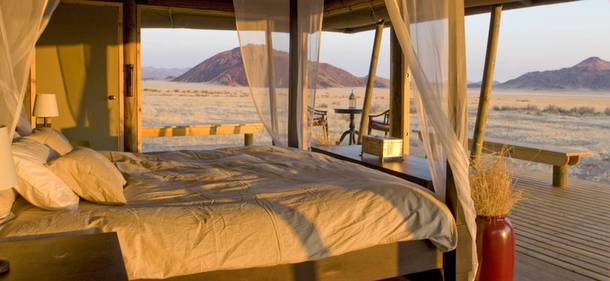 9. Wolwedans, Namibia
Another awesome option closer to home, these elegant dune camps were carefully sited and constructed to ensure minimal environmental impact, with elevated wooden decks, roll-up canvas walls, and solar power throughout. Crisp cotton sheets, hot showers, soft down duvets… and all in the middle of nowhere. The renowned kitchens serve 'bush cuisine' made from organic, fresh produce and paired with our very own South African fine wines. Lush.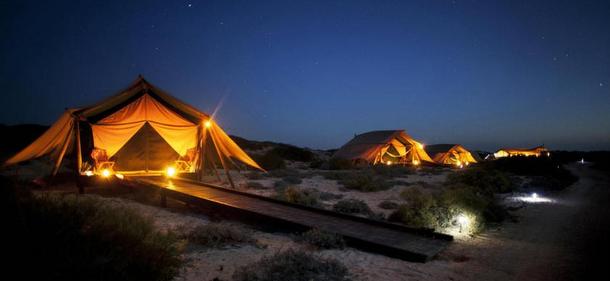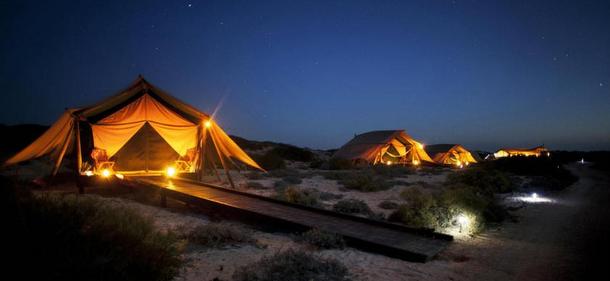 10. Sal Salis, Australia
I've been slightly obsessed with this eco camp ever since I heard of it – after all, it's only steps away from the pristine shores of the Ningaloo Reef in Western Australia, where you can swim with actual whale sharks. Tents are spacious and airy, decor is rustic but super comfy, and the nine of them are distributed over 200m so there's a real sense of privacy. With no TVs, wifi etc, this is the kind of place to completely switch off, get your toes in the sand, and just BE together.
All images from properties' websites/media.