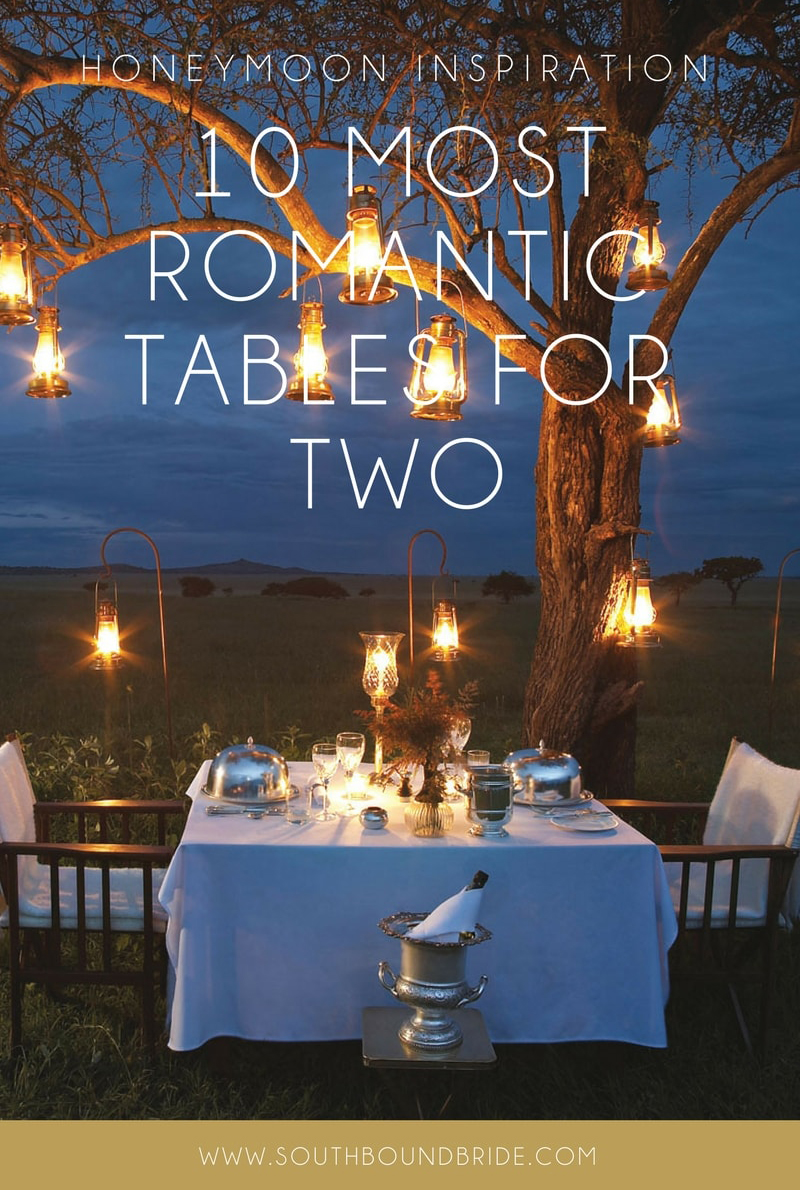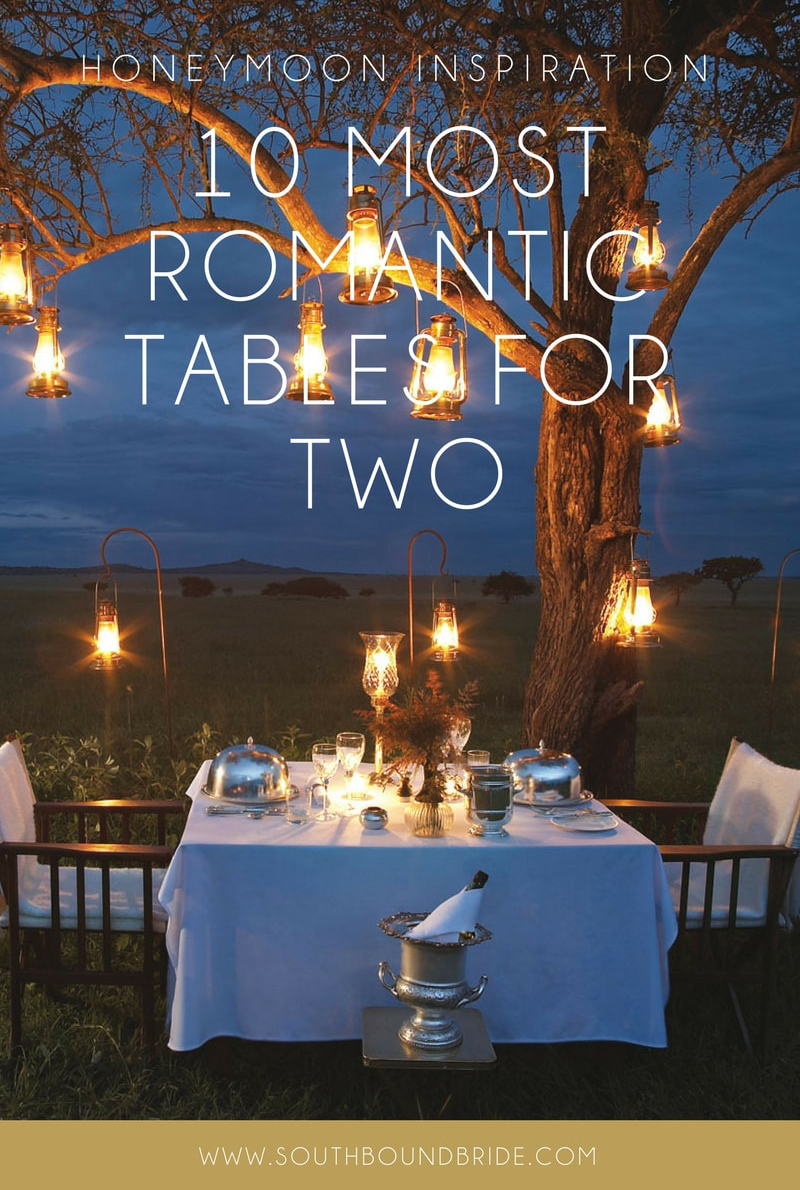 Time for some honeymoon inspiration! I don't know about you guys, but I love looking at far off places and luxury destinations and imagining myself chilling out there in my next life as Mrs George Clooney. It's been a while since I travelled, and I am definitely getting itchy feet! Of course, a honeymoon isn't so much about exploring and adventure as it is about togetherness, and I can't think of anything more romantic than a private table for two with one of the world's best views, just taking in the scenery, enjoying delicious food and wine, and revelling in the company of your favourite person on earth. In amongst the wedding planning, it's good to take a moment to be inspired by those moments of togetherness, not to mention the gorgeousness that the world has to offer, so I've rounded up ten of the ultimate romantic dinner spots, just for you! Feel free to print 'em out, circle your favourite and put it on the fridge to inspire your sweetie in his honeymoon planning… PS: Did you know that if you book your trip via Expedia and become an Expedia+ Rewards member, you'll save 10% or more just by logging in? WIN.
This post includes affiliate links. SBB may receive a commission on any sales.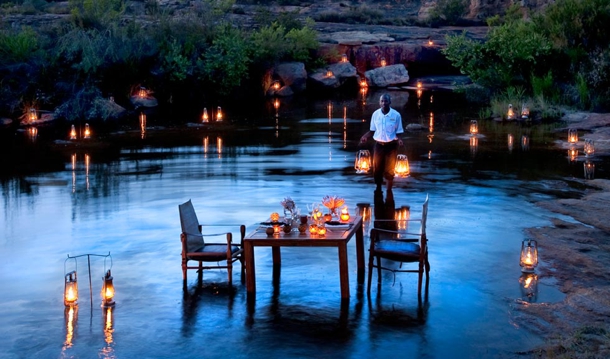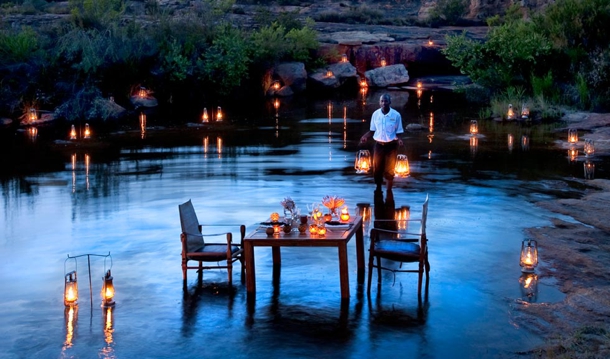 Bushmans Kloof, South Africa
Starting at home in South Africa, of course (where there are tons of amazing spots I could have included), I was completely seduced by the idea of a private dinner so close to nature at Bushmans Kloof in the Cedarberg (oh my word, those lanterns!). Included on the Condé Nast gold list, the five star hotel is also a wellness retreat, with everything from spa treatments to nature drives to a honeymoon suite with its own heated infinity pool. The resort offers extraordinary private dining experiences on request, from gourmet picnics to candlelight meals at special locations in the reserve, or even a walled garden. Herbs and produce are grown fresh on the property, and there's an award winning winelist.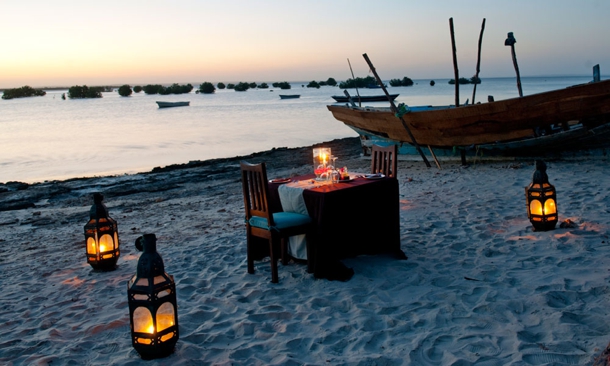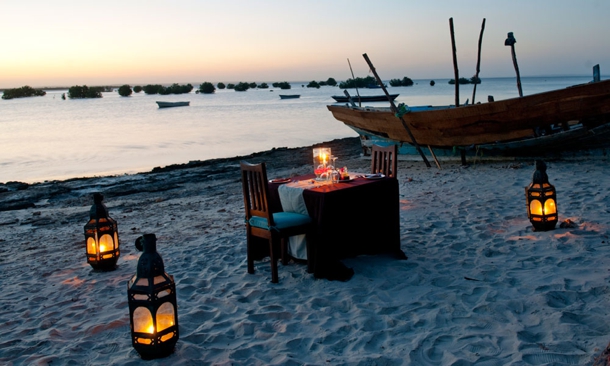 Ibo Island Lodge, Mozambique
Mozambique is a popular honeymoon spot for South Africans, and no wonder, since it's right next door but looks like something out of an Asian travel catalogue with a delicious African twist. Ibo Island Lodge is a great boutique hotel destination, combining glorious relaxation with fun activities like dhow safaris, kayaking through the mangroves, snorkeling or just taking in the abundant bird life. Their honeymoon package includes a massage, and there's no better place to end off a long day of blissful chilling out with a seafood meal for two on Ibo Beach. So going there.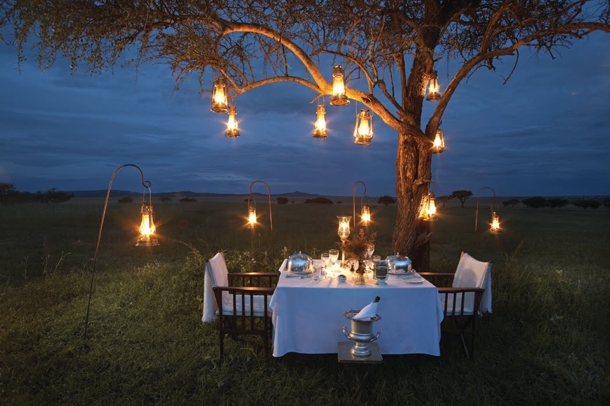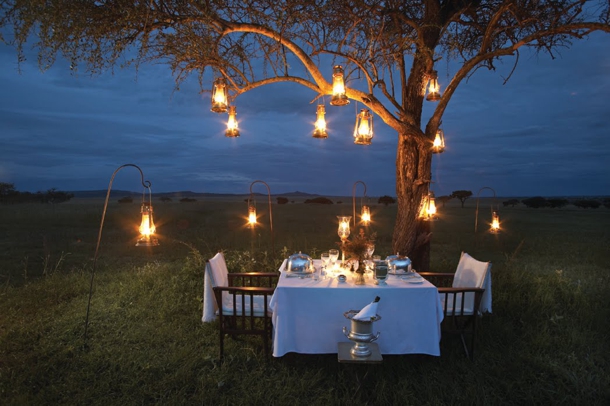 Singita Sabora Tented Camp, Tanzania
Heading just a little further north for a bush safari honeymoon (my ultimate) in Tanzania, I'm completely in love with everything about Singita Sabora Tented Camp. It's an intimate 1920s style camp, with a super luxury Out of Africa vibe and opulent accommodation that contrasts with the rugged wilderness outside your tent. There's a 360 degree view of the Serengeti plains, Swarovski telescopes for stargazers and the option of landrover or balloon safaris. And here's a touch I love – there's even a library tent with antique volumes of African literature. It's perfect. Only made more perfect by a private meal by lamplight. You'll be channeling Meryl Streep and Robert Redford in no time.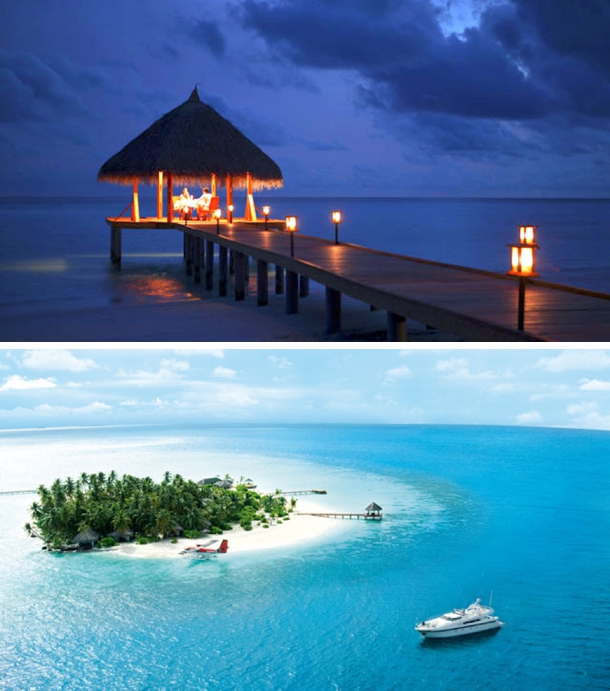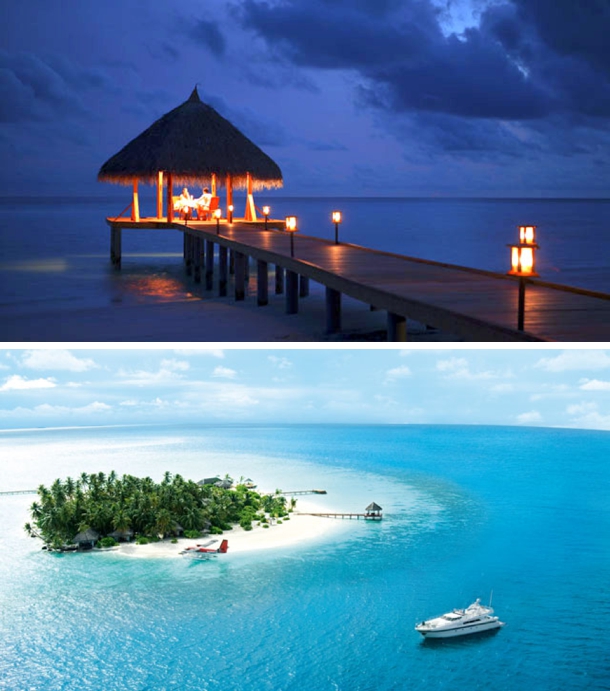 The Rania Experience, Maldives
Okay, this has to be the ultimate tropical honeymoon – a private island, just for you. Seriously. This little island sanctuary sits in the middle of the Indian Ocean, surrounded by crystal clear blue waters, and covered with tropical vegetation. The staff are there to attend to your needs and you even have a private yacht at your service for three hours a day, as well as the island and lagoon. And see that little dock jutting out into the ocean? That has to be the most secluded and unique place to share a meal. There's unlimited a la carte dining designed around your preferences, champagne virtually on tap, and spa treatments anytime – just inform your butler. Yep, I totally just said your butler. As I said, The Rania Experience is pretty much the ultimate.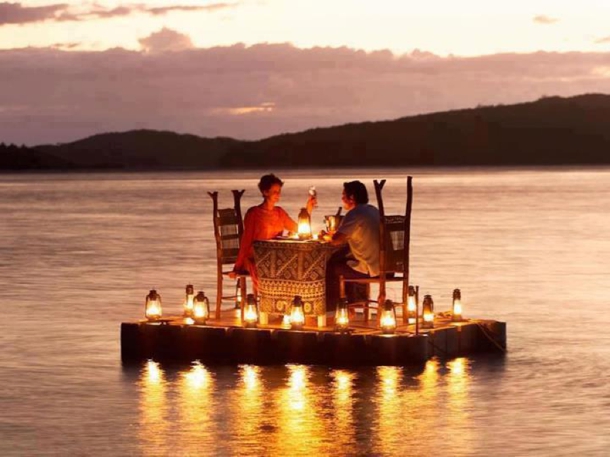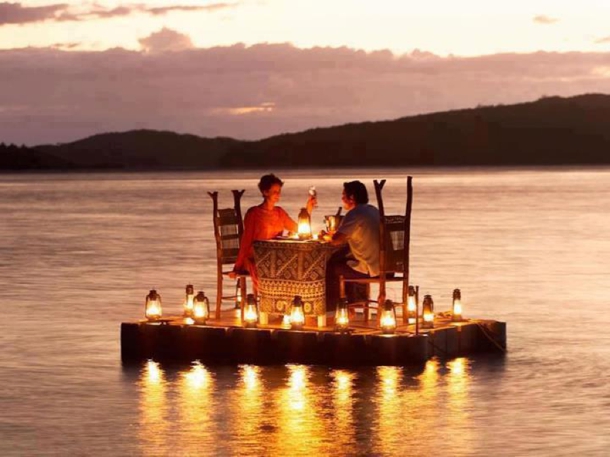 Turtle Island, Fiji
What could be more romantic than the actual Blue Lagoon? Turtle Island in Fiji is an all inclusive resort specialising in honeymoons and romantic getaways. It hosts a maximum of fourteen couples at a time, which means maximum seclusion and privacy. You arrive by seaplane, stay in a traditional Fijian villa (a Bure), and can spend your time on one of fourteen private beaches. Sigh. Celebrity honeymooners here include Jessica Simpson and Britney Spears.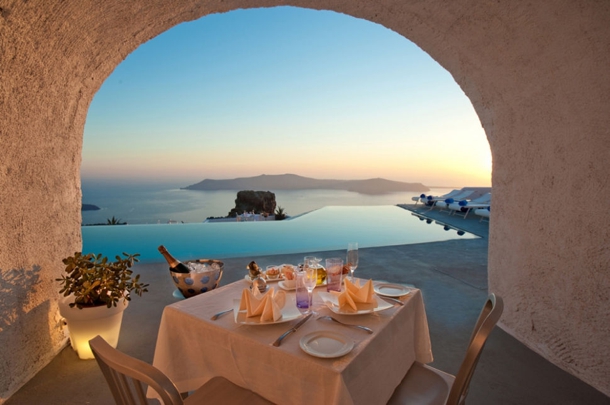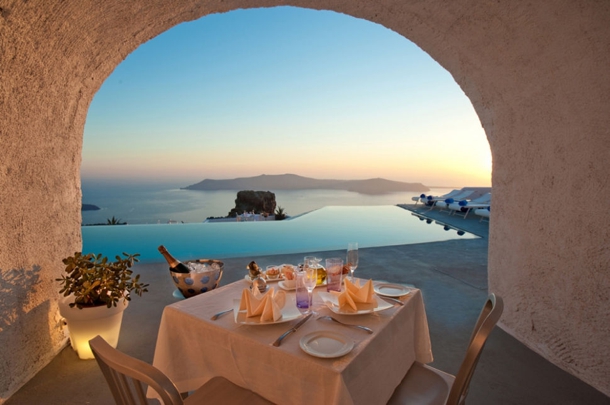 Grace Santorini Hotel, Greece
Although I've been to Greece several times, Santorini is top of my must-see list, and all reports are that the island is every bit as romantic as it looks. The Grace Santorini is one of the area's most luxurious hotels, and has been included by both Tatler and Condé Nast Traveller on their top lists. The views from its bright white walls over the infinity pool and down to the ocean are magnificent, and the renowned hotel restaurant serves Mediterranean fusion cuisine under the stars – or you can even ask the chef to prepare a dish of your choice. The Santorini sunsets are spectacular, and this is the perfect spot to view them with your honey.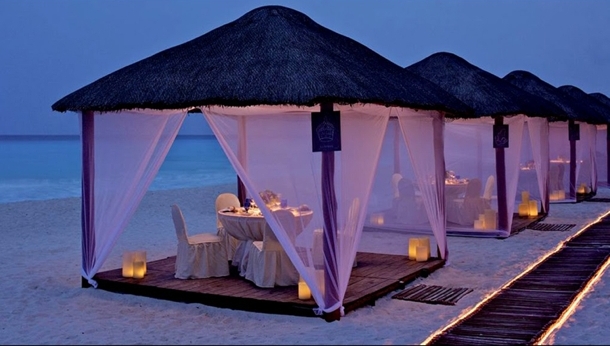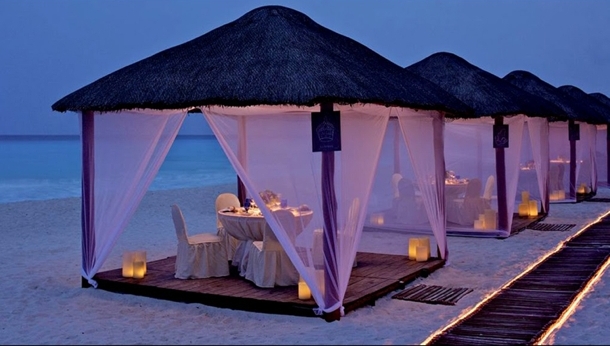 Ritz Carlton Cancun, Mexico
Speaking of spectacular sunsets, let's head to Mexico for another one. The Ritz Carlton Cancun is set on Mexico's Mayan coastline, taking advantage of Cancun's amazing white sand beaches and perfectly blue Caribbean sea. While you can take part in cooking classes and tequila tastings at the hotel's culinary centre or even a progressive dinner (taking in three of the hotel's restaurants), the most romantic option for two has to be reserving a beachfront casita – one of the chic cabanas that is used as a private dining room. Just imagine those net curtains moving gently in the sea breeze, while you dine on fresh seafood or steak and stare into each other's eyes… Oh, hurry up, Clooney – I want to go there NOW! ;)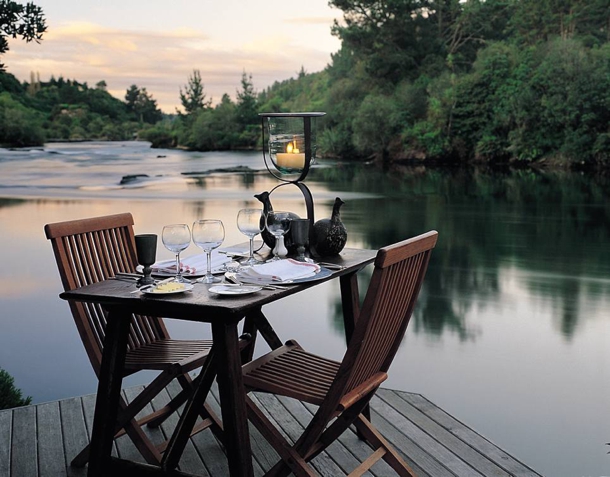 Huka Lodge, New Zealand
Now here's a place I've actually been, although I was fishing for prawns and checking out New Zealand's Huka Falls along with the general public, instead of from the exclusive Huka Lodge – I can tell you it's a gorgeous area though. For those more into old world style glamour instead of a beach paradise, this sophisticated lodge has a reputation for luxury and class, and is often ranked among the world's best. Private dining is kind of their thing – not only is fine cuisine part of their tradition, but there are over twenty indoor and outdoor locations for private dining in both summer and winter. This terrace looking out over the Waikato River is my fave.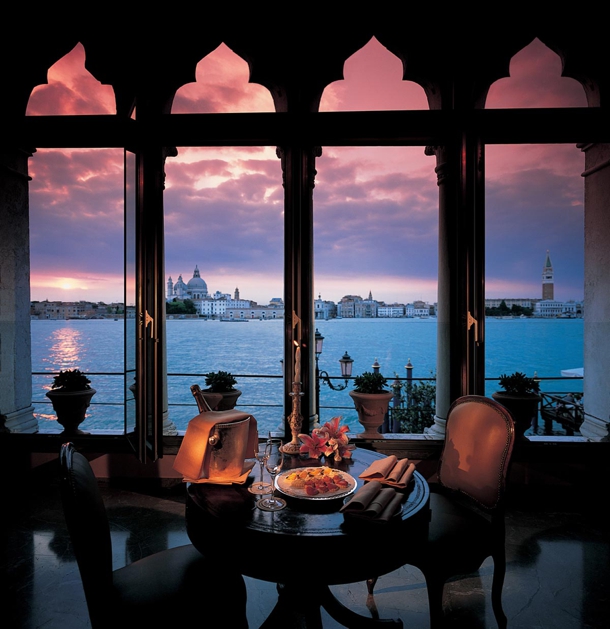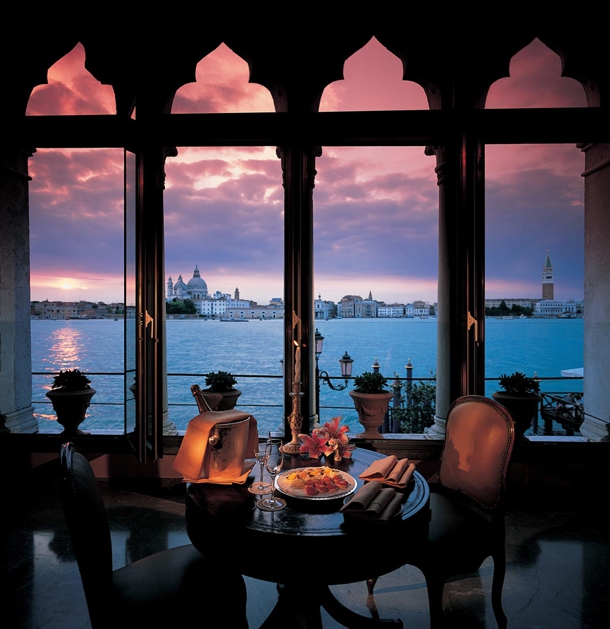 Hotel Cipriani Venice, Italy
Of course, you don't need to be in the beach or wilderness to enjoy a secluded meal with an unforgettable view, and for city fans, Hotel Cipriani in Venice has to be on the wishlist. And Venice is, of course, one of the ultimate cities for lovers and honeymooners, so it had to make my list too. Hotel Cipriani is part of the Orient-Express group, so it's five star all the way, starting with your arrival at their private launch. It sports amazing views of the lagoon and iconic Doge's palace, not to mention the only swimming pool in Venice. As well as the dining rooms, there's 24 hour room service – perfect for honeymooners.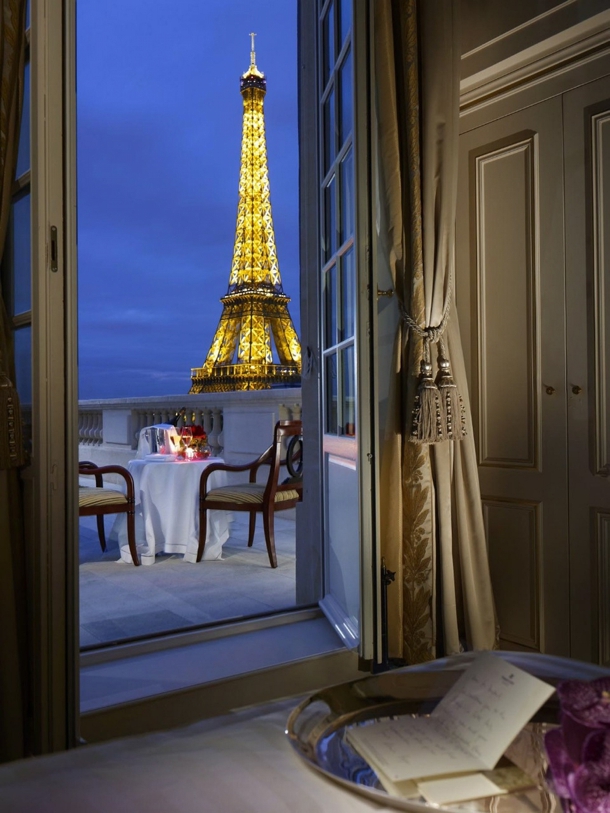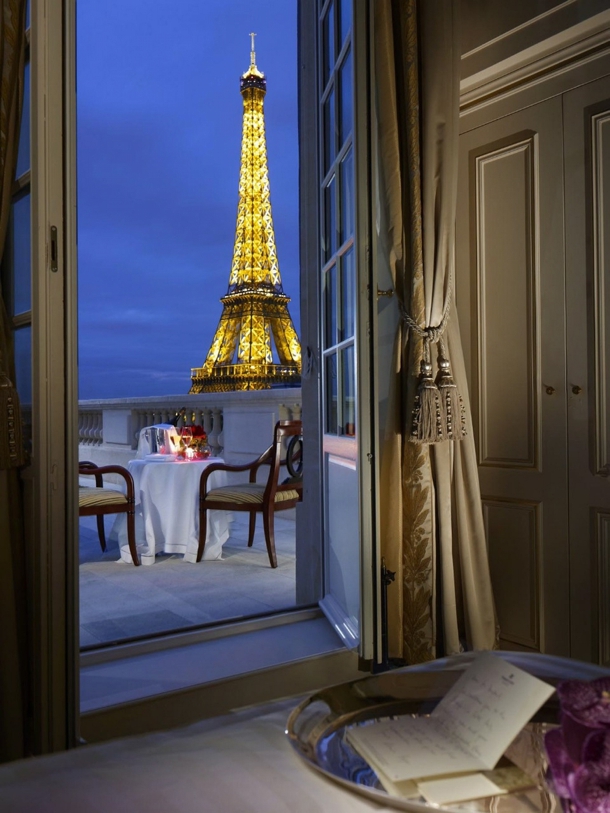 Shangri-La Hotel Paris, France
I couldn't go talking about romance without mentioning Paris, now could I? As Audrey said, Paris is always a good idea, and this view from the Shangri-La Hotel is enough to make even Carrie Bradshaw weep with joy. I mean, really. Despite there being a Michelin starred restaurant on the premises, I think I'd be calling room service instead.
What are your favourite tables for two? Let me know, and we'll follow up with some reader recommendations!
All images from respective hotel websites and media