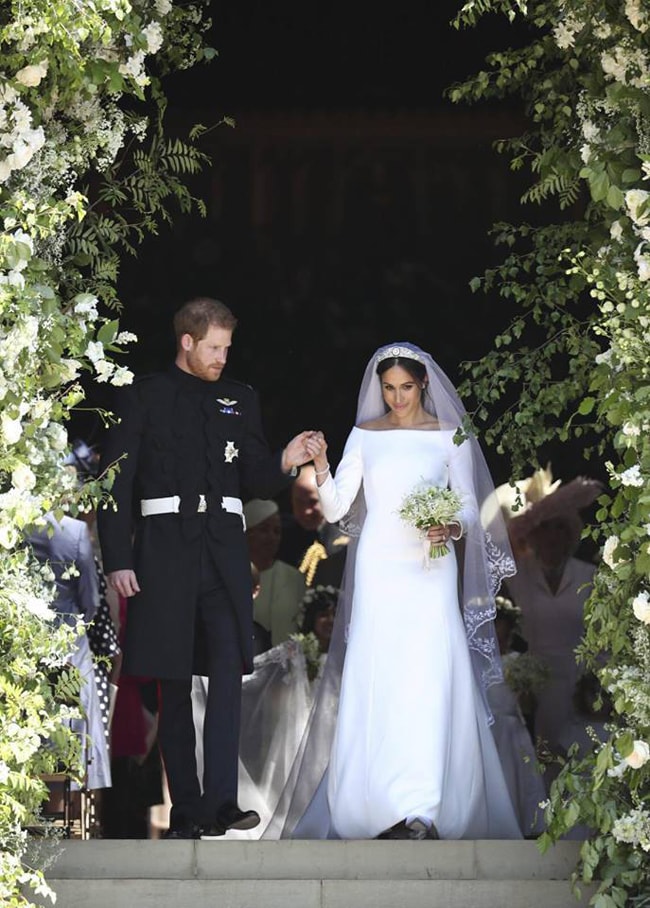 All royal wedding images issued by The Royal Family via Facebook & Instagram
It's official! Harry and Meghan (aka the Duke and Duchess of Sussex) are married! And with a guest list that meshed Hollywood royalty with actual royalty, the Royal Wedding 2018 is certain to go down as the wedding of the year. I've seen lots of mixed opinions about Meghan Markle's wedding dress and big day style in general but I personally LOVED it – I think the gown was incredibly chic and looked stunnning on her, and that she accessorised it to perfection. I have a feeling it'll go down as being just as iconic as the gown Princess Catherine wore a few years ago, and I have no doubt that many brides-to-be will be influenced by Meghan's minimalist elegance, both at the wedding ceremony itself, and at the evening reception, where she wore a halter neck gown and aquamarine cocktail ring. Want to get a bit of Markle sparkle for your big day? Or get your groom kitted out like Harry (minus the military uniform, unless he's actual in the forces, obvs)? We've got you covered! From jewellery to dresses to a classic black tux, here are ten ways you can steal a bit of Harry and Meghan's wedding style for yourself. *Links in bold denote affiliate links. The cost to you remains the same, but SBB may receive a commission for any sales made.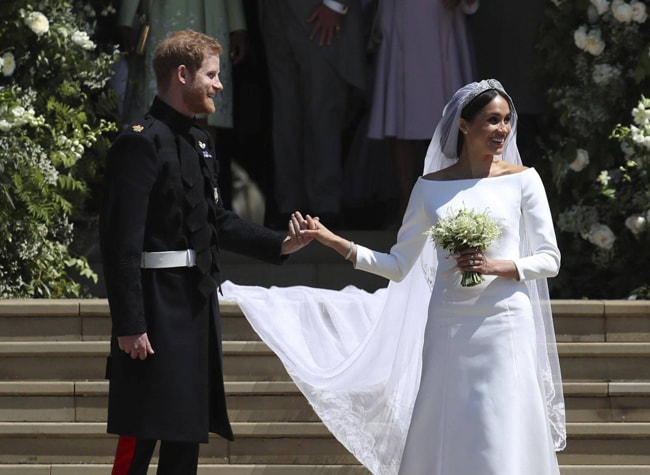 1. THE WEDDING DRESS

The dress everyone waited so long to see! And it's pretty much exactly what I would have guessed Meghan might have picked, and perfect for her sleek, modern style. Designed by Clare Waight Keller of Givenchy, is pure white with a bateau neckline, and three quarter sleeves. It's made of double bonded silk cady, cushioned by a silk organza underskirt. Stunning, and very much in line with the minimalist wedding dress revival we've seen happening this season. Here are some of my favourite gowns that channel a similar (but far more affordable!) vibe!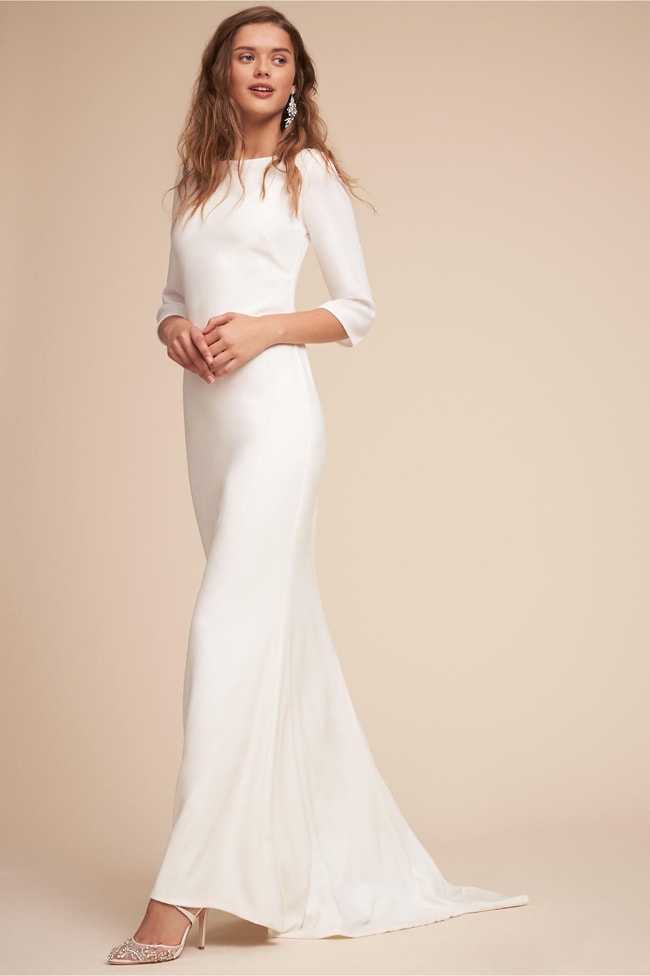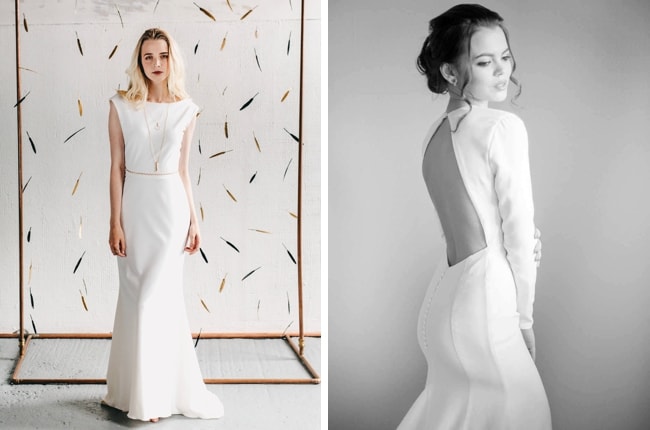 Top: Bacall Gown by Amy Kuschel from BHLDN | Bottom left: The Boho Kyla Wedding Dress by Esther Couture | Bottom right: Magnolia Minimalist Crepe Wedding Dress by Reev Bridal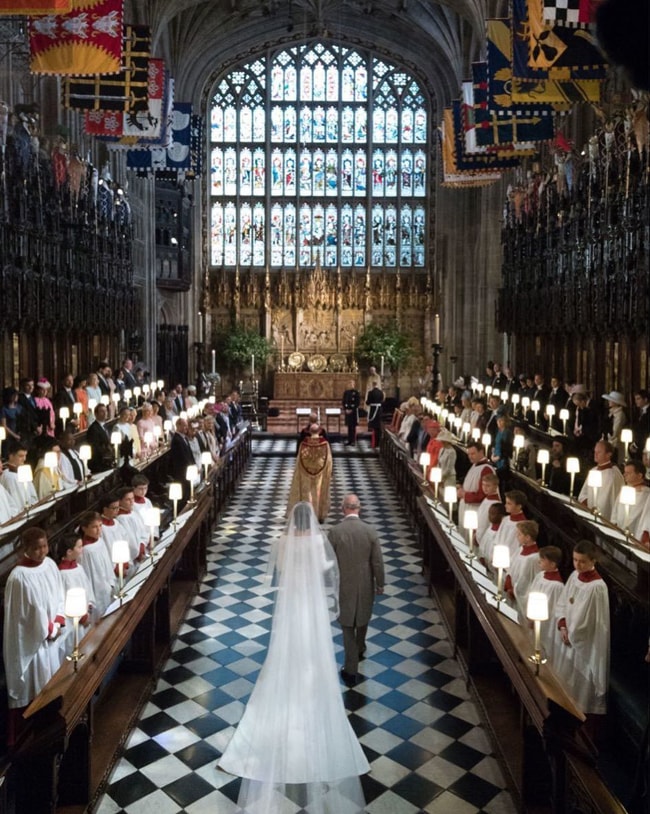 2. THE CATHEDRAL LENGTH VEIL

Meghan's veil was also designed by Clare Waight Keller – I loved the way that a full cathedral length veil added an extra touch of drama to her simple, modern wedding gown. It was also meaningful – detail on the veil's edging represented the distinctive flora of each of the 53 Commonwealth countries. Isn't that lovely? A cathedral length veil is a lovely choice for any bride, even if you won't be processing down the aisle with the future king of England to give you away!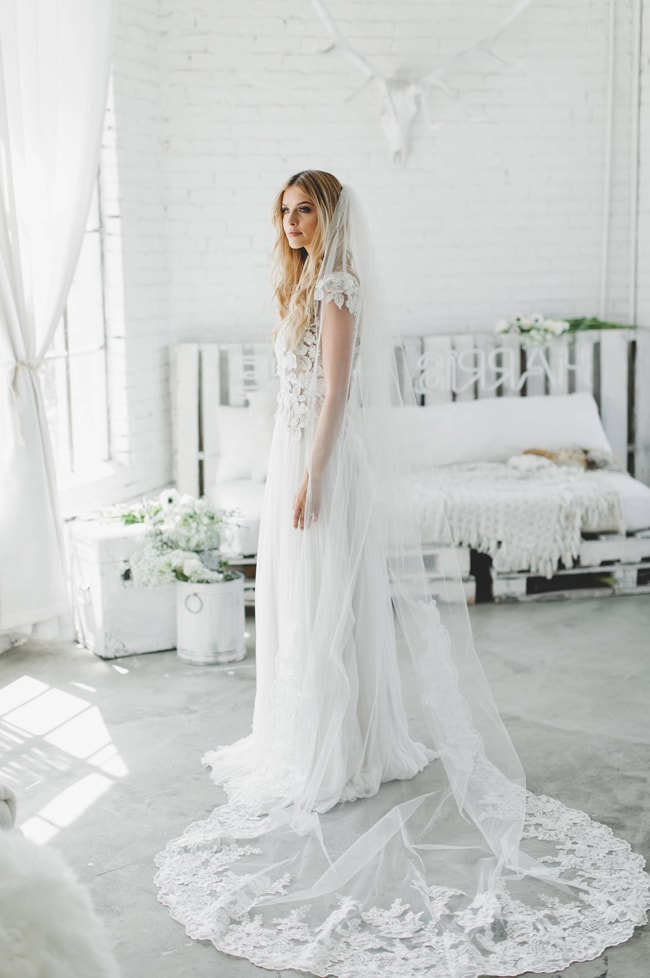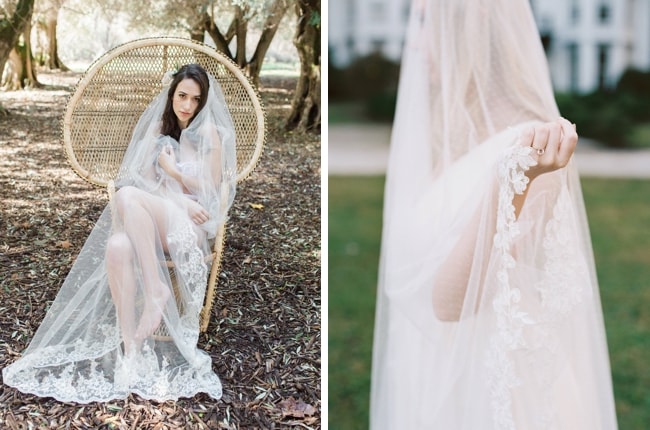 Top: Embroidered Cathedral Length Veil by Veiled Beauty | Bottom left: French Lace Cathedral Wedding Veil by One Blushing Bride (Image: Yasmin Roohi Photography) | Bottom right: Cathedral Length Bridal Veil by Sheeta Design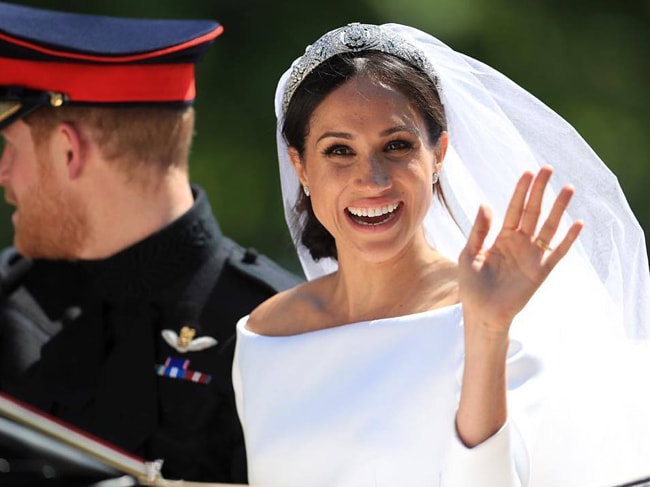 3. THE TIARA

I have to admit, I would have been disappointed if Meghan hadn't opted for a tiara – I love them so! And after all, it is a ROYAL wedding. The Duchess of Sussex wore Queen Mary's diamond bandeau tiara, which was on loan from the Queen. But even if your groom doesn't have a personal collection of tiara's to choose from (how fun must that have been?), you can still wear a tiara on your own wedding day, and I especially love those from Eden Luxe Bridal on Etsy (who have a huge range that includes full crowns too!). Here are some of my favourites: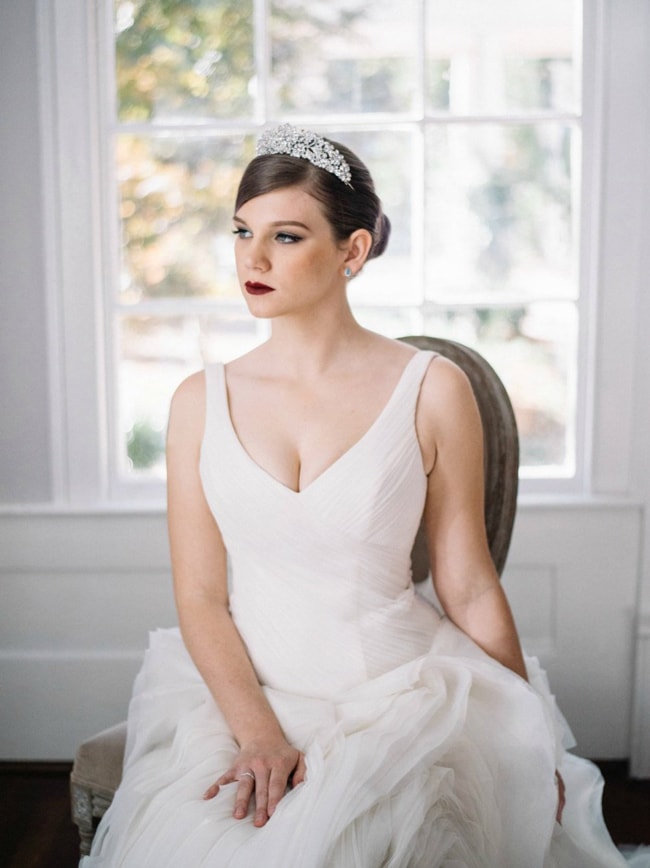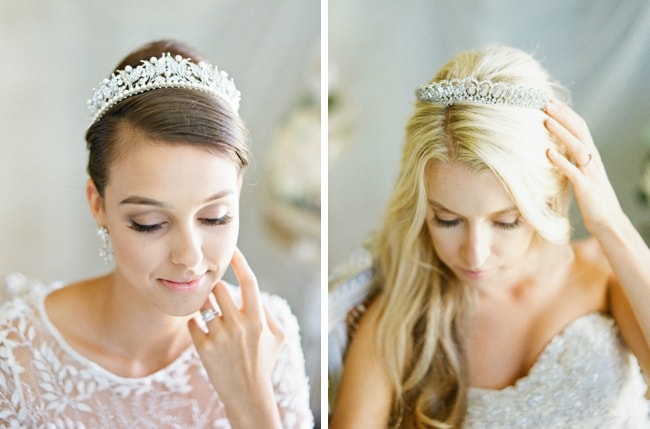 Top: Evelyn Crystal Bridal Tiara by Eden Luxe Bridal (Image: Darling Today) | Bottom left: Victoria Bridal Tiara by Eden Luxe Bridal (Image: Meg Fish) | Bottom right: Greta Baguette Wedding Tiara by Eden Luxe Bridal (Image: Meg Fish)
4. THE DIAMOND CUFF

This was actually one of my favourite details – the diamond cuff was such a perfect piece to wear with her gown and was the perfect amount of sparkle on her wrist. If you're looking for the exact piece, it's the Reflection de Cartier bracelet, from Cartier, and will set you back a cool $155K, but you can also get your sparkle on with one of these pretties:.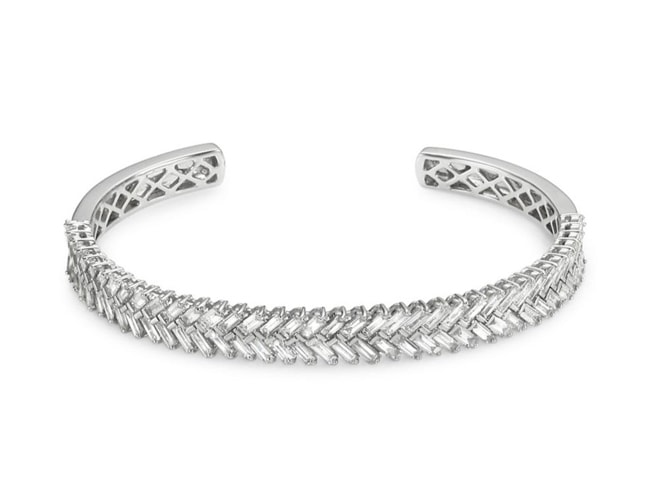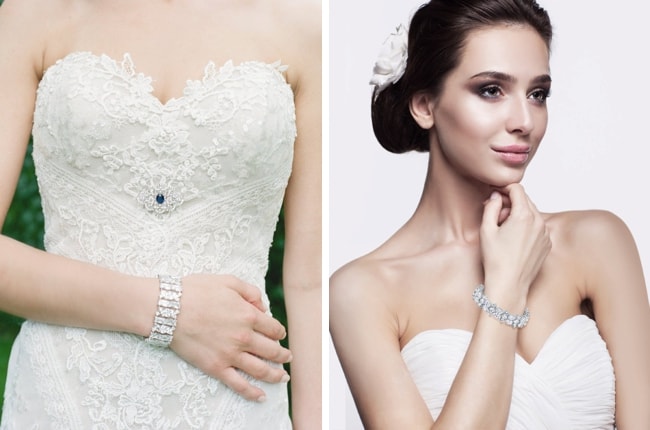 Top: Anita Ko 18K Gold & Diamond Zipper Bracelet from Saks Fifth Avenue | Bottom left: Brianna Bridal Bracelet by Eden Luxe Bridal (Image: Meg Fish) | Bottom right: Crystal Bridal Bracelet by Bella Bride Designs
5. THE DIAMOND STUDS

Like the bracelet, Meghan's earrings were Cartier, and weren't they just lovely? Made of white gold and diamonds they were a beautiful choice, and one that can be worn over and over again (I always think it's nice when you can carry something from your wedding forward into your general jewellery box). Here are some pretty diamond stud halo earrings that can fulfil the same purpose for you too!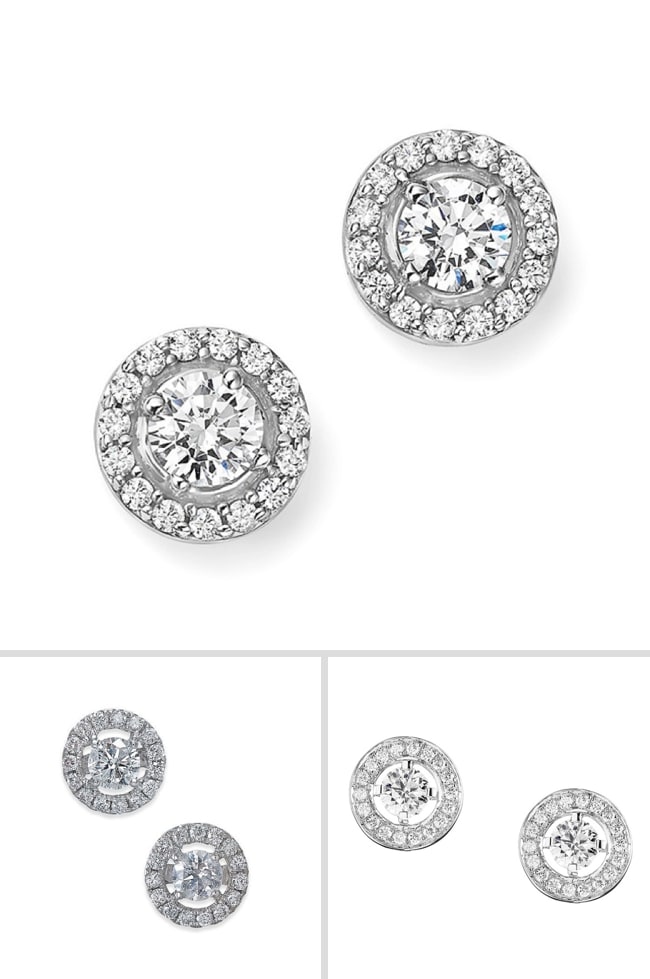 Top: Bloomingdale's Diamond Halo Stud Earrings | Bottom left: Macy's Diamond Halo Stud Earrings in 14k White Gold | Bottom right: BOUCHERON Ava 18ct White-gold and Diamond Stud Earrings from Selfridges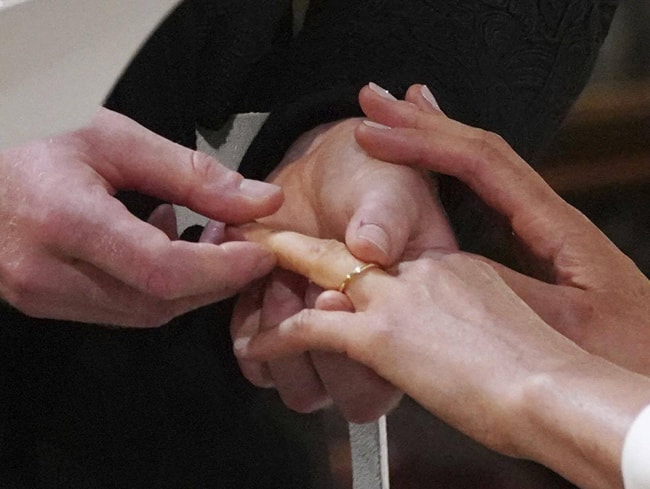 6. HARRY'S RING

Harry's one of the few royal men to wear a ring, and he also decided to buck tradition a bit by not choosing a ring made from the Queen's supply of Welsh gold. His band is platinum instead, with a textured finish, and might look a little like one of these, which any groom would be happy to have and to hold.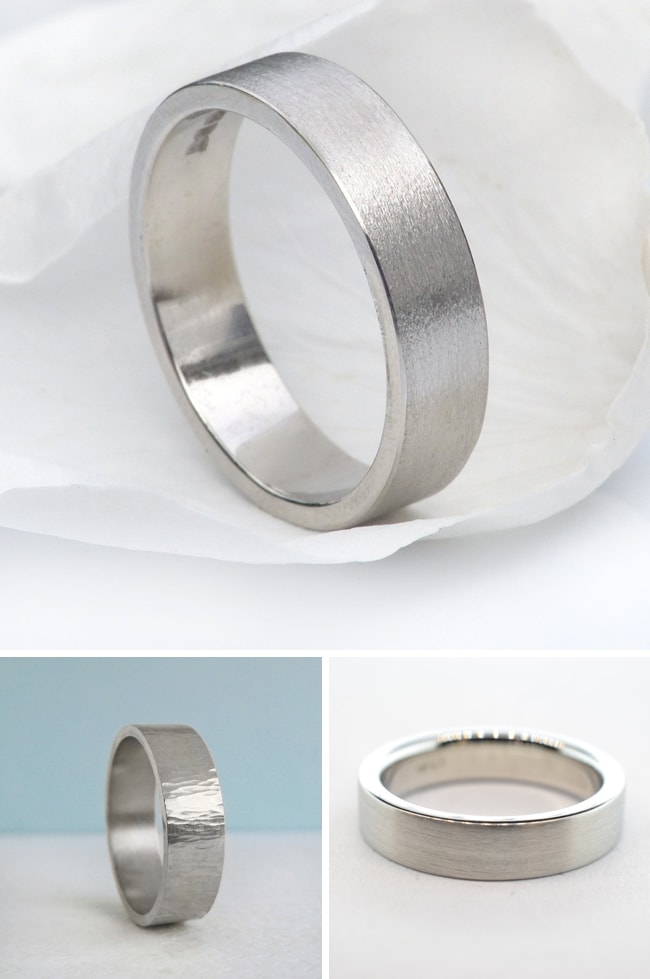 Top: Ethical Platinum Wedding Ring by Lila Nash Weddings | Bottom left: Platinum Comfort Fit Wedding Band with Tree Bark Hammer Texture by Meander Works | Bottom right: Platinum Matte Finished Ring by Baraka Gems
7. MEGHAN'S RINGS

Unlike the Duke, the Duchess did opt for Welsh gold, a gift from the Queen, and a simple gold band made by jewellers Cleave & Company. It's similar to Kate's band – a classic choice.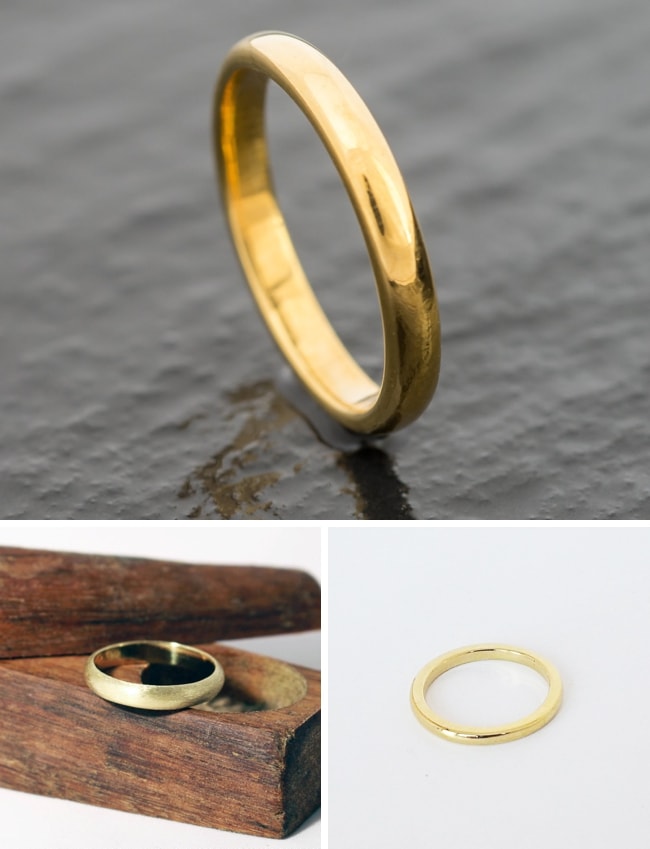 Top: Wanlock EcoGold Wedding Band by Jacqueline and Edward | Bottom left: Welsh & Recycled Gold Wedding Ring by Jacqueline and Edward | Bottom right: Flat Band Wedding Ring by Zac de Gal
For the engagement ring, also made by Cleave & Company, the couple choose a trilogy setting (which unsurprisingly, has become trendy again since, but is a classic and lovely choice). Two of the diamonds came from Princess Diana's collection, while the third is from Botswana, a place that is meaningful to the couple. We rounded up trilogy rings recently, but here are just three of my faves!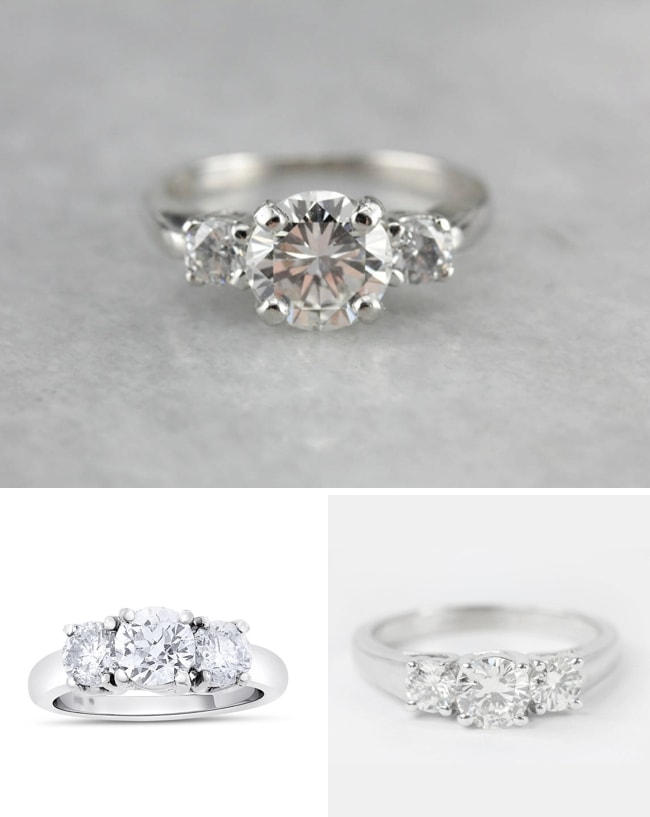 Top: Round Brilliant Three Stone Diamond Engagement Ring by MS Jewelers | Bottom left: Natural Diamond Three Stone Euro Cut Engagement Ring by Desire My Diamonds | Bottom right: Three Stone Diamond Engagement Ring by JR Colombian Emeralds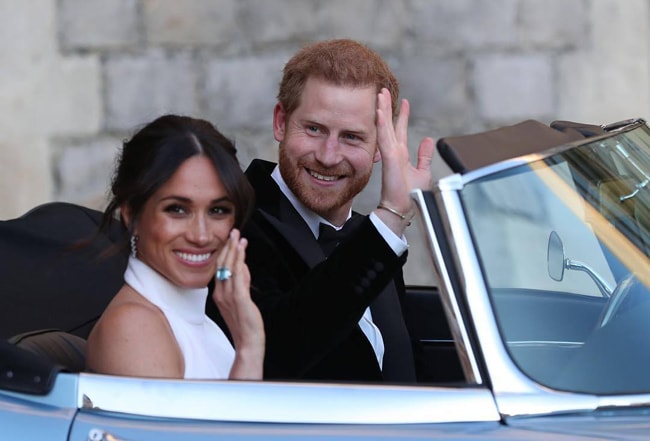 8. THE RECEPTION DRESS

Although I loved the wedding gown, ain't nothing wrong with a girl having two dresses, am I right? Meghan's evening gown was also lovely, and had a real touch of the '90s, with its high halter neck, low back, and slinky silhouette! I'm sure she danced the night away in it! The Stella McCartney creation was made of silk crepe. She paired it with Aquazurra shoes, with baby blue soles. This is definitely a look you can steal, whether for your main wedding gown, or like Meghan, for a reception change!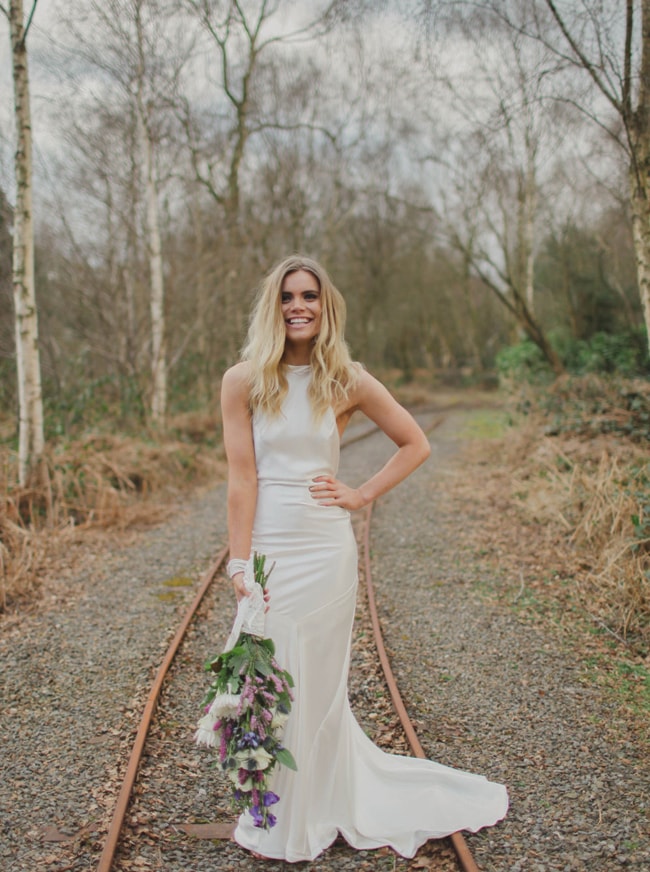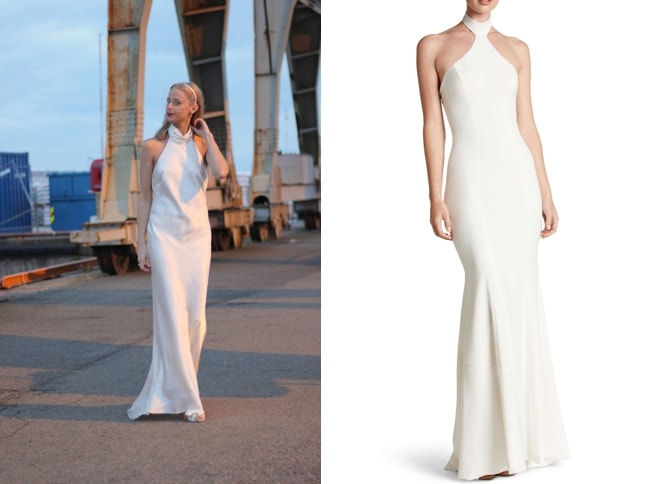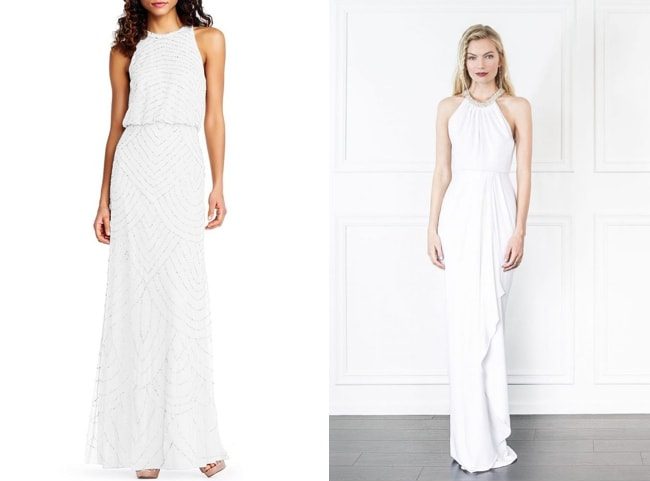 Top: Ember Bohemian Luxe Silk Charmeuse Wedding Dress by Gibson Bespoke | Middle left: Laura Elegant Halter Neck Vintage Wedding Dress by Sisters of Siri | Middle right: Taylor Crepe Halter Gown by Dress the Population | Bottom left: Adrianna Papell Beaded Halter Gown | Bottom right: Rachel Zoe Bellatrix Halter Gown
9. THE TUXEDO

Harry looked super handsome in his tux, as he and his new wife set off for the evening do in a Jaguar. So far, so James Bond! A tux is of course a classic choice for a black tie groom, and we love the suits at ASOS, like the ones below.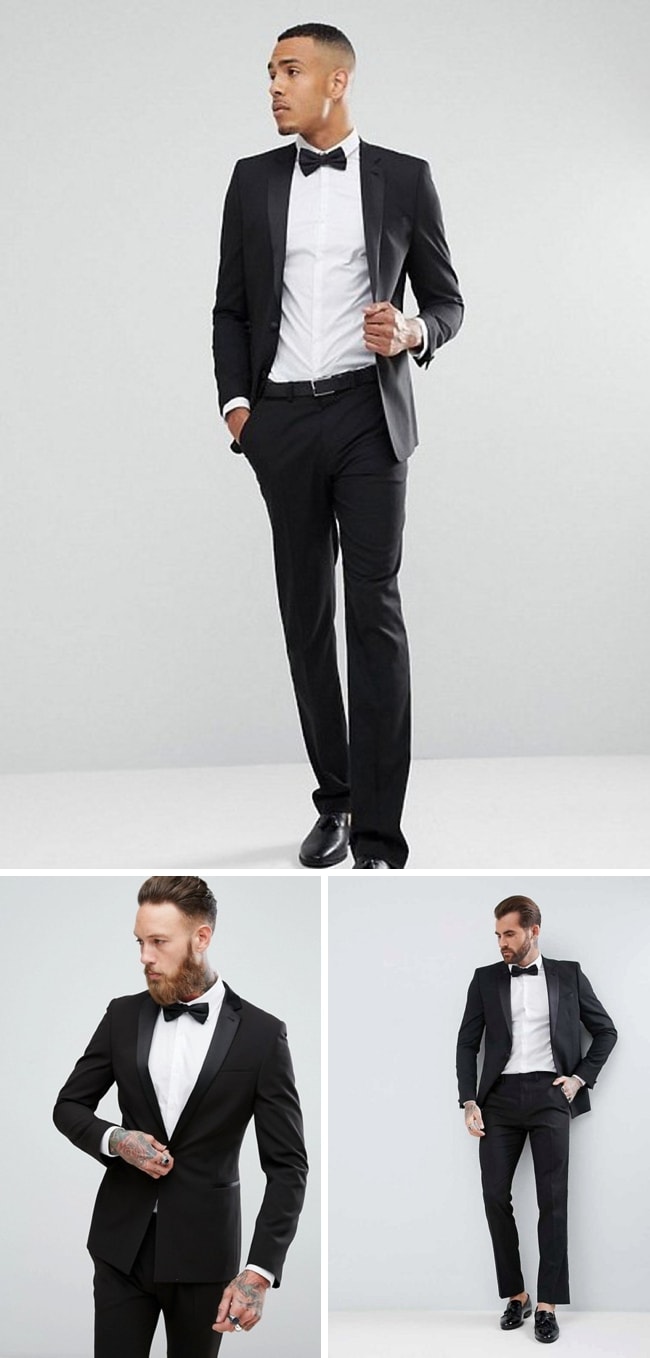 Top: ASOS Tall Slim Tuxedo Suit | Bottom left: ASOS Super Skinny Tuxedo in Black | Bottom right: ASOS Slim Tuxedo Suit in Black
10. THE AQUAMARINE COCKTAIL RING

And finally, there's that whopper of a ring Meghan topped off her evening look with! I'd actually forgotten this ring, which I absolutely adored when Diana used to wear it (and yes, I knew there was a reason I'd been coveting an aquamarine cocktail ring since my childhood!). It makes a gorgeous addition to any outfit, including a wedding, where it would be a very special something blue! Here are some gorgeous examples I found – they're not cheap, but they are GORGEOUS.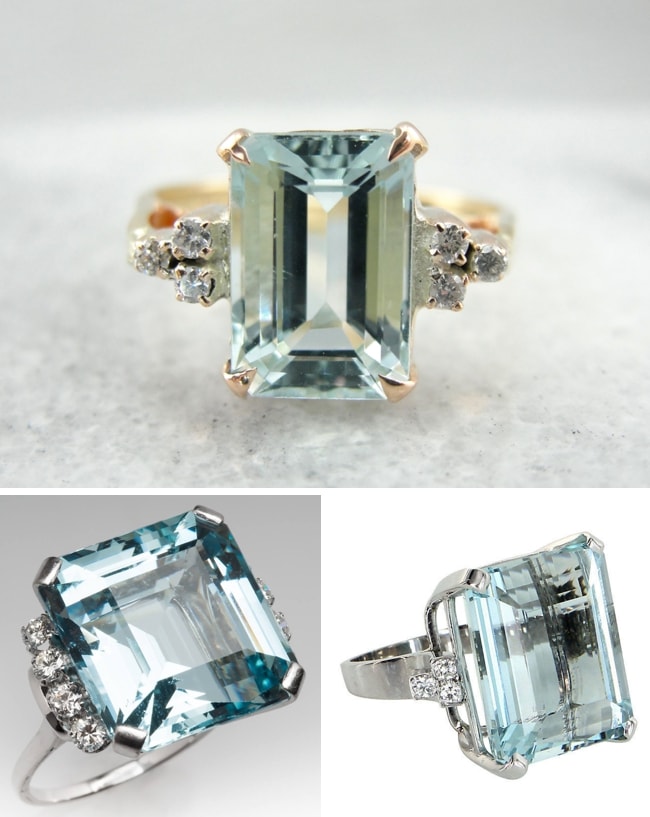 Top: Vintage Aquamarine Cocktail Ring from MS Jewelers | Bottom left: Vintage Cocktail Ring with 23 Carat Emerald Cut Aquamarine from Era Gem | Bottom right: One Kings Lane Vintage 30ct Aquamarine & Diamond Cocktail Ring
And there you have it! 10 ways to steal the Royal couple's wedding style! Here's hoping they (and you!) live happily ever after!