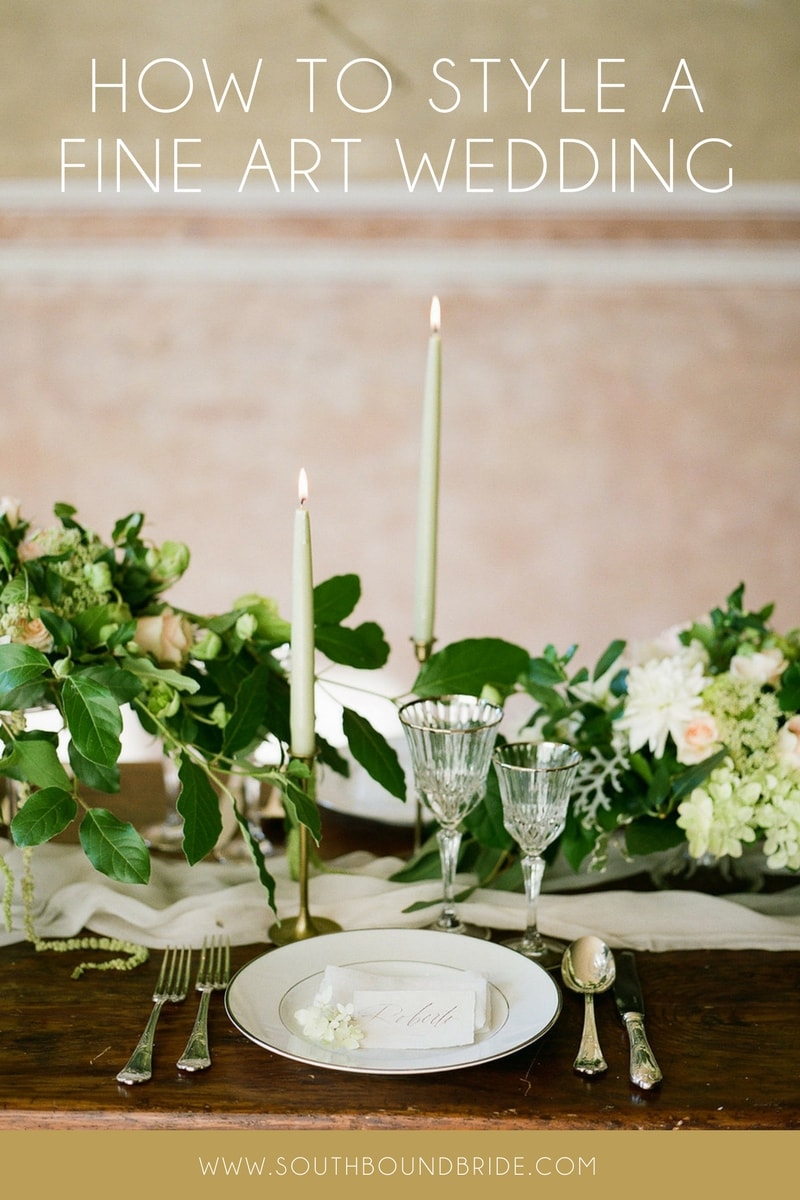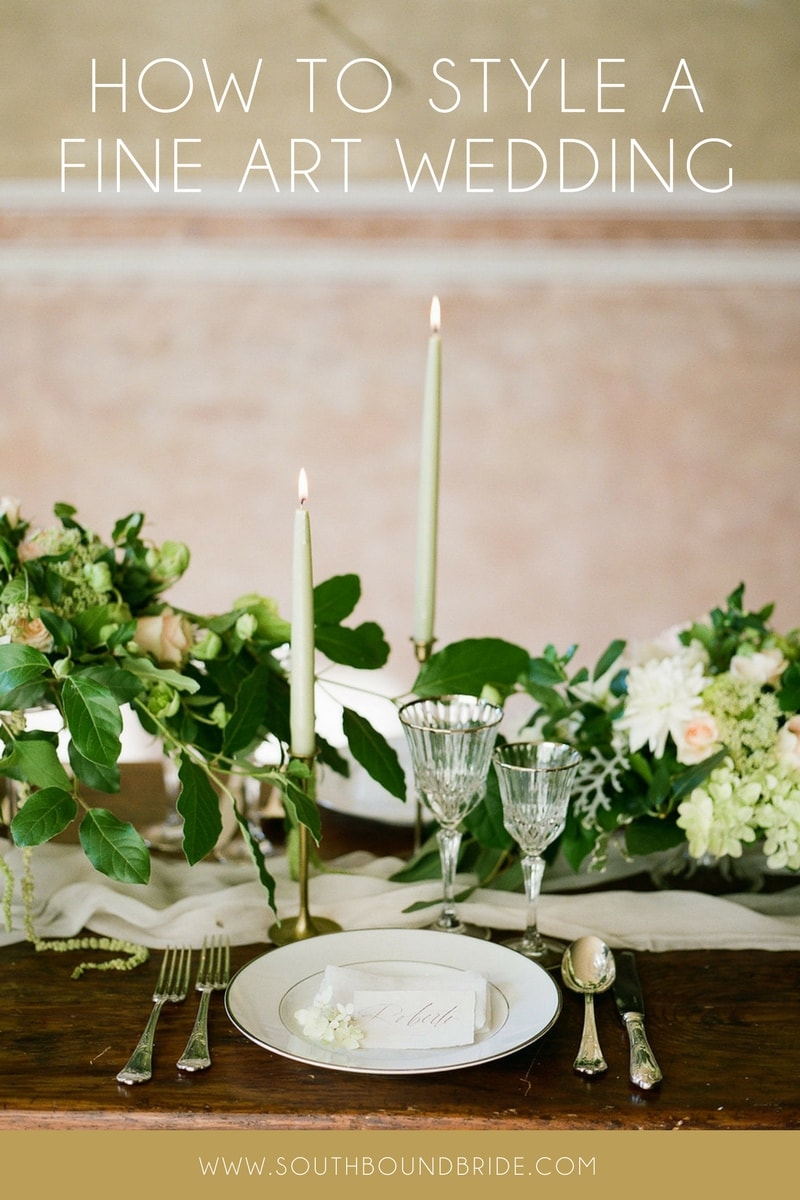 Image: Magnolia & Magpie Photography/Honey & Cinnamon/ISA Events on SouthBound Bride
As we come to the end of our month of Fine Art Wedding inspiration, I thought that it might be a fun idea to put everything together into one neat little guide. There are of course no hard and fast rules in wedding styling, but if this is a look you love, there are a few elements that, when put together, will recreate the look (or when added one by one, will add just a touch of that fine art style to any big day). There are also some important elements that I haven't included here. Photography is the most obvious, since that's where it all began – if this is a look you love, you'll want to connect with a photographer who shoots film or digital with a film look (think light, airy, ethereal). After all, the point of these particular details is that they photograph beautifully! The next guiding principle is to choose a muted palette (and not to get matchy about colours) – taupes, greys, muted pastels, etc. When it comes to your venue, you'll want to lean towards a romantic, old world style rather than something too modern (and no, I know we can't all book a villa in Tuscany, but there are many local options that will work just as well, with a South African twist!) Finally, embrace texture and quality when it comes to the details. Beautiful linens, handmade stationery, dreamy gowns with unique colour or embellishment, lush blooms. And that's where all of the ideas below come in. I've included some gorgeous inspiration from around the web, as well as shoppable items from Etsy, so you can easily recreate the look for yourself. Links in bold denote affiliate links. The cost to you remains the same, but SBB may receive a commission for any sales made.
1. FORAGED, HAND-TIED BOUQUETS
When it comes to a fine art wedding bouquet, you can forget neat, formal florals. The look is unstructured and organic – often with a foraged element (as I mentioned, it's all about texture!) that surprises and delights. Oversize bouquets, heaps of greenery. But to tie all this wildness together, fine art stylists often opt for beautiful silk ribbon ties, which trail in the breeze and look incredible in photographs.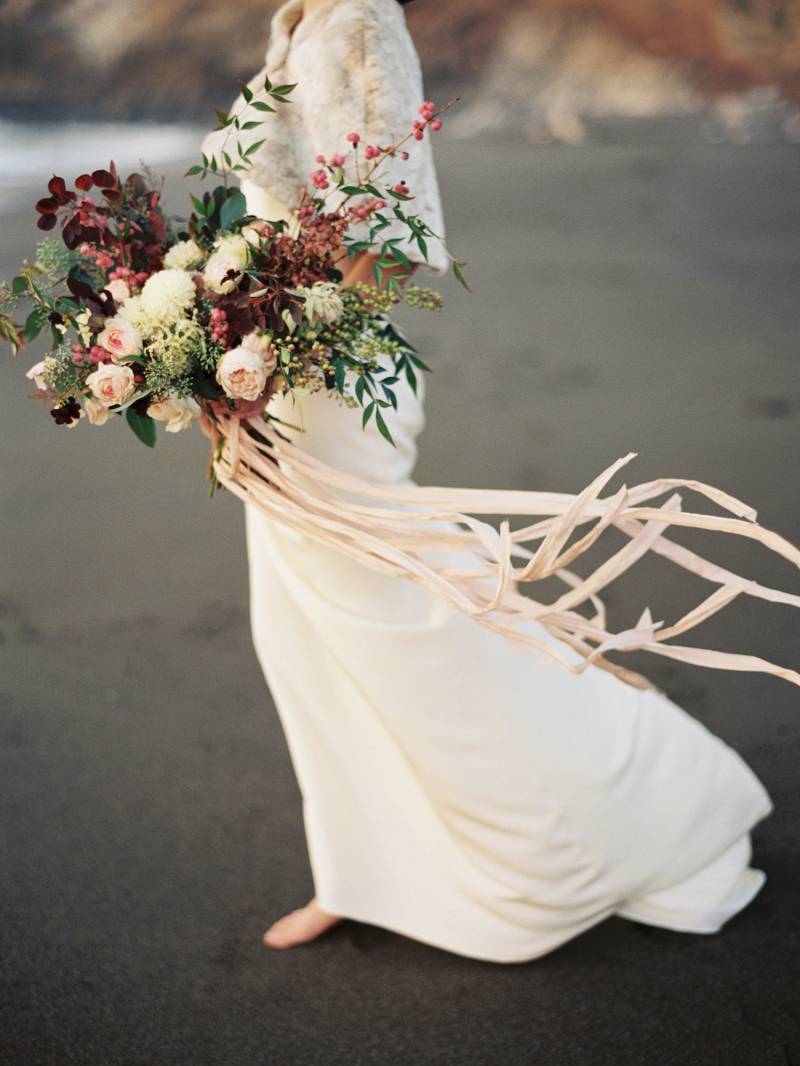 Image credits: This Modern Romance/Delphinium Floral via Magnolia Rouge (top) | Savan Photography/Weddings by Silke/Only Art Fiori/Silk & Willow via Wedding Sparrow (bottom left) | Katie Hyatt/Mary McLeod for Amy Osaba/Silk and Willow via Wedding Sparrow (bottom right)


Top: Silk Ribbon Bundle by Pompom Blossom (image by Julie Michaelsen Photography) | Bottom left: Gold Silk Chiffon Bridal Bouquet Ribbon by Pompom Blossom (image by Matt Horan Photography; flowers by Number Twenty Seven) | Bottom right: Silk Ribbon Colour Sample by Pompom Blossom (image by Lauren Dewar Sungbluephoto)
2. ROMANTIC VEIL OR HEADPIECE

We've already had a close look at beautiful fine art wedding veils, so I'll simply say here that alongside the dreamy, floaty, veil options, you could alternatively opt for a gorgeous hairpiece as a fine art bride. Think European royalty or boho goddess! Whichever you choose will become a beautiful heirloom to pass down to future generations!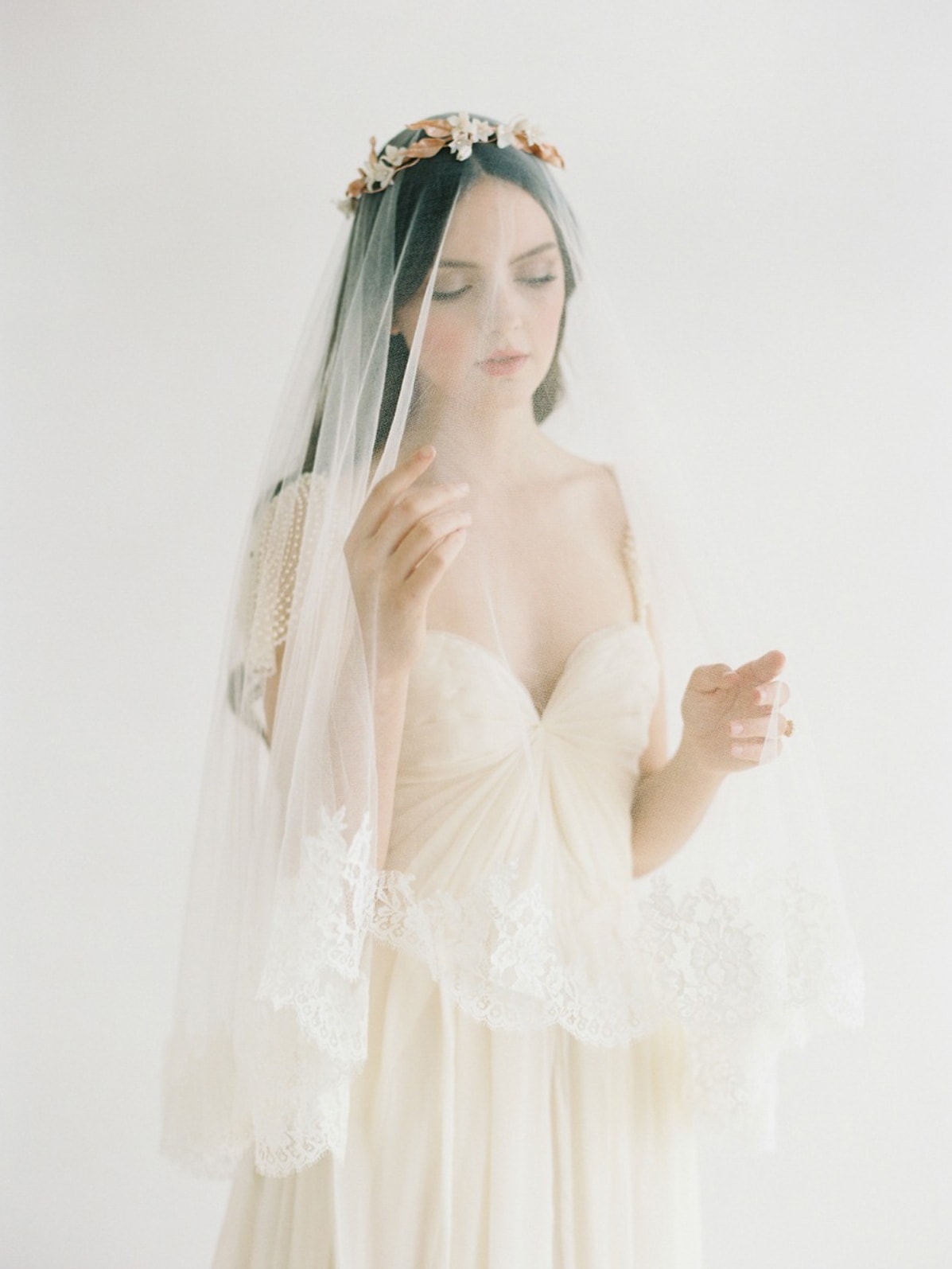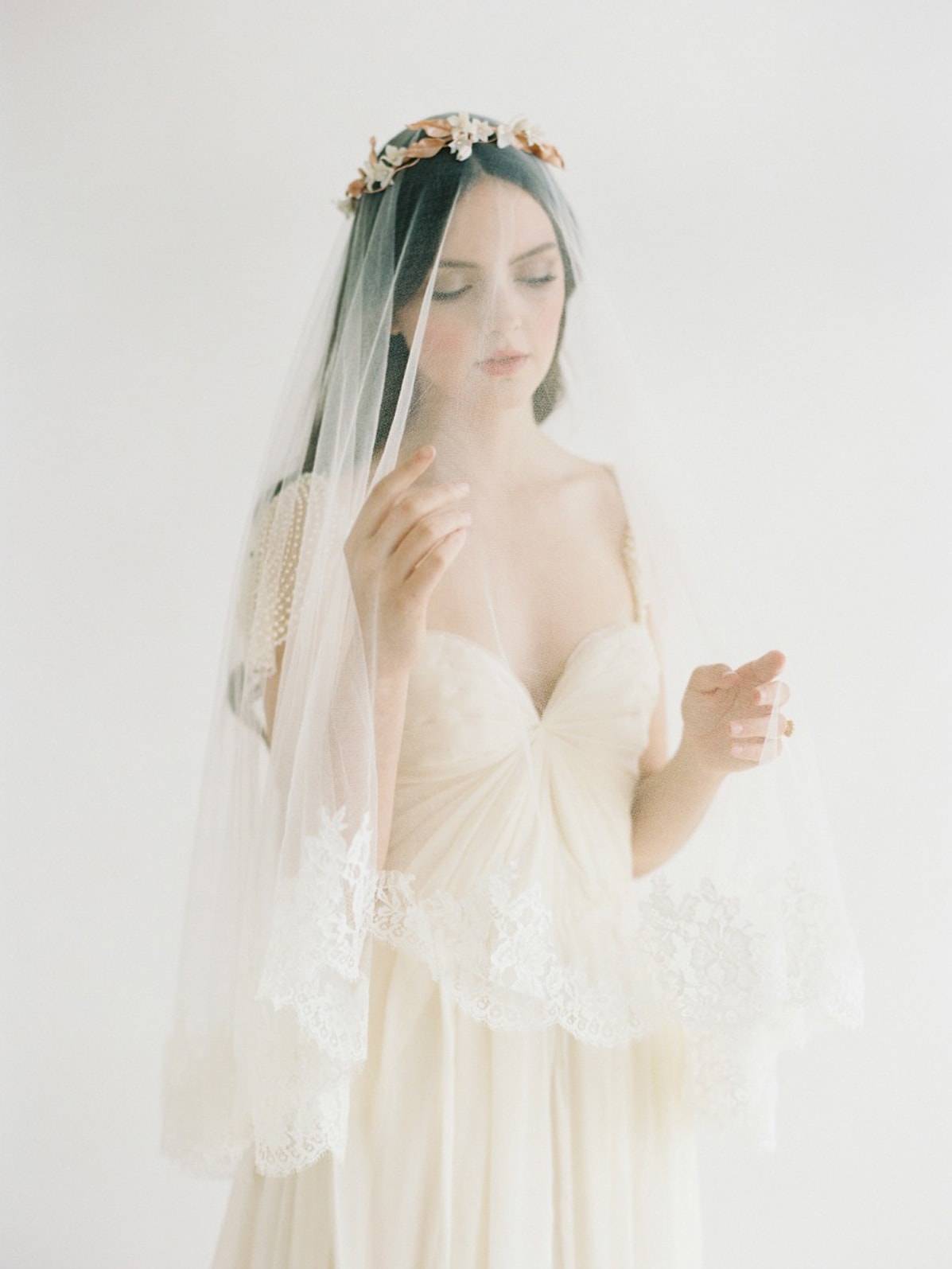 Image credits: La Belle/Jon Cu/Yvonne Xue via Love My Dress (top) | Laura Gordon/Enchanted Atelier by Liv Hart on SouthBound Bride (bottom left) | Noel Perrone/Kerry Patel Designs/Sibo Designs via Wedding Sparrow (bottom right)


Top: Blair Bridal Drop Veil by Tania Maras (image by Jemma Keech Photography) | Bottom left: Bridal Halo by Melinda Rose Design | Bottom right: Chantilly Lace Mantilla Veil by Melinda Rose Design (image by Erich McVey)
3. ETHEREAL WEDDING GOWNS

We've also already had a closer look at fine art gowns (and oh my, are they swoony!) but of course they're an important part of this wedding style (hello, gorgeous bridal portraits!). And again, there's not one thing that makes a gown 'fine art', but think frothy tides of tulle, luxurious swathes of lace, and interesting colour or detail and embellishment. Not that a fine art gown has to be complicated – some of the most simple gowns work best for this style – but they do have to be beautifully contructed and have that extra, ethereal 'something'.
Image credits: Simply Lace Photography/Shaw Events/Catherine Langlois via Style Me Pretty (top) | Angela Newton Roy/Type A Society/Shop Gossamer via Wedding Sparrow (bottom left) | Jose Villa/Samuelle Couture via Hey Wedding Lady (bottom right)


Top: Josika Wedding Dress by Cathy Telle | Bottom left: Shana Wedding Dress by Rara Avis Ange Etoiles | Bottom right: Asteria Hand Embroidered Tulle Wedding Gown by Mywony Bridal
4. BEAUTIFUL BOUDOIR DETAILS

So this isn't strictly a must-have, but if you're loving all those beautifully styled prep shots you've seen in photo shoots, you'll want to invest in a few little details to show off your other bridal accessories, like shoes and heirloom jewellery. One of my faves is the trend for vintage style velvet ring boxes started by The Mrs. Box a couple of years back (locally, Marion Rehwinkel Jewellery has their own brand of pretty boxes) – and what a special keepsake of your special day, which just happens to look oh so pretty in pictures! Add some silk ribbon, a vintage tray, and a couple of soft blooms, and you'll have the most gorgeous getting-ready shots in town.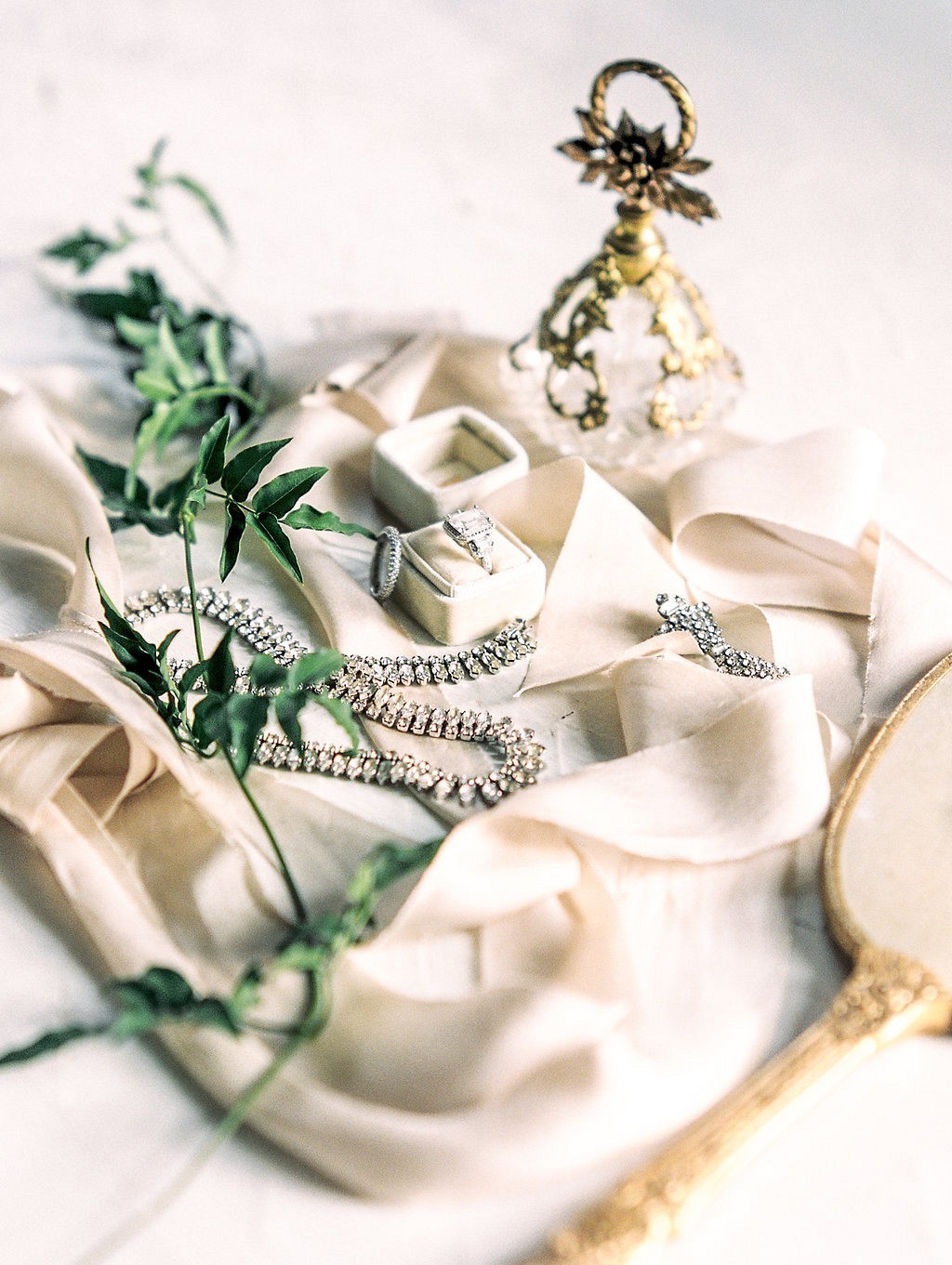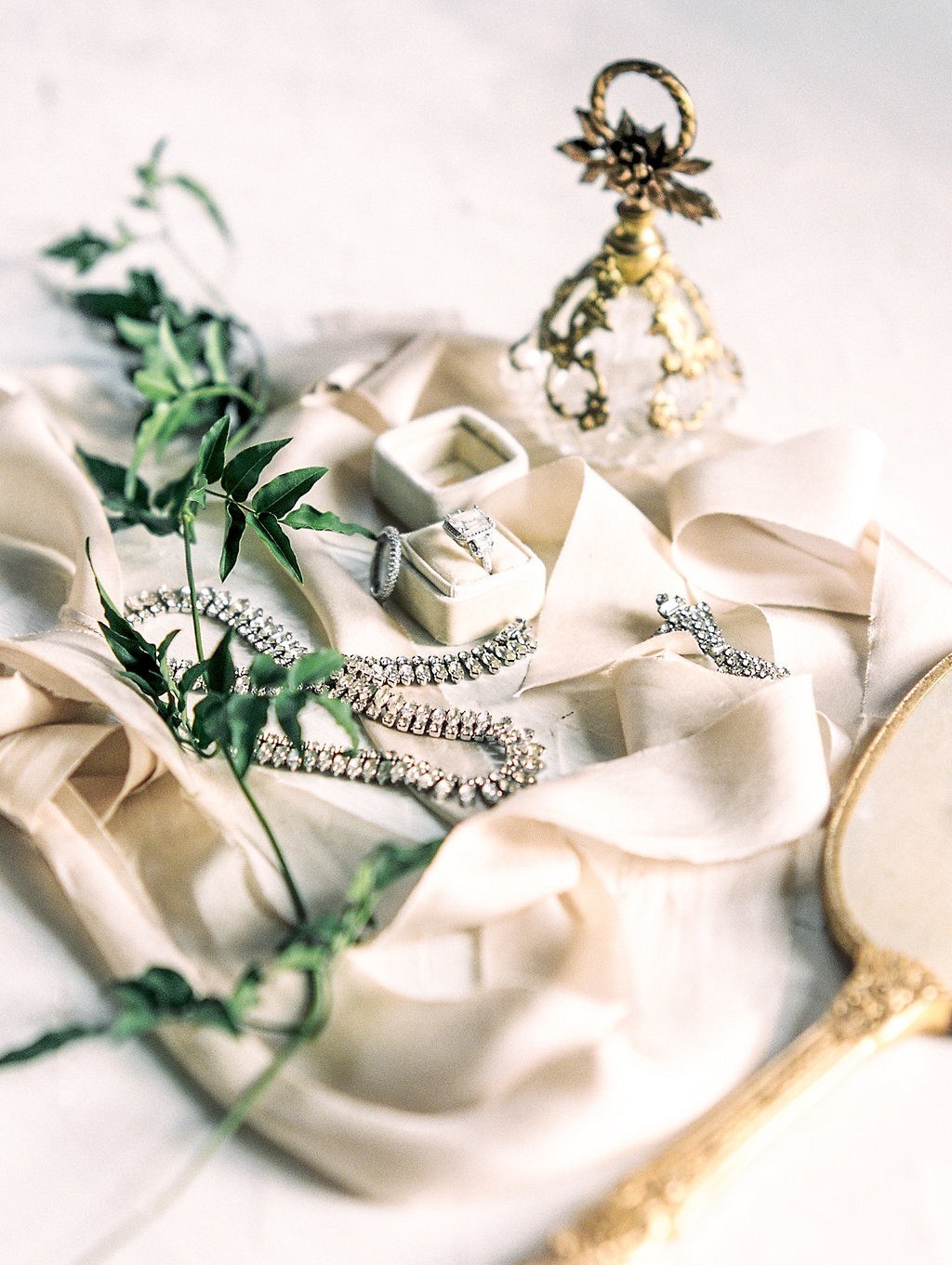 Image credits: Lissa Ryan Photography/The Velvet Veil/Pave Jewelers via Wedding Sparrow (top) | Stella Uys Photography/Bells & Whistles Event Styling/Marion Rehwinkel Jewellery on SouthBound Bride (bottom left) | Cecelina Photography/Harriet Wilde via Style Me Pretty (bottom right)


Top: Velvet Ring Box by Bark and Berry | Bottom left: Hand Dyed Crinkle Silk Ribbon by Wisteria and Vine | Bottom right: Dalle Heels from BHLDN

5. HAND-LETTERED STATIONERY SUITES

Ah, the stationery…! They say that an invitation suite sets the tone for your wedding, and with pretties like these, your guests will know they have something special in store for them. If you can afford it, hand lettered calligraphy invitations are like beautiful little love letters (and if you can't, see if you can include a hand lettered element somewhere else, like signage), but we also love details like custom wax seals, luxe envelope liners and hand torn papers. Watercolour is a great look for fine art weddings too, and a watercolour wash can add a special element to even a simple, printable invitation.
Image credits: O'Malley Photographers/Sinclair And Moore Events/la Happy via Style Me Pretty (top) | Lara Lam/Letters to You via Magnolia Rouge (bottom left) | Kseniya Bunets/Simple Polygraphy via Magnolia Rouge (bottom right)


Top: Custom Hand Lettered Wedding Invitation Suite by BP Calligraphy | Bottom left: Handwritten Calligraphy Invitation on Grey Card by byMoonandTide | Bottom right: Boho Luxe Cotton Rag Calligraphy Wedding Invitation by byMoonandTide
6. SILK TABLE RUNNERS

A fine art table is a beautiful thing, composed of elements that are simple as well as luxe. Trademarks of the look: gold cutlery, beautifully delicate crockery, statement glassware and unstructured florals (to match those gorgeous bouquets). And pulling it all together? Soft, sensuous linens, loosely laid. Hand-dyed silk runners twist and flourish along the tables, adding that perfect touch of ethereal texture to this classic set-up.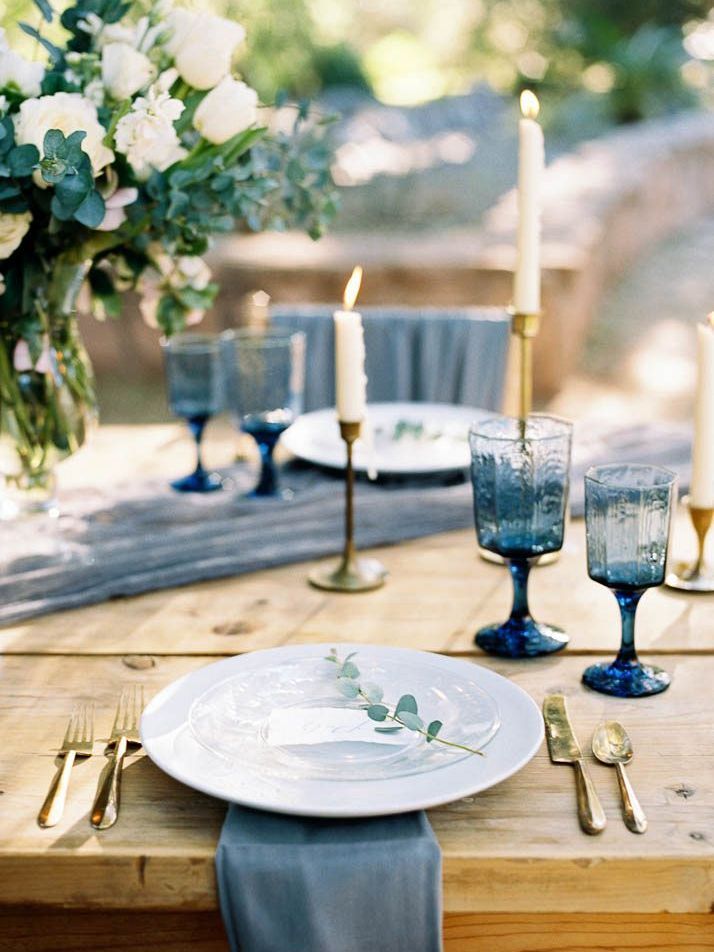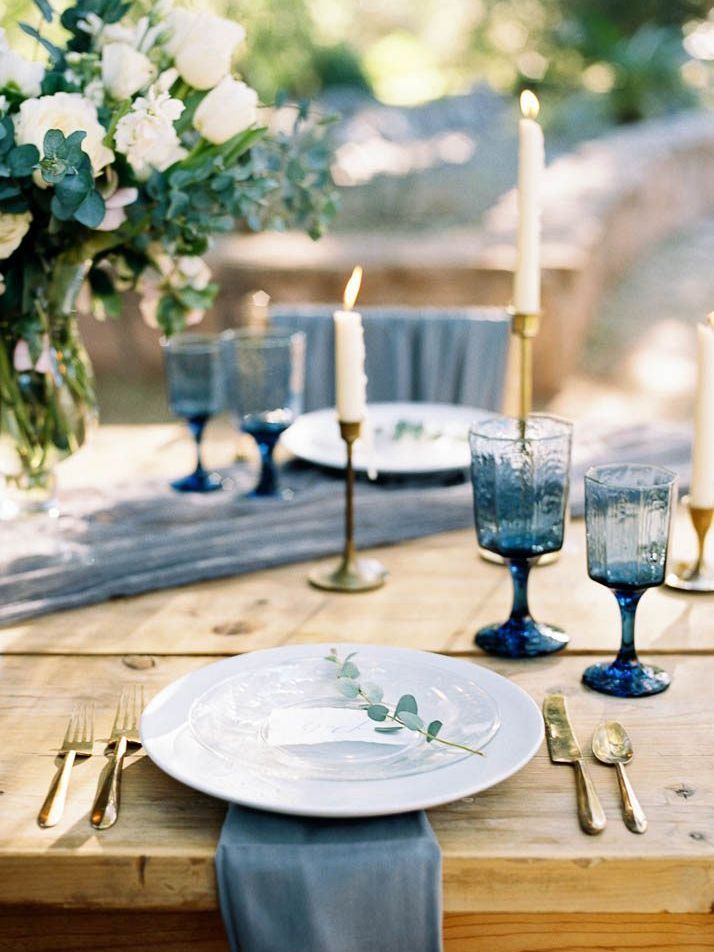 Image credits: Danford Photography/Sarah's Wedding Garden/Fancy Lou via Wedding Sparrow (top) | Sally Pinera/The Foraged Fern via Style Me Pretty (bottom left) | Lara Lam/Letters to You via Magnolia Rouge (bottom right)


Top: Ivory Gauze Table Runner by Lino & Co. | Bottom left: Peach Silk Table Runner by Pompom Blossom (image by Gemma McAuley Photography) | Bottom right: Custom-dyed Silk Table Runner by Pompom Blossom (image by Kate Nielen)
7. SIMPLY STYLED CAKES

Finally, the cake! Now here's one area where I think simplicity is best – opting for a minimalist cake with clean lines is a total win (although watercolour and hand-painted cakes are other lovely alternatives). Like turning a simple dress into a fabulous outfit with a designer accessory, the trick here is all in the styling. Tie some of that left over sillk ribbon and add a few fresh flowers, or set up a lovely cake table with a silk runner and long taper candles in vintage holders. Or you could opt for the look made popular by Elizabeth Messina, and crown your cake with a regal topper (this is probably the only non-floral topper I'd recommend for a fine art wedding, otherwise keep it simple!)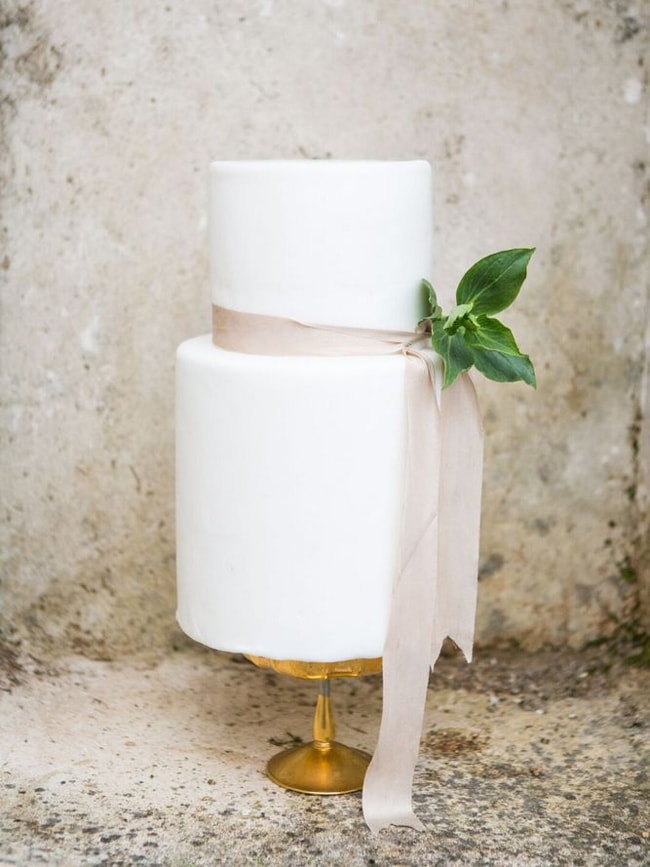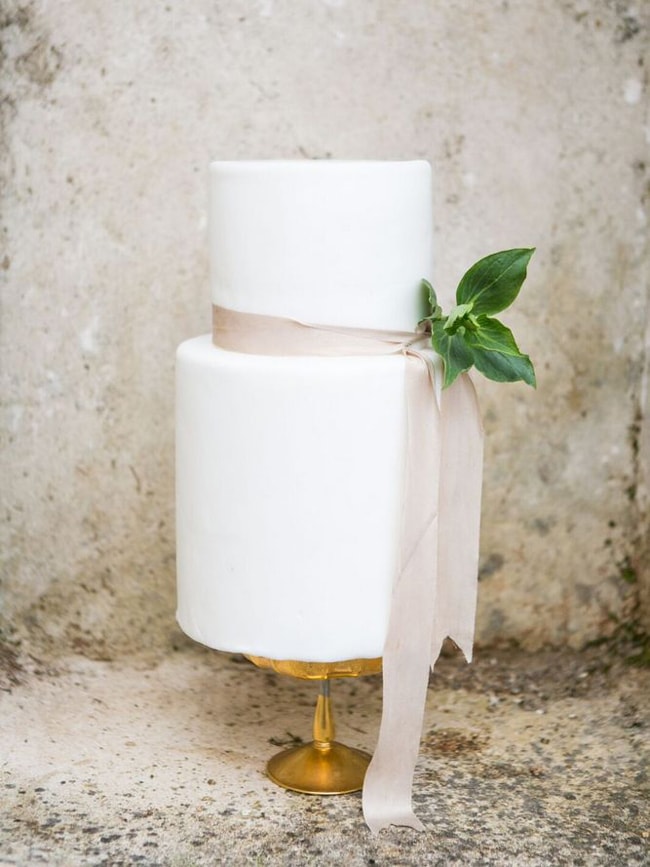 Image credits: Anneli Marinovich/Joy Proctor Design/Hotel Caruso on SouthBound Bride (top) | Luna de Mare Photography/Sierra Ramke/Beverly's Bakery via Wedding Sparrow (bottom left) | Earth & Sugar/Melanie Gabrielle Photography via Elizabeth Anne Designs (bottom right)


Top: Hand Deeped Taper Wax Candles by Bark and Berry | Bottom left: Pink Champagne Silk Ribbon by Pompom Blossom (image by Pear Bear Photography; cake by Cottonwood Bakery) | Bottom right: Crown Cake Topper by The Queen of Crowns
Love this look? For more fine art wedding inspiration, check out these gorgeous Instagram feeds from fine art wedding pros and bloggers:
Save