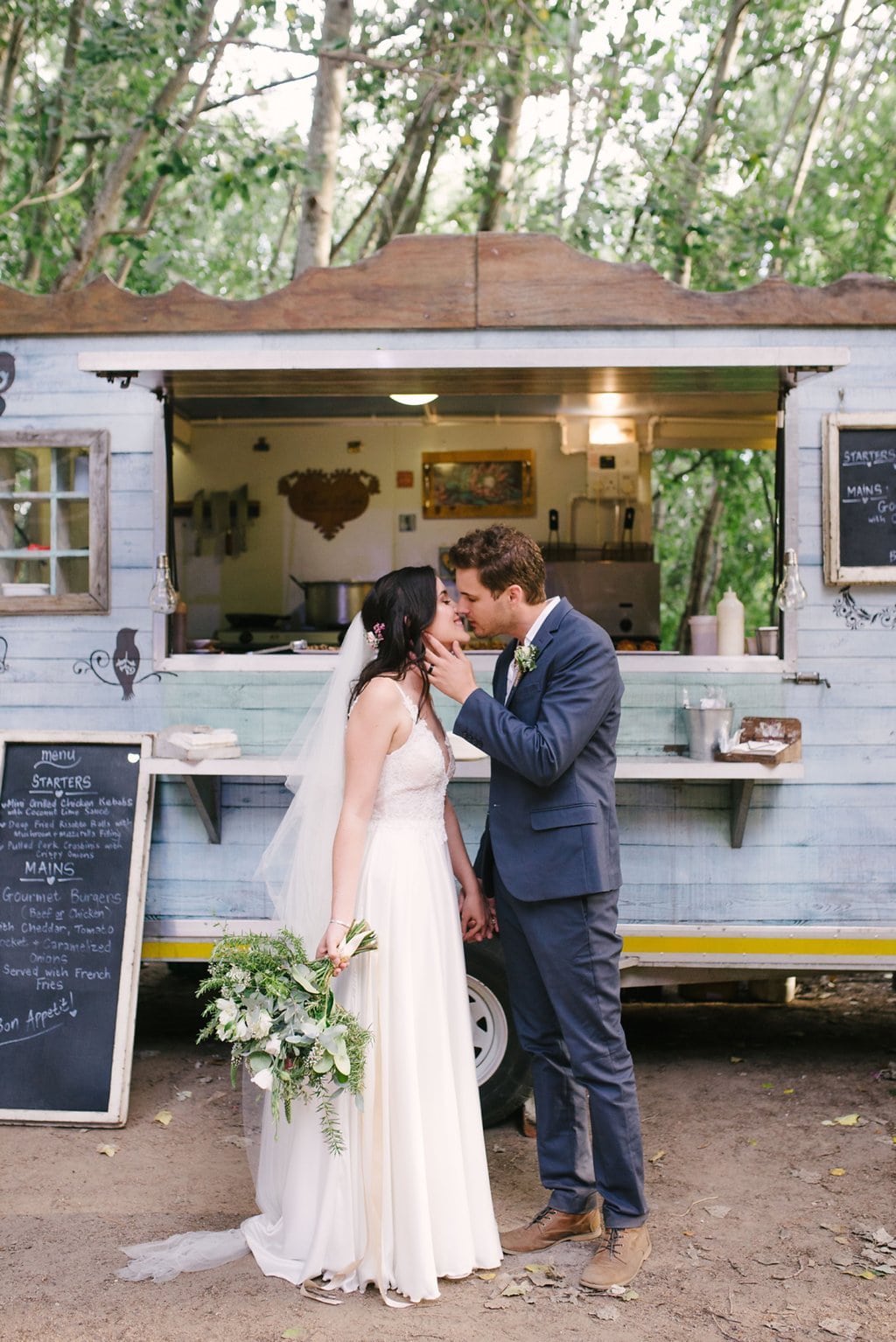 In an enchanted forest setting, surrounded by their nearest and dearest, Kelly and Shaun's dream wedding came to life. The couple decided to do as much as they could themselves, bringing their personalities into every detail they handcrafted and styled for their woodland ceremony and reception, from decor to favours. Love that! And I also LOVE that they decided on food truck catering, because OMG how fun, right? Forests and food trucks – two of our favourite things. No wonder there are so many happy smiles in these gorgeous pics captured by SBB fave Cheryl McEwan. Let's take a peek shall we?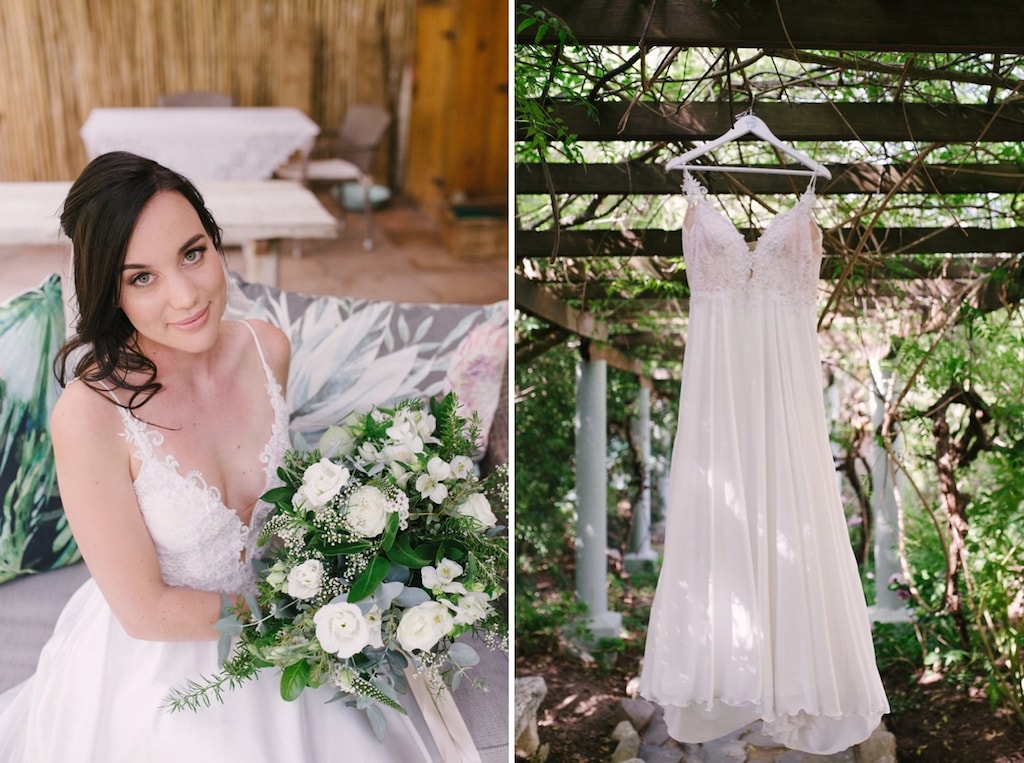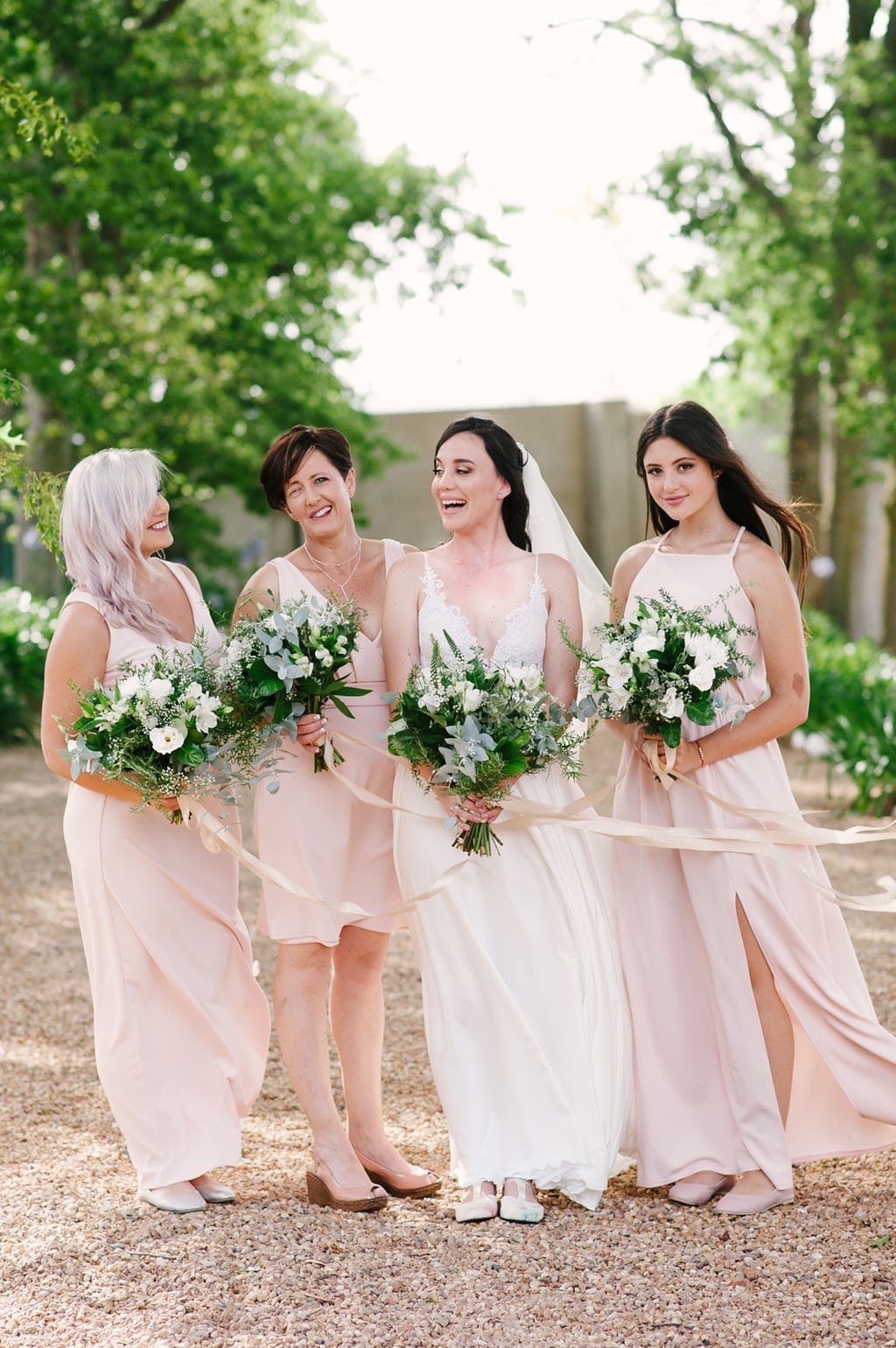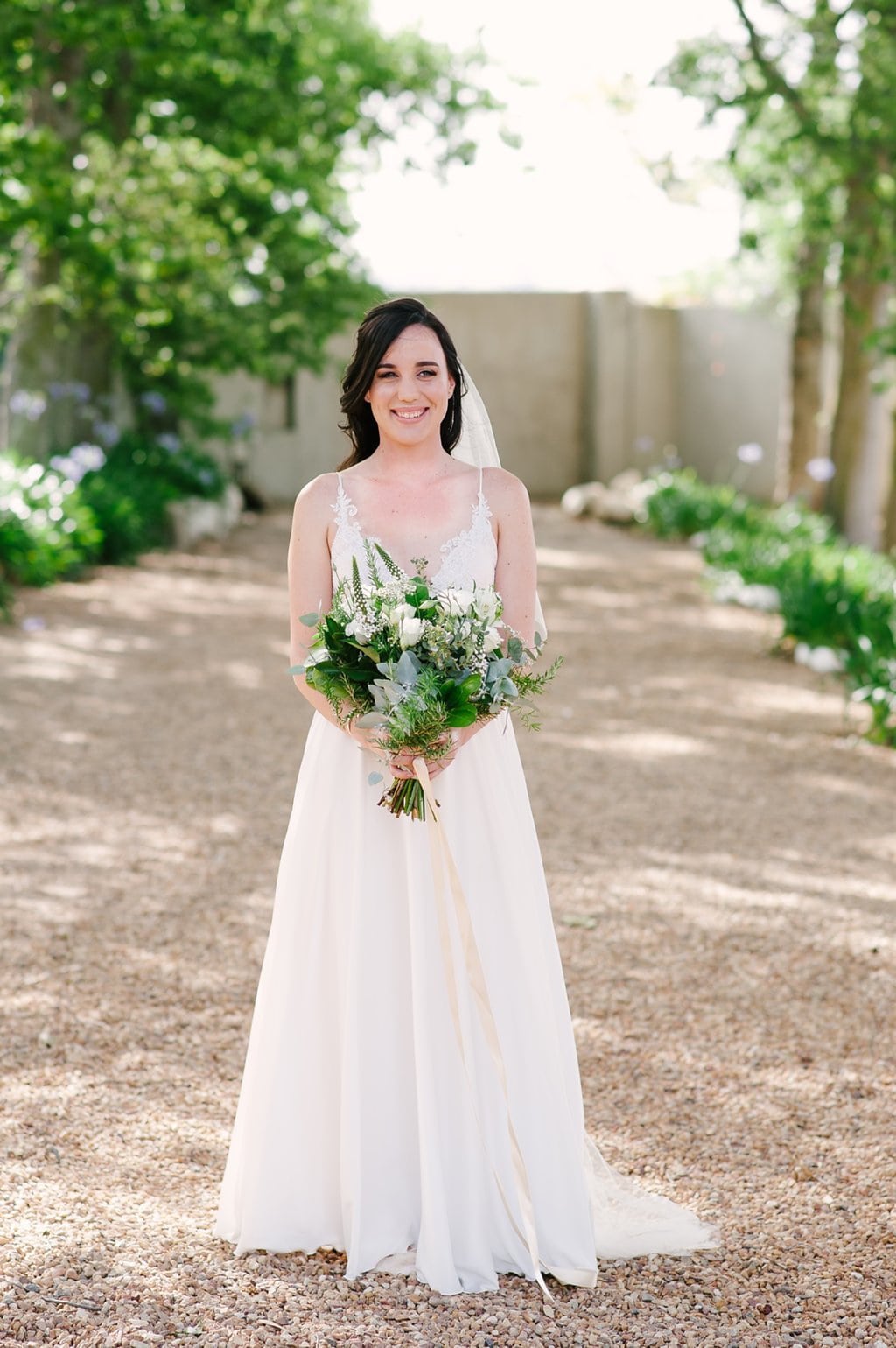 Love Story
A Facebook invitation from a stranger who had mutual friends turned into many late night conversations and eventually number exchanges. We ended up meeting one night out at a local pub (not romantic at all) but we made up for it with many date nights afterwards ;)
The Proposal
After a year of dating, Shaun had planned a nail appointment for me as a gift. I was adamant that I wanted to rather use the money elsewhere, because it was December and so close to Christmas, so I asked him to cancel. I then received a message from my sister to say that she had arranged a nail appointment for me as a gift as they were going away for Christmas and I wouldn't see her. Afterwards, I was handed a small card and two bottles of water. On the card were a list of ten steps to follow and it was named the selfie challenge. It had some fun stops on it like "take a photo of yourselves outside of the place where you had your first date". This took Shaun and I around Somerset West to a number of sentimental spots, yet I still had no clue that Shaun was behind it all. Our last stop was the nature reserve where balloons led us on a path to a beautifully set up picnic with the works! There were balloons and a blanket with a basket with champagne. By then I was thinking that I really owe my sister for going all out on this Christmas gift. Shaun and I sat down and he started unpacking the basket, asking me to see what was in each box. He then pulled out the ring box and asked me to look inside and there was my ring! He was down on one knee and asked me to marry him.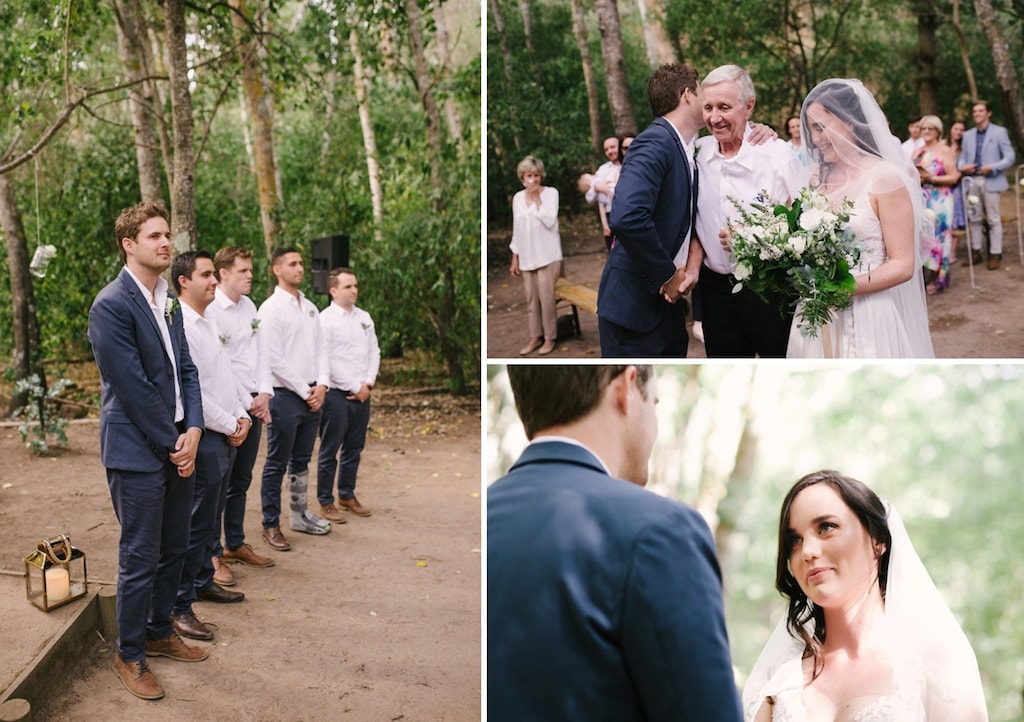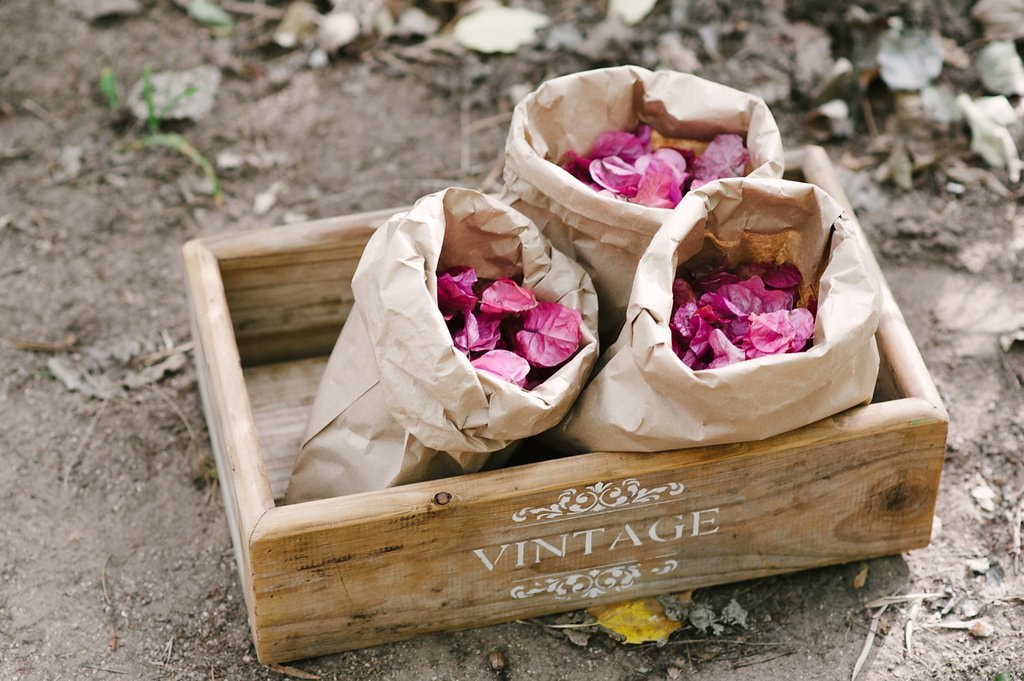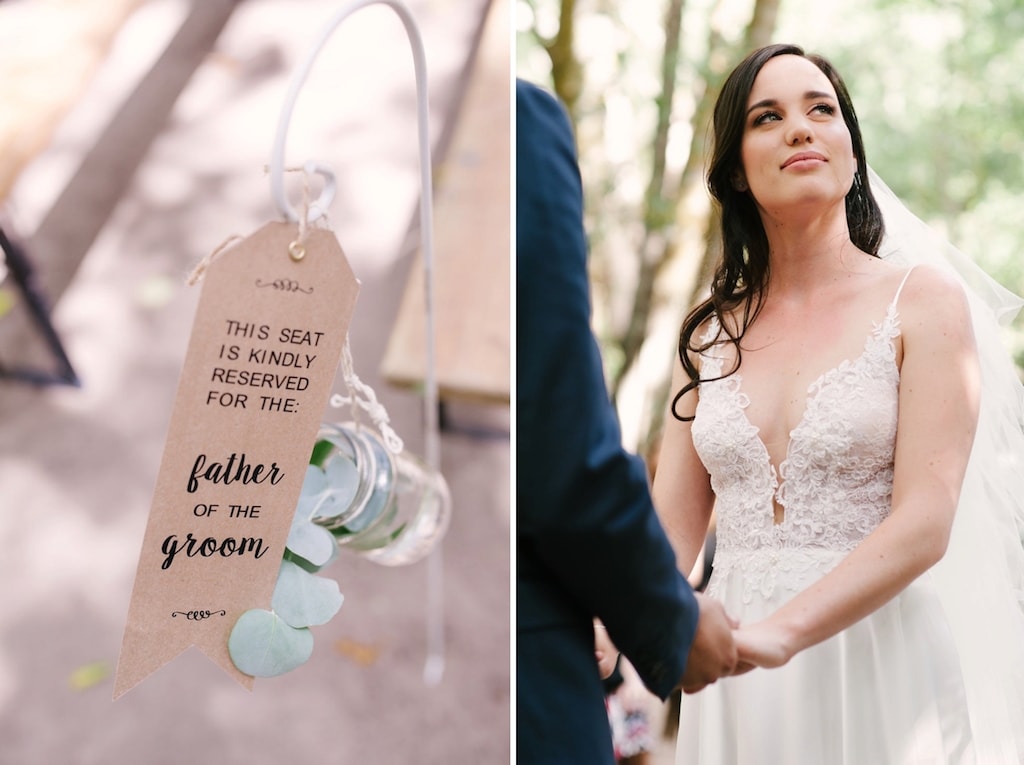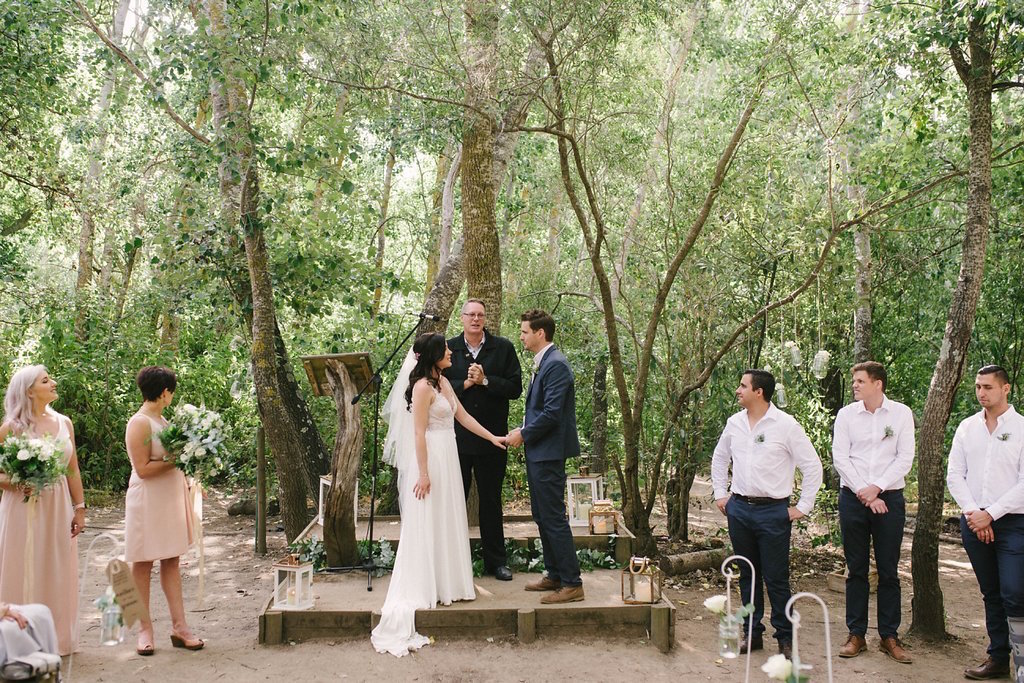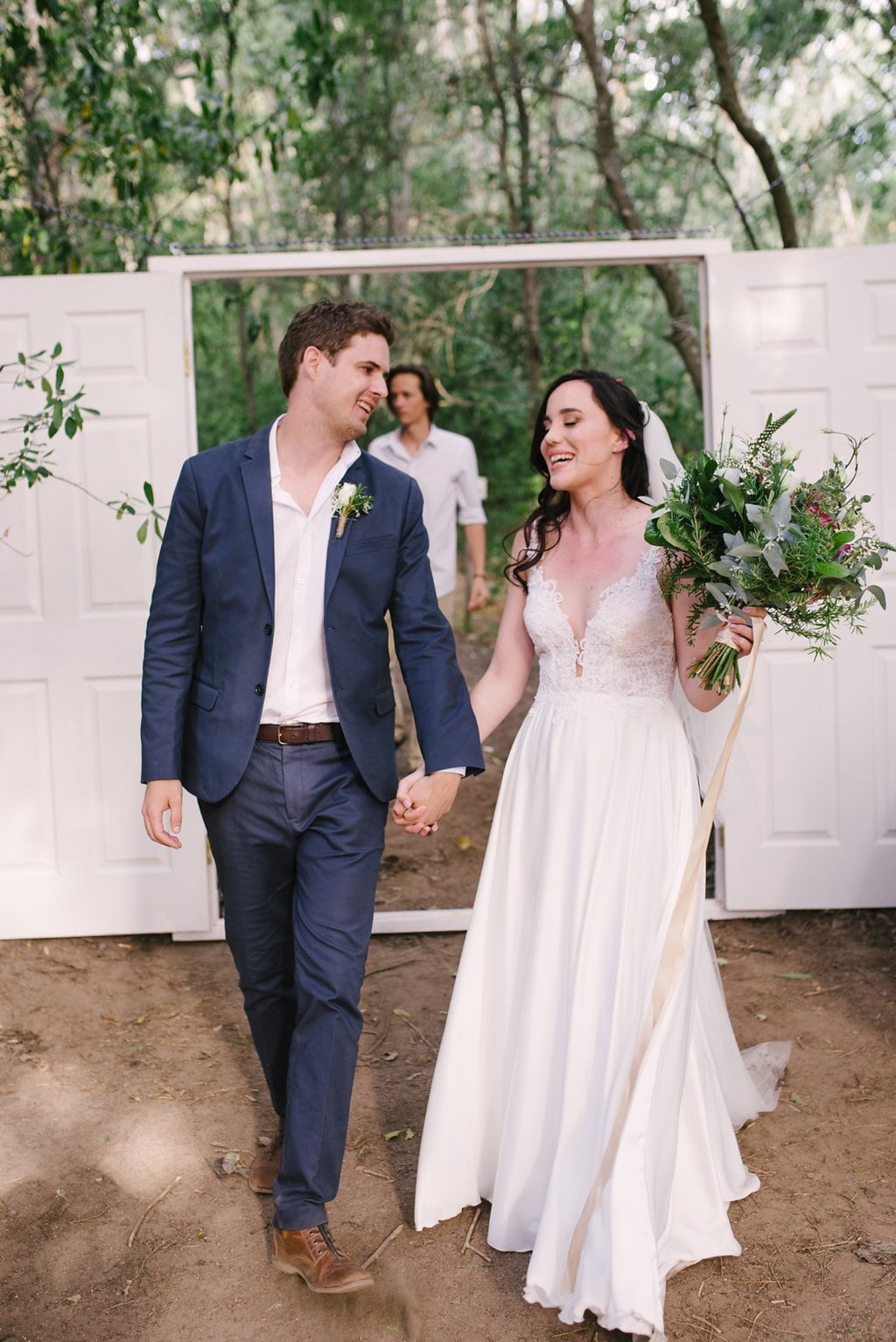 The Venue
I think the venue was a no-brainer for us. We both wanted to be outdoors and we loved the idea of getting married in a forest. We visited our venue and could envision our wedding day. It was the first and only venue we looked at.
Wedding Style
We wanted to show the beauty of the forest as naturally as possible so we decided to keep everything as down to earth as possible, from the table decor to the colours. We wanted a natural theme with hints of boho, so we kept the tables bare, the chairs minimal and the table decor natural by using plenty of greenery, beautiful coloured glass vases and our handmade wooden place mats. The colours were neutral (greenery and white) with a variety of coloured glass vases that we had collected from antique stores, and blue wine glasses. Clear glass jars of all sizes held small candles in between the greenery and added ambiance. We also added some moss in between as another detail. It all worked well with the lovely gold tone from the honey jar favours and our handmade wooden place mats.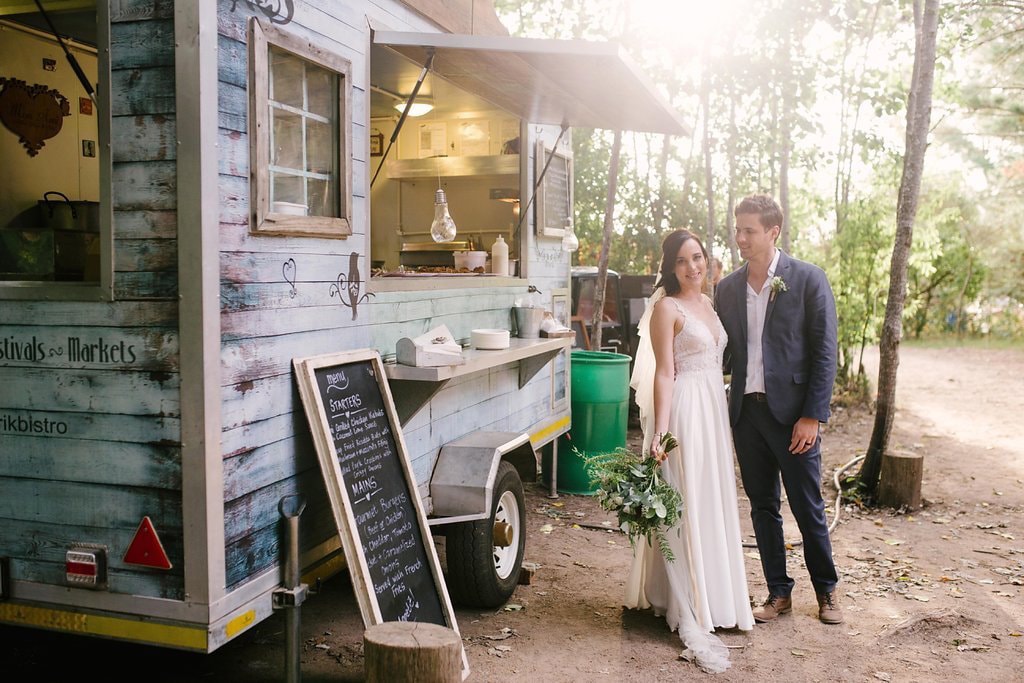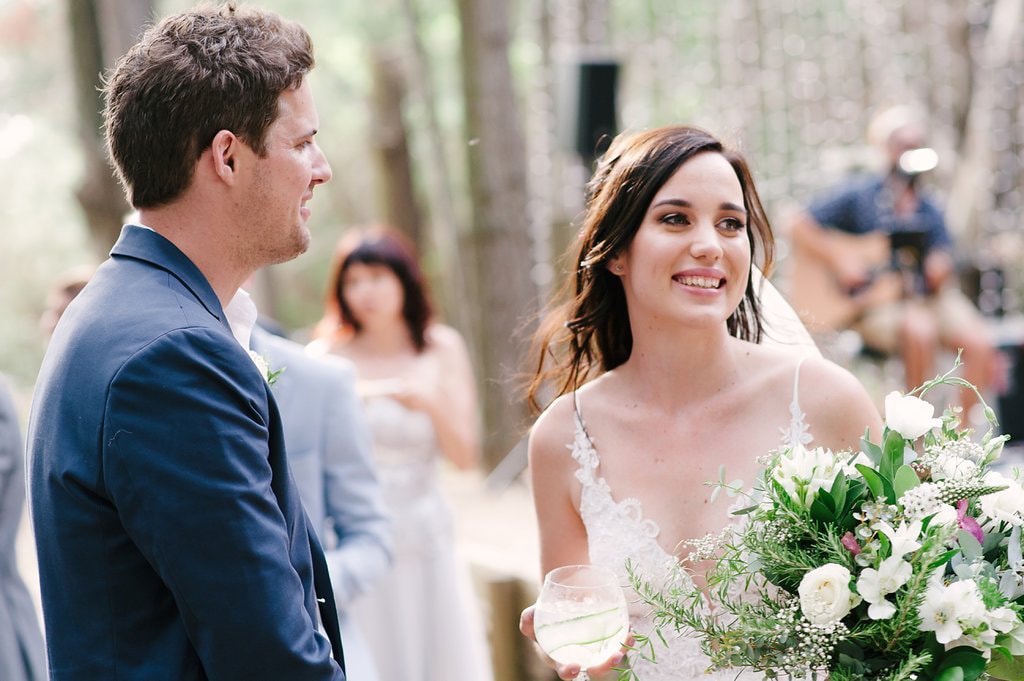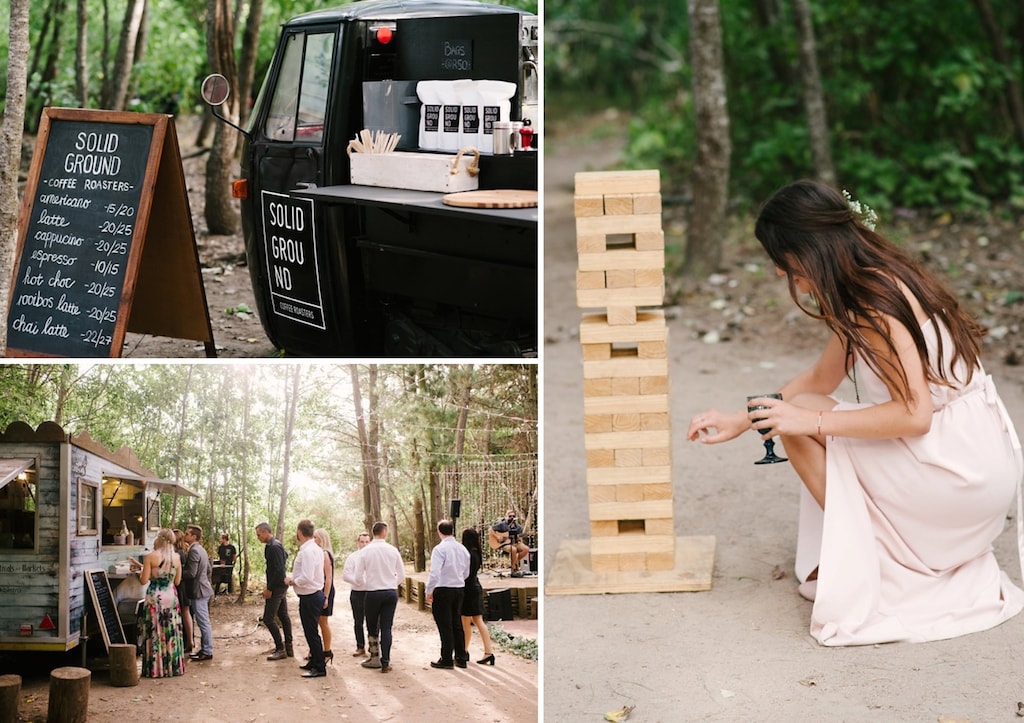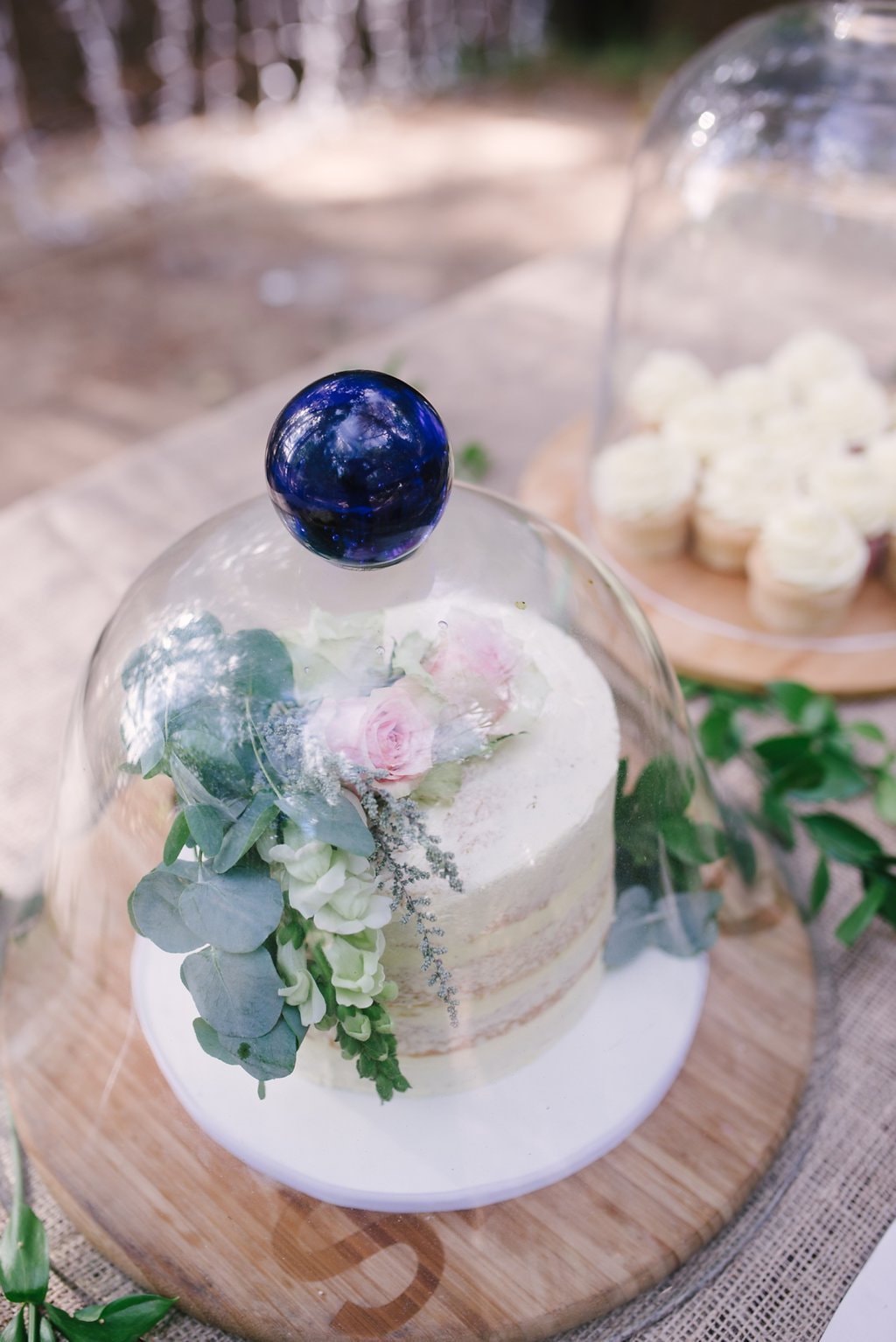 Wedding Details
We both loved the food truck and coffee truck. We are big on experiencing food, trying different restaurants and food and going out for coffee on a regular basis. This was also fun and quirky and I think it reflected us both as a couple. We wanted something laid back but also different for our catering and also, with our venue, it worked out so well as we didn't have to worry about bringing in cutlery and crockery – winning!
DIY Elements
Shaun and I had asked his father to cut us wooden place mats, which we spent hours sanding and I hand painted everyone's names onto them. We used these so that people could find their seat instead of using a seating chart. We made the tipi too, by collecting three long branches from a Blue Gum Forest and wrapping the material around it. We had also put a wooden sign together as a welcome sign. It was once a wine rack which had broken, so we glued the pieces together and I painted a message onto it. We designed stickers for our wine bottles and favours and filled the honey jars ourselves, and covered the lids to make them look authentic, as if they had just been bought from a honey farm.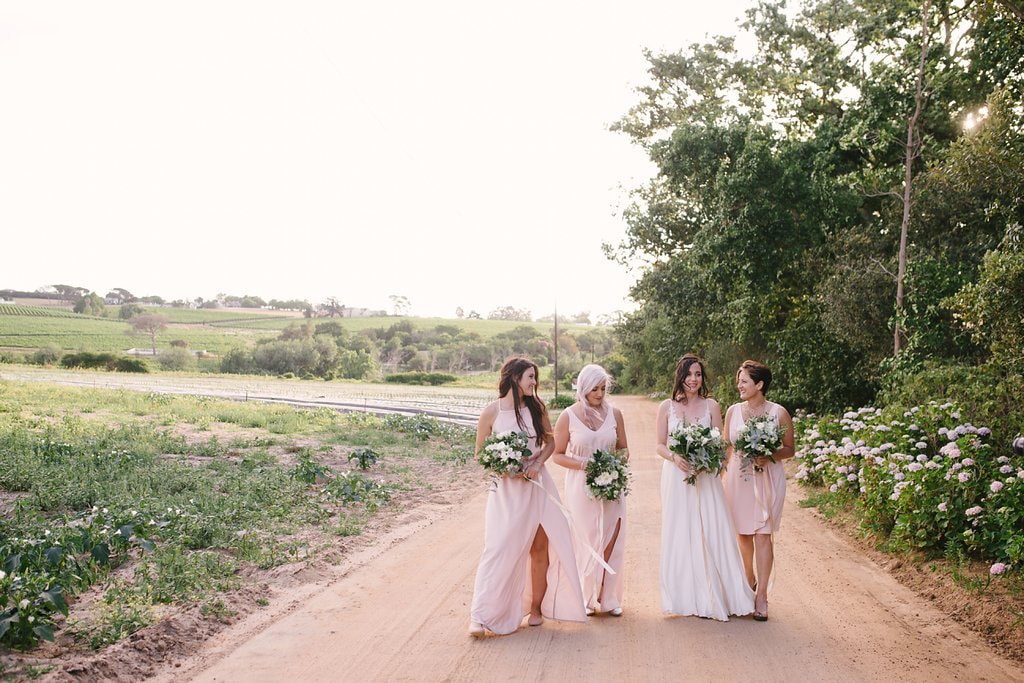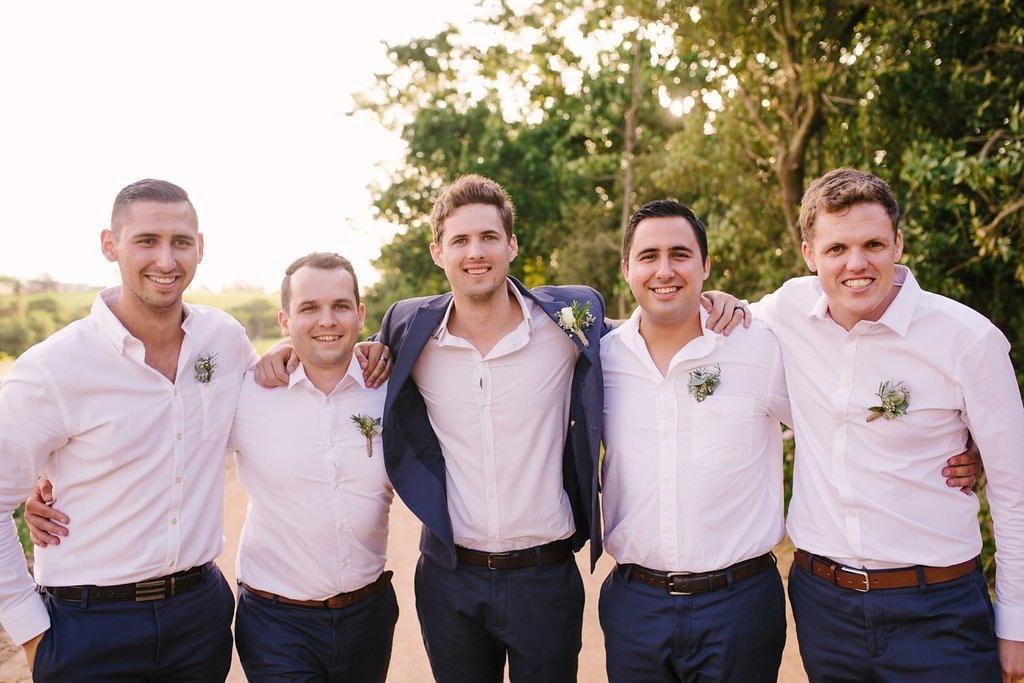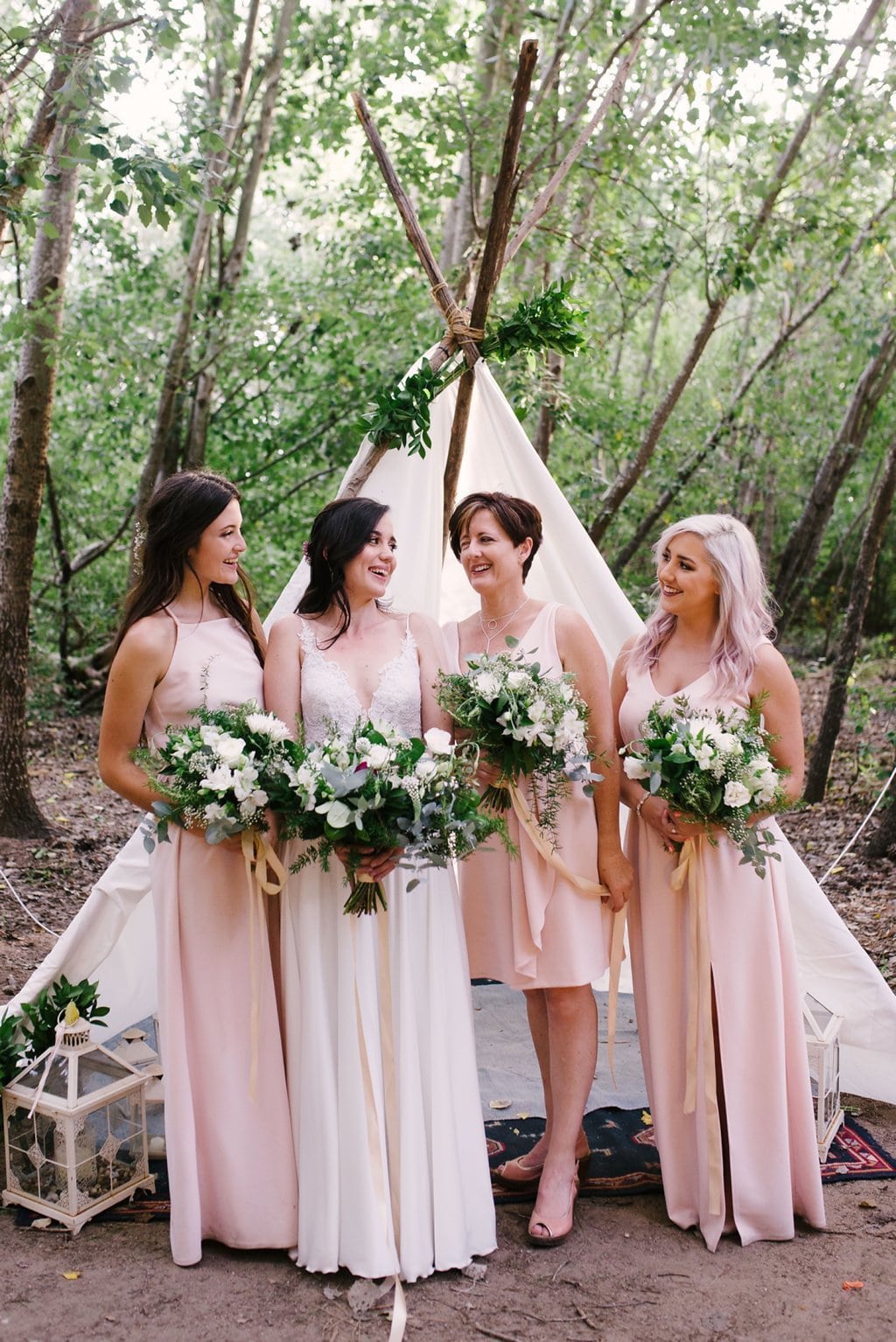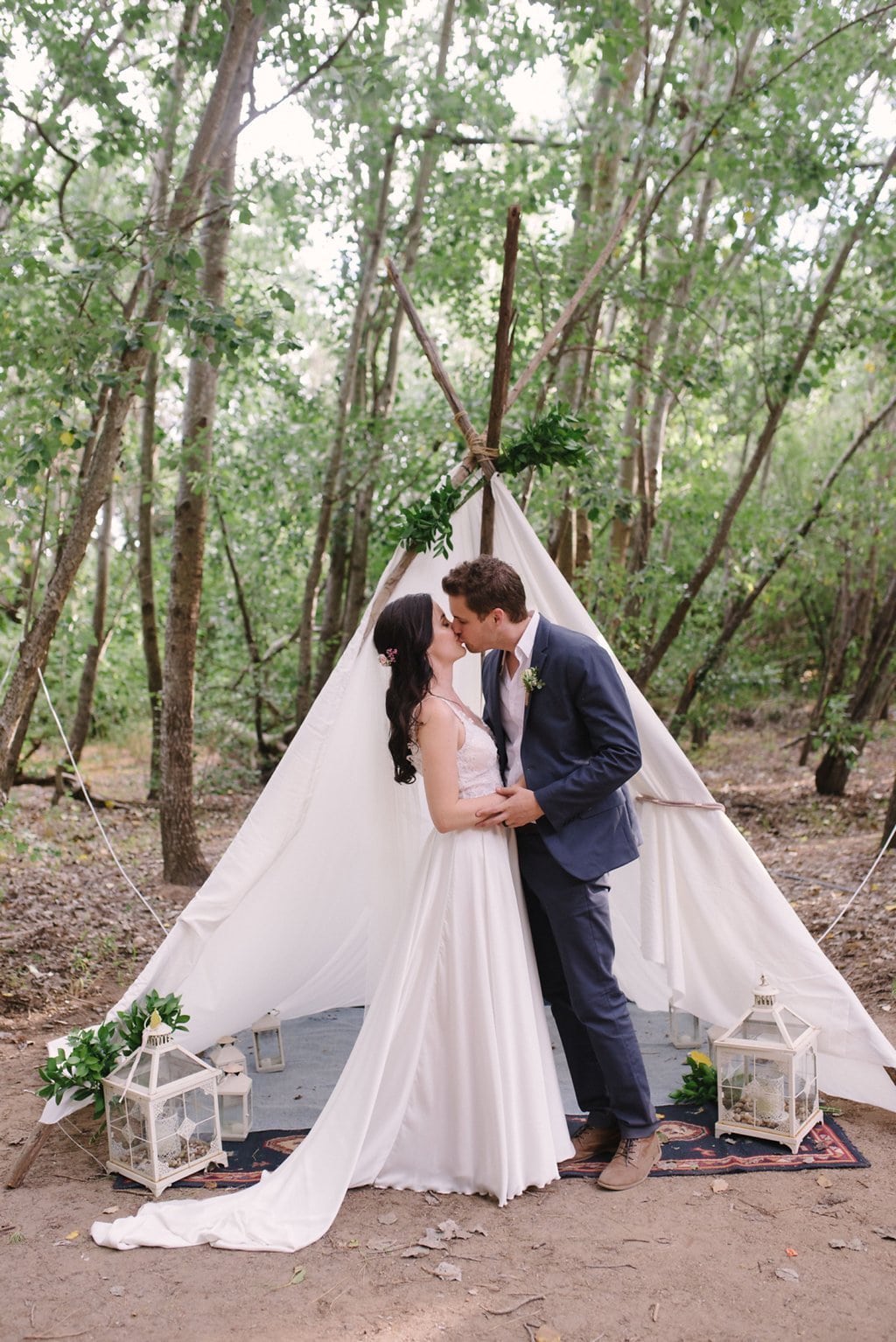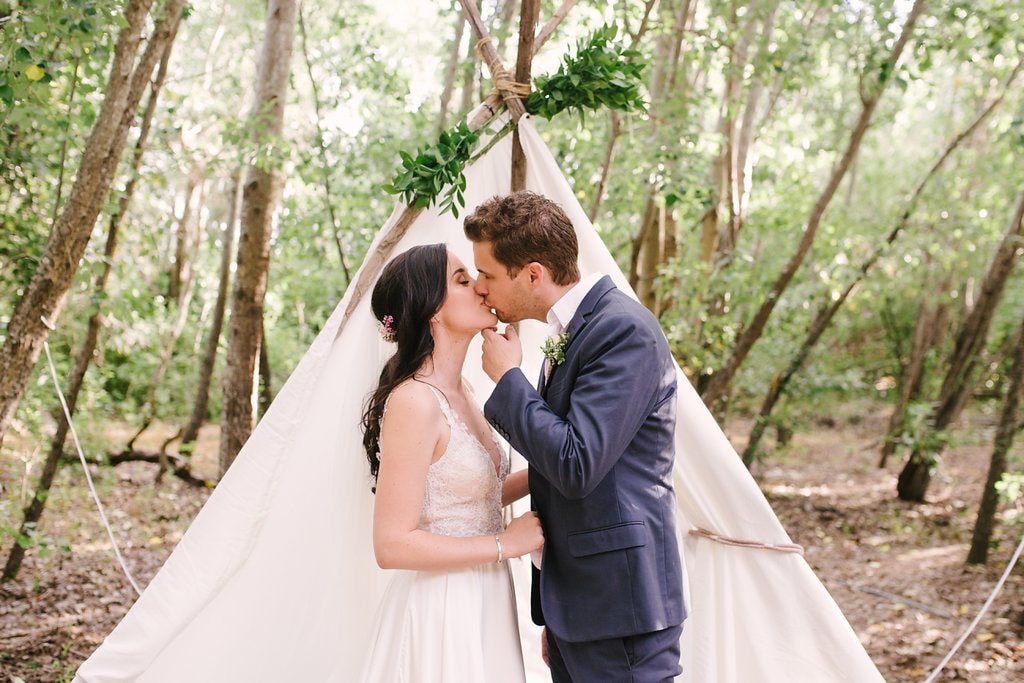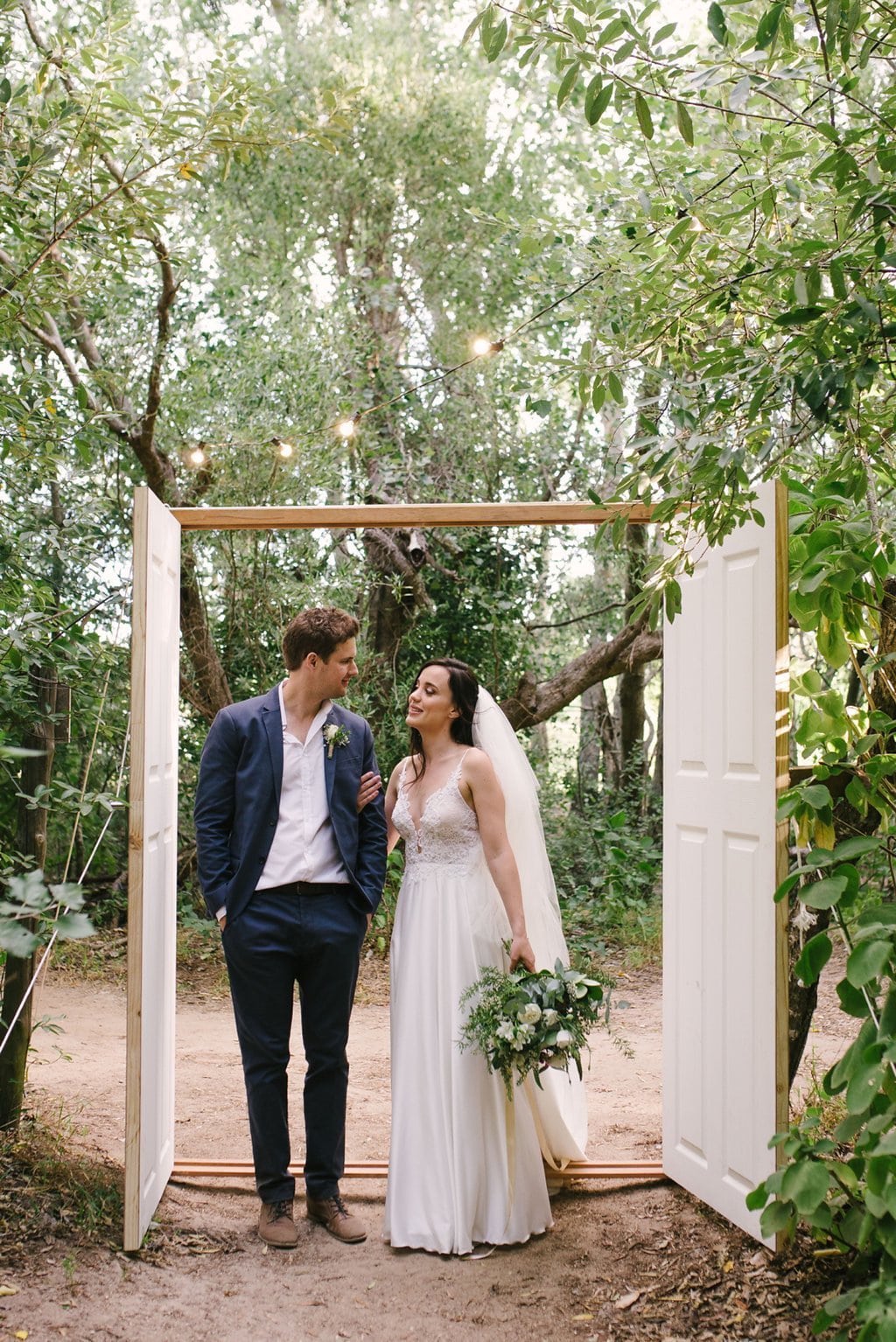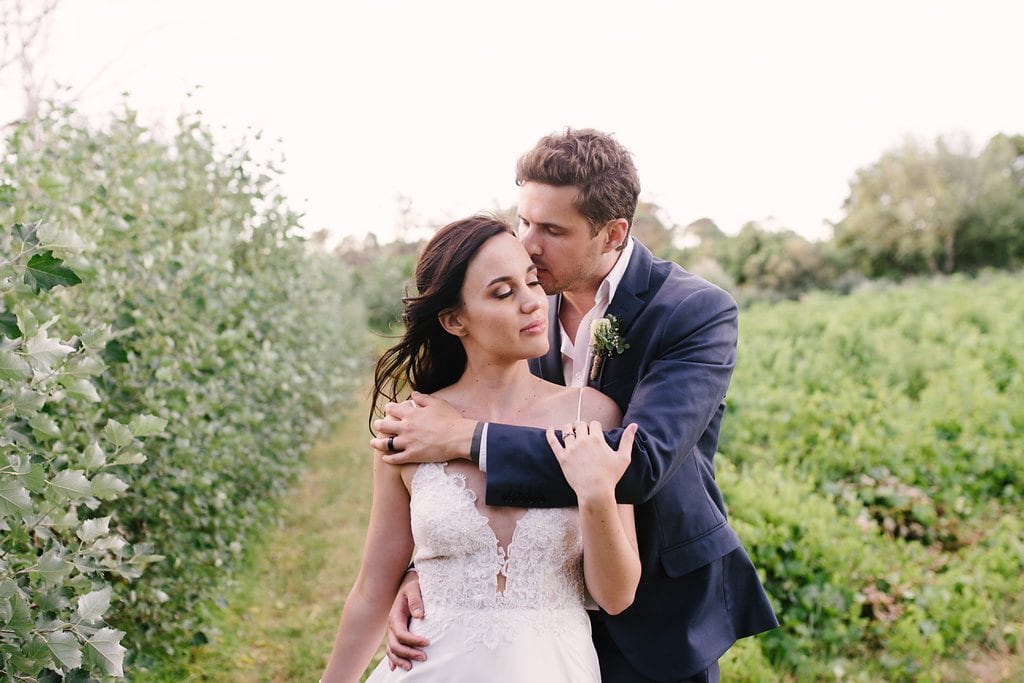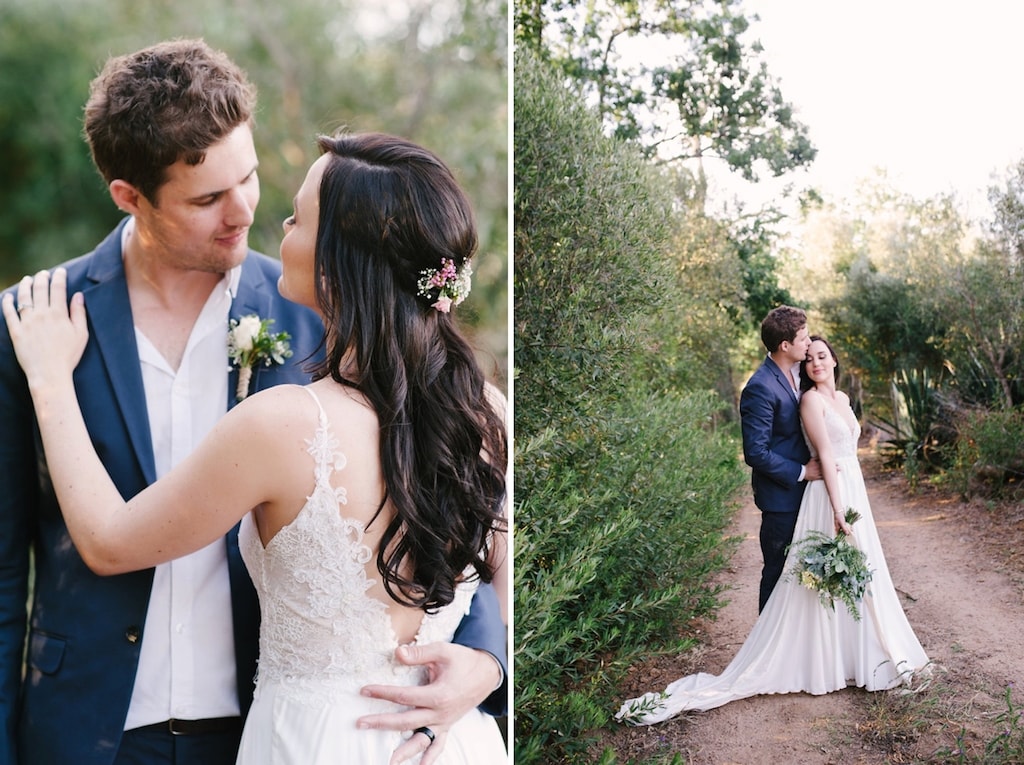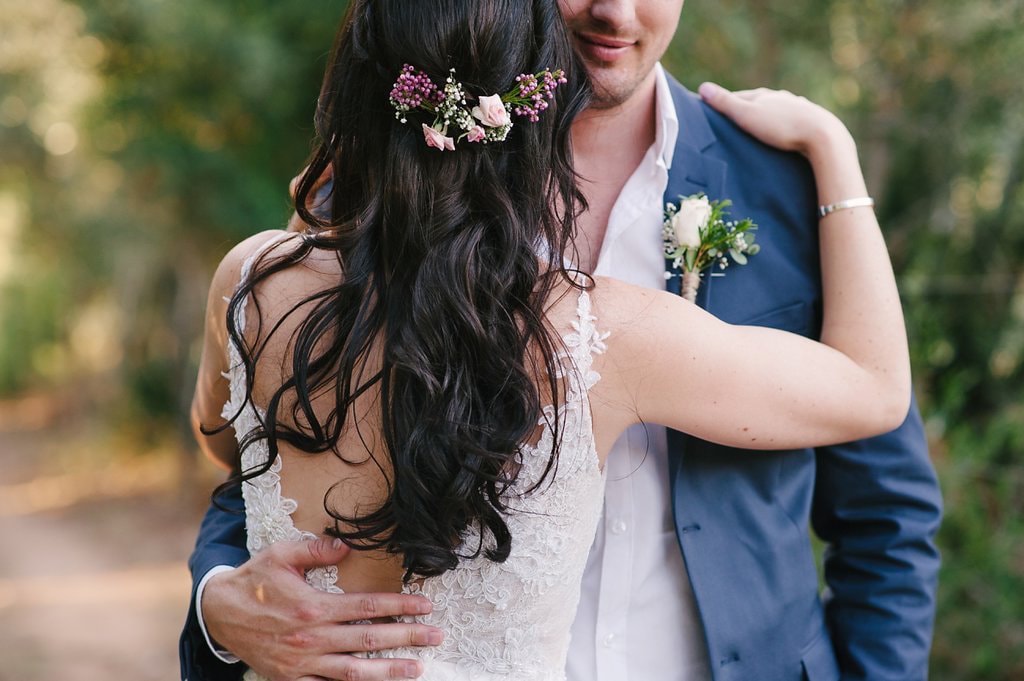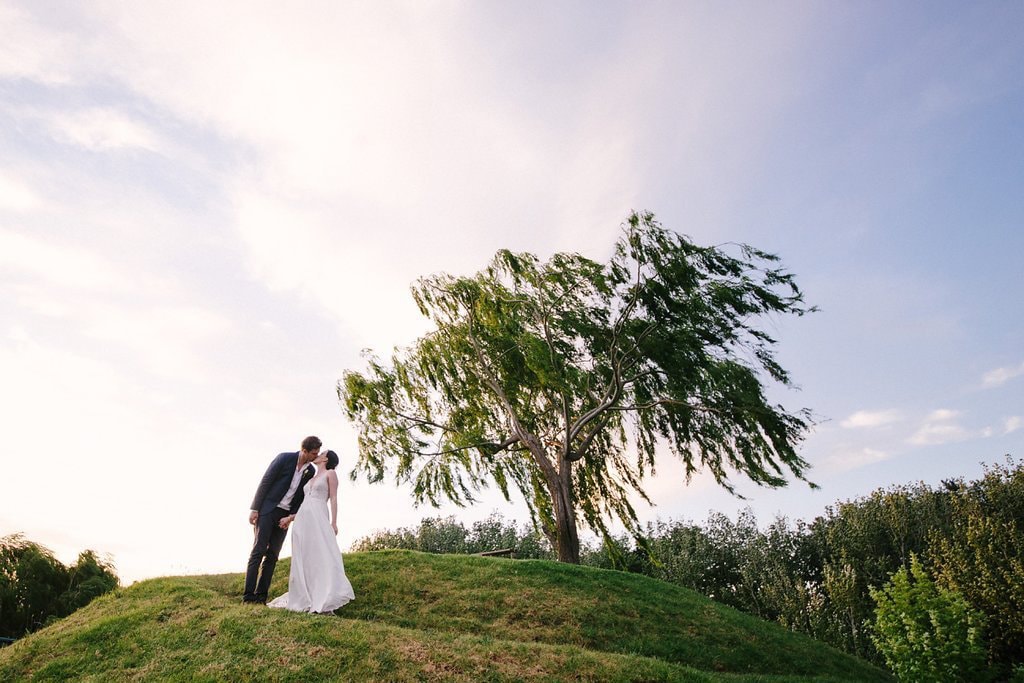 The Dress
I actually spotted my dress at the Canal Walk Bridal Expo. It caught my eye and was the only one I could see suiting me. I had gone to other bridal gown shops to try dresses on and nothing really wowed me. I made an appointment with the boutique that had that dress that was at the expo. I picked out a few options to try, as well as the one I had seen. It was the third dress I tried and I had the "this is the one" moment. I added a few personal customisations to it, some extra lace over the waist and buttons down the back to close up the zip.
The Bridesmaids
I had three. My sister as my maid of honour, my best friend, and my niece. We shopped around for material together and decided on a soft blush colour, as it compliments them all so well. They each picked a design that they liked most and had their dresses made.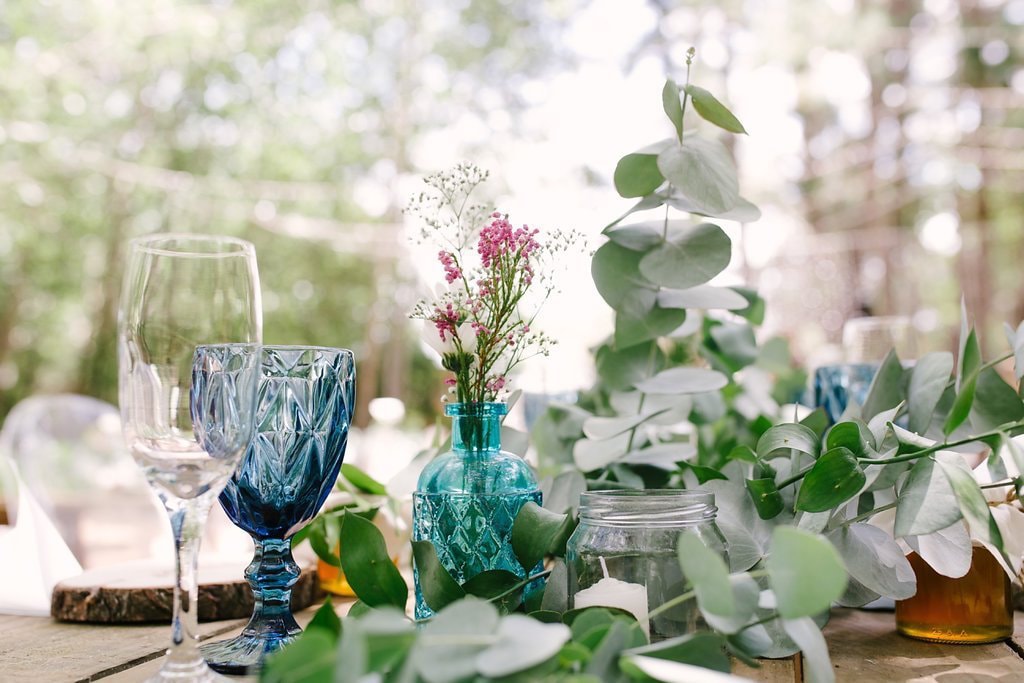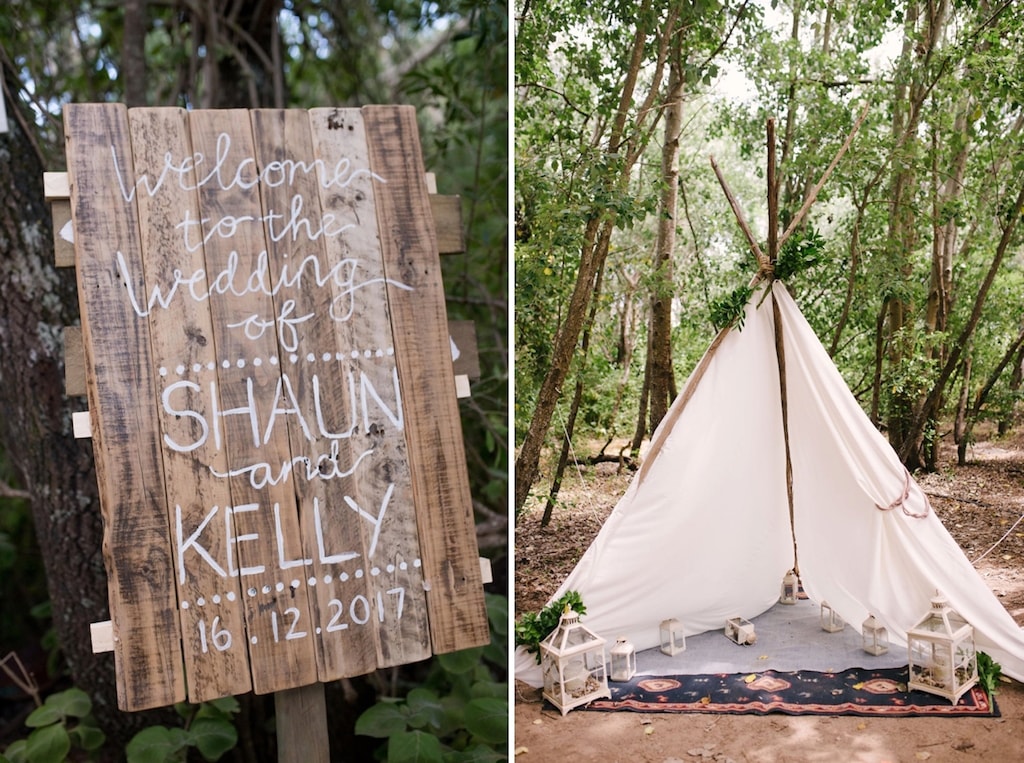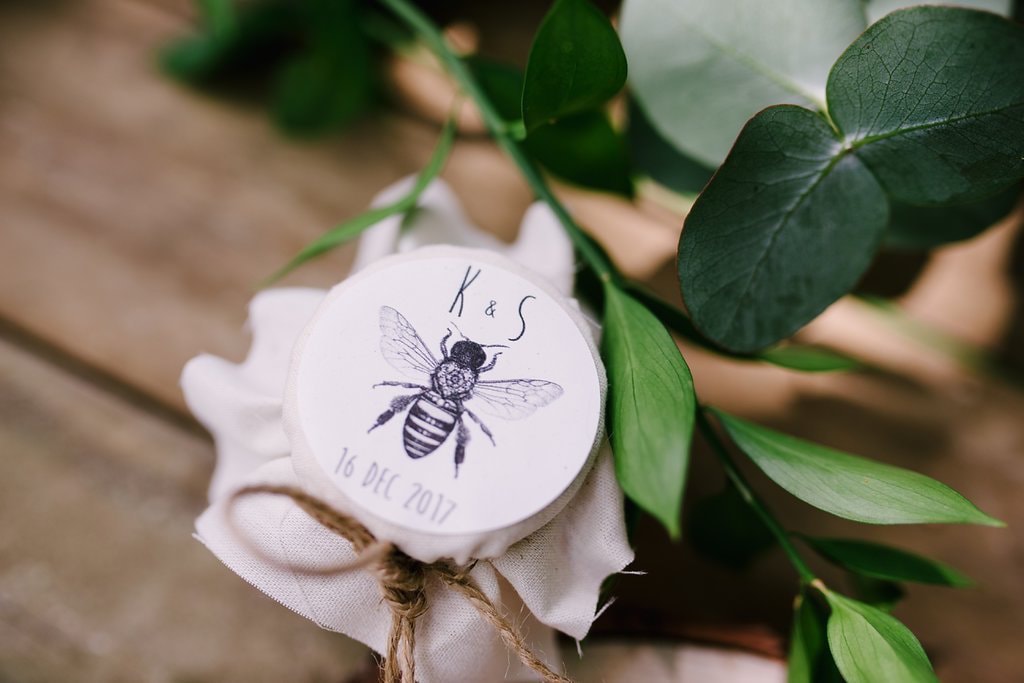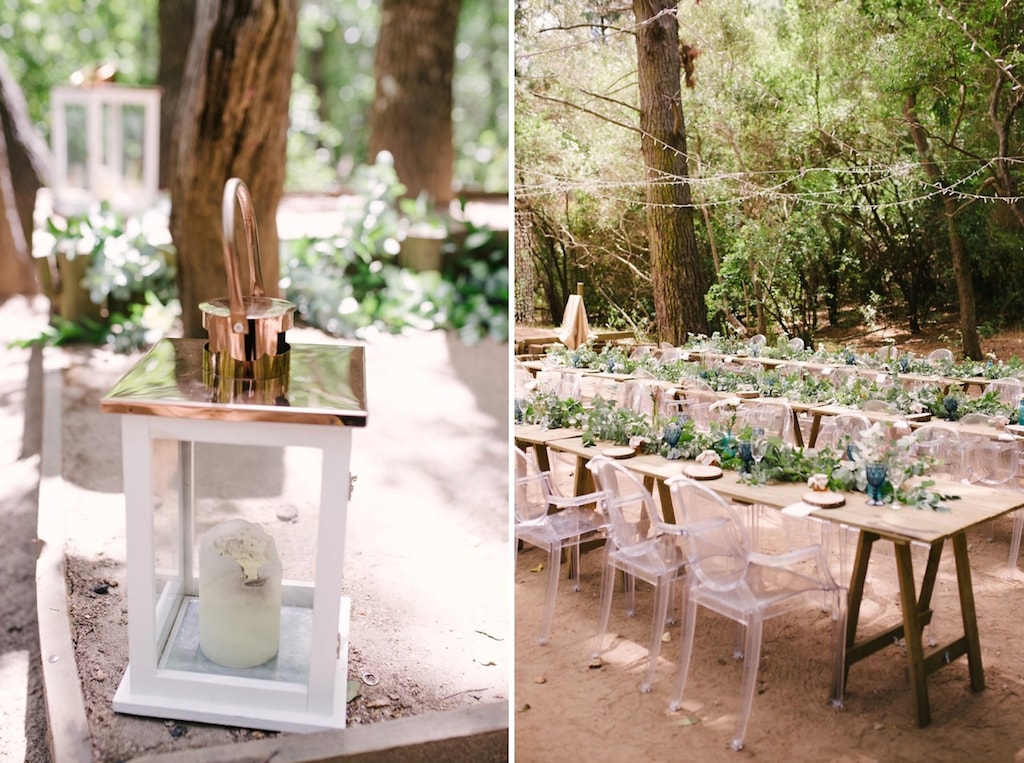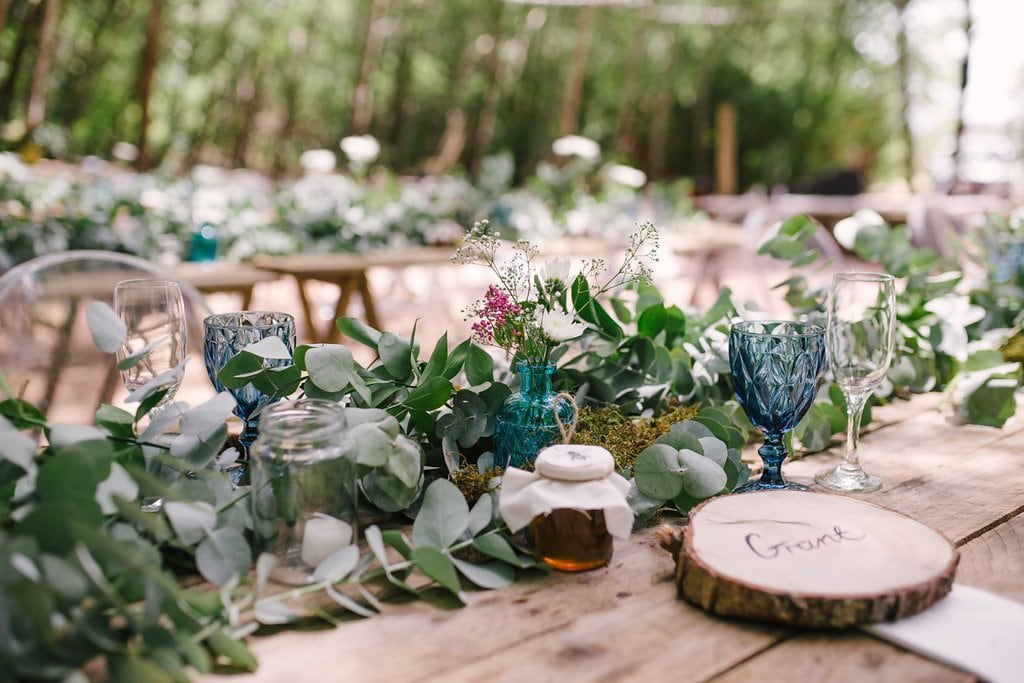 The Flowers
I asked the florist to make the bouquets look like they had been picked from a garden. I didn't want them to be stiff or too formal. She did an amazing job and picked a variety of greens and whites that worked perfectly together and looked so natural. We tied long ribbons on to the bouquets for an extra touch. I sourced the greenery for the tables and ordered enough to fill two baths. My mom set up the tables with the greenery and odd white stem flowers that were in the coloured vases.
Memorable Moment
It may be a cliche but our first dance together was most memorable. All our guests held sparklers, the lights were twinkling and we loved our song. We are not the best dancers so we decided to wing our first dance, which turned out to be perfect as we were giggling at each other and whispering to try and calm each other's nerves. When we took a moment to look over at all the tables, we saw how happy our loved ones were and it was just such an emotional and overwhelming feeling to see the support of our families and friends.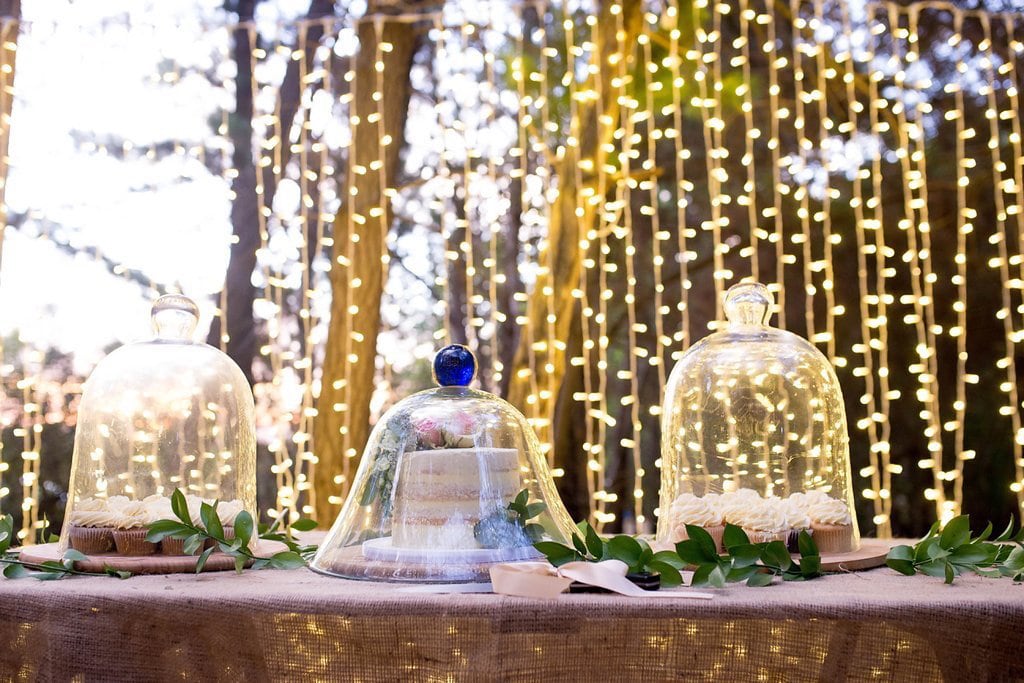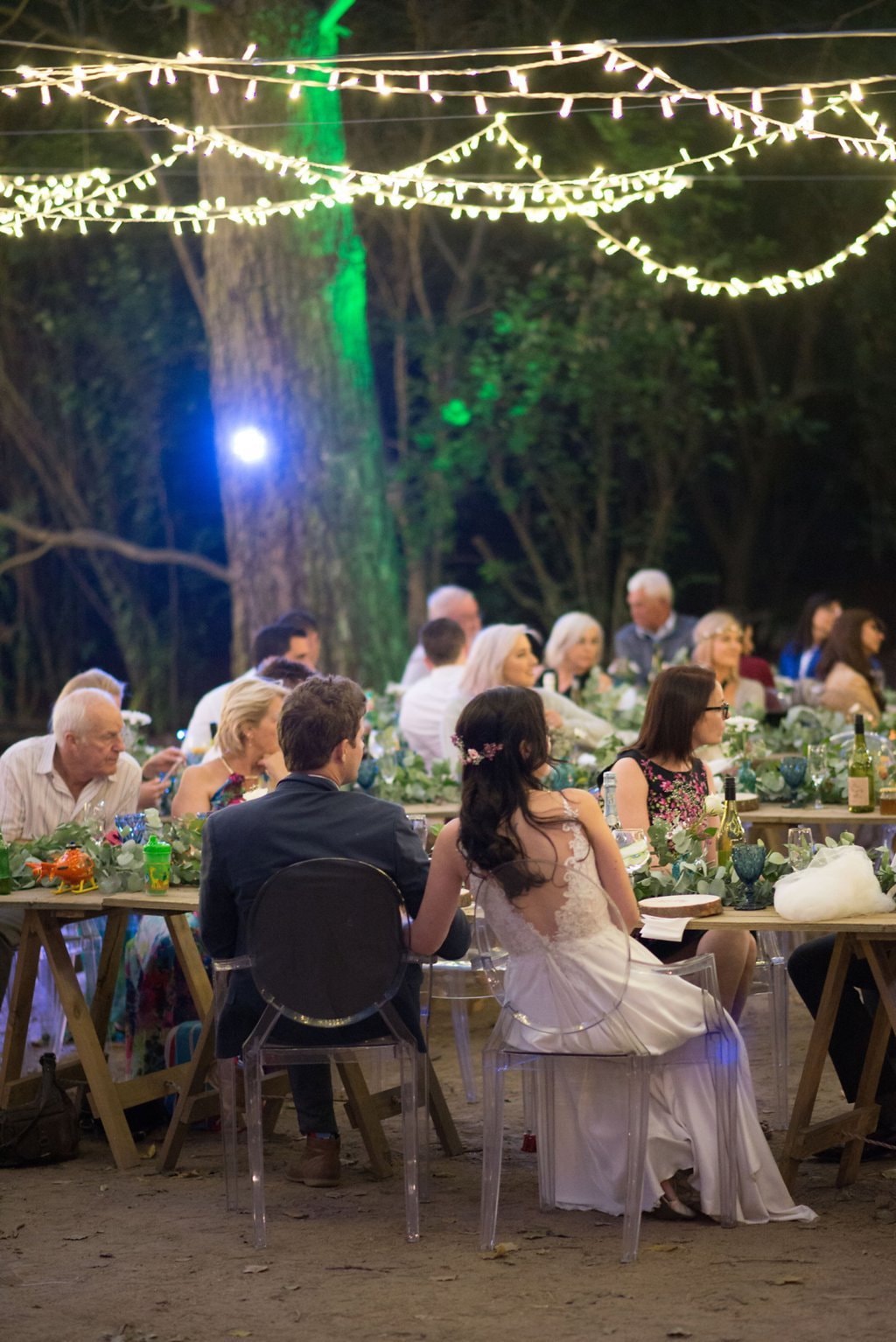 Best Decision
Planning it ourselves. From the tables setting to the dance floor and decor. You get exactly what you envision. Picking the right vendors too! It might sound crazy, but after all the stress and hard work of setting up and down, it was so worth it! My husband and I reflect on our day often and we are so proud that we accomplished it as a team and with the help of our families and friends.
Advice for Future Brides & Grooms
Be flexible about your ideas; things change or you may not be able to find something that you had in mind or specifically wanted but there will always be an Option B and sometimes that works out better than your initial idea. Plan your wedding for you. In other words, don't plan your wedding to please your guests. Your day reflects your personalities as a couple, so let them shine through.
You can see more from this wedding on Cheryl McEwan's blog.
SERVICE PROVIDERS
Venue & catering: Helderberg Farm | Catering: Mon Ami Food Truck  | Photography: Cheryl McEwan Photography | Flowers & décor: Annie's Flowers in Somerset West | Video: 25 Weddings | Cake: The Mixing Bowl Cake Company | Bride's dress: Tying the Knot | Bride's accessories: R Unique (shoes) | Hair & makeup: Peach Cronje | Bridesmaids' dresses: Gayle Wilkie Pure Bridal Studio | Groom's attire: H&M | Hiring: Something Borrowed (decor, glassware) + Makiti (seating area) + Lekker Troue (lighting) + Downings (dance floor) + Mac Style Hire (chairs)  + Something Borrowed | DJ: PJ Sounds | Entertainment: Chris Rain | Sound Engineers: Pierre de Villiers | Other service providers: Solid Ground Coffee Tuk Tuk