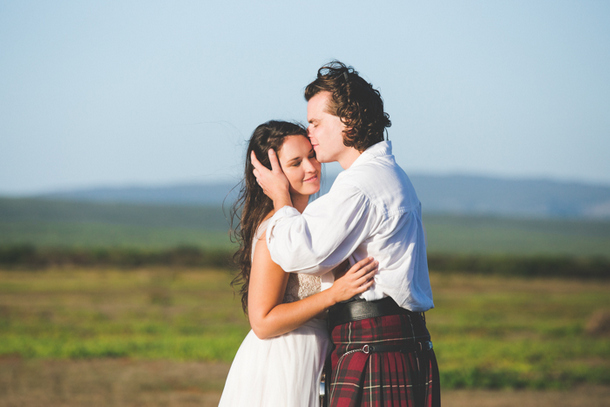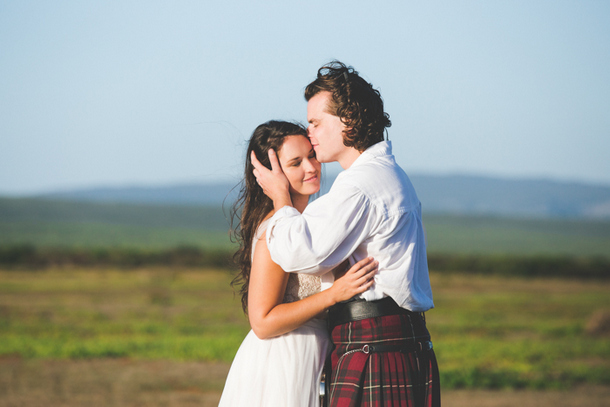 Well, here's something new – I've had grooms contribute to the questionnaire before, but never had a complete he said/she said view of a wedding. It just shows what a strong partnership Stuart and Stacey have, and how much their wedding was a mix of their personalities and backgrounds. Stuart is from Scotland, so beyond the traditional kilts (and let's be honest, men look faaaabulous in kilts!) there was Highland-style dancing, merrymaking and bagpiping unfer the night sky. Bringing up the South African end, there was braaing, kuiering and gorgeous natural fynbos covering the tables. It's like Rob Roy meets Jock of the Bushveld, in the perfect fusion of two lives and families. The lovely Tabitha of Illuminate Photography was there to capture every special moment.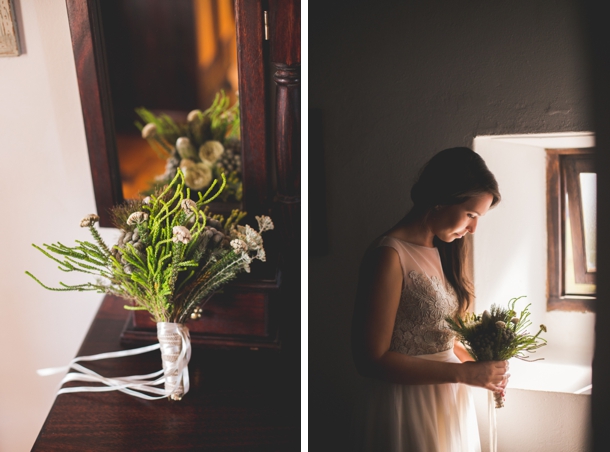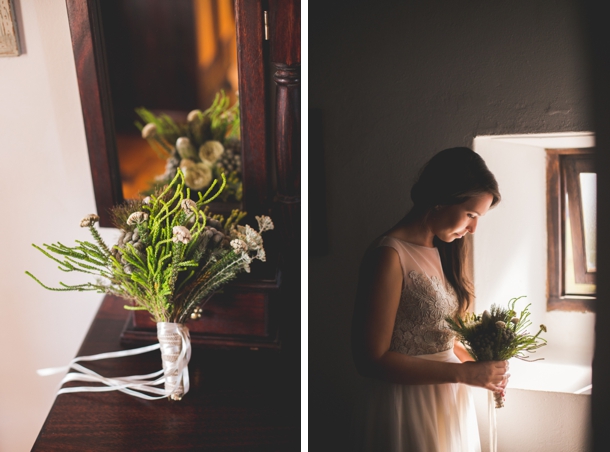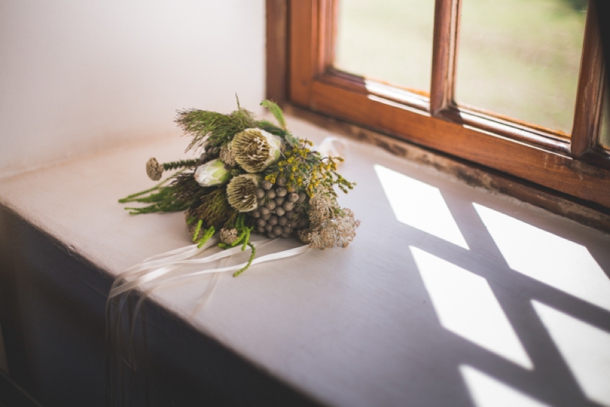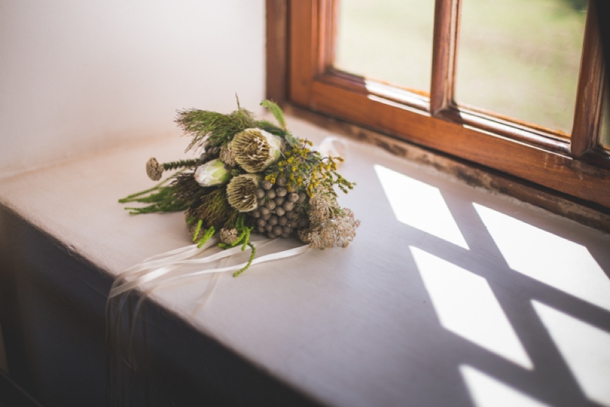 Love Story
HE SAYS: I was working on a contract that required me to finish at midnight each night. One night I got a call to join my friend at a cocktail bar afterwards – when I arrived, I found my friends sitting with two girls I didn't know. I got chatting to the young lady to my right, Stacey, and found out that it was her birthday and she had been out with her best friend for dinner and some drinks, and had popped into the cocktail bar for one last drink en route home, when they were 'attacked' by a group of guys, my friends. It began to rain, lightly at first – and everyone jumped out of their seats to move to shelter. I stayed in my chair, chatting with Stacey (I don't mind the rain, I am from Scotland after all!), and I noticed that she was not jumping up as everyone else was. We both sat there in the rain getting drizzled on and continuing our conversation. That is when I first looked at Stacey and realised she was different. We took the girls dancing and eventually I asked if I could kiss her, thankfully she agreed! We had a series of dates thereafter, and I couldn't believe this amazing woman was putting up with my crazy schedule. She would bring me dinner at the office and sit with me while I worked – we talked for hours on end. It was incredible. I knew then that this lady was different, that this could well be the 'one' for me.
SHE SAYS: We met late one night at Asoka. We talked all night. The rest of the world just disappeared. Stu is the most amazing person I have ever met! Falling in love with him was the most natural, easiest thing ever. He is my best friend.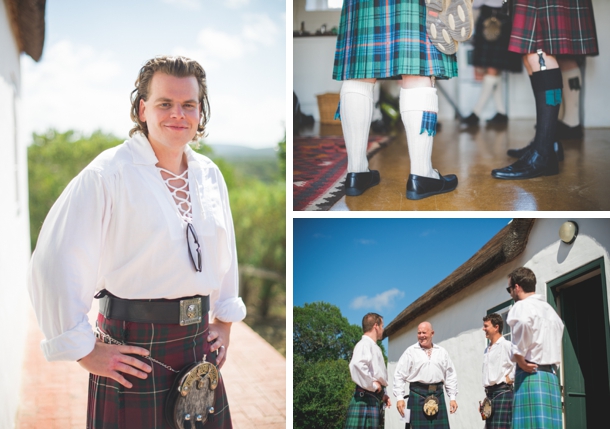 The Proposal
HE SAYS: I took Stacey to our favourite restaurant in Cape Town, Hussar Grill in Camps Bay. I don't believe in proposing in public – it screams 'hey, look at us!' (a personal perspective). We had dinner and I wanted to get home and put on a Florence and the Machine song that we both loved and get down on one knee. I got us a glass of wine, put on the song and we chatted. The song ended and I had not asked! I had a million butterflies choking up my throat, so after a large gulp of wine I put the tune on again. Stacey looked at me with bewilderment – she must have thought I was such a weirdo. I fell to one knee, looked into those hauntingly beautiful and smiling eyes and asked the question. Stacey leaped on top of me and that was that!
SHE SAYS: Stu asked my dad, mum, brother and best friend individually for their blessing before he proposed. He didn't have a ring as his mum gave him her engagement ring for me (it was being polished and resized in Scotland) so the next morning we went to the antique market in Cape Town and picked temporary rings for each other. Stu insisted on wearing an engagement ring too! I love that about him.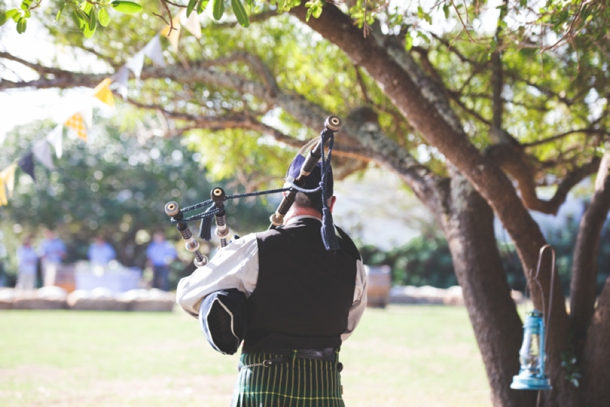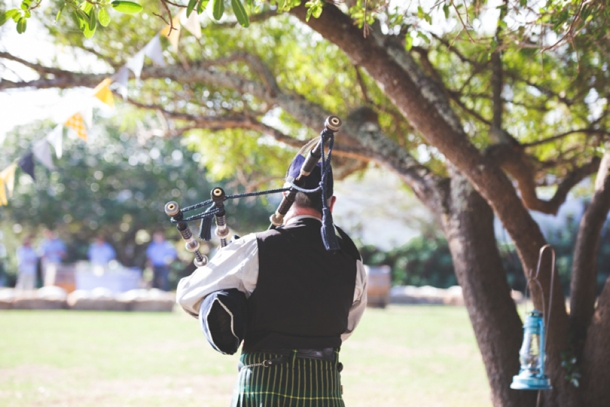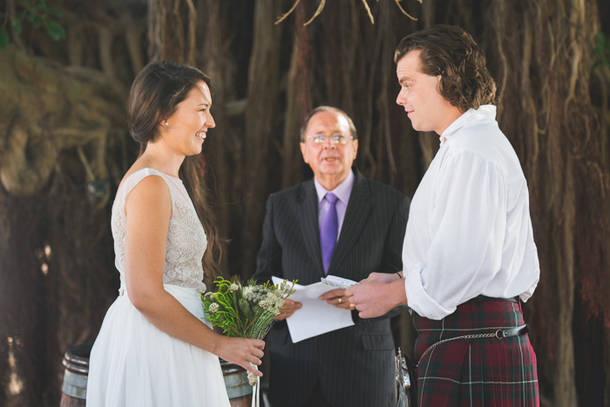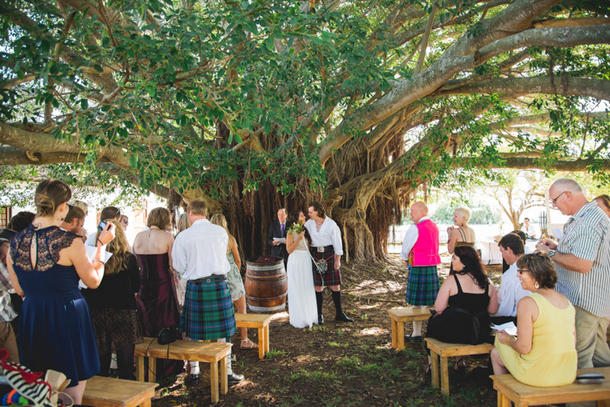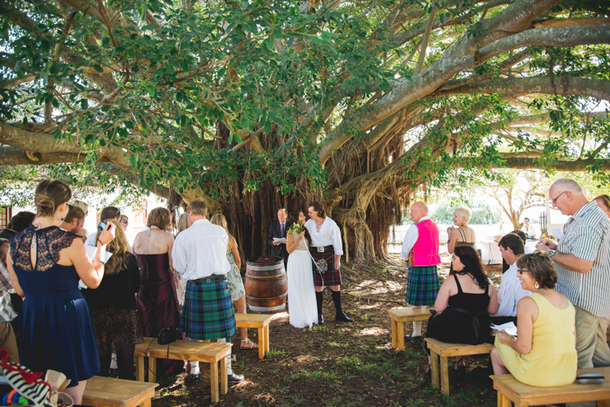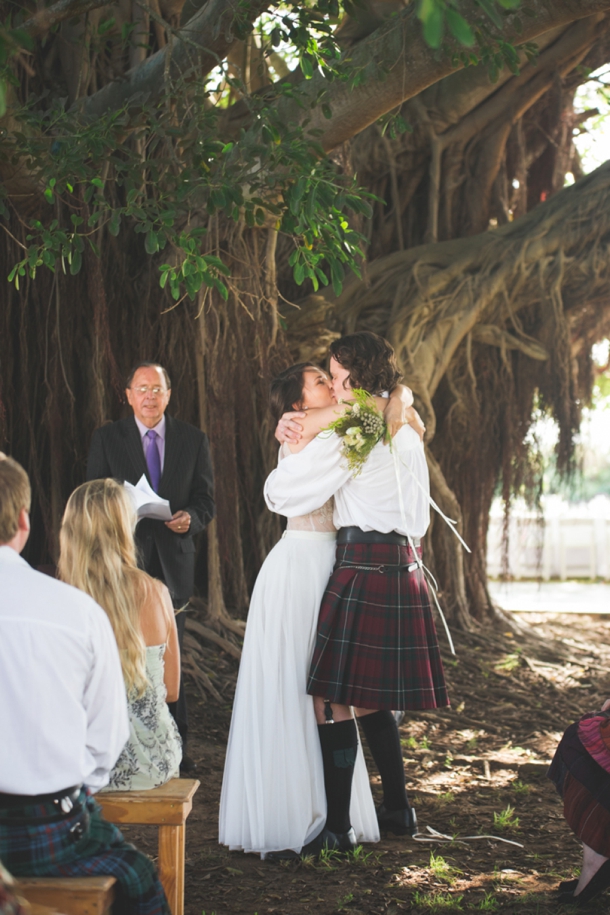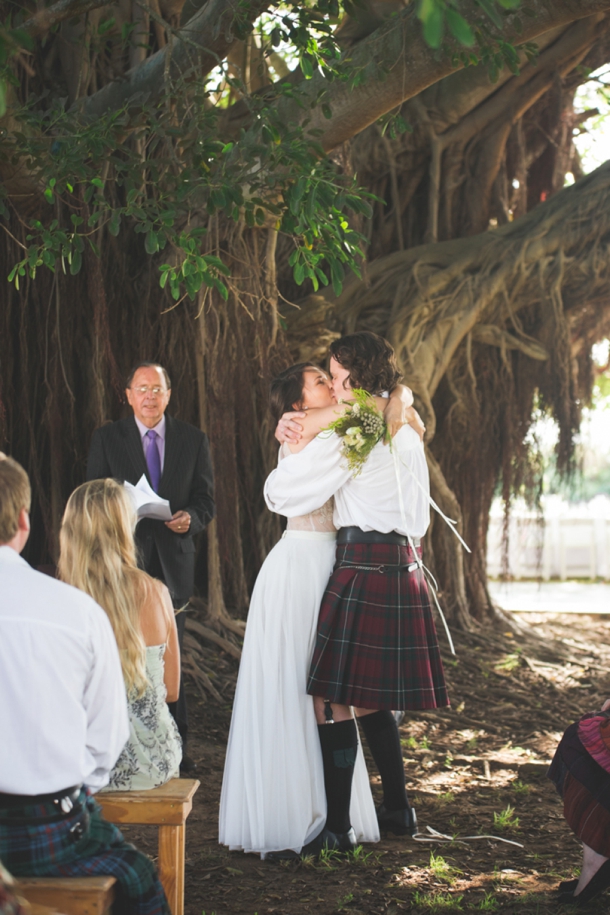 The Venue
SHE SAYS: Because we would have guests from all over the world (many had not been to SA), we wanted a weekend wedding venue where everyone could stay over and make the most of their holidays. I grew up going camping in De Hoop, and absolutely love the place. They offered us a free weekend to scout the venue, and even though I thought they would be completely out of our budget, I thought we couldn't miss out on that opportunity! We immediately fell in love with the idea of getting married under the massive fig tree. After meeting the De Hoop team and realising that they were extremely flexible and could fit our needs perfectly, the decision was made.
Wedding Style
SHE SAYS: Because our entire wedding was held under one massive fig tree we didn't need much. The theme was all natural except for the yellow and grey bunting (yellow being both our favourite colour, and bunting just creates such a happy vibe). Stu and I went to Fabric City and bought loads of fabric and I made 100 meters of bunting. This was the first thing I made for the wedding and kind of set the look.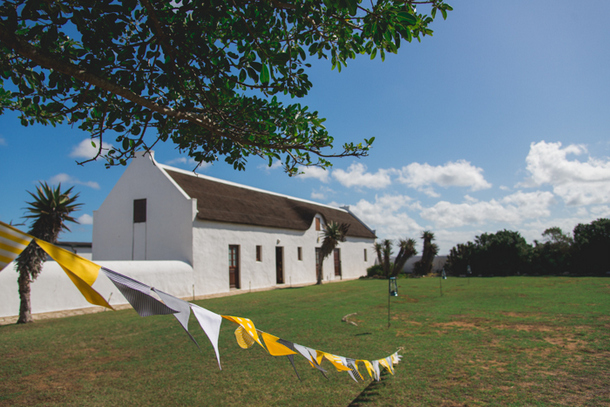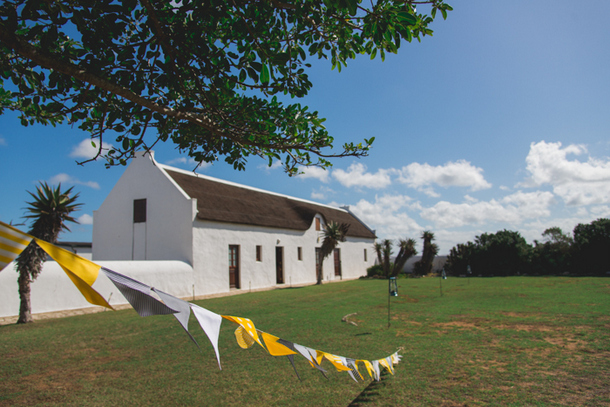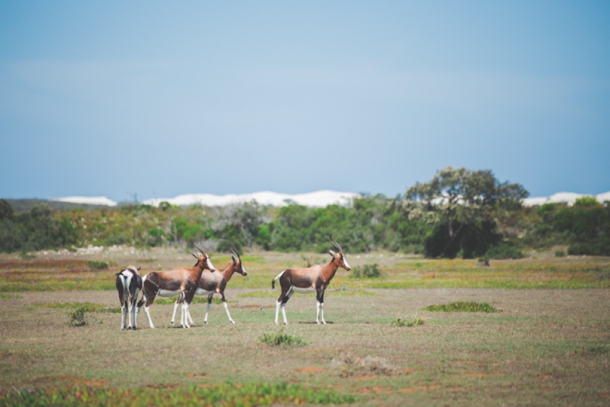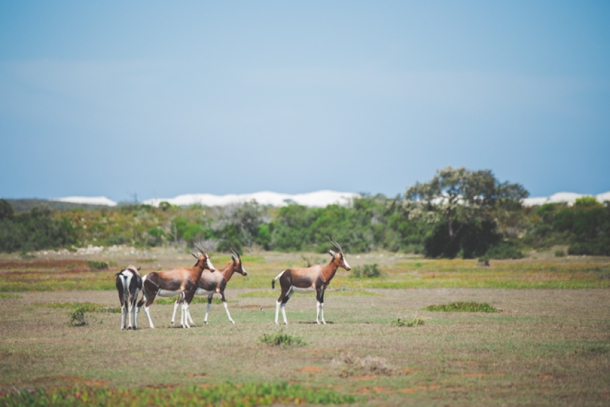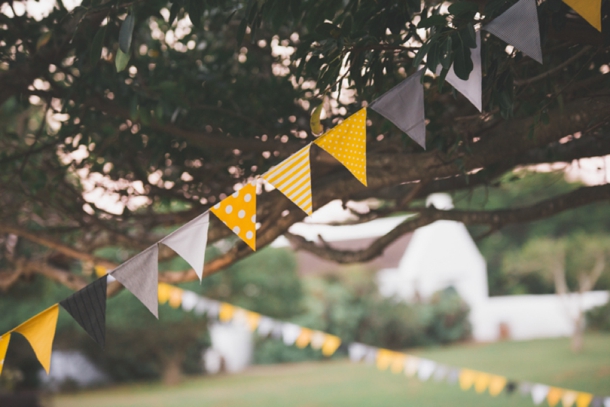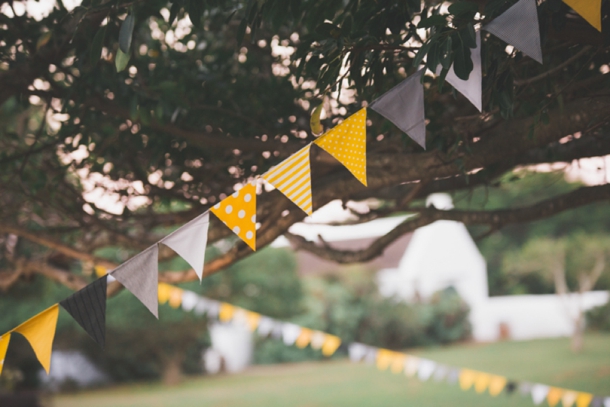 Wedding Details
SHE SAYS: The décor definitely related to our personalities and what we love. Everything was natural and organic. Stu is from Scotland and a lot of his family came for the wedding. We wanted to show them a truly South African wedding. At the same time, my family has some Scottish heritage (my Dad was born there) and therefore we wanted to show our South African guests a truly Scottish wedding! We made welcome packs for everyone which we placed in their rooms before they arrived at De Hoop. The South Africans had Scottish treats in their packs (whisky, shortbread, etc.) and the Scottish guests had South African goodies (Amarula, biltong, Zambac, etc.) We also had a list of Scottish and South African sayings with their meanings on the tables. People could try pronouncing them. It made for a great laugh and people interacted with each other! One of Stu's brothers brought some proper Scottish music for the late night Scottish dancing! He slowly walked us through the different dances and all the South Africans joined in and had a blast!
I have a small fetish for sparklers. So we had big bunches of sparklers and matches on the tables for anyone to light whenever they felt the need.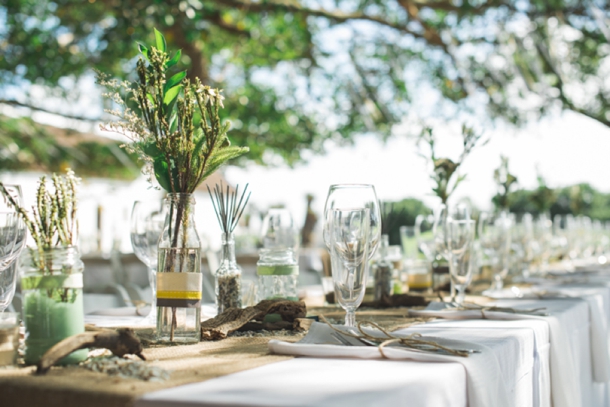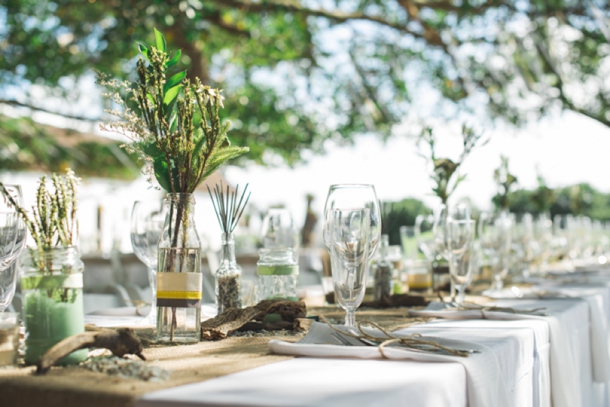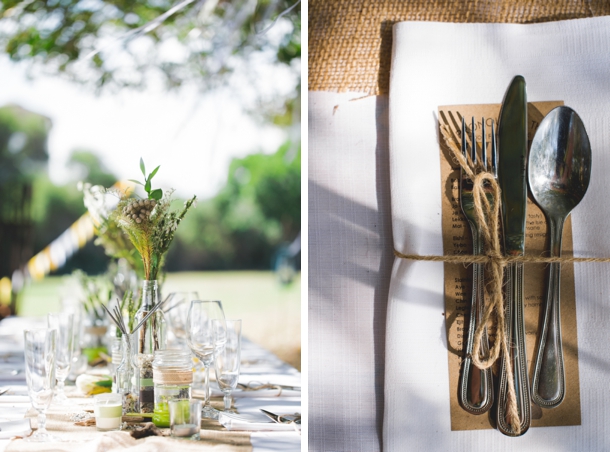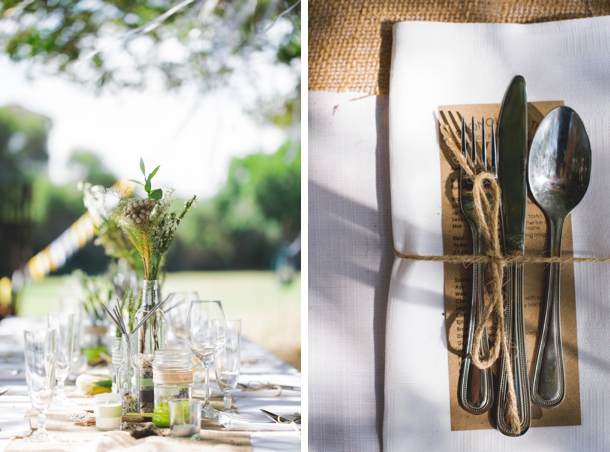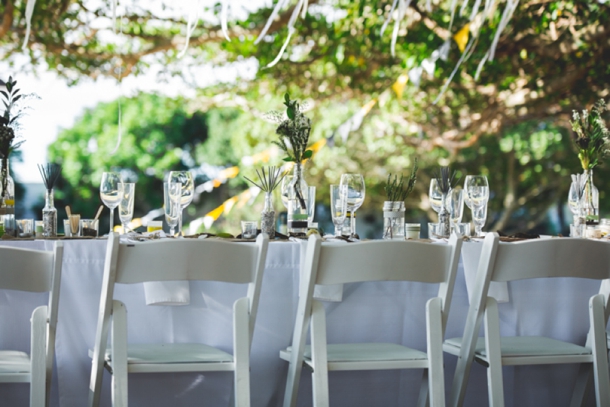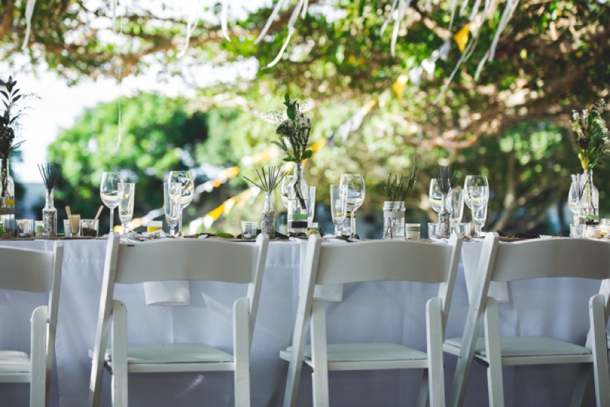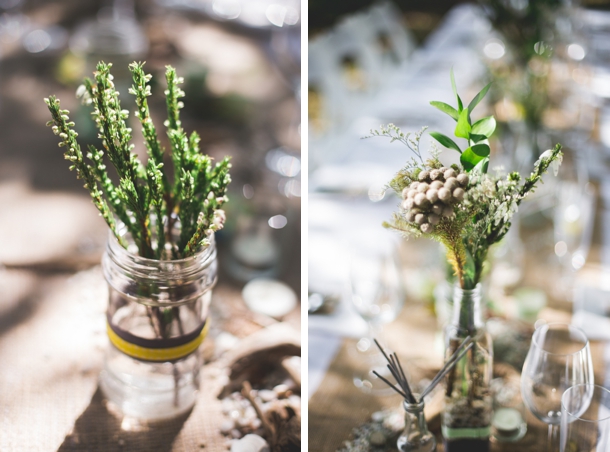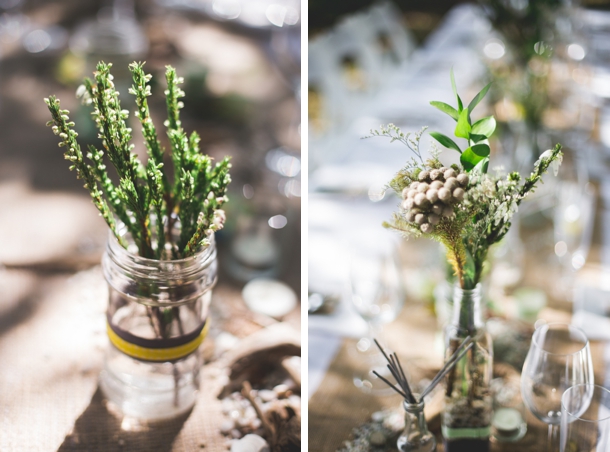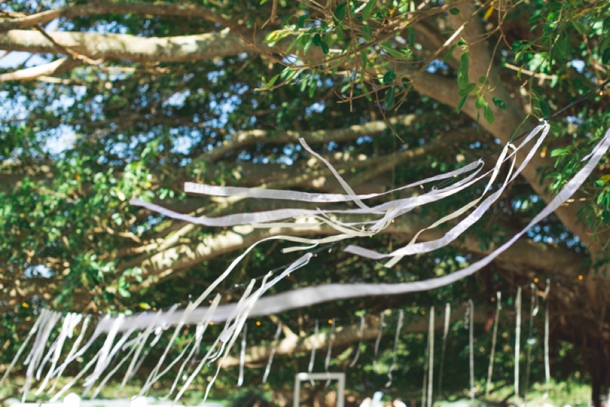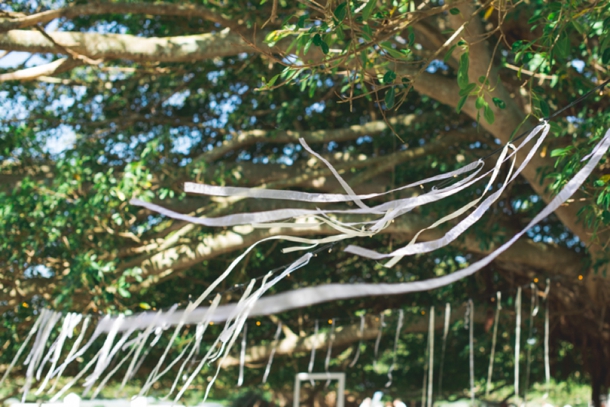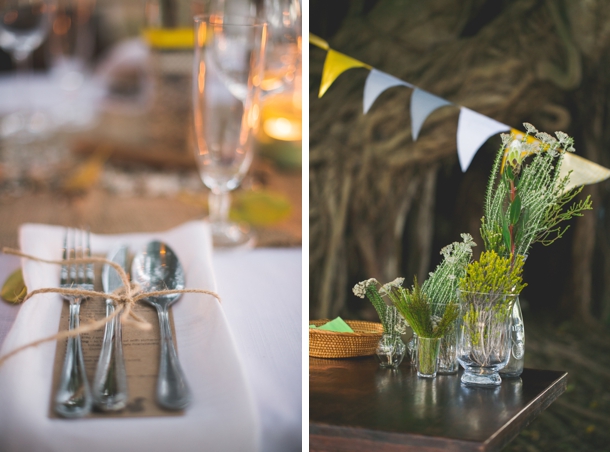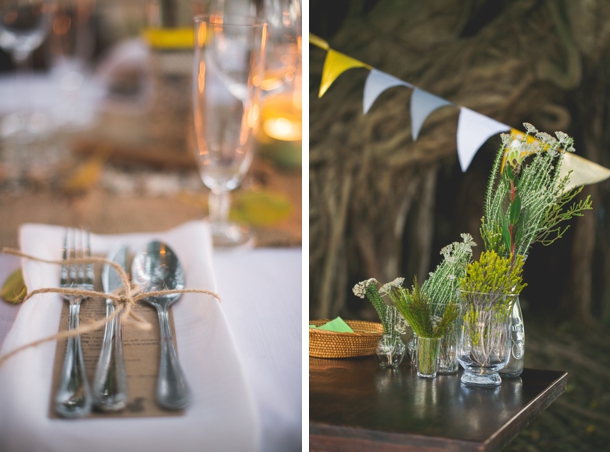 DIY Elements
HE SAYS: We had lots of DIY. This was due to budget but also, as we went through all the required elements for a wedding, so much of it seemed unnecessary and what's more between us, as two very creative people, we could make, create and/or build much of what we needed. Stacey made the most amazing bunting in the wedding colours that we had hanging from all of the trees and on the buildings – it looked beautiful. We collected tons, literally tons of shells and small stones for decoration on the tables (all returned to the seaside:) ). It was a collaborative effort across the board. Judi, the maid of honour's twin sister, did the catering which was incredible – we highly recommend this lady!
The Flowers
SHE SAYS: My friends, Tina and Judi, went past the flower market in Cape Town on their way to the venue. Their brief was simply to get anything that you would naturally find in the area like fynbos. I wanted it to look natural. Almost like we picked flowers and greenery around the venue and stuck them into jars. (Which we obviously couldn't do since it was a nature reserve.) They brought the most amazing white proteas and interesting little fynbos flowers. It was perfect. I wasn't planning on having a bouquet, but since the flowers were so pretty, a friend quickly made me one on the day.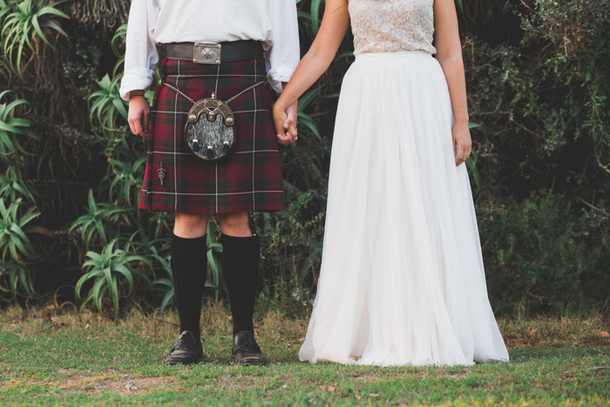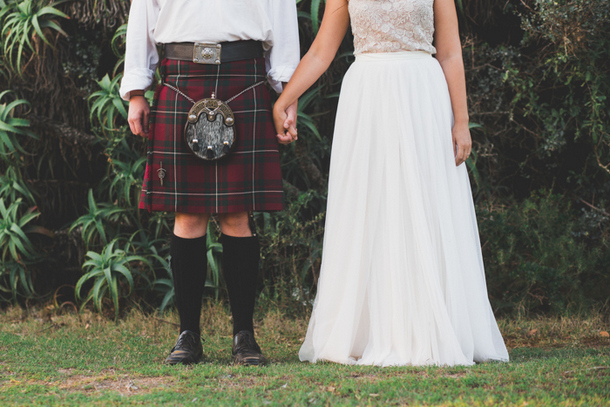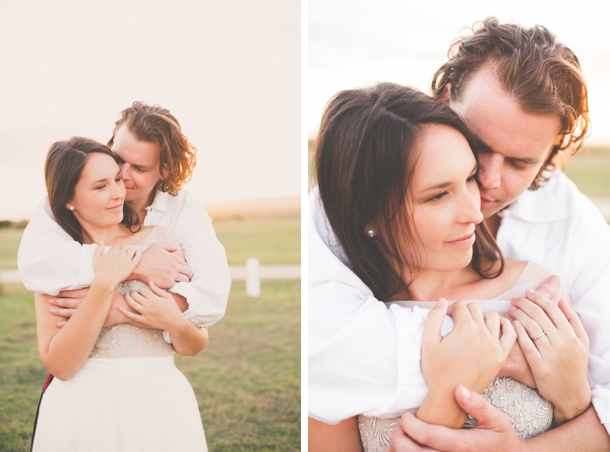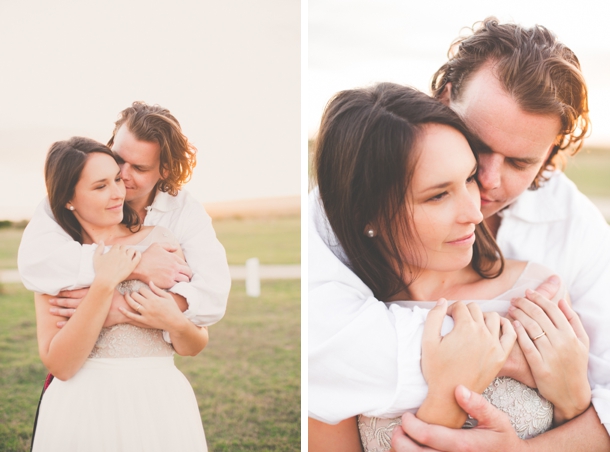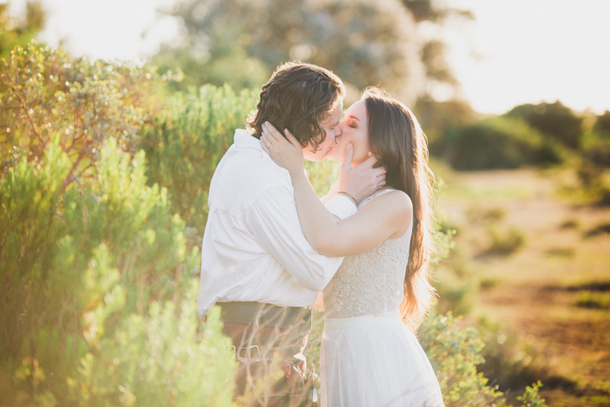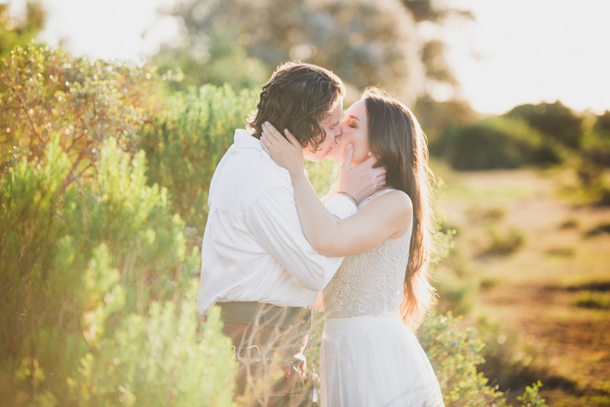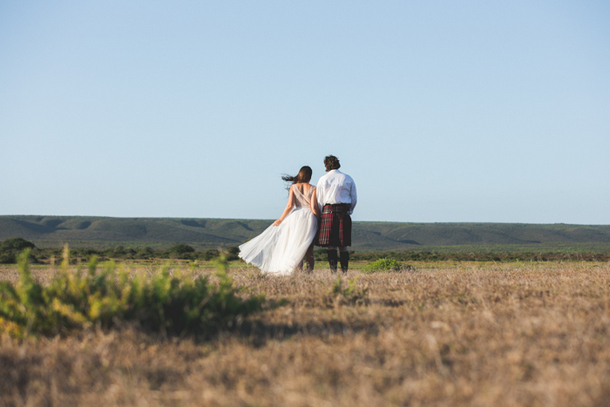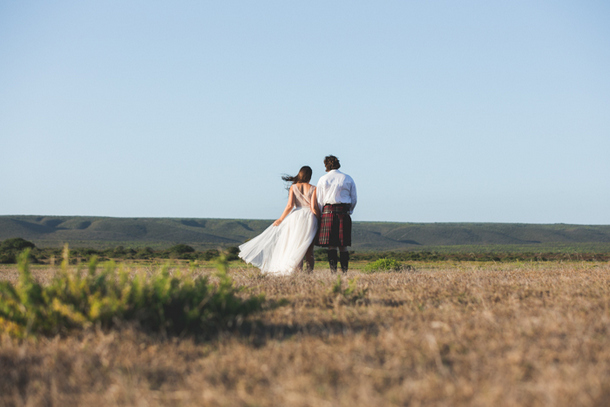 The Dress
SHE SAYS: I wanted a simple white dress, something comfortable yet pretty. I looked at some bridal shops and found it all terrifying! The last thing I wanted was a big stiff meringue dress. My best friend's mum offered to make me a dress and she made it off a picture I really liked. The only obstacle was that she lives in Johannesburg. So we had to get everything done in two weekend trips. The first weekend we did the fabric shopping at the Oriental Plaza and the second weekend she literally made the entire dress in one night!
Memorable Moments
HE SAYS: Getting married!
SHE SAYS: My favourite part was that it was a weekend wedding. De Hoop did a fantastic dinner for everyone on the Friday night. That way everyone could get to know each other before the big day. On the Sunday we all went to the beach and ate wedding dinner leftovers! The guests were all our closest family and friends. This made it extra special. The majority of people came from very far – we had guests from Scotland, Dubai, Namibia, Mozambique, Johannesburg and only a handful from Cape Town. Having everyone there for an entire weekend was my favourite part.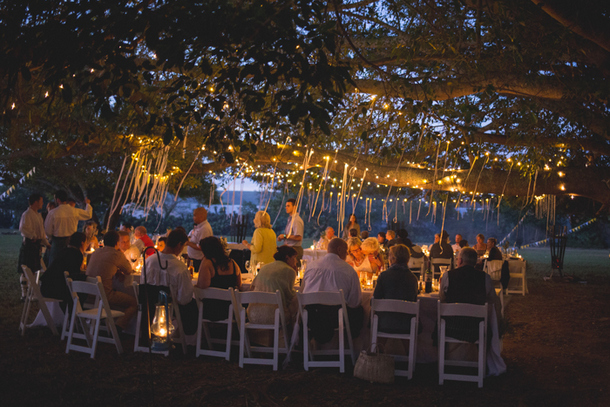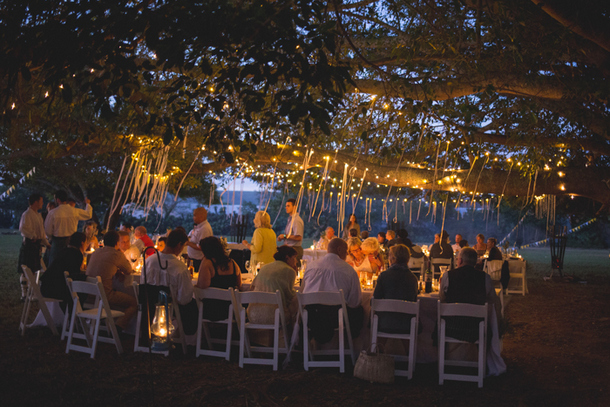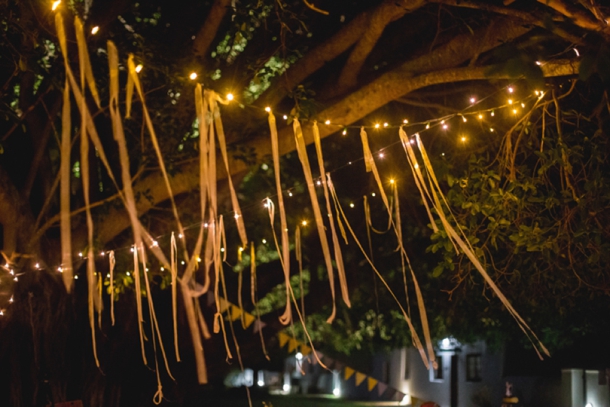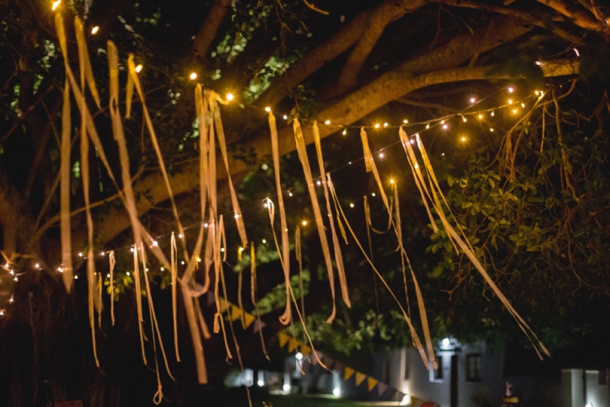 Proudly South African Details
HE SAYS: The food was a traditional South Africa braai – broodjies, chops, salads all swallowed down with gallons of fantastic South African red wine that was supplied by the mother of the bride.
SHE SAYS: All the food was made in front of the guests on two massive braais. This also created a great atmosphere.
The Honeymoon
SHE SAYS: Instead of the typical honeymoon we spent two weeks after the wedding with Stu's family from Scotland and showed them our beautiful country. We have plans of lots of traveling to come, so there was no pressure in going away for the honeymoon.
HE SAYS: We had rented a cottage on the beach front in Paternoster for one evening, then stayed in a friend's cabin in Bainskloof. Nothing but nature, swimming, relaxing, reading, climbing trees, relaxing in hammocks, exploring rivers and being together.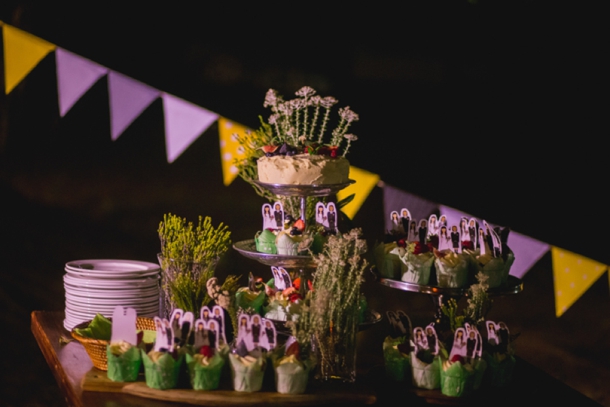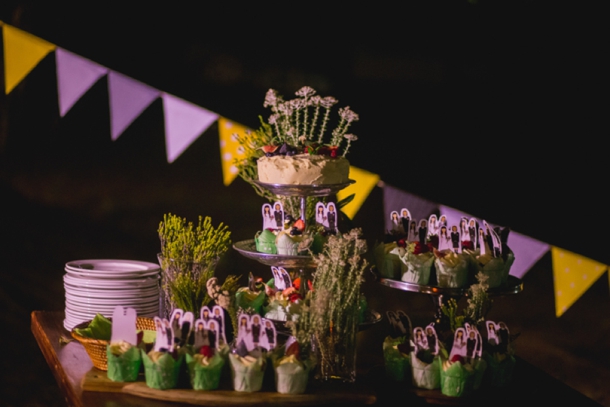 Advice for Future Brides & Grooms
HE SAYS: Be patient. Know that it will cost more than you think. Be sensible about your suppliers. We were very lucky that the first people we found fit the bill for us – that does require being clear on what you want. Don't let others decide for you, don't get pressured into having a band when you want a DJ, etc. – this is YOUR wedding, YOUR day, it needs to go YOUR way!
SHE SAYS: Don't be afraid to make your wedding your own. Do whatever you want! And don't forget what it is actually about – making the most incredible promise to each other in front of all your most treasured people. The other very important advice I would give is to only invite who you truly want to. Even if people get upset, which they will. If you have the right people on your invite list, the details won't matter that much, because they will be there to celebrate your marriage, not criticise the food and décor.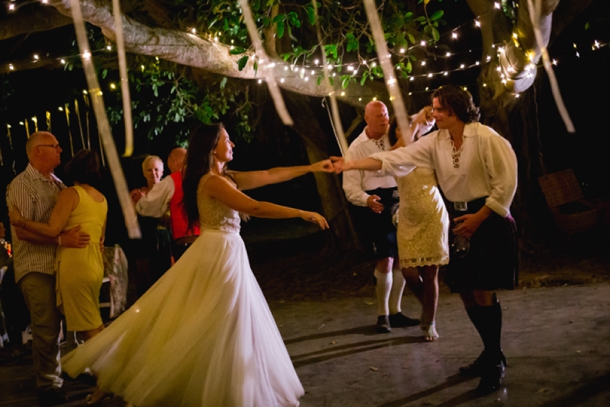 You can see more from this wedding on the Illuminate Photography blog.
SERVICE PROVIDERS
Venue : De Hoop Nature Reserve | Catering & cake: Judi, Kos Catering | Photography: Illuminate Photography | Stationery: Our friend, Luna | Bride's dress: Katrien Krige (bride's friend's mum) | Bride's hair: Cera-tan Horner | Groom's attire: Scottish Outfitting | DJ: DJ Entertainment | Giant games: Blackball | Ceremony: Cecil Wessels